A review of the Bluffworks Horizon Men's Travel Vest. Finally, mens travel vests that look and feel amazing. Quilted, lightweight, and most importantly for travel, machine washable and has 7 handy and functional pockets. The perfect men's vest for all types of traveler!
This Bluffworks Horizon Men's Travel Vest Review contains affiliate links. We received the Gramercy Men's Travel Blazer free from Bluffworks, however, all opinions are my own after wearing and testing.
When somebody says the words men's travel vest to me, it doesn't exactly conjure up a positive mental image. While I'm not the most stylish guy around, I make an effort to look put together.
But travel vests? The term conjures up the image of a Nat Geo photographer on a safari. Or Steve Irwin, Crocodile Hunter. And while I like David Attenborough and Crocodile Hunter as much as the next guy, I don't want to look like either. Unless I'm – you know – hunting crocodiles.
Frankly. I've never really considered myself a vest wearer of any description. A travel vest, in particular, seems – well – dorky-looking. All those pockets seem like they'd be bulky. And I worry I'd stand out in a sore thumb in a city like Budapest, where we live.
I like to look fashionable when we travel (although it doesn't always work out that way). I don't like to look like a tourist with cash, credit cards and an expensive phone. Travel vests just didn't seem compatible with either goal.
Even if perfect mens travel vests, with pockets nicely hidden away, actually exist in the world – would I wear one?
I was doubtful.
How I Changed My Mind About Men's Travel Clothing
My bias against travel clothing started to change when I came across Bluffworks. I was doing research for our Best Lightweight Travel Blazer post, and reached out to them asking for information and a couple of photos. In a classic brand-meets-blogger romance, they asked if they could send me one of their blazers. I was skeptical, but figured why not? We had a fair amount of travel coming, so I knew I could put it through a true test.
Turns out, I really liked it. You can read my full Bluffworks travel blazer review here. But generally speaking, I loved how it was minimalist in design while still having a lot of practical features for travelers.
Can a Mens Travel Vest Ever Be Stylish?
At this point I thought to myself: okay, the blazer is great. But surely the other clothes still look….travel-y? Travel jeans? NOPE. Men's travel vests? HECK NOPE. Travel dress shirts …. there's no way those will look good.
Like a deja vu of my first interaction with Bluffworks, they offered to send me some clothes to test out. Just like the first time, I said yes (while secretly maintaining 100% skepticism).
Bluffworks Horizon Men's Travel Vest Review
Here is my Bluffworks Horizon men's travel vest in Dark Sapphire right out of the package (it's also available in Olive Green).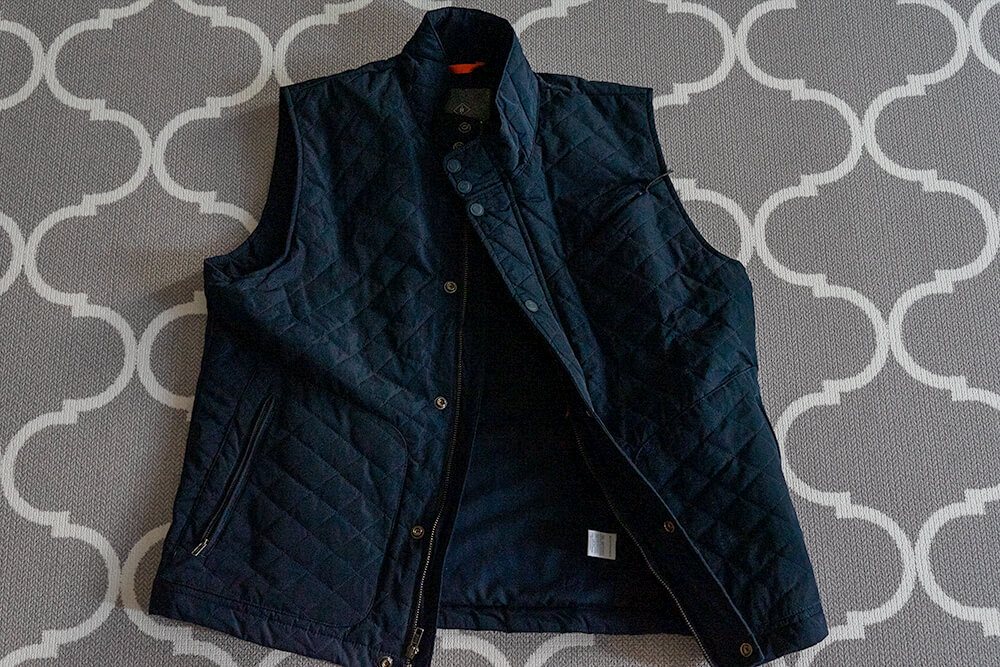 It's a bit wrinkled right out of the package, but I found the wrinkles shook out easily, and I was able to wear the vest right away. Katie and I were headed to a farmer's market in Budapest, so I figured I'd try it out!
The first thing I noticed was the weight and feel of it. It's a very lightweight travel vest, which makes it great for packing. This also makes it a great item for layering in cold or always-wet destinations, like Scotland. It doesn't add a lot of weight to your suitcase, and if you need to take it off when you're out and about, it won't weigh down your day bag.
I received my vest in March, and think Spring and Fall travel are the perfect uses for this travel vest. It could also be great on cool summer evenings or on cruises – something to throw on when the sun goes down and the water gets cool. In winter, this vest is a good piece for layering, and keeping your core warm under a jacket/coat.
Here are some of the main features of the vest:
7 pockets total. This includes 2 normal hand pockets and one hidden pocket on the exterior, and four hidden inside pockets. The pockets are functional and are big enough to actually use!
Machine washable
Lightweight
Quilted
Minimalist design that is actually stylish. Think clean lines, a slim silhouette, etc.
Pulls on all the zippers so they're easy to get at
Quality stitching
Quality zippers
Shop For Your Men's Travel Vest Now!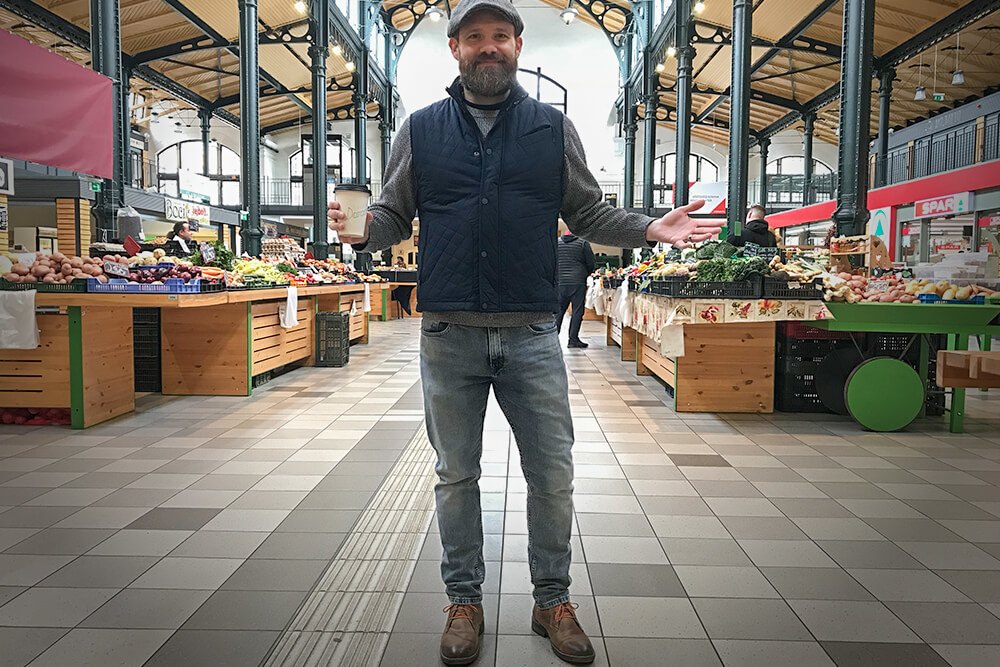 The vest is perfect for Spring and Fall travel, and it makes a great summer evening accessory to throw on when the sun goes down, or while you sip a glass of wine on the top deck of your river cruise! Or, as pictured above, out and about at your local farmers' market! Do I look like a tourist wearing a travel vest?
More Info on the Bluffworks Mens Travel Vests Here!
Practical Information for Bluffoworks Mens Travel Vests
Washing Your Bluffworks Travel Vest
I followed the instructions and washed on 86F (30c) setting, and hung it to dry. The vest looks great out of the wash, so no complaints here.
Packing the Bluffworks Men's Travel Vest
The travel vest rolls up nice and tight, and doesn't weigh much. If you're not wearing it as you travel, it won't take up much room in your bag. Feel free to pack it tight – I found wrinkles shake out easily.
Look and Feel of Bluffworks Mens Travel Vests
The feel is "comfortable. Wearing it feels really good, not awkward or bulky.
The collar doesn't irritate my neck or chin. The snaps have a matte cover, so they're not shiny and don't get cold.
All the pockets are discreet, and large enough to be practical. Phone, keys, a small camera, passports, and plane tickets can all fit without having to stuff or fold.
More Info About the Bluffworks Travel Vests Here
Functionality
After trying out the Gramercy Blazer and now this vest, it's obvious to me that Bluffworks cares about making the best products they can. With the Horizon, they've worked to create the best mens travel vest, and they've included every feature I could ever imagine wanting.
I hate having to fold boarding passes, and stuff things into pockets. With the Bluffworks vest, there are plenty of pockets. They are easily accessible and large enough to fit anything I could conceivably need to put in there on a trip.
It's also the perfect weight for fall or spring travel, while still having a role in the summer or winter.
The minimalist design definitely broadens its functionality, too. If you're anything like me, you'll be happy to wear this around your home town or city, when not traveling. It looks great, so you won't feel like you're wearing a "travel vest."
Main Features
Made from a quilted lightweight, quick dry polyester. The synthetic insulation is made from 60% post consumer recycled material.
7 pockets (4 inside pockets, 3 exterior pockets)
Zippered pockets have pulls for easy access
One handy open-top inside pocket for quick and easy access
Snaps are covered with a matted rubber material (great for cold weather and also stylishness).
Sizing and Fit
Bluffworks mens travel vests come in a range of sizes from extra small to XXL.
The length doesn't change and it fits nice and trim, working with a range of "under clothes".
I have worn a bulky sweater under it (see photo above) and it was comfortable. I've also worn a hoodie underneath, and there has been plenty of room. I've also just worn a button up shirt with it, and it's been perfect. Refer to their handy fit guide.
Ease of Care
The vest is machine washable in cool water. Bluffworks recommends washing it at 30°C (86°F).
It is not meant to be put in the dryer, and is line dry only. Because it is 100% polyester, it dries rather quickly.
The company recommends a cool iron if necessary. As it is quilted, I haven't seen any need to iron it yet.
My Verdict
Katie and I have been traveling together since 2006 through over 60 countries. There isn't a situation I can think of, aside from climate or "special function," where I wouldn't feel comfortable wearing this vest.
Probably the best endorsement of this vest is the fact that I wear it all the time now. It's become a bit of a 'go to' piece for me, and I regularly wear it around the city in my day-to-day life.
Pairing the Bluffworks Mens Travel Vest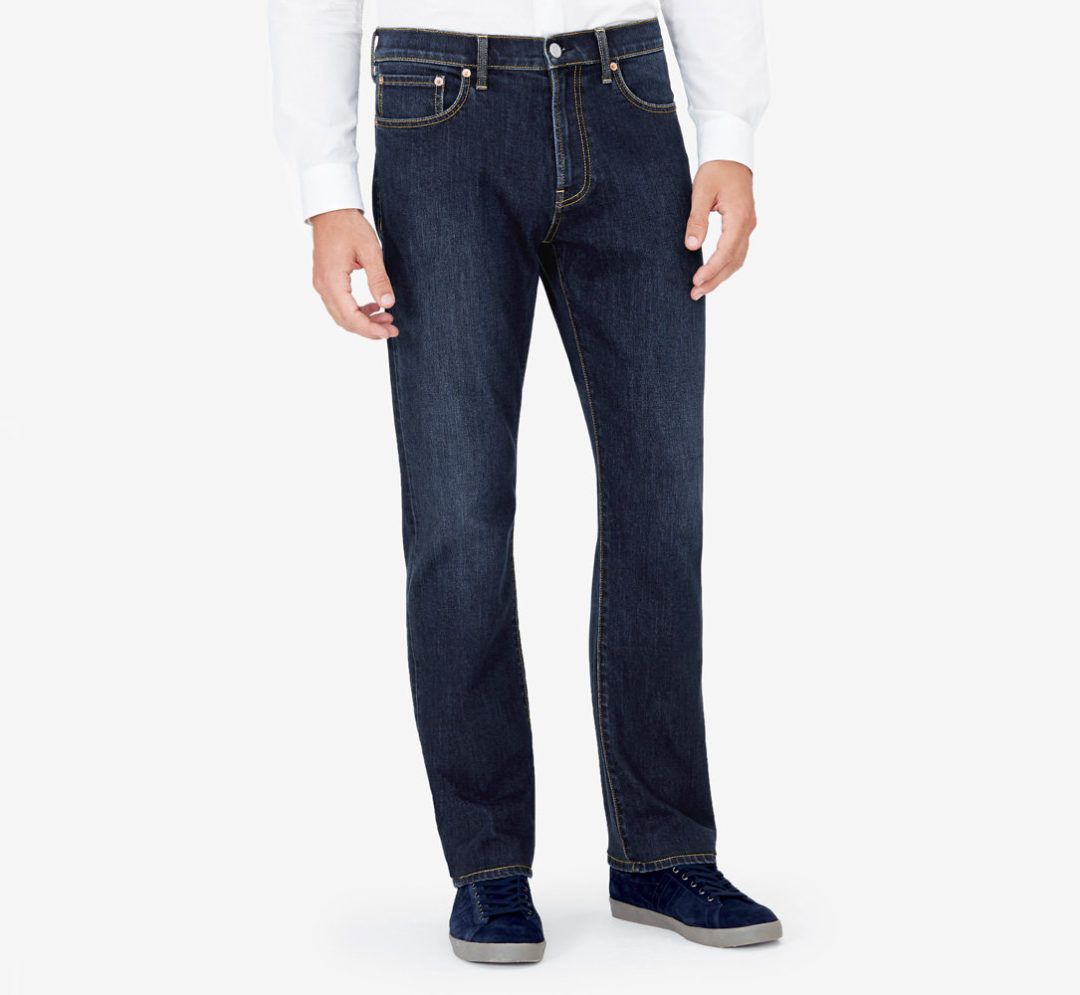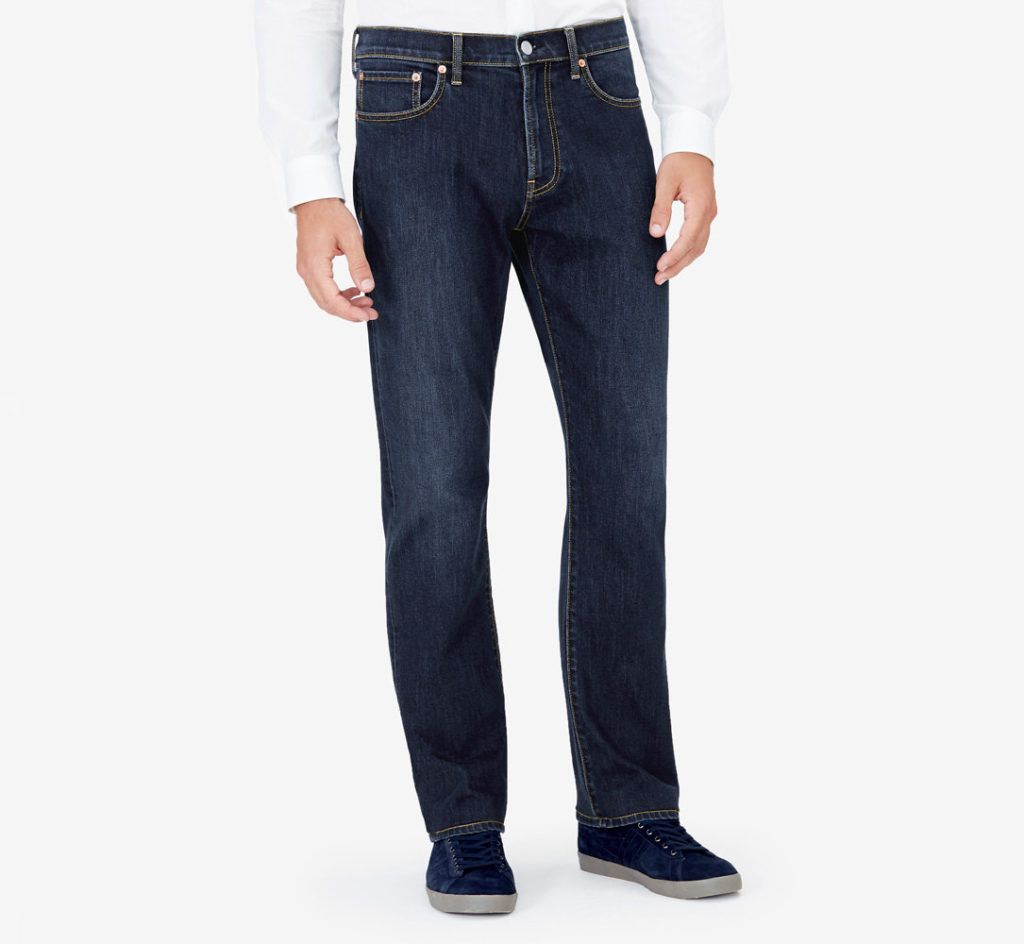 A perfect match for the mens travel vest are the Departure Travel Jeans by Bluffworks. They're stretchable and moisture wicking, and also have hidden zippered anti-theft pockets! SHOP NOW!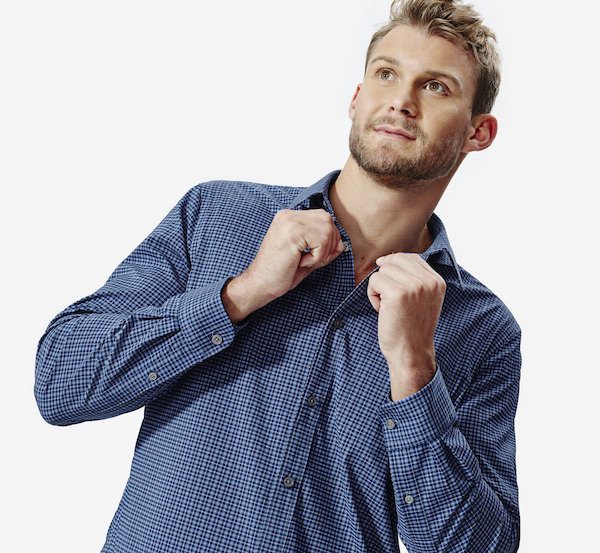 Meridian Dress Shirt is the perfect travel shirt, machine washable, you can put it in the dryer, and it's wrinkle resistant. It's available in 3 different color options. SHOP NOW!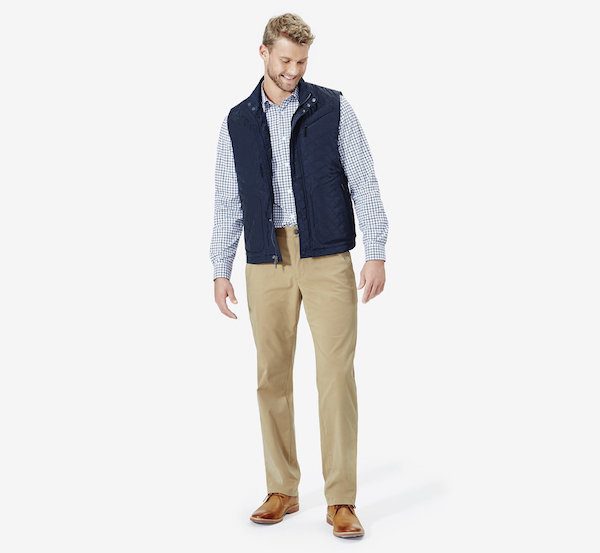 The vest also looks great with the Bluffworks Originals. Wrinkle free, machine washable, dryer friendly, breathable with anti-theft pockets, and available in 6 different colors. SHOP NOW!
Check Prices & Find Your Travel Vest Here
Pin This Review!