Looking to upgrade your beach bag? As a beach town local and a busy mom, I've tried out a lot of beach bags. These are my picks for the very best beach bags for moms that combine style and function.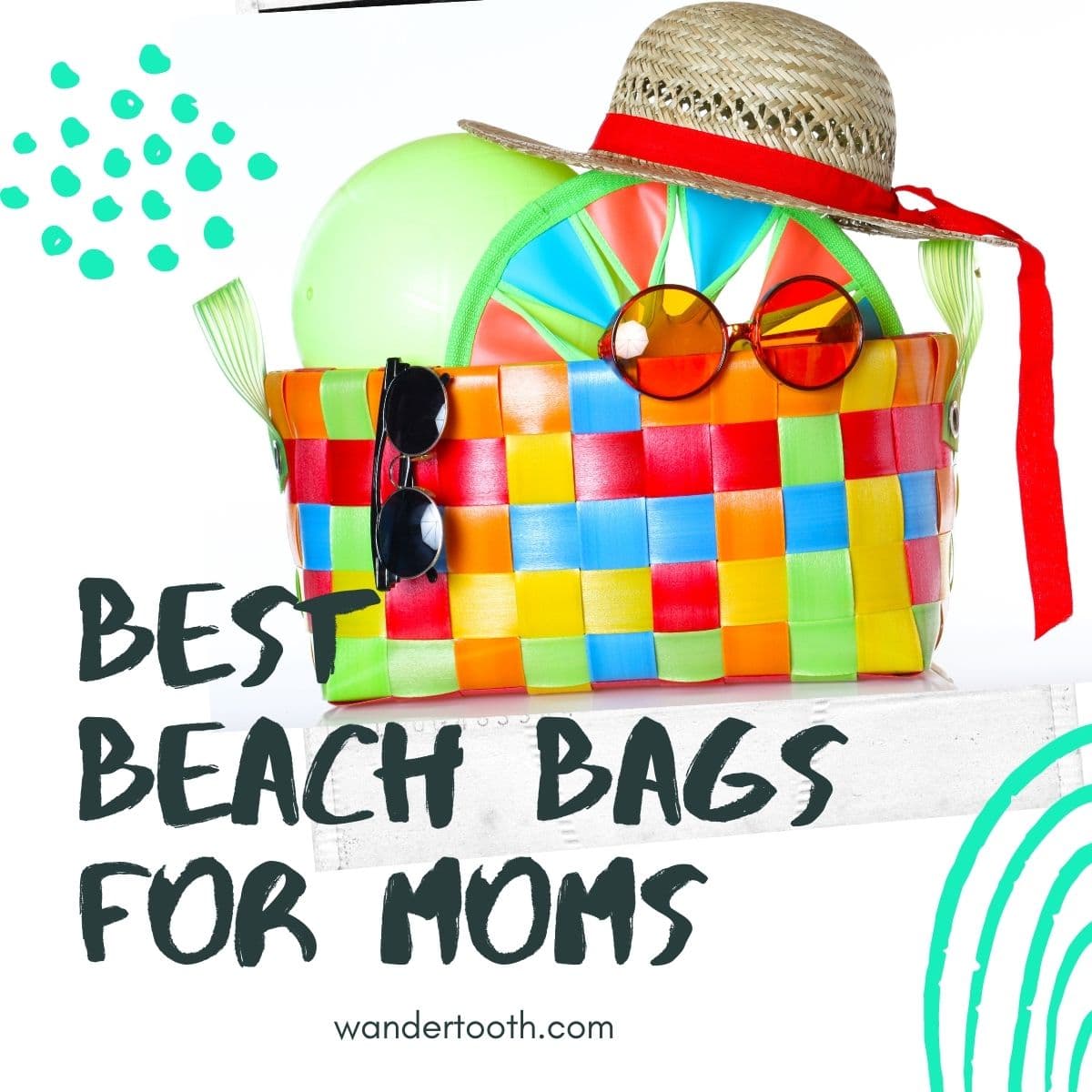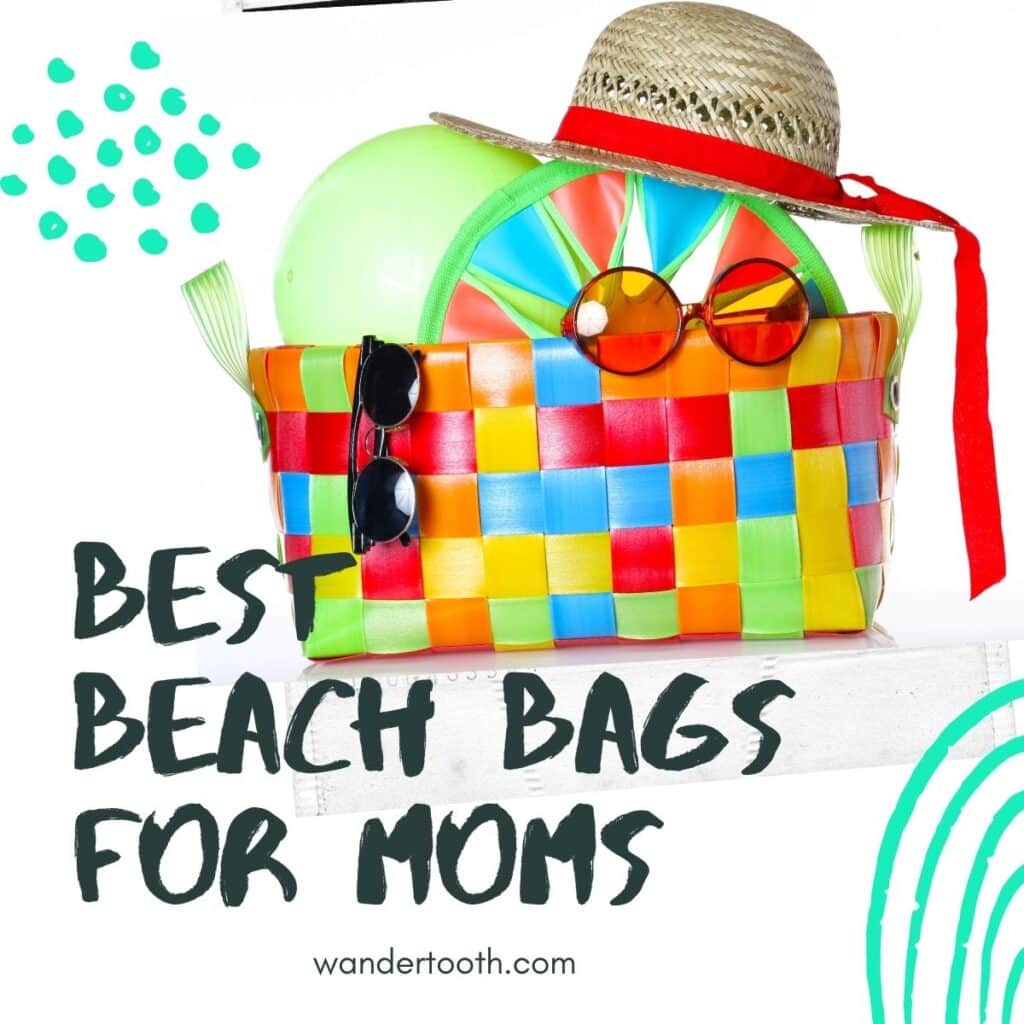 Going to the beach as a Mom requires a lot of planning, and checking that you have everything for everyone. That means packing lots of snacks, drinks, toys, sunscreen, towels – and everything else the littles ones need for a day in the sun. (Check our beach packing guide for a full list!)
So having the right beach bag can make a world of difference! I have tested out way more than my share of beach bags over the years – so I've rounded up my favorite beach bags for moms to save you some trouble (and money).
You'll want to consider a few things when picking the perfect family beach bag:
How much space does it have? Kids require a lot of… well… stuff.
Does it have exterior pockets? Pockets are key for little things like keys and cell phones.
Is it comfortable and easy to carry? Make sure it's a style you will be able to manage easily once it's loaded up with all your gear.
Are the materials beach friendly? You want something that is water and sand resistant. And I love a bag with a mesh section so the sand can drain out and not build up in your bag.
So without further ado – here are my picks for the best beach bags for moms.
Aomais Beach Bag
This large beach bag has a ton of room and outside mesh pockets for either wet towels or sand toys. Carry your towels, water bottles, snacks and so much more with these very strong straps that can hold roughly 150lbs. This bag is very chic looking and still is incredibly purposeful.
Beach Breeze Mesh Beach Bag
This bag is a steal of a deal! Very large in size, outside pockets, and a mesh part, this bag checks all the boxes! Easily fitting 6 towels and water bottles, this is a perfect beach bag for moms.
Raytix Beach Bag with Lightweight Foldable Beach Mat
This awesome beach bag even has a small cooler section to keep your snacks and drinks chilled. This is a taller bag, with a lot of space for your needs. It has one outside pocket that is perfect for your phone and keys.
Btoop Waterproof Beach Bag
Coming in a variety of colors, this bag is waterproof, and sand proof. It's a great size and the shape of it allows for easy carrying. This bag has raving reviews surrounding the amount of pockets it has which makes it easier to keep things organized.
Bogg Large Beach Bag
This bag won't tip and is washable. With a large amount of space inside, mom's will definitely be able to pack up easily.
Ledoau Beach Bag
Enjoy this fun design on your next trip to the beach. Reinforced straps for optimal comfort along with outdoor pockets that are a great size, this beach bag is perfect for moms. This bag also features a separate wet compartment so your towels don't make everything wet and gross.
Pacific Coast Signature Rolling Tote
Right on its own wheels, this tote is perfect for moms! Don't struggle with carrying something while holding your littles hands. Available in various patterns, this is the best beach bag for mom.
Heydu Flower Beach Bag
This bag is great for the mom who loves flowers. Featuring multiple outdoor pockets along with being a great size, this is a perfect beach bag for mom. It's made of canvas and is waterproof and a comfortable carry.
Meejune Overnight Bag
This bag would be excellent for moms with multiple littles. A ton of space, and an extra section along with strong handles and a great print. Designed with travel in mind, this bag is lightweight and has a lot of space.
Having the perfect beach bag can either make or break a beach trip. Don't get stuck trying to grab everything from home without having somewhere to put it all. A beach bag will make carrying all your things to the beach much easier.