Edinburgh Shopping Guide — The Very Best Shopping in Edinburgh — 4 Cool Edinburgh Neighborhoods to Load Up on Unique Finds, Indie Designs, and One-of-a-Kind Edinburgh Souvenirs. This Edinburgh Shopping Guide Features Edinburgh's Best Neighborhoods and Streets for Independent and Design Shopping.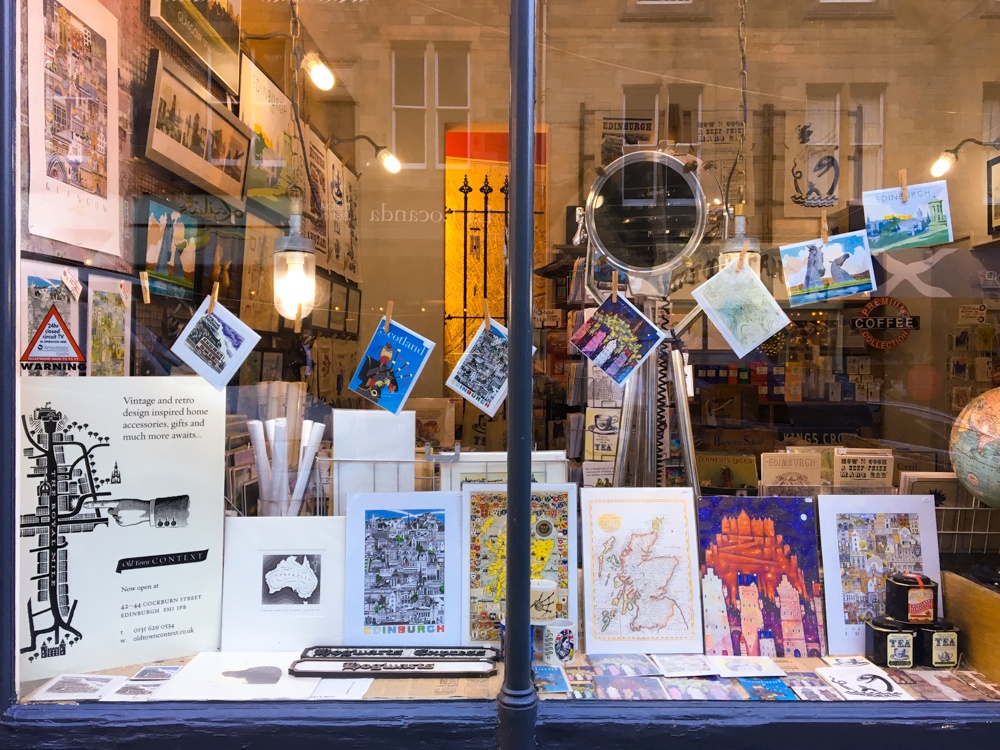 Edinburgh isn't exactly known as a shopping destination. Compared to other cities in the UK, Edinburgh lacks the size, space and population to become a shop-til-you-drop destination. The international, high-street brands — think H&M and Primark — are concentrated on Princes Street in New Town. For a slightly more upmarket experience, head a few blocks north to George Street, where you'll find the likes of Cath Kidston and Anthropologie, or toward St. Andrew Square and Multrees Walk, where the luxury brands live.
If you're willing to dig ever-so-slightly deeper, however, Edinburgh has plenty of only-in-Edinburgh gems. Where Scotland's capital really excels is in the cute, the quirky and the local — boutiques, pop-up shops, charity shops and gallery shops. It's just a matter of knowing where to look, and then setting aside some time to dig through all the treasures.
And with that intro, I hope you enjoy this Edinburgh Shopping Guide: The Best Shopping in Edinburgh (That's Not on Princes Street)
First stop in our Edinburgh Shopping Guide is Stockbridge.
Stockbridge isn't a neighborhood most tourists know about or visit, but is well worth the 15-minute walk from Princes Street to explore. It has the feeling of a separate — and very quaint — village, for the very simple reason that it used to be just that.
Today, the heart of Stockbridge is Raeburn Place, a long, curved street running right through the centre of the neighborhood, lined with shops, pubs, cafés and old-timey services, like a cheese monger and a chocolatier.
Breaking off from the main artery of Raeburn Place, you'll find hidden spots and pretty laneways, like Circus Lane, which frequently makes "prettiest streets in Edinburgh" lists, and the Water of Leith walkway, a pretty dirt pathway that runs along the river.
When it comes to one-of-a-kind finds and charity shops, Stockbridge has some of the best shopping in Edinburgh, and is one of the best neighborhoods in Edinburgh for shopping!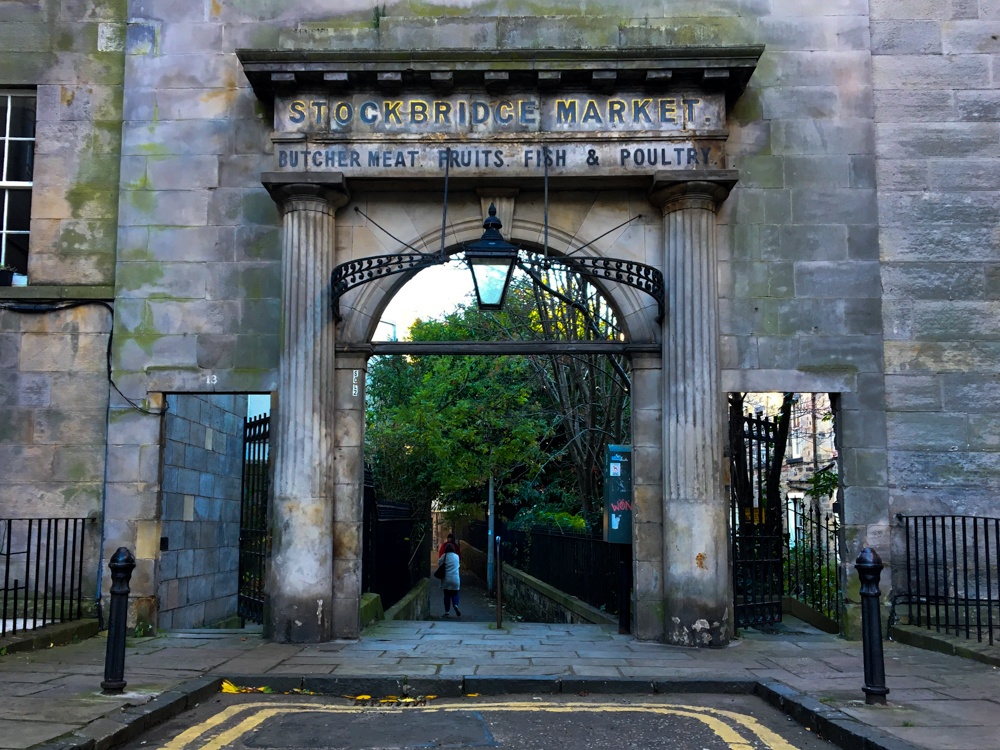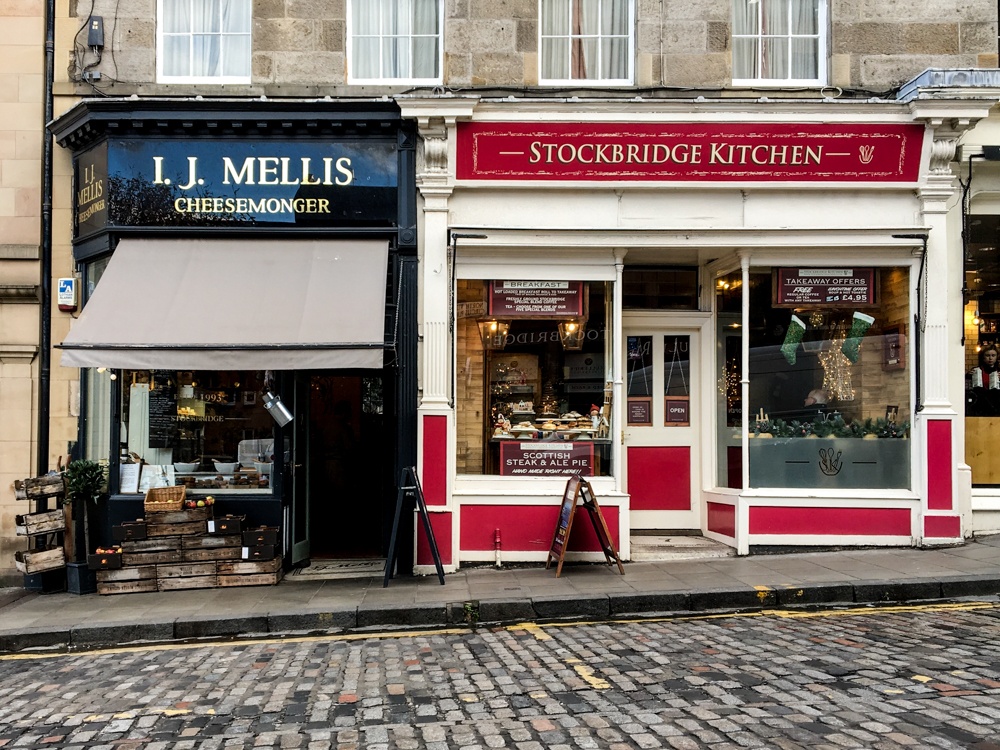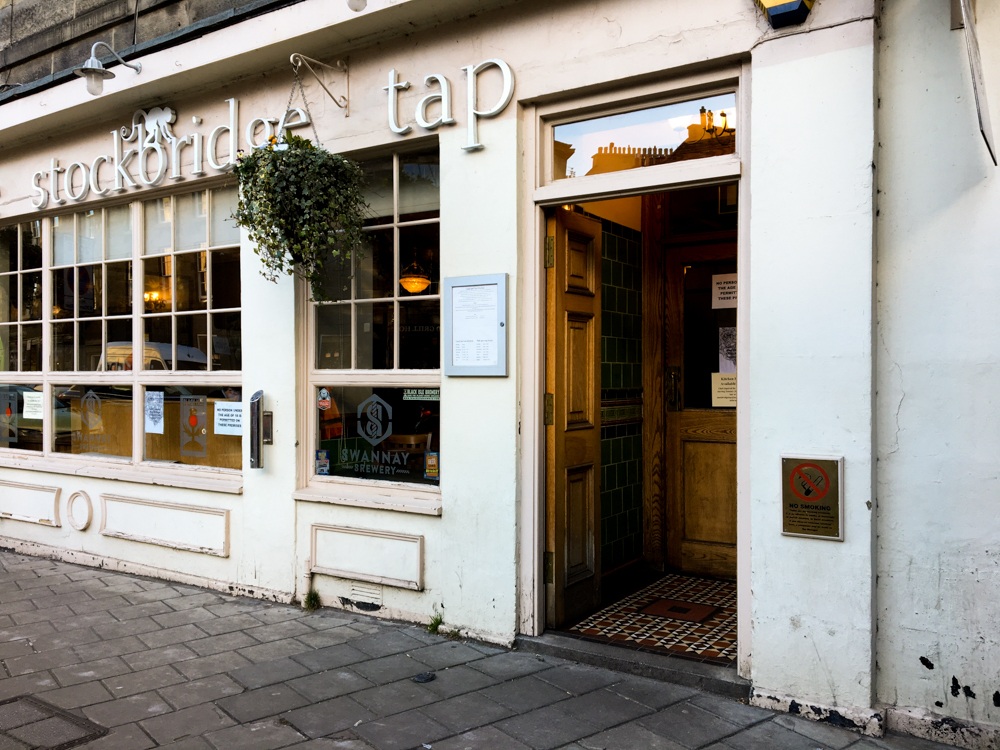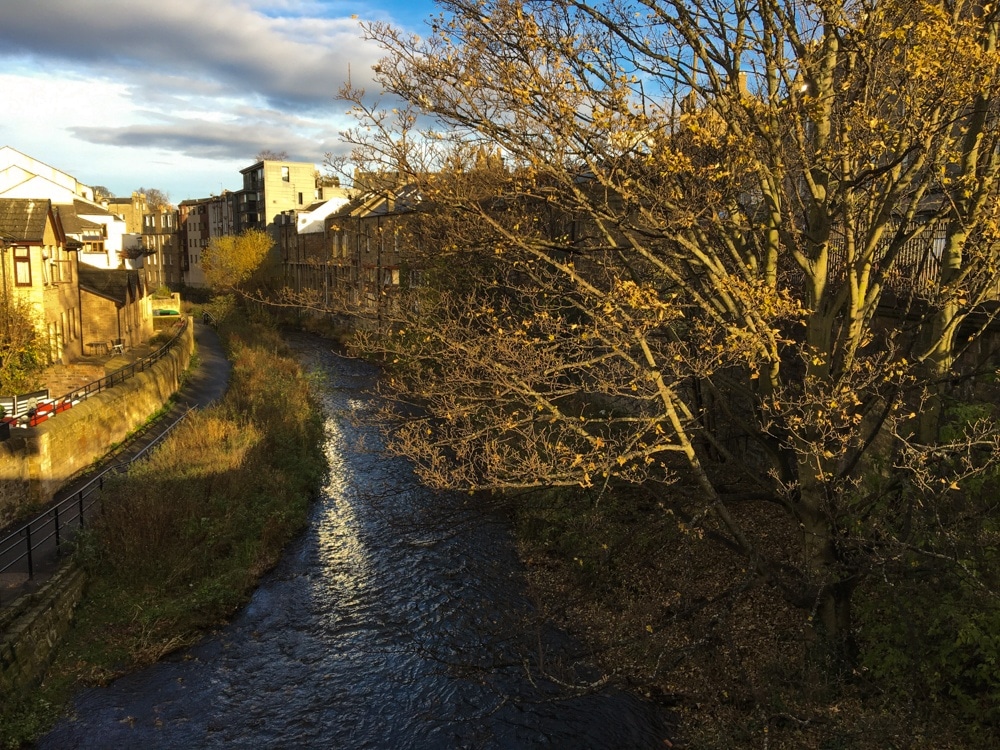 Visit in the morning for coffee and brunch before wandering the shops, or strike out in the late afternoon, pairing a bit of shopping with a walk along the pretty Water of Leith Walkway, followed by a pint or two at a few of the neighborhood's many cute pubs, restaurants and wine bars.
To get to Stockbridge, walk north along Frederick St. from Princes Street, passing The Brotique at the corner of Queen and Frederick (stop here for all your beard maintenance, manscaping, and modern man's life/style needs). Turn left on Circus Lane, and follow the way of the road into the heart of Stockbridge.
Don't Miss:
The Stockbridge Market, (almost) every Sunday from 10 to 5.
St. Stephen Street, which has a few quirky shops including Miss Bizio Couture, an upscale vintage shop.
Raeburn Place, the main artery running through Stockbridge. Be sure to check out Popping Up in Stockbridge, Coco (chocolate shop), and Mary's Living and Giving (a Save the Children charity shop).
Pubs & Coffee: The Stockbridge Tap is my personal favorite, but we also enjoyed Hector's and Hamilton's. For wine, check out Veritas, Smith & Gertrude, and Good Brothers Wine Bar. If you're in need of a Swedish-inspired fica break from your shopping, check out Peter's Yard for delicious coffee and Scandinavian pastries.
Edinburgh Shopping Guide: Stockbridge Map
Heading back toward Old Town, take a walk up Cockburn Street: the second stop in our Edinburgh Shopping Guide.
Just south of Waverly, Cockburn winds up a gentle slope, connecting Market Street and the Royal Mile by a long string of indie shops, galleries and cafés lining the way.
Once you reach the top of Cockburn, head into the Royal Mile Market, which is full of small stalls of local artists and makers selling the usual marketware: handmade soaps, food, prints, clothing, jewellery and tchotchkes galore, many with an Edinburgh theme to them (think: souvenirs).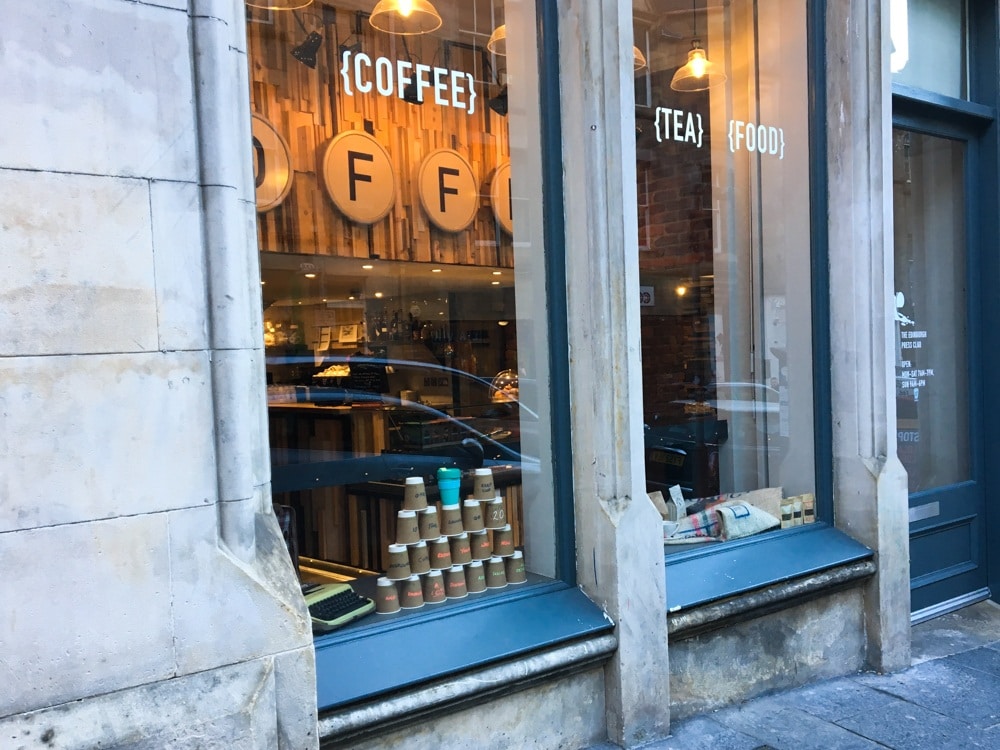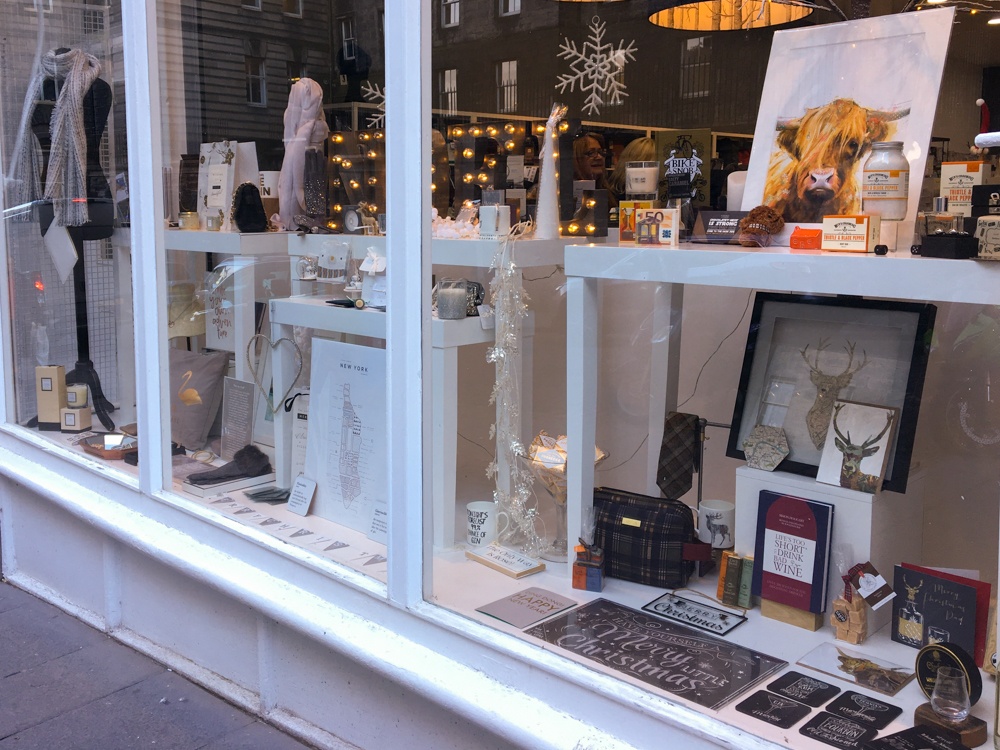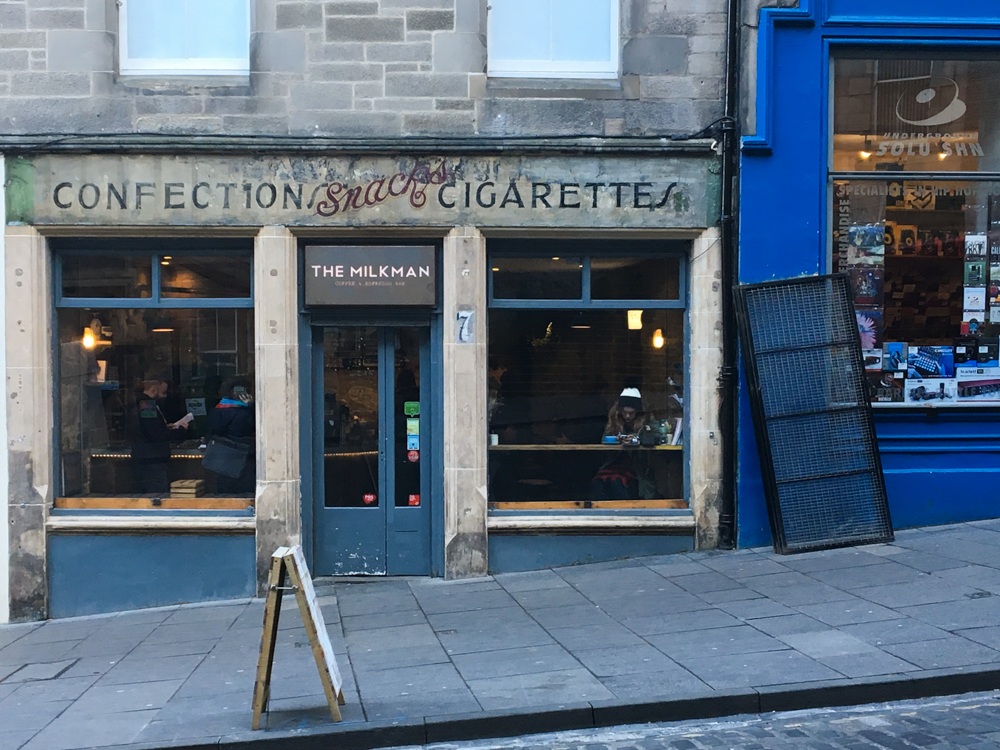 If you're wandering along the Royal Mile, the top of Cockburn Street is just a little past St. Giles Cathedral if you're walking away from Edinburgh Castle. If you walk down the street from the Royal Mile, it will take you to Waverley Station.
Don't Miss:
Edinburgh Shopping Guide: Cockburn Street Map
Admittedly, it's hard to miss Victoria Street, the C-shaped street that runs downhill from the National Library of Scotland to Grassmarket. Smack dab in the heart of touristy Edinburgh, it's not exactly a local-only secret, but it's still worth your time. And with that, the third stop on our Edinburgh Shopping Guide.
And yet, Grassmarket — and all its history — seems to get the most attention, with Victoria Street treated as a footnote, rather than a destination in and of itself. Which is a shame, as it's worth building enough time into your itinerary to spend wandering through the shops, pubs and eateries on the cutest of cute Victoria Street.
Just beyond Victoria Street, Candle Maker Row also has some great finds.

Don't Miss:
Context Interiors has another location here, and it's packed full of cute and quirky. If you're in need of Harry Potter accessories to pledge your allegiance to Gryffindor, go here! If you need painted portraits of cats wearing human clothes, also go here. I could spend hours upon hours in this shop.
Fashion: Hannah Zakari is a boutique featuring indie designers working in jewellery, clothing, stationery and more; Swish for awesome printed t-shirts and unique finds; Walker Slater to pick up that quintessentially Scottish look: tweed.
For Truly Curious Items: Still Life, for anything from antique tea cups to coal buckets; Old Town Bookshop for rare and old books.
Eats & Treats: The always-busy Oink for Scottish hog roast rolls; Bains Retro Sweets for a sugar infusion; Demijohn "liquid deli" for delicious take-home tipples.
Pubs: Grassmarket is full of historic pubs with stories that could fill volumes. The Last Drop is probably the most well-known, and is named for prisoners who'd imbibe in their last drop of whisky at this pub before being taken to the gallows, right outside on the square.
The Weekly Saturday Farmer's Market in Grassmarket, just down the hill from Victoria, is full of all kinds of delicious treats.
Edinburgh Shopping Guide: Victoria Street (and Beyond) Map
---
Edinburgh Shopping Guide Honourable Mention
Unfortuntately, I didn't make it to Edinburgh's West End on our last trip to the city, so I can't speak from personal experience. However, I have it on good authority that it's well worth a visit if you're in Edinburgh for shopping. Hopefully, I'll go back to the city soon, and be able to add the West End as the fourth neighbourhood in our Edinburgh Shopping Guide.
Walk west along Princes Street, beyond the Princes' Street Gardens, and you'll hit the West End within just a few minutes. The boutique shopping is concentrated along two streets: William Street and Stafford Street. Edinburgh.org has more info.
---
Like our Edinburgh Shopping Guide? Pin it for later so you don't forget!