Where to Stay in Athens: Advice from a local Athenian and travel blogger about the best neighborhoods to stay in Athens, Greece!
We created this Where to Stay in Athens guide in collaboration with Chrissy from the travel blog Travel Passionate. Chrissy is a (almost) life-long Athenian, and blogs about Athens, Greece, and her travels around the world! Since we've never lived in Athens, and always want to give local expertise for our city guides, we asked Chrissy to help us choose the most popular, most convenient and coolest neighbourhoods in Athens to write about.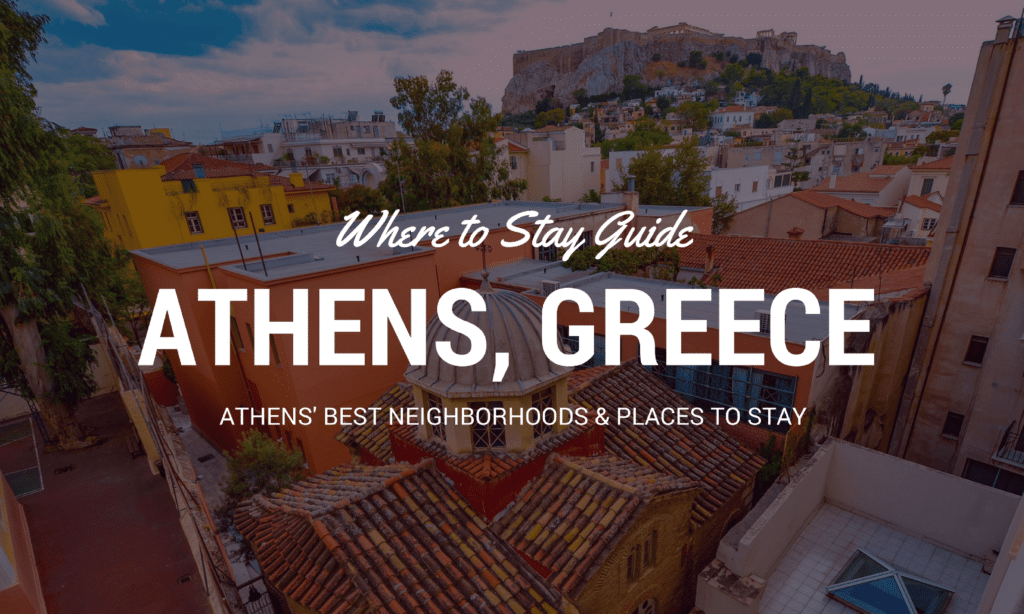 Disclosure: All our Where to Stay Guides, including this one, contain affiliate links. That means we earn a small commission when you click through or book a hotel, buy your travel insurance, etc.. You don't pay anything extra. Affiliate links are one of the ways we make money from this blog (our travel-inspired adult coloring books are another way) to keep the laptops humming! Also note, we've made every effort to ensure the information in this guide is correct at the time of writing, but recommend you confirm (especially the hotel info) before committing!
Where to Stay in Athens, Greece: Start Here For A Quick Look At Athens' Coolest Neighborhoods
If you're in a hurry and just looking for the best area to stay in Athens, start with this quick summary. While we've tried to outline all the best places to stay in Athens in more detail later in this post, we also wanted to provide an at-a-glance summary, in case you just need some super quick help choosing where to stay in Athens. This is a summary of Athens' best neighborhoods. Each neighborhood name is clickable and will take you to more detailed info about that section below.
Athens' City Center Neighborhoods
Plaka:

 The oldest part of Athens, Plaka is a picturesque neighborhood filled with beautiful houses, loads of restaurants and bars, and some of the city's best museums and archaeological sights. Because of all the "pros," Plaka is also the most popular area to stay in Athens for tourists. Stay in Plaka if you're visiting Athens for a few days, and want a convenient and beautiful area! Plaka is also a great neighborhood to stay in if it's your first time in Athens.

Psirri & Monastiraki:

 A hub of nightlife, Psirri comes alive at night and, together with its neighbor Monastiraki, is still uber convenient for sightseeing. If you're visiting Athens to enjoy the after-dark scene, Psrirri is one of the best areas to stay in Athens for nightlife. If you're hoping for quiet and calm, however, Psirri and Monastiraki might not be the best fit.

Syntagma: 

Athens' central square, Syntagma is the centre of modern-day Athens, used as a meeting place for friends, and a place for Athenians to voice their displeasure at the government through protests and political gatherings. Ultra convenient, Syntagma has loads of hotels to choose from and is reachable on foot from most tourist attractions around Athens. It's a great, central location for any type of traveler with some super cool hotels to choose from.

Kolonaki: 

Posh, upscale, and filled with designer shops, Kolonaki is a ritzy neighborhood at the foot of Lykavittos Hill. Consider staying in Kolonaki if you want an upscale and tranquil experience, but are still concerned about convenient access to sightseeing hot spots.
Athens' Alternative Neighborhoods
Athens Travel Tips and FAQs
Summary and Notes
Best Areas to Stay in Athens' City Center
Want to Stay in the Most Convenient Part of Athens? Stay in one of Athens' Most Popular City Centre Neighborhoods
Few modern cities are as iconic or bucket-list-worthy as Athens: what many call the craddle of western civilization, Athens is the place to come face-to-face with that shared history and culture on a daily basis. And while the centuries-old Parthenon complex dominates the city and its tourist attractions, Athens is more than its history alone, offering some of Europe's coolest nightlife once your day of sightseeing is over.
For most visitors to Athens, staying in one of the city's central neighborhoods of Plaka, Psyri/Monastiraki, Syntagma, or Kolonaki is going to give you the best introduction to one of the world's most magnificent, frenetic, and coolest cities. 
Where to Stay in Athens: Plaka
Great area for: ✓ Sightseeing ✓ Ambience ✓ Restaurants ✓ Families ✓ All Ages
The oldest (and some might say most beautiful) part of Athens, Plaka is smack dab in the city's ancient heart, tucked just beneath the Acropolis.
Plaka is perfect for outdoor cafés, strolling down picturesque laneways dripping with flowers, and generally enjoying the best (albeit most touristy things) Athens has to offer. All of this beauty and convenience, of course, comes with some company: Plaka is the most popular area to stay in Athens for tourists, and is busy as a result.
Still, Plaka is one of the best neighborhoods to stay in Athens on a short visit to the city, focused on sightseeing. If you are visiting Athens for the first time, or want to pack in the most sightseeing during a short visit, consider staying in Plaka.
Closest Metro Station: Akropoli (Line 2 – Red).
5-Star With a View
Electra Palace Athens — Located in the heart of Plaka, this hotel is on the lux side of things, getting strong points from past guests for a nice breakfast, friendly staff, an easy stroll to the Parthenon, and a pretty setting. High-end decor and furnishings are on the traditional end of the spectrum. What really stands out about this property is the rooftop garden/bar/pool with jaw-dropping views of the Acropolis. Scores an 8.8/10 on Booking.com
Check Availability & Prices on
Booking.com
Hip & Modern Boutique
AthensWas — A small boutique hotel with 21 rooms in the heart of Plaka, AthensWas is on a pedestrianized street minutes from Athens' best tourist attractions. With luxury modern decor and design touches, stand out features include the roof-top bar (great views of the Acropolis!), high-end furnishings and fixtures, super fast wifi, and exceptional staff. It gets (generally) excellent reviews from past guests, and an impressive 9.5 / 10 on Booking.com
Check Availability & Prices on
Booking.com
Funky Affordable Inn
Alice Inn — A hip and eclectically decorated Inn, this place gives you the benefits of having your own apartment with the convenience of a hotel. All the rooms are bright and spacious, and all have unique decorations throughout. Guests get access to a DIY breakfast in the morning, and can use the kitchen for other meals if desired. High marks for very friendly staff, comfort, and decor. Gets a 9.2/10 on Booking.com.
Check Availability & Prices on
Booking.com
Looking for More Affordable Options in Plaka? Check Out These Properties
Plaka Hotel gets excellent reviews, with past guests commenting about the great "value for money" it offers. The rooms are modern and comfortable-looking, and the hotel offers great views of the Acropolis (4.5/5 on Trip Advisor). Learn More.
Adrian Hotel also gets fantastic views, at a slightly lower price. Location gets mentioned over and over again on reviews, and guests like the clean and recently refurbished status of the hotel (4/5 on TripAdvisor). Learn More.
Where To Stay in Athens: Psirri & Monastiraki
Great area for: ✓ Sightseeing ✓ Nightlife ✓ Souvenirs ✓ Young & Young-At-Heart ✓ Walking
If you're in Athens to enjoy the nightlife, or are looking for a hip area with a lively vibe and a storied past, consider staying in Psirri / Monastiraki, two adjacent areas right in central Athens, next to Plaka.
Long ignored as a working-class neighborhood filled with craftsmen and factories, Psirri has transformed into a hub of nightlife. During the day, it's hard to imagine it being particularly cool, given it's still full of function-first shops that have called it home for decades – a few boutiques here and there are your only clue. When evening comes, however, the neighborhood comes alive. Think restored buildings, warehouse conversions, craft beer, and artsy types, and you've got Psirri.
Just a little south of Psirri is Monastiraki, most famous for its flea market — and the perfect spot to do some souvenir shopping. Many of the streets here are pedestrianized, making it a nice neighborhood for a stroll after visiting the Ancient Agora of Athens.
The pros of staying in Psirri / Monastiraki include having all the major attractions within walking distance; affordability; location; general hip vibe; and liveliness. The area is full of shops, bars and restaurants, and it is less expensive than Plaka.
The downside of these areas is the noise – they are nightlife destinations, and can get loud, so check hotel reviews for noise comments before committing.
Closest Metro Station: Monastiraki.
Design Hotel with a View
360 Degrees — A modern design boutique right on Monastiraki Square, 360 Degrees has beautiful interiors that draw on a retro-industrial theme and an outstanding rooftop bar with panoramic views over Athens. Steps from a metro station, this property is ultra-convenient and gets high marks for design, comfort, breakfast, and staff. It's worth noting guest reviews mention how quiet it is, vis-a-via the location. Gets 9.4/10 on Booking.com.
Check Availability & Prices on
Booking.com
Cozy Boutique
O&B Athens Boutique Hotel — Just on the edge of Psirri, past guests rate this place quite highly, specifically mentioning the convenience of the location, comfort of the room, and friendly hotel staff over and over. Extra touches, like many guests getting welcome snacks upon arrival, suggests staff are happy to go the extra mile here! Rooms look contemporary, modern, and comfortable, and some have Acropolis views. Scores a 9.1/10 on Booking.com.
Check Availability & Prices on
Booking.com
Simple & Affordable
Athens Center Square — Five minutes from Monastiraki Square and  the metro station, ACS looks like a decent affordable base in the city. With clean and modern rooms, funky colours throughout, and a rooftop patio offering great views, the hotel gets high marks for value, comfort and staff. Of note, some past guest mention that the area is slightly gritty – an observation I'd expect is reflected by the quite affordable price of this place. Gets a 8.5/10 on Booking.com
Check Availability & Prices on
Booking.com
Where To Stay in Athens: Syntagma
Great area for: ✓ Sightseeing ✓ Shopping ✓ People Watching ✓ Convenience
The central square of the city, Syntagma lies at the heart of civil politics in Athens, and is a popular meeting spot for Athenians today. To the east of the square, the Greek Parliament building (formerly the Royal Palace) and National Gardens offer an imposing presence over the square, which itself is a great spot for people watching and relaxing.
The pros of staying at Syntagma include: there a loads of hotels to choose from; it's very convenient for visiting anywhere in the city, and is walkable to pretty much everything you'll want to see; it's connected to the premiere shopping street in Athens, Ermou; and there are tonnes of restaurants and bars to keep you satisfied.
The downside of Syntagma is it doesn't have the same character and loveliness as, say, Plaka, and it's the place for political gatherings and protests, which may or may not be an issue during your visit. still, Syntagma is mighty convenient, and there are lots of great hotels to choose from!
Closest Metro Station: Syntagma
5+ Star Luxury
Hotel Grande Bretagne, A Luxury Collection Hotel – Hands-down one of the most luxurious hotel options in Athens, this property offers a true 5-star experience and does a beautiful job at channelling old world elegance. Located just across from the Parliament building on the Square, and with a gorgeous rooftop terrace, it's hard to beat the location, comfort and elegance of this place. 9.1/10 on Booking.com.
Check Availability & Prices on
Booking.com
Funky Lux Boutique
New Hotel — 70s Tiki Bar meets lux modern hotel, it's a funky lux boutique with a general air of coolness, drawing inspiration from the (former) Olympic Palace Hotel in which it is housed. High points for location, coolness, comfort, staff friendliness, and luxury! A member of Design Hotels (which in our experience are gorgeous) and high marks from past guests: 9.1/10 on Booking.com.
Check Availability & Prices on
Booking.com
Luxury Design Hotel
Electra Metropolis — Stylish inside and out, this is a chic luxury property with beautiful touches throughout, from the light-giving atrium in the centre of the hotel, to the rooftop pool and stunning views, to the rooms themselves. Channelling a slightly art deco look, but fully modern and updated, this property is relatively new and gets great reviews! Past guests give it a 9.1/10 on Booking.com
Check Availability & Prices on
Booking.com
Looking for a Chic AND Affordable Option Near Syntagma? Check Out These Affordable Design Properties
Where To Stay in Athens: Kolonaki
Great area for: ✓ Posh & Upscale ✓ Boutiques ✓ Residential ✓ Quiet and Convenient
If you're looking for something a little more upscale, consider staying in Kolonaki, a posh neighborhood with many ritzy boutiques and restaurants. If designer shops and posh cafés are your thing, Kolonaki is one of the best places to stay in Athens.
Kolonaki is a short 10- to 15- minute walk from Syntagma square, and around 2km from the Acropolis. If you do stay here, be sure to climb to the top of Lykavittos Hill for sweeping views over the entire city!
Closest Metro Station: Syntagma and Evangelismos.
Concept Hotel
Coco-Mat Hotel — If you're not familiar with Coco-Mat, it's a luxury bedding company that has moved into the hotel game with a focus on great sleeps (of course) and a luxurious zen vibe. This hotel is attached to their retail location. Guests rave about the beds, the location and the staff. The whole thing has an eco spa vibe mixed with industrial cool design — sounds strange, but it looks gorgeous. Gets a 9.3/10 on Booking.com.
Check Availability & Prices on
Booking.com
Minimalist Boutique
Periscope — A bright and airy boutique hotel, rooms have a fresh and relaxing look to them, with comfortable furnishings, a neutral colour palette and wooden floors. Guests comment on the super helpful staff, and the general peaceful feeling at the hotel, as well as frequent mention of feeling safe in the area. This is another hotel with frequent visitors – always a good sign! Scores an 8.5/10 on Booking.com.
Check Availability & Prices on
Booking.com
Upscale With a View
Saint George Lycabettus — If you'd prefer a more traditional hotel in this neighborhood, the Saint George Lycabettus looks like a lovely option. Top points for a breakfast room overlooking the Acropolis, rooftop pool, on-site fitness centre, and sauna, hot tub and hammam! The rooms are contemporary and bright, with a slightly more traditional look to them and luxurious furnishings. 8/10 on Booking.com
Check Availability & Prices on
Booking.com
Athens' Best Alternative Neighborhoods to Stay
Where to Stay in Athens? Consider Staying in One of These Alternative Neighborhoods
If you're in Athens for a longer stay, want more of a local experience, or are looking for something specific (think: beach neighborhoods or edgy and anarchist or posh and ritzy), consider staying in one of these alternative neighborhoods in Athens. 
Where To Stay in Athens: Koukaki
Great area for: ✓ Authentic Athens ✓ Local Living ✓ Sightseeing ✓ Neighborhood Restaurants
If you are looking for a quiet, more authentic area to stay in Athens, Koukaki might be an ideal choice. Koukaki is an old residential area adjacent to Plaka, but is less touristy, less expensive, quieter and has a local character.
Koukaki is a 15-minute walk away from the Acropolis and has a choice of budget-friendly hotels and Airbnbs available. The main road of Koukaki is called Veikou, which is filled with restaurants and bars. If you do stay here, be sure to walk the path up Philopappos Hill, where you'll be rewarded with breathtaking views of Athens from the top!
Closest Metro Station: Syngrou-Fix
Elegant Boutique
Acropolis Museum Boutique Hotel — A cosy and elegant boutique hotel with decor that channels old world luxury (think: Versailles), this boutique offers high ceilings, wooden floors, and high marks for location, breakfasts and friendly staff. Always a good sign, many of the guest reviews are from repeat visitors who swear by this hotel. If you're a light sleeper, ask for a quiet room, as some face a busy road. Gets an 8.2/10 on Booking.com.
Check Availability & Prices on
Booking.com
4-Star With a View
Athens Gate Hotel — Offering absolutely lovely views of the Acropolis from some of the rooms and the rooftop, and views of the Temple of Zeus on the other side, this place gets high marks on location, friendliness, comfort and breakfast. It's in a highly walkable location with easy access to Plaka. On a busy road, be sure to ask for a quiet room if you're a light sleeper. Scores a 9.0/10 on Booking.com
Check Availability & Prices on
Booking.com
High Value Budget
Ilissos — Located in a high-rise building about 10 minutes from Syngrou metro,  the Ilissos is a solid value option: on the surface, it's a bit dated and lacking in frills, but it's in a fantastic location and the things that matter most (comfort, location, cleanliness) seems to be well covered here. Bonus for a rooftop bar overlooking the Parthenon! 7.9/10 on Booking.com
Check Availability & Prices on
Booking.com
Where To Stay in Athens: Exarchia
Great area for: ✓ Young & Edgy ✓ Local Living 
Exarchia is considered one of the most bohemian neighborhoods in Athens, and while it is located in the city centre next to the posh Kolonaki area, it has a more revolutionary feeling, serving as the home to anarchist groups. When it comes to political protest, many start right here in Exarchia.
Apart from that, Exarchia is a lively area with many edgy, alternative bars and restaurants. It's a place where young people and students hang out, and while it's not generally considered "unsafe" per se, it definitely has a tough vibe to it.
Note that in the past, there has been trouble in the neighborhood, with riots occurring, anti-police/anti-establishment troubles, and the US Embassy issuing warnings to stay out. So if you're looking for an upscale vacation focused on archaeological and cultural treasures, Exarchia probably isn't for you. BUT, it could be a fun place to stay for younger travellers, provided they are confident they can stay out of trouble and are aware of the current climate.
Also of note, Exarchia is close to the National Archaeological Museum — an absolutely must-see in Athens!
Closest Metro Station: Omonia (in general, we recommend avoiding the Omonia area at night)
Great Value Option
Best Western Hotel Museum — Located between Omonia and Victoria metro stations, the Best Western gets high ratings for value for money. Right by the Archaeological Museum, this hotel is consistently rated for large and spacious rooms, and friendly staff who are willing to go above and beyond. Also, past guests rate the strong wifi as a bonus. The main downside is the area, which some guests say comes across as a bit seedy. 8.2/10 on Booking.com.
Check Availability & Prices on
Booking.com
Friendly and Cozy Hostel
Athens Quinta Hostel — This affordable hostel gets rave reviews from past guests — almost without exception. From constant praise of the super friendly owner Eva, to frequent use of words like "cozy," "homey" and "comfortable" this seems like a great option if you're in Athens on a budget, and don't mind being out of the more traditionally popular tourist areas. One downside, is noise was mentioned as an issue. Gets 9.4/10 on Booking.com.
Check Availability & Prices on
Booking.com
Bright and Airy Value Option
Dryades Hotel — This places looks quite lovely, and seems to offer great value for money in a very vibrant part of the neighborhood. To start, it's in a quiet area, making it a nice spot for a bit of tranquility in Athens. The rooms look basic, but mostly updated and quite fresh. Past guests seem to mostly enjoy the quirkiness of the area, but also mention the uphill walk to get there. If you're arriving with a lot of luggage, splurge on the taxi. Gets 8.7/10 on Booking.com
Check Availability & Prices on
Booking.com
Where To Stay in Athens: Kifissia (Northern Suburbs)
Great area for: ✓ Posh & Upscale ✓ Green Space ✓ Tranquility ✓ Families ✓ Business
Kifissia is in the northern suburbs of Athens, and is another upscale option that oozes "exclusivity." Filled with a beautiful mix of old and ultra-modern, if you stay in Kifissia you'll have many lovely — but expensive — shops, restaurants and cafés to choose from, leafy boulevards, and lots of green space. If you're after tranquil and exclusive, and don't mind being a bit further out of the centre (it's about 45 minutes into the centre via metro), Kifissia is a beautiful part of Athens to stay. It's also a nice area for families, or visiting Athens on business.
Closest Metro Station: Kifissia (Line 1, Green)
Karim Rashid Design Hotel
Semiramis — A super funky and modern design hotel (and member of Design Hotels Worldwide), the Semiramis screams fun luxury: bright pop colours, an art collection to drool over, smart TVs, and a good location on Kefalari Square. It's in a lovely setting in a tranquil area of Athens, and has a gorgeous-looking pool to lounge by! Overall, this looks like a high-end and fun option! Scores an 8.8/10 on Booking.com.
Check Availability & Prices on
Booking.com
Zen Lux Concept Hotel
Coco-Mat Hotel Nafsika — Coco-Mat Hotels are all about the sleep, so you know you're going to be comfortable here (Coco-Mat is a bed and bedding company that is now in the boutique hotel game)! Besides the luxury sleep experience, the Coco-Mat Nafsika looks like a tranquil spa retreat: loads of natural touches, calm colours, and a general luxury zen vibe. Gets a 9.1/10 on Booking.com
Check Availability & Prices on
Booking.com
Elegant Boutique
The Y Hotel — An elegant boutique with understated, contemporary colours and furnishings, this place gets high marks for offering a calm and peaceful base in Athens, and for wonderful staff. With all the conveniences you'd need, this place lacks flashy bells and whistles in favour of elegant calm. Bonus for an on-site fitness center and lovely outdoor terrace. Gets a 9.4/10 on Booking.com
Check Availability & Prices on
Booking.com
Where To Stay in Athens: Glyfada, Voula & Vouliagmeni (The Southern Coastal Suburbs)
Great area for: ✓ Beach & Coast ✓ Families ✓ Good City Access
The southeast coast of Athens, and the southern suburbs that dot the coast, are a great option in the summer months if you're interested in some beach time. Personally, I'd recommend staying in Glyfada, as there are many things to do there and the access to the city centre is not bad. However, if you want to be a bit more remote, and don't mind paying for taxis, Voula or Vouliagmeni may be more your speed!
Glyfada —  An upscale residential area of Athens, Glyfada offers seaside living complete with trendy restaurants, bars and many shops. If golfing is on the agenda, Glyfada also has the only golf course in Athens! There is a tram line in Glyfada with connections to Neos Kosmos metro station and Sygrou Fix Metro station (line 2), but note the tram is pretty slow going. 
Voula and Vouliagmeni — The further out from Athens you get, the cleaner the beaches and water are. Voula and Vouliagmeni offer nice beaches and swimming, and both are upscale residential areas with few tourists. The "downtown" of Voula has more going on in terms of restaurants and cafés, and Vouliagmeni is definitely the more remote of the two. Neither, however, have great connections to Athens city centre, so you'd probably be looking at taxis from here, or at the very least, a taxi to Glyfada to switch to the metro.
Note, if you stay in the Southern Suburbs, make the effort to go to the beautiful Flisvos Marina (Trocadero tram station), from where you can take a day cruise to the islands of Hydra, Poros and Aegina. You'll also find the Averoff ship here, which played an important role during the Balkan wars and operates as a museum. Nearby you can also visit the Stavros Niarchos Foundation Cultural Centre, home to the National Opera.

Lux Minimalism Near the Beach
Brasil Suites Boutique Hotel (Glyfada) — A contemporary, minimalist boutique hotel with gorgeous rooms and a lovely terrace pool, Brasil Suites are a less than minute stroll to the beach and 1 minute to the tram. All the rooms are suites, making this a great option for families with small children. Top marks all around, with hardly a bad word spoken by past guests. A true gem — 9.4/10 on Booking.com.
Check Availability & Prices on
Booking.com
5-Star Beach Retreat
The Margi (Vouliagmeni) — A stylish beach retreat in Vouliagmeni, The Margi is a hidden gem surrounded by green and within minutes to a lovely beach. Mixing cozy and contemporary, the rooms look like a perfect retreat, and the outdoor terrace and pool looks lovely on days when the 5-minute walk to the beach seems too far away. Bonus points for a small fitness center and excellent restaurant. Gets 8.8/10 on Booking.com.
Check Availability & Prices on
Booking.com
Affordable at the Beach
Palmyra Beach Hotel (Glyfada) — An affordable hotel just 3 minutes from the beach, this place is in a great location and and gets strong marks for value for money. While it has a bit of a business hotel feel at points, the rooms appear to be updated toward more of a boutique feel, as does the pool area. Gets a 8.3/10 on Booking.com
Check Availability & Prices on
Booking.com
Athens Travel Tips & FAQs
Getting from Athens Airport to the City Center
Athens' Eleftherios Venizelos (ATH) airport is located on the outskirts of the city, and getting from ATH Airport to Athens city center is relatively straightforward using public transportation, a taxi or Uber, or a private airport transfer.
Metro Line 3 (blue) takes around 40 minutes from ATH airport to the city, and a single ticket costs €10. The metro goes every 30 minutes from 6:30am until 11:30pm, making this a convenient option if you arrive during the day. Check Athens Transport's website for more info.
You can take an airport express bus for €6, which run 24/7 and are especially convenient if you arrive late at night or early in the morning. The buses depart from the arrivals level at the airport, and can take up to one hour, depending on traffic. The X95 bus runs from the Airport to Syntagma, the central square in Athens city centre.
Flat fare taxis are available for €35 at Exit #3 on the arrivals level. That price increases to €50 between midnight and 5:00am. Note, this fare only applies if your destination is within the city center/inner ring.
Private airport transfers can be arranged in advance, and are a great option if you don't want to deal with any hassles. Athens airport transfers seem to start around US $15 to $20.
Getting Around Athens Using Public Transportation
Generally, Athens public transport, and especially the metro, is very reliable. Athens is a big city, but all the major sights are located within the city centre. Depending on where you choose to stay, you might not need to use the public transport at all, other than getting to and from the airport. You can find more info about Athens' public transportation network on the official website.
Are There Any Areas of Athens To Avoid?
Although Athens is considered a safe city, Chrissy recommends travelers avoid staying in the area around Metaxourgio, Omonia, Patission, Larissis Train Station and Vathis Square.
These neighborhoods are very close to the centre, but are not very safe to walk around at night.
Where to Stay in Athens for a Ferry?
If you want a convenient place to stay before catching a ferry to the Greek Islands, consider staying right in Piraeus. The town of Piraeus is close to Athens — just a 30 minute ride on the train. It is also home to the biggest port of Greece from where you can take the boat to almost all the Greek Islands. Really, the only reason to decide to stay in Piraeus is if you want to catch an early ferry to the islands and it is very convenient for this!
Check out Phidias Piraeus Hotel as a great budget option, or just put "Piraeus" in as your location while searching in Booking.com (link goes directly to search results).
So Where Should You Stay in Athens?
Plaka and Syntagma are the best Athens neighborhoods for first-time visitors, and for people coming for a short sightseeing trip to the city. While they are more expensive than some areas, they are also very convenient.
Psirri & Monastiraki are the best areas of Athens for nightlife. They have a young and fun vibe, and are still very convenient for sightseeing and for strolling through nearby Plaka. If you want an edgier vibe, consider Exarchia, Athens' most alternative neighborhood.
Kolonaki and Kifissia are the most ritzy and posh neighborhoods in Athens, and are the best place to stay in Athens if you want a tranquil and upmarket experience. Kolonaki is in central Athens, and Kifissia is about 40 minutes out in a lovely suburb.
If you're looking for a beach and city vacation, consider staying in one of the coastal neighborhoods of Glyfada, Voula, and Vouliagmeni.
If you're catching an early ferry to the Greek Islands, the best place to stay in Athens is in the nearby port town of Piraeus.
Chrissy's favorite area of Athens is Plaka, and that's where she'd suggest most visitors stay. Plaka is a safe neighborhood, and everything is within walking distance from there!
Where to Stay in Athens: A Note From Our Athens Neighborhood Expert, Chrissy
I have lived in Athens almost all my life, and it's a city I know well despite the fact it's always evolving. Every day, I discover something new that makes me fall in love with Athens all over again. And almost every day, because of my studies and work in tourism, people ask me for Athens travel tips — where to stay, what to do, where to eat, etc. I'm always happy to help!
On a recent tour I took in Athens, I started talking with a couple on the tour, and asked them where they were staying in Athens. I was pretty shocked to discover they were staying in the worst part of Athens because they'd read it was within walking distance from the main attractions.
So when Katie and Geoff asked me to write this Where to Stay in Athens Guide, and to share my thoughts on the best areas to stay in Athens, I jumped at the chance to offer my advice.
We hope it's helped you choose the best area to stay in Athens, regardless of your budget and travel style!
A Note About The Hotel Suggestions In This Athens Neighbourhood Guide
We want to be clear that we haven't stayed in any of the hotels listed in this Where to Stay in Athens Guide. As we're almost always hiring locals to write our Where to Stay Guides, and locals live in apartments and houses rather than hotels, we can't give first-hand accounts of the hotels listed. However, what we can do is complete research on your behalf, listing what look like the best hotels — and at the very least places we we would personally love to stay — for each neighborhood.
Our goal with this Where to Stay in Athens Guide (and our Where to Stay in Barcelona, Where to Stay in Lisbon, Where to Stay in Rome Guides…you get the idea) is to help you find the best area of Athens to stay for your travel style. That's why we only write guides when we can find a local – or someone who knows the city well – or have lived in the city – to provide expertise.
We know all too well from personal experience that the area in which you stay can make or break a trip…and we definitely want to help you 'make' it. And we do that by researching the hotels to answer questions like, Is it in a good area that appears to be both safe and fun? Will it be convenient to enjoy the city from this hotel? Does it get excellent reviews from past guests? Would I suggest it to my BFF?
Hopefully this Where to Stay in Athens will help you have a better trip to Athens…but please don't blame us if it doesn't. Ultimately, we are providing some of the research, and we expect you'll do the research you need to do to ensure the information hasn't changed since this guide was published, conditions in the city haven't changed, etc.
Thank you so much for reading this, and for booking your hotel through one of our links. And the very happiest of travels to you!