Planning a trip to Clearwater Beach with kids? You've come to the right place. I've been living in the Clearwater area since my own childhood and now I'm a mom with my own kid to entertain at the beach. So you can say I've had my share of experience with all of the entertainment Clearwater has to offer!
Here are all my top picks for the best things to do in Clearwater Beach with kids!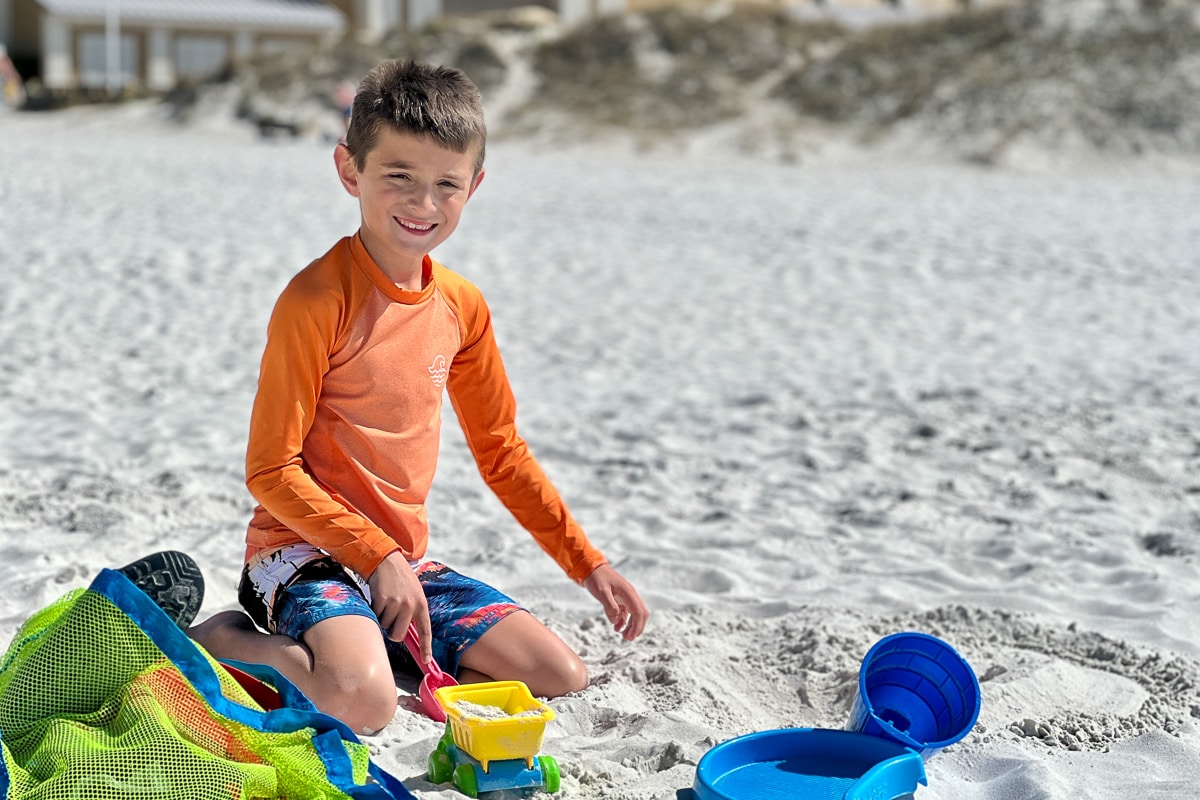 For Kids of All Ages
These staple attractions are always a hit with kids of all ages – including kids at heart!
The Beach! 
Yeah, ok, that one was too easy. But the beach is the reason you're going to Clearwater, right? So be sure to hold at least one full day in your itinerary to just sit in a lounge chair and enjoy the incredible view.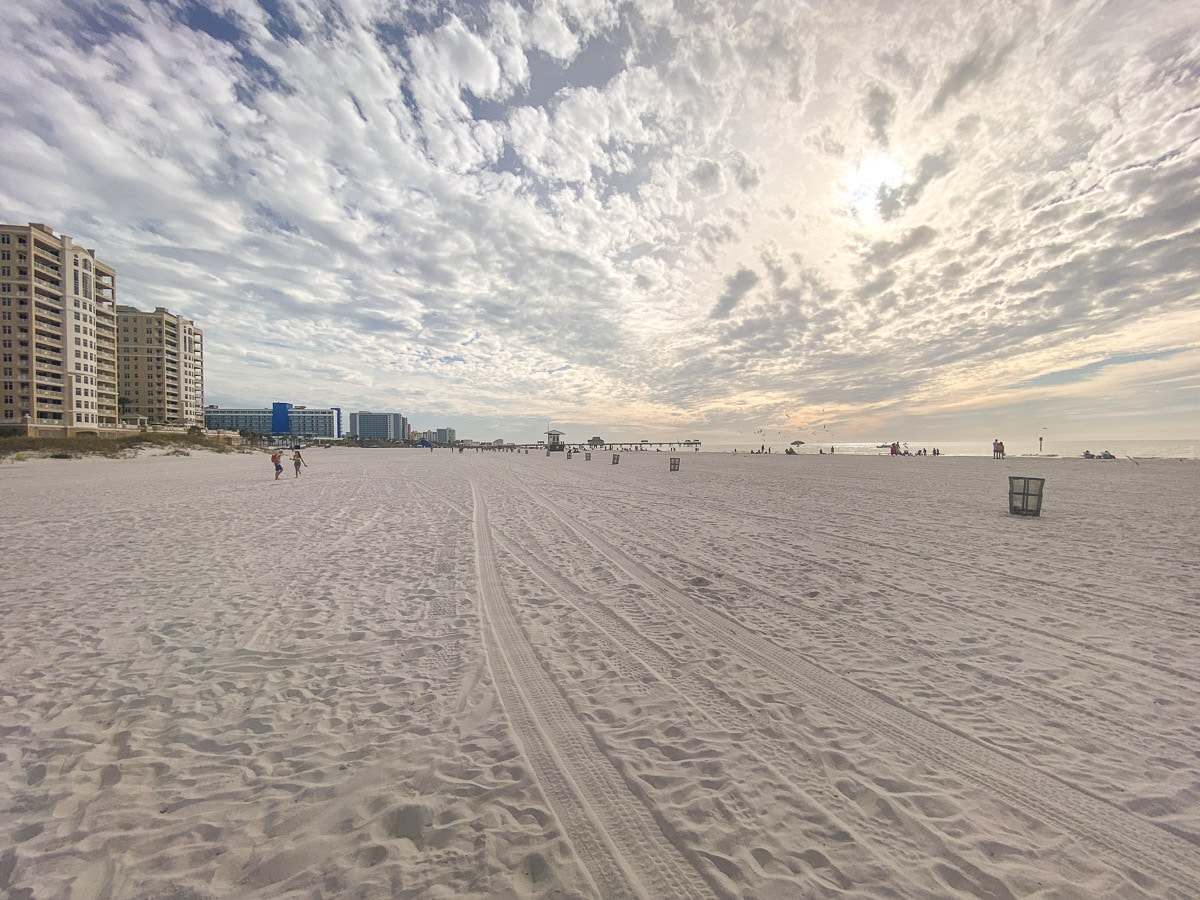 If you're staying in one of the many beachside hotels (here are my favorite hotels), they will probably have their own beach chairs and cabanas or umbrellas. Some hotels include usage with the hotel resort fee, and some charge a daily rental fee, so be sure to check before your book.
If your hotel doesn't have their own chair set up, head to the beach area just south of Pier 60 and you will find the main public chair rentals. Look for the blue beach cabanas!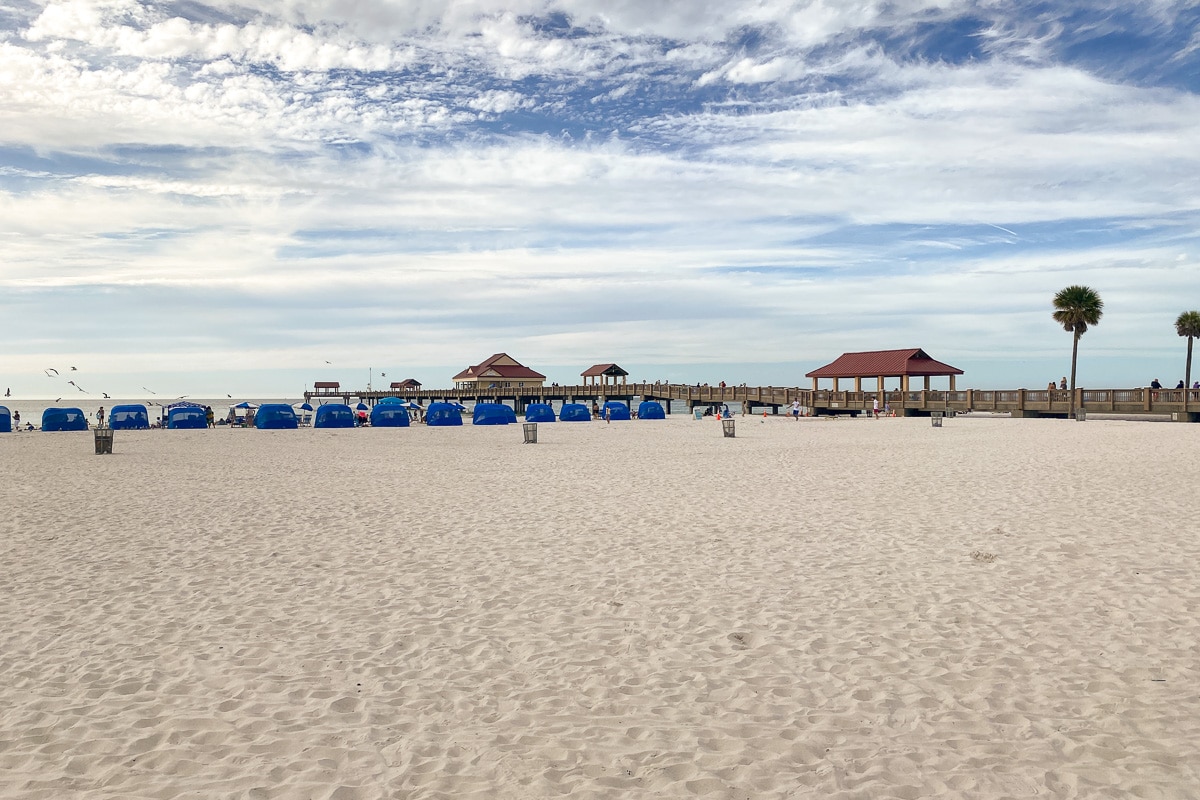 And if you're bringing your own beach gear, you can set up just about anywhere you like. In my experience, the area just north of the Hilton tends to be less crowded than closer to the pier. And that is also a great location for walking to Frenchy's or Clear Sky for lunch. 
Oh, and if your hotel has a fantastic pool (like the Sandpearl), I suggest planning for one full beach day and one full pool day as well!
Dolphin Watching Cruise
I've lived in Florida since I was ten years old – and I am still not tired of the dolphins. They are just so darn cool. And adorable. And personable. If you aren't lucky enough to have these creatures where you live, don't miss the chance to see them up close!
There are lots of dolphin cruises to choose from, and they are all going to be pretty good. I recommend choosing a tour that leaves early morning or early evening- a sunset tour is a great choice! You'll have the very best chance of spotting dolphins at those times of day. (I have personally have had the most luck in the morning.)
A few of the popular tour providers are: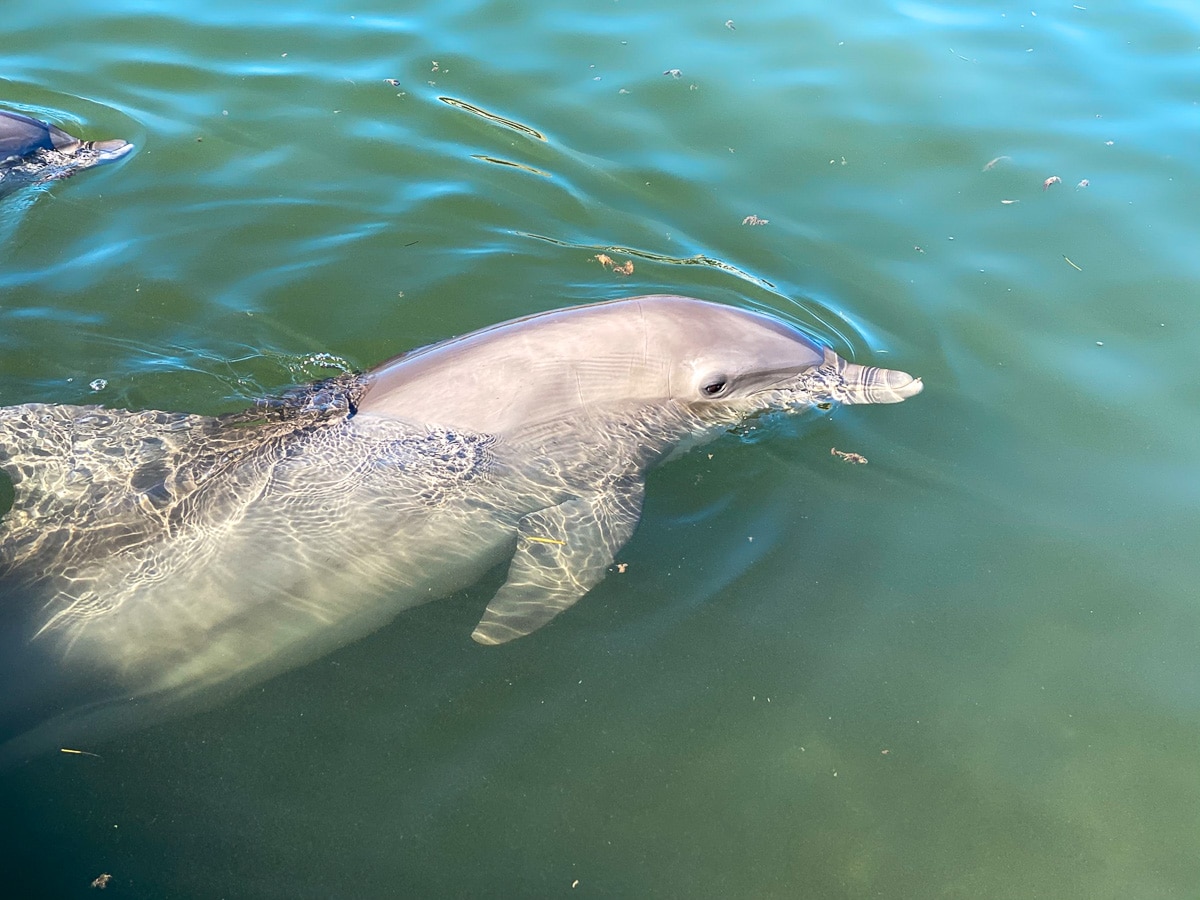 They are all going to give you a good experience. Kids always find the Mega Bite boat fun, for obvious reasons! And with all of them, if you don't end up finding any dolphins, it's still a beautiful boat ride in gorgeous waters.
If you don't do a dolphin tour on your trip, be sure to keep your eyes open at the beach anyway. You can very often see dolphins right from the beach! 
Sunset Festival at Pier 60
The Sunset Festival is the place to be in the evening on Clearwater Beach! It happens daily and lasts from two hours before sunset to two hours afterwards every evening, and they are a ton of fun.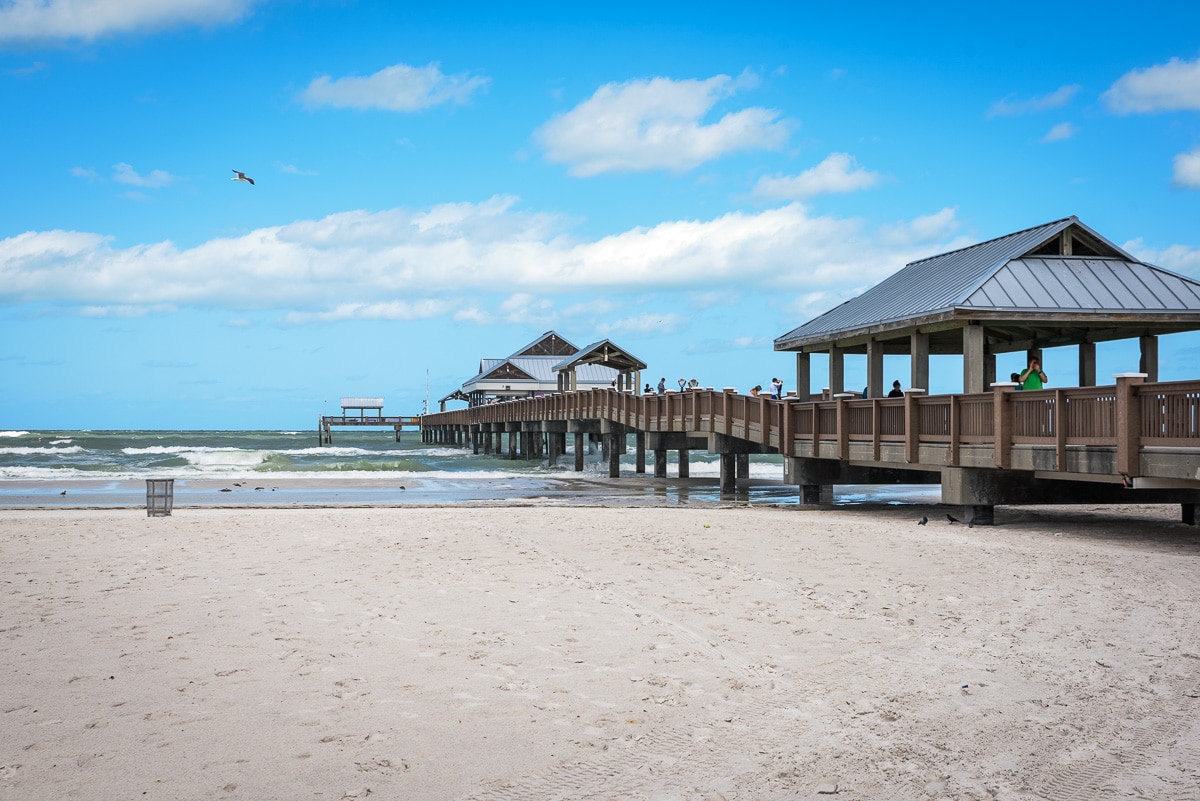 You'll find plenty of vendors there – from concessions to arts and crafts. There is a big inflatable slide, bounce house, and small rides for the kids. There is often live music or street entertainers, and there is a great playground here to keep the kids busy too. 
Be sure to check out my complete guide to Pier 60 for all the nitty gritty details!
Bonfires at Sandpearl
The Sandpearl is one of my favorite resorts on Clearwater Beach. And they are also the site of the one and only bonfire on the beach every evening. It's set up right in front of their beach bar, Tate's, which is a great place to grab a drink as well. It typically starts up around 7:30.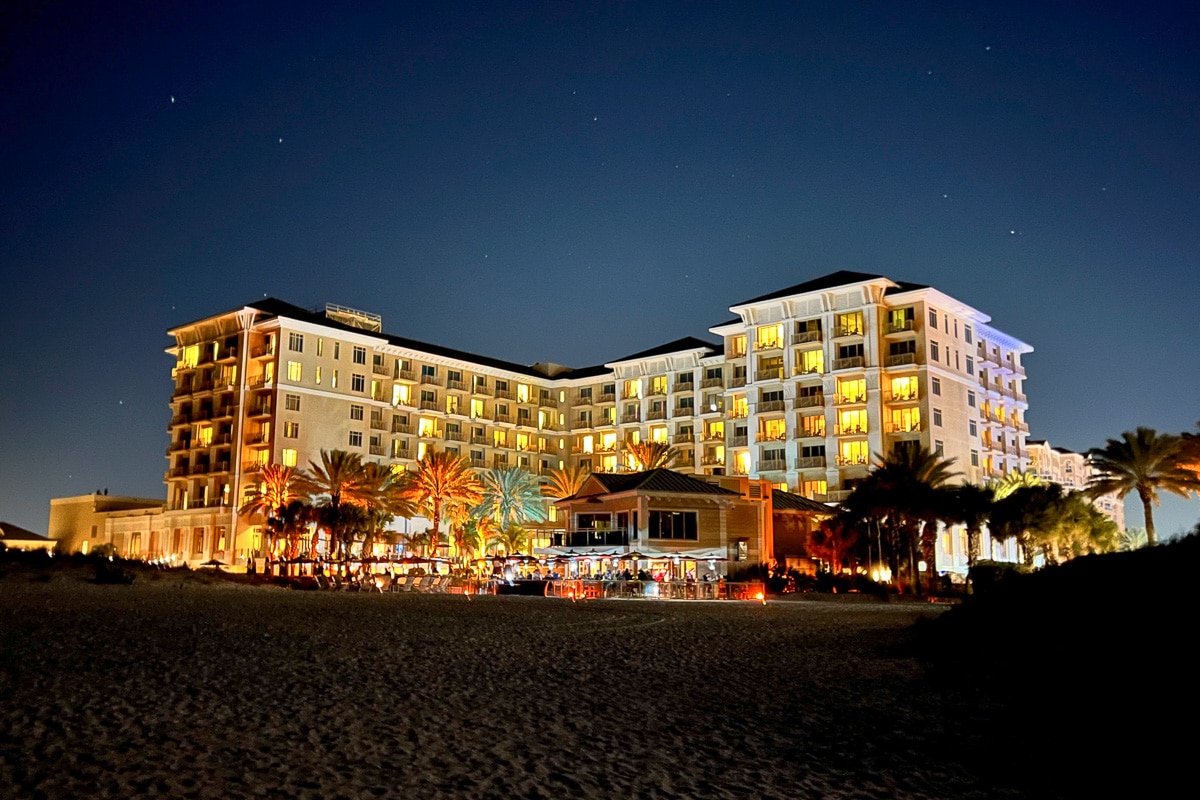 They also have a separate s'mores fire pit that they bring out some evenings (typically earlier). That one is very much catered to families and they sell s'mores kits at the activity desk by the pool. But kids are welcome at the main bonfire too!
Grouper Sandwiches at Frenchy's
Frenchy's Rockaway Grill is a Clearwater Beach icon. Their prime beach front location has a lot to do with that. But they are also famous for their grouper sandwiches.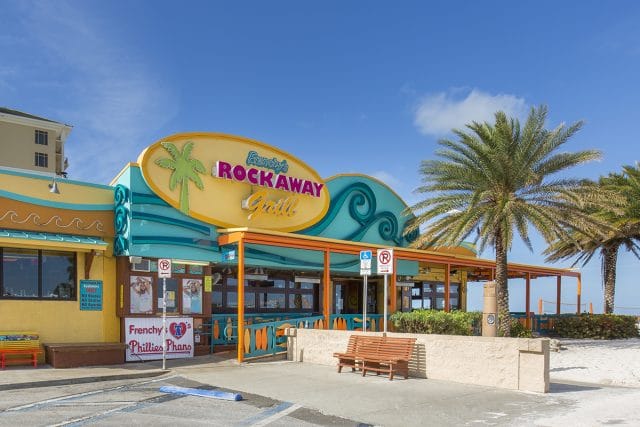 There was actually a big grouper scandal back when I was a kid. Apparently local restaurants were passing off cheaper fish as local grouper. A news reporter took samples of sandwiches from all over town, and published a list of which ones were actually grouper. And Frenchy's was one of the only true grouper sandwiches on that list!
This restaurant is very popular and does not take reservations, so go at an odd time if you can. It turns into an adults only bar during the night, but is family friendly during the day.
Clearwater Marine Aquarium
Clearwater Marine Aquarium is located just off of the causeway that you drive to reach Clearwater Beach. It's not really a traditional aquarium, but a marine rescue that focuses on rehabilitating injured wildlife and educating the community about marine life.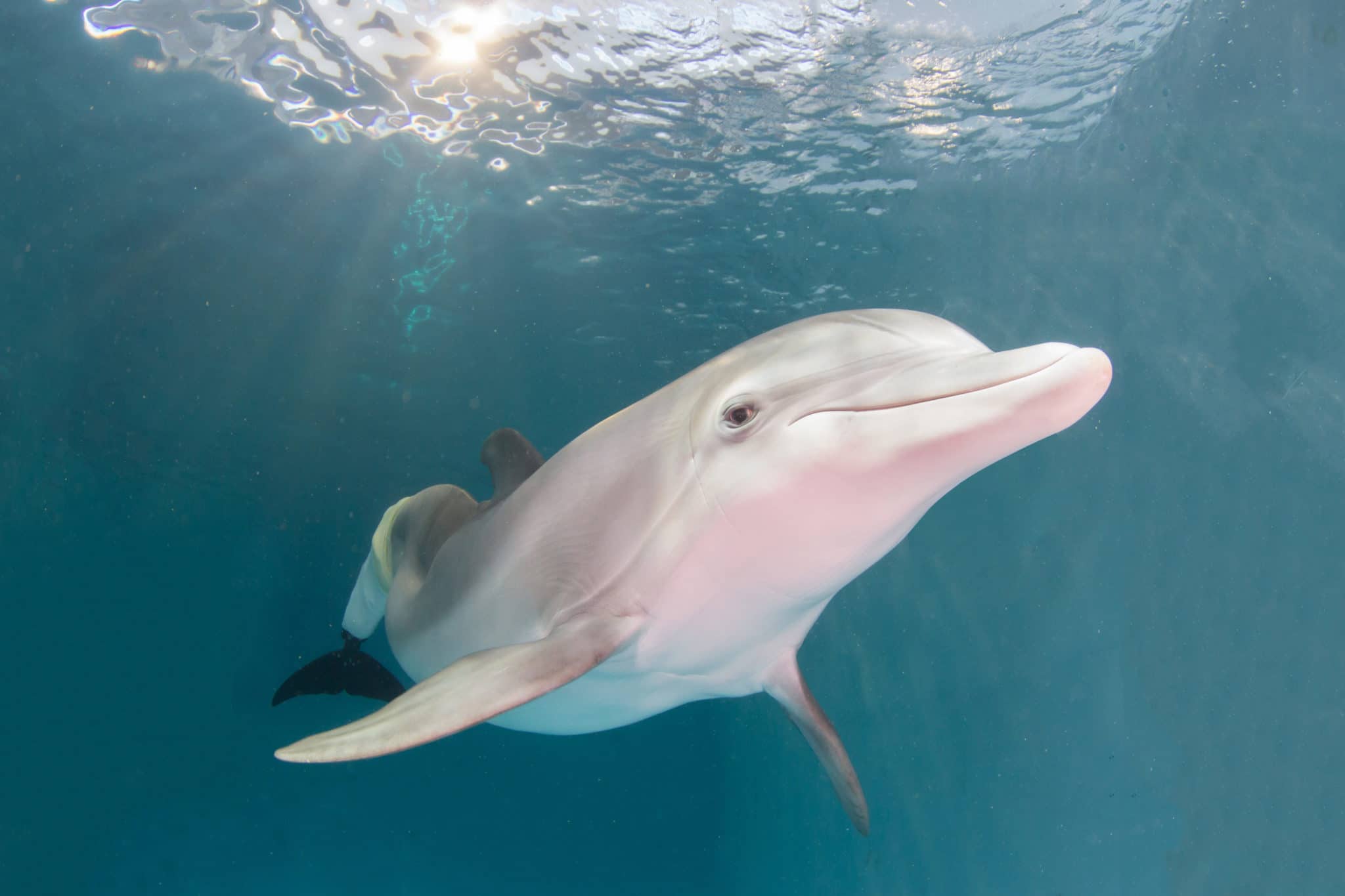 The aquarium was made famous by Winter, the dolphin star, who unfortunately passed away recently. But it remains a fun place to stop with kids and learn about the local sea life and conservation efforts. My son loves the place!
Honeymoon Island and Ferry to Caladesi Island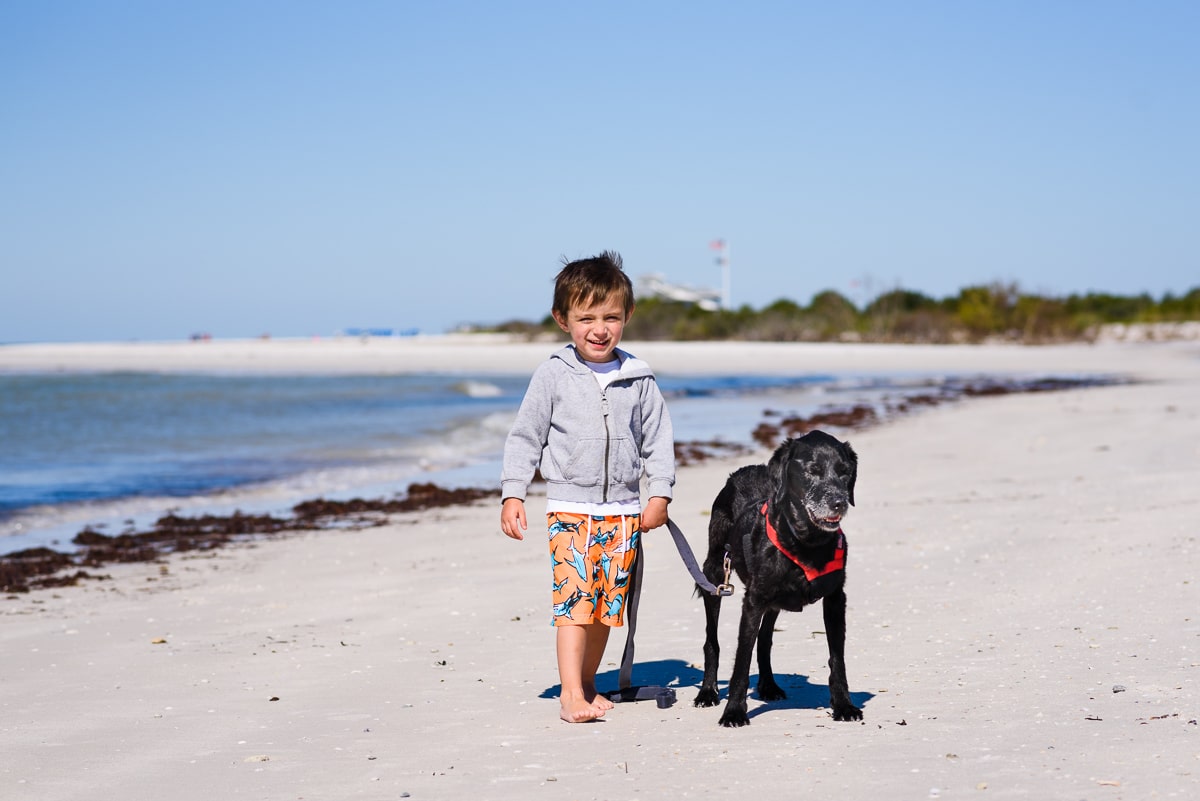 If you want to get away from the tourist strip for a few hours, Honeymoon Island State Park will do the trick.
Honeymoon Island is a short drive away from Clearwater. But it does get busy, so I strongly recommend going in the early morning (by 9am) to avoid waiting in traffic on the causeway leading to the island or at the entrance. 
The beaches are more natural and rustic than Clearwater Beach, but it is really a beautiful places. There is even a dog beach there – one of the few in the Tampa Bay area.
There are some chair rentals and a concession stand by the main parking area, but you won't find any of the shops and restaurants of Clearwater Beach here. So be sure to plan accordingly! We always bring our own cooler of waters and snacks and our own shade.
If you are up for a family adventure, you can take a ferry ride from Honeymoon Island to Caladesi Island. It's not truly an island, as it's actually the northernmost tip of Clearwater Beach- but it is only accessible by boat.
Caladesi is much more secluded than Clearwater or Honeymoon, and is actually my favorite beach in the Tampa Bay area. Even on a "busy" day, this place never really feels crowded. You can always just walk further up the beach and find a nice quiet spot to chill.
There are few amenities on the island, so bring what you need. There is a small gift shop with concessions by the ferry dock and there are limited chair rentals on the beach. And be prepared – it is a bit of a hike to get from the ferry to the beach. But it's worth it!
You can get details on the ferry schedule and rates here.
For Younger Kids
Captain Memo's Pirate Cruise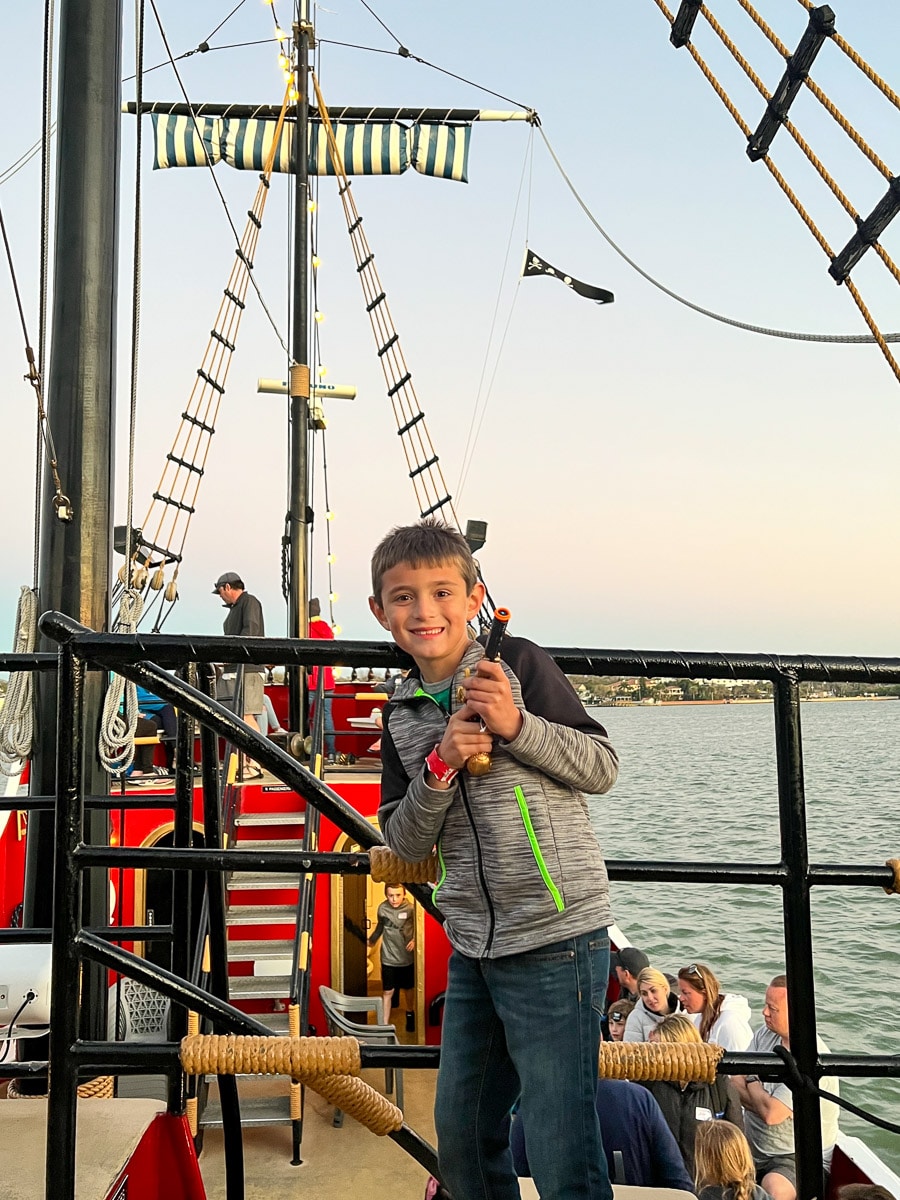 Captain Memo's Pirate Cruise has been around for as long as I can remember. I can't remember a day at the beach where we didn't watch the pirate ship sail by and fire their "cannons" at us. :-D
I recently did this pirate cruise again as an adult for my son's 7th birthday. I have to admit that I wasn't expecting too much. I knew it would be fun for my kid, and figured it would be a pretty boat ride. But oh my god – it was so much fun for us adults too.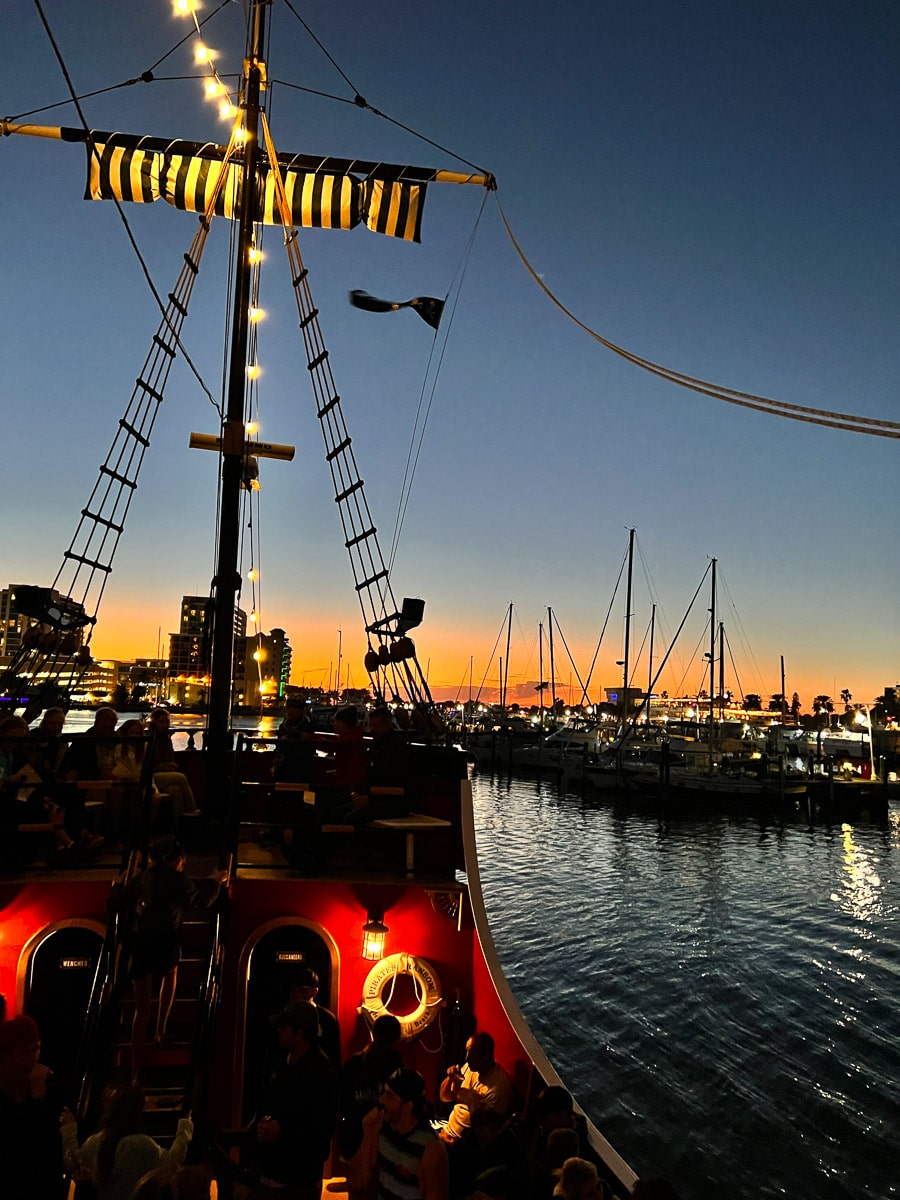 We did the sunset champagne cruise, which includes complimentary adult beverages. And let's just say Captain Memo was very generous with the pours. I was glad we could just walk back to our hotel afterwards!
But the best part was the kid entertainment. They had "pirate training" activities for the kids, and they very much entertained our child for the entire two hour cruise. He even got a pirate training certificate at the end. I was not expecting that at all. And it was kind of awesome to be able to kick back and enjoy some beverages with my husband while my kid played pirate!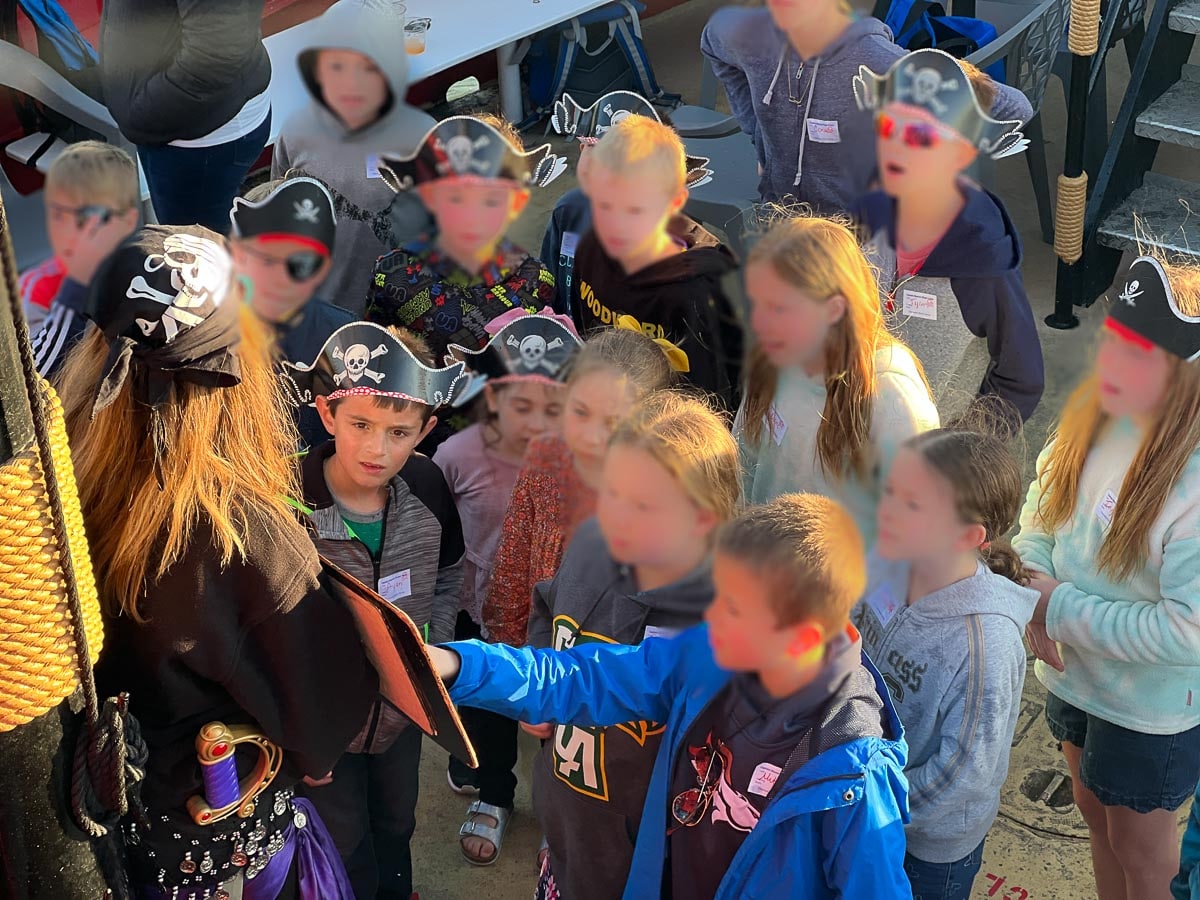 They sail two or three times each day, depending on the season and weather. But you will want to book your tickets in advance, as they do fill up. However, if they are full, they sometimes have stand by space available at the last minute. So head over to the marina and ask!
P.S. Be sure to bring some cash for tips for your pirate bartenders!
Pier 60 Playground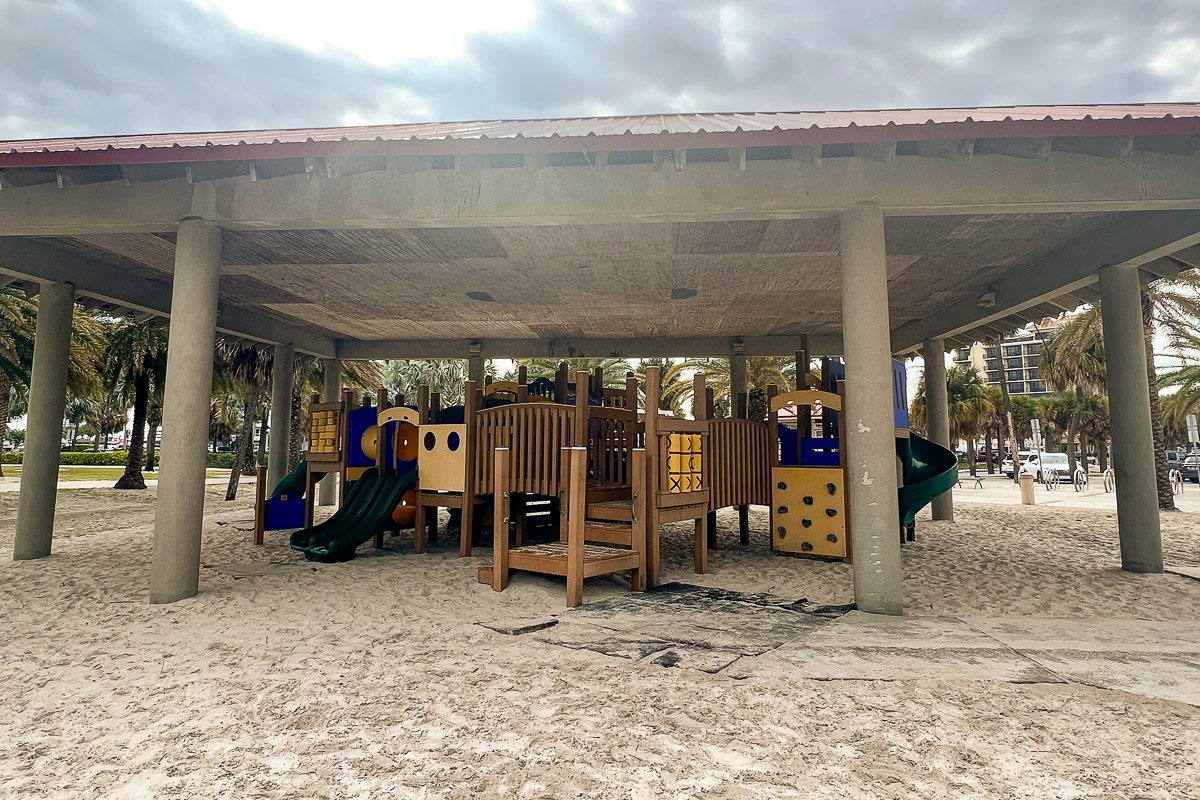 If you're looking to let the little ones burn off some energy, head over to the awesome playground right in front of Pier 60. It's a pretty fun area, with separate big and little kid equipment. And they are covered – so the kids can get out of the hot sun too!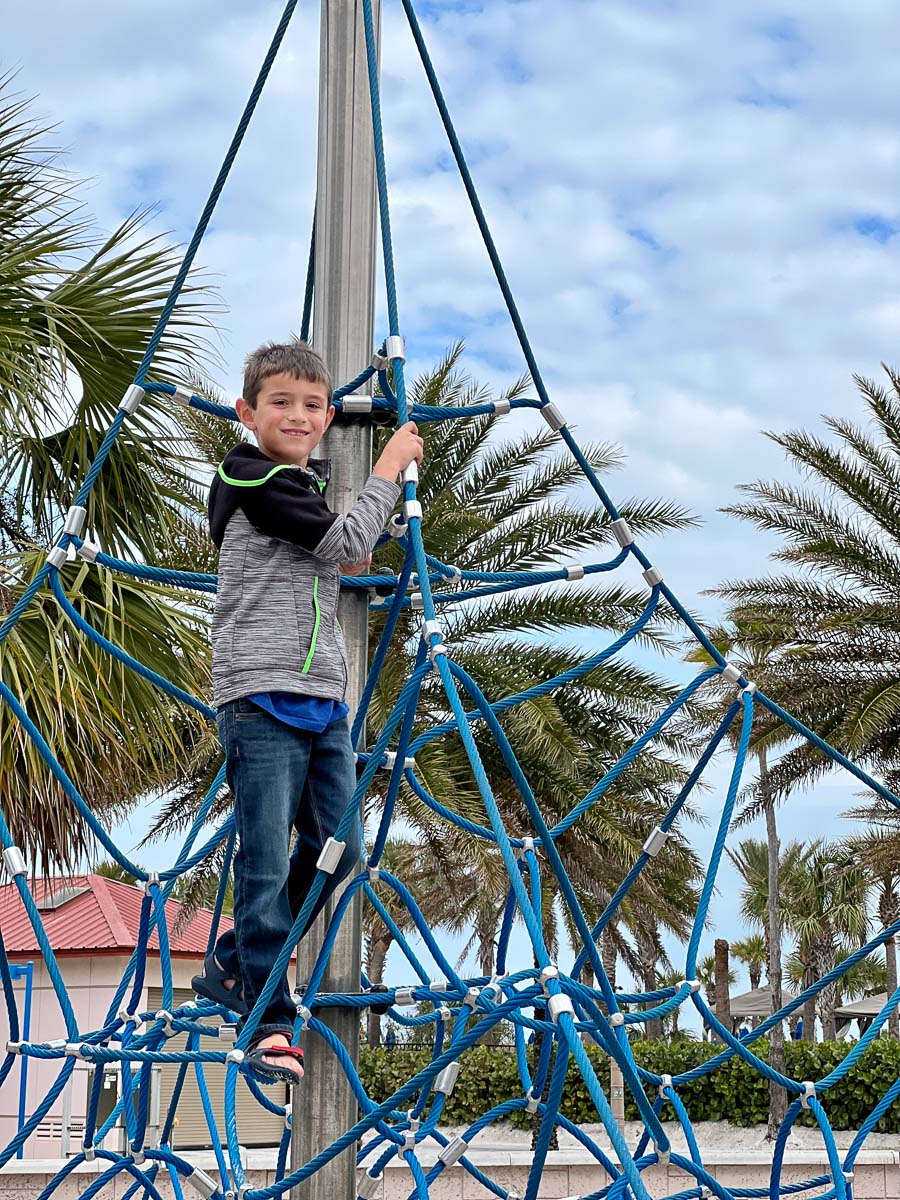 In addition to the main playground, there are some fun climbing structures and rope nets. (My son's favorite!) And when they get tired of that, you can head right out for a walk on the white sand beach.
Inflatable Slides and Bounce Houses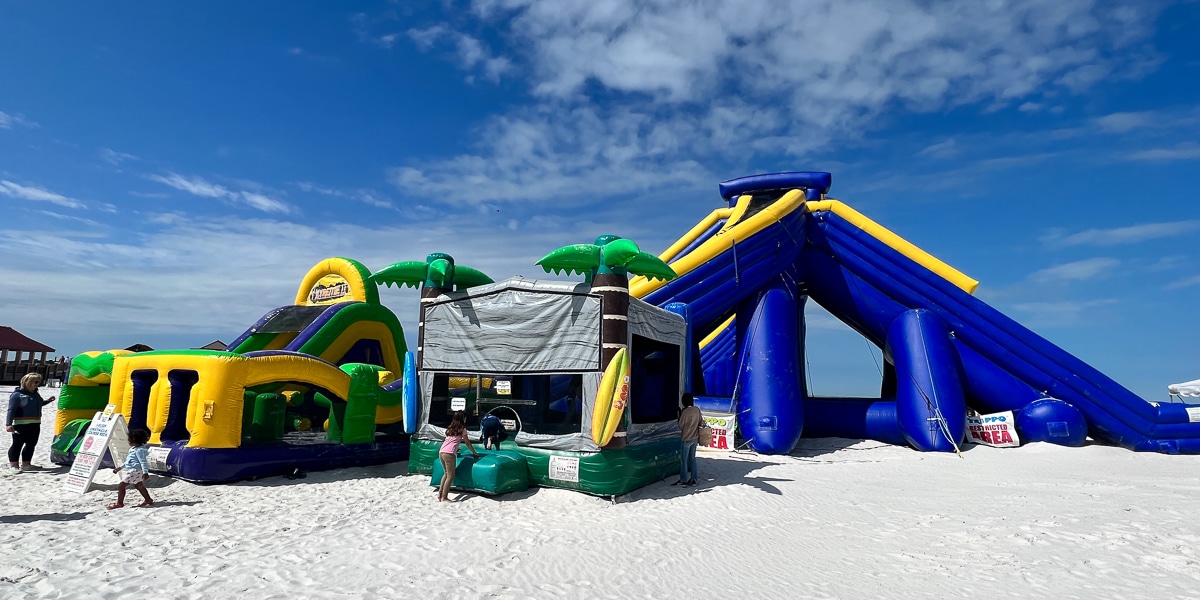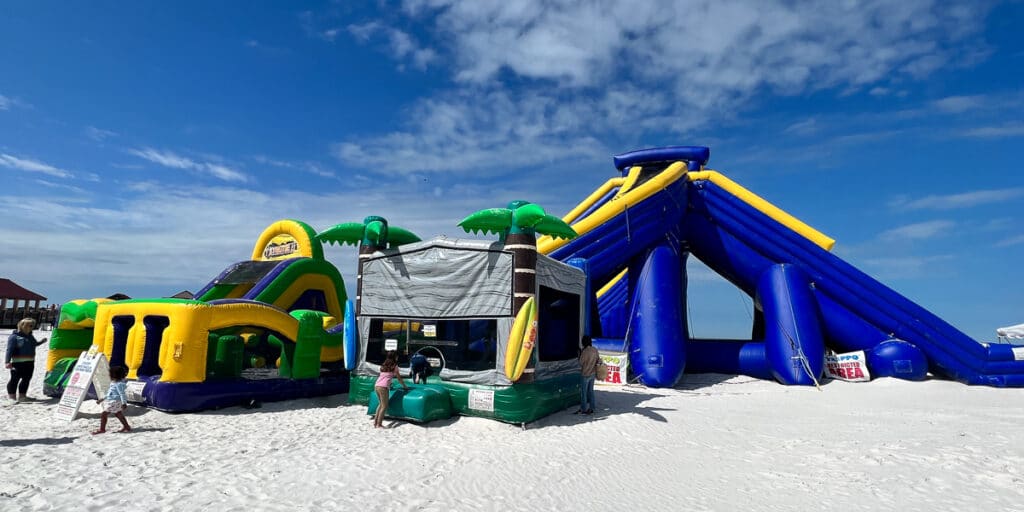 Another kid favorite on Clearwater Beach is the Big Blue Slide – which has expanded over the years to include several inflatable slides, a bounce house (or sometimes two), and a bungee trampoline.
The prices are kind of steep for what it is. But hey – it's a giant slide on the beach in one of the most popular tourist towns in the USA – so I'll just accept it. We did the all day pass on our last trip for $35 for the day. Since we were staying at Sandpearl – we got to visit in the afternoon and again in the evening to get our money's worth.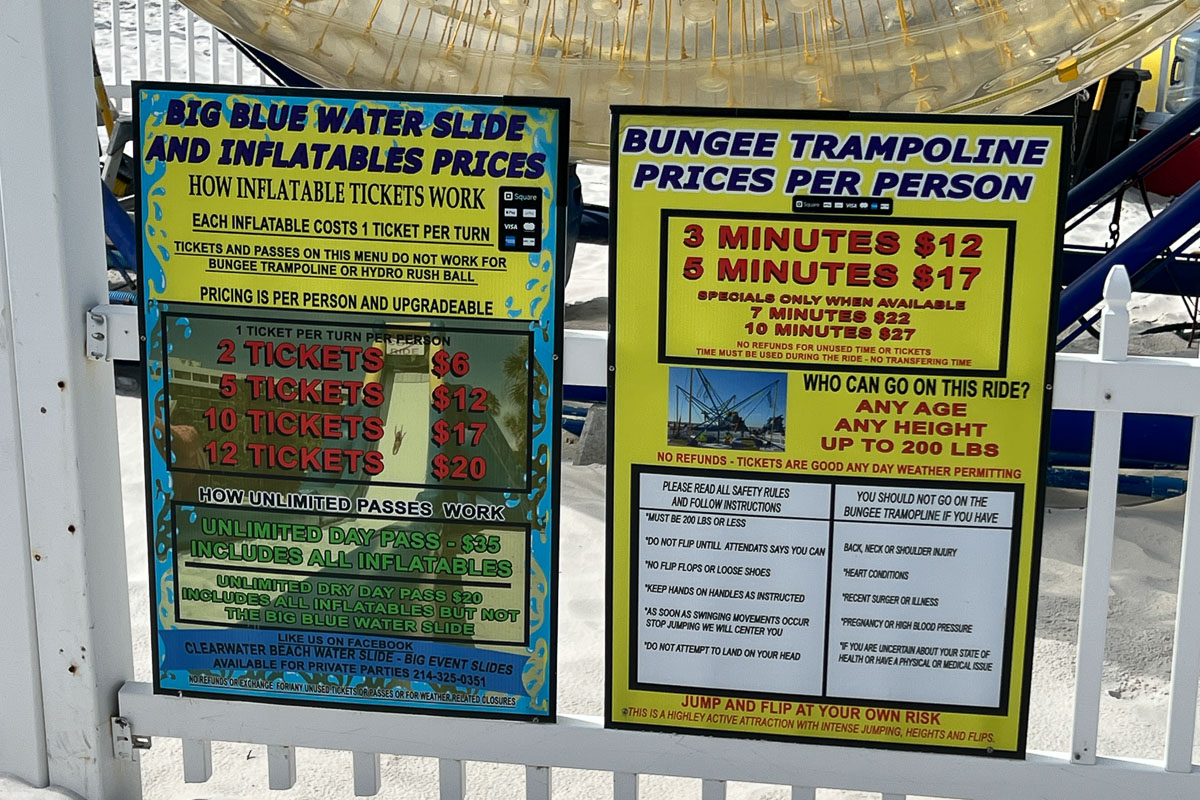 You can get details on current pricing and hours on their website, and be sure to check out my full guide to Pier 60 for more details!
For Older Kids and Teens
Jet Ski Rentals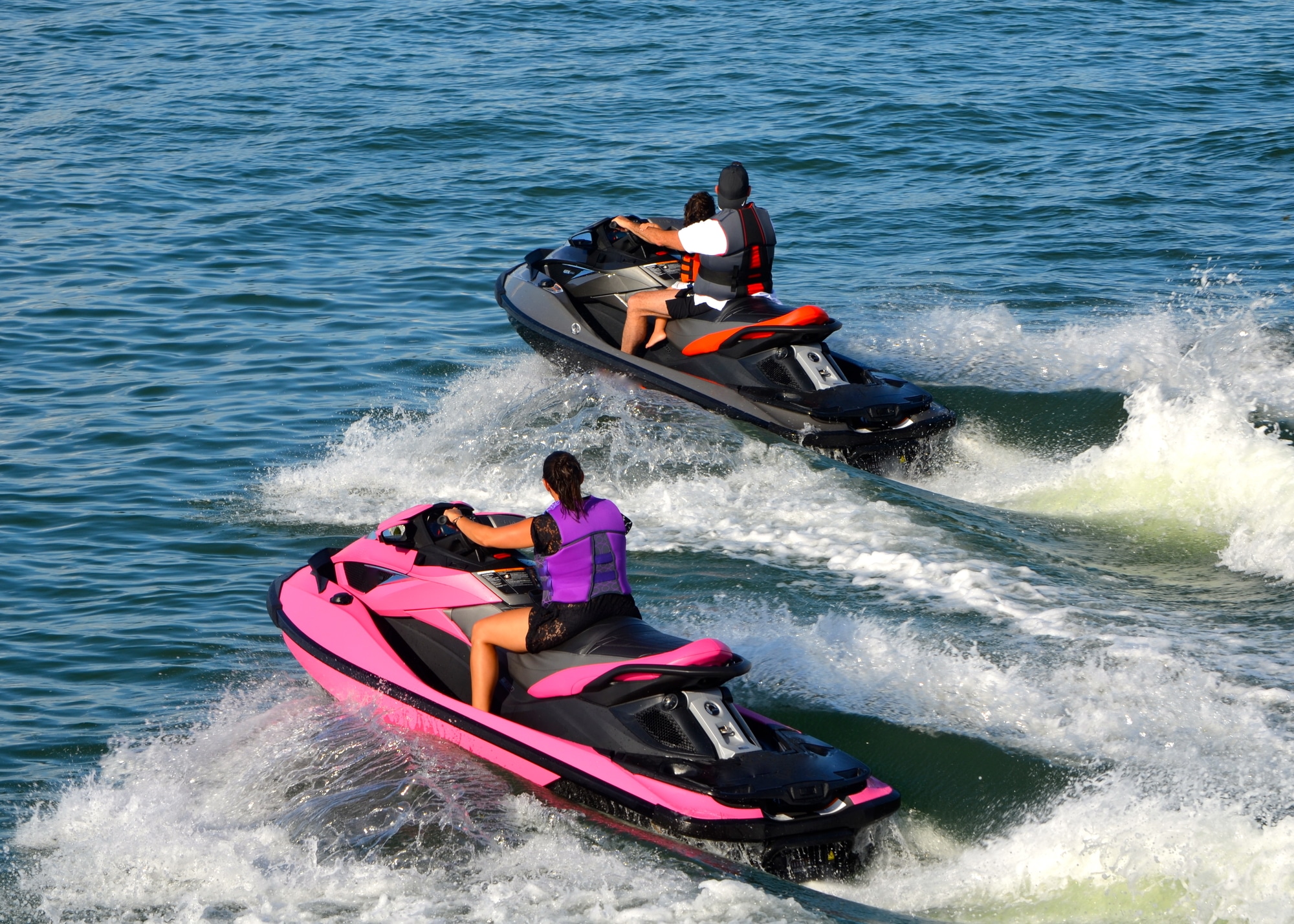 If you're looking for a bit of excitement, jet skis are a really fun way to spend an hour or two. 
You will find plenty of places to rent right on the main drag of Clearwater Beach, with some on the beach and some at the marina. Most places do have strict age requirements, and some require that drivers be over 18, so make sure you are clear on the rules before booking.
I generally recommend Clearwater Beach Jet Ski Rentals or H20 Jet Ski Rentals for families with teens, as they have lower age requirements for driving the jet skis. As of writing this, both companies will allow kids as young as 14 to drive with a parent as their passenger on the same jet ski. And at age 16, they are able to drive a separate jet ski on their own. (They may need to arrive early for a safety class!)
Just be aware that there is an inherent risk with all watersports – so you will have to judge whether your teen is ready to drive. If not, they can be a passenger while a parent drives. The minimum age for passengers is pretty young (I've seen as young as five!) – but there will be a height requirement to meet for safety.
Parasailing
Parasailing is another popular tourist activity on Clearwater Beach. I've been parasailing several times as a teen, and it was always a fun experience. I didn't find it to be as much of an adrenaline rush ride as I expected, though. It was actually a somewhat relaxing ride, as long as you're not afraid of heights!
You'll find several vendors at the marina, or you can ask your hotel for a recommendation. I haven't been in many years, so I won't include a particular vendor here. But if you find one that you love – do let me know!
Sea Screamer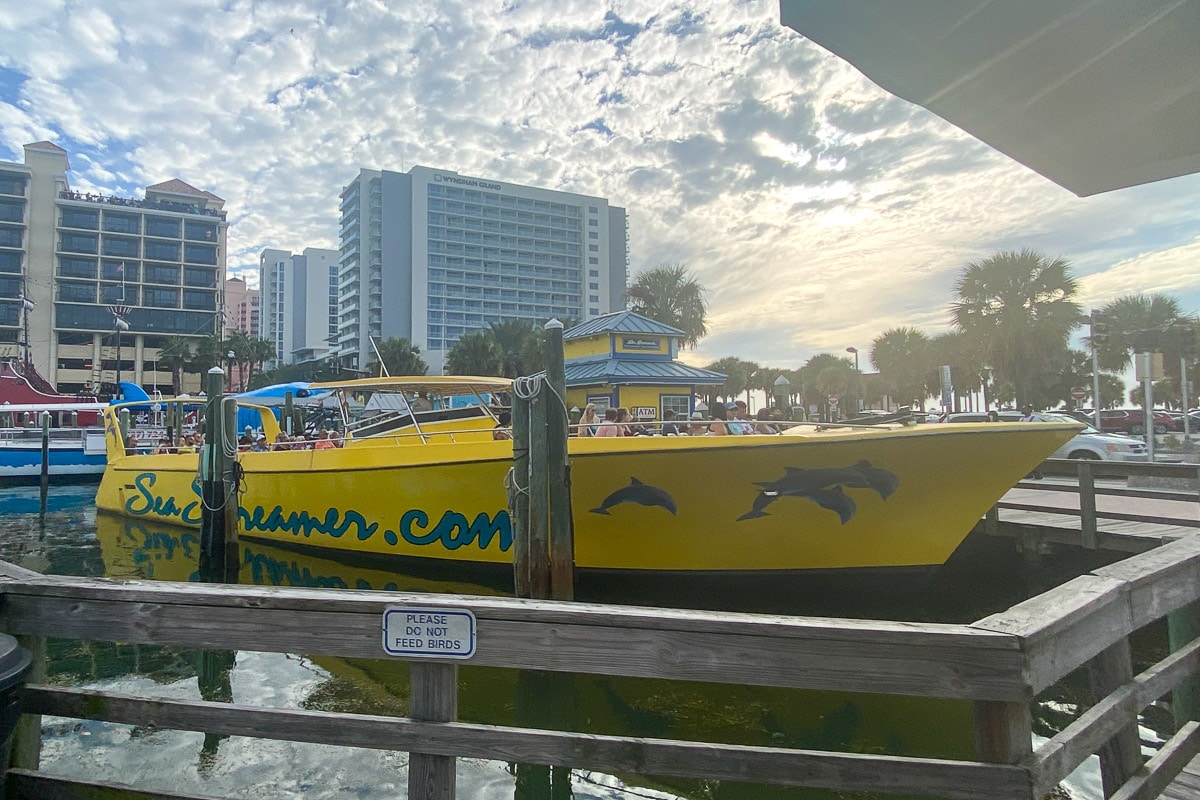 The Sea Screamer is a fun boat ride/ dolphin tour that is best suited for older kids or teens. It's pretty fast paced and a bit too intimidating for my seven year old (and he is a kid that goes boating almost every weekend!).
But if you're up for a little thrill and the chance of seeing some dolphins – this is a very fun time. You can book on their website here.
More Clearwater Beach Resources
If you're planning a trip to Clearwater Beach, don't miss these other helpful articles: