If you're heading to Clearwater Beach, you will want to work a visit to Pier 60 into your agenda. It's the heart of the beachfront strip and loaded with activities from playgrounds and fishing during the day to music and entertainment at night.
As a long time local resident, I've spent more than my share of time at this tourist hot spot – so let me give you the scoop!
The Fishing Pier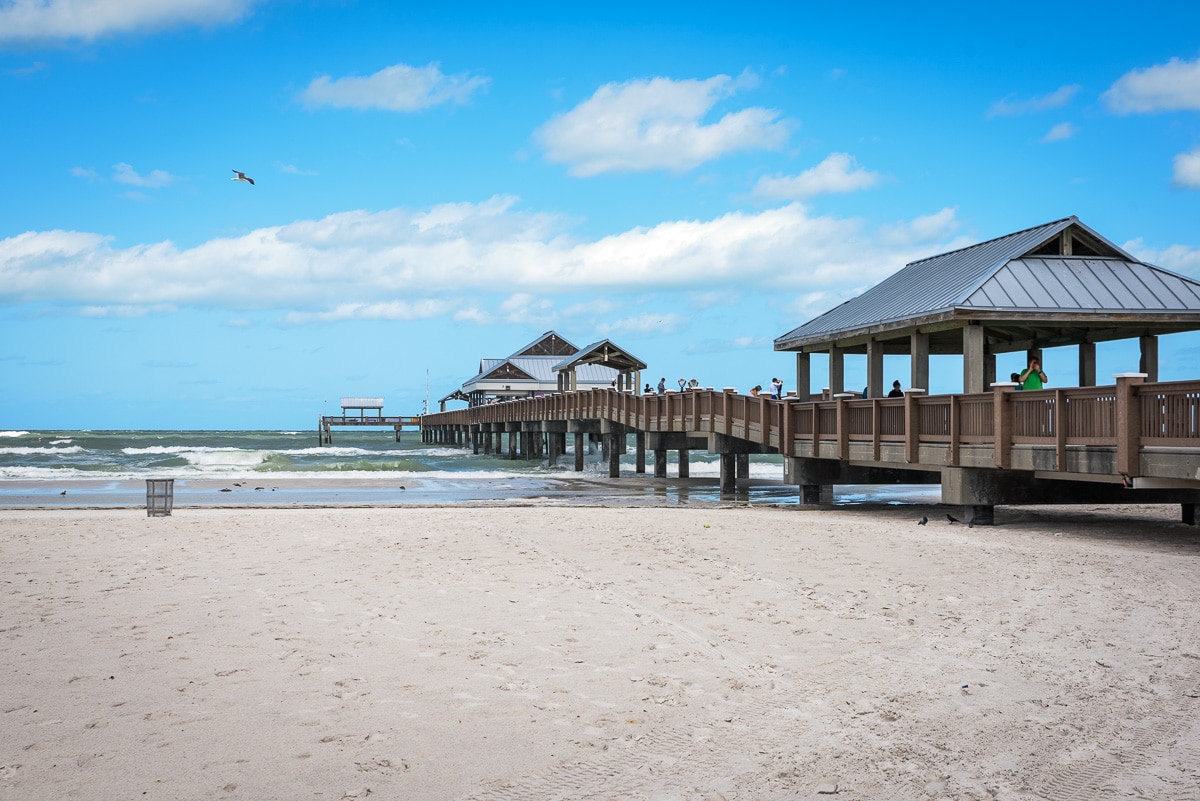 Obviously the main attraction at Pier 60 is… the pier. Duh, right? What you might not realize though is the far end of the long pier is a designated fishing area. In fact, it's one of the prettiest and best equipped fishing piers in Florida!
The first part of the pier is open to anyone that wants to take a stroll, up until the admission gate for the fishing area. If you don't want to fish, you can just pay $1/per person to go and hang out there. And it is a pretty and usually quiet area to relax.
Or you can opt to fish! There is a daily fee of $8/person to fish at the pier. There are discounted rates for kids and seniors, and they also have weekly, monthly, and yearly passes available.
If you are vacationing and don't have your own fishing gear, you can rent a fishing rod for $8 too. And there is even a little shop that sells bait and snacks! You can get more details on rates and hours here.
The Sunset Festival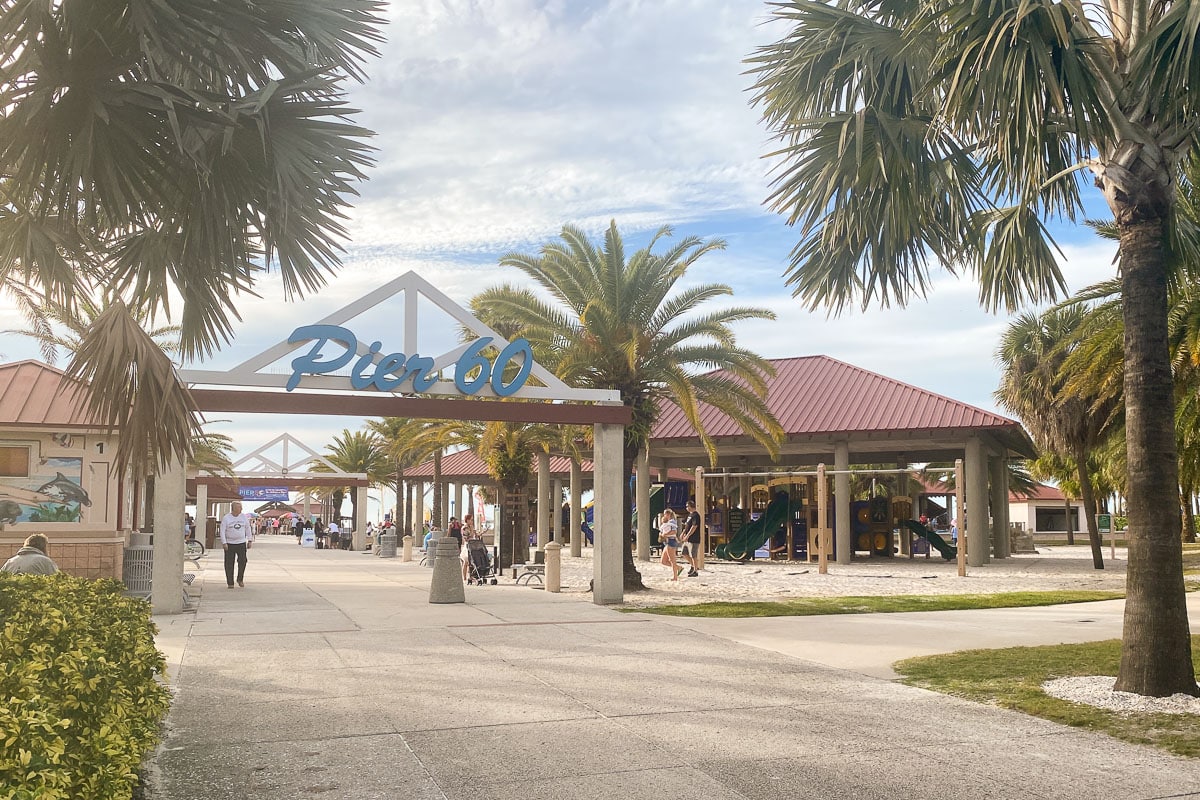 The main evening activity in Clearwater Beach is the nightly Sunset Festival at Pier 60. It's a fun and festive little celebration that happens every evening. It starts two hours prior to sunset and ends two hours after sunset.
You'll find a variety of entertainment and vendors, which change from night to night. Sometimes there are musicians or street performers – but there is always something going on.
And as always, the awesome playground and the inflatable slides will be available during the festival too! (More on those below.)
The Playground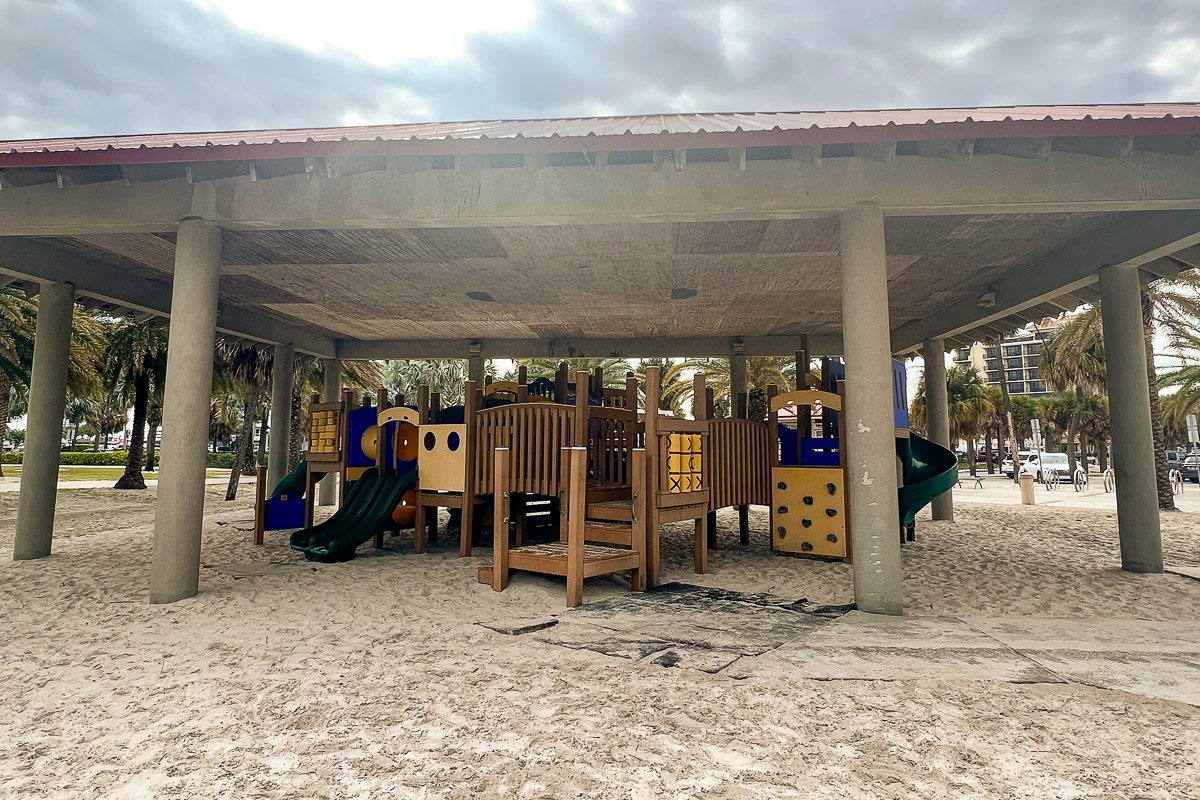 Pier 60 is home to a pretty great playground area. If you have little kids in tow, this is an awesome (and free!) place to let them burn off some energy or fill in time between other activities on your agenda.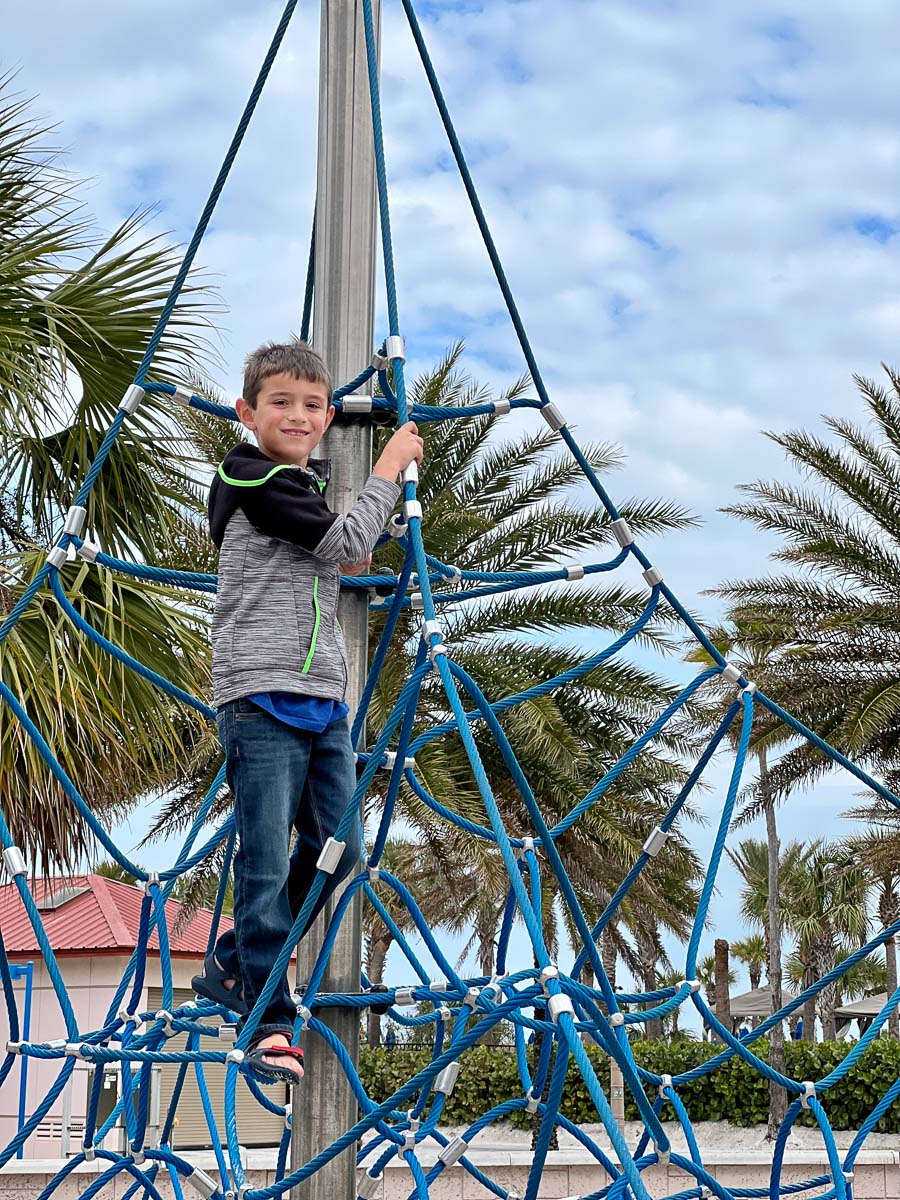 There are separate big and little kid playground sets – and they are both covered so the kids can get out of the hot sun. There is also a super cool rope climbing structure, which is my son's favorite part!
The Slides & Inflatables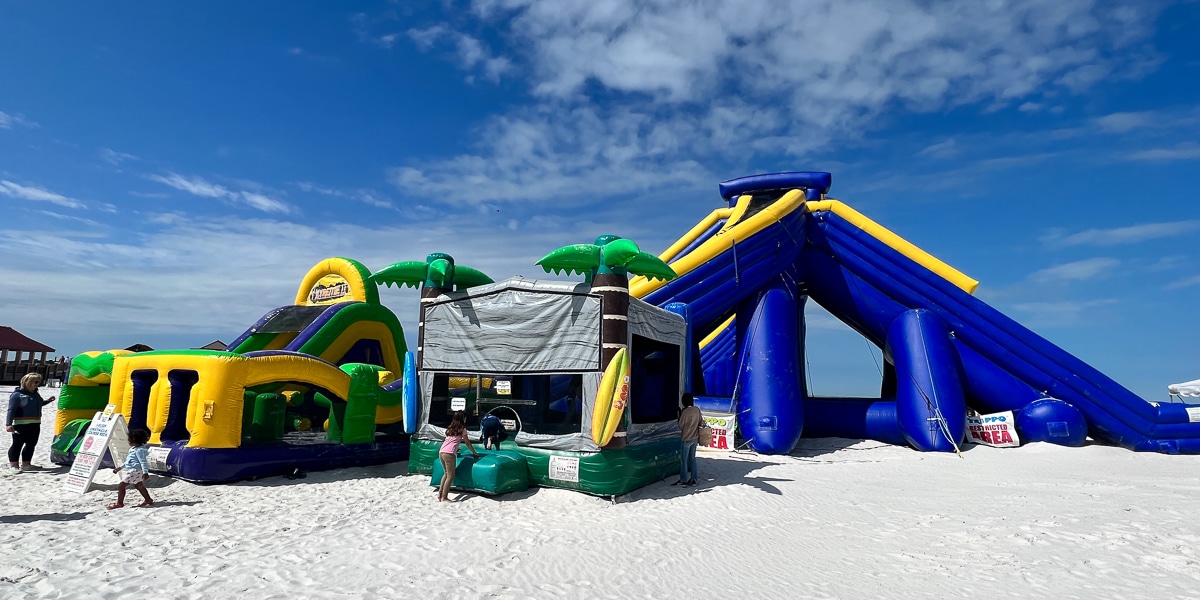 Now if you have kids, the Big Blue Slide will likely be the very first thing they spot at Pier 60. This thing has been around for as long as I can remember. It's expanded over time, so the area now includes the big inflatable water slide, a bounce house with a smaller slide, and usually 1-2 other inflatables. It varies a little depending on what they have available, weather, crowds, etc.
Note that the Big Blue Slide is a water slide. Bring a towel. If you forget to bring a towel (like me), you will end up buying a $20 "souvenir" beach towel at the gift shop. (And make sure to check my beach vacation packing list before you head out!)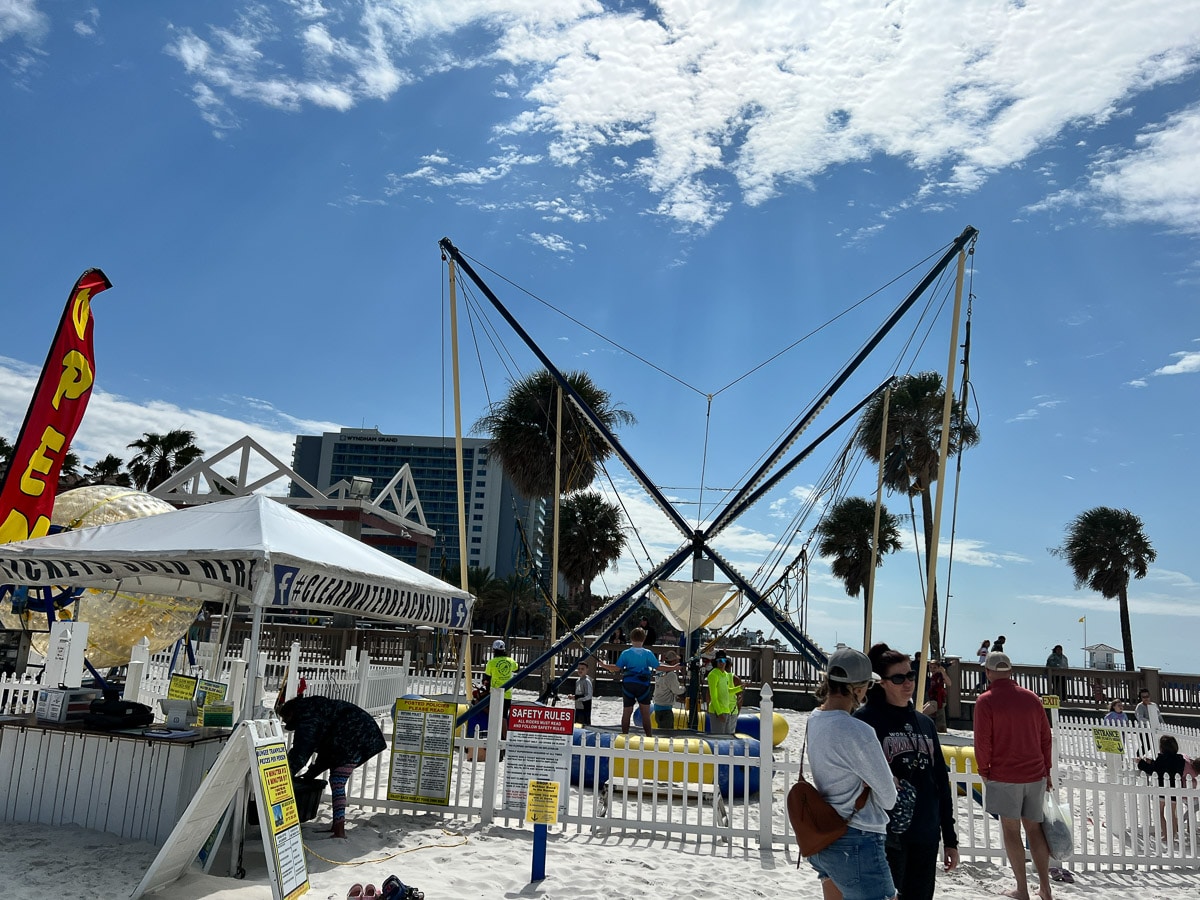 There is also a bungee trampoline thing, which you can see in the picture above. My son has done both but much prefers the inflatables.
Here is the pricing from the last time we visited. You can buy individual tickets for the inflatables (1 ticket per turn) or you can buy an all day pass for $35. I'll just go ahead and tell you that your kid is going to want to slide and jump multiple times. :-D If you're staying at the beach for the whole day, it's usually worth it to just get the day pass. The bungee trampoline thing is priced separately.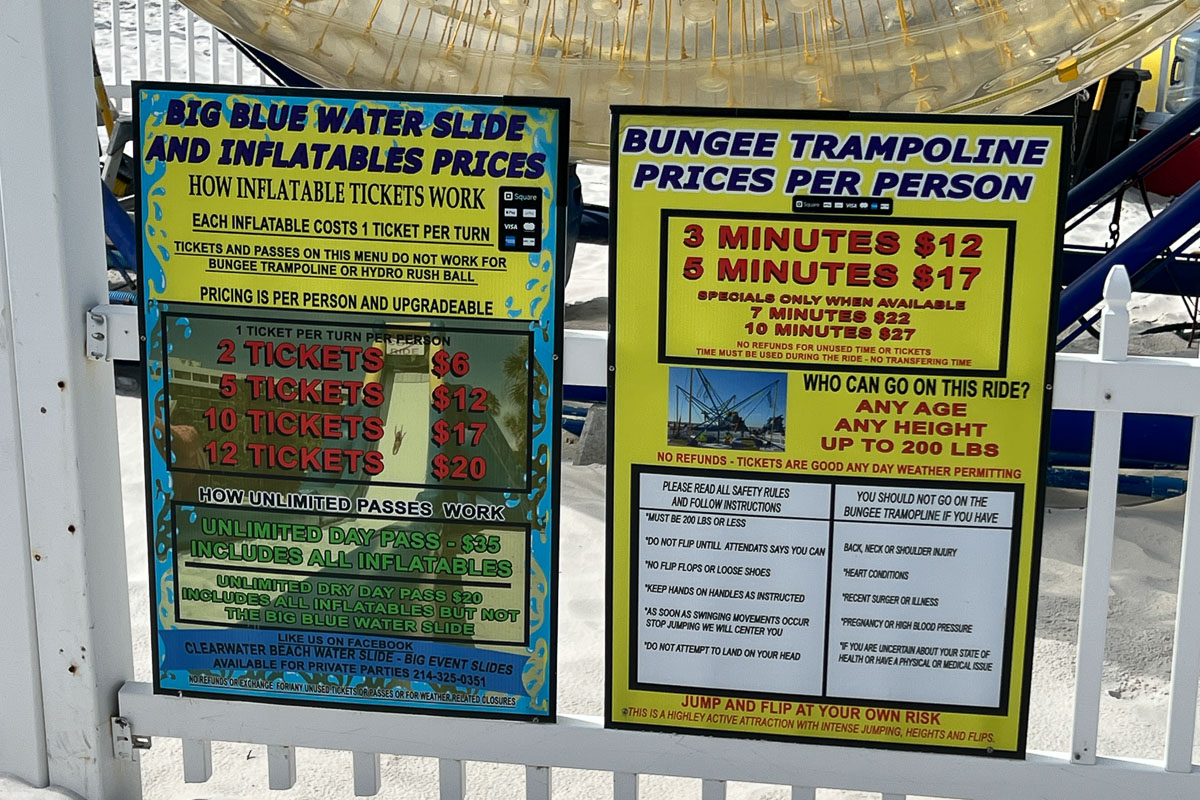 Beach Chair and Cabana Rentals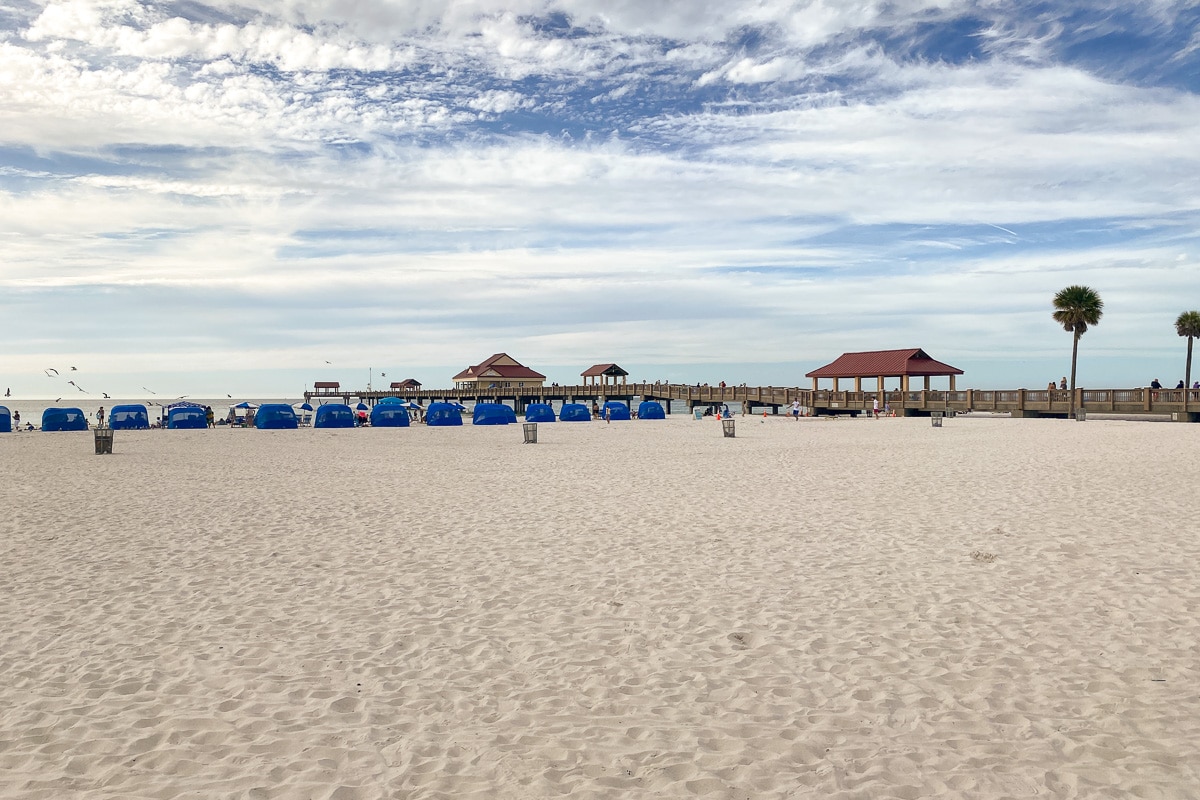 If you're looking to spend the day lounging on Clearwater Beach (and you should!), you will find the main public chair rentals just to the South of Pier 60. Look for the bright blue cabanas and umbrellas.
The rental prices start at $30 for an umbrella and two chairs with options for cabanas and beach beds as well. All rentals are for the full day (until 5pm), but there is a discount if you are arriving after 3pm. That's a nice option if you just want to hang on the beach for an hour or two before the sunset festival gets started.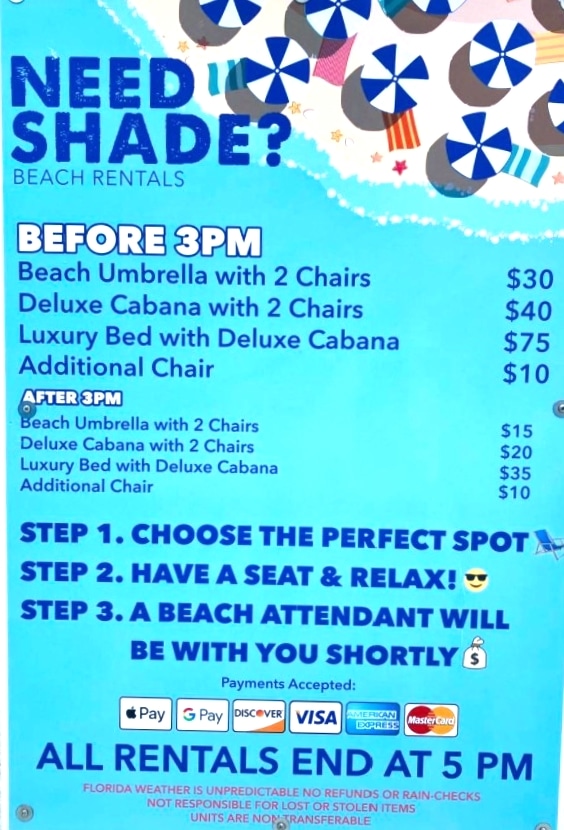 See the image above for the full list of prices and options on our last visit.
You don't need to go to the concession stand to rent your chairs. Just go find any open beach chairs, settle in, and someone will come by to get your payment.
Concessions & Gift Shop
There is a small building at the pier which contains a gift shop and concessions. It's nothing too fancy and as overpriced as any other gift shop, but it's a convenient spot to grab anything you might have forgotten (like sunscreen or beach towels).
The food stand has typical concessions type stuff – burgers, hot dogs, ice cream. That sort of thing. Perfectly fine for feeding hangry kids.
Where to Eat Near Pier 60
If you're looking for something a little more hearty than concession stand fare, there are plenty of options right within walking distance of Pier 60.
There are a number of restaurants right across the street at the marina including Crabby's Dockside, Salt Cracker Fish Camp, and a pizza place.
Or you can take a walk north on the beach and check out Frenchy's Rockaway Grill or Tate's Island Grill at the Sandpearl – both of which are on my list of the top places to eat in Clearwater Beach.
Where to Stay Near Pier 60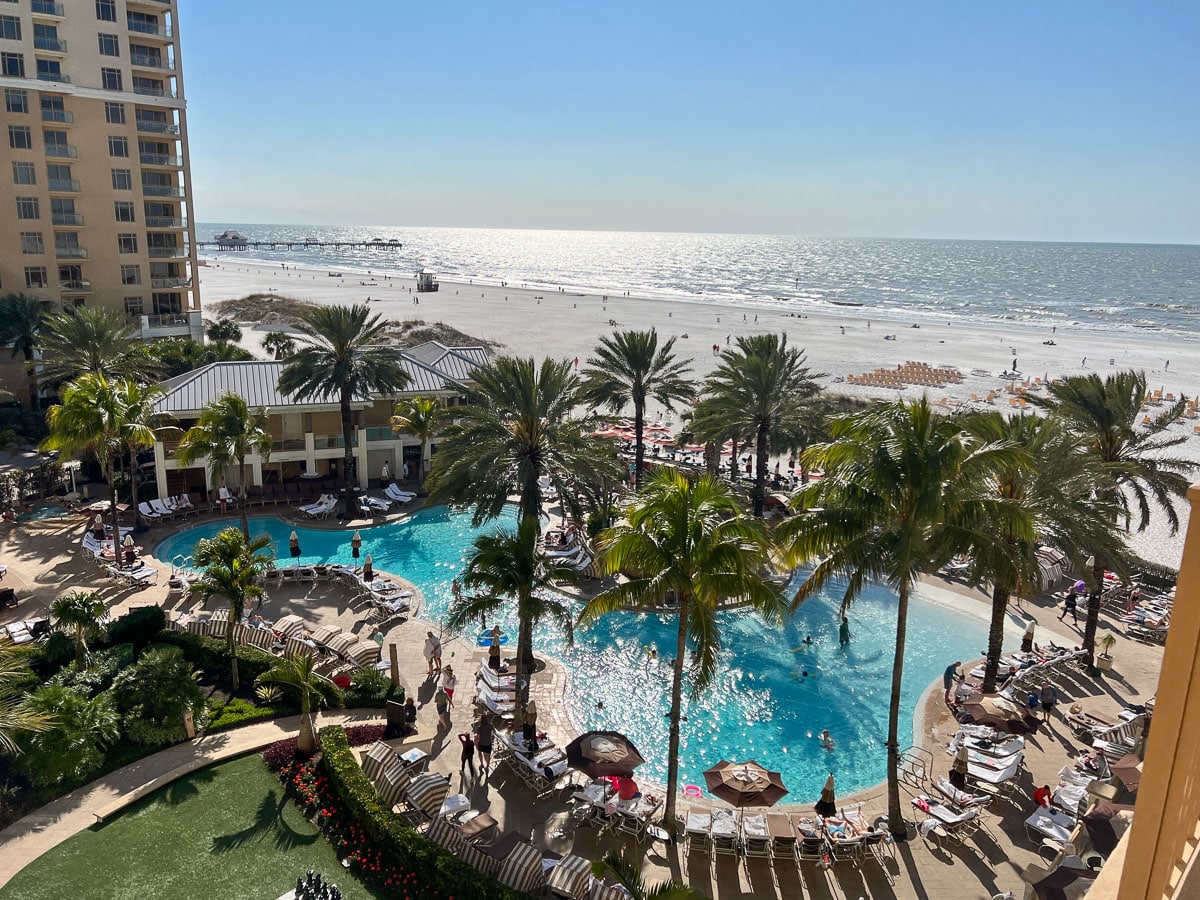 If you're looking for a great home base within walking dsitance of Pier 60, you're in luck. Clearwater Beach has no shortage of hotels! A few of my favorites are:
You can also check out my list of the best places to stay in Clearwater Beach for more recommendations and a lot more detail!
More Clearwater Beach Resources
If you're planning a trip to Clearwater Beach, be sure to check out these other helpful articles:
Or browse all of our Tampa Bay travel planning resources, covering Tampa, St. Petersburg, and Clearwater.