Travel Between the Lines Coloring Mexico: Media Kit
Below are links to access and download information and images for press, blog, and review coverage of Travel Between the Lines Coloring Mexico: An Adult Coloring Book for Globetrotters and Daydreamers. If you need something that is not listed below, please email [email protected].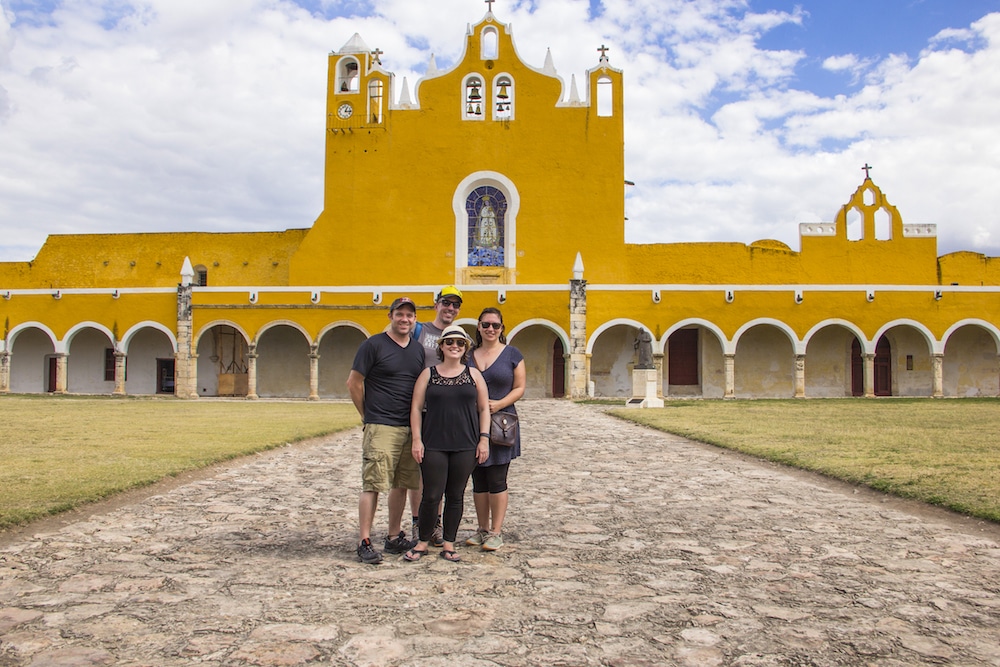 Table of Contents
---
Contact Info

For media queries and review copies, please contact travelcoloringbook[email protected]. You can also contact each of the creators directly.
Geoff & Katie Matthews / Wandertooth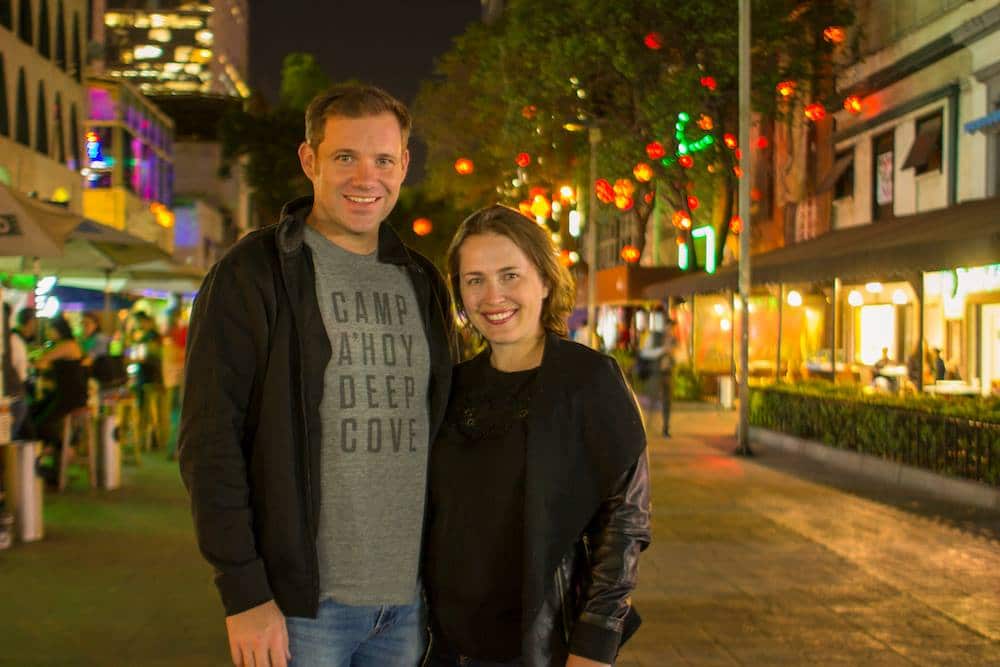 [email protected]
Pete & Dalene Heck I Hecktic Travels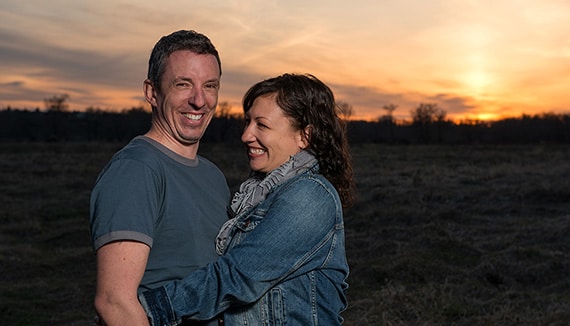 HeckticTravels / Facebook / Twitter / Instagram / [email protected]
---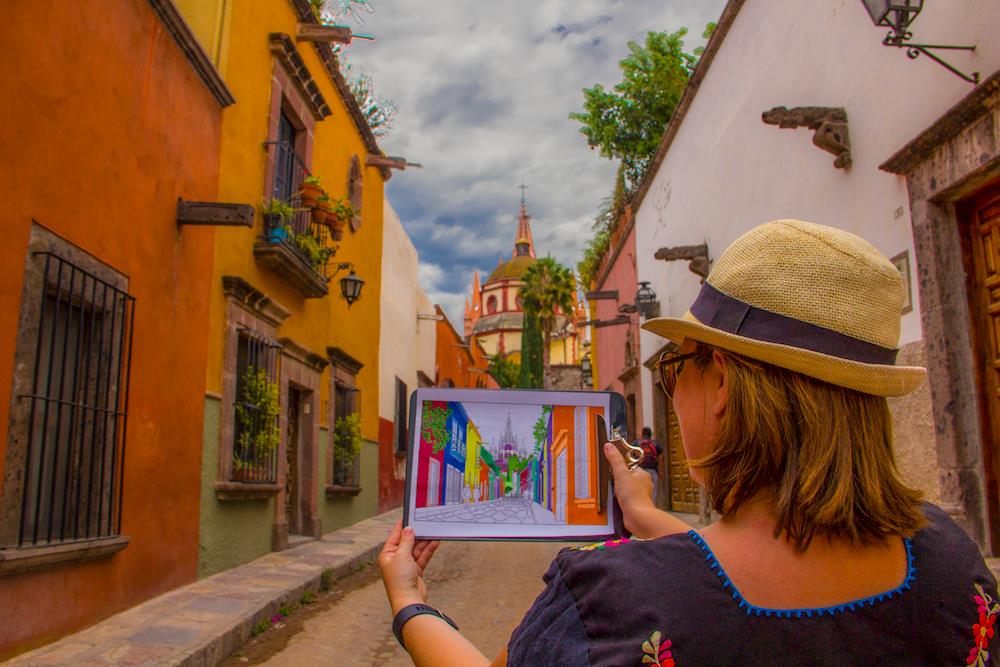 About the Book
Title: Travel Between the Lines Coloring Mexico: An Adult Coloring Book for Globetrotters and Daydreamers
Creators: Wandertooth and Hecktic Travels
Publisher: Wandertooth Media Inc.
ISBN 13: 978-0-9949731-1-5
Suggested Retail Price: USD $10.99 / CAD $15.99
Publication: May 2016
Description: A Mexico-themed adult coloring book featuring over 30 line drawing illustrations showcasing scenes and cityscapes from around Mexico.
Purchase: Currently available for order at www.wandertooth.com for USD $10.99. All pre-order customers will receive a illustration bonus pack of print-at-home colourables featuring European destinations.
Travel Between the Lines Coloring Mexico: An Adult Coloring Book for Globetrotters and Daydreamers is a forthcoming adult coloring book.
A collaboration between friends, Canadians, and the travel bloggers behind Hecktic Travels and Wandertooth, the book is based on the travel photographs of its creators, and will include more than 30 hand-drawn coloring pages from 10 states/territories around Mexico, including Mexico City. Each illustration is unique, with subjects as varied as Mexico itself: aerial, wide-angle images of cities; street scenes; up-close images of daily life; and decorative details.
What makes this book special and unique is that it was created from personal travel photographs, stories, and memories, with a mission equally focused on entertaining adult colorists and inspiring globetrotters and everyday travellers to explore the beauty and diversity of Mexico.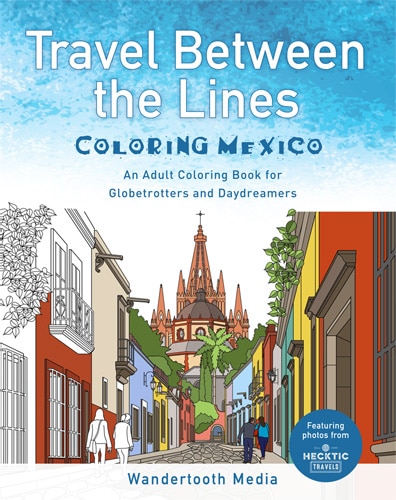 ---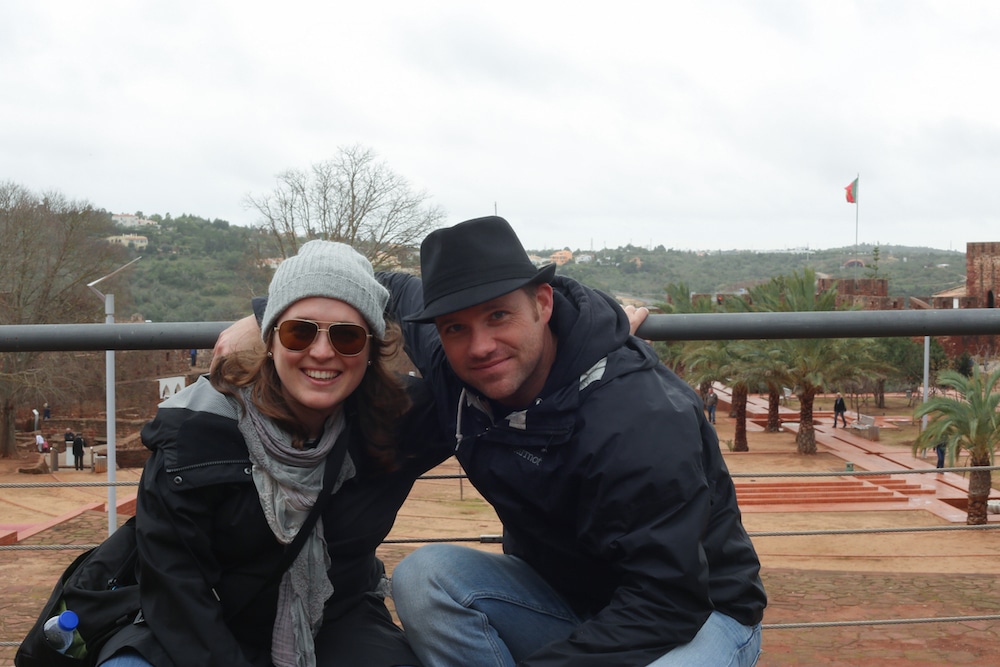 About the Creators
Geoff and Katie Matthews met in Taiwan in 2006, and have been traveling ever since, with brief but failed attempts at a more conventional life in Calgary and Vancouver, Canada. Permanent nomads since 2013, they have visited, photographed, and tasted beer in more than 50 countries across the Americas, Europe, and Asia, with no intention of slowing down.
In 2015, they published their first Travel Between the Lines Adult Coloring Book, a 47-illustration colorable journey across 29 countries. Travel Between the Lines Coloring Mexico is the second book published under their company, Wandertooth Media Inc.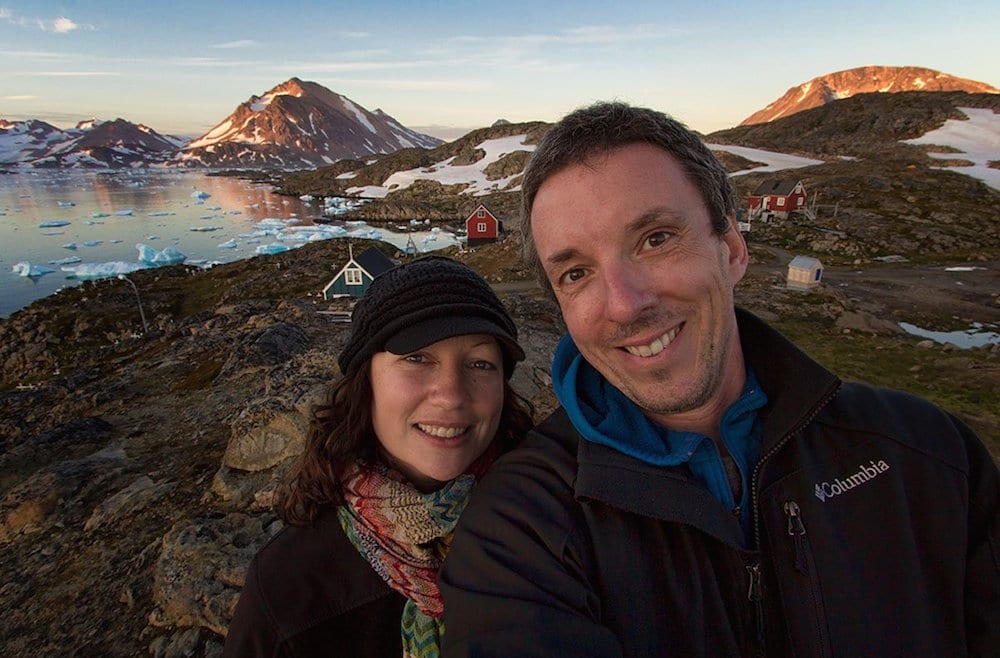 A Canadian couple who sold everything to travel the world in 2009, Pete and Dalene recently passed 2,500 days of non-stop travel, and 2,500 sleeps in beds that aren't their own. Throughout their travels, the Hecks have taught underprivileged kids to swim in Bolivia, ridden camels in the Sahara desert, kayaked among icebergs in Greenland, and dodged sink holes whilst driving Namibia's Skeleton Coast.
In 2014, the Hecks were honored as National Geographic Travelers of the Year. They have also been 2015 Alto Award finalist, and Dalene has been twice-named a BlogHer Voice of the Year.
---
Book Q&A
How did you come up with this idea?
Geoff and Katie came up with the idea to publish a travel-themed adult coloring when they were in Oaxaca, Mexico (pronounced: wa-ha-ka), a relatively small state capital in Mexico's southwest that is very much shaped by the traditions of the 16 recognized indigenous groups living in the state.
Oaxaca is bursting with color — architecture, clothing, textiles, festivals and food — and temporarily living here awoke Katie's long-held desire to illustrate scenes of our travels, despite having next to no talent as an illustrator!
Using travel photographs as a base to create digital illustrations seemed like a perfect solution. As the first book took shape, so did their goals for the books, and they set a mission to become "the Lonley Planet of coloring books," creating a library of adult coloring books showcasing cities, countries, and regions around the world.
When Pete and Dalene arrived in Oaxaca in January, 2016, and with the first Travel Between the Lines Adult Coloring Book already published and selling, Geoff and Katie invited the Hecks to collaborate on their next book: Coloring Mexico.
Just 15 minutes after re-uniting in Oaxaca, we had agreed to create a book together.
How are the illustrations created?
The illustrations are hand-traced renditions of travel photographs, and are created using a
tablet, stylus pen, and illustration software. The illustrations take between 1 and 2 days — up to 15 hours — to trace, excluding the time spent photographing the scene, and editing the photos.
Why did you choose the photos you did?
It was important for us to include illustrations that showcase the diversity, beauty and uniqueness of Mexico, and that became a guiding principle as we sorted through hundreds of photographs to choose the right ones.
We also wanted the book to have a balance between showcasing the most accessible places in Mexico for vacationers, such as Playa del Carmen and Cancun, and showing-off places in Mexico that many foreigners will never see, such as the tiny town of Tapijulapa in Tabasco state.
Finally, we needed to keep in mind what works and what doesn't work for a coloring page. Large blank spaces, such as beach, sky and water, are difficult to show in the types of illustrations in the book.
Similarly, coloring is very much a personal experience, and people have different motivations for doing it: sharing an activity with their child, unwinding at the end of the day, meeting up with friends in a café, daydreaming, or as a near-meditative experience.
Because people have different motivations, they also have different needs. We've tried to create a mix of images so that everyone who enjoys coloring and traveling will find some images they're naturally drawn to.
Did you travel around Mexico together, or on your own?
We spent some time travelling together, and some time apart.
We started by reviewing all the photos we already had, from this and previous visits to Mexico. Then, we looked at our travel plans, and ended up covering almost 2000 km together, traveling from Oaxaca to Yucatan state. As we got closer to our self-imposed deadline, we adopted a divide and conquer strategy, traveling separately to cover as much ground as possible, and staying in touch daily over social media and Skype.
What was it like to work with friends?
It's difficult to thrive in this lifestyle without being pretty relaxed and comfortable with uncertainty, and that certainly helped as we embarked on a business project with friends. All of us were focused first on creating something incredibly cool, and then on the business side of things.
From Dalene: " There are few things more beautiful in the world than watching a creative idea come to life, especially when done in the company of good friends. It's been a lot of hard work but a very fun experience, and also a genuine thrill to see our photos repurposed in this way."
How Long Have You Been Friends?
Despite the fact that all four of us worked in Calgary at the same time, and travelled through the same countries in South America at the same time, we didn't meet until 2015, when Geoff and Katie were living in Prague, and Pete and Dalene announced on their blog they were visiting Prague.
After a few tweets back and forth, we arranged to meet for dinner, and quickly realized we had a lot in common. After one night in Prague, we then met again at a conference in Spain, staying in touch via social media between visits.
When Geoff and Katie settled in Oaxaca, Mexico, for several months, they were thrilled when Pete and Dalene decided to come to Oaxaca in early 2016.
How difficult are the images to color?
We've tried to include a mix of what we think are easy, medium and difficult images, with the majority on the medium scale of difficulty. Some of the images can be completed in an hour or so, but the majority will take a few hours, or even a few sessions, to fully color.
What kind of paper is this book be printed on?
The images are printed (single sided) on white 60# paper, which is the same as many top-selling adult coloring books. We've personally tested this paper, and believe it offers the best combination of price, quality, and versatility across mediums (pencil crayon, marker, etc.). This is also the same paper the first Travel Between the Lines Adult Coloring Book was printed on, with strong results and positive feedback from customers.
We do have several recommendations for getting the most out of the paper in this book:
If you're using markers or watercolors, there's a small chance the ink/paint will bleed through to the next page. Because of that, we recommend inserting a blank page behind the illustration you're working on to protect the next image.
We know many users will want to take the images out of the book and display them on their fridge, office, etc. Although we were unable to offer perforated pages, we can recommend using a sharp-edged ruler and creased page, or pen-style knife with a backing piece to protect the next image.
Interview & Story Concepts

Geoff, Katie, Pete, and Dalene are available for media requests and interviews. Interview resources are listed below.
Feature Story Concepts
From Alberta to Mexico, Four Former Calgarians Launch A New Twist On The Adult Coloring Trend
An Albertan story that began in Prague and continued in Spain has now crossed the Atlantic, as former Calgarians Geoff and Katie Matthews, and friends Pete and Dalene Heck, prepare to launch a new twist on the adult colouring trend: travel colouring books that show real-life scenes from around Mexico.
Despite the fact both couples worked in Calgary at the same time, sold their homes and quit their jobs to travel in 2009, and began those travels in the same places in South America, the Matthews and Hecks didn't meet until 2015, in Prague, of all places.
"I'd followed the Heck's blog for some time," explains Ms. Matthews. "One day I was scrolling through Twitter and saw we were going to be in Prague at the same time, so I tweeted them a dinner invitation without really expecting a response."
The Hecks did respond, and that tweet has led to an unusual friendship — and now business venture — played out across continents. As both the Hecks and Matthews live as modern-day nomads, changing countries and locations every few months, they've continued their friendship through meet-ups in Prague, Spain's Costa Brava, and several cities across southern Mexico, as well as staying in touch through social media.
When the Heck's were looking for somewhere to spend the first several months of 2016, they decided on Oaxaca, a small and colourful Mexican city known for its handicrafts, food, and laid-back environment, in part because the Matthews were already there. And within minutes of seeing each other again, the foursome had agreed on a collaboration, creating a new twist on a hot trend: an adult colouring book featuring real-life scenes from a country many Canadians know only from all-inclusive resorts and negative media coverage.
"Geoff and Katie had just published their first travel colouring book, and we were thrilled they'd come up with such a stellar idea," says Ms. Heck. "When they approached us about creating a Mexico colouring book from our photos, we didn't even have to think about it. There are few things more beautiful in the world than watching a creative idea come to life, especially when done in the company of good friends."
The book, Travel Between the Lines Coloring Mexico: An Adult Colouring Book for Globetrotters and Daydreamers" is in the final stages of production, as the Matthews and Hecks project-manage production from their temporary homes in Guanajuato and San Cristobal de las Casas, respectively, touching base daily over social media to manage details and logistics. The completed book, which is based on photographs taken by both the Hecks and the Matthews, will feature over 30 colourable line drawings from 10 Mexican states, showcasing daily life, cityscapes, and common scenes in a country both couples have developed a deep appreciation for.
"It's a genuine thrill to see our photos repurposed in this way," explains Mr. Heck, the primary photographer in a duo honoured by National Geographic as 2014 Travelers of the Year.
Adds Mr. Matthews, "I never expected to enjoy colouring, but it really does have a meditative affect. I can now spend hours putting pencil crayon to paper, and genuinely enjoy experiencing places around the world in a new way."
Travel Between the Lines Coloring Mexico is currently available for pre-order on the Matthews' website. Their first book, Travel Between the Lines Adult Coloring Book, is available to purchase on their website, on Amazon.ca, and in Calgary at Kensington Art Supplies.
Additional Feature Story Concepts:
These Four Friends Have Spent Months Travelling Around Mexico…For The Most Unusual Reason
The Best Places To Visit In Mexico…From The People Who Made A (Coloring) Book About It
Meet The Couples That Quit Their Jobs To Travel The World…And Make Coloring Books
2014 National Geographic Travelers Of The Year Collaborate On A Mexico-Themed Adult Coloring Book
This Book Lets You Travel Around Mexico Without Ever Leaving Your House
This Travel Coloring Book Is The Perfect Distraction For Nervous Fliers
This Mexico Colouring Book Is The Only Souvenir You Need
Mother's Day Gifts For Moms Who Love To Travel
This Travel Coloring Book Is The Perfect Gift For Your Friend With Wanderlust