Like many, I didn't grow up hearing about war heroes or decorated men in my family from this war or that.  No one talked of gallant acts of bravery but there was always an underlying knowledge of brothers of my grandparents and why I only knew them by name and not in person.  I always knew there were some relatives missing from pictures and later, I knew they were killed in a war long ago.  In my teens, my mother began to dig into our family's past quite extensively as a hobby, thus establishing herself as our un-official family historian.  So when plans were made to visit Belgium, I turned to her to learn about my family's involvement in the First and Second World Wars, and to learn if I could find them in any of Belgium's commonwealth war graves.
I find the First World War, or, The Great War as it was known until there was a second, to be somewhat of a forgotten war.  The years between the two wars were important in terms of technological advancements.  People knew more of what was happening overseas as news travelled faster than it did, and it was also possible to receive news from different sources.  Never mind the blatant horrors in WWII that left a scar on mankind so deep that they are still visible today being the reason why the Second World War's facts and dates are quicker to recall.
Just for fun, here's a quick run down:
The big players in Europe gave sovereignty to the Ottoman Empire as well as recognizing Serbia as a sovereign state too.  This was cool for a while until Serbia went out a got themselves a monarchy.  Some of the Serbs were not on board with this shift into Kingdom-hood so they jumped the castle walls and threw the King and Queen out the window, literally!  They formed a new leadership which was more buddy-buddy with the Russians than with Austria-Hungary, which was a bit of a slap in the face.  There was some pushing and shoving for a few years and one thing led to another and Austria-Hungary ended up taking over Bosnia.  Serbia wanted something in return and, boom goes the dynamite, we have the Balkan War!  In June 1914, Archduke Franz Ferdinand of Austria and his wife were visiting Sarajevo for some ribbon cutting event, and were assassinated by Bosnian Serbs with the hope that Austria-Hungary would give Bosnia back to Serbia.  That's when shit hit the fan, as a month of strutting and chest beating ensued.  Sides were taken, alliances were formed, pacts emerged, and when all hell broke loose, everyone seemed to invade everyone, starting with the aforementioned Austria-Hungary going after Serbia.  Germany picked on Belgium first, then France, which prompted Britain to declare war on the Germans, and a world war is born.
Consider the time for a moment, no TVs, computers, phones, internet, not even radio.  How regular citizens learned of what was happening was by newspaper.  Telegrams and the good old fashioned long-hand written letter were the ways to communicate, so the message being sent out was easily controlled, and that goes for both sides.  We often talk about propaganda from the other side but looking at some of the posters from the Canadian side of the pond, it seems clear to me that the message the government was giving wasn't totally accurate.  Some spoke of heroism and stopping evil imperialists but others spoke of travel and the majestic lands of our forefathers.  Many were captivated by this and, like my great-uncle, lied about their age and eagerly took up arms to stand up to oppression.  Easily done as almost all the necessary documents were hand written back then.
My great uncle Walter enlisted at the age of sixteen and was quickly sent to fight the Great War.  The Germans had a line of strongholds across a ridge known as the Western Front.  Germany tried to push towards the sea and the allied forces tried to push them back and the major conflicts seemed to always centre around the town of Ypres, Belgium.  This town also saw major battles erupt during the Second World War also, even though this was a relatively small portion of the front; there's something about Ypres I guess.
Understanding the fierce brutality of trench warfare is not for sissies at the best of times, but it was particularly nasty here.  The Battle of Somme, Mount Sorrel, Hill 60, these have gone down in history as some of the most gruesome fire fights and gas attacks, shelling and tunnelling ever.  At some points, the trenches were a mere 10 feet apart!  These were reconnoissance  trenches and from where tunnels were dug right underneath the enemy and stuffed with dynamite.  It was here that my great uncle Walter met his demise, probably at Mount Sorrel.  With gas attacks and constant shelling coming from an enemy so close, casualties were often not collected until things settled down, and sometimes not at all.  On the 6th of June 1916, a then 17 year old Lance Sergeant Walter Matthews of the 58th Battalion of the Canadian Infantry, was killed and taken to the nearby Railway Dugouts, a commonwealth war grave, and laid to rest.
My mother informed me of all the letters she has found from him, his enlistment paperwork with the incorrect birthdate and some other things including the telegram sent to his mother informing her of his death.  The most despairing thing I learned about him was that no one in my family has ever been to see his grave, ninety-seven years after, I would be the first.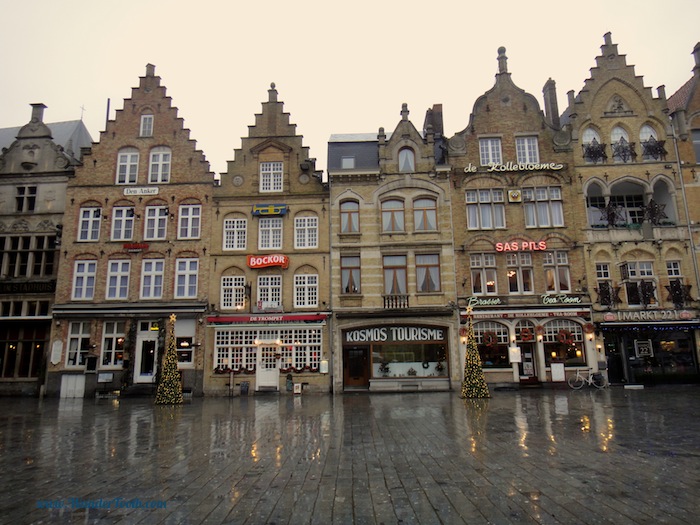 We arrived in Ypres (Ieper by it's official name, Ypres is French) by train from Brussels mid-morning on a rainy weekday.  We found our way to the Flanders Museum (which is excellent, by the way) to ask how we might find the Railway Dugout Cemetery.  With some help and some map searching, she called us a taxi and informed him where we were going.  I asked him to stop at a flower shop and bought some fresh roses and a card.  There are over 5,000 soldiers buried here and the grounds are immaculately kept, not one blade of grass is out of place.  Each grave marker has a well tended to plant in front of it.  The registry at the entrance gate let me know what row to find him and it didn't take long.  When I saw the stone with my family name neatly etched, I though about how long he has been here, the violent end to his short life and the rows and rows of grave markers, each with a similar story behind it.  I laid the flowers and signed the card from all the family members I could think of in an attempt to let him know that he is still in our thoughts.  Most of these soldiers would be great and great-great uncles, as many were too young to have been fathers themselves.  This made me cry and it wouldn't stop.  Emotions rained out of my eyes as I let all of this sink in.  I knew this was going to be a somber visit but this type of intense emotion was unexpected but I didn't want to fight it, something as big as a World War deserves a few tears.  I turned to leave but then walked back and sat with my uncle I never knew for a little while longer.  What was the rush?  We were both a long way from home with no immediate plans.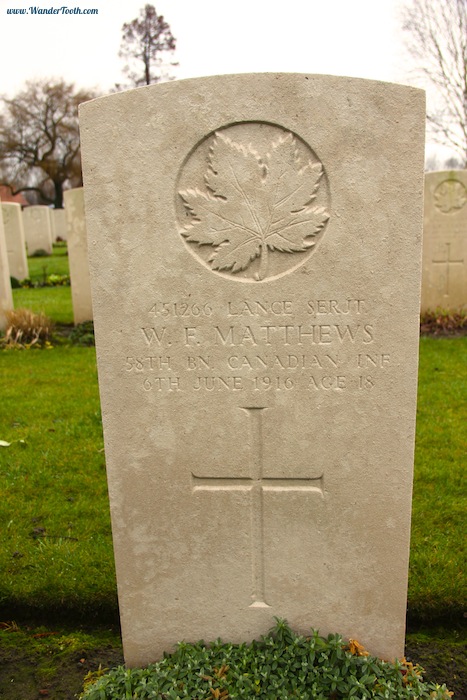 This experience has had quite an impact on me and, to my surprise, also had an impact on the rest of my family.  It's bone chilling to learn about the hard facts of war, but heart warming visiting a fallen soldier.  I  have a connection to my great uncle Walter now and I hold that feeling close.  I also have a sense fulfillment knowing that after all this time, for at least a few brief moments, he had some company.
Have you seen the war cemeteries throughout Europe?  Tell me about your experience in the comments.