When I say Mexico, you say…colors? Errrrrm…maybe not. You said tacos, didn't you? Smart. Or maybe tequila? Also smart.
In addition to the tacos and tequila you so rightly pointed out, Mexico is full of bright and cheery colors. And now that the Eastern US has buried it's way out of piles of icy cold snow, and with more storms on the way, I thought I'd spread some Mexican cheer, crowdsourcing 11 colorful spots around Mexico to inspire a winter getaway.
So without further adieu, I give you the red, yellow, blue and green colors of Mexico (and dare you not to buy a plane ticket to taco-land).
Red
Tijuana is a Mexican border town just across the border from San Diego, California. It used to be a popular destination for people who wanted to get a taste of Mexico and cross the border for dinner at a restaurant, tacos at a taco stand, a drink at a bar, or a weekend of shopping. Then the news started to fill up with stories of murders and drug cartels and travelers stopped going to Tijuana.  In the past few years, Tijuana has cleaned up its act and travelers have started to return.  Of the many things to do in Tijuana, one is to visit Plaza Saint Cecilia, the place where Tijuana was founded in 1889, where you can eat, shop, listen to mariachi bands, and see performers dance amidst the colorful buildings of the plaza of the patron saint of music.
~Katherine Belarmino. Katherine and Romeo are the couple behind Travel the World, a travel blog for part-time travelers who want to make the most of their limited vacation time. You can follow their travels on Facebook and Instagram.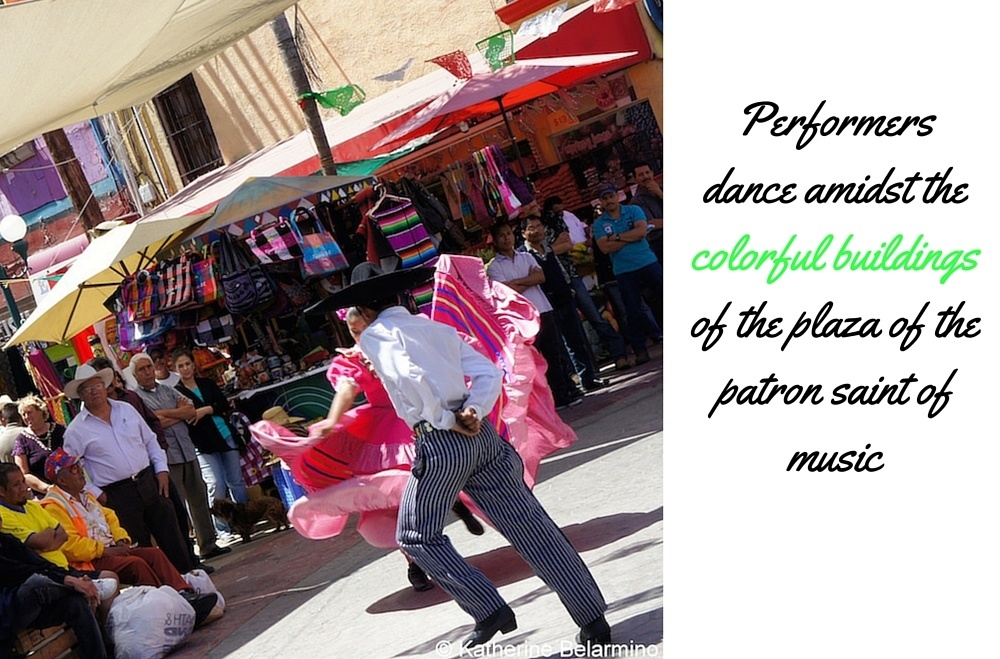 Tepoztlán is a picturesque small town surrounded by massive cliffs just an hour away from the bustle of Mexico City. The reward for climbing to the top of one of the rocky paths outside of town is a small pyramid overlooking a beautiful valley. Colour is everywhere in Tepoztlán; from the creative street art to the famous ice-cream shops. Perhaps the most striking splash of colour is on the front gate of the Ex-Convento Dominico de la Natividad. Thousands of beans have been used to create a colourful mural of life before the Spaniards arrived. The nearby market is also worth checking out — we found our favourite quesadillas in Mexico at a small stall in the depths of the food section.
~Jon Algie, from Jon Is Travelling, a blog chronicling a New Zealander's offbeat journey around the world.  You can follow Jon's travels on his blog and on Facebook.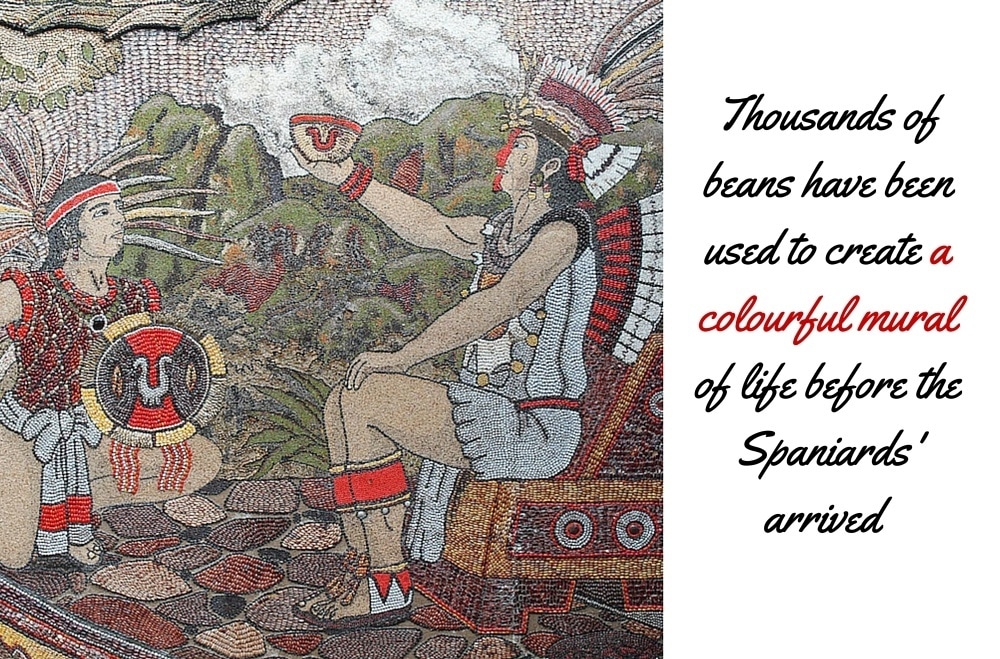 Mexico City. Red is the color of love. It makes sense that it is a prominent characteristic of my souvenir of a trip to Mexico City made to attend my daughter's wedding in romantic Cuernavaca. I selected a tin heart, painted red, that seemed to have love written all over it. Though it was a bargain, I did haggle a bit as is the custom. When I learned the vendor I bought it from had been its creator, I asked him to pose with it, and there he stood in a glorious red t-shirt holding my newly purchased heart over his own heart.
~ Carole Terwilliger Meyers. Carole writes at BERKELEY AND BEYOND and is also on Facebook and YouTube.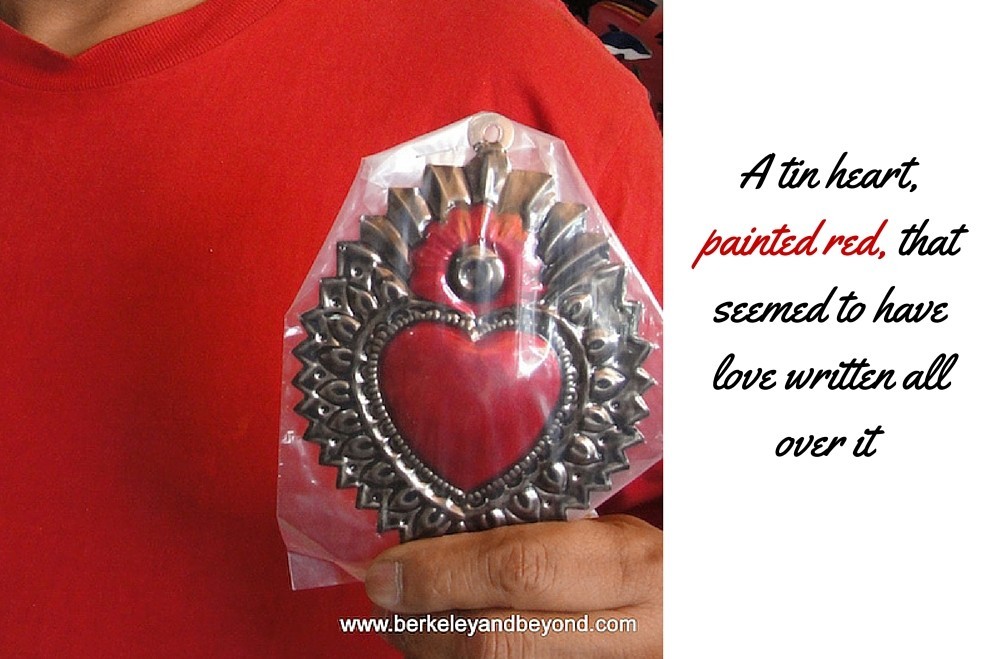 Yellow
Izamal. Nicknamed "The Yellow City" and designated as one of 35 "Magic Towns" of Mexico; if you're ever in the Yucatan visiting it's a great side trip. The city was once a Mayan community and still holds the ruins of multiple Mayan pyramids. Once the Spanish arrived they built atop the Mayan's existing structures with their colonial style. Now nearly every building, house and church in the entire town is painted the same egg-yolk like shade of yellow. The grand Franciscan monastery is such a sight to behold that Pope John Paul came to visit in 1993. Horse drawn carriages are still a popular form of transportation and the clickity-clack of their hooves on the town's charming cobblestone streets are heard often throughout the day.
~ James Kelley. James writes at Escaping Abroad and chronicles his adventures over on Instagram.
Campeche City is a colorful city rich in history and architecture that have led it to be designated one of 34 UNESCO World Heritage Sites in Mexico. Originally called Can Pech, the Mayan city was built on the Gulf of Mexico and was overtaken in 1540 by Spanish conquistadors who renamed it San Francisco de Campeche. The city fell victim to pirates frequently which resulted in a vast defensive system of fortification; including a hexagonal wall surrounding the city 2,560 meters in length and eight bastions in the corners.
Pictured below is the Fort of San José complete with a moat and drawbridge; it is one of numerous fortresses built to hold weaponry and supplies. The well preserved city is also adorned with colorful facades of colonial buildings, old cathedrals and churches.
~ James Kelley.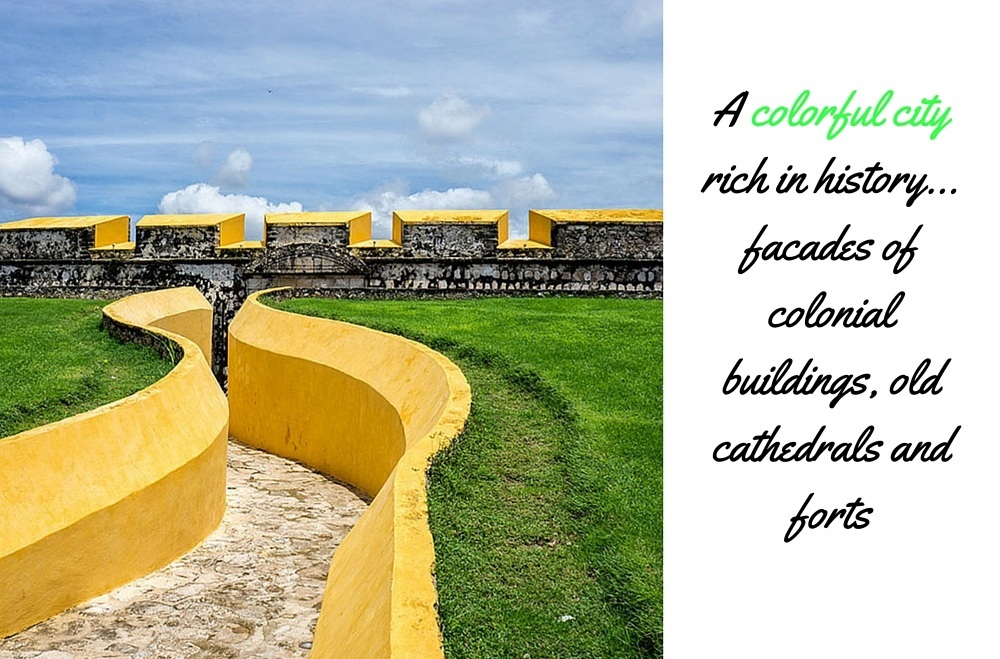 Cholula. The stunning yellow church, Santuario de Nuestra Señora de los Remedios, stands tall above a big hill overlooking the city. It isn't just a hill, it is a pyramid. Pyramid Tepanapa is the largest pyramid in the world (by volume); even larger than the Great Pyramid of Cheops on Egypt.
We went up the many steps of the staircase leading towards the church. The view was incredible! The beautiful colours of Cholula were evident from the viewpoint. Hues of pink, green and the striking yellow from the magnificent monastery below were amazing. This small colonial city is truly worth the day trip from nearby Puebla. The churches are spectacular and the town is filled with colour.  It also has a nice mix of old and new – a great representation of the real Mexico.
~ Gia. Gia writes about travel at Mismatched Passports. You can follow her on Facebook.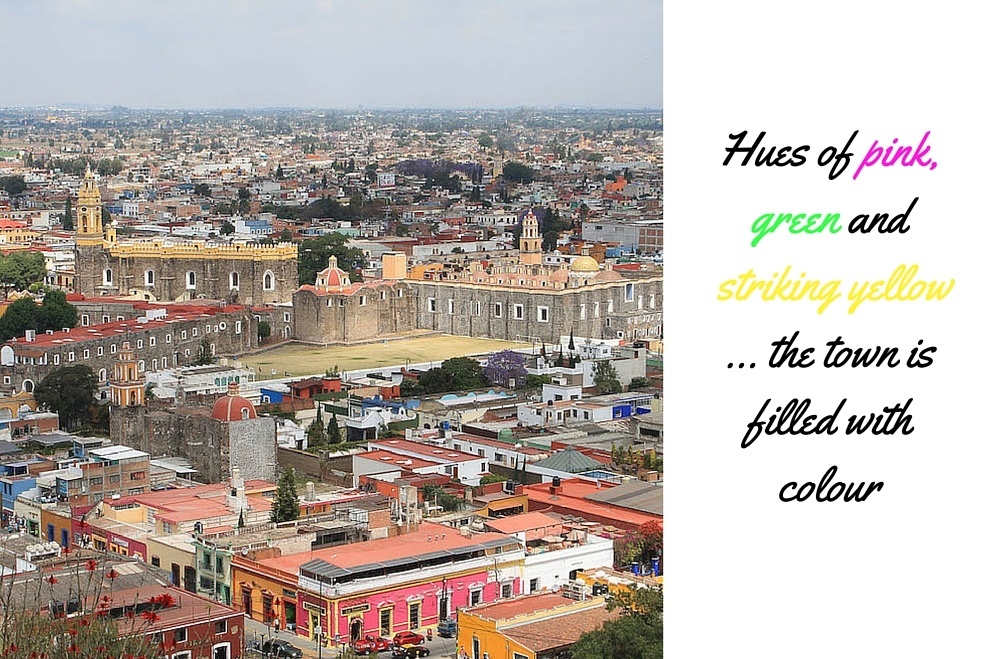 Blue
(We had two people suggest Tulum as one of Mexico's most colorful destinations: Claudia, from My Adventures Across the World, and Olga Maria, from Dreams in Heels, tell us why below).
It's no wonder most people who visit Mexico fall in love with the archeological site of Tulum. These gorgeous Mayan ruins dominate a long stretch of the coast. Although the buildings and the decorations of Tulum may not be as intricate as those of other Mayan sites of Mexico, the position makes it special. Tulum is indeed perched on beautiful cliffs that drop directly into the turquoise waters of the Caribbean sea below and the views that can be admired from the site are spectacular. As if this was not enough already, it is possible to access the small powdery white sand beach below.
~ Claudia. You can follow her on Facebook and Instagram.
Tulum is known for its famous archeological ruins and the splendor of its waters. This panorama will inspire any writer, poet or even the most uninterested tourist to explore Mexico.  It is a canvas with the vibrant colors of the sea, and with the brightest and most beautiful sky.  When I was standing there, I thought of the famous words of Jacques Yves Cousteau: "The sea, once it casts its spell, holds one in its net of wonder forever."
~ Olga Maria. You can follow her on Twitter and Instagram.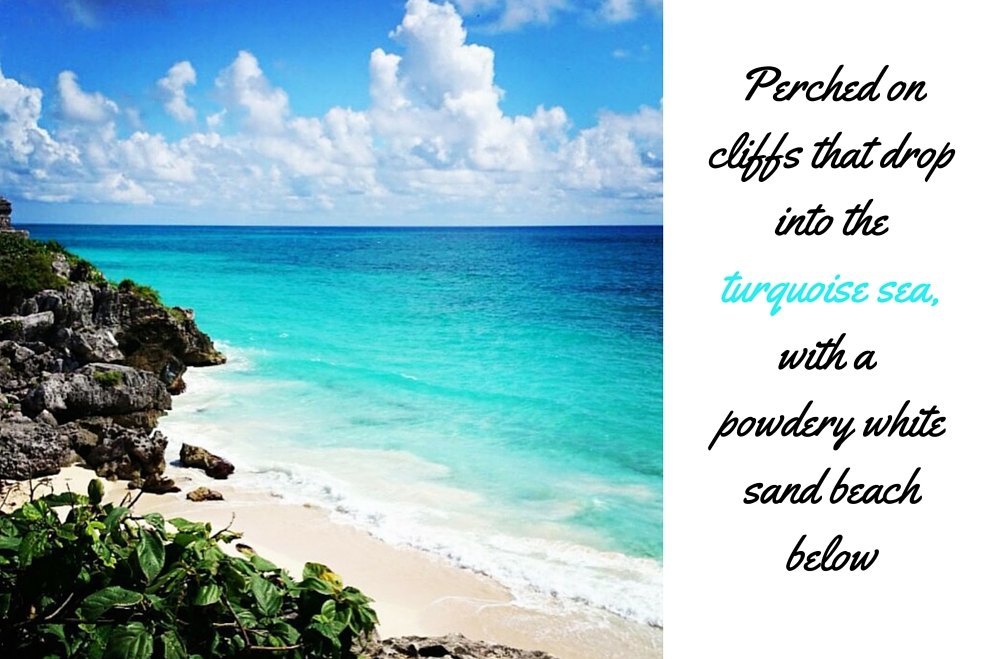 Mexico City. There is a colorful story behind the House of Tiles (Casa de los Azulejos) in Mexico City. The 18th century palace is located in the central historic district and is covered in tiles on three sides. The story is that a father reproached his son for his lifestyle and told him "you will never build your house of tiles," in other words he would never amount to anything during his life. The son set out to prove him wrong and covered his estate with tiles as a demonstration of his success.
Nowadays the palace is the location of a Sanborns Restaurant so you can grab a cafe con leche and a bite to eat while admiring the architecture and beautiful tiles.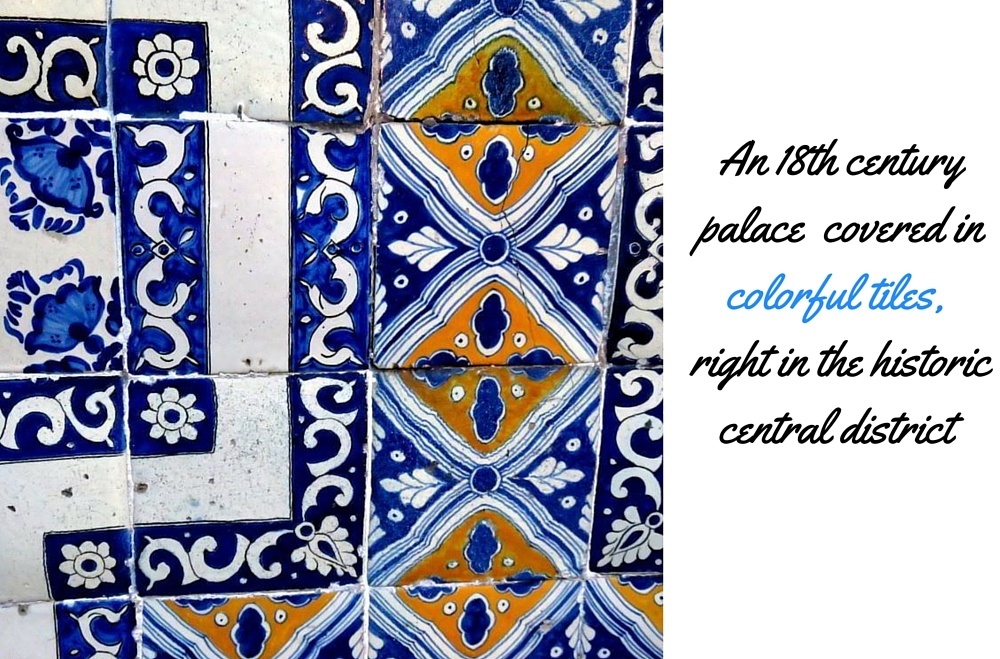 Cozumel. We love Mexico.  One thing that always strikes us is how blue the sky is. One of our favorite places in Mexico is Chankanaab Park on the island of Cozumel, Mexico. Located inside the Cozumel National Marine Park, this is a great place for snorkelling, learning to scuba dive or just relaxing on the beach under a palm tree with a cerveza, admiring the blue sky, white sand, and green palm leaves on the brown trees.  Under the surface of the water there are blue Parrotfish and red spiny lobsters.  There's color everywhere!
Lance and Laura Longwell are authors of Travel Addicts and enjoy tropical beaches, fruity beverages, and sharing a romantic sunset together. They're online on Facebook, Twitter, and Instagram.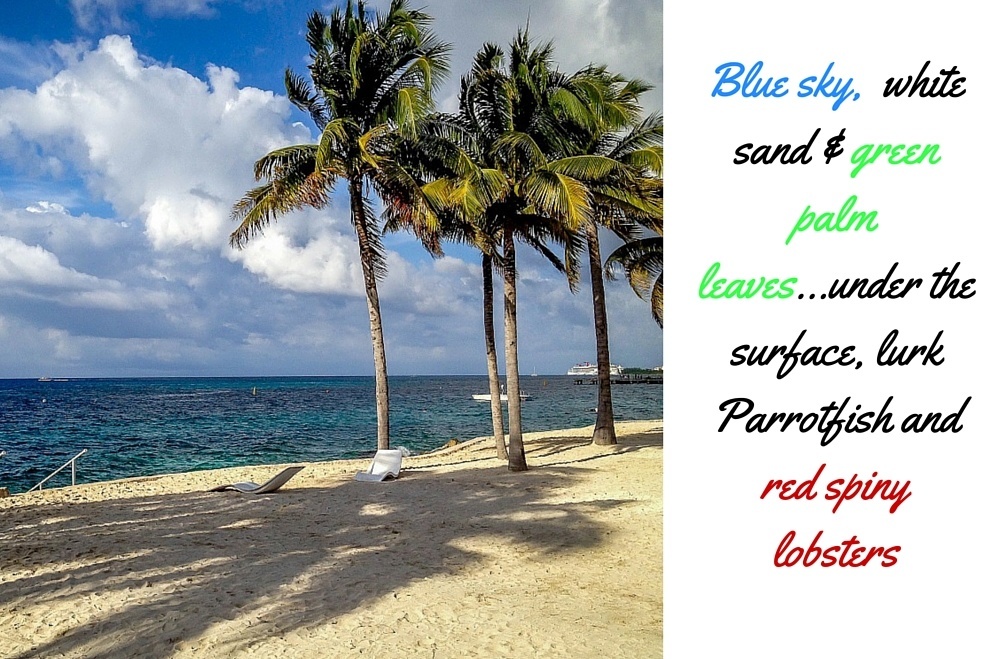 Isla Mujeres is a little Island 13 km from the coast and opposite to Cancun, and it's perfect for a day trip during your holiday in Mexico. You can relax on the beach, eat an ice-cream and walk around its pretty little streets, full of gift shops and…colours! Isla Mujeres is like a colorful kaleidoscope, a beautiful rainbow to discover and capture with your camera.
Federica writes at TravelliAmo and is online on Facebook and Instagram.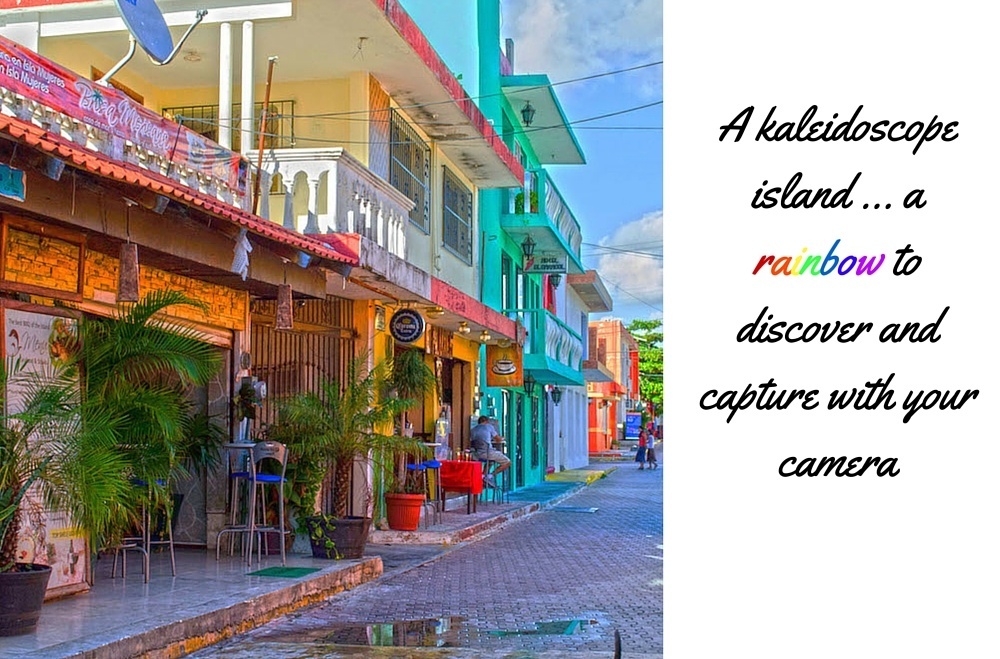 Green
Ixtapa. Iguanas are fascinating creatures; one of my favorite things about visiting Mexico each year is getting to see them. They bring to mind both the primeval and medieval … ancient reptilians with skin like chain mail. The males can reach impressive sizes and sport a virtual rainbow of colors in their skin, with patterns and textures that prove Mother Nature has a vivacious imagination. This old guy comes from the Popoyote Lagoon on Playa Linda in Ixtapa, Mexico — a small and little-known wildlife reserve that was established primarily to protect a population of American crocodiles, sometimes referred to as "the crocodile farm." The reference is a misnomer, as they do not farm the crocs; sometimes, though, they escape the reserve and stroll the beach along with the tourists!
Shara Johnson writes at SKJ Travel. She's also on Facebook and Twitter.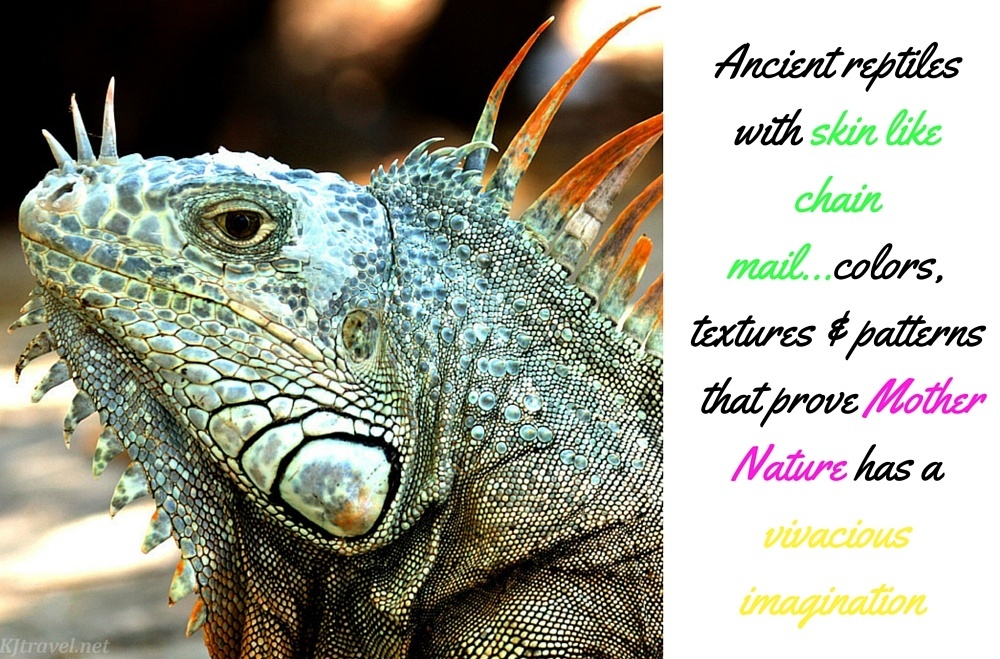 Now that you've seen the colors, where are you going?