Sometimes, when traveling, it's easy to forget how whacky things sometimes get – things that sound strange within the context of home are completely normal when traveling. A great example of this is taking taxis abroad. Depending on where we are, we take taxis multiple times per day or not at all. It just depends on the cost and our budget for the trip. For example, when we arrived in Bangkok a few Christmases ago, we decided to take a cab the roughly 350 km from Bangkok to Trat, from where we would catch a ferry to Koh Mak. In Canada, that would cost an astronomical amount of money, but in Thailand? I think it cost us the equivalent of $80 USD, and — because of the way the bus and ferry schedules were — it gave us an entire extra day on Koh Mak, which was awesome as we only had 10 days away from our jobs in Taiwan. Totally. Worth It. In other countries (read: expensive countries) we shun taxis like the plague, hauling our backpacks on — surprise — our backs, walking kilometer after kilometer from train station to hostel.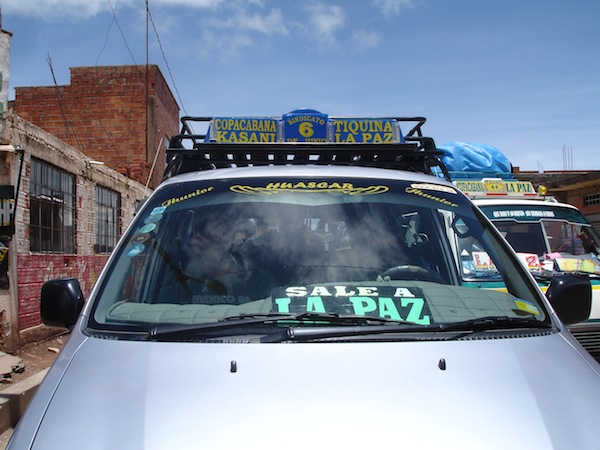 Although we've taken a taxi across an entire country, we'd never taken a taxi to an entirely different country. Until now. It all started with a potato pancake in Klaipeda, Lithuania.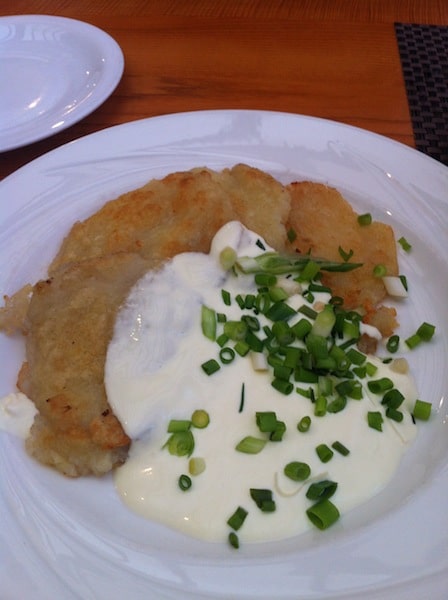 The thing is, I ALWAYS want to try new food when we're away, but I pretty much ALWAYS get sick. I apparently haven't learned the basic lessons of safely eating abroad, and thus my digestive tract is like a microscopic United Nations of bacteria from around the world. I think I just generally assume everything will work out, and thus focus on the deliciousness rather than the gut-wrenching bacteria lurking in whatever plate of street food on which I'm currently fixated.
In the Baltics, I was brought down by some innocent-looking potato pancakes bathed in what I can only assume was evil sour cream. And man did I pay for that culinary choice. Without going into too much detail, I spent the entire night getting to know our hostel bathroom. Despite my propensity for getting ill, I also mostly refuse to let a little diarrhea and abdominal cramping get in the way of our travel plans. If I could survive the 11-hour bus ride from San Pedro de Atacama to Salta with nothing more than a few strategically placed Gravol suppositories, surely I could endure a three-hour train trip to Siauliai to see the Hill of Crosses, right? (Yes. Yes, I DID just tell you about my experience with suppositories). Moving on…
And so we set out – Geoff leading the way and patiently encouraging my delirious, smelly self to keep up. I slept through the train to Siauliai and the taxi to the Hill of Crosses, and wandered aimlessly when we arrived, putting the camera on automatic and pointing it at whatever looked neato.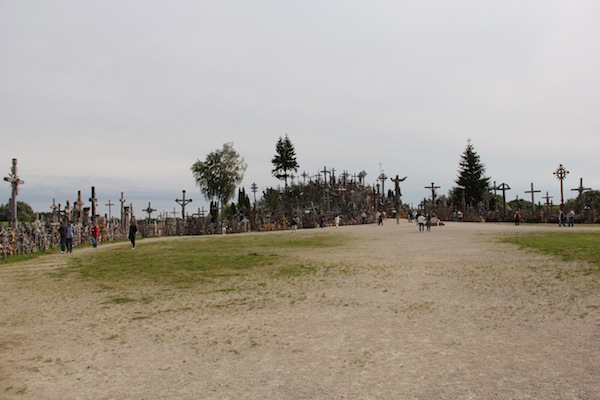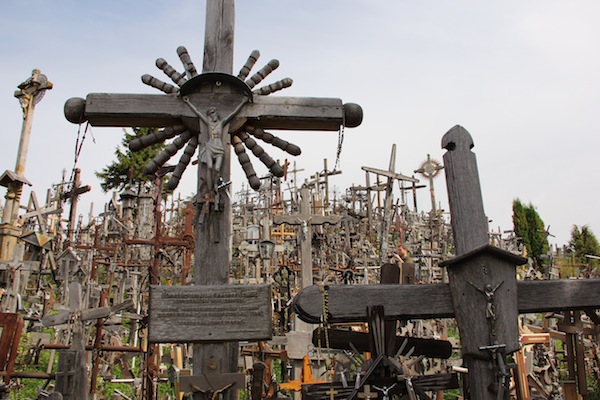 The Hill of Crosses is actually really impressive – I wish I was slightly more conscious for the experience. The story goes that Lithuanians began planting crosses on this hill way back in the 1300s, and from there it just became a thing – it's like planking and breading and other memes, but more ancient and stuff. When the Soviets came along, they made it illegal, and yet the crosses kept appearing (I know, I know – they were total A-holes). The Soviets bulldozed the hill THREE TIMES. The crosses kept appearing. They dug ditches around the hill. The crosses kept appearing. The Hill became a symbol and rallying point of Lithuanian national identity, and by the time the Soviets shipped out in 1990, the hill was covered by roughly 40,000 crosses (today, that number is more like 400,000 and growing by the day). Even with the searing abdominal pain I felt, I could appreciate the awesomeness of this place. I was both moved and left feeling like a vacuous spiritual wasteland who couldn't possibly ever achieve the level of devotion and faith as those who risked their lives to plant a cross in this spot. Isn't that pretty much the meaning of awesome?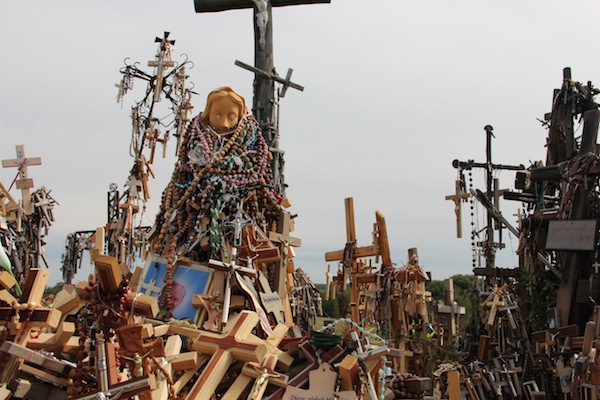 Having mustered all my strength to appreciate the Hill of Crosses, I felt totally spent. I hadn't yet eaten anything, and was feeling light headed and…ummm…crampy. We went back to the bus station,  and the cab driver who'd driven us to and from the Hill of Crosses offered to drive us to Riga for 60 Euro.
(Insert DJ scratching sound effect) Exsqueeze me? Riga? Isn't that in an entirely different country? I'd never taken a cab to another country. It seemed so wonderfully extravagant and  over-the-top. And despite my love for things that are wonderfully extravagant and over the top, we shrugged off the idea as too expensive when compared to the 20 or so Euros we'd pay for two of us to take the bus. We found me some Sprite and soda crackers, which I cautiously tasted as Geoff ventured out to find something more substantial for himself. And as I stood there, waiting for my husband to return to the pre-determined meeting point before getting on the bus to Riga, my stomach erupted in painful protest of the crackers and Sprite, and I gave in to the lure of a private car with unlimited bathroom stops (too much information?).
We went back out to find our guy, but he was gone. Geoff went to collect our bags from storage and I, slightly panicky, began to roam from car to car through the taxi queue, each of the drivers seeming more able than the last to sense my desperation. After a few tries, we found a car willing to take us, but he didn't speak English, and we don't speak Lithuanian. Realizing we had at least some limited Spanish between us, we got him down to 65 Euro, and climbed in.  I fell immediately to sleep, missing the border crossing (Yes, in Latvia they still make you pass through a border check, although there aren't passport stamps) and arriving in Riga in ever so slightly less delirious state than which I'd started the day.
And that 65 Euro cab fare? Which in Paris or New York or Tokyo would have gotten us barely anywhere, but in the Baltics spirited us across two countries? Totally. Worth It.