If you're searching for the best glamping in Florida, you've come to the right place. Here's our first hand review of the luxury glamping experience at Westgate River Ranch!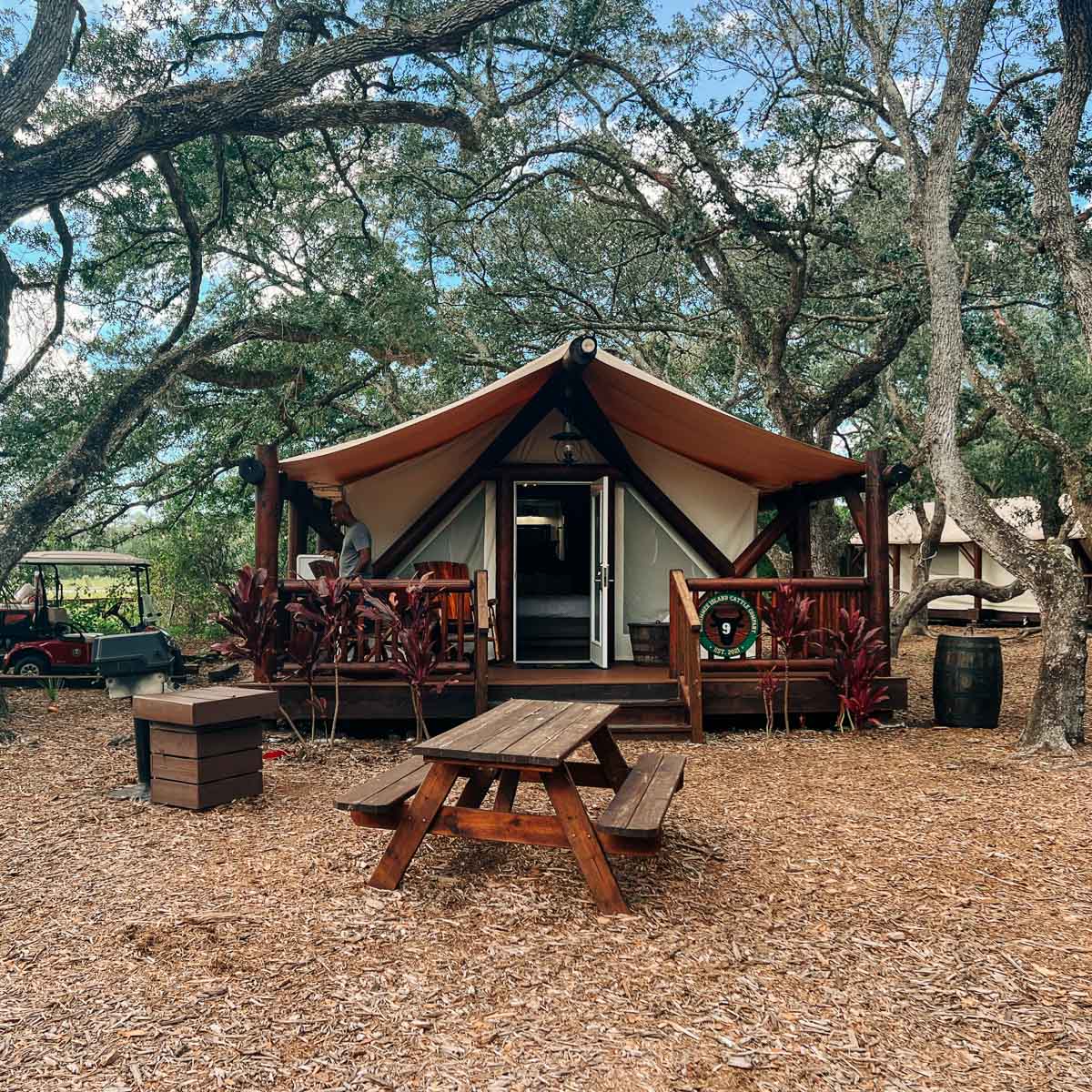 We've had a glamping trip on our travel bucket list for quite some time now. And in fact, we've attempted to make this trip over to Westgate River Ranch a few times, but something has always thwarted our plans. So I was so excited when it finally came together this past weekend.
And I have to say – this glamping trip totally exceeded my expectations!
So if you're considering visiting Westgate River Ranch, I say just do it. Here's everything you need to know to have the ultimate glamping experience in Florida!
What is glamping?
Ok, first off you may be wondering what the heck glamping even is. Well, it's a completely made up word that's a cross between "camping" and "glamorous". So basically, it's fancy camping. Or camping with as little "roughing it" as possible.
That means a comfortable place to sleep that is closer to a hotel room than a tent and a lot of services and amenities to make your stay really comfortable. So… my kind of camping.
The Luxury Glamping Tents & Amenities
We stayed in a luxury glamping tent for this trip. But honestly, the word tent is almost an insult to these rooms. It's more akin to a really nice hotel room in the woods. Basically a cabin with canvas sides.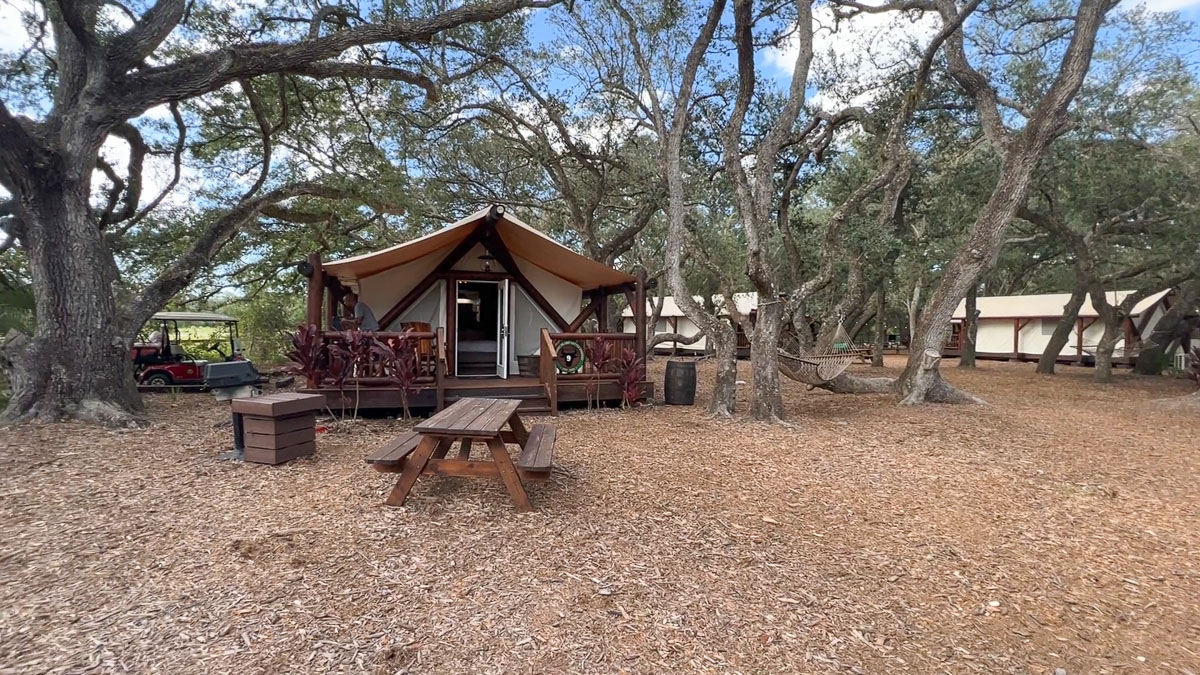 It really was pretty luxurious for something with the word camping in the name.
Now, it's important to note that Westgate offers a "regular" glamping tent and a "luxury" glamping tent option. This review is for the luxury glamping. There are a lot of similarities, but also some key differences, which I'll cover a bit later in this review.
The room was fully air conditioned (with a ceiling fan too). And yes, the A/C was ice cold. Very important for Florida!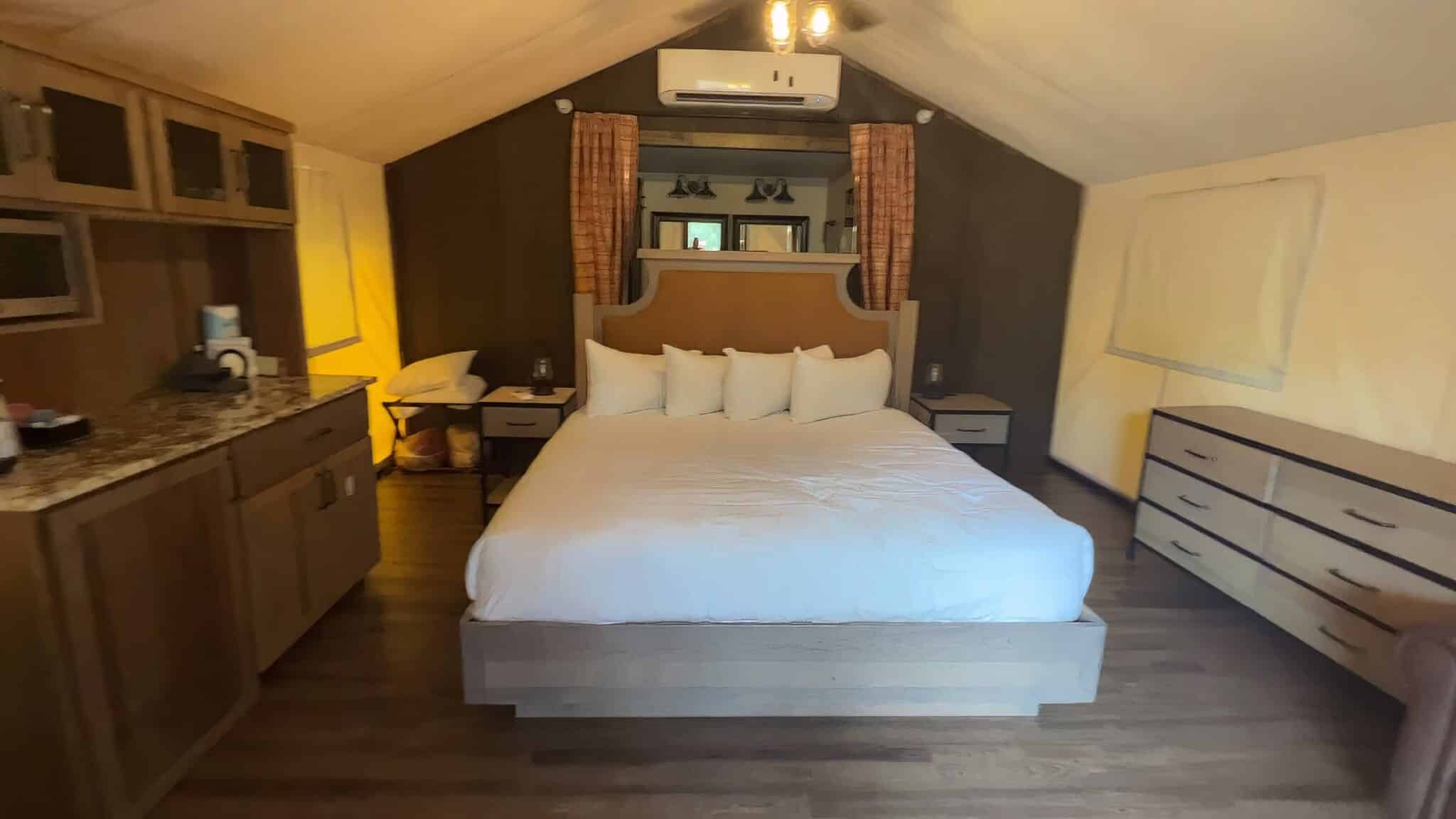 For sleeping, there was a super comfy king size bed. And also a queen sized pull out sofa, which was perfect for my son. There was plenty of bedding for both beds and they were both really comfortable too.
There is also a small dining table and a kitchenette that came complete with a mini fridge, microwave, Keurig coffee machine, and toaster. See, not exactly roughing it, huh? The cabinets were stocked with drinking glasses and wine glasses too. Although, there were not any dishes or silverware, so bring along some disposables. (And check out my glamping packing list for other essentials.)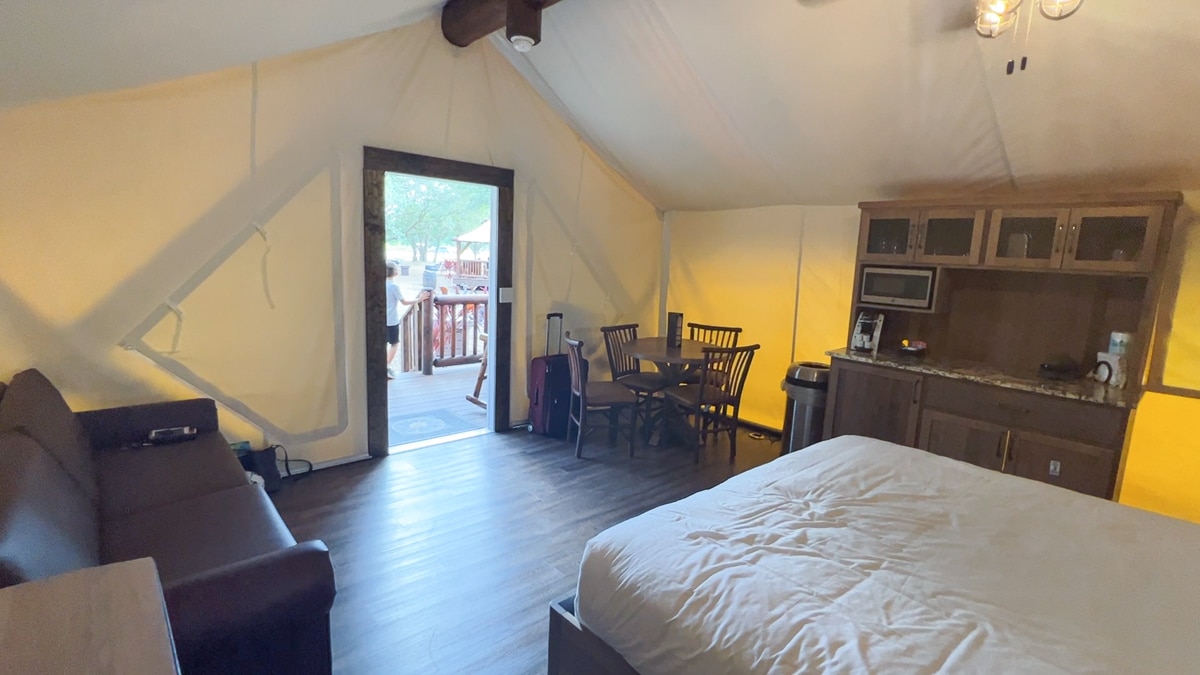 On the front porch, there were two oversized rocking chairs for relaxing. And a big ice chest for keeping drinks cold – which the concierge staff kept filled with fresh ice all weekend long. Amazing.
There was even a big barrel on the front porch where they deliver breakfast in the morning! Yep, it came with morning coffee service. They delivered big cinnamon rolls, fruit, and you can request a carafe of coffee. (Plus you can make coffee in your room.)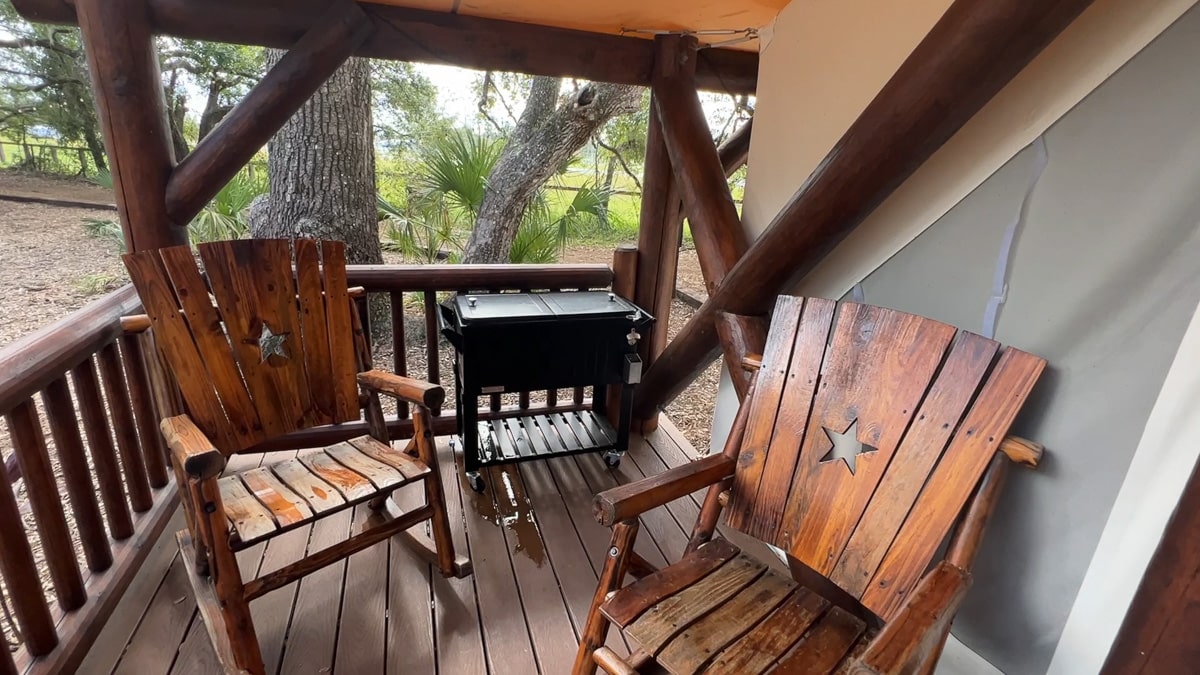 For cooking, there was a propane grill which was all hooked up with a propane tank and ready for us to use. It came with some cooking utensils as well, and each tent has a picnic table for dining.
Oh, and did I mention the bathroom? Yes, the luxury glamping tents have their own bathroom right inside the tent. I told you it was more like a cabin. There is a separate water closet for the toilet, double sinks, and a walk in shower. Nicer than many hotels!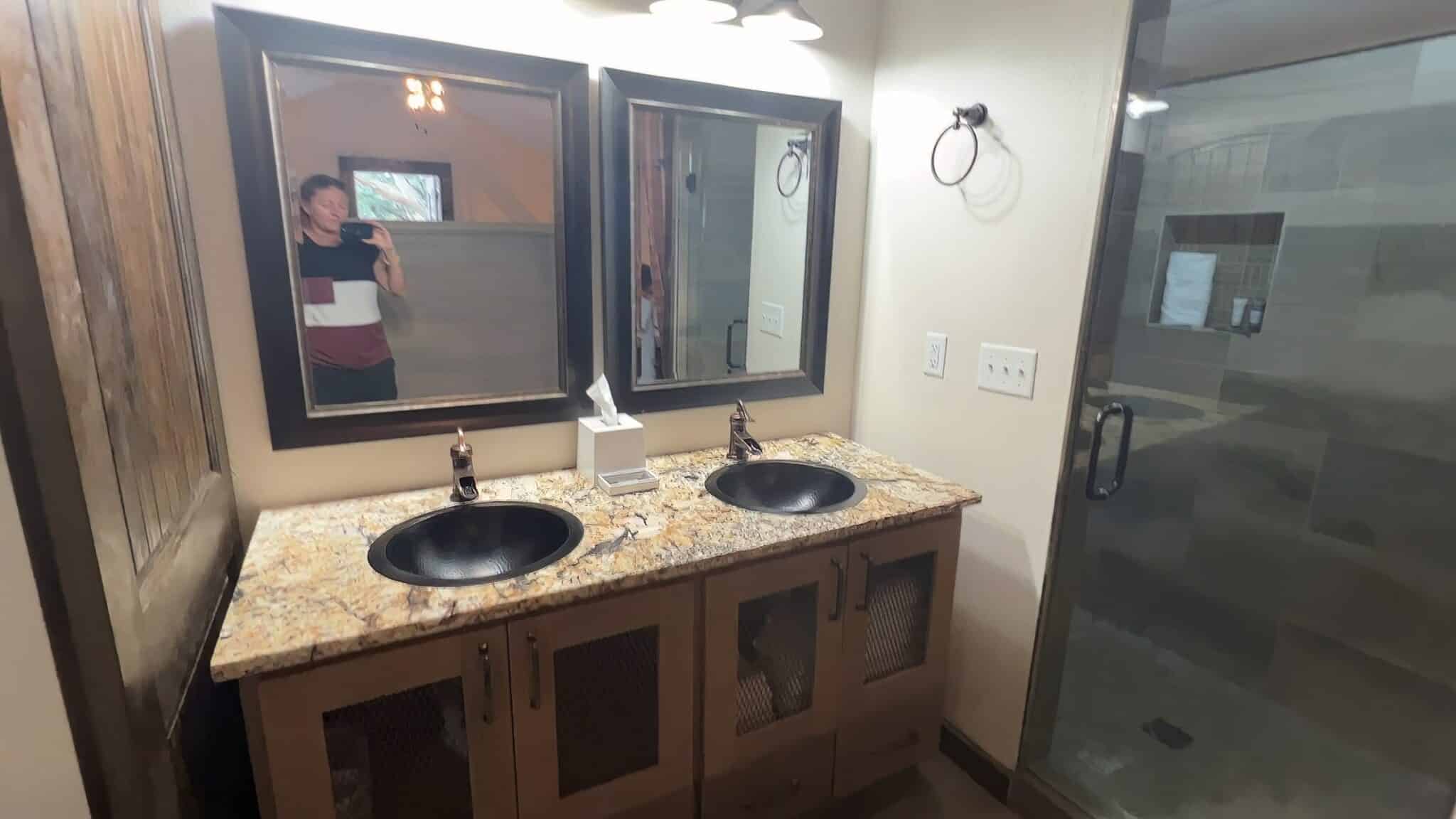 And possibly the best part of luxury glamping – it comes with a golf cart! There's even a little golf cart parking spot behind each tent.
My son definitely thought this was the highlight of the trip. I noticed many families decorated their golf carts with balloons or lights which is a fun idea and makes it easier to find yours in the sea of golf carts at the rodeo and other venues around the resort.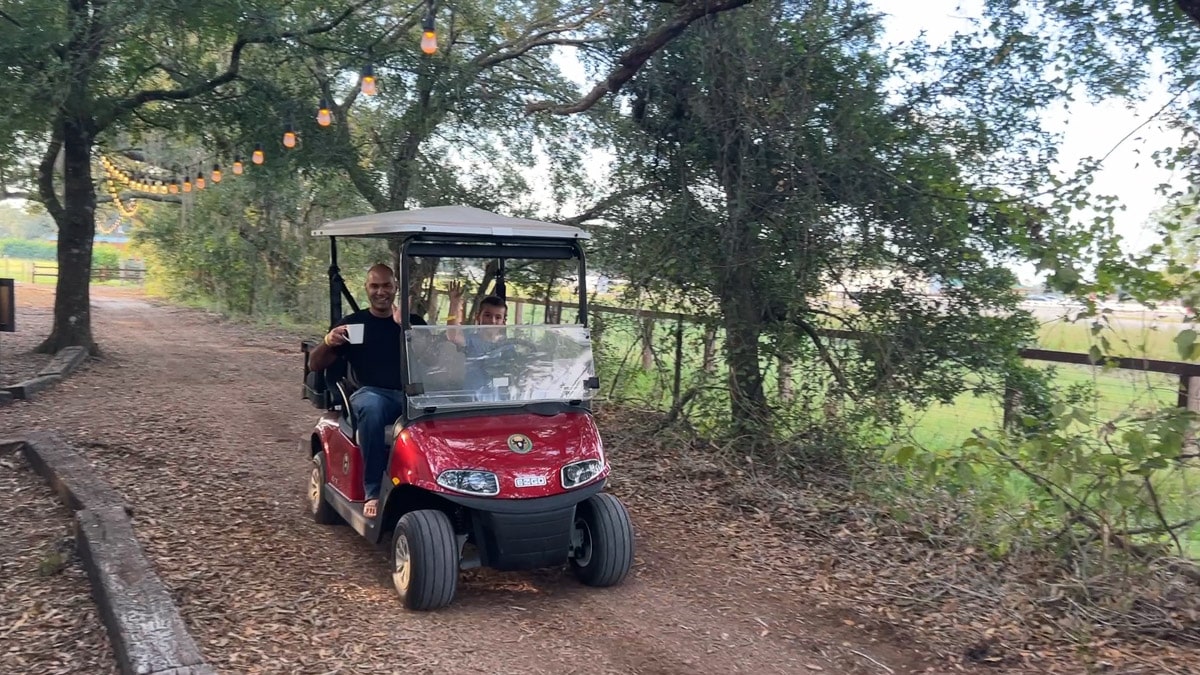 If you choose to stay at River Ranch in a different type of accommodation, you should still consider a golf cart rental, because it really was the easiest way to get around the massive property. If you don't get a golf cart, consider bringing bikes!
And I do highly recommend checking out the rates via booking.com, which is where we book all of our personal travel due to the great cancellation policies and rewards program.
The Luxury Glamping Campground
Besides the amenities at your own personal glamping site, the surrounding campground has some great features as well. The glamping campsites were in a gated area of the campgrounds, accessible only with a gate code. This means it's also a pretty quiet area of the property.
Once you're inside the gated area, you take a dirt road to access the regular glamping area and another road to access the luxury glamping area. You can walk back and forth between the two, but it is a bit of a hike.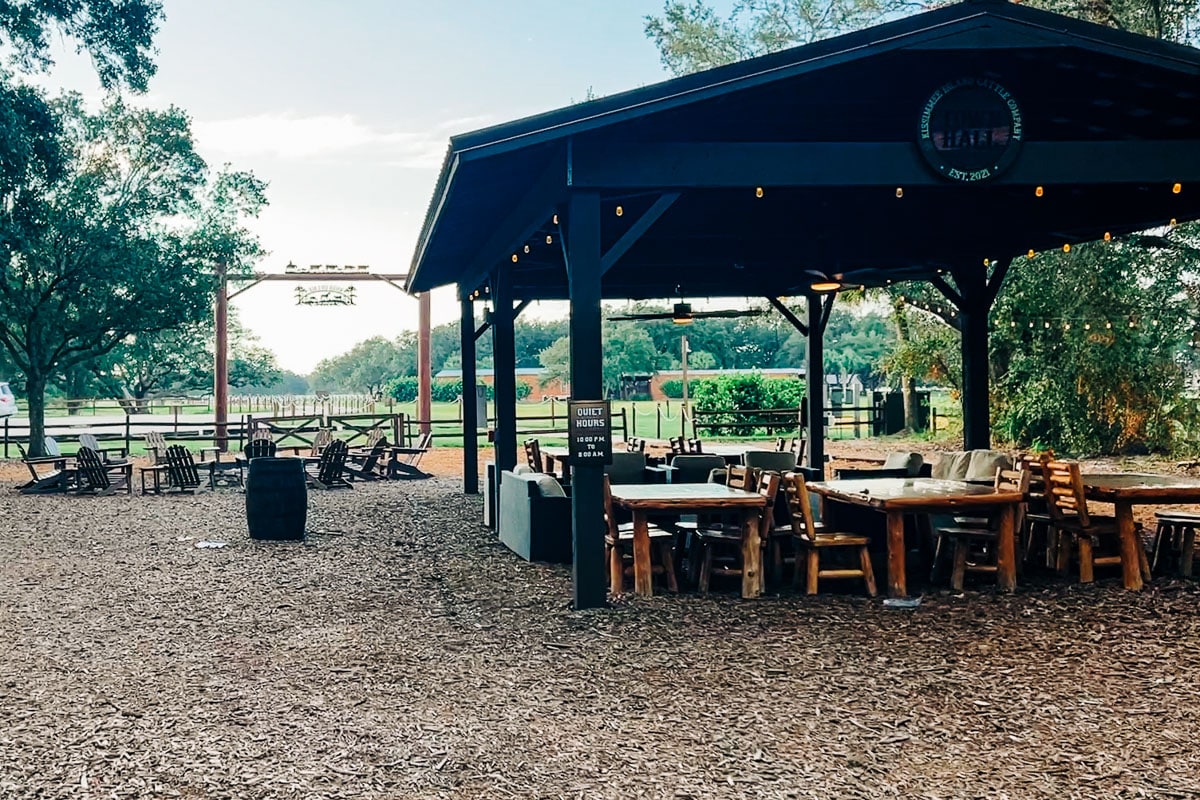 Within the luxury glamping area, there was a huge fire pit and also two smaller fire pits at the back of the campground. The staff came around each night and lit the fires – so no need to bring wood or fire starting supplies with you! On our last night there, the concierge came over and taught the kids how to set up the fires. They got to arrange the firewood and even spray it with lighter fluid. (The staff member lit the flame, of course!) My seven year old was absolutely delighted by this.
That was the perfect place to sit and enjoy the complimentary s'mores kit that they gave us when we checked in!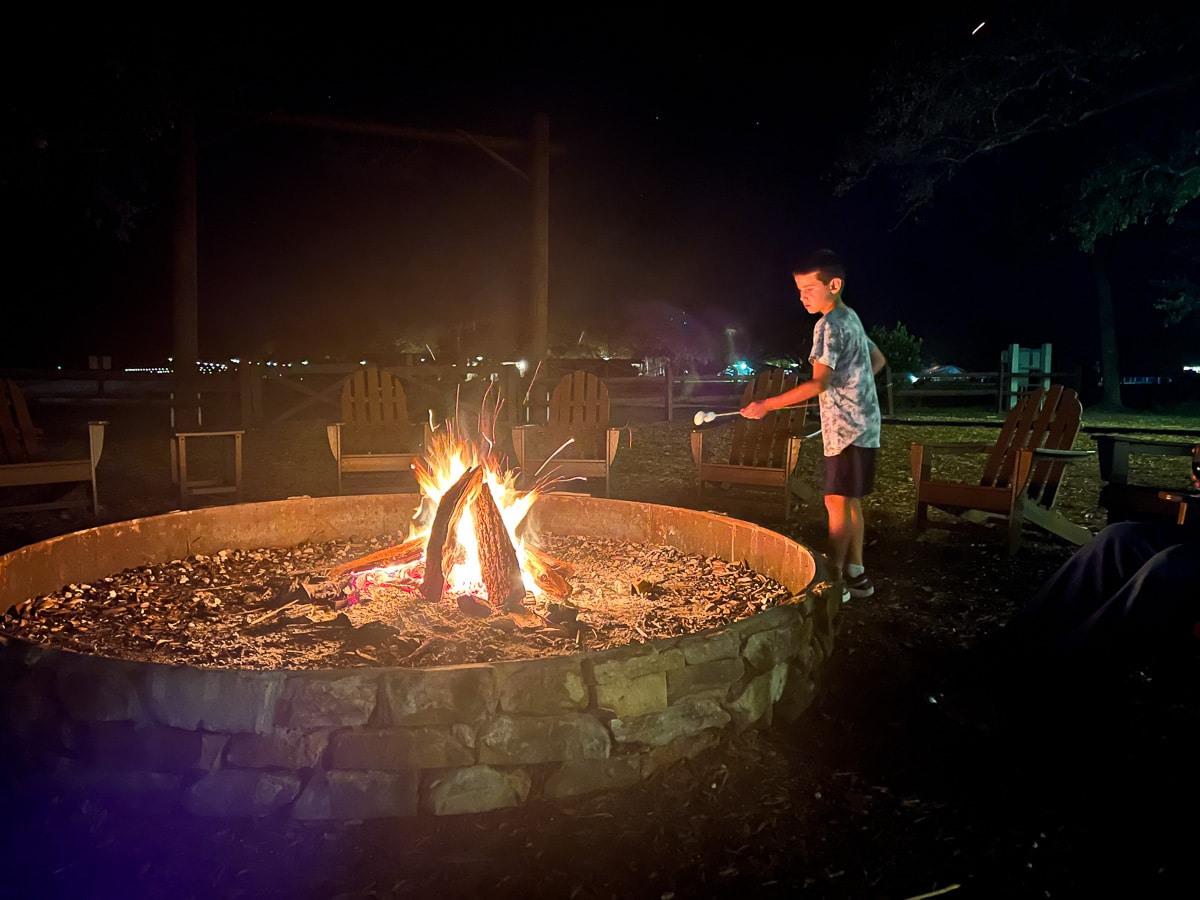 Besides the campfires, there was also a big sheltered seating area with comfy chairs and dining tables. We enjoyed hanging out there and playing some games. It would also be a nice place to set up dinner for a larger group.
And my personal favorite – the hammocks. There were several of these big cozy hammocks scattered around the campground. So cute and comfy.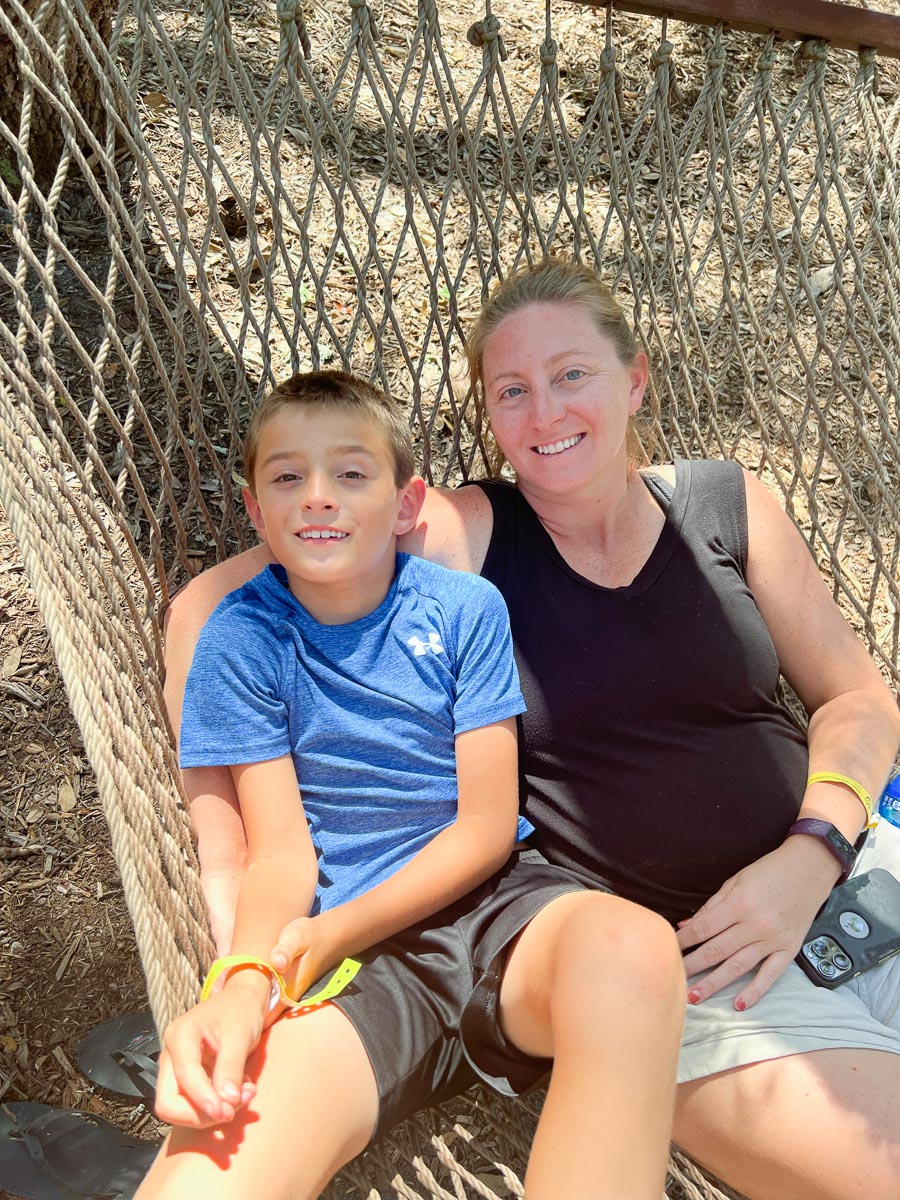 Campsite Dining
One amenity that we weren't expecting was the ability to order ready-to-cook meats and side dishes right to our campsite. By the last night, we were in the mood for something other than the hot dogs and burgers we brought along, so decided to give it a try.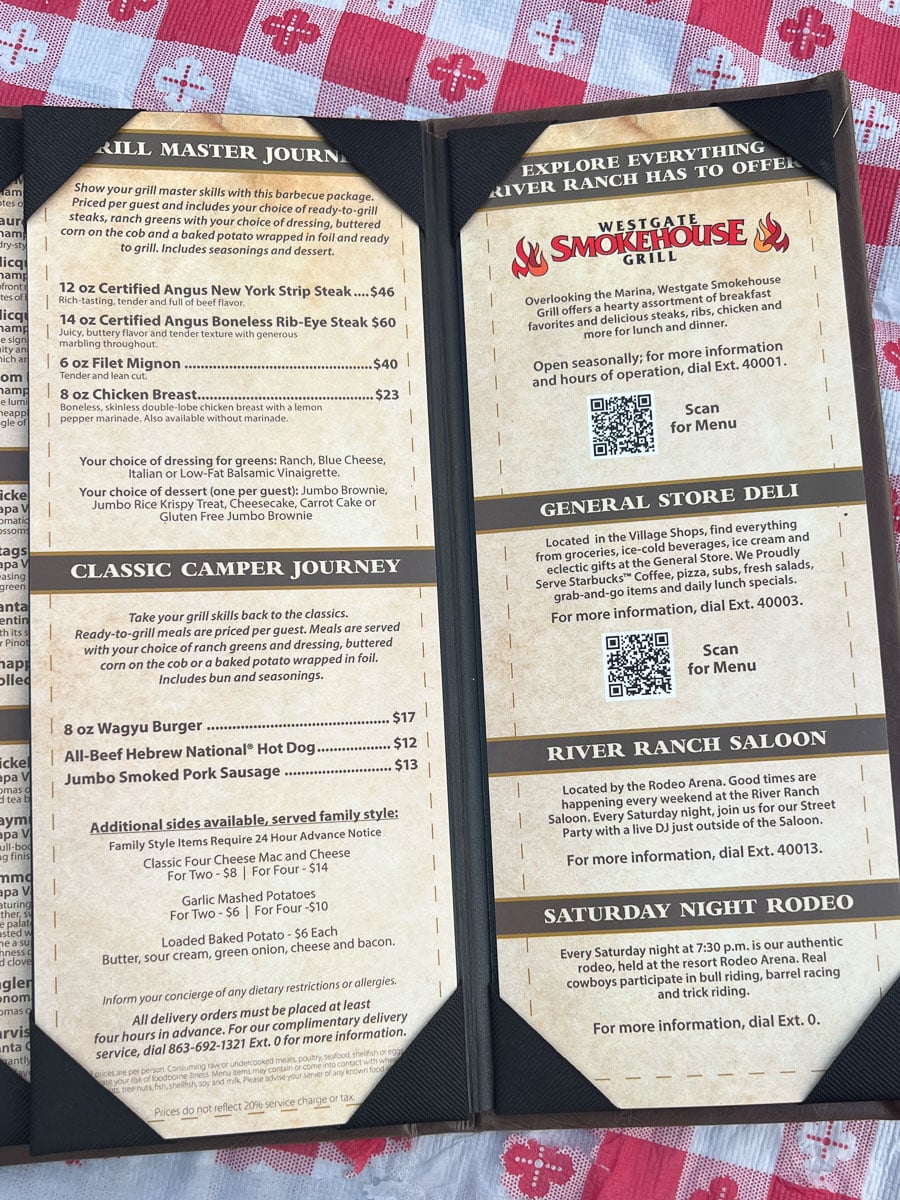 We ended up ordering steaks and chicken breasts to grill. And I can't even believe how well this turned out.
The meats came marinated and ready to throw on the grill. Our concierge delivered them right on schedule, and even lit our grill for us when she arrived. She also set up our picnic tables with a tablecloth and real dishes – it was like our own little feast!
And the amount of food was crazy! We had three meat eating adults, one vegetarian adult, and two kids. We ordered up four entrees (two steak and two chicken), and ended up with lots of leftovers. The meals came with a whole bunch of sides including two huge salads, corn on the cob, and giant baked potatoes with all the fixings. And desserts too!
This was actually one of the most enjoyable nights of the trip – just eating good food and letting the kids play around the campsite all night. In fact, we were so relaxed that I forgot to take pictures of all that food. Perfect!
Regular Glamping vs Luxury Glamping
Now as I mentioned above, there are two types of glamping experiences offered at Westgate River Ranch. There's regular glamping and luxury glamping. They're both essentially fancy camping with a lot of luxuries, but there's a few key differences.
Here's a side-by-side comparison of the regular glamping tent and the luxury glamping tent: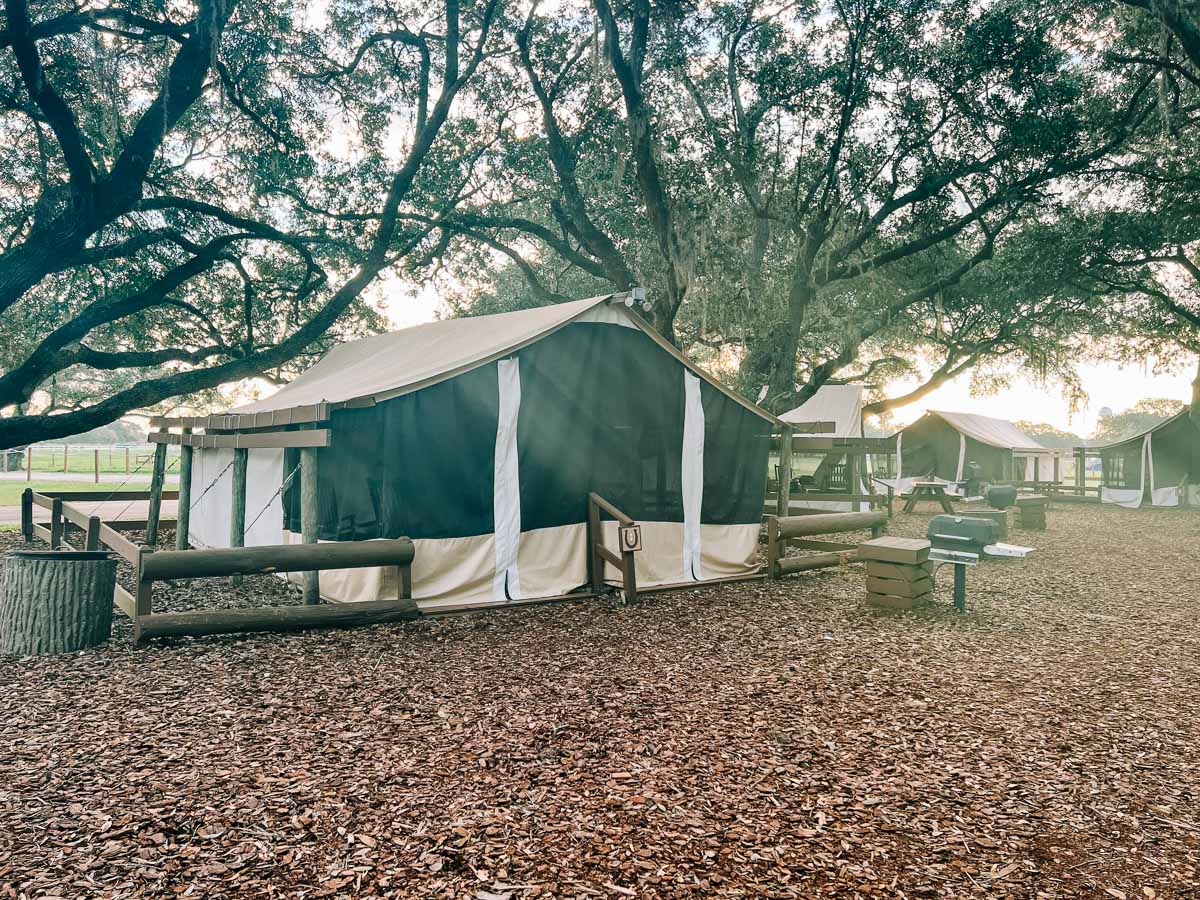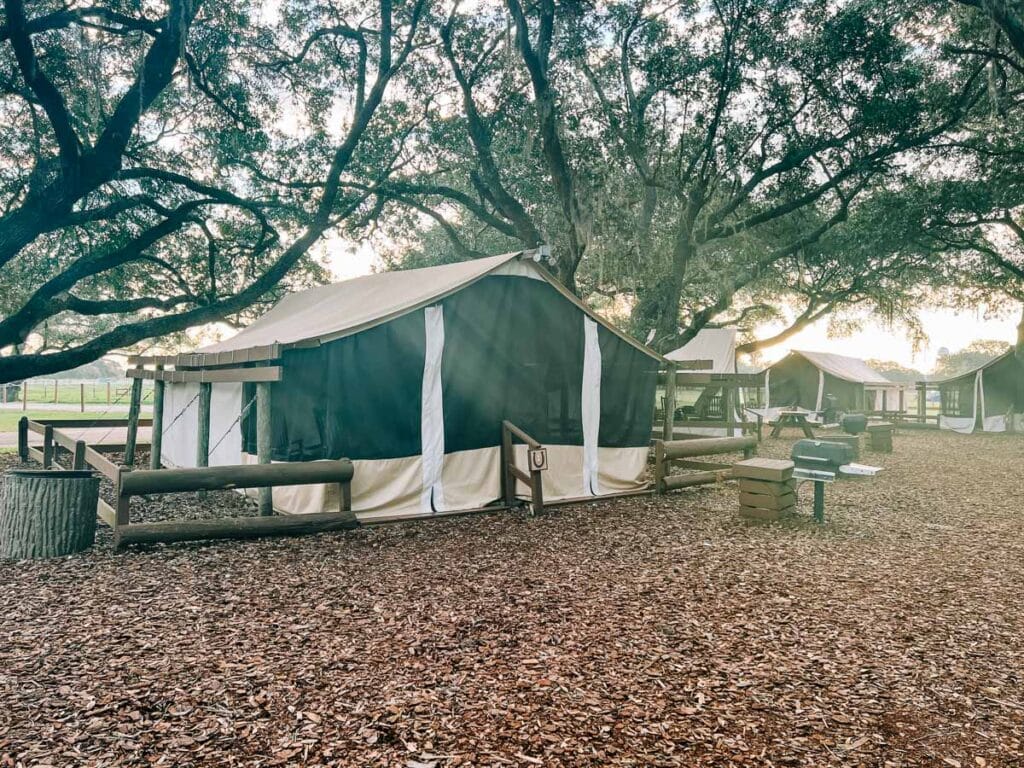 In my opinion, the biggest upsides for the luxury glamping are:
The Bathroom – Luxury Glamping Tents have their own actual bathroom inside, just like a hotel room. Regular glamping tents do not have an attached bathroom. You do have a private space, but it is located in a communal bath house, so not as comfortable.
Golf Cart – The Luxury Glamping comes with a golf cart included. So if you're planning to rent one anyway, it's worth considering an upgrade to luxury glamping where it's included.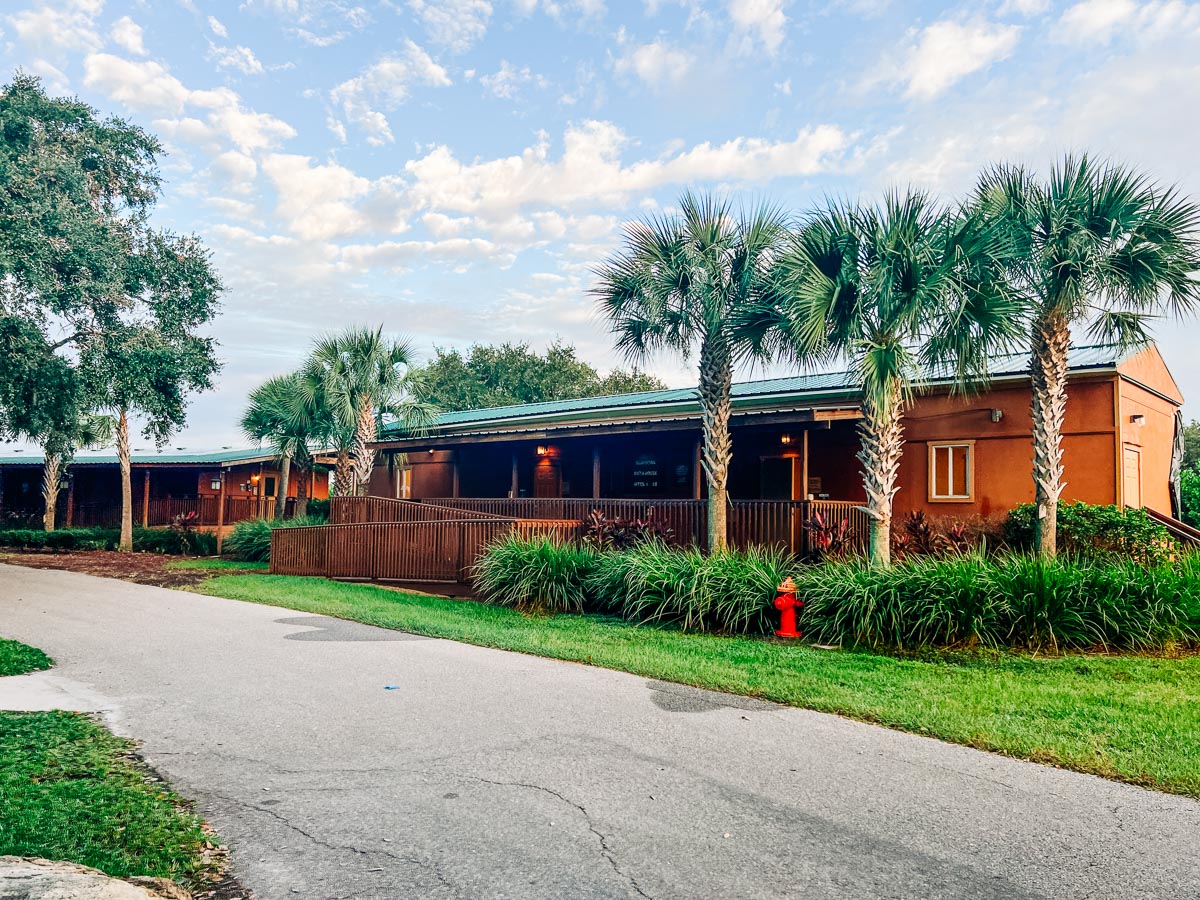 Besides those two things, the rooms are a bit different with slightly different amenities. Overall, the regular glamping sites feel a bit more like a fancy tent while the luxury glamping sites really feel more like staying in a cabin. They both sleep 4 guests, have a mini fridge and microwave inside, and have a propane grill outside. Here are a few differences between the two options:
Regular Glamping
384 square feet
King Bed + 2 Twin Beds
Portable A/C Unit
Front Patio with Mosquito Netting
Private Bath in Bath House
Luxury Glamping
505 square feet
King Bed + Queen Sleeper Sofa
Mini Split A/C (more powerful)
Front Porch (no screen)
Private Bath in the Room
<side by side of grounds>
The surrounding amenities were very similar. We visited both areas, and they both have plenty of picnic tables and campfire areas. The luxury glamping area had less campsites and more communal seating areas, so it did feel a bit more spacious.
(You can book your glamping trip here!)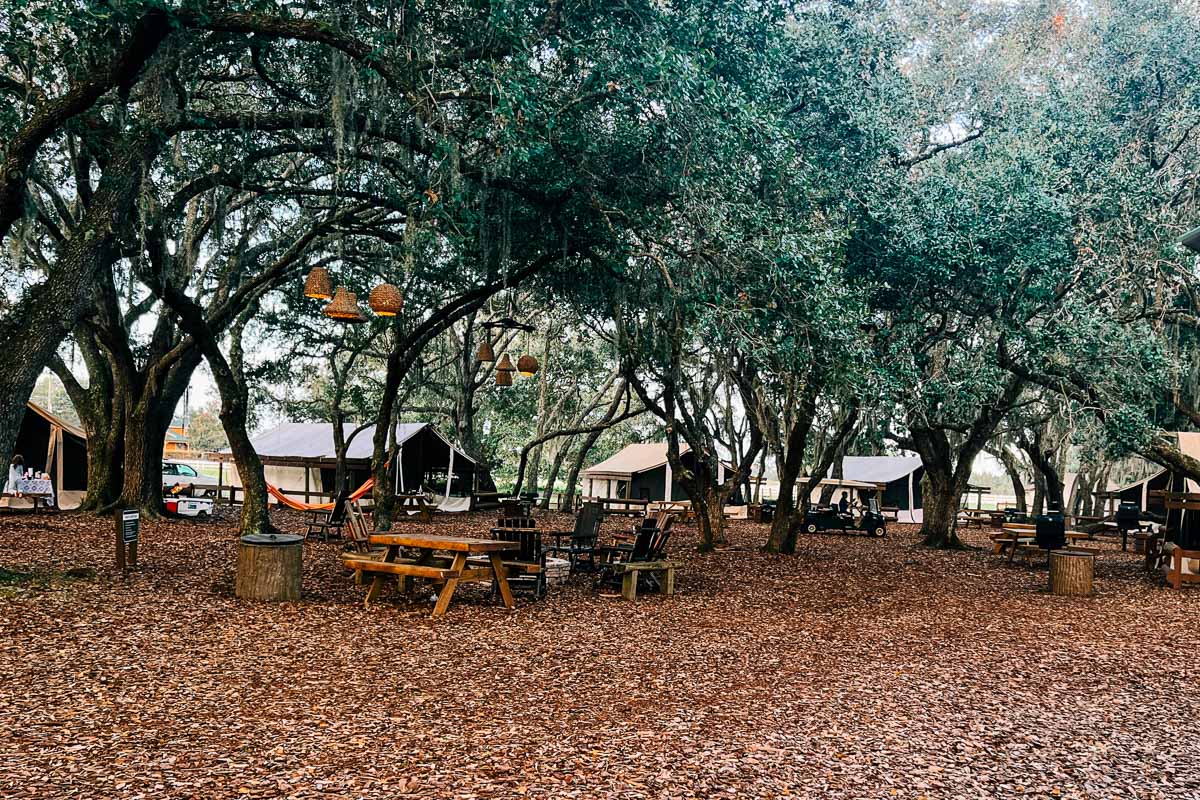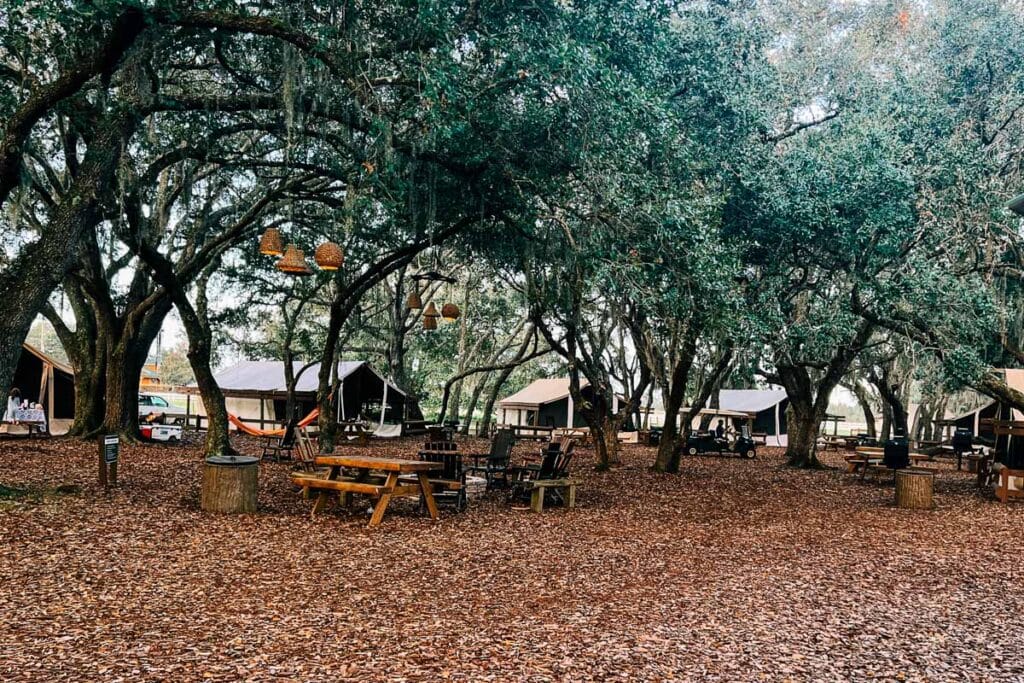 What to Pack for Glamping
There was really a lot provided in the glamping tents, so you can pack largely like you're headed to a hotel with a lot of outdoorsy activities. But there are a few items that will make your stay a lot more comfortable:
Utensils – There were no eating utensils, so be sure to grab some disposable utensils (like these compostable ones!).
Keurig Pods – There were some pods in the room and I'm sure they would have brought more, but it's easiest to just bring a box from home.
Quarters! – There is food available to feed the animals at the petting zoo, but you'll need quarters to get it from the machines.
Bug spray – It's camping in Florida. Enough said. (I like this kind.)
Ball or frisbee – Fun for tossing around at the campsite.
Golf Cart Decorations – If you want to really look like experts, grab some battery operated lights to decorate your golf cart.
Marshmallow Sticks – These extra long sticks are hands down the best for roasting marshmallows.
If horseback riding – bring closed toed shoes and long pants.
Of course, if you forget anything you can visit the General Store, where they have drinks, snacks, and even a deli with sandwiches and pizza. For a more complete idea of what to pack, check out my complete glamping packing list.
Activities at Westgate River Ranch
Of course, we did eventually have to venture out of our beautiful glamping site to check out the activities at the resort. We didn't get a chance to see everything – there's simply too much to do in one trip. But here were some highlights!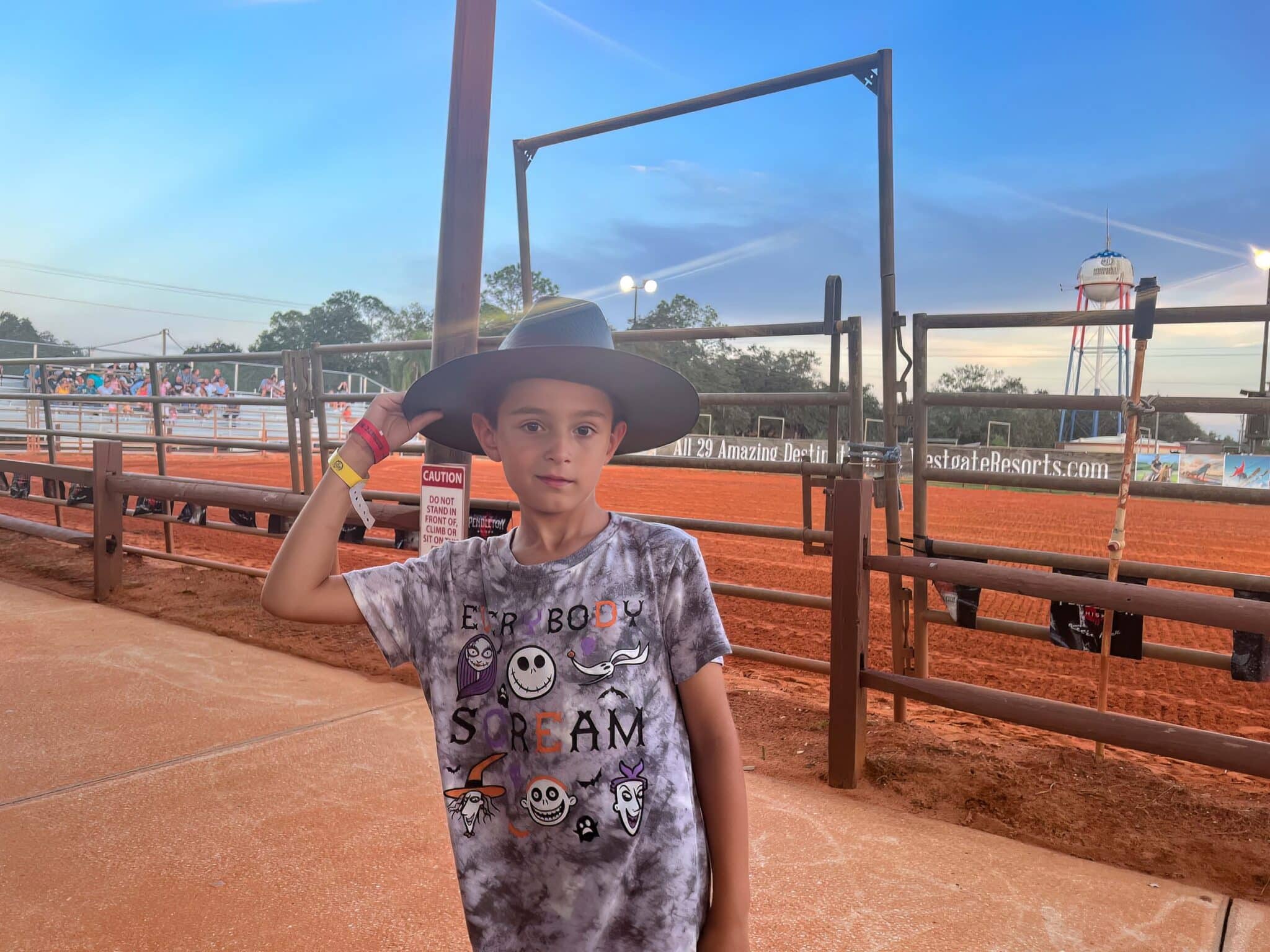 Westgate River Ranch Rodeo – The Saturday Night Rodeo is really the main attraction at Westgate River Ranch. It's a genuine rodeo, with real competitors, not just a show for the resort. And it is loads of fun. I honestly have some ethical issues with rodeos in general, but there's no denying that they put on a good show. I really enjoyed the barrel racing and the gymnastics on horseback – amazing!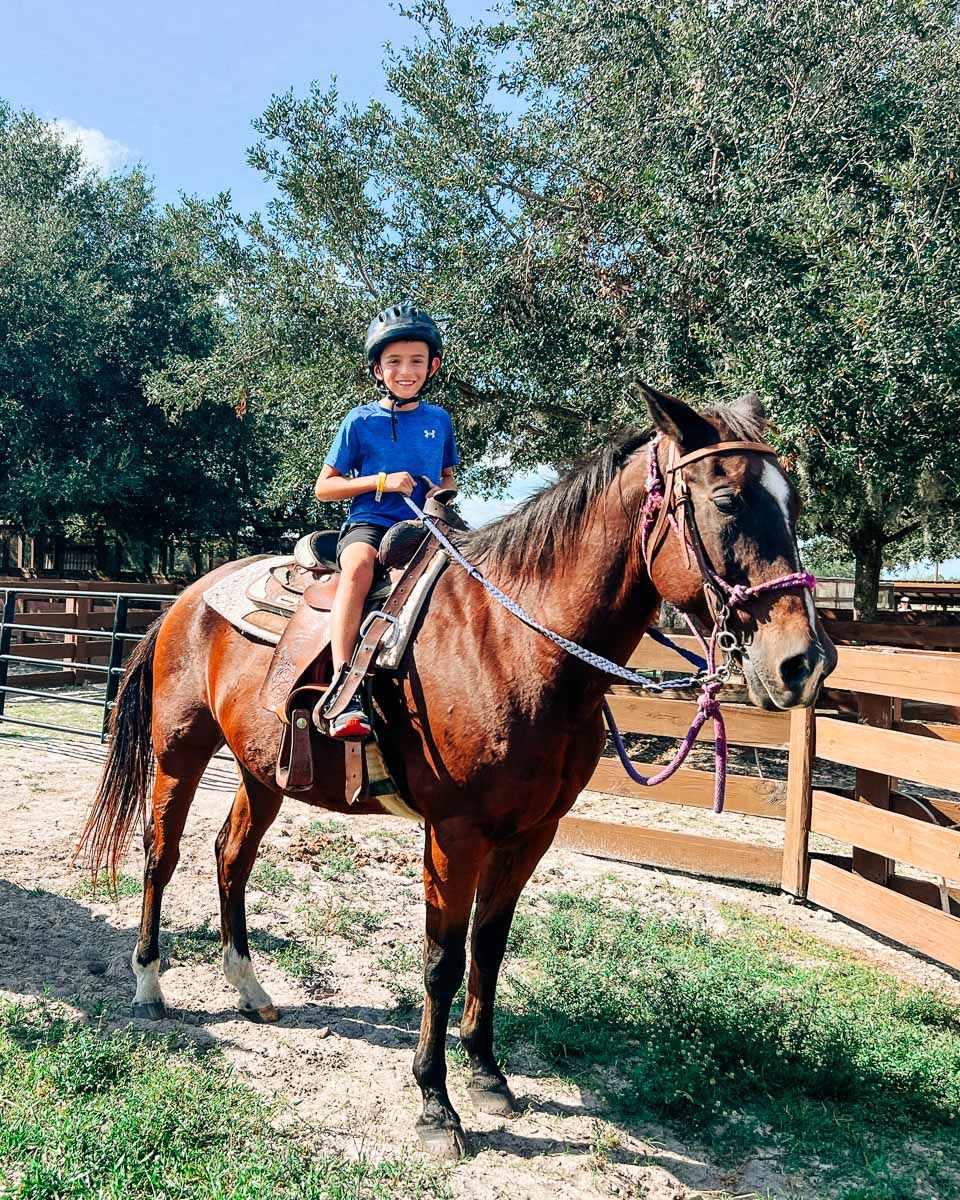 Horseback Riding – Of course, you can't visit a dude ranch without going horseback riding. We did a 40 minute trail ride, which I really enjoyed. It's walking pace only, and was a leisurely ride on their scenic trails. The horses looked fat, happy, and well cared for – just what I like to see!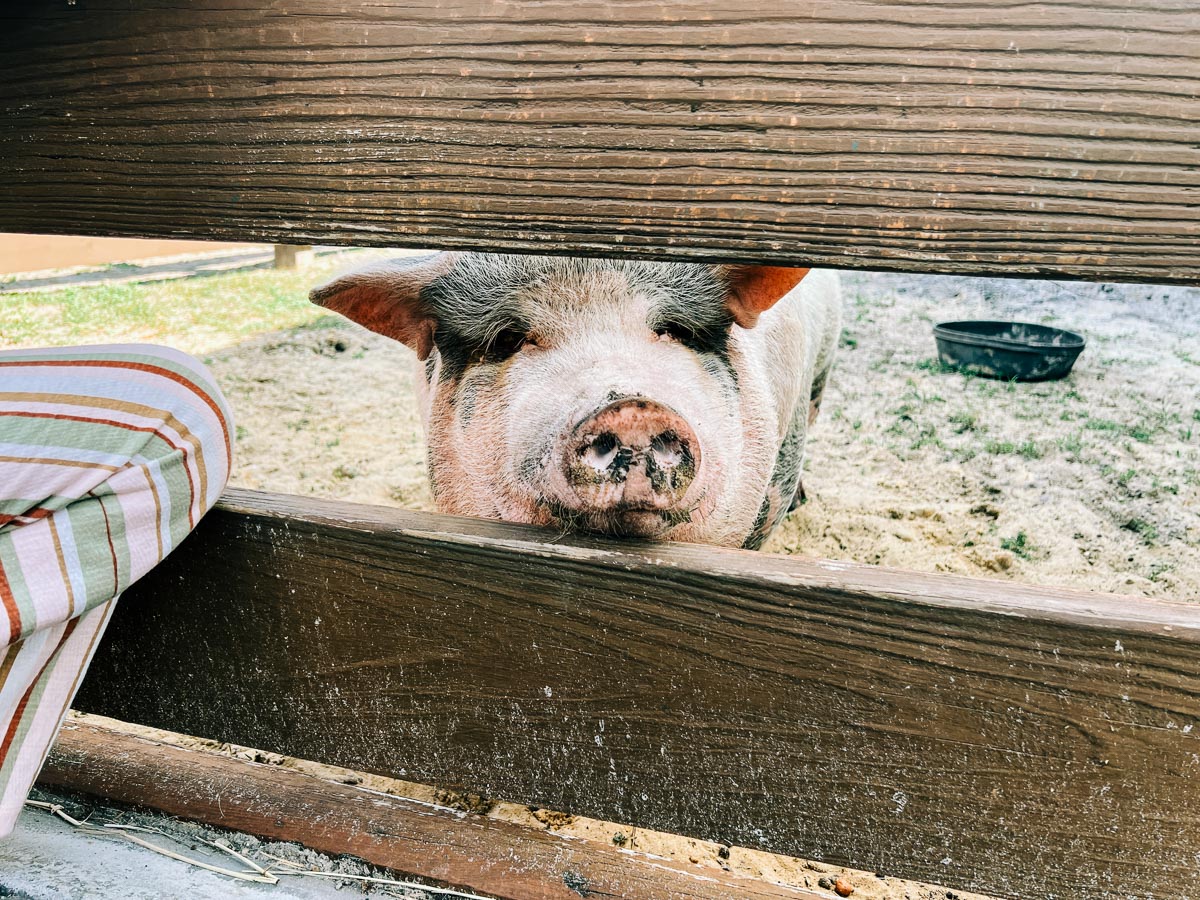 Petting Zoo – There is a huge petting zoo, and it's absolutely free. We visited three times and it was a highlight for the kids. There are friendly goats, horses and mini horses, pigs, llamas, an emu, and even a deer that likes to give kisses.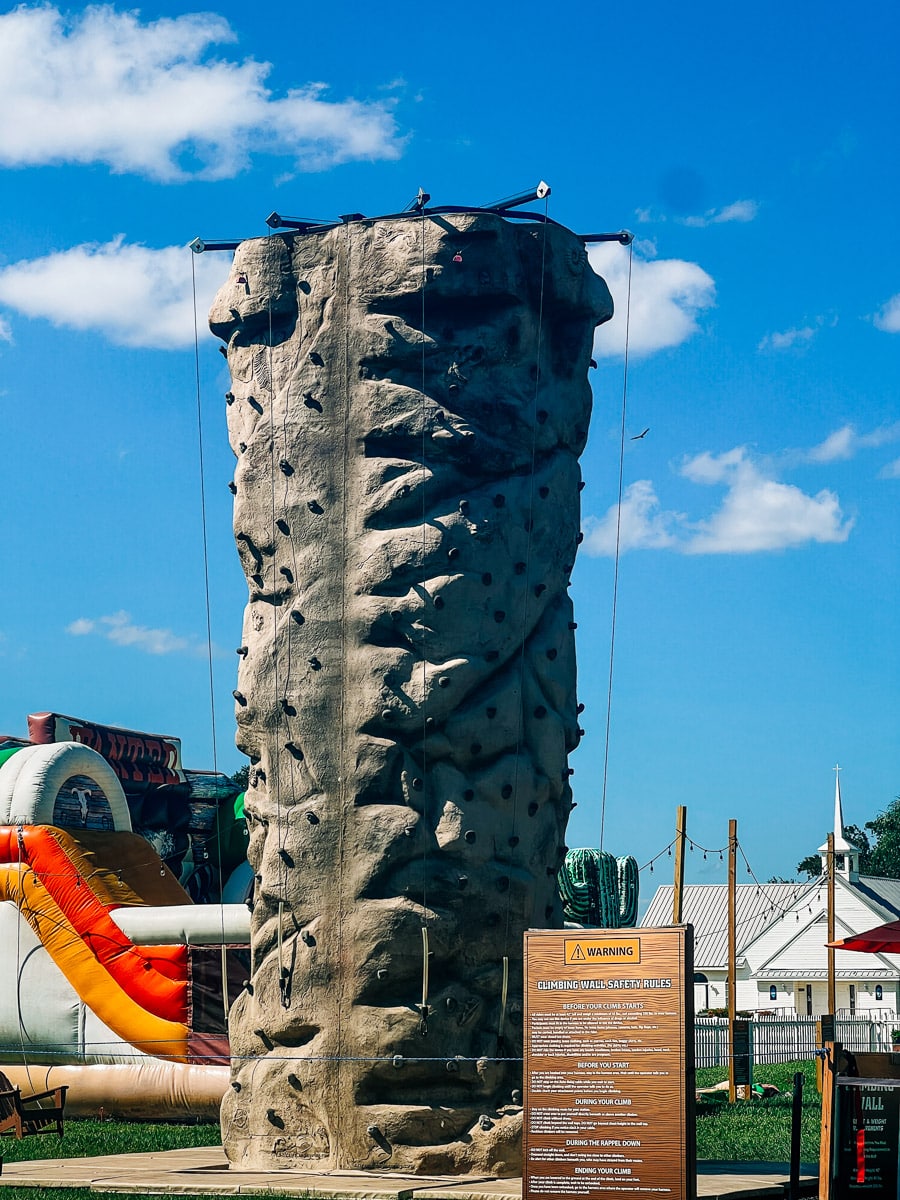 Rock Wall – The rock wall is part of the "adventure park" and was another fun one for the kids. This is the first rock wall my son was able to climb all the way to the top to ring the bell. And the attendant was nice enough to let him do it a second time when she was how excited he was!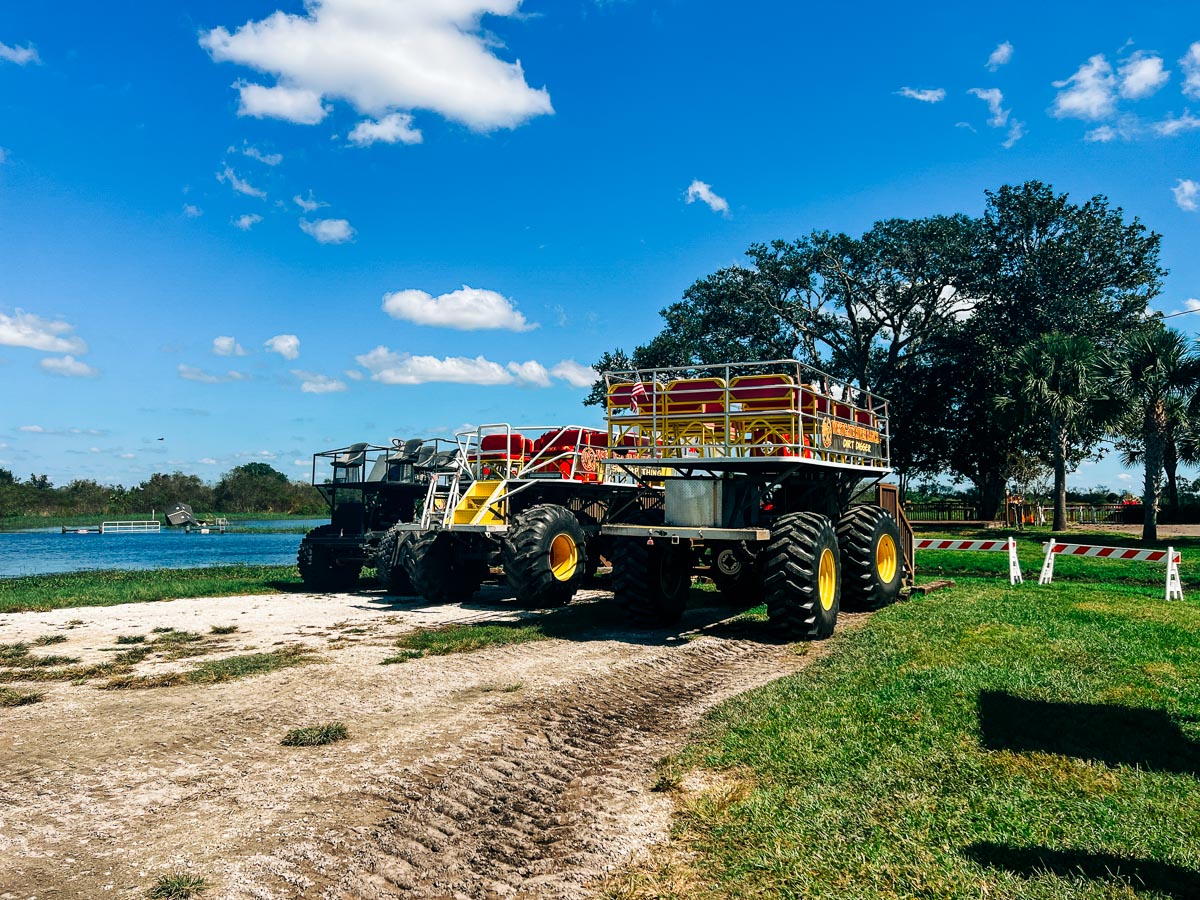 Swamp Buggy Ride – For me, this one was just so-so, but I'm including it anyway because the kids enjoyed it. The swamp buggy was basically a giant lifted vehicle that we rode through the woods and swampy areas. It did go through some pretty deep water. And we saw one small gator – but no other wildlife.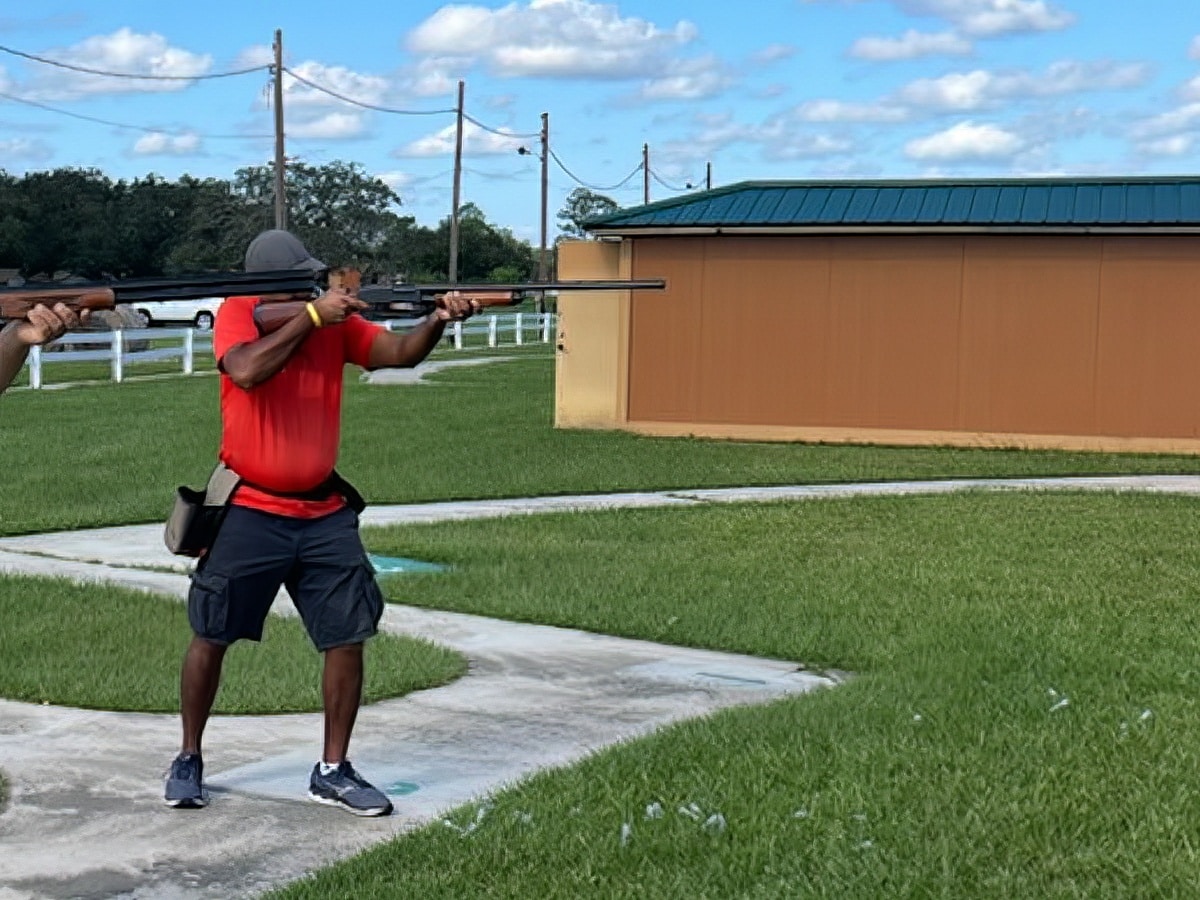 Skeet Shooting – While the moms and kids went horseback riding, the guys went to do some skeet shooting. And apparently it was great fun. My husband got 19 out of 25 shots, which I'm told is awesome for a first timer. Who knew?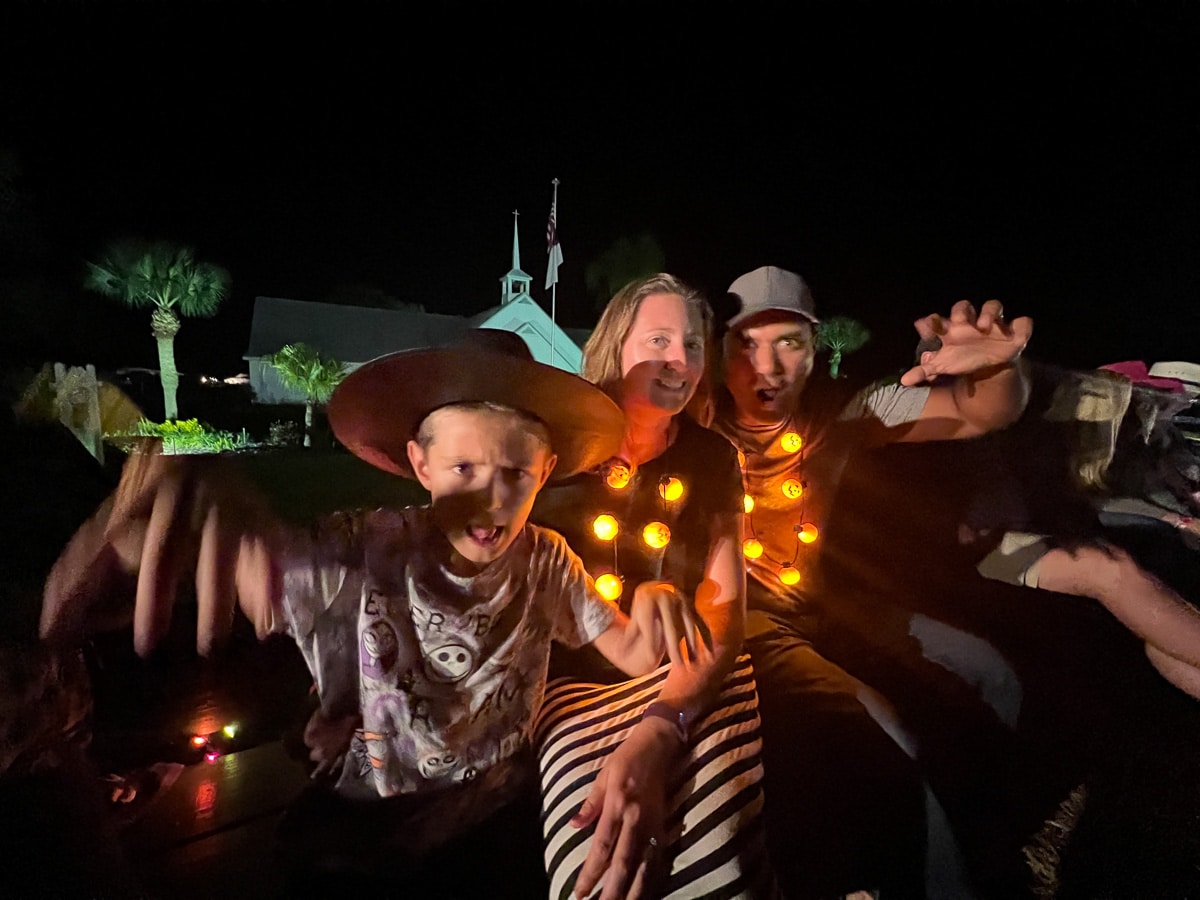 Halloween Hay Ride – And since it was October, we were able to jump on the Halloween Hay Ride. The "haunted trail" was honestly a miss for me. It was sort of an awkward mix of not scary enough for adults (it was comically un-scary) but too scary to be young family friendly (lots of fake blood and characters chasing the wagon). But we did enjoy the corn maze afterwards!
And there are plenty more things to enjoy – a swimming pool, an escape room, a (free) fishing area, mechanical bull, basketball and tennis courts, archery, airboat rides, and even a zipline. Check out my list of all the best things to do at River Ranch here.
Would we go glamping again?
Yes! We definitely would. And since we're Florida locals, I'm quite certain we will be back. Overall, the resort really overdelivered. The glamping tents themselves were amazing, the concierge services at the campsites were totally awesome, and there were plenty of activities to keep the whole family busy. Definitely a winner!
Booking Glamping at Westgate River Ranch
While you can certainly book directly with the resort, I always prefer to book through booking.com thanks to their generous cancellation policies and ability to earn rewards points. Yes, I'm an affiliate and yes it's where we book our own personal travel. You can check out the rates and availability here.
Plan Your Glamping Trip
And if you're planning a trip to Westgate River Ranch, don't miss these other helpful articles: