So you're heading out to Westgate River Ranch? Here are my top picks for the best activities that are worth your time and money – plus a few to skip!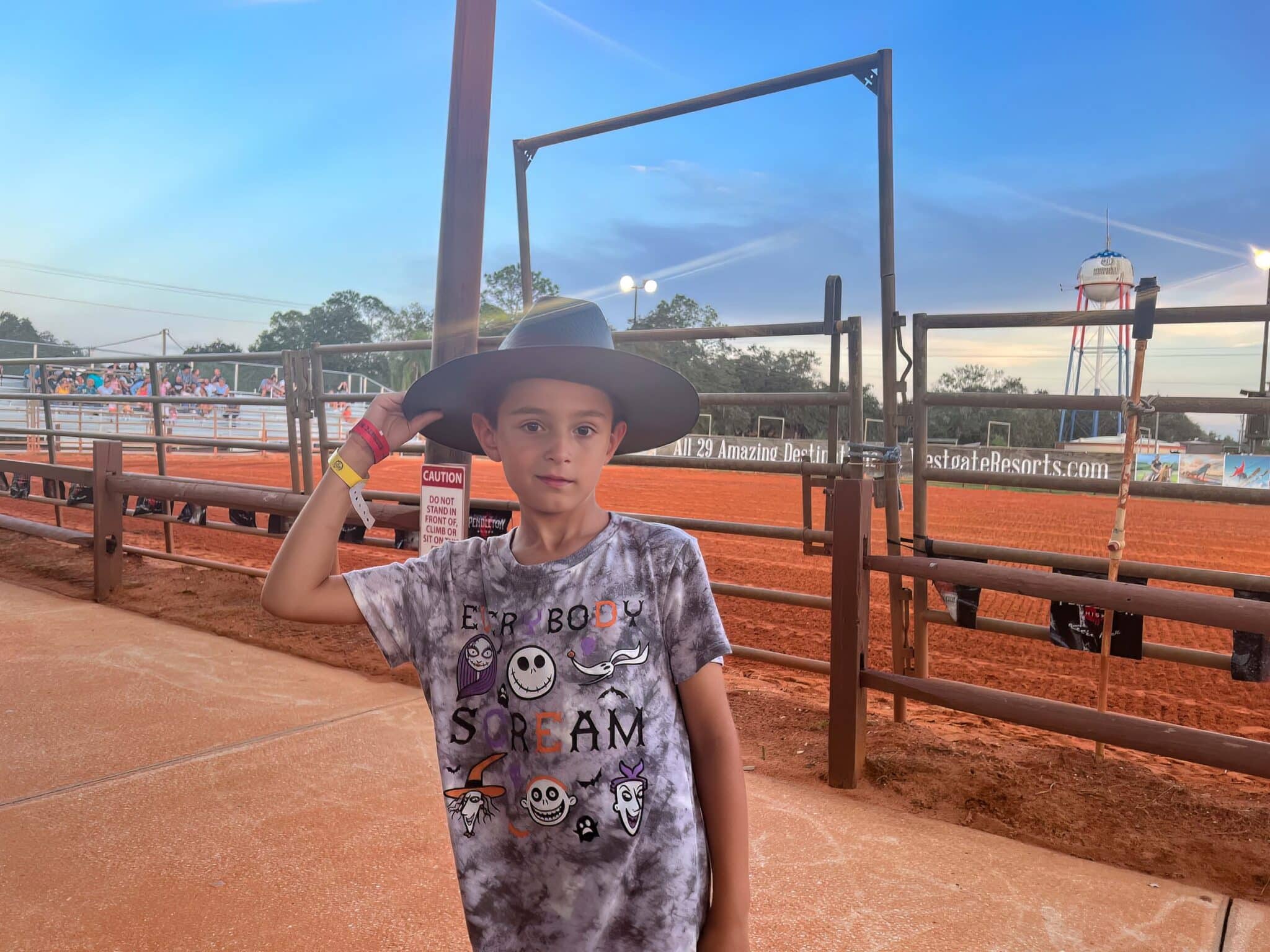 Westgate River Ranch is an incredibly fun place to visit. It's sort of a hybrid between a dude ranch, family resort, and campground. And it's just loaded with family-friendly activities. We recently had a chance to take a luxury glamping trip at Westgate River Ranch and test out many of the activities.
So here are our top picks for the best activities at Westgate River Ranch! (And read to the end to see the ones we would skip too.)
Best Activities at Westgate River Ranch
The Saturday Night Rodeo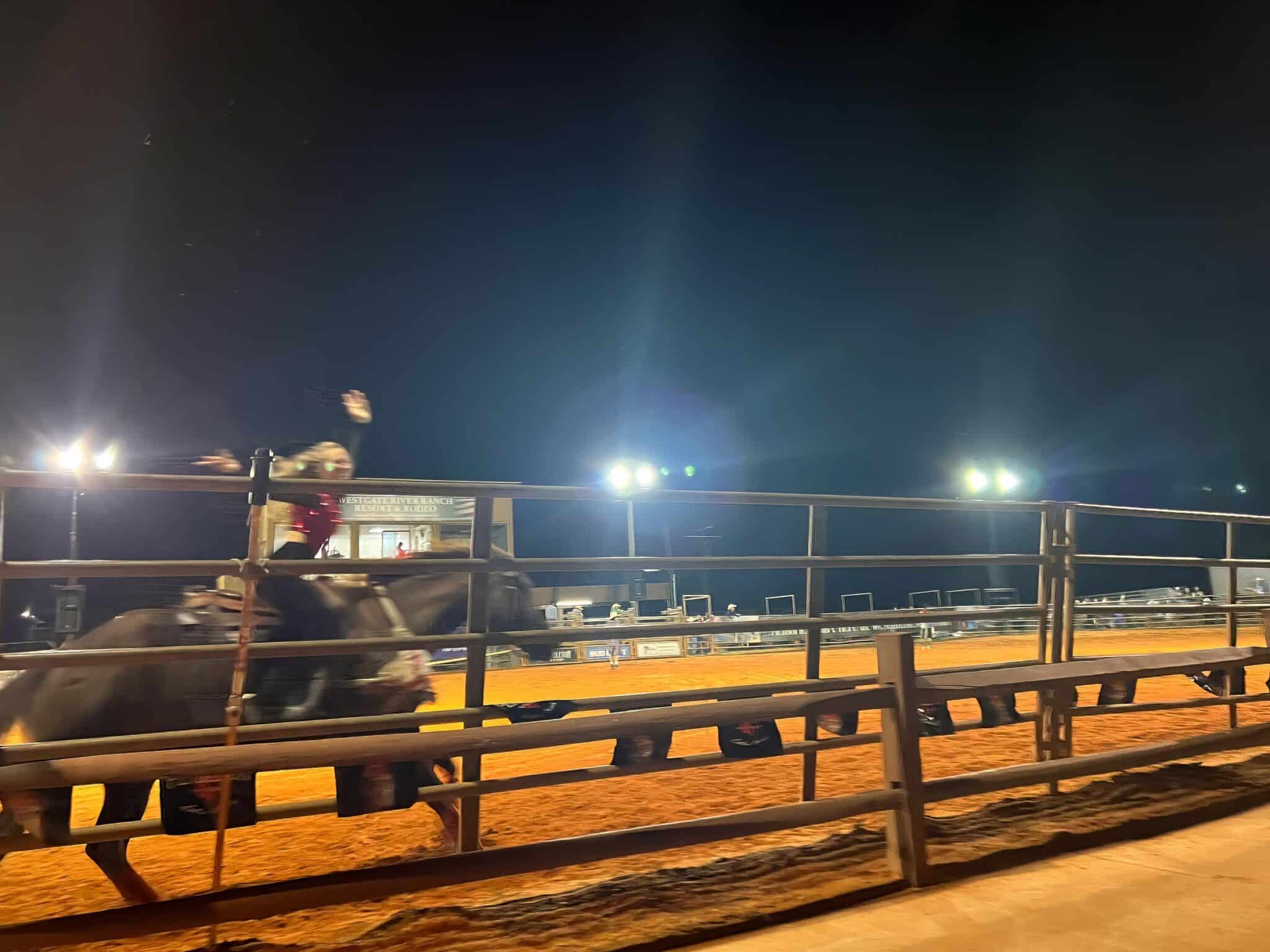 The rodeo is really the main attraction at Westgate River Ranch. It's a genuine rodeo, with real competitors that travel and pay entry fees to participate, not just a show made up for the resort. And it is really fun.
I honestly have some ethical issues with rodeos in general, but there's no denying that I put on a good show. I really enjoyed the barrel racing and the cowgirls doing gymnastics on horseback – just amazing!
A few tips if you plan on attending the rodeo:
Get Tickets on Arrival – You can't reserve tickets in advance for the rodeo, but you should purchase them when you arrive to check in to the resort.
Sit up High – It's tempting to grab front row seats, but you'll have a much better view if you sit high in the bleachers due to the fencing.
Bring Drinks – You can carry in your drinks, and the drink line inside the rodeo was very long. So next time I would bring a drink from the campsite with me or grab one at the adjacent saloon before heading in.
Don't get there too early. – We went when the gates opened, which was an hour before show time. Way too early. It was crowded and hot. Arriving 20-30 minutes before the show would have been just fine.
Horseback Riding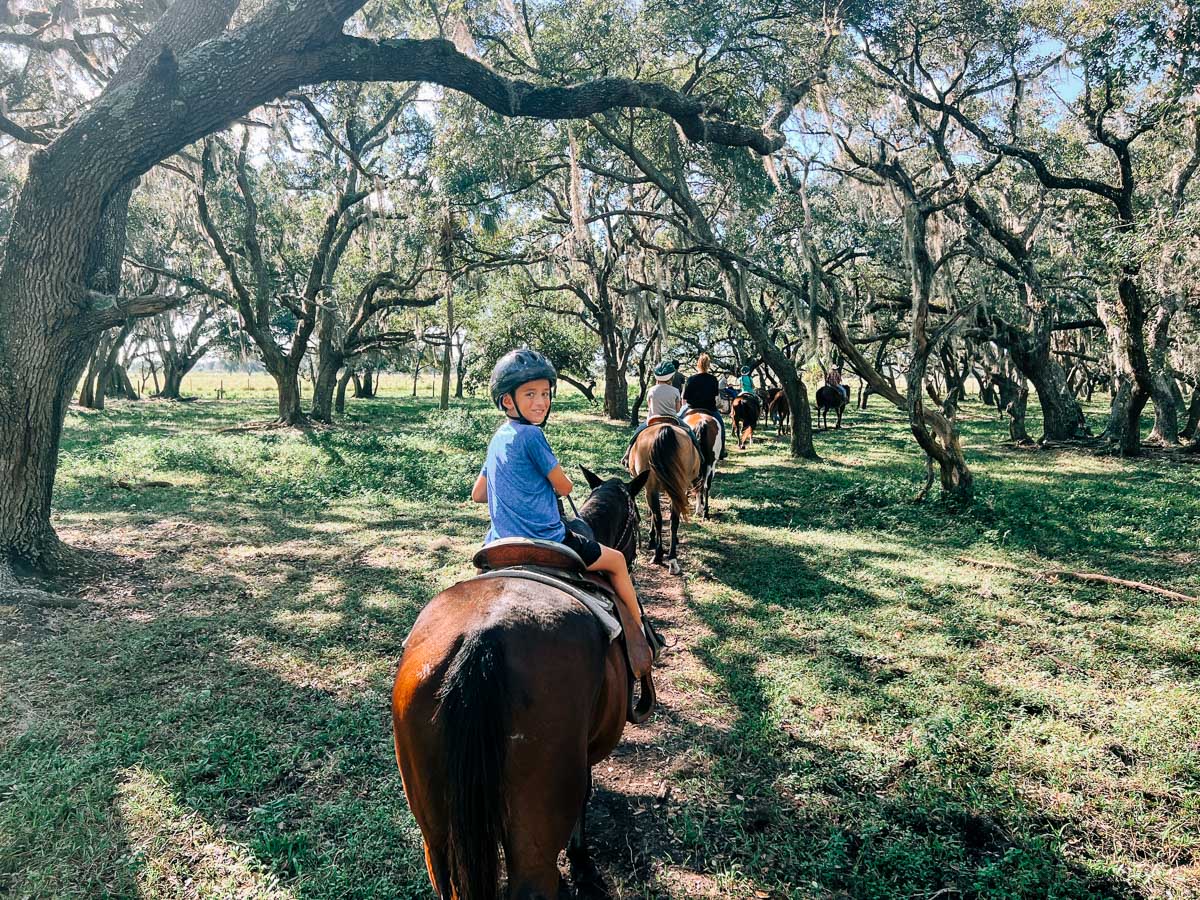 Of course, it's not really a trip to a dude ranch unless you go horseback riding. This was one of my favorite activities on our glamping trip. The trail ride is just walking pace, and meanders along some scenic trails for about 40 minutes.
I grew up riding horses, so I am always looking at how healthy and happy the animals look at these kind of places. These horses looked fat, happy, and well cared for. And they were being rotated out frequently between trail riding groups. Just what I like to see!
Be sure to bring long pants and closed toed shoes for your ride. The closed toed shoes are needed for safety, and the long pants will keep you from getting saddle burns on your legs!
You'll definitely want to book your horseback riding time slot in advance, because they do fill up.
Petting Zoo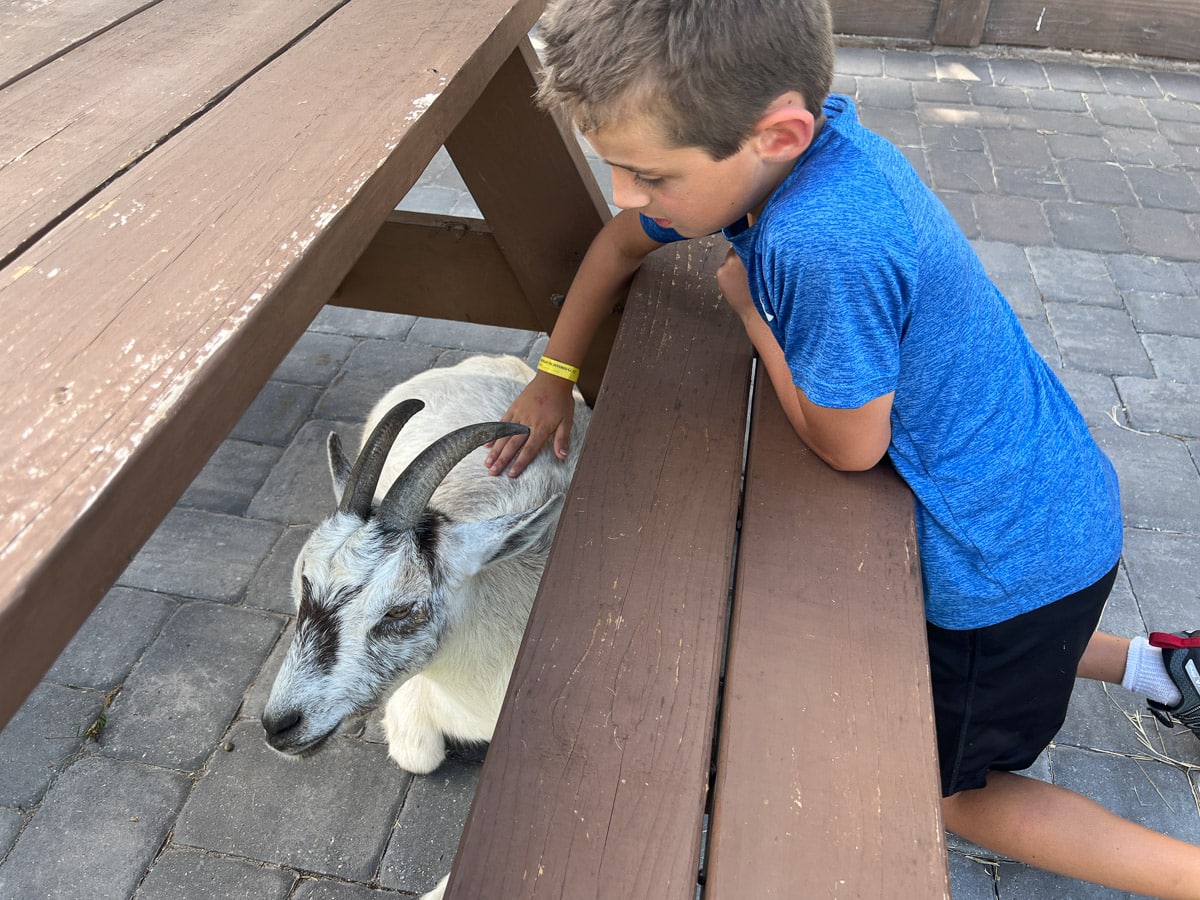 There is a huge petting zoo at the resort, and it's free. We ended up visiting it several times on our trip and it was a highlight for the kids. There are friendly goats, horses and mini horses, pigs, llamas, an emu, and even a deer that likes to give kisses.
I think this crazy looking emu was my personal favorite.
Tip: There is food available for feeding the animals, but you need quarters to get it from the machines. So plan ahead and bring some change for the kids to use.
Rock Wall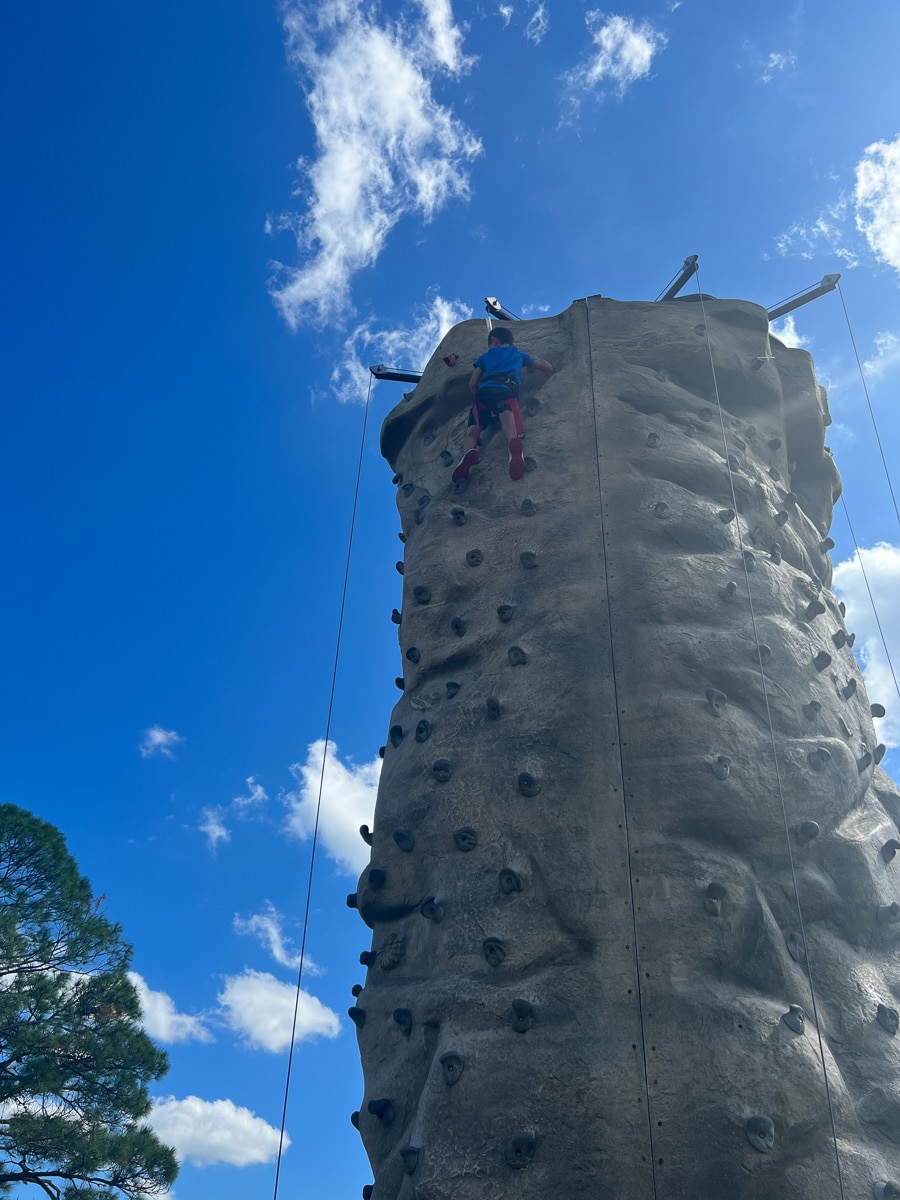 The rock wall is part of the "adventure park" (more on that below) and was another fun one for the kids. This is the first rock wall we've found where my son was able to climb all the way to the top to ring the bell. And the attendant was nice enough to let him do it a second time when she was how excited he was! This was one of his personal highlights.
You can buy tickets for the rock wall on site from the nearby ticket booth – no need to reserve anything in advance.
Skeet Shooting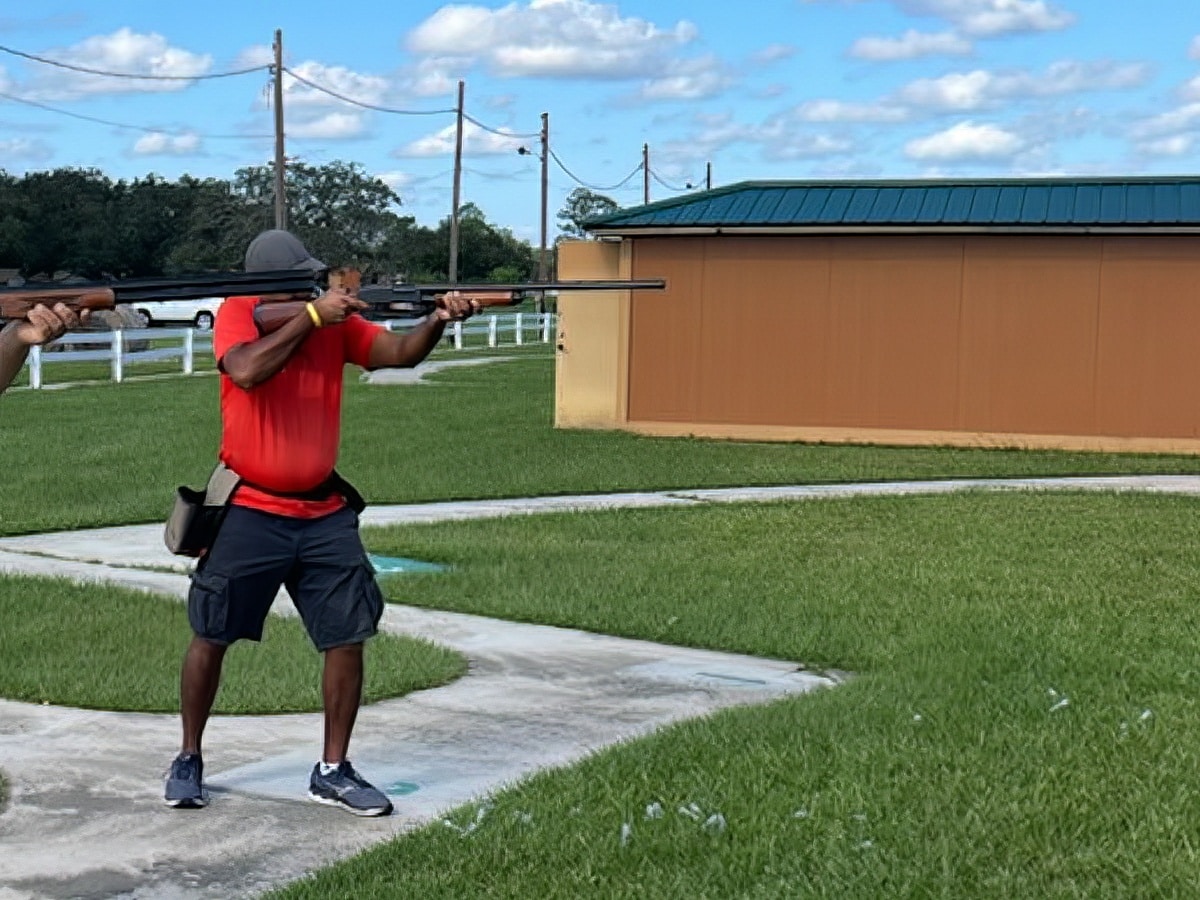 While the moms and kids went horseback riding, the guys went to do some skeet shooting. And apparently it was great fun. My husband got 19 out of 25 shots, which I'm told is awesome for a first timer. Who knew?
Swamp Buggy Ride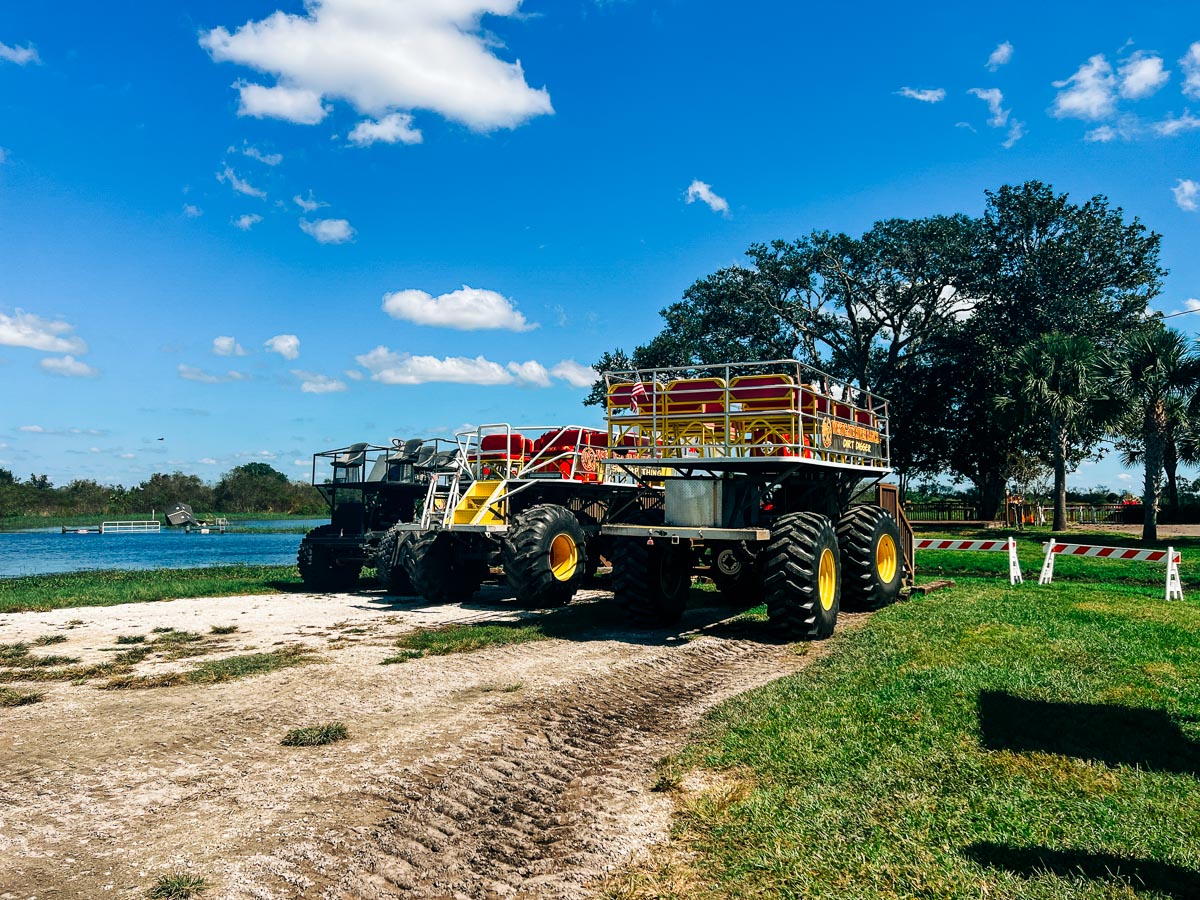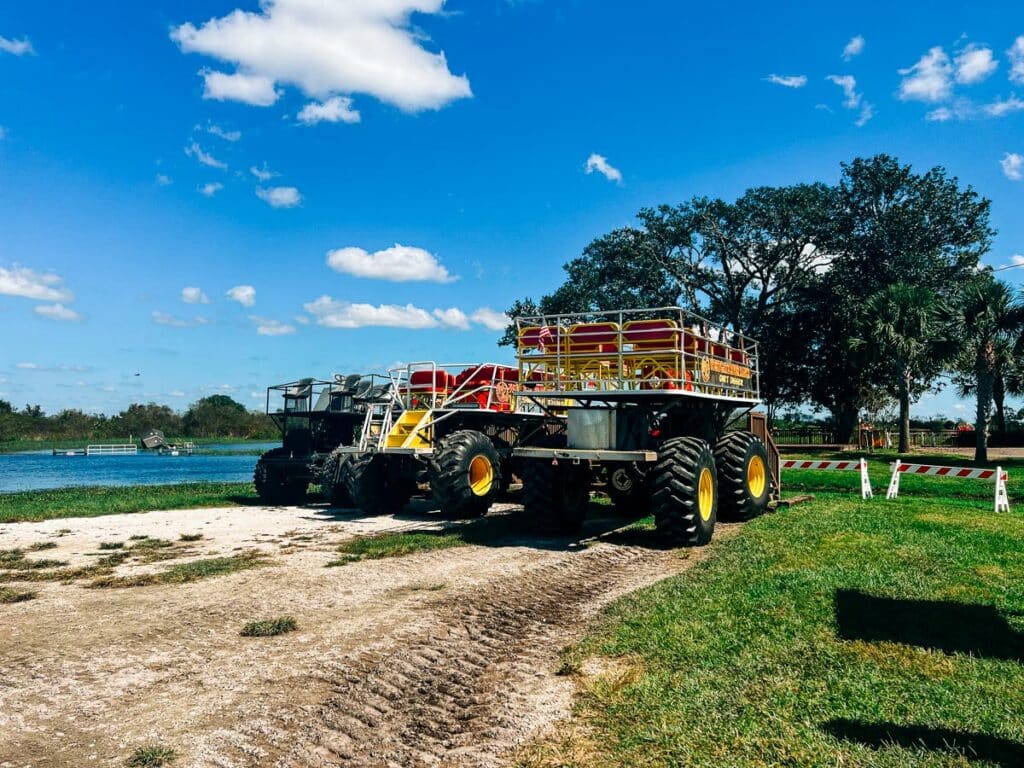 For me, this one was just so-so, but I'm including it anyway because the kids enjoyed it. The swamp buggy was basically a giant lifted vehicle that we rode through the woods and swampy areas. It did go through some pretty deep water. And we saw one small gator – but no other wildlife.
Swimming Pool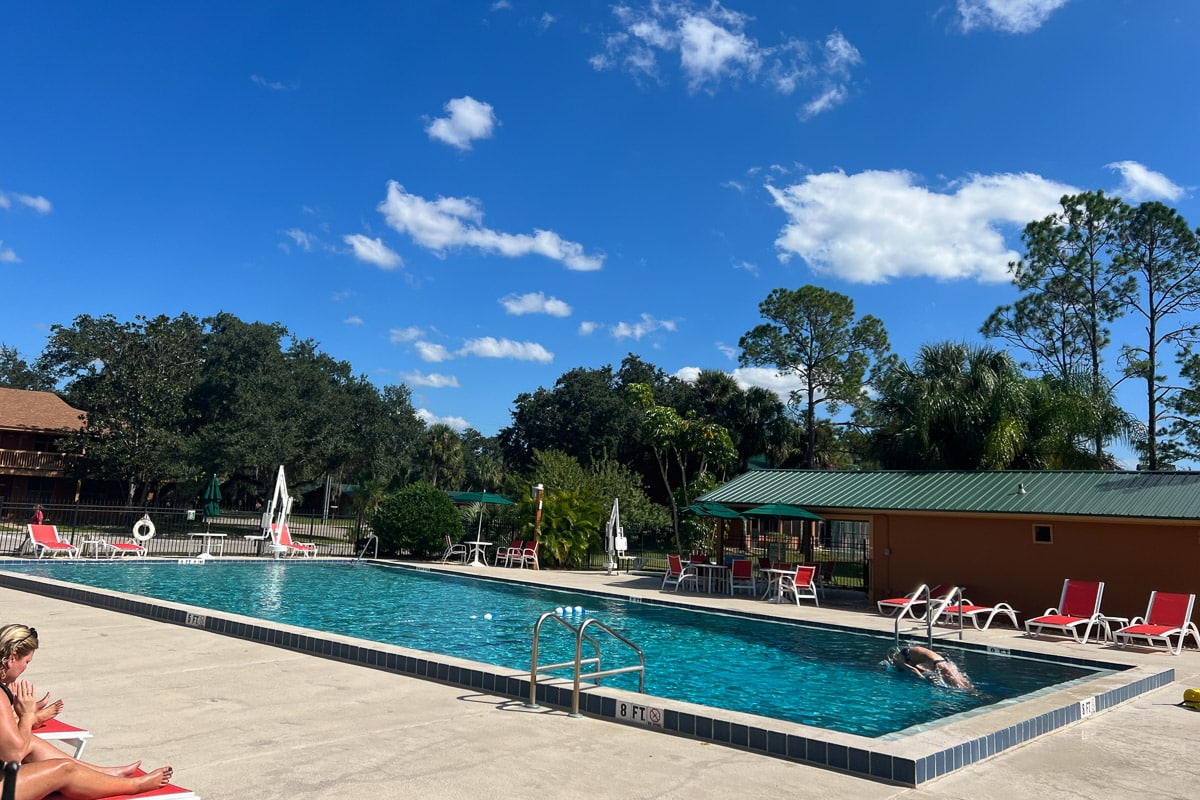 If you're staying at the resort, you have free access to the swimming pool. And if you're visiting in the heat of a Florida summer, you better believe you're going to need it! The pool isn't anything fancy, but it was clean and cool and not at all crowded during our stay.
Activities You Can Skip
Now, overall we really loved our visit to River Ranch. But like anywhere, there were a few activities that just didn't hit the mark for us. So at least for my family, these activities were misses.
Halloween Hay Ride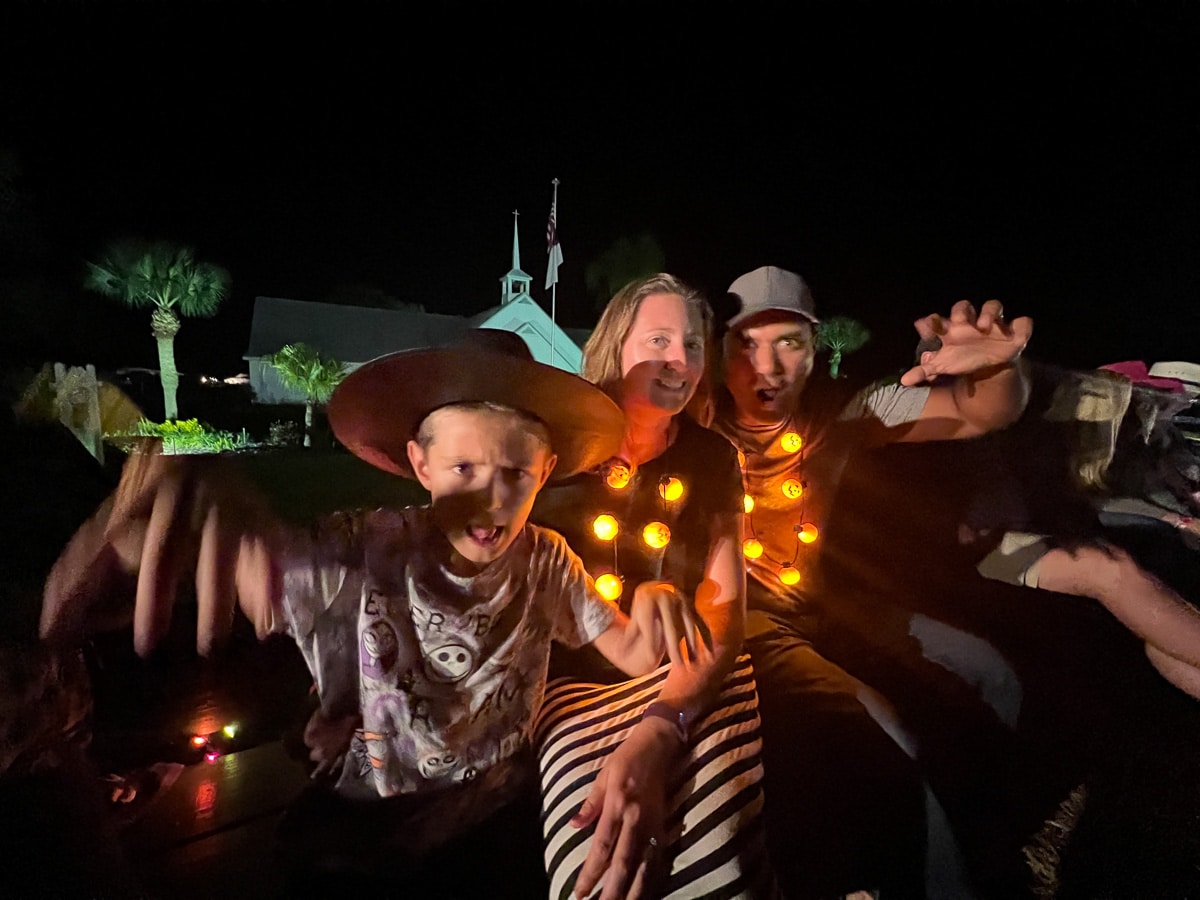 Since we went glamping in October, we were able to jump on the Halloween Hay Ride. The "haunted trail" was honestly a miss for me, especially for the price tag. It was sort of an awkward mix of not scary enough for adults (it was comically un-scary) but too scary to be young family friendly (lots of blood and characters chasing the wagon). But we did enjoy the corn maze afterwards!
Mini Golf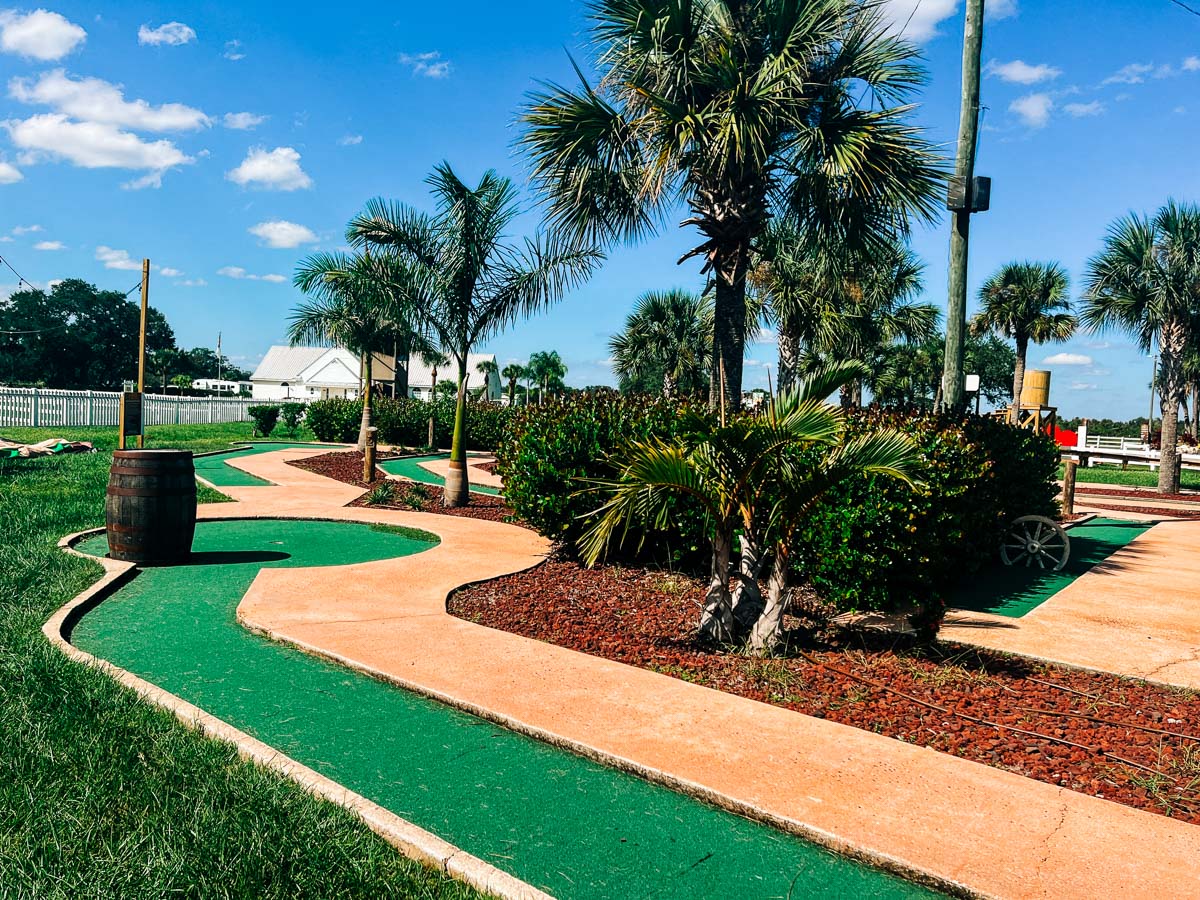 So if you're a big mini golf fan, this particular mini golf course is probably not going to check a lot of boxes for you. It's more of a putting green. It's small, in the blazing hot sun, and doesn't have much in the way of obstacles to entertain the kids.
Adventure Park Passes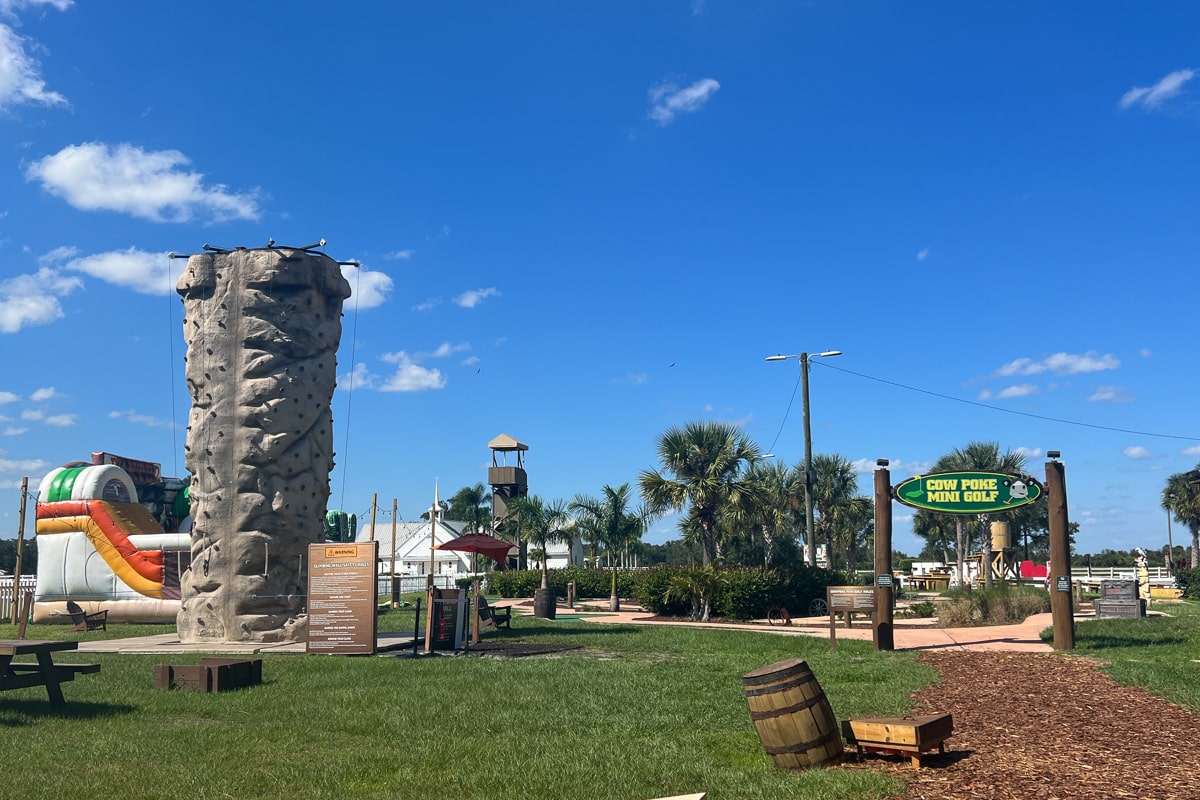 The Adventure Park is basically just the group of activities right in front of the rodeo arena. It includes the mechanical bull, mini golf, rock wall, a zip line, and a bounce house. You can buy an adventure pass for the day to get unlimited access to those attractions. For some families this is going to be a good deal, and for others not so much.
For us, it was not worthwhile. We found that the kids were not tall enough to ride the mechanical bull, the zipline was closed during our visit, and the bounce house was soaking wet. In hindsight, I don't know why since it didn't rain that day. So buying the unlimited passes made no sense when the kids could only really enjoy one activity.
So check out the situation first and then assess. We ended up buying just a couple individual tickets for the rock wall, which was much less expensive.
Even More Activities
There are even a few more activities that we didn't get a chance to try out on our visit. But here are a few I would recommend looking into:
Escape Room
We really wanted to try the escape room, but simply ran out of time. But it looks like a cool experience – you work together with your family or group to solve puzzles and escape from a room. And it's located in the adorable village right by the General Store.
Zipline
The zipline was damaged by a storm shortly before our visit, so wasn't available. But normally it would be offered as part of the Adventure Park, and could be the thing that makes those Adventure Passes worthwhile. It's actually a pretty tall zipline that looks like a ton of fun!
Fishing Pond
There is a nice little fishing area, which is another great free activity! We didn't get a chance to try this one out either, as that same storm brought in flooding and the fishing dock wasn't accessible. But if you're into fishing, you should definitely bring along your fishing pole and give it a try.
Airboat Rides
Due to the same flooding issues, the airboat rides were not running on our visit. But they sure look fun and are definitely one of those iconic Florida activities. I would have like to try these to have a better chance at viewing some actual wildlife.
Basketball and Tennis Courts
There was also a nice sports court with basketball hoops and tennis nets. This is another chance for some free, family fun. Just bring along your own tennis racquets or basketball, or you can rent them at the resort.
And of course there are often seasonal activities or special events going on at the property, so be sure to grab a copy of the activity schedule when you check in so you don't miss out on any fun. Here's the schedule from our visit to give you an idea of the activities and costs.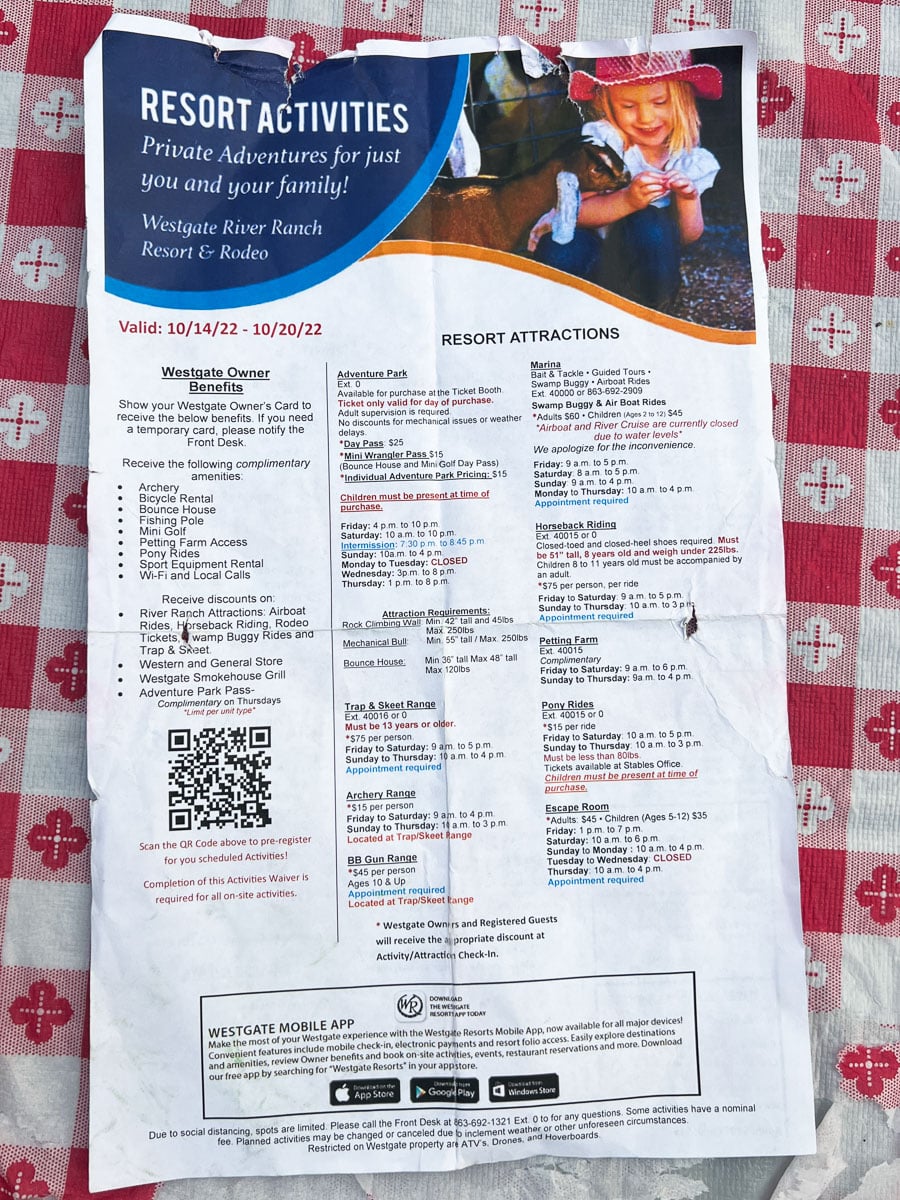 More Planning Tips for Westgate River Ranch
If you're planning a trip to Westgate River Ranch and Rodeo in Florida, don't miss these other helpful articles as well: