After 795 days of full-time travel, it stands to reason we've grown and changed as people, learned a life lesson (or ten), and honed some skills as travellers and human beings. As American historian Miriam Beard said, "travel is more than the seeing of sights; it is a change that goes on, deep and permanent, in the ideas of living."
Certainly in our experience that's been true. And while it's impossible to say whether we'd have changed more, less, in the same way or differently, than if we'd stayed put in our corporate jobs in Canada, we believe most of these life lessons are a direct result of our lifestyle of permanent travel.
And so, without further adieu: Ten life lessons from 2 years of full-time travel (and a near 24/7 relationship).
It's Okay to Be a Creature of Habit
This may sound crazy given our life, but the truth is, I really have to make an effort to try new things.
Here in Oaxaca, I pretty much go to one of three cafés every day, taking the same walking route through the Zocalo almost every day. I never really thought about how predictable I am until one day, a waiter at one of the restaurants on the Zocalo stopped me to ask where I was going when I walked by everyday.
Beyond walking the same way to the same places, I order mostly the same things: tlayuda arrachera at Café Praga; tacos dorados con pollo at Cafe Los Cuiles; chilaquiles at Cofetarika; quesadillas at Mercado 20th November…the list goes on.
I'm a creature of habit, and Geoff even more so. Once we find something we like, you have to tear us away with super human strength.
And we've come to realize that's okay. When the location, climate, country, language and culture in which you live your life is constantly changing, it's good to create systems and routines that keep you grounded.
Fact is, we've realized having some sense of routine running through the constant change that is our life is a good thing.
Community Isn't Location Dependent
Since leaving Canada in 2013, we've had to totally transform the way we think about friendship and community.
Even though our understanding of community is changing in the modern world, I think many people still view community as being tied to a specific place: your friends from work, the organizations you volunteer with, your family and neighbours.
Since embarking on this life of travel, I've learned there's more than one way to build a community. When we lived as expats in Taiwan, we quickly built a group of friends made up of expats who, like us, were experiencing Taiwanese culture for the first time, and Taiwanese who wanted to share their culture. We went to Kaohsiung Rhinos baseball games, tried shrimp fishing, met for beers at the local fish market (where we'd always have hilarious interactions with drunken table neighbours), and took vacations together around Asia.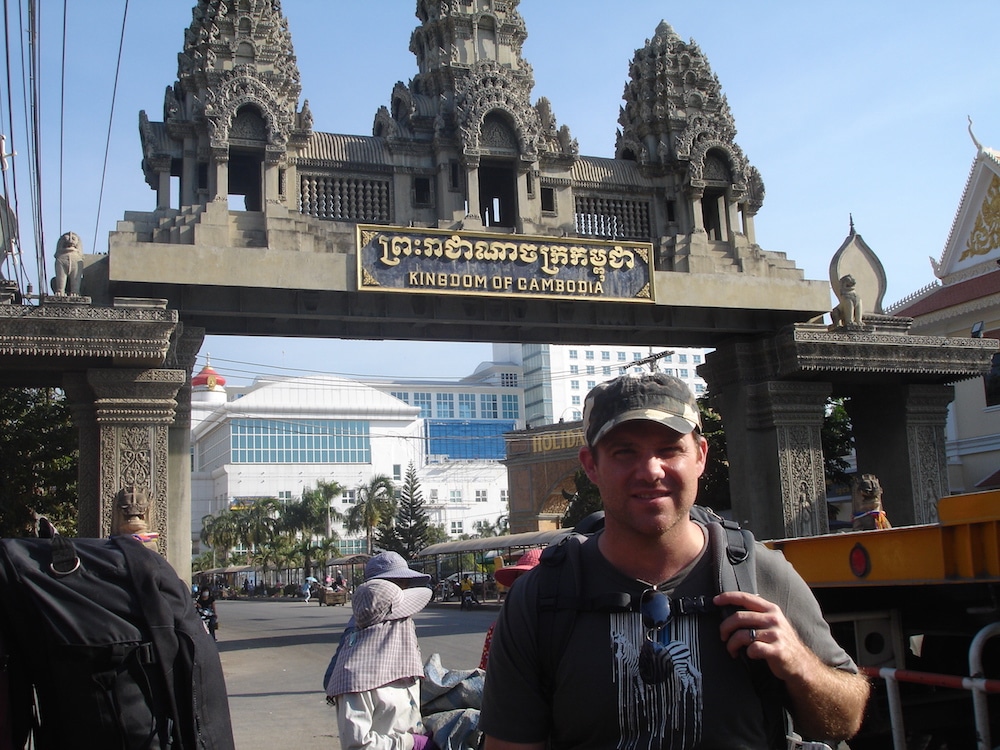 When we went backpacking through South America, our sense of community shifted, as we made instant friends we travelled with for weeks…friends we continue to stay in touch with to this day.
Since leaving to travel permanently, we quickly realized that staying in Airbnb apartments and not going on tours makes it hard to find new friends. So we turned to social media. The very first friend we met on social media while travelling was Cat from Sunshine and Siestas. We talked on Twitter, and then met up for beers and dinners when we were exploring Seville for a few weeks. From there, we started getting more adventurous, and met Leanne and Coran, our first Instagram friends, who ended up coming to Prague for three months. Again in Prague, we met Pete and Dalene, reaching out via their Facebook page after seeing they had a trip to Prague planned.
Now, we have an awesome and supportive community online that has spilled into our in-person lives, and we meet up with people all around the world.
After all, "a Journey is best measured in friends, rather than miles" ~Tim Cahill.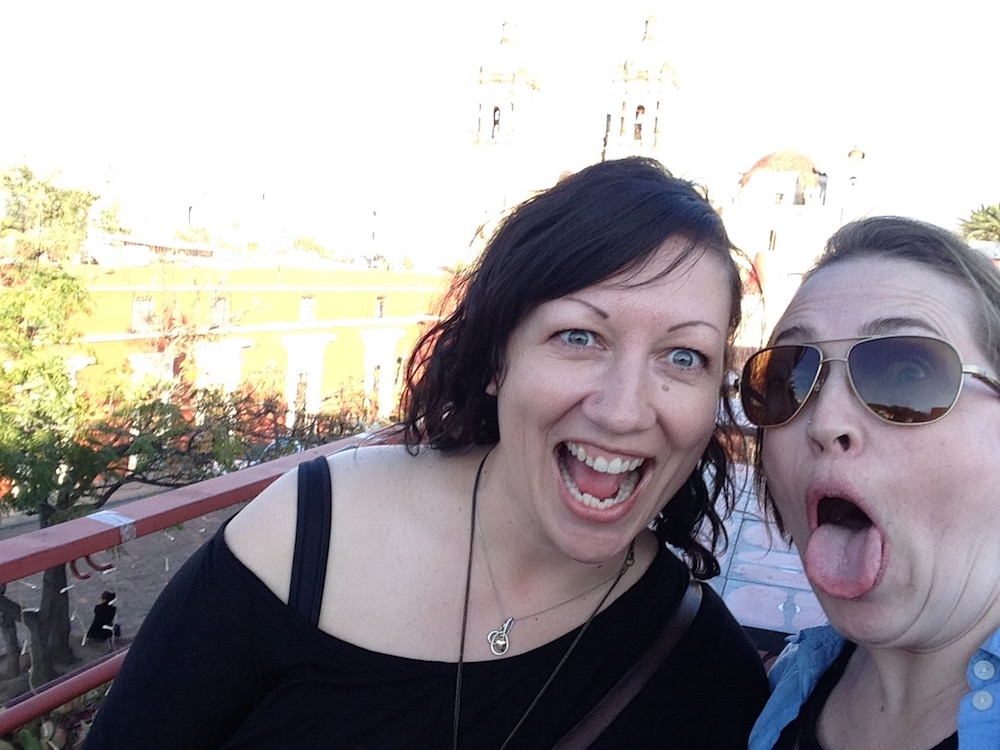 Being Bold is Awesome
When we left Canada, Geoff had no idea how he was going to make money, and I had no idea how to find freelance writing, marketing and social media clients that paid well enough that I could actually live off the money I was making. I made the mistake of confusing being busy with being productive, and took jobs that were paying way less than the value I was delivering, getting burnt out in the process. While I was doing that, Geoff started to hone his video shooting and editing skills, methodically working away, taking courses, and practicing.
After draining our travel fund faster than we wanted while traveling around Europe, we realized we needed to stop the bleeding, even though we didn't want to leave Europe. We went to Prague, got our TEFL certification, and started teaching English to adults for 20 hours per week. We both really liked teaching adults — it was an awesome way to make local friends and learn about Czech food, culture, and traditions in a way we never could have done without actually going out for beers with our Czech students after class!
But teaching isn't a location independent job, and we didn't want to stay in Prague forever. So we decided to embrace rejection. When you're freelancing in any way, shape, or form, this is a concept you need to get familiar with fast. I started sending out cold pitches offering up writing, marketing and social media skills. Most people ignored me, and some people rejected me, but I also started to get some regular clients, and some cool one-offs, like this video and some writing I did for Canadian airline Air Transat….(BTW, I still feel like a complete dorkus in this video…please be kind).
Geoff did the same thing, landing clients like Expedia UK, who Geoff shot and edited this (awesome) video for, and bloggers like The Planet D and others, who are regularly traveling around the world taking video footage, but don't necessarily have the time to edit it themselves.
Within 2 years of leaving home, we were landing projects with massive travel brands, had regular location-independent clients, and were able to pay our bills without dipping into savings. All because we weren't afraid to put ourselves out there, be bold, and brush off (the inevitable) rejection.
You Can't Build a Business AND Travel Quickly…At Least We Couldn't
I've always wanted to own my own business, and before we left Canada, I remember us having extensive conversations about what our lives would look like once we were travelling full-time and building some sort of business. I knew we wouldn't be able to travel very quickly, but I didn't realize how slow we'd have to go to make it work.
Our first housesit was scheduled for about 8 weeks in Southern Portugal, and after that, we figured we'd find other housesits and move slowly around Europe. The problem is, applying for housesits and planning your travels actually takes up a lot of time, and the timing is rarely perfect. When Portugal was finished, we had another housesit lined up in Edinburgh, but it wasn't for another month.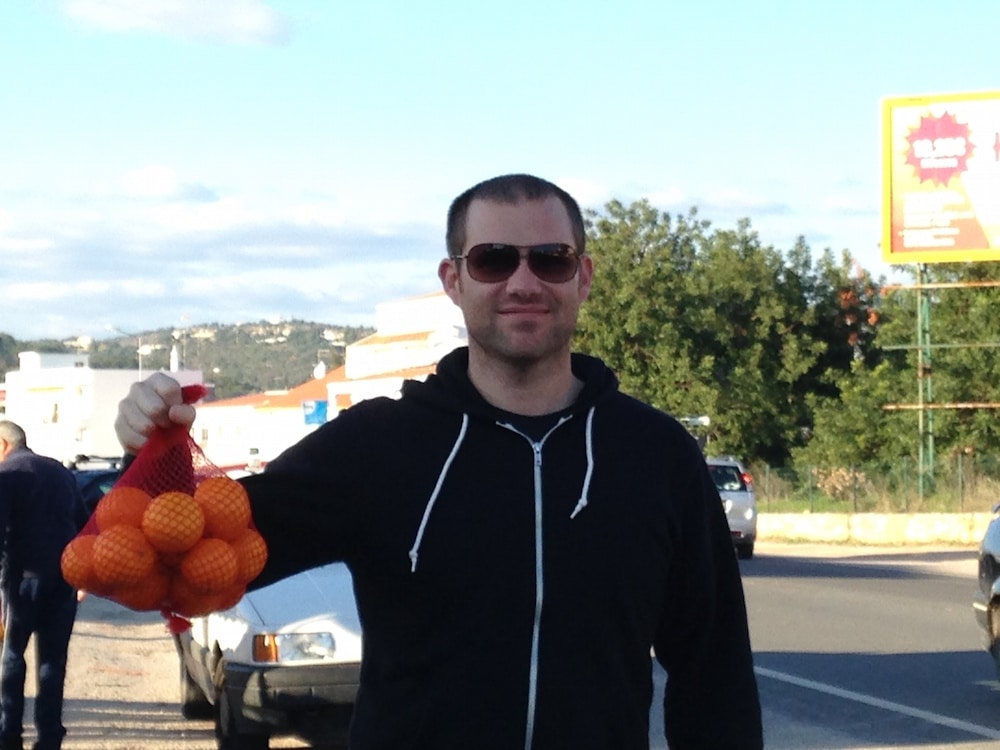 We decided we'd take the time between housesits to travel through southern Spain, hanging out in Seville for a few weeks before going to visit the Alhambra in Granada. During that time, I had multiple freak-outs trying to find places with steady wifi so I could meet deadlines in Singapore, the USA, and Europe. When you're building a freelance career, your reputation for consistently delivering quality work to deadline is the only thing that matters, and while I always made the deadlines, it was stressful as hell.
I repeated this pattern over and over again… through Romania, through the Balkans. Until I came to the conclusion that what we were doing just wasn't working. Don't get me wrong — we still had a lot of fun and I wouldn't trade those travel experiences for anything. But knowing what I know now, I'd definitely do things differently, and by that, I mean we'd move waaaaaaaaaaay slower.
And that's how we made the decision to move to Prague and get a freelance visa. Once we had an apartment in Prague, things got better quickly. For one, we earned enough money to live off of by teaching 20 hours per week, which meant we could pick and choose our writing and video clients, and could show low-paying or maintenance clients to the door.  We invested the time we weren't teaching, and the saved time from not travel planning, into building our list of clients, and it paid off massively. And we still took awesome trips, like going to see the gnomes in Wroclaw, Poland, and housesitting in Berlin on the weekends.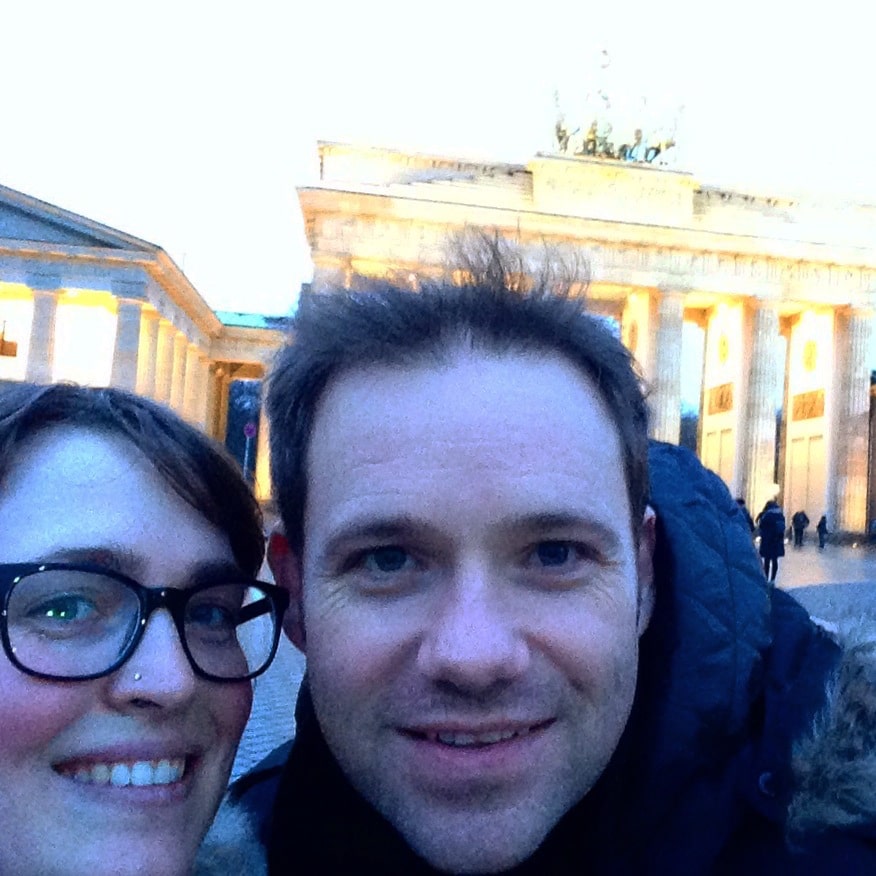 It was only once we had those steady clients we decided to leave Prague and start moving again. Having learned our lesson, we're going much slower this time, especially considering we now have a new business that we're growing: our travel adult coloring books!
Age Is Just a Number
Often, when we meet new people outside of our online and in-person community of travelling friends, people have no idea what to make of us, age wise.
When we were taking a TEFL course in Prague, the average age of the class was approximately 26, and that's mostly because we significantly raised the average age. Without us, it was more like 22 to 25. We hung out with everyone, had a great time, and made a friends we're still in touch with to this day, but until we told them our ages, they assumed we were in our mid- to late-twenties.
In Bucharest, Romania, we stayed in one of our favourite-ever hostels for about a month, and got to know the owner, Marius. Once night, over beers with Marius and other guests, they tried to guess how old we were, and were truly surprised when we told them our mid- to late-thirties ages!
What I've realized is that our society, and many societies, have pretty rigid ideas about what life looks like at different stages, and what people of different age brackets should be doing. When we're at home in Canada and we meet new people, in general they assume we're in our 30s. But when we're abroad and meet new people, they generally assume we're in our 20s. People assume we're young because we live a youthful life.
The lesson: your age doesn't have to define you.
Do What You Love and You'll Never Work a Day in Your Life (NOPE!)
You know that quote, "find a job you love, and you'll never work a day in your life?"
We call BS on that one.
I love writing, but it can still be a pretty painful process. Depending on my energy level and ability to focus, I sometimes have to fight through epic levels of procrastination just to write a 1500-word article. And the same goes for Geoff: he loves working with his clients, and loves the process of actually editing footage, but that doesn't mean it isn't a drag on days when he's tired or doesn't feel creatively inspired. He likes what he does, has great clients, and for the most part finds himself interested and engaged when he's working…but it's still work.
Now that I'm no longer doing any freelance writing, I dedicate 100% of my time to this blog and our travel coloring books. Many days, I am WIDE AWAKE at 5am thinking about the business, and I often get out of bed then to blog, email journalists, deal with admin tasks, and plan our next move.
I used to think those people who say they love their job were crazy, but now I'm one of those people. And I literally do jump out of bed most mornings to get started. But it's still work.
"To Awaken Alone in a Strange Town is One of the Pleasantest Sensations in the World" ~Freya Stark
I've written before about how I love the feeling of arriving somewhere new. For me, when everything around me is different from what I know, it's easy to see the world with wonder and curiosity. Once I settle into my routines, I still appreciate the uniqueness of a place and culture, but it blends into the background as I go about my day-to-day.
Seeing how people live their lives around the world is one of my favourite things about travel. When you stay in one place or culture for most of your life, it's easy to assume the way things are done in that place or culture is the way. But when you step outside that normal, and your mind is open from the freshness and the newness, it forces you to look at the world in a different way, and realize there are millions of ways to live your life.
And that's why I agree with this quote by lady-adventurer-extraordinaire Freya Stark.
Always Follow Bill Murray's Advice
For a lot of people I know, being together with their partner almost 24/7 is the stuff of nightmares. But somehow, we make it work. We've had very few massive fights on our travels, and the more time we spend together, the less we fight.
I remember one blow out in Montevideo, Uruguay, when we completely blew up at each other in the hotel room, and had to enforce a time out. Six years later, we have absolutely no idea what that fight was about…I think we were honestly just so annoyed at seeing each other's faces all day, every day, for 3 months and 8,000 km of overland travel. That was in 2010,  and we haven't had a similar "get out of my face" moment since.
For us, the more time we spend together, the more we like spending time together, and the more issues we solve and screw ups we laugh about, the better we get at solving issues and laughing at screw ups.
Which brings me to Mr. Murray's sage advice…
If You Do What You Love, The Money Will Come is Terrible Advice
We saved our butts off to be able to quit our jobs and travel, and we were fortunate to be in a position to do so. We had great jobs that paid well; my skills, résumé, and education were directly translatable into remote work and freelancing; and Geoff put in hundreds of hours developing his remote skill set.
We gave up 90% of the luxuries in our lives years ago — TV, nice clothes, gifts for each other on birthdays and Christmas — and for the three months before we left, we moved into my mom's house for some deeply discounted rent and extra savings (thanks, Mom!).
When we set out and realized we were burning through our travel fund faster than expected, we pivoted quickly and started teaching in Prague, which meant our Canadian bank account stayed at a healthy number. From there, we built freelance businesses. And then when we realized freelancing wasn't going to get us where we needed to be financially, over the long term, we took a calculated risk to start our travel coloring book business.
In other words, we're doing what we love, but we also have our bank account, and our future, near the top of our minds.
If I were to go back and do it all over again, I'd get a book of well-paying, great-to-work-with clients before I left Canada.
You Can't Escape Uncertainty
People who love us understandably have questions and hesitation about our lifestyle and choices…they want to be sure we're happy and healthy, but they also want to know that we're thinking about the future (we are…see above).
That said, the longer we're away from more traditional jobs, the more we realize those jobs can provide a false sense of security. Just look at Alberta, Canada, right now, where Geoff is from, and we both worked in corporate-land for years. Alberta has been hit hard by depressed oil prices, and people that our families and friends know have been blindsided with the loss of their "secure", well-paying jobs…a massive hit when you have a mortgage, car payments, hockey lessons, and an expensive lifestyle to maintain.
And then there's the fact that you never know when this whole ride called life is all going to end. While we were living in Prague, my family experienced a sudden and devastating death. A year later, my last grandparent passed away. As I processed the losses, one of the things that kept going through my mind was that clichéd phrase that life is short. It really is. And at the end of the day, there really is nothing I'd rather be doing with the time I have than what Geoff and I are doing right now, because despite the many stresses, it's hands-down the most awesomesauce way to live (for us).
Is self-employment, entrepreneurship and being homeless more uncertain and risky than if we'd never sold our townhouse in Calgary and given up our steady jobs? Absolutely. But uncertainty and living life go hand-in-hand, a fact that we've realized, come to accept, and are better at dealing with now, because of our travels, than before.
Here's to another 2 years of travelling, living and learning.