Planning a trip to Clearwater Beach? I've lived in the Tampa Bay area for most of my life, and have spent more than my share of time exploring everything that this tourist spot has to offer. From beautiful beaches to adventurous water sports to delicious dining – there's something for everyone.
Here are my top picks for the best things to do in Clearwater Beach, Florida!
The Beach!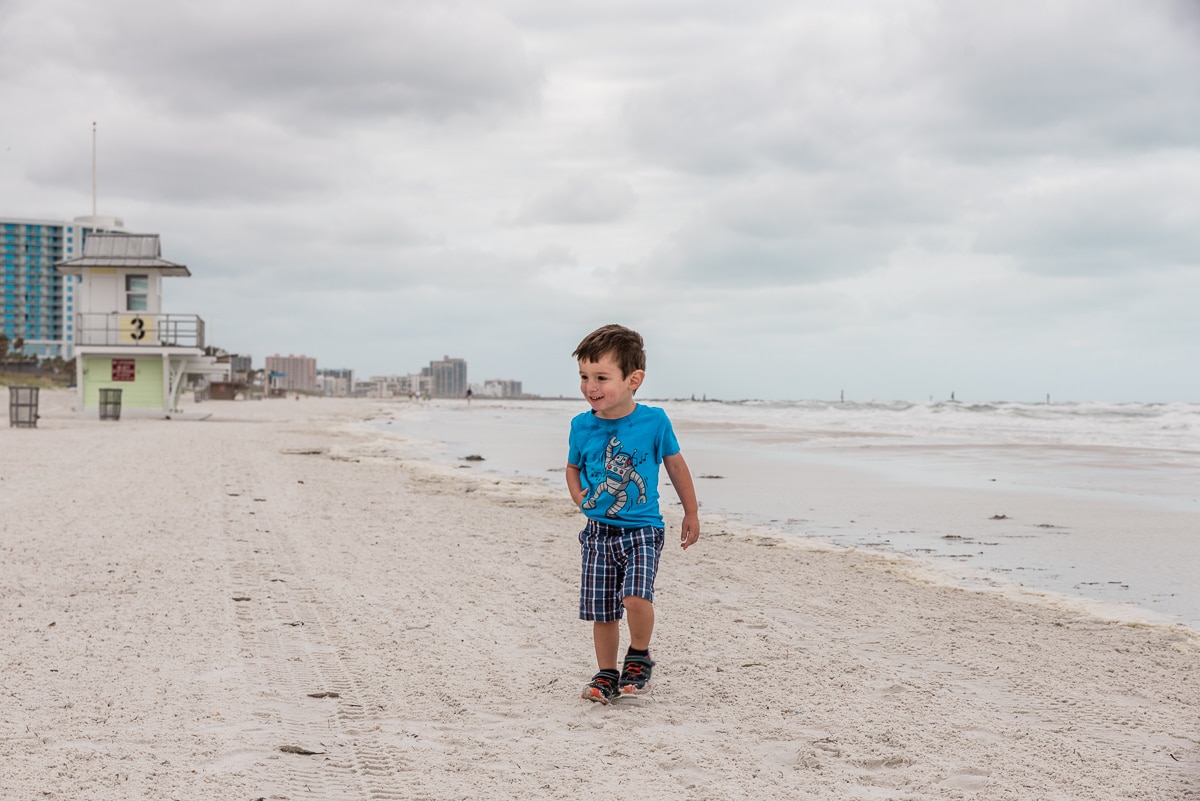 Ok, that's an obvious one. But seriously, the beach is the reason you're going, right? So be sure to reserve at least one full day to just sit in a lounge chair and enjoy the incredible view.
If you're staying in a beachfront resort (here are my favorite hotels), they will likely have their own beach chairs and umbrellas. Some include that with the hotel resort fee, and some charge a daily rental fee, so be sure to ask.
If your hotel doesn't have their own, head over to the area just south of Pier 60 and you will find the main public rental area. Look for the blue beach cabanas! (They are in the picture below.)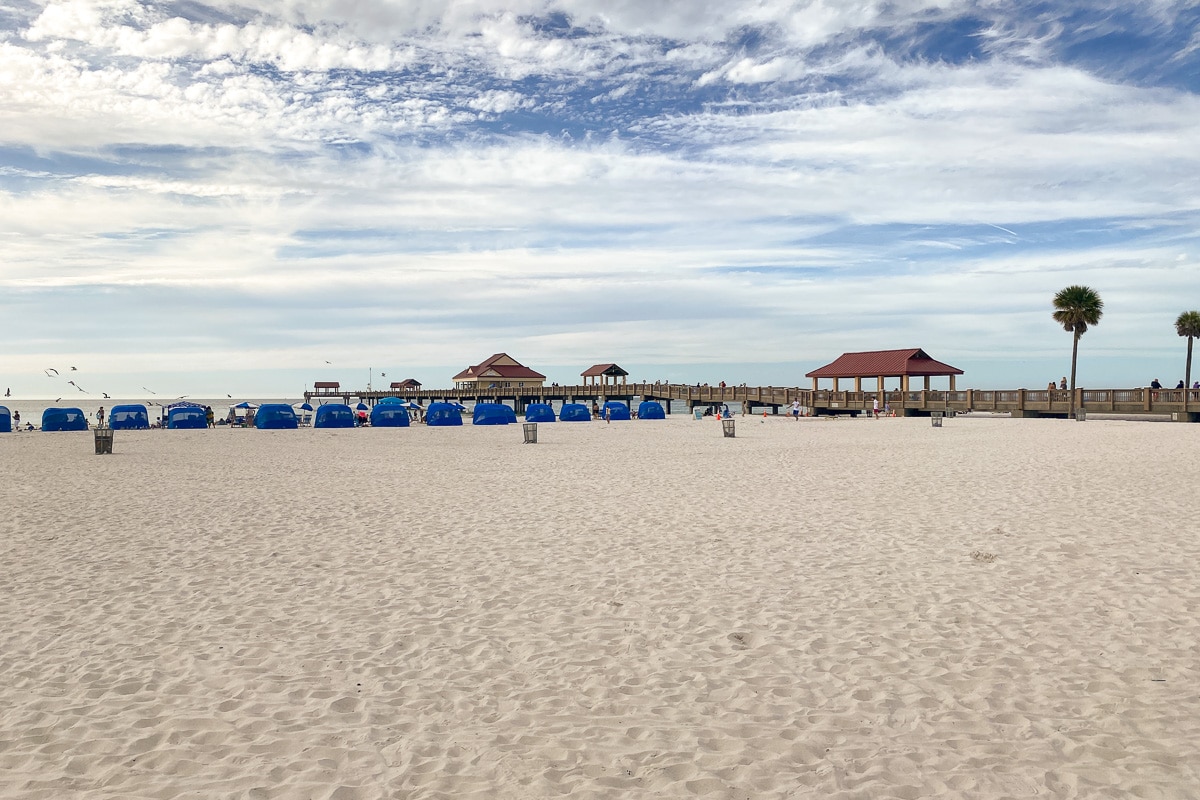 And if you're bringing your own beach gear, you can set up anywhere you like. In my experience, the area north of Pier 60 and the Hilton tends to be less crowded. And that is also a great location for walking to Frenchy's or Clear Sky for lunch.
Jet Ski Rentals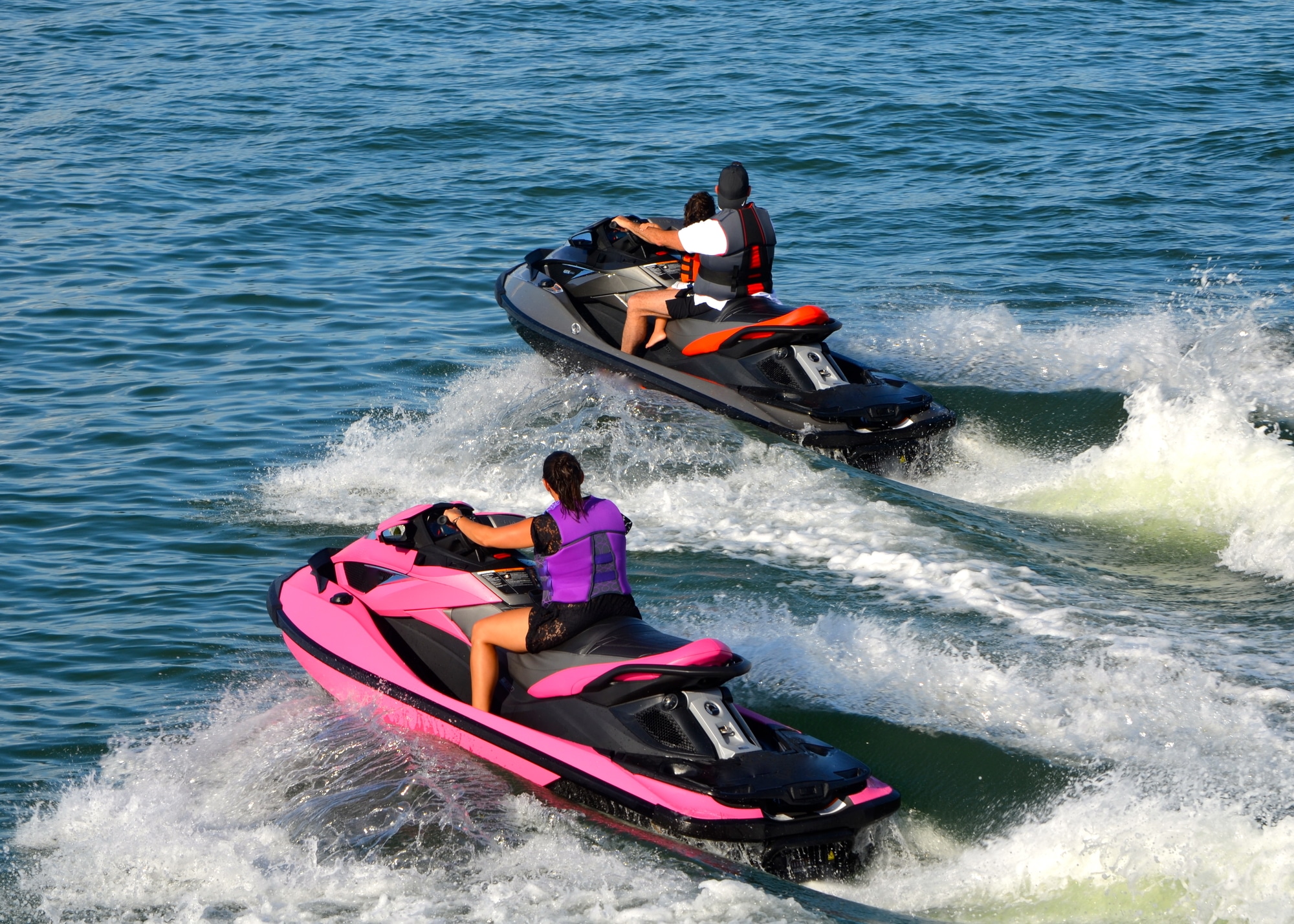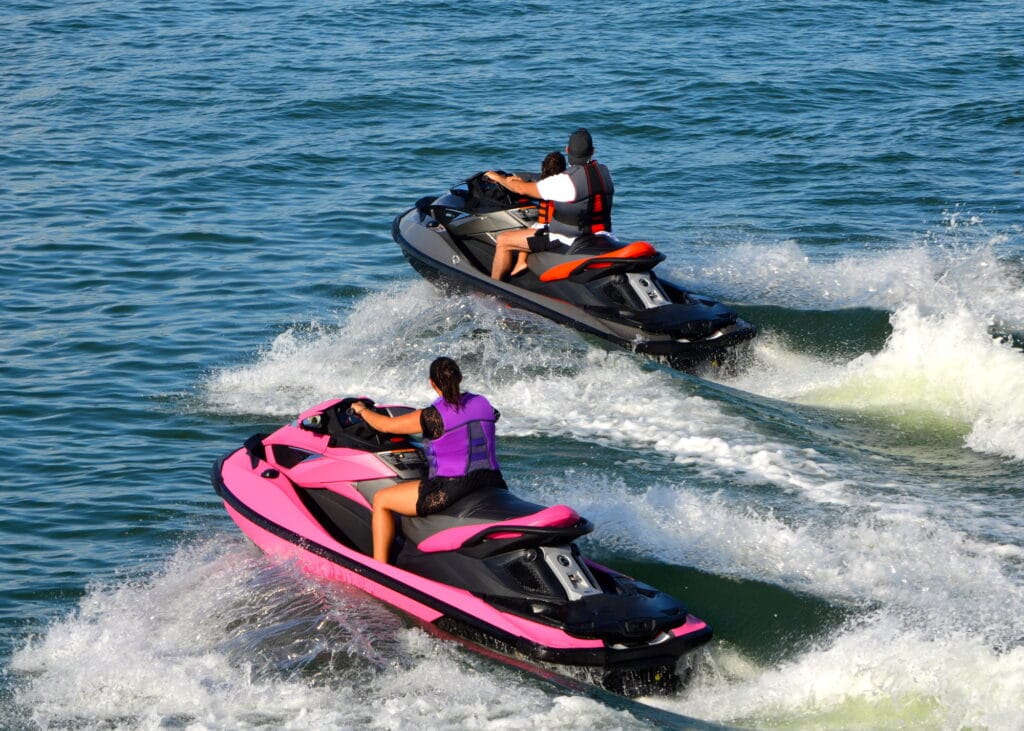 If you're looking for a bit of a thrill, jet skis are a fun way to spend an hour or two.
You will find plenty of places to rent right on the main drag of Clearwater Beach. There is typically a vendor set up directly on the beach in front of the Hilton hotel, where you can jet ski right off the beach.
Alternatively, you can check out the vendors at the marina, which will put you out into the Intracoastal waterway. Most will be group tours, but you may find some that will let you take them out independently. This is also a great location for private boat rentals, but I would only recommend this if you have prior boating experience.
A few of the popular providers in Clearwater Beach are:
If you have a car available, my favorite spot to rent jet skis is off of the Dunedin Causeway, which is just a short drive from Clearwater Beach. From there, it's an easy ride to several islands and sandbars for a fun and private feeling beach day. My favorite spot is Three Rooker Island! You can book a tour with a vendor like this one.
Honeymoon and Caladesi Island
If you want to get away from the tourist area for a few hours, this incredible state park will do the trick.
Honeymoon Island is just a short drive away from Clearwater. However, it gets very busy and I strongly recommend going early morning (by 9am) to avoid waiting in traffic on the bridge or at the entrance.
The beaches are narrower and more rustic than Clearwater Beach, but it a truly beautiful spot. There are some limited chair rentals and a concession stand at the main parking lot, but you won't find the shops and restaurants of Clearwater Beach here. So plan accordingly!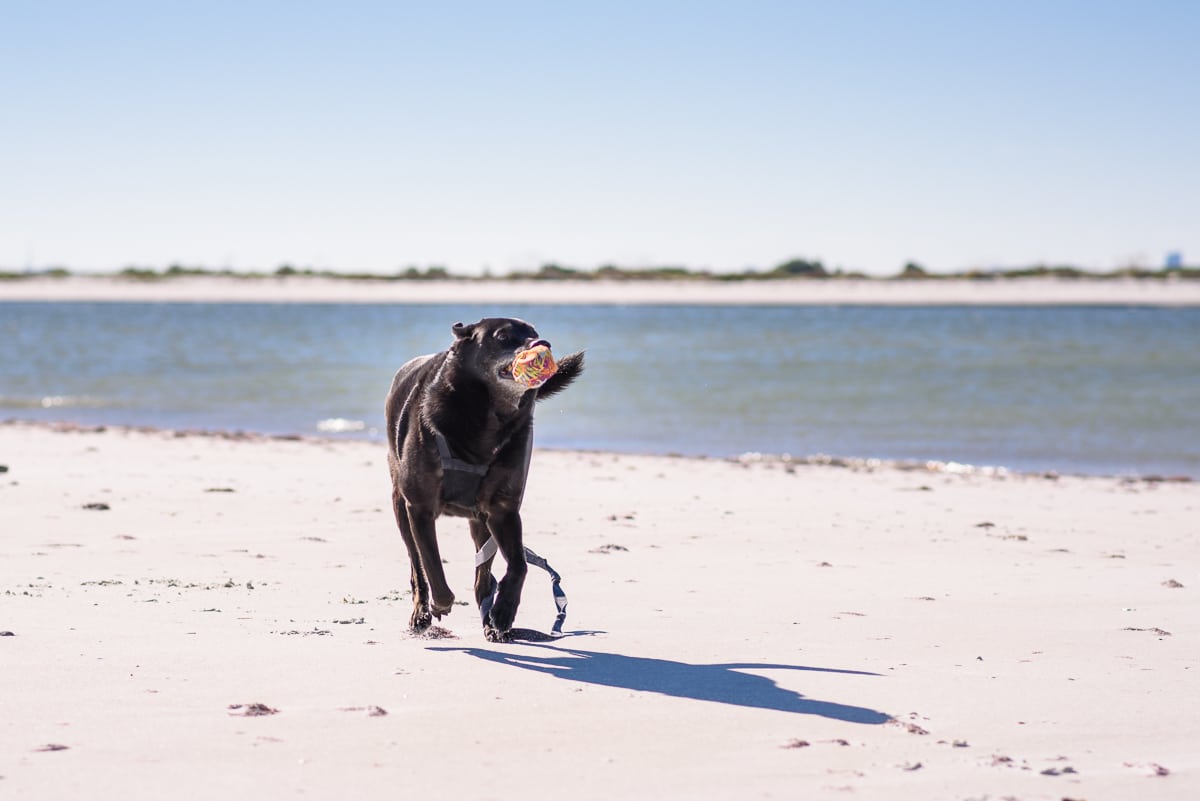 If you've brought a pet along on your vacation, Honeymoon Island also has one of the only dog friendly beaches in the area. It's just one specific section – so don't worry if you don't want to hang out with pups, you don't have to either. ;)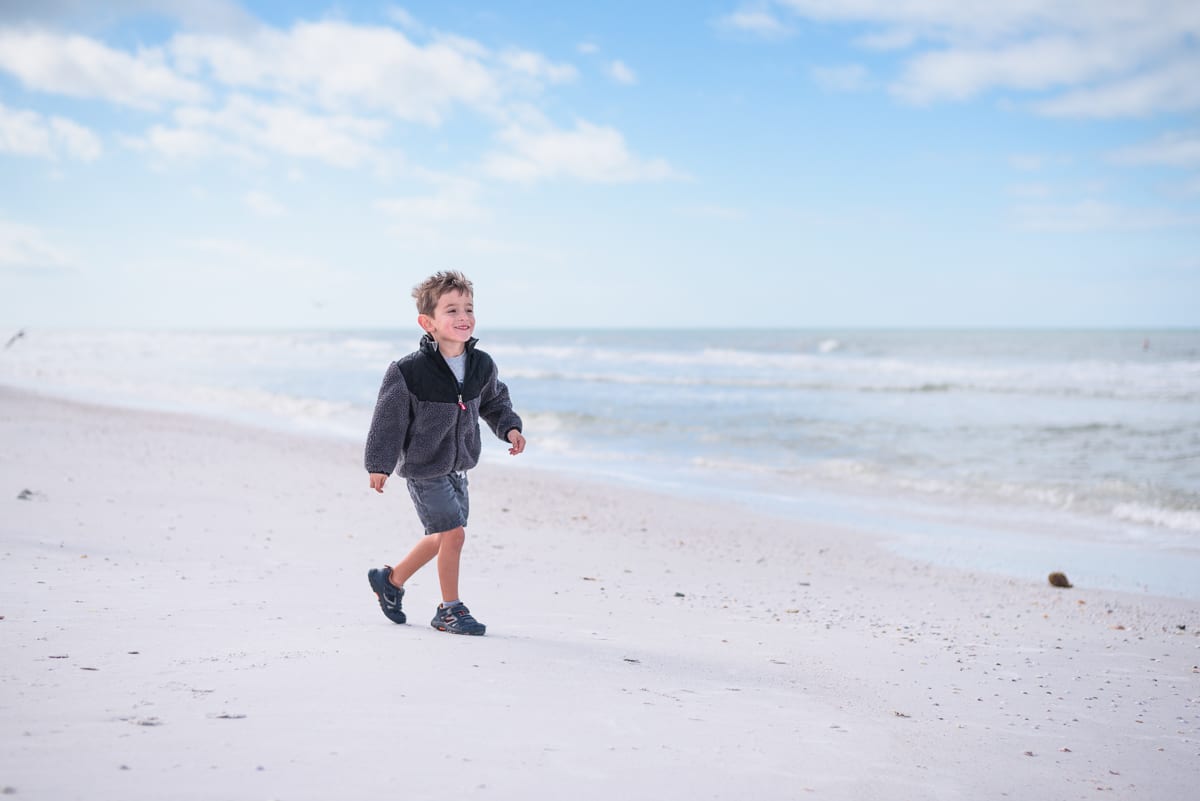 If you are feeling more adventurous, you can take a ferry ride from Honeymoon Island to Caladesi Island. Caladesi is much more secluded, as it is only accessible by boat, and is one of our very best beaches in the Tampa area.
This is the beach my own family goes to when we go boating! It's really worth the time and effort to get there. You can get info on the ferry to Caladesi Island here.
Parasailing
Parasailing is another popular tourist activity on the main strip. You'll find several vendors at the marina, and most hotels will also have a recommendation.
I've been parasailing several times and it's definitely a fun experience. I didn't find it to be as much of a thrill ride as I expected. It was actually fairy relaxing, provided you are not afraid of heights!
Pirate Cruise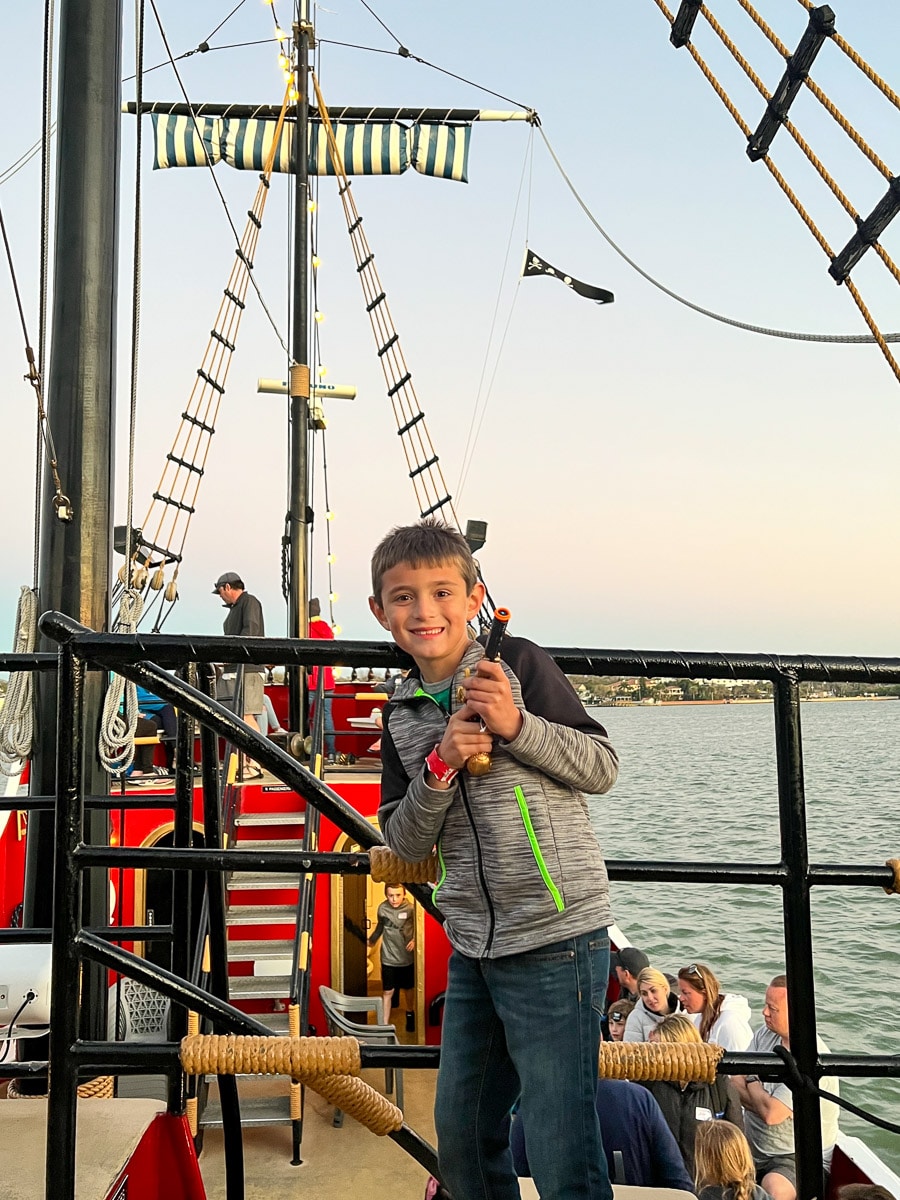 Captain Memo's Pirate Cruise is a long standing icon in Clearwater Beach. This thing has been around for as long as I can remember.
We actually did this pirate cruise recently for my son's birthday, and it was even more fun than I remembered! The boat ride is beautiful of course, and you will sometimes get to spot dolphins.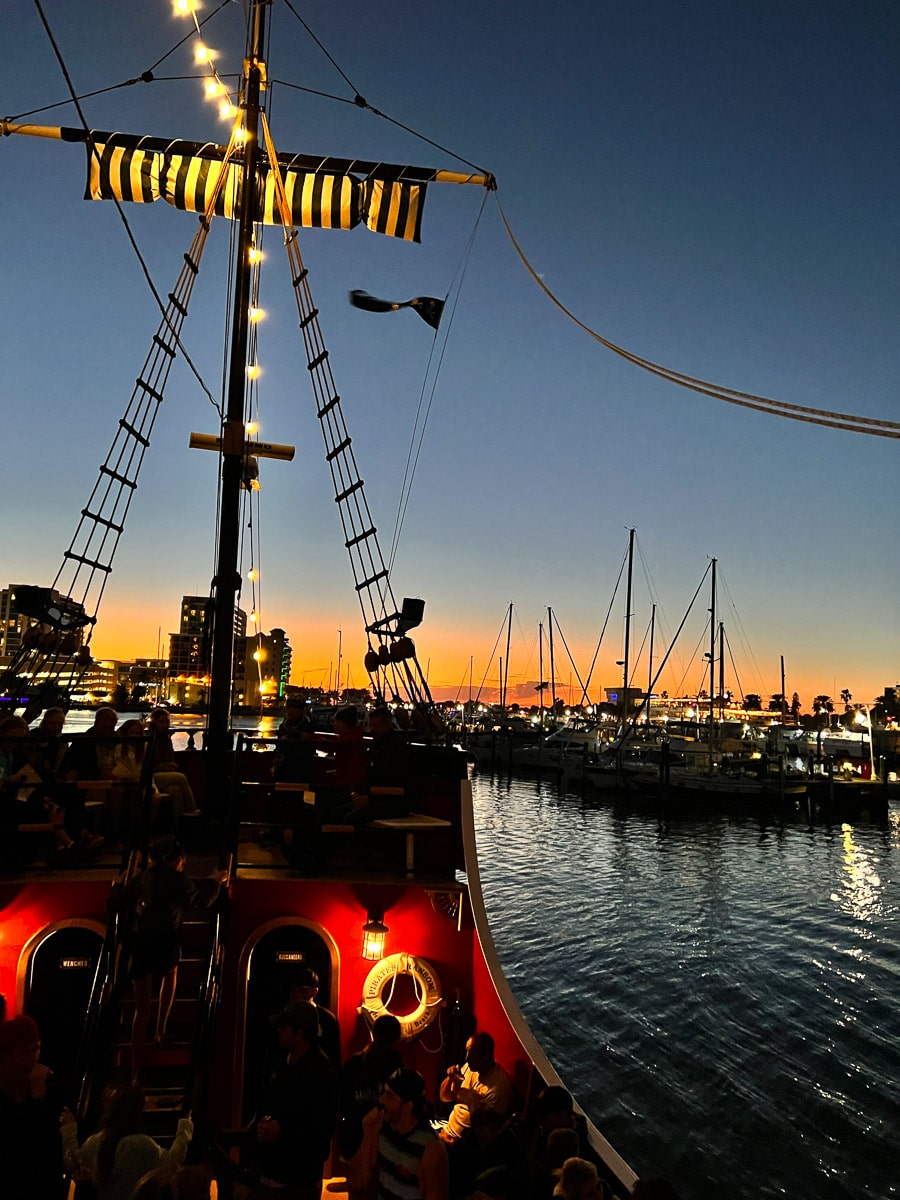 They sail 2-3 times per day, depending on the time of year. We did a champagne cruise which goes out in the evening for sunset, which was totally beautiful.
And they had a full itinerary of "pirate training" activities to entertain the kids, which I was not expecting at all. My son was very much entertained, and I got to kick back and enjoy some cocktails with my husband. So much fun!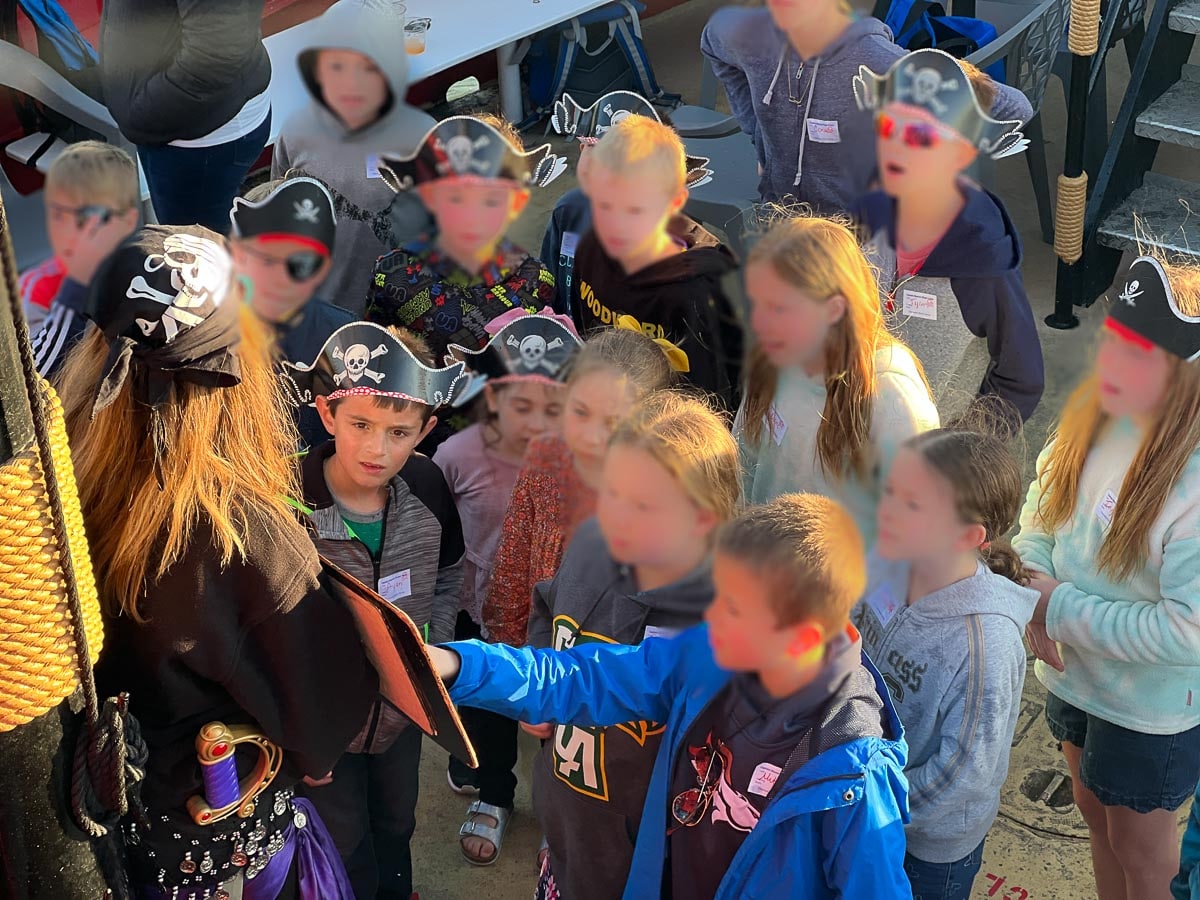 This is especially suited to families with kids, although you'll find a mix of people from families to bachelorette parties on board!
You will want to book your tickets in advance, although they sometimes have standby tickets available at the last minute.
Tip: Bring cash for tips. They are very generous with the complimentary drinks, and you will want to take care of your pirate bartender.
Sea Screamer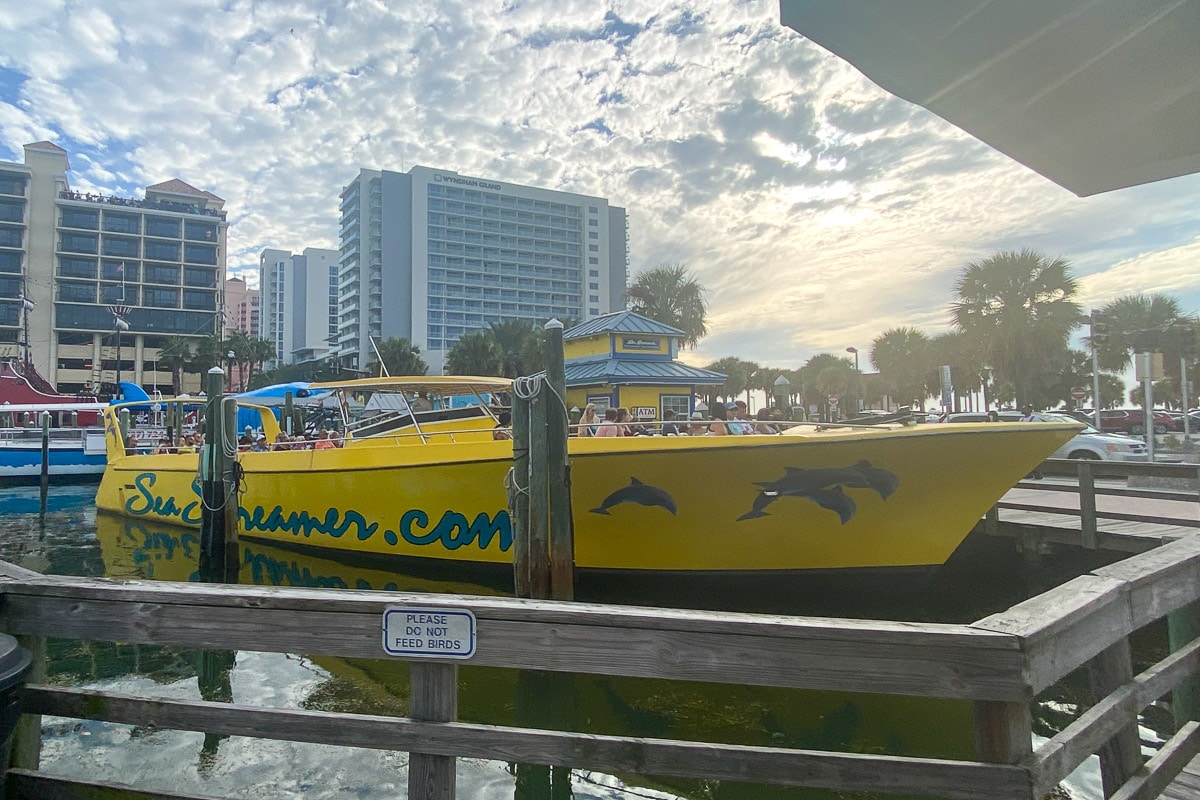 The Sea Screamer is another Clearwater Beach staple. They've been running this boat ride for as long as I can remember. It's a fast paced ride – and I do mean VERY fast paced. This one is best suited for adults or families with older kids, like teenagers.
It's much too scary for my seven year old, and we spend most of our weekends boating, so he is very comfortable on the water.
But if you're up for a thrill and some potential dolphin sightings – it's a very fun time! You can check out their website here.
Dolphin Watching Cruise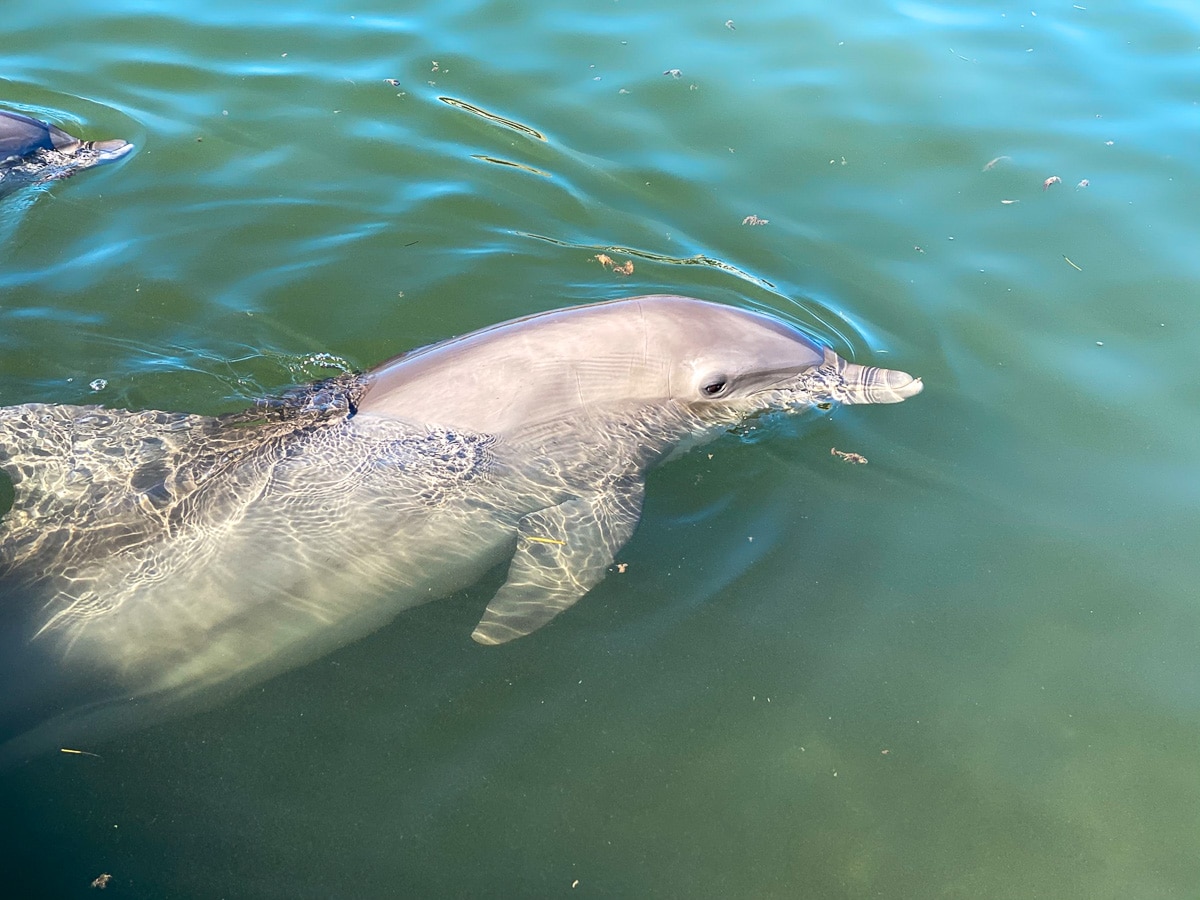 I've lived in Florida for most of my life – and yet I never get tired of watching dolphins. They are just so totally amazing.
There are plenty of dolphin cruises to choose from, and most of them are going to get you a similar experience. Try to choose a tour that leaves early morning or early evening- a sunset tour is a great choice! You'll have the best chance of spotting dolphins at those times of day.
A few of the popular tour providers are:
If you're not up for a full dolphin boat tour, still keep your eyes peeled while you lounge at the beach. You can often see dolphins right from the shore!
Dinner Cruise
If you're looking for an evening of dancing on the water, you can't beat a dinner cruise. There are several to choose from right at the marina in Clearwater Beach. Some offer a fancy dinner experience and some a simple buffet, but most offer some music and dancing afterwards. This makes a great date night!
The entertainment for kids is kind of lacking on these cruises though, so I would personally save this for adult date night and take the kids to do the dolphin or pirate boat ride instead!
Some of the popular dinner cruise options are:
Sunsets at Pier 60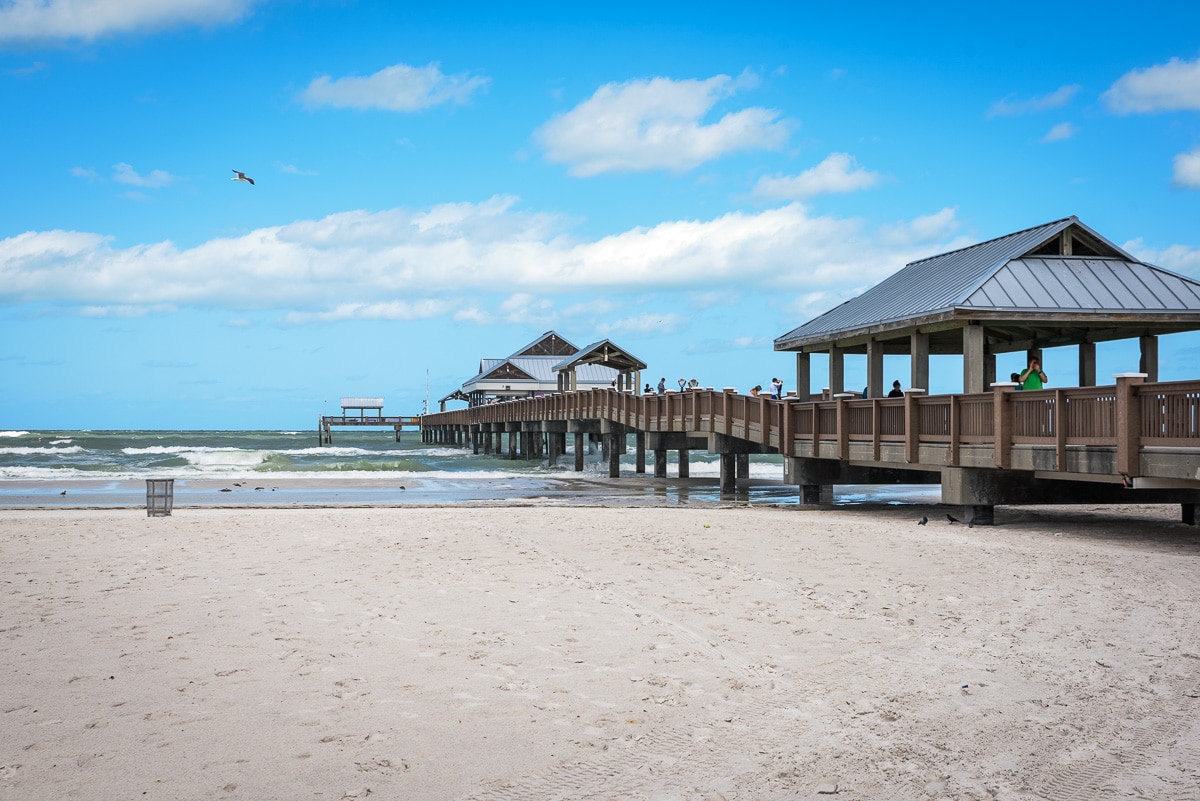 This is the main evening event in Clearwater Beach! The daily sunset festival at Pier 60 lasts from two hours before sunset to two hours afterwards every evening, and they are a lot of fun.
You'll find all kinds of vendors- from food to arts and crafts. There is a big inflatable slide, bounce house, and small rides for the kids. There is often live music and there is a great playground here to keep the kids busy too.
Be sure to check out my complete guide to Pier 60 for all the nitty gritty details!
Bonfires at Sandpearl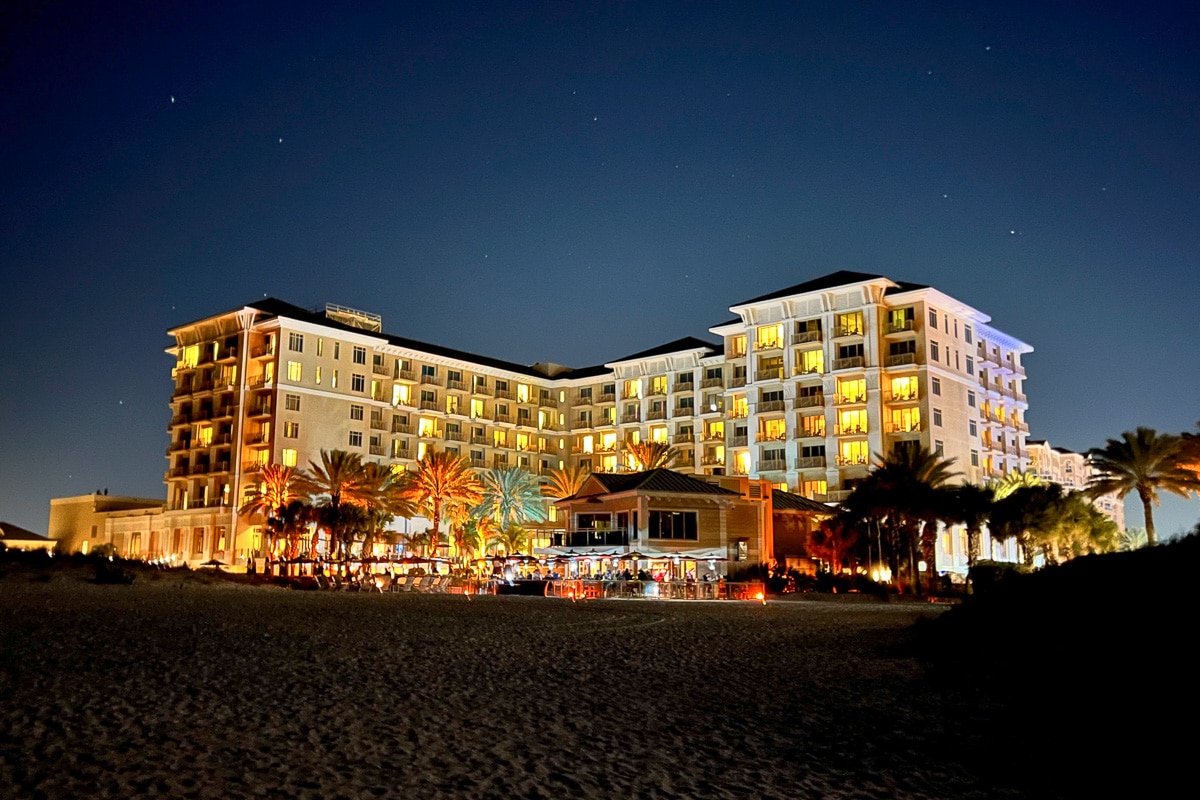 The Sandpearl is one of the newer high end resorts on Clearwater Beach. And they are also the hosts of a great bonfire on the beach every evening. It's set up in front of their beach bar, Tate's, which is a great place to grab a drink as well.
Get a Drink at Hulk Hogan's Bar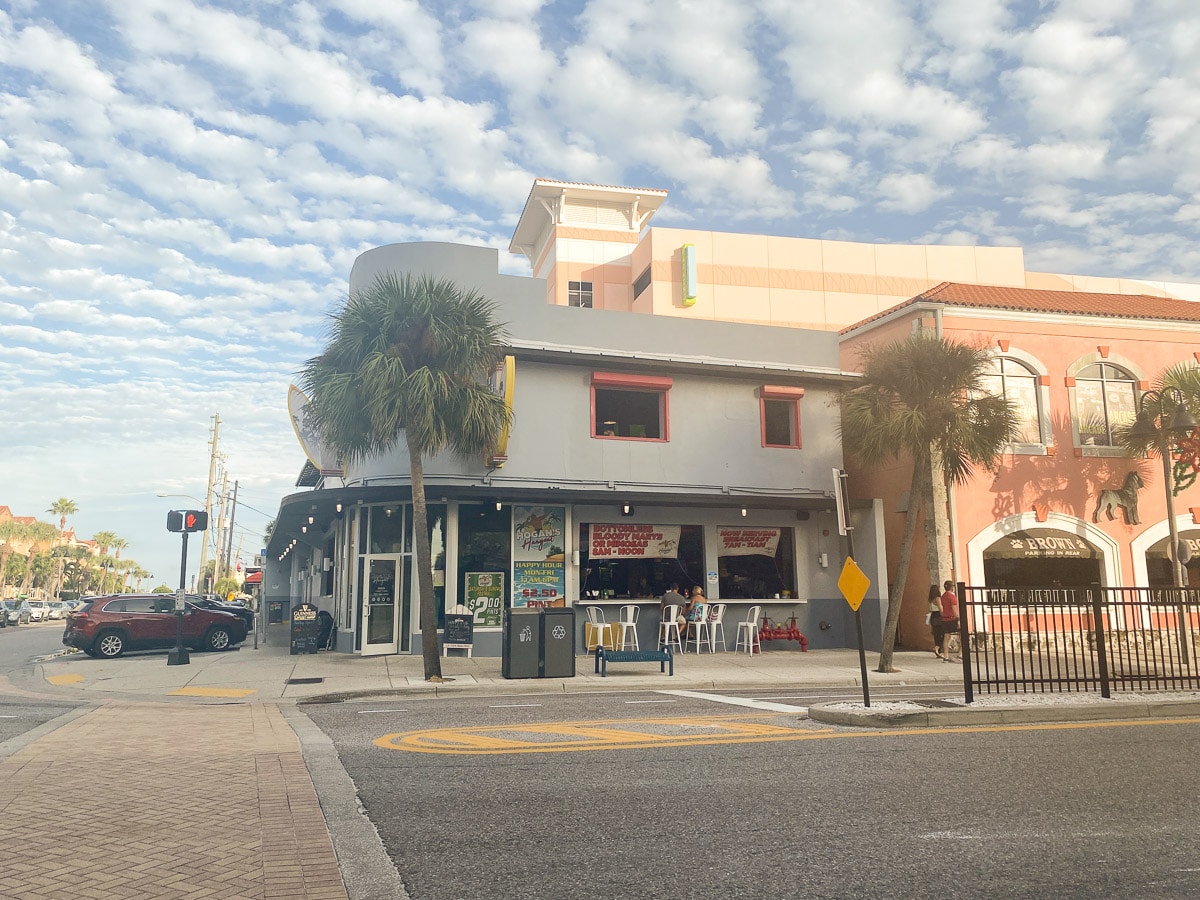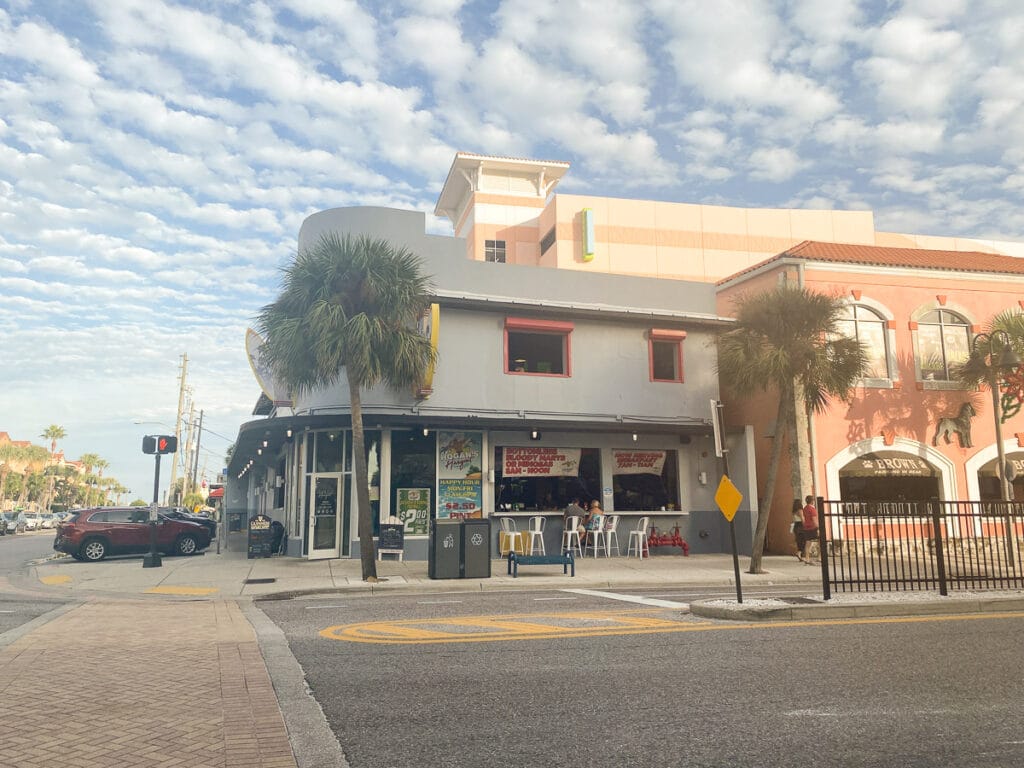 Yes, that Hulk Hogan. He is actually a Tampa resident and the proud owner of Hogan's Bar, just across from the Sandpearl Resort.
They actually have decently good food and of course plenty of drinks. And it's very family friendly during the daytime. It's a great place to catch a football game!
Grouper Sandwiches at Frenchy's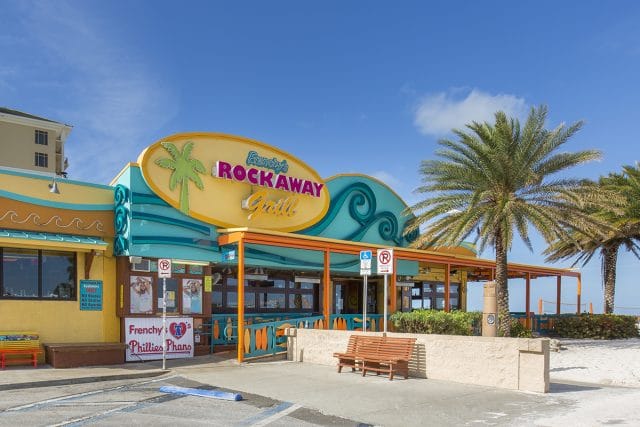 Frenchy's Rockaway Grill is a Clearwater Beach icon. Their prime beach front location has a lot to do with that. But they are also famous for their grouper sandwiches.
I actually remember the big grouper scandal from when I was a kid. Apparently many local restaurants were passing off cheaper fish as fresh caught grouper. A news story ran after taking samples of sandwiches all over town, and published a list of which ones were actually grouper. And Frenchy's was one of the only true grouper sandwiches on the list!
This place is very popular and does not take reservations, so go at an off peak time if you can. It does turn into an adults only bar at night, but is family friendly during the day.
Clearwater Marine Aquarium
Clearwater Marine Aquarium is located just off of the causeway that leads out to Clearwater Beach.
It's not really an aquarium in the traditional sense- it's a marine rescue that focuses on rehabilitating wildlife and educating the community.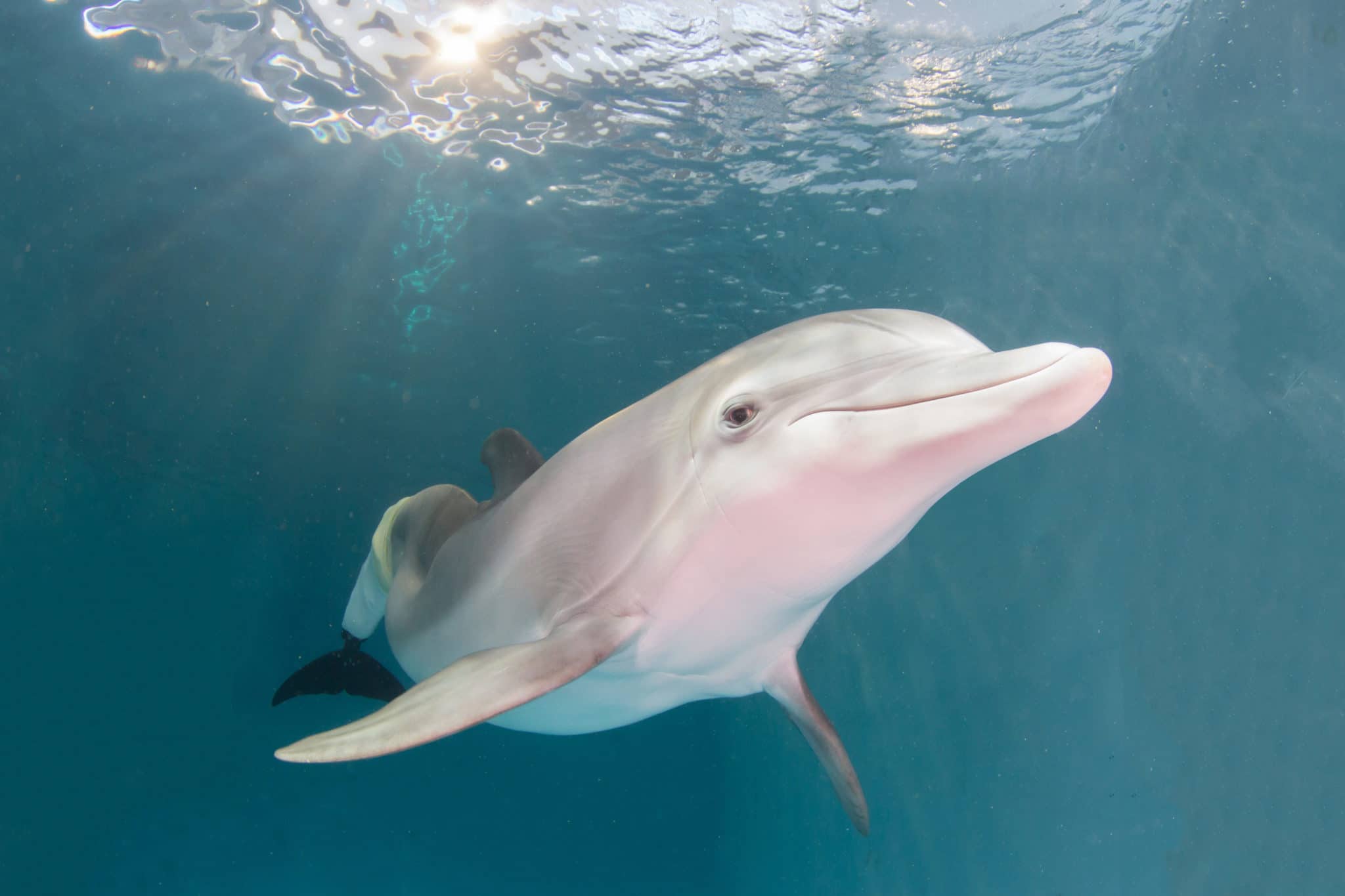 They were made famous by Winter, the dolphin star, who unfortunately passed away recently. But it remains a fun place to stop with kids and learn about the local sea life. My son has been many times, and is not tired of it yet!
More Clearwater Beach Resources
If you're planning a trip to Clearwater Beach, be sure to check out these other helpful resources:
Or browse all of our Tampa Bay travel planning resources – covering Tampa, St. Pete, and Clearwater!