This post contains affiliate links. Learn more here.
NOTE: The Edinburgh Capitals are a Scottish hockey team, one of 10 teams in the Elite Ice Hockey League (EIHL), a professional ice hockey league in  Northern Ireland, Scotland, Wales, and England. I recently attended a Capitals game in Edinburgh, and had the chance to enjoy some awesome Scottish hockey, as well as meet some of the staff and players. I paid for my own tickets, but want to thank the Edinburgh Capitals' Ian Coyle for offering us a behind-the-scenes look at Scottish hockey in Edinburgh. All opinions are my own. 
In the shadows of a 65,000 seat, world-class rugby stadium in Edinburgh, Scotland, lies Murrayfield Ice Rink. An old building, it is reminiscent of the rinks my dad hauled me to for the 5am practices of my childhood. At nearly 56°N, on the bay (or forth) of the North Sea, Edinburgh is cold enough as it is. The air inside Murrayfield, however, is next-level stuff: the building seems as cold as the ice itself, with vending machines serving up coffee and hot chocolate, which serve the dual purpose of satisfying my thirst and keeping my hands warm. It's a familiar-seeming place: painted metal railings in the seating area; lights that are too dim; awkwardly placed pillars. Even the smell is familiar. Murrayfield Ice Rink, however, houses an olympic-sized ice surface and is home to the EIHL's Edinburgh Capitals. I came here to witness my first hockey game outside of North America: a Scottish hockey game, no less.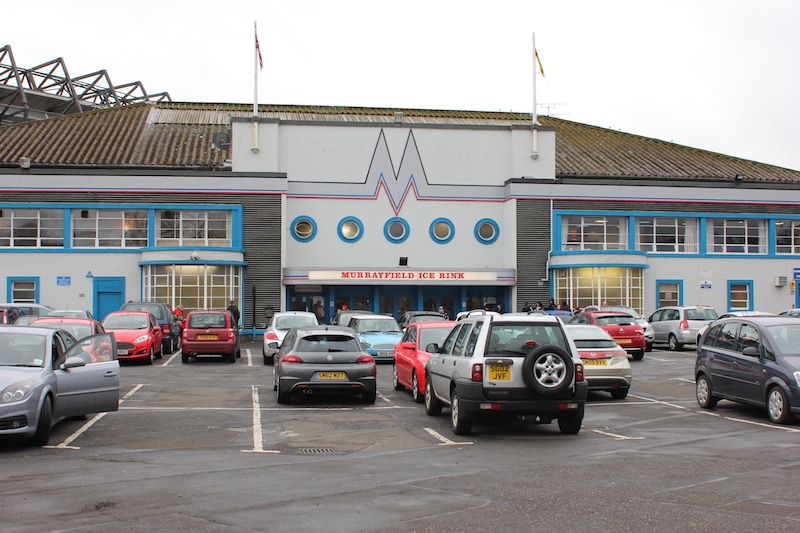 For me, Scotland and hockey aren't exactly synonymous. However, to the boisterous Scottish hockey fans that fill the stands each week, it's serious business. The Edinburgh Capitals are one of 10 teams in the Elite Ice Hockey League, or EIHL. The teams come from Scotland, Northern Ireland, Wales, and England, and the games are a unique mix of the foreign and familiar: players from around the world, including Scotland, play a fast-paced and aggressive rendition of the game that is near to my heart; the Scottish hockey fans, however, are a different (and awesome) breed.
***
Tonight's game sees the Edinburgh Capitals face off against Glasgow's Braehead Clan. I arrive early at Murrayfield Ice Rink with Marco, a Canadian expat living in Edinburgh. Fans loyal to both teams are milling about, anxiously waiting for the doors to open. When they do, Braehead Clan fans flock to one side of the arena, and Edinburgh Capitals fans to the other.
Marco and I meet with Ian Coyle, an executive with the Edinburgh Capitals. When asked what his official title is with the club, Ian tells us he does whatever needs doing. If this was the NHL, he'd be given some bizarre title — Special Advisor to the Assistant Vice President of Hockey Operations — but this is a more casual affair.
Ian fills us in on some of the history of Scottish hockey, the league, and the Edinburgh Capitals. He introduces us to the team's TV announcer before leading us down the hall where we meet the Braehead Clan's Head Coach, Ryan Finnerty, outside the visitor's dressing room. Ryan is a Canadian from Lethbridge, Alberta, and played junior hockey and some pro years in North America before crossing the pond, first as a player and now as a coach. We continue along the hallway, weaving our way through trainers and players making last-minute preparations before puck drop, and arrive at the player's bench just in time to watch the Zamboni make a final swipe of the new ice surface. Using our last few minutes with Ian, we pry as much information as we can about player movement, status of the league, and salaries, before he leaves us to attend to his duties.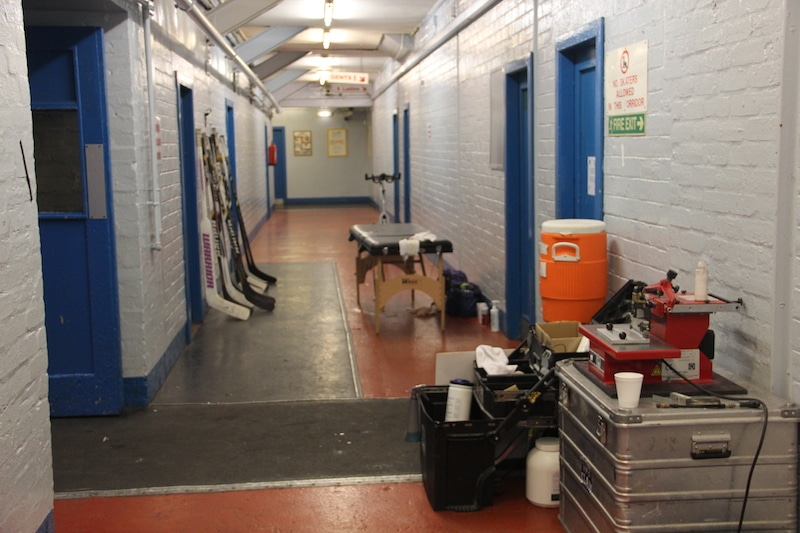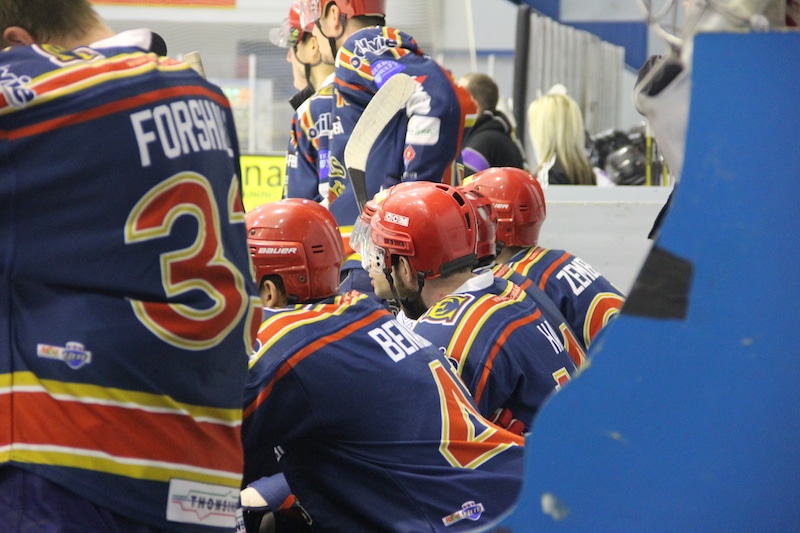 We find our seats and settle in for our first Scottish hockey experience. Even though the Edinburgh Capitals find themselves at the bottom of the standings this year, the fan's spirits aren't dampened: they make themselves known, and are loud with their Capitals pride. One section of particularly engaged fans are clad in team colours, beating drums, and leading the stadium in uproarious rounds of fight songs and chants. One fan, an older fellow, is on his feet the entire game, making use of each noisemaker in a large personal collection which includes an electric didgeridoo (yes, you read that correctly). Scottish hockey, as it turns out, is really fun.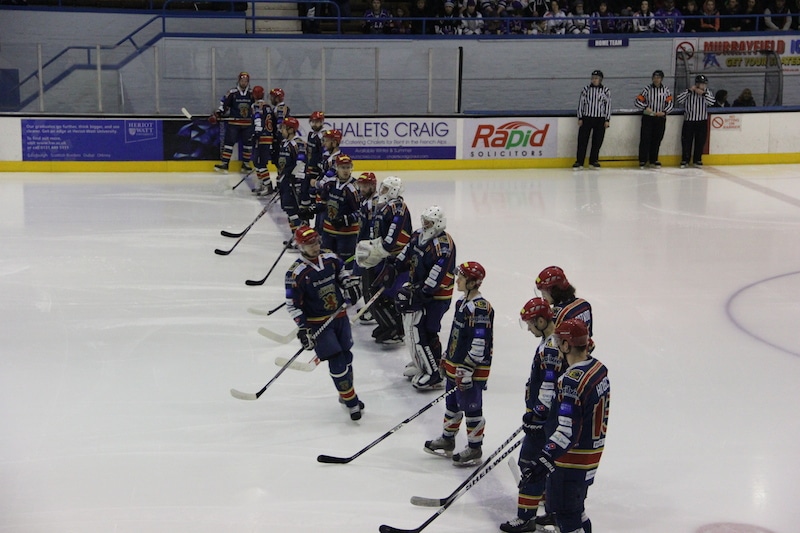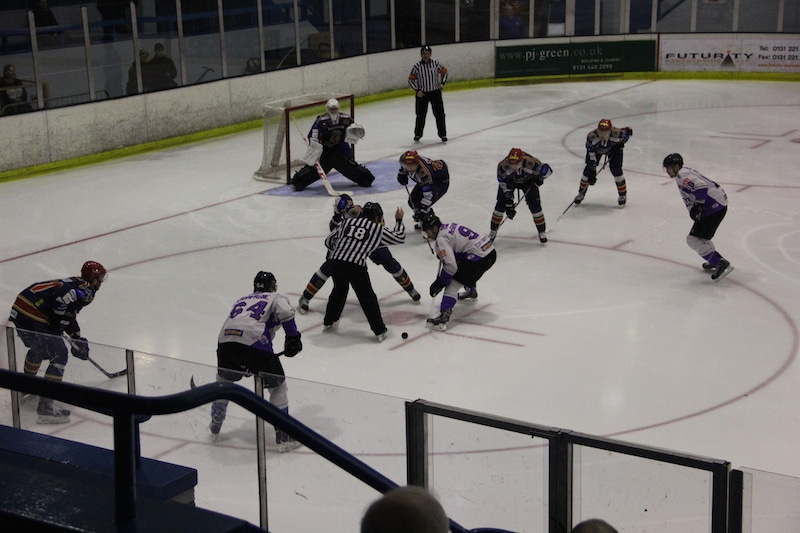 ***
We were told that some EIHL teams attract up to 8,000 fans on game night, but the game we attended seemed to have only a few hundred: the turnout could have something to do with the Capitals' standing this year, and the fact that there are only two games remaining in the regular season. The game was very much what I'd classify as European-style, with a focus on puck possession, and very little in the way of post-whistle scrappiness (not to say it doesn't happen).
After the final buzzer, the home team found themselves on the right side of the W column, with a 2-0 win over the  Braehead Clan. A home team win was cause for celebration, and Ian graciously collected us and brought us to the team dressing room for introductions. We met each of the players, congratulated them on their win, and spoke for a few minutes about Scottish hockey, and what it's like to play in the UK.
Some of the players invited us for beers at a local pub afterward, but it was time to admit to myself that my evening of hockey was over. We bid them adieu, and let the Capitals celebrate their win as a team.