Welcome to our Edinburgh Playlist. Songs for a City is a new series we'll be (trying) to write for each city we visit, and each post will include an introduction to the contemporary, mostly indieish music scene in the city and a playlist to enjoy while exploring. First up are some of the Edinburgh bands we're listening to as we explore the city + an Edinburgh playlist.
Although Edinburgh's music scene hasn't even come close to reaching the epic proportions of nearby Glasgow — the beating heart of awesome Scottish bands — that doesn't mean it lacks for quality songs to load onto your iPod while wandering the storied streets of Auld Reekie. Indeed, Edinburgh bands serve up a solid offering of indie, folk, electronic, hip hop, and the supremely chilled-out to visiting music fans, all without having to resort to the tired stereotypes of the 80s and 90s. In this, our inaugural Songs for a City Edinburgh Playlist, I've opted to skip the obvious: if you're looking for The Proclaimers' Sunshine on Leith, or anything from the Bay City Rollers or the Trainspotting soundtrack, well….then…these aren't the droids you're looking for. However, if you're interested in meeting new bands, or enjoying a curated auditory experience for your travels, read on.
First up are Young Fathers. Edinburgh's weather is famously temperamental, and it's not beyond the realm of possibility to experience pissing rain, driving snow, and blinding snow within a 15-minute period (seriously, this happened today). This is all to say, you need to be prepared with songs for the glorious moments of sunshiney goodness.
The moment the clouds break and the sun busts through, hit play on something by Edinburgh-based Young Fathers. Get Up can't help but make you feel happy, and if it fails in this regard, that's a pretty good sign that you're dead inside. The chorus alone — come here and do the right thing, get up and have a party, get up, get up — makes me want to stop what I'm doing and have an impromptu dance party, as per the instructions of this self-styled "psychedelic hip hop boy band," (a description alone which should make you pretty happy).
Young Fathers are available on the iTunes® store.
ballboy's music is fun and comforting, and manages to make me smile every time I hear the happy-sad, comfortable vibe. With lyrics like, Last night your mother called to say/Your father's run away/With the man who plays the polar bear in Disney's Ice Parade, I was immediately hooked on ballboy and their whimsy. Freaking great. I've loaded up the playlist, and you can get more ballboy on iTunes.
Next up is the awesomely-named We Were Promised Jetpacks. Formed in Edinburgh, but since relocated to Glasgow, We Were Promised Jetpacks are label-mates with bands like Frightened Rabbit and The Twiglight Sad. Spin's Josh Modell refers to the band as Scotland's "current gang of catharsis-seeking sad bastards…[with]…twisty post-punk songs with chewy pop centers." The band is currently on a North American tour, so if you like their sound, refer to their website and try to catch them live. Get more We We Promised Jetpacks on iTunes.
Besides being too cool for capitalization, eagleowl, the self-described "lethargic pop band from Edinburgh, Scotland," is a six-piece ensemble that has been applauded for delivering music that is "sublime, expansive and timeless." Sounds good to me. Their most recent album, This Silent Year, was released in May 2013. Don't expect their music to evoke feelings of sunshine and lollipops; eagleowl is more like a walk through Edinburgh's cobbled old town on a rainy day, braving the wind and elements, and thinking about love lost, or perhaps dreaming of having a fleeting and oh-so-tormented love affair with a handsome Scottish lad or lass. Or maybe I'm just on a weird, make-everyone-super-uncomfortable tangent; either way, be sure to check out Sleep the Winter if you're craving a side of melancholic folk to go with your sightseeing. And let's be honest: who isn't?
Get more eagleowl over on iTunes.
Dan Willson, aka Withered Hand, is another folky, and despite some of the lyrics — Every sunrise I see takes the piss out of me/And there's cold tea in our loving cup comes to mind — the mood Withered Hand evokes is a step up from eagleowl's comfortable sorrow (although Malcolm Benzie from eagleowl is in the band). Although not quite rainbows and unicorns, which coincidentally are one of Scotland's two national animals — the unicorns, not the rainbows — Withered Hand feels warm and cozy, so be forewarned, lest the playlist tempt you into buying something made of Shetland Wool from one of the crap-filled overpriced shops on the Royal Mile.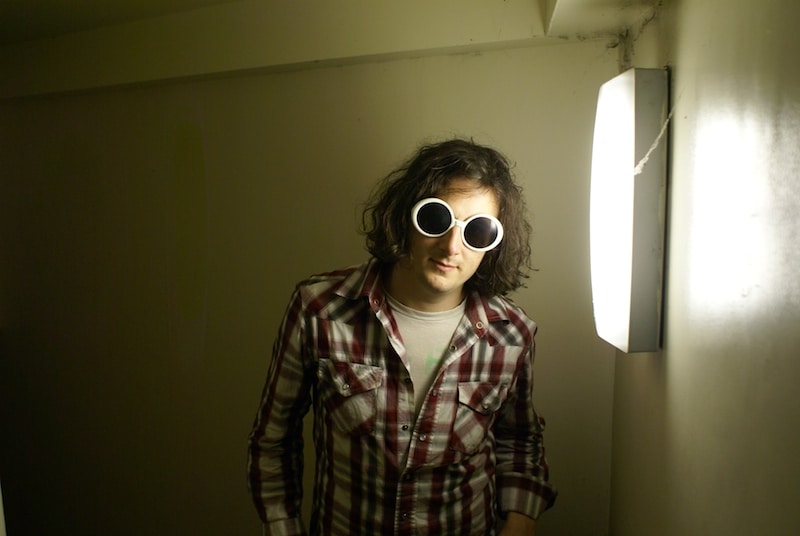 You may have heard of Withered Hand before: he attained minor celebrity status in 2011 when US Immigration and Customs was all like, nope! to his visa application to attend SXSW. This enraged the Twitterverse, conventional media got on board, and Withered Hand won his appeal, thus marking a happy end to a bureaucratic kerfuffle. Bottom line: if you've ever thought to yourself, damn, I need more mandolin in my life, then Withered Hand might be the answer. I'm adding a few to the Edinburgh playlist, so you can indulge in some cozy, sing-songy beats as you pound the Royal Mile's ancient pavement. Withered Hand can be found over on iTunes. 
Broken Records are another ensemble; they've been called the Scottish Arcade Fire, but apparently this label is a bit of sore point with the band. To me, the sound is more like The National, in particular Jamie Sutherland's voice. I Used to Dream and Wolves both make me think of an epic novel: they are deliberate, moody, and evoke a feeling of quiet, but beautiful suffering. Or maybe I'm just in a strange mood today. Either way, I really like Broken Records.
Although they didn't make it on the playlist (I couldn't find them on iTunes) Lauren aka Law Holt and Lomond Campbell are two more Edinburghians worth checking out. Law delivers what I can only describe as melty music: bass, industrial, soulful. Start with Hustle, and then hit up her new album, Haters and Gangsters.
Lomond Campbell is one member of Edinburgh's Found, but also a solo artist. I would have loved to add Yesterday's You and Me to the playlist, but sadly the Internet gods could not oblige.
So what should you do while you're walking around Edinburgh, listening to these tunes? We unfortunately haven't gotten around to writing a lot about Edinburgh yet (although we'll be returning to the city soon), so for now, check out this list of things to do in Edinburgh!
Do you know of any awesome Edinburgh bands we missed? Tell us in the comments, and please, oh please, do not say The Proclaimers…
And here again is the playlist:

This post contains affiliate links to the iTunes store. If you click on an affiliate link and end up purchasing a song from iTunes, the friendly peeps at Apple send us a small commission. Yay, right? You pay the same price as going straight to the iTunes store.