No trip to Iceland would be complete with a stop at the famous Seljalandsfoss Waterfall. Here's our guide to visiting this popular South Coast attraction.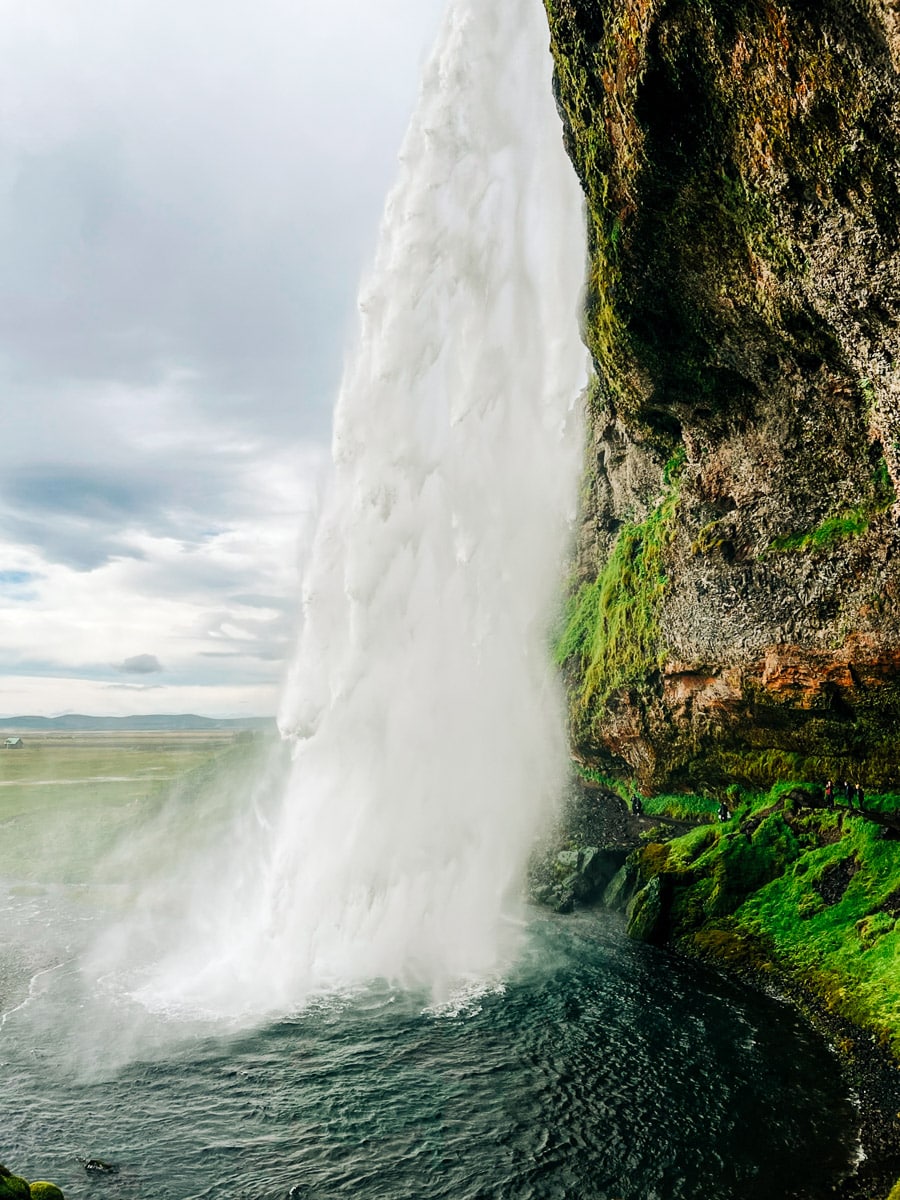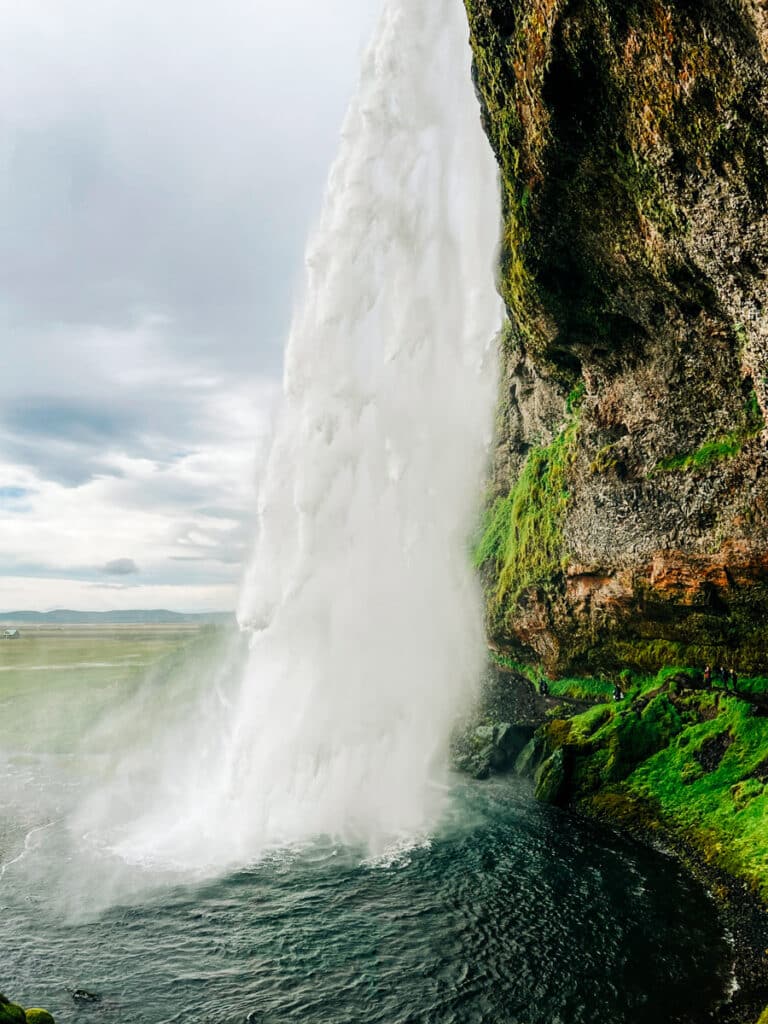 About Seljalandsfoss Waterfall
If you've spent any time researching Iceland, you've almost certainly seen pictures of this very beautiful and very Instagram-famous waterfall. The 197 foot tall waterfall originates from a volcanic glacier, and features a walking path and small cave that allows visitors to actually walk directly behind the falls.
The views are absolutely spectacular! No wonder it's been featured in shows like Star Trek and Amazing Race, and even made an appearance in a Justin Bieber music video.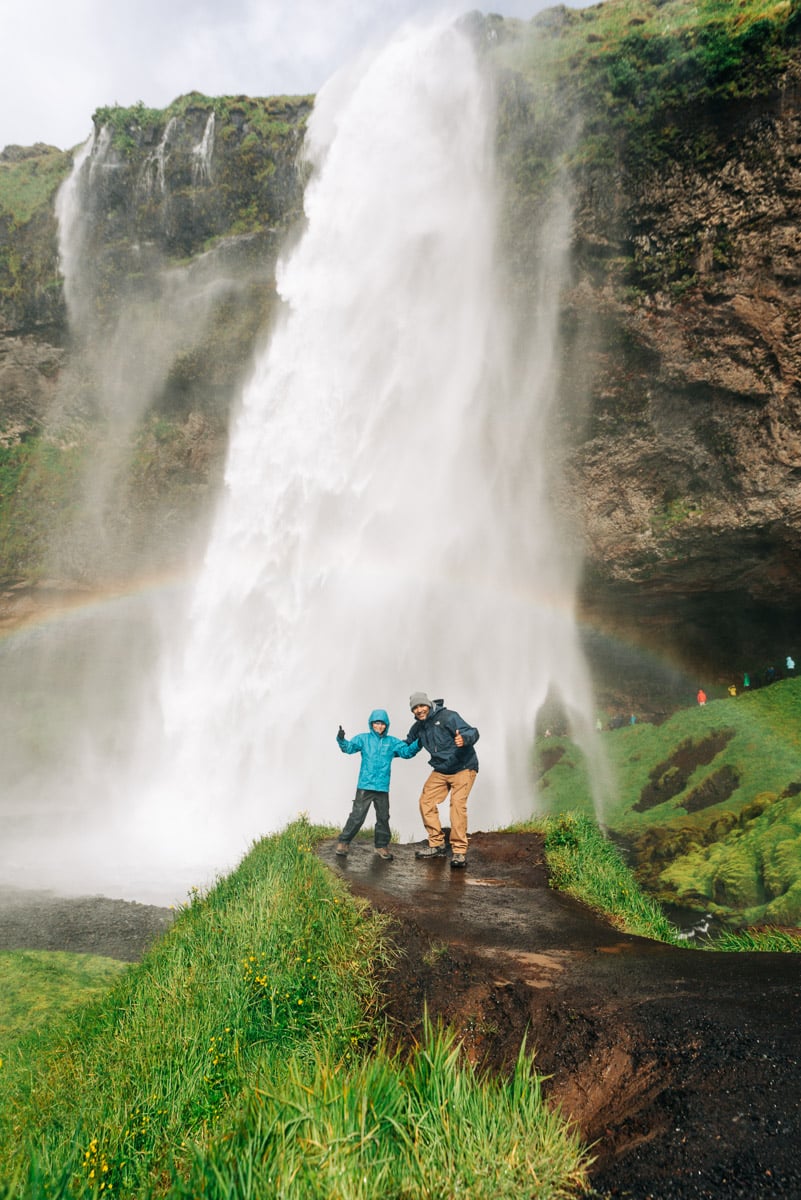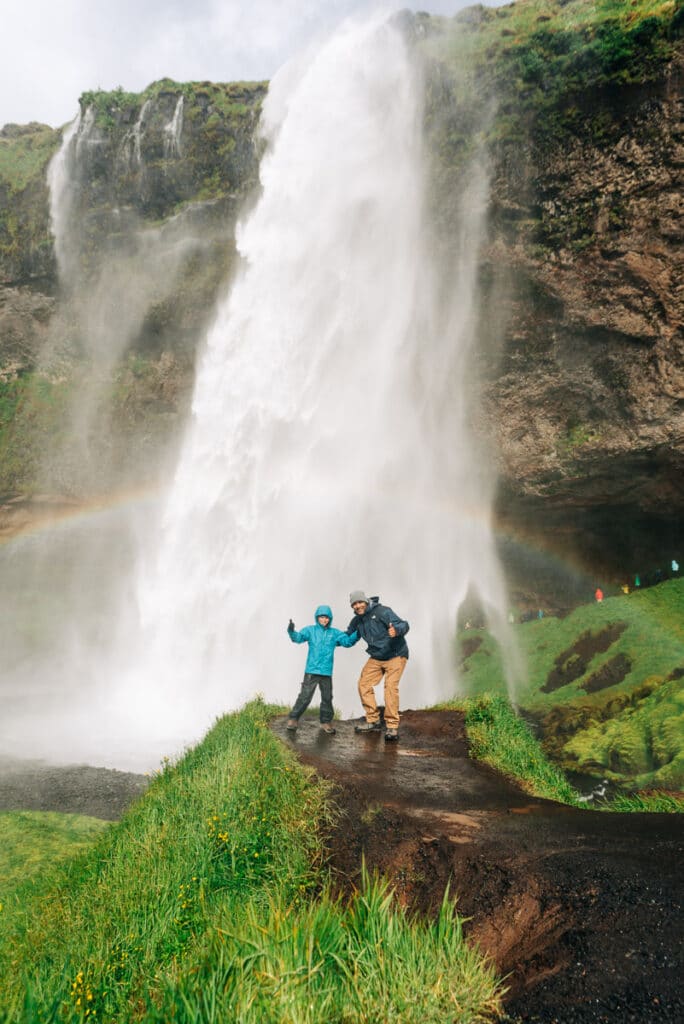 Walking Behind Seljalandsfoss
So first of all, should you walk behind the waterfall? That's going to be a resounding yes! That's the most fun part of experiencing it. And when will you get another chance to literally walk behind a waterfall?
Just make sure you are geared up for it! You are going to get wet. Not like a little wet – but absolutely soaked. We wore our waterproof rain coats and rain pants, which kept us warm and dry. Highly recommended. I also suggest wearing your hiking boots as the wet rocks can be slippery. (Check out my Iceland packing list for gear recommendations.)
You can access the pathway behind Seljalandsfoss from either direction, but I recommend approaching it counterclockwise. One side involves a very steep climb on some slippery rocks – and it's much easier to tackle this going up than down.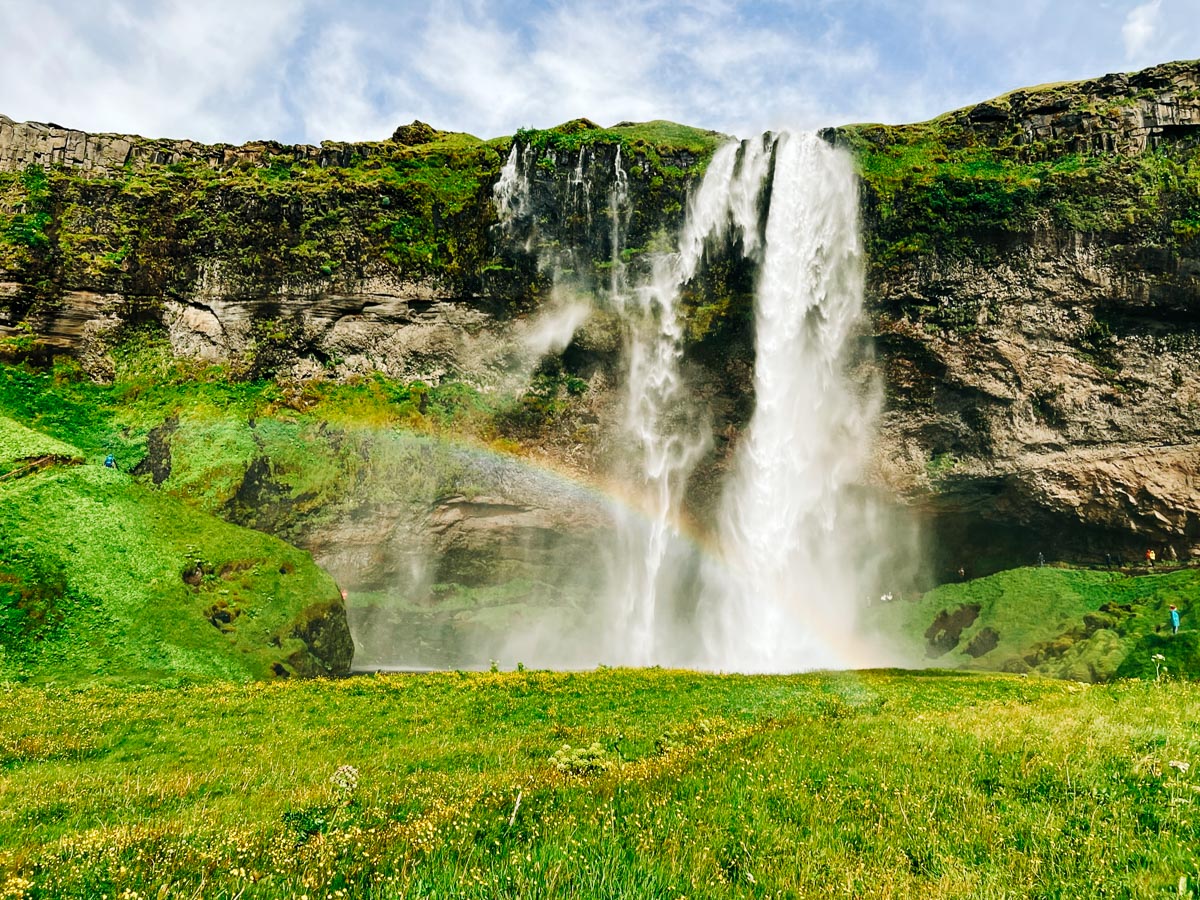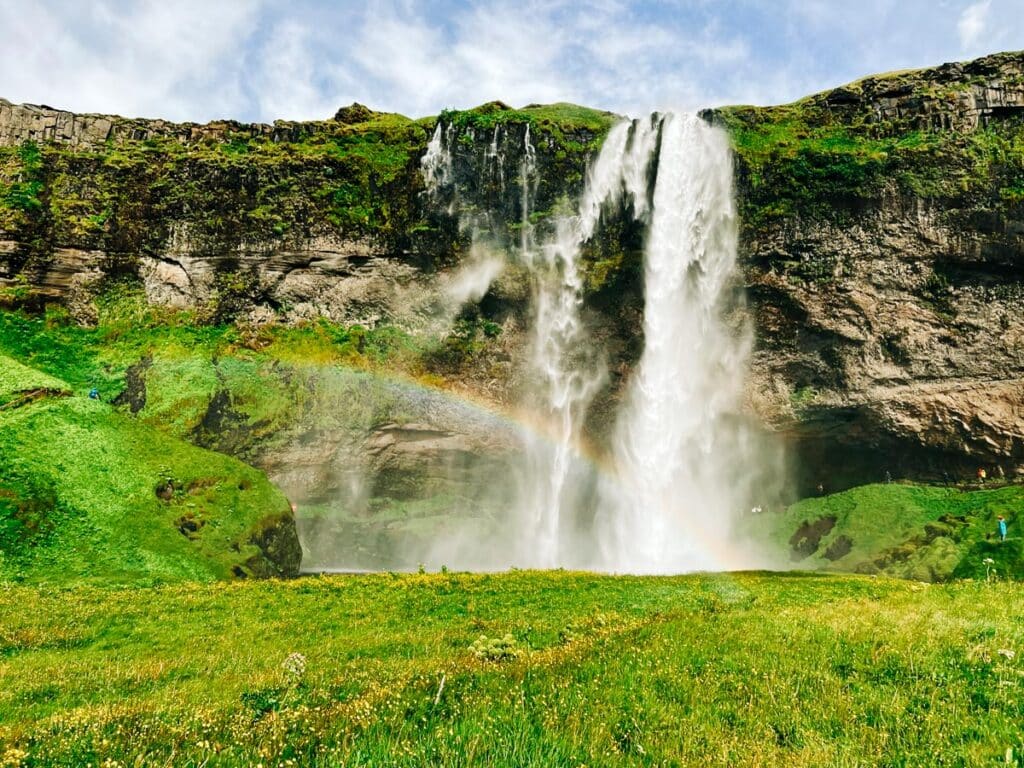 You'll walk in on a mostly flat pathway, with a few great places to stop for pictures and enjoy the rushing water. Note that the direction of the overspray will change with the wind. So you might be completely dry one second and then get completely soaked the next as the wind shifts. That's part of the fun – trust me.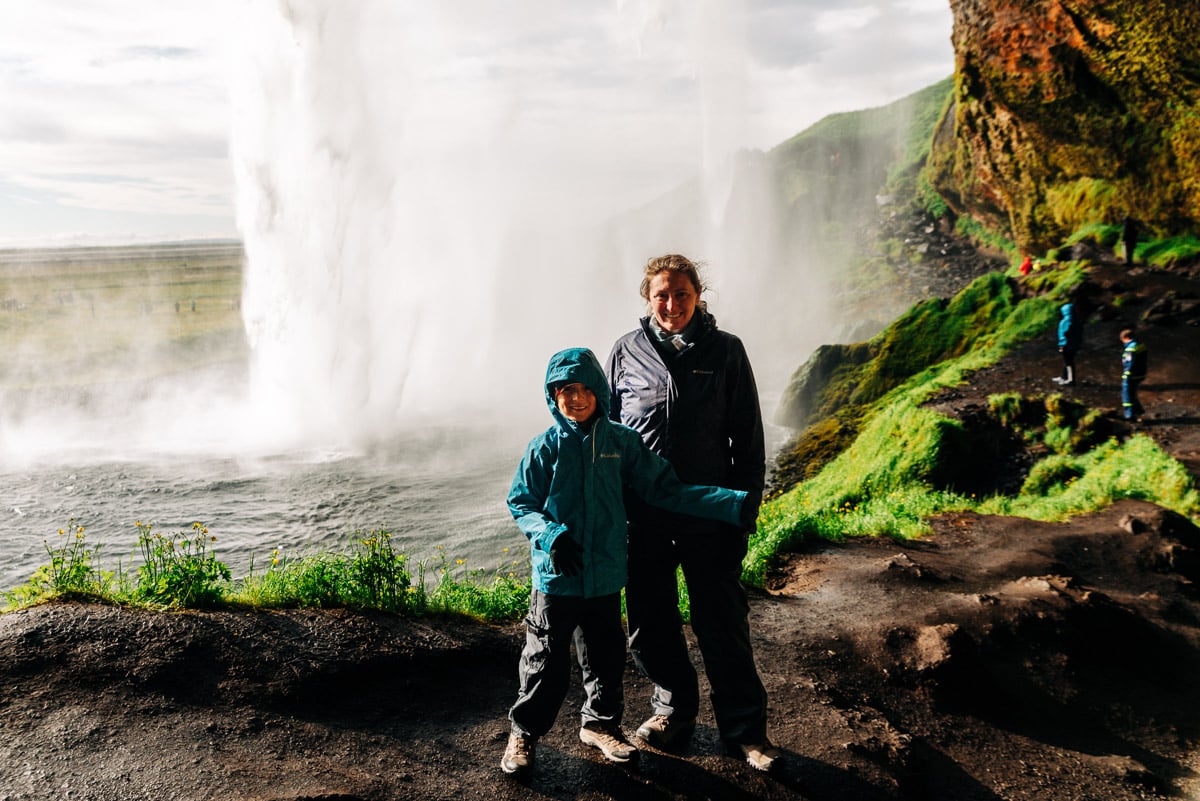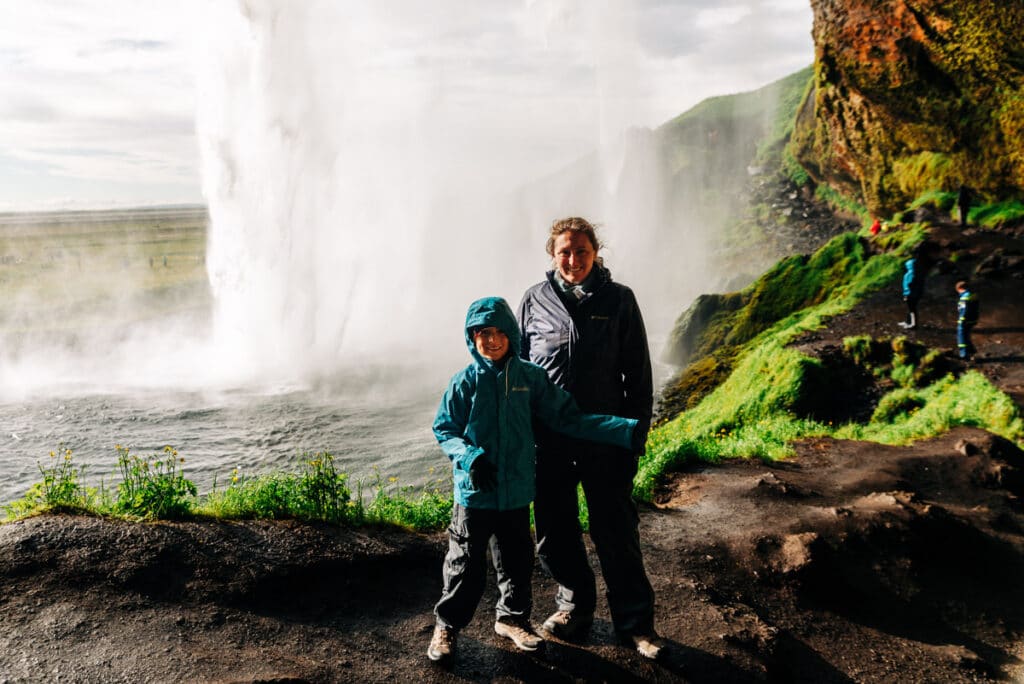 After you've walked behind the waterfall, you have two choices for exiting. You can turn back the way you came and walk out on the same flat pathway. Or you can keep going counterclockwise, and climb the rocky path up to the viewing platform on the other side. We did this (with a seven year old), so it's completely manageable. But you do need to be able bodied and comfortable with the slippery climb, so proceed with caution.
Once you get up to the platform, you're treated to some more beautiful views of the waterfall from above before climbing down the staircase back to ground level.
The Hidden Waterfall at Seljalandsfoss
You may have heard about an additional "hidden" waterfall at Seljalandsfoss. Well thanks to the internet, I don't know that I would call it hidden anymore. Gljúfrabúi Waterfall is another smaller waterfall that's located down a short hiking path just 0.6 miles (1 km) from the famous Seljalandsfoss.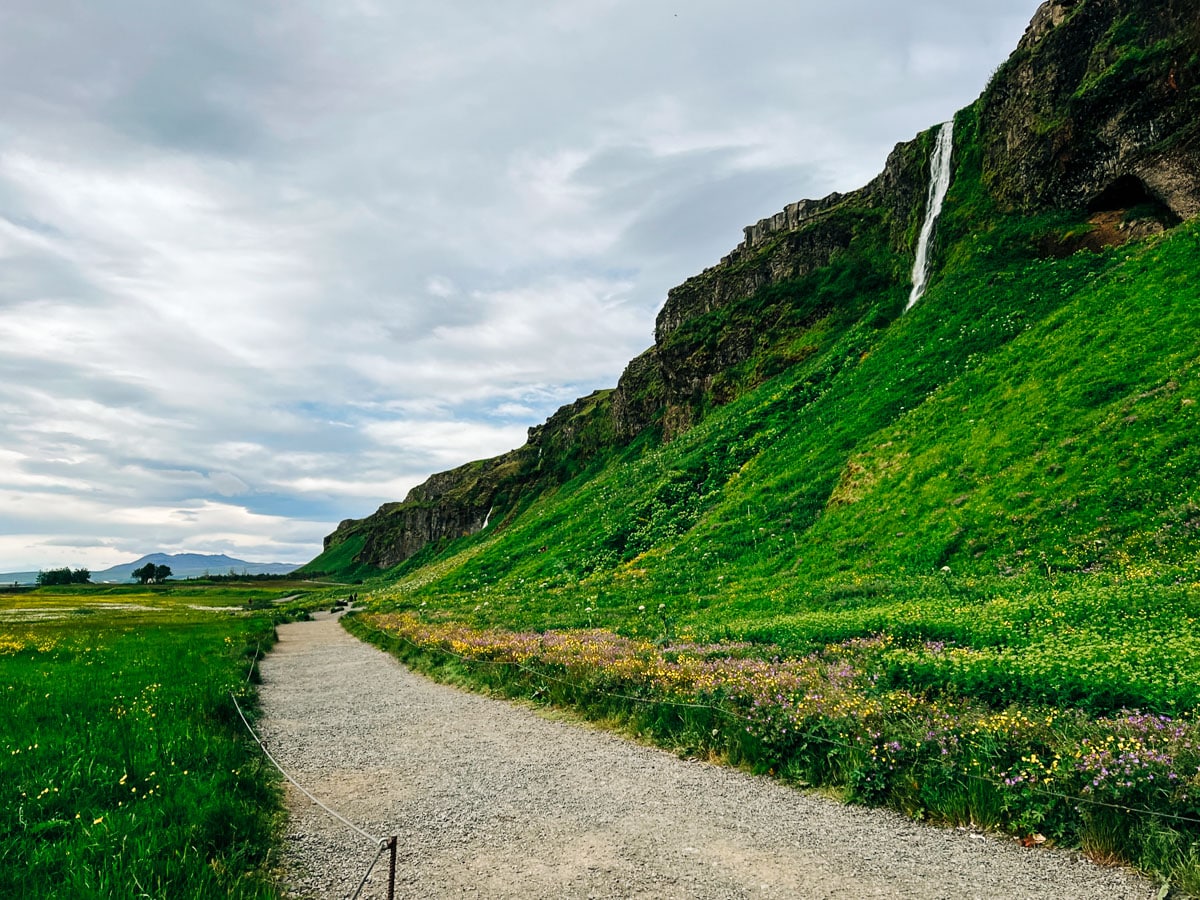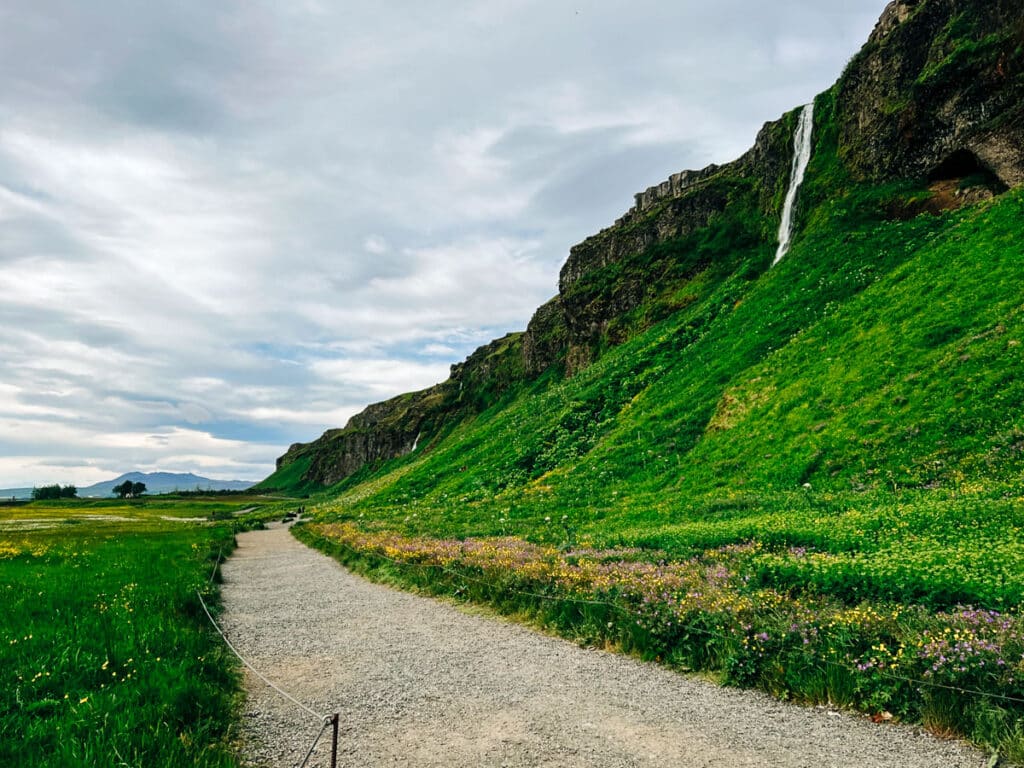 Of course, since its not visible from the parking area and requires more of a walk to get to, most tourists skip this little gem. But if you are keen on the short hike, it only takes 10-15 minutes to reach it!
If you're looking at Seljalandsfoss from the parking area, take the pathway to the left and you will see this trail. Follow that to get to the hidden waterfall!
How much time do I need at Seljalandsfoss?
Plan on spending about one hour exploring Seljalandsfoss Waterfall!
Location & Hours
Seljalandsfoss is located on Iceland's South Coast. It's about 2 hours from Reykjavik and about 45 minutes from the famous Golden Circle. Here is a map of its location.
Parking & Fees
There is no fee to view the waterfall, but there is a parking fee of 800 ISK, which you can pay on the machines in the parking lot. There is large parking lot with plenty of space.
Other Things to Know
There is a small gift shop here, as well as a food stand with sandwiches, pastries, and coffee. There are also restrooms available.
Note that the pathway behind the waterfall can sometimes be closed in the winter due to ice, or if it is simply too slippery to access safely.
I mentioned above that you will get wet if you walk up to or behind the waterfall. But seriously – you will get wet. Make sure electronics like your phone or camera are covered. And wear waterproof jacket and pants if possible.
Seljalandsfoss is one of the most popular tourist attractions on the south coast, so go early or late if you want to beat the tour bus crowds.
What did we think of Seljalandsfoss?
We absolutely loved this waterfall! Yes, it's a very popular tourist spot so there were crowds. But where else are you going to get a chance to walk behind a massive waterfall? It was truly amazing and one of our favorite places on the South Coast.
If you love this spot as well, you should also consider visiting Kvernufoss Waterfall. It's a smaller and less popular waterfall that you can also walk behind, and we found it even more charming than this one!
More Iceland Trip Planning Resources
If you're planning the ultimate trip to Iceland, be sure to check out these other helpful articles: