If you're planning a trip to Iceland's famous South Coast, you can't miss the famous Skogafoss Waterfall. Here's our complete guide to visiting this popular attraction.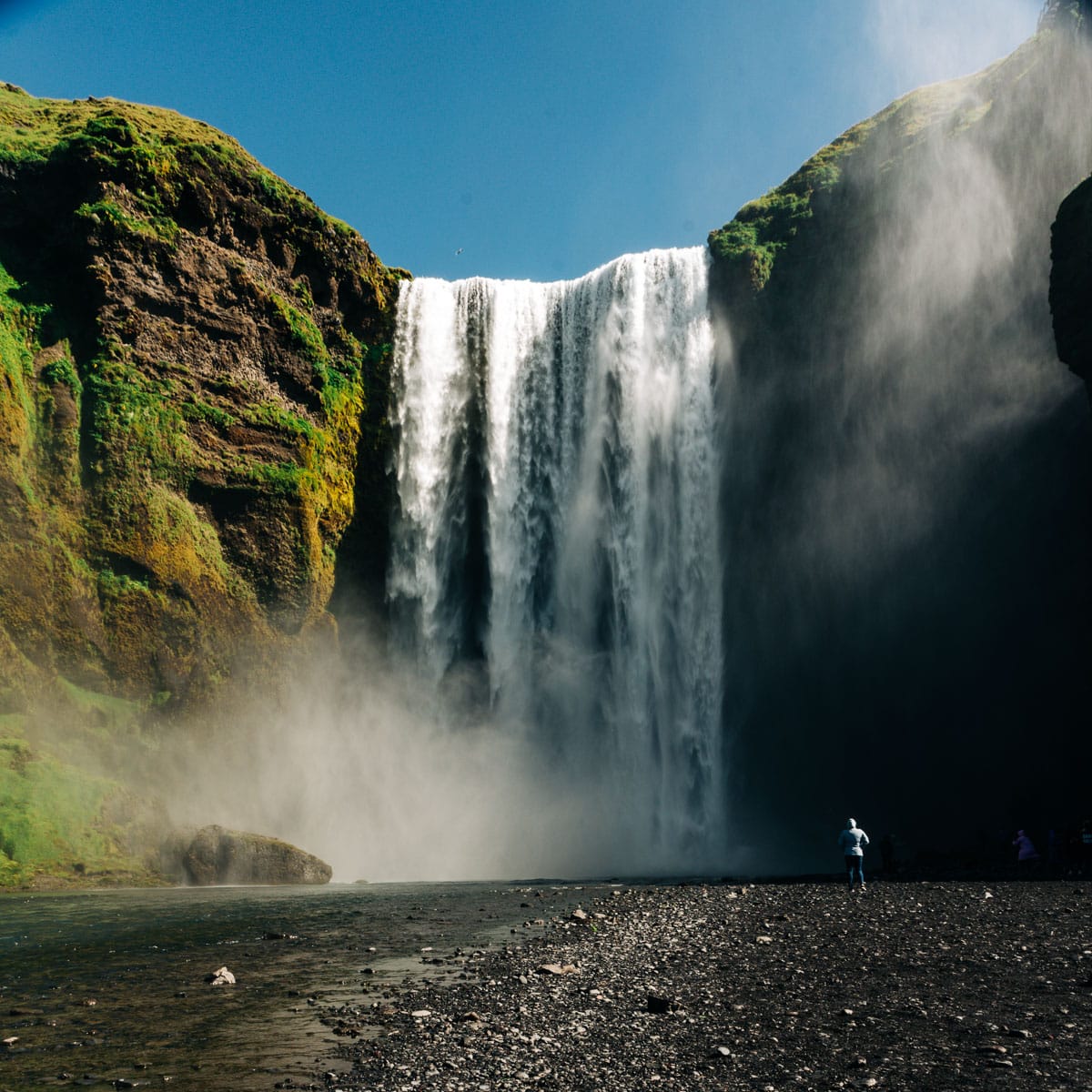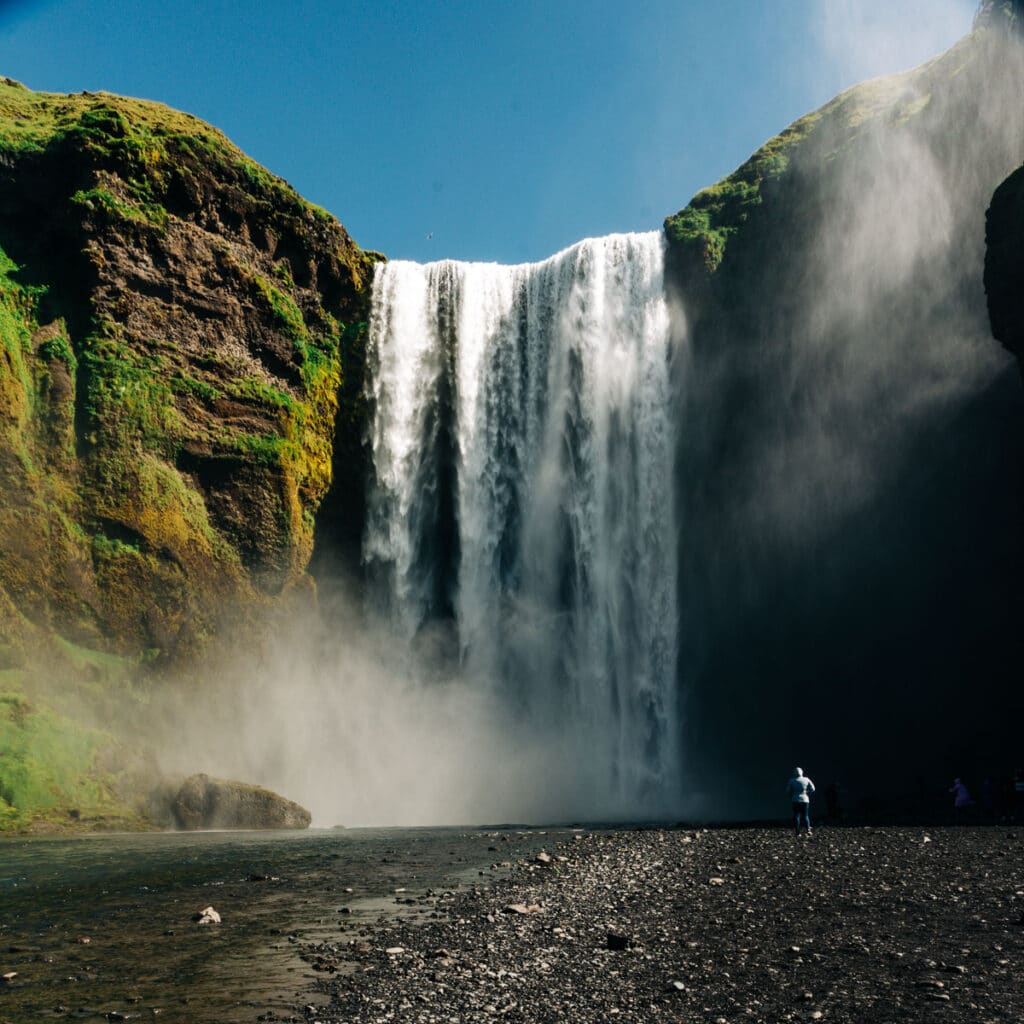 About Skogafass Waterfall
Skógafoss Waterfall is one of the largest waterfalls in Iceland, with a massive 200 foot drop. It's a geologically important waterfall as well, as it marks what used to be Iceland's coastline. As the coast receded, the falls were formed and it now separates Iceland's lush highlands from the coast.
It's also super famous in pop culture, having appeared in Thor and Game of Thrones! Which is probably one of the reasons it has become so incredibly popular as a tourist attraction as well.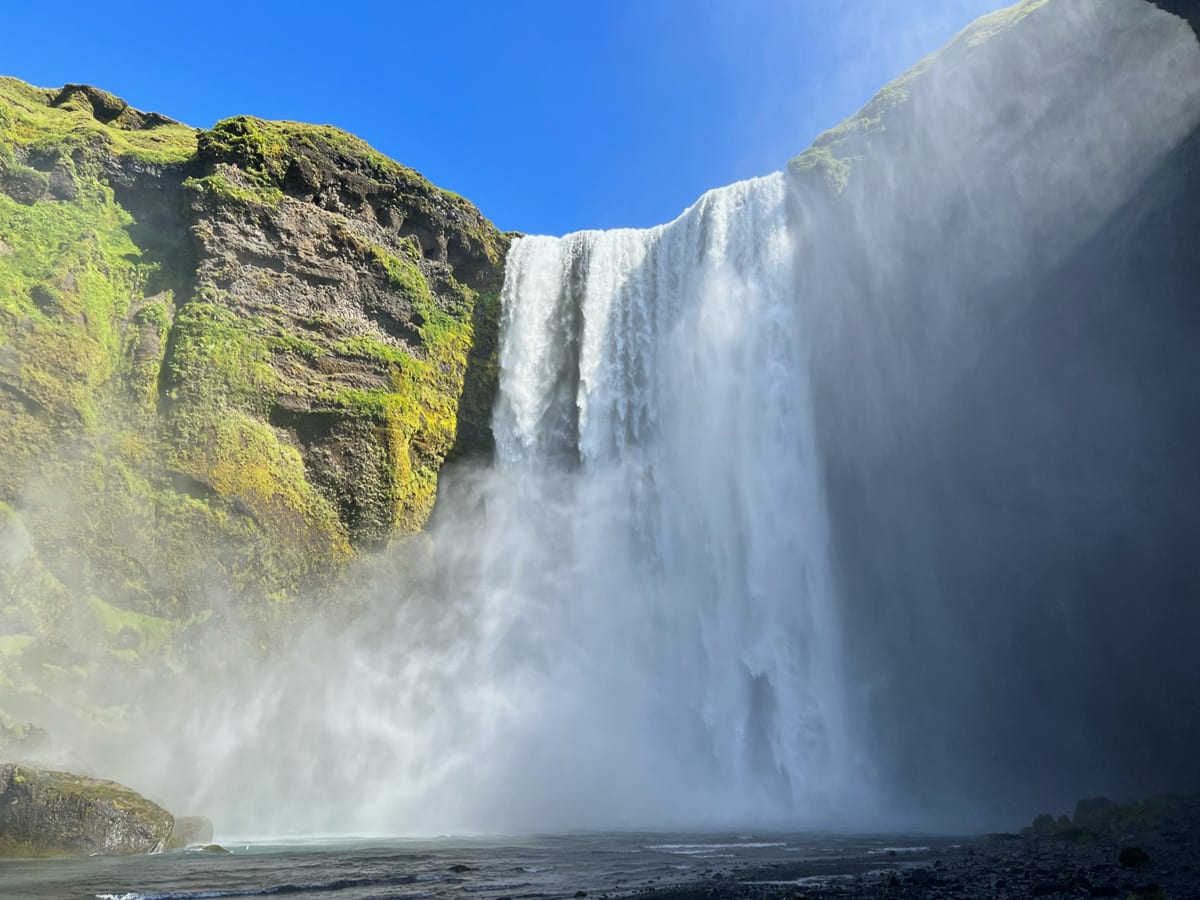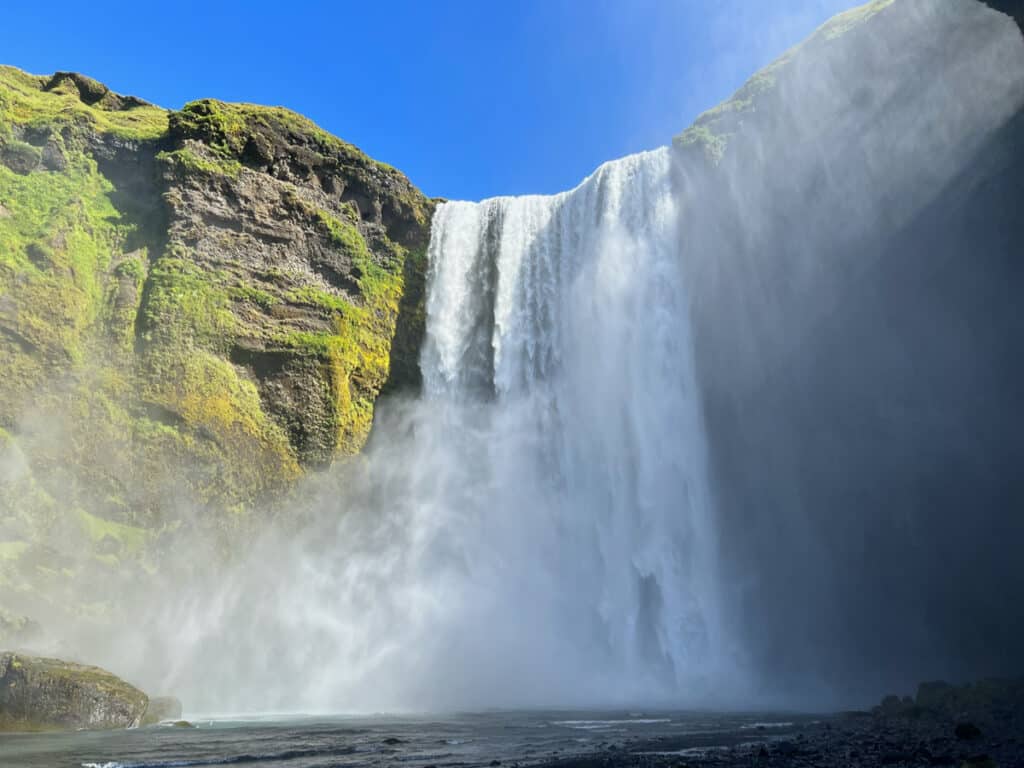 Visiting Skogafoss
Now you can make Skógafoss a quick stop if you choose, as it's easily viewable from just outside the parking area. But if you have the time, it's definitely worth spending some extra time here.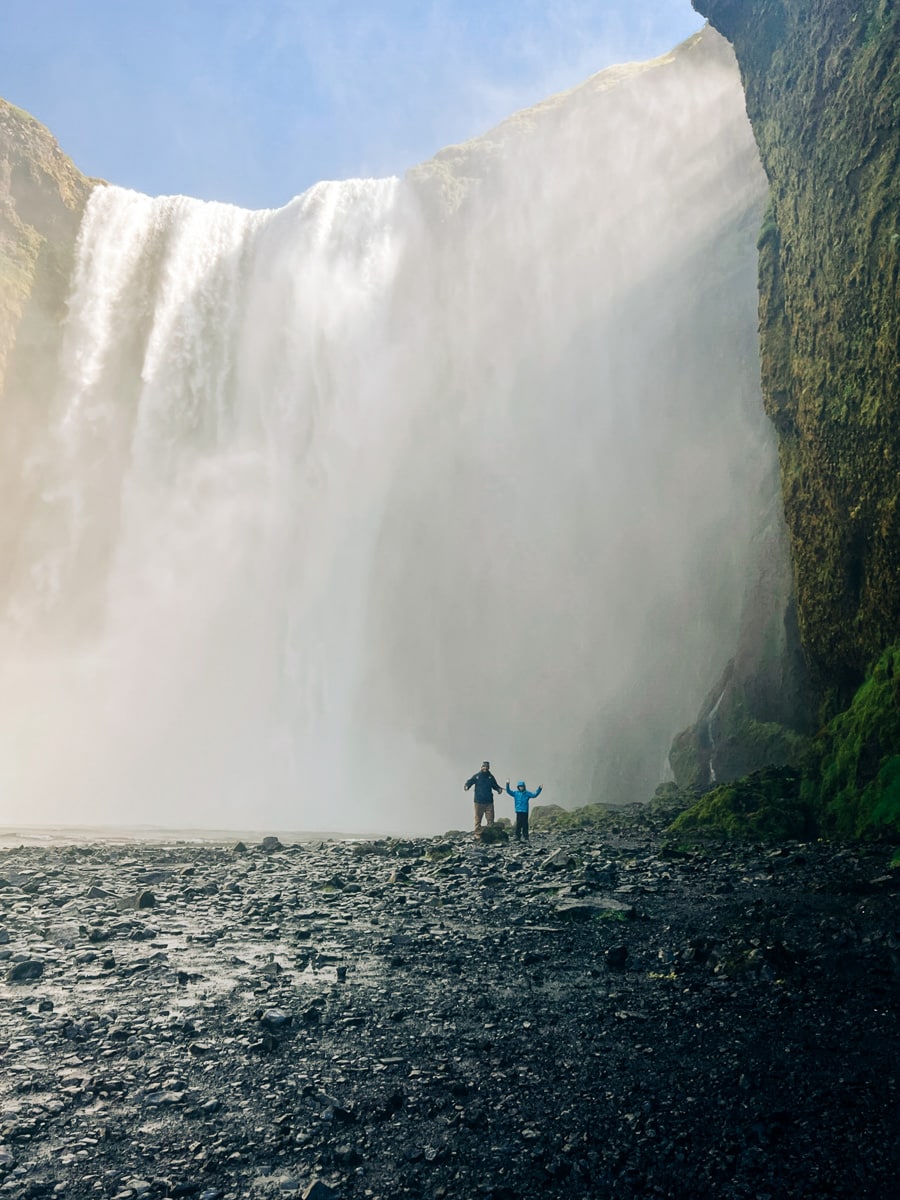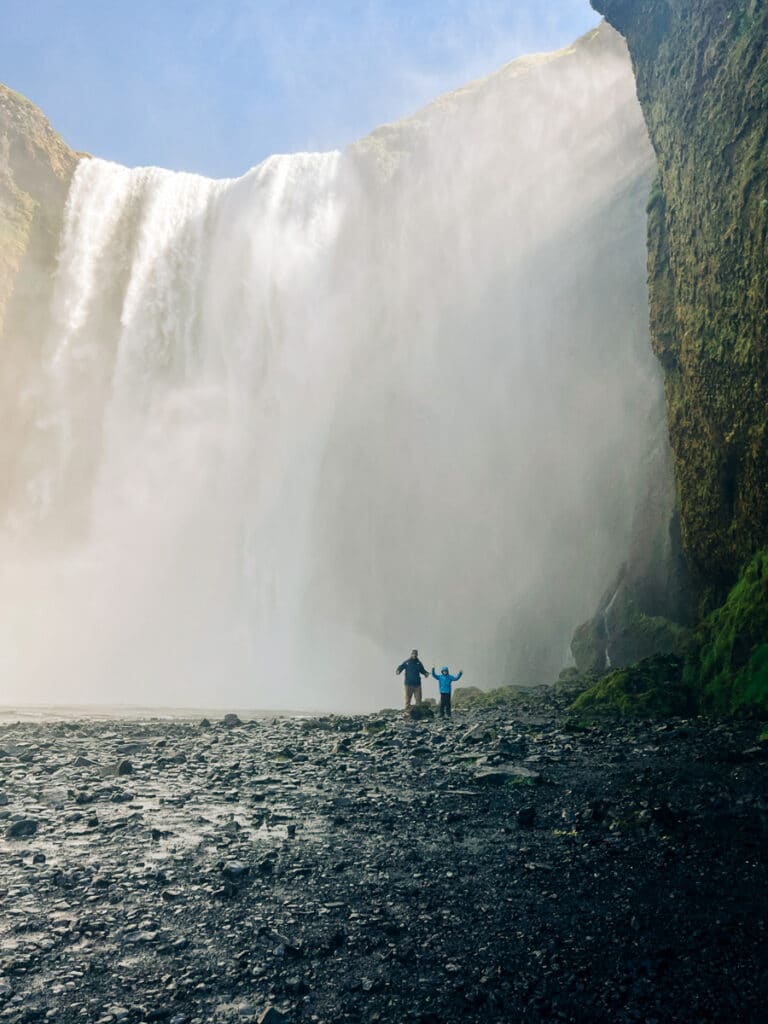 You can't walk behind this waterfall like you can at Seljalandsfoss and nearby Kvernufoss, but you can get pretty close to it. Be warned that you will get very wet if you walk up close to the waterfall as the strong winds carry the overspray pretty far! You will definitely want to wear waterproof pants and a waterproof jacket – see my Iceland packing list for recommendations.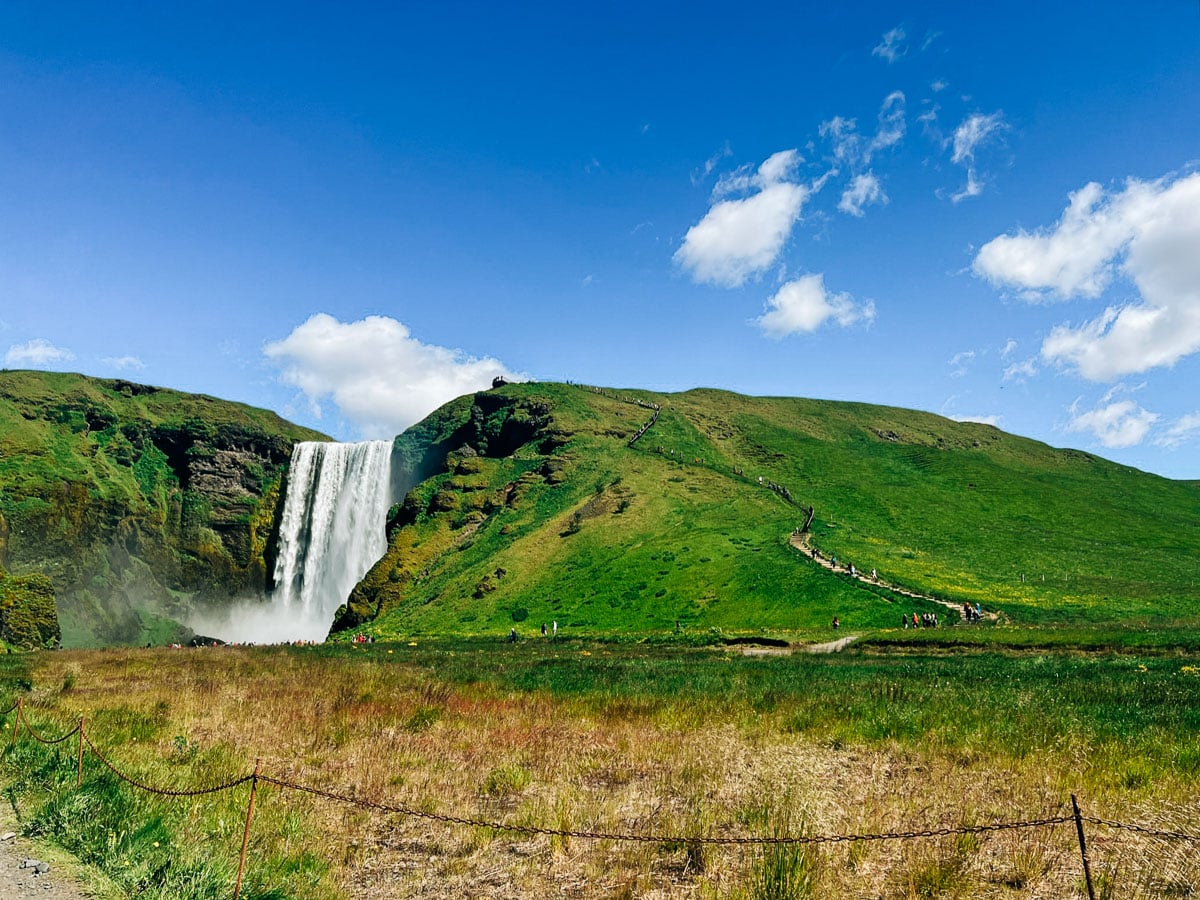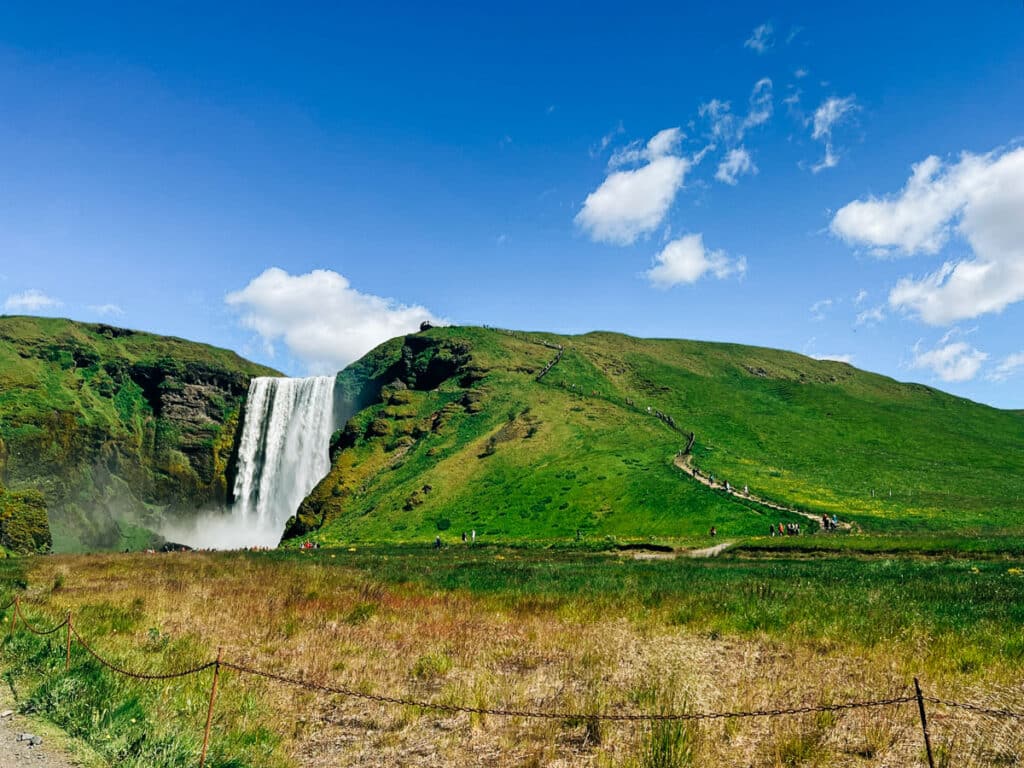 There's also an option to hike up the steep staircase to the top of the waterfall, where there is a viewing platform to see the waterfall from above. It's a very steep hike up, but it is on a metal staircase so very do-able for most people.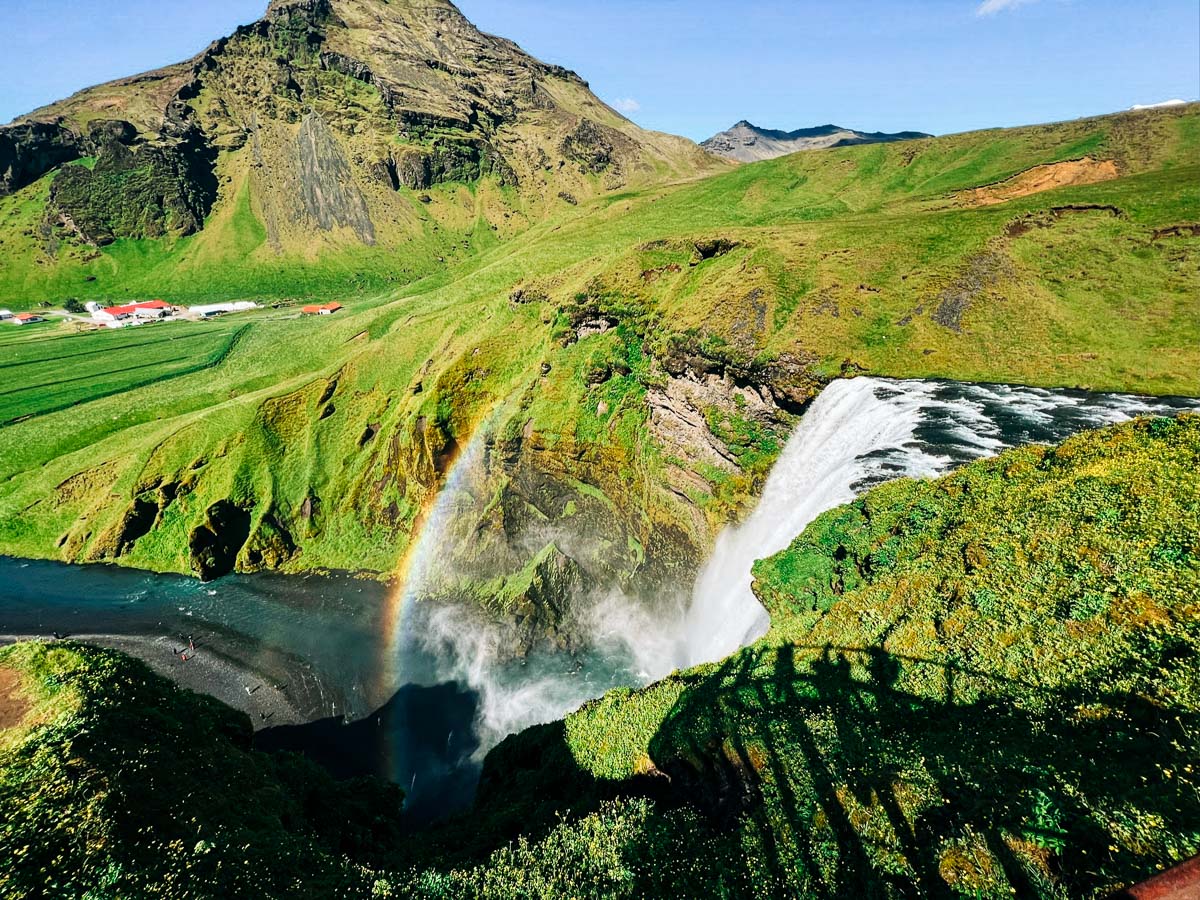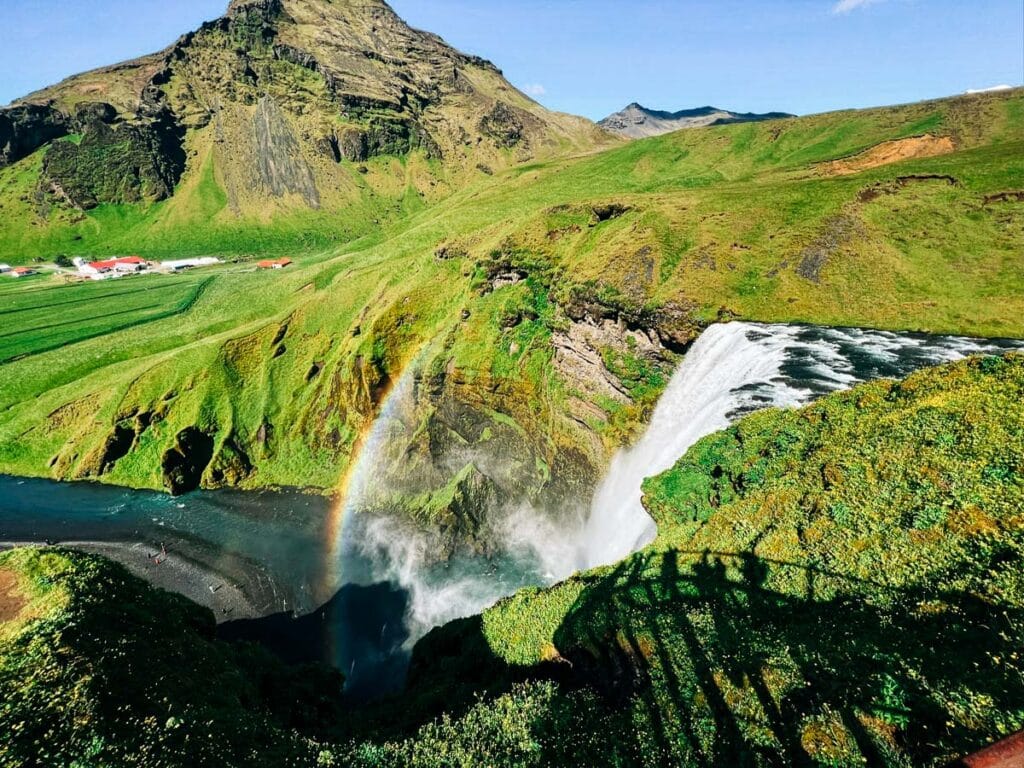 Hiking Waterfall Way
And if you're feeling really ambitious, the top of that staircase is also the start of a wonderful hiking trail. It is officially called Skoga Trail – but you will also hear it referred to as the Skogafoss Waterfall Hike or Waterfall Way. I like the latter!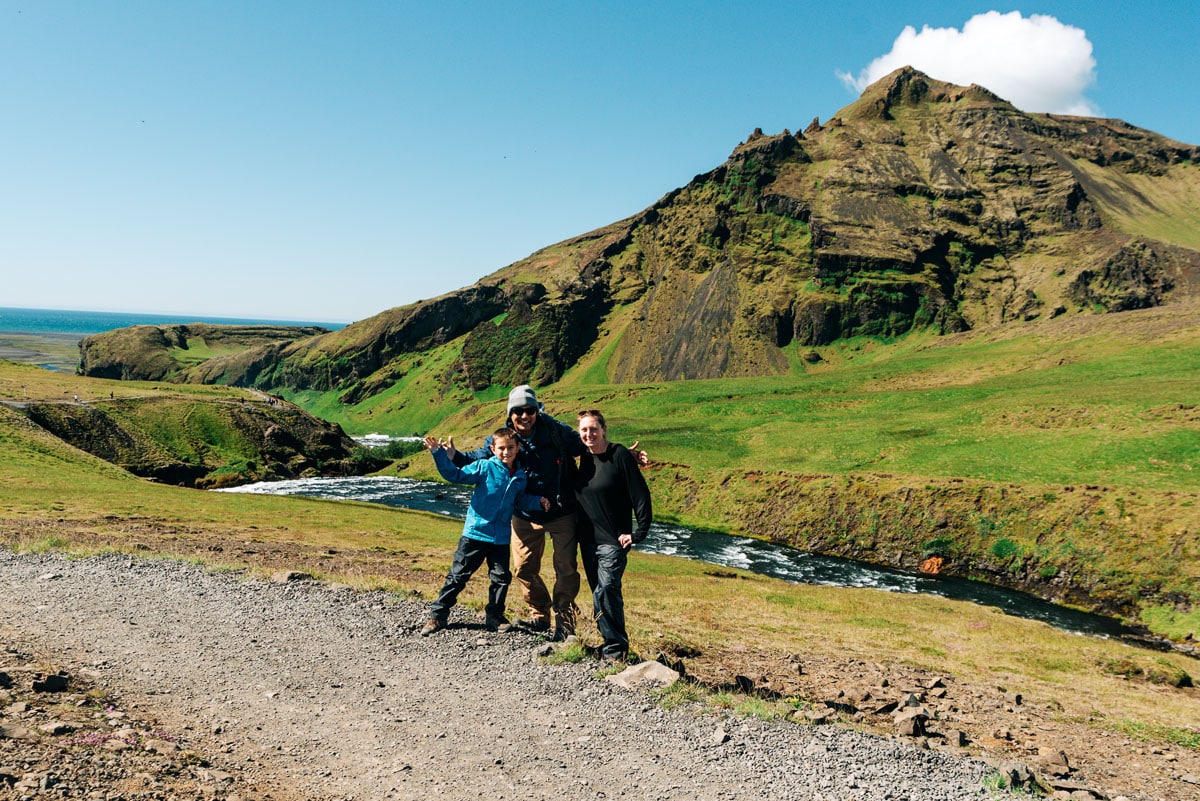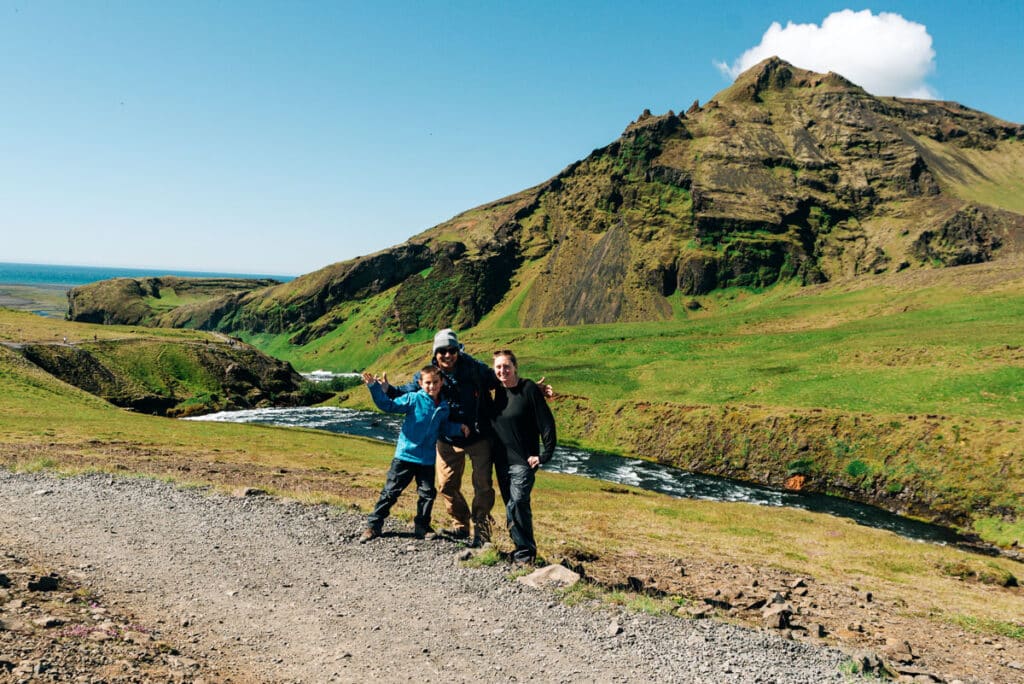 The full trail is approximately 5 miles (8km) long – or 10 miles round trip – and takes you past 25 more breathtaking waterfalls. Hence the nickname, Waterfall Way.
Of course, you don't have to hike the full trail. We climbed the staircase and then hiked just about a half mile or so into the trail to catch a glimpse of the next waterfall and enjoy the beautiful scenery and view of the volcanic glacier in the distance.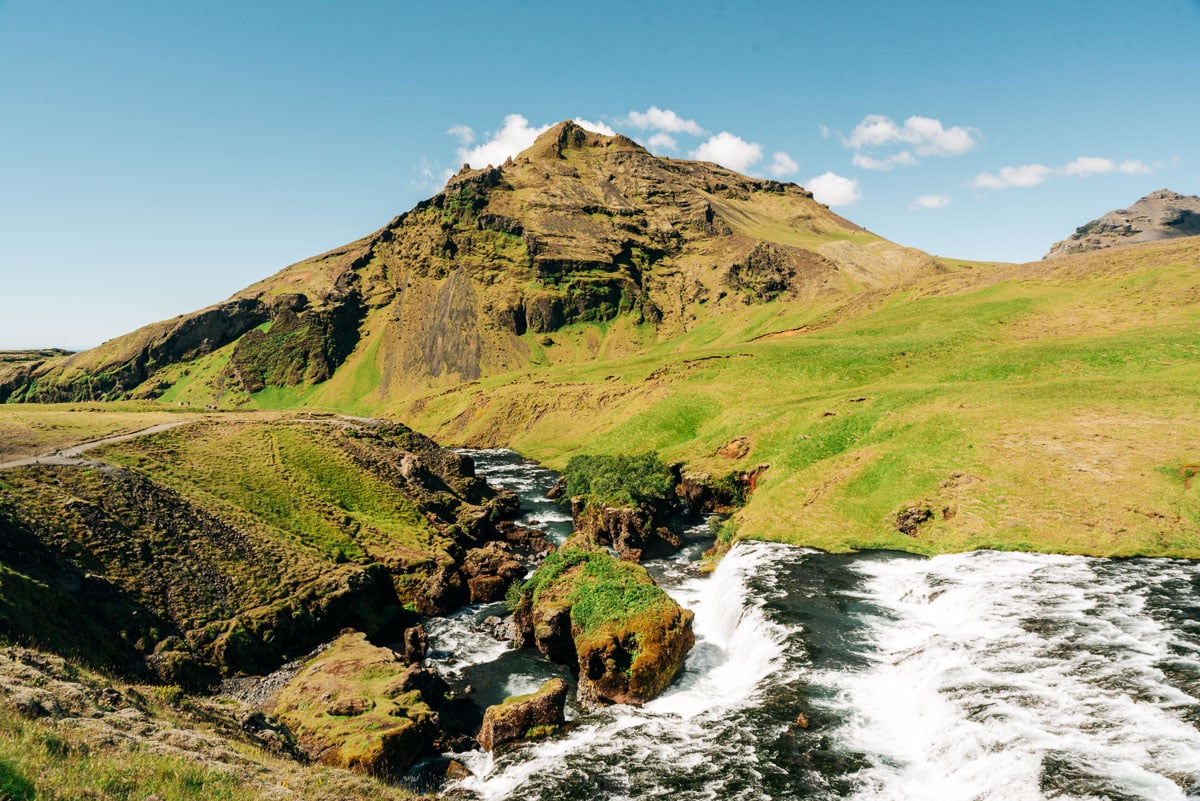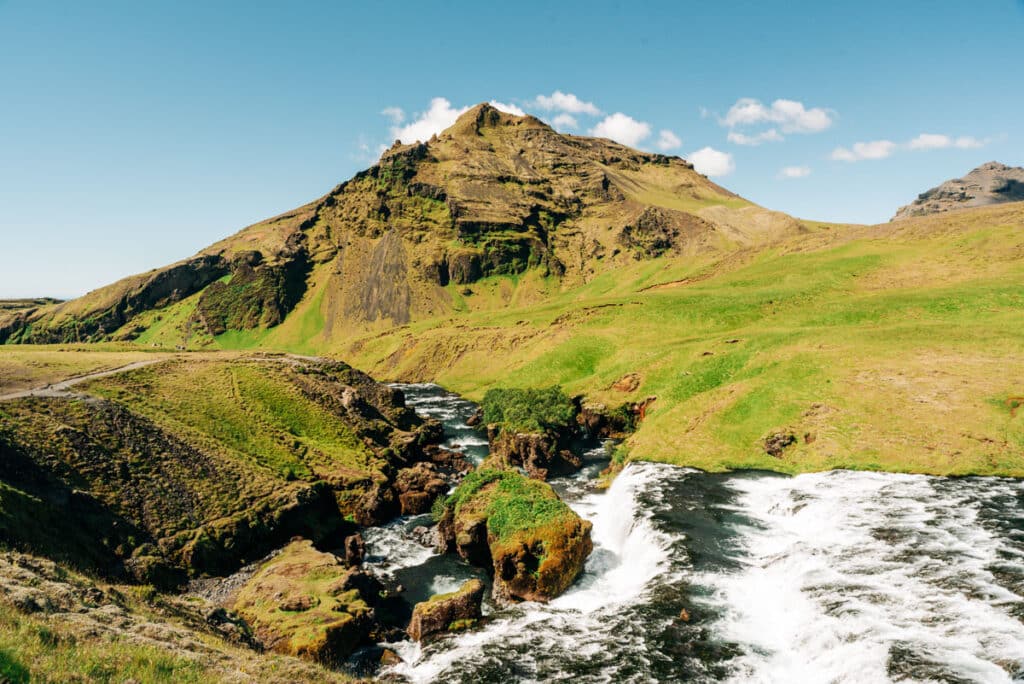 How much time do I need to visit Skogafoss Waterfall?
Plan to spend about one hour exploring Skogafoss Waterfall, including a climb to the upper viewing platform.
Of course, you could spend a full day if you opt to hike the entire Skoga Trail. Or you could simply step out from the parking lot for a peek and move on.
Location
Skogafoss Waterfall is located in the village of Skogar on Iceland's South Coast. It's about 30 minutes west of the town of Vik, or a 2 hour drive from Reykjavik.
Hours
Skogafoss Waterfall is open to visitors 24/7.
Fees & Parking
Free! There are no fees to visit Skogafoss, and no fee to park in the large parking area either.
Restrooms
There are restrooms available near the parking area, but you do have to pay a small fee to use them.
Where to Eat at Skogafoss
There are no concessions available at Skogafoss Waterfall, but the adjacent Skogafoss Hotel has a restaurant where you can grab a bite to eat. The popular Mia's Fish & Chips food truck is also close by. And there is a small café inside the Skogar Museum as well, just a few minutes up the road.
Where to Stay near Skogafoss
Camping at Skogafoss – One option is to camp right there at the waterfall. There is a large campground adjacent to the parking lot where you tent camp or park a camper van overnight. There is a small fee, but you don't need to book in advance. Campsites are first come, first serve.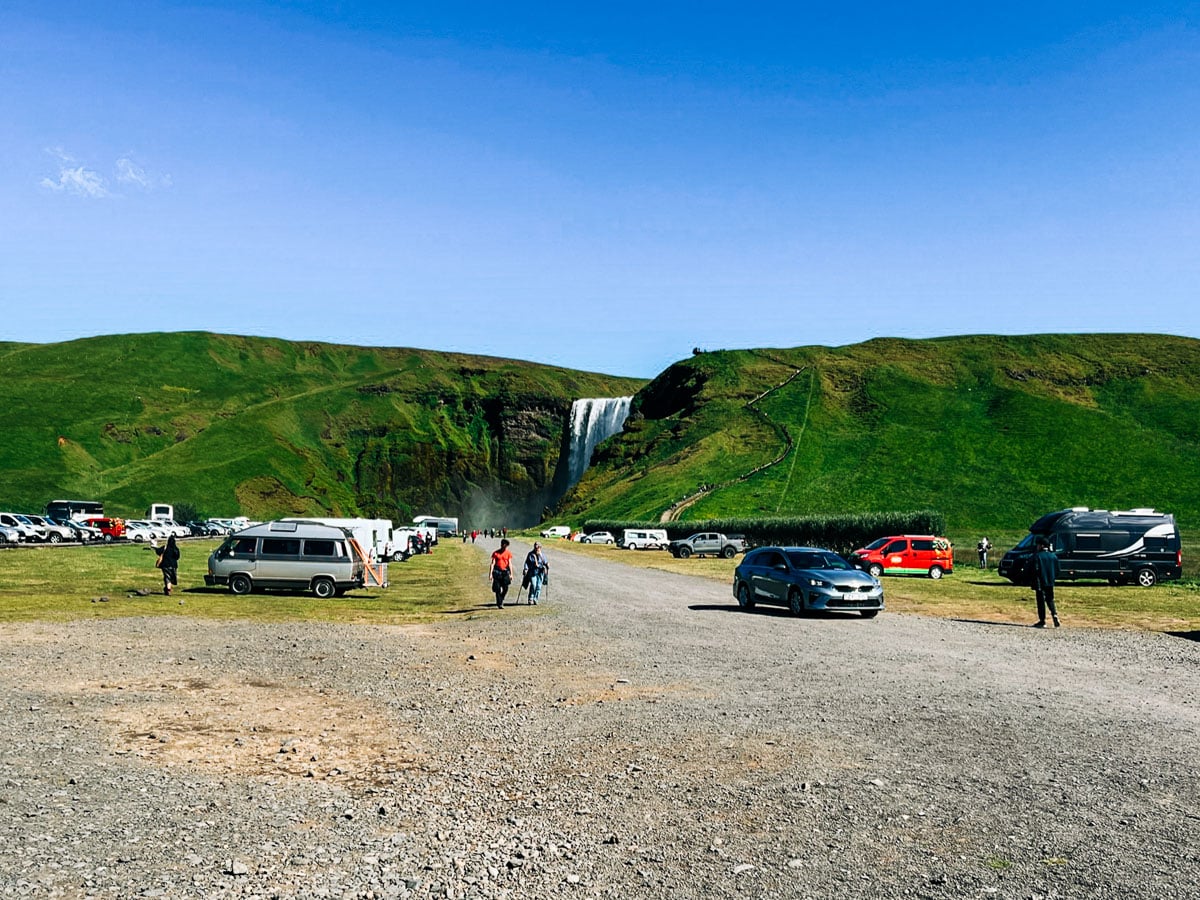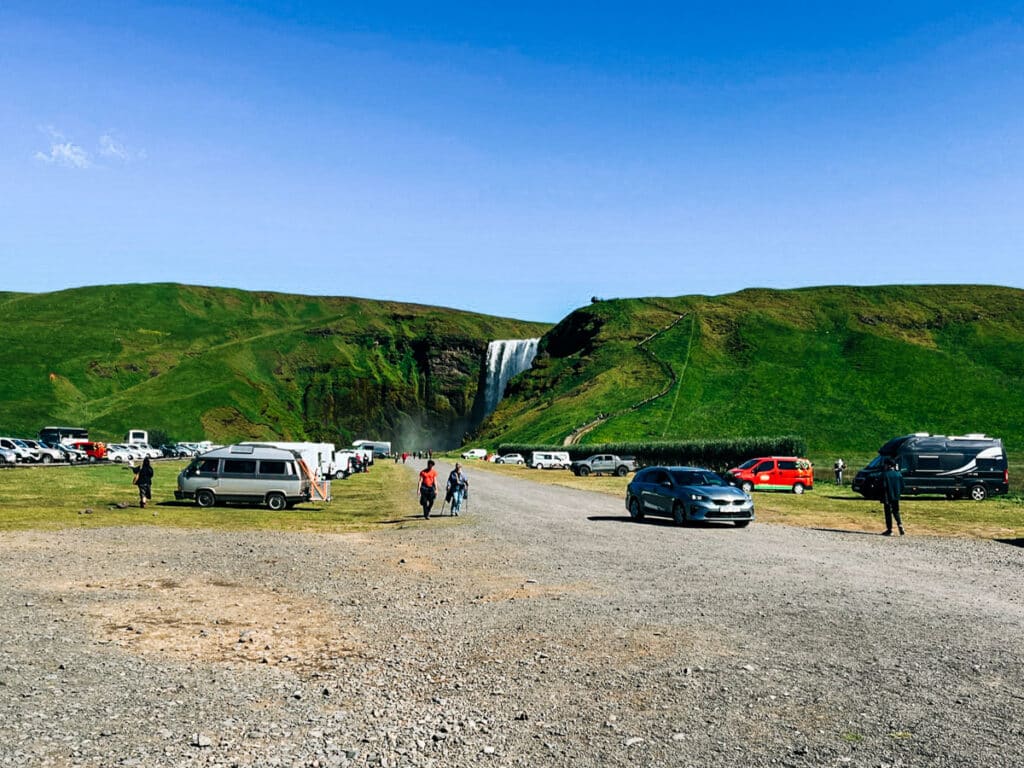 Hotel Skogafoss – The closest hotel to the waterfall is Hotel Skogafoss, which is literally next to the parking area for Skogafoss Waterfall. If viewing the waterfall in very early or late hours, without other tourist around, is a priority – than staying this close to the waterfall can be a great option. It's a relatively affordable, few frills choice.
Umi Hotel – For a higher end choice, consider Umi Hotel just 15 minutes west of Skogafoss. We stayed at this beautiful property ourselves, and loved their restaurant and access to a gorgeous black sand beach. It was a great base for exploring Seljalandsfoss as well, which is just 15 minutes in the other direction.
Vik – Head 30 minutes east to the town of Vik and you will find many more hotel options, as well as a small town with some great restaurants and convenient shops We stayed at both Black Beach Suites and Hotel Kria during our stay, and enjoyed both immensely.
More Nearby Attractions
If you're in the Skogafoss area, there are a couple more attractions withing a few minutes drive that you should check out as well:
Skogar Museum – This small museum complex houses a collection of 18,000 regional artifacts and a model turf house village showing the way ancient Icelanders lived. Very interesting place, and the village is especially fun to explore.
Kvernufoss Waterfall – This is another beautiful, but much less visited, waterfall. It's just a short hike from the Skogar Museum and is absolutely worth the effort. You'll likely share this place with only a few other groups, so it feels very special. And you can walk behind it as well!
More Iceland Trip Planning Resources
If you're planning the ultimate trip to Iceland, be sure to check out these other helpful articles: