If you're planning to visit the very famous Skogafoss Waterfall in Iceland, don't miss out on the other attractions right there in Skogar Village, including the charming Skogar Museum.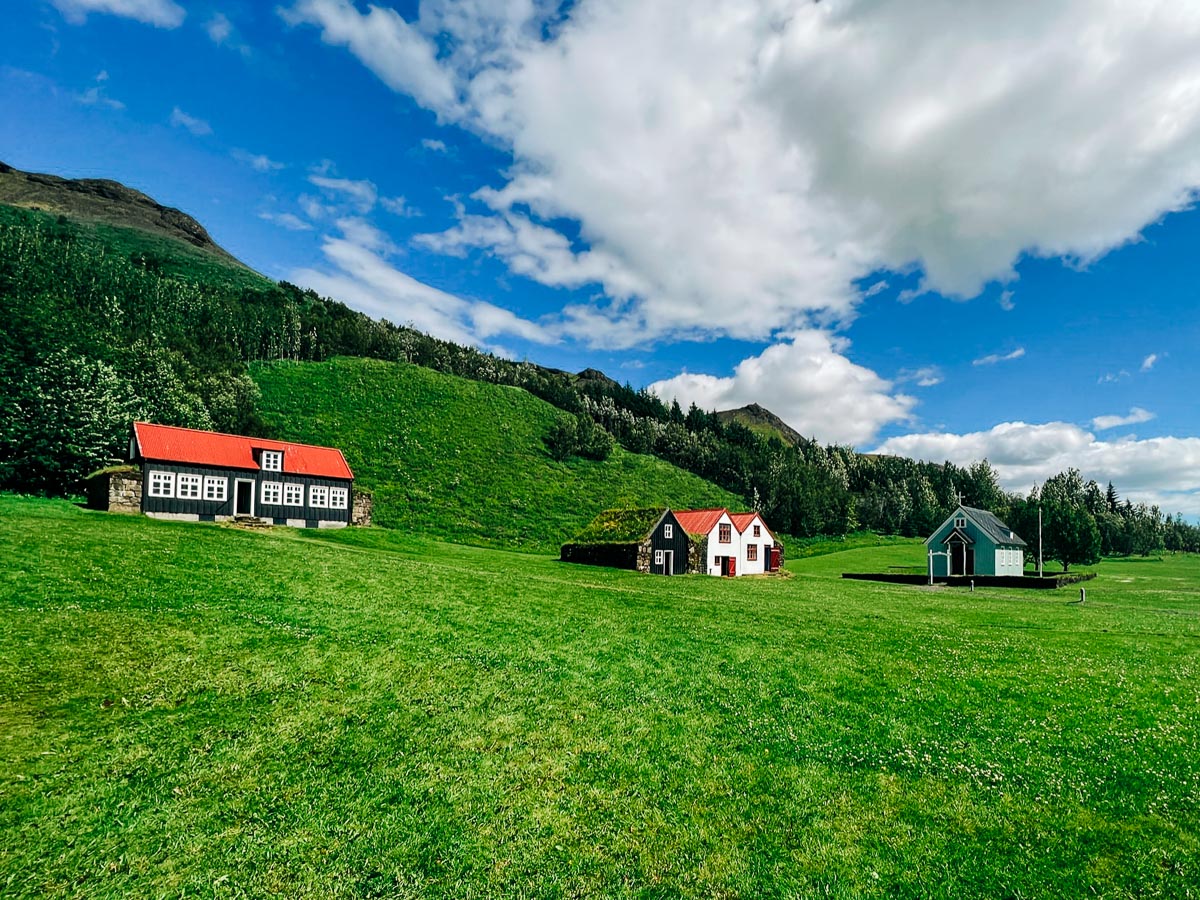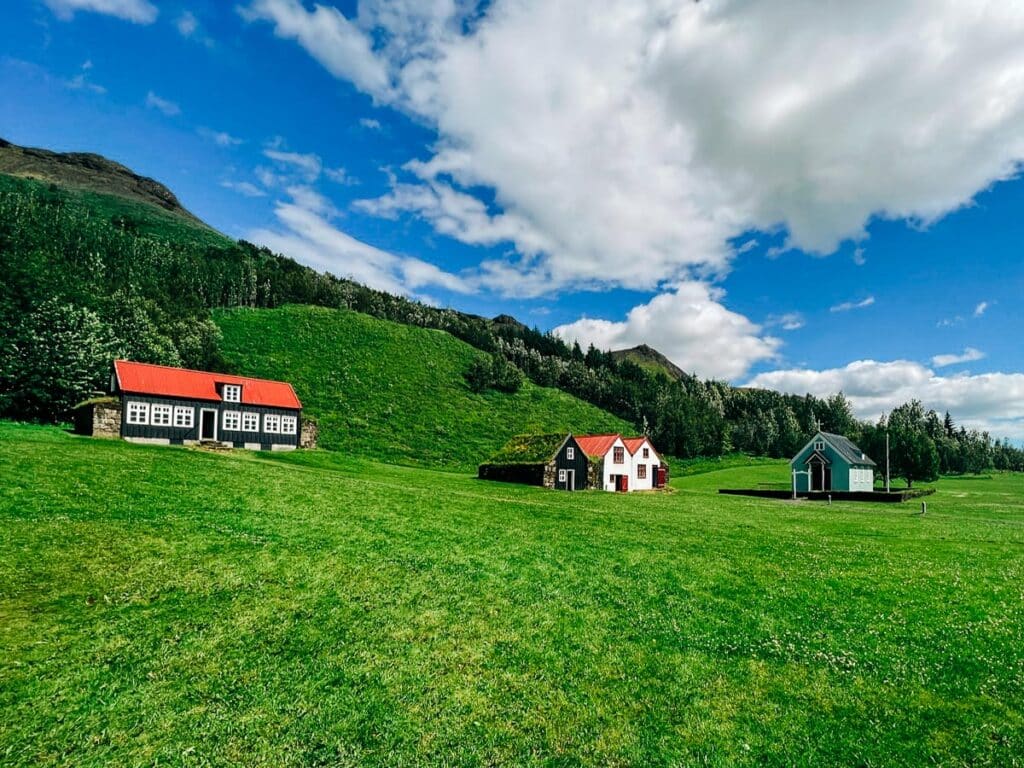 What's at Skogar Museum?
The Skogar Museum opened into 1949 and today consists of three different areas to explore:
The Folk Museum
This building houses over 15,000 artifacts illustrating various aspects of Iceland life throughout history. There is a section devoted entirely to fishing showcasing tools of the trade and even some boats including a fishing boat built in 1855. There's an agriculture section, a collection of folk crafts, and a natural history section that was honestly a little bizarre.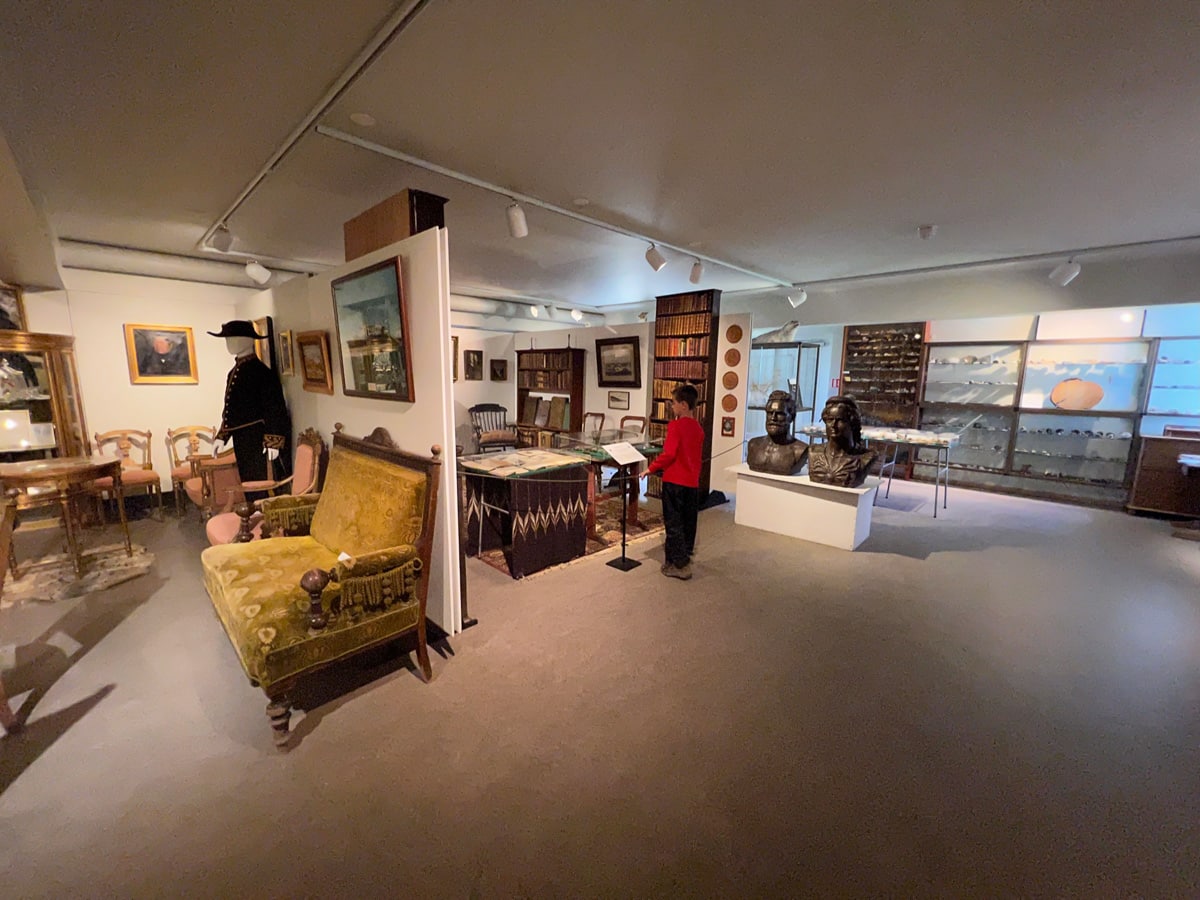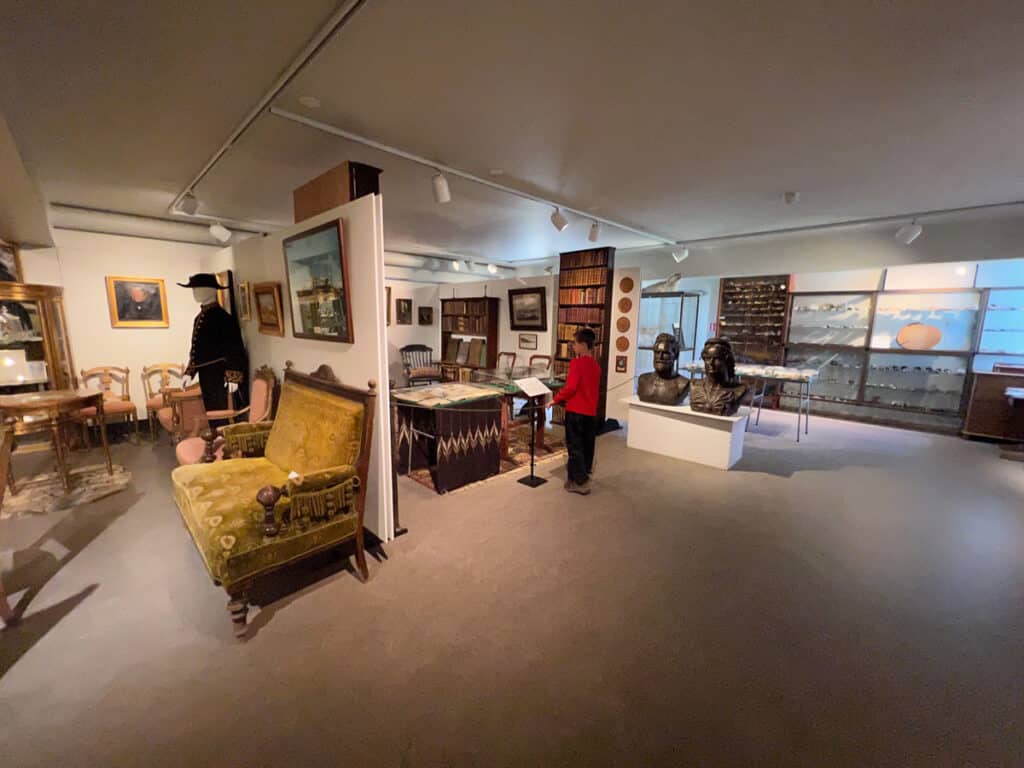 The natural history section contains all kinds of stuffed animals, skeletons, and fossils. There are cabinets full of fossils and tiny skeletons – you can just keep opening up the drawers for a new surprise. Open drawer one and you find lava rocks. Open drawer two and there's a bunch of mice skeletons. Open drawer three and there's a giant fossilized spider. It was like a little house of horrors.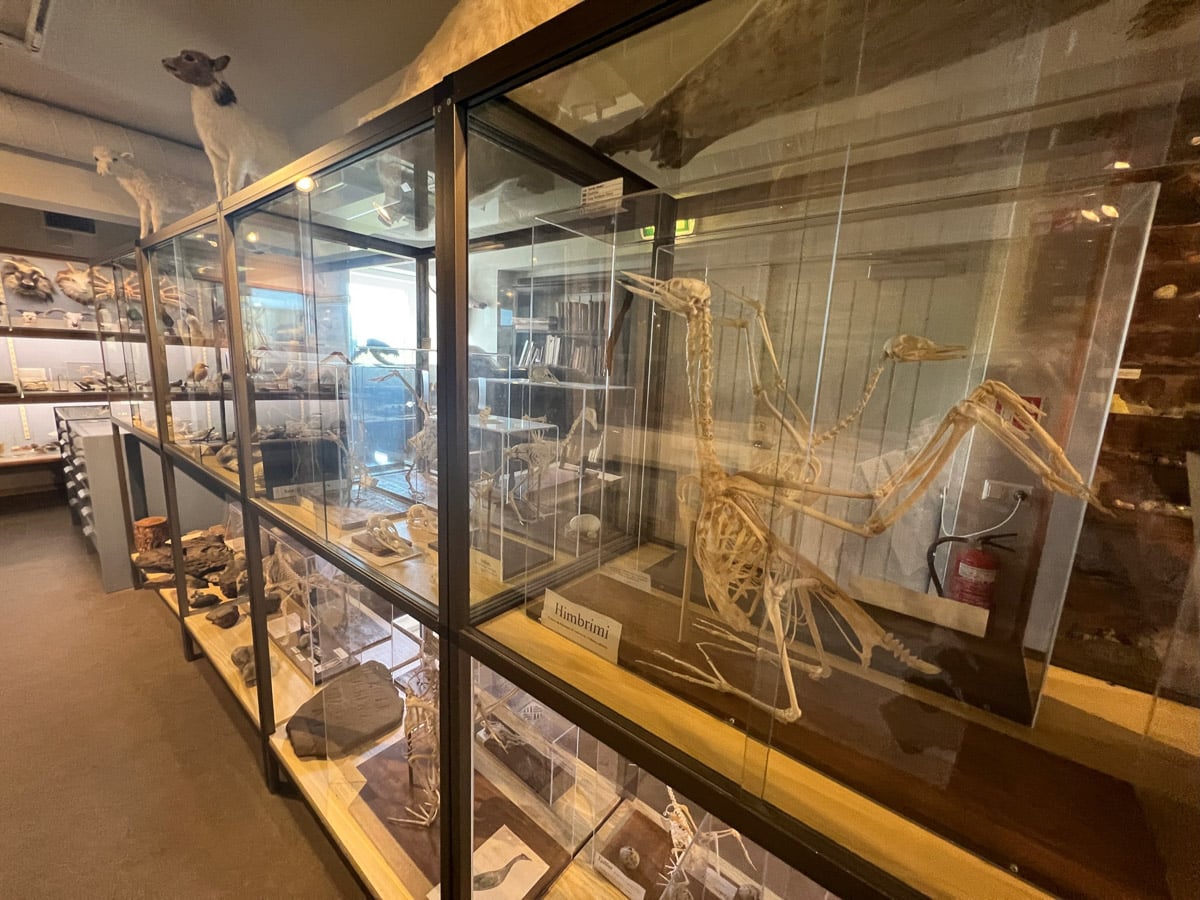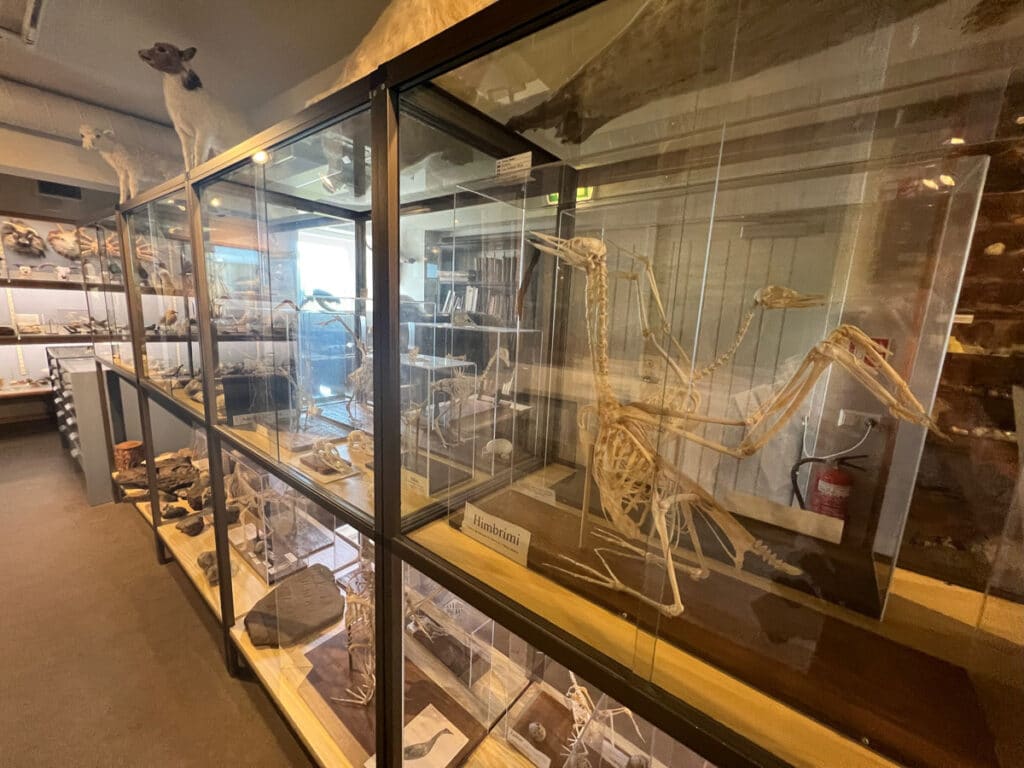 Not my thing necessarily – but if you have the time to explore and an interest in history, this is definitely the place for you.
The Technical Museum
I found this building to be a little more interesting than the Folk Museum. But of course, that's completely subjective. This part of the museum focuses on showing the evolution of transportation and technology throughout the 19th and 20th centuries.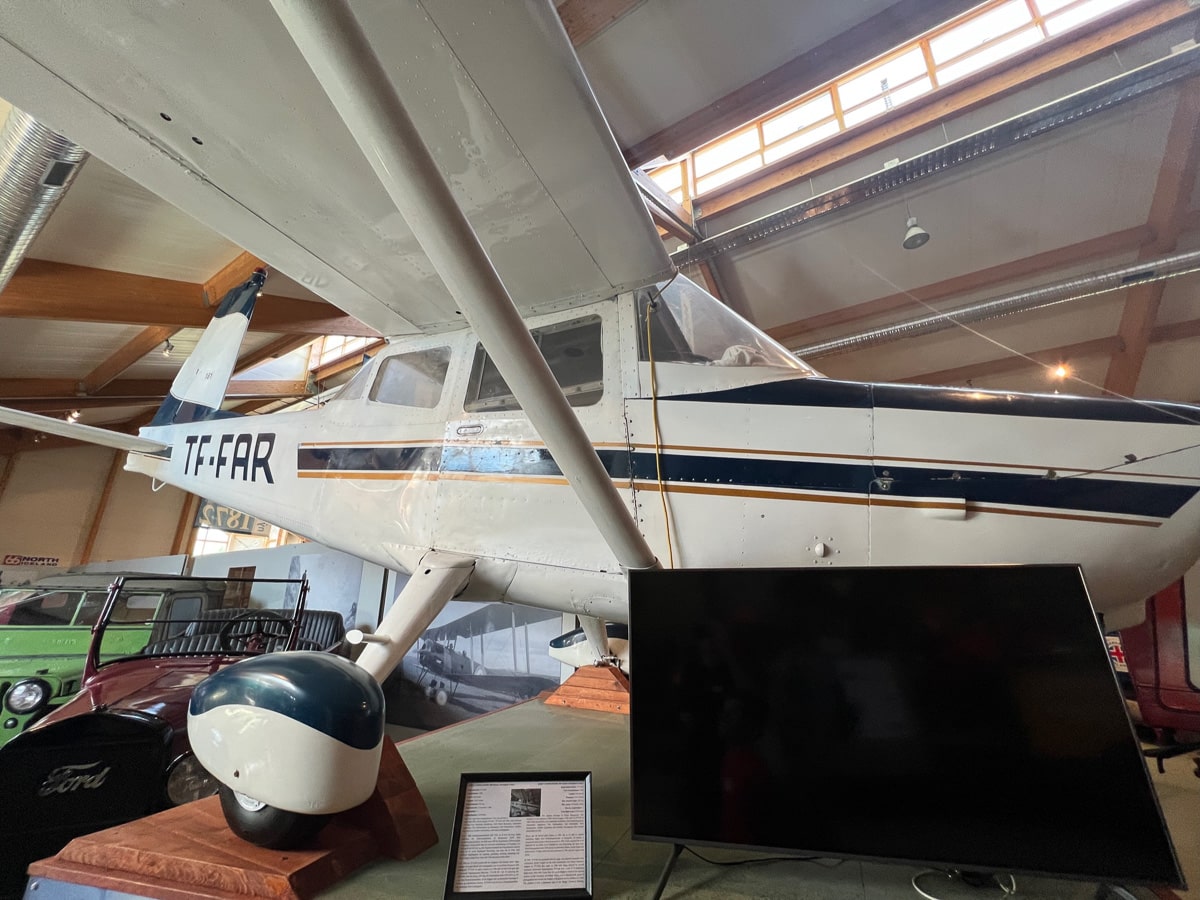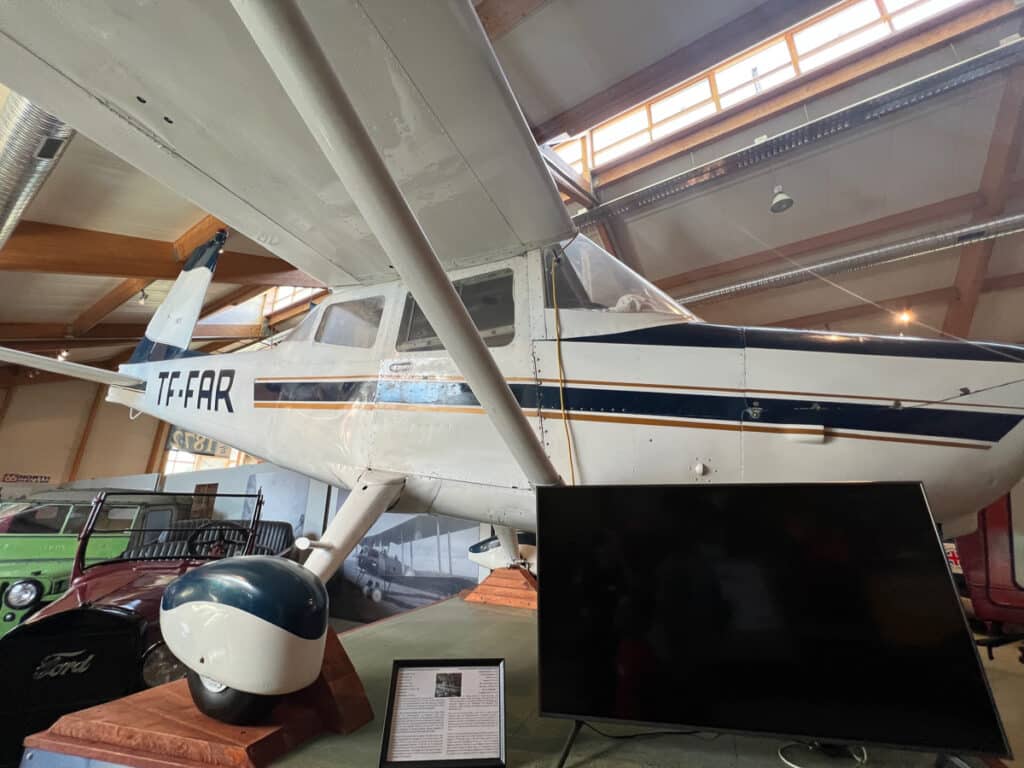 There were some really cool old vehicles in there, including old emergency vehicles and even a small airplane. And there were some interesting exhibits showing how technology like phones evolved throughout the times. I had a good laugh explaining to my son how a rotary phone works and pointing out our old Nokia and Razor flip phones in the cell phone section. :-D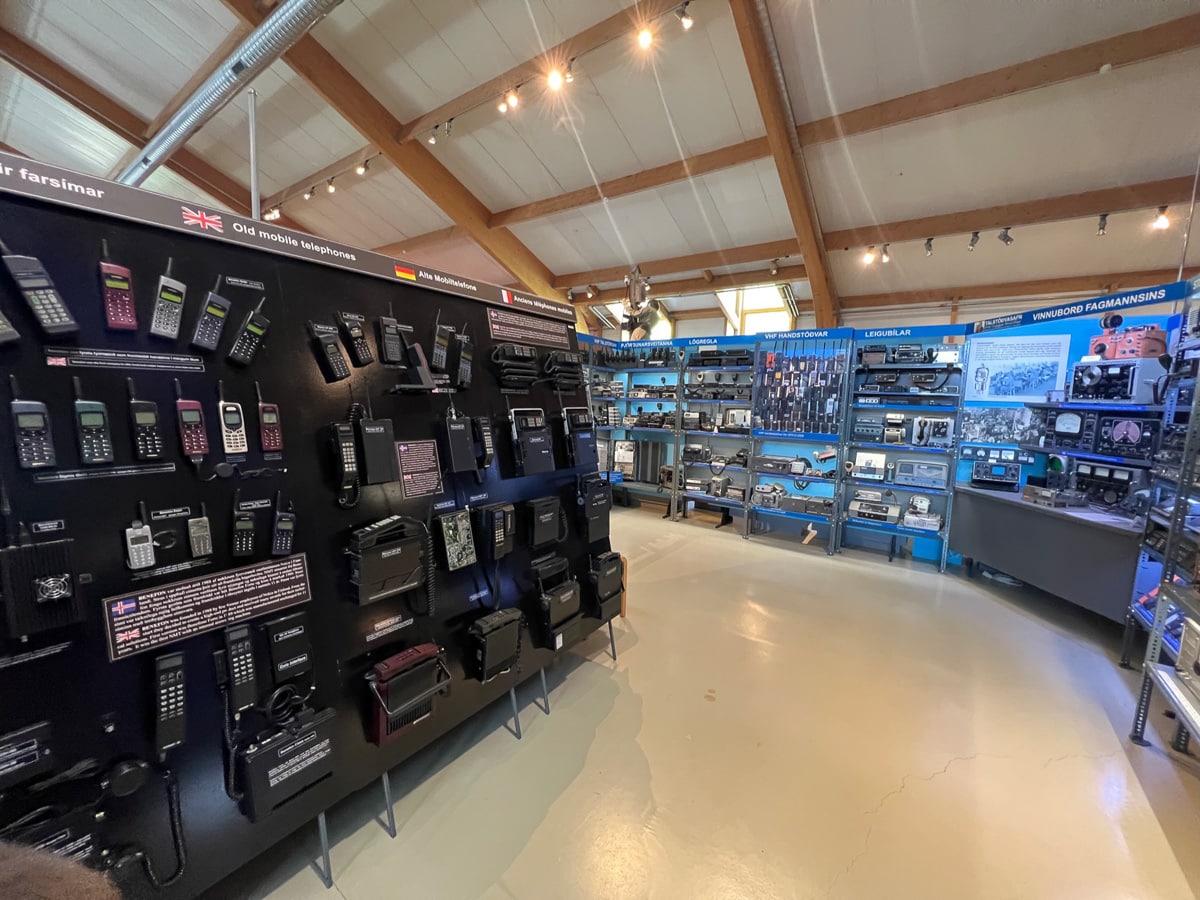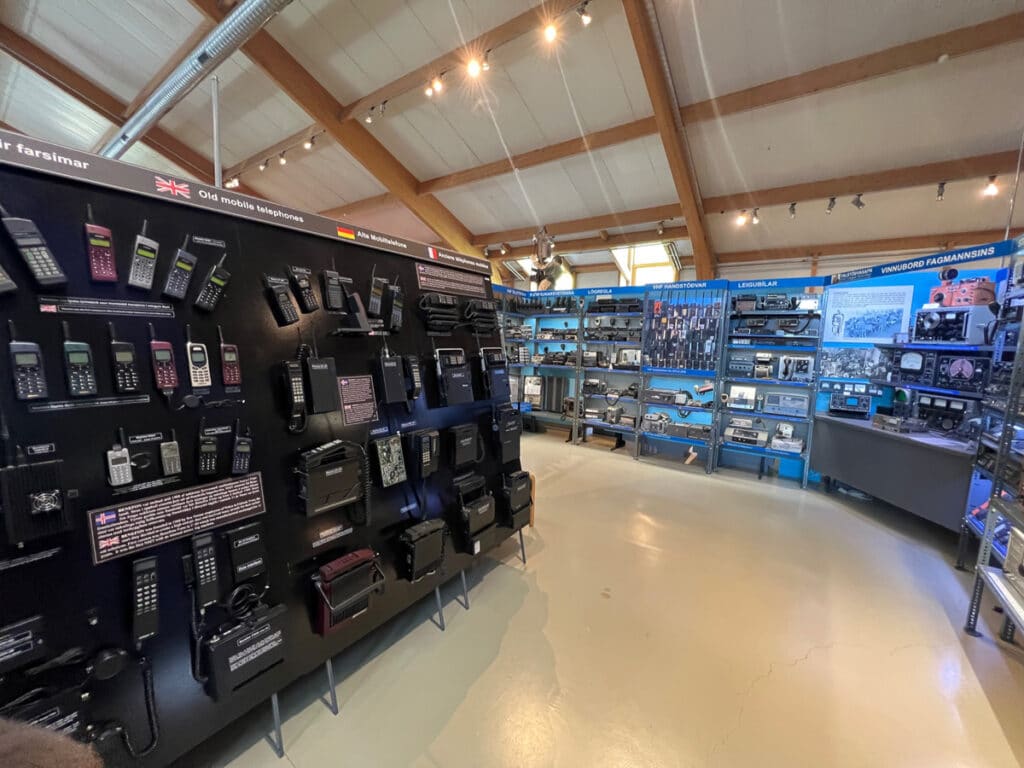 The Open Air Museum
This is the part of the museum that I personally found the most interesting. It's an actual model turf house village where you can explore how Icelanders lived throughout the ages.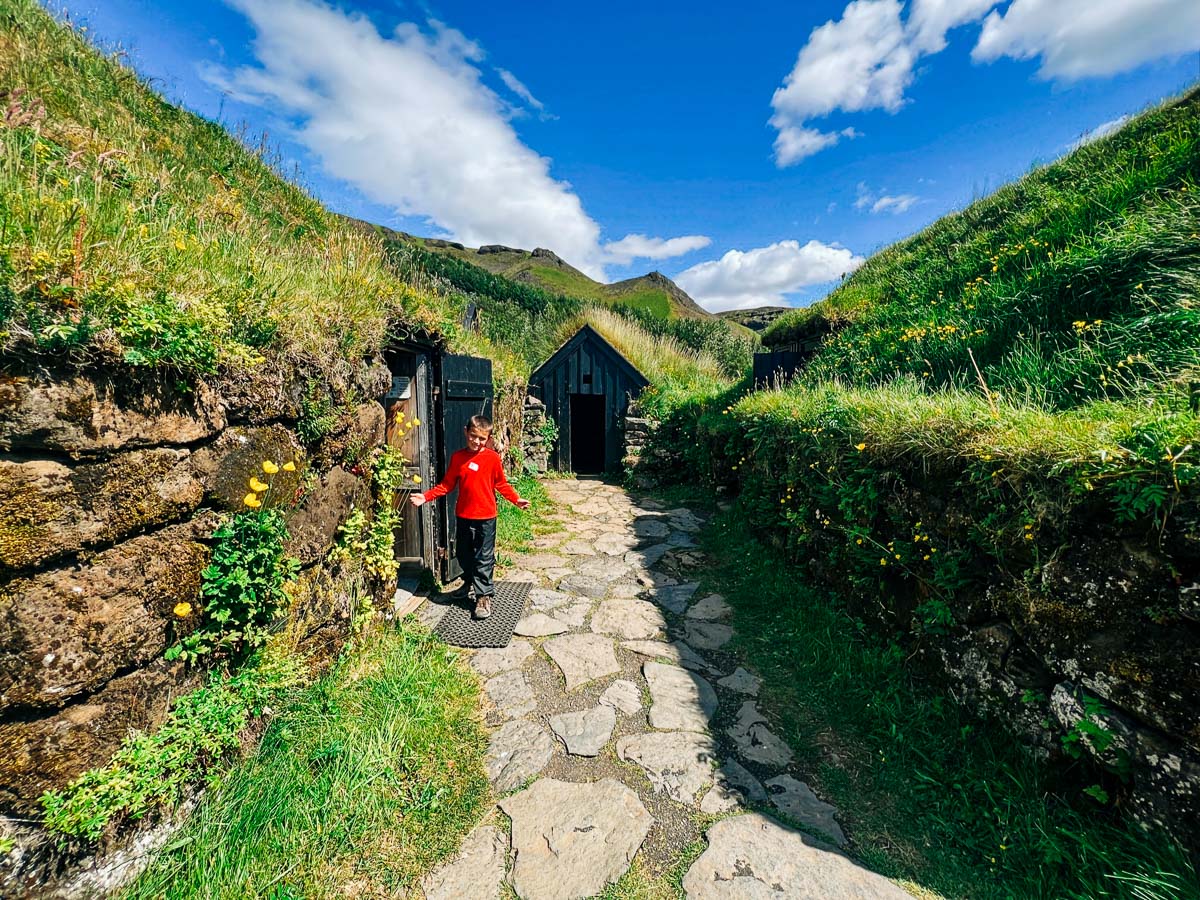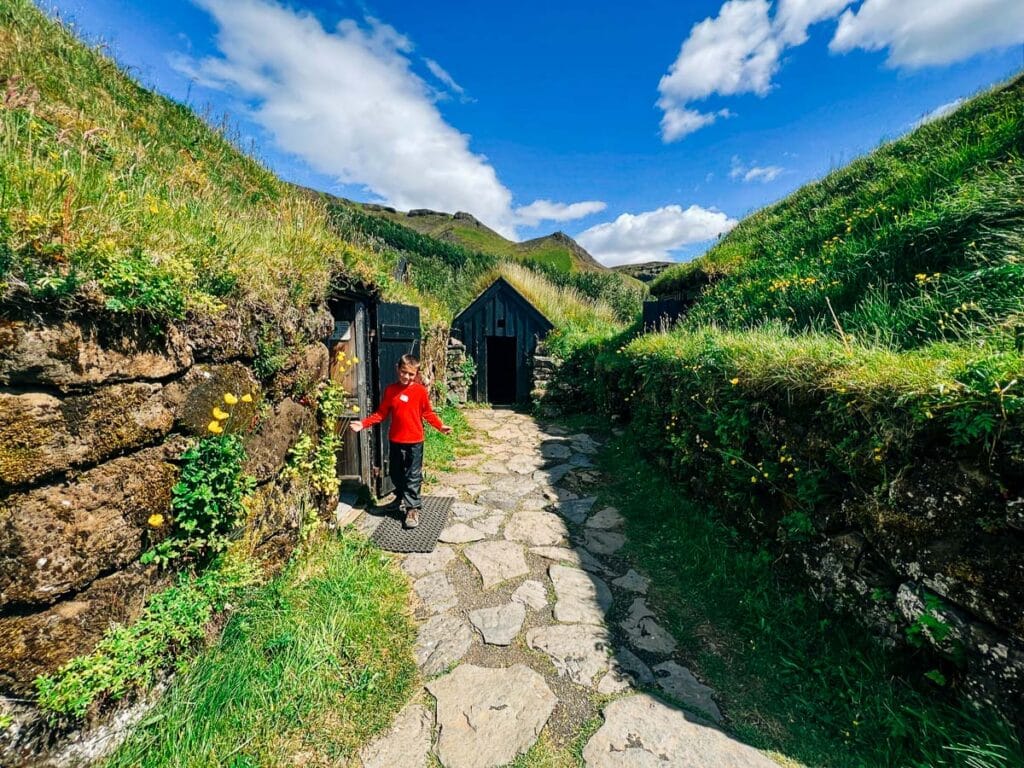 We had a lot of fun exploring the little buildings, many of which are staged with traditional furniture and artifacts. There were model farmhouses, a small church, and even a school building. Very neat!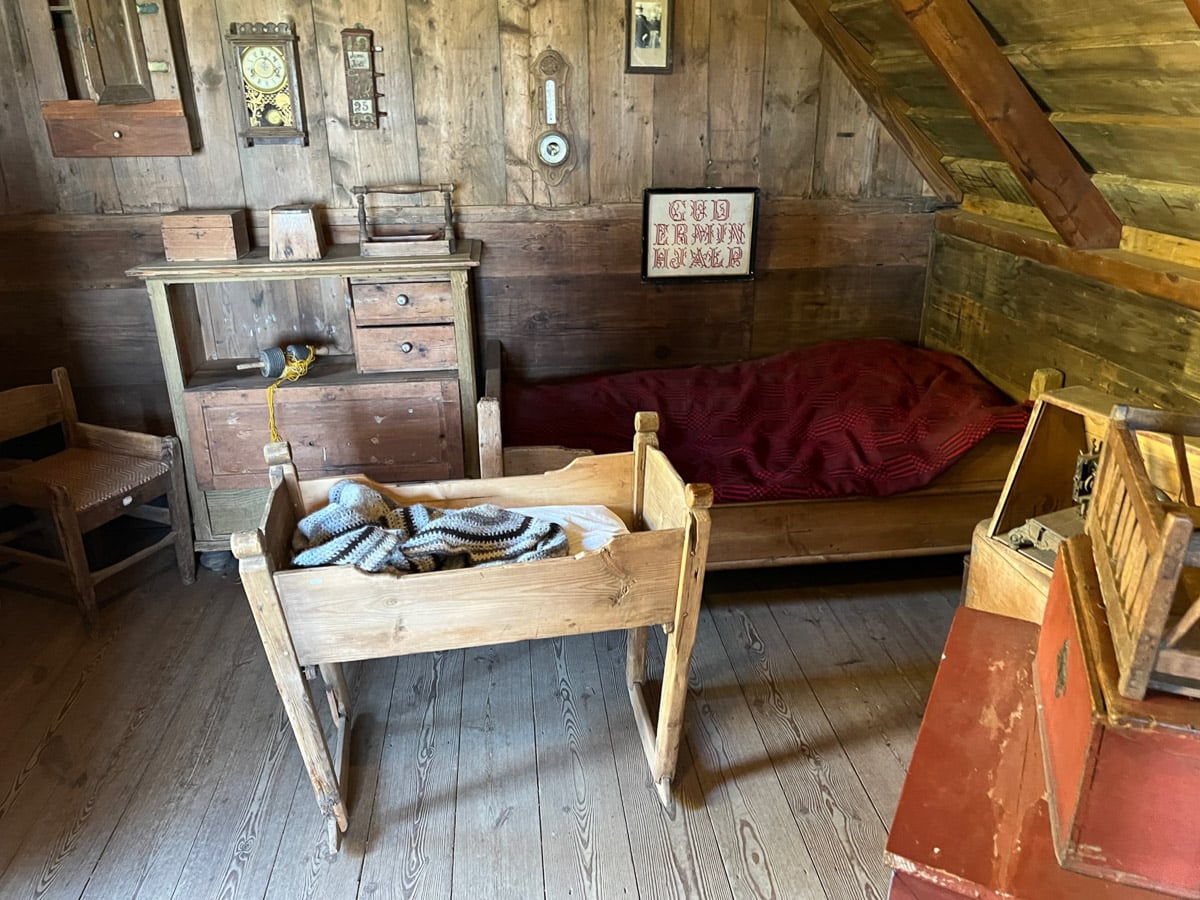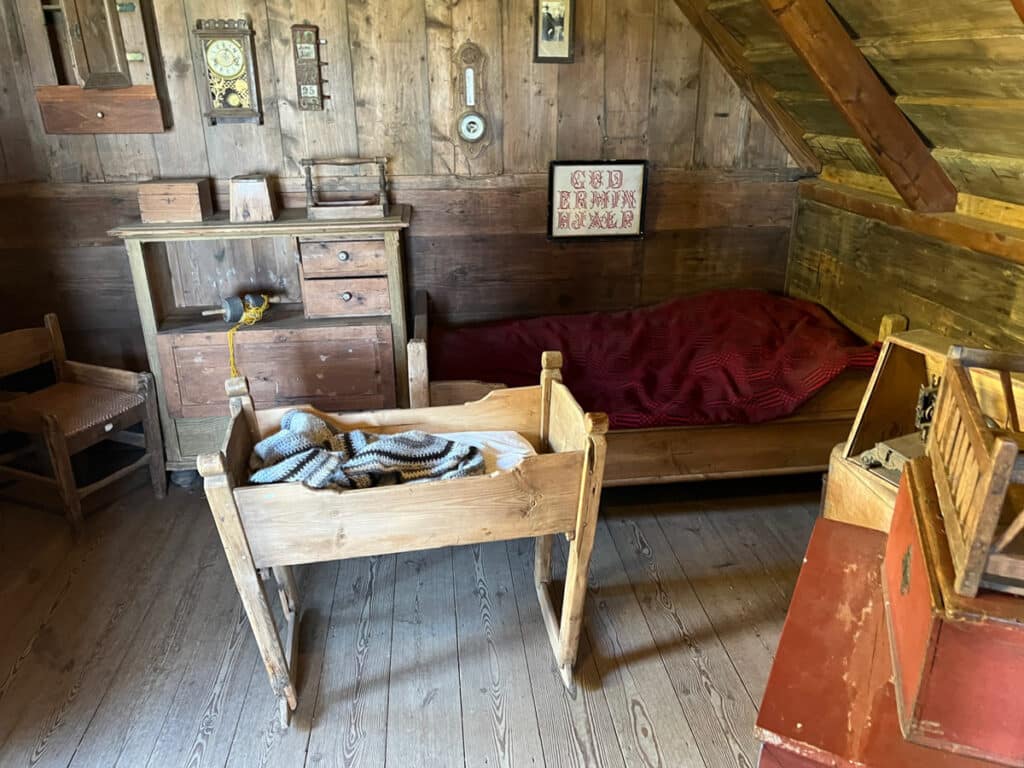 Skogakaffi Cafe at Skogar Museum
One of the reasons that we originally added Skogar Museum to our itinerary is that we needed a place to eat after visiting Skogafoss Waterfall. And the museum's website boasted of having a café with "basic snack, like sandwiches, cakes, pastries, coffee and more". Sounds promising for hungry people, right?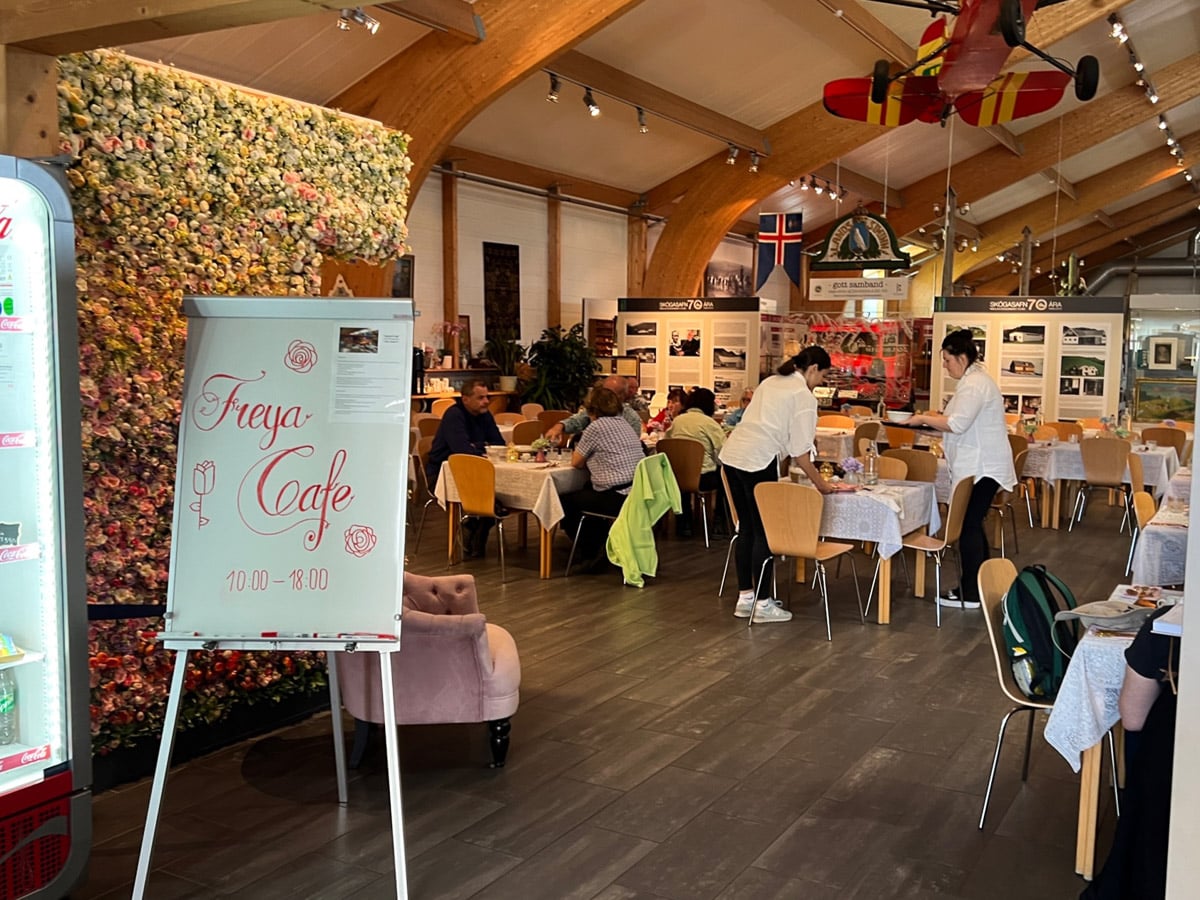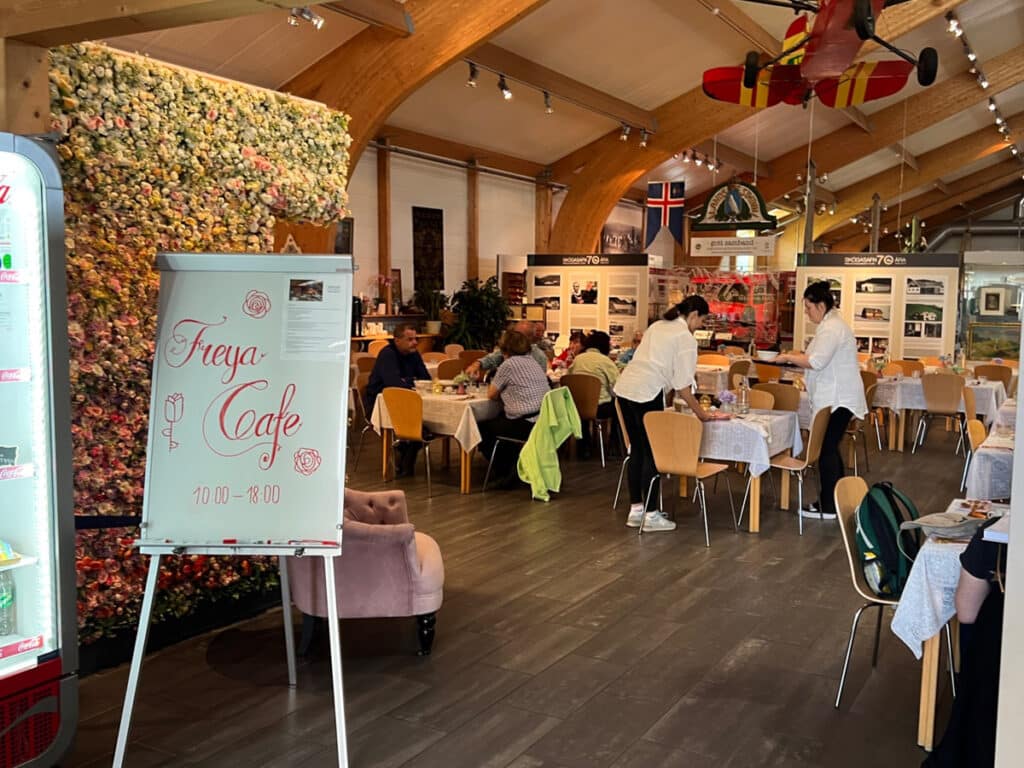 But this was a bit of a disappointment. Don't get me wrong – the place is cute. But it wasn't at all the sandwiches and snacks that were mentioned on the website. The menu consisted of exactly three items – lamb stew, meat soup, and chickpea stew.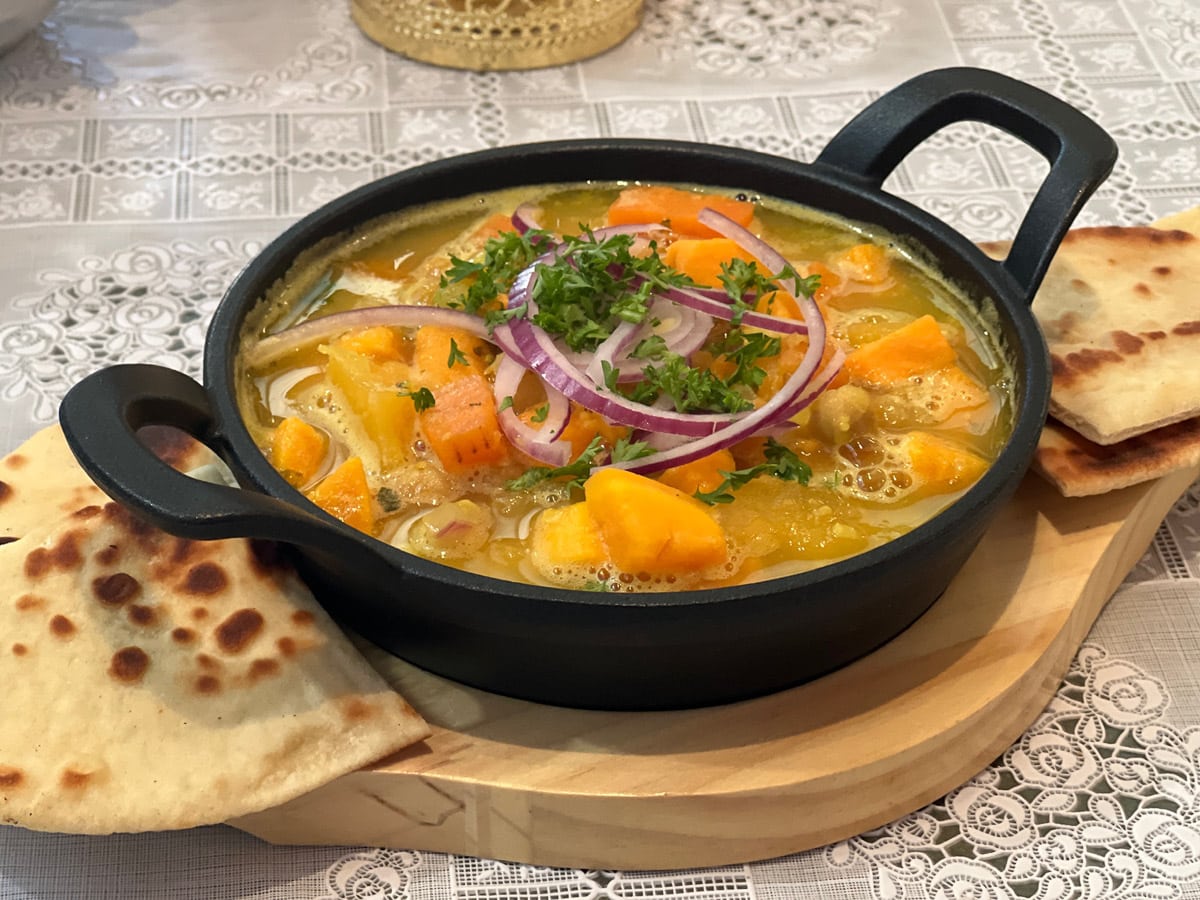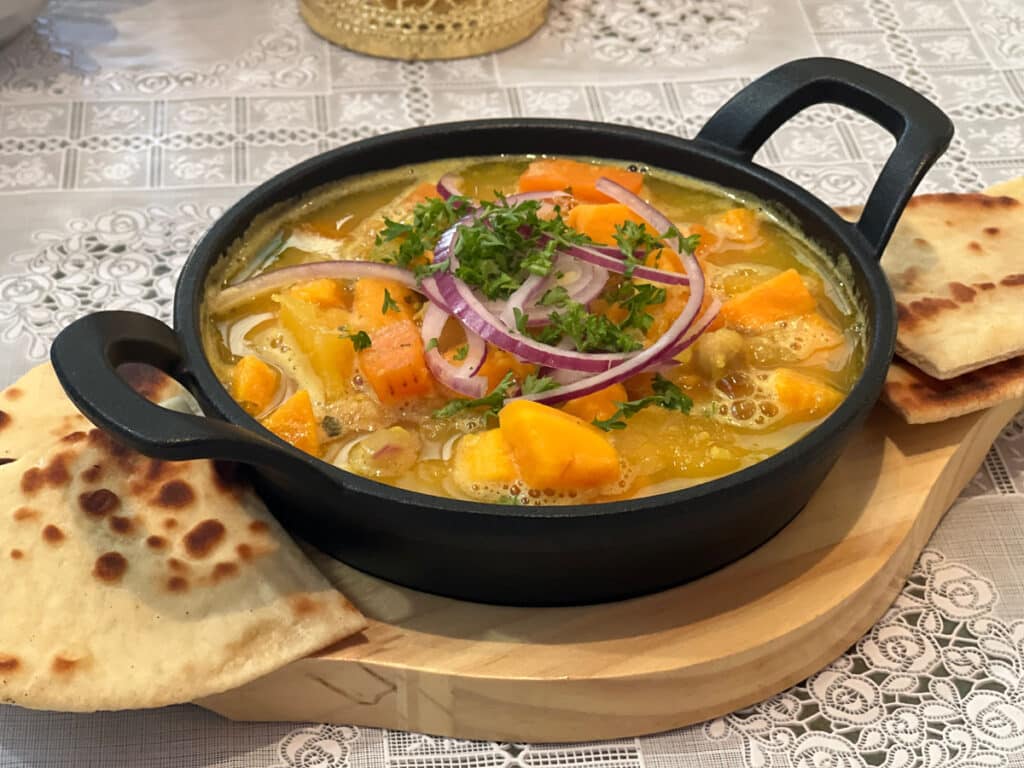 Plus one item that they apparently have every day – waffles with ice cream. So waffles with ice cream it was for the kiddo. But keep that in mind if you're planning on feeding a family full of kids at this place. I was wishing we had stopped at Mia's Fish & Chips on the way instead.
How much time do we need to spend at Skogar Museum?
I would plan on spending 1-2 hours at the museum. We spent about an hour, which was enough time to thoroughly explore the turf village, take a quick browse through the indoor museum areas, and have lunch at the café. We would have needed at least another hour to thoroughly appreciate all of the museum areas. But if you're mostly interested in the outdoor buildings like us – an hour will be plenty.
Hike to Kvernufoss
If you're stopping at Skogar Museum, you should also consider doing the short hike to Kvernufoss Waterfall, which starts from the back of their parking lot! This was really worth the little bit of effort, and we enjoyed it more than the museum itself.
Location
Skogar Museum is located just down the street from the famous Skogafoss Waterfall in the village of Skogar on Iceland's South Coast. It's approximately 30 minutes west of the town of Vik and a 2 hour drive from Reykjavik.
Fees & Parking
Museum entrance fee is 2300 ISK per adult and 1400 ISK for kids 12-17. Kids under 12 years old are free. You do not need to book in advance.
Hours
Skogar Museum is open from 9am – 6pm in the summer season, with reduced hours during other parts of the year. Check their website to confirm their current opening times.
What did we think of Skogar Museum?
While I wouldn't go too far out of the way for this one, if you're already stopping to see Skogafoss and have some extra time on your hands, this is worth a short visit. We weren't too keen on the Folk Museum, although there are many interesting artifacts to explore there if that's your thing. We did enjoy taking a stroll through the transportation museum and really liked exploring the model turf village!
More Iceland Trip Planning Resources
If you're planning the ultimate trip to Iceland, be sure to check out these other helpful articles: