If you're planning a trip to Iceland's South Coast, you'll definitely want to include the iconic Reynisfjara Black Sand Beach. It's one of Iceland's most well known attractions with beautiful black sand beaches, unique basalt columns and sea caves, and unusual rock formations. Here's our guide to visiting this popular attraction.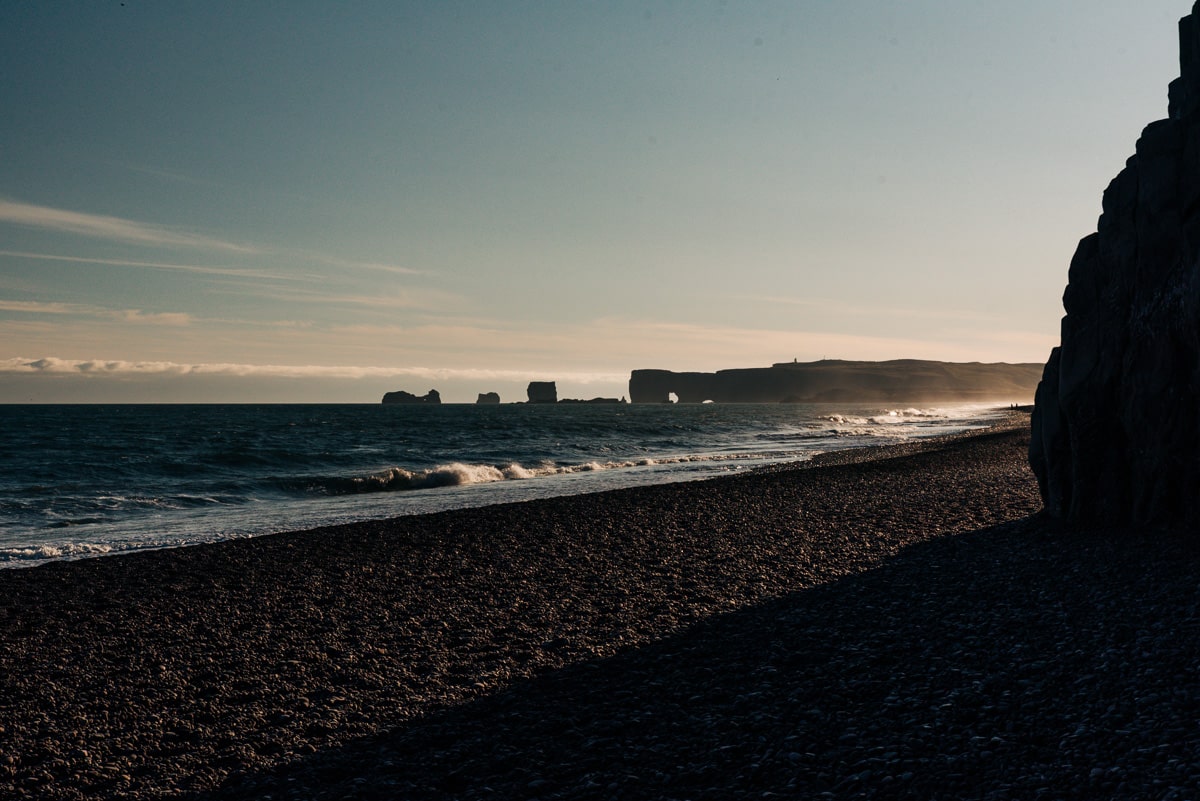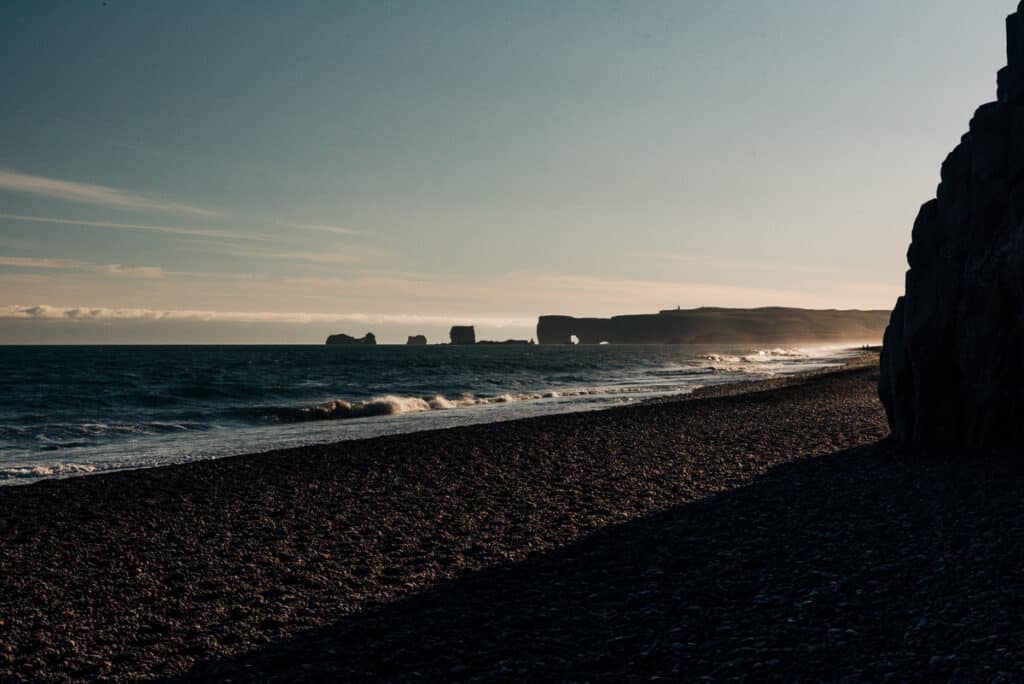 The Black Sand Beach
The main attraction here is the black sand beach itself, because it is so completely unique. So what makes the sand black, anyway? You probably won't be surprised to learn that the black sand comes thanks to the volcanoes, such as the nearby Katla volcano.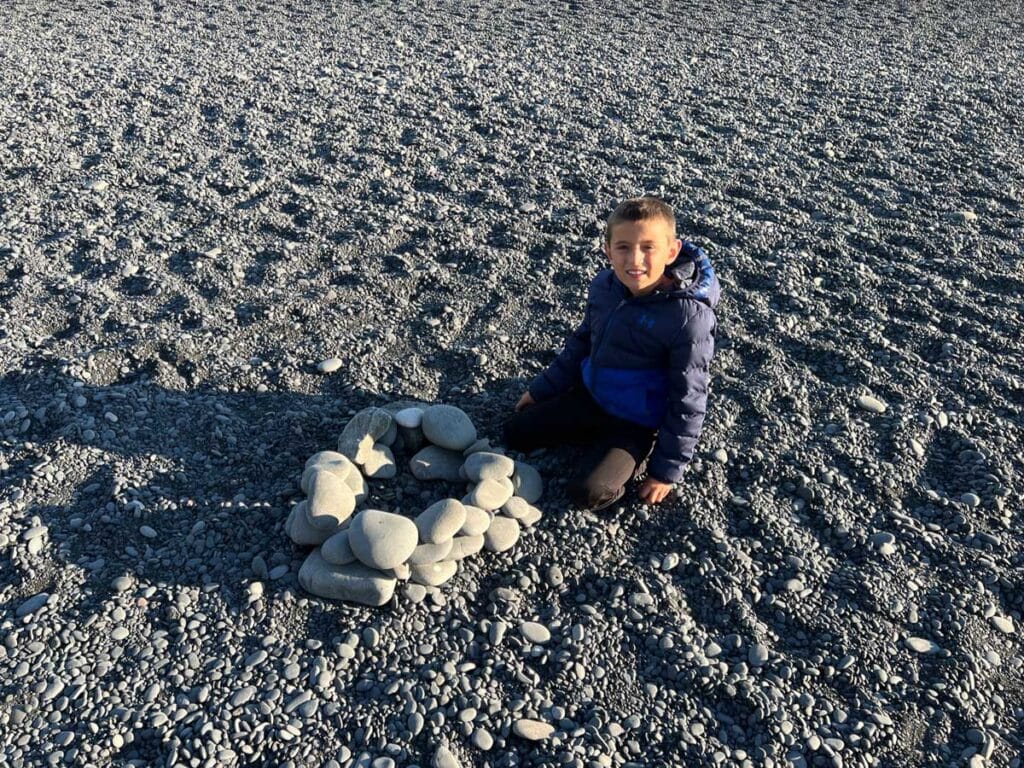 When volcanoes erupt, the hot lava flows all the way down to the cold ocean water, where it quickly hardens and shatters into small fragments of rock. Over time, that rocks breaks down further into fine sand – but this sand is black like the rocks it came from! This is phenomenon you can find in other volcanic islands as well, like in Santorini or Hawaii!
The Basalt Columns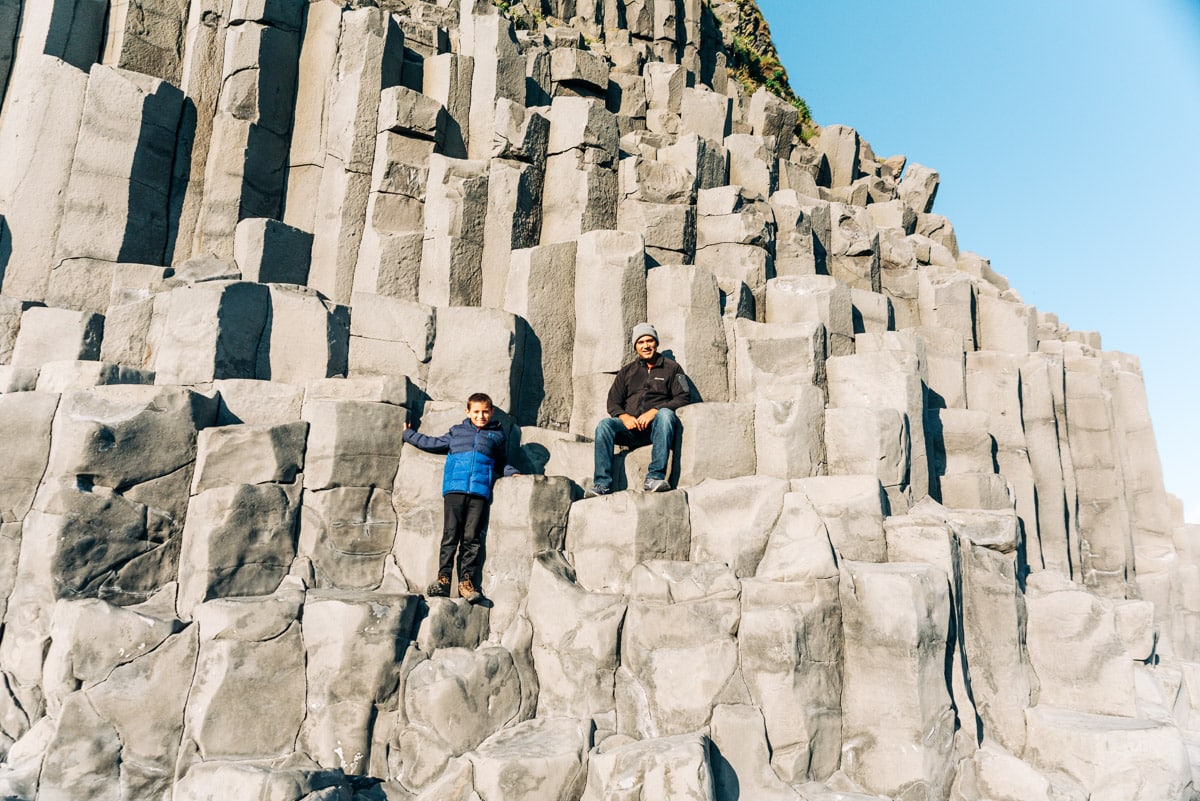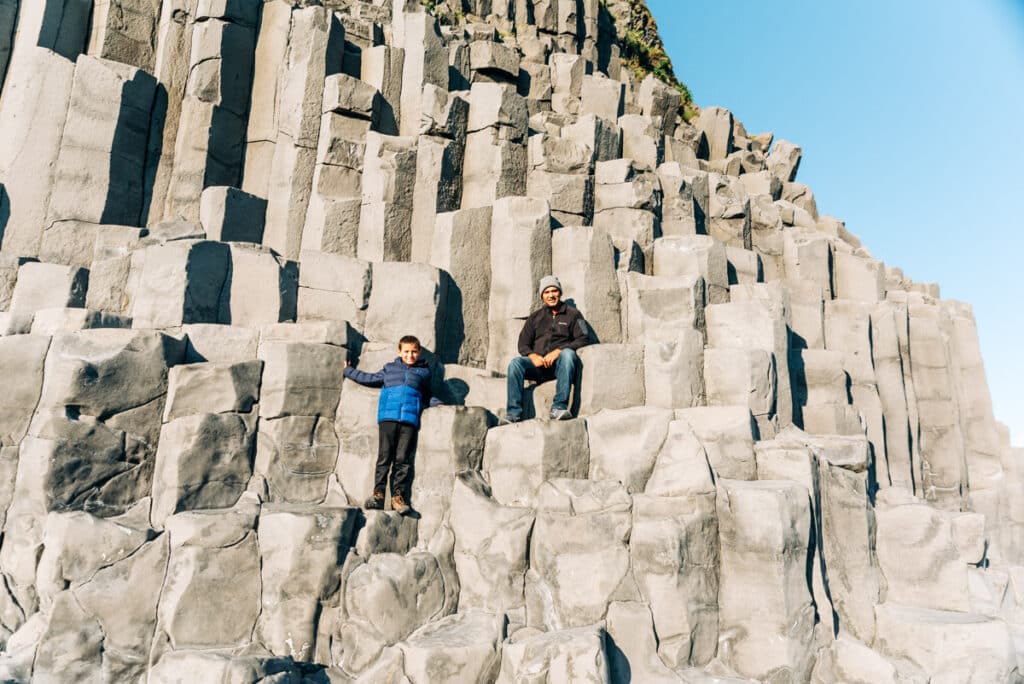 One of the iconic features of this particular Black Sand Beach are the unique basalt columns built into the 1,100 foot tall sea cliffs. While they may look like they were carved intentionally, they are actually a product of nature! When lava cools down rapidly it can form these unique geometrical shapes. Pretty cool, huh?
Hálsanefshellir Cave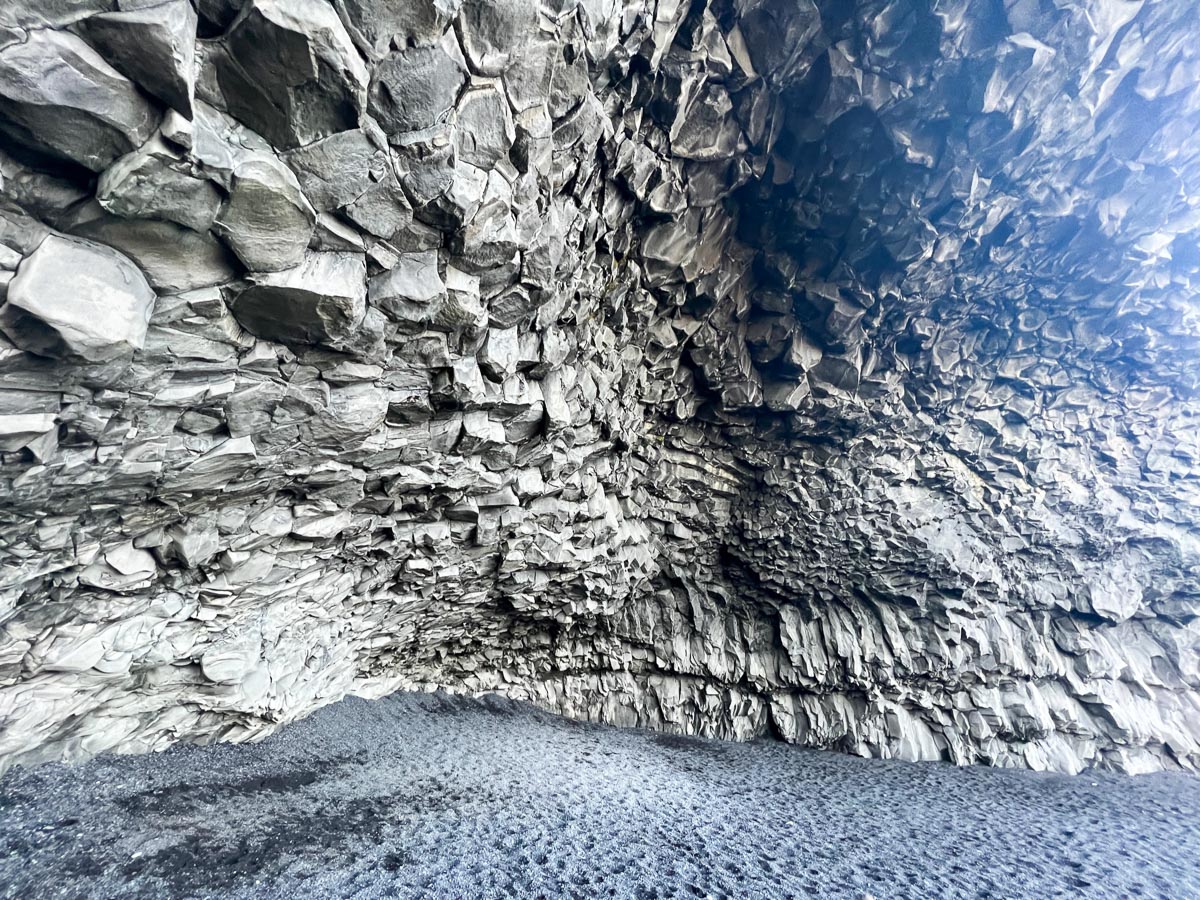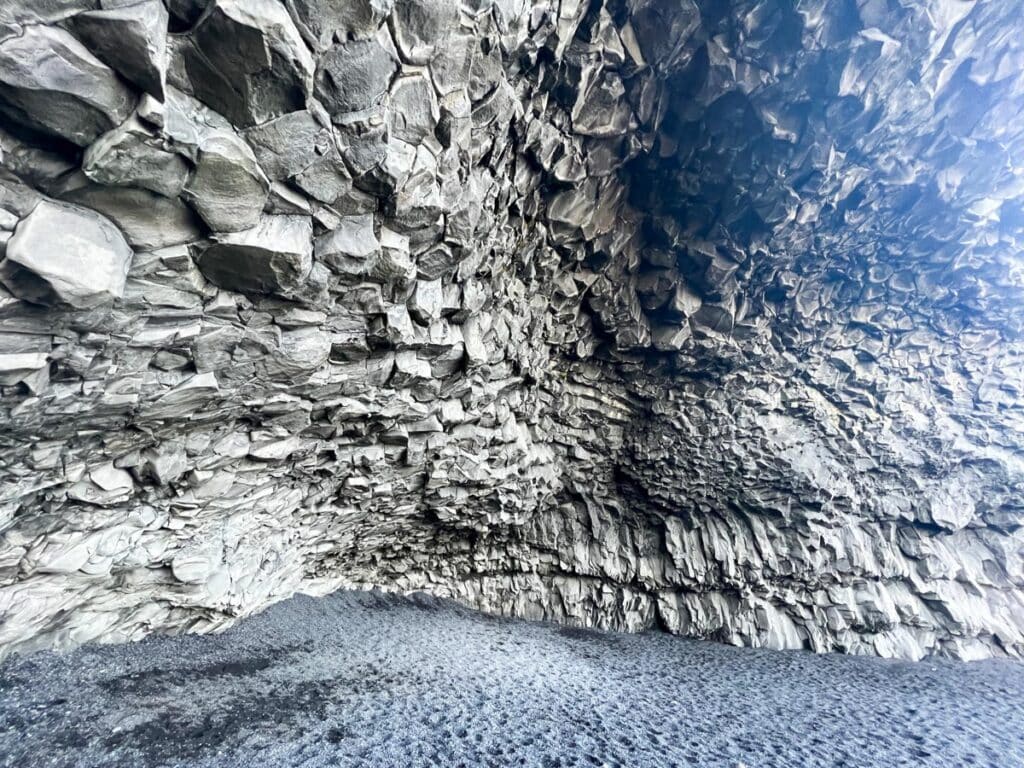 This basalt cave is also an interesting place to explore – but only when the tide is low. Attempting to reach the cave at high tide can be quite dangerous, so be careful and aware!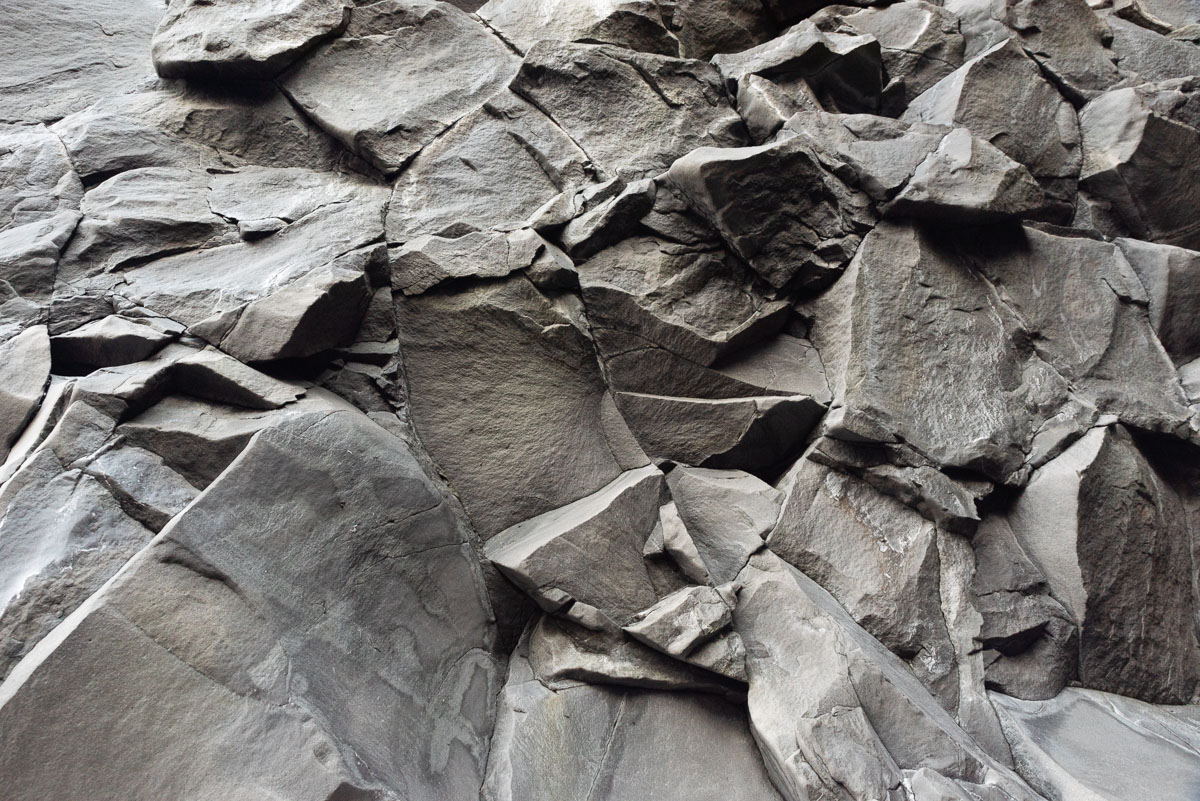 The walls and ceiling of the cave are made from unique hexagonal shaped basalt formations. And I have to say – it's like nothing else I've seen in the world. It's very beautiful and worth taking a few extra minutes to explore if the tides make it safe.
Reynsidranger Rock Formations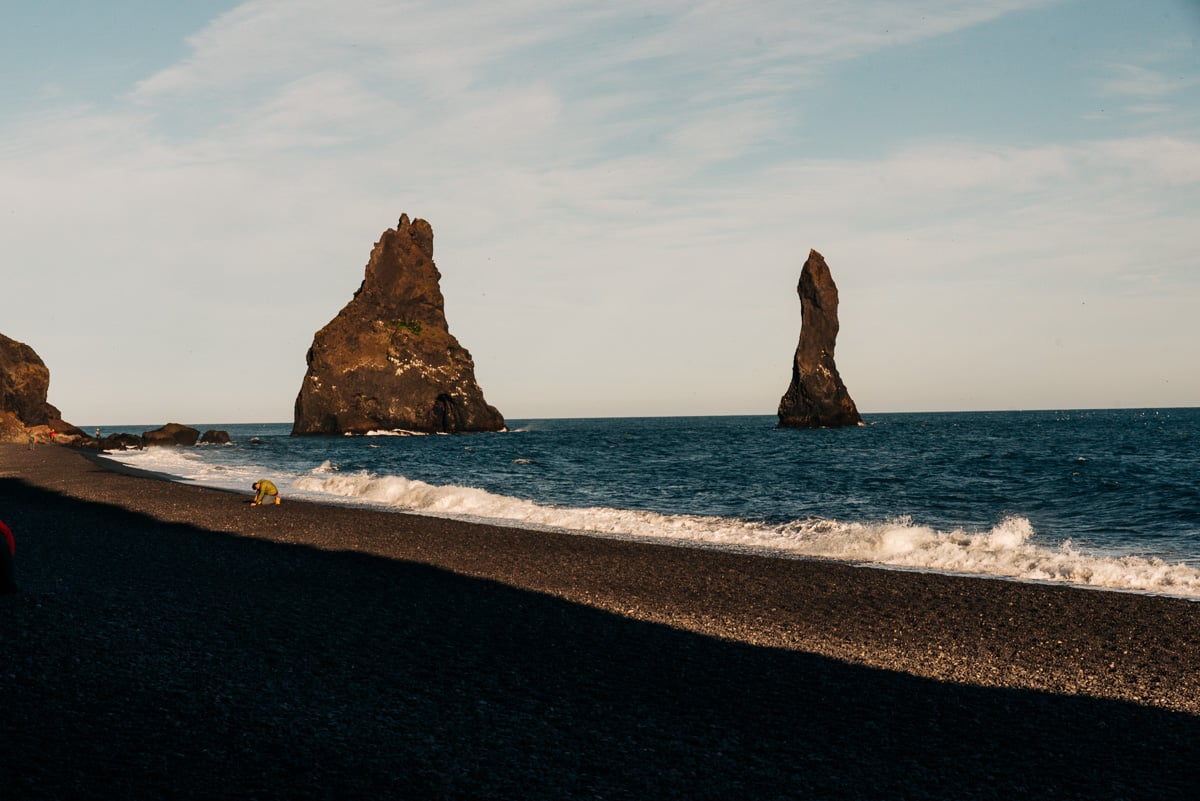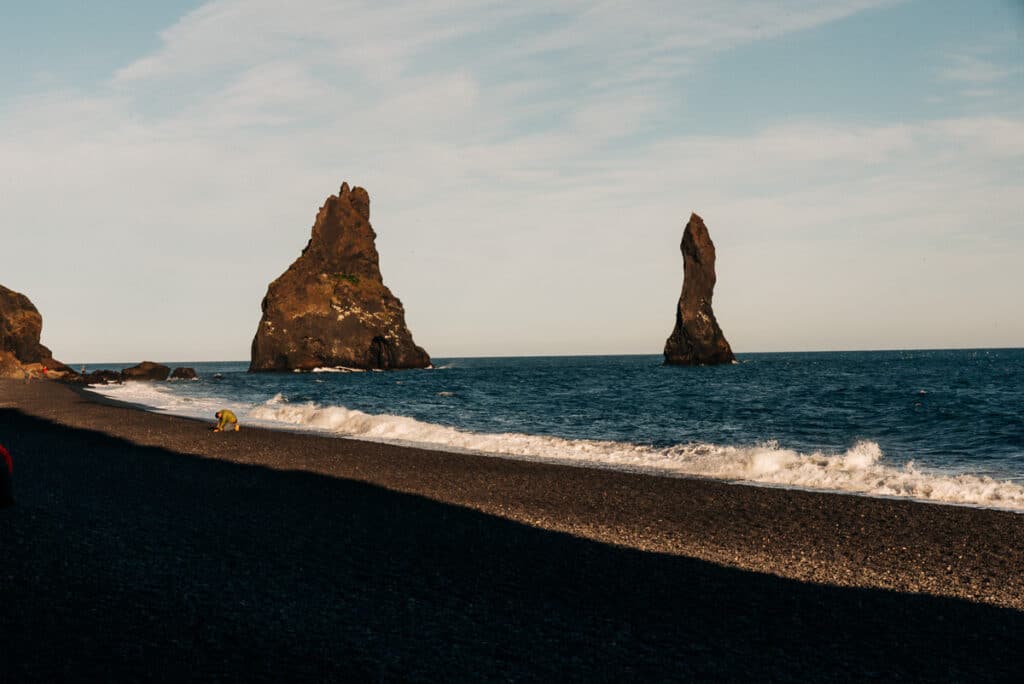 These unusual rock formations are another iconic Iceland image. And they're also the inspiration for a number of Icelandic legends. For example, one legend states that the columns are the result of trolls attempting to drag their ships to the shore. But they weren't quick enough and when the sun rose, so they turned to stone!
And another reason they might look familiar to you – they were featured in Game of Thrones and the Netflix series Katla!
The sea stacks are home to a variety of seabirds who build their nests there including puffins and fulmars.
How do you get to Reynisfjara Beach?
Reynisfjara Beach is on Iceland's South Coast, just a short drive from the small town of Vik. It's just a short 10 minute drive south off the main Ring Road that runs along the coastline. If you're coming from the direction of Reykjavik, you'll reach the turnoff for Reynisfjara Beach just before you arrive in the town of Vik.
Important Safety Info!
Any article about Reynisfjara Beach should include a warning about safety here. While this beach may look serene and peaceful, it is actually one of the most dangerous places in Iceland, and people do lose their lives here. In fact, there was a fatal accident here just a few months ago.
That's because this beach is a hot spot for sneaker waves – unexpectedly large and strong waves that come up quickly and are strong enough to drag a person out to sea. Now look, I'm from Florida. We spent a lot of time in and on the water and I have tremendous respect for all the many ways that the ocean can kill you.
But I would have never believed the hype about these sneaker waves without seeing the videos and news stories about them. So just take the warnings seriously.
Keep a safe distance between yourself and the ocean at all times. Do not turn your back to the ocean. There is no swimming here – don't try to touch the water. And do not make a foolish attempt to reach the sea caves during high tide. Watch kids closely here!
How much time do you need at Reynisfjara Black Sand Beach?
Plan to spend about 30 minutes here to check out the beautiful black sand, basalt columns, and rock formations. Of course, you could spend longer if you like to people watch or opt to have lunch at the small café.
Parking, Fees, & Hours
There are no fees to visit the Black Sand Beach, and free parking as well (although the lot can get very busy). As the beach is a natural wonder, it has no opening hours. You can visit anytime – 24/7. Note that this is a very popular destination for tourists, including tour buses, so visit in the early morning or evening to avoid the largest crowds.
There is a somewhat touristy café here near the parking lot called Black Beach Restaurant. And there are public restrooms (although they require a small fee).
Vik & Nearby Attractions
The town of Vik is just a 15 minute drive from Reynisfjara. It makes a great home base for exploring all the sites on Iceland's South Coast or a great stopping point for lunch on a day trip. You'll find a grocery shop, gas station, and several good restaurants. I recommend trying Black Crust Pizzeria or The Icelandic Soup Company.
Other nearby attractions are Dyrholaey Viewpoint and Skogafoss Waterfall (and the smaller Kvernufoss Waterfall). And if you drive just a couple more hours east along the coast you'll reach the famous Jokulsarlon Glacier Lagoon and Diamond Beach.
Where to Stay Near the Black Sand Beach
As Vik is a very popular stopping point on many Iceland itineraries, you'll find plenty of hotel options nearby. But based on my own personal travels in the area, I recommend the following two hotels:
Black Beach Suites – These lovely apartment style suites can be found just off the road that takes you to Reynisfjara. They are perfect if you're looking for a quiet place that feels a bit secluded, while still having easy access to the town of Vik. Here is my full review of Black Beach Suites.
Hotel Kria – If you're looking to be right in the heart of Vik, you can't beat Hotel Kria. It's located on the main road through Vik, with easy walking access to the shops and restaurants. It's clean, comfortable, and has a great bar and lounge area for the evenings. Here is my full review of Hotel Kria.
What did we think of Reynisfjara Black Sand Beach?
We found the beach to be really interesting and unique, but not exactly a peaceful retreat. It's definitely worth a stop to see the unique geological features, but you should expect it to be pretty bustling with people. We enjoyed our time at the much quieter black sand beach by Umi Hotel much more! But this is one of the most iconic sites in Iceland, so you simply have to stop and see it for a few minutes if you're driving the southern coast.
More Iceland Trip Planning Resources
If you're planning the ultimate trip to Iceland, be sure to check out these other helpful articles: