Welcome to the Scotch Whiskey (or is it Scotch Whisky?) edition of Around the World in 80 Drinks, a series that takes us on a drunken — in this case scotch-fuelled, whirlwind of adventure around our planet. Sometimes (although not today) we'll talk about delicious non-alcoholic drinks. But mostly we'll talk about boozy goodness, like champagne, vodka, tequila, mulled Glögg wine, Belgian beer, and Canada's greatest invention, the Caesar. Please let us know what you think in the comments, or say hello on Facebook and Twitter.
***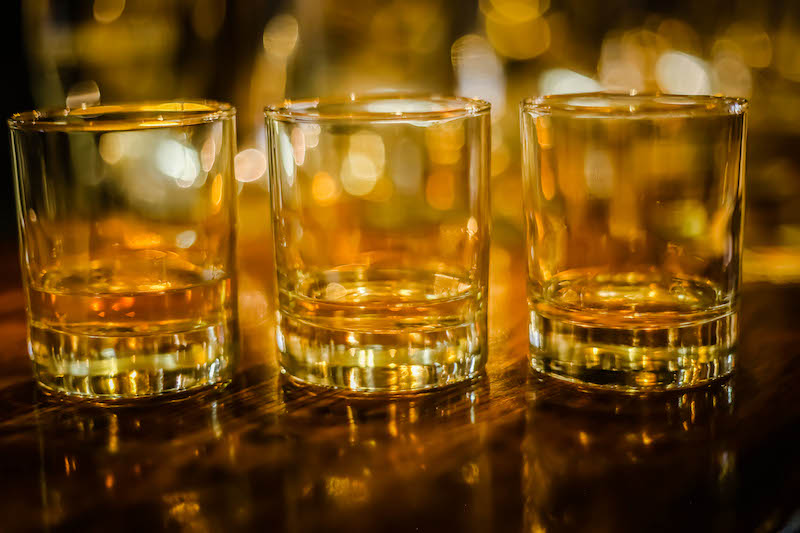 It's a rare sunny winter's day in Edinburgh, and we're in Grassmarket, a historic market square in Edinburgh's old town. The sky is blue and scattered with clouds that move alarmingly quickly; they are unable to withstand the force of Edinburgh's unrelenting wind. We're outside a pub, the Last Drop Tavern, killing a few minutes before we go in to taste Scotch whiskey, and marvelling at the history of the spot on which we stand.
Back in the day, Grassmarket was Edinburgh's livestock market. However, it also served another more macabre purpose: it was the site of Edinburgh's numerous and gruesome public executions. The Last Drop Tavern is old enough to remember those days, and — so the story goes — was the place at which the condemned would taste their last drop of Scotch whisky (or a pint, for those prisoners with a less refined palate) before a noose was secured around their doomed necks.
With that happy history in mind, we headed into the Last Drop Tavern to meet Mikhail, the barman, who agreed to give us a lesson on Scotch whiskey.
In case you've offended the Internet gawds and are unable to load our video about Scotch whisky, here are the highlights:
First of all, when talking Scotch, it's whisky, not whiskey. Drop the e or risk looking like an amateur.
For a whisky to qualify as Scotch, it has to be made from grain grown in Scotland and Scottish water, and must be distilled and aged in Scotland.
Scotland has six whisky regions, and each produce distinctive-tasting scotch whiskies: Highlands, Lowlands, Islay, Islands, Campbeltown, and Speyside.
We tried three different whiskies: Glenmorangie from the Highlands, Glenkinchie from the Lowlands, and Lagavulin from Islay.
The Glenmorangie Highland whisky was our favourite; I also liked the distinctive smokiness of the Lagavulin from Islay, although it wasn't to Geoff's tastes, as the photo suggests
Next week, we'll be heading out to taste real ale beers in another video edition of Around the World in 80 Drinks.
I hope you enjoyed this Scotch Whisky edition of Around the World in 80 Drinks. Don't forget to let us know what you think in the comments, say thanks by sharing, or say hello on Facebook and Twitter. And please don't forget to subscribe to our Youtube channel by clicking on the one-click subscribe button below.