If you're thinking of taking an estuary boat tour during your time in Tamarindo, don't book without reading this review!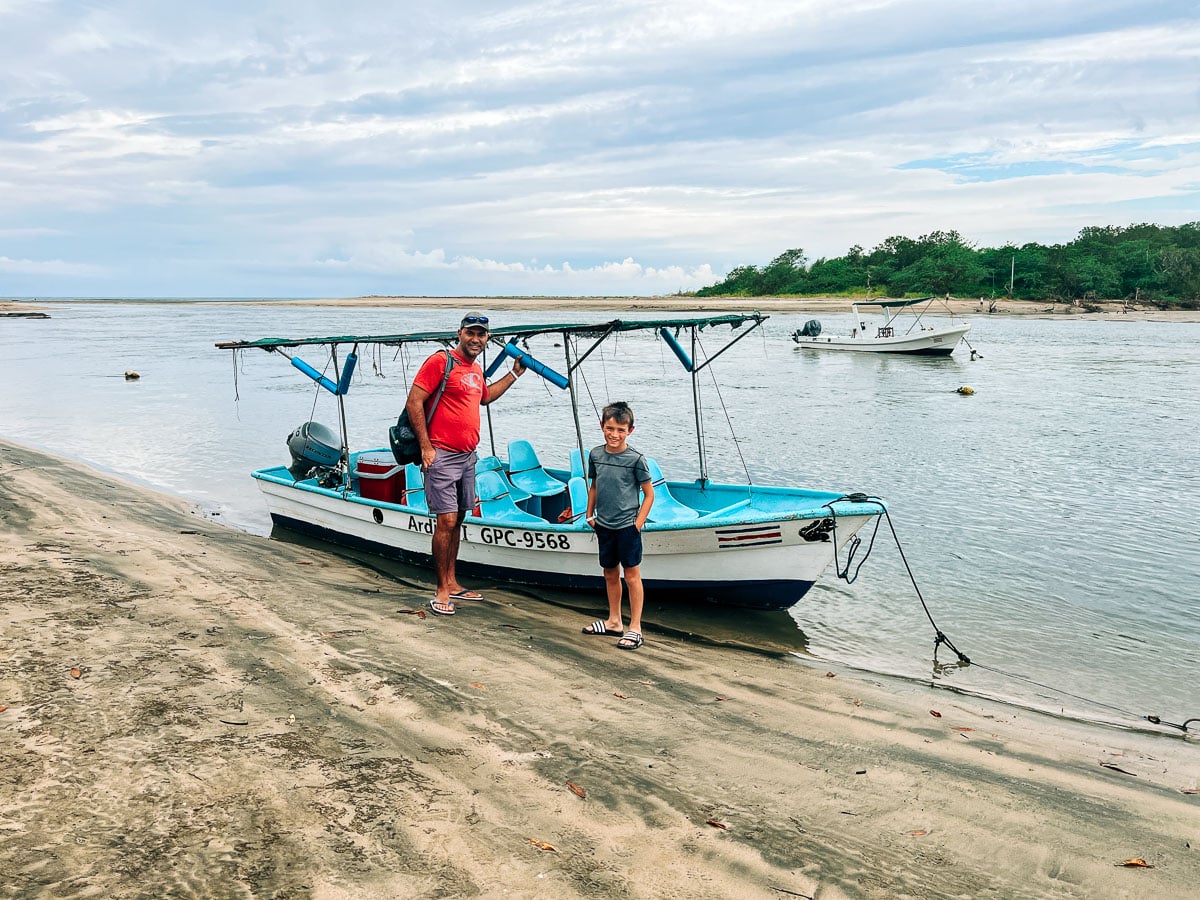 We recently had the pleasure of spending five fun filled days in Tamarindo, staying at the Tamarindo Diria Beach Resort. While we have visited Costa Rica before, we haven't spent much time in the beach areas in the beautiful Guanacaste province. So we were excited to check out all there is to do in the area.
On our prior trips in the jungle and Arenal volcano areas, we really enjoyed all of the abundant wildlife. So while we knew the beaches were not especially known for wildlife, we were still hoping to get a little taste of that with an estuary tour. And it's literally two minutes from Tamarindo town – so worth a shot.
We booked our estuary tour through Native's Way, one of the local tour providers in advance. They had options for group tours and private tours. And having seen the small size of the boats used for these tours, I opted for the private option for just our family.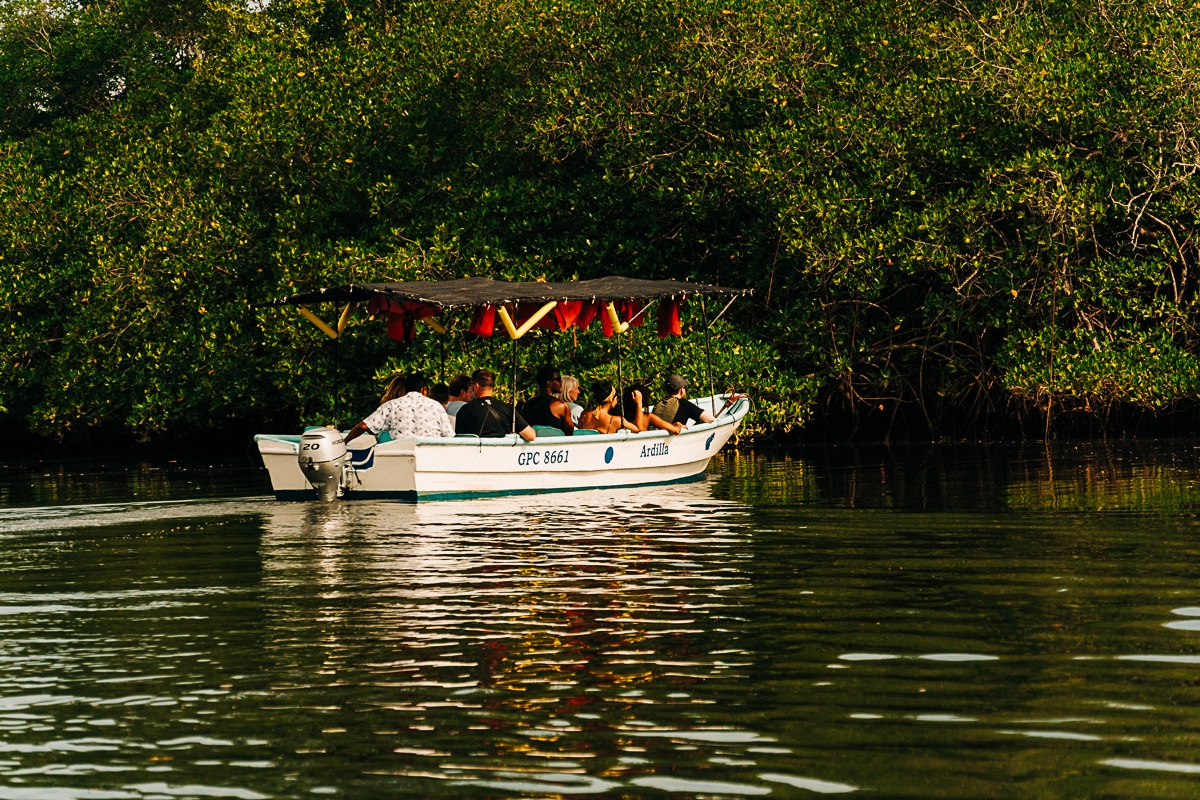 We were picked up at 8AM from our hotel by our tour guide, Enrique. He arrived barefoot and driving a beat up van. Does it get any more Costa Rican than that? He drove us the 2 minutes up the road (we could have just walked if we knew how close it was) to the… marina? I'm not sure what to call it really. 'There is no dock – just a small bath house and boats anchored in the river.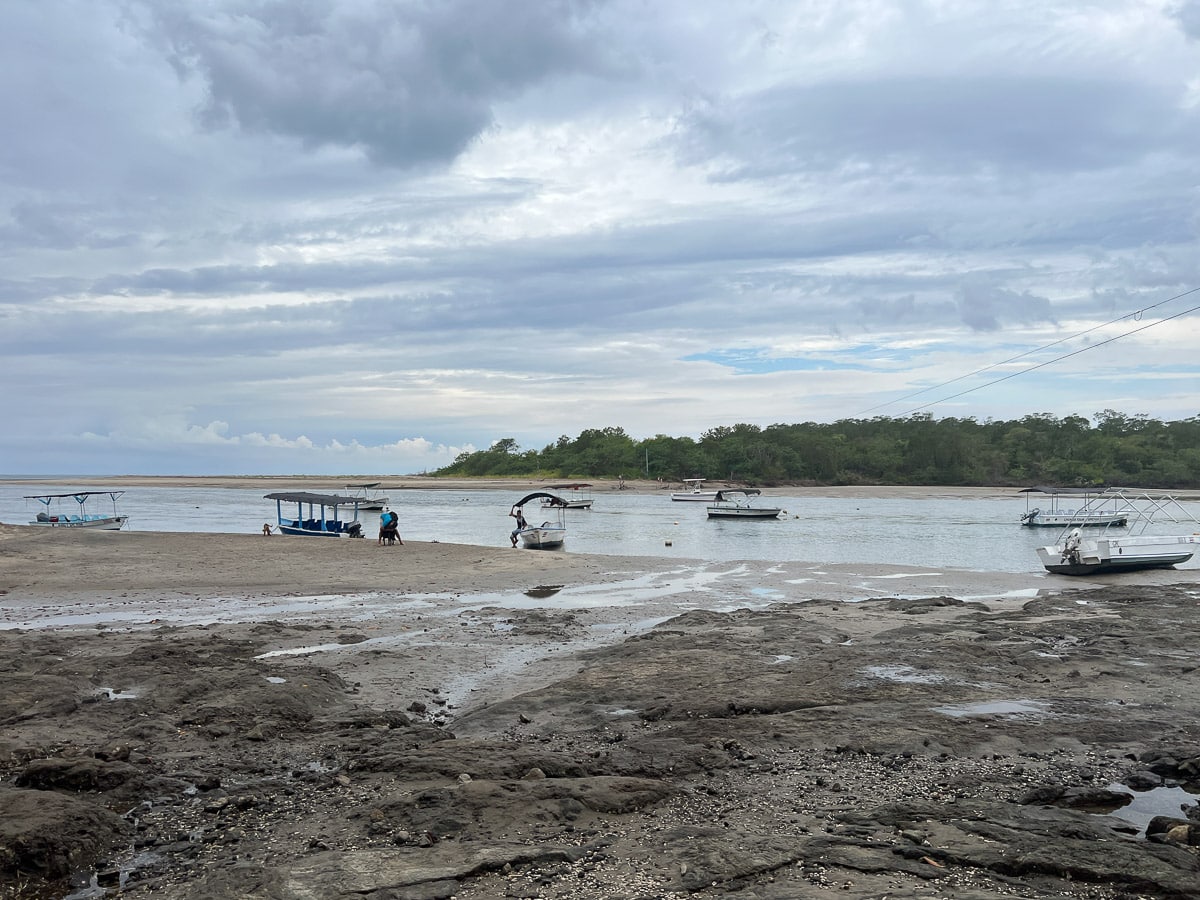 To board the boat, Enrique dragged it over (literally) to shallower water so we could step in. Lol. We are Floridians and love boating, so this didn't phase us. But set your expectations accordingly. I imagine boarding could be tricky for older folks or someone with a mobility impairment.
The boat was a small, motorized skiff that was a good size for navigating the narrow waterways around the mangroves. With just the three of us and our tour guide, it was plenty comfortable. And it was nice to have the boat to ourselves so we could move around to get photos and just have a little breathing space.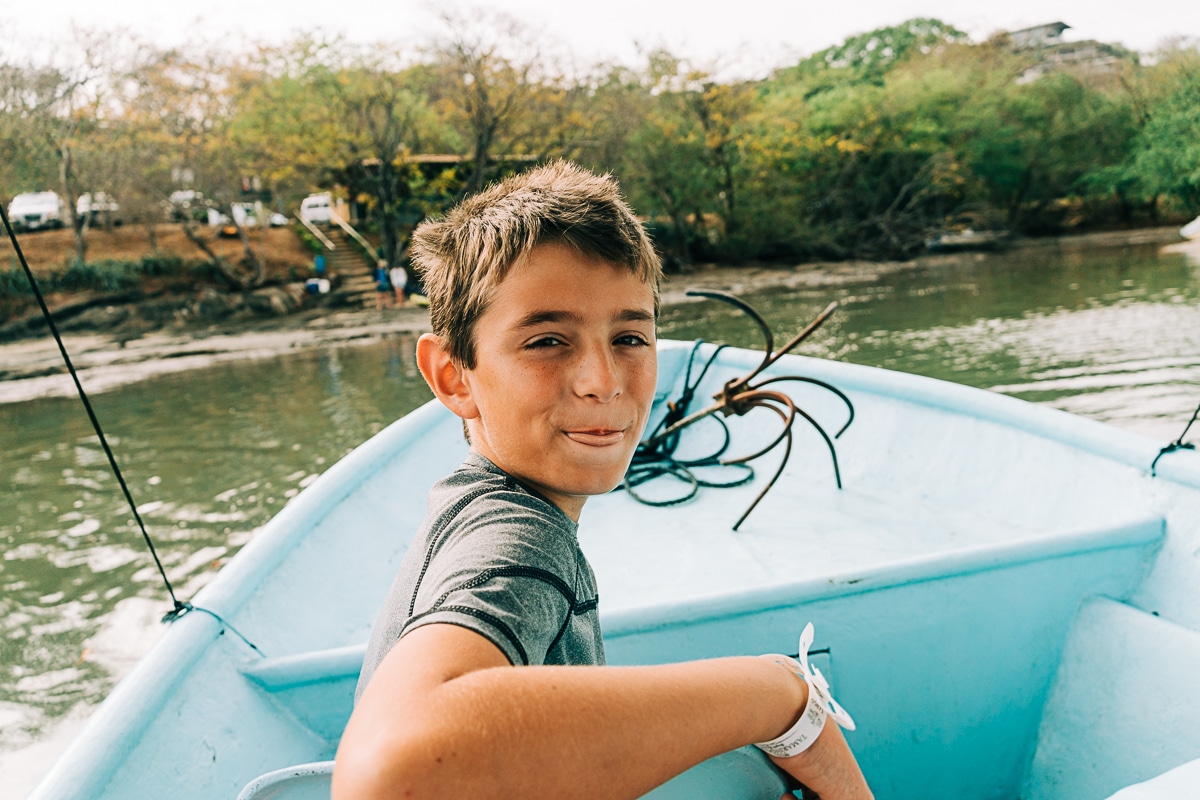 Then we started off on our two hour tour of the estuary, a natural mangrove ecosystem that is home to a variety of critters. We made our way through the narrow waterways of Los Baulas National Park, in search of Costa Rican critters. But we ultimately didn't see all that much wildlife. At least not the bigger creatures we were expecting.
We saw many beautiful birds, and Enrique was great about pointing them out to us and telling us the names of the different species. We saw hawks, kingfishers, egrets, and herons. And I'm sure more that I can't recall the names of. There were definitely more birds than anything else.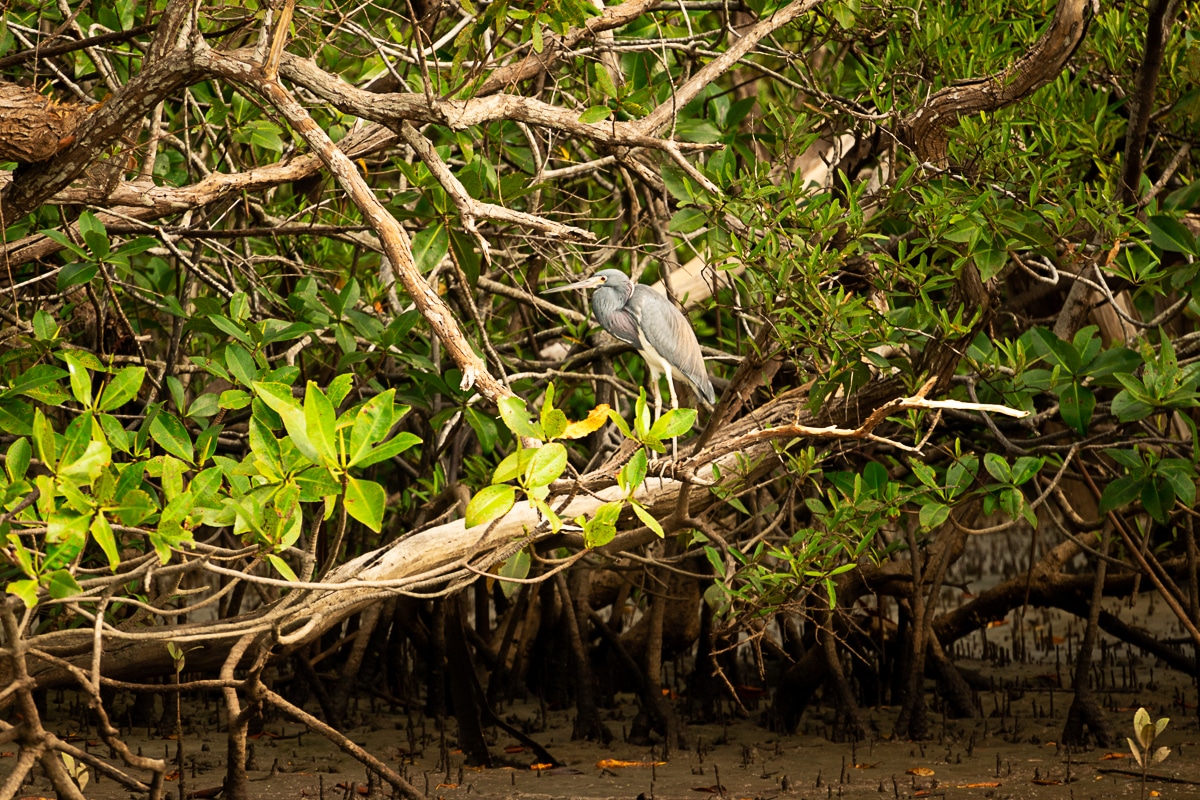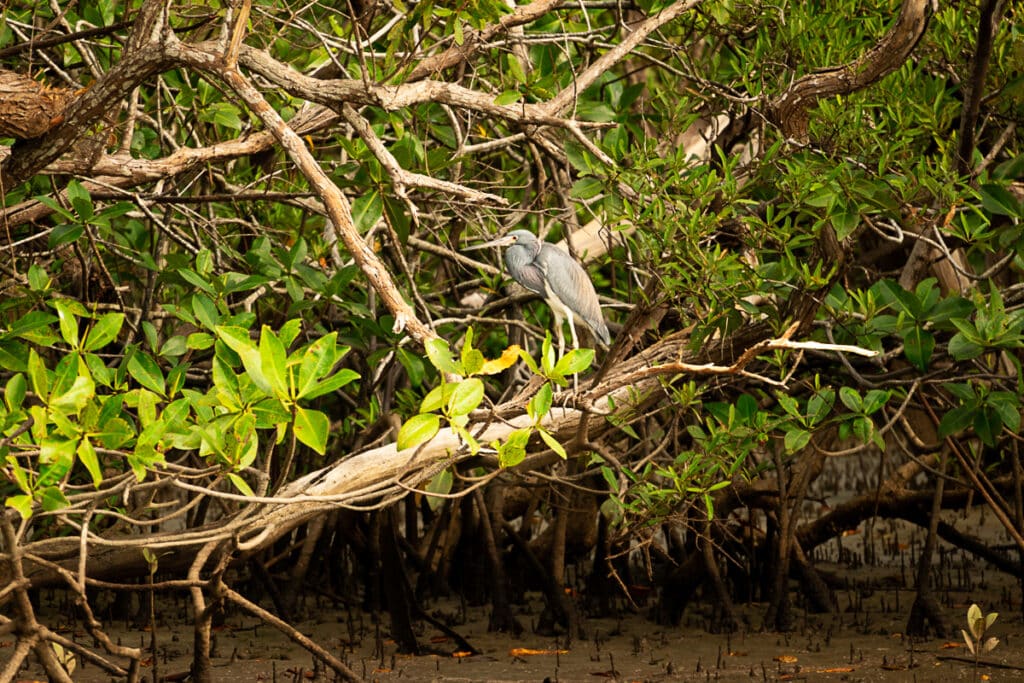 There were also plenty of crabs and some cool jumping fish. And we encountered a few groups of howler monkeys, but they stayed back pretty far in the forest and were hard to see. Only a couple ventured close enough to be seen from the waterway.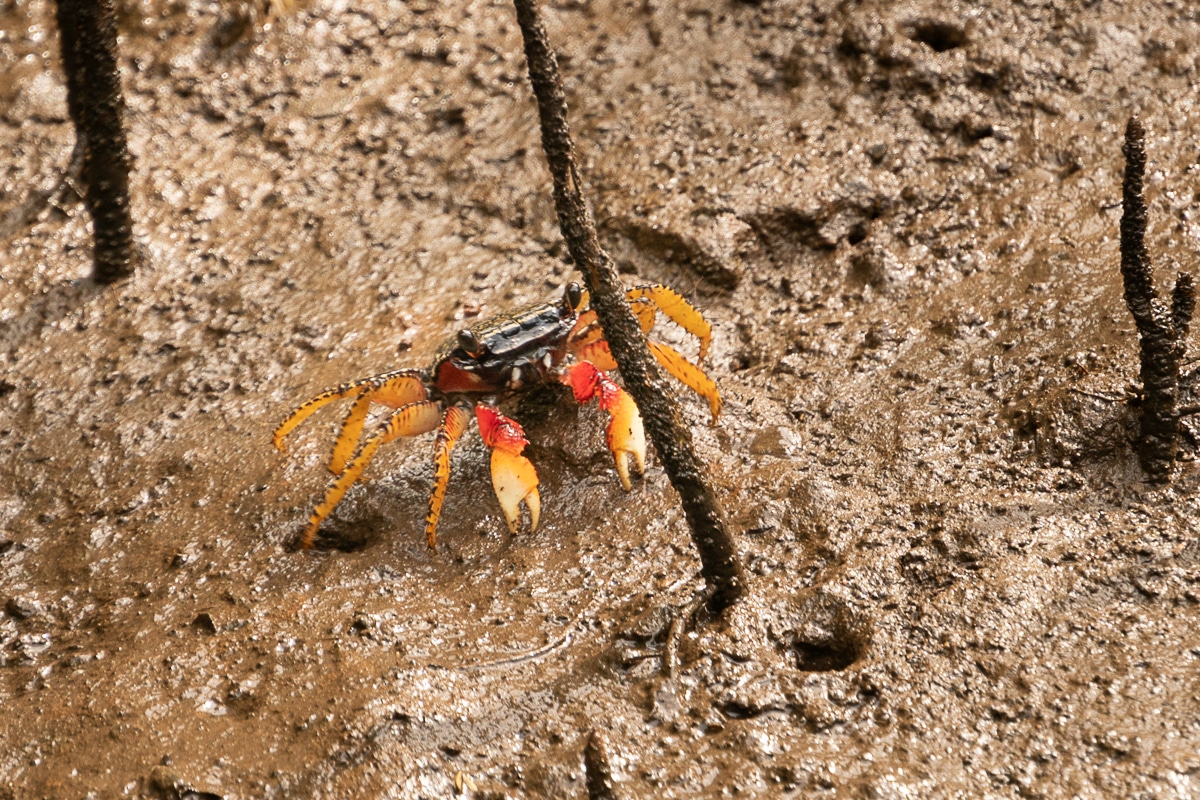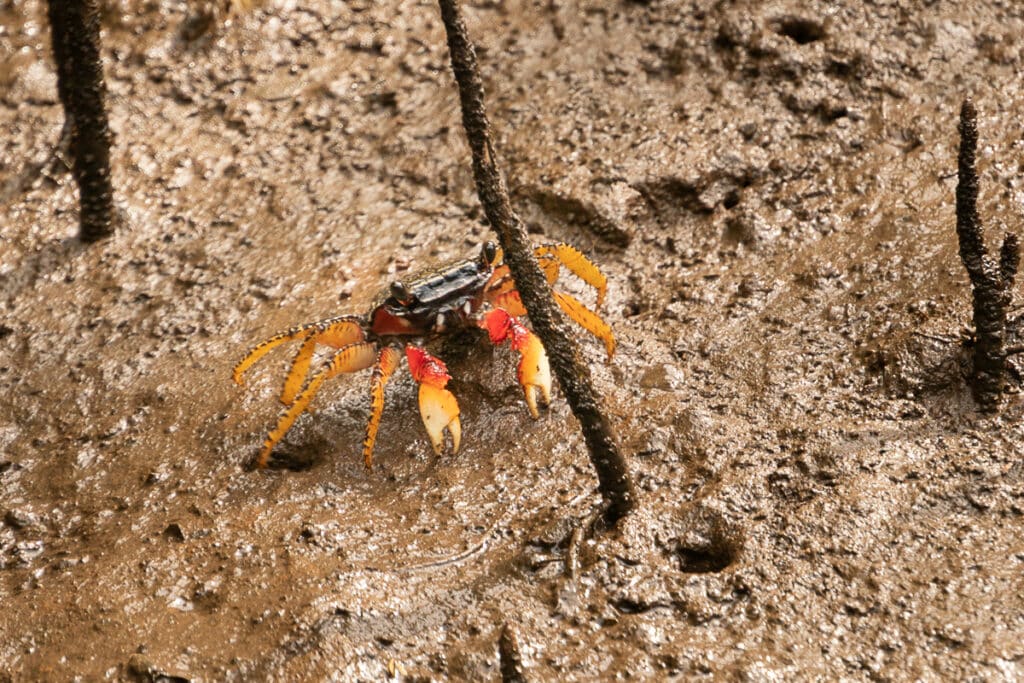 This very friendly iguana made an appearance and spent lots of time showing off for us. That's almost certainly thanks to the leftover fruit our guide was generously tossing to him.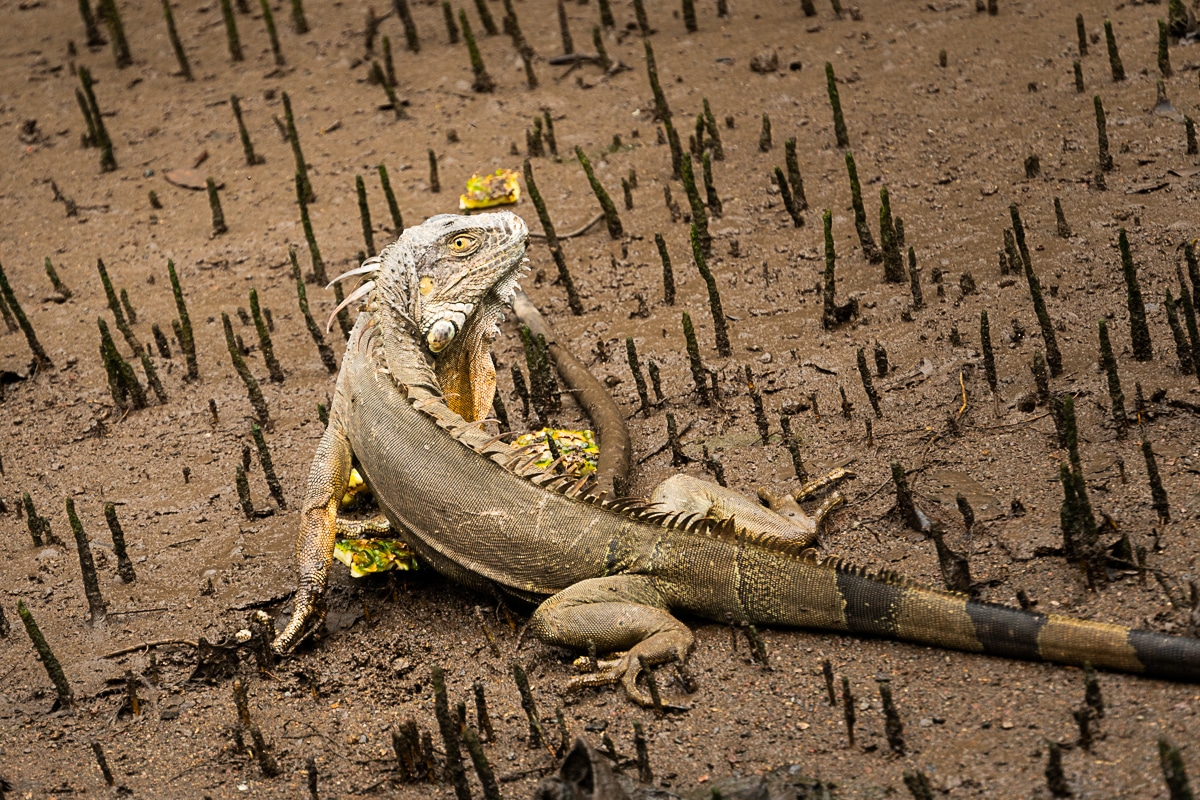 And the thing we were hoping to see most – crocodiles. We had spent all week being warned to stay away from the mouth of the river, for fear of being attacked by a crocodile, so I guess I was expecting to see some big monsters. We sadly only saw two small baby sized crocodiles. They were still very neat, of course. But being from Florida, we see gators bigger than that in the retention pond at the end of our street, so it was hard to get too excited.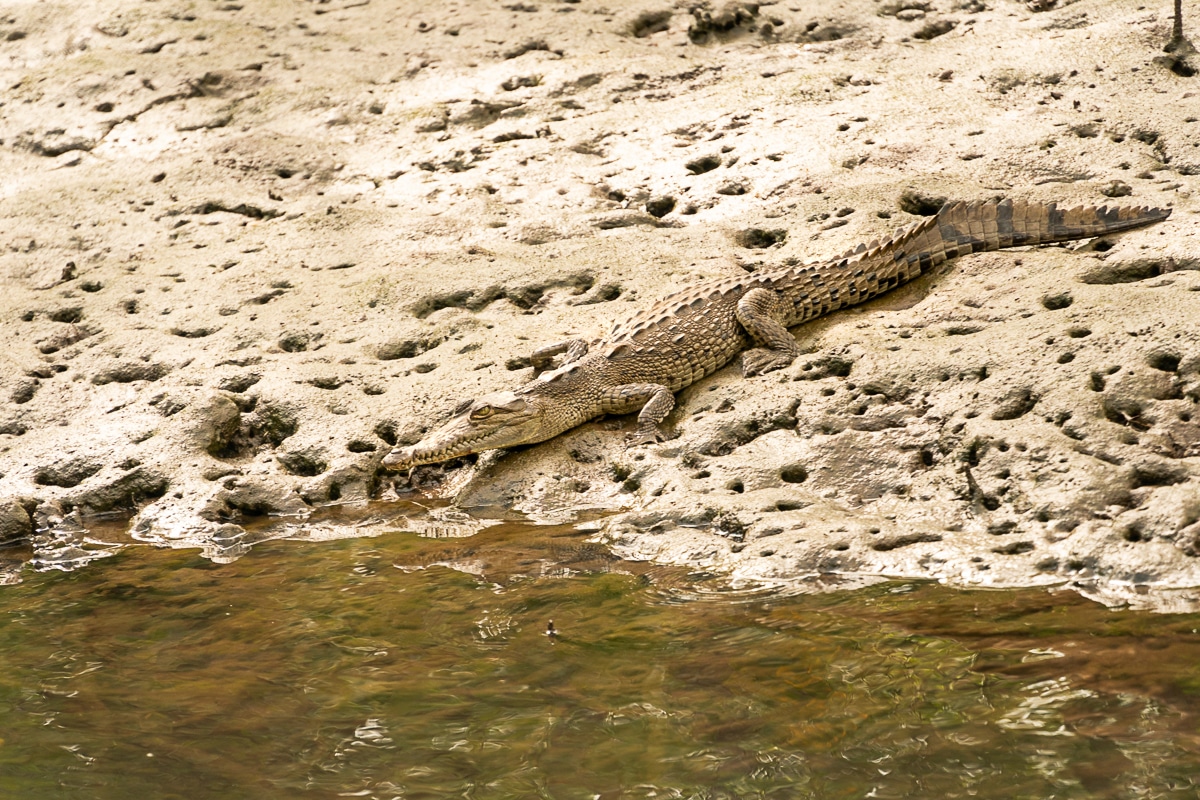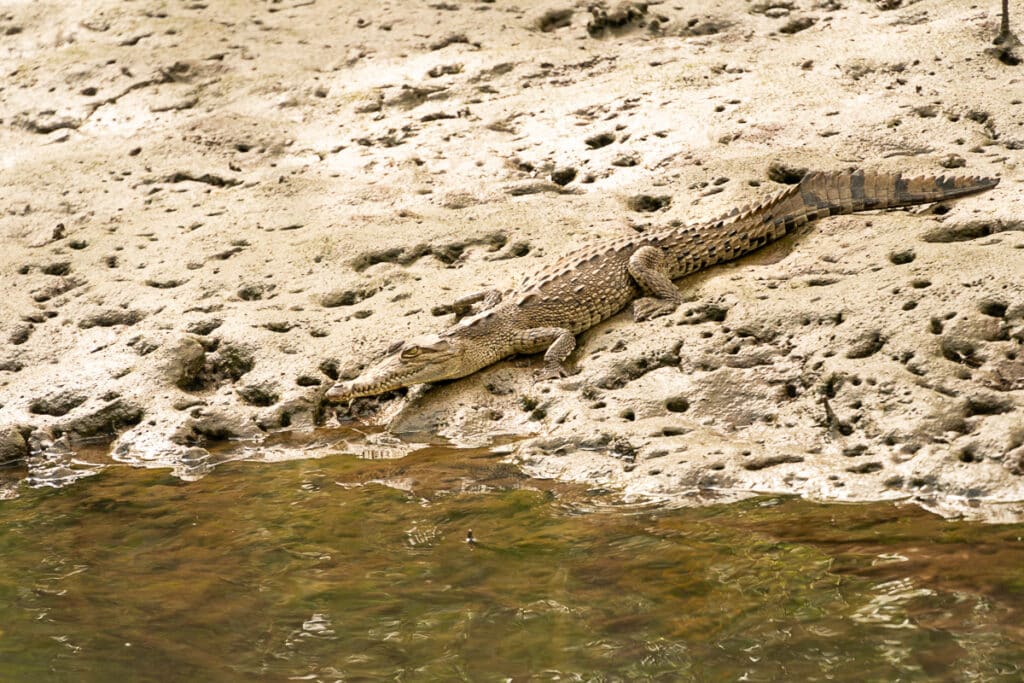 Regardless, it was still an enjoyable and relaxing boat ride. We even had a little stop in the shady mangrove forest to snack on fresh fruit that Enrique brought for us. That was a nice touch on a hot morning!
If you're planning on taking an estuary boat tour in Tamarindo, here are a few tips to keep in mind:
Wear sunscreen and insect repellant: The sun can be quite intense on the water, so it's important to protect yourself. And the bugs can be pretty intense inside the estuary too. There were tons of flies, even with a healthy coating of bug spray on all of us. I really like these bug spray wipes for travel – easy to pack and carry along on outings.
Book at low tide: Another tour guide later shared that the estuary tours are best taken at low tide, as you have a better chance at seeing larger crocodiles. Ours was at high tide, as I mistakenly assumed the early morning times would be best for sighting wildlife. You can check the tide schedule here if you want to try and time your departure.
Bring water: Again, it's hot out there. Bring bottled water or fill up a big refillable bottle for your trip. You will be out on the water for a couple hours and there won't be anywhere to stop for refreshments.
Bring binoculars: For the best chance at spotting those howler monkeys, bring along a pair of binoculars. Or a long camera lens. I had an 18-135mm lens and it wasn't really long enough for spotting the monkeys.
Dress comfortably: Wear comfortable clothing and shoes that can get wet, as there may be some splashing on the boat.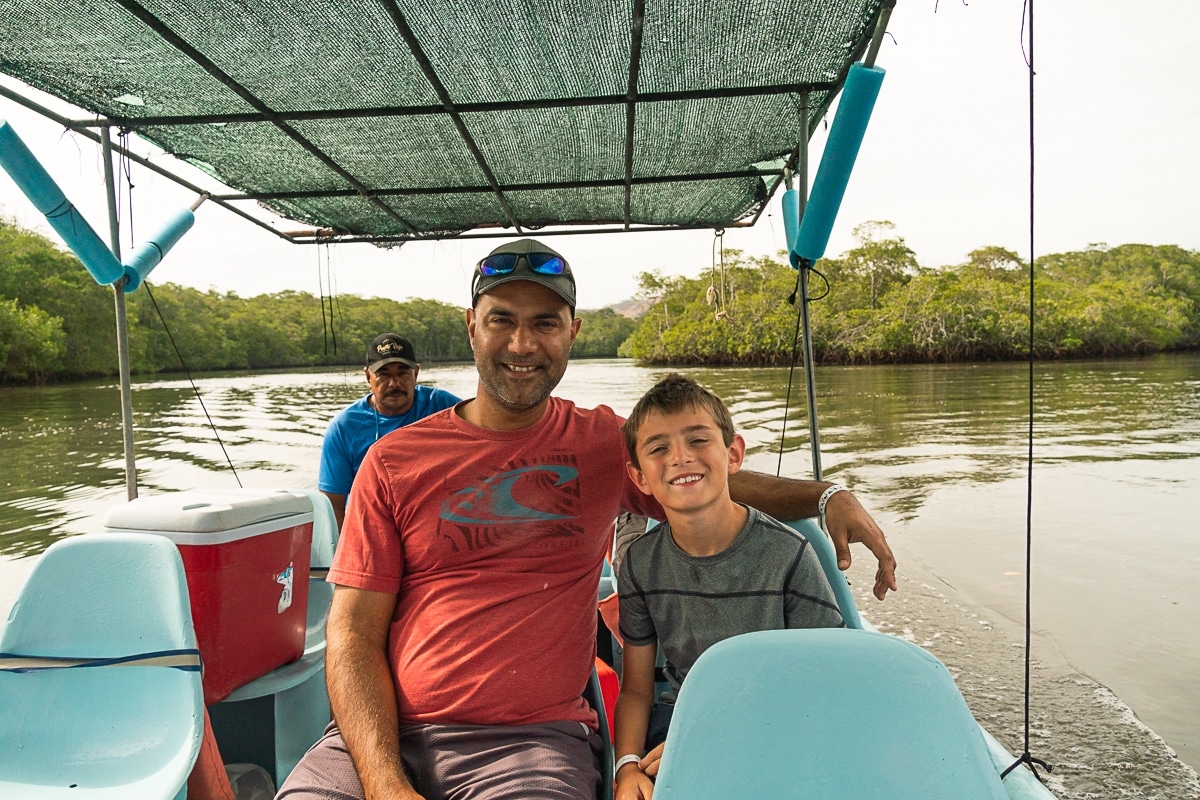 Is a Tamarindo Estuary Tour worth it?
No, unfortunately for us it was not worth it. I'm sorry to say that because our guide was so nice and wildlife can be very fickle. But ultimately this isn't an activity we would repeat if we came to Tamarindo again. There just wasn't enough wildlife to make it worth 2-3 hours of our vacation. But there are some alternative excursions that might be worth exploring (see below).
If you want to give it a try anyway, I would suggest maybe just sticking with the less expensive group tour. That way you don't feel that you've wasted too much money if you don't see anything. I would also try to book at low tide – see the tips above for more details on that.
Alternatives for Better Wildlife Watching
So here's the thing. The beach areas are simply not teeming with wildlife. I've concluded that we have to look at Tamarindo as a purely beach vacation. And if you want a jungle wildlife adventure, you should instead go to La Fortuna or plan to spend a few days in each area so you can experience both.
But if you are limited on time and determined to get some wildlife encounters in, you need to plan on a full day trip away from Tamarindo to do that. Here are the best options:
Palo Verde National Park – This much larger national park is the closest area to Tamarindo where you have a realistic chance of encountering more wildlife. These tours from Nacho Tours and Central American Tours are both popular and highly rated. Plan on 6-8 hours for the tour.
Sloth Tour and Rain Forest Hike – This tour from On the Road Costa Rica will take you on a hike to the Rio Celeste Waterfall, a sloth tour, and lunch at a butterfly farm.
Turtle Nesting Tour – The one type of wildlife that is abundant in the Guanacaste area is turtles! Depending on the time of year, you can visit nearby Playa Minas or Ostional to view turtles nesting in their natural habitat. This was one of our favorite activities in Tamarindo!