We've just returned from a wonderful Spring Break trip to Tamarindo – one of Costa Rica's most famous beach towns. We stayed in the popular Tamarindo Diria Beach Hotel on Playa Tamarindo for a five night beach vacation. So was it worth it? Here are all the best (and worst) things about the Diria Hotel!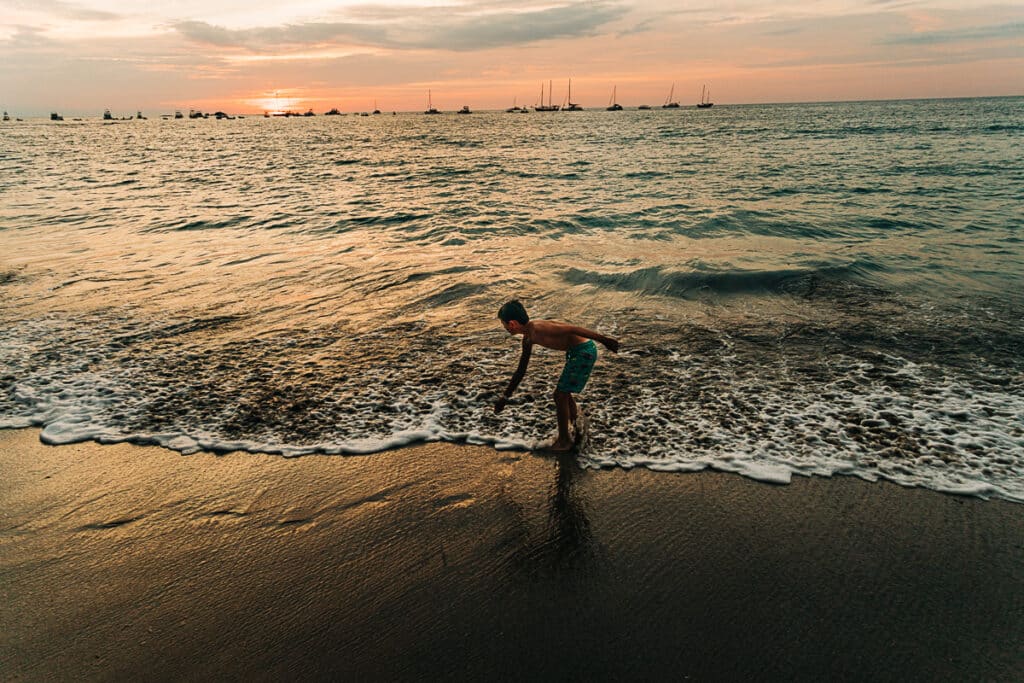 Location in Tamarindo, Costa Rica
First off, just where is Tamarindo anyway? Tamarindo is located on the northwest coast of Costa Rica, in the Guanacaste province. It's a very popular tourist destination due to its beautiful beaches, warm weather, and laid-back atmosphere. In fact, it's one of the most popular tourist destinations in the country!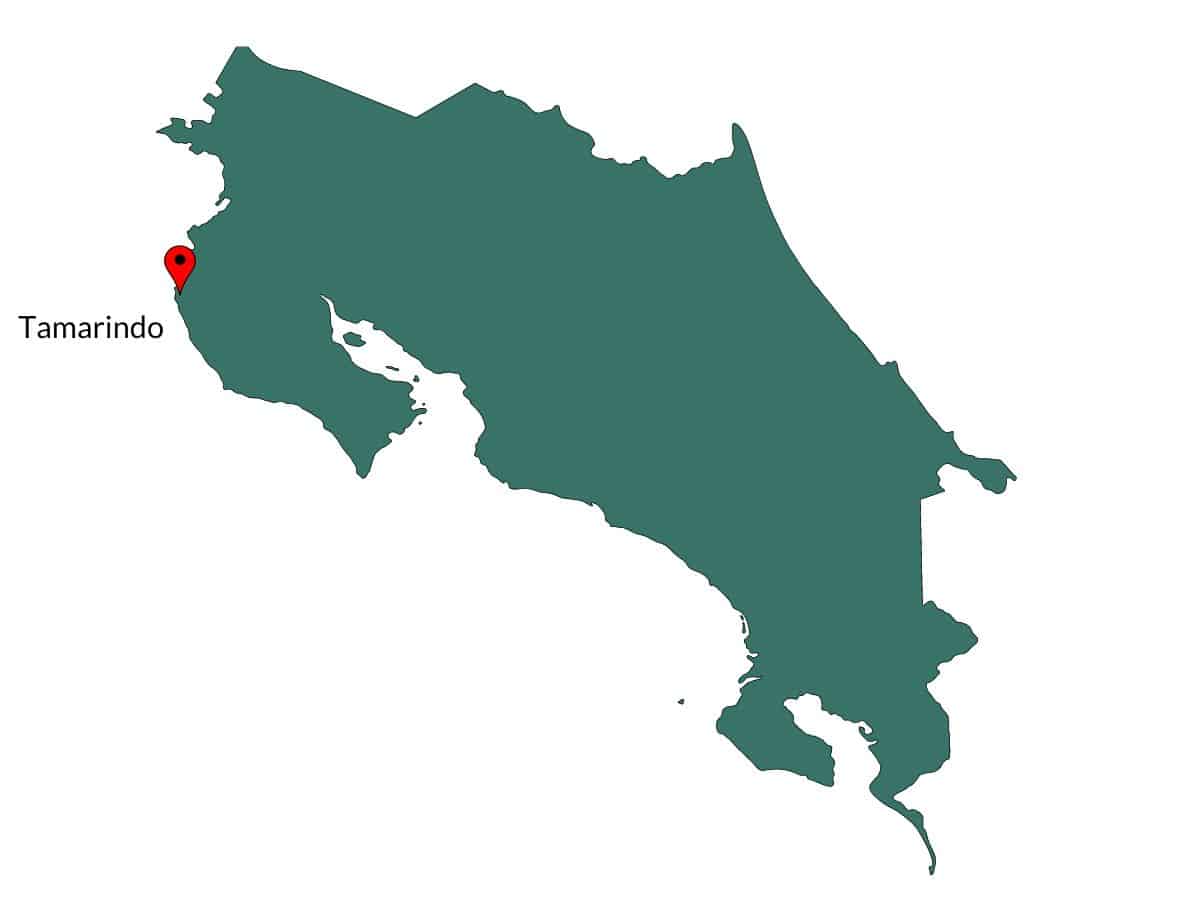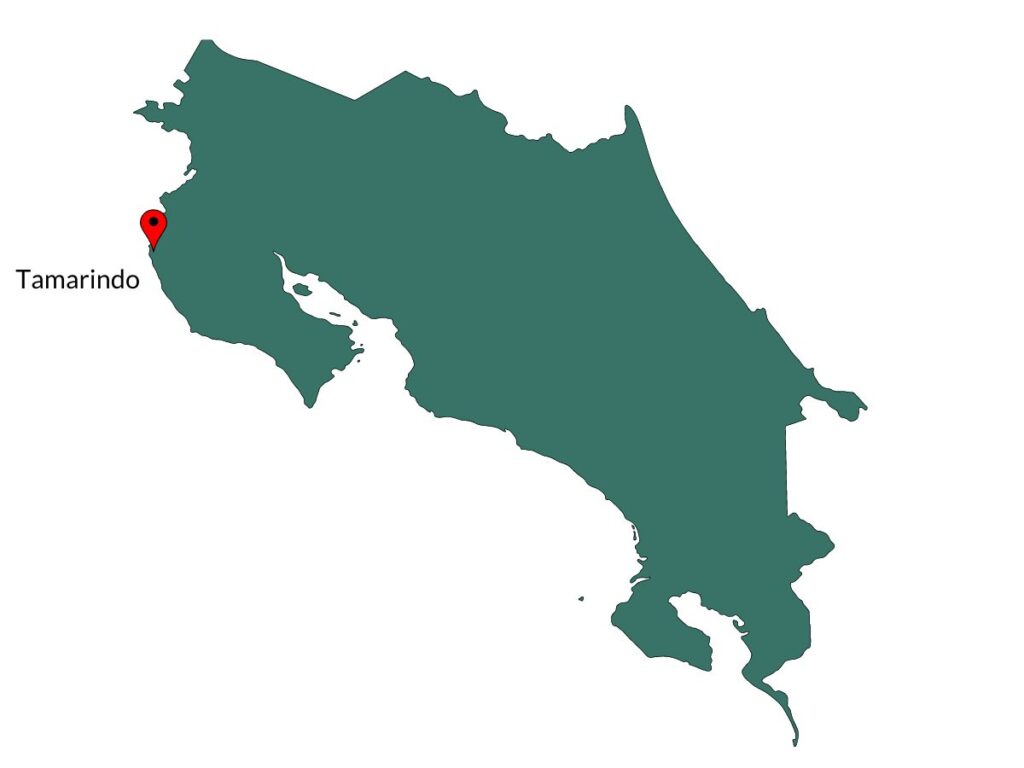 Tamarindo is especially known for its great surfing conditions, making it a popular spot for surfers of all skill levels. The town has a really laid-back beach vibe – with people walking around the streets in bathing suits all day long and carrying surfboards overhead. I don't think I wore real clothes beyond a bathing suit and cover up the whole time we visited.
Within the town of Tamarindo, the Tamarindo Diria Beach Resort has a truly prime location. The hotel sits directly beachfront on Playa Tamarindo (Tamarindo Beach) and the property spans both sides of the main road through town, Calle Central. So you can literally be steps away from the beach on one side and steps away from town on the other.
Property Map (& the three hotel areas to choose from!)
The Tamarindo Diria Resort is split into three sections, with guests having access to the facilities in all three. But you will want to have an idea of the property layout in order to pick the best area for your own family or group. Here is a map of the hotel property: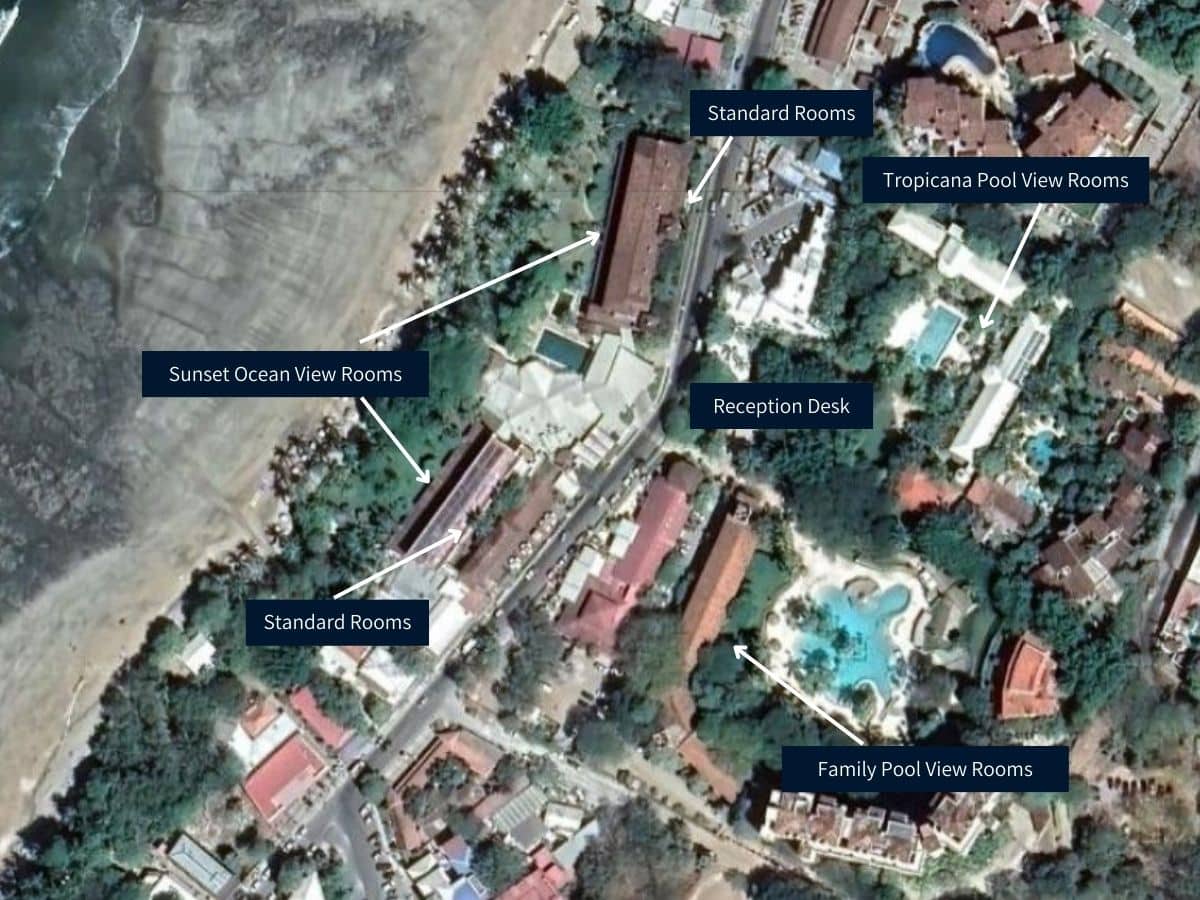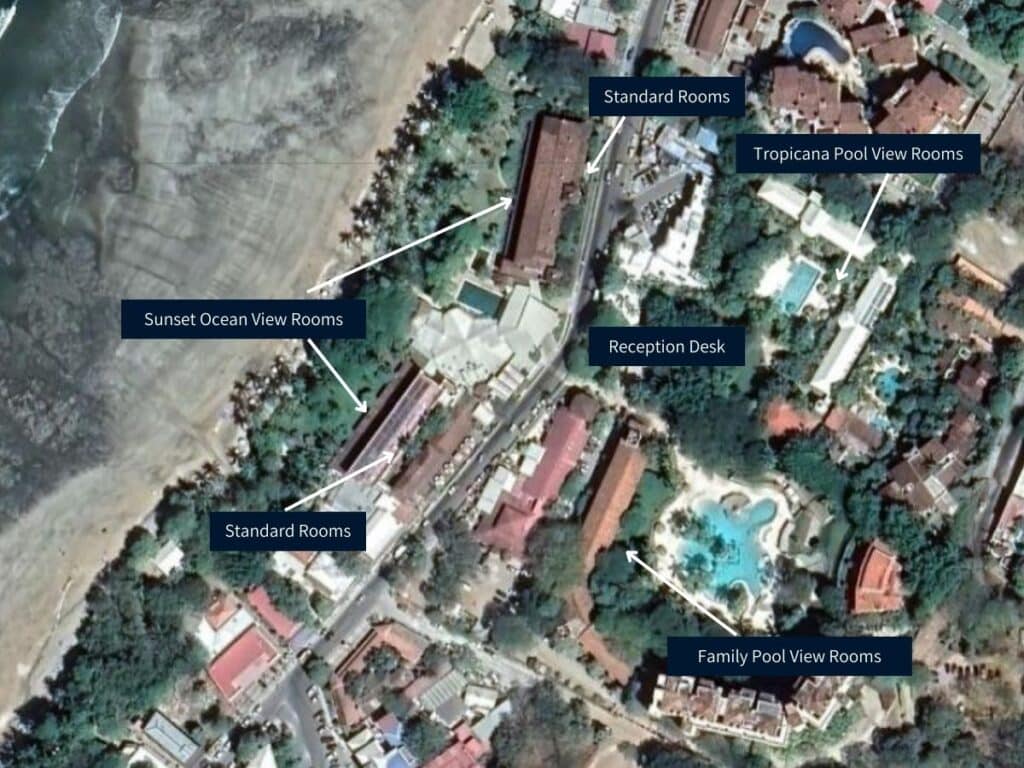 Tip: If you're looking to check room rates or book at Tamarindo Diria, I recommend checking the rates on booking.com. This is where we booked our stay, and is always my first choice thanks to their generous cancellation policies and reliable customer support.
Sunset Village
Best for Beach Lovers (pick the Sunset View rooms!)
This is the beachfront area of the hotel, which consists of two hotel buildings, the reception desk, and the main restaurant where breakfast is served each morning. It has its own pool, a small kiddie pool, and a beautiful lawn area full of lounge chairs where you can enjoy the lovely sunset view each evening. While the pool area here is smaller than the main pool, it has a view of the beach and was never crowded.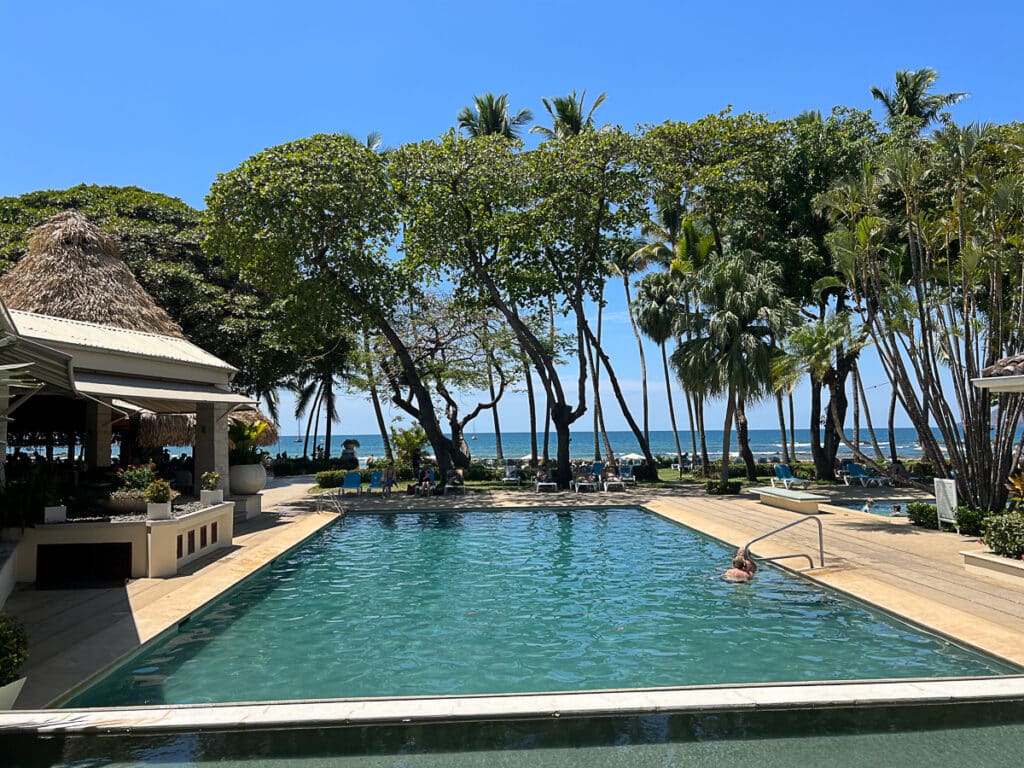 You'll find two types of rooms here: Sunset Ocean View Rooms and Standard Rooms. Make sure you know what you are booking! One is a higher end option and one is a budget option.
The Sunset Ocean View Rooms are facing the green lawn area with the beach and ocean just beyond, providing a fantastic view of sunset. They all have a balcony or patio area for sitting outside as well. This is where we stayed, and is what I would personally recommend. (Check room rates here.)
The Standard Rooms are the rooms on the street side of the hotel buildings, which face Calle Central. These are more standard hotel rooms with exterior entry doors, no balcony or patio, and a view of the road. It's important to note that the main street can be very busy and noisy at times. I personally would not stay in these rooms due to the noise factor, but they can be had at a great value compared to other areas of the property! (Check room rates here.)
Lagoon Village
Best for Easy Pool Access
If you cross the main street from Sunset Village, you'll find yourself in Lagoon Village. This area of the property is a little bit newer and is where you'll find the big, resort style swimming pool with a swim up bar. And this thing is massive! This is definitely the main pool area of the hotel.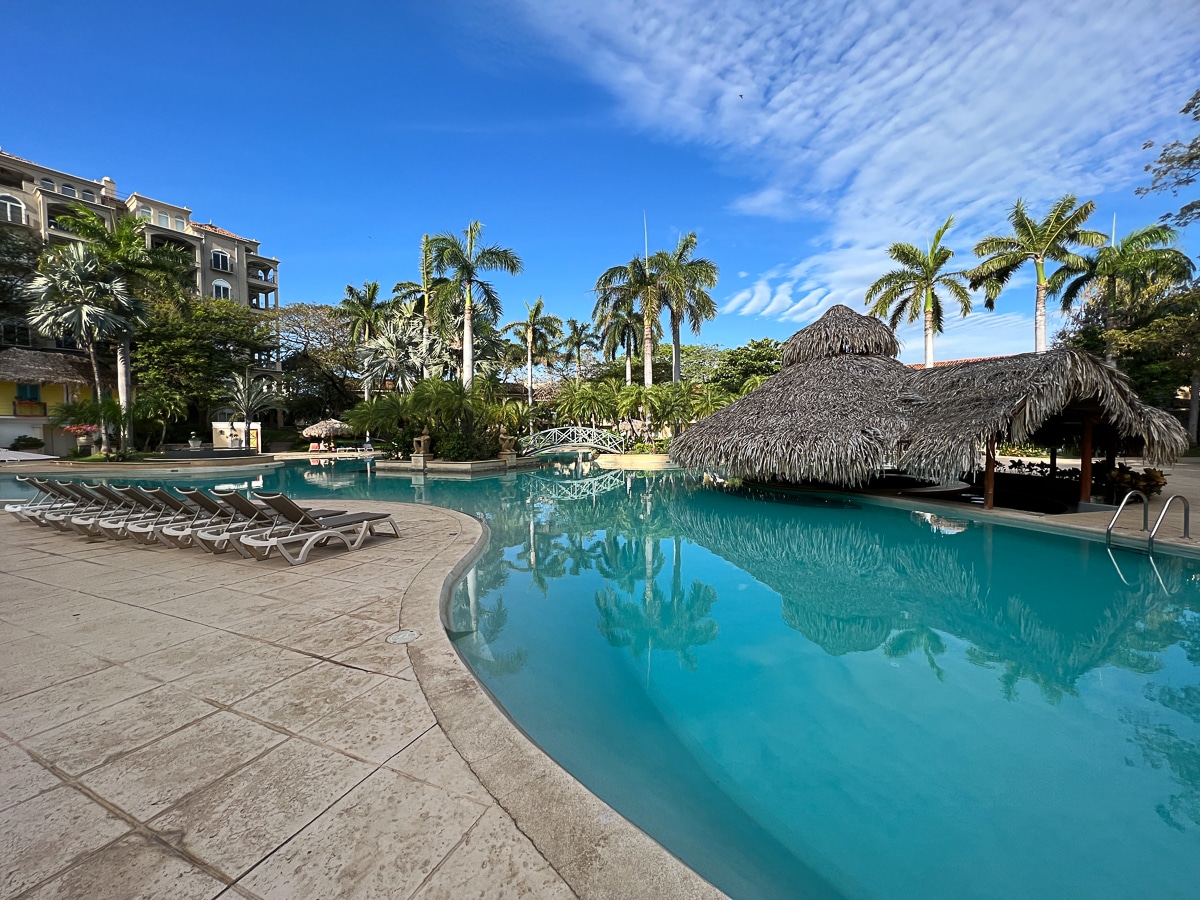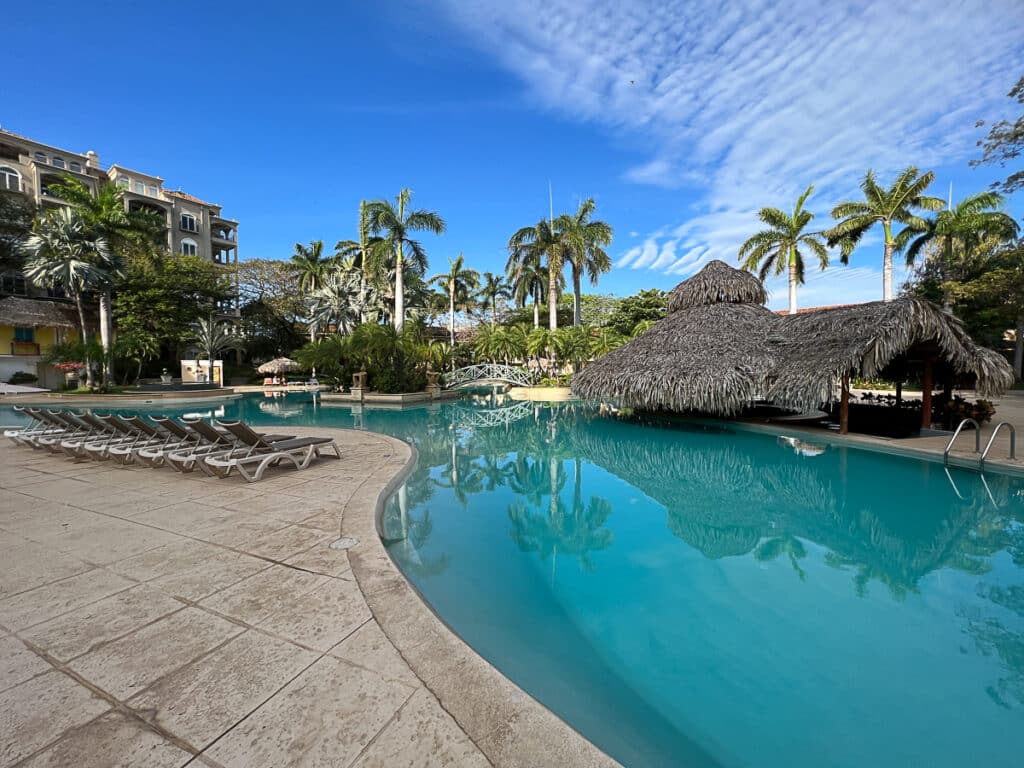 The rooms are all the same room type called a Family Pool View room. (Check room rates here.) They surround the pool area and all have either a small terrace or balcony for sitting outside. This area is a really nice option if you prefer to be closer to the pool, especially if you have young kids that will want to go back and forth from the pool to the room all day long. 
The downside is that there is no ocean view from this part of the hotel, and you'll need to cross the main street to access the beach and hotel restaurant. This isn't really too big of a deal if the pool is your higher priority.
Tropicana Village
Best for Couples wanting a Quieter Stay
This is the adults only area of the hotel, and is located adjacent to Lagoon Village although tucked away a bit out of sight. It has its own adults only pool area with a swim up bar and is definitely more relaxed and quiet than the other areas, which cater to a lot of families.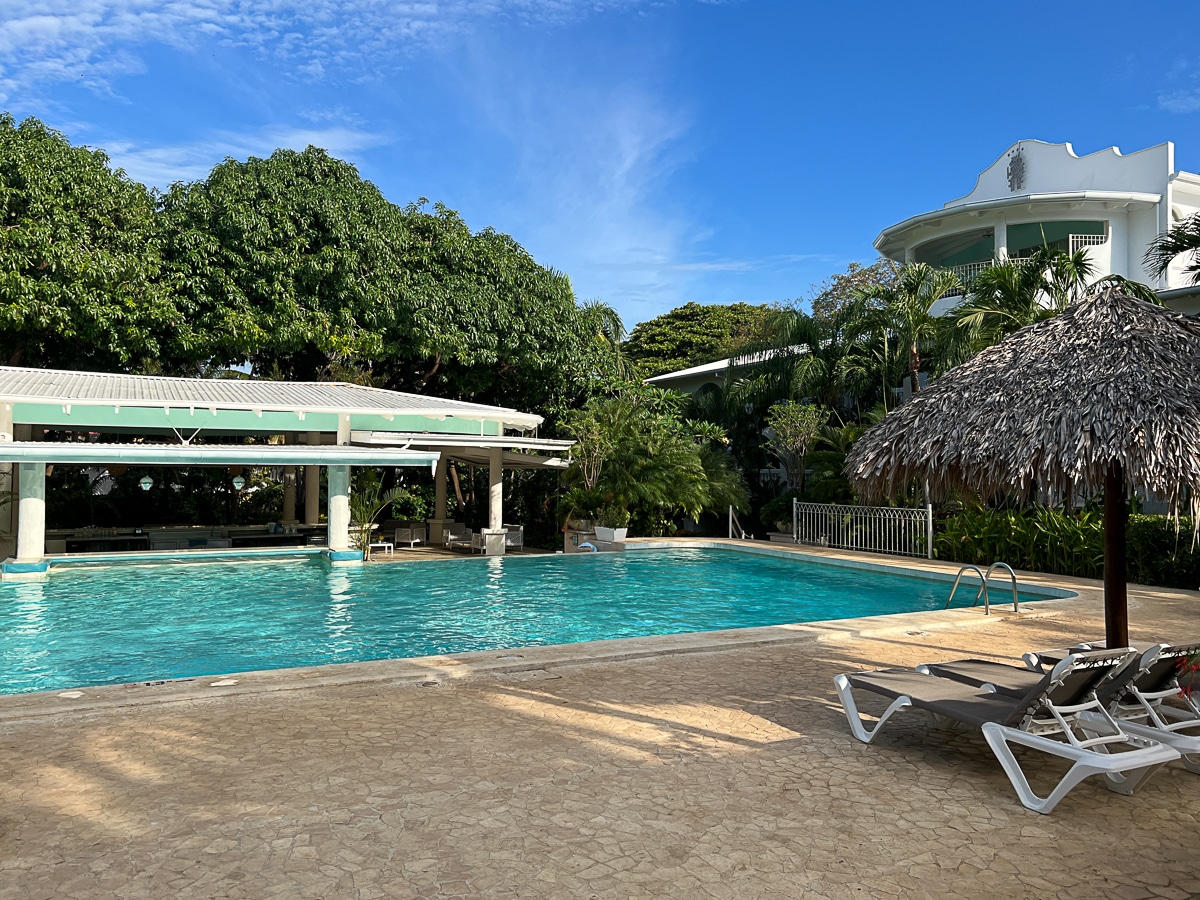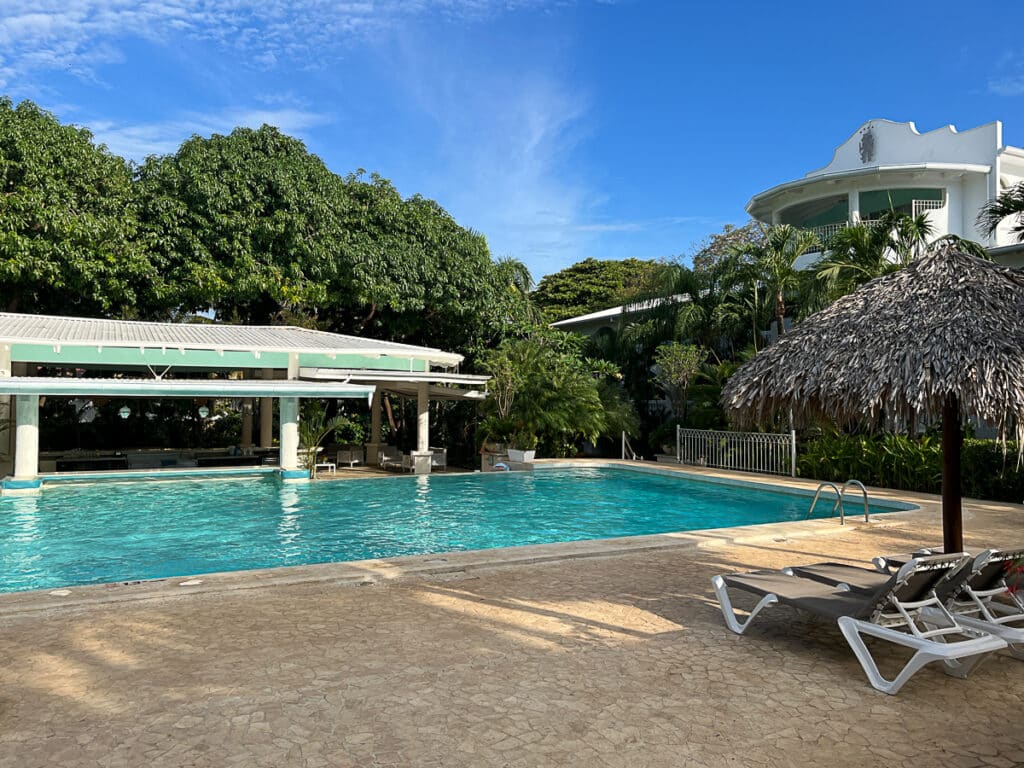 Now families with kids are actually permitted to book rooms in this part of the hotel. But the kiddos won't be able to use the amenities there, and it less convenient to both the beach and the other pools, so I personally wouldn't choose it for a family vacation.
You will find two room types here: Tropicana Pool View rooms and the Tropicana Junior Suite. (Check room rates here.) The pool view rooms are facing the adult pool area. And the Junior Suite is also facing the pool, but has the added bonus of a big jacuzzi tub on its terrace. Perfect for a special occasion splurge! 
Pools, Beach & Amenities
The Swimming Pools
As mentioned above, there are three distinct pool areas at Tamarindo Diria, each with a completely different vibe. In the beachfront area of the hotel, you'll find a lovely swimming pool and a small kiddie pool with great views of the sunset. This is where we spent most of our time, as it was right near our room and never crowded at all. I found it very relaxing there!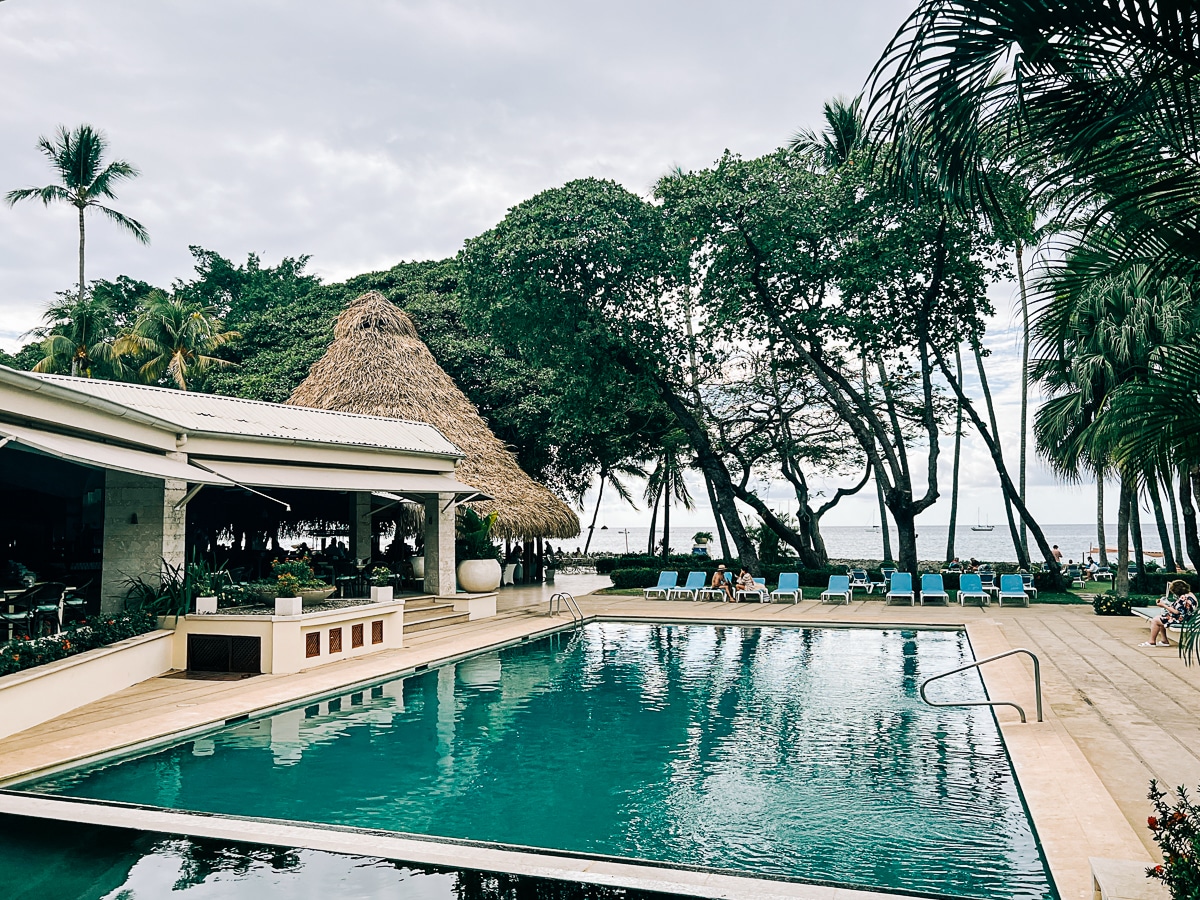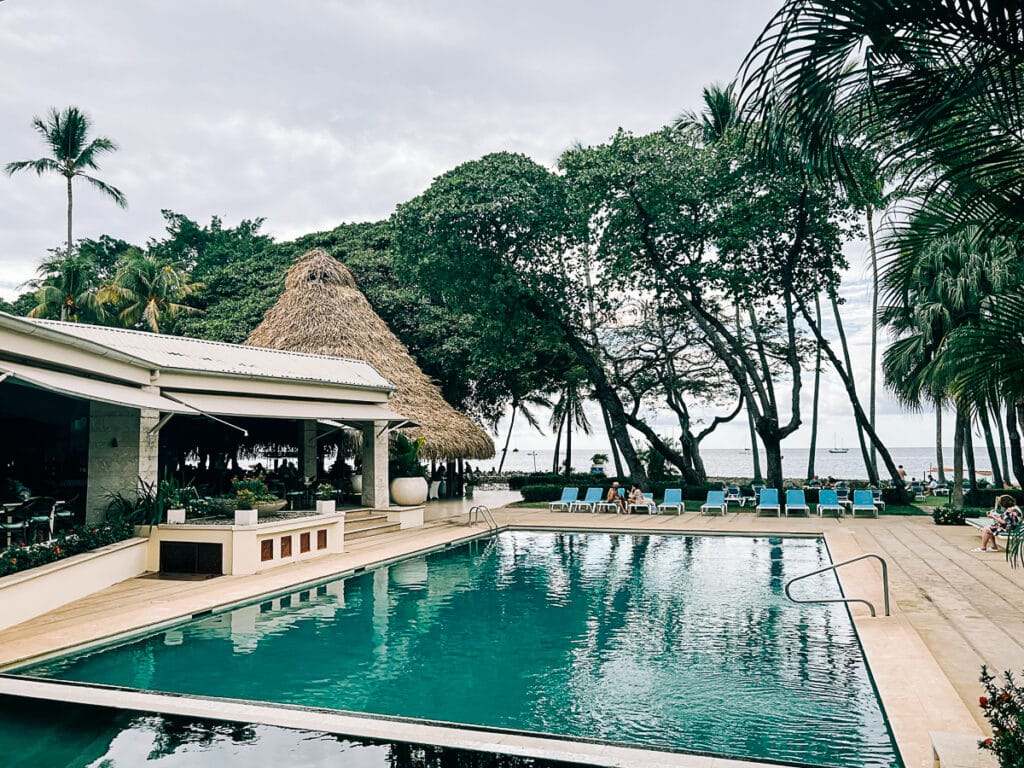 Across the street are two more pool areas. The first is a huge resort style swimming pool. It's massive – and complete with bridges to swim under, fountains, a jacuzzi tub, and sunken lounge chairs for relaxing. And of course there's a swim up bar as well. What more could you ask for? No ocean view from this area, although it is landscaped nicely.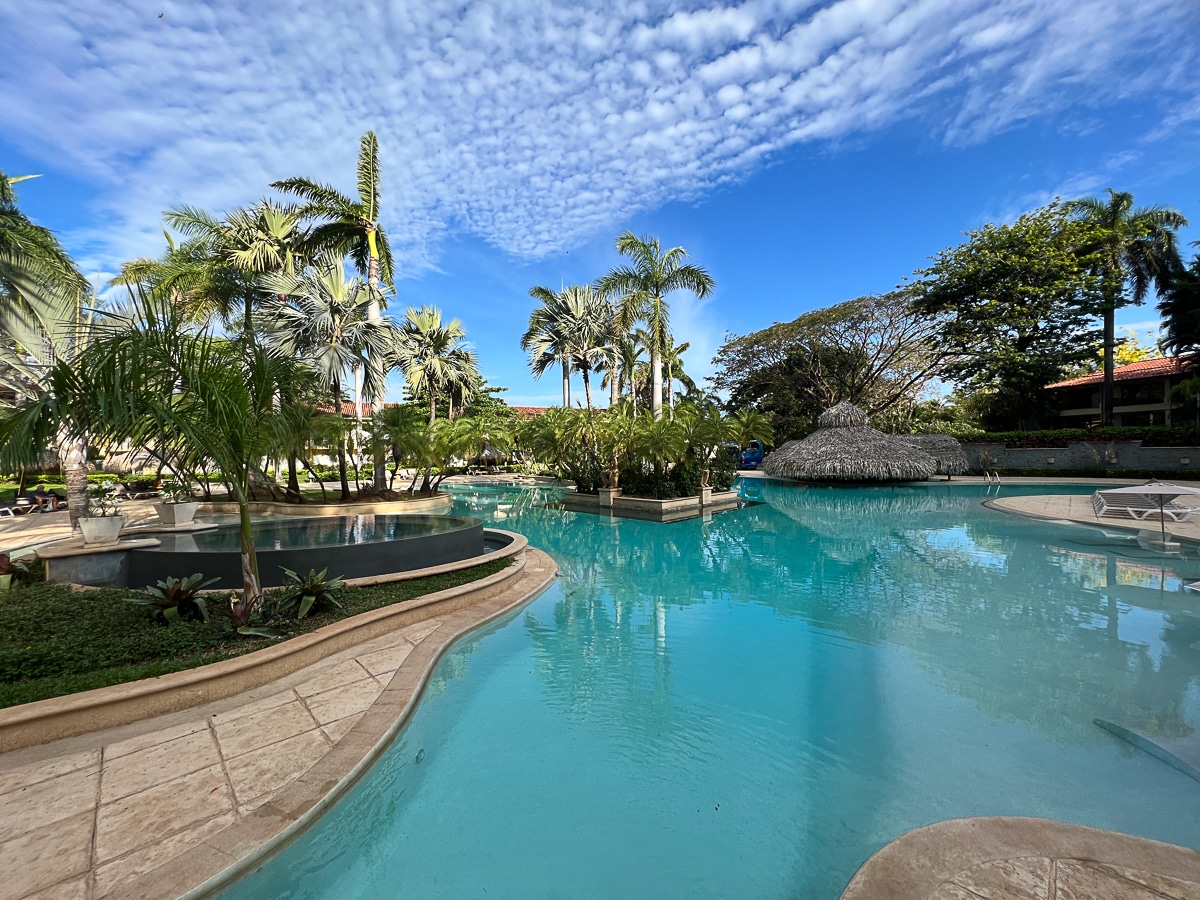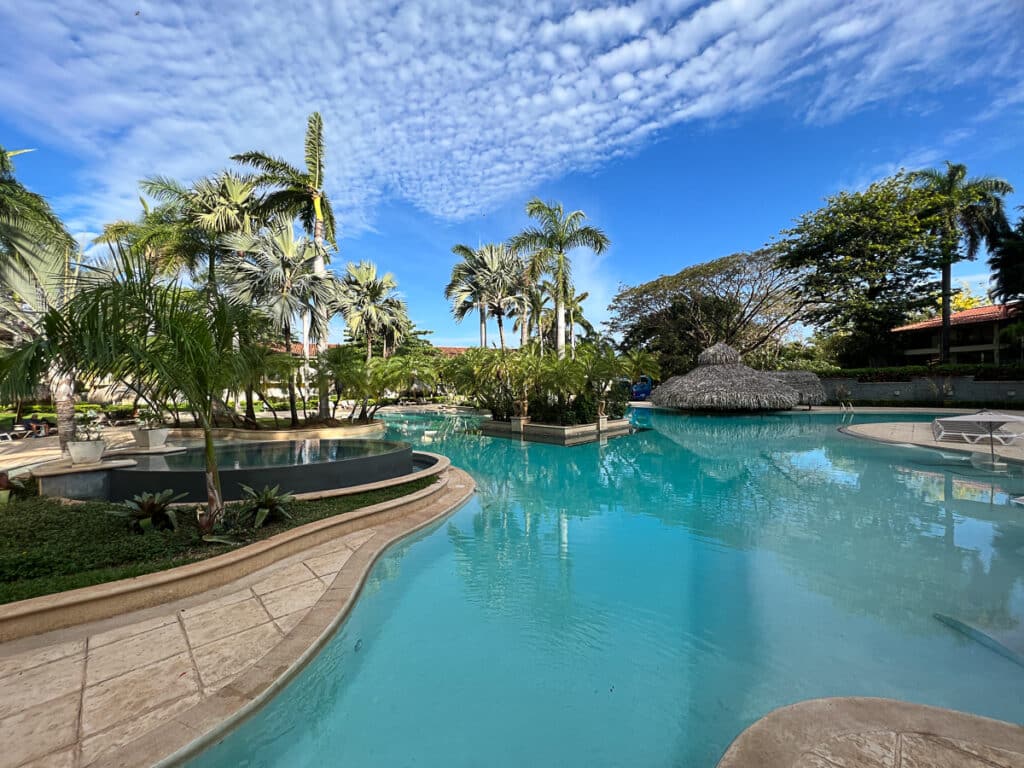 This is the busiest pool area, and we did find the chairs were very full on some afternoons. The pool itself never felt crowded but the chairs were all taken or reserved by early afternoon each day. There is lots of open deck space, so they should really just add more chairs. 10-12 more lounge chairs would have solved it.
Oh, and we had a pair of sandals stolen from the pool deck here – so watch your stuff.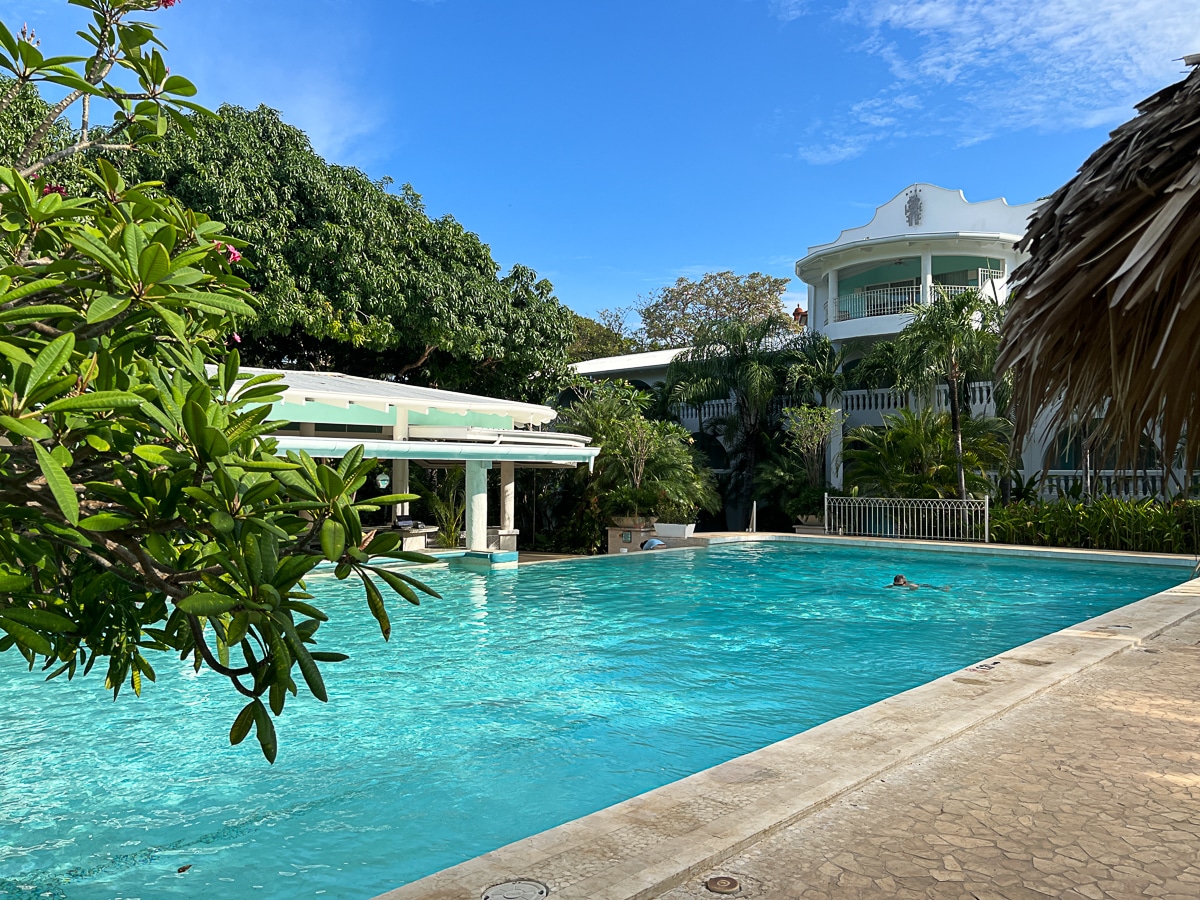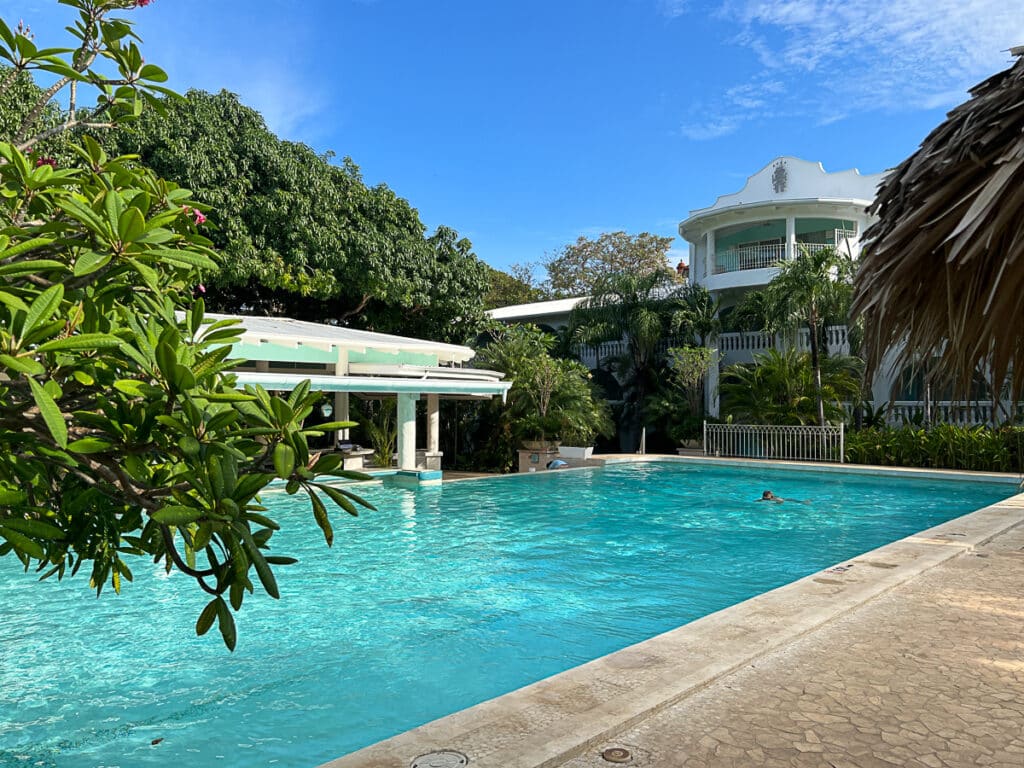 And finally, there is an adults only pool area which consists of a smaller swimming pool with its own swim up bar. It is tucked away to the side oof the main pool, and is much quieter and less crowded.
The Lawn & Beach Chair Situation
Lining the beachfront, you'll find two large grassy lawn areas which are also where you'll find the "beach chairs". I guess they aren't really beach chairs if they aren't on sand, huh? But nevertheless, if you are planning to sunbathe by the ocean, this is where you'll be doing it.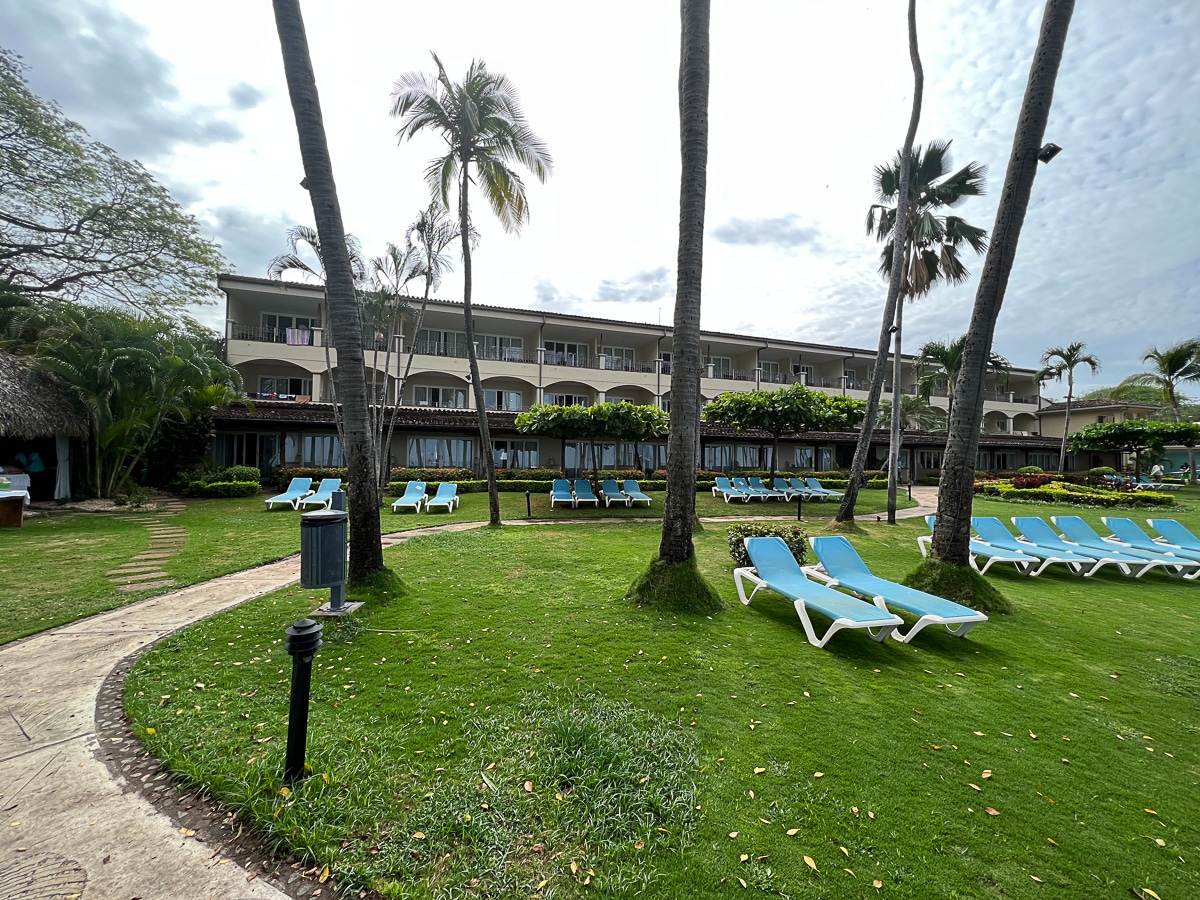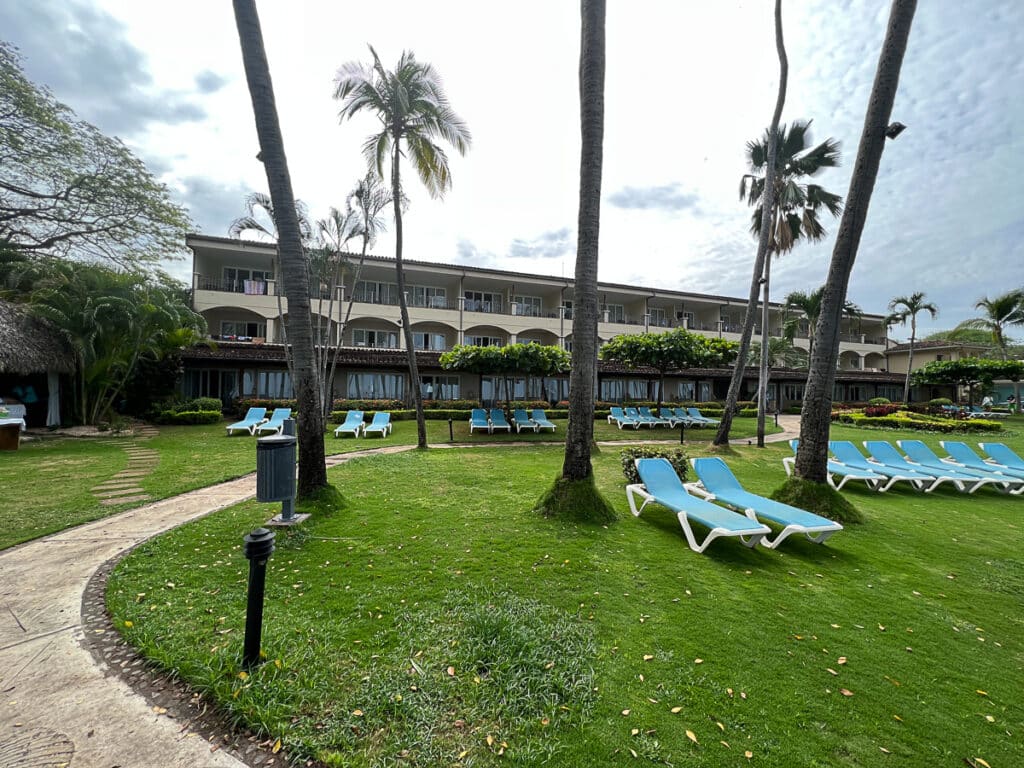 The area is actually quite pretty. But as a Florida native, it sure felt odd to be sitting on a grassy lawn at the beach. Looking at the other beachfront hotels, this does seem to be the standard set up for all of them. The beach area in front of the hotels is simply too narrow and crowded to put the chairs out on the sand. It also keeps them private to hotel guests more easily.
There seemed to be plenty of chairs available here, even on Spring Break. We never had trouble finding a place to sit on the lawn or at the beachfront pool area.
Playa Tamarindo – What is Tamarindo Beach like?
So now that we're talking beach chairs, let's talk about the actual beach. I'm going to be brutally honest here – the beach directly in front of the hotel (and all the beachfront hotels in Tamarindo) is… not great. It's very rocky with rough water and dark sand that is more like dirt. It's also very narrow and not the cleanest area.
Dogs are allowed on the beach and vendors lead their horseback riding tours down the beach every few minutes. I love both dogs and horses – truly – but don't love their poop on my beach. ;)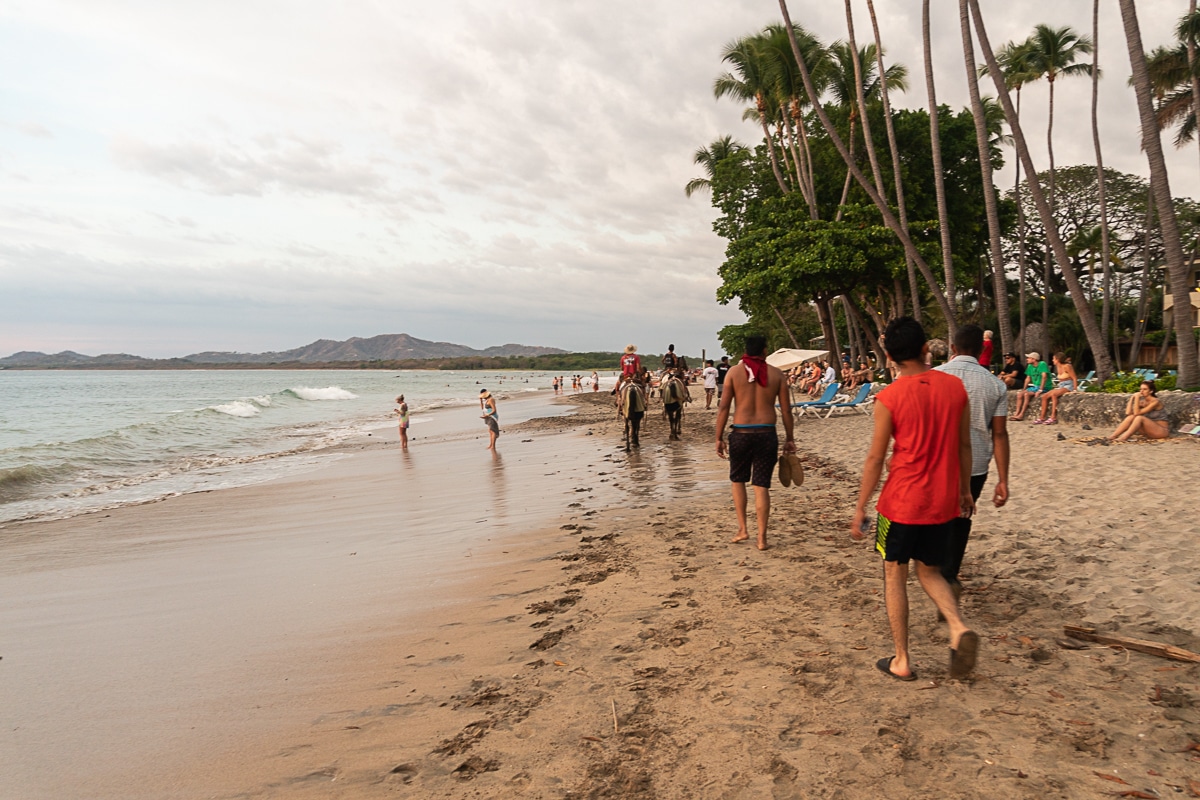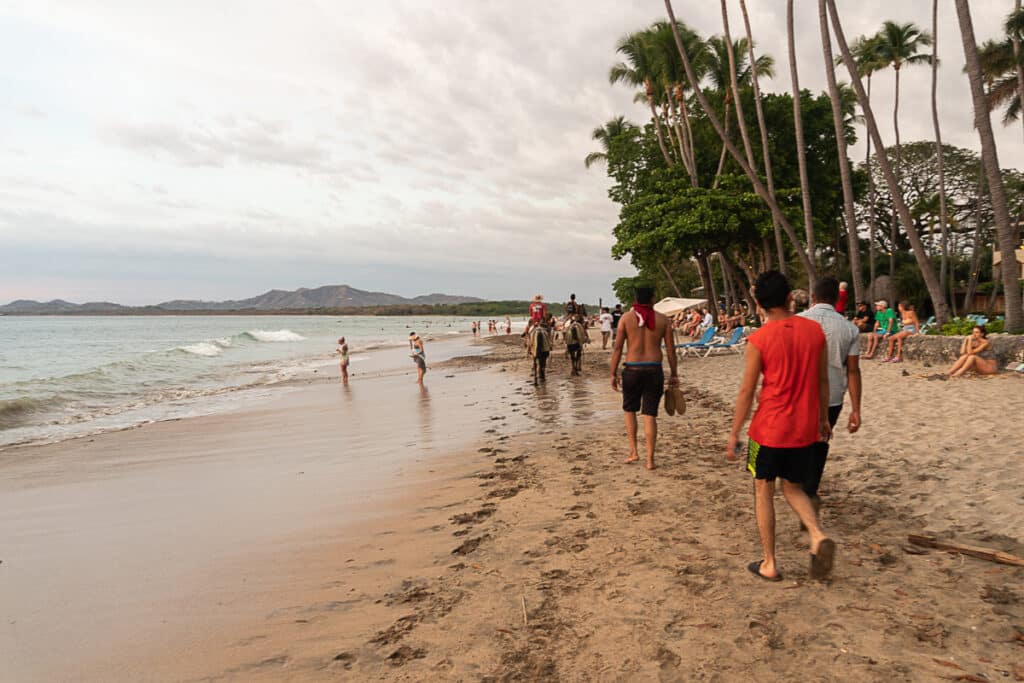 Between the crowds, the street vendors, the horses, the dogs – it's a bit of chaos. But… have no fear.
If you take a stroll further down the beach, towards the estuary, it opens up into a big, wide, beautiful beach area. This is much more like it. Lots of room to spread out and relax there and it's much more akin to the beach you are probably picturing in your head.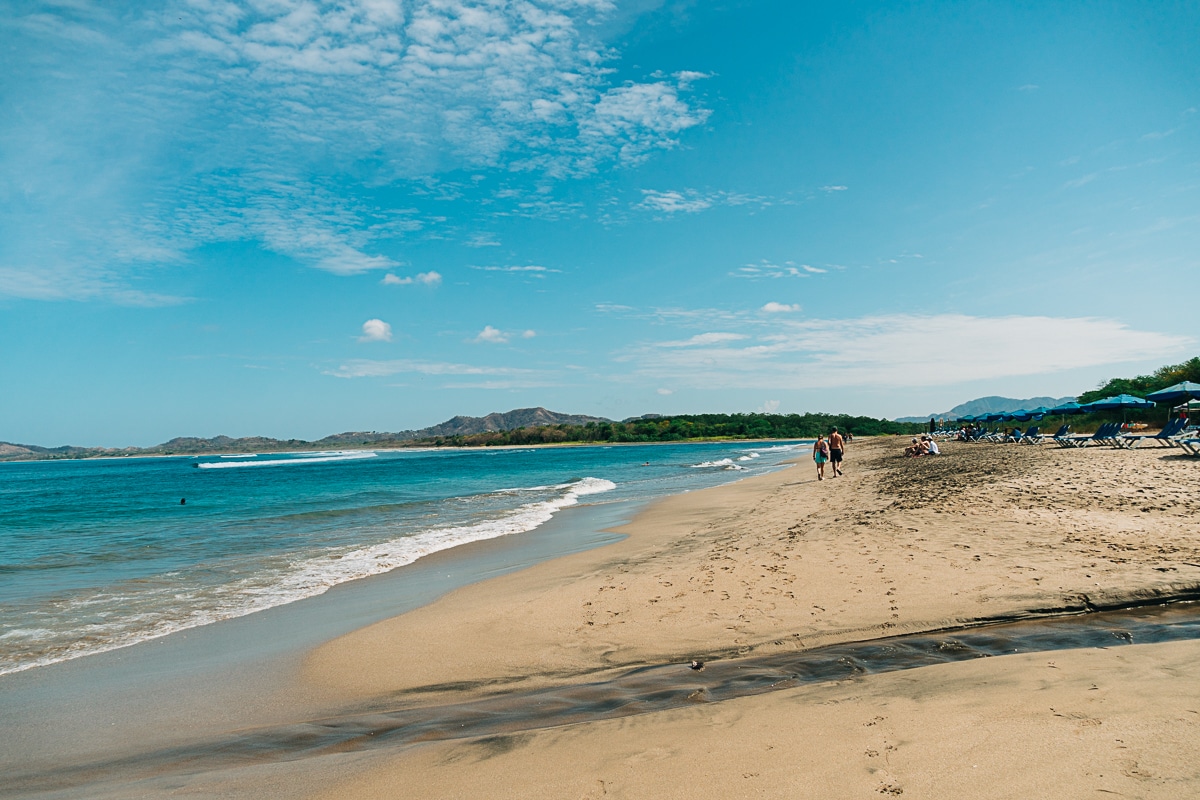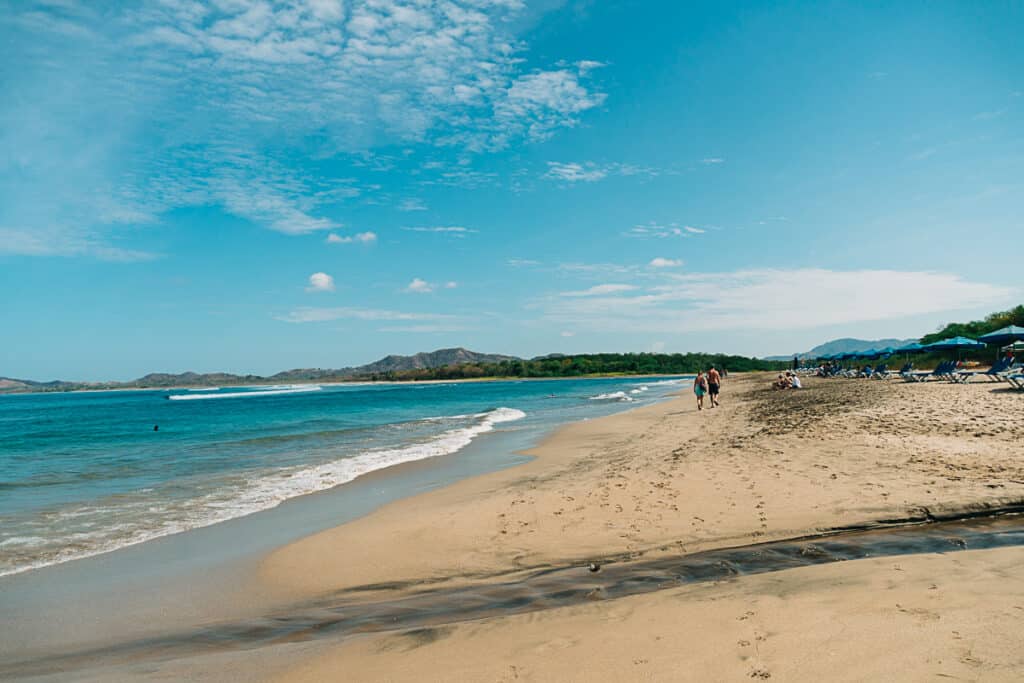 This wider beach area is also where you'll find all the surfers! We had a great time watching them surf and even took our own family surfing lesson – so much fun. You can rent some beach chairs down that way too, if you need them.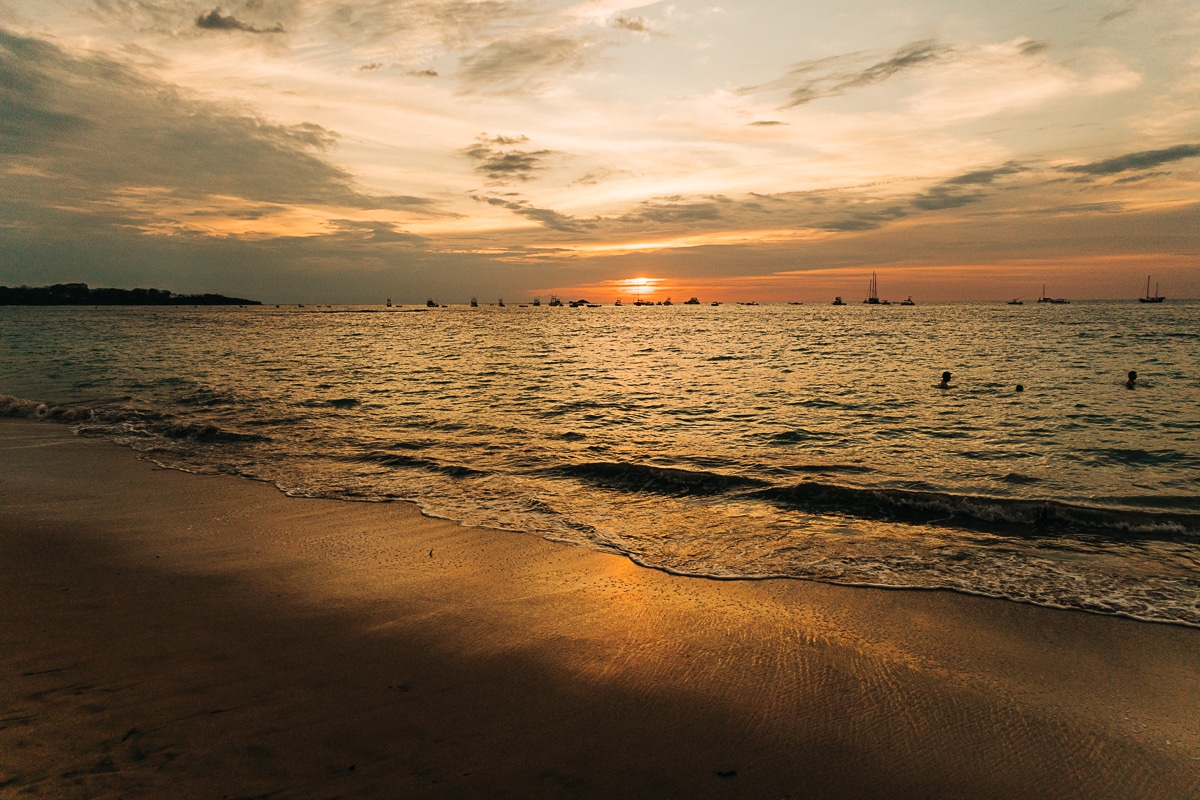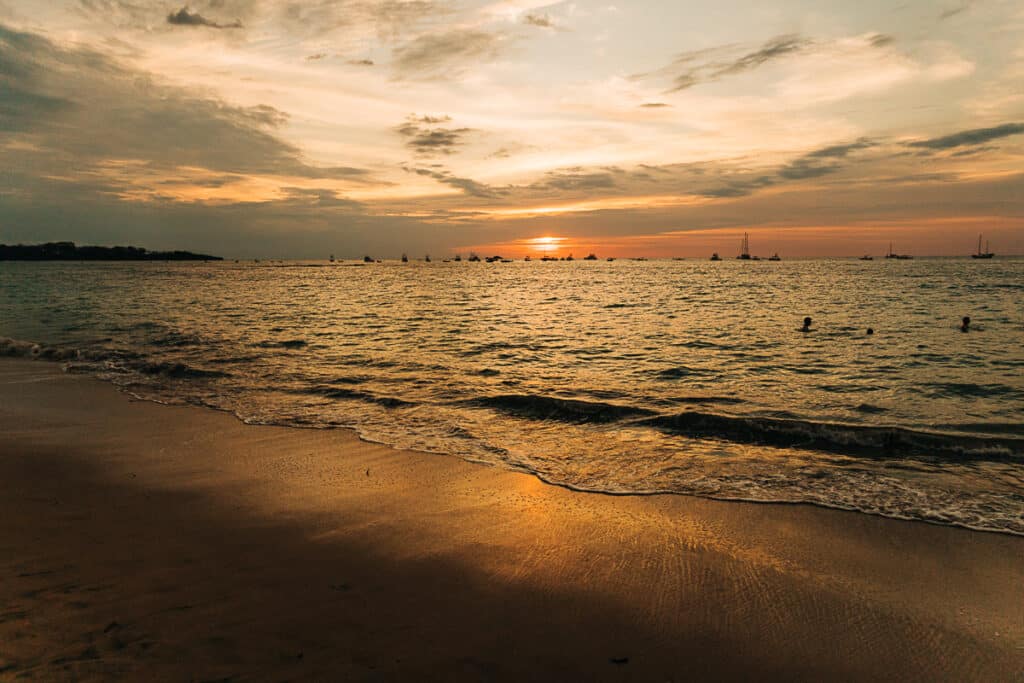 And of course, no discussion of Playa Tamarindo could not be complete without mentioning sunset. Sunset is an event here. A big crowd gathers along the beach every evening to watch the big orange sunset disappear over the Pacific. In front of the hotel, you'll find a strolling band most nights and even a fire dancing show (not to be missed!). 
Checking out Beach Towels
And while we're talking beach and pool areas, this is a good place to talk about the towel situation. When we checked in, we were handed one pool towel for each person. I put that in quotes because they were more like old bath towels, and not nearly big enough to be considered a beach towel.
There was no place to swap these towels at the beach or pool areas, so if you wanted fresh ones, you needed to go back to the reception desk and ask to exchange them. I found this odd, and frankly a bit cheap. We had packed along our own quick dry beach towels so mostly just used ours for the trip.
The Wristbands
I should also note that you are required to wear a wristband throughout your stay at the Tamarindo Diria. This is pretty common at large resorts of course, but something I am never a big fan of. Once locked onto your wrist, they can't be undone again without cutting them off, and then you would need to return to reception for a replacement.
So if you're like me and desperately need to get that wristband off each night for a shower, I recommend putting it on yourself (don't let them do it for you) and making it nice and loose so you can take it on and off.
Other Amenities
There is a small fitness center. But on the one day mu husband attempted to use it, the only treadmill was out of order. I told him it was fate and he shouldn't exercise on vacation. :-D
There's a casino. Sort of. Technically, there is a casino at the resort. But when we went to check it out on a Saturday night, it was completely empty. I mean literally no one else was there. So I wouldn't count on passing much time there.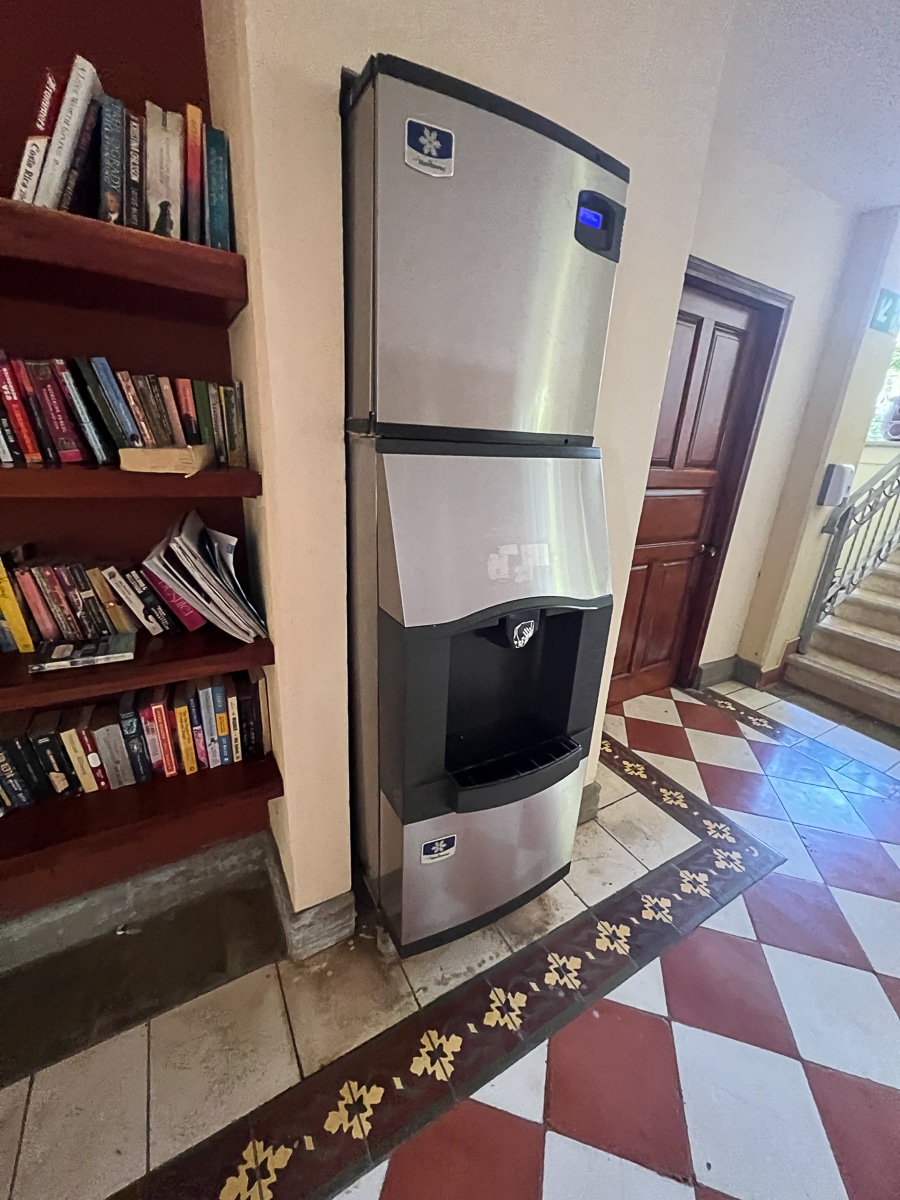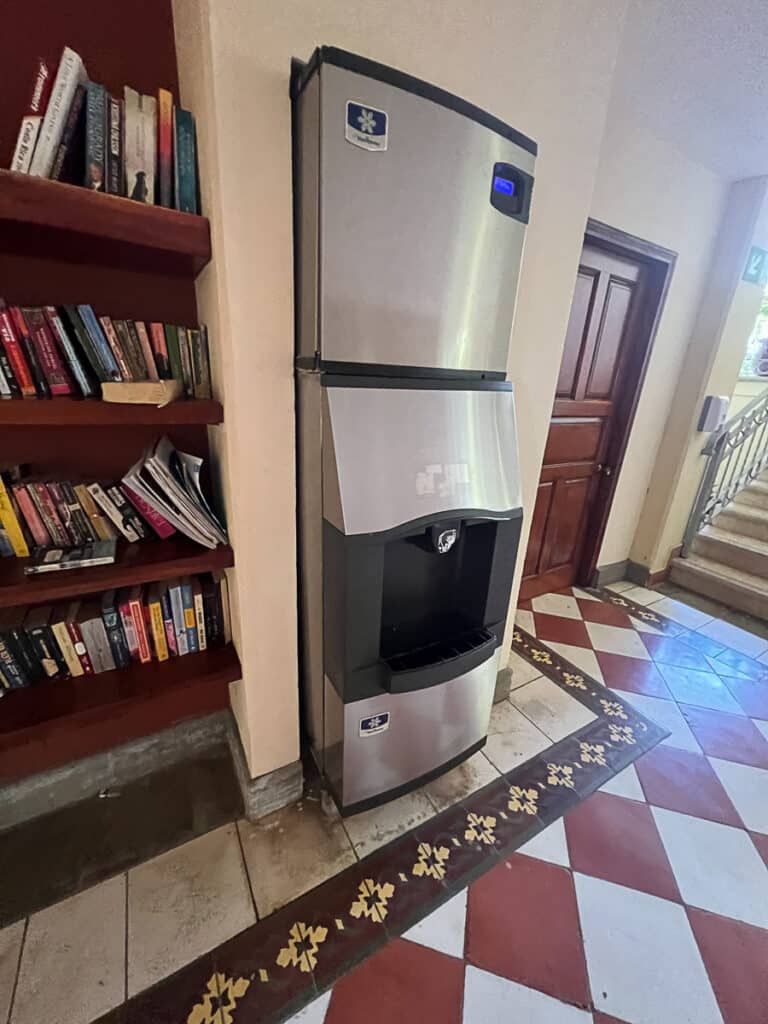 An ice machine! I love a hotel with an ice machine, so was delighted to find one in the hallway outside our room, which made it super convenient to fill our water bottles with ice cold water in the mornings. And right next to it was also a little book exchange shelf where you could borrow/leave a book. I love that!
There is also an activity desk where you can get help booking all kinds of tours and activities. My husband did a coffee tasting right there are the hotel bar, and really enjoyed tasting and learning about Costa Rican coffee.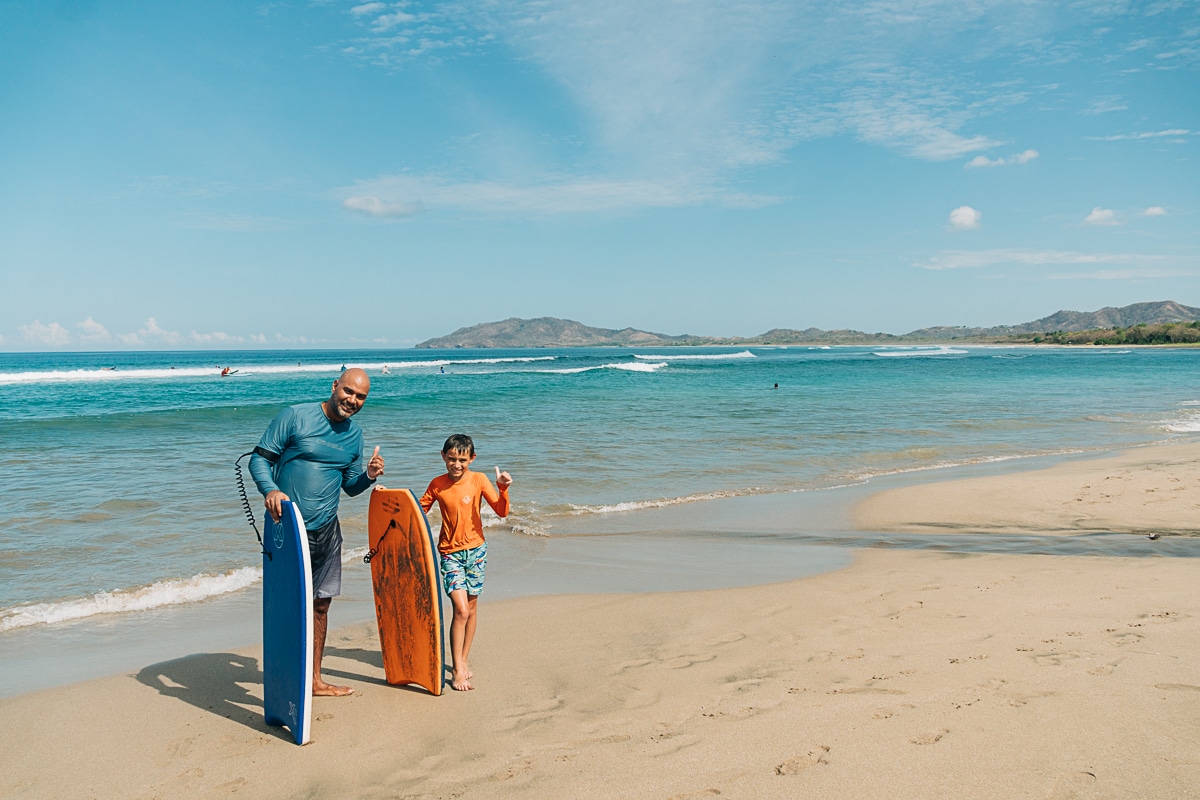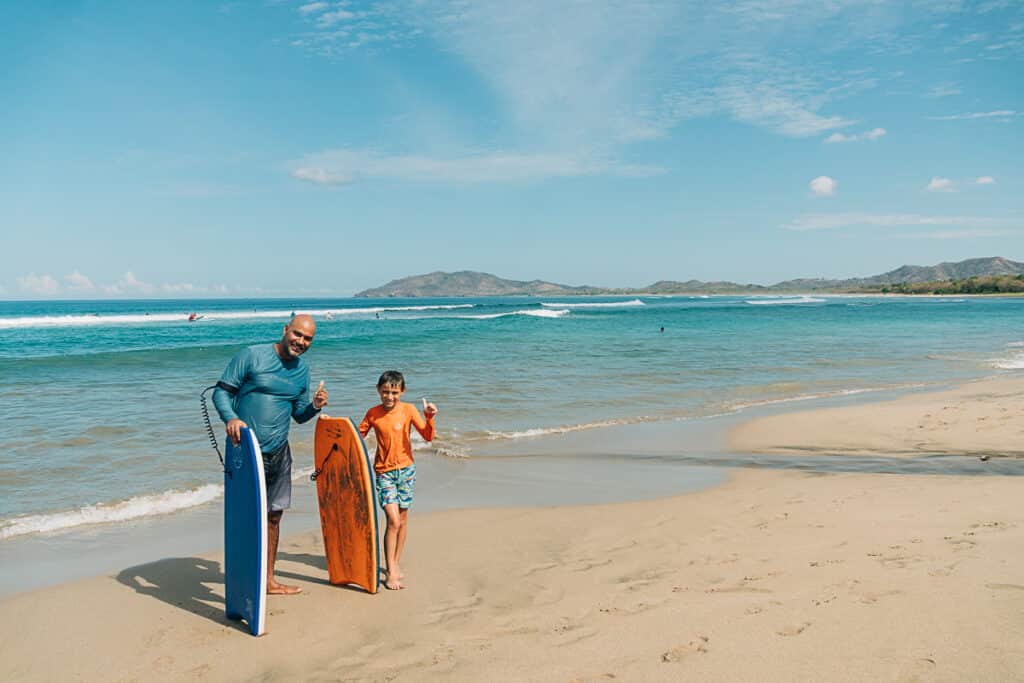 And by the Sunset Village pool, you'll find a small stand where you can rent surf boards and boogie boards. We paid $20/day for a boogie board for my son and another for my husband, and they had a blast with them!
As parking can be a bit of a disaster in Tamarindo, I should also mention that there is a parking lot available for hotel guests. It's adjacent to the Lagoon Village area of the hotel, and while it was pretty crowded, we were always able to find a spot.
Plus there was free wifi in the rooms and public areas of the hotel – and it worked well enough for a travel blogger like me.
Our Room – Sunset Ocean View Room
We opted to stay in one of the beachfront rooms in the Sunset Village area of the Diria, and it was the perfect choice for our family. (Check room rates here.) The buildings are definitely on the older side, but I thought they had a lot of character and are very well maintained.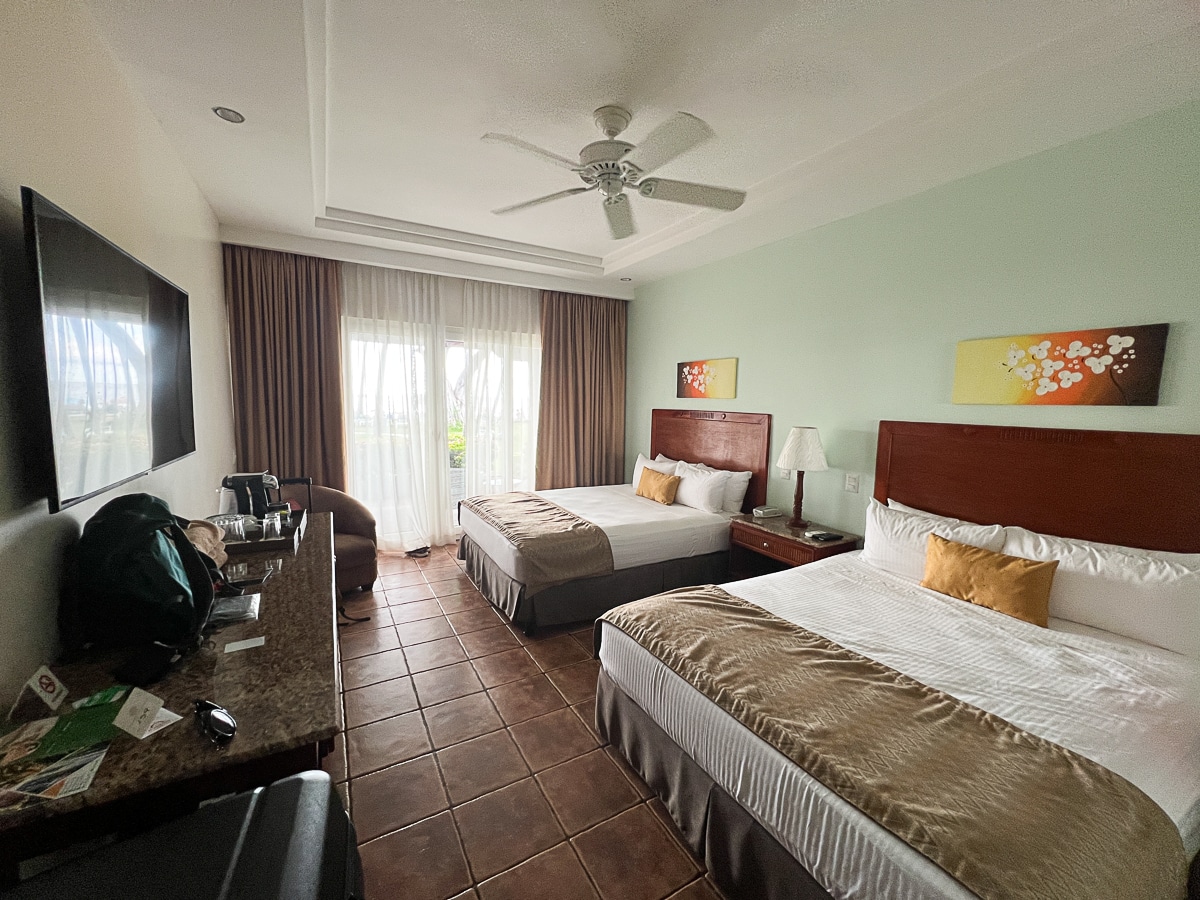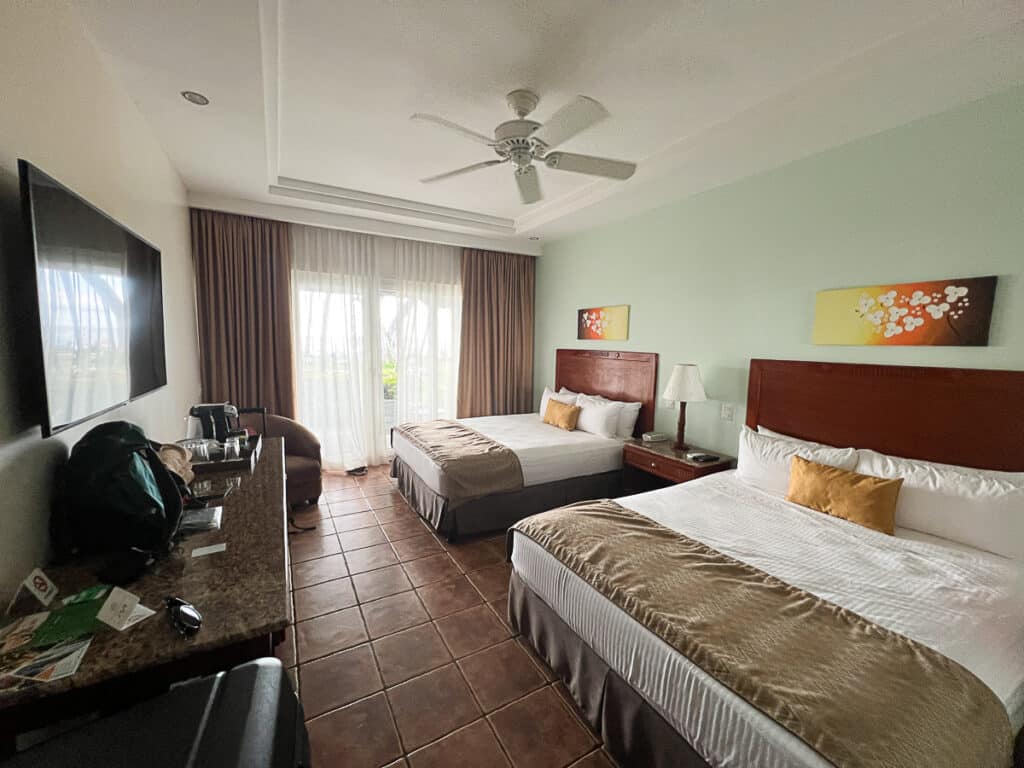 The room itself was plenty roomy, with two double beds. Unfortunately, the beds themselves were not particularly comfortable. Very springy mattresses and no actual blankets on the beds – just a top sheet. I know it's a hot climate, but I was pretty cold until I discovered the one lone extra blanket in the closet. The bedding was very old with a ratty throw pillow that should really have been tossed about a decade ago.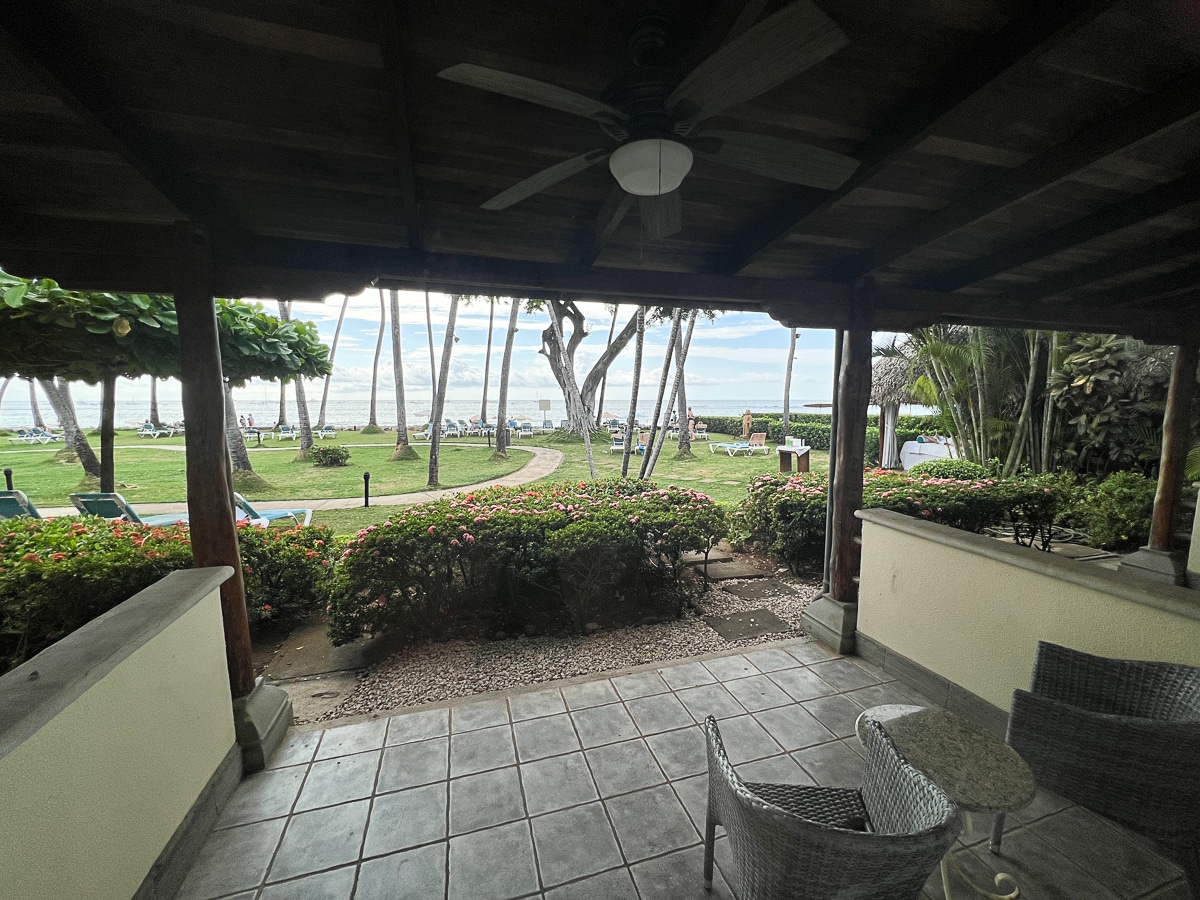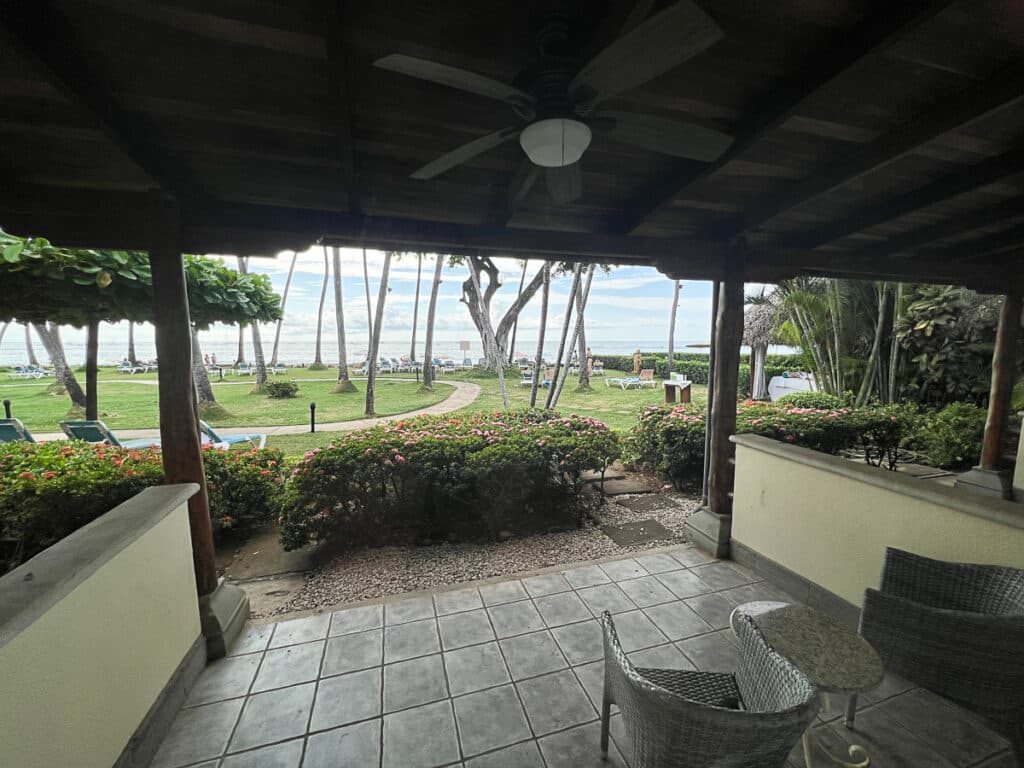 The best part of the room was undoubtedly the big outdoor patio. We really enjoyed sitting out here with coffee in the mornings and again to watch the sunset in the evening. Perfection. The rooms on the upper level had balconies instead of a patio, which also looked very nice, although smaller.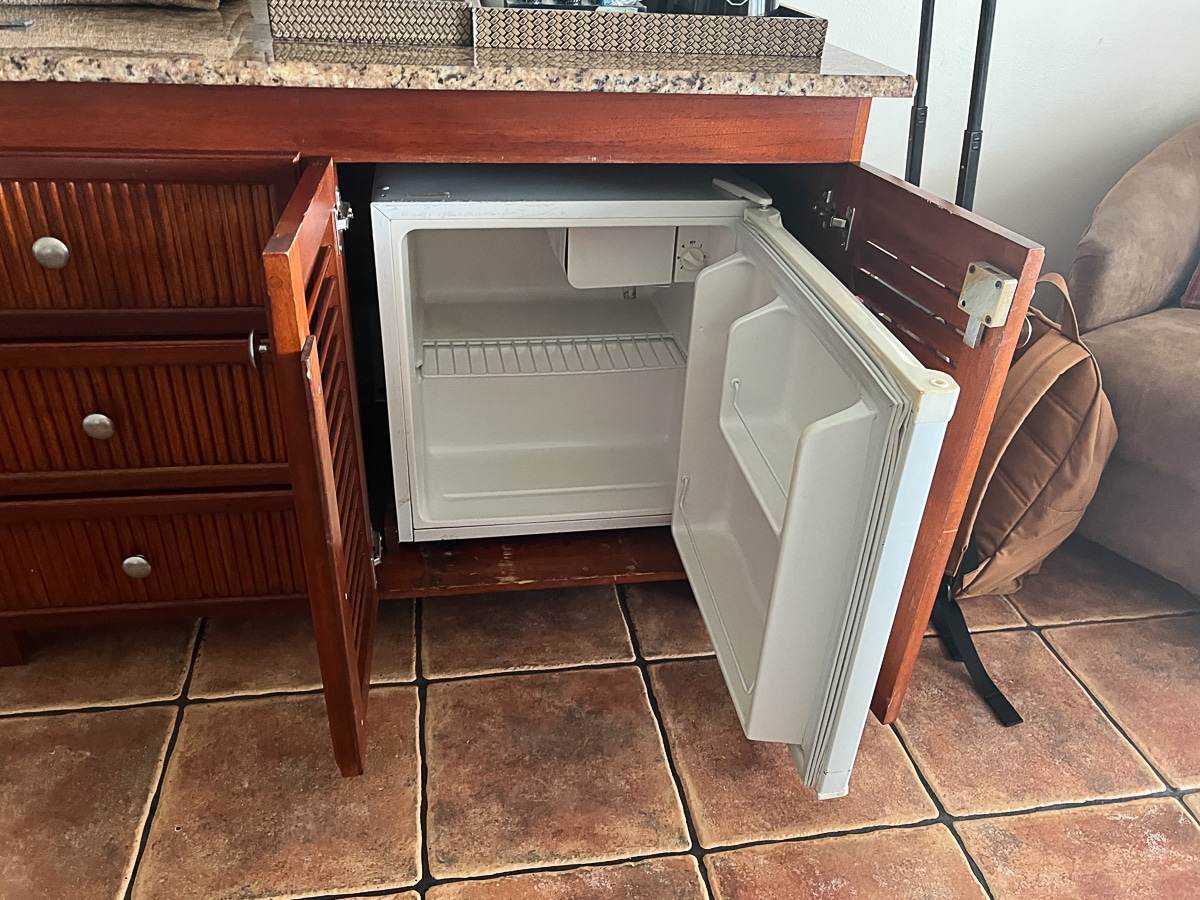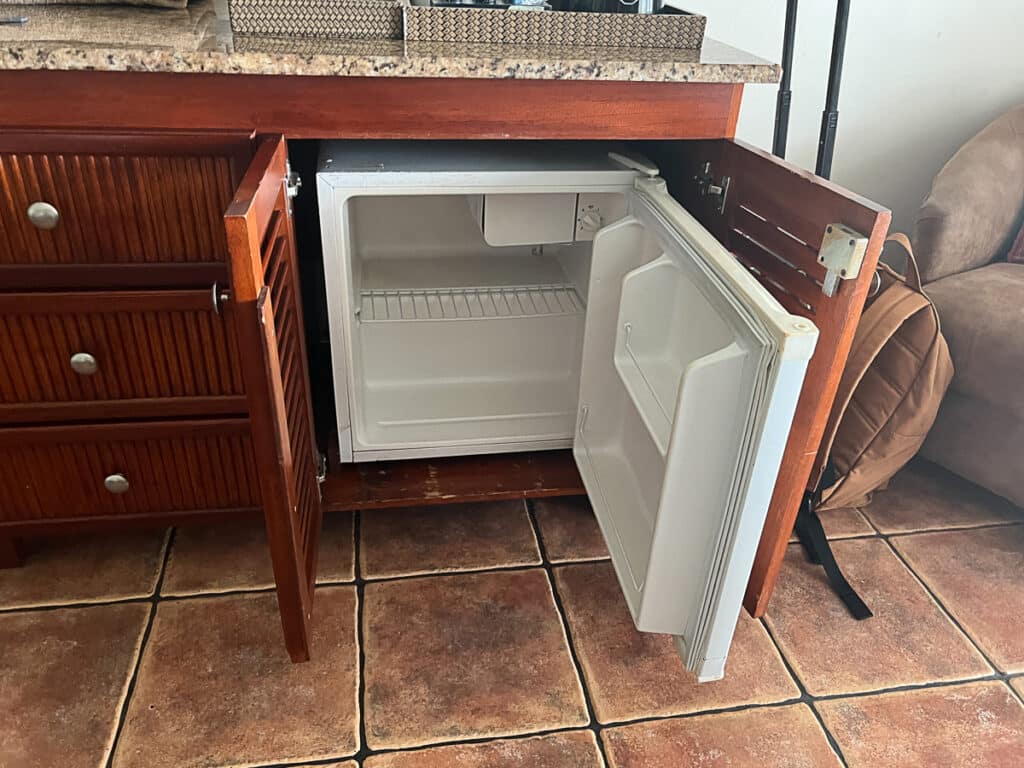 There was a mini fridge in the room which stayed nice and cold – and we all know how convenient that is when traveling with kids! And a small coffee machine was provided with coffee pods.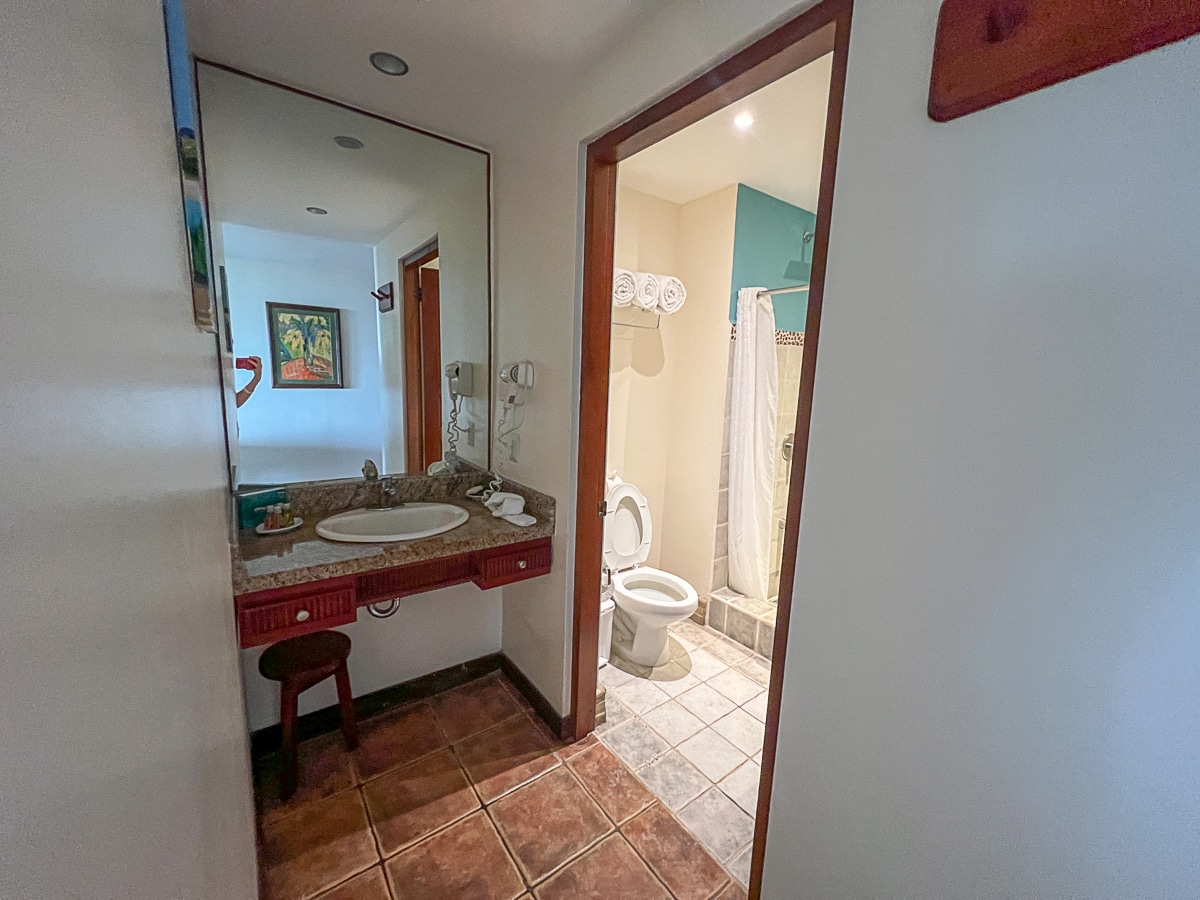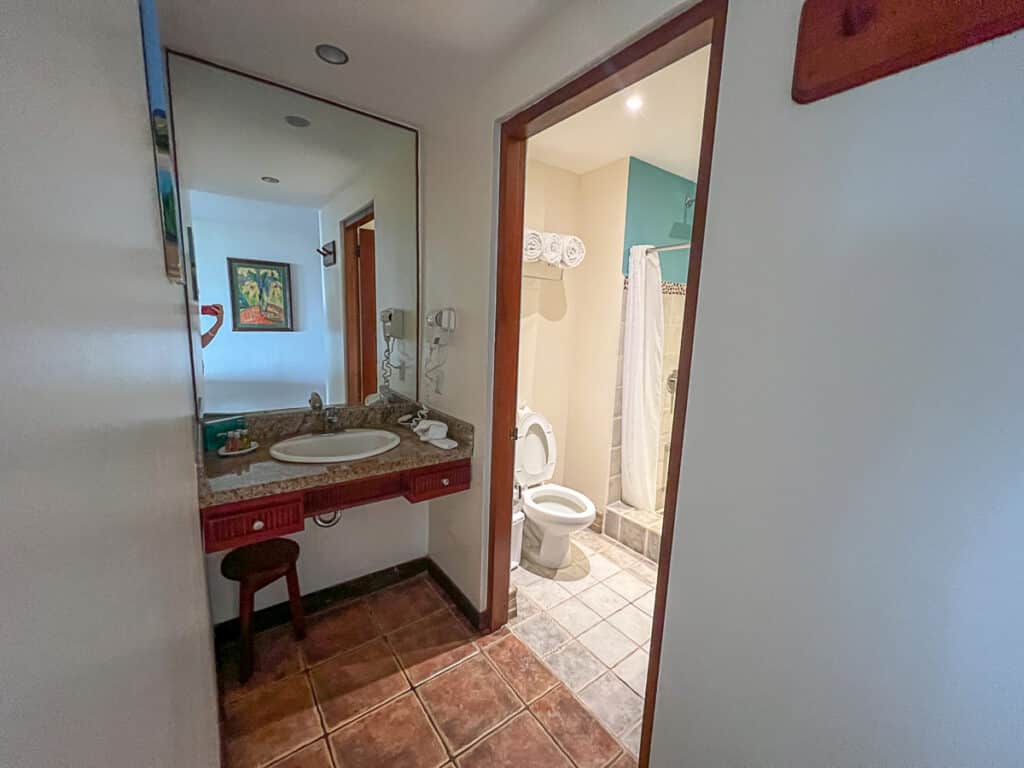 And the bathroom was small but adequate. The sink and vanity area was outside and there was a shower and toilet inside a water closet. Bonus points for this weird window that opens into the hotel hallway. Be sure to close that if you don't want the neighbors to hear you peeing! 
Tip: We booked our stay via Booking.com. I always recommend checking the rates there, especially when booking internationally. They are very reliable and the cancellation policies are more generous than many hotels booked directly.
The Food & Drink Situation
Now the Tamarindo Diria is not an all inclusive hotel, but there are plenty of food choices to be had there and nearby.
The hotel itself has several restaurants on site, including a pizza place called Nari that we ate at twice. (Thanks to my pizza loving kid!) The wood fired pizzas were surprisingly good, and you can't argue with $6 vodka sodas and tasty sangria.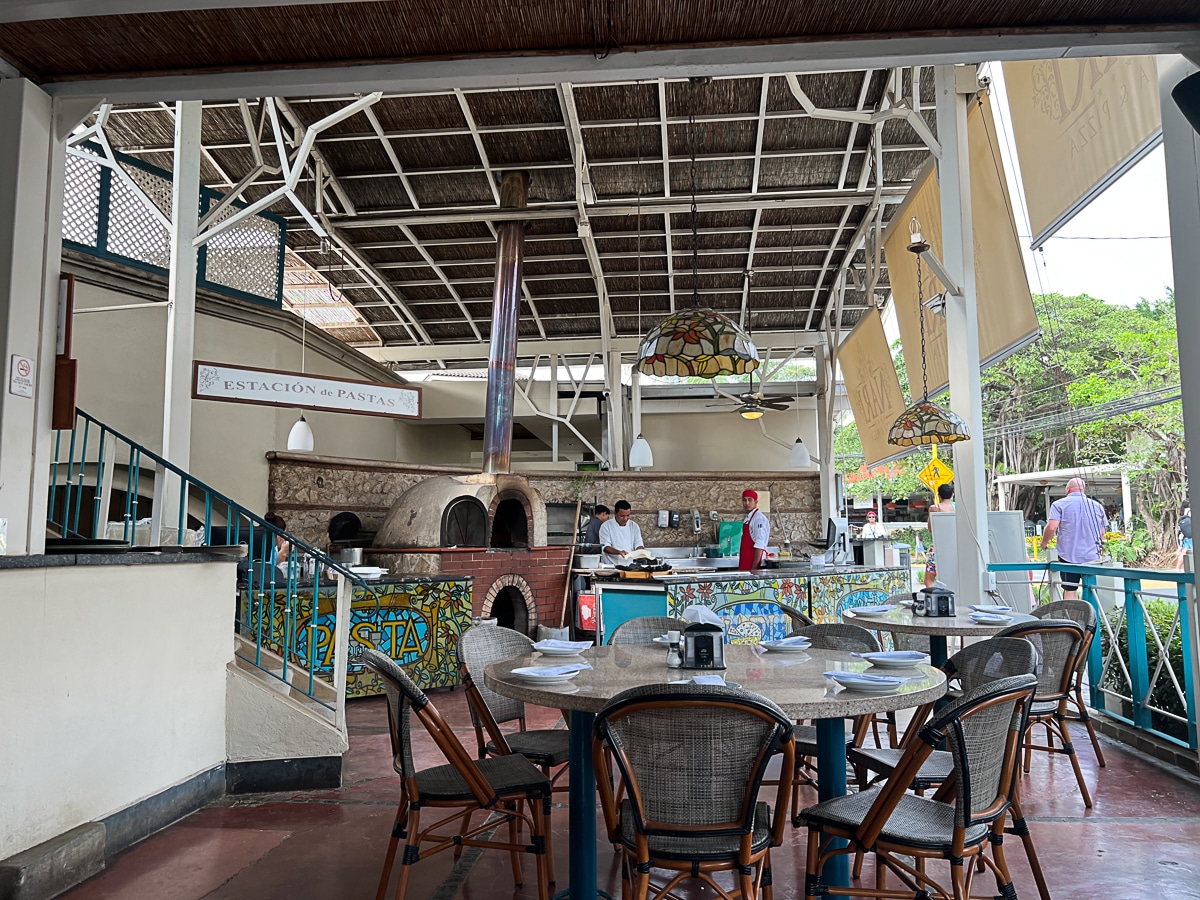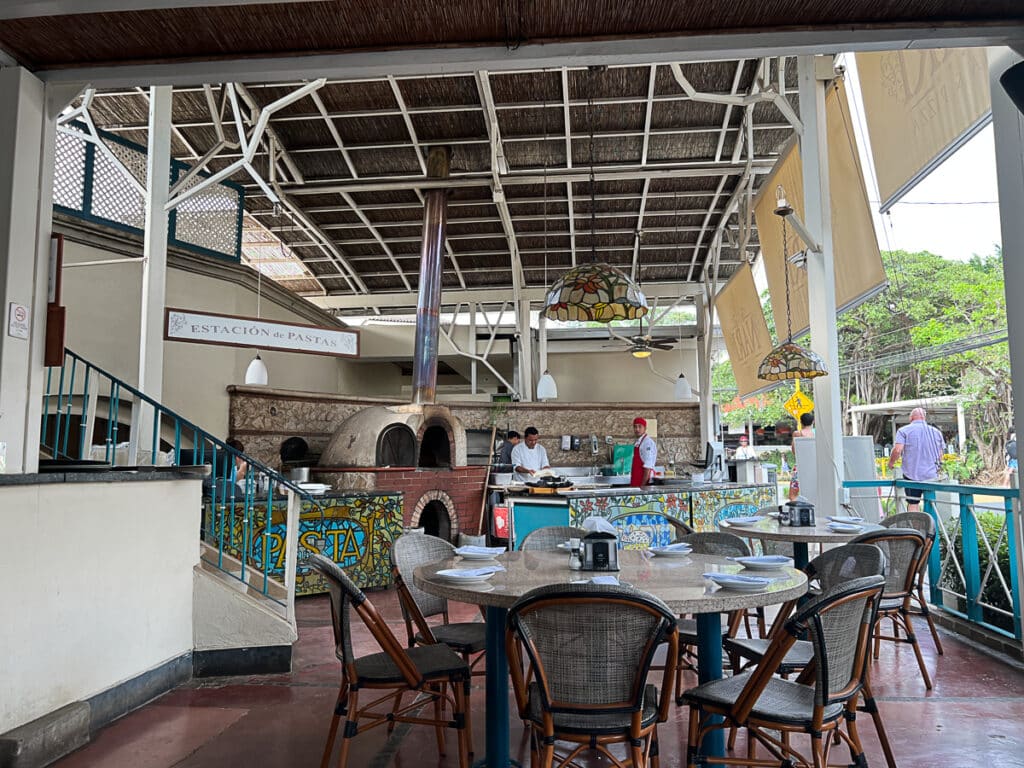 And there is a fantastic free breakfast spread served each morning at the main restaurant, which has a lovely view of the beach. Breakfast is buffet style with lots of choices – typical Costa Rican dishes like plantains and rice and beans, pancakes, pastries, fresh fruit, cheese, and more. My husband is a sucker for a good hotel breakfast, so he was in heaven.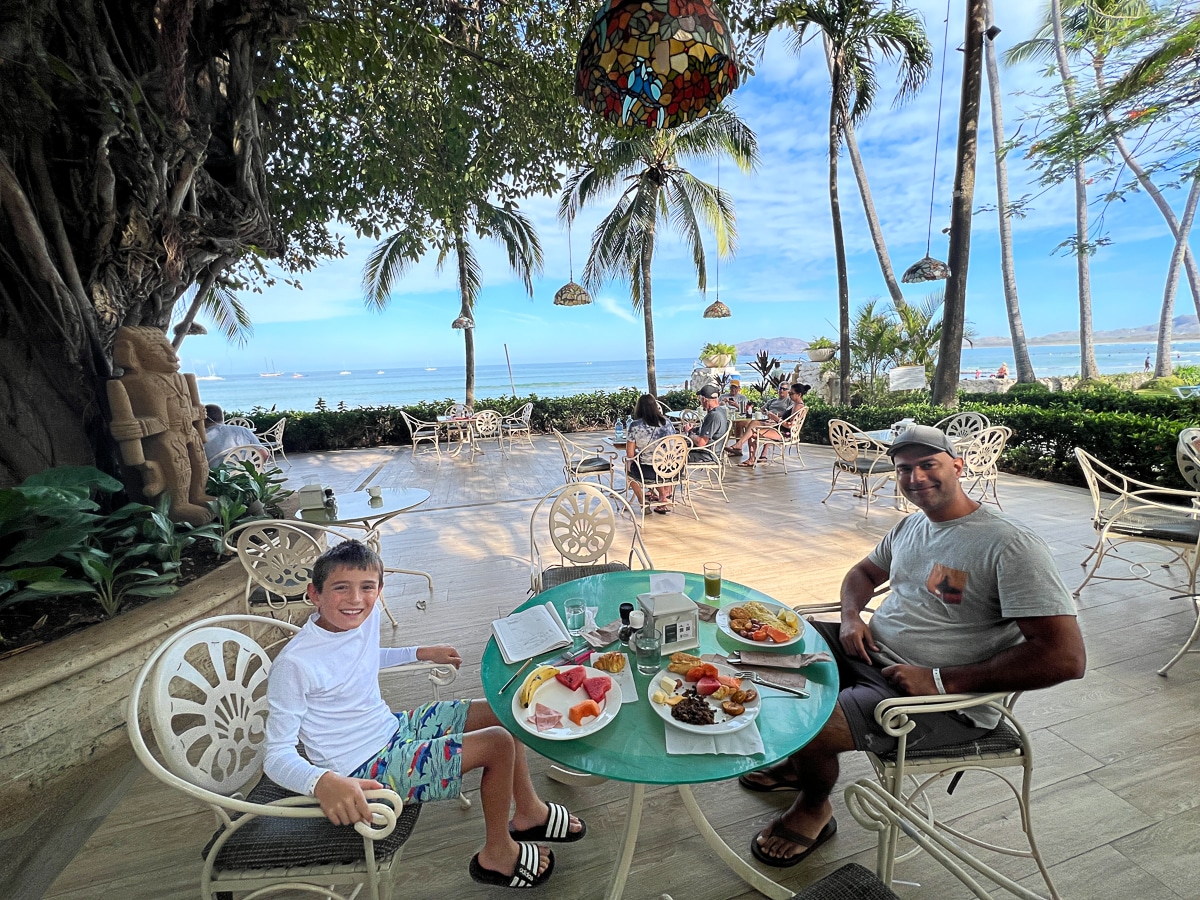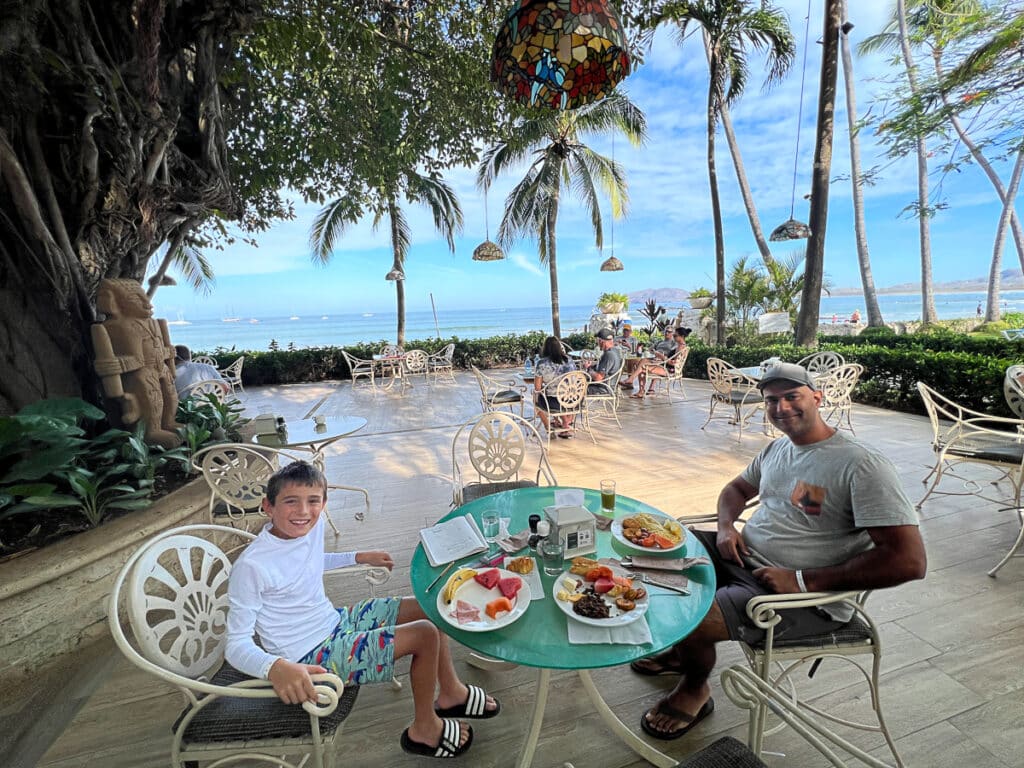 But the hotel is also located right in the middle of the action on the main street through town, meaning you have easy access to lots of good food choices within walking distance. Our favorite was Pico Bistro, which had a great beachfront dining area and some of the freshest seafood I've eaten! Another great nearby option is El Mercadito, an outdoor food court filled with tasty options. They have everything from pizza to poke bowls there.
The hotel also has a gelato shop attached. It's not the greatest gelato, and they won't give out samples. Seriously, we asked. We saw lots of other people ask. They get very bent out of shape about it. But hey – it's gelato and your kids will probably like it.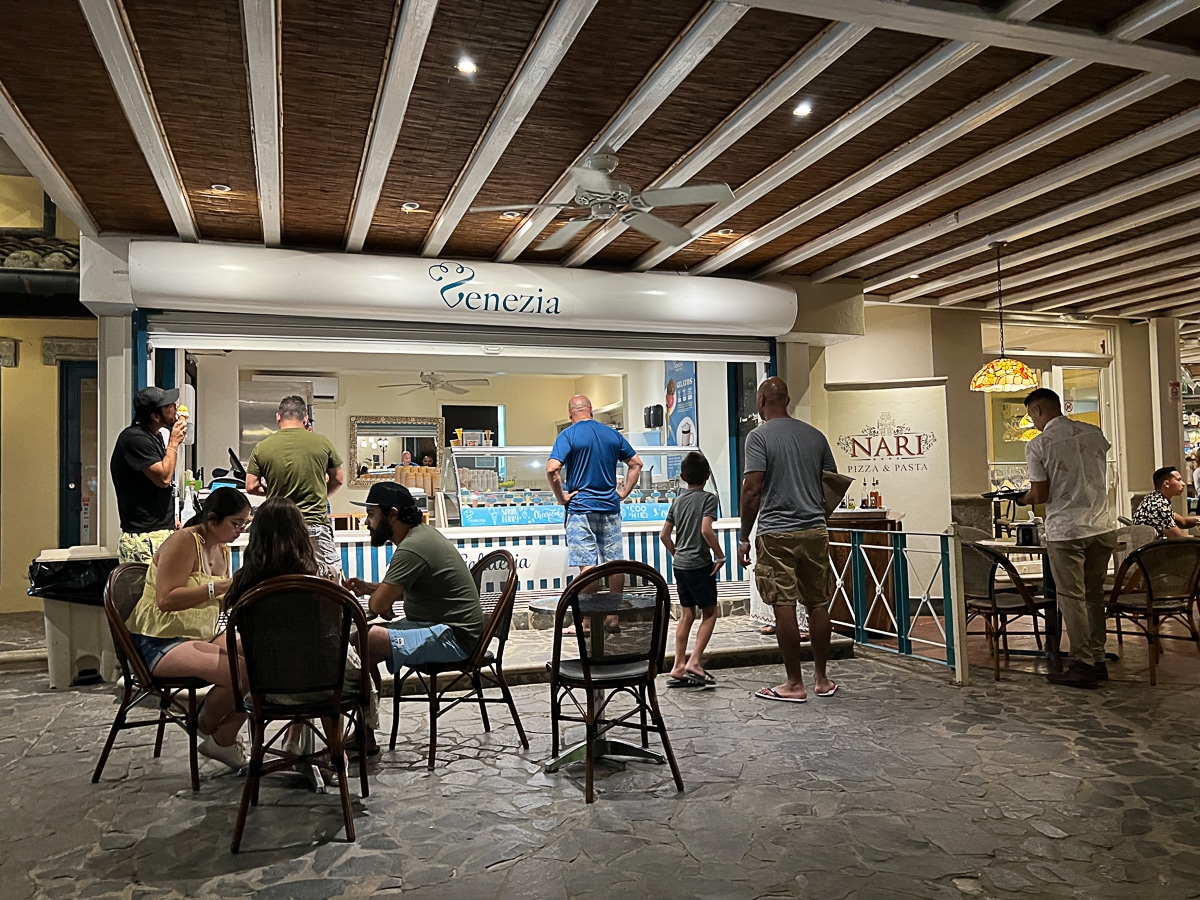 Oh, and if you're an iced coffee gal like me, you can find one at the Cafe Diria, right across the street from the hotel reception. It was surprisingly good, even without adding sugar. Costa Rican coffee is just so much less bitter than what we get at home.
Note that lots of nearby restaurants are closed on Mondays – so make sure to at least have a plan for Monday evening.
The Service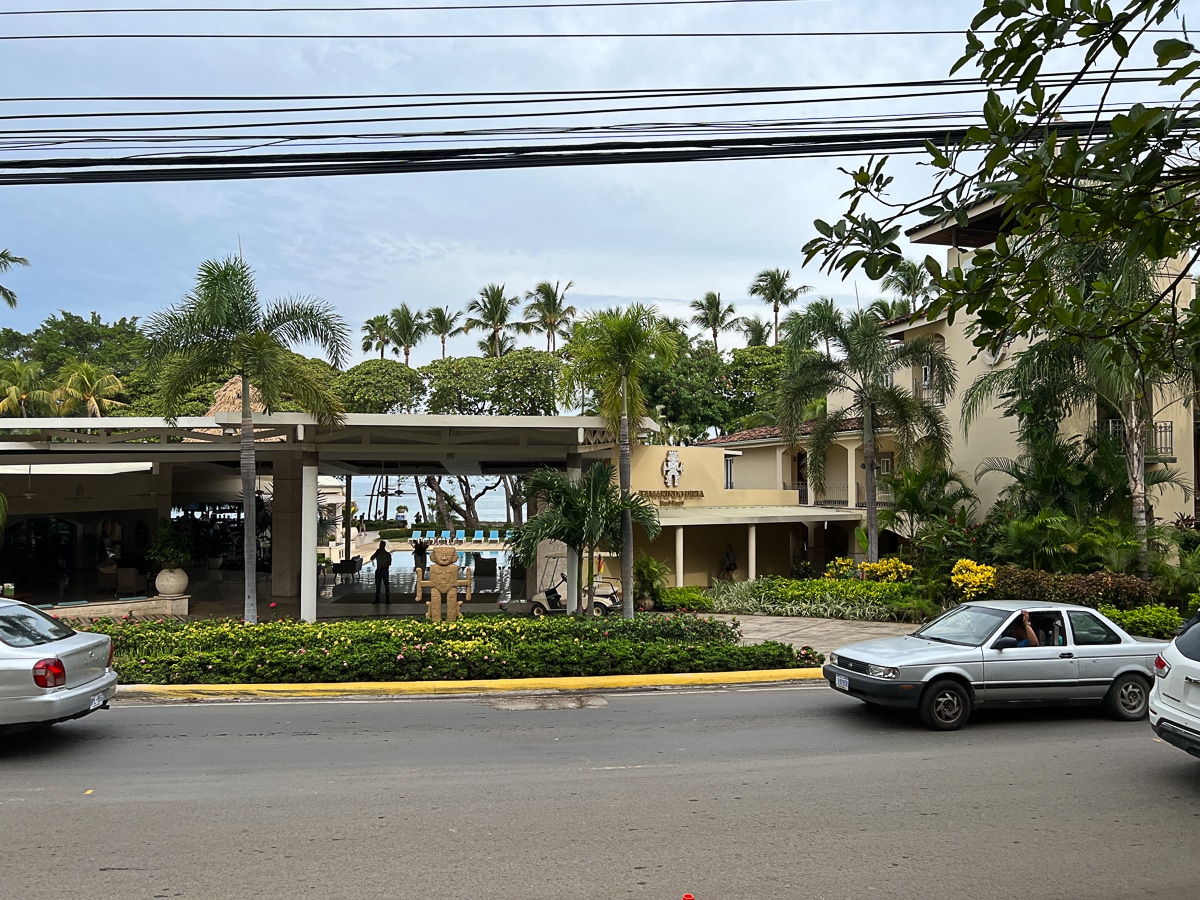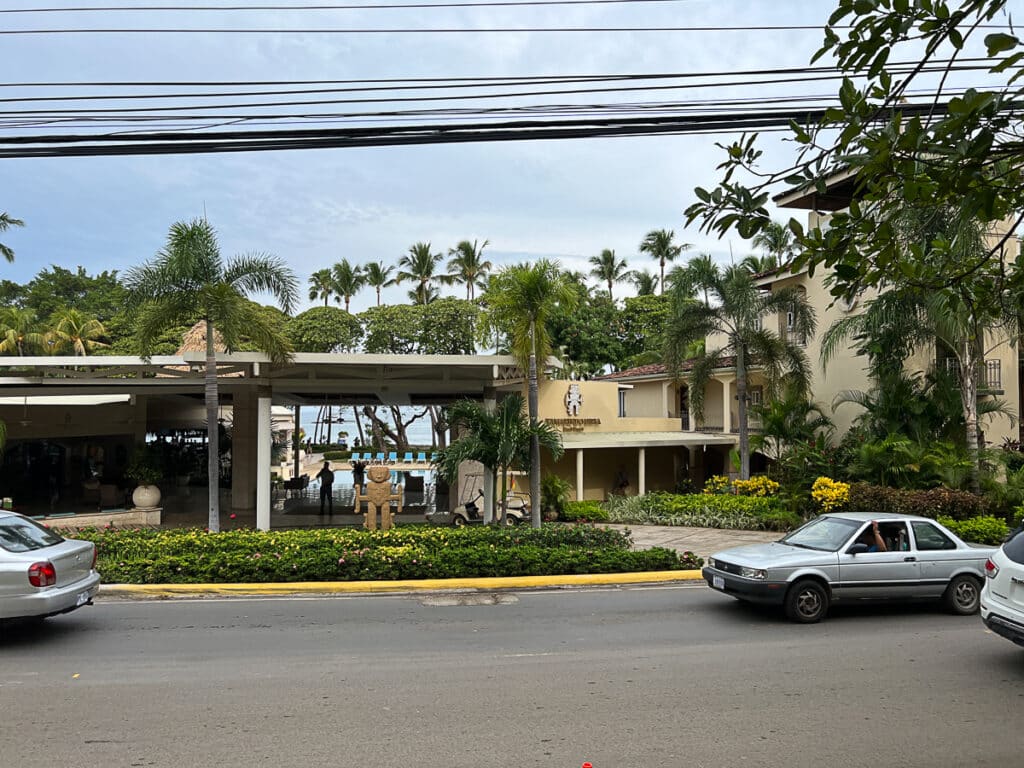 Service throughout the stay was good, if a little spotty. For example, housekeeping made a giant swan from my son's bedding every night. So cool – he loved it! But the same housekeepers took our old towels without leaving new ones several times, and didn't refill our coffee pods at all. So go figure.
There were a couple other strange things – like the maintenance staff deciding to mow the lawn all around the lawn chairs and the pools at 10am. Prime sun bathing time. Odd choice.
And as I mentioned, they were a bit annoying with things like mandatory wristbands and cheap towels that had to be traded in at reception.
No deal breakers – just set your expectations accordingly. I would say service was less than we would get at a higher end hotel in the US (like Sandpearl) and yet still much better than what we've encountered at much more expensive hotels in the Caribbean (like Atlantis). 
Also a note about the service charges. All restaurants and bars in Costa Rica will add a 13% tax and a 10% service charge to the bill. You're not obligated to tip further, although we usually add a few more bucks. But upon checkout, it was clear that they had added the 13% tax and then added the 10% service charge on top of the new total. So you're paying the service charge on the tax also, not on the subtotal. This seems wrong to me – but what do I know – and we had a flight to catch.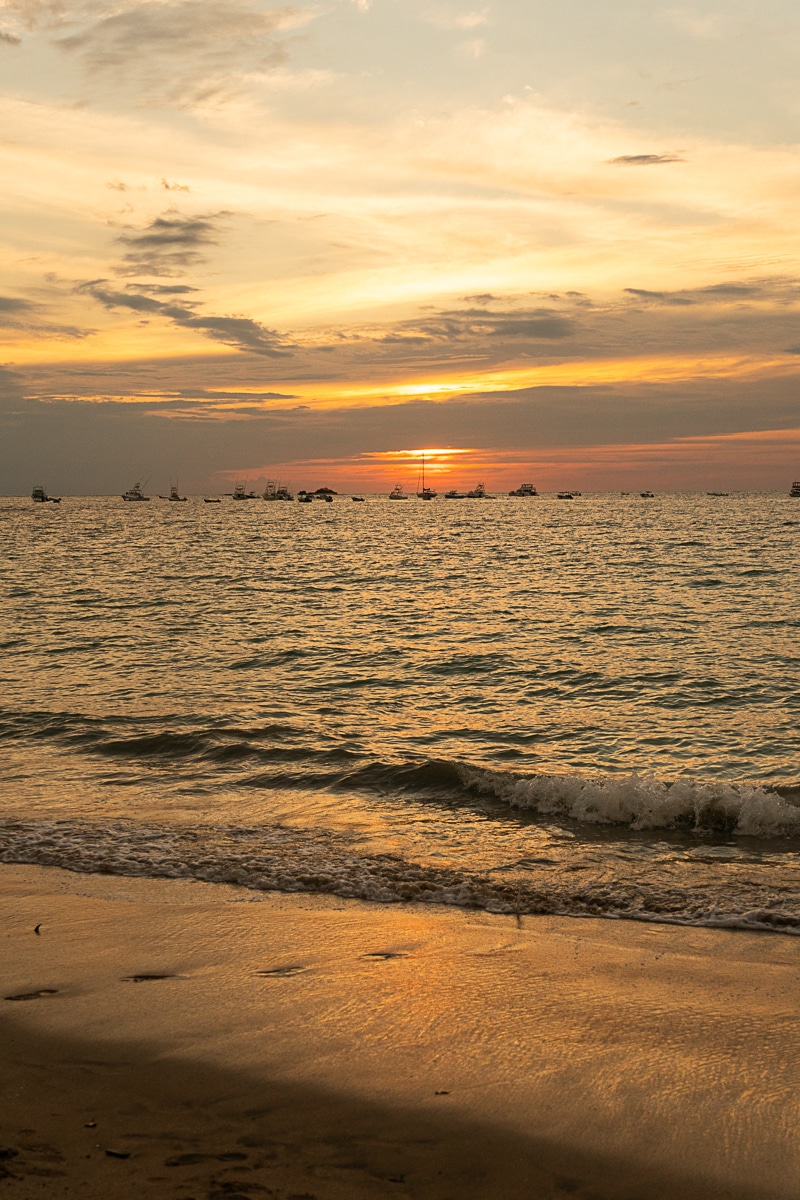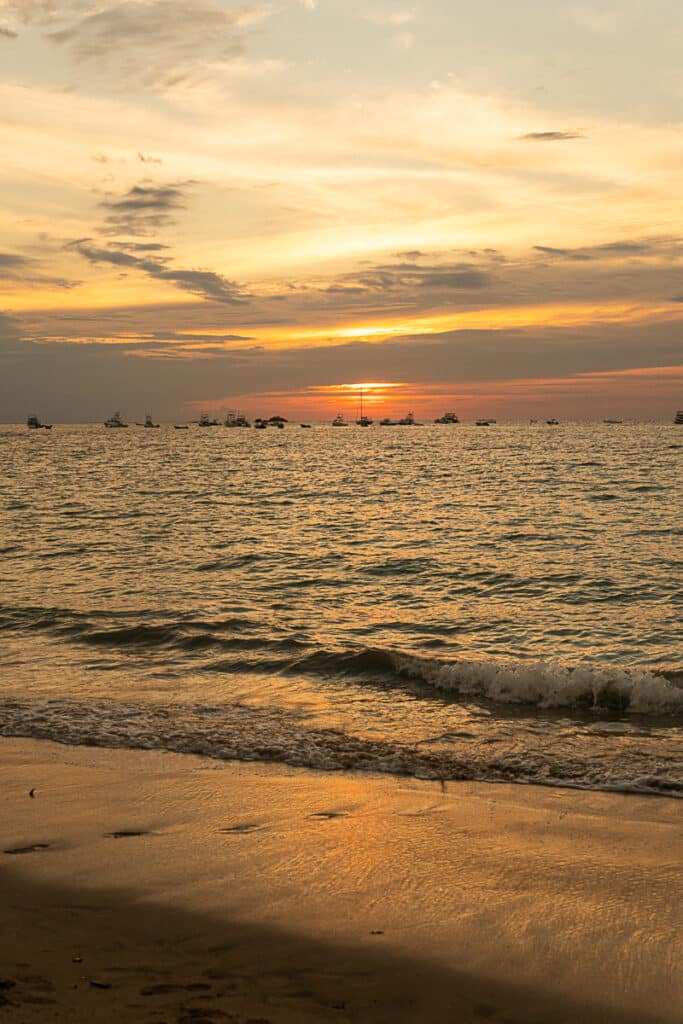 What We Liked Best & Least About the Tamarindo Diria
Overall, we really enjoyed our trip to Tamarindo and staying at the Tamarindo Diria Beach Resort. In fact, we all agreed that this was one of the most relaxing vacations we've taken in a long time. But of course, this is a review, so we need to tell you both the pros and the cons. Here's a summary:
Pros
Great location with easy access to the beach and town!
Relaxed and family-friendly vibe.
Fantastic pool areas.
Sunset view!
Cons
Service was a bit spotty.
Some annoying policies (i.e. towels and wrist bands).
Not enough chairs at the main pool.
Is The Diria worth it?
Yes, I felt like the Tamarindo Diria was definitely worth it for us. There are cheaper options and more luxurious options available in town, but this was a great balance of location, comfort, and value. We really enjoyed the laid back vibe, the great pool areas, the beautiful sunset view, and the easy beach access. I would definitely stay here again if our travels bring us back to Tamarindo! (And I sure hope they do.) If it sounds like a good fit for your own vacation, you can check room rates here!