Taking a night turtle tour in Tamarindo, Costa Rica was one of the most magical experiences I've ever had. As someone who loves wildlife and nature, I couldn't wait to see the sea turtles in their natural habitat.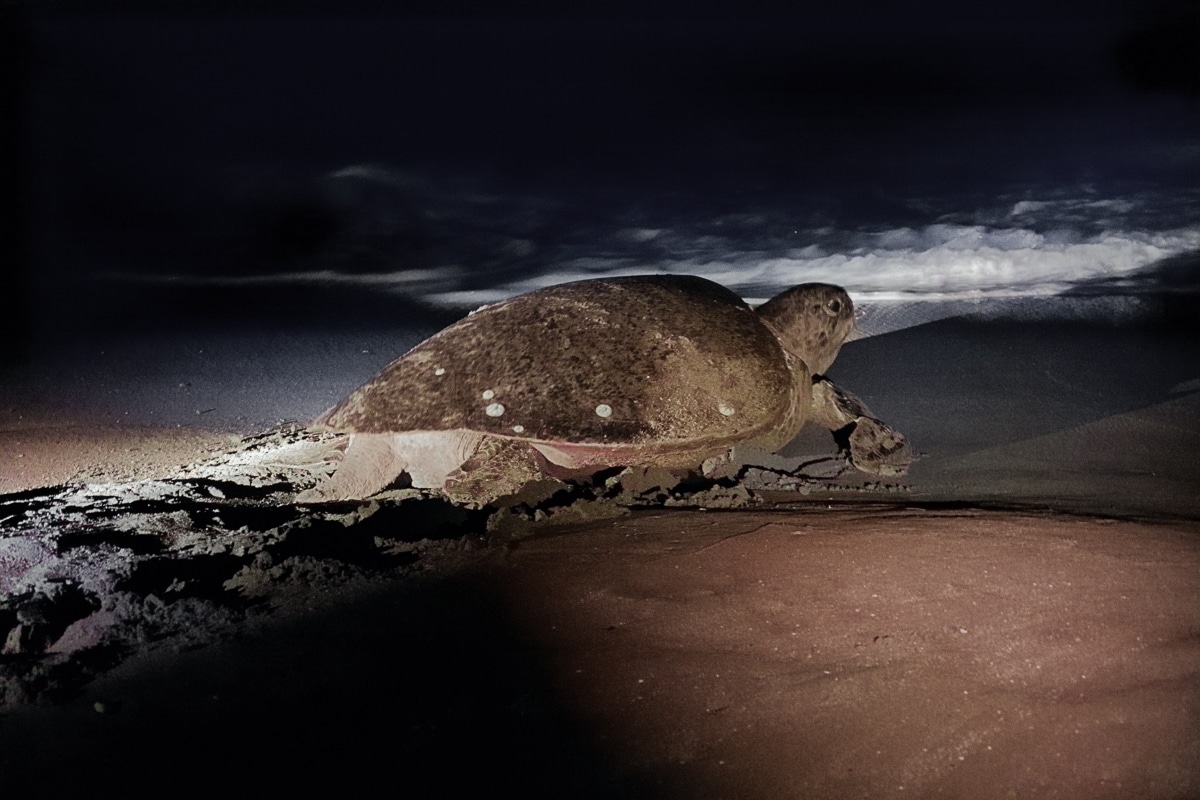 Turtle Tours from Tamarindo
Turtles nest all throughout the year on Costa Rica's Pacific Coast, but the number and types of turtles varies throughout the year.
If you're interested in seeing turtles during your Tamarindo vacation, you have two main options:
Ostional Wildlife Refuge – If you drive South about 1 1/2 – 2 hours from Tamarindo, you'll find Ostional Wildlife Refuge, which is nearly 500 acre protected area famous for the mass nesting of Olive Ridley Sea Turtles there. During nesting events, which occur between May – December each year, thousands of turtles come ashore to lay their eggs. Due to the sheer number of turtles nesting here, it's one of the most popular places to visit to get a peek. But that being said, the drive from Tamarindo shouldn't be taken at night due to the very unreliable road conditions, which makes it trickier to take this trip on your own as a tourist. If you want to visit Ostional, I suggest staying at least one night in the nearby town of Samara and then booking a local tour guide to take you to visit the turtles.
Playa Minas (and surrounding areas) – Alternatively, turtles can be found nesting at Playa Minas and the surrounding beaches, which are just a 30-40 minute drive north from Tamarindo. You will still need a guide to navigate there and back in the dark, and help you find the nesting sites, but it's much more reasonable to visit this area as an evening excursion from your Tamarindo area hotel. The number of turtles will be much less than what you can find at Ostional during a nesting event, but there are still turtles to be found just about every night during nesting season. The best time of year to see turtles in this area is October – March. And depending on the season, the turtle species can include both Green Pacific Sea Turtles and Olive Ridley Sea Turtles.
Our Private Turtle Tour from Tamarindo (with Native's Way)
We opted for a private turtle watching tour via Native's Way, who we also used to book our private estuary boat tour in Tamarindo. We met at the Native's Way office, which was just a couple blocks down the street from where we were staying, at the Tamarindo Diria Beach Resort. There was a group tour meeting up at the same time, which was a pretty large group that loaded up into a big shuttle bus. After seeing the size of that tour group, I was definitely pleased that we spent a little extra for a private option.
We were picked up by our tour guide, Jesus, in a 4×4 pickup truck shortly after and we headed out to find some turtles! Our guide was a really nice young guy, who we enjoyed talking to on the ride. He grew up in the area and had some interesting thoughts on how the town of Tamarindo developed and even pointed out his grandmother's neighborhood as we drove by.
As we got close to the beach, it was apparent why the big four wheel drive truck was needed. The road was rough. Actually "road" is pretty generous – it was more like a dirt path that took us into the woods. We parked the truck and took a very short hike on a footpath through the woods until we reached a beautiful secluded beach called Playa Honda. The sun was just setting as we arrived, so our guide took a look around to assess any signs of turtle nests, and we waited for dark.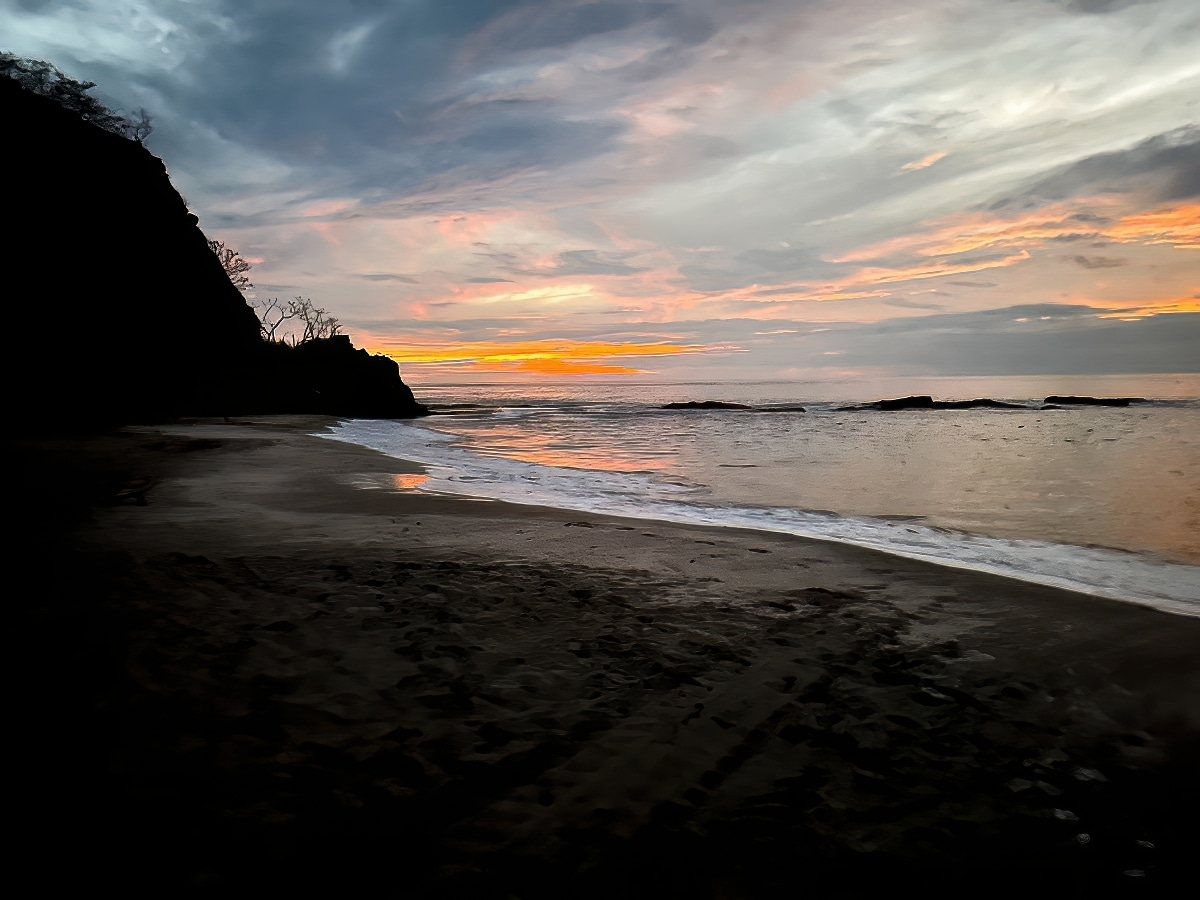 Now here is a good time to mention that this small, quiet beach area was home to just us and one other tour group (two ladies with their tour guide). All of the larger shuttle buses went on to the larger Playa Minas beach, a bit further away from Tamarindo. So you also get a much less crowded beach area when you go with a private tour.
As darkness settled in, we quickly saw the first sea turtle making it's way from the sea to the beach. And it was massive! Ok, maybe you all are expecting that already, but I had no idea. I was expecting to see small two or three foot long turtles, like the kind we might run into snorkeling at home. But no – these were humungous 200-300 pound green sea turtles!
We cleared out of her way so as not to interfere and enjoyed watching as she scouted out the beach and begun to dig a hole for her nest. And this cycle repeated several more times over the next hour or two. We saw a total of five turtles make their way in from the sea, and various stages of the nesting process.
The guide carried a special red infrared flashlight to see the turtles and make our way around the beach safely. It's very important that no one uses any flash photography or shines any regular flashlights on the beach, as it can disorient the turtles and make it difficult for them to navigate between the sand and the sea. This is one reason that light pollution is such a problem in the coastal areas.
I was told that the red lights do not cause the same disorientation and therefore were safe to use. I'll be honest – I'm not totally convinced that the red lights don't annoy the crap out of the turtles. But I guess at least they can't confuse it with moonlight, and our guide limited the amount of times he lit them up as well.
So anyways, you'll see something like this when you're watching the turtles in the red light: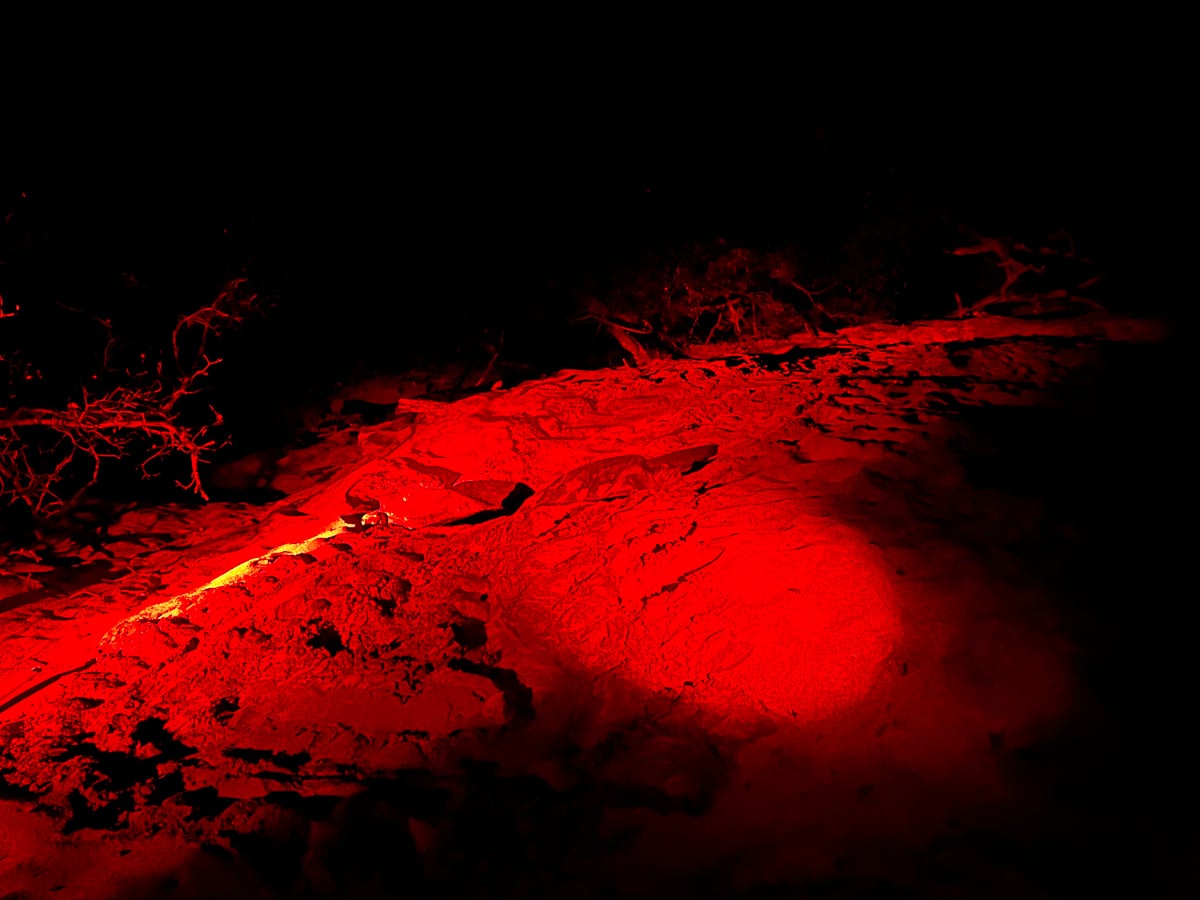 And these are a few of my turtle photos after removing all of that red light in post processing: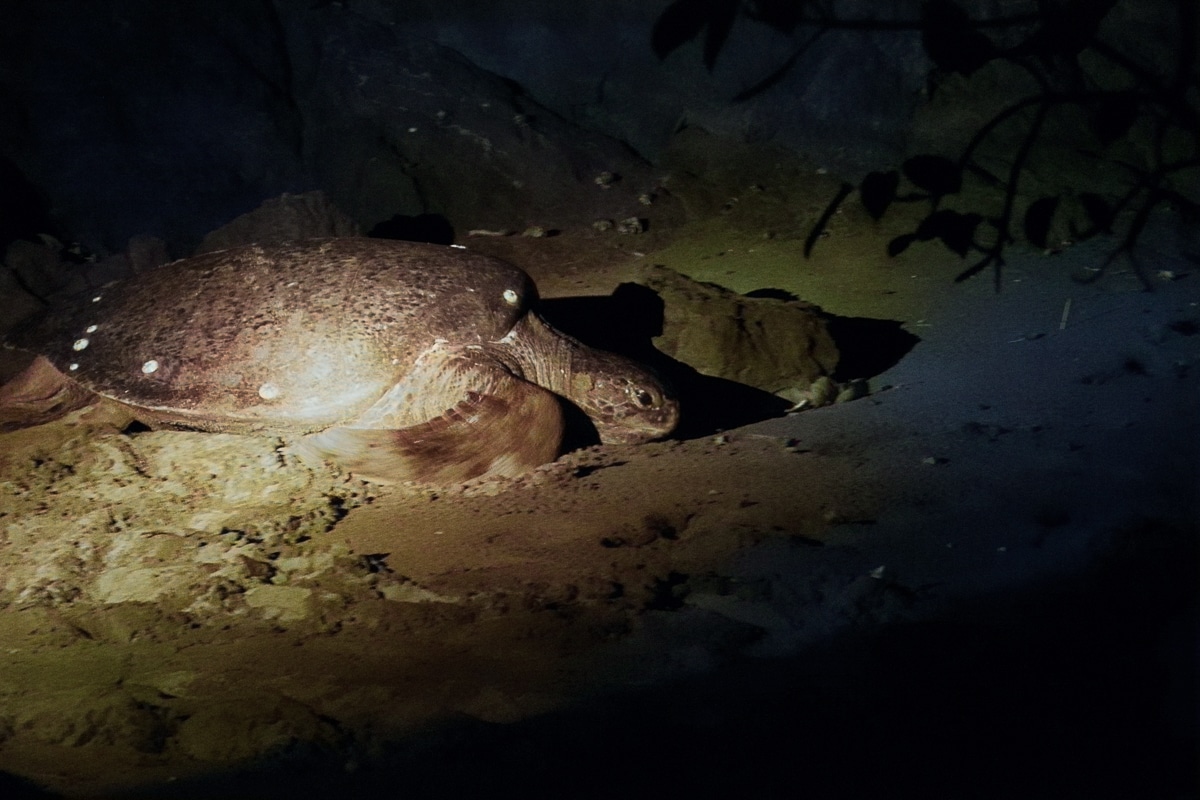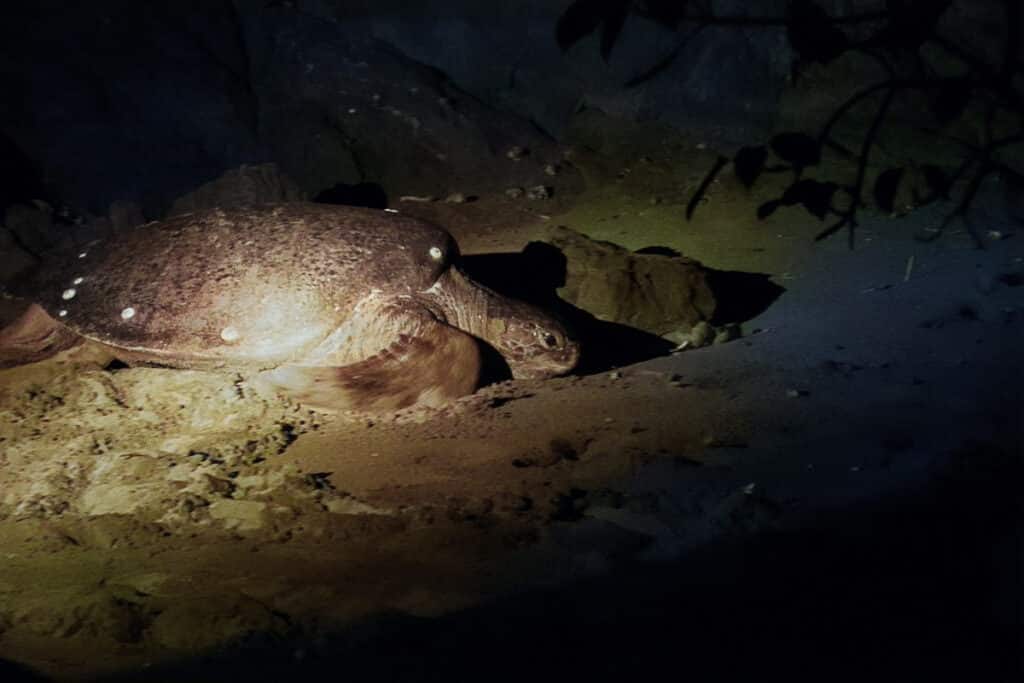 Tips for your Turtle Tour
If you're planning on taking a night turtle tour in Tamarindo, here are a few tips to keep in mind:
Dress in dark clothing: We were instructed to wear darker colored clothes if possible. You want to be as invisible to the turtles as possible, so they don't get frightened off.
Be respectful: It's important to remember that the turtles are wild animals, and we should treat them with respect and caution. Follow the instructions of your guide and keep a safe distance from the turtles. Never touch the turtles and keep your conversations quiet so as not to disturb them while nesting.
Only use a red infrared light: Absolutely no other light sources should be shone at the turtles or on the beach. Your tour guide will have the infrared light to use for the tour – there is no need to get your own. We did need flashlights to get through the trail back to our car at the end of the tour (once we were away from the turtles), but simply used our phone flashlights for that short bit of time.
Book in advance: Night turtle tours are one of the more popular activities in Tamarindo and can sell out quickly, so it's a good idea to book in advance to ensure that you can get a spot on your preferred date.
Was it worth it?
Yes, absolutely! In fact, this night turtle tour was one of the very best parts of our five night stay in Tamarindo. We would definitely do this again, and look forward to checking out some of the other turtle nesting areas around Costa Rica in the future – like Ostional and Tortoguero!