Lviv City Guide: The best things to Do in Lviv, Ukraine, plus practical travel info and Lviv travel tips.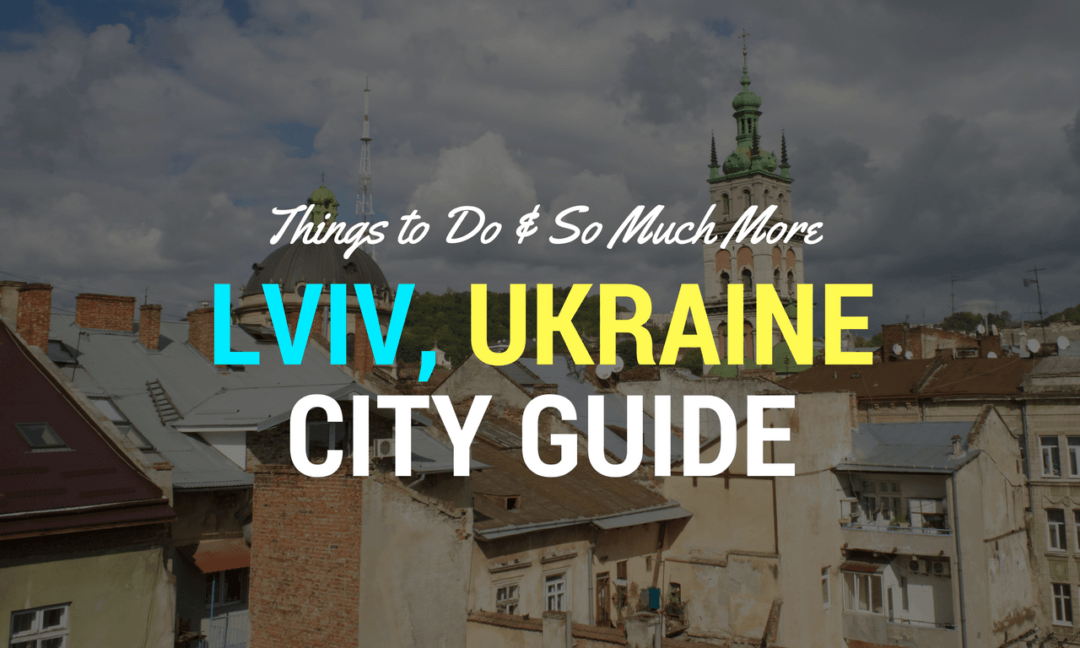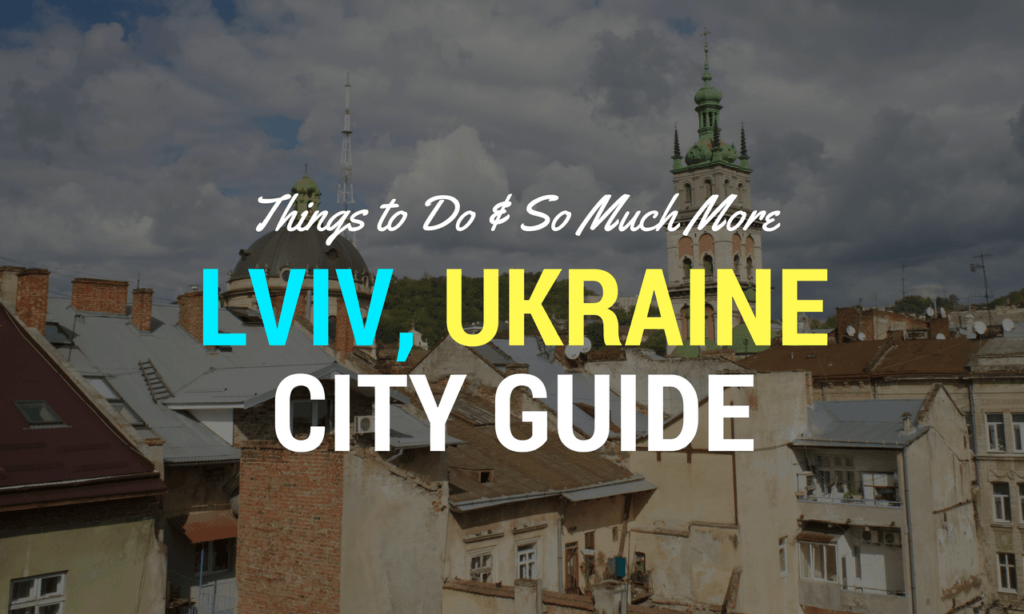 Disclosure: This Lviv Ukraine Guide contains affiliate links. That means we earn a commission when you use the links on this site to book a hotel, buy your travel insurance, etc.. You don't pay anything extra. If you'd like to learn more about how this works, you can read more under our Disclaimer page.
Lviv, western Ukraine's largest city, is generally considered to be the heart of soul of Ukrainian culture, combining a picture-perfect and UNESCO-listed Old Town with affordable prices, a café culture that rivals the world's great coffee cities, and a youngish artsy vibe. Add to that a complicated recent past – and present, for that matter – and a fervent patriotism that spills into nationalism, and you have a puzzle of a city that is beautiful, intriguing and confusing to the outsider, all at once.
At first glance, you'd be forgiven if you mistook Old Lviv for a city in Austria or Poland, such is the architecture and vibrancy of the city. If you come to Lviv expecting grand Soviet boulevards and sterile architecture, expect to be disappointed. Instead, Lviv is filled with examples of the great European architectural traditions – think renaissance, rococo, and modernist-style buildings — and often serves as a stand-in for its central European cousins in films.
After almost 10 weeks in Western Ukraine's largest city, we've wrapped up our time in Lviv, packed our bags, and have moved along. Before we forget the best things to do in Lviv, however, we want to share our favorite experiences, tips and recommendations, as well as practical information and an itinerary you can use if you're lucky enough to visit Lviv one day!
Welcome to our Lviv City Guide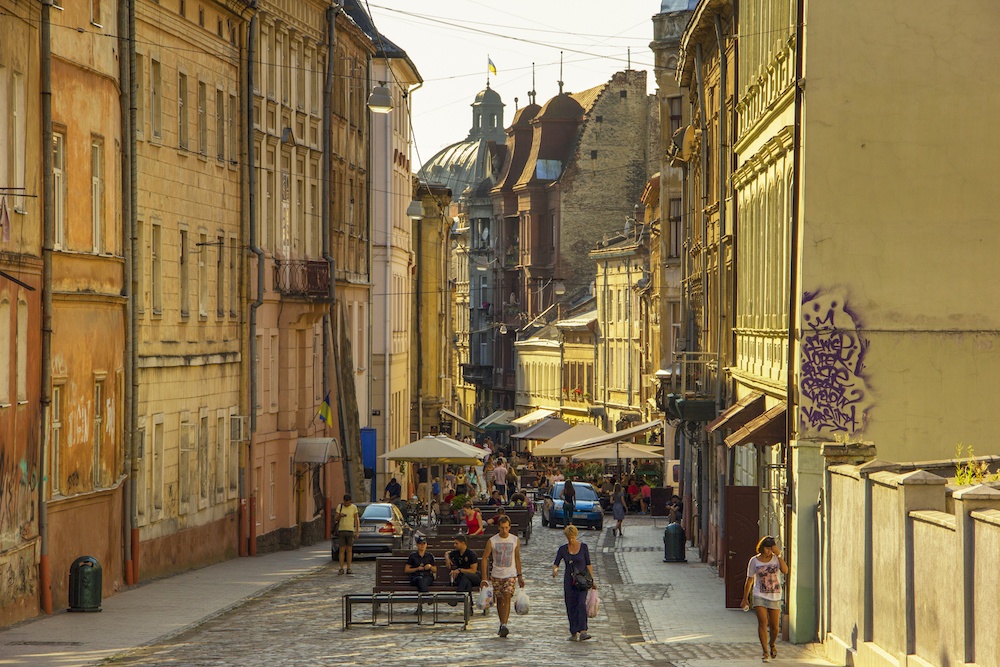 Lviv City Guide: Table of Contents


Top Things to Do in Lviv
---
Enjoy the Atmosphere in Rynok Square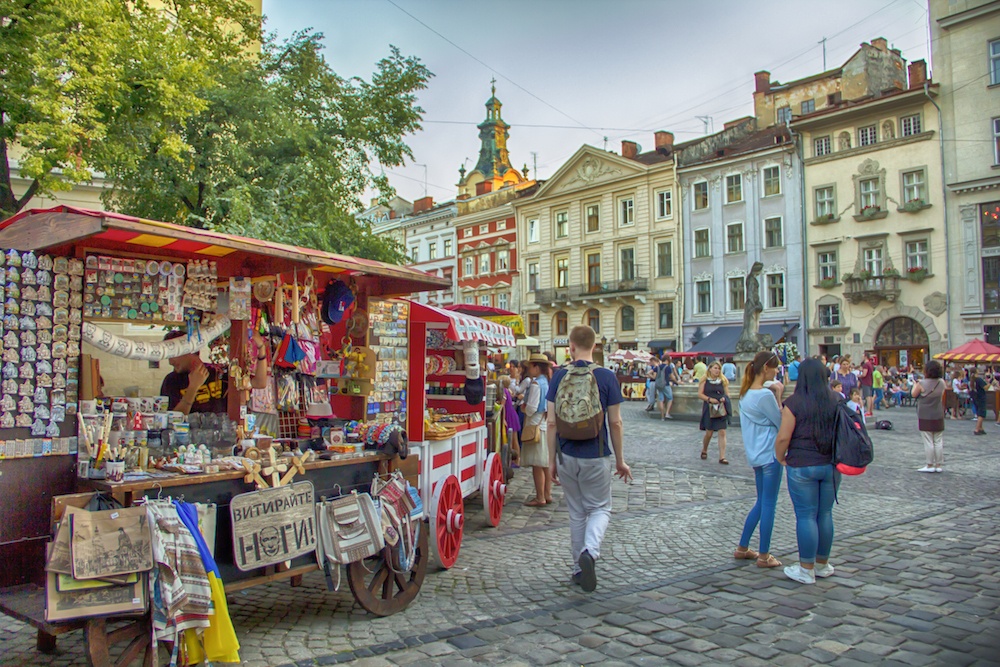 Without a doubt the heart and soul of the city, Rynok means market – a nod back to its original function as the center of the fortified city from the 14th century. Today, Rynok is lined on every edge by cafés, restaurants, shops, and a few museums, and the square is filled with street performers, special events, and market stalls.
The western edge of the square is the liveliest, between the Fountain of Amphitrite at the northwest corner, and Fountain of Neptune at the southwest corner:
Expect a constant buzz from street performers in the summer, as well as the beer-drinking crowds at Beer Theatre Pravda (a microbrewery with a brass orchestra that performs covers every night).
The crowd from the beer theatre spills over to and from the ultra-budget Pijalnia Wódki i Piwa bar, directly next to the Beer theatre, which sells all drinks for UAH 15 (~$0.60 US), and can be recognized by the всі напої 15 sign (which means all drinks UAH 15).
Svit Kavy is a hipsterish café on the western edge of Rynok Square, and is our personal favorite in the city. That says a lot, considering Lviv sometimes claims to have the most cafés per capita of any city in the world. Svit Kavy actually has 2 locations – the original is just a few minutes' away on pl Katedralna 6, and has a more traditional feel to it.
Other things to check out in Rynok Square include:
The Pharmacy Museum along the northeastern edge, which has some interesting artifacts and great photo ops. Unfortunately, there isn't much info in English, so if you want to know what you're looking at, a guide is recommended. We used Green Tour Ukraine (← Links to TripAdvisor).
Along the southern edge (#11), grab a glass of locally-made cherry liqueur at the Drunken Cherry – you'll recognize it immediately from the signage. Unfortunately for me, the thought of cherry liqueur reminds me of an incident early on in my drinking career, and is thus a no go. But others seem to enjoy it, and it's always busy.
Near the Drunken Cherry (at #13), you can get sweet or savory strudel at the Lviv Galician Cheese Cake and Strudel Bakery, or just drool while watching it be made through the street-front window.
---
Tip: In the summer, get a 'take-away' beer from Pijalnia Wódki i Piwa and then sit on either the Fountain of Amphitrite or Neptune for some of Lviv's best people watching!
---
Climb City Hall Tower in the Center of Rynok Square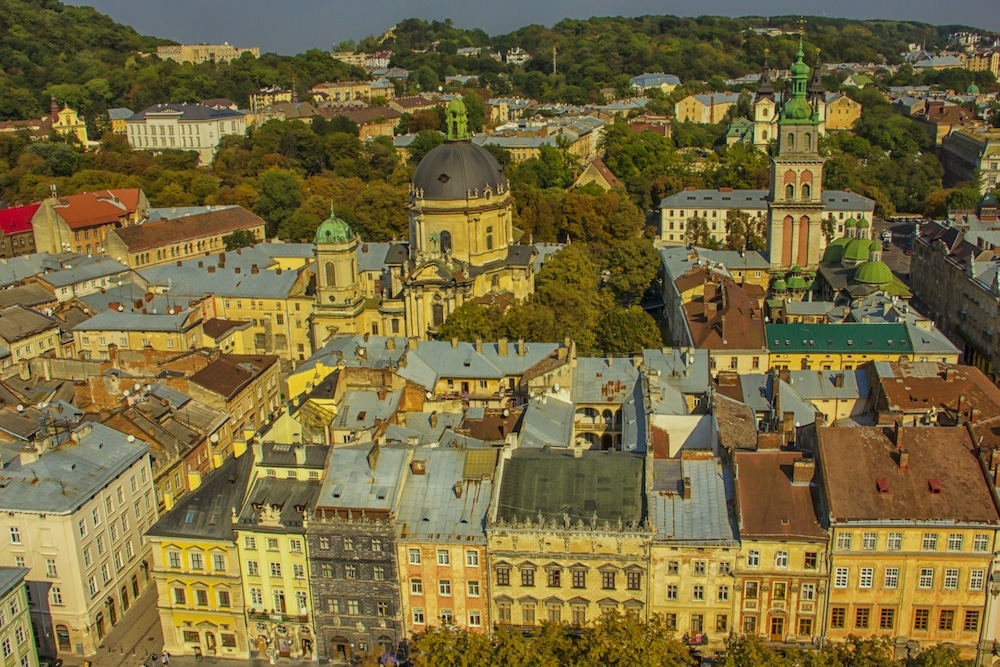 City Hall sits in the center of Rynok Square, and for a very affordable UAH 15 (~ $0.60 US) and your own sweat, muscles and lung capacity, you can climb the 500 or so steps to the top, where there's a viewing platform with lovely views looking out over Rynok Square and the city as a whole. On the weekends, trumpeters do a little tune at the top of the hour — a throwback to an ancient tradition. And while the trumpets are nice, we'd suggest climbing the tower on a weekday if possible – it gets quite busy on weekends.
Overdose on Caffeine and Chocolate with a Coffee and Chocolate Tour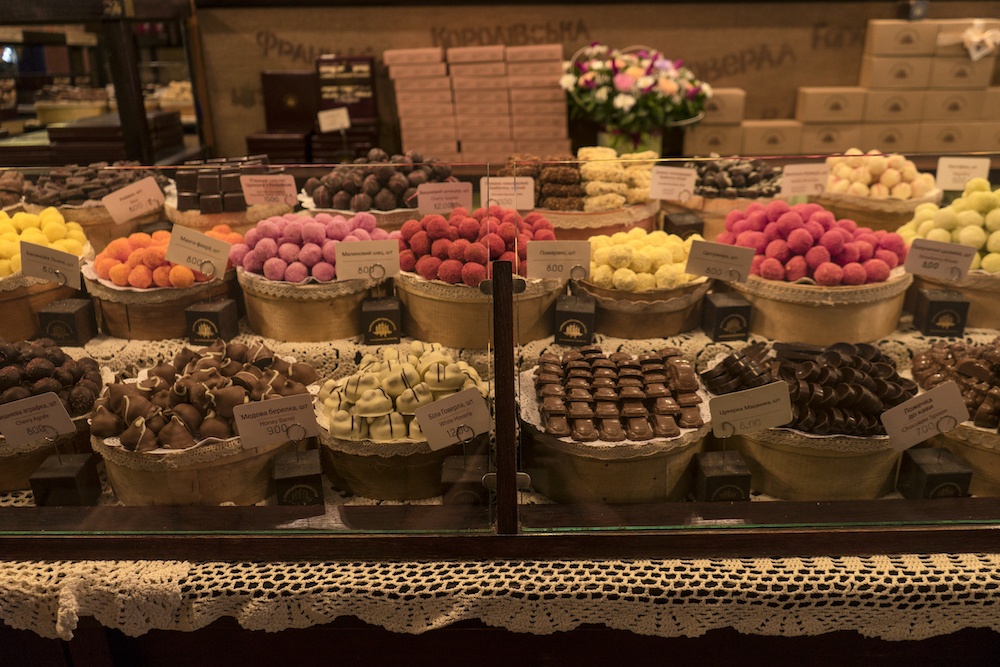 While most Canadians, Brits and Americans are likely familiar with Viennese and Austrian coffeehouse traditions, you probably haven't heard of Lvivian coffeehouse culture.
In fact, Lviv has a bit of an axe to grind with Vienna for stealing what they believe is their thunder (see also: Europe's Christmas Tree Wars and Europe's Marzipan Wars).
While it's true the first European coffeehouse was in Vienna, the man who made is all happen is the Lvivian Cossack, Yuri Kulczycki, who discovered coffee and Turkish coffeehouse culture during his travels. During the battle of Vienna, when the Ottoman army had laid siege to Vienna and the Austrians had all but lost hope, Kulczycki slipped through enemy lines dressed as a Turk, successfully reaching a Polish military representative to request aid. A Polish-Austrian-German (Prussian) coalition defended Vienna, and Kulczycki was proclaimed a hero.
In a reward for his efforts, Kulczycki asked the Viennese to take the green coffee beans left behind by the Turks, and used the beans to open Europe's first coffee house in Vienna — Under the Blue Bottle — offering Turkish-style coffee, and coffee with milk and sugar.
Today, Lviv had fully embraced its role in establishing the traditions and culture of European coffeehouses, and the city has roughly 600 cafés to choose from. We wouldn't have known any of this had we not taken the Coffee and Chocolate Tour with Green Tour Ukraine. So if you're interested in the history, consider the tour. But if you're mostly interested in drinking the coffee and eating the chocolate (and who could blame you?) all you have to do is wander around Lviv, looking for cozy spots!
For more reading about Lviv's coffee houses:
Hunt for Lion (Statues)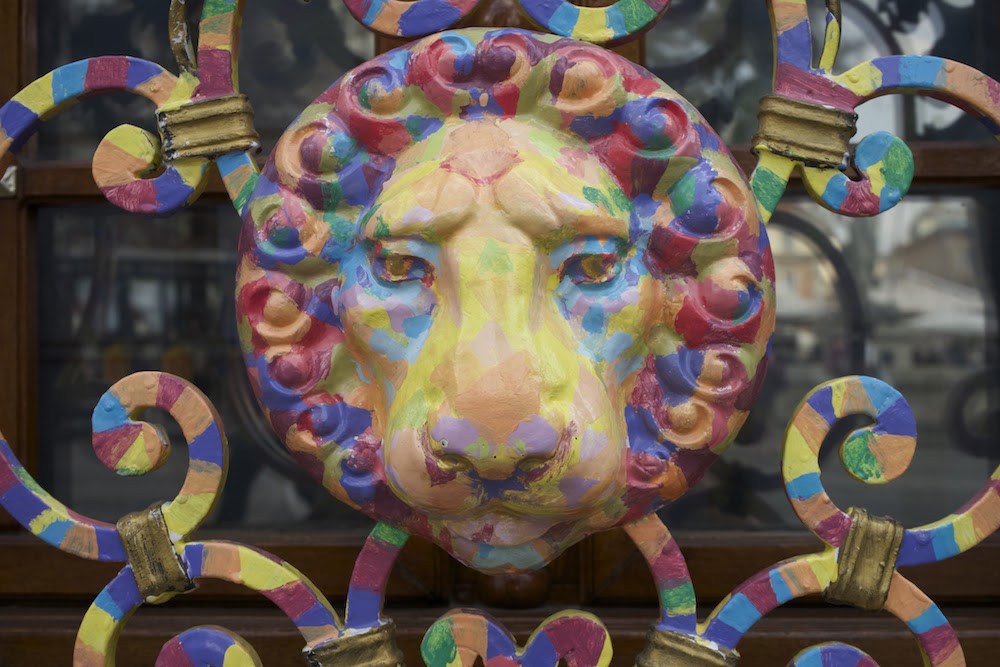 The etymology of Lviv comes from the man's name Lev – the Ukranian equivalent of the English Leo – and King Daniel of Galicia, the founder of Lviv's, son. In a nod to this heritage, Lviv has more than 4,000 lion statues scattered throughout the city, including — as our Guide Iryna pointed out on our Green Tours Old Town walk around the city – one named the 'two-assed lion.'
Start by finding our 3 favorite lions, and then add to the list:
The two-assed lion is on a building corner along Halytska street at Staroivreiska. Look for the Churrasco restaurant – it's directly opposite heading up to Rynok.
The sad lion is on Katedralna Square (the tram street the runs along the south edge of Rynok), at number 2.
The rainbow lion is on the south edge of Rynok Square, near #21. The rainbow treatment does seem to be a function of vandalism, rather than the lion's 'natural look,' so who knows how long it will look like this.
Beyond the lion statues, Lviv has many others that point to the city's history and firsts.
The statue of Leopold Ritter von Sacher-Masoch, the Lviv-born Austrian writer who inspired the word masochism. If you peer into his heart, you can see a naked woman. And if you put your hand into his left pocket, you can…wait for it…fondle him.
The 'gas lamp' statue along the Armenian street, which celebrates the invention of the gas lamp in Lviv. The statue sits outside a gas-lamp-themed restaurant (yes – really) at Virmenska vul. 20.
The smiling fish sculpture outside Dzyga cafe and gallery.
The Taras Shevchenko monument along Svobody Ave, which pays tribute to the father of Ukrainian literature and language.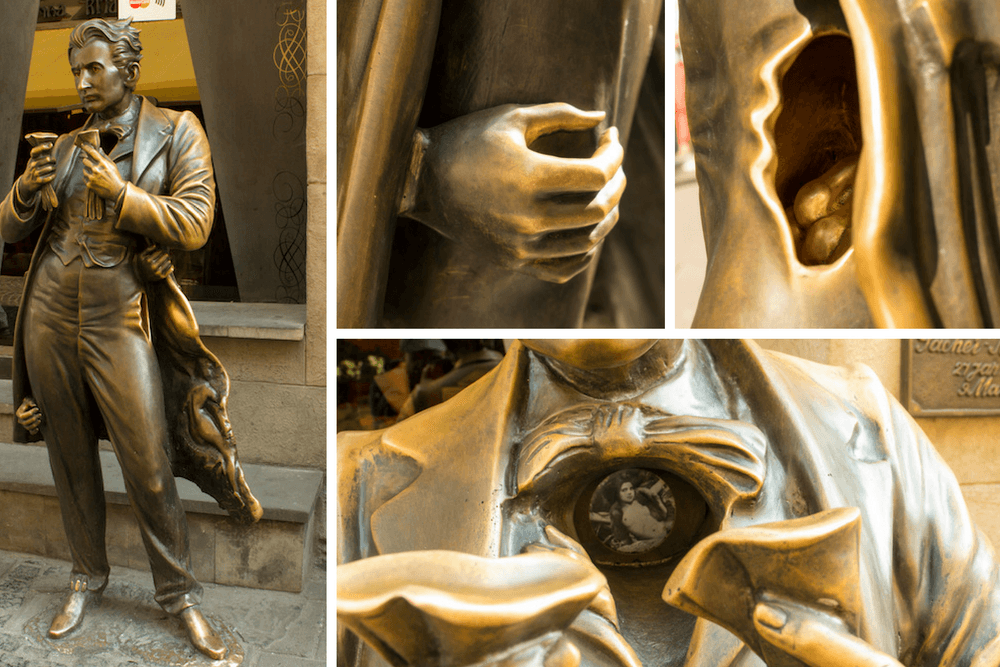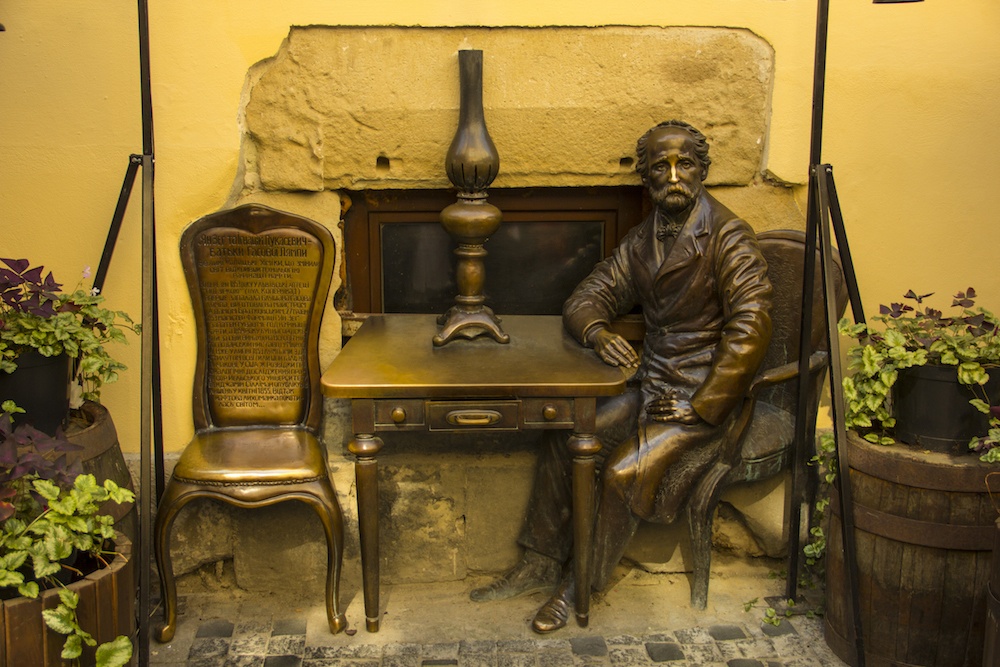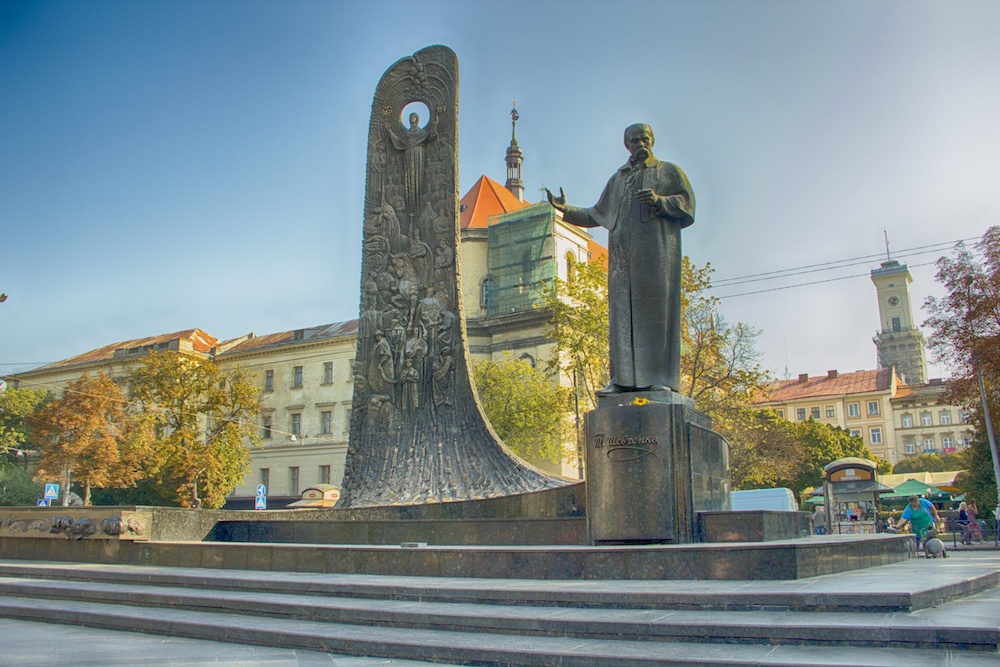 Climb Castle Hill
High Castle park and hill sits to the northeast of Rynok Square and is within walking distance. On a nice day, Lvivians and tourists walk up to the highest point for the views over the Old Town and the industrial-looking outskirts of the city.
Just don't expect an actual castle. Walking up high castle isn't particularly arduous, but it does require some fitness: you'll need to go up about 250 steps to reach the lookout at the top. Note that some of the steps are a bit narrow and uneven as well – if you do have mobility issues, or are travelling with young children, this one is probably best skipped.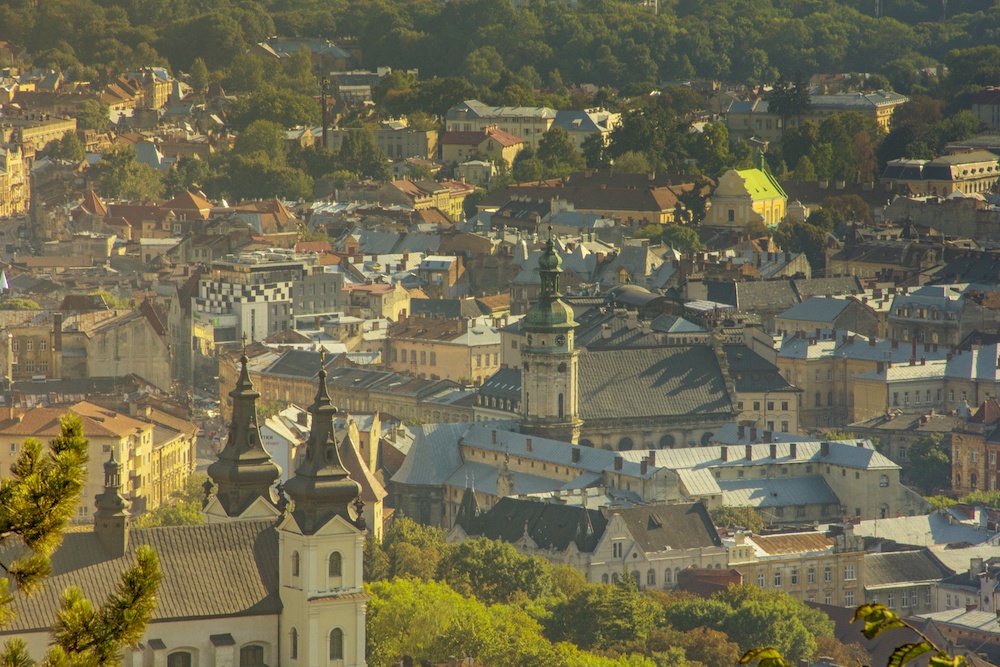 Church Hop
Lviv's churches hint at the city's multi-cultural past, with the Armenian Cathedral serving as the stand-out attraction. From the front exterior, it doesn't look like much; the only hint that something spectacular lies beyond is the constant stream of tourists and guided groups going in and out. For a UAH 15 admission fee, plus another UAH 5 to take photos (about $0.80 US all in), you can admire the colorful painted mosaics, archways and vaulted ceilings for yourself.
Other church attractions in Lviv include:
The Chapel of the Boim Family which is intricate and spectacular both inside and out.
The Jesuit Church, which is currently being used by the military to fundraise for the war in the east.
The Dominican Church
St. Bernadine
Lviv isn't large, and for the most part you'll simply find these churches by simply wandering around the old city. The Armenian church is the only one you need to really know where it is, otherwise it'd be easy to miss.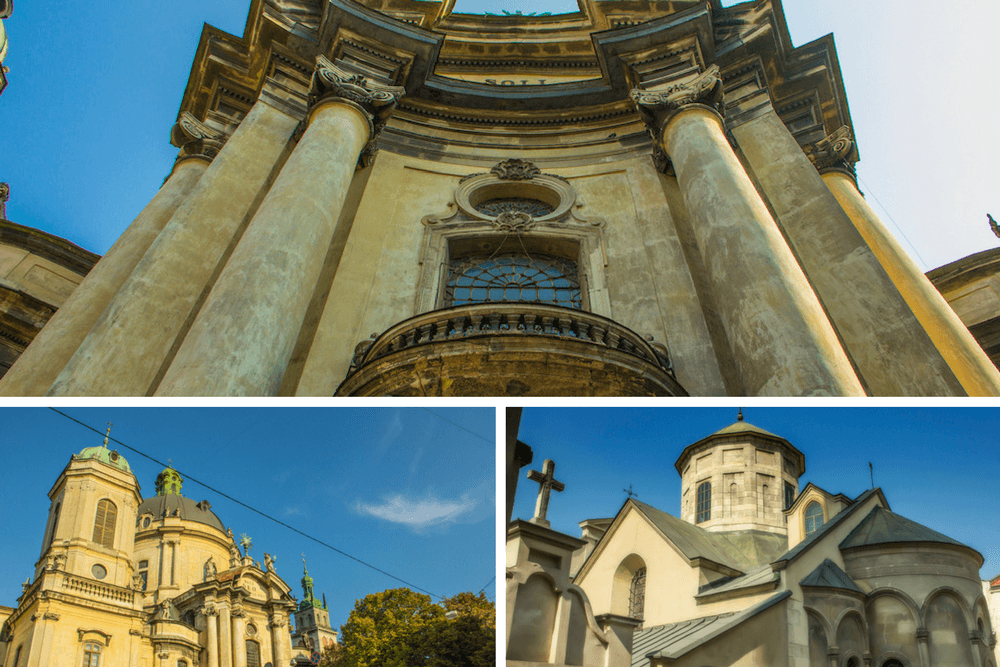 Opera
The Lviv Opera House is hard to miss, sitting as it is at the head of Svobody Ave., a main thoroughfare at the heart of the city. According to our guide Iryna at Green Tour, the Svobody Ave and the Opera House were designed by the same architect, which required piping the existing river under the structures.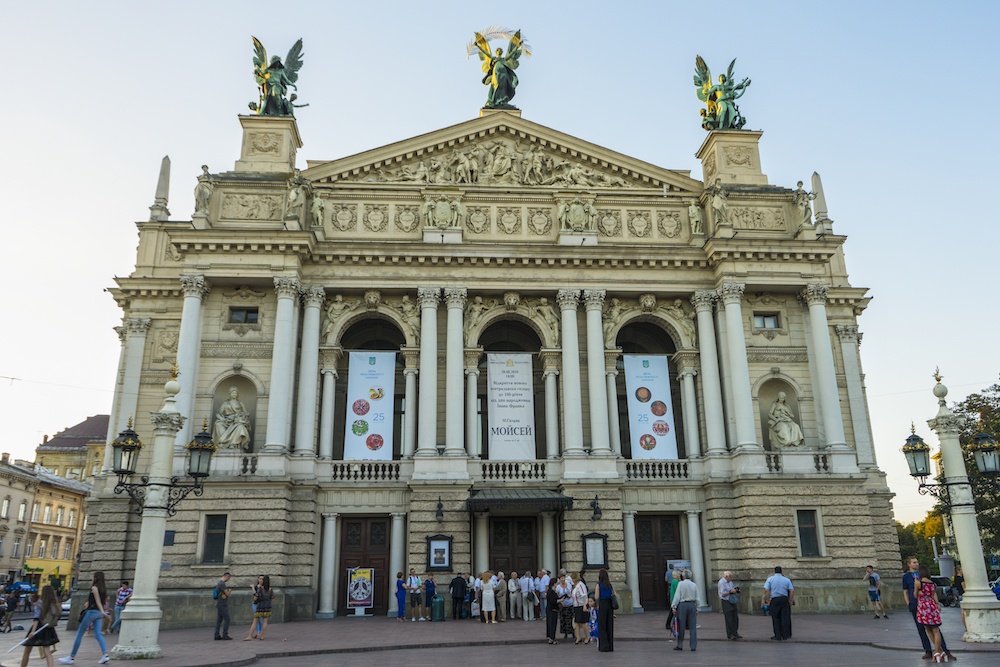 ---
You can book Lviv opera tickets in advance online via Viator, and see the performance schedule on Viator or on the official website. It will cost you extra, but is still very affordable, and comes with an added convenience of not having to worry about the language barrier or spend your holiday hunting tickets!
---
Ivano Franko Park
Ivano Franko is a large park within walking distance from Rynok Square (and our apartment). It was a favorite spot for us to go for a run on nice days or for a walk in the evening.
On weekends, the park is a popular place for wedding photos, with the bride and groom dressed in traditional clothing. There's a small outdoor kiosk in the southeast corner that's a popular spot for a coffee or a beer on a nice day.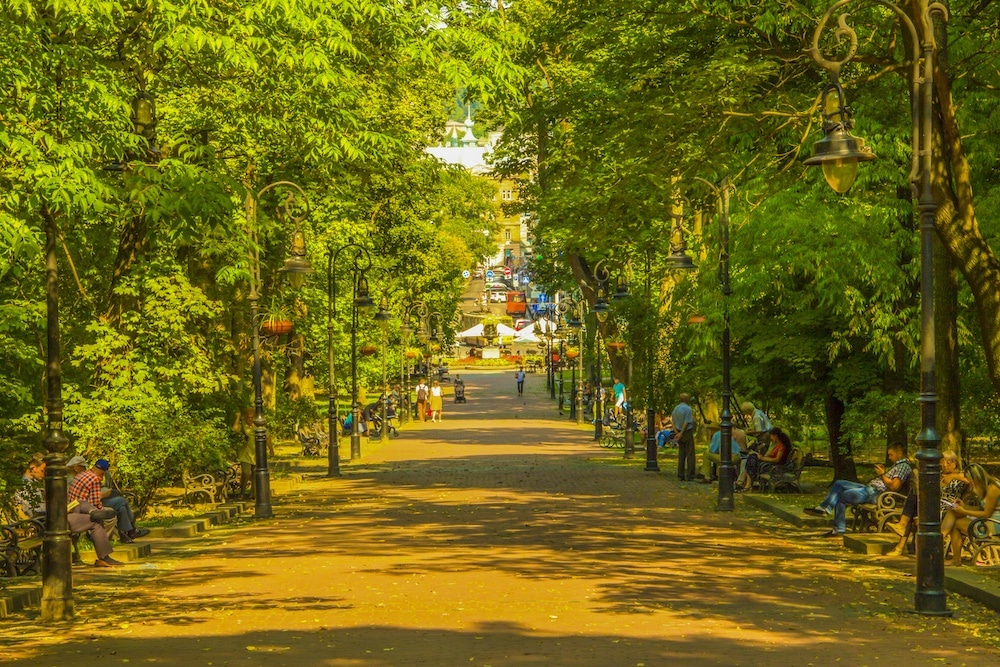 Lviv City Break Itinerary
---
If we had friends coming to Lviv for a city break weekend trip, this is more-or-less what we'd recommend they do. Keep in mind, we're not massively adventurous eaters. Hence the burger recommendation on Friday night! Hopefully, this provides you with a loose idea of what to do in Lviv, and makes your trip planning easier.
Friday Evening Arrival
If you arrive in Lviv for a short and sweet weekend city break, pre-arrange a private airport transfer, and then start your weekend in the old town area. For a cheap and cheerful meal, grab a burger at either Burger Joint or Delicateka, then head for drinks along Staroyevrejska vul., Lesi Ukrainky, Virmens'ka, or around Rynok Square. When the weather is nice, the crowds spill out of the bars and cafés on these streets, turning into a bit of a street party. When it's cold out, they take on a cozy feel.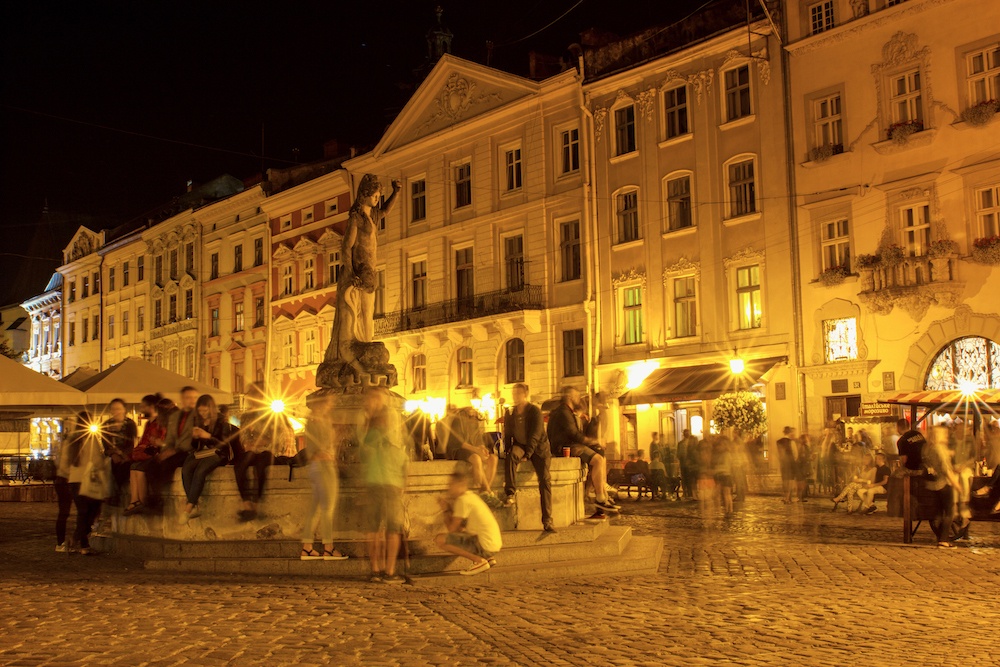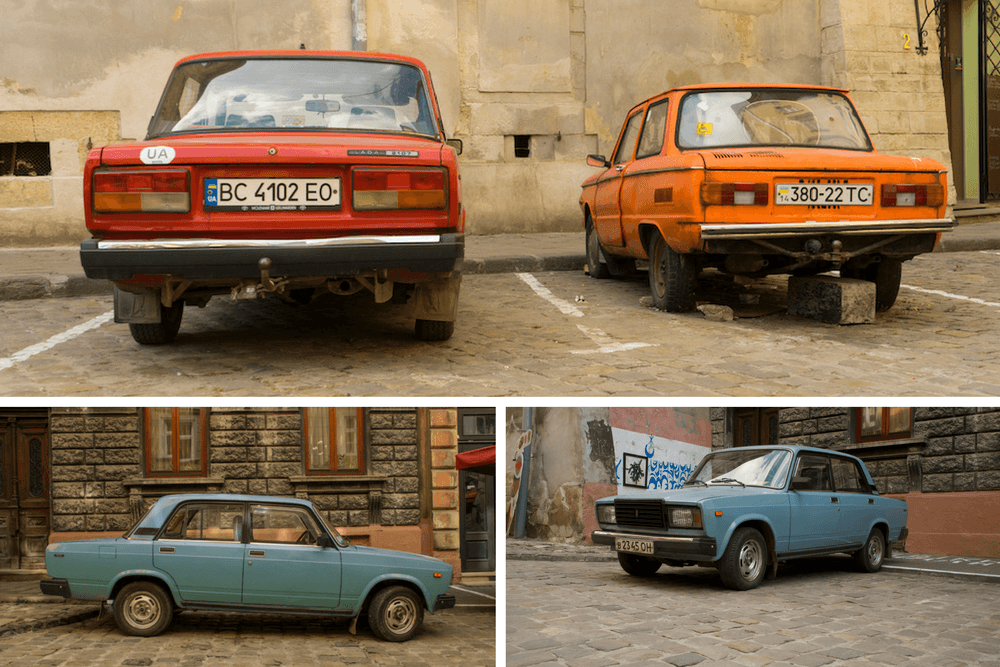 Saturday
Start your day at our favorite café, Svit Kavy on Rynok Square, where you can also get breakfast (expect to pay about UAH 100 for breakfast and a cappuccino). If the weather's nice, sit outside facing Rynok to get a feel for the city center, which is a UNESCO world heritage site.
When you're finished, meet up with a Green Tour Ukraine Lviv's Old Town tour, to get a feel for the main highlights of the city, including the opera and the main churches.
In the afternoon, head to City Hall and climb the 500 or so steps to the top, where there's a viewing platform with lovely views looking out over Rynok Square and the city.
Then venture out of old town to Ivano Franko park, getting lost in the different alleys on your way there, enjoying the architecture, and keeping your eyes out for couples getting their wedding photos done! If a trip to the park isn't your thing, wander up to the Jewish Memorial to learn more about the tragic history of Lviv's Jews during WWII.
In the evening, catch a show at the Opera, if available, or grab a meal and show at Pravda Beer Theatre (and pick up some souvenirs). If you're feeling adventurous, stop by the very strange Masoch Cafe for a whipping and a drink.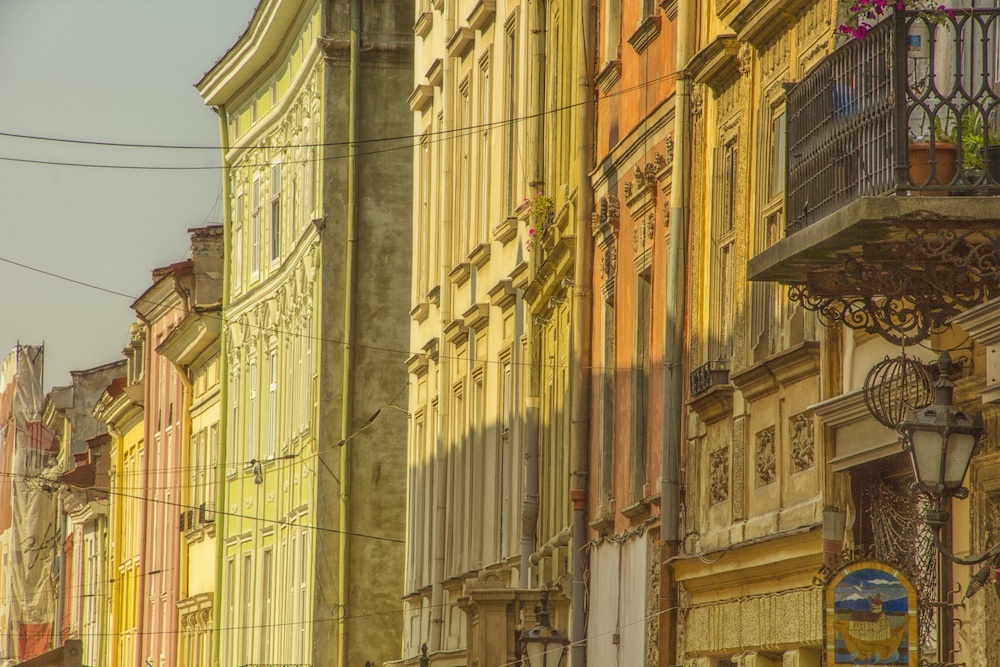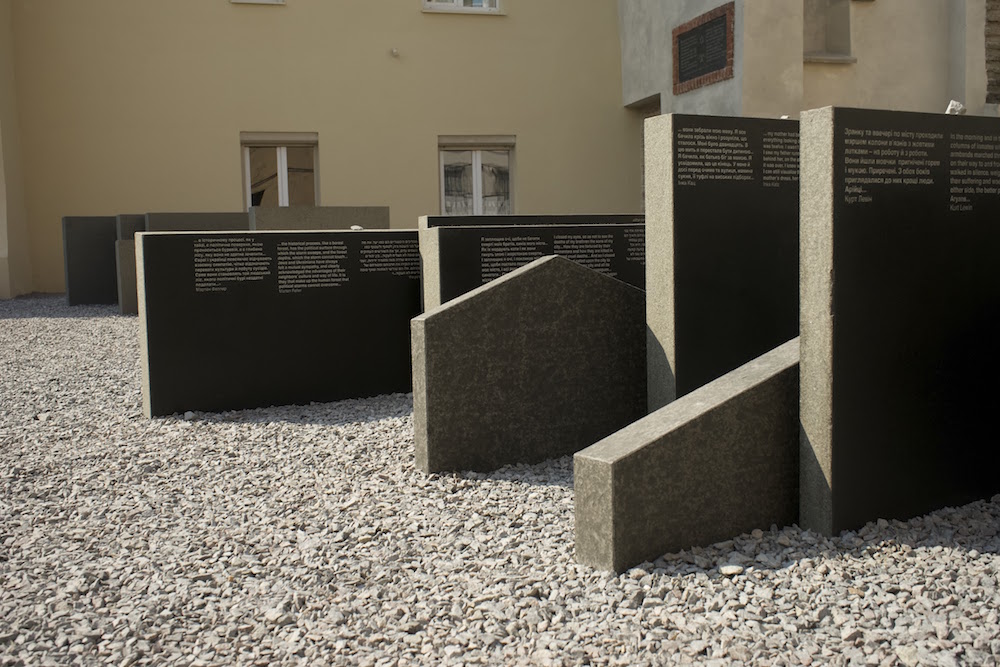 Sunday
Get a morning coffee and sweet at Lviv Chocolate Manufaktura (be sure to walk up to the rooftop deck for some nice photos), and then walk up Castle Hill to catch panoramic views over the city. If you feel like seeing something other than old town, the Lychakiv Cemetery is one of the more popular things to see in Lviv, and has many famous Ukrainians and national heroes buried within.
If you feel like seeing something other than old town, the Lychakiv Cemetery is one of the more popular things to see in Lviv, and has many famous Ukrainians and national heroes buried within. If you'd rather stick to the old town, check out the flea market on the outer edge of old town (behind the Dominion Church) and pick up some treasures.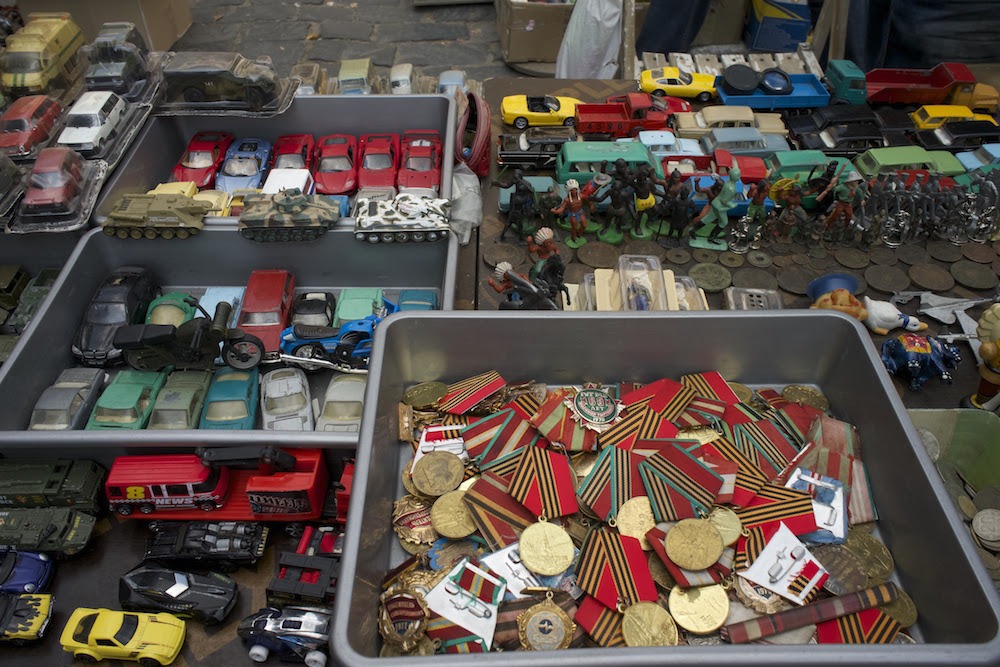 If You Have an Extra Day
If you have an extra day, consider a day trip to see the three castles that make up Lviv's Golden Triangle or take a trip to the Carpathian Mountains or the Pochayiv Lavra — if you haven't been to Kyiv, the Lavra is a great option to see iconic golden dome churches.
If you plan on staying in Ukraine and traveling around after your Lviv visit, one of our favorite resources is the website of American travel blogger Megan Starr. She's traveled quite extensively around the country, and is a great starting point for trip planning. In particular, check out her Best Places to Visit in Ukraine for some suggestions that don't include the perennial favorites of Kyiv and Lviv!


Lviv Practical Travel Info
---
Getting from Lviv Airport to Rynok Square
Lviv Airport is close to town — and there are several options for getting into the historic center: public transport, a private taxi or an airport transfer.
If you want to rely on public transport, you can take Trolleybus #9 from the Old Terminal to Ivan Franko University, and then walk the 15 minutes to Rynok. At UAH 2 (~$0.08 US / pay the driver directly), it's certainly the cheapest option, but not great if you have more than a carry-on bag with you. You can also take city bus #48 from the new terminal for UAH 3 (~ $0.12 US) to the last stop, Svobody Ave., which is a main boulevard right on the edges of the old city, near the Opera House.
Taxis should cost about UAH 100 (~$3.90 US) to the center, but good luck getting that price: as noted above, we gave up on taking taxis in Lviv, because we were never able to negotiate a price that wasn't a complete and total rip-off.
Private airport transfers can be arranged in advance via Viator for less than $20 US. This would be my choice, especially if arriving at night or after a long flight, after which fighting with a taxi driver doesn't sound appealing.
Getting from Lviv Train Station to Rynok Square
If you're arriving by train, you've got similar options for getting into Lviv's city center: public transit, fixed-route taxi, taxi, or private transfer.
For public transport, you can take Trams #1, 6, 9, or 10 for UAH 2 (~$0.08 US / pay the driver directly). All go to the centre, but only 1, 9 and 10 go right to Rynok Square. You can see a full list of stops here.
Shared, fixed-route taxis (#16, 31 and 32) cost UAH 4 (~$0.16 US) with set stops along the way. You can see the stops here.
Taxis, again, are anyone's guess. We got ripped off when we arrived, but the local's rate is 35 to 50, with anything over 60 being a rip-off. If you manage to negotiate a taxi for 30, give yourself a high-five and then email me and tell me how.
I'm sure Private train station transfers can be arranged via your hotel – my normal go-to for ground transfers (Viator) unfortunately only offers an airport → city center transfer.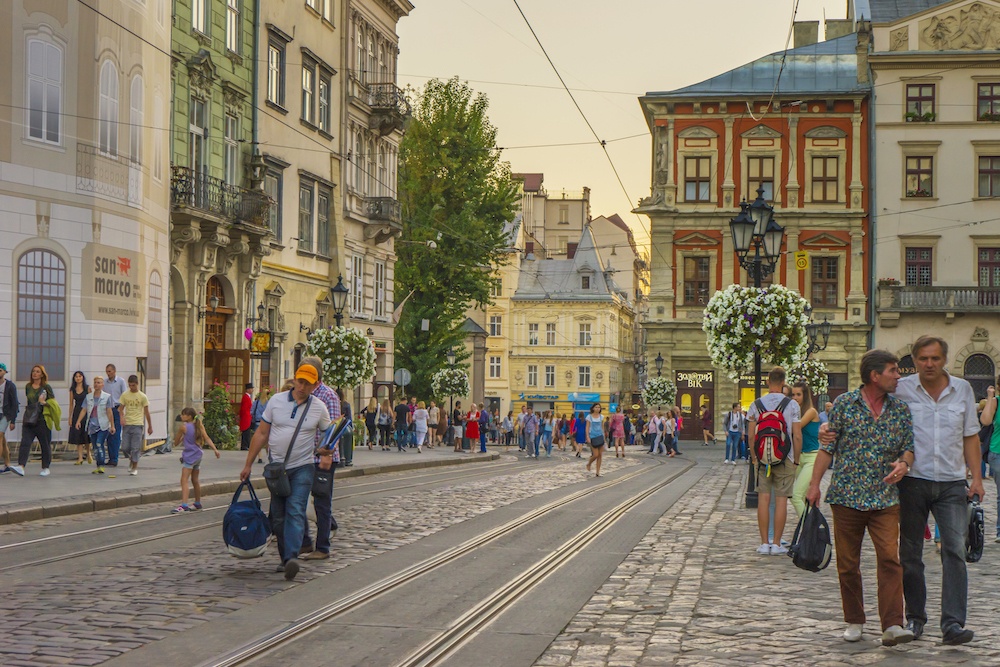 Getting Around Lviv
Once you're in the city center, and aren't carrying luggage, public transport is actually a pretty good option, especially if you can take a tram. It's cheap as chips (either UAH 4 or 2 per ride, depending on the route), and Google maps does a great job at itinerary planning.
Unfortunately, Uber has yet to arrive in Lviv. Whereas in Kyiv you can now use your phone to get an affordable ride anywhere in town, in Lviv, each and every cab driver we ever interacted with tried to overcharge as much as they could, to the point we just stopped bothering.
Luckily, Lviv is also highly walkable. It's likely you'll only need a bus or cab once or twice, if at all.

Do You Need to Speak Ukranian or Russian in Lviv?
This was probably the biggest question we had before deciding to travel to Ukraine – would we be able to get by without speaking Ukranian or Russian? After 11 weeks, the answer is yes…for the most part.
In Lviv's Old Town, most people you'll need to interact with – hotel, restaurant, café and tour staff, will speak at least some English. As is often the case, younger people tend to speak English more fluently than older people, and we were often approached by university students who heard us speaking English in Rynok Square for a quick chat, mostly out of curiosity as to where we are from, and why we were in Ukraine.
Despite this, don't expect there to be English menus at all restaurants (many, but not all) or on labels in the grocery store. Because of this, I'd recommend you put a bit of effort into learning the Cyrillic alphabet so you can sound out essential foreign words, which are often simply transliterated phonetically (for example, wine is pronounced as vino => вино / restaurant is pronounced restaurn → ресторан). Before you freak out, learning the Cyrillic alphabet for the purpose of sounding out transliterated words is actually not that hard – Geoff was able to pick it up after an evening of practicing the alphabet over beers, and then sounding things out during our daily explorations. If you've traveled in Poland, Czech Republic or Slovakia, you'll probably also notice some similarities in the vocab. Words like hello, beer, colors, thank you, etc. can be quite similar.
In sum, learning a bit of the language is always a good idea, and especially so when English is less prevalent than in many other European countries. However, it's not essential, and I certainly wouldn't make my travel decision on not speaking Ukranian or Russian.


Costs for Visiting Lviv
Lviv is wonderfully affordable, even if you splurge a bit. Restaurants and accommodation around Rynok Square are the most expensive, and even then prices are affordable. Sample prices below:
$50 for a 3-star guesthouse on Rynok Square, $75 for a 4-star hotel in the centre, and $120 to $150 for a 5-star.
UAH 60 to 100 for a pizza, pasta or local-style entree in a restaurant ($2.30 to $4.00). Expect to pay a bit more for meat dishes.
UAH 65 (~ $2.50 US) for a glass of Ukranian wine, and anywhere from UAH 15 (in a student bar) to UAH 30 for a 0.5L of local beer.
UAH 46 (~$1.80 US) for a café latte at Svit Kavy on Rynok Square, our favorite café, but probably the most expensive one in town!
Where to Stay in Lviv
Our best advice is to stay in Lviv's old town, in and around Rynok Square, or as close as you can. For one, that is the most lovely part of the city, and is where you'll likely want to spend most of your time. Beyond that, the old town is pedestrianized, which — given the traffic pollution issues in Lviv — will mean a much more comfortable stay for your respiratory system.
We've picked out three different accommodation options we'd love to stay in, all on or within minutes of Rynok Square and in the pedestrian zone, and all at different price points.
Vintage Boutique Hotel (Affordable Boutique)
Vintage Boutique Hotel — $$$ — This would be my first pick – it's just a block off Rynok Square, oozes charm, and has a lovely wine bar and restaurant. Classy and high-end, with top marks for staff friendliness and comfort.
Check Availability & Compare Prices: Hotels Combined / Hotels.com / Read Reviews on Trip Advisor
Leopolis (Old World 5-Star)
Leopolis Hotel — $$$$$ -A higher-end, luxury option with an aristocratic vibe, on-site sauna, spa and fitness center, and great location 2 blocks from the square. Slightly more expensive, but great value for the offering.
Check Availability & Compare Prices: Booking.com / Hotels Combined / Read Reviews on Trip Advisor
On the Square Guesthouse (Affordable Boutique)
On the Square Guesthouse — $$ — This would probably be my second choice, after Vintage. The rooms look absolutely beautiful, and I love the exposed brick. Cheap and cheerful and in a great location right on the square.
Check Availability & Compare Prices: Booking.com / Hotels.com / Read Reviews on Trip Advisor
Check Here to Find a Great Deal in Lviv…
Did You Know? Hotel referrals are a primary source of income for this website. By making your hotel bookings using the links in this website, you support our continued efforts to bring you the best travel information. It's as easy as booking your hotel through Booking.com, Hotels.com, Hotels Combined or TripAdvisor … and it doesn't cost you anything extra! [/et_pb_text][et_pb_text admin_label="Pinterest Pin" background_layout="light" text_orientation="left" use_border_color="off" border_style="solid" disabled="off" module_alignment="left" background_position="top_left" background_repeat="repeat" background_size="initial"]
Like this Guide? Pin it for later!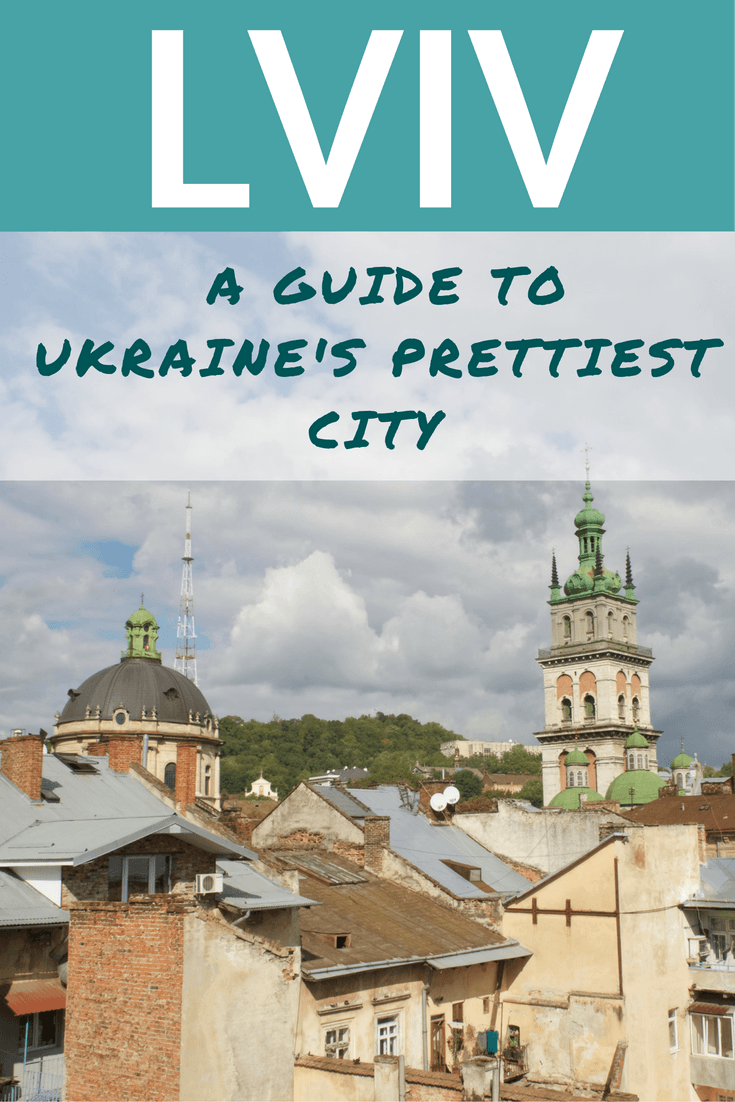 We hoped you enjoyed our Lviv City Guide: The best things to Do in Lviv, Ukraine, plus practical travel info and Lviv travel tips. We built this guide after almost 3 months in Lviv, which we mostly spent exploring on our own. However, we also have to thank Green Tour Ukraine for hosting us on a complimentary private tour of the city.
If you have any questions, as always get in touch with us on our Facebook page, or send us an email [wandertooth at gmail dot com]