Castles of Western Ukraine: Visiting the Lviv Golden Horseshoe Castle as a day trip from Lviv, including Zolochiv, Pidhirtsi and Olesko Castles.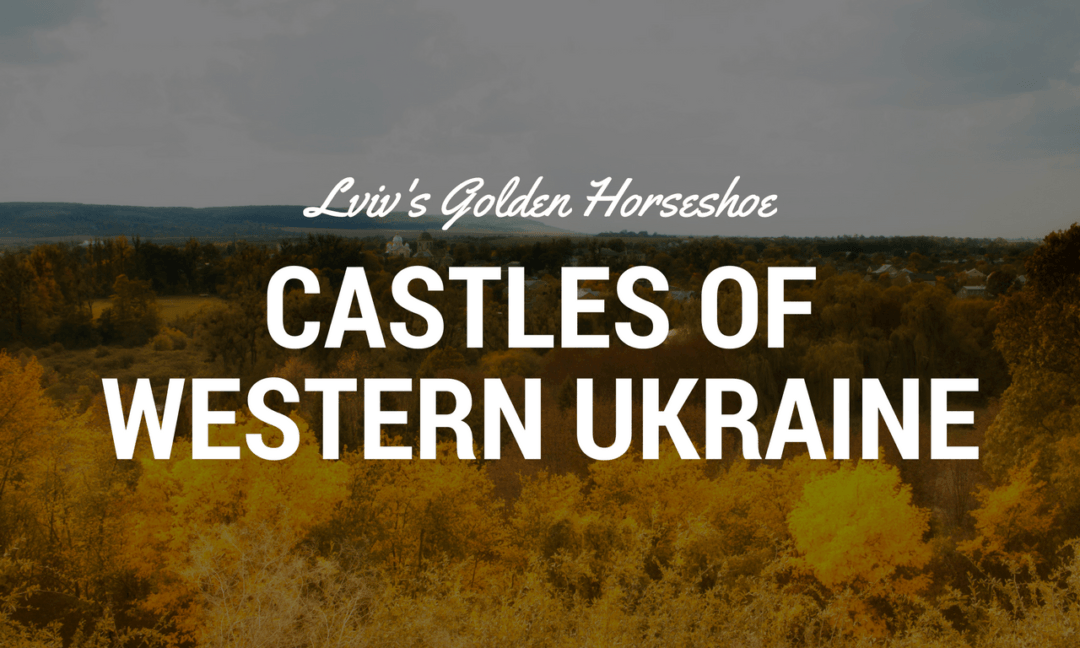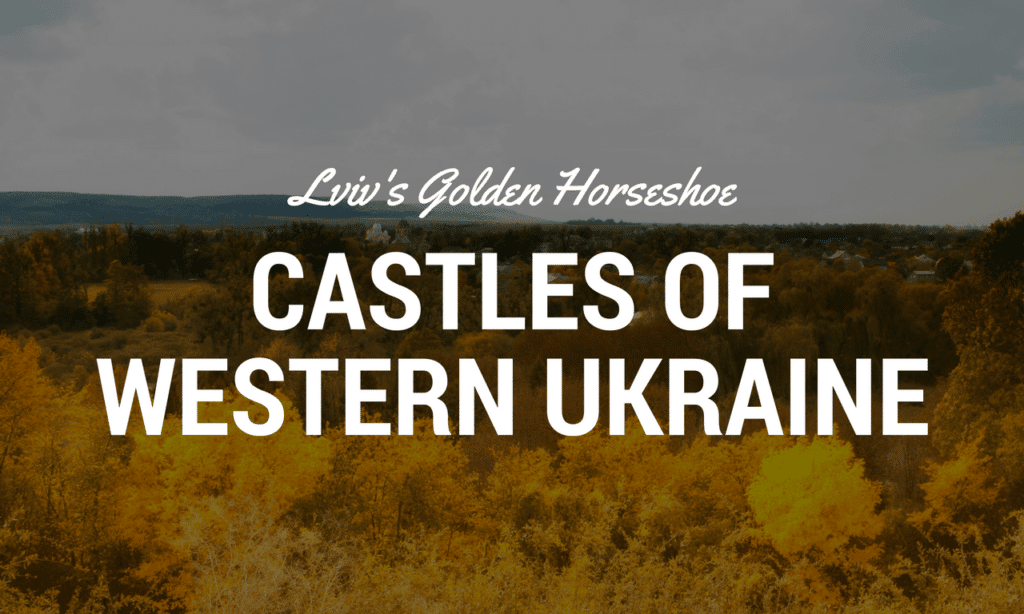 Disclosure: This Ukraine Castle Tour Post contains affiliate links. That means we earn a commission when you use the links on this site to book a hotel, buy your travel insurance, etc.. You don't pay anything extra. If you'd like to learn more about how this works, you can read more under our Disclaimer page.
***
One of the things I've found most interesting about our time in this part of Ukraine is how surprised I've been by how everything looks.
Frankly, this part of the country is nothing like what I imagined Ukraine would look like, which was, in a (non)word, Sovietish.
Instead, we see art nouveau, neo-renaissance and gothic buildings, sculptures and churches when we look out the window of our Airbnb, walk to the park for an afternoon run, or wander into the old town for dinner or drinks. Somehow, Lviv was spared the fate of so many other Soviet cities, and today it doesn't look particularly different from a smallish city anywhere in central Europe. There have been so many times when we've wandered down a new residential street, only to comment how much it looks like Prague.
Along the same line of thinking, I've enjoyed seeing with my own eyes — through the architecture, the multicultural faces, the fading signs painted in different languages on the sides of buildings all throughout town — how many times this region and its people have 'belonged' to different powers at different times in history. It's one thing to read about countries changing hands over the course of history, and it's another to see the reminders in everyday life. Coming from a young country that doesn't have this kind of history, at least with the non-first-nations population, I find it hard to wrap my head around it until it smacks me right in the face.
A couple of weekends ago we'd had enough of the city, and decided to get out and see the "Golden Horsehoe" — a half-moon of castles in Lviv oblast (an administrative division similar to a province or state), about an hour or so out of the city. To my untrained eye, the architecture of these castles/villas could be straight out of Austria, Germany, or elsewhere in Europe.
Only the small, local onion-domed churches scattering the countryside reminded me of where we were.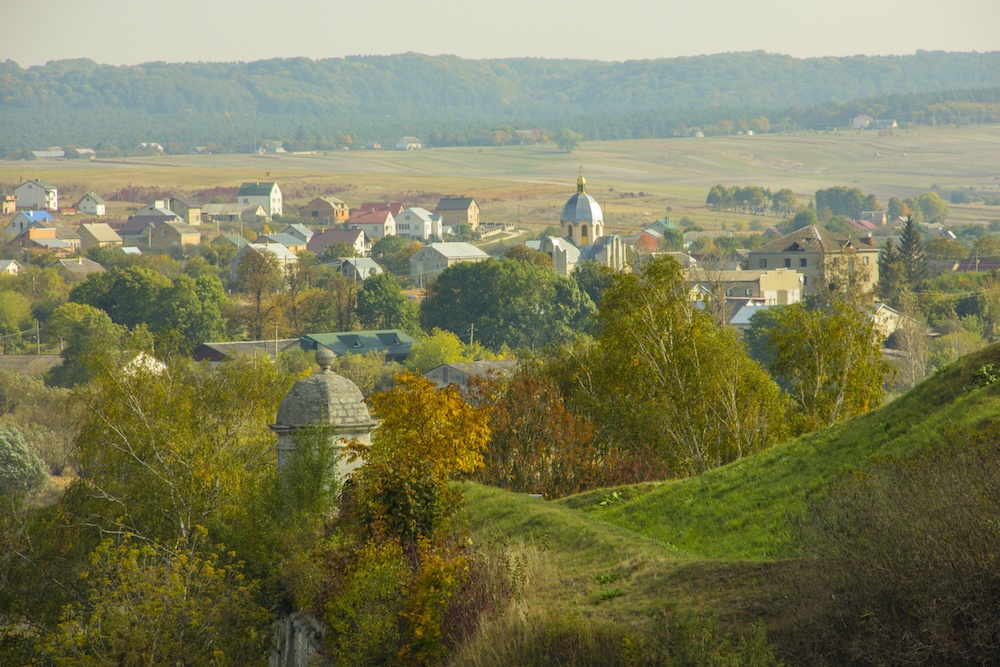 ---
Are you wondering if it is safe to travel in Ukraine? Read our thoughts on the subject here!
---
Zolochiv Castle
Our first stop was Zolochiv Castle, a former residence of the Sobieski family (the eponymous vodka, which you've possibly had if you've tasted vodka in Poland, is named after the 17th C. John III of House Sobieski).
Apparently, the main castle (the yellow one, in the photos below…more like a chateau if you ask me), has a chandelier made of dinosaur bones inside.
Did we see it, you ask? Nope – we actually didn't go inside a single castle that day. And I'm totally fine with it. Our main motivation was to get out of the city, do something a bit different from our regular weekend routine, and get out of the — frankly — nauseating traffic pollution that plagues Lviv.
We booked a tour that was 100% in Ukranian, so even if we had gone into the castle with our guide, we wouldn't have understood a lick of it.
We were after autumn fresh countryside air and a day in the sunshine. The castles were a bonus.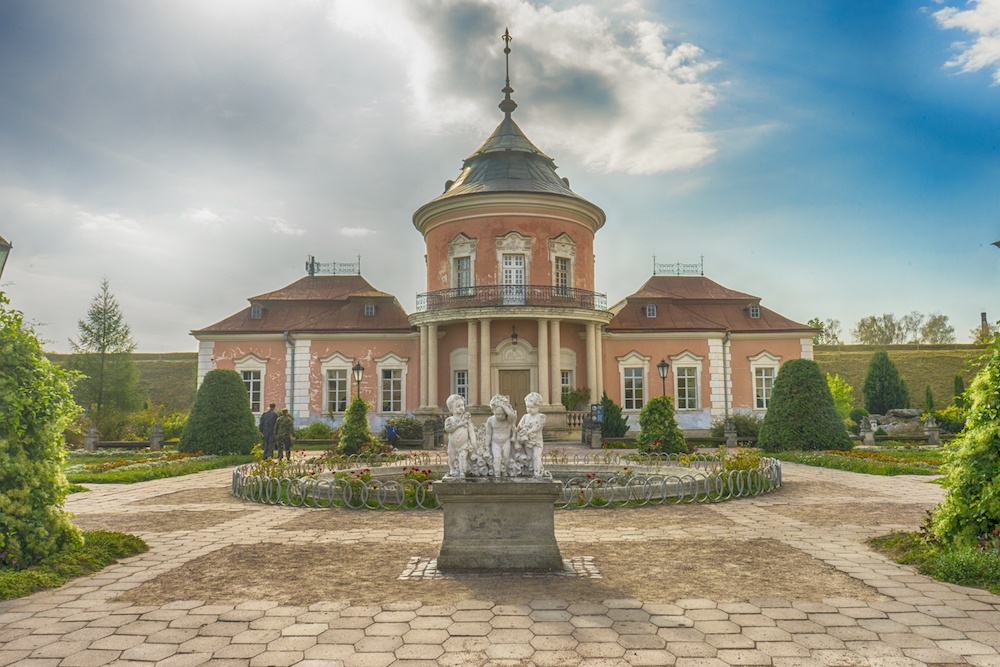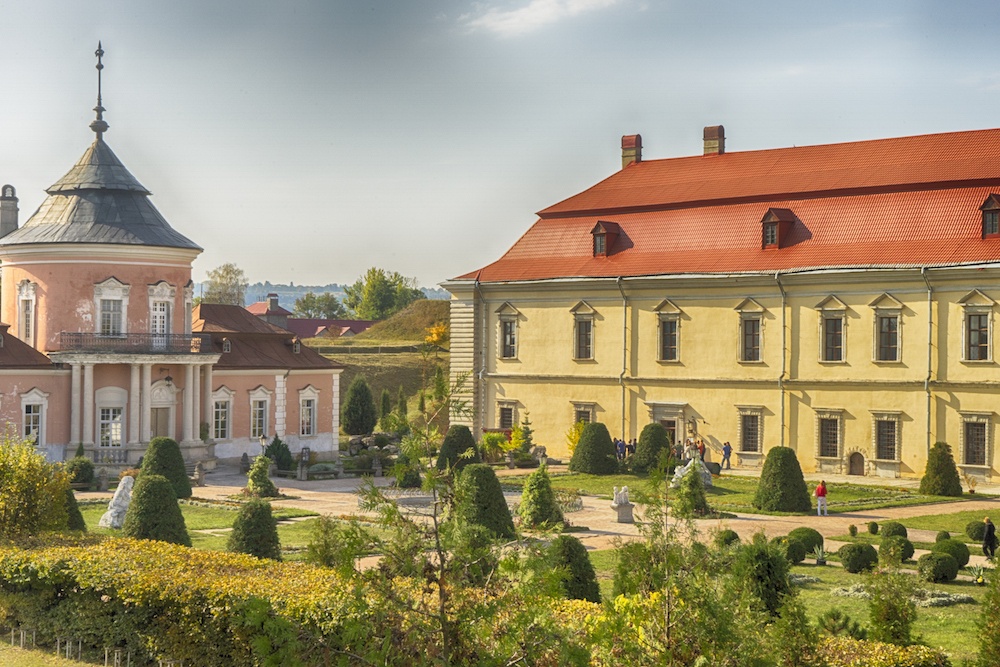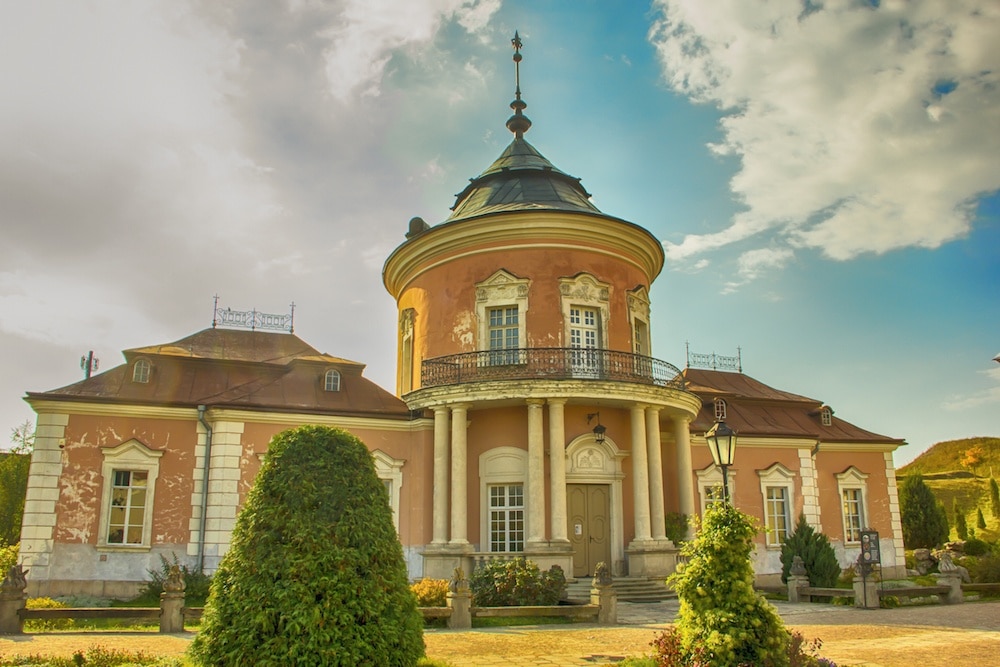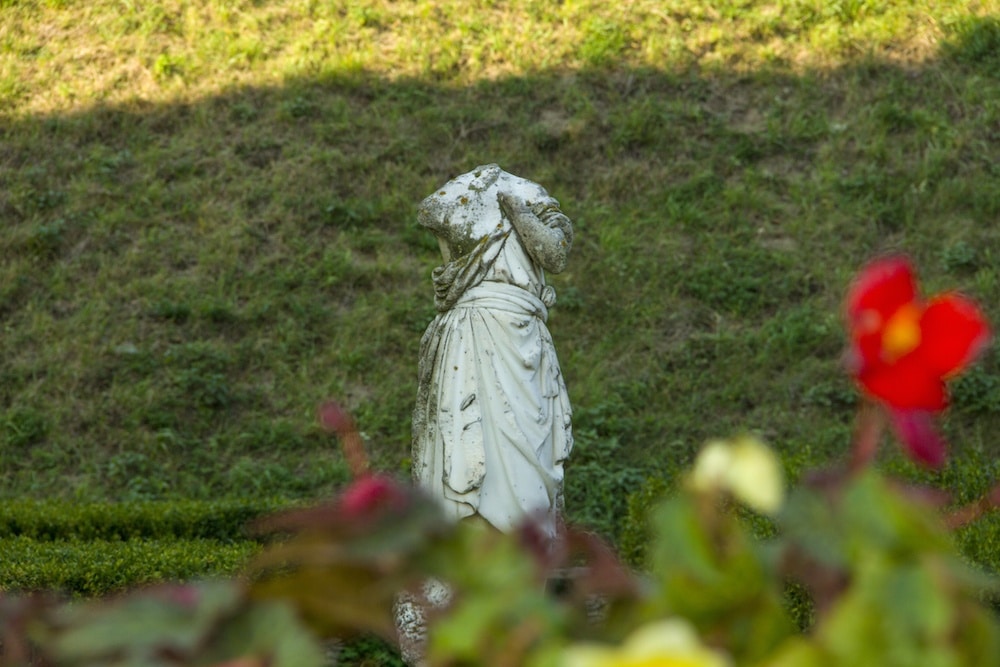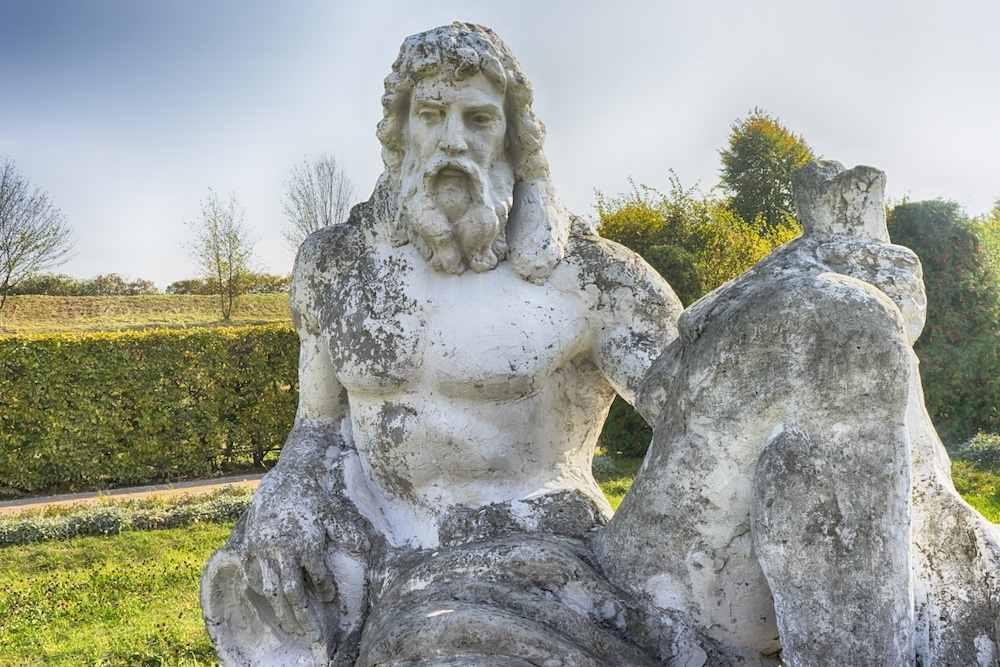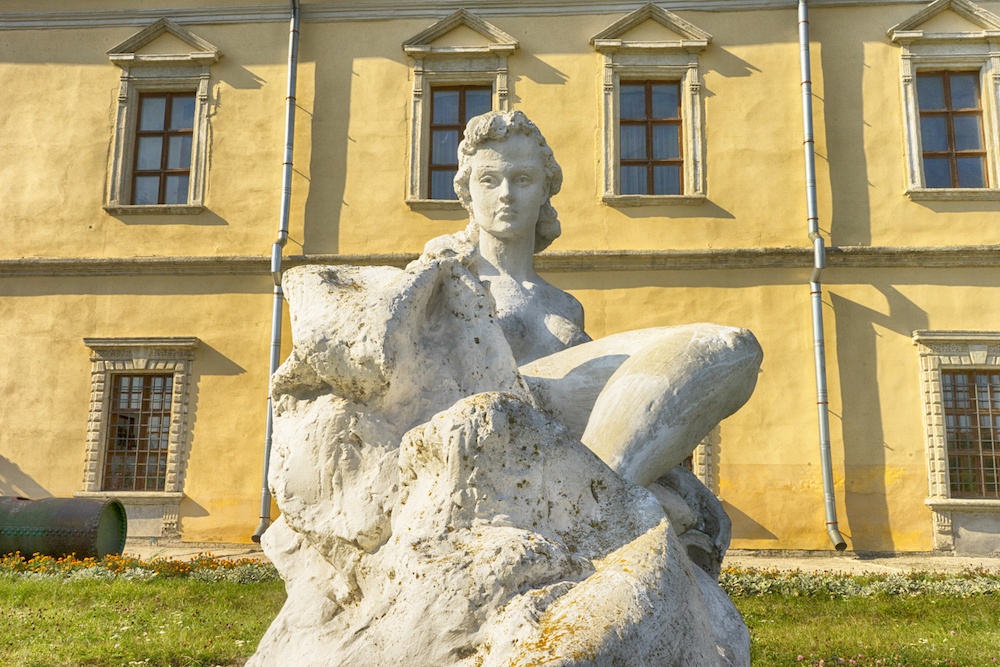 Pidhirtsi Castle
From Zolochiv, we next went to Pidhirtsi / Pigirtsi (depending on the transliteration and spelling from Ukrainian) Castle, which more-or-less looks like every haunted house in every haunted house movie, ever.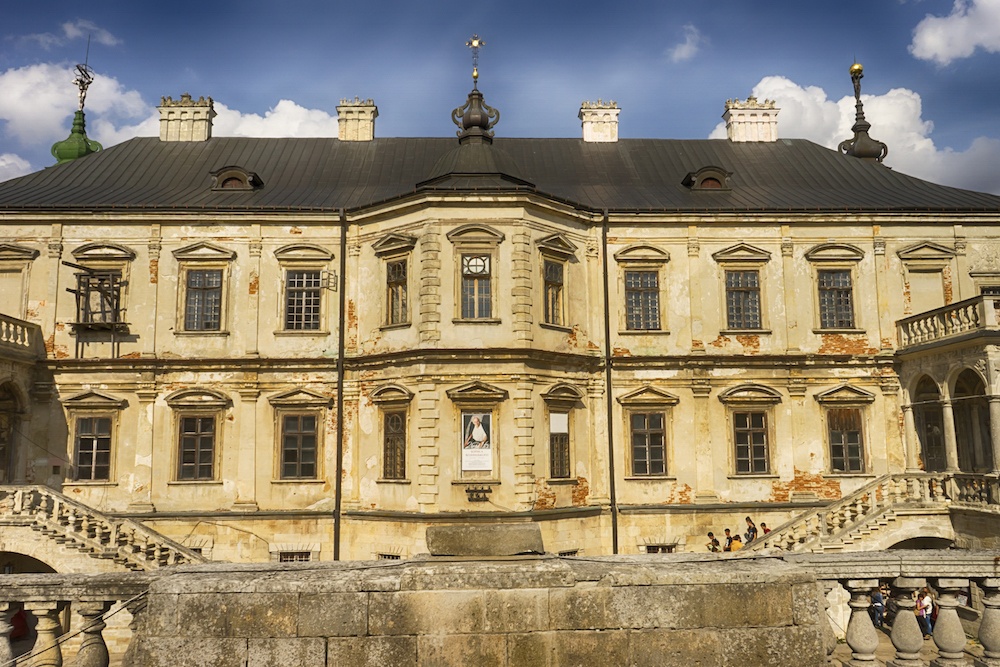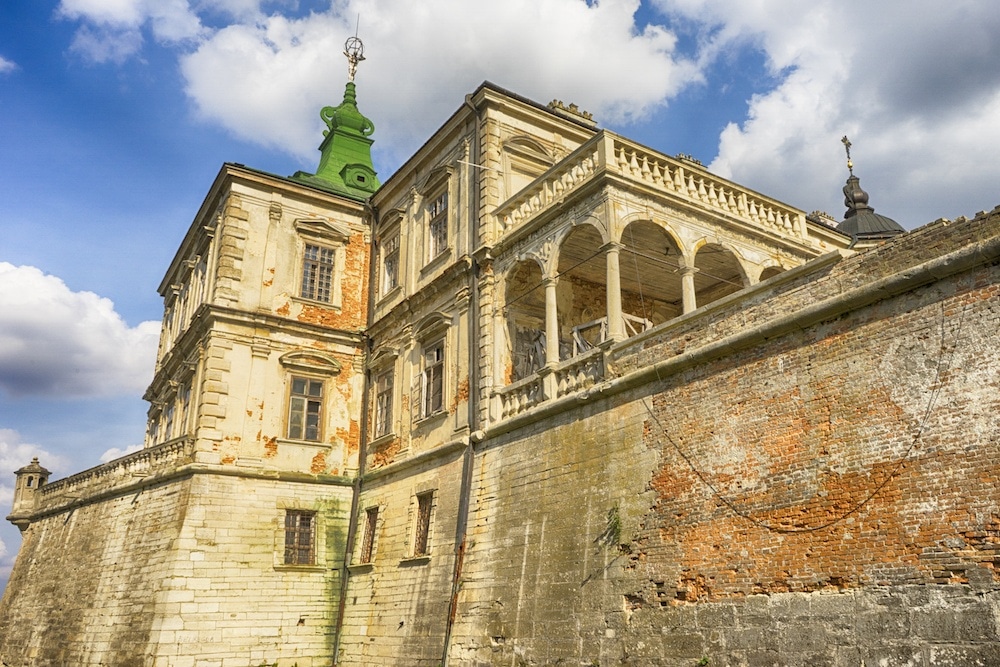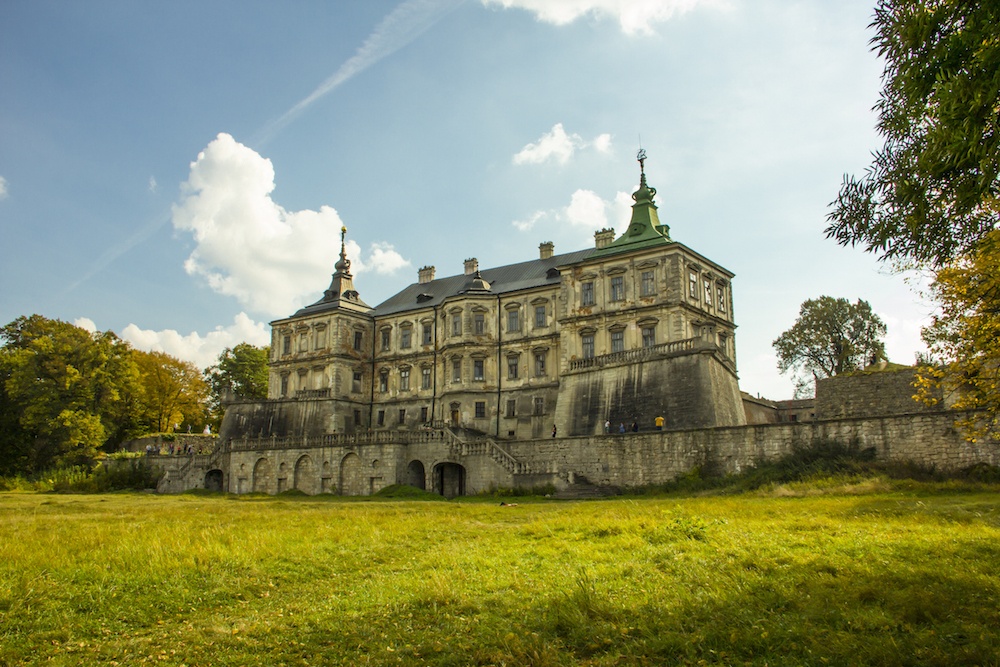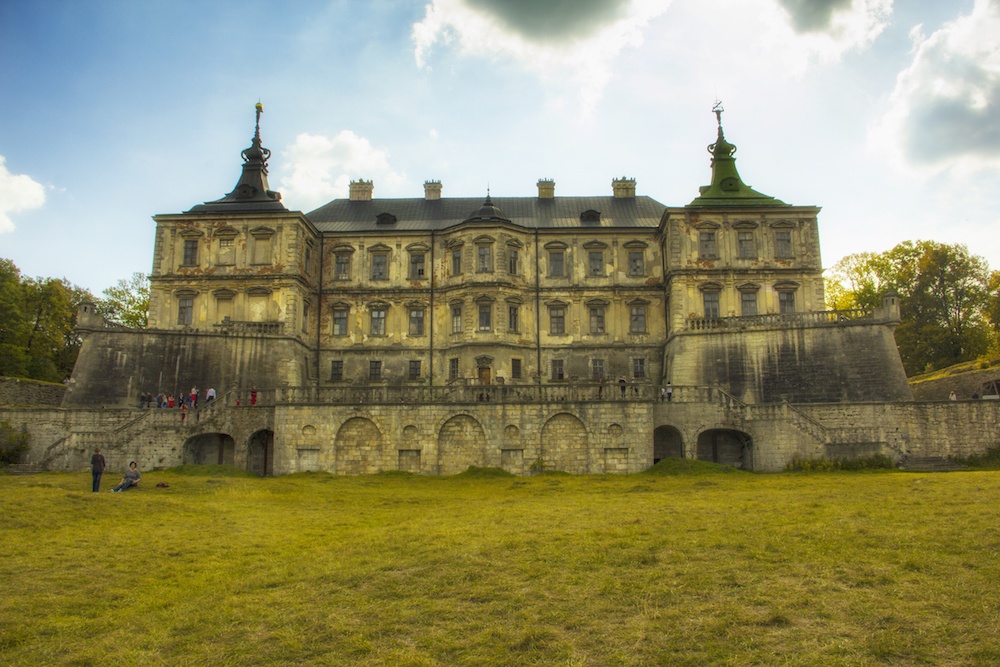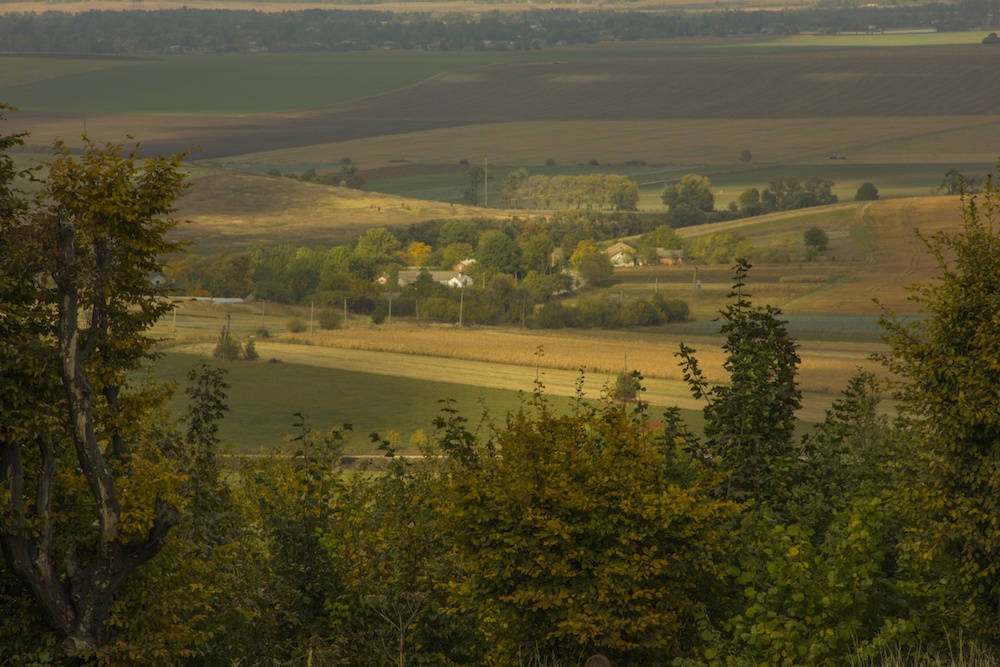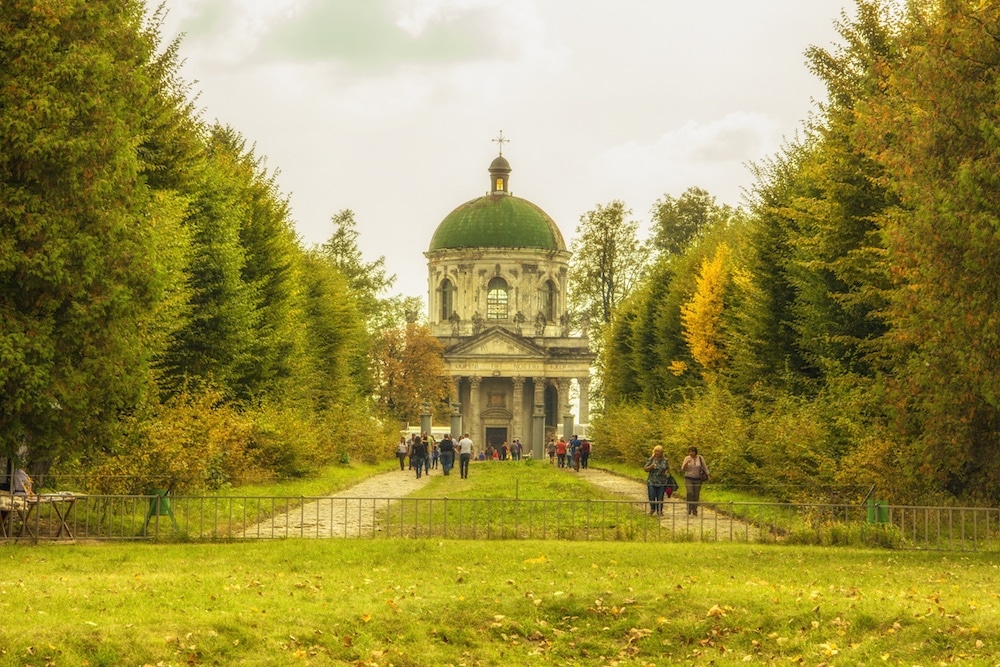 Olesko Castle
The final castle on our Golden Horseshoe afternoon was Olesko: the oldest (14th C.) and most castle-like castle of the day. Surrounded by a nice park, it also has beautiful views from inside the castle's courtyard.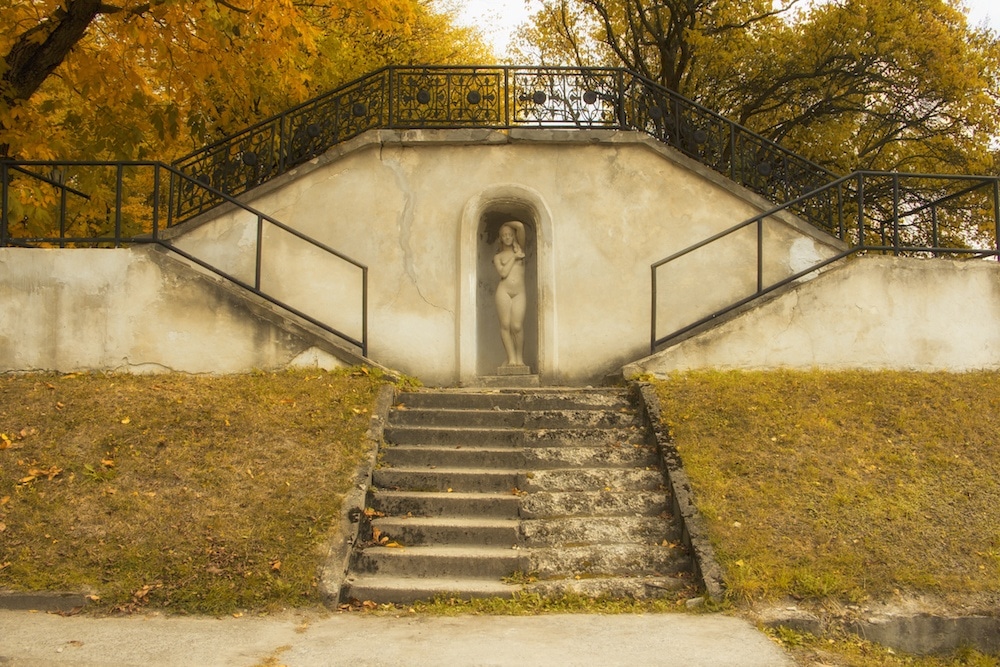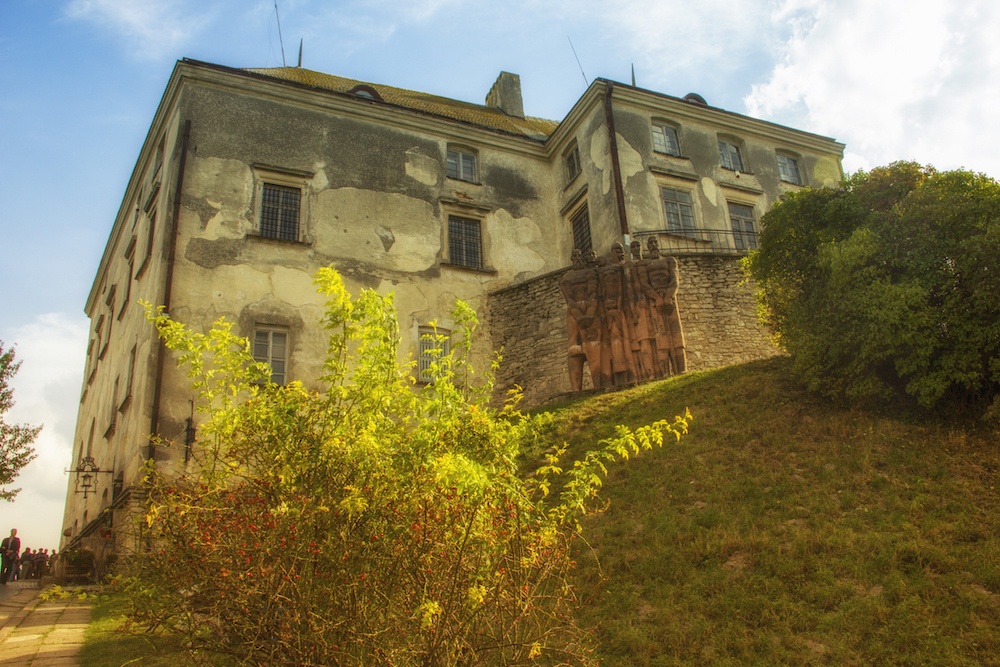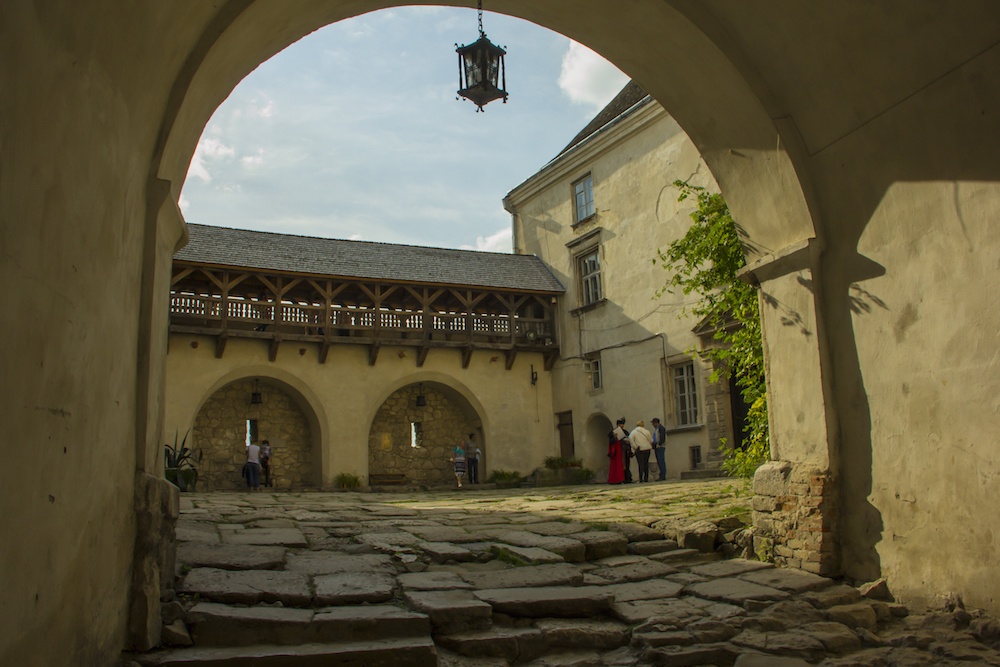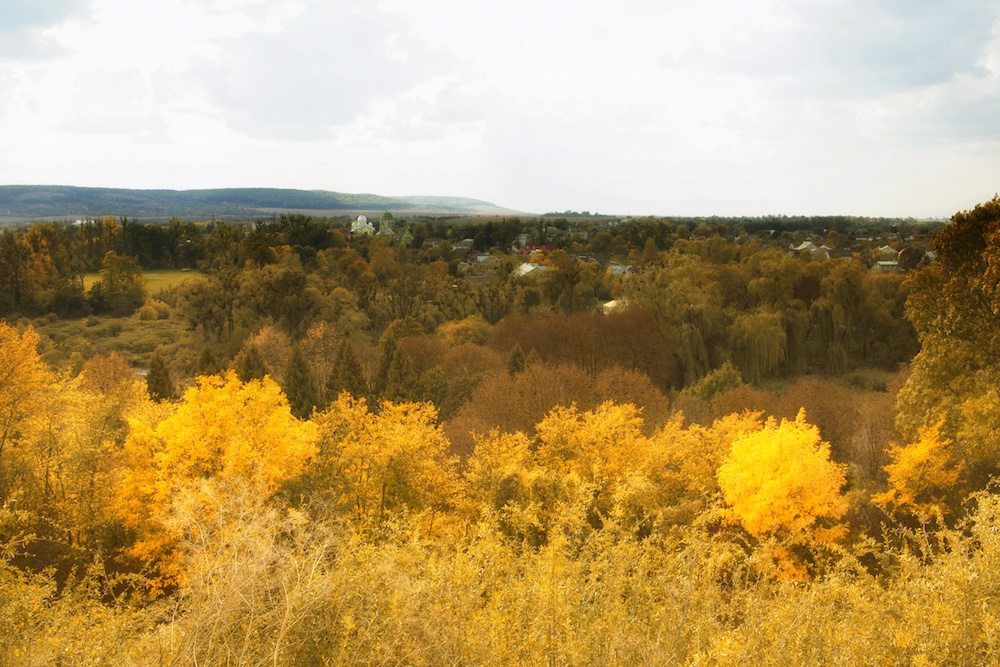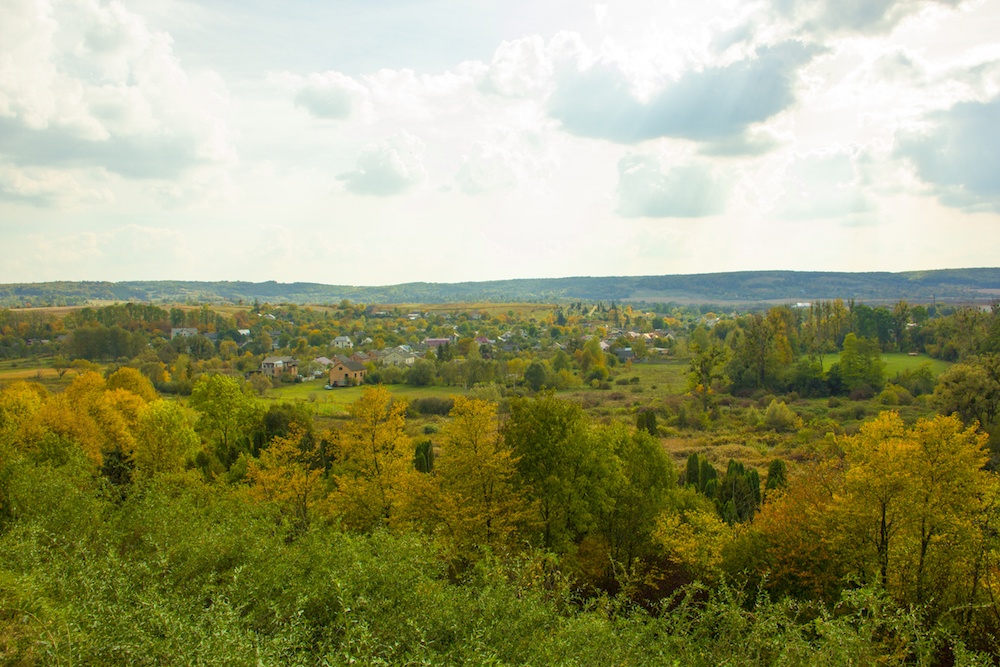 How to Visit the Lviv Golden Horseshoe
Unfortunately, the Lviv Golden Horseshoe is difficult to get to without a car, and driving in Ukraine isn't for the feint of heart. From what we could tell, there are a few options:
Visit the Lviv Golden Horseshoe with a Private Guide and Car
If you're interested in the history and architecture of the region and buildings, and the collections within the castle, and you're willing to invest a little, a private tour is the best way to go.
We took a Lviv city tour with Green Tour Ukraine, and enjoyed the experience, and they do offer a private Golden Horseshoe of Lviv Region tour starting at €130 for a car with three available seats.
Read reviews of Green Tour Ukraine on Trip Advisor.
Visit the Lviv Golden Horseshoe with a Ukrainian Tour Group
If you're less concerned about the history, and mostly want to see the castles and get out of Lviv, as we did, you can do it for much cheaper by simply joining one of the Ukrainian tours, and essentially using the tour as a ride to get to and from the castles, and then exploring on your own.
If you want to take this option, find Pasaz Andreolli, the small passageway/alley off Rynok Square's western edge. If you enter from Rynok, you'll see a small tour company office on your right-hand side near the end of the passage. Staff inside speaks English and can get you on a daily tour – we paid UAH 250 per person, which is about €8.70 / USD $10.00
---
Need Some Recommendations for Lviv? Check Out Our Round-Up of Strange Restaurants in Lviv!
---
Where to Stay in Lviv
Our recommendation is to stay in Lviv's old town, in and around Rynok Square, or as close as possible. For one, that's the most beautiful part of the city, and if you're coming to Lviv for a few days, with a focus on sightseeing, staying in the Old Town will ensure you maximize your visit. More practically, however, it's worth nothing that Lviv has an air pollution problem related to decades-old buses, trucks and cars ruling the road with — from what we can tell — no controls on exhaust. Because the Old Town is mostly pedestrianized, staying in this area will save your lungs.
Vintage Boutique Hotel (Affordable Boutique)
Vintage Boutique Hotel — $$$ — A fantastic location just a block or two of Rynok Square, Vintage is very charming and has a great wine bar and restaurant attached (even if you don't stay here, it's a great spot for a drink or breakfast!). Classy, high-end decor, and gets high marks for comfort and staff!
Check Availability & Compare Prices
HotelsCombined / TripAdvisor
Leopolis (Old World 5-Star)
Leopolis Hotel — $$$$$ – This is probably the best hotel in town, and has an old-world, aristocratic vibe to it. Larger than Vintage, and with a sauna, spa and fitness center, the Leopolis is also in a fantastic location, just a block or two from Rynok Square. Slightly more expensive than Vintage, but not by much.
Check Availability & Compare Prices
HotelsCombined / TripAdvisor
On the Square Guesthouse (Affordable Boutique)
On the Square Guesthouse — $$ — Beautiful rooms with character – exposed brick, herringbone-pattern wood floors, and a bright, airy feel to them – right on Rynok Square. It's hard to beat the location, and this place gets fantastic reviews and looks like a stand-out value. Cozy and charming, right in the center of the action.
Check Availability & Compare Prices
HotelsCombined / TripAdvisor
---
Find Your Lviv Hotel…

Did You Know? Hotel referrals and online shopping are a primary source of income for this website. By making your hotel bookings using the links in this website, you support our continued efforts to bring you the best travel information. It's as easy as booking your hotel through Booking.com, Hotels.com, HotelsCombined, or TripAdvisor … or doing your Amazon shopping through this link … and it doesn't cost you anything extra!
Like this Post? Pin it for Later!