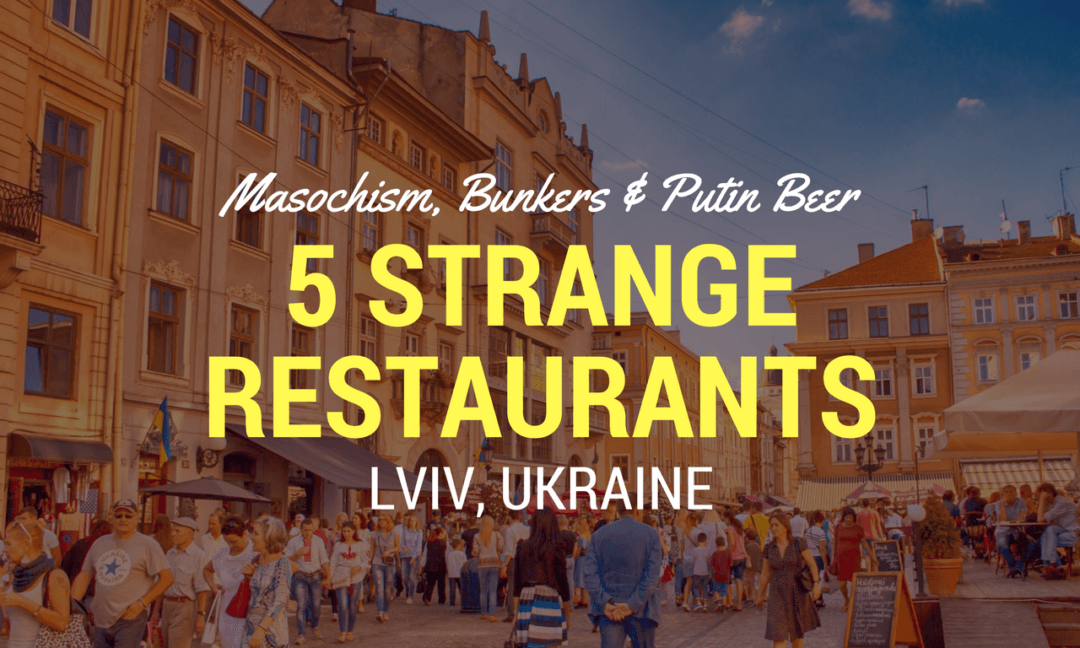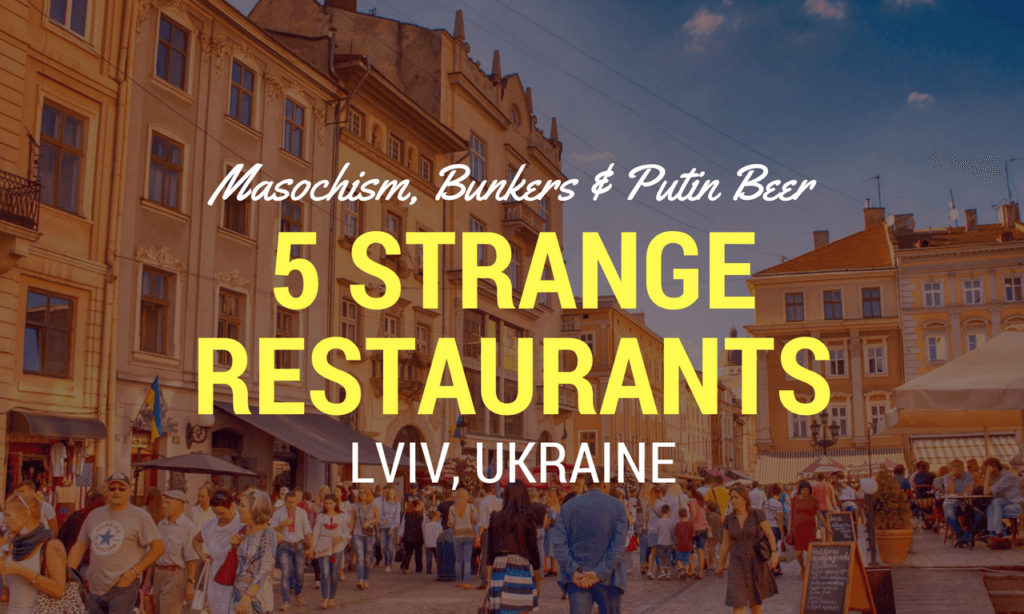 5 strange restaurants in Lviv Ukraine: A masochism-themed bar, a brewery with Putin d*ckhead beer, a war bunker pub, and more…there are many strange restaurants in Lviv Ukraine.
1. Masoch Café (Serbs'ka 7)
A bar/café, but mostly a bar, this spot is dedicated to Leopold Ritter von Sacher-Masoch, an Austrian writer who was born in Lviv in 1836. While many of Sacher-Masoch's writings focus on his beliefs around socialism, humanism, and utopian society, they tend to get overshadowed by his sexual preferences, and the word inspired thereby: masochism.
Masoch Café is a lark, meant for laughs, rather than an 'adult establishment.' The servers gently whip you while you walk by (they'll give you a proper whipping if you want, entitling you to a free shot), there are bras hanging from the rafters, and they play bizarre and not totally SFW entertainment on the TV (but nothing particularly shocking either).
Look for the statue of Masoch out front – it's open from 4pm and serves drinks and light meals, in case all that whipping makes you hungry.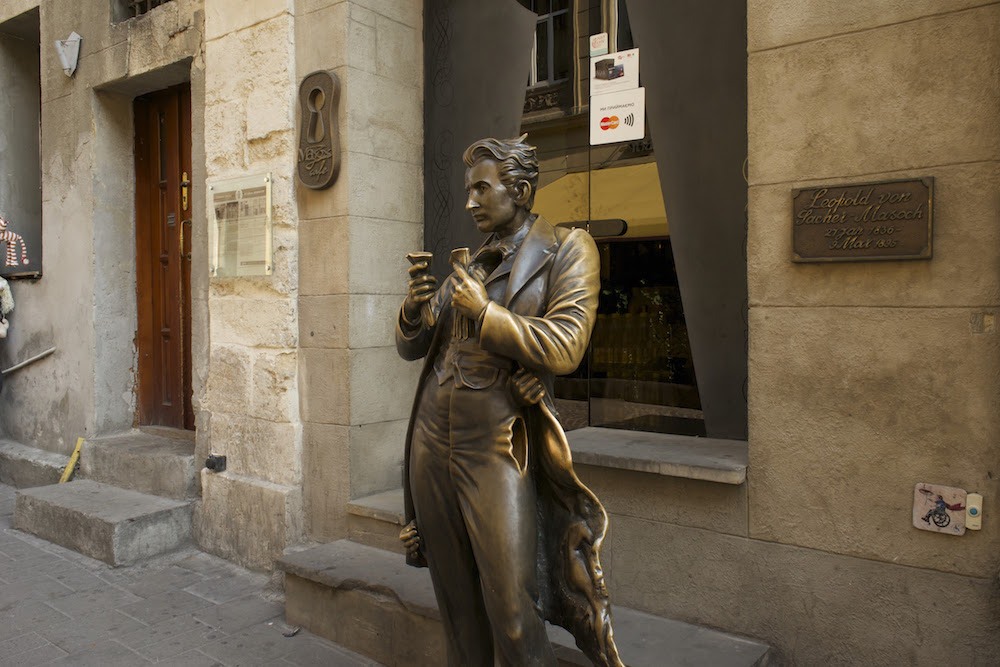 2. Kryjivka (Rynok 14)
To get into Kryjivka (which means 'hiding place'), you have to know where to look: down a short corridor off Rynok Square, beyond a non-descript door you have to knock on and correctly offer the password to a 'guard' in uniform.
This bar is themed around Stepan Bandera and the UPA, a 20th-century Ukrainian nationalist leader and rebel army he led during and after WWII. After initially collaborating with the Nazis to oust the Soviets, the UPA fought against Nazis, Soviets, Poles and Czechoslovakia at various times, using guerilla warfare and ethnic cleansing to achieve their goal of a liberated Ukraine.
Once you get past the guard (Password: Slava Ukraini, which means Glory to Ukraine), you walk down into a pub modelled after a UPA bunker, with old souvenirs, pictures and props to complete the scene.
On the surface, Kryjivka is a quirky bar and experience, but as you learn about Ukraine, you'll soon realize the story is more complicated.
Bandera is a controversial figure who was posthumously awarded the Hero of Ukraine award in 2010 to widespread international condemnation, to have it revoked in 2011. Today, Bandera is viewed positively or very positively by almost 70% of Galician Ukrainians (Lviv, Ternopil, and Ivano-Frankivsk oblasts in the west), but that number drops to 14% nationally, and to a mere 1% in the south. Nationally, 45% of Ukrainians view him in a mostly negative or very negative light. Add to that, Bandera is a central hero of the ultra-nationalist right-wing Svoboda party, which has considerable support in the western parts of Ukraine, and it's not a pretty picture.
Do what you will with that info – it doesn't seem to be a damper on the business, and likely does the opposite: the secret doorway is lined up with visitors every weekend.
3. The Most Expensive Galician Restaurant (Masonic Lodge) (Rynok 14)
One set of flights above Kryjivka (look for the freemasons symbols), you'll find the Most Expensive Galician Restaurant, otherwise known as the Masonic restaurant. Again, this place is large on theatre and experience … so much so that you'll probably find yourself confused at some point during the night.
To enter the restaurant, ring the doorbell on #8 once you're upstairs. You'll be met by a man in a bathrobe (or some sort of scruffy clothes), in what looks like a cluttered old apartment kitchen. Suspend your confusion for a moment, and you'll be led through the kitchen to the 'bedroom' door, which actually takes you into the restaurant. Once you're seated, you'll notice the prices on the menu are just a tad higher than what you're used to paying in Ukraine…US $100, give or take, for an entree.
Hopefully, you knew to pick-up the discount card ahead of time (from Kryjivka), as this will save you 90% off list prices. Still expect to pay more than a typical night out in Lviv…$20 to $30 for a meal and wine.
4. Pravda Beer Theatre (Rynok 32)
Less 'strange' and more 'fun,' the Beer Theatre on the north-west corner of Rynok Square is hard-to-miss. In nice weather, the patio is packed with locals and tourists tasting the beer brewed on site, and every evening a live brass orchestra performs anything from Sinatra to Metallica.
It's not just the brass band, however, that comes with an element of performance. The beer also makes quite the statement…
In addition to the Putin Huilo (Putin is a d*ckhead, in case the video didn't work), you can pick-up an Obama Stout or a bottle of Danke Frau Ribbentrop, which features Angela Merkel and likens Germany's perceived lack of action in the current Ukraine crisis to the 1939 Molotov-Ribbentrop Pact, which saw Lviv fall under the Soviet sphere of control in 1939.
In addition to the beers, the on-site shop sells coasters, t-shirts, and more. Alrighty then.
5. Lvivska Kopalna Kavy (Rynok 10)
The schtick at this place — which really is all about the schtick — is the 'legend' that coffee isn't really where we think it's from (i.e. Colombia, Indonesia, Ethiopia, etc.). Nope. It's from Rynok Square, Lviv. And to be more precise, it's from UNDER Rynok Square, and is mined, not grown and harvested.
When you enter the café/shop, you'll see an industrial-looking contraption that carries roasted coffee beans from the underground mine up to the shop, and if you don't believe it, you can visit the mine yourself, with a hard-hat and all. It's a pretty bizarre schtick, to be sure, but there is a nice café in an inner courtyard that's work checking out.
---
Find Your Lviv Hotel Here…
---
And the award for the city with the strangest restaurant scene goes to…?
Lviv. The answer is definitely Lviv. If you don't believe me, you've probably never been to Lviv.
Special thanks to Green Tour Ukraine for showing us a few of these spots!