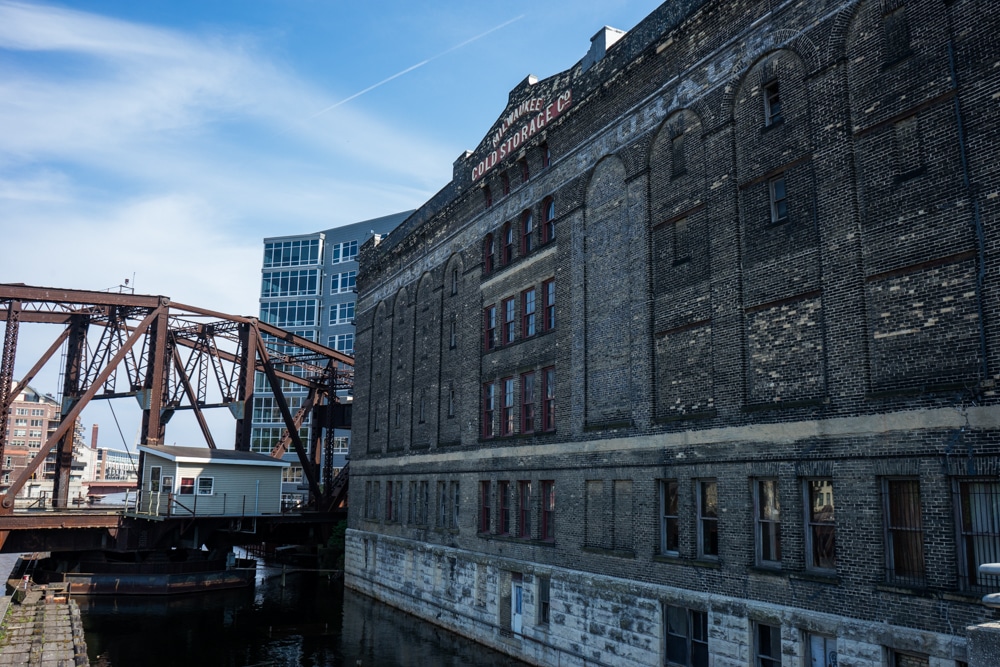 Of all the things to do in Milwaukee, it was the entrepreneurs and businesses that are re-shaping and re-energizing the city that drew us in, made us love Milwaukee…
We're in the back of an Uber, being driven home after a massive dinner of chicken wings, brisket, insanely delicious corn bread, and a couple of PBR tall boys at Maxie's, a place that lived up to the hype of the countless people who told us we were in for a treat (seriously, people: go to Maxie's while in Milwaukee).
As always, we're peppering the driver with rapid-fire questions about Milwaukee, life, and travel, continuing our policy of locals know best when it comes to understanding a city and finding the best things to do.
And we've lucked out: our driver is both chatty AND has lived in Milwaukee her entire life. Once we get beyond the (inevitable), "Oooh, Maxie's…what a treat," she asks us why we're here — everyone from Milwaukee wants to know what, exactly, two Westcoast Canadian tourists are doing in Milwaukee — and then proceeds to give us a pile of (fantastic) suggestions for things to do in Milwaukee: the art museum, the brewery and distillery tours, the revitalized and the revitalizing neighborhoods, the food.
Once we've told her our itinerary, and she's satisfied we know what we're doing, we ask her the same question we've asked everyone we've met, from restaurant server to Uber driver to bartender to PR person.
Is Milwaukee Really Changing as Fast as it Seems?
Her answer, unsurprisingly, is the same as everyone's, delivered with the lengthened, open vowels of Wisconsinites: it's changing, and it's changing fast.
In the last 10 years, in the last five years, in the last year…the message is the same. Construction has been popping up everywhere. Start-ups are booming. Not only are young people not fleeing the city for the bright lights, big city of Chicago, but young midwesterners are proactively choosing to move to Milwaukee for the favorable cost of living, opportunity, and cool factor.
And wherever we look in Milwaukee, there are signs of rapid, welcome change within the city: the massive, long-abandoned warehouses of Walker's Point are being renovated as lofts, and local businesses run by the young and entrepreneurial, like Purple Door Ice Cream, are moving in at street-level; restaurants — really, really good, make-your-toes-curl restaurants — are popping up everywhere; and Milwaukee is experiencing a renaissance of one of the industries that helped put it on the map over a century ago: brewing damn fine beer.
Everyone we talk to seems to know what we're just learning, and are kind of surprised by; Milwaukee is awesome, and it's getting even cooler by the day.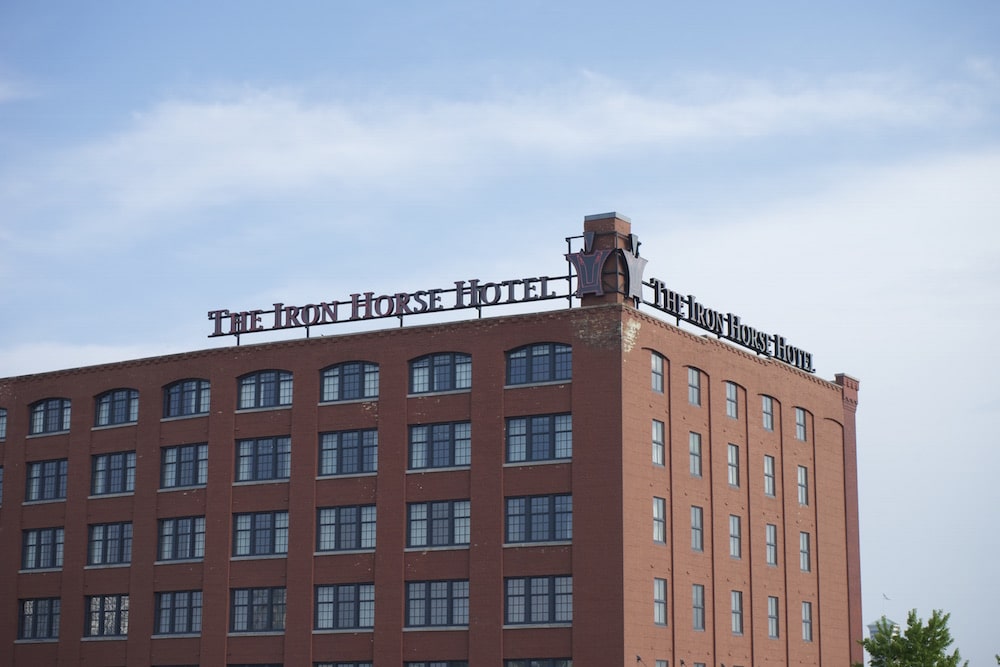 Without a doubt, the beating heart of changing Milwaukee are the small businesses and the people that run them. Cheeseheads, it seems, are really good at doing really cool things.
From food tours, to small batch distilleries, to restaurants, to breweries, all the best things to do in Milwaukee — at least in our opinion — centre around the city's changing nature, pace and energy, and the people who are driving that change.
We didn't set out thinking our trip to Milwaukee would be an entrepreneurship tour, per se, but that's kind of what happened. Of all the things to do in Milwaukee, the ones we were most impressed with were the ones that combined what seems to be the tenacious, entrepreneurial spirit of the city, with cool stories told by staff and owners.
Through our experiences and our interactions, we felt like we got a feel for how businesses are changing Milwaukee for the better.
These are the things to do in Milwaukee that made the biggest impression on us, and we can wholeheartedly recommend to others visiting the city.
While it's not a comprehensive list, we can guarantee it IS a fun list.
Beer Barrons, Breweries, & Distilleries
(Because it'd be downright wrong to talk about things to do in Milwaukee without mentioning the tipples)
File this under things I didn't expect to be doing on a weekday afternoon in Milwaukee: tasting small-batch absinthe with a group of giggling middle-aged midwestern ladies, a sullen German tourist, and a local guy. And yet, there we were on a Wednesday afternoon, becoming progressively more tipsy during the Great Lakes Distillery tour.
At the end of the tour, Geoff remarked the criteria for a good brewery or distillery tour is pretty much the same criteria for a good comedy show: you laugh a lot, AND you get to drink. And that's all certainly true of this distillery tour.
But the Great Lakes Distillery Tour is interesting for more than a laugh, some drinks, and the chance to learn about the government conspiracy against Absinthe. It's interesting because it's the Great Lakes Distillery.
Founded by Guy Rehorst, a hobbyist-turned-professional distiller, the Great Lakes Distillery is a scrappy company in the best possible way: they are Wisconsin's very first distillery to open since prohibition; they named their rum after the only man ever to be charged with piracy on the Great Lakes; they have an ongoing reverse countdown in the distilling room tracking how many days since prohibition; and they're obviously proud of their commitment to quality over marketing, focusing on things that actually make their spirits taste better, and ignoring the gimmicks of their more industrially-minded competitors.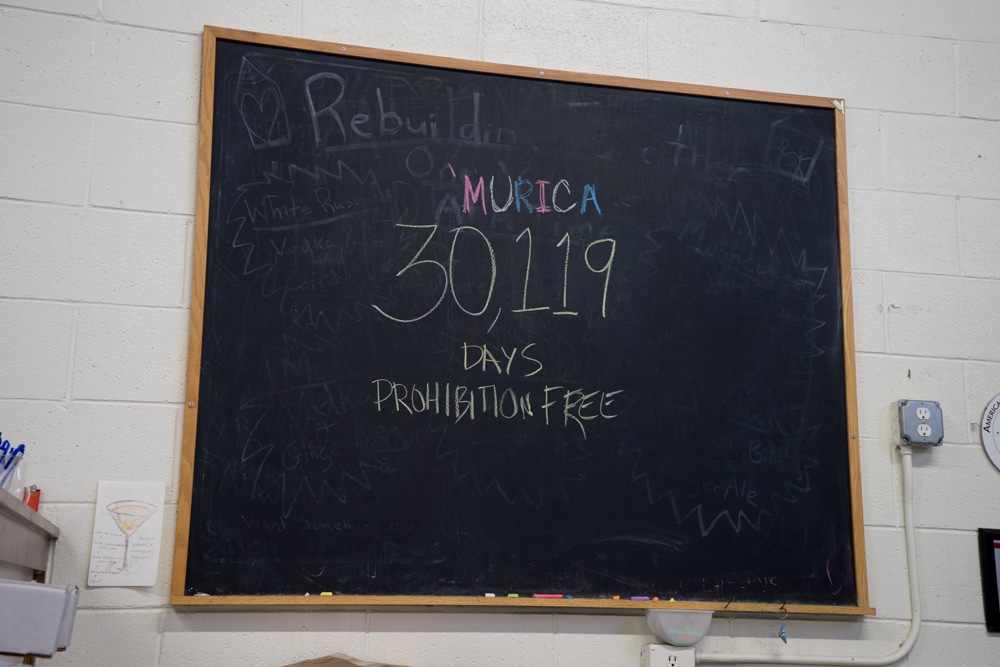 Great Lakes Distillery are also the ones to thank for even being allowed to taste their tipples on a Wednesday afternoon, or any day of the week, at the distillery: Guy successfully lobbied the government to change laws around that, significantly increasing the fun factor for spirits enthusiasts in Milwaukee.
Cost: Tour & Tasting for $10, plus you'll probably want a cocktail to get started and drink on the tour.
Not to be confused with Great Lakes Distillery, the brewery tour at Lakefront is ranked one of the best in America: we were in stitches most of the time, and I'm pretty sure I looked over at Geoff at one point during the tour, and saw tears of laughter streaming down his face.
Combining sanctioned drinking on the job with drug references, urine references, practical jokes that would get you fired at most jobs, a group sing-along, and plenty of samples, and you're guaranteed plenty of hilarity. And that's not even mentioning the bunghole.
Born out of a whim and a sibling rivalry between two brothers, Lakefront's fortunes have grown as Milwaukee's have turned, as the founders and staff slowly and methodically built a flippant, irreverent and hilarious company culture while making some damn good beer.
Cost: Tour & Tasting for $10, which includes 4 samples and a souvenir pint glass.
City History, Then & Now
(The stories, people and events that make Milwaukee, Milwaukee)
Before I even get started on this one, I have to get something out of the way. We took the Old World Third Street Tour, and part of the tour involved eating fudge made out of cheese.
FUDGE! Made out of CHEESE!
If that hasn't made you sign up to take the tour, I don't know what will. But I'll try…
The company founders are a husband-and-wife team with a palpable love for both food and Milwaukee, and they've passed that passion along to their staff (or at the very least, to our guide Marie, who was fantastic). From the moment we met Marie at Schlitz Park, we were learning about the city and its history. In fact, our favorite part of taking this tour was being able to ask the questions we'd been wondering ourselves while out exploring Milwaukee: Were Germans discriminated against in Milwaukee during the world wars? What is with the name, Cream City? Is Milwaukee really changing as fast as it seemed?
Even Geoff, who pretty much hates all food and is one of the pickiest eaters on the planet, enjoyed it, and that's because it wasn't all about food, it was also about the history of Milwaukee, from past to present.
Cost: $45 to $50 including all food samples, and one beer. The tour lasts about 2 to 2.5 hours.
Hot tip: Go hungry, and don't plan on eating after the tour. They stuff you full of deliciousness, and we certainly didn't have any hunger left over.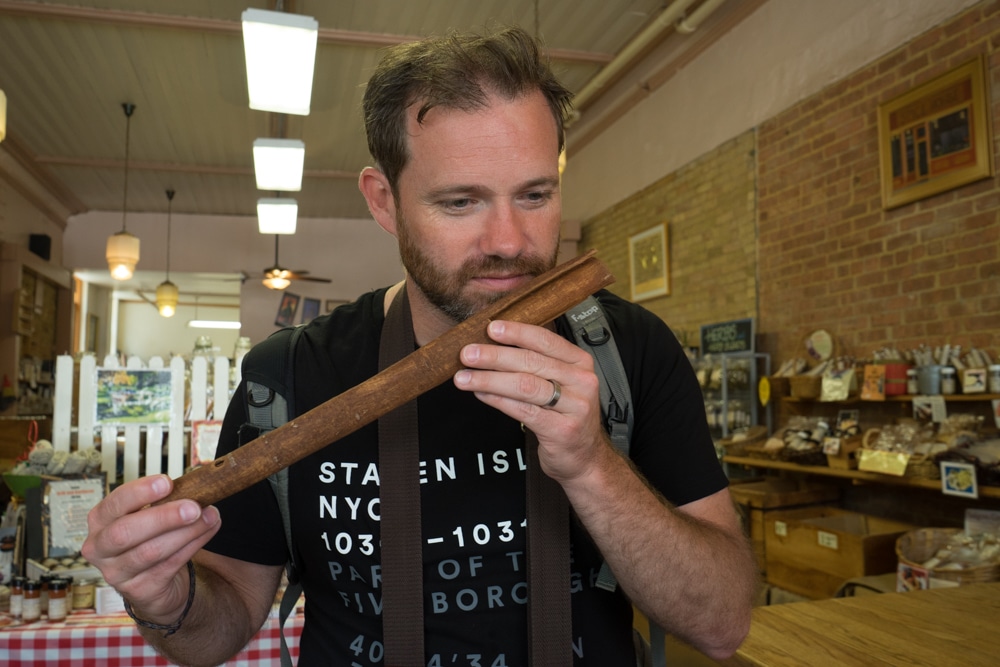 There are few businesses that represent the entrepreneurialism of Milwaukee's first golden age than the Beer Barons Pabst, Miller, and Schlitz. And there are few people who represent the tenacity we came to associate with Milwaukee as Frederick Pabst.
Pabst was nothing if not motivated: he arrived in America at the age of 12; by 14, he was working for Goodridge Steamships; and by 21, he was an investor in the company and ship captain.
While captaining, he met Maria Best, daughter of Phillip Best of Phillip Best Brewing Co. They got married, and Frederick bought a 50% stake in the brewery, which he then built into one of the largest in the world, changing the name to Pabst Brewing Co. when Best passed away.
The Pabst Mansion was his retirement home, and offers a window into who Pabst was as an entrepreneur and a person, as well as a window into what old Milwaukee — the city, not the beer — was like.
Cost: $12 per adult. No drinking on this tour, you lushes. This one's all about the history.
We were both really surprised by the Harley-Davidson Museum. Not being motorcycle enthusiasts, we were happy to find the Museum is about so much more than motorcycles, and that you don't have to like motorcycles to enjoy the Harley-Davidson Museum.
Our first stop during our time in Milwaukee, this was the place we started to get a feel for the city's spirit and tenacity, starting new ventures that transform the city, and pushing through difficult times to keep going. We were truly impressed.
Read our full review of the Museum here.
Cost: $20 for adults (there are a variety of discounts available – check the website).
For When You Get Hungry
(So many nom-noms, so little time)
We got lucky in Milwaukee in that we ate well…very, very well. We can recommend all of these places, because we went there ourselves.
Breakfast
Blue's Egg: A diner-style place packed full of people every single day. We went on a weekday morning and had to wait about 15 minutes for a table because it was so busy. Bonus points: they ply you with coffee while you wait. The exterior doesn't look like much (it's in a strip mall), but the food is fantastic. I had the Hoppel Poppel, but I'm not going to tell you what that is: you have to go there and try it for yourself.
Colectivo Coffee — A locally-owned coffee chain with delicious coffee and baked goods, and really cool, day of the dead themed to-go cups. There are a few locations throughout the city, including the one pictured below, in an old pump house on the lake.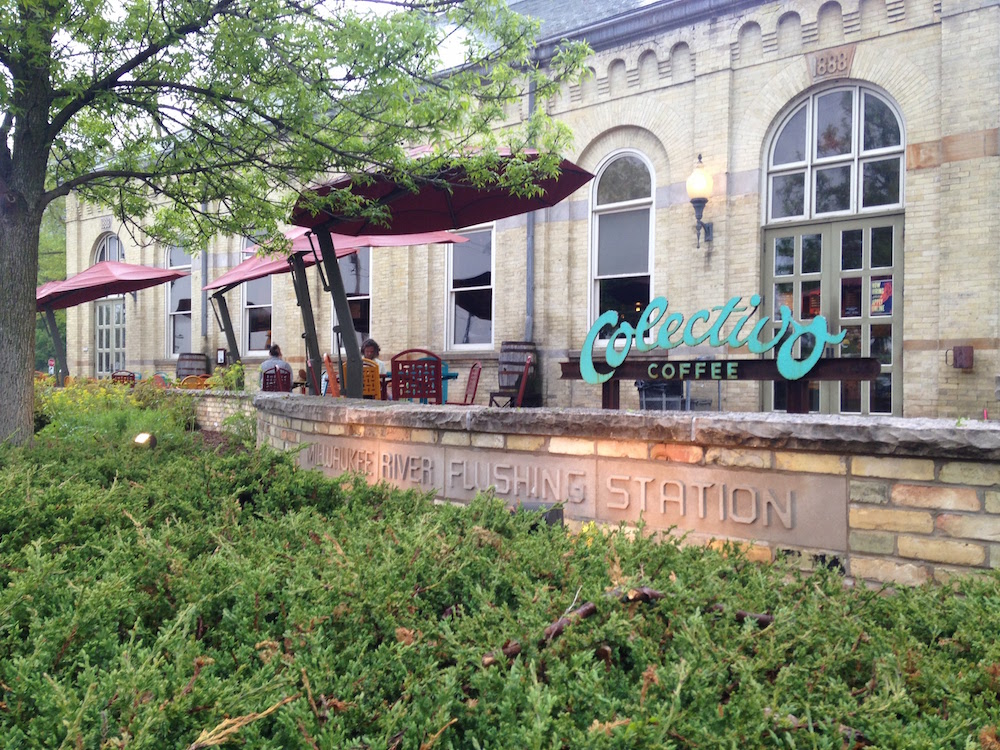 Lunch
Most days, we didn't need a proper lunch, because we were so full from breakfast. We stopped in at Colectivo for a snack, filled up on our food tour, or went to the Milwaukee Public Market. More than a century old, the Market today is filled with a mix of takeaways, casual dining and wine bars, and delis. Perfect spot for a quick meal, a smoothie or fresh juice, or to linger over a glass of wine.
Dinner
Maxie's — An unpretentious place with an unpretentious menu, and a focus on stuffing you full of home-style cooking from the American south. Maxie's slogan? Get some south in yo' mouth. We had chicken wings, cornbread, brisket, and tall cans of PBR :). They have great nightly specials and happy hours. Well worth the Uber out of the downtown core for this.
Transfer Pizza — A pizzeria in an old pharmacy building, serving up a mix of traditional and white, garlic-laden deliciousness.
Smyth, at the Iron Horse Hotel — Two words: maple butter. Okay, two more words: cheese curds. The restaurant itself has kind of a boys club kind of feel – like if you went gold panning or hunting back in the day, this is where you'd then have a whiskey afterward. Rustic chic is how they describe it on their website. The food was toe-curling amazingness, and they had a great beer and wine list, with the beers focusing on local brews. We also had a great chat with our server about Lithuania, but that's a story for another day…The Iron Horse also has a pub, which we didn't visit. However, if Smyth is anything to go by, it's probably fantastic.

Night Cap
Rock Bottom Brewery — Great location right on the river, it's perfect for people watching at night if you can get a table on the river walk. We set-up camp here for a few hours over a beer, and watched Milwaukeeans cruise up and down the river on their boats, with friends.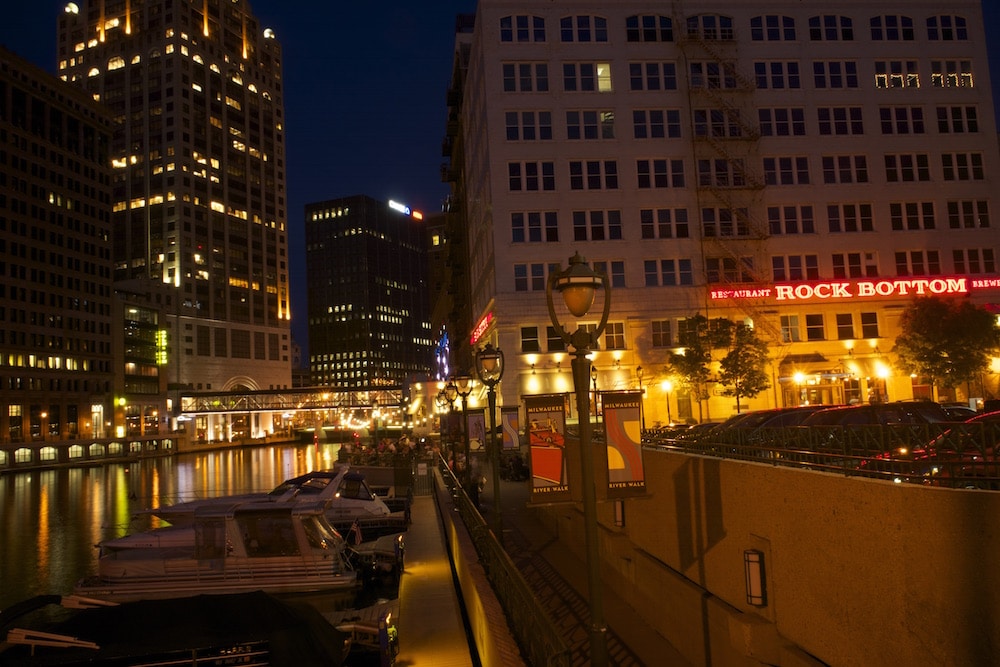 We really liked Milwaukee. Not only did we have a lot of fun, but we got the feeling of a city that's on the move. It was full of palpable energy and excitement, and it felt as though things were getting better, cooler, and way more interesting each and every year.
It seems like the city is entering a renaissance of sorts; a second golden age. Back at the turn of the twentieth century, it was the entrepreneurial beer barons that played a key role in building their own empires, and the city itself. And once again, it's Milwaukeeans who are driving the city forward with new businesses that will change the city for the better.
I hate articles that proclaim City Y is the New City X: The New Berlin, The Next Brooklyn, etc. And so, I will resist the urge to proclaim Milwaukee is the next [somewhere that's been cool for years]. Milwaukee is its own place, and it's also still coming into its own. But make no mistake: Milwaukee is really cool.
---
We were hosted in Milwaukee as guests of Visit Milwaukee and Potowomi Hotel & Casino and received free admission to the attractions listed in this post, as well as some support of meals. Opinions are all ours.