Where to Stay in Florence: Advice from a local expat and travel blogger about the best neighborhoods to stay in Florence, Italy! (Plus 27 hotel recommendations). 
We created this guide in collaboration with Lola Mendez, the blogger behind Miss Filatelista. Lola is a former Florentine, living in the city while working with international students and in tourism. We're happy to welcome her, and read what she has to say about the best areas to stay in Florence.


Disclosure: This Where to Stay in Florence Guide contains affiliate links. That means we earn a commission when you use the links on this site to book a hotel, buy your travel insurance, etc.. You don't pay anything extra. If you'd like to learn more about how this works, you can read more under our Disclaimer page.
If you're planning a European trip, be sure to check out our free travel guides. We also have a Where to Stay in Rome guide, as well as Where to Stay Guides for many cities in Spain (Madrid, Barcelona, Seville and Granada!), We'd also suggest you check out our Italy Archives and our Spain Archives for more trip planning ideas! 
Beyond its famed religious facades and world-renowned classic art, Florence boasts an irresistible and intoxicating charm.
A casual stroll turns into something memorable when a colorful Fiat zooms past, the scent of espresso tickles your senses, and stylish Florentines brush past on ancient and beautiful streets. Indeed, Florence can transform any traveler into a lifelong Tuscan-at-heart, and many visitors have been enchanted and charmed by the birthplace of the Renaissance. And that's not even mentioning the food, the wine, and the ever-present temptation of gelato.
If you're planning a Tuscan adventure, we hope our Where to Stay in Florence guide will be a helpful start to your Florence trip planning process! Start here for a quick summary, and use the links to find the best area to stay in Florence for your trip (plus some local tips on what to do!)
Where to Stay in Florence: A Quick Guide to Finding The Best Area to Stay in Florence
Best Places to Stay in Florence
Duomo: Florence's heart and soul revolves around the famous Duomo and surrounding area. This is one of the best places to stay in Florence for either a quick Florence city break or a longer visit to Tuscany, using Florence as a base. For art, culture, history and food lovers, the Duomo area (which we're including Uffizi, Palazzo Strozzi and Tornabuoni for simplicity) is one of the best areas to stay in Florence.
San Lorenzo and Santa Maria Novella: The areas surrounding the train and bus station, these two neighborhoods are some of the best places to stay in Florence if you're arriving or departing in the wee hours of the morning. They're also a good option for families, as they tend to be quiet and peaceful neighborhoods.
Santa Croce: This is the best area of Florence to stay for nightlight, and to experience the young and lively part of the city. The further you go from Santa Croce Piazza, the more likely you are to find a tranquil part of this nightlife hub. If you're young, young-at-heart, or in Florence to experience the fabulous food and drinks scene, Santa Croce is a great area to stay in Florence!
Oltrarno: Located on the south side of the River Arno, this area includes the Piazzale Michelangelo (and its fabulous views!), Palazzo Pitti and Santo Spirito. Santo Spirito is the heart of Oltrarno, at least in terms of neighborhoods and choosing the best area to stay in Florence. It's an artsy part of the city, attracting young Italians and creative types, and is a great part of Florence to stay if you want to be slightly off-the-beaten-path, but still convenient, location. Slightly further out in Oltrarno, you'll find some great accomodation options for those with their own car and in need of parking.
Florence Travel Tips & Further Info
Where to Stay in Florence: The Duomo is the Tourist Heart of Florence
Great area for: ✓ Sightseeing ✓ Food & Wine ✓ Art, Culture and History ✓ Convenience & Walkability
The neighborhood surrounding Piazza del Duomo is the most popular area to stay in Florence, by a long shot. It's central, convenient, historical and beautiful…everything you could ask for during your Florence vacation!
Most visitors choose to stay close to the Cattedrale di Santa Maria del Fiore, known more commonly as Il Duomo. Beyond Il Duomo itself, the Duomo neighborhood also includes the areas of Uffizi and Palazzo Strozzi, each of which is only a few blocks in size. And for the sake of simplicity, we're also including the ritzy Tornabuoni in this neighborhood. Picture this area as a semicircle: the river forms the southern, flat base of the semicircle, and the Duomo serves as the northern point.
Overall, this neighborhood is relaxed and laid-back, and is suitable for travellers seeking a relaxing vacation, those travelling as a family, and anyone who wants to be in the heart of the historic and sightseeing center. The closer you stay to the Duomo, the busier you'll find it to be, especially with tourists.
If you're a cultural traveller, the Duomo area is the best neighborhood to stay in Florence for sightseeing and art. If you plan to be first in line at the Galleria dell'Accademia (home of Michelangelo's David) or Uffizi Gallery (home to Botticelli's Birth of Venus), choosing a hotel in the Duomo area is a great option.
From the Duomo, Palazzo Vecchio, the Uffizi and Ponte Vecchio are all only a 5-minute walk away, which should give you an idea just how walkable Florence is!
Top-Rated Hotels in the Duomo Neighborhood
Rocco Forte Hotel Savoy
Rocco Forte Hotel Savoy – A bright and contemporary boutique mixing chic and playful decor with traditional touches, the bright pops of color and interesting artwork work together to create a lovely boutique ambience. Located halfway between the Uffizi Gallery and Duomo, this hotel has a top-floor gym with a view, free bicycle rental, and an on-site Tuscan bistro with rave reviews. Past guests loved the intimate and friendly vibe, fantastic rooms, great location, and high-quality food.
Check Availability & Prices on
Booking.com / TripAdvisor
Portrait Firenze
Portrait Firenze – Set right on the river, this luxury hotel is an 8-minute walk to the Duomo, and just 2 minutes from Ponte Vecchio. Elegant and refined with a contemporary interior, Portrait frequently makes 'Best Hotels in Florence' lists, and past guests rave about the elegance, attention to detail, location, and comfort, along with exceptional service. Modern luxury in the ancient heart of Florence, with many rooms offering spectacular views over the river and Ponte Vecchio.
Check Availability & Prices on
Booking.com / TripAdvisor
Hotel Milù
Hotel Milù – With a fabulous location next to Palazzo Strozzi, in-room espresso machines, and gorgeous design, there's a lot to love about this hotel. Past guests rave about the location, quiet and comfortable rooms, and top-notch staff, as well as the beautiful setting: splashes of color and fascinating décor are the standard, with artwork-filled common areas and a beautiful hotel library. Together, these pieces form a curated, open art gallery, which guests are encouraged to view and explore throughout their stay.
Check Availability & Prices on
Booking.com / TripAdvisor
Hotel Spadai
Hotel Spadai – Just 2-minutes walk from the Duomo and housed in an impressive Renaissance-style building next to the Palazzo Medici Riccardi, this hotel mixes natural materials, rich colours, and texture to create a sleek and contemporary boutique feel. A nightly happy hour sets a sociable and welcoming tone, and the onsite spa will help you relax after a day of sightseeing. Past guests mention the amenities, cleanliness, comfort, quiet and location. Top marks all around.
Check Availability & Prices on
Booking.com / TripAdvisor
Hotel Brunelleschi
Hotel Brunelleschi – A bright and beautiful hotel housed in a former medieval church and 6th-century Byzantine Tower (!), this hotel gets fantastic reviews from past guests. Rooms are clean and bright, with playful decor that mixes glass and modern touches with hints of the building's historical past. With friendly staff, beautiful rooms, and an on-site bar, this looks to be a lovely and romantic choice in the centre. Choose from rooms overlooking the Duomo, or a quiet piazza.
Check Availability & Prices on
Booking.com / Trip Advisor
Palazzo Niccolini Al Duomo
Palazzo Niccolini Al Duomo – Built on the site of Donatello's sculpture workshop, the Baroque decor will transport you through time to a colorful, decadent, and dreamy version of the Florence of the past. Past guests mention the location, luxurious and beautiful surroundings, rooms, comfort, and hospitality of this family-run luxury hotel: phrases like "incomparable" and "mind blown" are common descriptors.  If you're looking for a top-notch experience, this looks to be a fabulous choice!
Check Availability & Prices on
Booking.com / TripAdvisor
Hotel Duomo Firenze
Hotel Duomo Firenze – Located right on the Duomo Piazza, the unimaginative 1st floor entryway gives way to a simple but lovely hotel in a hard-to-beat location. With bright and airy rooms, wood floors, big windows and upgraded bathrooms, this looks like a comfy and affordable base in central Florence. Past guests appreciate the location and friendly staff, but most of all the fantastic value for money offered by this hotel.
Check Availability & Prices on
Booking.com / TripAdvisor
Hotel Renaissance
Hotel Renaissance – Situated in a building that's more than 1,600 years old, this former 14th-century tower has been through thoughtful renovations to create an elegant and cozy inn that mixes exposed stone and brick walls with airy white décor. An incredible location just one-minute from Piazza Signoria, past guests love the spacious and comfortable rooms, upgraded bathrooms, and location.
Check Availability & Prices on
Booking.com / TripAdvisor
Hotel Perseo
Hotel Perseo – A cheerful and affordable family-run 3-star hotel, Hotel Perseo has a warm and welcoming vibe and a focus on offering great value for money. Past guests mention the clean and comfortable rooms, friendly staff, and great location, as well as the breakfast, which is included in many room rates. A 24-hour reception desk, on-site bar, and walking distance to the main sights, this seems like a high-value option that's clean and comfortable.
Check Availability & Prices on
Booking.com / TripAdvisor
Florence is actually full of highly-rated, beautiful hotels and inns — we really struggled to choose our top picks. If none of the options above tickle your fancy (or – more likely – they are already booked up), check out a few more of our picks:
Room Mate Isabella — Room Mate is a Spanish chain of affordable boutique/design hotels, and we end up suggesting them all the time. They almost always have fantastic reviews and super funky, upscale design to them, and this one is no exception! Check availability and prices on Booking.com.
Continentale OR Gallery Hotel Art — These two are sister hotels owned by Ferragamo. In other words, they're super chic! Continentale has a 1950s Italian glamour vibe right on the river, and Gallery Hotel Art has a more modern look. Both are beautiful and highly rated! Check availability and prices on Booking.com: Continentale / Gallery Hotel Art
Lola's 'Don't Miss' Recommendations in the Duomo Neighborhood
Gelato: Gelateria Edoardo is popular, and serves up gorgeous scoops of gelato. For more variety, and cheaper prices, head to Perché No or Festival del Gelato. Gelateria dei Neri also has an array of creative flavors.
Sightseeing: The Duomo itself is a don't miss: the facade is so detailed it looks edible, like a lovely, delicate cake. Even if you aren't staying in the area you must climb to the top of the 82 meter Campanile di Giotto bell tower for the most incredible bird's-eye views. For the best sunset views, climb the tower at Hotel Torre Guelfa. A tiny roof deck is a great spot for a glass of wine. From here you'll be greeted with a 360° view of Tuscan brick rooftops, churches and bell towers.
Shopping: The kitschy La Bottega del Chianti is a one-stop-shop for all things Tuscan. The shop owner is an absolute character and will serve you plenty of wine and cheese while you search through his wares.
Panini: While All'Antico Vinaio is widely known as having the best panini in the city, I think it's become too touristy, and would suggest La Prosciutteria, down the block, for a made-to-order panini and more authentic experience.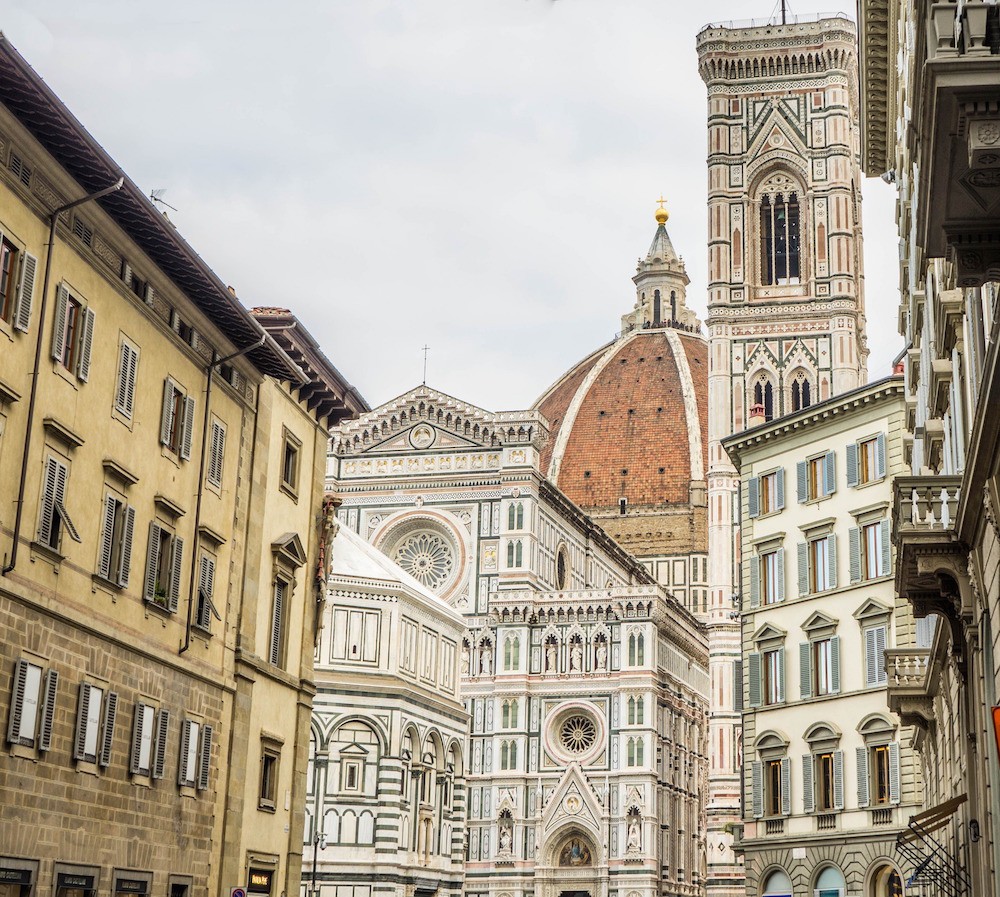 Where to Stay in Florence: Santa Maria Novella/San Lorenzo
Great area for: ✓ Sightseeing ✓ Families ✓ Peace and Quiet ✓ Early and Late Arrivals and Departures 
To the north and northwest of the Duomo neighborhood, you'll find San Lorenzo and Santa Maria Novella. This neighborhood is often referred to simply as SMN, and includes the Santa Maria Novella and San Lorenzo piazzas. The area is shaped like a U with the left side touching the Arno river and the south side nearing the Duomo.
If you are departing Florence early in the morning or late at night, this is the ideal location due to its proximity to the transit hub from which both long distance trains and buses depart. From the train station, you can also take a taxi or shuttle bus to the Florence or Pisa airports.
Don't write off these neighborhoods on account of the train station, however. The transit hub may not be pretty, but the nearby Santa Maria Novella church is my favorite of Florence's marble beauties. The piazza in front of the church is one of the most tranquil and beautiful in the city due to large patches of greenery and roses. It's also a good place to get yourself orientated after you get off your train or bus at the main station. From here, you are only 5 minutes away from the Duomo.
While there are not many restaurants or bars in this section of Florence, it is an ideal location for families due to it's safety and lack of noise. Anyone looking for rambunctious nightlife may want to stay elsewhere.
Top-Rated Hotels in the SMN/San Lorenzo Neighborhood
L'Orologio
L'Orologio – A hotel designed around a passion for Swiss watches sounds a bit kitsch, but Hotel L'Orologio seems to pull it off! This design hotel is filled with rich wood, leather, and plush furniture, reminiscent of a plush cigar lounge. Rooms have dark woods, marble, and plenty of natural light. The highlight of this hotel is the stunning 4th-floor breakfast room overlooking Piazza Santa Maria Novella, and past guests mention spacious and comfortable rooms.
Check Availability & Prices on
Booking.com / TripAdvisor
Garibaldi Blu
Garibaldi Blu – Artsy and quirky is the name of the game here! At first glance, the hotel's marble lobby oozes simple sophistication…that is until you notice Batman's Alfred lingering in the far corner. The playful contrast of refined architecture against quirky touches continues throughout, mixing fresco ceilings with retro furnishings, and other unexpected pairings. Past guests mention spacious rooms, friendly staff, and comfortable beds.
Check Availability & Prices on
Booking.com / TripAdvisor
Hotel Santa Maria Novella
Hotel Santa Maria Novella – With an upscale, elegant look, this hotel features bright guest rooms with traditional decor, an on-site fitness and sauna facility, and a nice rooftop terrace with views of Piazza Santa Maria Novella. Spread across multiple buildings, the hotel has an intimate, charming feel to it. Past guests mention large and comfortable rooms, good showers, in-room tea and coffee facilities, and a great location.
Check Availability & Prices on
Booking.com / TripAdvisor
Firenze Number Nine Hotel & SPA
Firenze Number Nine Wellness Hotel – Located right next to the Medici Chapel, this boutique property has an elegant zen vibe. Guests get free access to the fitness center and some spa facilities, including the sauna, bio-sauna, Jacuzzi whirlpool or Turkish bath. Past guests rave about pretty much everything, giving this property top marks for the food, service, comfort, decor and location. A top choice!
Check Availability & Prices on
Booking.com / TripAdvisor
Room Mate Luca
Room Mate Luca – Part of the funky Room Mate chain, this property is located in a quieter part of Florence, but just a 10-minute walk from the Duomo. With bold decor, an included breakfast that's served until noon, and sound-proofed, comfortable rooms, this is a great option for light sleepers and late sleepers! Past guests mention clean and cozy rooms, great staff, walkability, and wonderful breakfasts.
Check Availability & Prices on
Booking.com / TripAdvisor
Hotel Cerretani Firenze – MGallery by Sofitel
Hotel Cerretani Firenze – MGallery by Sofitel – Located in the 16th-century home of the wealthy Carnesecchi family, the building has been wonderfully renovated to leave its classic and historical exterior, with a modern and sleek interior. With minimalist but warm decor, this hotel exudes contemporary elegance.  Past guests mention the great showers, on-site bar, and seamless combination of old and new.
Check Availability & Prices on
Booking.com / TripAdvisor
Lola's Recommendations for the San Lorenzo Neighborhood
The best part of staying in this area is the proximity to the San Lorenzo Market and the Mercato Centrale. These institutions offer an assortment of Italian goods, from leather to truffle oil, that make for great mementos, souvenirs and gifts.  The San Lorenzo Market has countless vendors selling leather goods, but due to its massive popularity among tourists, prices are quite inflated. Always ask the salesman to light a piece on fire before purchasing leather goods — real leather won't burn when exposed to a flame. The adjacent Mercato Centrale has many fresh vegetables, fruits, meats and fish stalls to peruse, or you can have lunch at one of the trendy stands in the upstairs food court.
For an off-the-beaten-path experience, visit the Officina Profumo Farmaceutica di Santa Maria Novella. Started by Dominican friars in 1612, it is one of the oldest pharmacies in the world. The original 13th century formulas are still used today for the perfumes, herbal elixirs, soaps and more.
La Ménagère is a cafe that serves delicious gourmet coffee from Ditta Artigianale.  The tranquil space reminds me of a design lab in New York City, with a coffee bar, restaurant, flower stand and concept shop selling beautiful home decor items.
If you're a sustainable-minded traveler, check out Simbosio for an organic wood-fired pizza! Neighboring My Sugar is constantly receiving awards for its artisan gelato. Try the pistachio!
You also must visit News Cafe where the baristas create beautiful, edible, cappuccino art. In Italy, cappuccinos are only consumed in the morning, all other times of day are only fit for espresso or drip coffee.
To continue the decorative drinking into the evening, head to Art Bar to be served a tasty concoction covered in every fruit imaginable, from Mangosteem to Mango!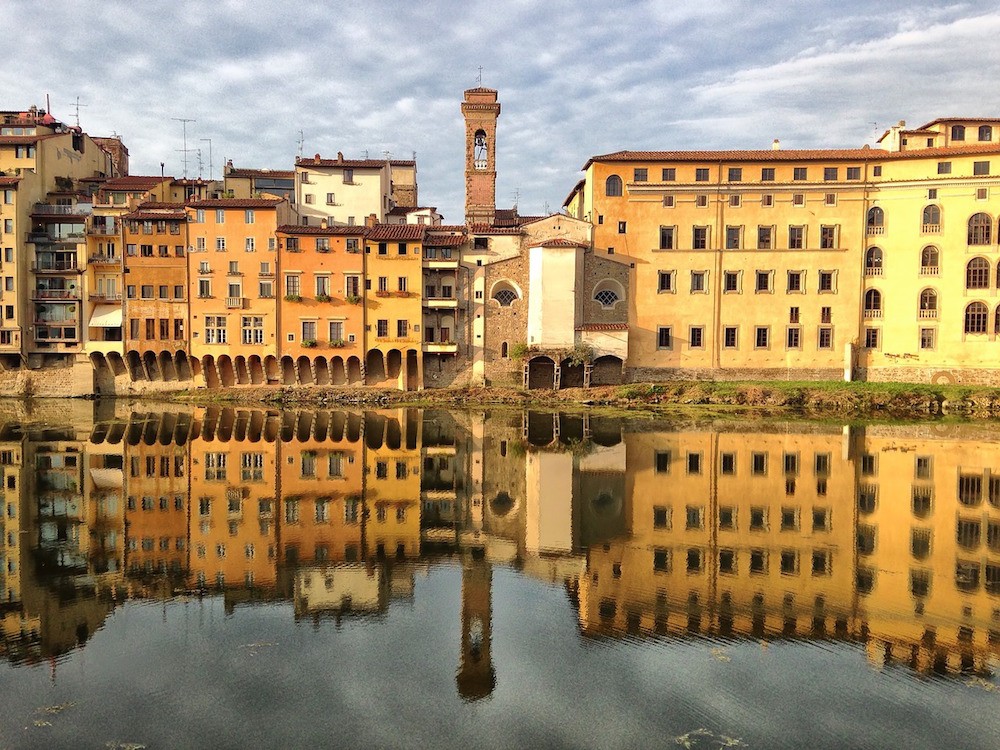 Where to Stay in Florence: Santa Croce
Great area for: ✓ Nightlife ✓ Authentic Living ✓ Student & Backpacker Scene ✓ Food & Drinks
This area is the center of nightlife in Florence, with clubs, karaoke pubs and bars with uber cheap drink prices to target students. Don't expect a quiet night's sleep here as the music goes on until the early hours of the morning. The Santa Croce neighborhood starts at the Uffizi and goes east far beyond the namesake church. The further east from Santa Croce piazza (the nightlife hub) and the church, the more the neighborhood transforms into a quaint and authentically Italian area.
This is where the majority of students and young expats are based. I lived in Santa Croce on Via Torta, a gorgeous circular street built on the footprints of the ancient Roman amphitheatre. The namesake church here, Santa Croce, is Michelangelo's final resting place, and has an adjacent design school where students create customized leather pieces.
Backpackers and students will love the liveliness of this neighborhood and will enjoy the activity in the streets just off of the church. Families and mature travellers will want to stay away from the main piazza for a more tranquil experience.
In June, the Santa Croce piazza turns into a playing field for calcio storico, an ancient brutal version of football. The festivities last all day and night, are extremely loud, and involve a lot of public drunkenness. If you plan to visit Florence in June as a mature traveller or as a family, it would be best to avoid this neighborhood! During the rest of the year, you can find lively and tranquil pockets of the neighborhood – something for everyone!
Top-Rated Hotels in the Santa Croce Neighborhood
Palazzo Roselli Cecconi
Palazzo Roselli Cecconi – With only eight rooms, this places offers an intimate, small hotel experience with touches of luxury. Past guests love the chic elegance throughout, exceptional service, and comfort, with comments like "a true gem" and "a palace" forming a common thread among reviews. Staff are said to be top notch, offering locals' secrets to help you explore the city, and the hotel offers babysitting services if want a day or night out without the kids.
Check Availability & Prices on
Booking.com / TripAdvisor
Hotel La Casa di Morfeo
Hotel La Casa di Morfeo – A small hotel with B&B level hospitality, this property gets rave reviews for their staff, comfortable rooms and beds, and included breakfasts. Decor is on the traditional side, with each room getting a unique treatment, and gorgeous ceilings in most. Great location, with 'value for money' being the standout feature of this property.
Check Availability & Prices on
Booking.com / TripAdvisor
Plaza Hotel Lucchesi
Plaza Hotel Lucchesi – With a rooftop wading pool offering gorgeous views over Florence, elegant and airy rooms, and a beautiful lobby bar, there's a lot to like about this 4-star. It began life as a pensione during the Belle Époque era, and has since been given an elegant update that retains a lot of original features. While the rooftop aperetivo and terrace gets rave reviews, staff get mixed reviews from past guests. Many rooms offer balconies over Florence or face the hills of San Miniato a Monte.
Check Availability & Prices on
Booking.com / TripAdvisor
Lola's Recommendations for the Santa Croce Neighborhood
Some of my favorite spots in this neighborhoods include Dondino vino, Oibo, and Gallery Bar or Soul Kitchen for delicious and affordable aperitivo.
If you find yourself dancing until dawn then try to locate the 'secret bakery' (Via del Canto Rivolto) in the area where you can buy croissants after 2 am fresh from the oven.
I recommend starting your mornings at Ditta Artigianale, a gourmet coffee bar. They distribute ethically-sourced coffee beans to many other cafes in the city, so you know you're getting the best of the best. They also have soy, almond and coconut milk. They do offer aperitivo here, and although the cocktails are divine, the food portions are trendy and tiny. Get your caffeine fix here and head to one of the aforementioned aperitivo spots during cocktail hour.
For a family style meal, including the best truffle ravioli ever, dine at Osteria del Gatto e la Volpe. For an upscale, yet affordable, dining experience book a table at former jail, Le Carceri.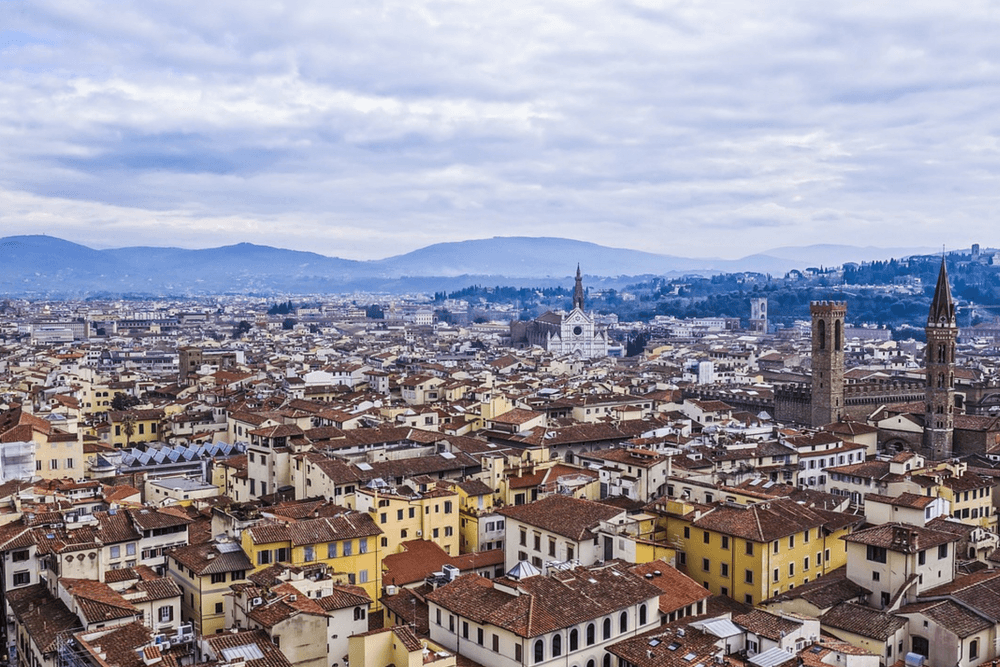 Photo by fxxu via Pixabay. Has been modified from original.[/caption]
Where to Stay in Florence: Oltrarno
Great area for: ✓ Local Living ✓ Artsy & Bohemian ✓ Parking Your Own Car
This is the name for the entire section of Florence that is located on the south side of the Arno river including Piazzale Michelangelo, Palazzo Pitti and Santo Spirito.
Piazzale Michelangelo, Palazzo Pitti and the Boboli Gardens are large historical sites that take up the entirety of these areas, and are not proper neighborhoods. You won't find many accommodation options adjacent to these attractions, but you will be able to stay nearby in Santo Spirito.
Santo Spirito is Florence's coolest neighborhood and home to many local artists, making it a great option for those who are looking to get a taste of local life, and those hoping for a hip creative vibe.
If you're self-driving and have to think about car parking, Hotel David seems like a good option. Hotel Silla and Villa La Vedetta are both a bit further out of the city centre, but both offer their own charms if you're open to staying further out!
Top-Rated Hotels in Oltrarno
Palazzo Guicciardini
Palazzo Guicciardini – A gorgeous upscale choice with Rennaisance-style decor, each of the 8 rooms is unique, with high ceilings, large windows, and pastel frescos. An airy and open ambiance, past guests mention the large and comfortable rooms and welcoming, helpful staff. A great choice for couples, and located in a less touristy area of Florence to give you a more local experience.
Check Availability & Prices on
Booking.com / TripAdvisor
Hotel La Scaletta
Hotel La Scaletta – A contemporary 3-star with spectacular views from the rooftop terrace, this hotel is mid-way between Ponte Vecchio and Palazzo Pitti, right near the river and about a 10-minute walk from the Duomo. Past guests mention the comfortable beds, small but cozy rooms and bathrooms, and helpful staff, as well as the location and (of course) the views. Access to the hotel is by steps or a small lift, and the Wifi signal leaves a little to be desired, but overall this gets high marks, and excellent value for money.
Check Availability & Prices on
Booking.com / TripAdvisor
Palazzo Magnani Feroni
Palazzo Magnani Feroni – The former palatial home of an Italian Marquis, this hotel retains the aristocratic and elegant atmosphere of its original life. With large and beautifully-decorated rooms, even the smallest suite looks open, airy, and extravagant. Guests are welcome to explore the palace's nooks and crannies (including a rooftop terrace), and unique antiques and art throughout. Top marks for staff, comfort, and the unique museum-esque atmosphere.
Check Availability & Prices on
Booking.com / TripAdvisor
Hotel David
Hotel David – With the atmosphere of a cozy inn, Hotel David is a 30-minute walk to the Duomo, and a great option for those travelling with a car, offering free on-site parking. Those who love a freebie will enjoy the complimentary happy hour and snacks, which takes place outside during warmer months. Past guests mention welcoming staff and charming vibe with a 'home away from home' feeling.
Check Availability & Prices on
Booking.com / TripAdvisor
La Vedetta
Villa La Vedetta – A gorgeous villa with a complimentary shuttle to take you into town, words like impressive, regal, and exquisite accurately describe this Neo-Renaissance building and grounds. Lush gardens, including an outdoor hot tub and swimming pool, and 18 lux boutique rooms. A tranquil luxury experience with gorgeous views, and easy shuttle access to all the sites.
Check Availability & Prices on
Booking.com / TripAdvisor
Hotel Silla
Hotel Silla – A traditional hotel in a quiet location 15-minutes' walk from the Duomo, past guests frequently comment about the welcoming and friendly approach of all staff at this family-owned and managed hotel. Offering great value for the price, breakfast is included, served outdoors when the weather is nice. In reading reviews, we found some long-time repeat visitors who go back again and again – always a great sign in our mind!
Check Availability & Prices on
Booking.com / TripAdvisor
Lola's Recommendations for the Oltrarno
If you like art, be sure to visit street artist and activist, Clet Abraham's studio.
Santo Spirito piazza is the best place to enjoy a spritz under the tuscan sun and mingle with young Italians. My beverage of choice is the Hugo, which consists of prosecco, elderflower, mint, lime, and sometimes a bit of rose water. Also check out Gusta Pizza for delicious (heart-shaped) pizzas!
To get to the Oltrarno, cross the Arno via the Ponte Santa Trinita bridge in order to enjoy views of the Ponte Vecchio. The Ponte Vecchio is the only medieval stone footbridge in Florence that was not destroyed during WWII.
Also be sure to climb to one of the highest points in Florence, Piazzale Michelangelo, where you'll be rewarded with spectacular panoramic views of the city. During the golden hour, take in the beauty of the nearby Church of San Miniato al Monte and admire its folktale. It displays flying headless bodies! When the sun starts to dip down towards the horizon, make your way towards the David replica, purchase a bottle of wine, find a seat on the stairs and be dazzled by a stunning sunset over the Renaissance city.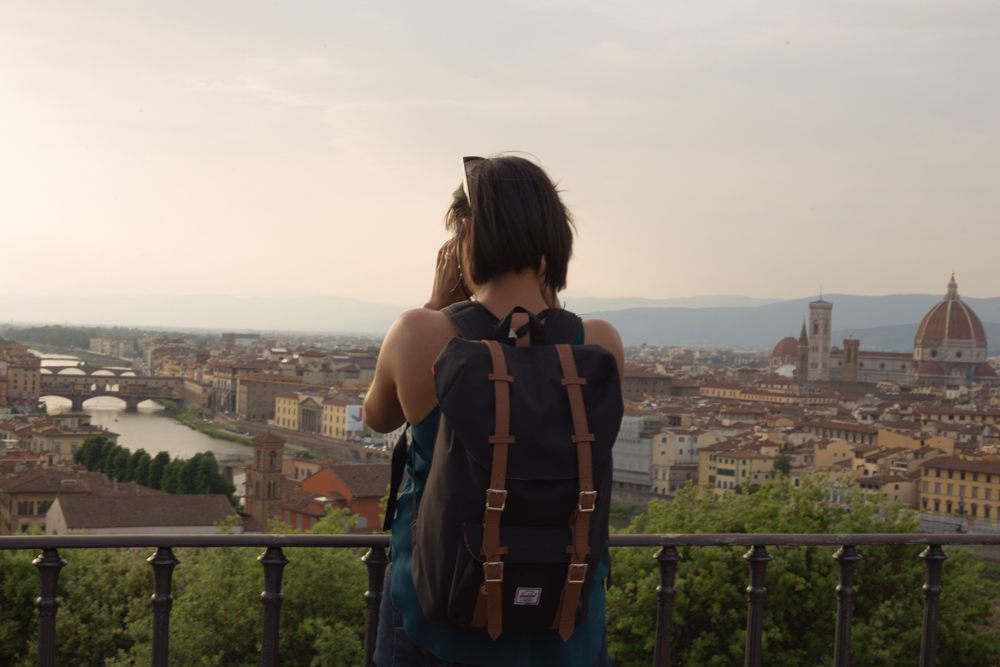 So Where Should You Stay in Florence?
Florence is bisected by the River Arno, with the majority of the attractions on the north side. The south side of the river (the Oltrarno) is where most young Florentines live. And while Florence is quite small, each neighborhood is vastly different from the next, and you should take each nieghborhoods' character into consideration when choosing the best place to stay in Florence.
If you only have a day or two to see the sites it is best to be centrally located on the north side of the river. For a lengthier visit, stay in the Oltrarno and walk over to the touristic sites at your leisure.
If you're coming to Florence for a short visit, and are most interested in sightseeing, the Santa Maria Novella neighborhood or Duomo area is the most convenient, due to their proximity to many of the must see sights. Families and more mature travellers will likely prefer the Duomo and Santa Maria Novella areas as well.
Backpackers and students will likely enjoy the nightlife in the Santa Croce district, and anyone looking for a hip, creative vibe should consider staying in Santo Spirito.
If you're travelling with a car, staying across the river in Oltrarno may be the most convenient option.
Wherever you stay, know that Florence's neighbourhoods are very close to each other, and you can walk from one end of the city center to the other in around 30 minutes. No matter where you stay in Florence, be sure to venture out of your own neighborhood to explore the others!

Where to Stay in Florence: Florence Travel Tips
Florence is an extremely walkable city. To get from the Santa Maria Novella train station to the Santa Croce area is a 25-minute walk. Taxis can be found outside attractions and the train station. If you'd like to call a taxi to pick you up, dial RadioTaxi Firenze at +39 055 4242. The ATAF bus system runs often and efficiently. Tickets for the buses must be purchased in advance at any tobacco shop (Tabacchi) for 1.20€.
Historical sites and some restaurants will be closed on Monday, so plan accordingly! On the first Sunday of the month, all state run museums and gardens are free to visit in Italy. Facebook groups like Foreigners in Florence and A Friend in Florence are excellent resources for local events and happenings.
A Note About Our Hotel Recommendations In This Florence Neighbourhood Guide
Our hope with this Where to Stay in Florence Guide (and our Where to Stay in Rome, Where to Stay in Lisbon, Where to Stay in Madrid Guides…you get the idea) is to make it SUPER SIMPLE for you to find the best area to stay in Florence, no matter what kind of trip you're planning, and whatever your budget. That's why we engaged the help of Lola, who has lived in Florence and gotten to know these different neighborhoods as a local.
That said, locals don't live in hotels. And (disappointing as this is to me), we can't afford to personally stay in every single hotel in a city.
In the past, we've simply outlined the neighborhoods, and left the hotel research up to you. But based on all the emails we received, people also wanted help choosing a specific hotel.
The compromise? Well, we decided the best thing to do is do a whole whack of research, and then only list the hotels that — based on that our research — we would love to stay in, or would be happy suggesting to a friend or family member. We haven't personally been to these hotels, but we've ask ourselves things like: Does it look like somewhere I'd like to stay? Have past guests left fantastic reviews?  Does it seem to be in a great location for enjoying the city? If it ticks those boxes, we've added it to the list.
Really, we want to help you have a fantastic vacation in Florence, and in Italy more broadly. Hopefully we've managed to help you out…but please don't blame us if we haven't – at the end of the day, this information is provided for informational purposes, and we expect it will form one part of the overall trip planning puzzle. At the end of the day, we expect you'll check the most recent reviews and specific conditions in Florence (and every other city!), using our listings as a starting point and framework, and choosing then choosing the best hotel and area to stay in Florence for your own very unique (and hopefully fabulous) trip!
Thanks to Our Florence Expert, Lola!
When Geoff and Katie asked me if I'd be willing to share what I've discovered in my life as a temporary Florentine, I was thrilled to say yes, and am very happy to be able to share the best areas to stay in Florence.
I first experienced Florence's intoxicating charm  when I visited the city in September, 2015; after a few short days, knew I had to live here. When I received a job offer in Florence the next year, I moved from Madrid to Florence without thinking twice, and dove head-first into finding which cafés had the best espresso, which bars the heartiest aperitivos, and which neighborhoods the most character.
I hope I've been able to help you plan your Florence vacation!
Like this Guide? Pin it for later!