Where to Stay in Rome: Advice from a local expat and travel writer about the best neighborhoods to stay in Rome, Italy!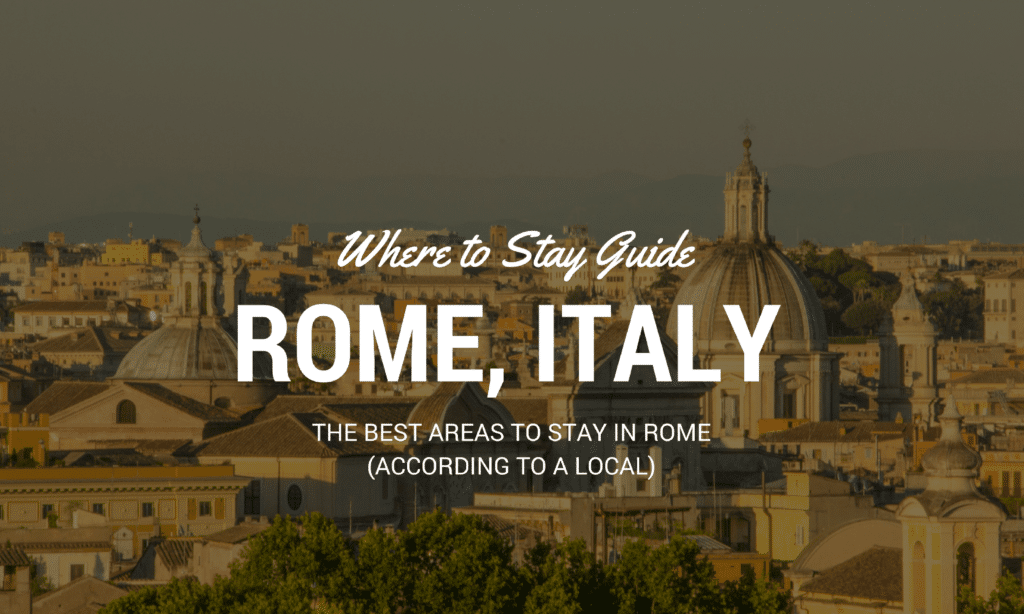 Where to Stay in Rome – Trastevere
Cross the river and you're in Trastevere, one of Rome's loveliest, most atmospheric neighbourhoods. Think uneven cobblestones, elegantly decaying palazzi, ivy, and the smell of freshly-baked bread. Trastevere is perfect for anyone wanting to experience Roman nightlife, as there's a great selection of bars and restaurants. Enjoy aperitivo at Freni e Frizioni, and then head to the pizzeria Ivo a Trastevere for a delicious thin and crispy pizza, Roman style.
The problem with being so lovely is that Trastevere has been well and truly discovered by tourists. At certain times of day, in certain streets, it seems that there are more Americans than Italians in Trastevere. But the main disadvantage – depending on what you want to do, of course – is the lack of metro. It means you'll have to walk everywhere, or rely on Rome's notoriously unreliable buses.
Affordable 3-Star
Residenza Santa Maria – A small hotel in a renovated 18the century building very close to the main Piazza di Santa Maria in Trastevere. Past guests say the rooms were of a decent size and good showers and good breakfast. Reviewer tip: hotel has a sister property, also listed here, but if you prefer this property make sure your request is clear, otherwise they may place you there based on availability.
Check Availability & Prices on
Booking.com
Modern 3-Star
Casa Mia In Trastevere – A decent affordable option in Trastevere with an on-site restaurant and very close to the main square Piazza di Santa Maria. Close to trams to take you anywhere you need to go, otherwise a pleasant walk of about 15-20 minutes will get you to Trevi Fountain and the Pantheon. Clean and modern rooms with great beds, a kettle and a safe.
Check Availability & Prices on
Booking.com
Charming 3-Star
Hotel Santa Maria – With a beautiful courtyard of colorful flowers and orange trees, a bar on site but close to many others, it gets top marks for location and service. This seems to be a sister property to Residenza Santa Maria, close by and also very well liked, but some reviewers suggest to specify if you want this hotel, as bookings may be shuffled depending on availability.
Check Availability & Prices on
Booking.com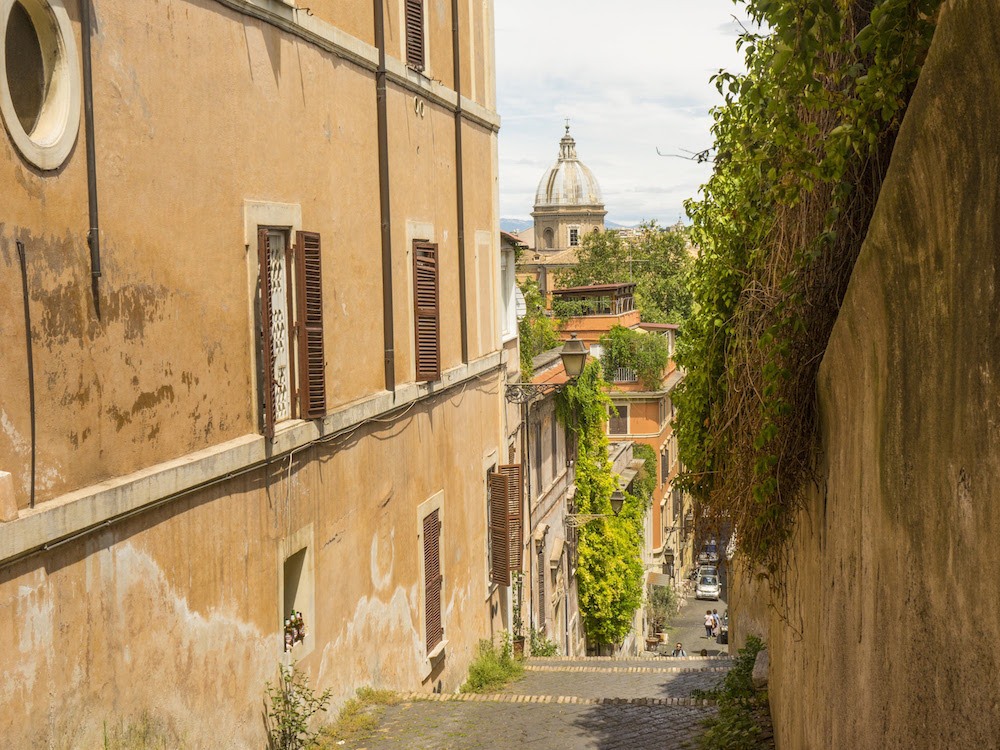 Where to Stay in Rome – Monti
The area north of the Colosseum (and east of Via Nazionale) is known as Monti. It's a bit like a more peaceful, less touristy version of Trastevere, with plenty of historic charm, and bars and restaurants in abundance. It's also well-situated for sightseeing, as it's walking distance from most of the main sights in the city, and right next to a metro station (Cavour).
I'd recommend Monti to anyone, as there are no real disadvantages to staying here. If you can find a good deal on accommodation, snap it up, and spend your Roman holiday drinking with locals on the steps of the fountain in the piazzetta, and indulging in carbonara at La Carbonara. As for sightseeing, the Colosseum is literally just round the corner.
Contemporary 4-Star
Monti Palace Hotel – A small, clean and comfortable hotel conveniently across from a metro station. The hotel offers a daily buffet breakfast and is walking distance to many attractions such as the Colosseum and the Forum. A bar on-site and past reviewers have commented on the warm and friendly service as well as being child friendly for family travellers.
Check Availability & Prices on
Booking.com
Budget Option
Hotel Centro Cavour – Basic but very clean and conveniently close to a metro station, one stop from Termeni. A 10 minute walk to the Colosseum and many other sites.  Triple and quad rooms available if you're with a group or family. Past guests have given thumbs up to the value for the money given the location, but definitely a 'no frills' option.
Check Availability & Prices on
Booking.com
Affordable Boutique
Nerva Boutique Hotel – Small, cute, modern rooms in a tidy little boutique hotel with the Colosseum and Roman Forum practically on the doorstep. Air conditioned rooms with comfortable beds and modern bathroom and shower facilities, and a daily continental breakfast. There is a bar on-site and 24 hour reception, and the hotel is close to the metro.
Check Availability & Prices on
Booking.com
Luxury at the Forum
The Inn At The Roman Forum – As Rome is a living archeology site, this hotel is no exception and actually has ancient ruins on site. But, you will find excuisite, clean and modern rooms, a breakfast buffet on the rooftop with classic views of Rome. A block from the Colosseum and the Forum, and the metro is right down the street.
Check Availability & Prices on
Booking.com
Designer Boutique
The Fifteen Keys Hotel – A very popular and well liked cosmopolitan hotel in the center of everything. A twenty minute walk or less will get you to the Colosseum, Trevi Fountain, Spanish Steps, or the metro stop is just a few minutes away. Modern design, comfortable, clean, great breakfast and designer toiletries await.
Check Availability & Prices on
Booking.com
Where to Stay in Rome – Prati
Prati is the neighbourhood next to the Vatican, served by metro stations Ottaviano and Lepanto. Once you get away from the tourist hordes near St Peter's, it's a peaceful, attractive neighbourhood, with long, wide, tree-lined streets that seem to belong to another city. Although it's not as lively as other parts of Rome, there's still a decent selection of restaurants and bars, and shoppers will be satisfied with a stroll up Via Cola di Rienzo.
Prati is pleasant and well-connected. My personal prejudice is that it just feels "less Roman" than other parts of Rome, and perhaps less interesting. But although it's not one of my favourite neighbourhoods, I think it would make a good base for exploring Rome.
Peaceful & Cute B&B
Le Finestre Di Luz B&B – A personal recommendation! We stayed here for 10 days in summer 2016, the owner, Fabrizio, is amazing and very welcoming. This is a small B&B style hotel which is through a courtyard away from the street, so it's very quiet. Fabrizio makes breakfast and coffee fresh every morning and each room has its own table on the small patio to eat at. All rooms have comfortable beds and private bathrooms.
Check Availability & Prices on
Booking.com
4-Star Classic
Hotel Della Conciliazione – Can't get much closer to the Vatican than this. The classically decorated hotel offers a breakfast buffet, and the air conditioned rooms are adorned with handmade furniture and modern bathrooms. The hotel is a 10 minute walk from the metro, and just a few minutes from the airport express bus.
Check Availability & Prices on
Booking.com
Small & Fresh
Domus Terenzio – A small and very well rated hotel a few minutes walk from the Vatican, and also Castel Sant'Angelo, a metro station is also close by. Modern rooms with modern walk-in showers, a daily breakfast, and past guests have commented on the great air-con (welcome if visiting in the summer), and about the the owner being a wonderful host, and very helpful and welcoming.
Check Availability & Prices on
Booking.com
Where to Stay in Rome – Testaccio
Disclaimer: as a resident of Testaccio, I'm biased. But I love it, and I think it's the ideal neighbourhood for a tourist who wants to experience a more authentic side of Rome, while still staying close to the centre.
In fact, Testaccio is really central. The Colosseum is two metro stops away, or a 20 minute walk. Trastevere is just over the river. The leafy Aventine Hill is across the road. But Testaccio is also worth exploring in its own right, and is slowly being discovered by tourists, as you'll see from the small tour groups sampling cheese and prosciutto at the famous delicatessen Volpetti.
Testaccio's main selling point is its food, as the home of a traditional food market and some of the best restaurants and pizzerias in Rome (Da Felice, Flavio al Velavevodetto, Da Remo). After you've done some sightseeing in the centre, pop back to Testaccio for an indulgent aperitivo at L'Oasi della Birra or a bowl of cacio e pepe pasta at Da Felice. Then you can hit the clubs at Monte Testaccio, or watch the world go by in the piazza.
Compared to other parts of Rome, there aren't many hotels in Testaccio. If you're interested in staying in Testaccio, we'd suggest checking out HomeAway, VRBO, and – of course – Airbnb to find a holiday apartment.
Where to Stay in Rome – San Giovanni
The Basilica of San Giovanni in Laterano is the second most important church in Rome, and the neighbourhood's not bad either. It's mainly residential, and could be a good place to stay if you're looking for longer-term accommodation. Living next-door to a supermarket may be less glamorous than living next to a Roman ruin, but from a practical point of view, San Giovanni is very convenient. The area around Re di Roma is similar, and also well-connected (metro line A).
You have a better chance of finding good value hotels or Airbnbs in San Giovanni/Re di Roma, and although it's not right in the centre, it's still central Rome, so definitely worth considering. As with Testaccio, you may have the most luck checking out HomeAway, VRBO, and – of course – Airbnb to find a short-stay, rather than a hotel.
Best Western with a Twist
BEST WESTERN CineMusic Hotel – Not your typical Best Western. The decor is movie and music inspired and has a rooftop terrace where a daily breakfast is served. Rooms are what you'd expect from BW, clean and modern but basic and quiet. If you're happy to walk, past guests say about 30 minutes to the Colosseum, but the convenience here is two metro stations is close proximity.
Check Availability & Prices on
Booking.com
3-Star Value
Hotel Re Di Roma – Located on a quiet street, away from the madness or Rome but still easily reachable by metro. There a few stops very close to the hotel. Complimentary continental breakfast served, clean and basic but modern rooms. Past guests say they enjoyed the laid back residential area with a few local bars around with reasonable prices.
Check Availability & Prices on
Booking.com
Where to Stay in Rome – Pigneto
Pigneto has become increasingly trendy in recent years, but hasn't really been discovered by tourists yet. If you choose to stay there now, you'll probably find a bargain on Airbnb and be one of the only tourists in the neighbourhood.
There are lots of good (and good value) bars and restaurants in Pigneto, as well as live music venues and arty cinemas. For cheap, authentic Roman nightlife, it can't really be beaten. There's also something refreshing about how different it feels to the rest of the city centre, with two-storey buildings (rather than towering palazzi) and a more low-key, residential feel.
However, as much as I enjoy my nights out in Pigneto, I'm not sure I'd recommend it as a place to stay – especially not for the first-time visitor. Even though geographically, it's not far from the centre, getting the tram to and from Termini is not a pleasant experience. And while some people exaggerate the dangers of Pigneto, you're certainly much more likely to be cat-called/offered drugs/have your bag snatched in Pigneto than you are in Prati.
If you've been to Rome several times before and want a new experience, you could try Pigneto, but it's not the best place to look for accommodation. My advice would be to stay elsewhere, and to come to Pigneto for a night out with some local friends.
So Where Should You Stay in Rome?
Stay near Termini if you're only in Rome for a day or two (note: you can't possibly do justice to Rome in two days) for the convenience of the transport connections.
If it's your first time in Rome and you want to do lots of sightseeing, stay in the centro storico.
My personal recommendation to friends or family would be to stay in one of my favourite neighbourhoods – Monti, Trastevere or Testaccio – so you get to experience a bit of local life and get away from the tour groups.
Did You Know? Hotel referrals are a primary source of income for this website. By making your hotel bookings using the links in this website, you support our continued efforts to bring you the best travel information. It's as easy as booking your hotel through Booking.com, Hotels.com, HotelsCombined or TripAdvisor … and it doesn't cost you anything extra!