Winter can most definitely be frigid and bone-chilling. But for those who don't mind a little discomfort, it can also be the perfect invitation to hit a hiking trail or two. While cozying up with a soft blanket, a cup of cocoa in hand, and an inviting book sounds super enticing; there's something unique about getting out of your comfort zone and braving nature when you least feel like it. Plus, spending time out in nature and moving your body has been proven to help counteract the winter blues, so there's another reason if you need more motivation. From the deserts of Utah to the alpine beauty of Colorado, these spectacular hiking destinations are a must on your travel wish list if getting outside is a priority this year.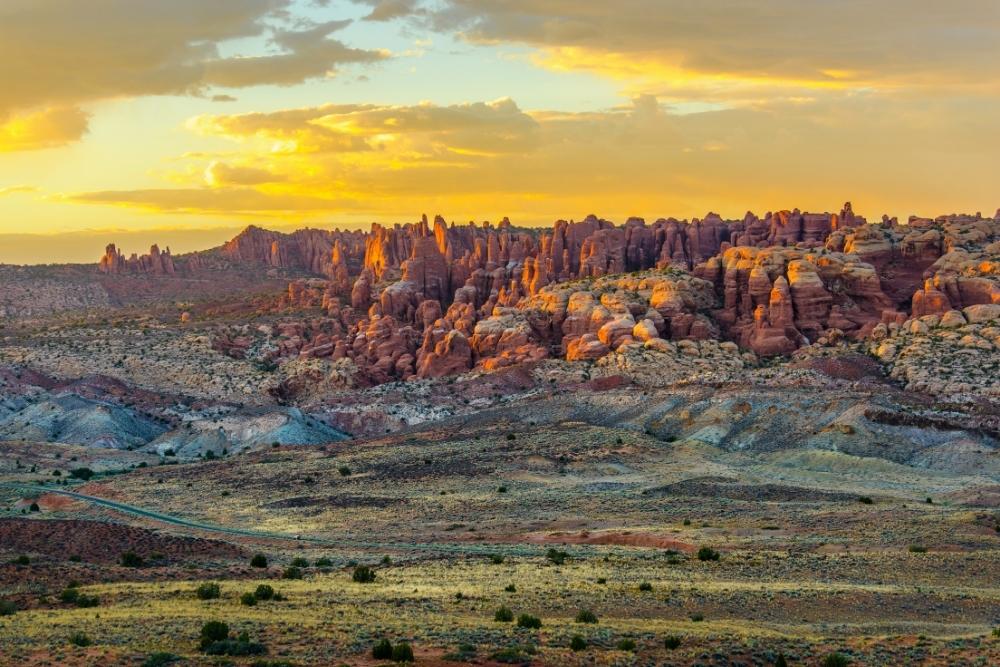 Before we dive into these 9 fantastic winter hikes, let's first touch on some winter hiking gear essentials. One of the most critical factors when hiking in the winter is staying dry. Make sure you dress/pack in layers so you can either put on or take off as you trek along. Invest in a quality pair of insulated hiking boots, warm socks, and a lightweight day bag. Lastly, the winter sun can be pretty bright and blinding, so pack polarized sunglasses.
1. Arches National Park, Utah
Home to more than two thousand natural archways, otherworldly-looking rock formations, and enormous red rock mesas, a hike through Utah's desert dreamland, Arches National Park, will make you feel as though you've landed right on Mars. A winter trip to Arches National Park is an absolute treat despite the chilly temperatures. Picture a snowy, red rock desert wonderland treat. It's a sight that is simply quite unforgettable.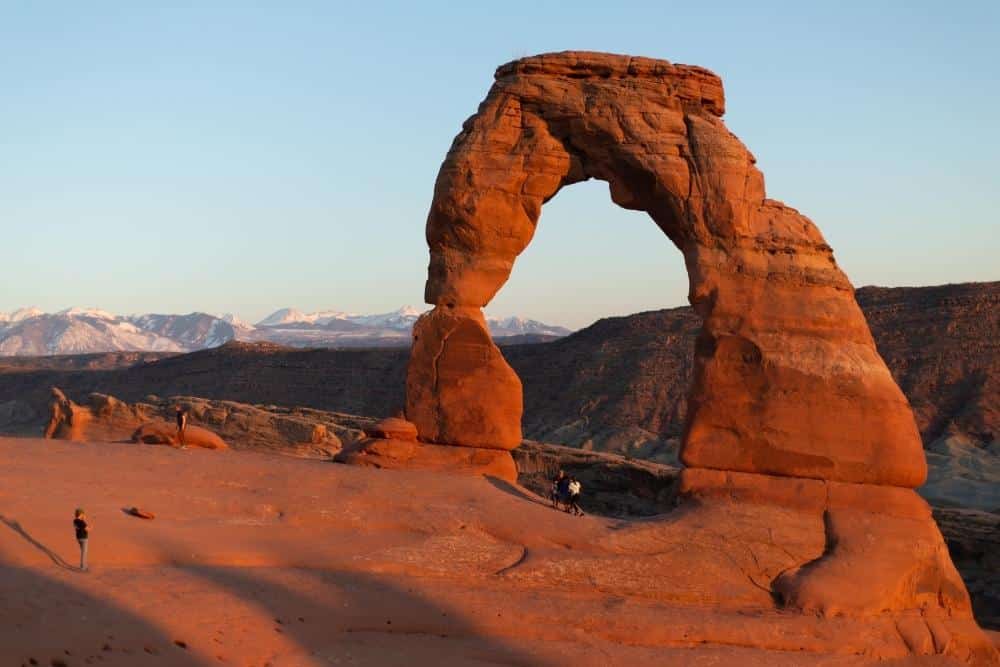 With temperatures of summer reaching the hundreds and the crowds of fall and spring jamming the trails, a visit to Arches in winter means getting to experience the best of both worlds: seeing an extraordinary side to the park and getting to have some of the best viewpoints pretty much all to yourself.
Best Hikes In Arches National Park:
Delicate Arch Trail
Devils Garden
Landscape Arch Trail
Fiery Furnace and Surprise Arch
Park Avenue Trail
Hiking in Arches National Park during the winter season is a dream. Picture towering redstone arches dusted with soft white snow, creating epic opportunities for photographers to capture unique and impressive photos. The park embraces winter with a peaceful, tranquil spirit that is absolutely infectious. Visiting Arches National Park during winter is a must.
2. Turtlehead Peak, Nevada
If you're daring and craving an adventure, then make sure you stop at Turtlehead Peak in Nevada. The 4.6-mile hike takes approximately three and a half to four and a half hours to complete. And though it's incredibly strenuous, as it's a hike etched into steep red rock cliffs, the view at the top is insane and well worth the effort. We promise!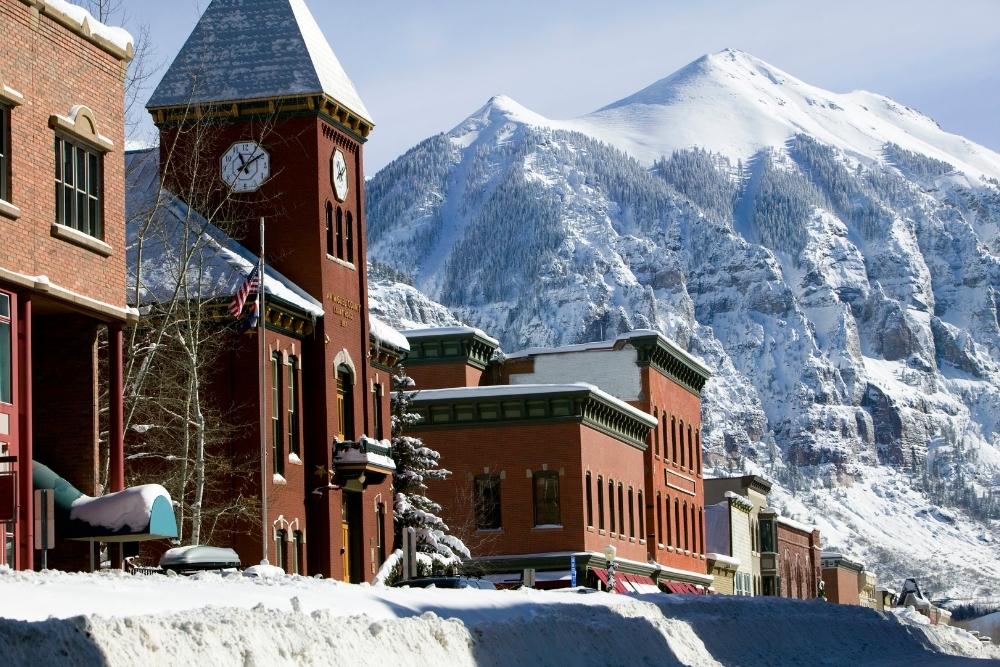 3. Telluride, Colorado
Telluride may be famed for its snow, but it remains mysteriously sunny for around 300 days of the year. This picturesque mountain town in Colorado boasts jagged peaks, lush alpine valleys, and some of the best hiking trails in the world. While some trails close due to avalanche danger, a few are deemed safe enough to enjoy even during the snowy season.
Plus, once you're done hiking, you can soak in the beauty of Telluride's downtown, hit the slopes on a ski adventure, or relax your muscles at the many hot springs surrounding the area!
Best Hikes in Telluride, Colorado:
Bear Creek Trail
Jud Weibe Memorial Trail
Lewis Mine Hike
Ajax Peak
4. Ousel Falls, Big Sky, Montana
Ousel Falls in Big Sky, Montana, is a short but sweet hike. Hikers trek across three bridges before being greeted with the final hurrah – the 100-foot waterfall. During winter, the waterfall transforms into a striking ice tower, creating a sight you need to see to believe. It's a relatively easy hike that is quite accessible during the winter. In addition, it's only 1.6 miles round trip, so it's easy to fit into your busy day!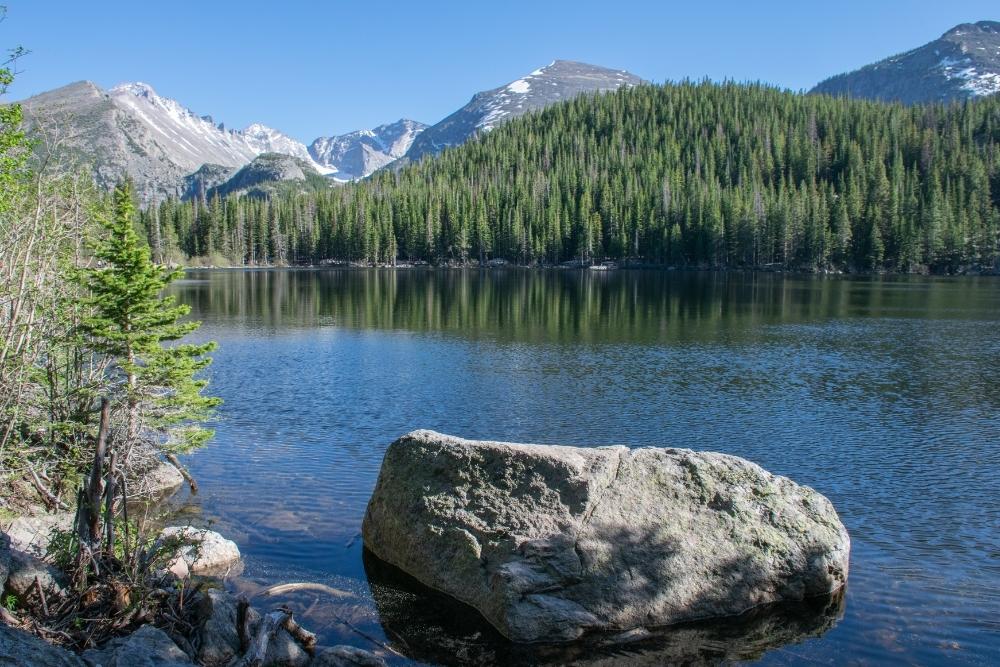 5. Rocky Mountain National Park
While Rocky Mountain may be a top-rated summer destination, there's absolutely no reason you shouldn't visit this enchanting national park during the winter months. The layers of snow add an extra touch of beauty to its alpine goodness, and the colder temps mean the crowds disappear.
Pack lots of layers, snowshoes, microspikes, and check the avalanche forecast before hitting the trails. Before you know it, you'll be all set for an absolutely epic winter hiking adventure!
Best Hikes in Rocky Mountain National Park:
Bear Lake
Alberta Falls
Alpine Ridge Trail
Emerald Lake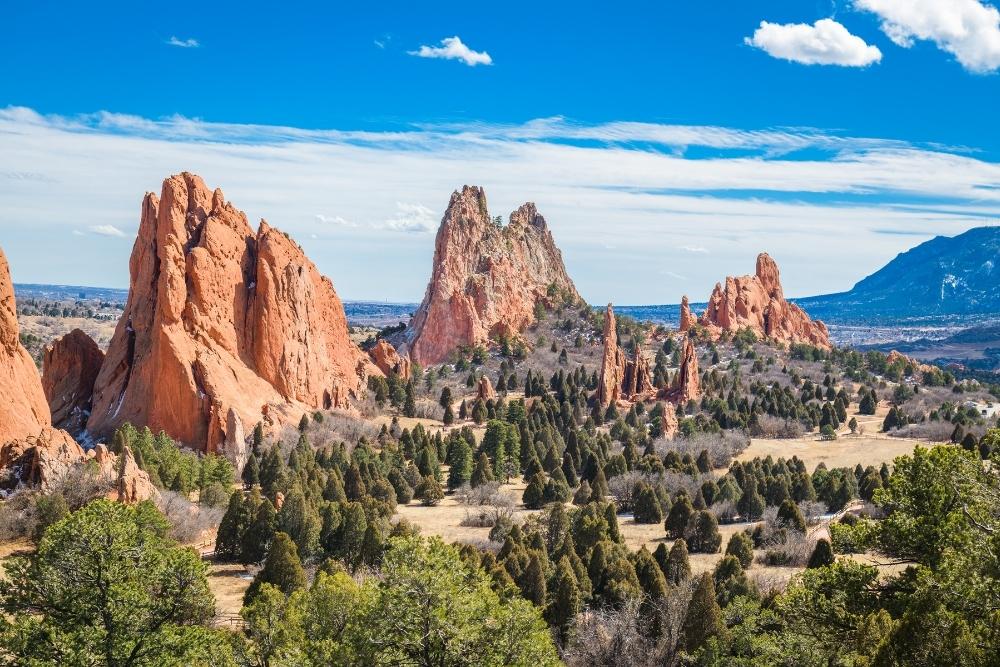 6. Garden of the Gods, Colorado Springs
Officially designated a National Natural Landmark, the Garden of the Gods is an environment you need to see to believe. The outstanding geological formations create a scene that is quite unreal. Imagine dramatic sandstone formations freshly painted with sparkling snow and amplify them even more. See, the Garden of the Gods is outstanding. The environment receives approximately 57 inches of snow each year and offers an enormous amount of exciting recreation. From hiking to rock climbing, a winter stop in Garden of the Gods is an absolute must.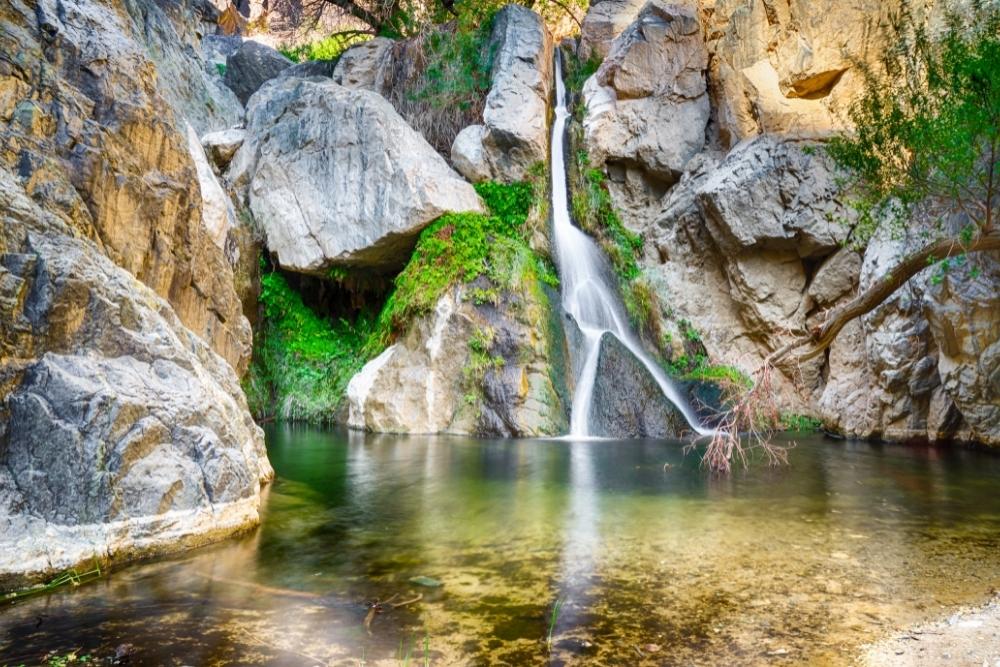 7. Death Valley National Park, California
With temperatures surpassing the hundreds during the summer months, going for a hike in Death Valley isn't exactly a walk in the park. Come winter, though, the weather cools off, making the perfect time to experience the desert magic of this epic national park in California.
Despite its somewhat morbid name, Death Valley brims with life and colors, and hitting its trails means stumbling across eerie-looking trees, hills and rocks splashed with colors, and enormous salt flats are far as the eye can see. Death Valley National Park straddles the California-Nevada border, lying slightly east of the Sierra Nevada mountains. It is the hottest and driest national park in the country and is home to a massive variety of plants and animals.
Best Hikes in Death Valley National Park:
Zabriskie Point
Mesquite Flat Sand Dune
Darwin Falls
Artists Drive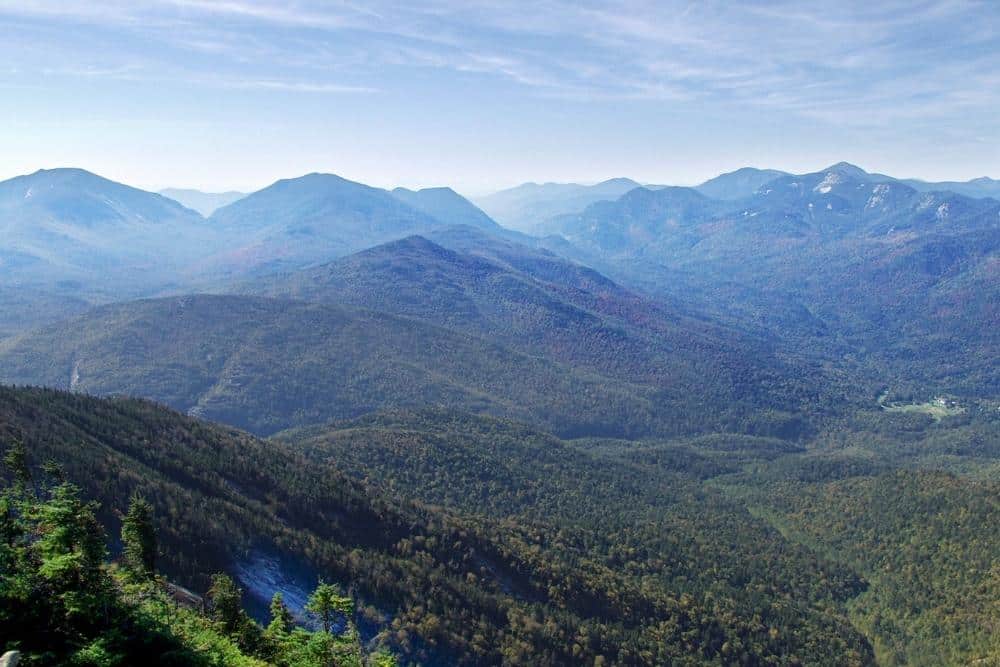 8. Cascade Mountain, Adirondacks, New York
Hiking Cascade Mountain is great for beginners and seasoned hikers alike. The hike is relatively simple, but offers sweeping mountain views. In addition, the trail is very well-marked and easy to follow.
9. Sequoia National Park, California
Located on the dramatic slopes of the Sierra Nevada Mountains in California, Sequoia National Park is icnonic for being the home to most of the world's sequoias. These are the most gigantic trees on the planet.
While visiting this gem of a park is astounding year-round, there's something insanely beautiful about seeing the contrast of the brilliant white snow against the bright red sequoia barks.
Best Hikes in Sequoia National Park:
Moro Rock
Tokopah Falls
Marble Falls Trail
Lakes Trail
Have you visited any of these incredible hiking destinations in the United States? We'd love to know more about your experience and your favorite winter trails, so make sure you share them in the comments section!