There are a couple of types of travelers. First, some flee the frigid cold temperatures, and those who flock to them embrace them. If you're the latter, there's a good chance you're currently plotting your next trip to make the most out of the winter months. Ski adventures, winter-dressed hikes, snow-capped mountains, and evenings spent cozying up by the fireplace? Sounds just like heaven to us, too! Suppose you're wondering where to jet off to this winter. Here are ten of the best winter destinations in the USA to embrace your inner Queen Elsa.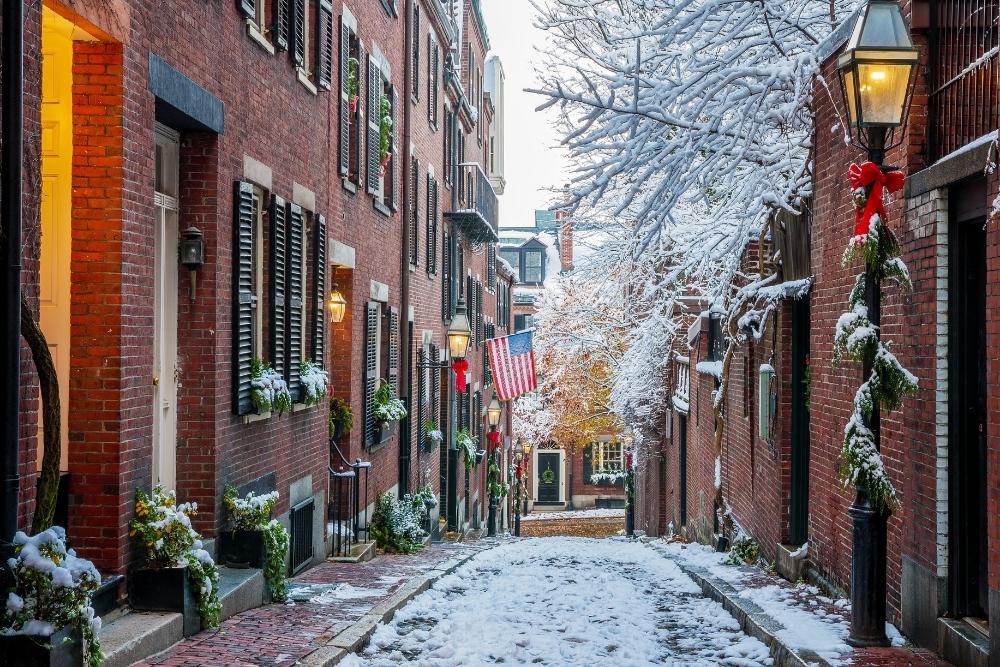 1. Boston, Massachusetts
Boston, Massachusetts, is a terrific snow-kissed winter destination that should be at the top of your travel list. The frosty temperatures bring a tranquil ambiance that is equally as inviting as it is scenic. Boston offers many sledding and skating opportunities, festivals, museums, and galleries. The snowy cobblestone streets are well-lit and lined with swanky boutiques, delicious restaurants, and outstanding local businesses.
Don't miss these things in Boston, Massachusetts:
sledding at Flagstaff Hill
stroll through Beacon Hill
visit the Boston Public Library
attend a market or festival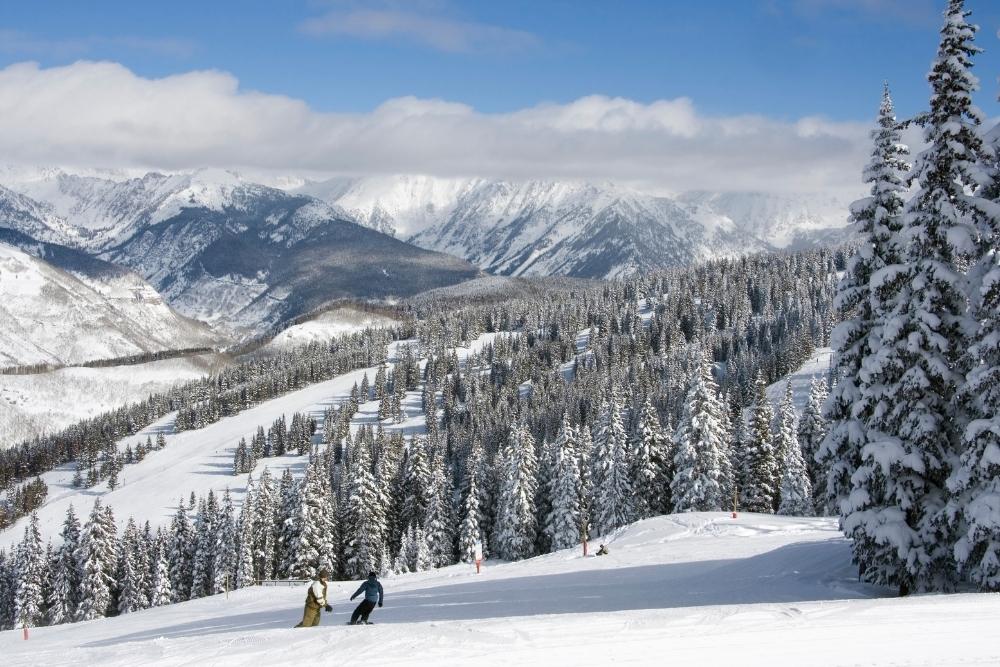 2. Vail, Colorado
Vail, Colorado, is probably the most charming of all winter towns. While there's plenty to do at this cozy mountain town in Colorado year-round, winter is definitely the most memorable time of the year to visit this alpine treasure. Tucked under the alluring Gore Range, Vail offers pretty much everything you could dream of from a mountain resort, including world-class winter sports, an impressive foodie scene, and some of the most luxurious hotels in the country if what you're after is to SEE the snow, but not necessarily feel the bone-chilling cold.
Winter activities in Vail, Colorado:
Ski Vail mountain.
Snowshoe around Meadow Mountain.
Ice-skate at Beaver Creek Village.
Horseback riding.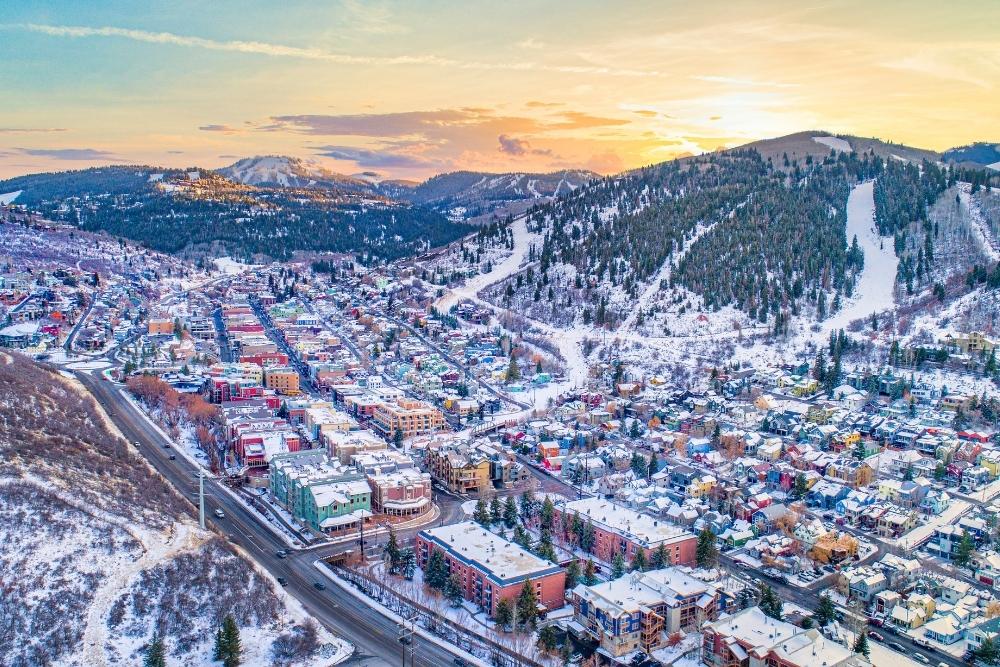 3. Park City, Utah
Commonly known for its world-class ski resorts and unbeatable winter sports (think activities like wild snowmobiling, dog sledding, and ice skating), Park City in Utah offers a (mountain) range of things to do that you've got to experience at least once in your life. Walking through this quaint little town will make you feel as though you're wandering inside a real-life snow globe as you gawk at the century-old buildings and mansions that line the valleys.
Side note – January hosts the town's annual Sundance Film Festival, which is THE place to be if you want the chance to see some of your favorite celebrities.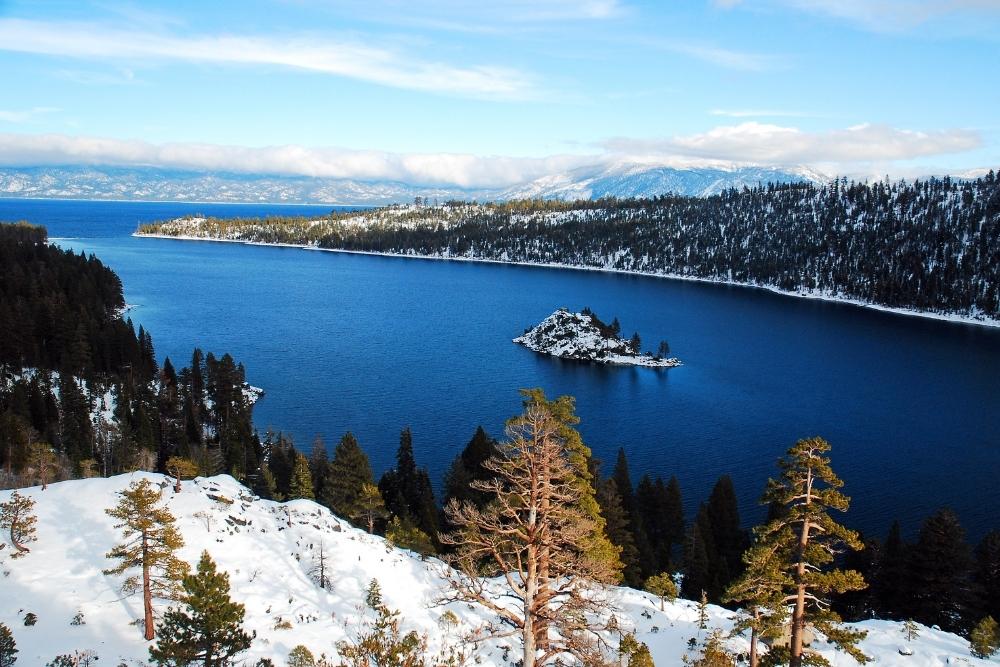 4. Lake Tahoe, Nevada/California
Split between California and Nevada, Lake Tahoe is backdropped by incredible scenery, dramatic mountain tops, and thrilling adventurous opportunities. Lake Tahoe is a massive freshwater lake offering scenery, terrain, spas, cuisine, and much more. Visitors can enjoy brewery hopping, hiking, ice skating, skiing, and insane photo opportunities in a place that looks so beautiful you need to see it to believe it.
5. Hayward, Wisconsin
Hayward, Wisconsin, is a delightful city situated next to the Namekagon River. The city offers a ton of awesome recreation, cuisine, and so much more. Visitors can enjoy a horse-drawn sleighride through downtown, take in one of the many parades, ski, snowboard or explore the several hundred miles of fat biking trails. Hayward, Wisconsin, is a beautiful city come winter with plenty of amazing and exciting opportunities.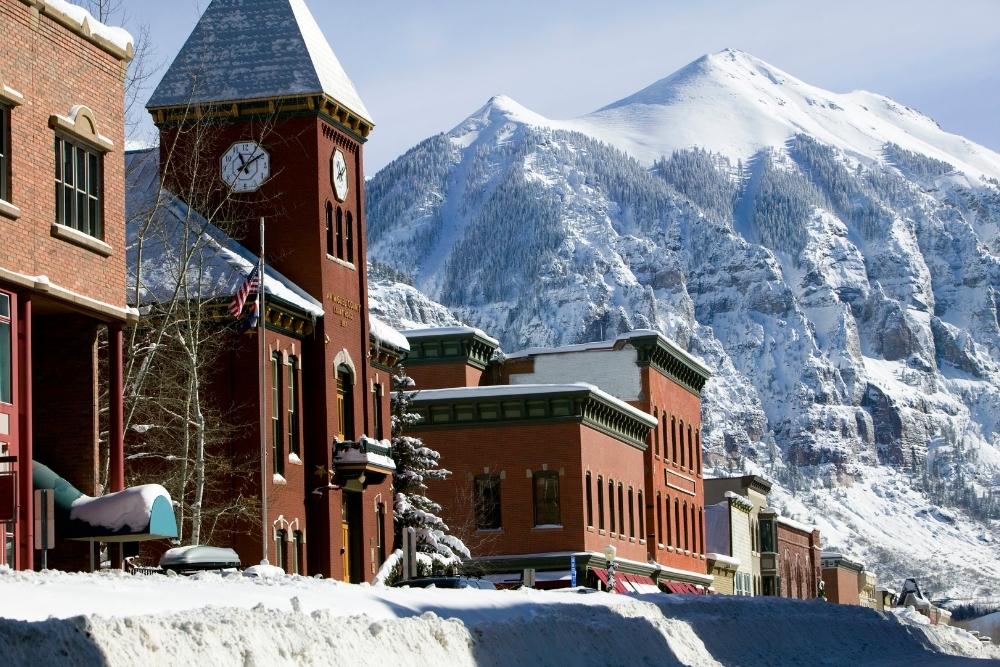 6. Telluride, Colorado
Known for its snowy peaks and terrific scenic beauty that will literally have your jaw dropping, Telluride is one of Colorado's most beautiful mountain towns and a must-visit.
While in Telluride, don't miss out on exploring a few of its hiking trails (make sure to check the weather before you go), getting those Instagram vibes on at Hotel Madeline's ice-skating rinks, and sledding down the San Juan Mountains.
If you're up for some serious mountain thrill, you can try your hand at ice climbing (yes, it's a thing!) or venture deep into the mountains in a cross-country ski adventure.
Suppose you'd rather not break a sweat and would much prefer a relaxing vacay (or a combo of adventure and luxury). In that case, Telluride's surroundings host plenty of insanely beautiful hot springs where to can relax your muscles after a day of snowy adventures!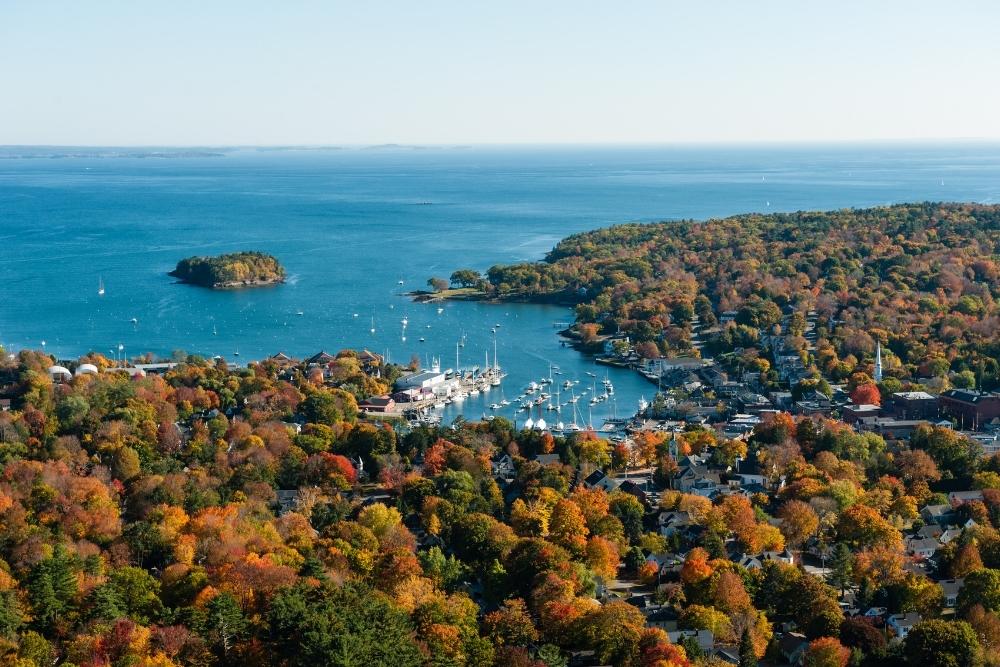 7. Camden, Maine
There's something incredibly charming about New England in winter, and Camden is the king of winter wonderlands in the area. Located on the magical Penibscto Bay, Camden Harbor feels like it came straight out of a Thomas Kinkade painting.
While visiting, make sure you book a unique ski adventure at Camden Snow Bowl, where you'll get to get your shred on with the views of the ocean backdropping your every move. Another must is to search for all the lighthouses in the area, which look as though they came straight out of a fairytale when dusted by white snow!
8. Condon, Montana
Condon, Montana, is a tiny little town located along the Swan River in Montana. From hiking to exploring, the quaint town has plenty to offer, and with its small population, it's safe to say that you'll avoid crowds.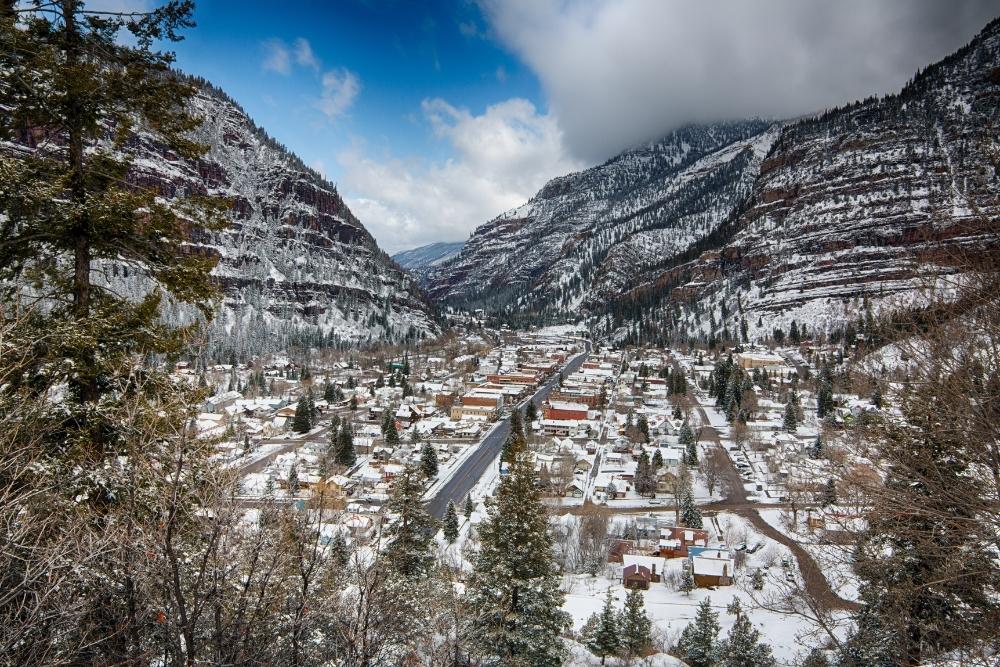 9. Ouray, Colorado
Nestled in the San Juan Mountains, Ouray in Colorado is your go-to if you want to feel like you're walking around Europe rather than the USA. Popularly dubbed the "Switzerland of America," Ouray is the perfect place to head to for some serious wintery vibes and that fairytale feeling deep in the mountains.
Aside from its endless array of outdoor mountain adventures (and hot spring galore), Ouray knows how to make the most out of the colder months with events like the Ouray Ice Festival and San Juan Skijoring, both celebrating winter sports and the importance they have on the community.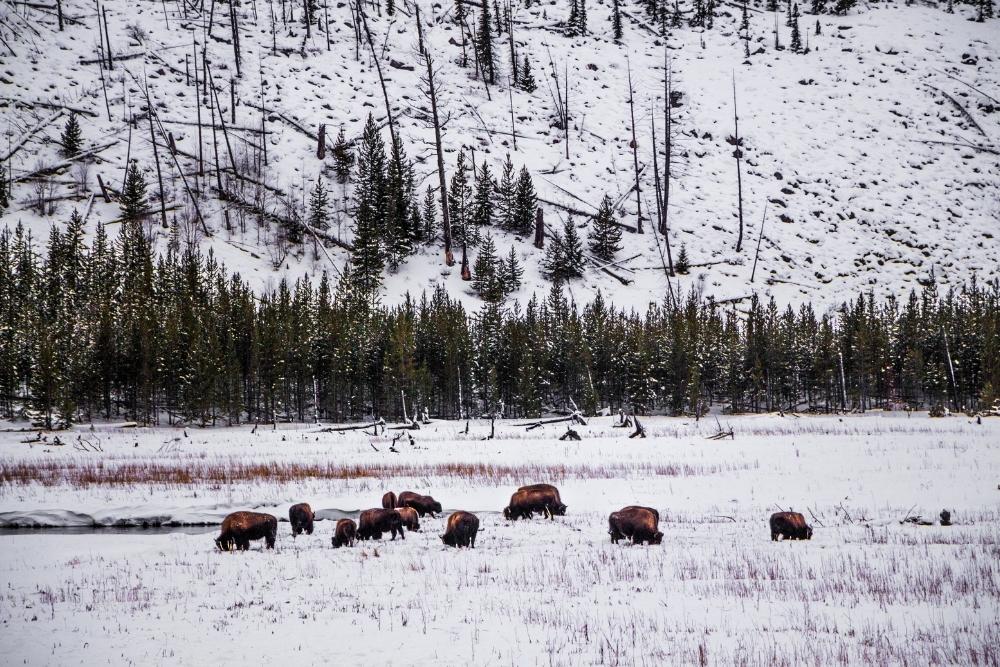 10. Yellowstone National Park, Wyoming
Yellowstone National Park is a paradise of a place any time of the year, but during the winter months, it becomes a mecca for those searching for a snowy utopia. Think snow-capped landscapes, forests dusted in snow, frozen lakes, and steaming geysers that make the landscapes look out of this world.
Another thing that makes this national park worth the trek? Yellowstone is set right next to Jackson Hole, which means you can combine your visit to the national park with some serious après-ski scenes and luxury stays to relax in after a day spent adventuring!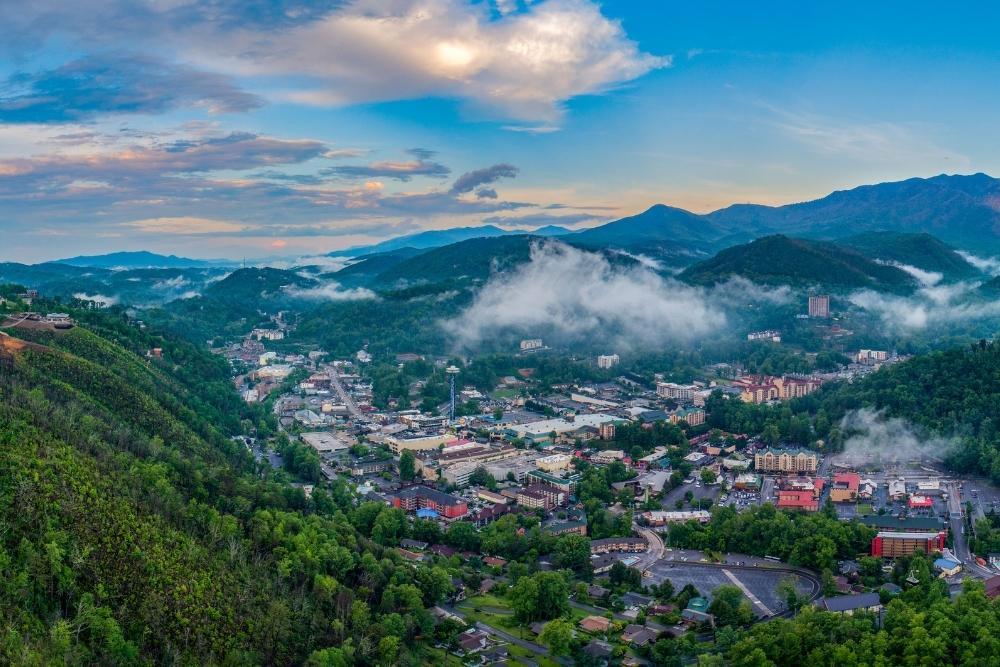 11. Gatlinburg & The Great Smoky Mountains, Tennessee
More commonly known for being the base to explore the Great Smoky Mountains, Gatlinburg in Tennessee has more to offer for those who wish to linger a while in this quintessential mountain town.
Aside from its classic alpine vibes and incredible food scene, Gatlinburg burst to life with several winter festivities, such as the Anakeesta's Enchanted Winter festival, where you'll find twinkling lights every step you take and delicious food to help you beat the winter blues.
Once you're done exploring Gatlinburg, head into the Great Smoky Mountains National Park, where you'll find a variety of winter recreation to choose from and cozy cabins and chalets to experience winter in the middle of nature. Seriously, it doesn't get more magical than waking up and having a hot cup of cocoa in the middle of nowhere!
We hope this list of destinations in the USA to spend winter in gave you some inspiration to start planning your next getaway! Whichever town you wind up choosing, you're guaranteed a true adventure. A beautiful, snow-capped adventure you won't soon forget!