Taking a Toronto Sports Trip in the Summer: Tips and Ideas for a Sports Trip to Toronto. Includes 7 Things to Do on a Toronto Sports Trip.


Disclosure: This website contains affiliate links. That means we earn a commission when you use the links on this site to book a hotel, buy your travel insurance, etc.. If you'd like to learn more about how this works, you can read more under our Disclaimer page. Please note, Tourism Toronto supported our trip to Toronto, and we received complimentary admission to many of the attractions listed in this post.
There is something about being at a ballpark that makes the memories come flooding back to me.
The crack of the bat, the snap of the glove, the smells and the sounds…they all tend to conjure up some of my fondest memories from when I was younger.
I love baseball. My father loves baseball. My grandfather loved baseball. When I was a kid growing up in Pickering, Ontario, baseball was the backdrop for my family's weekend visits to grandma and grandpa's house, where the unmistakable and silky-smooth voices of Tom Cheek and Jerry Howarth called Toronto Blue Jays plays on the radio. All the great plays from all the great superstars wafted through those speakers. If we were visiting grandpa in the summer, baseball was our soundtrack.
Because I took such a shine to baseball, my father used to take me to Exhibition Stadium to watch Blue Jays games whenever possible. Sometimes just the two of us would go, and sometimes it would be a family event, with aunts, uncles and cousins joining us as well.
Because of my Dad's encouragement, I took up baseball myself when I was old enough, and for many years I was sure I was going to be the next baseball phenom Toronto's radio announcers would be talking about (spoiler: that didn't happen).
In 1986, my family moved to Calgary and away from our beloved Toronto Blue Jays. My dad and I continued to follow them on TV, and I started to play more competitively in Calgary. I remember I couldn't wait for my grandparents to make the trip out west, so my grandfather could see one or two of my games. I even showed up to the airport to greet them in my uniform!
And as I began to take the game more seriously, my dad used it as an excuse to take some baseball-themed father/son vacations throughout North America. I remember visiting Seattle, Kansas City, San Francisco and Los Angeles to watch baseball with my dad, never really thinking those trips would end one day. But then, of course, life and adulthood happened: I moved away to university, I moved to Taiwan, and then kept travelling. Baseball trips with my dad faded into memory, not because I wanted them to, but because we were both busy with other things.
Fast forward to today. We live in Budapest, where ball games happen at 2am most days. Although I remain very close to my family, I unfortunately don't see them very often. This past spring, when the familiar nostalgia of baseball season set in, I started thinking about the father/son baseball trips I used to take with my dad. And unlike in years past, I called up my dad, and asked him if he wanted to meet me in Toronto. It didn't take much convincing.
In May 2017, my dad and I took a baseball and sports-themed trip to Toronto, and it was unbelievably fun. We've heard from friends over the years that Toronto is really cool, but I hadn't had the chance to see for myself until now.
If you're planning a Toronto sports trip, here are my top things to do, and tips to make the most of your time in Canada's biggest and sportsiest city.
What You'll Find In This Post
Click on the link to jump to the correct section!
1. Catch a Few Baseball Games in Toronto
For sports fans, summer in Toronto means one thing: Blue Jays.
The Jays play almost everyday from April to September, and I recommend timing your visit to Toronto to a stretch of home games that includes more than one opponent team. Try to catch the end of one series and the beginning of another, and sit in different areas of the stadium each game.
We saw three games during our Toronto sports trip: two against Cleveland and one against Seattle. I would recommend sitting on the first base side for one game, and the third base side for the next. If you catch a third game, try sitting behind home plate as opposed to the outfield. While you may catch a home run ball or a see a great play by an outfielder, you are really far away from the action. Personally, I'd rather sit close to get my money's worth.
It's worth noting that food and beverages at the game are very expensive, so consider this before entering the stadium.
Prices:
Tickets range from $14.00 to $225.00 (Canadian dollars)
Getting There:
If you're taking public transportation, Union Station is your best bet for both the subway and the GO Train. From there it's about a 10 to 12 minute walk. You can't get lost because Rogers Centre is at the base of the CN Tower, so just look up! If you're staying in the Entertainment District, you'll likely walk to the stadium, or take a short tram ride.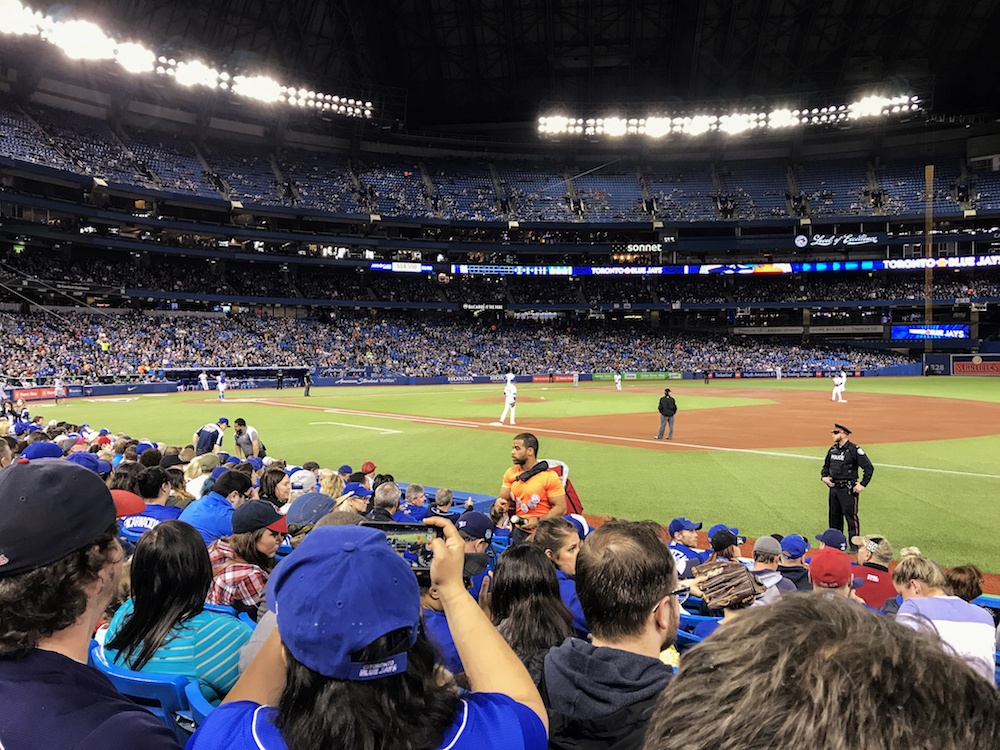 2. Tour Rogers Centre Stadium
Rogers Centre offers 1-hour tours every hour from 11 to 3pm or 4pm (depending on day and season). Tours are CDN $16 per person, and are usually offered everyday of the week, but check the schedule before turning up, as special events, maintenance, and day games impact the tours. On the tours, you can visit the press area, luxury suites, and sometimes the field and dugout. It's quite amazing to see what goes on behind the scenes to put on a show or a ball game at a stadium of this calibre.
The Rogers Centre, which was originally called the Skydome, and was something of an engineering feat when it opened in 1989. It was the first stadium to have a fully retractable motorized roof, in which four panels separate and stack to completely open up when the weather is nice. It's completely silent and takes just twenty minutes to open!
Prices:
Adults: $16.00, Seniors 65+ & Youth 12-17yrs: $12.00, Children: $10.00
Getting There:
Directions are the same as above. Once you're there, look for the tour signs located near Gate 3 on the CN Tower side.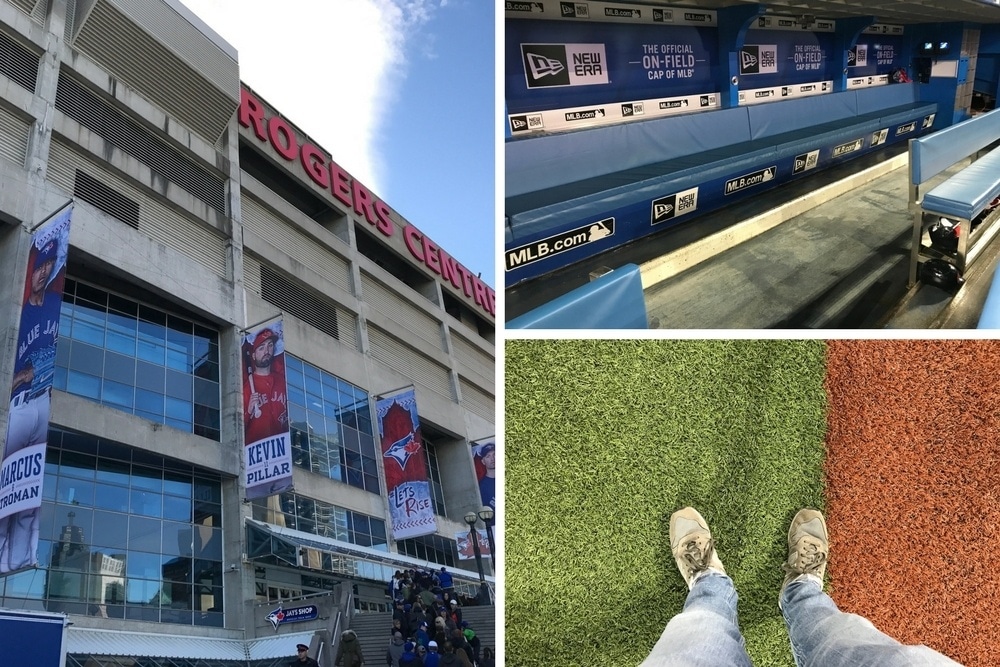 3. Pre-Game At One Of Toronto's Famous Sports Bars
Have a pregame burger, or post game drinks, or both, at one of Toronto's many great sports bar.
Toronto knows sports, and as a happy byproduct, Toronto knows how to do up a pretty good sports bar as well. Hit up a place like Real Sports Bar, the city's largest. The massive sports haven is owned by MLSE, which is the same group that owns the Toronto Maple Leafs, Toronto Raptors and Toronto FC, to name a few.
Getting There:
Real Sports Bar is just an eight-minute walk from the Rogers Centre at 15 York St. From Union Station, cross the tracks toward the harbour and you're there! It's across the street from Air Canada Centre.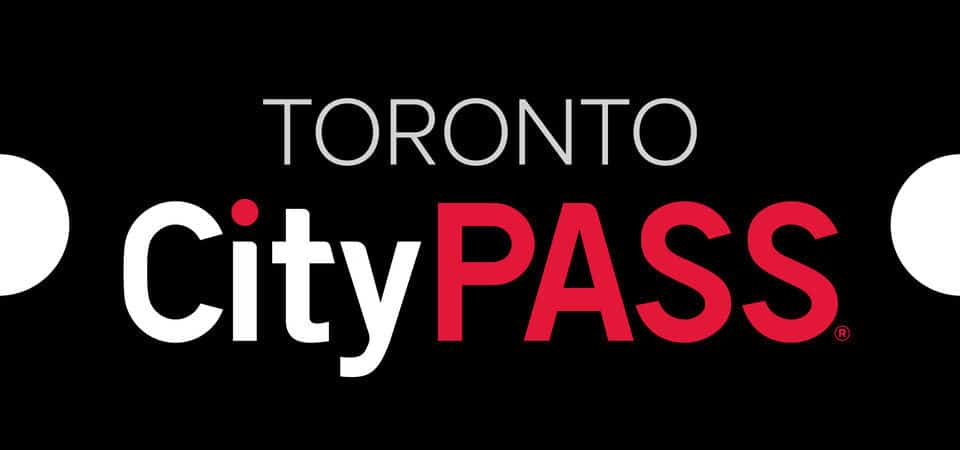 A Toronto City Pass is you key to the city! Get entrance to the CN Tower, Ripley's Aquarium of Canada, Casa Loma, Royal Ontario Museum and either the Toronto Zoo or Ontario Science Centre. It can be used over a nine day period. US $65.53 per person.
4. Visit The Hockey Hall Of Fame
This interactive museum houses pretty much anything you can think of: NHL memorabilia, relics from renowned international tournaments like the 1976 Summit Series and Winter Olympics, actual game equipment and player jerseys worn in memorable games, and (obviously) trophies and prizes.
The Grand Hall features plaques with all of the inductees, as well as all the trophies up for grabs in the NHL, culminating with the Stanley Cup sitting centre stage at the front of the room. There is a professional photographer on-hand to take a photo of you with Cup, if you want. You are also free to take all the photos you want with your own camera, including getting up close to the Cup, and taking your own selfies with it for no extra fee.
The Hall of Fame also has an interactive section where you can try your luck shooting on a (CGI) NHL goalie, or be the goalie and try to stop CGI pucks. You can also test your broadcasting skills by sitting in a replica TV broadcast booth, and trying to keep up with the tele-prompter as you recap game highlights. There are 3D movies and games, and plenty to keep a hockey enthusiast occupied.
All of the above is included in the entrance fee. With your ticket, you are free to try all of the different interactive displays, games and videos.
Prices:
Adult: $18.00, Seniors: $14.00, Youth (4-13yrs) $12.00, 3yrs & under are free
Getting There:
At 30 Yonge St, the HHOF is within walking distance from either Union Station or King Street subway station.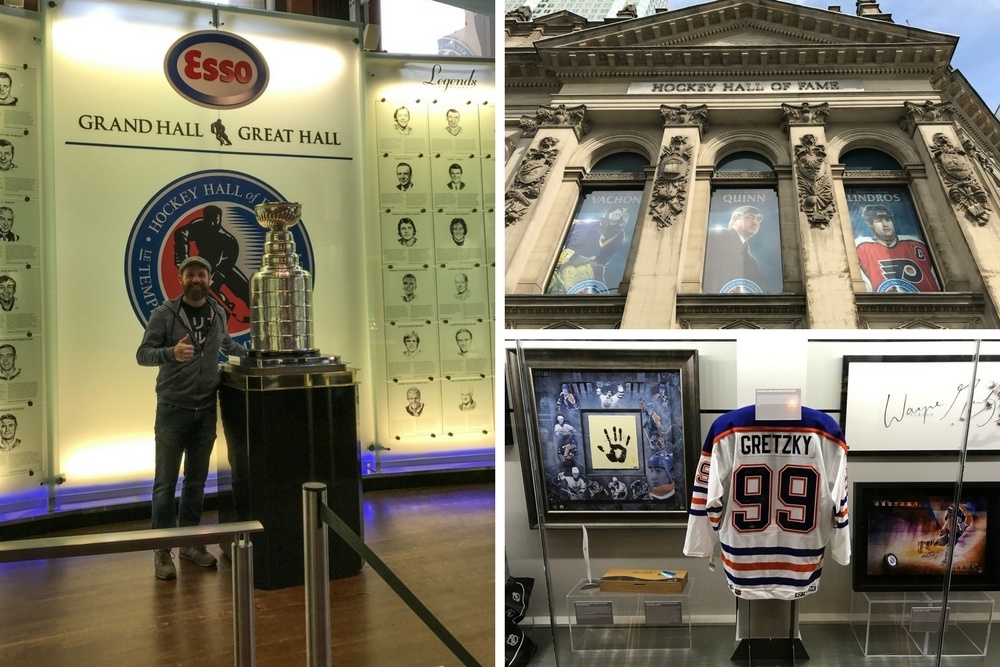 ---
Even though this trip was centred around baseball, Toronto has so much other stuff to see and do, as well. Mid-week baseball games are typically evening events, which left my dad and I with daytime hours to fill. And fill them we did. Here are my top picks for some things between all the sportsing.
5. Visit the CN Tower
No trip to Toronto would be complete without a visit to the top of the CN Tower.
On a clear day, the 360-degree panoramic views are simply amazing. Lake Ontario looks so blue it might as well be the ocean. You can watch airplanes take off and land over Toronto Island at Billy Bishop Airport. And on the other side, you look down upon Toronto's modern skyscrapers.
Walking on the glass floor is included in the basic ticket, as is walking the entire circumference outdoors if you're brave enough. If you want to do even more, you can pay extra for the Skypod, which is the smaller, higher observation deck. Check out some online reviews before you decide whether to pay extra, as past reviewers have mixed opinions.
Finally, there's the EdgeWalk for the bravest among us! Get harnessed in and lean out over the edge of the CN Tower, almost 1200 feet up, and then let go as you walk 'hands free' on a narrow platform!
Prices:
General Admission: Adults $36.00, Seniors (65+) $31.00, Youth (4-12yrs) $26.00
General Admission + Skypod: Adults $48.00, Seniors $43.00, Youth $38.00
EdgeWalk: $225.00 (must be +13yrs)
Getting There:
301 Front St. West – On public transit, Union Station is your best bet for both subway and GO Train.
6. Wander Around The Distillery District
We spent one afternoon wandering around the Distillery District, which is filled with local designer and artisan shops great for tasting some unique flavours, looking for cool art and decor, and stocking up on gifts. And, of course, It wouldn't be a distillery district without distilleries!
Behind one the district's iconic brick buildings is the Spirit of York. While I was taking a photo of the outside, my dad wandered in to find out Spirit of York had officially been open for less than one hour! At it turned out, we were some of the first people to visit their new store. After chatting with the bar keep, and taking a sample, we both decided to buy a bottle to take with us, and thus became their very first customers!
We'll call it even and say we were customers 1A and 1B!
Spirit of York is in the distillery district at 12 Trinity Street. You can take public transport, or it's a stop on the Hop-On-Hop-Off Bus (which is how we got there). If you want to buy a bottle of gin or vodka, expect to pay around $40 or $50 Canadian. You can also do a taster for about $10.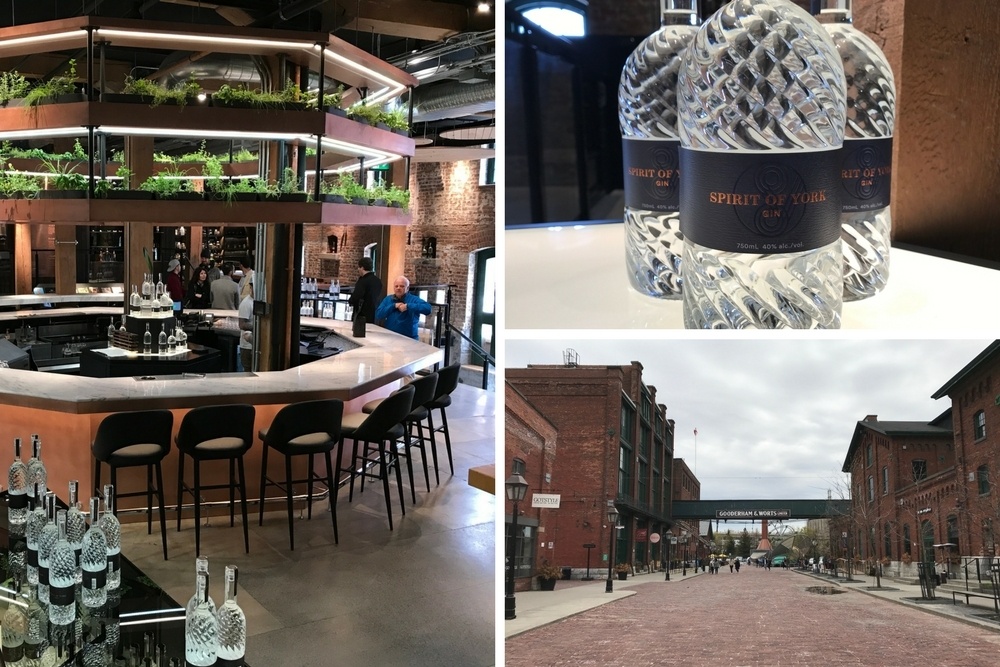 7. Take A Harbour Cruise
After visiting the Distillery District, we took an Uber to the harbour, and hopped aboard one of Mariposa's harbour tour boats for a 45-minute tour around Toronto Islands.
Although the weather wasn't the best, the view of the modern skyline from the water is amazing. The vintage boat weaved through the islands while we listened to the tour operator tell tales of haunted lighthouses, and give us a bit of a history lesson about some of the key buildings seen on the tour.
This is probably the best way to get that classic skyline view of Toronto.
Harbour cruises leave from the harbour at Queens Quay West Marina. We cruised with Mariposa, which costs $23.95 + tax for adults. Discounts are available for family and concession fares.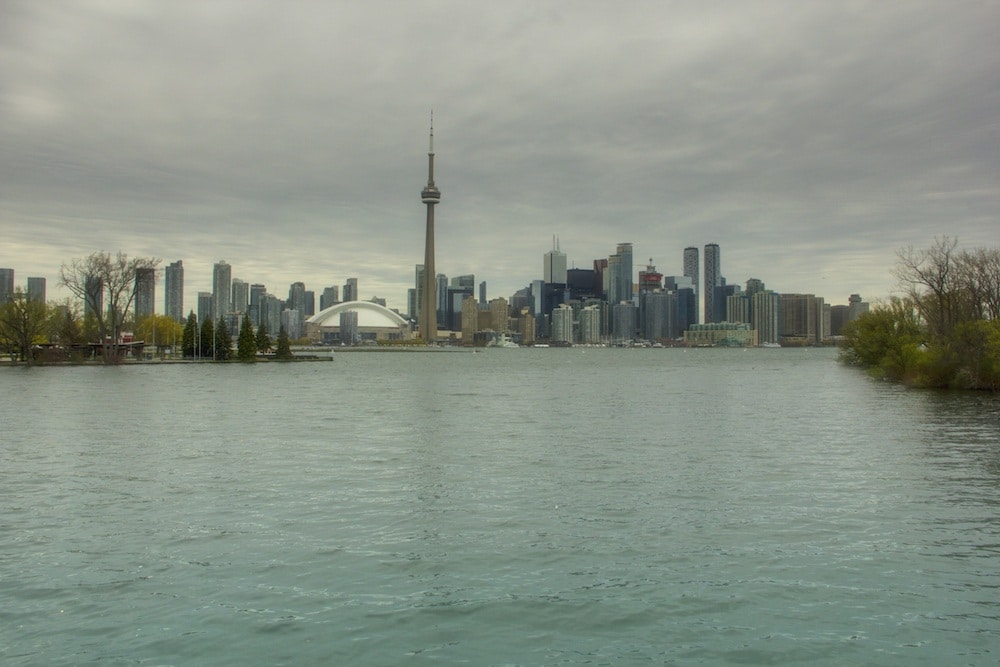 A Couple Other Tours Ideas to Consider
Questions? Comments? Let Us Know By Leaving A Comment Below, or Joining Our Facebook Community!
Pin this for Later!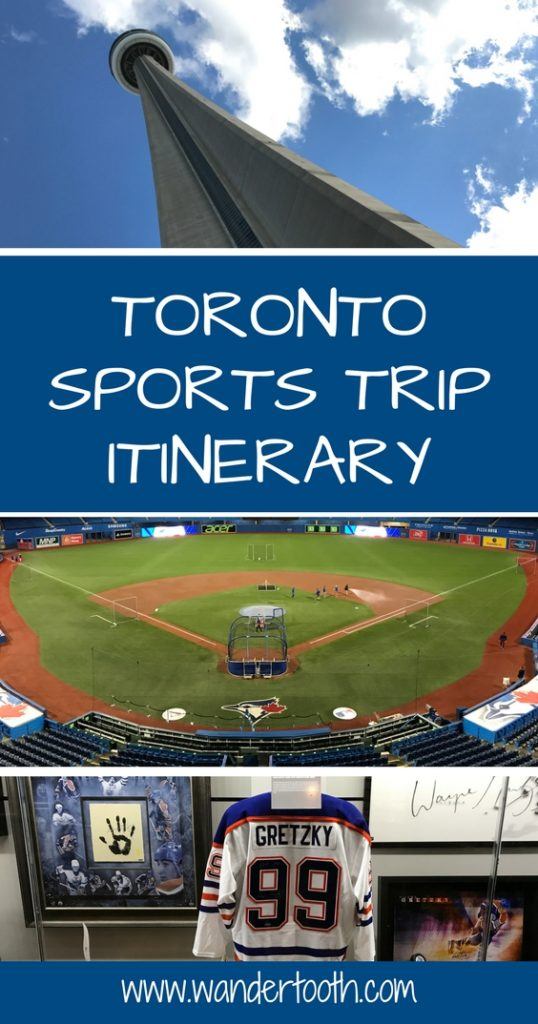 ---