Where to Stay in Toronto Canada: Advice from a travel blogger and Torontonian about the best places to stay in downtown Toronto! Includes recommendations for the best hotels in Toronto.
We created this guide in collaboration with Brock Groombridge, and the blogger behind Backpack With Brock. We're so happy he agreed to share his insider knowledge of the city, and help you choose the best place to stay in Toronto Canada for your own unique trip!

Disclosure: This Best Places to Stay in Toronto Canada Guide contains affiliate links. That means we earn a commission when you use the links on this site to book a hotel, buy your travel insurance, etc.. You don't pay anything extra. If you'd like to learn more about how this works, you can read more under our Disclaimer page.
Toronto is home to a plethora of cultures. With over 200 nationalities represented and over 50 percent of the city's population born outside of Canada, it has earned its title as the most multicultural city in the world.
Of its many strengths, the city's diversity makes me most proud to call Toronto home. When I first moved downtown for university, I truthfully did not comprehend how miraculous the city was, but now, over 14 years and 100 countries later, it remains my favourite city on the planet.
The trick to enjoying your visit to Toronto is knowing what to expect. Unlike other major cities such as London, New York, or Cape Town, you won't find a long list of 'big ticket' attractions here. Instead, Toronto is all about its cultural neighborhoods, best explored alongside a local or through the insight of one. I hope my suggestions and favourites below will make for a marvelous time in the T-Dot (one of the many nicknames us Torontonians use!).
Where to Stay in Toronto Canada: An Overview of the Best Neighborhoods in Toronto to Stay and Visit:
Understanding Toronto – An introduction to the city and how to get oriented.
Where to Stay in Toronto Downtown: Our picks for finding the best place to stay in Toronto for tourists
More Neighborhoods to Explore: Our picks for unique Toronto neighborhoods and micro-neighborhoods to explore during your trip. While these areas don't necessarily top the list in terms of places to stay in Toronto Ontario (mostly do to lack of accomodation options), they are absolutely worth your time and attention!
FAQs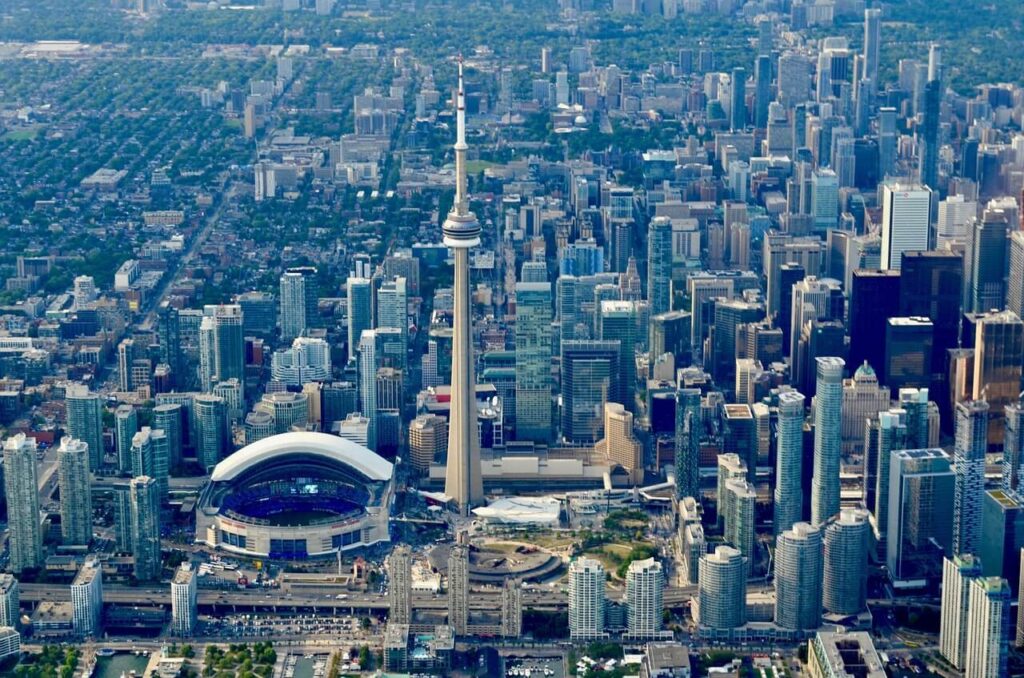 Downtown Toronto from above, photo via PixaBay, CC0 licence.
Top 10 Hotels in Toronto
Understanding Toronto
Understanding a few details about the layout of Canada's largest city will help you orient yourself and make the most of your time in the city, and Torontonians' unique way of giving directions, when you ask.
For starters, the city is built in a grid, making it relatively easy to navigate. Yonge Street divides east and west, and above Bloor Street is considered the northern part of the city. Lake Ontario marks the southern border and acts as the base of the city. As you head north from the water there is a slight incline, so whenever you're given directions, know that 'up' means you're heading away from the lake and 'down' means you're heading towards the lake. The CN Tower, centrally located and near the water, is easy to spot from pretty much anywhere, and makes an excellent directional marker.
Getting around Toronto is pretty easy, and there are a number of different options. Public transportation consists of subways, streetcars and buses. The two main subway/metro lines are the yellow 'Yonge-University' line, which is shaped like a U and runs north and south, and the green 'Bloor-Danforth' line, which runs east and west through the middle of the city along Bloor Street. From the stations on these lines, you'll find streetcars and buses to get you further in any direction.
Buying a ticket can be a bit confusing, as you have a few options: for short-term visits, you can purchase a reloadable Presto Card, buy tokens, or pay a cash fare (the most expensive). For longer visits, you can buy a daily, weekly or monthly pass. If you're only in the city for a few days, we recommend buying a day pass or using tokens.
In nice weather, it's worth noting Toronto has a popular bike share program, which makes for a fun way to get around the city. You can also use taxis, Uber, and Lyft in Toronto, and if you're already a member in your home city, you might also be able to use the by-the-minute car share program, Car2Go.
There are two airports in the Toronto area: Toronto Pearson International Airport (YYZ) and Billy Bishop Toronto City Airport (YTZ) on Toronto Island, both with easy connections to downtown. Toronto City airport offers direct flights to 20+ cities in the US and Canada, but if you're coming from anywhere else, you'll arrive at Pearson. There's a train that connects Pearson with downtown Toronto; it costs $12.35 one-way and takes 25 minutes.
If you have some extra days on your trip, there are a number of places you may want to consider visiting that aren't far from Toronto: Niagara Falls and its wine region, the Muskokas and cottage country, and the cities of Montreal, Quebec City, and Ottawa (Canada's capital) are all well worth a visit.
The Best Neighborhoods to Stay in Toronto
Toronto has many different neighborhoods, each with unique charms that make it special, and certainly a little something for everyone. If a friend of mine was coming to town and needed to book a place to stay, these are the first neighborhoods I would suggest.
Yonge and Dundas: The Heart of Downtown Toronto
Known as the heart of the city, Yonge and Dundas is just that, making it the perfect base for exploring Toronto. Most popular here is Eaton Centre, a large shopping mall where you can shop 'till you drop, and Dundas Square, a very mini Toronto version of Times Square, that hosts countless festivals and events throughout the year.
When you're feeling hungry in this area of the city, enjoy breakfast 24 hours a day at the 50s style restaurant Fran's, or head to Salad King, an institution for nearby Ryerson University students (myself included), which serves up delicious and affordable Thai cuisine. The Tampered Press on Dundas has a gorgeous and massive harvest table for sharing with friends or meeting someone new.
If you stay in the Yonge and Dundas area, you'll have easy access to the subway or streetcar to zip off to all corners of the city.
Skip ahead to the next neighborhood ↓
The St. James Hotel
The Saint James Hotel – A tasteful and cozy boutique, this hotel offers decently-sized rooms with air conditioning, flat screen TVs, coffee maker, toiletries and hairdryer. The hotel offers a daily complimentary breakfast despite there being no restaurant or bar onsite. As The St. James is right downtown, you'll have loads of options: the massive Eaton Centre is just a 7-minute walk, the metro (Dundas or College stations) is just a 5-minute walk, and the CN Tower is either a 25-minute walk or 10 minutes on the subway. The hotel is half-a-block from Yonge Street, with multiple choices for food, bars, pubs and cafes.
Check Price & Availability
Booking.com
Marriott Toronto Downtown Eaton Centre
Marriott Toronto Eaton Centre – Offering spacious, clean and comfortable rooms with coffee makers, flat screen TVs, safes and very comfortable beds. The hotel features an on-site restaurant and bar, fitness room, indoor pool on the top floor, and sauna. Past guests have noted the Wifi is only free for club members. The hotel is connected via tunnel to Eaton Centre, and is less than 5 minutes walk to Toronto City Hall and Nathan Philips Square. A twenty minute walk will get you to the CN Tower and Rogers Centre, and you're 4 minutes to the nearest metro (Queen). Surrounded by lots of bars, restaurants, cafes and shopping.
Check Price & Availability
Booking.com
Sheraton Centre Toronto Hotel
Sheraton Centre Toronto Hotel – A flagship location with more than 1,000 rooms, this property was recently renovated and all rooms updated. Rooms feature flat-screen TVs, complimentary toiletries, and tea & coffee makers, with some offering magnificent city views. Past guests have noted the wifi is only free for spg members. There is an indoor and seasonal outdoor pool, gym and sauna, and bar and restaurant on site. Located directly across from Nathan Philips Square and Toronto City Hall, a 15- minute walk to CN Tower, Rogers Centre, and the Air Canada Centre, and 5 minutes to the metro (Queen).
Check Price & Availability
Booking.com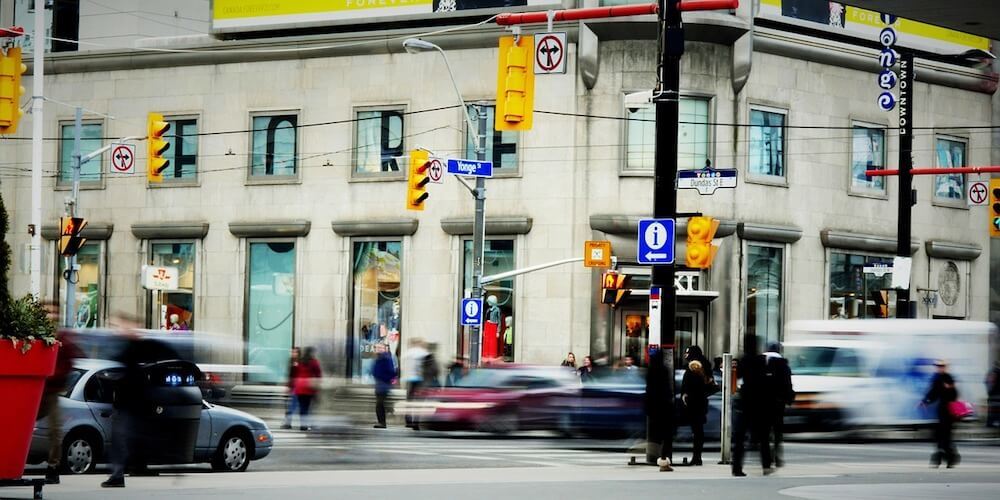 Yonge and Dundas is one of Toronto's best areas to stay, photo via PixaBay, CC0 licence

West Queen West: Hip & Cool
Arguably the trendiest Toronto neighborhood, West Queen West is packed full of unique shops, cafes, bars and restaurants. Originally it was 'Queen West' that the hipsters loved between University and Bathurst, but when the big brands moved in they headed further west, dubbing their new home 'West Queen West', from Bathurst onward.
Stroll the magically colourful Graffiti Alley or taste delicious Syrian cuisine at Soufi – the owners are some of the newest additions to Canada, and exemplify the diversity that makes this city so special. On weekends, Trinity Bellwoods Park is jammed full of locals relaxing, and for drinks, dancing and music, jump into any of the countless bars on Ossington, north of Queen street.
If you need some caffeine, the White Squirrel on West Queen West is the perfect place to grab a coffee on the go and stroll through Trinity Bellwoods across the street.  And if you find yourself in this area when beer o'clock hits, check out Bellwoods Brewery for local craft options.
Skip ahead to the next neighborhood ↓
The Drake
The Drake – Right in the art district, this hotel appropriately features unique local artwork throughout. Rooms are unique and trendy, and decked out with artwork, comfy beds, TVs, toiletries and safes. Hotel guests have free access to a nearby gym (4-minute walk), and there is a hip café and bar on site, which is popular with locals and guests (Katie can personally recommend the bar!). Guests can also take advantage of free bicycle rentals. Located a 10-minute walk to Trinity Bellwoods Park, and the streetcars along Queen St. will take you to the Fashion District or downtown in about 20 minutes. Lots of cool bars, restaurants and shops nearby.
Check Price & Availability
Booking.com
Gladstone Hotel
Gladstone Hotel – This hotel features 37 high-personality rooms, each designed by a different artist, within an old Victorian building. Air conditioned rooms have flat screen TVs, safes, hardwood floors, and natural bath products. Complimentary coffee is offered each morning, and guests have access to a nearby gym (5-minute walk) and free bike rental. The restaurant and bar onsite often features live music and art openings; noise from the bar isn't a common complaint, but past guests have noted street noise. 5-minute walk to Trinity Bellwoods park and 20-ish minutes by streetcar to the CN Tower.
Check Price & Availability
Booking.com
Kensington Market: Vibrant and Trendy
Kensington Market is hands down my favourite part of the city. This bohemian neighborhood is jammed full of second hand shops but is also home to the Latin quarter. Jumbo Empanadas fits its name, and across the street is a market I can't get enough of with multiple vendors serving up tacos, churros, empanadas and more. Via Mercanti cooks a mean pizza, and for brunch try either of my go-tos: Kos or Aunties and Uncles.
Here you are also just a few steps away from bustling Chinatown where you can grab a quick Chinese bun or dine at Goldstone Noodle – the service is less than friendly, but the food is tops. From here you can also waltz over to Little Italy, the University of Toronto campus, or the Art Gallery of Ontario. If you're in need of a pick-me-up, The Walton (cafe) on College has the most adorable back patio in the back!
Interested in visiting Kensington Market as part of a tour? Check out this Chinatown and Kensington Market walking tour.
Skip ahead to the next neighborhood ↓
Applewood Suites
Applewood Suites Kensington & Chinatown Loft – A loft apartment that can sleep up to 6, this rental offers a fully functional kitchen with a full-size fridge, toaster oven, stove, microwave, coffee maker and cooking utensils; free Wifi; an iron and ironing board; toiletries; and linens and towels. Reasonably priced parking for $12/day without reservation. Located in a low-rise building above a shop, it's worth mentioning there is no elevator. Located on a main thoroughfare, with everything Kensington Market and Chinatown has to offer in easy reach: lots of shops, cafes, bars and restaurants around. You can walk to the CN Tower, Rogers Centre, and the fashion and entertainment districts in 20 minutes, and there is public transit directly in front of the building.
Check Price & Availability
Booking.com
Historic 3-Bedroom Home VRBO
Historic Home in Kensington Market with Backyard Oasis – The name says it all. A three bedroom historical home with a lovely private backyard/garden, and a parking space, perfect for a small family. A covered front porch, fully functional kitchen, laundry machine and dryer, 10 foot ceilings, and excellent views of the city. Free wifi, TV and towels and linens provided. Kensington Market is full of shops, cafes, many different types of restaurants, and it's all within a short walk for the house. Even the CN Tower, baseball stadium and museums downtown are just a 25 minute walk. A 5 minute walk is Spadina Avenue which is a main thoroughfare into downtown where you can catch a streetcar and be downtown in about 20 minutes.
Check Price & Availability
VRBO.com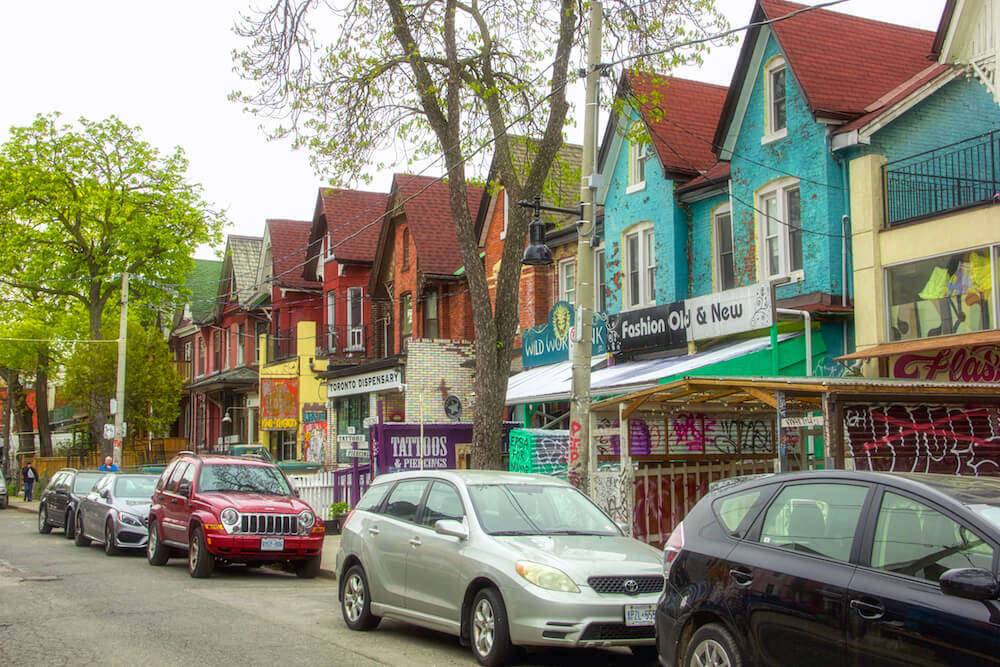 The historic colorful houses of Kensington Market are now vintage shops and cafes.

Front Street: The Entertainment District & Fashion District
The final place most visitors would base themselves is Front Street. Centered around Union Station, where you might arrive if coming to Toronto by train, you'll be within quick walking distance of the Harbourfront, Entertainment District, Ripley's Aquarium and Amsterdam Brewery, with great views out into the lake. I love to wander through the lobby, bar and hallways of the Royal York Hotel, where the Queen stays on her visits. A favourite along Front Street is the St. Lawrence Market which is bustling with all sorts of great eats. If you're a sports fan you'll be right next to the Air Canada Center and Roger's Centre – or Skydome as locals still call it. And of course, you can't stay here, or visit Toronto for that matter, without heading up the CN Tower. Skip the revolving restaurant and do the Edge Walk instead!
If you're feeling thirsty, both Amsterdam BrewHouse and Steamwhistle (pilsner) are local options within the entertainment district, or a quick walk away.
Skip ahead to the next neighborhood ↓
Fairmont Royal York Hotel
Fairmont Royal York Hotel – A Toronto landmark frequented by many generations of Torontonians (including Geoff's grandfather!), the Fairmont is located across from Union Station. Housed in a gorgeous building with a lot of history, rooms are spacious and comfortable, with minibars, coffee makers, brand name toiletries, and bathrobes. Four different restaurants and a casual pub, a swimming pool, fitness center, and sauna, and a business center are all on site. All of Old Town Toronto is easily walkable, with many bars, restaurants, and cafes, the CN Tower and Rogers Centre are an 8-minute walk, and Air Canada Centre is right across the tracks from Union Station (6-minute walk).
Check Price & Availability
Booking.com
Le Germain Hotel Toronto
Le Germain Hotel Toronto – One of the top-rated hotels in the city, this modern 4-star offers all guests a complimentary continental breakfast and open cappuccino bar. Clean, cozy and contemporary rooms have minibars, flatscreen TVs, DVD players, and iPod docking stations. The hotel has a rooftop putting green (seasonal), fitness room, and restaurant and bar on site. Located smack in the middle of the Entertainment District, there are loads of bars, restaurants, shows, and shopping nearby. CN Tower and Rogers Centre are a 5-minute walk, Second City Theatre is right across the street, and St. Andrews subway station and Union Station are a 7- and 10-minute walk, respectively.
Check Price & Availability
Booking.com
Delta Hotels by Marriott Toronto
Delta Hotels by Marriott Toronto – A modern classic 4-star ranked #7 of hotels in Toronto on Trip Advisor. Large, contemporary, air conditioned rooms have coffee machines, complimentary toiletries and hairdryers, and boast floor-to-ceiling windows. There is a restaurant, indoor swimming pool, fitness center, and solarium on site. Very close to the CN Tower, Ripley's Aquarium, the harbourfront, and sports venues, all of which are under 10-minute walk. Union Station is 7 minutes away, if you need the train or the subway. Lots of restaurants and pubs nearby, including a large sports pub.
Check Price & Availability
Booking.com
Bisha Hotel
Bisha Hotel – An elegant, bold 5-star hotel, one of the floors in this hotel was designed by Lenny Kravitz. Each well-sized room is individually designed, and comes with handy amenities like coffee makers, hair dryers, toiletries, mini bars, and heated bathroom floors. The hotel has 3 restaurants and a rooftop infinity pool (seasonal) with amazing views. Located just down the street from Second City Theatre, a 5-6 minute walk to the Rogers Centre and the CN Tower, 15 minutes to the Air Canada Centre, with many restaurants and bars close by. Less than a 1-minute walk to King Street public transit and 15 minutes to Union Station.
Check Price & Availability
Booking.com
Residence Inn Toronto Downtown
Residence Inn Toronto Downtown – A residence-style hotel, each room here is fairly large, with a separate seating area and kitchen, making it a good option for groups, families, or extended stays. Each room has a flat screen TV, DVD player, full size fridge, cooking utensils, bathrooms with tub and shower, toiletries, and hair dryer. A bar, fitness room, indoor pool and sauna are on site, and the hotel offers a complimentary hot breakfast buffet. Baseball stadium, CN Tower and Ripley's Aquarium are a 5-minute walk, Union Station is 10 minutes, and there are plenty of public transportation options. Bars, restaurants, and cafes all within a 5-minute walk.
Check Price & Availability
Booking.com
Le Germain Hotel Maple Leaf Square
Le Germain Hotel Maple Leaf Square – This trendy 4 star is ranked #4 for best hotels in Toronto according to Trip Advisor. Very comfortable, contemporary rooms have mini bars, coffee makers, robes, and top brand toiletries in each room. A complimentary breakfast is available each day in the restaurant. The hotel also has a fitness room and bar on site. Very convenient for events at the Air Canada Centre, which is directly across from the hotel. A 2-minute walk from Union Station, 10 minutes to Rogers Centre and the CN Tower, and less than 10 to Harbourfront Centre. There are beaches within walking distance if you're visiting in the summer.
Check Price & Availability
Booking.com
Toronto's Best Neighborhoods to Explore
As mentioned earlier, Toronto's rainbow of ethnicities are its forte. For this reason your visit should be packed full of cultural neighborhood hopping and plenty of eating too. In addition to the suggestions above on where to stay in Toronto as a tourist, here are some other parts of the city you certainly should not miss.
The Danforth: A Taste of Greece
Primarily a Greek community, and also sometimes referred to as 'Greektown.' Each summer they host 'Taste of the Danforth' which will have you chowing down on Souvlaki. If you're interested is staying in Greektown, check out this one bedroom condo on VRBO.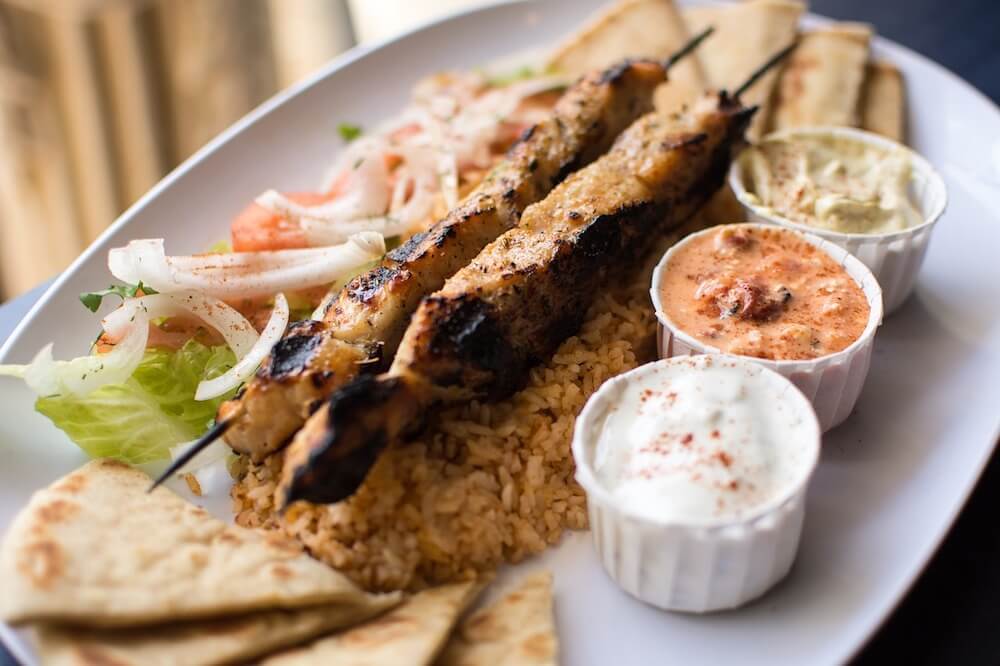 Souvlaki in Greektown, The Danforth, Photo via Pixabay

The Distillery District
Toronto was once home to the largest whiskey distillery in the world and there was a time where whiskey was cheaper than water. Today Gooderham and Worts Distillery is refurbished and has shops, restaurants and plenty of photo opportunities. My favourites are Blackbird Vintage Finds and the red heart installation just off Parliament Street. Fun fact: one of Toronto's nicknames is Hogtown. Years ago, the wheat byproduct of the whisky distillery was fed to pigs being raised in the east end and as a result of the alcohol it contained, the pigs were often drunk. If you want to check out the current distilling (and brewing) culture in this area, Mill Street Brewery for beer, and Spirit of York for spirits, are good bets.
If you're looking to stay near the Distillery District, check out this historic two bedroom townhouse on VRBO.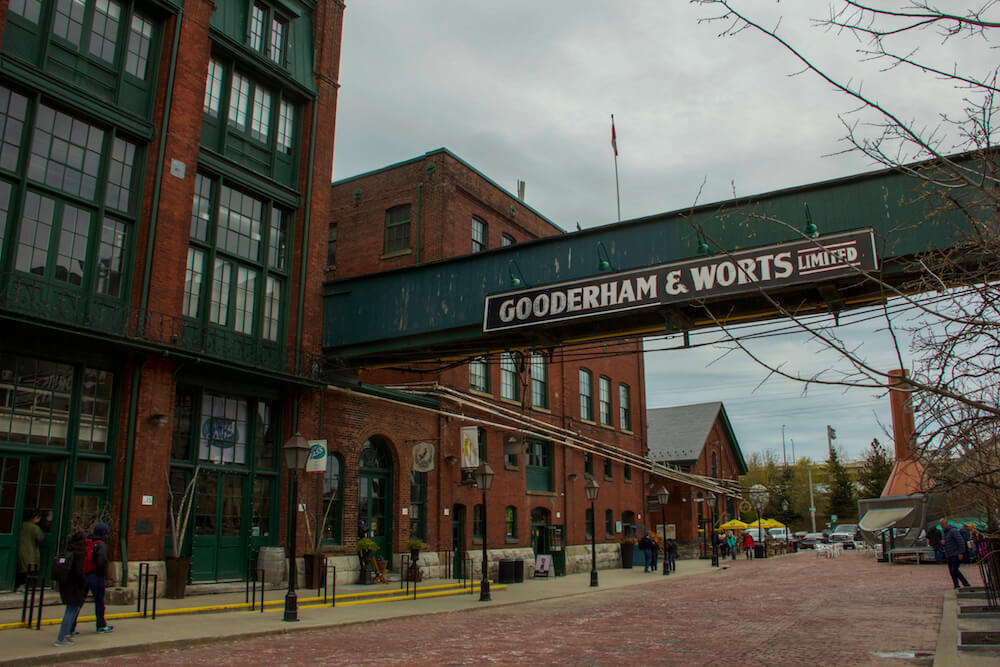 The Distillery District is a really cool place to check out in Toronto

Bloor West
This long street, that acts as a sort of marker between downtown and north Toronto, takes on a number of different designs as you travel along it. High Park is a large, beautiful park, perfect for a break from the bustle of the city, and the shops of Bloor West Village will keep you occupied for hours. The real gem though is Koreatown where you can meet your friends for Korean Grill then sing the night away at a karaoke bar.
If you get thirsty in this part of town, stop in at Burdock Brewery for local craft beer. Bandit Brewery, close to Dundas West station, is also a good bet, with a focus on Belgian-style beers.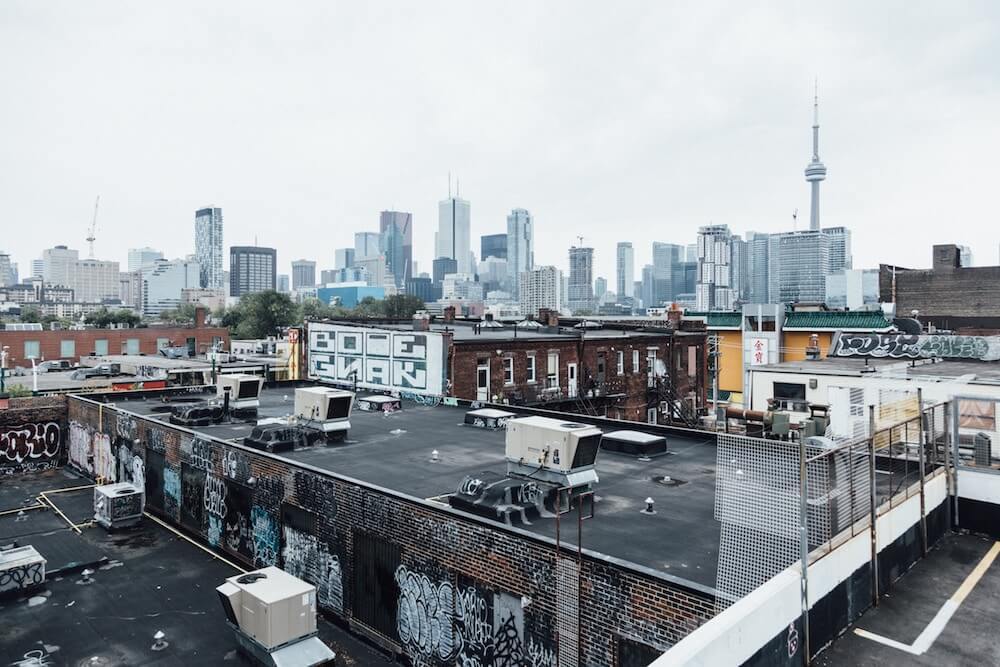 Photo by Matt Quinn via Unsplash, CC0 licence

Nathan Phillips Square
Less of a neighborhood and more of an attraction, Nathan Phillips Square is home to city hall, the Toronto sign and a fountain that becomes a skating rink in the winter. With so many cultures in one city, you'll often find a festival for a different nationality each weekend of the summer, often held here.
Top Hotels in Downtown Toronto Near Nathan Phillips Square:
The Adelaide (5-star, rated 9.3 / 10) I Shangri-La Toronto (5-star, rated 9.2 / 10) I One King West Hotel & Residence (4-star, rated 8.8 / 10) I Sheraton Centre Toronto Hotel (4-star, rated 8.6 / 10) I Hilton Toronto (4-star, rated 8.4 / 10)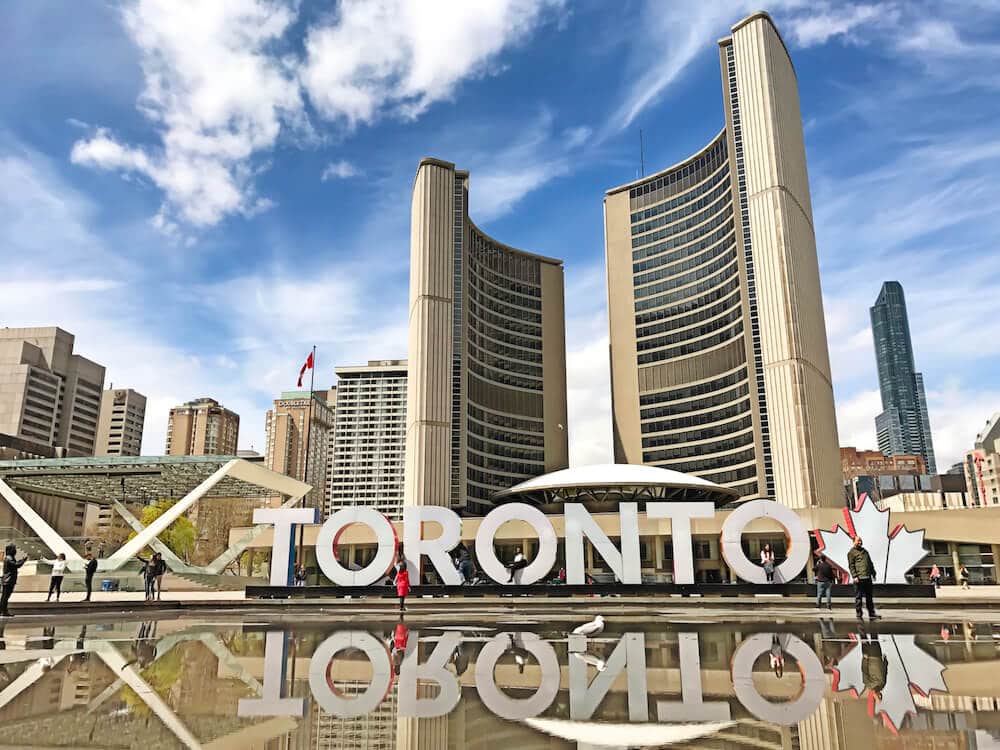 New Toronto City Hall at Nathan Phillips Square in Toronto

Church and Wellesley Village
Diversity takes on many different forms in Toronto, including boasting one of the brightest and proudest LGBT communities in the world. Centered around but certainly not limited to the intersection of Church and Wellesley, establishments like Woody's and the Glad Day Bookshop have welcomed people from all over the globe while keeping the nightly beats pumping for many years. Do not miss the annual Pride festivities in June/July for the best celebration in the city.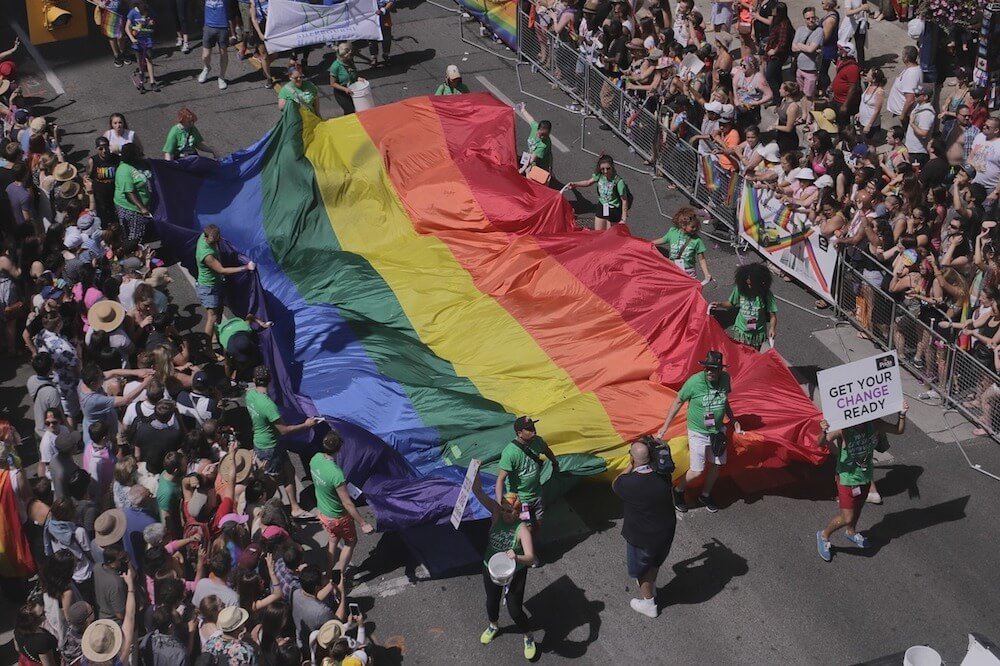 Toronto Pride, photo via Pixabay, CC0 licence

Toronto Islands: Best View of the Toronto Skyline
From the Harbourfront, you can hop on a ferry and head over to the Toronto Islands. What you'll find are beaches, parks, bicycle paths and hands down the best view of the city skyline, which in itself is an extraordinary sight to see. It's a great place to take the kids and spend the day. The most popular is Centre Island, ferries go from Queen's Quay – Jack Layton Ferry Terminal, tickets cost $7.71CAD (~$6.00US) per adult, and it includes your return trip. Ferries go regularly (about every 15 minutes) May to September. You can't stay on the island, and the last ferry is 11:15pm in the summer.
Want to see the islands as part of a harbour cruise? Check out the 5-Hour Ultimate Tour, or get a 2 Day Hop on/Hop off pass, both options include an unforgettable harbour cruise.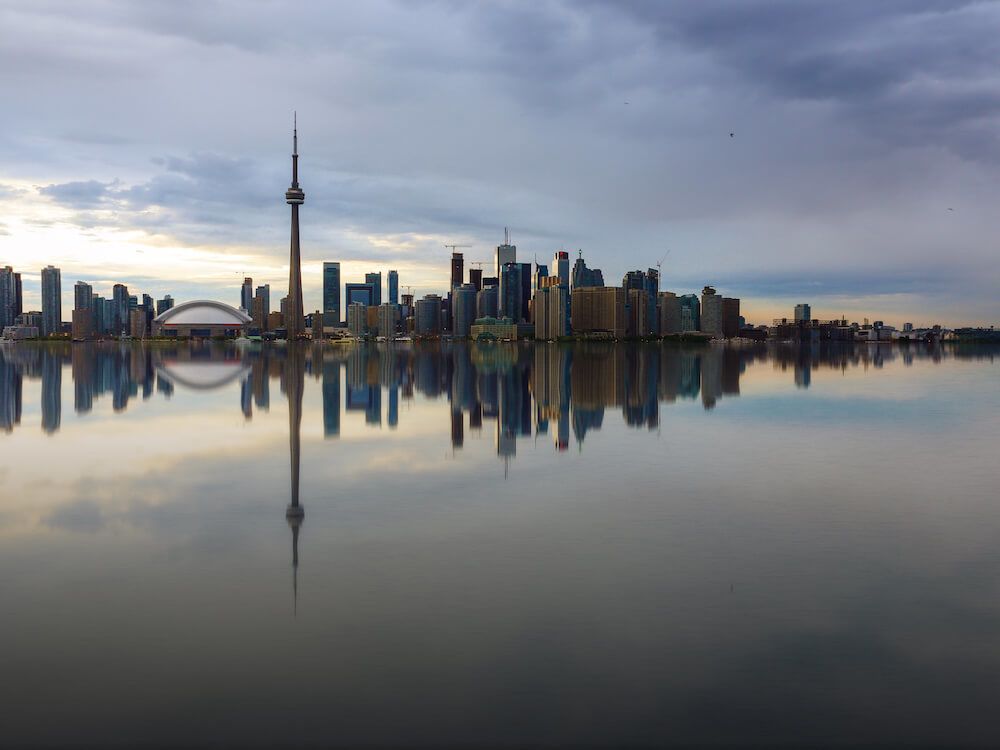 Amazing skyline views from Centre Island

Little Tibet
A true example of this city's diversity, Little Tibet in the Parkdale neighborhood of Queen West is small but thriving. I always say my favourite country, outside of Canada of course, is Tibet. Here in the west end you'll find not one, not two, but multiple Tibetan restaurants and a community of people that, like many in the city, were forced to leave their homeland and now call Toronto home. In Little Tibet you can try momos at classics like Om Restaurant and Tibet Kitchen but more importantly, you help keep a culture alive.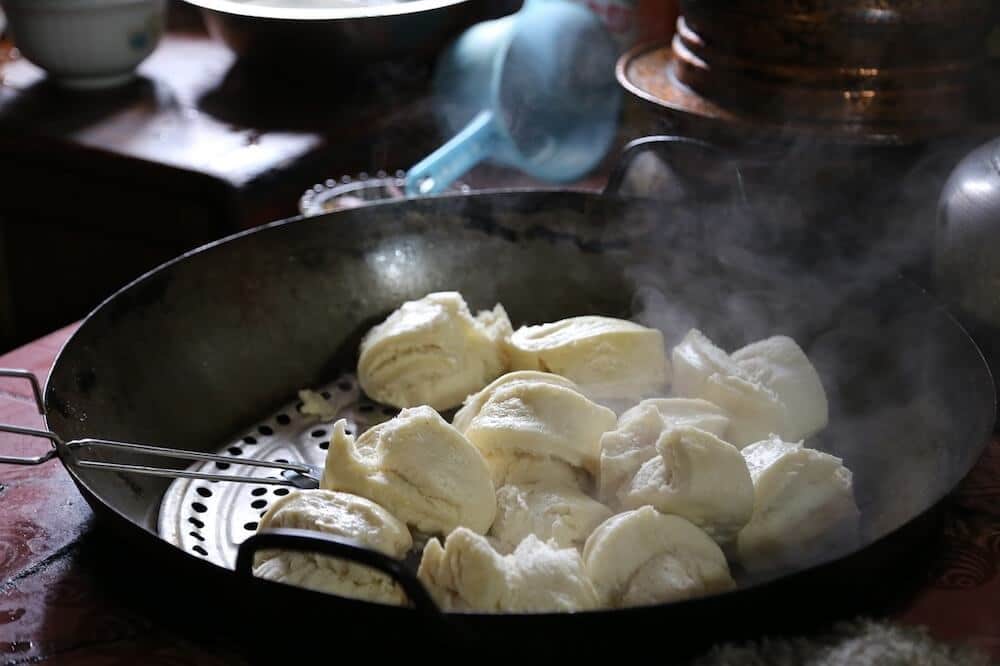 Tibetan steamed bread, Little Tibet Toronto, photo via Pixabay, CC0 licence
Go back to the top ↑
Toronto Tours and Activities
Ripley's Aquarium Skip the Line Tickets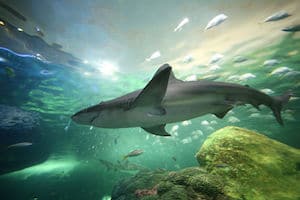 4.8 / 5 from 200+ reviews
Full Day Trip to Niagara Falls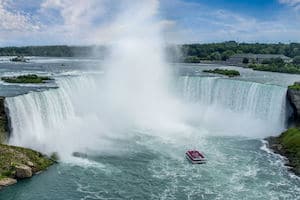 4.6 / 5 from 170+ reviews
8 Minute Helicopter Ride Over Toronto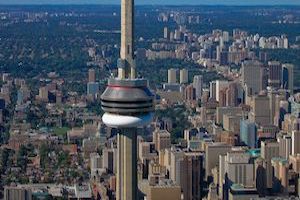 4.9 / 5 from 10+ reviews
Royal Ontario Museum Entrance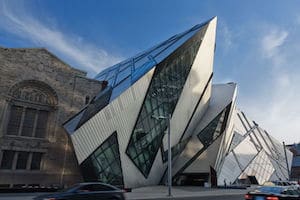 4.5 / 5 from 30+ reviews
So…Where Should You Stay?
Hopefully by now you've come to realize not only that Toronto has a lot on offer. Because of that, it's worth knowing that that where you stay in Toronto isn't necessarily where you'll spend all your time – you'll likely be all over the city in your explorations! If you are visiting because you want to go to the CN Tower, the Harbourfront, a sports game and the museums, than I would recommend staying around Yonge and Dundas. There are plenty of options for accommodation and the central location makes it easy to quickly get around the city. On the other hand, if you are all about immersing yourself in a neighborhood, having cute little shops, cafes, restaurants and bars at your doorstep and blending in with the locals, than West Queen West is likely the place for you. No matter what, with this guide as your starting point, you are sure to have a fantastic visit to this diverse, safe and vibrant city. When in doubt, say hello to a local. Not only are they friendly but they will be happy to point you in the right direction.
Best Neighborhood Overall: Front Street / Toronto Entertainment District
Best Neighborhood for Dining & Nightlife: Front Street / Toronto Entertainment District
Best Neighborhood for Catching a Baseball or Hockey Game: Front Street / Toronto Entertainment District and Nathan Phillips Square
Best Neighborhood in Toronto for Hipsters: West Queen West
Best Neighborhood in Toronto for a First Time Visit: Yonge and Dundas
Best Neighborhood in Toronto for Families: Front Street / Toronto Entertainment District is convenient for Ripley's Aquarium and the CN Tower, which are 2 very kid-friendly activities in Toronto!
Best Neighborhood in Toronto for a Local Feel: Kensington Market
Go back to the top ↑
Toronto Tips & FAQs
Getting Around Toronto
The TTC (Toronto Transit Commission) operates a network of 4 subway lines, 11 streetcar lines (Toronto's old-timey word for tram, or lightrail), and multiple bus routes. You can buy single journey tickets from the street car or bus drivers, but they do not carry change. You can buy single fare tickets, passes, and tokens from most 7-11 convenient stores, and Rexhall drug stores, or in the subway stations. They are currently rolling out the 'Presto' card, which is a preloaded 'tap' system, so this will become more and more popular through 2018. Discounts offered for students and seniors (65+), children under 12 do not require a ticket, proof of age may be required.
Single Journey: $3.25CAD (~$2.50US)
Single Journey with tokens: $3.00CAD (~$2.30US)
Day Pass: $12.50CAD (~$9.65US)
Weekly Pass: $43.75CAD (~$33.80US)
How to Get From Toronto Airports to the Center
The city of Toronto has two airports that serve the city. The most common is Pearson International, which handles most of the air traffic including domestic, long-haul and most international flights. Billy Bishop Airport is located on Toronto Island and is sometimes referred to as the Toronto City Airport. It mainly serves shorter regional flights to other cities in Ontario, Quebec, a few eastern Canada destinations and some US cities like New York, Chicago and Boston.
From Pearson International Airport to the City
Train
Union Pacific Express, or more commonly, UP Express, is an airport express train that leaves from Terminal 1. The journey takes about 25 minutes to Union Station, with stops at Bloor Station and Weston Station as well. The train has free wifi on board. You can buy tickets online, on your mobile, or at the vending machines.
Adult: $12.35 / $24.70 return (~$9.50US / $19.10US)
Seniors: $6.20 / $12.40 return
Family Pass 2 adults, up to 3 children under 19: $25.70 (~$19.85US)
Children Under 12: Free
Note: if you are travelling to Bloor or Weston Station, your ticket will be slightly cheaper.
Taxi:
Flat rate taxi fares are available from the airport. Depending on where exactly you are going, the fare should be about $50-$60CAD.
Click to read about Private Transfers from Pearson Airport
From Billy Bishop 'City Airport' to the City
Billy Bishop Airport is located on Toronto Island and is accessible via ferry or pedestrian tunnel. A complimentary shuttle bus goes to/from the pavilion on the mainland, the same place a the entrance to the pedestrian tunnel. The ferry ride is one of the shortest in the world, and is free for pedestrians ($11.00 per vehicle if you plan on parking at the airport). The complimentary shuttle bus goes between the Fairmont Royal York Hotel/Union Station and the mainland pavilion, and takes about 15 minutes. Alternatively, it's a short 3 minute walk from the pavilion to Queens Quay West where you'll find other modes of public transportation.
Go back to the top ↑
Further Canadian Trip Planning Resources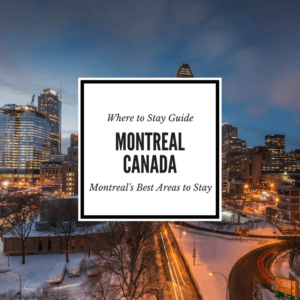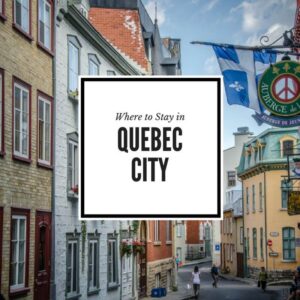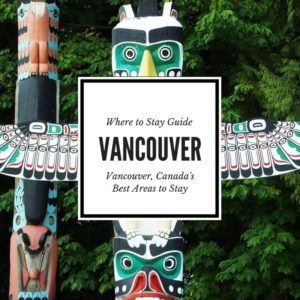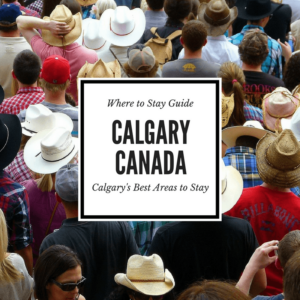 Did you know we have guides for cities all over the world?
Click here to see all of our Free City Guides
Like This Guide? Pin it for Later!