How to visit Japan's most beautiful castle, Himeji Castle. A day trip guide if you are traveling from the Kansai Region, a short distance away from Osaka and Kyoto. With picturesque fall colors or spring cherry blossom seasons, Himeji Castle is well worth adding to your Japan Itinerary
This is a guest post by Robert Schrader of Japan Starts Here


This Himeji Castle day trip guide contains affiliate links. That means we earn a commission when you use the links on this site to book a hotel, buy your travel insurance, shop for travel essentials, etc.. You don't pay anything extra. If you'd like to learn more about how this works, you can read more under our Disclaimer page.
How to Visit Japan's Most Beautiful Castle, Himeji Castle
If you're spending time in Japan's Kansai region, you have no shortage of activities to keep you busy, from the temples of historical Kyoto, to the street food of Osaka, to the wild deer of Nara, to the Western-style architecture you find in Kobe. Kansai is also a paradise for travelers who love day trips, one of the most popular of which takes you to the historical Himeji Castle from Osaka.
This post will outline not only the history of Himeji Castle and how to plan your day trip there, but some other things to do in Himeji as well. (Spoiler alert: There's a good reason it's known as the most beautiful castle in Japan!)
Himeji Castle History
Visiting this incredible structure is as much a visual experience as a historical one—I don't want you to get too hung up on Himeji Castle facts! With this being said, there are some essential pieces of information you should know in advance of your visit. Most notably, Himeji Castle was built in the year 1333 under the orders of Akamatsu Norimura, a samurai warrior who reigned during the Muromachi period. Kyoto's Golden Temple (aka Kinkaku-ji) was also originally built during this period, though its current incarnation only dates back to the 1940s.
Himeji Castle is nicknamed "White Egret Castle" on account of the white color that unifies its otherwise disparate collection of 83 buildings. The Himeji Castle interior is also notable, as it contains facilities you won't find in many other Japanese castles, such as a kitchen and a lavatory (albeit a somewhat primitive one).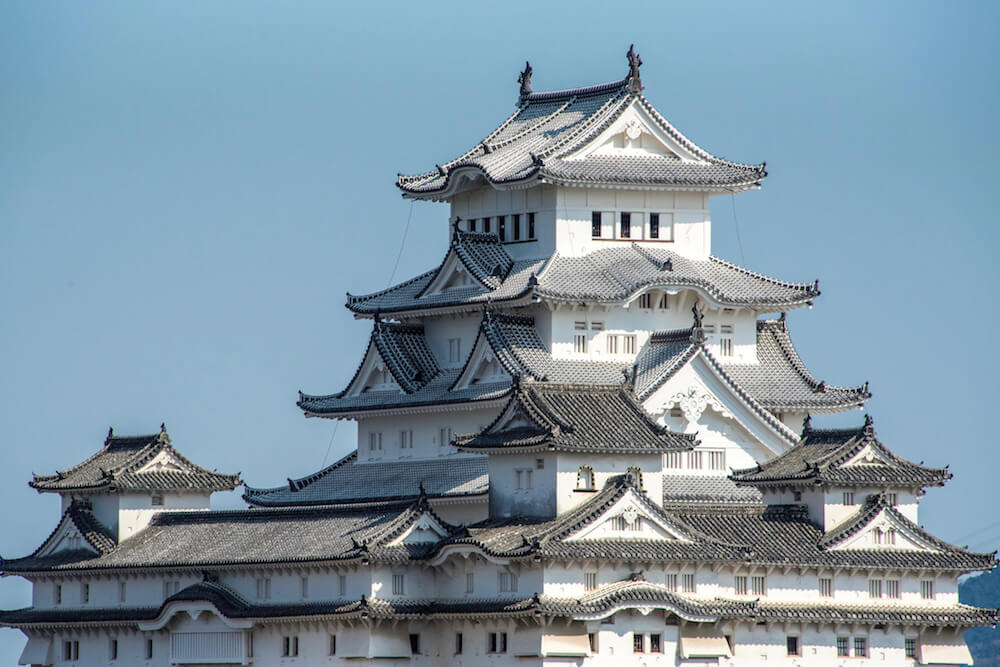 What is the Himeji Castle Entrance Fee?
When you buy your Himeji Castle tickets, the most common choice is to purchase an aptly-named "Common Ticket," which includes entrance not only to the castle, but to Kokoen Garden, which sits next door. This ticket costs ¥1,040 yen as of August 2018. You should also budget between ¥100-300 to store your bags in coin lockers at Himeji Station if you plan to travel with more than a day bag.
While entrance fees are no higher during spring's cherry blossom season, the best way to see Himeji Castle sakura is to ride a boat through the moat that circles the castle. Fares for this boat tend to be priced around ¥1,000, though the investment of time (on weekends and holidays especially, you can expect to wait at least an hour in line) is often more of a deal breaker for travelers than the money involved.
Things to Do in Himeji (Besides the Castle)
Most travelers come to Himeji only to see the castle and its surrounding structures, but if you're looking at what to do in Himeji apart from the castle, you have some options as well. Within Himeji city, you can visit the well-manicured Tegarayama Central Park, or the information Hyogo Prefectural Museum of History, as just a couple of suggestions.
If you leave Osaka or Kyoto in the morning and can wait until evening to return from Himeji to Osaka, you could actually take a day-trip-within-a-day-trip. Specifically, the ruins of Takeda Castle sit on a hilltop in Asago City, located just north of Himeji, and are an even more obscure place to visit if the crowds of Himeji-proper are off-putting to you.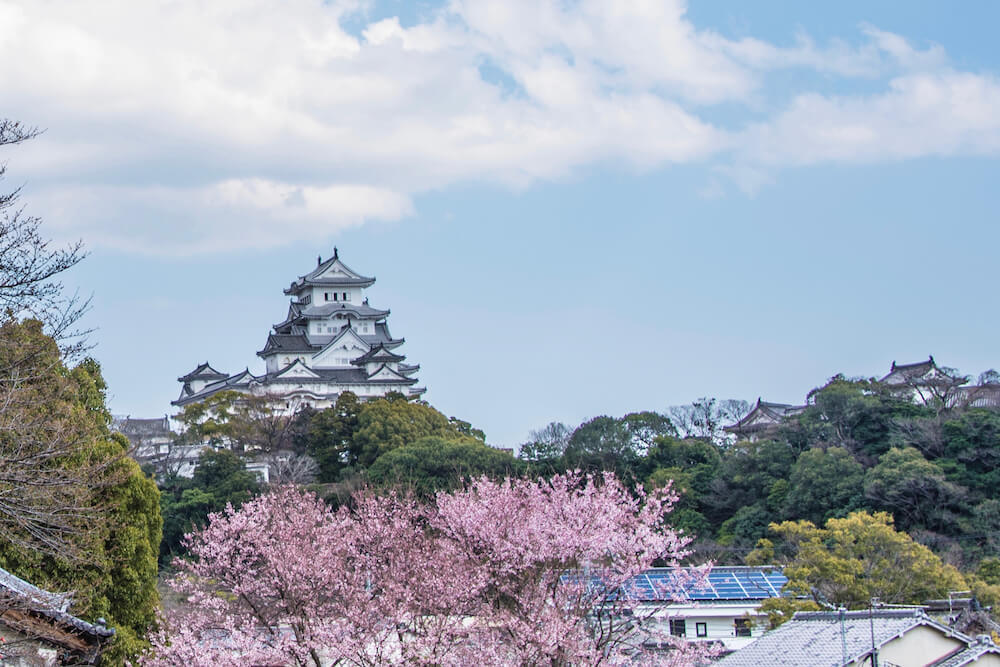 How to Visit Himeji Castle from Osaka (or Kyoto)
Travel from Osaka to Himeji is easy, and takes between 49-53 minutes when you ride the Shinkansen from Shin-Osaka station. While departures between the two cities are frequent, you should consider making a seat reservation in advance if you want to sit down on the train, particularly if you come during a busy period, such as late November when fall colors in Japan roll through the Kansai region.
Alternatively, traveling to Himeji Castle from Kyoto takes a little over an hour. In either case (even, to be sure, if you come from somewhere west of Himeji), the next part of your Himeji day trip is easy. You can actually see the castle as you exit the station; just walk straight for less than 20 minutes and you'll arrive at the entrance gate!
Want to visit Himeji Castle?
Whether you visit Himeji Castle from Osaka or Kyoto on a day trip, or decide to stay in the city and explore some of the other things to do in Himeji, it's one of the most rewarding destinations in Japan's Kansai region. Traveling to Himeji during Japan's picturesque fall color or spring cherry blossom seasons yields the most beautiful results, but Himeji is a 365-day per year destination.
When do you plan to visit Himeji for yourself?
---
About the Author
Robert Schrader is a Japan obsessed writer and photographer with a particular affinity for the country's feudal architecture. His other favorite Japanese castles include those in Shikoku's Kochi and Matsuyama cities, Matsumoto in Nagano prefecture and Hirosaki Castle, just south of Aomori City in the Tohoku region. Visit his website Japan Starts Here, and follow him on Facebook, Instagram or Twitter.
Pin this Post!