This first-time guide to visiting Xian, China includes what to do, how to get there, and where to stay in Xian. One of China's old capital cities, Xian is most famous for being home to China's Terracotta Warriors.
This is a guest post by Claire of Claire's Footsteps.


Disclosure: This Xian, China travel guide contains affiliate links. That means we earn a commission when you use the links on this site to book a hotel, buy your travel insurance, shop for travel essentials, etc.. You don't pay anything extra. If you'd like to learn more about how this works, you can read more under our Disclaimer page
---
Introduction to Xi'an, China
When it comes to Chinese cities, Xi'an stands out from the crowd. Sure, Beijing's got a ton of attractions from nearly every era of Chinese history, and Shanghai has a booming modern culture that showcases the futuristic characteristics of China.
But Xi'an boasts a whole new side to the country – because China is actually a very diverse place.
Most populous cities in China – Beijing, Shanghai, Nanjing, Qingdao – are located firmly in the east of the country. While Xi'an is not exactly west – there's still a lot of China once you get past the city – it is the start of a different type of Chinese culture. A culture that actually covers the majority of the country, space-wise. As the majority of the population lives in the east of China, it is a culture that isn't very well known.
Xi'an is the start of the silk road, the northern route of which extends all the way to Kashgar, China's most westerly city, and into the modern-day 'Stans. This means it has many more Middle-Eastern characteristics than most cities in China, the most noticeable being an Islamic influence. Because of this, some of the best things to do in Xi'an include visiting its most famous mosque, learning about the history of the religion in China and exploring the Muslim Quarter.
Xi'an is also famous for being one of the old capital cities of China. There are lots of remnants reminding us of this in and around the city, including an attraction which makes most people's China itineraries: the Terracotta Warriors. But that's not all that there is to see within Xi'an regarding its regal past – there's mausoleums, temples and city walls to explore, all which give an essence of the city.
I think that's why I love Xi'an so much – the way the city twins east and west, with a fusion of traditional Chinese history and with some notable traits that have come from the silk road, makes it a voyage of discovery. Visiting Xi'an is essential to understanding the complex and fascinating country that is the People's Republic of China.
So let's get started! This Xi'an guide will show you how to get to Xi'an, some of the best things to do in Xi'an, and hotels and hostels to stay at in the city.
Pin this Post!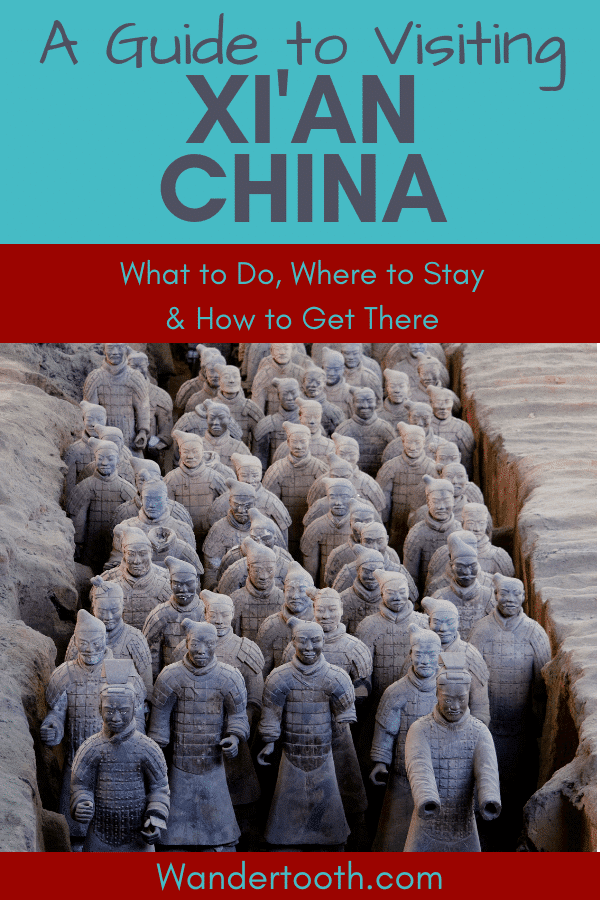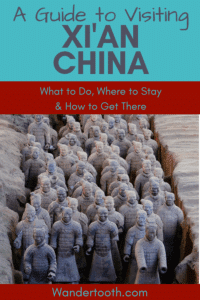 How to get to Xi'an, China
Xi'an is really well located within China. It has an airport serving many cities within China as well as other locations in Asia like Bangkok, Phuket, Kathmandu, Seoul, Denpasar and Kuala Lumpur – amongst others!
But the best way of reaching Xi'an from other cities in China is by train. Because of its convenient location at the crossroads of China, it is 13 hours (that's not very long by Chinese train standards!) from Beijing, 19 hours from Shanghai and around 12 hours from Chengdu.
These times may seem a little ridiculous (although I once took a 44 hour train in China… and that wasn't even across the whole country!) but I assure you, getting the train in China is an experience. Make sure that you book a bunk – a hard sleeper is fine for a night – and you'll have a great time communicating with your fellow passengers, watching scenes out the window and questioning the food that gets served. If you are planning on taking trains in China don't forget to add some form of entertainment – like a Kindle
or an Audible Subscription – to your China packing list.
If that doesn't sound appealing, you could take a more expensive but very enjoyable bullet train (going up to 300 kilometers per hour) which cuts the times to 5 hours from Beijing, 6 hours from Shanghai and from just 3 hours from Chengdu.
Either way, Xi'an is very easy to get to from anywhere in China or Asia!
Things to do in Xi'an, China
---
The Great Mosque
The Great Mosque really is great. It's a blend of Oriental and more middle-eastern architecture. It's not like a mosque that you'll see in the Arab world or even in Indonesia or Malaysia, but it is like no other building you'll see in China either! It's a great visual representation of the merging cultures of Xi'an.
It takes a while to explore the mosque, as there are gardens to stroll around as well as the actual building. There is also a lot of information about Islamic culture and Islam in China which is really interesting to start your education on this other side of China.
Admission to the Great Mosque is 25 yuan ($4) and is open until 6 pm in the winter or 8 pm in the summer months. Because of Xia'n's western positioning (and the fact that China only has one time zone!), it doesn't get dark until late here, and if the mosque is open until 8 pm it is quite a pleasant evening activity after the heat of the day.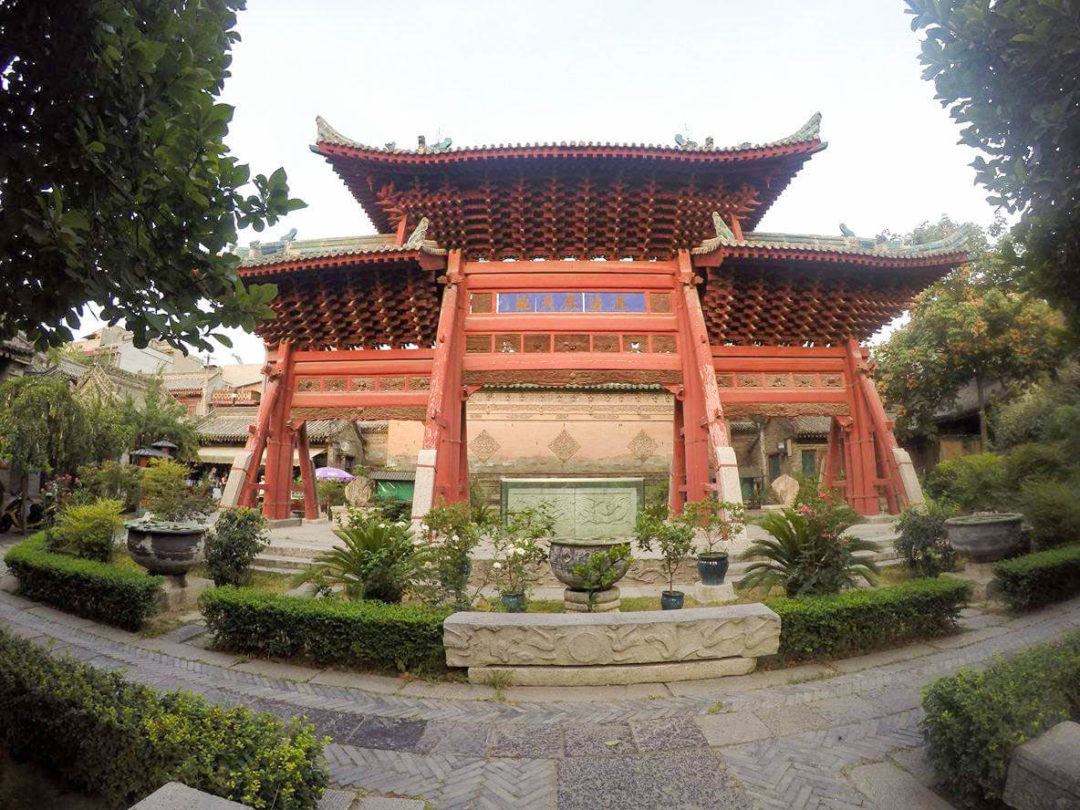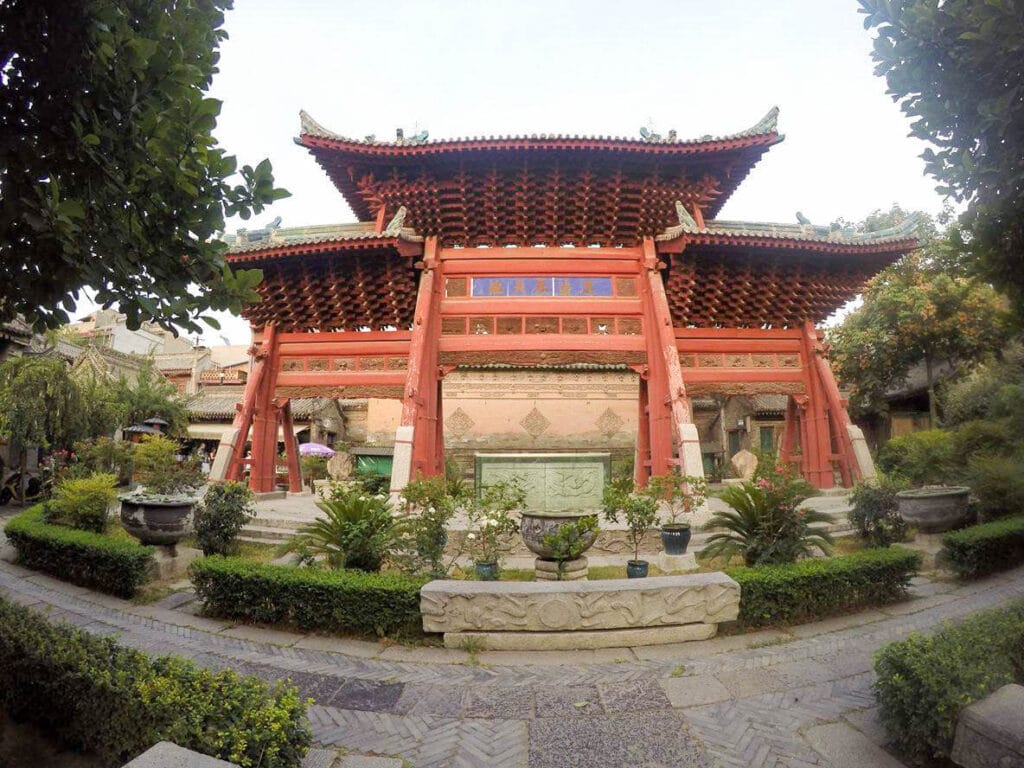 The Muslim Quarter
The Muslim Quarter may well be my favorite area of any Chinese city. It's very busy, crammed with street stalls selling everything from Tiger Balm to fried potatoes. It's a great spot to grab some street food, and it's another place to enjoy seeing the fascinating fusion of cultures in this city – you can enjoy the neon signs in Chinese characters overhead while browsing stalls that are selling food you won't find anywhere else in China!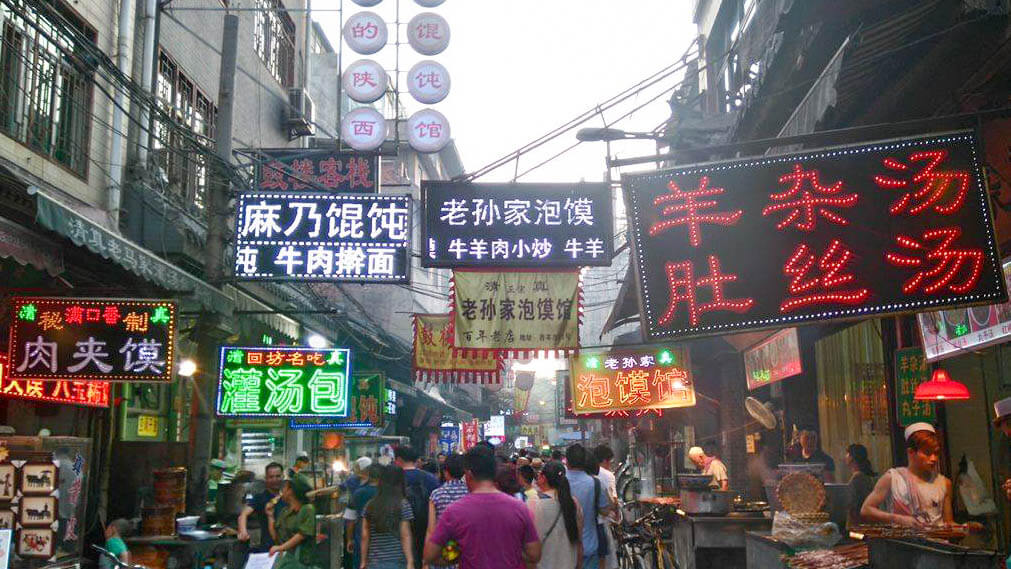 Walk or Bike the City Walls
The Great Wall takes the crown for the most famous wall in China, but Xi'an's city wall is well worth exploring as well. Once upon a time, all cities in China were walled. Most came down over time but Xi'an's remains intact around the old town.
You can climb to the steps and admire the city from above, and walk around the entire circumference of the walls. They are 13.7 kilometers in length, so if you're walking – be prepared for a hike! Of course, you can descend at any gate. The gates are decorated beautifully with lots of fortifications – attacking a gate was the only way for an invader to get into the city, so they had to be strong. The main gates even have poetic names:
East – Changle (eternal joy)
West – Anding (harmony peace)
South – Yongning (eternal peace)
North – Anyuan (forever harmony)
There are some other gates where visitors can ascend or descend too:
Heping Gate
Wenchang Gate
Hanguang Gate
There are also bikes for rent, which may be a more sensible option than walking! There are random exhibitions dotted along the wall, some with some of the most bizarre artifacts –one, which was all in Chinese, seemed to be showcasing 'ancient torture equipment'.
The city wall was first built with layers of dirt and glutinous rice extract, but in 1568 it was rebuilt with bricks. It has subsequently been restored in 1781 and 1983.
It costs 54 yuan ($8) for adults to ascend the wall and 27 ($4) yuan for woman between 1.2 and 1.4 meters. To rent a bicycle, it costs 45 yuan ($6.50) for 2 hours and 200 yuan ($29) for the deposit.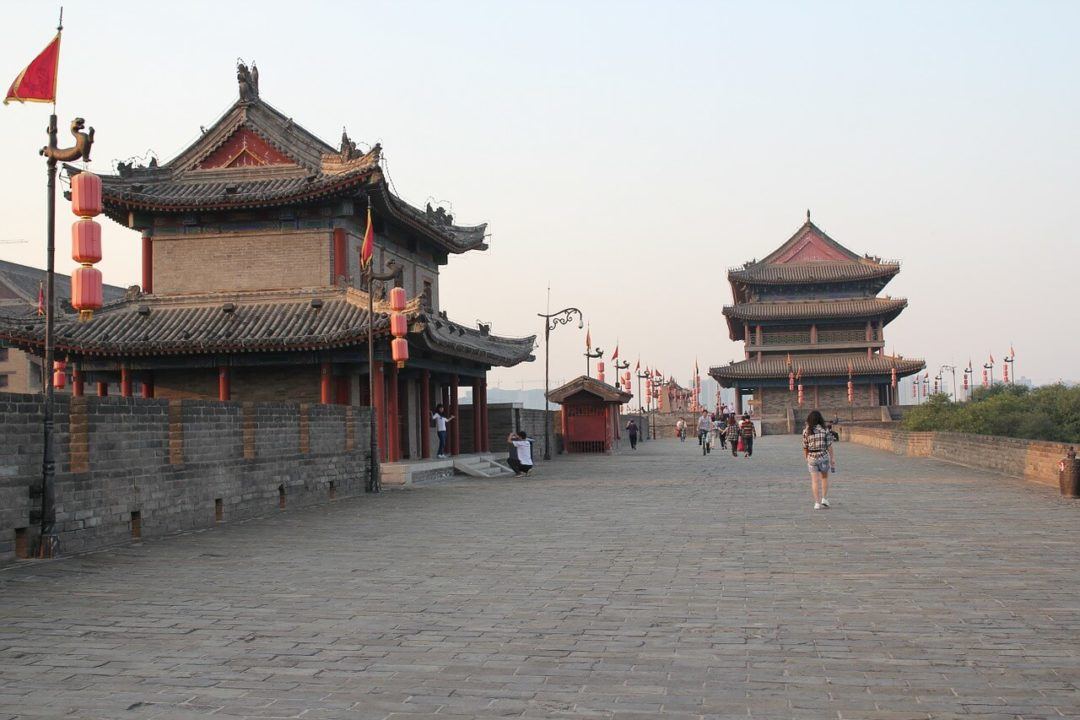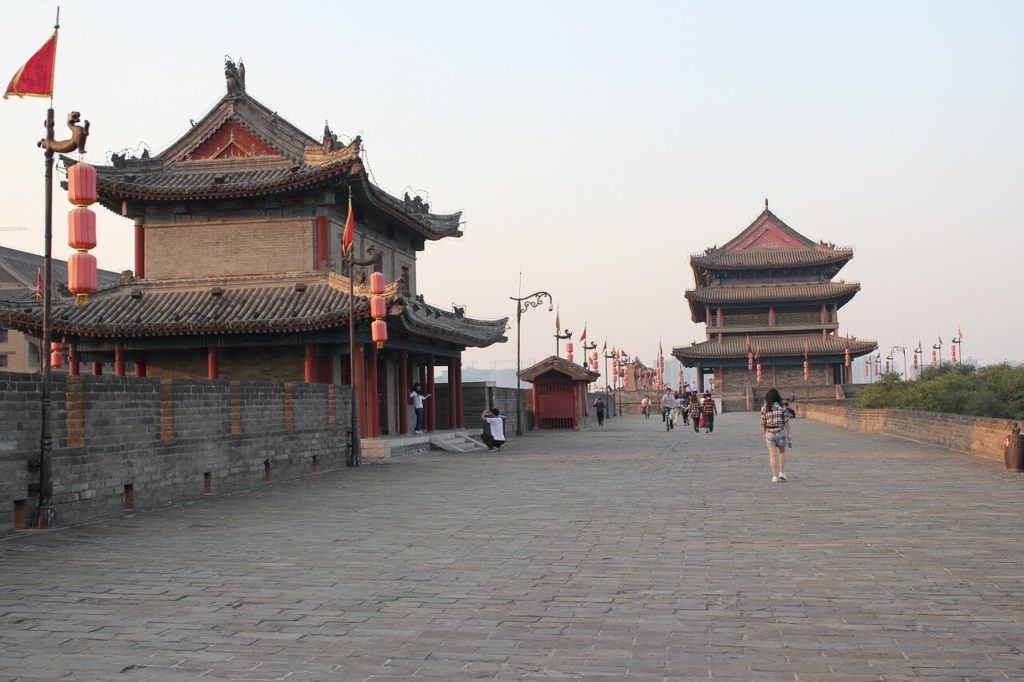 Giant Wild Goose Pagoda
It is very interesting to check out the pagoda after seeing the mosque, to see the direct contrast between the religions. The holy building is located in the south of the city and has a really distinct style of architecture.
It heralds from 652 AD during the Tang dynasty, mostly as a storage space for Buddhist materials from India! These had traveled the Silk Road with Xuanzang, one of the instrumental figures in influencing Buddhism in China.
The wider complex is Da Ci'en Temple, which contains religious buildings and a lot of Buddhist artifacts as well. There are also squares and gardens to enjoy around the pagoda – as well as the largest musical fountain in Asia!
It costs 50 yuan ($7) to enter Da Ci'en Temple and 30 yuan ($4.50) to go up the pagoda. It is open from 8 am – 5 pm daily and can be accessed by Metro Line 3, which serves Dayanta Station.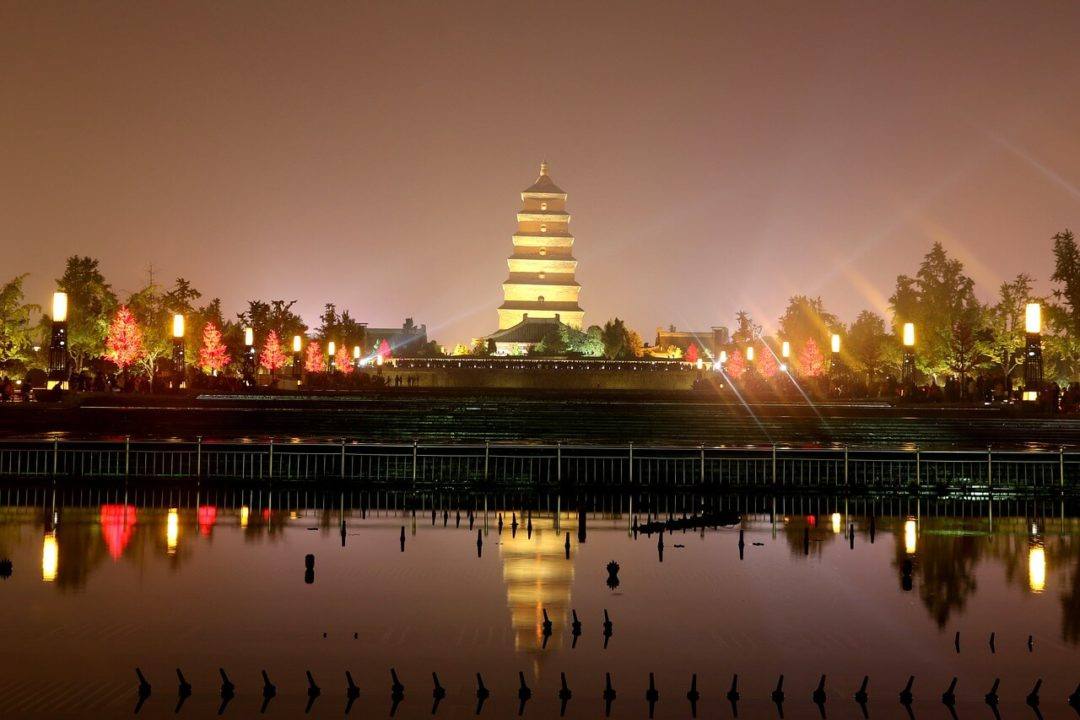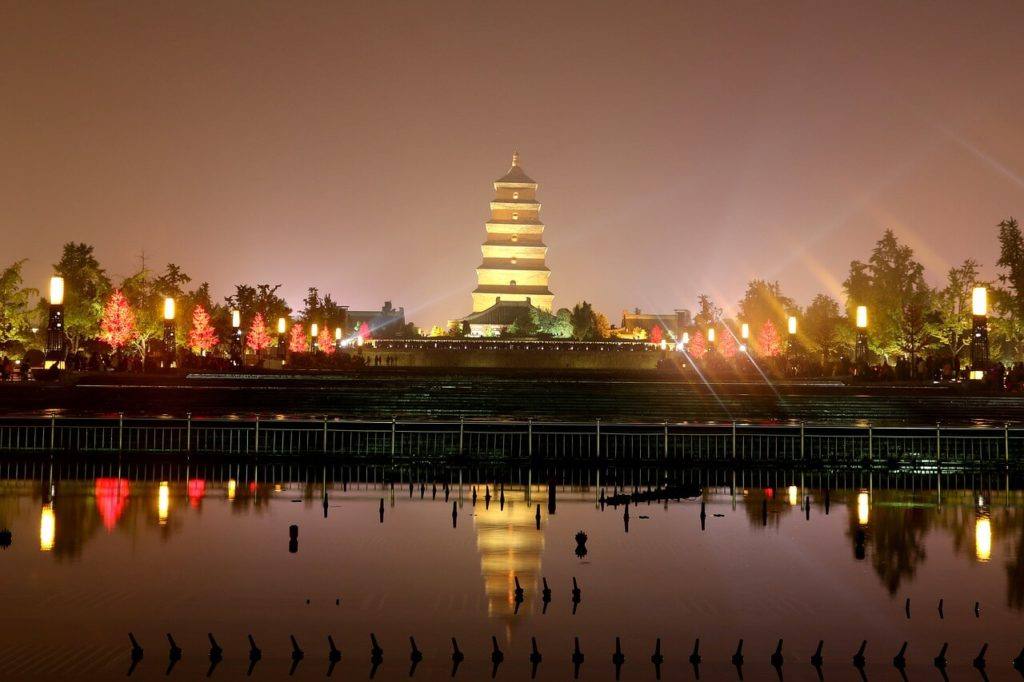 Museum of Shaanxi
State museums in China are always worth a visit. They're free to enter, and have an impressive range of exhibitions, most of which are described in English.
The Museum of Shaanxi was the first modern national museum in China, and is home to exhibitions detailing pretty much the entire history of the city – unless you want to go back further than 1,150,000 years that is!
As Xi'an was once a capital of China, and as there is that fascinating history of the Silk Road that I've been chatting about, it is well worth seeing the museum to get a firmer understanding of the tales of the city.
The Terracotta Warriors
The attraction that Xi'an is famous for… the Terracotta Warriors. While the Terracotta Warriors are a must-see while in Xi'an, I would say exploring the city is the main highlight. However, the warriors are impressive, especially when you consider the fascinating story behind them.
They were constructed on the order of Ying Zheng (who became Qin Shi Huang Di and was the first Qin emperor). He's famous for standardizing coins and measuring facilities and for designing the initial Great Wall.
But he feared the afterlife and wanted an army to protect him. Thus, the terracotta army was constructed. It took around 40 years to create the entire army, each with a different character and facial expression. The most impressive part of it, though? They were constructed in around 210 BC.
The pits were not found until 1974 by farmers who were digging a water well. They were promptly excavated and analyzed by archaeologists and then opened as a tourist attraction. There are three pits that can be visited, of varying levels of intactness.
The entrance fee to visit the Terracotta Warriors is 150 yuan ($22) in the summer and 120 yuan ($16) in the winter. The ticket price includes entrance to the Mausoleum of Qin Shihuang.
To reach the Terracotta Warriors, take a tourist bus (line 5/ 306) from Xi'an Railway Station. It costs just 7 yuan ($1) and takes around an hour. There are lots of places offering tours, but it is much more economical and easy enough to do it yourself – if in doubt, have the Chinese characters for 'Terracotta Warriors' written down or on your phone and show them to any bus driver at the station.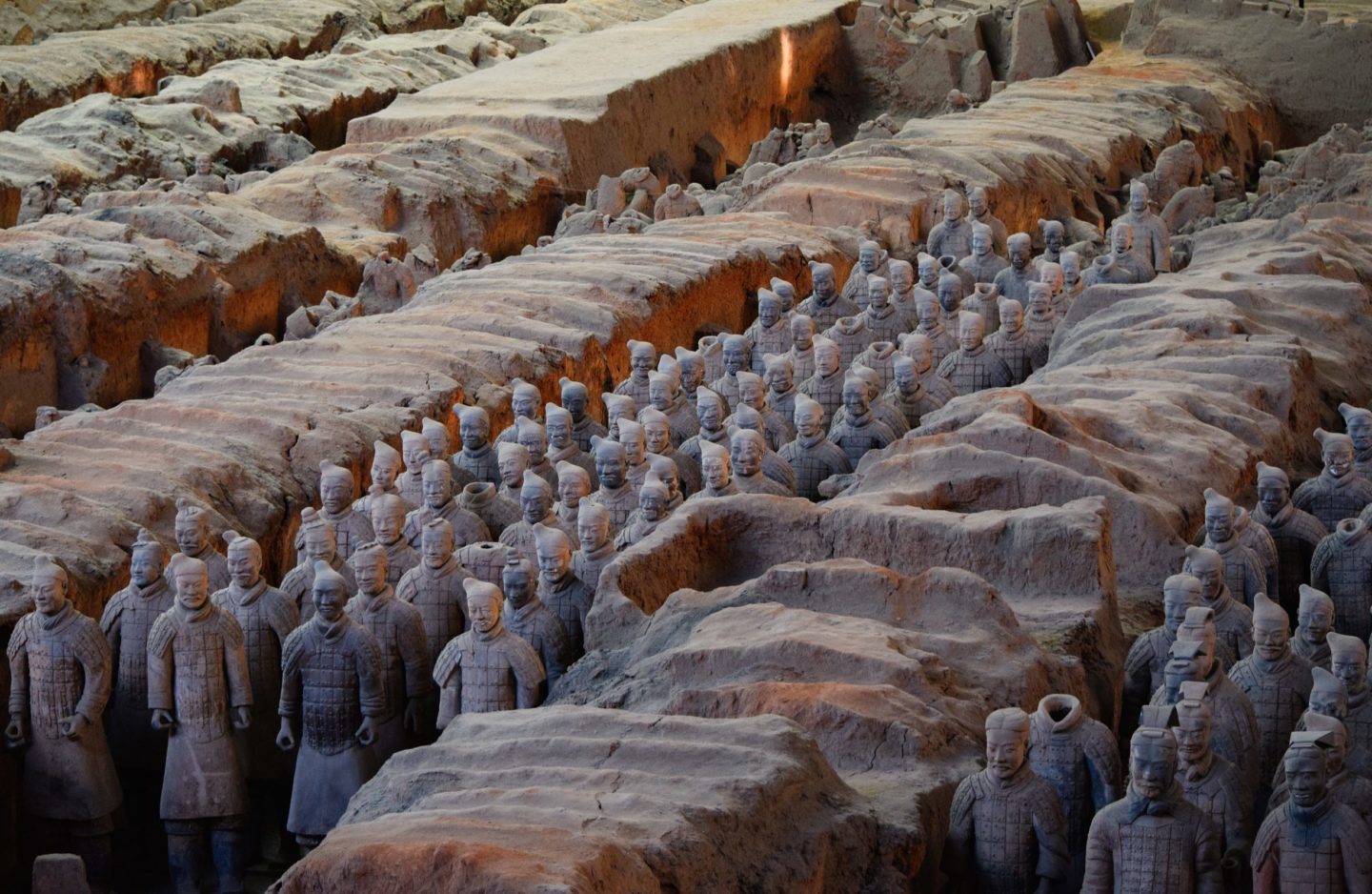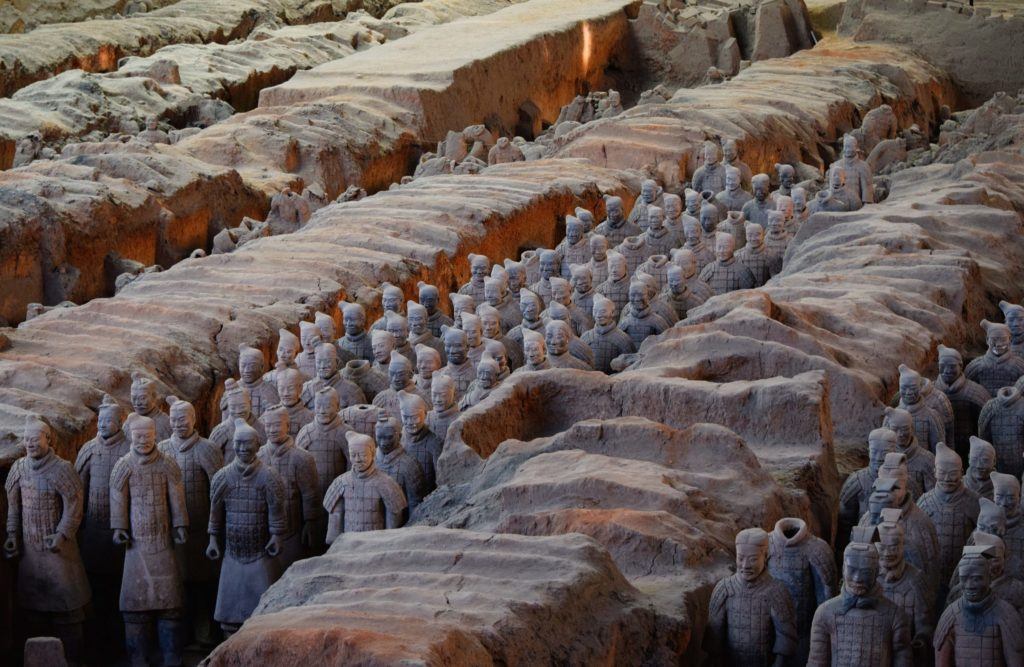 Huashan Mountain
Known by many as 'the most dangerous mountain in the world' (although I'm going to say summiting Everest is probably a bit riskier), Huashan has a bit of a bad rep. However, the 'dangerous' part only really refers to the plank walk, where brave tourists step along a narrow wooden plank on the side of the mountain, trusting in their harness to keep them from plunging the 2,160 meters into the valley below.
Whether you do that is your choice – you could just get a photoshopped image of you on it (yes, they offer them there!) and pretend – we won't tell anyone! The rest of Huashan is absolutely fine – I've climbed it, my 60-year-old dad climbed it, and we didn't have any complaints.
The most feasible option is to take a cable car up the mountain and explore from there, but the more adventurous can climb the whole mountain. There is a boardwalk pathway that traverses the five peaks – it does include some ladders that must be climbed, but nothing too scary.
As it is a holy Daoist mountain (another religion to learn about in this area of China!), there are shrines and mini temples en-route. The view was non-existent on the day that we climbed, but the mountain itself is very impressive and it was well worth it even in the fog. If you're visiting Xi'an in the summer Huashan is a very welcome respite from the city's oppressive heat!
To reach Huashan, you can take a high-speed train which takes 30-40 minutes or a tourist bus, taking 1.5 hours, from Xi'an Railway Station. The bus costs 66.5 yuan ($10) and the train varies, although does cost significantly more.
It costs 160 yuan ($23) to ascend Huashan in the spring, summer and autumn and 100 yuan ($14.50) in the winter (it will be very cold during these months!). The ticket includes entrance for two days and it is possible to stay on the mountain or in the town of Huashan, below the mountain. The cable car costs between 150-280 yuan ($22 – $40) for a round trip and between 45 – 120 yuan ($6.50 – $17.50) for a one-way trip.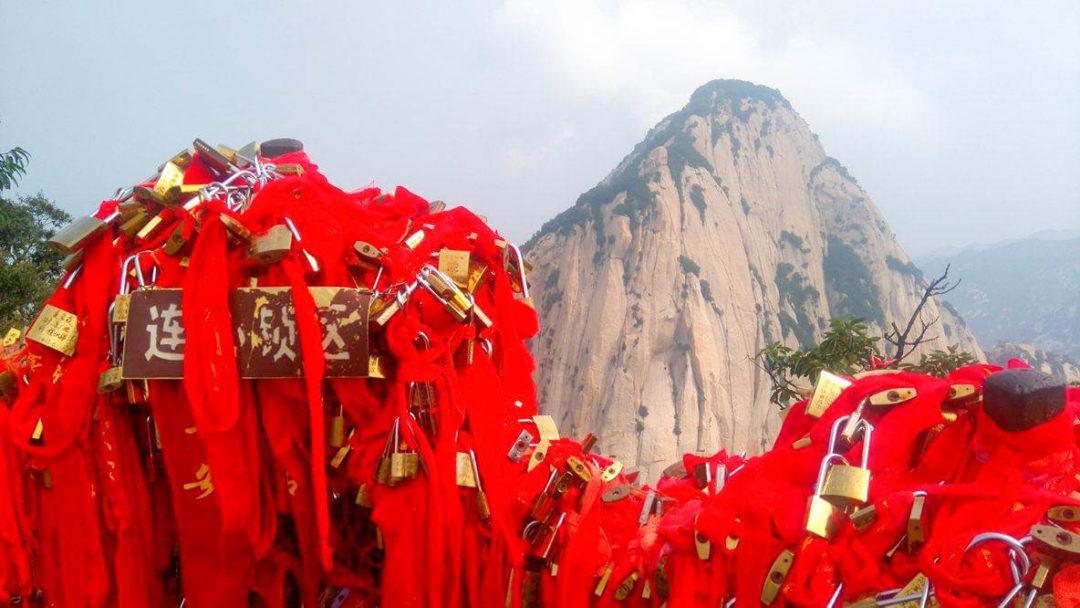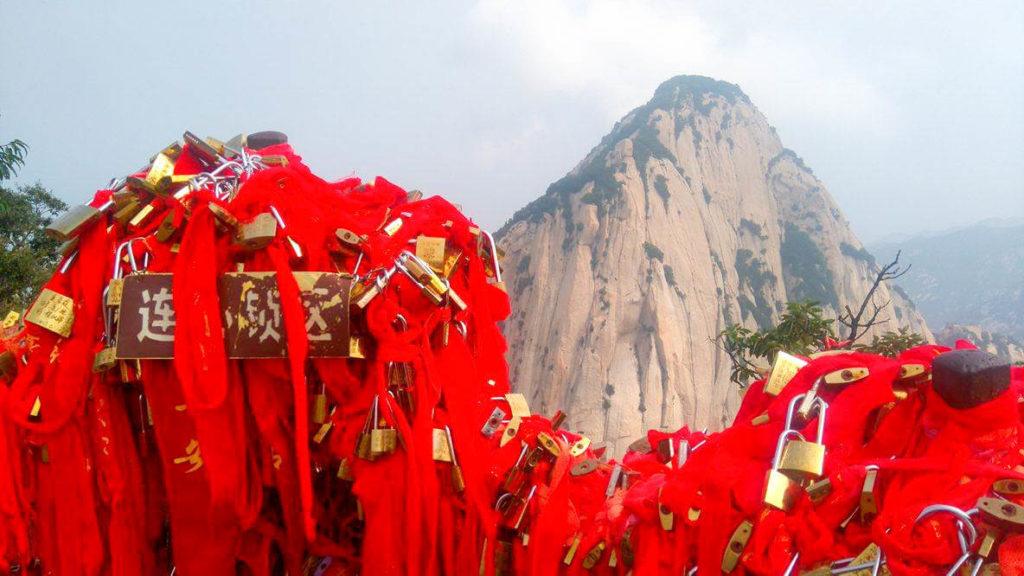 Where to Stay in Xi'an
---
Hostel: Travelling With Hostel
If you're backpacking, I recommend staying at the Travelling With Hostel. Located close to the south gate of Xi'an, it has clean, spacious dorms, a restaurant and bar, social areas and bathrooms with warm showers – all for about $5 a night. Hostels in China are possibly the best value in the world! They also offer walking tours and other events in the city.
Check Prices & Availability
Booking.com
Mid-Range: Grand Park Xi'an
A steal for what you get with the room, this hotel is located just outside of the city walls and near to a subway station. Home to a fitness center and a spa, there's all you need to unwind after a day's exploring the city. Rooms are furnished well and are spacious with en-suite bathrooms with baths, which is very welcome in Xi'an's cold winter!
Check Prices & Availability
Booking.com
Luxury: Grand Mercure on Renmin Square
If you want to treat yourself while staying in Xi'an, look no further than the Grand Mercure. This large five-star property has everything you could want in a deluxe hotel: a huge pool, a spa, a gym, a bar and great breakfasts. Rooms are kitted out with the most lavish features and en-suites with bathtubs – some suites even have a hot tub! It is located just a 10 minute walk from the Bell and Drum tower.
Check Prices & Availability
Booking.com
---
Are you ready to visit Xi'an?
I hope that this post has given you more of an insight into my favorite Chinese city! I'd recommend spending at least 3 days in Xi'an – and maybe another after returning from Huashan mountain. It's a city that keeps on giving though – if you decide to spend longer here, you won't get bored! Enjoy it!
---
About Claire
Claire is an eco-traveler and overland adventurer. She explores the world slowly, one country at a time, and is as sustainable as possible in the process. She writes about sustainable tourism, cultural awareness and publishes overland itineraries on her blog, Claire's Footsteps. She has spent a lot of time in Australia and China, she is originally from the UK and she is now living in Mexico.