With its beautiful beaches, lush rainforests, and diverse wildlife, Costa Rica is truly a paradise on Earth. But that can also make it very tricky to pack! Trust me, you don't want to be stuck in a rainforest with no raincoat. Luckily, we've been to just about every area of Costa Rica and put together the ultimate packing guide. So you'll be ready to hit the beach, the jungle, or tackle whatever adventure comes your way!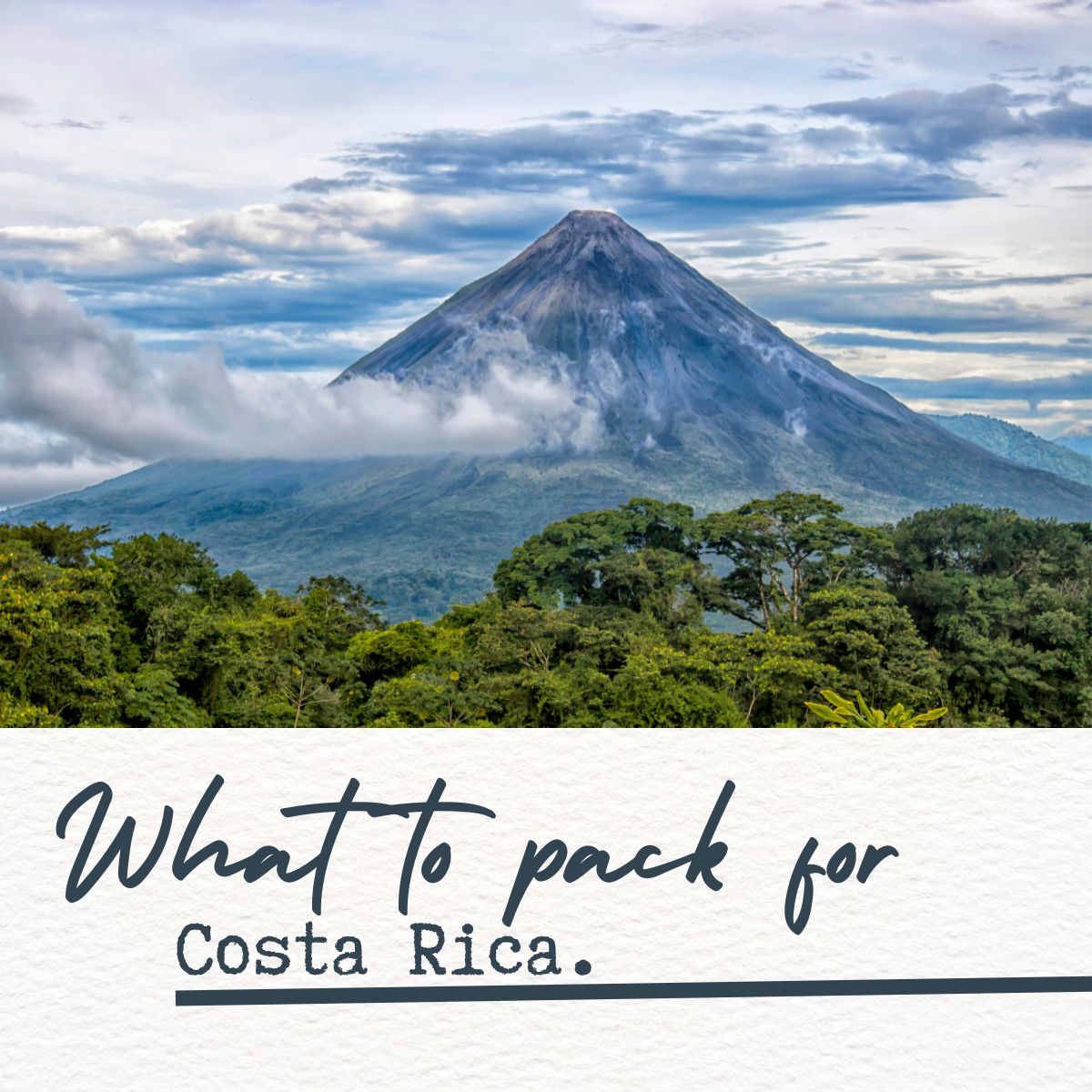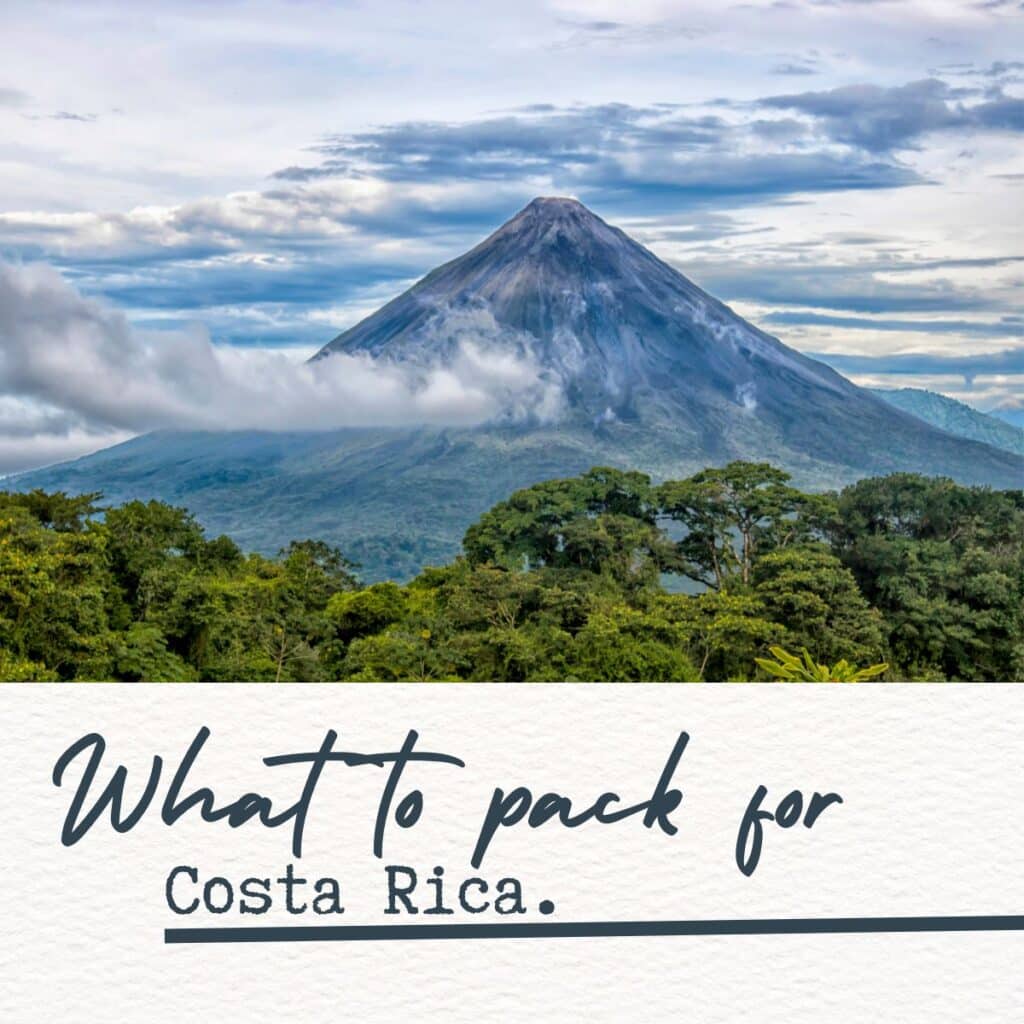 Costa Rica Packing Essentials
Costa Rica is all about outdoor adventures, so this packing list is filled with essentials to keep you cool, dry, and comfortable. You'll want to bring comfortable, quick dry clothing, plenty of sunscreen and bug spray, and footwear for hiking in the jungle and hitting the beach. Here's all the details:
Clothing – What to Wear in Costa Rica!
Costa Rica has a casual, comfortable vibe. Pura vida and all that. So don't plan on dressing up too much and plan your wardrobe more around the activities you plan to do and what will keep you most comfortable.
For the beach areas, you will be able to wear shorts, t-shirts or tank tops, and sandals pretty much everywhere. (My absolute favorite t-shirts for travel are these Bluffworks Threshold shirts.) You can pack a couple sundresses if you feel like getting a little dressier for the evenings, but you are unlikely to run into any dress codes in beach towns unless you are staying at a particularly fancy resort.
For hiking, you will want quick dry tops paired with athletic shorts or hiking pants. It is incredibly humid in Costa Rica and you will sweat a lot, meaning everything is going to be wet. I highly recommend these Under Armour Fly By Shorts for women – I wear them to work out in the hot Florida sun all the time!
In the city, like San Jose, you will probably want to dress up a bit more. It's still fine to be dressed casually, but swimwear and flip flops will be less common. For a nice evening out in the city, I would avoid shorts and stick to casual dresses for women and pants and short sleeve button down shirts for men. However, most tourists don't spend significant time in the cities, and it's not how I would spend my time in Costa Rica either!
Footwear
I like to bring the following shoes with me when we visit Costa Rica, depending on the activities that we have planned:
Flip-flops or water resistant shoes for the beach and hanging around in beach towns. As a Floridian, I have tested out way more than my share of flip-flops and my favorites are still these Rainbows. I also was recently gifted these Kane Revive shoes which are perfect for a beach vacation – they're cute, comfy for walking, and water resistant!
Hiking shoes or trail runners for activities like hiking, ATV riding, or zip lining. Many of Costa Rica's adventure activities will require wearing closed toed shoes, so don't skip bringing these along. My husband and I both wear these Keen Targhee hiking boots any my son likes the Merrell Moabs. Both also come in a hiking shoe style without the tall ankle. If you prefer trail runners, the Salomon Speedcross trail runners are a great choice.
Dressier sandals or flats. I like to bring along a nicer pair of sandals for pairing with sundresses or skirts and tanks in the evening, when I'm tired of wearing my sandy beach shoes. If I was spending time in the city, I would trade these for a pair of basic ballet flats.
Rainy Season Gear
If you are visiting Costa Rica during the rainy season (May thru November), be sure to pack along a waterproof jacket. We tested out about a zillion rain jackets for our trip to Iceland last year, so I can confidently recommend the Columbia Arcadia jacket. These are truly waterproof, not just water resistant.
If you don't want to invest in a rain jacket, at least pack along some ponchos (like these) that you can throw on if you find yourself stuck in a downpour in the middle of your jungle hiking excursion.
Swimwear, Coverups, and Rash Guards
If you're spending any time in the beach areas, don't forget your swim suits! Anything goes here for ladies – you will see modest one pieces and teeny tiny bikinis, so wear whatever you're comfortable in. For men, you will mostly see swim trunks and board shorts, rather than the European style speedos. But you will need to wear something – nude and topless sunbathing is not a thing here. At least not anywhere I have been. I always bring two swimsuits and alternate them – wear one while the other dries.
A comfy beach coverup is a must, so you can venture straight from the beach into the beachside bars and restaurants. I personally like these shirt style coverups- very cute and comfortable. I have it in two colors!
If you plan on doing any surfing (and you should!), I suggest bringing along a rash guard as well. It's simply a lot more comfortable to surf in than just a swim suit, and you don't have to worry about anything um.. falling out. Rash guards are also great for preventing sun burn – my son almost always wears one at the beach.
And if you are sticking to the volcano areas on this trip, you will still want to bring along a swimsuit for testing out the many beautiful hot springs in those areas!
More Essentials!
Refillable Water Bottle
While you can certainly find bottled water in Costa Rica, it's more expensive than back home and also discouraged due to the environmental impact. The water is safe to drink throughout Costa Rica (at least in any tourist oriented area), so I like to bring along a refillable water bottle. I personally like these Yeti Rambler bottles that stay cold all day. I'm also a fan of these Nomader travel water bottles that roll up small for packing.
Reef Safe Sunscreen
You will need a lot of sunscreen on a Costa Rica vacation! And while no one will be checking your bag, I strongly encourage you to choose a reef safe sunscreen if you plan on spending time in the ocean. I prefer the Sun Bum sunscreens and also really love their chapstick with sun protection too. You will be able to buy sun screen there as well, but the selection will be more limited and more expensive than bringing it along.
Bug Spray
The mosquitos are real in Costa Rica, and they are there at all times of year! You are going to want to have plenty of mosquito repellant both in the coastal beach areas and in the jungles. I'm a mosquito magnet and like to carry these bug spray wipes with me for travel – easy to fit in my purse and they weigh less than a can of spray.
Medicines and Emergency Kit
In addition to my usual travel toiletries, I like to bring along a small supply of OTC medications when we travel. There is just nothing worse than falling sick on a vacation and not being able to get a hold of some simple meds that would make you feel better. A lot of items that are readily available in the U.S. will require a trip to the pharmacy (or even a prescription) in other countries. The exact items I bring always depend on the destination.
For Costa Rica, you will be able to find basic cold and flu meds in convenience or grocery shops throughout the tourist areas, so I don't overpack. But I do bring along the things we are most likely to wind up needing – Ibuprofen, kids fever meds, ant-diarrheal tabs, and motion sickness meds. (The last one is a good addition if you plan to do any boating!)
I also like to take along some Neosporin (good for small scrapes and bug bites) and some aloe vera gel for when I inevitably get sunburned.
Oh, and a note for the ladies. It can be very hard to find your choice of feminine products in Costa Rica, and downright impossible to find tampons. So if you think you might need these on your trip, bring them from home!
Backpack for Daily Use
You'll be out exploring a lot on a Costa Rica vaca, so I recommend using a backpack as your daily bag. As a mom, I know my bag is always filled with everyone's water bottles, snacks, towels, and toys. I personally use this lightweight travel backpack. It is super cheap, lightweight, and comfortable. I use it as my carry-on for the airplane and then it becomes or day bag for both hiking and beach days. And if I don't need it for the plane ride home, it folds up into a little pouch so it's easy to pack.
If I'm toting my photography gear along, I bring a more substantial pack for that like this camera bag. But I wouldn't take that to the beach!
If you're planning a river rafting adventure on your trip, you might want to consider bringing an actual dry bag to keep your things safe if they take a dunk in the river.
Quick Dry Beach Towels
If you're staying at a beachfront resort, they will certainly provide you with towels to use at the pool and beach. But if you plan to do any adventuring on your own – exploring further out beach areas, swimming in natural hot springs, or hiking in the rain forest, you're going to want to bring along your own towels.
We personally use these Turkish beach towels – these are our everyday towels for the pool and beach at home in Florida. They are super lightweight and thin so they're easy to pack and carry around, taking up barely any space in my backpack. And they dry super fast so they're ready to go again in no time. They also make a good beach blanket or picnic tablecloth in a pinch.
Sunglasses (and a strap!)
As someone who loses at least one pair of sunglasses on every vacation, I now pack two dirt cheap pairs everywhere we go. I'd also suggest one of these handy sunglass straps to keep them from winding up at the bottom of the ocean.
Waterproof Phone Pouch
I consider one of these waterproof phone pouches to be an essential for every beach vacation these days. Attach it to a lanyard and you can keep your phone and cash on you easily while you swim or even during activities like river tubing and ziplining. And you will be surprised at how decent the pictures and videos are when taken through the clear pouch as well!
A Real Camera (maybe)
Believe it or not, some of us are still into real photography with real cameras. I know – I am a nerd. Depending on what you plan to do while in Costa Rica, it may or may not be worth toting around "the big camera". There's a few great options:
Go Pro – A GoPro Hero is the obvious camera of choice if you want to capture all the action on your ziplining, river tubing, canyoneering adventures. Another option is the newer Insta360 camera line. These are all waterproof too, so great for the beach as well.
Waterproof Camera – If you want something to use at the beach, the Olympus TG-6 is by far my favorite waterproof camera. If you just want to capture a few memories and aren't too concerned about having top quality images, you can grab an inexpensive waterproof camera like this one on Amazon. We have one of these for my son, and it's perfectly adequate for snapshots at the beach.
DSLR or Mirrorless Camera – If you are a more serious photographer, you may want to consider bringing along your kit if you plan to shoot wildlife or high quality landscape images. I shoot Nikon and like to bring my 24-70 lens as my "walking around lens" and either the 70-200 or 150-600 for wildlife shots.
Bring plenty of SD cards as it can be hard to find them here as well!
Binoculars
If wildlife or bird watching is a big part of your plans, consider bringing along some binoculars. You don't need to invest in anything fancy – we use this inexpensive pair and they are just fine.
Flashlights
One thing we discovered quickly on our first trip to Costa Rica is that there is practically no light at night. Most of the resorts observed a "dark sky" policy where they turn off lights in the evenings to help prevent light pollution and protect wildlife like sea turtles that can be confused by artificial light. This is awesome – until you want to go grab a drink at the bar at 8pm and fall on your face. So now we bring little flashlights along – some hotels will even loan them to you at check in.
If you plan on scouting out any sea turtle nesting areas (and do so at a respectful distance), you will want a red light flashlight that doesn't cause confusion for them. Although it's best to do this on a tour, where your guide will provide the lights you need. Bonus – If you're into night photography, these are also great for focusing your lens in the dark.
Power Bank and Chargers
The power outlets and voltage in Costa Rica are the same as in the U.S., so if you're a US traveler you won't need any adapters.
I always like to bring along at least one of these power banks as well, which I keep in my backpack throughout the day. You don't want to be caught with no power when your cell phone dies and you need directions, or even when you just want to capture some photos.
And if you will be renting a car, be sure to bring along one of those old school chargers that plug into the cigarette lighter. Most of the cars are older models and won't have a USB outlet.
Spanish Phrase Book
In tourist centric towns, you will find it easy to get by with just English. But it's helpful to know at least some common phrases and greetings in Spanish. You can pick up a pocket guide, especially helpful if you don't have reliable cell service for Google Translate.
Travel Documents and Maps
Of course you'll need your passports to get into Costa Rica (and possibly a visa, depending on which country you are coming from). Also note that if you are driving a rental car, it's expected that you carry your passport on you and you will need to show it to police officers if you get pulled over. A copy may or may not be acceptable.
I also recommend printing out confirmations for hotels and tour reservations, as you may not have reliable cell phone service when you need it. For the same reason, it's helpful to have a printed map of the areas you plan to visit. And lastly, don't forget to download the Google maps for the area so they can be used offline.
Also note that you may be asked to show your return travel itinerary when you enter the country. They want to see that you do actually plan to leave after your vacation! So that's another good reason to have them printed out and ready to hand over.
Cash (small bills)
Most restaurants and shops will be able to take credit cards, especially in popular tourist areas. But you may run into some smaller locations (think food stand near the beach) that can only accept cash. It's also helpful to have small bills available for tips. You may not find a gratuity line on the check, so you'll need cash if you want to leave anything extra. The US Dollar is welcomed just about everywhere, so no need to exchange money if you're a US traveler.
Packing by Costa Rica Destination
Volcano Area – Arenal, La Fortuna, Tenorio
In dry season, you can expect hot weather and will be most comfortable in shorts and t-shirts here. Hiking and zip lining are the most popular activities here, so you will need sturdy closed toed shoes, ideally hiking boots or trail runners. If you plan on river rafting, you may want water shoes for that particular excursion.
And of course, don't forget to bring your swim suit for enjoying the hot springs!
Monteverde Cloud Forest
Monteverde sits at a much higher elevation than the other destinations on this list, so it also gets much cooler there. Depending on the time of year, you may find it gets as cold as 50F in the evenings. If you'll be spending time here, add some sweaters and long pants to your packing list.
And you'll definitely need all the waterproof gear and rain jackets for Monteverde at all times of year – it's literally a rain forest.
Guanacaste and Nicoya Peninsula (Tamarindo, Samara/Nosara, Culebra, Conchal, Montezuma)
These areas are all about the beach! So make sure you pack all the sun protection. You can plan to be very casual in shorts, t-shirts, and tanks pretty much all the time and flip flops are a definite go!
If you plan to spend most of your time at the beaches, you'll definitely want to bring along quick dry beach towels. And if you're bringing kids, consider some beach toys like these fold-flat beach buckets or inflatable swim noodles.
Manuel Antonio
Pack similarly to the beach areas above, but you will certainly spend some time in the Manuel Antonio National Park as well. So you'll also want to make sure you pack good hiking shoes, plenty of bug spray, and any binoculars or camera gear you want for wildlife viewing.
Packing by Costa Rica Activity
Hiking
If you plan to do a lot of hiking in Costa Rica, be sure to pack along a good pair of hiking boots. I personally recommend the Keen Targhee Hiking Boots, which come in both a high and low ankle version. Proper footwear will keep your feet dry and help you stay safe in slippery wet terrain.
You will also want to pack some quick dry clothing, as things can get very moist when hiking in the jungle! If you'll be sticking to the warmer areas such as La Fortuna or Manuel Antonio, shorts and t-shirts should suffice. If you are venturing to the higher elevation Cloud Forest in Monteverde, pack water resistant hiking pants and a light jacket for chillier temperatures.
Be sure to also bring along a water bottle, lots of bug spray (the mosquitoes are serious business here), and consider some of these cooling towels to stay more comfortable.
River Rafting or Tubing
If you are planning a tubing or river rafting adventure, you'll want to bring a swimsuit (obviously) plus water resistant shorts and a tank or t-shirt to wear over top. You will also need some type of closed toe footwear that can get wet. I suggest water shoes or waterproof trail runners. Be sure to ask your tour company if they have any specific requirements.
Zip Lining
For ziplining, you'll want comfy athletic clothes that you don't mind getting very dirty and wet. Keep in mind that a harness will need to fit over top of your clothing, so stick to simple shorts or leggings with a t-shirt or tank. You will also need closed toe shoes that will stay securely on your feet! No sandals that could come flying off in the jungle!
Surfing
If you plan to try out surfing on your vacation, be sure to bring a rash guard to wear over your bathing suit. It will help protect you from the sun, and also help keep you from a bathing suit mishap. ;) And consider packing some zinc sunscreen in addition to your regular lotion – the sun on the ocean can be very intense!
Horseback Riding
And if horseback riding is on your agenda, be sure to bring a pair of long pants to protect your legs from saddle sores. Leggings will work just fine for this. And you will need closed toe shoes as well – it's always best to wear shoes with a slight heel for riding to help prevent them from getting stuck in the stirrups. But if you don't have anything like that, sneakers will be fine.
What Not to Pack for Costa Rica
Ok, so here are the things you really don't need – despite what other "must have" lists might tell you.
Jewelry and Valuables. Personally, I think bringing expensive trinkets along on any vacation is silly. And Costa Rica does have a well known issue with petty theft. It's generally a safe country and violent crime is very rare. But if you leave anything valuable on your beach chairs or in your unlocked rental car, it's going to be stolen. Just leave it home.
Fancy clothes and footwear. The vibe in Costa Rica is very casual. So unless you've made specific plans to dine at an upscale restaurant or are staying in a five star resort with a dress code, you aren't going to need any fancy clothing. Likewise, it will be downright hard to walk around most Costa Rican towns in high heels. Just don't try.
An umbrella. While it might seem counterintuitive, an umbrella is really a big hassle to carry around while doing all the activities Costa Rica is famous for. It's much easier to just wear a rain jacket or a poncho and get on with your day!