So you want to try surfing in Tamarindo? Let me give you the scoop on our family surfing lesson experience!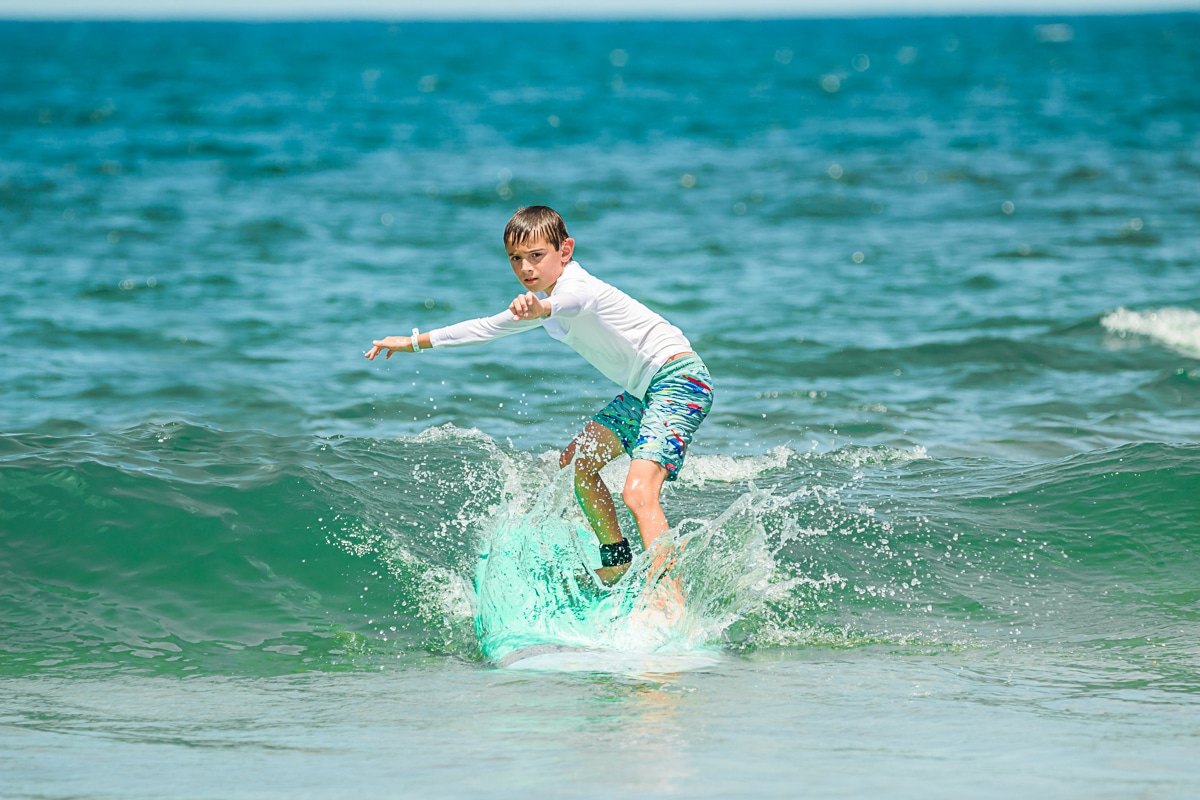 Surfing has been our travel bucket list for quite some time. And Tamarindo, Costa Rica is known around the world for its perfect waves and surfing culture. It's seriously a whole vibe here. So we figure our five night family vacation in Tamarindo would be the perfect time to finally try it out. Only problem – we don't know how to surf.
But no issues there. You can throw a stone on Tamarindo Beach and hit about a dozen surf instructors. So for our first day in town, we opted to take a family surfing lesson with Iguana Surf, one of the most popular and highly rated surf shops in town. (P.S. I'm not affiliated – we just had a great time!)
Our Surfing Lesson!
We met up at the surf shop at 9:45AM for our 10AM surfing lesson. They had us stash all of our stuff in a locker- even flip flops and towels. And then our surf instructors, Manuel and Manfred picked out the perfect surf boards for us.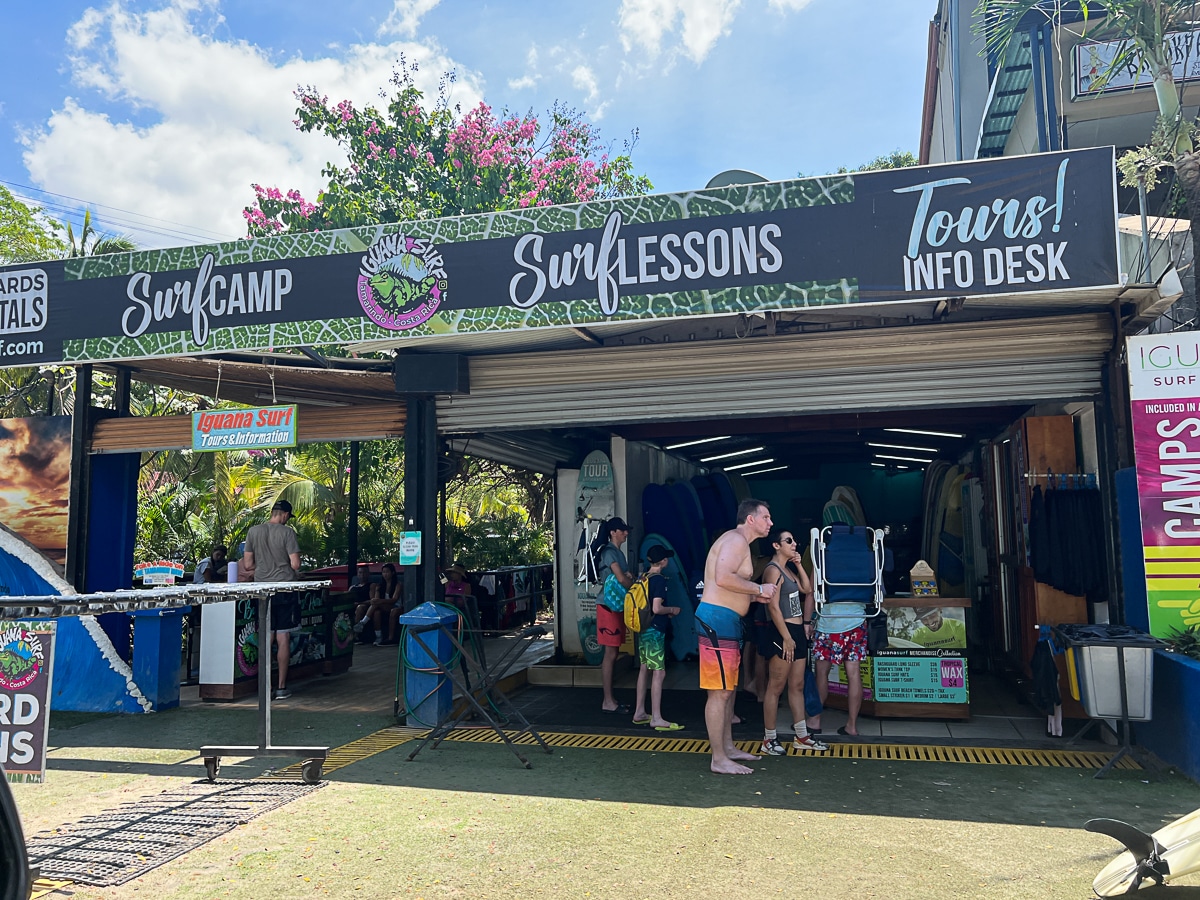 They recommend wearing a rash guard over your swim suit, and you definitely should do that. (These inexpensive rash guards will do the trick just fine.) But if you don't have one, they have loaners that you can borrow from the shop at no extra charge.
Then we headed off to the beach, which is just directly across the street from the surf shop. Here we spent some time with our instructors going over some basics while still on dry land. They gave us some instructions on how to stand up on the board, and had us practice one by one with the boards lying in the sand.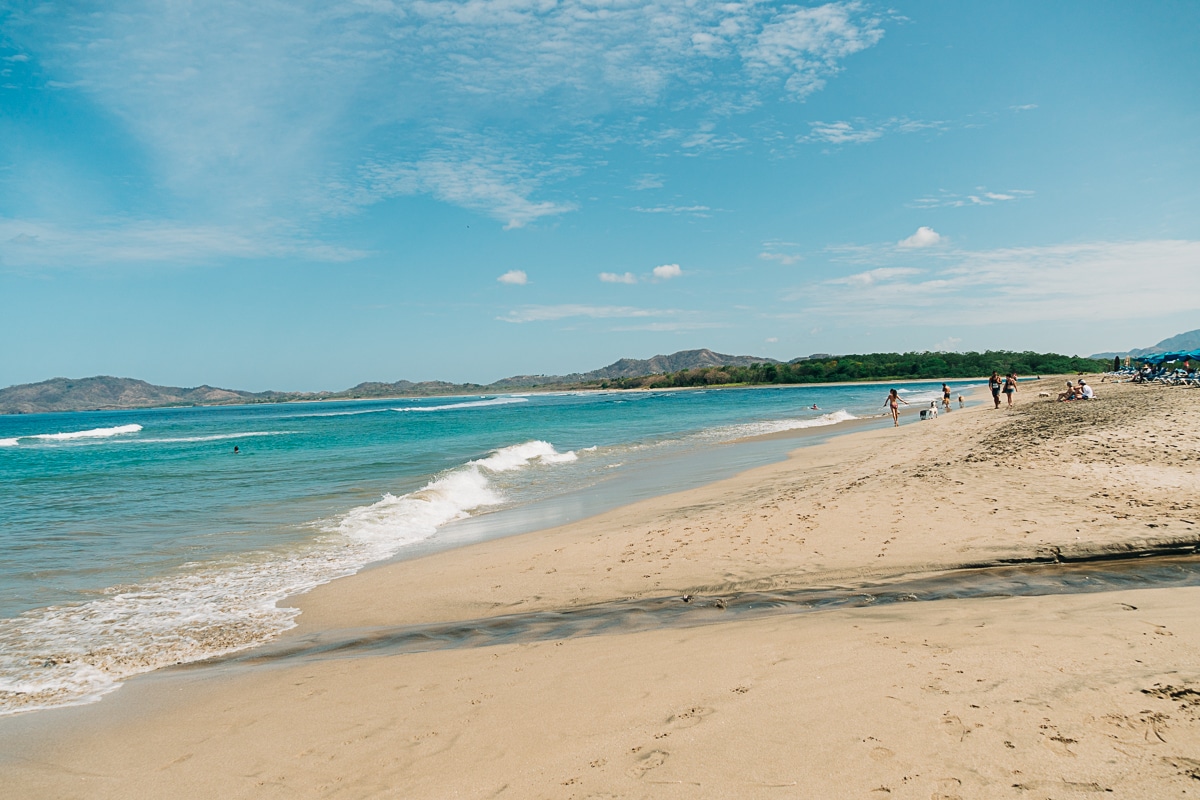 Then we ventured out into the water to try our first wave. We opted for a private lesson for just our family and also added a second instructor specifically for our eight year old son. That was the shop's recommendation for kids under 10 years old. This worked out great as everyone had plenty of help and attention from the instructors, and we also didn't have to worry about trying to watch our son in the water because he was safely with his own instructor. That meant mom and dad could focus on catching waves!
So here's the gist of it. Everyone paddles out to the surf line up, which is just the spot out in the water where all the surfers float around and wait for the waves to come in. The water in Tamarindo was really amazing for this – it was shallow enough to walk way out in the water and still only be waist or chest deep.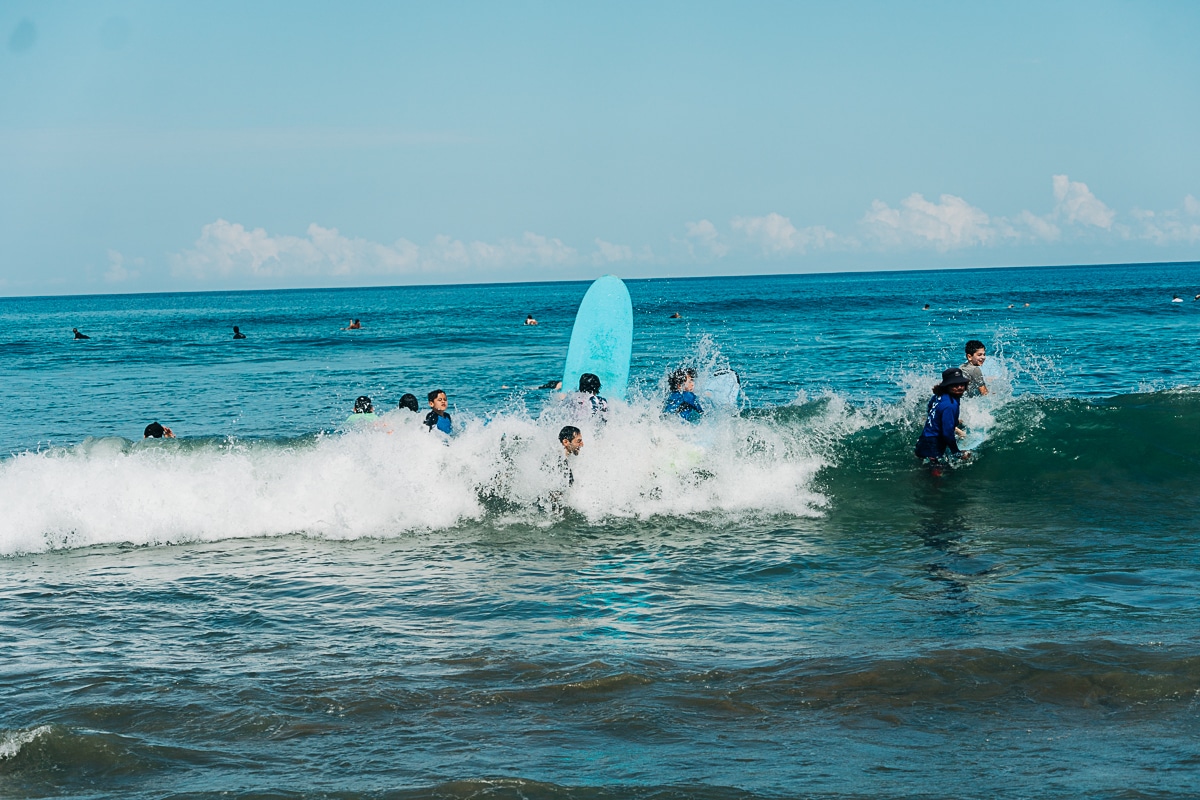 Then the instructor helped guide us so we had the best chance of getting up on the boards. I don't think we would have ever stood up if we were trying to do this on our own the first time. It's just a lot to think about. You have to think about the process of physically getting up on the board- which is not exactly natural to me. And you have to have the timing just right so you paddle out on the wave and stand at the exact right time.
That's where the instructors came in. They had us get up on the boards on our bellies. Then they would wait until a good wave came along and push us out so we didn't have to think about the paddling part. Then they would yell "stand up" at the exact right moment so we could (try) to stand.
Obviously, I spent the vast majority of this two hour lesson falling face first into the ocean. But I'm glad to say we were all able to stand up on the board properly at least a few times. So I will call that a success! My eight year old was the best of the three of us – by far.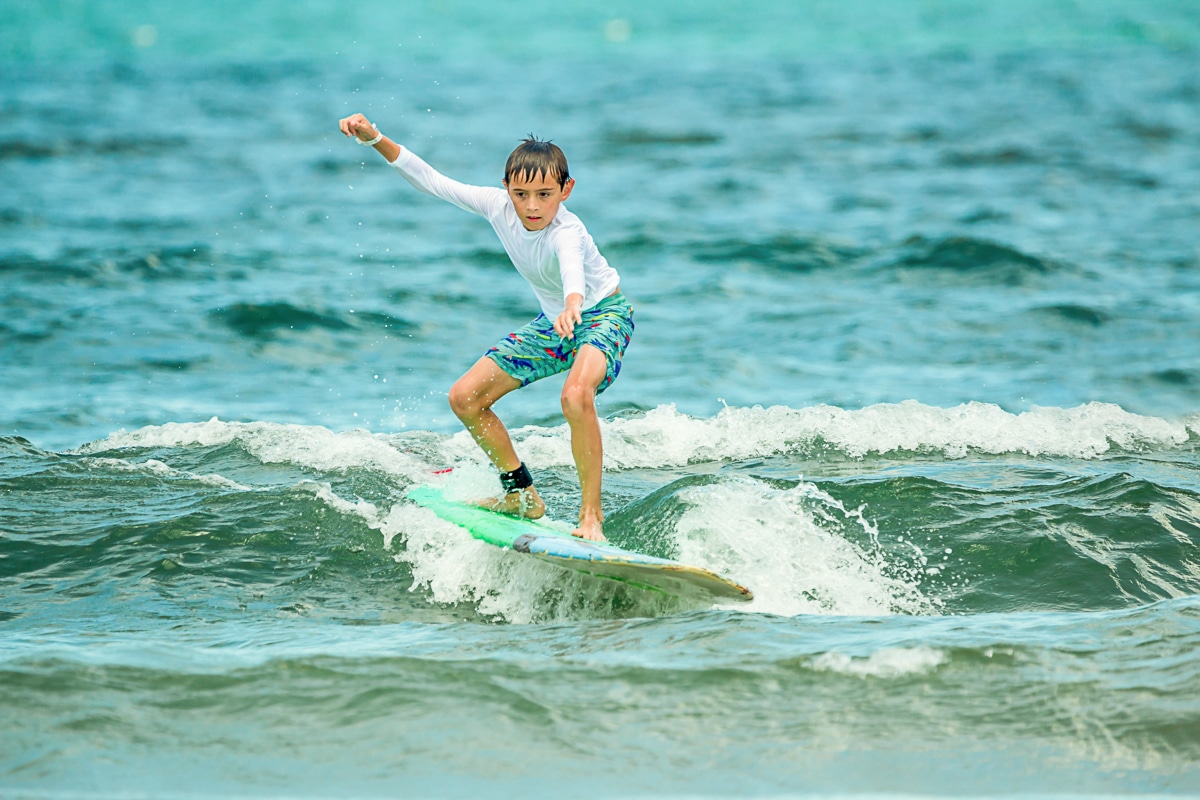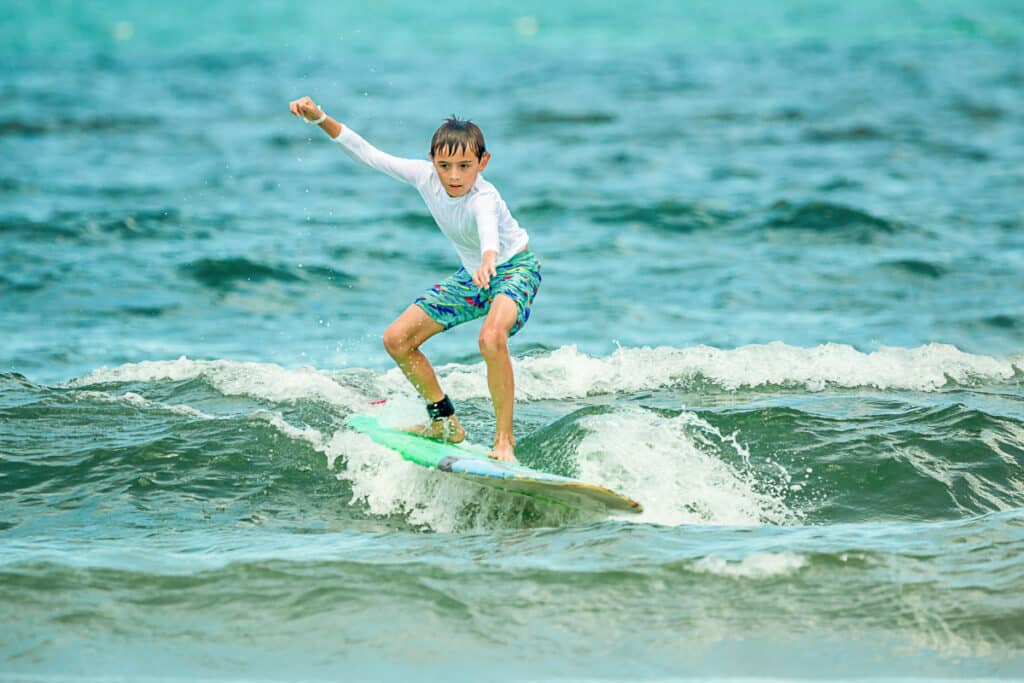 After the lesson, we went back to the surf shop to return our boards and shower off a little. And we were delighted to find out that they had taken photos! And the best part – it was just $35 for the full lot of photos they had taken of our family. I think that's a great deal and we bought them of course.
Group vs Private Surfing Lessons
If you're thinking of booking surfing lessons, you will have a few different options. There are group lessons available that will be larger group of students with multiple instructors – that is the most affordable option and probably fine for an all adult group. You can go with a full private lesson – these are just direct 1:1 lessons if you're by yourself and really want to work on some skills! Or you can go for a semi-private lesson, which is basically just a private lesson for a small group.
We did the semi-private lesson for three people. And I would strongly recommend that option for a family surfing lesson. Since the instructors are sending surfers out one at a time in succession, you simply get a lot more reps if you have your own instructor for your small group.
I was also able to add a second instructor for my son, which was recommended by Iguana Surf for kids under 10. This also was a great decision and only cost an extra $25 at the time, so seems like a no brainer if you are surfing with kids. This meant my kid basically had no waiting around time – he just surfed the whole time with his instructor one on one. That also freed us up to focus on our own surfing skills, without worrying about the kiddo in rough water, because we knew he had an instructor accompanying him the whole time.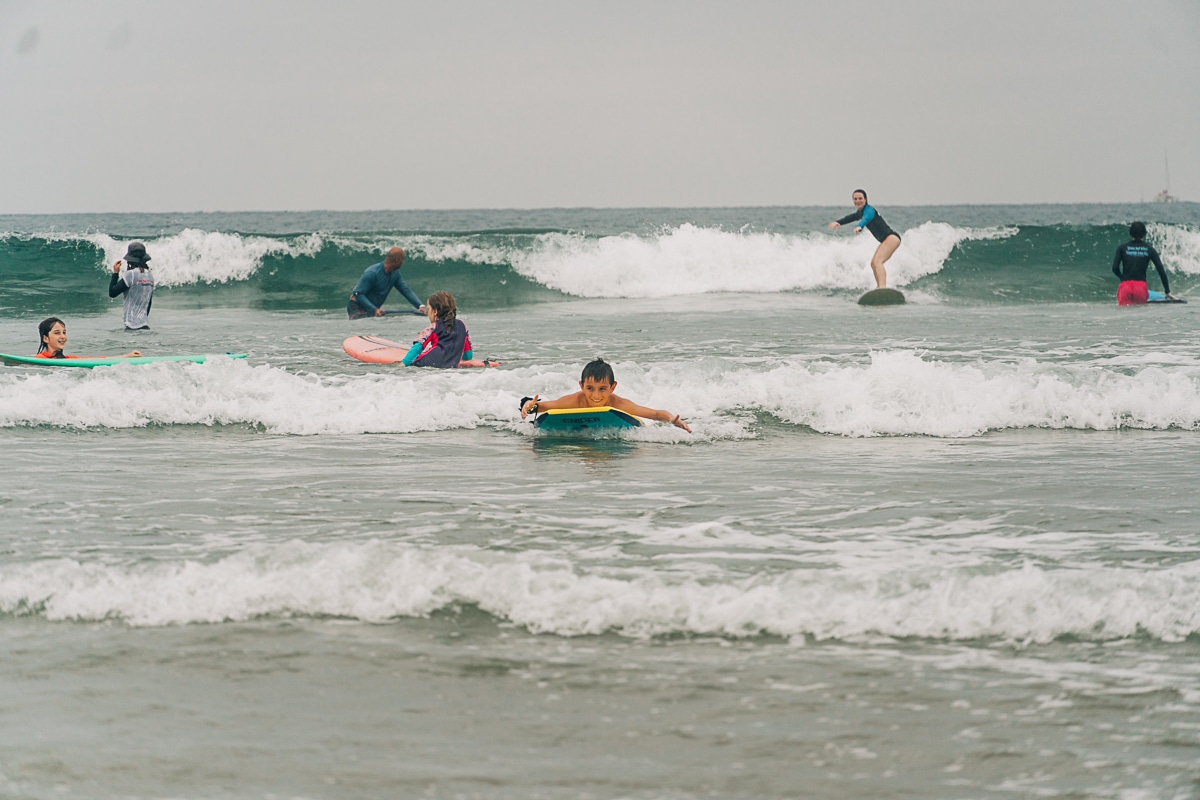 Tips for your Surfing Lesson
If you're going to take the plunge with a surfing lesson in Tamarindo (and you should!), here are a few tips:
Use plenty of sunscreen! It is hot and the sun is scorching on the water. The instructors actually used zinc sunblock to fully block the sun and I can see why. Don't skimp.
Don't bring anything to the beach. There is really no where on the beach to safely stash a bag or any belongings. And things do have a tendency to walk away in Costa Rica. So just leave everything at the surf shop. You likely won't get out of the water for the whole two hours anyway.
Book early morning – somewhere in the 8-10AM range to start. The sun will be a little less hot and the beach a little less busy. And that frees your afternoon in case you love it and want to rent boards for the day.
Ask about discounted board rentals. Many surf shops will give you a discount on surf board or boogie board rentals for the rest of your vacation if you take a lesson with them. Take advantage!
Wear a rash guard – and test it out in water before you go! I ordered one for the trip and realized once I got wet that it was at least a size too big. It was pretty uncomfortable and I would have realized if I'd just jumped in the pool with it once first. Iguana Surf also had rash guard we could use for free. (These inexpensive rash guards work great, if you are planning to buy one.)
Listen to your instructor. Surfing is fun and we felt very safe the whole time. But all water sports are inherently dangerous, so make sure you pay attention to instructions from the surf instructors. Especially when they teach you how to fall – cover your head so you don't get smacked with a board!
Don't get discouraged! Surfing is hard. So hard. Don't worry if you can't get up at first and don't feel embarrassed. Seriously – everyone around us was wiping out as much as we were. So just keep trying and have fun!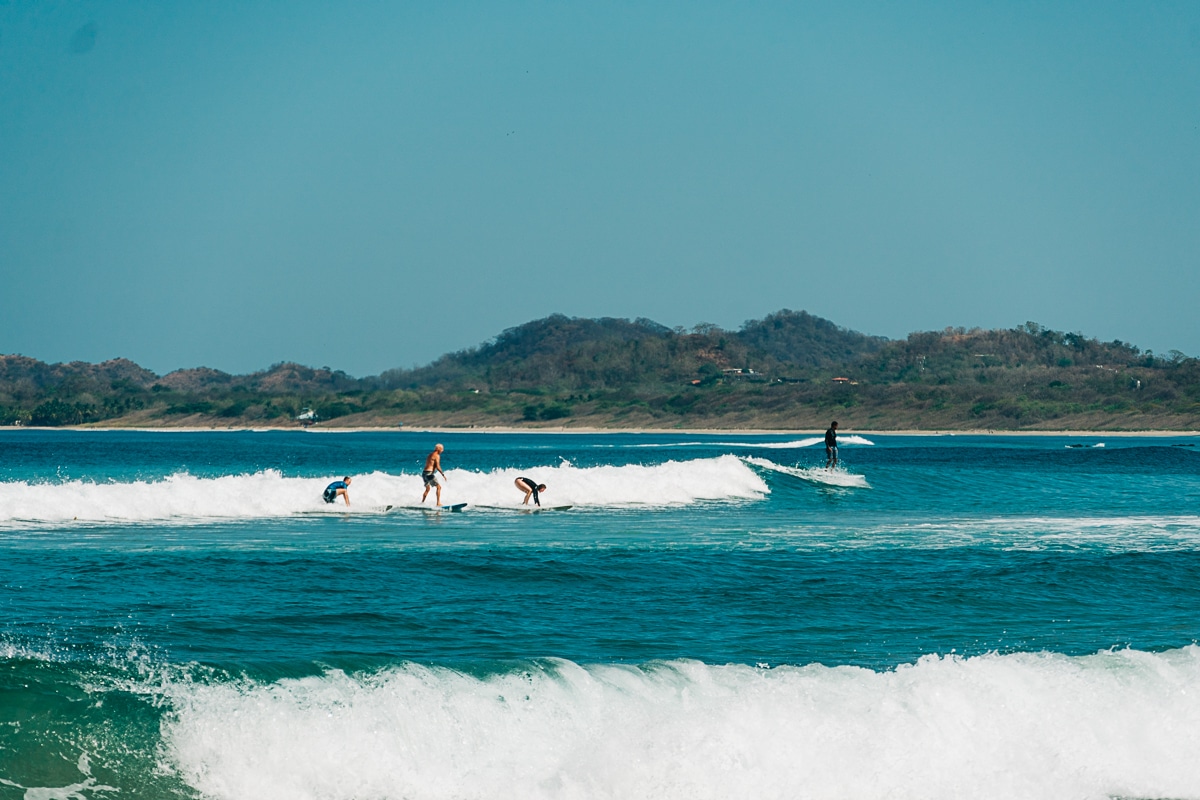 Best Surfing Lessons in Tamarindo
Looking to book your surfing lesson? Here are a few reliable options for surfing lessons in Tamarindo:
Many of the hotels will also happily set you up with a surfing instructor. We stayed at Tamarindo Diria and they said they could coordinate a lesson if needed, and they also had surf board and boogie board rentals on site.
Was it worth it?
Yes! Our family surfing lesson was one of the highlights of our Costa Rica vacation and I would totally do it again. I mean, why come all the way to a place like Tamarindo and not try your hand at the most popular activity on the beach, right? Even if you think you won't be able to do, I suggest giving it a shot. If I could stand up on a surf board – you totally can too.