Where to Stay in Copenhagen: Advice from a local expat and travel blogger about the best neighborhoods to stay in Copenhagen, Denmark! (Plus 21 hotel and holiday apartment recommendations)
We created this guide in collaboration with Caroline Hadamitzky, freelance writer and blogger at Love Live Travel. Caroline currently lives in Copenhagen and works as a tour guide, writer and photographer. We're thrilled to welcome her as our local city expert for this Where to Stay in Copenhagen Guide. Caroline has provided the neighborhood info, and we (Geoff & Katie) have added in hotel listings and other Copenhagen ideas.


Disclosure: This Where to Stay in Copenhagen Guide contains affiliate links. That means we may earn a small commission when you use the links on this site to book a hotel, buy your travel insurance, etc.. You don't pay anything extra. If you'd like to learn more about how this works, you can read more under our Disclaimer page.
Where to Stay in Copenhagen: A Quick Guide to Finding The Best Area to Stay in Copenhagen
If you're planning a visit to the city and are wondering about the best places to stay in Copenhagen, start with this quick guide to Copenhagen's best neighborhoods.
We've added detailed info about all the best areas to stay in Copenhagen in this Copenhagen Neighborhood Guide later on in this post, but we also wanted to provide a quick-guide summary of our top where to stay in Copenhagen neighborhoods. Each of the neighborhood names is clickable, and will take you to more detailed info about that section below. But for now, here's a summary of Copenhagen's best neighborhoods!
Best Place to Stay in Copenhagen: The 3 Best City Center Neighborhoods to Stay in Copenhagen
Indre By: Copenhagen's city center, Indre By is one of the best areas to stay in Copenhagen for a short city break, for a sightseeing trip to the Danish capital, or for anyone who wants to be in the city centre. It's pretty, central and convenient, but it's also quite touristy.
Vesterbro: In the past, Versterbro was known as a rough part of the city. In recent years, it's shaken that reputation, and is now one of the coolest parts of Copenhagen. If you're looking for a young, cool and hip place to stay in Copenhagen (think craft beer and hipster dining), Vesterbro might be the best area to stay in Copenhagen
Nørrebro: Filled with hipster eateries, kebab shops, and ultra-creative small businesses (Nitrogen ice cream, anyone?), Nørrebro is one of the best areas to stay in Copenhagen if you want to experience local life, like a multicultural vibe, and don't mind choosing a holiday apartment over a hotel.
Best Place to Stay in Copenhagen: 2 Copenhagen Neighborhoods to Experience Copenhagen Like a Local
Frederiksberg & Østerbro: Upscale and elegant residential areas, these two neighborhoods are filled with young families, parks, plenty of locally-oriented cafes, restaurants and shops, and beautiful apartments. Both are great areas to stay in Copenhagen if you're looking for an upmarket, local experience.
Amager: Outside the inner city, and between the city and the airport, Amager is a great choice for late-night arrivals or early flights, and for those looking for more affordable accomodation in Copenhagen.
Copenhagen Travel Tips & Further Info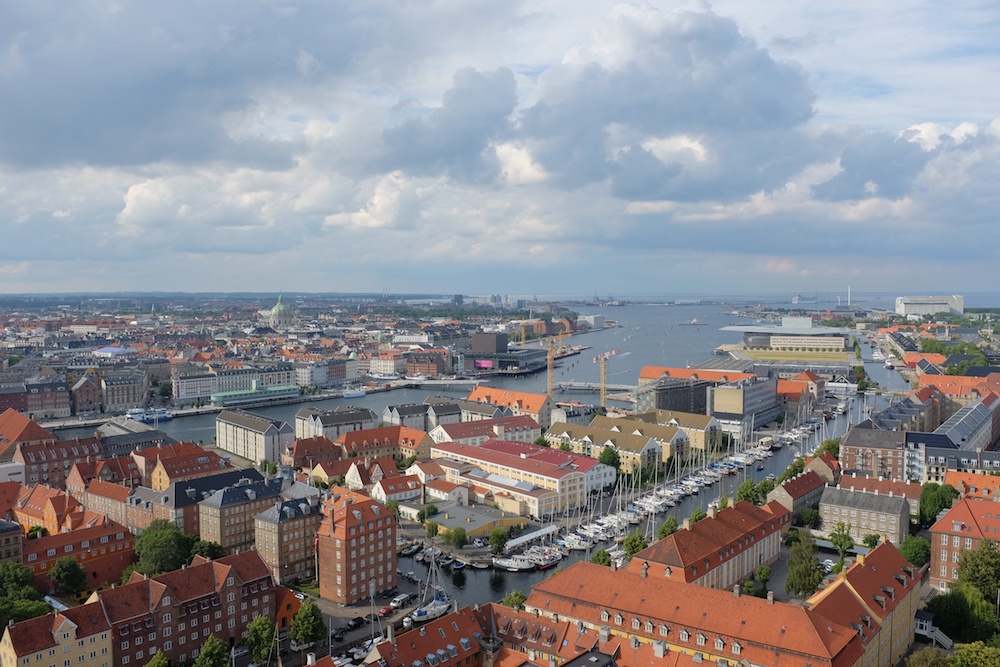 Get Your Copenhagen Card Here and Get Free Entry into 70+ Attractions Including Tivoli Gardens! Plus enjoy free unlimited use of Public Transportation with the card, available for 24hr, 48hr, 72hr and 120hr!
When I moved to Copenhagen in 2014, the city seemed so big, with so many different areas and neighbourhoods. I quickly fell in love with the city, exploring and experiencing as much as possible, and the more I explored, the more it all made sense. I realized that Copenhagen isn't so big after all, and it's very easy to get around, a bonus especially if you're travelling with kids.
Today, as a tour guide and travel writer, I am still out to discover every charming street, quirky café, and local market I can, as much for my tour guests and readers as for myself. Each of the city's neighbourhoods has its own personality: the atmosphere, the people, the restaurants and bars, all come together to create a unique feeling.
There isn't really a 'bad' place to stay in Copenhagen, but since the neighbourhoods all have this very distinct vibe, where you're based will influence your experience. The inner city may be the home of Copenhagen's most famous attractions, but the surrounding neighbourhoods are charming, vibrant, and very accessible to everything you'll want to see and do.
Where to Stay in Copenhagen: Indre By is the Best Place to Stay for a City Center Experience
Great area for: ✓ City Centre Living ✓ Sightseeing ✓ Food & Drink ✓ Shopping ✓ Museums, Architecture & History
The heart of Copenhagen is Indre By (Inner City). This is where you'll find all the major tourist attractions, like Nyhavn, Tivoli Gardens, and the Royal Palaces, the Strøget pedestrian shopping area, and many charming squares and historic buildings. It's also one of the best areas to stay in Copenhagen for foodies, as amazing food is everywhere here, from Michelin-starred restaurants to delicious smørrebrød (traditional open-faced sandwiches). Visit the area's two markets, Torvehallerne and Copenhagen Street Food, for great foodie experiences and a taste of both Danish and international food and drink.
If you stay in Indre By, you'll be surrounded with loads of things to see and do, and you'll be able to walk pretty much everywhere, but you'll also be surrounded by tourists, especially in the summer. Indre By is a perfect area to stay for a short visit to Copenhagen, for a sightseeing holiday or Copenhagen city break, or for anyone who wants to be in the centre of the action. It's a beautiful area that shows you the best of historic Copenhagen, but not the best choice if you want to live like a local.
Nimb Hotel
Nimb Hotel – A boutique hotel that seamlessly blends contemporary comforts with the whimsy of a fairytale. The hotel only has 17 rooms, 12 of which are large suites, and each has a renovated bathroom with large bathtub. Nimb Hotel's location is convenient and easy to find, with Central Station mere steps from the front door. The hotel is at Tivoli Gardens, with all but one rooms overlooking Tivoli. One of the top-rated hotels in the city.
Check Availability & Prices on
Booking.com / TripAdvisor
Hotel Alexandra
Hotel Alexandra – A stylish Danish Modern design hotel that is big on hospitality and well-designed simplicity. Reviews mention that all rooms are modest and simple, with a variety of room configurations and setups to accommodate different types of travellers. An on-site restaurant and bar/lounge are perfect for relaxing if you don't feel like going out. The hotel is near plenty of sights, such as the Hans Christian Andersen Monument. 4-minute walk from City Hall.
Check Availability & Prices on
Booking.com / TripAdvisor
Babette Guldsmeden
Babette Guldsmeden – A funky and laid back design hotel offering a focus on décor, details, and a personal guest experience. Reviews from past guests highlight the organic products provided in each room and the cozy atmosphere. A rooftop spa and sauna are a nice way to relax after exploring Copenhagen. The hotel is a 15-minute walk from Amalienborg Palace, and walking distance to the Hans Christian Andersen Monument and the Little Mermaid Statue.
Check Availability & Prices on
Booking.com / TripAdvisor
Hotel SP34
Hotel SP34 – Natural light and materials and beautifully simple design details are prioritized at this boutique hotel. Former guests are quick to praise the hotel amenities, which include a small cinema, three on-site restaurants, and a fitness center. A daily wine hour is complimentary. Hotel SP34 sits at the edge of Indre By, in the Bohemian Latin Quarter, near vintage shops, cafes, and trendy bars. 5-minute walk to City Hall.
Check Availability & Prices on
Booking.com / TripAdvisor
Copenhagen Admiral Hotel
Copenhagen Admiral Hotel – This 4-star hotel is focused on comfortable, Nordic design and artfully displaying the converted warehouse's natural features, such as brick archways and natural wooden beams. The 366 rooms have a rustic vibe that mixes well with the modern furniture. Plus, you can bring your furry friend to this pet-friendly accommodation. The waterfront location is mere minutes from Nyhavn and popular attractions. A 5-minute walk from Amalienborg.
Check Availability & Prices on
Booking.com / TripAdvisor
Copenhagen Marriott Hotel
Copenhagen Marriott Hotel – Take a seat overlooking the harbor or explore Copenhagen on one of the hotel's rental bicycles. Past guests mention this hotel has the modernity and standardization you'd expect of a Marriott, but with extra spacious rooms, a nice outdoor terrace, and a fitness center. The very central location means guests can easily walk to the Christian IV's Brewhouse, Vesterport Station, and Tivoli Gardens (5 minutes).
Check Availability & Prices on
Booking.com / TripAdvisor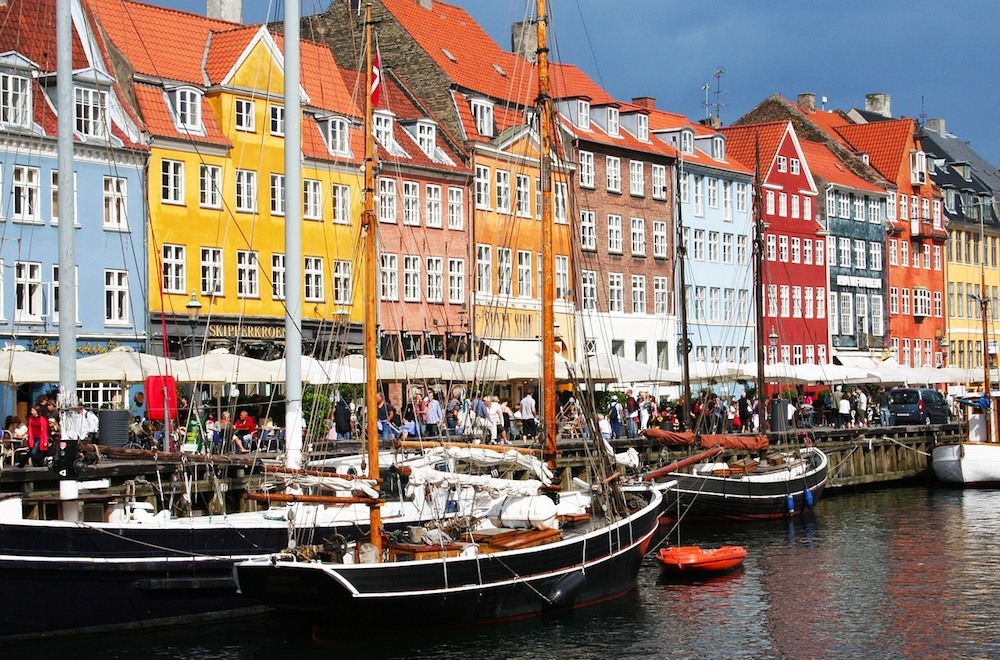 Where to Stay in Copenhagen: Vesterbro
Great area for: ✓ Young & Lively ✓ Craft Beer ✓ Creative Dining ✓ Convenient
Located behind Central Station, Vesterbro is quite literally the other side of the tracks from Indre By. In the past, it was considered the poorest and most dangerous neighbourhood in the city, but today it's an area that's rapidly evolving into something completely different from its rough and tumble reputation of the past.
While Vesterbro is Copenhagen's Red Light District (take a walk along Istedgade and you'll see a few sex shops and ladies pedalling legal prostitution), there is a lot more to Vesterbro than the Red Light.
It's also gaining a reputation as hipster central: the place to be for innovative restaurants, fantastic bars, and independent boutiques. There is a booming craft beer scene here, with Mikkeller Bar, Fermentoren, and Warpigs all serving up a range of specialty brews. Visit the newly-opened WestMarket for a range of tasty and affordable eats, from Argentinian charcuterie to Ugandan egg wraps. The Meatpacking District is also full of great dining spots, from New Nordic seafood to American barbecue. They're both terrific places to get a taste of Copenhagen and check out the direction Vesterbro is going.
Absalon Hotel
Absalon Hotel – A clean and colorful boutique-style hotel, this family-run property exudes character and vibrancy that match its Vesterbro location. Rooms have a flat-screen TV, safe, and other standard amenities, and loads of interesting design touches. Past guests mention the helpful front desk staff and attentive service, as well as a convenient location near Central Station (2-minute walk) and trendy area filled with restaurants and nightlife.
Check Availability & Prices on
Booking.com / TripAdvisor
Hotel Tiffany
Hotel Tiffany – A cozy and homey 3-star, the stand-out feature of this property is the kitchenette unit in each room,with a Nespresso machine, fridge, and microwave. Past guests mention comfortable rooms, although the bathrooms are a bit small. The hotel offers complimentary rolls and pastries each morning. Near the Central Station, its location tucked down a side street means the immediate surroundings are a nice and quiet.
Check Availability & Prices on
Booking.com / Trip Advisor
Best Western Hotel Hebron
Best Western Hotel Hebron – A clean and comfortable 3-star right near Central Station, the Best Western has some nice touches beyond what you'd expect: a cozy lounge area, a nice outdoor seating area, and rental bicycles, in addition to friendly and helpful staff. The hotel is only 250 meters from Central Station and walking distance to the Tivoli Gardens, Copenhagen Christmas Market (seasonal), and the Meatpacking District.
Check Availability & Prices on
Booking.com / TripAdvisor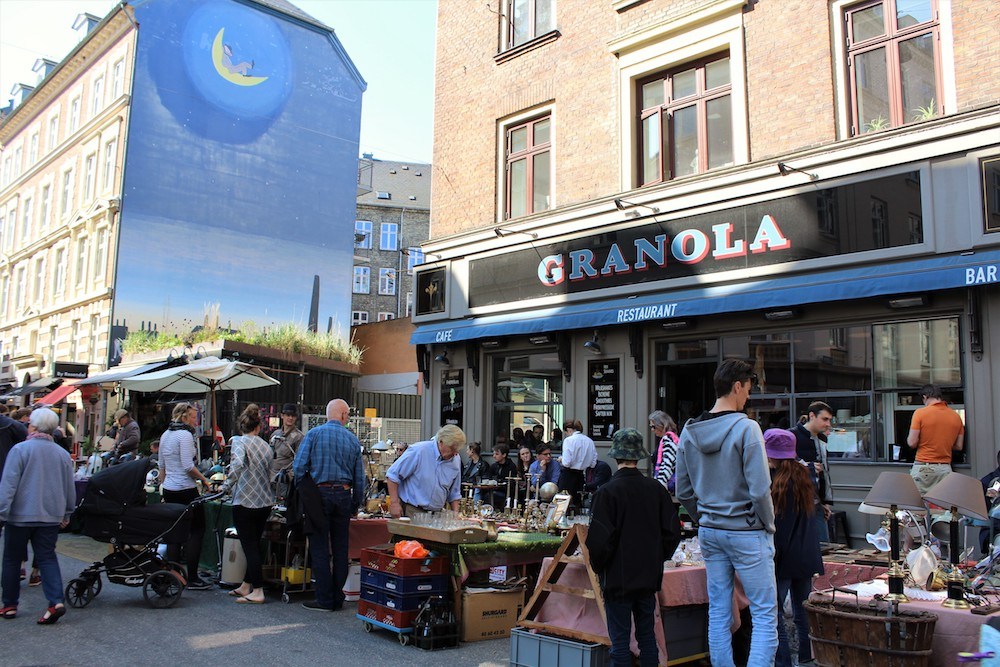 Where to Stay in Copenhagen: Nørrebro
Great area for: ✓ Local Living ✓ Young, Fun & Creative ✓ Multicultural & International
Nørrebro is a very international neighbourhood, with a strong sense of diversity and community. As there aren't many hotels in this area, your best bet for staying in Nørrebro is to rent an apartment through a service like VRBO or HomeAway, and enjoy living a local experience.
The main street, Nørrebrogade, is full of cool secondhand shops, ethnic groceries, cheap kebab stands, and coffee shops, while Jægersborggade's quirky mix of hipster shops and eateries include porridge café Grød, nitrogen ice cream makers Is Tid, and succulent shop Kactus. Nørrebro has some unique common spaces, like Superkilen, a huge park with features from all over the world, from a Moroccan fountain to a Japanese octopus play structure. At Assistens Cemetery you can find the graves of famous Danes like writer Hans Christian Andersen, but also enjoy a stroll and a picnic with the locals. Dronning Louise's Bro (Queen Louise's Bridge), joining Nørrebro with the city centre, is a popular spot to relax with a beer in hand, and enjoy the view of the lakes and the bustle of the busy bridge.
Large 3-Bedroom Apartment
Nørrebro 3 Bedroom – Tidy and streamlined, this apartment sits on the ground floor of a building and overlooks a small yard. The apartment is setup to sleep between 2 to 5 people, with three separate bedrooms. A renovated bathroom and small kitchen mean you can enjoy the comforts of home, and past guests appreciate having extra space in the apartment. Well-located for exploring cafes, restaurants, and central Copenhagen.
Check Availability & Prices on
VRBO.com
2-Bedroom with Balcony
Nørrebro 2 Bedroom with Balcony – A bright apartment in one of Copenhagen's most interesting neighborhoods. There are two bedrooms, one bathroom, and a fully-equipped kitchen in this first-floor apartment. Past guests mention good access to outdoor spaces, including a balcony, back lawn, BBQ, and nearby park. The apartment is walking distance to Israel Plads and central Copenhagen.
Check Availability & Prices on
VRBO.com
Cozy & Bright Child-Friendly Apartment
Nørrebro Child-Friendly 1 Bedroom – This bright apartment is designed to be family-friend and kid comfortable. The large space has beds for six or seven people, although the open floor plan does mean shared space during your stay. Past guests praise the colorful décor and ability to use the building's rooftop terrace. Located near many cafes, bakeries, and supermarkets, and with easy bus connections.
Check Availability & Prices on
VRBO.com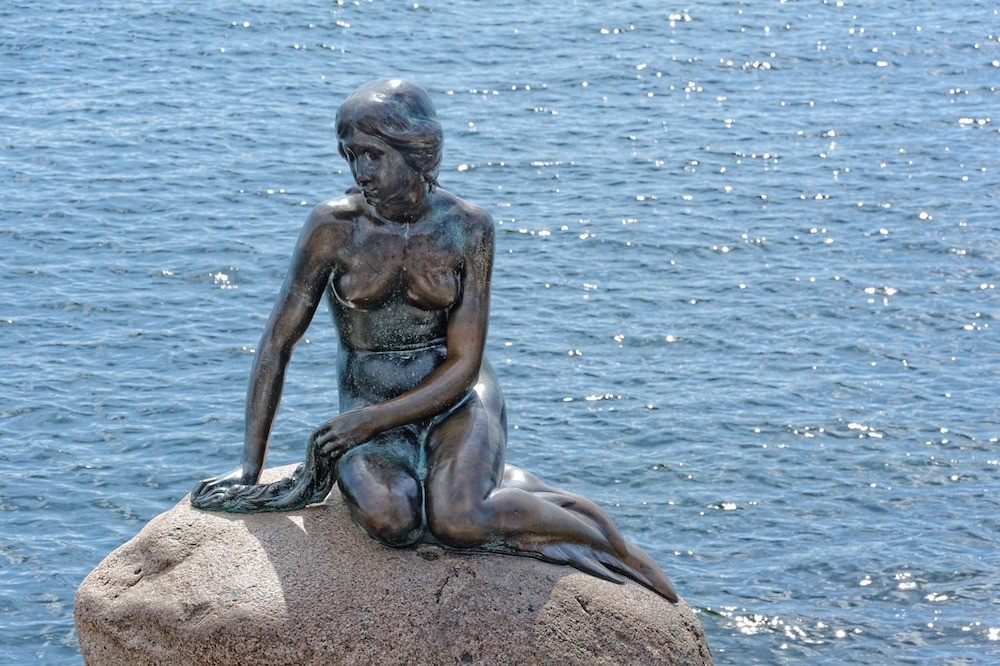 Don't forget to pick up a guide book like this one. Rick Steves is the ultimate Europe expert, and his well liked guides have proven to be a staple for many travellers. Reviewers have liked Snapshot Copenhagen because it's easy to read, compact, and full of useful information about the different sights. It contains recommended self guided tours, suggested itineraries, maps and more. Available in both Kindle and Paperback.
Copenhagen's Other Neighborhoods to Explore
If you want to get out of the most touristy sections of the city, and are looking to rent a holiday apartment and have more of a local experience in Copenhagen, consider staying in Frederiksberg, Østerbro or Amager.
Where to Stay in Copenhagen: Frederiksberg and Østerbro
Great area for: ✓ Upscale & Elegant ✓ Living Like a Local ✓ Parks & Green Space ✓ Family-Friendly
Frederiksberg and Østerbro are mainly residential neighbourhoods, and are considered the 'well-off' parts of town. There are only a handful of hotels here, so these two areas of the city are the perfect place to live like a local by renting an apartment through a service like VRBO or HomeAway. Many of the apartments in these neighborhoods are in beautiful, historic buildings.
The streets are full of local families and you can get a look into their daily lives. Each of these neighbourhoods has a large, beautiful park and lakes to stroll along, as well as great shopping and a multitude of fantastic cafés and coffee shops. They're also very accessible by public transit and by bike, so getting around is no problem at all.
Artsy & Cool 2-Bedroom Apartment
Frederiksberg 2-Bedroom – An artsy apartment that will make you feel as cool and relaxed as the surrounding Frederiksberg neighborhood. The apartment sleeps up to four and the kitchen was recently renovated with all the basics to cook at home. The terrace is a highlight according to former guests, as is the nearby parks. The neighborhood has good restaurants and is close to the Zoo and interesting Museum of Modern Glass Art.
Check Availability & Prices on
VRBO.com
Stylish 3-Bedroom with Terrace
Frederiksberg 3-Bedroom with Terrace – This apartment is full of white walls and interesting art, but according to past visitors the starkness is comfortable, not cold. There are three bedrooms and beds for six people, plus a back yard patio for morning meals or glass of wine at the end of the day. The apartment is on a residential street, which should keep it quiet, but the metro and bus are an easy walk away.
Check Availability & Prices on
VRBO.com
Intimate Apartment for Two
Frederiksberg 1-Bedroom – Setup for a couple or two friends traveling, this apartment is convenient and cozy. Past guests mention this apartment is great value for the money, and seem to appreciate the view from the large balcony. The entire apartment was recently renovated, including one bathroom and a simple kitchen. The metro is just down the street for guests who do not want to cycle or walk to the city center.
Check Availability & Prices on
VRBO.com
Modern & Upscale Apartment
Østerbro Luxury Flat  – Interesting art and modern furniture completes this two-bedroom apartment on the third floor. Former guests found the kitchen had everything needed to cook at the apartment and frequently access the building's courtyard for end of the day drinks. There is a newly renovated bathroom with rain shower and updated fixtures. The surrounding neighborhood is trendy and thriving, with public transport only a few minutes' walk away.
Check Availability & Prices on
VRBO.com
Refurbished 2-Bedroom Apartment
Østerbro 2-Bedroom – This renovated apartment is bright and cheerful with space for a family of four to stay. There are two bedrooms, one having bunk beds best for kids, and one bathroom, plus a well-stocked kitchen. Past guests mention enjoying the upscale neighborhood,and getting more of a local Copenhagen experience during their stay. The apartment is in a notoriously quiet neighborhood, ideal for families, and the surrounding area has a beach, promenade, and the large park, Fælledparken.
Check Availability & Prices on
VRBO.com
Penthouse with a Harbor View
Østerbro 3 Bedroom Penthouse – It is difficult to get past the views from this contemporary penthouse apartment. The top floor location features a balcony over Copenhagen's harbor and a modern, like-new interior. There are three bedrooms that can sleep up to five people and an updated bathroom. The kitchen is sparse, but adequate for cooking. Both buses and trains are within walking distance to reach other parts of Copenhagen and the airport.
Check Availability & Prices on
VRBO.com
Where to Stay in Copenhagen: Amager
Great area for: ✓ Affordable Options ✓ Convenient to Airport
Amager is often overlooked, because it's outside the centre and doesn't offer the historic charm of the rest of Copenhagen, but there are several hotels and a huge hostel here, and accomodation is generally available at lower rates than downtown. It's a great spot to use as a base for exploring Copenhagen, as it's between the city centre and the airport, and is accessible to the Metro, which in this part of the city is above ground and in parts reminiscent of a roller coaster.
Amager was the last part of central Copenhagen to be developed, and is very modern compared to the inner neighbourhoods. The area is known for its innovative and award-winning architecture, but also has sprawling green spaces, perfect for enjoying nature on foot or by bike. Amager is also home to Fields, Scandinavia's largest shopping and entertainment centre.
Radisson Blu Scandinavia Hotel
Radisson Blu Scandinavia Hotel – This is a striking high-end hotel with all the modern amenities. There are three restaurants, two bars, a fitness center, and a casino within the hotel property. This is in addition to 542 hotel rooms that past guests describe as spacious and cheery. The Radisson Blu Scandinavia Hotel is located slightly outside central Copenhagen, with Central Station a 15-minute walk away. However, most Danish people prefer to commute by bicycle, so join the club!
Check Availability & Prices on
Booking.com / TripAdvisor
Industrial & Modern Apartment
Factory Style Apartment –Staying in this pet-friendly apartment is similar to being at home in Copenhagen – if your home is a light-filled, industrial apartment filled with funky, modern furniture. Guests describe the apartment as stylish. The apartment can sleep up to four adults, and has a full kitchen, dining area, and WiFi. The airport is only five kms or three miles away and a number of sights are within walking distance.
Check Availability & Prices on
Booking.com / TripAdvisor
Cute & Cozy One-Bedroom Apartment
Amager 1-Bedroom – If you are looking for a bright and comfortable accommodation for your week in Copenhagen, this apartment sleeps three people. The property often requires a four night minimum stay, therefore it is a good apartment for slightly longer visits. A nearby park, shops, and cafes make this a good getaway for enjoying residential and daily life in Copenhagen.
Check Availability & Prices on
VRBO.com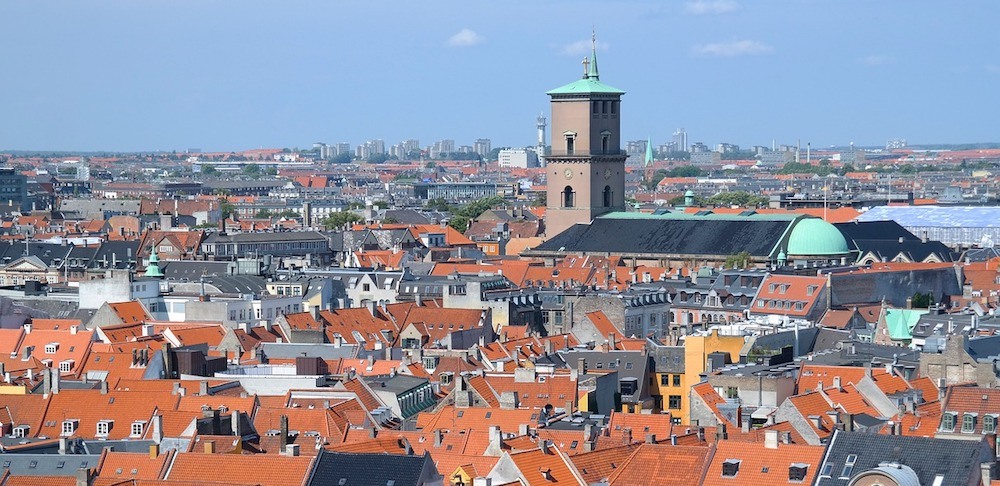 Where to Stay in Copenhagen: Travel Tips & FAQs
Hopefully, we're answered most of your Copenhagen neighborhood questions and given you an idea about the best area to stay for your trip. However, we've also included a few travel tips and answered some questions we know you'll probably be wondering about. As we get questions from more readers, we'll do our best to update this section over time.
So Where Should You Stay in Copenhagen?
As you can see, Copenhagen's neighbourhoods are incredibly diverse, but they also each have an appeal of their own.
If you want to be in the heart of the action, surrounded by historic charm at every turn, Indre By is probably the best place to stay in Copenhagen for you.
If you want to explore hipster eateries and independent shops, check out Vesterbro or Nørrebro. These two neighborhoods are also great areas to stay in Copenhagen if you're interested in a relaxed nightlife.
If you really want to live like a local and enjoy the city's green spaces, Frederiksberg or Østerbro are both lovely neighborhoods to enjoy.
If you're an architecture buff, prefer convenience to whimsy, are travelling on a budget, or have an early or late flight, then Amager has your name all over it.
Copenhagen Deals and Money Saving Tips
City Cards sometimes have questionable value, and occasionally seem more focused on getting tourists to visit secondary and tertiary attractions than actually providing a service to visitors. And while we always recommend you look at city cards and do the math for your own trip, whether you're able to get your money's worth or not really depends on how many attractions you visit.
Happily, Copenhagen's version of the card (The Copenhagen Card) seems to be genuinely aimed at saving money for tourists, a fact reflected in the reviews (it gets 5/5 based on 571 reviews on Viator). The things we like about the Copenhagen Card is it includes free public transportation in the entire Copenhagen region (so you can go out to Roskilde or Helsingør/Elsinore, for example), and includes free entry to some of the most popular attractions in the city (rather than the secondary and tertiary attractions that no one really cares about).
We were interested enough that we did the math on a really basic '24 hours in Copenhagen' itinerary, including Tivoli, Amalienborg Palace, Kronborg Castle, and a canal (boat) tour, of the city. When we added it up, and included a 24-hour transport card to get to and from the airport and out to Kronborg Castle (way cheaper than individual tickets), we found the cost to be about DKK 515 (US $75 with today's exchange rate). Compare that to a 24-hour Copenhagen Card, which costs about US $58. So in this scenario, it's clearly worth buying the Copenhagen Card. And we would guess it gets more worth it the longer you stay and more you plan to do.
| Attraction | Without Card | With Card |
| --- | --- | --- |
| Tivoli | DKK 120 | FREE |
| Amalienborg Palace | DKK 95 | FREE |
| Canal Tour | DKK 80 | FREE |
| Kronborg Castle | DKK 90 | FREE |
| 24-Hour Transport Card | DKK 130 | FREE |
| Total | DKK 515 / US $75 | $58 US (for 24-hour card) |
Copenhagen (& Denmark/Scandinavia) Tours to Stay Busy
If you're planning an independent trip to Copenhagen and want to explore on your own, chances are you'll have no problems, will thoroughly enjoy the experience. Same goes if you want to explore Denmark (or Scandinavia), more broadly: in general, the Danes and people from the Scandinavian countries have a very high level of English and great transportation systems.
That said, there are also quite a few highly-rated small group tours out there if you'd like to have everything taken care of. As we tend to do most things ourselves, we don't have a lot of personal experience to recommend tours. However, we've generally heard good things about Intrepid, which offers 4 Scandinavia-focused tours that include Denmark. While we can't make a personal recommendation, we can say these are probably worth checking out as a starting point for your research, if you are interested in taking a tour.
Within Copenhagen and around, there are also quite a few day tours to choose from. We (Geoff and Katie) have picked out a few that we'd be interested in trying, and get high marks from past participants.
Copenhagen Day Tours
5 / 5 from 70+ reviews
A full-day tour of the main highlights outside the city including Kronborg Castle, Frederiksborg Palace, Roskilde Cathedral, and The Viking Ship Museum. Combine it with a city tour, and you'll have all the highlights covered!
4.5 / 5 from 130+ reviews
This is worth looking at only if you choose not to buy a Copenhagen Card. if you buy the card, then a canal cruise is included. However, if you're not sure the card is worth it, and you'd rather play things by ear, this looks like a lovely way to see the city from the water.
4.5 / 5 from 65+ reviews
A 3-hour walking tour through central Copenhagen. You'll pass Christiansborg Palace, Rosenborg Castle, the Little Mermaid, Nyhavn waterfront, Torvehallerne market, Amalienborg Palace, City Hall Square, Tivoli Gardens, and more. Basically, a great intro to the city!
4.5 / 5 from 500+ reviews
Similar to the Grand Tour, but shorter and with different stops. Both tours go to the UNESCO 'Hamlet's Castle' (Kronborg) and Frederiksborg Castle. This tour skips Roskilde Cathedral and The Viking Ship Museum, but includes a pass by Fredensborg Palace.
How to Get Around Copenhagen?
For a capital city, Copenhagen is actually quite small and easy to navigate, with a fantastic public transportation system. There's a Metro, S-Train (commuter train), and buses. Getting into the city from the airport only takes about twenty minutes, and if you're arriving by train, Central Station is right in the heart of the city.
The only thing that can be tricky is buying the right ticket, and fines are high (750 Danish kroner which is over $100!) if you're caught out. The system is based on zone, and most of the time (if you are in and around the city), you'll be using 2 zones. A two zone ticket is 24DKK ($3.50US), and for destinations further out, including the airport, you'll need a three zone ticket 36DKK ($5.25US).
As single tickets are very expensive, I would recommend a 24-hour or 48-hour pass, a FlexPass, or the Copenhagen Card. Of course, besides your journey to and from the airport, you may not need public transportation at all – Copenhagen is extremely walkable, and you can always do as the locals do and go by bike. Where a transit ticket comes in handy is in visiting some of the further-out sights, such as 'Hamlet's Castle.'
How to Get From Copenhagen Airport to the City Centre?
Copenhagen's international airport, CPH, is just 5 miles (8km) from the city center. It's the main airport serves not only Copenhagen, but the whole Zealand and Øresund Region as well and even parts of Southern Sweden with Malmö just a half hour drive away.
Metro: The metro to and from the airport is cheap, fast and easy. It goes to and from Terminal 3 and will have you in the center in about 15 minutes. The metro runs 24/7, and from the airport the service runs every 4-6 minutes during the day and evening, and every 20 minutes between midnight and 5am. If you don't have a Copenhagen Card, you'll need a 3-zone ticket to/from the airport which is 36DKK ($5.25US) and you can buy tickets from machines at every station. The machines accepts coins or credit cards, but no bills.
Uber & Taxi: At the time of writing, Uber does operate in Copenhagen, but as we all know, this could change at any time. Taxis, by comparison are relatively inexpensive by Scandinavian standards, and because the airport is quite close to the city a fare from the airport to the city center will be around 250DKK ($38.00US) depending on traffic.
A Note About Our Hotel Recommendations In This Copenhagen Neighbourhood Guide
Our hope with this Where to Stay in Copenhagen Guide (and our Where to Stay in Stockholm, Where to Stay in Amsterdam, Where to Stay in Berlin Guides…you get the idea) is to make it easy to find the best area to stay in Copenhagen for your particular trip…whatever your budget and travel style are. That's why we decided to actually hire local writers to collaborate with us on the guides…people who can impart their knowledge to make your trip to Copenhagen better.
The only problem with this is that locals don't live in hotels. And as much as I wish we could afford our writers to every hotel listed in this guide for an impartial review, fact is we can't. In the past, we simply outlined the neighborhoods and left the hotel research up to readers. But after getting email after email from people asking about specific hotels, we decided to take these guides a step further, and include hotel listings, choosing hotels based on their online ratings in relation to the neighborhoods our local experts recommend.
Basically, we find hotels we would love to stay in, or would be happy suggesting to a friend or family member. We haven't personally been to these hotels, but we've ask ourselves things like: Have past guests left fantastic reviews? Does it look like somewhere I'd like to stay? Does it seem to be in a great location for enjoying Copenhagen? If it ticks those boxes, we've added it to the list.
Really, we want to help you have a fantastic vacation to Copenhagen, be it a grand Scandinavian tour or a short Copenhagen city break. And, we want you to be able to do so without spending hours on the internet, reading reviews and cross-checking locations on a map. Hopefully we've succeeded…but please don't blame us if we haven't – at the end of the day, we expect you'll check the most recent reviews and specific conditions in the city, using our listings as a starting point and framework, and choosing then selecting the best hotel and area to stay in Copenhagen for your own trip!
Like this Guide? Pin it for Later!