Where to Stay in Quito, Ecuador! A fascinating South American capital nestled high in the Andes Mountains, our Quito travel guide covers everything you need to know about the different neighborhoods, getting in, getting around and other useful Quito travel tips.
We created this guide in collaboration with guest author Céline Gunther, an expat living in Quito. We're so happy she agreed to share her knowledge of the city, and help you choose the best place to stay in Quito Ecuador for your visit! Celine has written the neighborhood overviews and city details, but all hotel recommendations come from us.

Disclosure: This Where to Stay in Quito travel guide contains affiliate links. That means we earn a commission when you use the links on this site to book a hotel, buy your travel insurance, shop for travel essentials, etc.. You don't pay anything extra. If you'd like to learn more about how this works, you can read more under our Disclaimer page.
Surrounded by snow-capped peaks, active volcanoes and mountains, Quito is the city of views and will (literally) take your breath away.
At more than 2800 meters (9,350 ft) above sea level, the city is not only the second highest capital in the world, but was also one of the first cities declared a UNESCO World Heritage Site thanks to its beautiful 16th-century well preserved historic center. Quito is where Andean traditions meet the modern, where Spanish colonial houses stand in the shadow of tall glass buildings, and where indigenous people in traditional dress rub shoulders with Ecuadorian executives.
Being so close to the equator, the weather is always more or less the same no matter what time of year you visit Quito. The city's views and weekend adventure possibilities in the mountains, jungle and at the beach seduced me and I am sure that they will charm you too. So catch your breath and let's go explore the very best Quito neighborhoods!
Start Your Search for Where to Stay in Quito here:
Best Hotels in Quito
*Traveller ranked according to Trip Advisor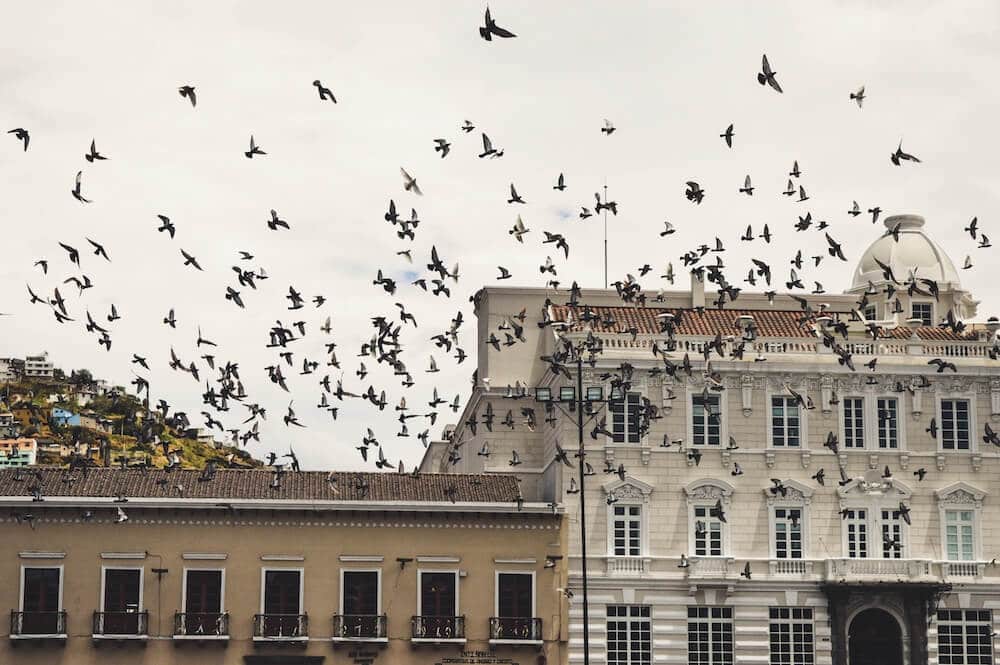 Quito Photo by Huib Scholten on Unsplash
An Overview of Quito Neighborhoods and the Best Places to Stay in Quito
When deciding where to stay in Quito, most people choose to stay either in the heart of the Quito historic center, close to nightlife in La Mariscal, or in the classy neighborhood of Gonzalez Suarez. In addition to these 3 Quito neighborhoods, consider giving a chance to the less touristy areas of La Floresta, which has an active art scene; La Carolina, with a wide range of restaurants and other entertainment possibilities; and Guápulo, for a small town vibe. Staying in one of these areas would give you another perspective on the city, from areas that few tourists get to enjoy.
Quito Historic Center: Many Quito Attractions at Your Doorstep
Old town Quito is not only the largest, but also the best preserved colonial center in Latin America, making it one of the most popular places to stay in Quito, Ecuador among foreigners. The historical sites, colorful colonial buildings, beautiful plazas and many churches make up most of the Quito attractions people come to see. It will fill your culture cravings during the day, while its vibrant streets and local restaurants and bars will satisfy your appetite and keep you on your feet at night! Bonus: the cobbled stone streets and churches look even more beautiful when lit up at night!
Considering that cacao has been playing an important role for years in Ecuadorian history and culture, stop at Republica del Cacao to indulge in a chocolaty dessert, or try one of Pacari's award-winning chocolate bars. If you're into dark chocolate, give a shot to the 65% Cacao bar from the province of Manabi!
At sunset, head to Cafe Mosaico located on Itchimbía hill and enjoy dinner with a panoramic view over Quito and El Panecillo. If you're in the mood for gourmet cuisine, go to Casa Gangotena's restaurant. As the night goes on, take a taxi to the pedestrian street La Ronda. It's filled with some of the best restaurants in Quito and has bars hidden in colonial buildings to dance the night away to the rhythmic Ecuadorian music.
See below for some great Quito old town hotels, or skip ahead to read about La Floresta.
Hotel Casa Montero
Hotel Casa Montero – Located on Santo Domingo Square, in the heart of Colonial Quito, this charming hotel that preserved its soul will take you back in time. Offering spacious, comfortable rooms with traditional decor, television and free toiletries, the hotel also serves breakfast daily at its on-site restaurant with a precious view over the Old Town and El Panecillo. The property is located steps away from Santo Domingo Church and the lively street La Ronda. Past guests have noted that though offering beautiful views, the rooms facing the square can be a little noisy. Light sleepers and tranquility seekers should request a room facing the inner courtyard at the time of booking.
Check Availability & Pricing
Booking.com / TripAdvisor
Casa El Edén
Casa El Edén – Ranked as the best hotel in Quito according to Trip Advisor. A tastefully renovated colonial house turned into an upscale boutique hotel where old charm meets modern comfort. Rooms include a television, safe, hairdryer and heating. Homemade breakfast is served daily. Take in the panoramic views on the rooftop garden, ponder about which church to visit next in the reading room and relax by the chimney at night. Ideally located within a 6-minute walk to both the Basilica of the National Vow and Independence Square, you will not run out of places to visit in the area.
Check Availability & Pricing
Booking.com / TripAdvisor
La Casona de la Ronda Hotel Boutique Patrimonial
La Casona de la Ronda Hotel Boutique Patrimonial – A 4-star boutique hotel located in a typical 18th century colonial building. You will feel right at home in its charming spacious rooms with television and complementary toiletries. Have breakfast at the hotel's restaurant and plan your day in its green courtyard. At the doorstep of the Historic Center, discover Santo Domingo square and Church around the corner. A 5-minute walk will take you to Casa Sucre museum, the old residence of Marshal Antonio Jose de Sucre, who led the last battle against the Spanish Empire.
Check Availability & Pricing
Booking.com / TripAdvisor
Hotel Casa Gangotena
Hotel Casa Gangotena – Partially burnt down in 1914, rebuilt ten years later by the Gangotena family, and today converted into a prestigious boutique hotel, the hotel's rich history resonates with the Historic Center's past. With ceiling and wall mouldings, marble and gold accents, this 5-star will give you an idea of what it must have felt like to live in the family mansion. The spacious, luxurious rooms are air-conditioned with satellite TV, a hairdryer, toiletries, bathrobes and slippers. The on-site restaurant features traditional Ecuadorian dishes with a Spanish flare thanks to renowned head chef, Byron Rivera. The hotel is only a 5-minute walk to Independence square, the Carondelet Palace and the city's major museum. Don't miss the view from the hotel terrace!
Check Availability & Pricing
Booking.com / TripAdvisor
Carlota Sustainable Design Hotel
Carlota Sustainable Design Hotel – A beautiful, small and eco-friendly boutique hotel located in a 19th century colonial house. With exposed bricks and wooden beams, the rooms are unique, air-conditioned, and have an industrial but cozy vibe. If you've ever wondered what it is like to sleep in a bed with alpaca duvet and pillows, this is the place for you. Breakfast is served every morning, and guests have access to the rooftop terrace with a panoramic view, the on-site restaurant and the reading corner. A 5-minute walk will take you to Independence Square and the Church of the Society of Jesus.
Check Availability & Pricing
Booking.com / TripAdvisor
Casa San Marcos Hotel Boutique
Casa San Marcos Hotel Boutique – A baroque boutique hotel that kept the charm of the colonial building. With a prretty indoor courtyard, ornate furniture and old paintings, this hotel has it all. Offering cozy rooms equipped with a flat screen television, safe, heating, free toiletries and a bathrobe and slippers. The hotel also features an on-site rooftop restaurant. Enjoy an extensive breakfast with a view and discover local and international artists' work in the living room's art gallery. The hotel is only minutes away from Santo Domingo square and the bars and restaurants of La Ronda.
Check Availability & Pricing
Booking.com / TripAdvisor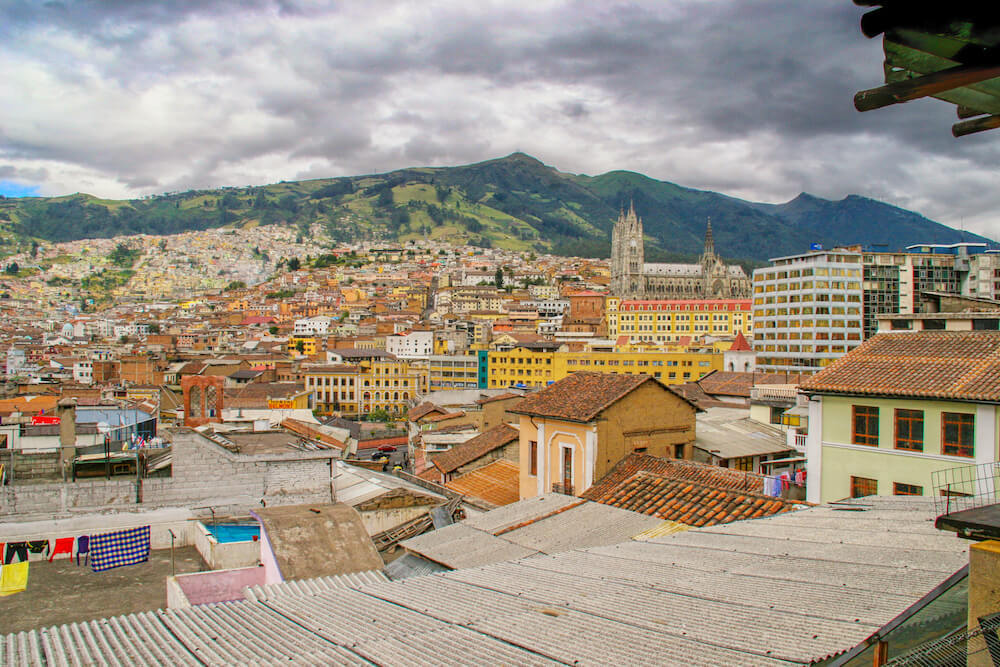 The view from the rooftop terrace at Secret Garden in Quito Ecuador
Secret Garden
Where we Stayed in Quito (Budget Choice)…
Years ago, when we travelled through South America on a three-month journey, we stayed at The Secret Garden. The rooftop terrace played host to one of our favorite travel memories of having nightly dinners overlooking the city, with Andean musicians providing the background music, then playing cards and having drinks and sharing stories with fellow travelers under the stars. The rooms were basic, but clean, and the staff were very friendly. The optional nightly dinner is served on the rooftop terrace restaurant and bar, with a daily vegetarian option. A great budget option.
La Floresta: Often Overlooked, but One of the Best Places to Stay in Quito Ecuador
If you're looking for trendy coffee shops, locally owned restaurants and art boutiques, La Floresta is the place for you. It is residential, but still one of the lively Quito neighborhoods, home to universities, students, artists and writers.
La Floresta is rich in culture so admire the street art, window shop at the art galleries and watch alternative, independent movies at the movie theater Ocho y Medio. Shop your heart out at La Torera, where you'll discover a wide range of products, including prints, clothing and beauty bits, made by various Ecuadorian artists, and satisfy your sweet tooth at Bótanica with a delicious pie.
For dinner, go to Avenida Isabel La Catolica, where you'll find a variety of restaurants and all types of cuisine. Opt for Alitas Benditas for delicious chicken wings or Lo Nuestro for Ecuadorian food. Fancy something unusual? Head to the "Food Truck Plaza" and try one of these restaurants on wheels' delicacies such as a vegan pizza with yuca dough! If you're feeling more adventurous, go for one of the dishes on the ever-changing menu at Laboratorio. At night, enjoy live jazz music at El Pobre Diablo-Café or a good artisanal beer at Bandidos del Paramo.
Some of the best hotel in Quito are located here in La Floresta and listed below. Or you can skip ahead to read about the Gonzalez Suarez district.
Casa Aliso Hotel Boutique
Casa Aliso Hotel Boutique – With a lovely backyard and cozy rooms, this boutique hotel in an artsy, residential district of Quito will feel like a home away from home.  Located in a restored doctor's house, it offers rooms with cable television, heating, bathrobes and complimentary toiletries at a wallet-friendly cost. Wander the colorful streets of the area, shop local goodies and eat at trendy restaurants. It is also a good starting point to visit neighboring Avenida Gonzalez Suarez and Guápulo.
Check Availability & Pricing
Booking.com / TripAdvisor
Swissôtel
Swissôtel – A 5-star luxury choice with spacious, air-conditioned modern rooms, comfortable bedding, televisions, safes, slippers and complimentary toiletries. The hotel features two on-site restaurants, specializing in Ecuadorian and Japanese cuisine, an indoor and outdoor pool, and fully equipped gym and sauna. A buffet breakfast is included in some room rates. Located a 2-minute walk from the restaurants on Isabel La Catolica.
Check Availability & Pricing
Booking.com / TripAdvisor
NH Collection Quito Royal
NH Collection Quito Royal – This lavish hotel offers modern, spacious rooms equipped with air conditioning, coffee makers, safes, flat screen TVs, a minibar, and free toiletries. Guests can take advantage of the hotel sauna and fitness center and feast on the breakfast buffet. There's an on-site bar and restaurant, but if you fancy a change, the hotel is steps away from the many restaurants of Avenida Isabel La Catolica. Located less than a 15-minute walk to the viewpoint of Guápulo.
Check Availability & Pricing
Booking.com / Trip Advisor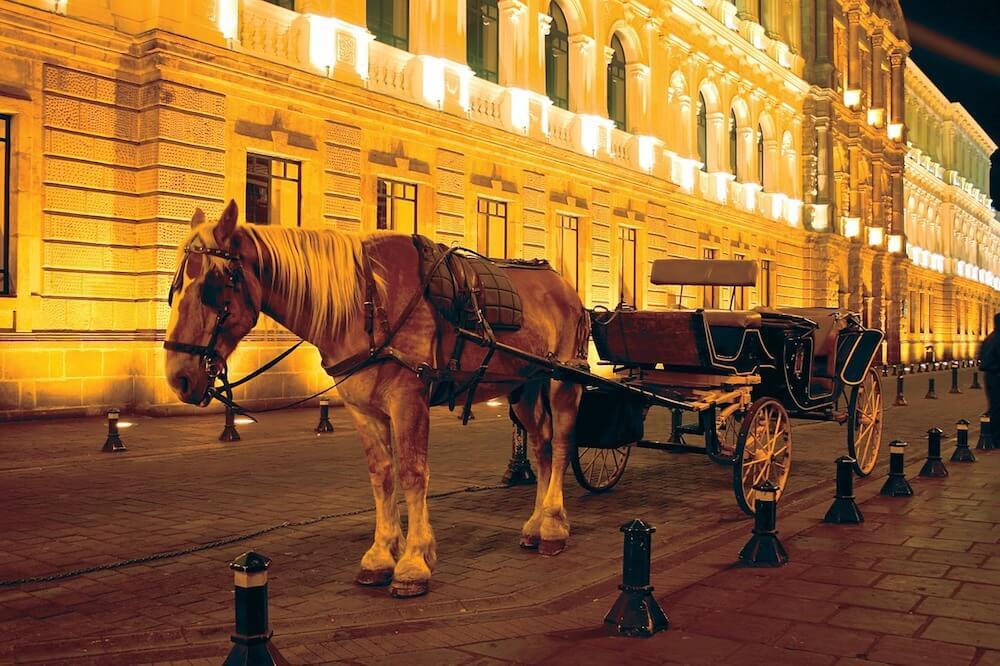 Photo via Pixabay, CC0 licence
Gonzalez Suarez: Sometimes Visiting Quito Ecuador is All About the Views
Gonzalez Suarez is where to stay in Quito for the best views, on the edge of the city, right next to the Guápulo neighborhood. Gonzalez Suarez will offer you amazing views of the city, both on the east side over Quito and the Pichincha volcano, and on the west over Guápulo. You'll find many restaurants, coffee shops and clubs along Avenida Gonzalez Suarez and if you're in for an adrenaline kick, go bungee jumping from the Gonzalez Suarez bridge!
Hotel Quito
Hotel Quito – On the border of Gonzalez Suarez and Guápulo, this Art Deco hotel offers breathtaking views over the city and valley. Every room has a private balcony, television and free toiletries. Hotel guests have access to the outdoor pool overlooking Guápulo, and the fitness center. Surrounded by restaurants, bars and clubs, you can opt to go out or stay in and eat at the on-site restaurant serving both Ecuadorian and international food. Past guests recommend a pool facing room to avoid street noise. It's a 20-minute walk through the winding streets to the Guápulo church and convent.
Check Availability & Pricing
Booking.com / TripAdvisor
Hotel Stubel Suites & Café
Hotel Stubel Suites & Café – A modern 4-star hotel offering spacious and comfortable rooms that include a television, hairdryer, safe and free toiletries. The hotel also features a gym, terrace and on-site restaurant with spectacular views over the valley -the real stand-out of this property, and a feature past guests rave about! Next to the Guápulo viewpoint, the hotel is ideally located to explore the valley and 15-minutes away from the restaurants of Isabel La Catolica.
Check Availability & Pricing
Booking.com / TripAdvisor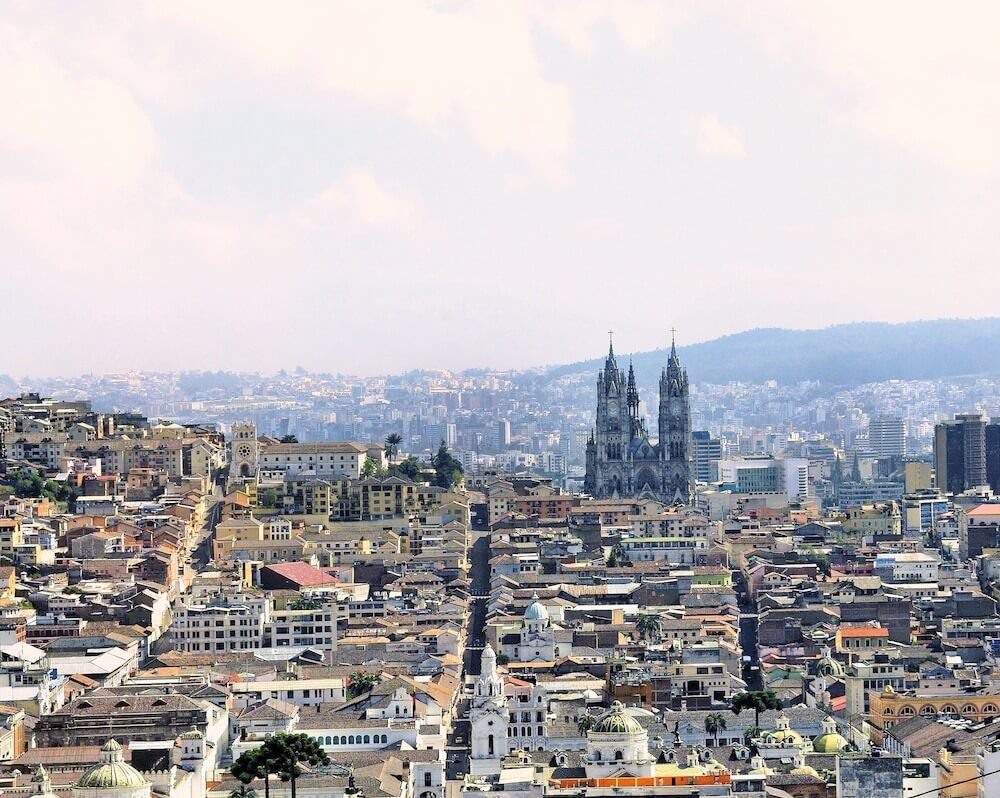 Photo via Pixabay, CC0 licence
La Mariscal: The Best Area to Stay in Quito Ecuador for Nightlife
La Mariscal Quito is a backpacker's favorite. La Mariscal has a great hostel selection and is where most foreigners go for the nightlife, near Plaza Foch. It's a nice neighborhood to kick back and relax, and while there are some interesting boutiques and many travel agencies in the neighborhood for booking tours, onward travel, or Galapagos trips, it's probably not the best place to stay in Quito if you're looking for a more local experience. This is a lively area of Quito, but be careful at night.
La Mariscal is home to many budget friendly Quito hotels and hostels. For top hostels in this district, take a look at Vibes Hostel, or Color House Petite. Both are ranked among the highest rated hostels in Quito.
Casa Joaquin Boutique Hotel
Casa Joaquin Boutique Hotel – A lovely haven in an ultra-lively neighborhood, this boutique hotel offers spacious rooms equipped with a television and safe, and a rooftop terrace. Tastefully mixing old with new, the hotel features an indoor patio, and serves an included continental breakfast every morning, along with local specialties such as empanadas. There is no elevator, but the hotel is just two floors and staff are eager to help. The hotel is located a block away from Foch Square and surrounded by bars and restaurants. A 10-minute walk will take you to the artisanal market and El Ejido Park.
Check Availability & Pricing
Booking.com / TripAdvisor
Best Western Hotel Zen
Best Western Hotel Zen – A well-liked hotel offering comfortable and spacious rooms with modern appliances and extras such as a coffee machine, slippers and free toiletries. After breakfast, go up to the rooftop terrace to enjoy the view over Pichincha Volcano or hit-up the fitness center. Past guests have noted the noise coming from the busy street below, worth noting if you're a light sleeper. Friendly and helpful staff are also mentioned often. A 10-minute walk will take you to Foch Square, 20 minutes to the artisanal market, and about 15 minutes to Guápulo viewpoint.
Check Availability & Pricing
Booking.com / TripAdvisor
Hotel Vieja Cuba
Hotel Vieja Cuba – A clean, comfortable and overall lovely choice with a great value-focused offering an nice location on the edge of this popular neighborhood's nightlife area. The hotel is located in a colonial-style mansion, and offers small, charming and cozy rooms with televisions and safes. Lots of beautiful hardwood, brick, and terracotta tiles create a welcoming atmosphere, and they serve a nice breakfast daily, included in the Booking.com room rate. Just a 10-minute walk from La Mariscal's popular Foch Square, about a 15-minute walk to Isabel La Catolica street, and 15 minutes from the Gonzalez Suarez district.
Check Availability & Pricing
Booking.com / TripAdvisor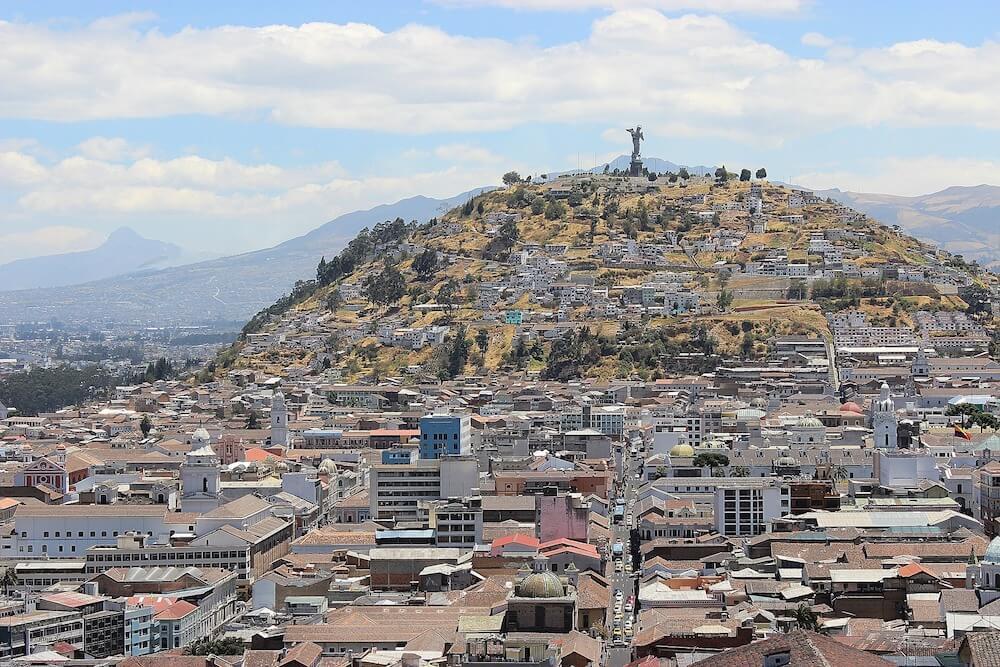 Photo via Pixabay, CC0 licence
La Carolina: A Trendy and Modern Place to Stay in Quito
Owing its name to the park of the same name, this is the financial district and most modern part of Quito. Families and young executives live in this neighborhood, close to Avenida Republica de El Salvador, one of the trendiest places in Quito. On the weekends, you will find parents enjoying a day out with the kids in the park playing soccer, basketball or jogging. Located in central Quito, this neighborhood is a great starting point to visit the rest of the city. It also offers a great selection of local and international restaurants and coffee places such as Café Jaru. Enjoy karaoke at Mongo's on Avenida de los Shyris and dinner at De La Llama for exquisite traditional Ecuadorian food. Finish off the evening at VIVA Cerveza or Beerman with a locally brewed beer.
La Carolina is home to one of the best luxury hotels in Quito.
Le Parc Hotel Beyond Stars
Le Parc Hotel Beyond Stars – Located next to Carolina Park, this 5-star option offers luxurious, comfortable rooms with plenty of space to spread out and enjoy the floor-to-ceiling view. Decorated by French designer Philippe Stark, each room has flat screen TVs, safes, minibars, hairdryers, an iron, slippers and complementary toiletries. Enjoy a drink with a view from the rooftop bar, workout at the fully equipped fitness center, relax in the sauna, or dine at the on-site restaurant. Located right on Avenida Republica de El Salvador, the hotel is surrounded by trendy coffee shops, bars and restaurants – you won't run out of options.
Check Availability & Pricing
Booking.com / TripAdvisor
Hotel Finlandia
Hotel Finlandia – This popular and modern property has a a bit of a business-y vibe, with clean and bright rooms that are simple, but have everything you need from a fairly no-frills hotel, from work desks, flat screen TVs, and safes, to complimentary toiletries. A buffet breakfast (included in Booking.com room rates) is also available every morning at the on-site restaurant, which also serves international food all day. This property is well-located, close to a major shopping center, and there are lots of cool bars, restaurants and shops also nearby.
Check Availability & Pricing
Booking.com / TripAdvisor
Wyndham Garden
Wyndham Garden – Part of the global chain, this property offers comfortable, air-conditioned rooms with coffee makers, flat screen satellite TVs, irons and laptop safes. The hotel includes a casual restaurant serving both local and international dishes, including a daily breakfast that is included in some room rates, as well as a fitness center. Around the corner from Carolina Park, a short 5-minute walk will take you to the Botanical gardens. It's also a 5-minute walk to the El Jardin shopping center, and if you cross the lovely La Carolina park, you'll find yourself on the lively Avenida Republica de El Salvador street in about 10 minutes.
Check Availability & Pricing
Booking.com / TripAdvisor
Guápulo: A Place to Stay in Quito with a Small Town Feel
For small town feels and valley views, head to Guápulo. Behind one of the most famous hotels in Quito, Hotel Quito, and Avenida Gonzalez Suarez, Guápulo is located on the slopes of the Machángara gorge river and connects Quito to Cumbayá. It's like being outside of the city but still within walking distance of all the buzz of Avenida Gonzalez Suarez. Take in the view at the Guápulo viewpoint, El Mirador De Guapulo, wander down its winding cobblestone streets and visit its colonial church and convent, which is one of the oldest religious sanctuaries in Ecuador. Relax at the park and finish the day enjoying a coffee or a meal at one of its restaurants on Camino de Orellana. Try Tandana or Mirador de Guápulo.
Cumbayá: The Best Place to Stay in Quito for Outdoorsy Folks
Located in the valley of Quito, Cumbayá is more tranquil and peaceful than central Quito. Sitting 600 meters under Quito, the neighborhood enjoys warmer temperatures and doesn't get as foggy at night. Quite like Gonzalez Suarez, it is one of the wealthier Quito neighborhoods. Some say that it is a town on its own, but despite being a 20-minute taxi or car ride from the city center, it is actually still part of Quito and a paradise for outdoor activities lovers. Hike el Ilaló, an inactive volcano, bike on the chaquiñan, which is a road only accessible to pedestrians and cyclists that goes through Cumbayá and the towns of Tumbaco and Puembo or run along el Reservorio.
Enjoy a well deserved artisanal beer at Sabaii, an evening at Elements for a fancy mouth watering dinner experience, or head to Superfoods to stay on the healthy track.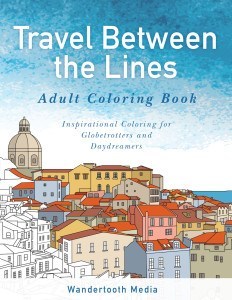 Did You Know…?
Quito is featured in our travel themed adult coloring book, Travel Between the Lines. That's right…we make adult coloring books for travelers! We took some of our favorite photos from our travels around the world and had them hand traced to create the images. So, you can re-create actual the scenes of places you've been or dream of going. Great for passing the time on the plane, and it makes a wonderful gift!
Quito FAQs
So…Where should you stay in Quito?
Choose a neighborhood depending on how long you'll spend in the city, the kind of activities you'd like to do and the kind of atmosphere you want to be in. The residential area of Gonzalez Suarez has it all: the views, the proximity to the Old Town, the foodie options and the party. However, there's no public transportation and you will have to take a taxi to go to the city center.
If you're planning to travel to Quito solo, consider La Floresta or La Mariscal, where you'll be more likely to meet other travelers at local establishments. Old Town Quito is always a good choice, especially if you'll only be spending up to three days in Quito as you'll always be a couple of steps away from the main Quito attractions. On the other hand, be aware that although the colonial streets look even prettier at night, they also get a bit creepy and dangerous once the sun goes down.
La Carolina is the trendiest Quito neighborhood, with Avenida Republica de El Salvador being Quito's hotspot and offering a wide variety of international food options and cool cafes. If you have a little more time and will spend more than four days in Quito, the best Quito neighborhoods for you would be Guápulo or even Cumbayá, which will offer you a different perspective on the Ecuadorian capital.
Whichever neighborhood you do choose to stay in Quito, take full advantage of it and remember that you can still visit the other ones and make your own opinion about them!
Getting Around Using Quito Public Transport
With the ongoing construction of Quito metro (coming 2019) that will run from the north all the way to the south of the city in half an hour, the capital is investing in its public transport, which is already relatively good, and very cheap; each trip within the city costing only $0.25. However, if you're going to stay in the city for a day or two and are not used to taking public transport in South America or other developing countries, I would recommend skipping the buses and take a taxi.
There are three metro bus lines, which operate much like a tram system. They have their own dedicated lanes, which make them quicker and more efficient than taxis. The Trolebus covers the middle of the city and Old Town Quito.
The bus system is indeed not the easiest to navigate, as there are typically no posted route numbers, and will only take you from the north to the south of the city and vice-versa. Although they have a start and end stop, they will not usually have posted stops in between, and people will get on and off whenever, making it a bit tedious. If you want to explore one of the neighborhoods on the east or west side of the city, take a taxi. Petty crimes also regularly happen in buses, and not just against tourists, so if you do take a local bus, keep a close watch on your stuff.
Biking around the city is not recommended. Although there are special bike lanes, drivers have little or no respect for cyclists. Walking around Old Town and other neighborhoods is easiest.
After dark, it's recommended that you don't walk or take public transport in the city; you're better off calling a taxi.
Taxis in Quito
Taxis in Quito are required to use a meter, however few do, particularly at night. This is just the way things are done. Typically a ride within the city will be anywhere between $2 and $5, but be sure to agree on the price beforehand, or insist on the meter, and be prepared to find another cab if they don't agree. For the most part, the taxi drivers are good people.
Drivers may not know hotels by name, so have the address ready, and if possible, the cross streets.
As a modern alternative, you can use Uber, Cabify, or use the Easy Taxi app, which works with local official taxis. Cabify and Uber work almost exactly the same, and a quick fare search quoted $2-$4 for a ride between Quito Centro Historico and Avenida Gonzalez Suarez, and about $30 between Old Town Quito and the airport.
Tours & Activities: Popular Quito City Tours and Amazing Day Trips From Quito
Landing in Quito: Getting from Quito Airport to City Center Locations
If you arrive by air at Mariscal Sucre International Airport (UIO), know that the airport is located in the valley. To get to your accommodation, you can either take a taxi or a direct bus that will drop you off at the old airport in the northern part of city center. Getting from Quito airport to downtown or old town will take about 30-40 minutes or so depending on traffic.
The Quito Airport Bus
Aeroservicios operates every 30 minutes between 3:30am and 11:30pm, Monday to Friday, and 4:00am – 10:30pm on weekends. It's a comfortable coach equipped with wifi, and a single journey is $8.00 per person. It's only destination however, is the old airport terminal Antigua terminal aerea, Av. Río Amazonas, which is still a good distance away if you are staying in the historic center of Quito.
Taxi From Quito Airport to Downtown
Uber and Cabify, or local taxis are the best option for getting to the Quito historic center from the airport. If you are planning on using the official Quito airport taxi, head to the booth after you come out of the arrivals area. Prices are posted, but still recommended you confirm with the driver. Taxi fare from Quito airport to the center is usually $20-$30.
Private Transfer
If you're in doubt, or just wish to avoid any uncertainty, you can always book a private Quito airport transfer. Click here to learn more.
Early/Late Flight? Stay at the Quito Airport Hotel
Wyndam Quito Airport
*at the airport terminal
9.1 / 10 on Booking.com
Staying Safe: Useful Tips for Staying Safe When You Visit Quito Ecuador
While I wouldn't say Quito is a dangerous city if you use common sense, remember that being a foreigner makes you a target and that you must be aware of your belongings at all times. Be careful at night around La Mariscal and the Old Town and always call a taxi when it's dark, or have whatever restaurant, hotel or establishment you're in call one for you.
Watch out for pickpockets on the bus, especially at rush hour. One of their specialties is to rip your bag to steal your phone and wallet without you noticing. To prevent this, keep your valuables on you, preferably in the inner pocket of your jacket and don't take out your phone or money during the trip, or invest in one of the theft-proof bags on the market, such as those made by PacSafe. When you're not using your camera, don't keep it around your neck and put it away in your bag and keep you hand over it.
Beware of fake taxis, especially at night near the clubs. Make it a rule to always call a taxi to pick you up, or use Uber, Cabify or the Easy Taxi app over hailing one on the street. If you have to hail a "yellow taxi", make sure it is registered by verifying that it has an orange license plate on the front and the back, and that the taxi cooperative name is written on the side. Sometimes, they will have two cameras inside and a red panic button. Taxis are required by law to use the meter so either negotiate the price, or insist on the meter before you get in, or find another cab. Always sit in the back seat.
Although it is the capital of Ecuador, most locals do not speak English, so if you can, learn a little bit of Spanish to help get you around. You'll see that buenos días and gracias go a long way. Enjoy Quito and safe travels!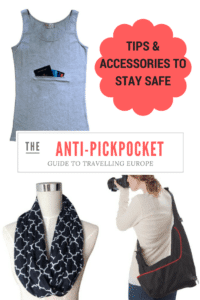 Tips for Avoiding Pickpockets and Theft
While we originally wrote our anti-pickpocket guide to help travelers visiting Europe, the advice is just applicable for those visiting Quito and other cities in South America. If you're worried about keeping your belongings safe in Quito, be sure to read our article, 5 Cheap and Sneaky Ways to Stop Pickpockets.
About Céline: Our Quito Expert
When I first arrived in Quito a few years ago, I didn't know what to expect. Sure, I'd read about the country in guidebooks and online but I couldn't picture what life would be like high up in the Andes. It's been four years now since I've first set foot in the country and after travelling back and forth from Europe to Ecuador and extensively within the country, I finally took the plunge, moved and now call Quito home.
Like This Guide? Pin it for Later!