Where to Stay in Lima Peru: Advice from a local expat and travel writer about the best neighborhoods to stay in Lima! Find the best place to stay in Lima, plus everything else you need to know about visiting and staying in Lima Peru, including Lima neighborhoods to visit, the best places in Lima to explore, Lima city tours, Lima day trips, and the best hotels in Lima Peru. 
We created this guide in collaboration with guest author Jessica Harte, an expat living and working in Lima. We're so happy she agreed to share her insider knowledge of the city of Lima, and help you choose the best place to stay in Lima for your own unique trip!

Disclosure: This Where to Stay in Lima travel guide contains affiliate links. That means we earn a commission when you use the links on this site to book a hotel, buy your travel insurance, shop for travel essentials, etc.. You don't pay anything extra. If you'd like to learn more about how this works, you can read more under our Disclaimer page.
Water dominates everything in Lima, the second largest desert city in the world. Mist fills the streets but rain almost never falls. Incan canal systems live on under the main avenues, continuing to shape the city. Green parks and gardens are treasures to be closely guarded and cared for.
Bordered by an ocean on one side and a mountain range on the other, this is a city of extremes. The overwhelming color is sand but it's outlined by bright building facades, the occasional patch of green, and bright flashes of flowers.
Lima is testament to its residents' can-do attitude. Things seem put together at random. Houses look like they've been knocked up overnight, traffic jams aren't complete without street vendors weaving between the cars, living rooms double up as impromptu restaurants – this city is always hustling, always on the move.
The center of Lima is not really the center of Lima. The key to deciding where to stay in Lima Peru, is to understand that the Lima historic center was abandoned by the middle classes in the second half of the 20th century and it's now the neighborhoods to the south which attract visitors and better off Limeños.
This disjointedness is characteristic of a city renowned for unplanned sprawl. Nine million people live here in 43 districts, each relatively isolated from the others. Although this makes for a fascinating city, it does mean getting around is not straightforward, but there's so many transport options you won't get stuck.
And now let's take a closer look at the best places to stay in Lima.
Where to Stay in Lima Peru: Start Your Search Here
Table of Contents →
Miraflores: This Cliff Top Neighborhood is one of the Most Popular Lima Peru Districts
Many travellers looking for the best place to stay in Lima will zero in on Miraflores – the go-to neighborhood for visitors to the city. Miraflores has a host of tourist-friendly restaurants, cafés, and international shops.
Walk to the cliffs and you'll find the LarcoMar shopping mall with views over the ocean. This area is the malecón, a stretch of attractive garden along the clifftops that continues for 6 miles. Ice cream vendors abound but for something fresher try a marciano (homemade fruit popsicle); they're cheap and delicious.
For a more authentic Peruvian shopping experience, cross Ricardo Palma Avenue into neighboring Surquillo, where you'll find a market teeming with ceramic and wooden goods, every kind of spice, and even a pet bunny.
Under the cliffs, down on the shore is where you'll find the classic surfer beach, Makaja. Don't worry if you didn't come prepared, as the surf schools will rent you a wetsuit and board for a reasonable price. Miraflores is also home to the park-cum-cat sanctuary, Parque Kennedy. By day grab some popcorn from one of the stands and get to know its feline residents, then in the evening sit back and soak up the atmosphere as couples come to Salsa dance. Afterwards head to la Destilería bar or enjoy some delicious vegetarian food in Veda restaurant.
For some cultural explorations, take a guided tour of Huaca Pucllana, an ancient Wari compound site complete with a large pyramid, thought to even pre-date the Incan civilization. A walk further up the coast will take you to the Place of Memory, Tolerance, and Social Inclusion (LUM), a museum dedicated to documenting the country's internal conflict in the 1990s. Entrance is free and there are often other cultural activities such as film screenings and workshops.
With so much to offer, it's easy to understand why most travellers will end up in Miraflores when considering where to stay in Lima.
See below for some great options for hotels in Miraflores district, Lima Peru…
Tierra Viva Miraflores Larco
Tierra Viva Miraflores Larco – A brand new hotel with modern and comfortable air conditioned rooms with flat screen TVs, safes and hairdryers. A daily buffet breakfast is included, and guests can enjoy a private lounge area and quaint terrace with city views. The hotel is quite new and well located near many popular sites, including City Hall and Kennedy Park, both just a 10-minute walk, and the fancy Larcomar shopping center, beaches and boardwalk, just a 15-minute walk. There are lots of restaurants and bars close by, and the Benavides metro station is about a 6-minute walk.
Check Availability & Pricing on
Booking.com / TripAdvisor
Belmond Miraflores Park
Belmond Miraflores Park – Luxurious 5-star accommodation with ocean views from just about every corner of the property. Each suite features marble bathrooms, seating areas, work desks, tea and coffee makers, LCD TVs, minibars and either city or ocean views. Onsite you'll find a fitness center, spa and wellness center, and there's a heated pool on the rooftop terrace with ocean views. Onsite dining includes 2 restaurants and a bar also with amazing views. It's a 10-minute walk to the Larcomar entertainment area overlooking the beach, and very close to many restaurants and bars.
Check Availability & Pricing on
Booking.com / TripAdvisor
Dazzler Lima
Dazzler Lima – A well liked 4-star hotel with big comfy rooms with minibars, coffee makers, LCD TVs, kitchenettes, complimentary toiletries, and laptop safes. A buffet breakfast served daily (included), and guests are treated to a welcome drink upon arrival. Less than a 10-minute walk to the beach and the Miraflores lighthouse, the hotel is surrounded by plenty of restaurants.  A sauna, fitness center and outdoor heated pool are available for all guests to enjoy. Great views of the city, a courtyard bar and a restaurant can all be found at the hotel.
Check Availability & Pricing on
Booking.com / TripAdvisor
JW Marriott
JW Marriott – A 5-star hotel conveniently located directly across the street from Larcomar and close to beaches and Playa Redondo Park. Modern and beautifully decorated rooms have coffee making facilities, LCD TVs, minibars, safes, toiletries, slippers and hairdryers. Take a dip in the outdoor swimming pool or relax in the sauna, work out in the fitness room, or get pampered in the onsite spa.  Authentic Peruvian cuisine can be found at La Vista Restaurant, or dine at JW Sushi Ceviche Lounge, both onsite. Many bars, shops and restaurants immediately surrounding the hotel.
Check Availability & Pricing on
Booking.com / TripAdvisor
Casa Suyay
Casa Suyay – A Peruvian "casona" in a traditional building with lovely details, this hotel is set in a great location surrounded by shops, bars and restaurants. Less than a 5-minute walk to Kennedy Park and about 20 minutes to the beach, or a short cab ride away. A buffet breakfast is included in the rate and rooms are equipped with a flat screen TV, safes, and toiletries. The breakfast room is cozy and connects to an inner courtyard that guests can enjoy and relax in.
Check Availability & Pricing on
Booking.com / Trip Advisor
Hilton Lima Miraflores
Hilton Lima Miraflores – This well liked 5-star Lima hotel offers beautifully decorated rooms with touches of colonial Peru. Rooms are complete with satellite TVs, mini bars and coffee makers, large windows, deluxe toiletries and cozy beds. Located near the lively Larcomar entertainment area, museums, parks, restaurants and shops reachable in about a 10 to 15-minute walk. The hotel features a heated outdoor pool with ocean view, hot tub, and fitness center. Onsite dining options include the Lobby Café and the Social Restaurant and Bar, which features a lovely terrace. During the summer months guests can enjoy the rooftop bar and watch the sunset.
Check Availability & Pricing on
Booking.com / TripAdvisor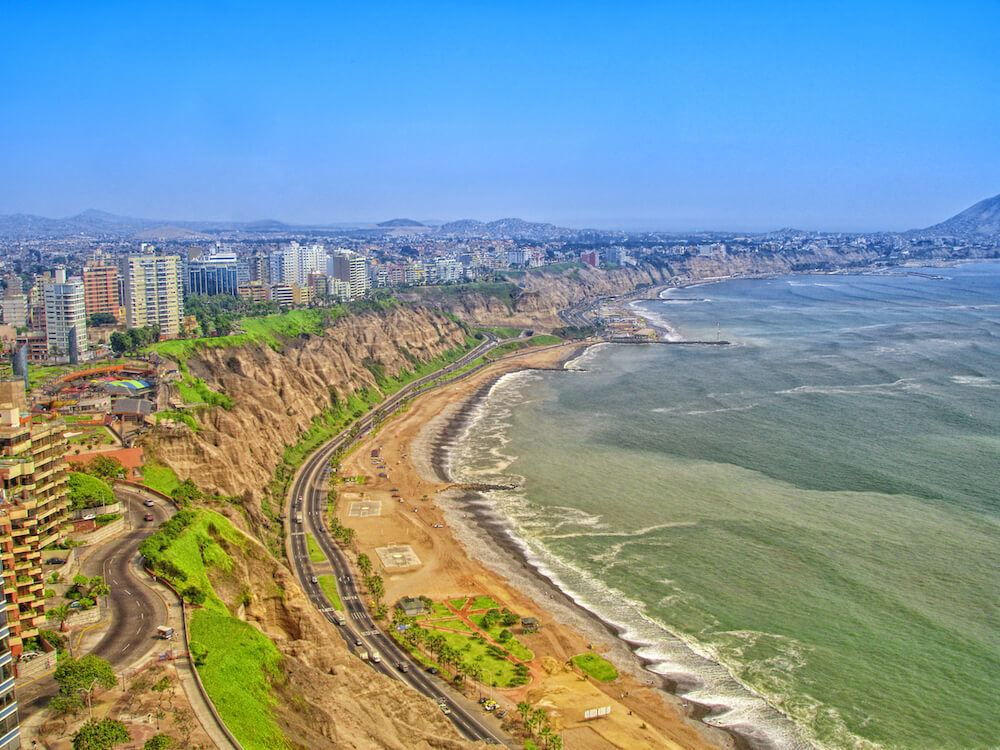 Overlooking the cliffs and beach of the Miraflores District, Lima, Peru – taken by Katie on a tandem Paraglide
Also Visiting Ecuador or Chile?
Check out our Where to Stay in Quito and Where to Stay in Santiago guides
Barranco: For Color, Creativity and Craft Beer, Head to the Barranco District Lima
The city's bohemian quarter, Barranco prides itself on being the city's "cuna de artistas" (cradle of artists). This is where to stay in Lima if you've come looking for galleries, craft beer and artisan souvenirs.
Cross the romantic Bridge of Sighs (Puente de Suspiros) and head down towards the sea, where hippies will try to sell you jewelry and hustler waiters will try to entice you with menus. For  lunch with a view, check out Restaurante Javier. Taking the building on the left, you'll have to go up three flights of stairs to get to the top terrace, but it's worth it to eat with views over the Pacific.
A seaside resort for many years, the district is famous for its idiosyncratic European-influenced architecture with an ornamental balcony here, a little turret there. Take a tour of the district, or just wander from park to park and pick out your favorite weird and wonderful houses.
The Pacific borders Barranco to the west and as the day ends, locals make a beeline for the cliffs. As the sun sets over the ocean, forget any other plans for a moment and let this laid back district work its magic on you.
By night Barranco changes pace and the Plaza fills with buskers, dancers and circus performers. Stay nearby and visit the legendary Juanito, a bar that's been run by the same friends since 1990. With the air of a Spanish bodega, take a place at the bar and order one of their famous ham sandwiches.
For those craft beers lovers, check out Barranco Beer Company just up the road. If you want to get a true taste of Latin style, join the queue for Sargento Pimienta on a Tuesday night when they host a live salsa band, but be warned – it's not for wallflowers!
For shopping, check out the Barranco Feria on a Sunday for live music, table football and market stalls selling everything from antiques to hand-printed t-shirts.
See below for the best Barranco Lima hotels.
Hotel B
Hotel B – Trendy and historic, this renovated boutique hotel has strong connections to Lima's art scene, offering an exclusive art collection and private viewings at a nearby gallery. Breakfast and at raditional afternoon tea, known as El Lonche, is included. Rooms come with an iPod docking station and flat screen TV, mini bar, safe and toiletries. A street front terrace restaurant features authentic Peruvian cuisine, and guest areas include a library, living room, central patio, coffee and tea lounge, and a rooftop bar with neighborhood and ocean views. 5-minute walk to Diez Canseco park with cliffs overlooking the beach.
Check Availability & Pricing on
Booking.com / Trip Advisor
Villa Barranco
Villa Barranco – Housed in a gorgeous villa from the 1920s, this renovated boutique hotel is practically on the seafront and less than a 5-minute walk to the beach. Rooms are beautifully detailed with a bohemian flair, garden views (suites have balconies), flat screen TV, desk, air conditioning, wardrobe, hairdryers and toiletries. There is an onsite restaurant serving breakfast, lunch and dinner with vegetarian options. According to past guests, the highlight of this property is the rooftop terrace with excellent views of the ocean.
Check Availability & Pricing on
Booking.com / TripAdvisor
Lima Wari Hotel
Lima Wari Hotel – A cozy boutique hotel restored from a 20th-century mansion and conveniently located surrounded by bars, restaurants and supermarkets, with a bus stop directly across the street. The decor is bright and funky and gives off a cozy guest house vibe. The hotel offers both budget accommodation with shared bathrooms, and affordable hotel rooms with private bathrooms, including minibars and flat screen TVs, safes, toiletries and hairdryers. The common areas are charming and include a garden and terrace.
Check Availability & Pricing on
Booking.com / TripAdvisor
San Isidro: The New Downtown Lima Peru, Modern and Upscale
The other center of Lima, this is the city's financial district and home to its more exclusive shops and restaurants. Enjoy a coffee in relaxed Loreta or enjoy some classic Peruvian cooking in Señor Limón.
The San Isidro Lima neighborhood has recently "gone green", so take advantage of car-free Sundays with a bike tour and enjoy the district's new network of dedicated paths. If you're looking to do something less strenuous, take a stroll through the heart of San Isidro – El Olivar. A forest of olive trees brought here from Seville in 1560, they continue to be jealously guarded and protected by locals.
Don't miss a stroll around the Huaca Huallamarca, an stepped ancient pyramid and burial site nonchalantly set amongst streets of modern housing.
See below for the top hotels in the San Iidro district, Lima…
The Westin Lima Hotel
The Westin Lima Hotel – Located in the heart of the shopping and financial part of San Isidro, this 5-star hotel is only minutes from restaurants, galleries, shops and parks, and ranked #2 for best hotels in Lima according to Trip Advisor. The hotel features an amazing indoor pool, fitness center, sauna and a spa offering an array of services and treatments. Rooms are fully equipped with satellite TV, minibar, coffee machine, slippers, bathrobes, and large windows with splendid views of the city. There are two restaurants located on the property as well as a bar and lobby lounge.
Check Availability & Pricing on
Booking.com / TripAdvisor
Atton San Isidrio
Atton San Isidro – A 2018 Top Choice Hotel from Trip Advisor! Located very close to San Isidrio's financial center, it offers rooms with panoramic views of the city and minibars, flat screen TVs, and safes, and toiletries. A daily breakfast buffet is included, and the hotel features an outdoor pool, hot tub, jacuzzi, sauna and fitness center. There's an onsite restaurant specializing in authentic Peruvian cuisine and a bar where guests can enjoy a pisco sour! Just a 5- minute walk to the Huaca Huallamarca pyramid and archeology site, with a nice selection of bars and restaurants within easy walking distance.
Check Availability & Pricing on
Booking.com / TripAdvisor
Foresta Hotel Lima
Foresta Hotel Lima – A 4-star hotel in a luscious green area just one block from the Lima Golf Club and a 5-minute walk to the beautiful El Oliver Park filled with olive trees and more than 30 species of birds. The area immediately around the hotel is full of restaurants, cafes, bakeries and shops. The contemporary rooms are air conditioned, and include LCD TVs and desks. A daily continental breakfast is included with most room rates. Dining is available onsite at the Aguaymanto Restaurant Terrace and the lounge bar. The hotel also features a fitness center and an art gallery.
Check Availability & Pricing on
Booking.com / TripAdvisor
B&B El Olivar
B&B El Olivar – A great budget option across from the historic El Oliver Park, with many restaurants and bars nearby. The rooms include daily breakfast as well as a fridge, microwave and flat screen TV. The renovated house is charming and features several common areas, including a dining room, living room, kitchen and outdoor terrace with seating area and views of the park. Top marks from past guests go to the owner who is very friendly and helpful, going above and beyond in customer service.
Check Availability & Pricing on
Booking.com / TripAdvisor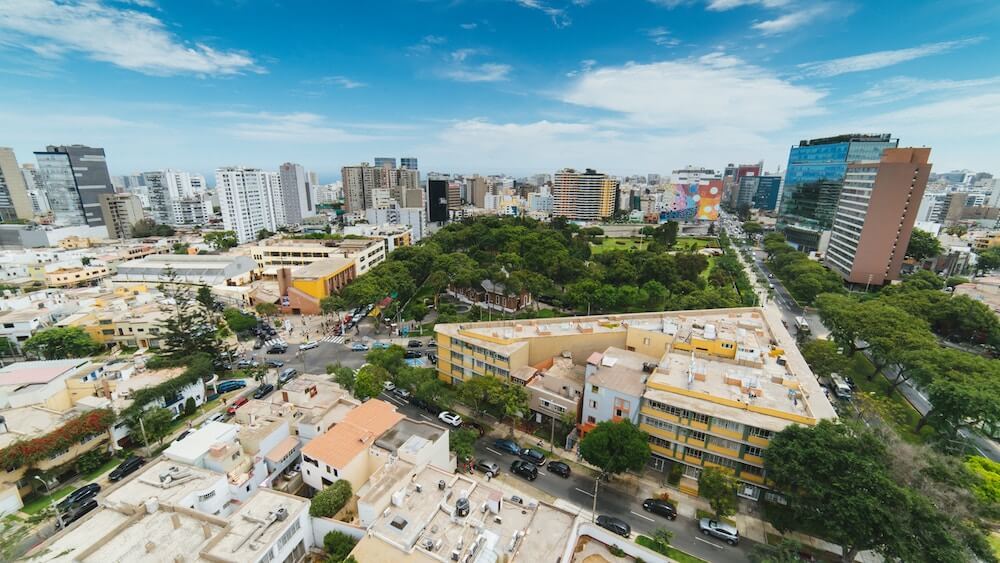 Photo by Dan Gold on Unsplash
The Best Lima Peru Neighborhoods to Visit
Centrado de Lima: The Historic Centre of Lima
A taste of the "real Lima", the Lima historic centre is actually a bus ride away from the other districts, but it's an unmissable experience.
This was the City of Kings, the most important city of the Spanish colonial period. The buildings here are listed as UNESCO heritage sites and it's well worth taking a guided Lima city tour around the area.
Leading off Avenida Abancay, a 20th century imposition on the old town, the markets are astounding. Locals tip: don't be in any kind of rush, don't expect quality goods and give up on finding anything specific. Just join the crowds and soak up the weirdness. There are whole zones dedicated to piñatas, streets where all the shops sell chandeliers, indoor markets which only sell plastic hair accessories, etc. Rampant consumerism aside, it's fun!
Nestled in this bustle is the city's Barrio Chino (Chinatown), set on the pedestrian-only calle Capón, so called because this is where livestock used to be castrated during Spanish Colonial times. Ignore the connotations and enjoy some dim sum in Salón Capón.
The district is bordered to the north by the Rimac River, the city's possible namesake (academics differ). Follow the promenade upstream and you'll find Tiendas Amazonas, a huge secondhand book market. Here each stall caters to the tastes of its owner and the variety is impressive.
If after all that you're looking to relax, you can't do better than the beautiful, old school Bar Queirolo. Here you can order an authentic pisco sour, the nation's cocktail of choice.
The historic center is usually the top choice to stay in many cities, but not here. When you are considering where to stay in Lima, you are best to pick one of the above neighborhoods, and simply visit Centrado de Lima. If you are going to stay in Centrado de Lima, consider the Gran Hotel Bolivar Lima, a 3-star rated 7.5 on Booking.com with a location score of 8.7; it is walkable to almost all of the old center attractions in 10 minutes or less.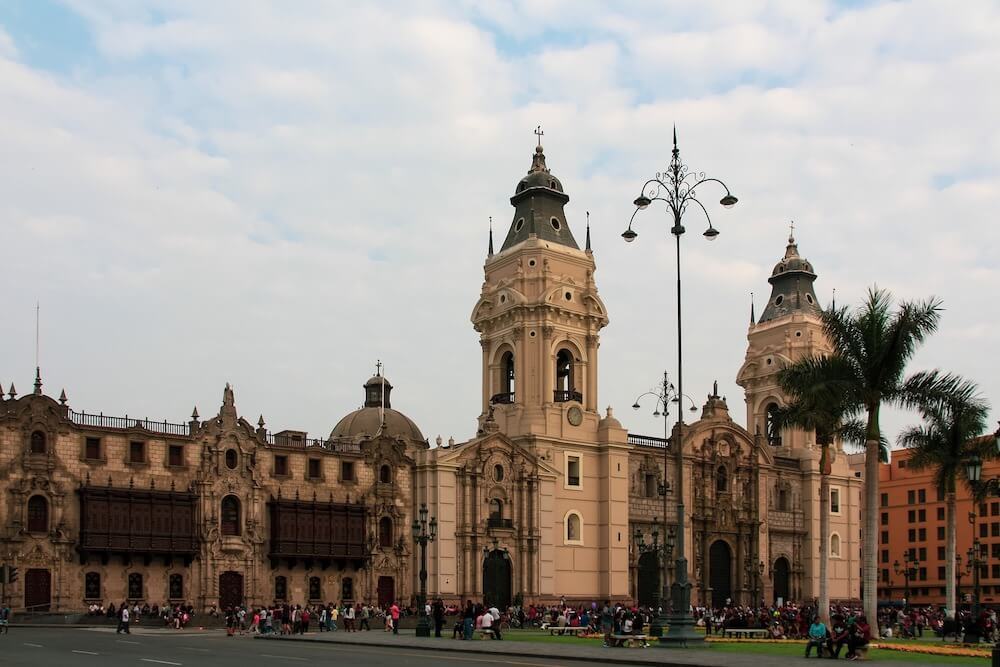 Archbishop's Palace, Photo via Pixabay

San Borja: An Upscale, Organized Lima Neighborhood
Beloved by its inhabitants, San Borja can feel like a well-organized oasis against the general chaos of Lima. It has a reputation for welcoming outsiders, having long been a destination for people from around Peru settling in the capital.
San Borja Lima is one of those Lima districts often overlooked by visitors because it doesn't border the ocean, but San Borja is actually home to several national attractions. Here you will find The National Library of Peru, the Grand National Theater of Peru and the Museo de la Nación (Museum of the Nation). It also boasts the Parque de la Felicidad (Happiness Park), which is one of the city's most charming spots to relax and also secretly repurposes runoff water to reuse as irrigation for the district's plants, so you can recline on that American-style lawn guilt-free.
If you're feeling hungry, head over to district's main thoroughfare, Avenida Aviación, famous for its "chifas"– Peru's answer to Chinese restaurants. A fusion between Cantonese and Peruvian cooking traditions, these are a culinary staple of Liman life. Try a "chaufa" (a fried rice dish) in the inexpensive but delicious restaurant Lung Wha (Av. Aviación 2841, San Borja).
Chorrillos: Great Views and Great Beaches
If you're trying to spot Chorrillos, look for the Morro Solar, a huge mound rising up from the coast with a blinking cross and a technicolor light-up Jesus statue. It's one of the neighborhoods in Lima Peru beloved by the city's cyclists as it's one of the only places Limeños get to go up and down a hill! The Morro is also home to the city's observatory which opens its doors to the public every Sunday.
The beach here is sheltered and family friendly, but expect big crowds on hot weekends. Off the beaten track for tourists, Chorrillos is an old fishing village and the best place to find fresh ceviche – Peru's national dish, kind of like a sushi, it's made from cured raw fish. Remember that the midday sun is strong in Lima, so it's advisable to eat ceviche early in the day, or from a restaurant rather than a street food stand. It is raw fish, after all.
Pueblo Libre: Pleasant Parks, Excellent Restaurants and Notable Museums in this Lima Neighborhood
Although an unusual choice for visitors, Pueblo Libre is a surprise gem of a neighbourhood.
Here is where you'll find the Larco Museum, dedicated to pre-columbian art, and the Museum of History and Anthropology, where you can have the privilege of seeing some of Peru's most valued treasures. The museum is also the former home of Simón Bolívar, a popular figure throughout South America.
Enjoy a ice cool chica morada from one of the stands in the Plaza Bolivar – it's the other national drink (after Inca Cola) and made from purple corn. Just around the corner is one of Lima's best and most unpretentious restaurants, El Bolivariano (Calle Rosa Toledo 291, Pueblo Libre), which serves great criollo (basically, everyday Peruvian food) food at reasonable prices.
While this wouldn't be considered one of the best places to stay in Lima Peru, especially for a short visit, if you are looking for a more local experience check out Aloha Terra as an apartment option – less than a 5 minute walk to the Larco Museum, rated 9.1 on Booking.com.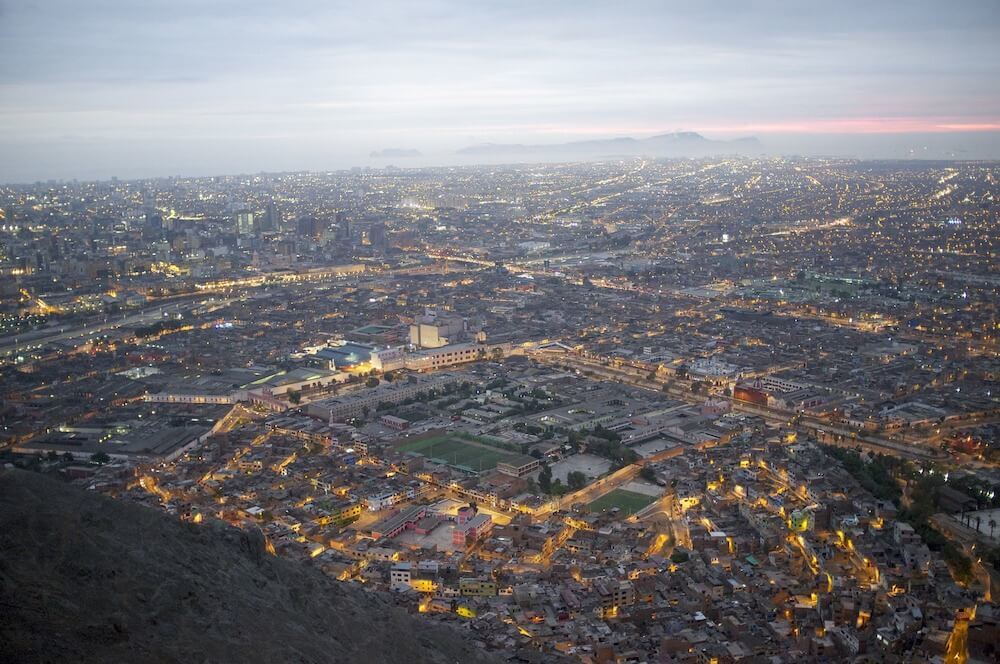 View from the Cerro San Cristobal viewpoint, Photo via Pixabay
Lima City Tours & Day Trips
Click Here to See a Full List of Lima Tours & Day Trips
Lima FAQs
Getting Around: Taking a Taxi and Using Public Transportation in Lima

El Metropolitano: Mass-Transit Buses
Since 2010 the city has a mass-transit bus system with its own dedicated traffic lane known as the Metropolitano, which runs similar to a tram in other cities. This will take you roughly from North to South, running from Centrado de Lima through San Isidro, Miraflores and Barranco down to Chorrillos. Though the route is limited, this is by far the safest, fastest and most reliable form of transport in the city. You'll first need to buy a travel card for 5 soles ($1.50US) after which single journey trips, regardless of distance, will cost 2.50 soles ($0.75US). To top up your card you can either do so in person at booths located at the entrance of any metropolitano station, or the vending machines but – be warned – the machines only take exact change.
Lima Metro
A modern metro system has been in the works for many years, and since it's rejuvenation by the government, 1 complete line out of 6 planned lines is currently operational and many more phases are going to be rolled out through 2019 and beyond. Currently, single journey rides cost 1.50 soles ($0.45US), plus the cost of the travel card for 5 soles ($1.50US).
The operation of this first line will likely not have much impact or be much help to tourists on short visits to the city, however, Line 4, which is expected to be operational late 2019, will connect the city center to Jorge Chavez international airport which will make Lima airport transfers much easier.
Buses
If you're feeling adventurous you can catch a ride on a micro, basically a bus you can hail in the street like a taxi (although if there's a stop, or paradero, nearby you should wait there). Look for a group of people and wait there. The names of the main avenues on the route are written on the sides, and the start/end point written on the front. Buses taking the same routes are painted the same color and they come very frequently, so if you miss out on one you can just wait for the next. Fares tend to be around 1 sol ($0.30US) which you either pay to the driver or the driver's assistant: that's the person leaning out the window shouting the destinations! Often there's a little map of the route as a sticker inside the bus which you can use as a guide to help you get where you're going.
If you're outside of the main districts you might also find a combi, basically a minivan, or a mototaxi (a cross between a motorcycle and a taxi). These are very affordable but tend to be quite uncomfortable, especially on bumpy, unpaved roads.
For locals, the basic means of getting around is by taxi, and unfortunately for a newcomer, the service is uncontrolled and under regulated. Any car can be a taxi and besides some alarming driving, robberies do happen.
Many locals therefore prefer to use app-based services, the most trusted of which are BeatTaxi, Cabify and Uber.
Lima Airport Transportation: How to Get From Lima Airport to City Locations
Lima's Jorge Chavez International Airport is located about 10km (6.5 miles) from the center, but as most of the best places to stay in Lima are a bit further south of the center, we're really talking about 18km (~11 miles). Choose between the Lima airport bus, official airport taxis, app based ride sharing like Uber or Cabify, and of course, pre arranged private or shared transfers.
Lima Airport Bus
The Lima airport shuttle goes from Lima airport to Miraflores and back hourly from 7am until midnight. The buses are modern luxury coaches equipped with toilets, Wifi, USB charge ports, LCD screens with GPS tracking, and there is no baggage limit. There are 8 stops in the Miraflores district, and very easy to catch a taxi from any of these stops to your onward address or hotel, if you are staying in one of the other Lima neighborhoods.
The journey is about 45 minutes, but can take up to 90 minutes if travelling in rush hour. Check the website for more information.
Lima Airport Bus Prices
Adults: $8US one way /  $15US return
Children 4-15 $6US / $12US return; children under 4 year old free
Taxi Lima Airport to City
There will be lots of unofficial and unregulated taxis trying to offer you their services, which are best avoided. Official taxi companies will have booths in the arrivals area where you can order your taxi. Official taxis serving Lima airport are: CMV, Mitsoo, Taxi365, Taxi Directo, and Taxi Green – stick to one of these companies and you'll be fine. As an example, the fare for taking a taxi from Lima airport to Miraflores should cost between 50-60 soles ($15.50 – $18.50US).
App based taxis like Uber and Cabify both currently operate in Lima. A quick check on Uber's Fare Estimator showed a ride between Miraflores and the airport between to be between 34-41 soles ($10.50-$12.60US) during non-peak, weekday travel.
Lima Airport Hotels
Wyndham Airport
4-Star
*located within airport
8.2 on Booking.com
Holiday Inn Airport
4-Star
*complimentary shuttle
9.0 on Booking.com
Further Reading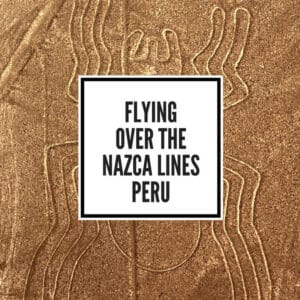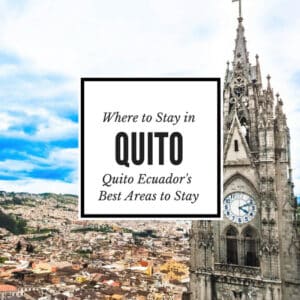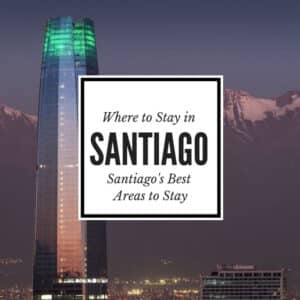 About Jessica
Jessica Harte has lived in Lima since January 2018 and works there together with local climate change experts and cycling activists. She spends her free time exploring and getting to know new parts of the city.
Like This Guide? Pin it for Later!