Looking for the ultimate winter escape? If you're craving nature and the outdoors, you don't have to wait till summer to explore some of the most spectacular national parks nationwide.
In fact, the colder months just happen to be the most incredible time of the year to hit the outdoors. With less crowds blocking the views and scenery so unique it'll make your jaw drop, there are plenty of reasons to put these spectacular national parks at the top of your winter bucket list.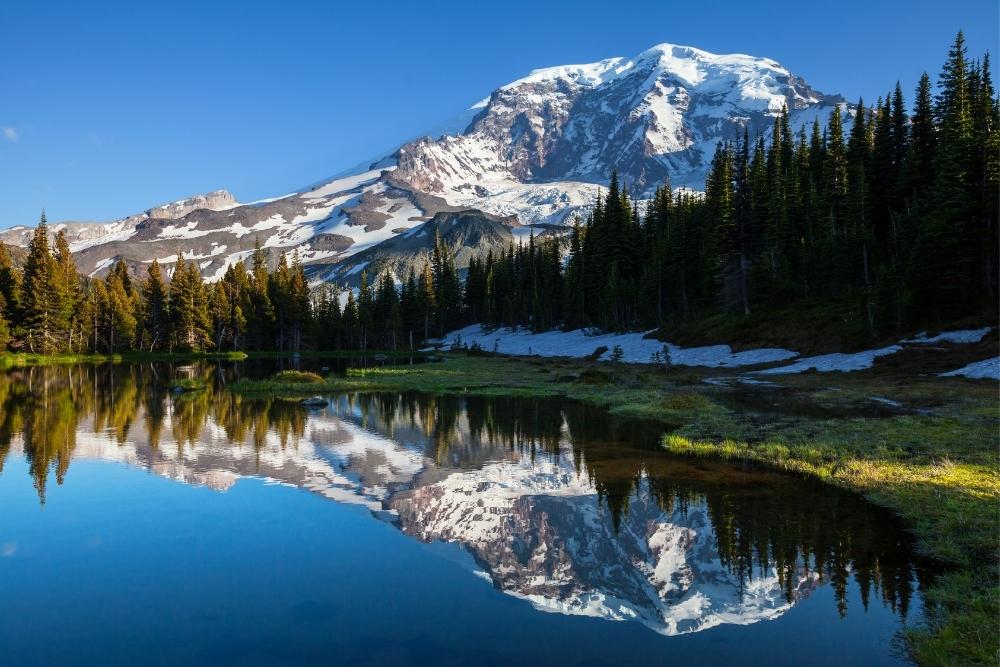 Mount Rainier National Park, Washington
Mount Rainier National Park was the 4th national park in the country. It holds a fascinating past carpeted by a thick blanket of snow, creating a postcard-perfect picture. At Mount Rainier National Park, visitors can enjoy snowshoeing, cross-country skiing, winter hiking, snowboarding, and, if fearless, winter camping! A couple of terrific trails to test your snowshoeing skills on are Comet Falls Hike and Paradise Valley Loop. Mount Rainier National Park visitors will notice fewer crowds and a smaller noise volume during the winter season. The park becomes a quiet, tranquil winter wonderland with an enormous number of tall, thick pine trees blanketed with fresh snow.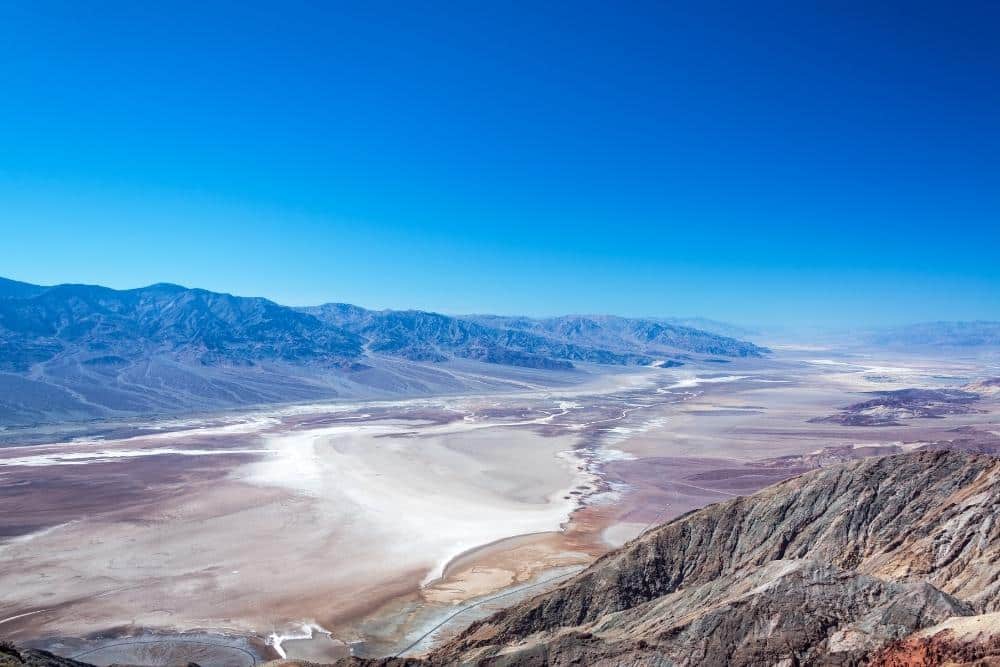 Death Valley National Park, California
While visiting Death Valley National park during the summer months is often not the most comfortable idea (it gets scorching hot… we mean temperatures in the 120 degrees!), winter is a wonderful time to visit this epic national park. Don't let its name fool you. Death Valley National Park is packed with life, and there's no better time in the year to experience its mystical desert magic than winter. Imagine eerie-looking rock formations, salt flats as far as the eye can see, and hills splashed with colors you never thought you'd see in nature! If those awesome things weren't enough to convince you then plan a trip to watch a sunrise at Zabriskie Point, and we're positive that will!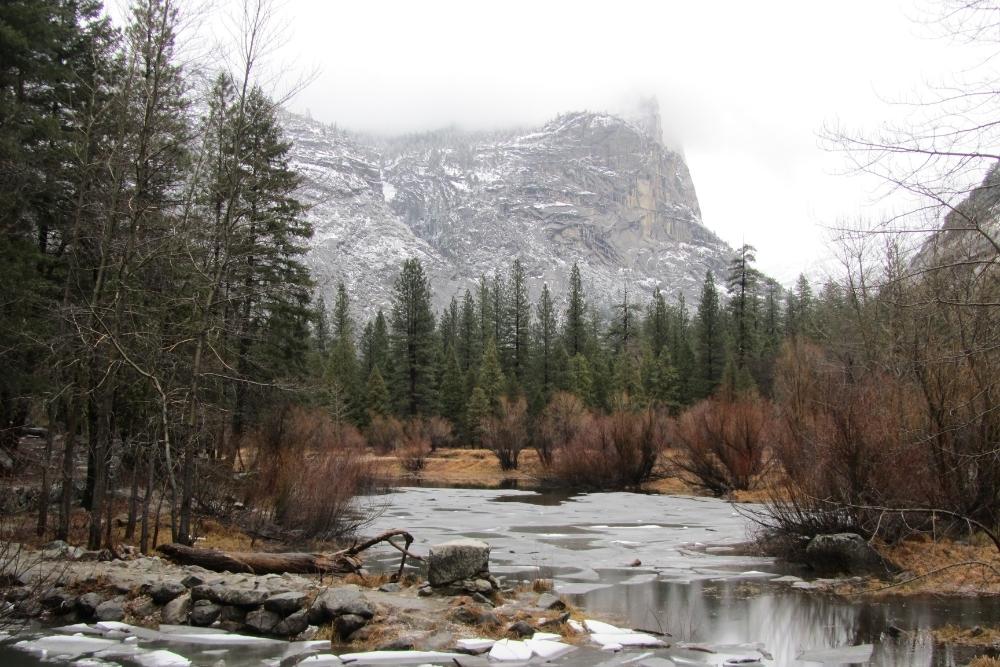 Yosemite National Park, California
Picture white sparkly snow settling softly on sky-high redwoods, gorgeous terrain, and snow-capped mountains, and you'll have yourself at Yosemite National Park. Visitors can expect fewer crowds and less chaos/noise when the cold arrives in the park. The park is a beautiful environment, and even though winter can bring frigid temperatures, it offers a different perspective to see the true beauty of Yosemite National Park.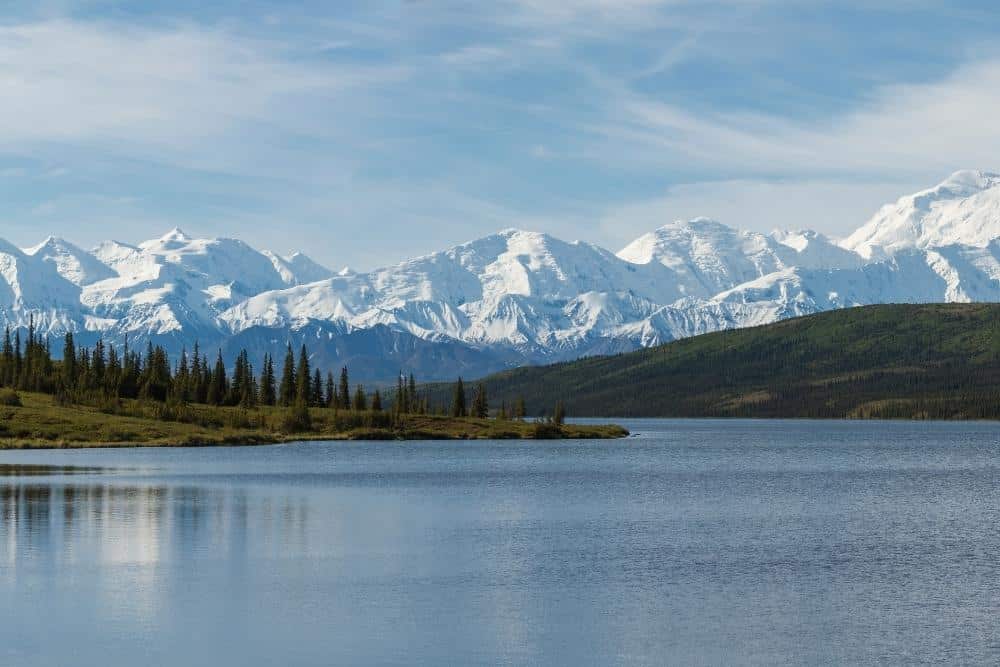 Denali National Park, Alaska
If you're craving a true winter wonderland, then look no further. Denali National Park in Alaska is precisely that. With its dominant season being the bone-chilling winter, the park is scenic, exciting, and beautiful and offers great winter recreation opportunities. Enjoy cross-country skiing, biking, snowshoeing, and much more.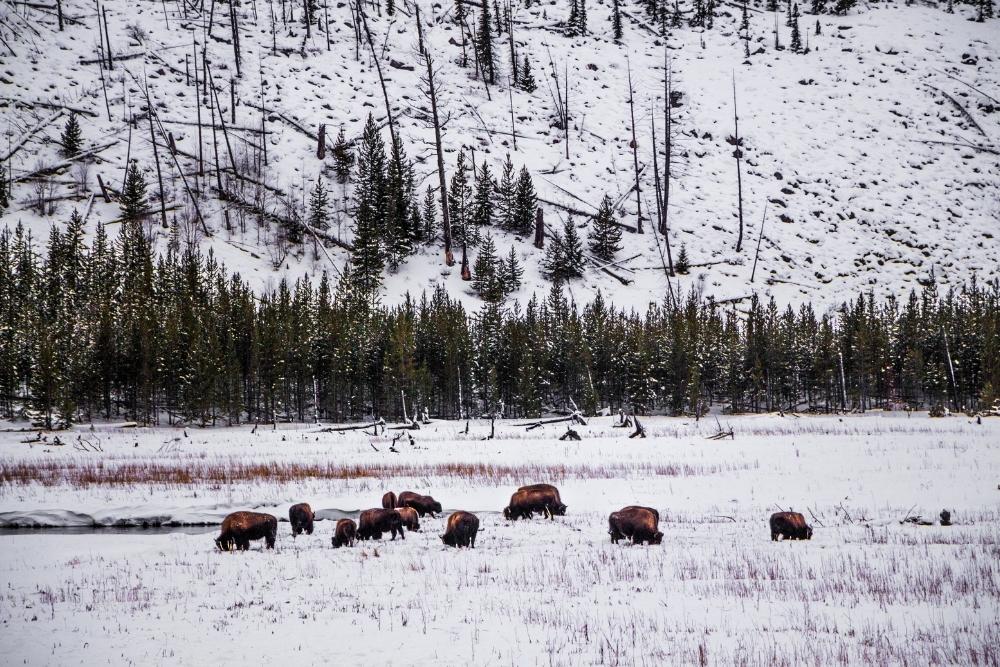 Yellowstone National Park, Wyoming
Yellowstone National Park is a treasure of a place year-round, particularly during the colder months. This is because the entire national park becomes a winter paradise of snow-capped forests, frozen lakes, and alluring geysers that look entirely out of this world. Beginning in early November, getting to Yellowstone can become a bit of a trek as most roads are closed to traffic and only accessible via special vehicles. Still, with a bit of planning, you'll be able to enjoy the epicness of this national park in a truly unique way. Yellowstone National Park is super pretty during the winter. It's a great place to watch wildlife, go on a snowcoach tour, and enjoy an endless number of thrilling outdoor adventures.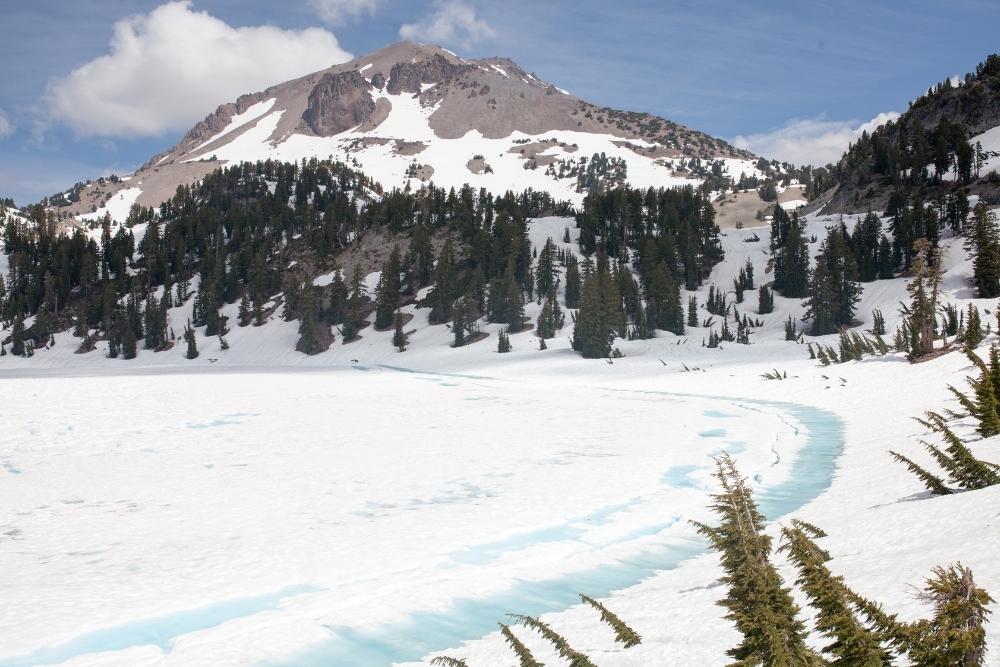 Lassen Volcanic National Park, California
If you're craving an out-of-this-world winter experience, then a trip to Lassen Volcanic National Park is necessary. The park is an exceptional place to enjoy thrilling winter snow sports and offers a dramatic elevation change, spectacular scenery, and beginner-friendly trails!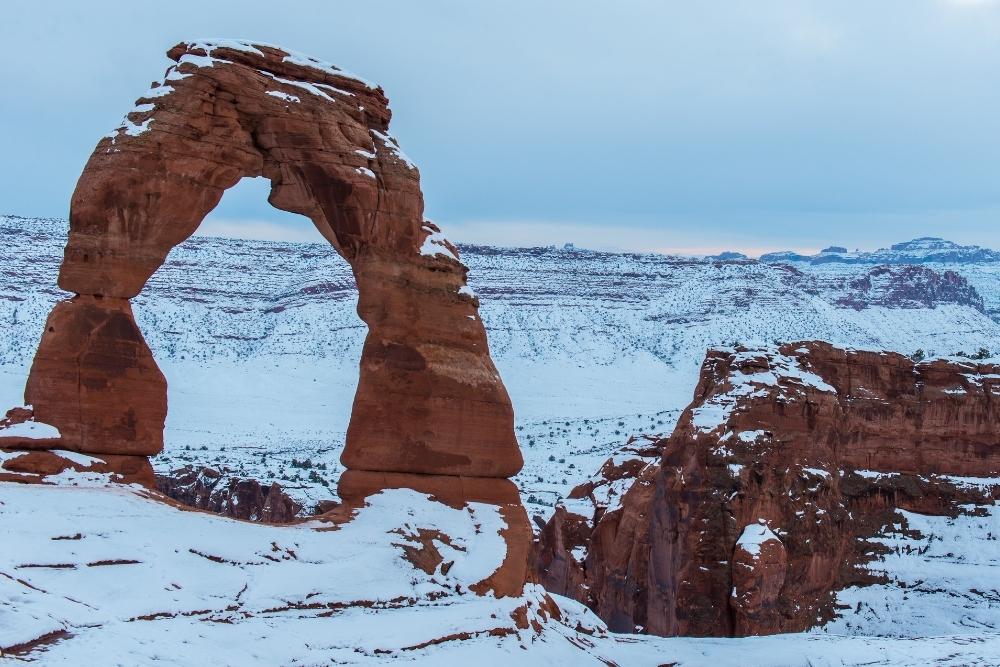 Arches National Park, Utah
With over two thousand archways that give the park its name, huge mesas, and strange-looking rock formations, visiting this desert wonderland in Utah will make you feel as though you've completely left Earth and wandered into Mars.
While it snows in Arches during the winter, it's not enough to ruin the day. In fact, it snows just enough to bring out an epically beautiful contrast of white against the red rock landscape Arches is oh-so-famous for. Moreover, there's just something about the winter skies and the dreamy snow-capped La Sal Mountains in the backdrop that makes winter sunrises and sunsets at Arches something magical.
Carlsbad Caverns National Park, New Mexico
Carlsbad Caverns National Park offers an entirely unbelievable experience thanks to the giant limestone formations! In addition, the national park offers ranger-led tours where visitors can learn about the land and environment, as well as excellent hiking trails!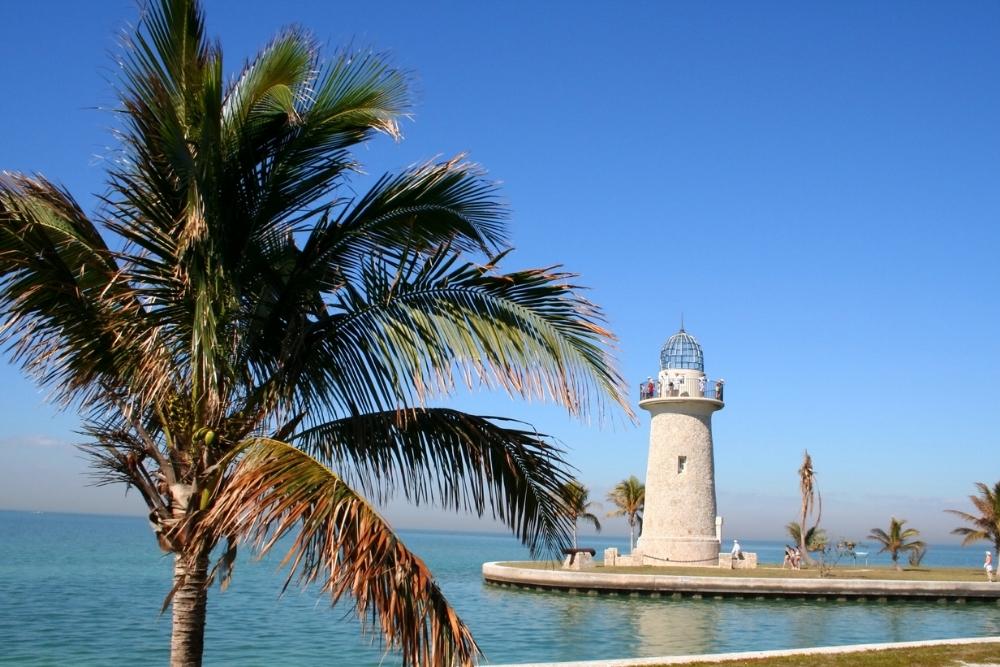 Biscayne National Park, Florida
Feeling more in the mood to entirely escape the cold and make the most out of that winter sun? Biscayne National Park is probably just what you're after if what you're looking for is to pair a beach and nature getaway. Located in the beautiful Florida Keys, this national park sees the sun all year, but what makes it truly unique is the sole fact that it's actually 95% underwater.
Yes, this means you'll need to go below the surface to really get to explore it. You essentially have two options: Snorkeling or booking an (epic) scuba diving expedition. If you'd rather not get wet, there's a secret lesser-known third option, which involves a glass-bottom boat tour!
Once you're done exploring under its waves, you can check out the 5% of the park that's actually on land and consists of epic little islands that you can explore on foot in search of epic wildlife and untouched nature.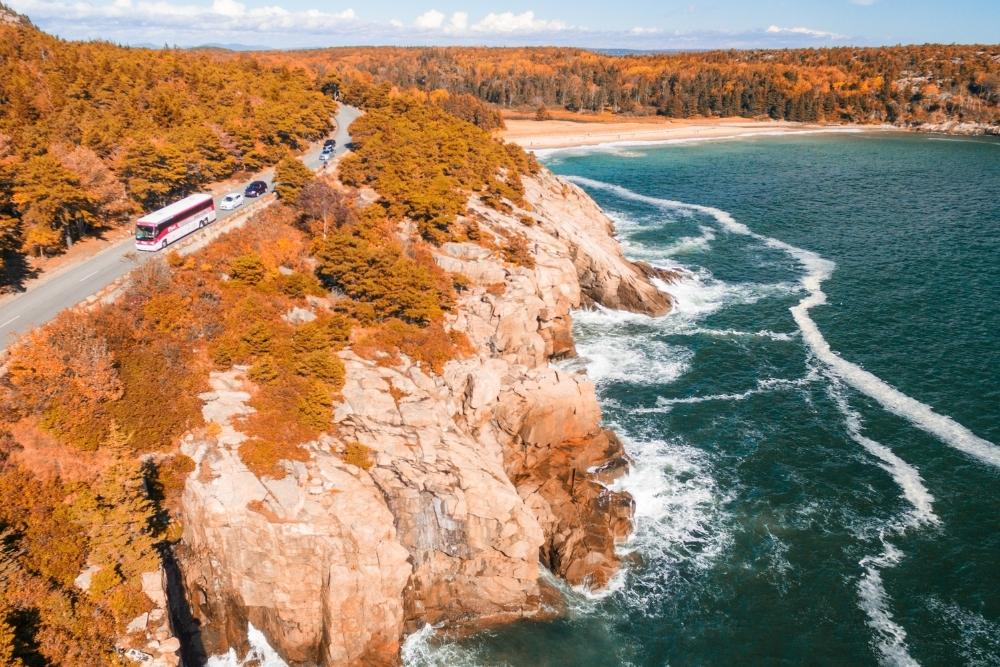 Acadia National Park, Maine
If you're feeling courageous, bundle up and face the cold at Acadia National Park in Maine. The park offers a ton of outdoor fun along with sights of unparalleled nature, impressive scenery, and outstanding wildlife viewing. Acadia National Park is a terrific place to plan a visit for winter. Enjoy snowmobiling, ice fishing, and catching sights of some exotic birds!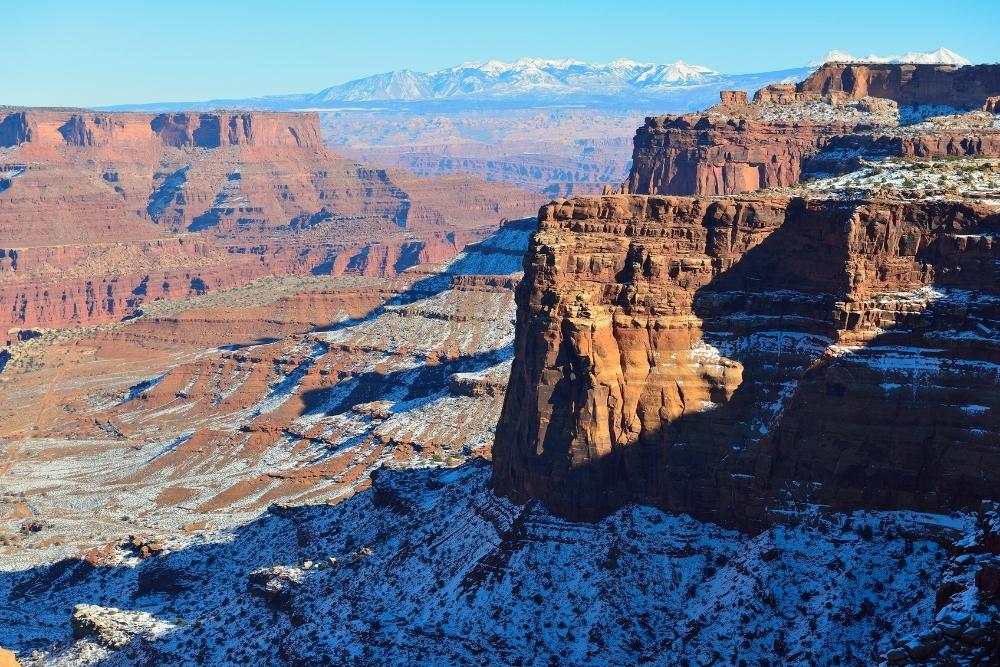 Canyonlands National Park
Think red rock canyons plastered all over and sandstone spires piercing the sky to get a pretty good picture of what visiting Canyonlands National Park is all about.
With over 330,000 of land to explore, you can pretty much visit Canyonlands dozens of times and never really get to do the same thing twice. So winter is the perfect time to get an excellent introduction if you're keen to experience some of its epic desert magic.
While it gets chilly during the evenings, visiting Canyonlands during the winter months means fewer crowds, which means you'll get to experience some of the most epic viewpoints (psst… don't miss sunrise at Mesa Arch) and have them practically all to yourself!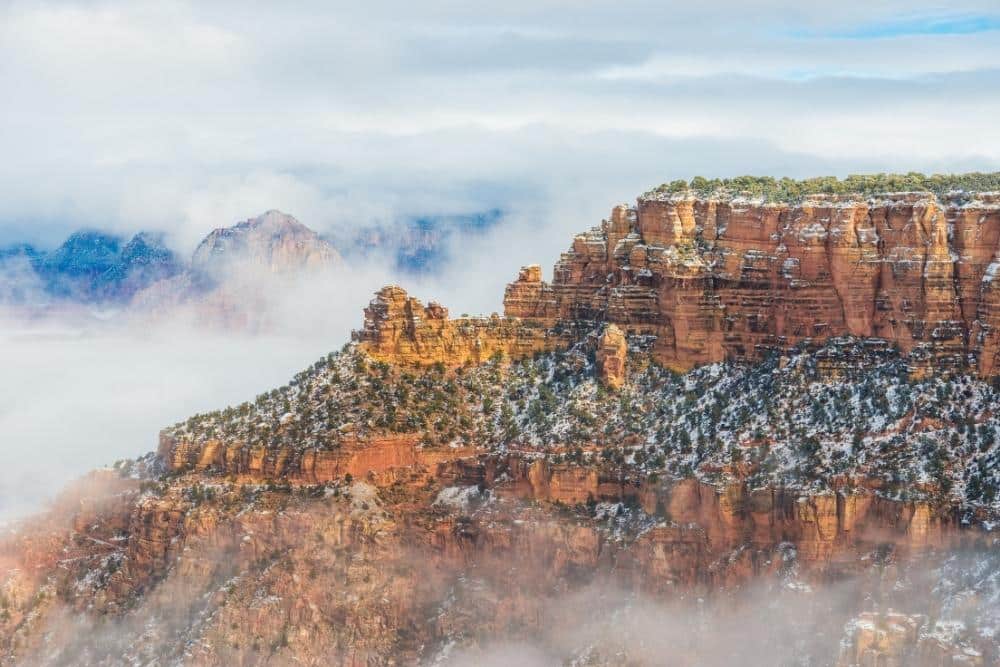 Grand Canyon National Park
Imagine one of the USA's most famous views but dusted in a layer of snow! If you want to get a truly unique experience at one of the most popular spots in the country, a winter escapade to see the Grand Canyon is a must on your travel bucket list. While the North Rim closes during the winter, the South Rim (which tends to get super crowded any other time of the year) remains open and allows you to explore some of the most popular hiking trails without hoards of visitors around.
If you'd rather not break a sweat, you can grab your car keys and drive the scenic road to Desert View or book a flight to get a birds-eye view of the canyon blanketed in snow, providing a view you won't soon forget!
Rocky Mountain National Park, Colorado
Rocky Mountain National Park becomes a spectacular sight during winter. Visitors can enjoy snowshoeing, take in some great cross-country skiing opportunities, sled at Hidden Valley, and watch some epic winter wildlife.
A Few More US National Parks to add to your winter BUcket List!
Several national parks become absolute winter wonderlands during the frigid season. At these national parks, you can embrace snowshoeing, cross country skiing, sledding, hiking, and even winter camping!
Big Bend National Park, Texas
Grand Teton National Park, Wyoming
Zion National Park, Utah
Visiting these national parks in the country during winter guarantees an epic trip. So if you love quiet outdoor experiences and would much prefer to have the views all to yourself, then right there is the top reason to pack your bags and hit the road this winter.
What are some other epic national parks to visit during the winter? Tell us in the comments below which are your favorites!