Zander K Hotel Bergen: Review of Zander K boutique hotel Bergen, including what we loved and what we'd change about Zander K hotel. Includes information about the rooms, breakfast, common area, and gym at Zander K hotel Bergen, as well as a price comparison to other Bergen hotels.


Disclosure: This website contains affiliate links. That means we earn a commission when you use the links on this site to book a hotel, buy your travel insurance, etc.. If you'd like to learn more about how this works, you can read more under our Disclaimer page. Please note, we were guests of Zander K during our stay, and received the stay.
Bergen, I have to be honest, wasn't our favorite stop on our Norway trip. Sailing into the city on an overnight Hurtigruten from Ålesund, we arrived to grey and spitting skies, creating a moody first impression of Norway's second city. Throughout our two-night stay, the rain occasionally relented, but more often, the gently drizzling skies opened up into fierce downpours that dampened both our feet and – if I'm being honest – our spirits.
We arrived in Bergen in the rain, and almost everything we did was under a blanket of drizzle. And while I'd love to say we simply had bad luck, this is fairly standard issue in Bergen; it's one of the rainiest cities in Europe, raining an average of 231 days per year (that's 63% of the year), and Bergensers seem to take some sort of perverse pride in the amount of rain their city receives, with outerwear I'd categorize as "fisherman chic" displayed in many a shop window.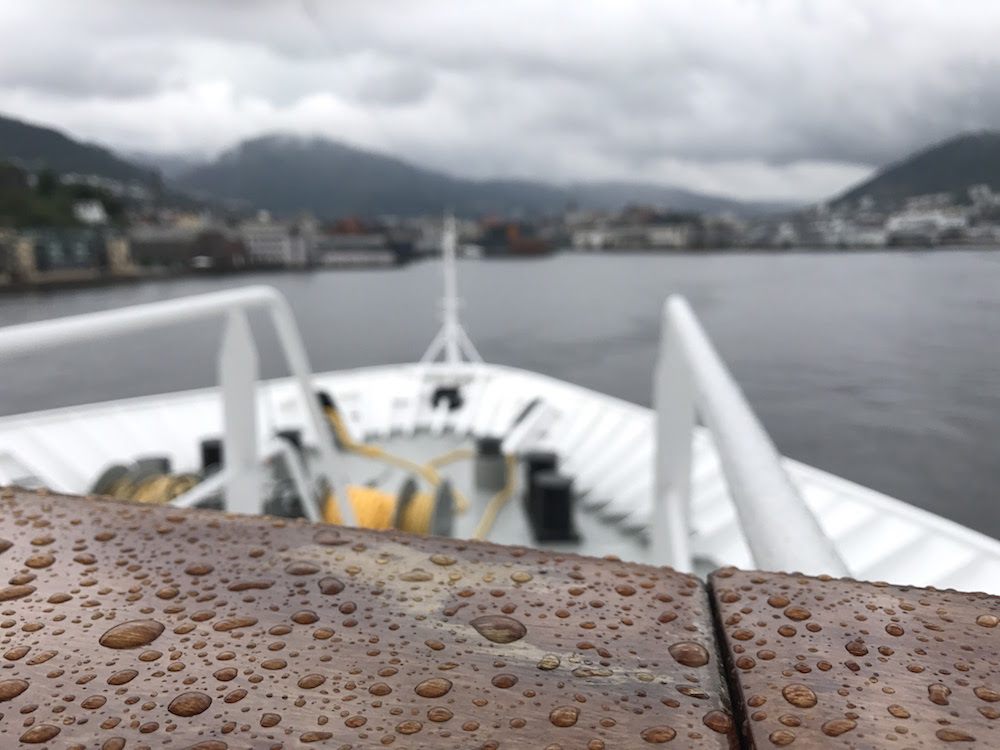 With an intro like that, you might think we don't recommend visiting Bergen on a Norway trip. But in fact, we still suggest you go…despite the weather.
For one, Bergen is a fantastic jumping off point for the famous Flåm Line train trip, which runs between Myrdal and Flåm, and is an attraction in and of itself for the gorgeous scenery you experience along the way. Bergen is also one end of the Bergen-Oslo train line, another one of Norway's many gorgeous train trips.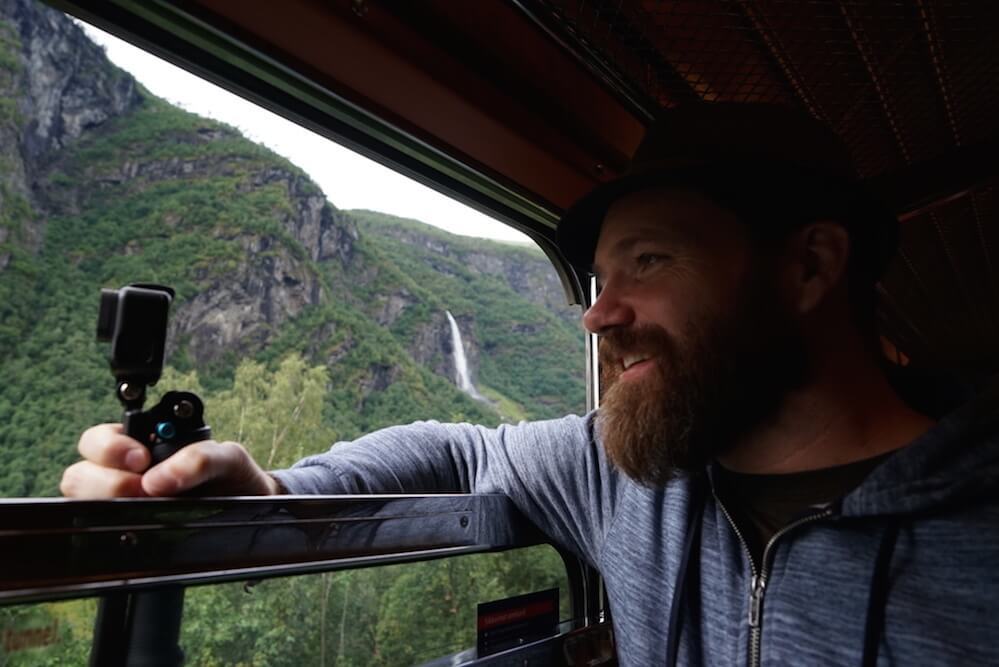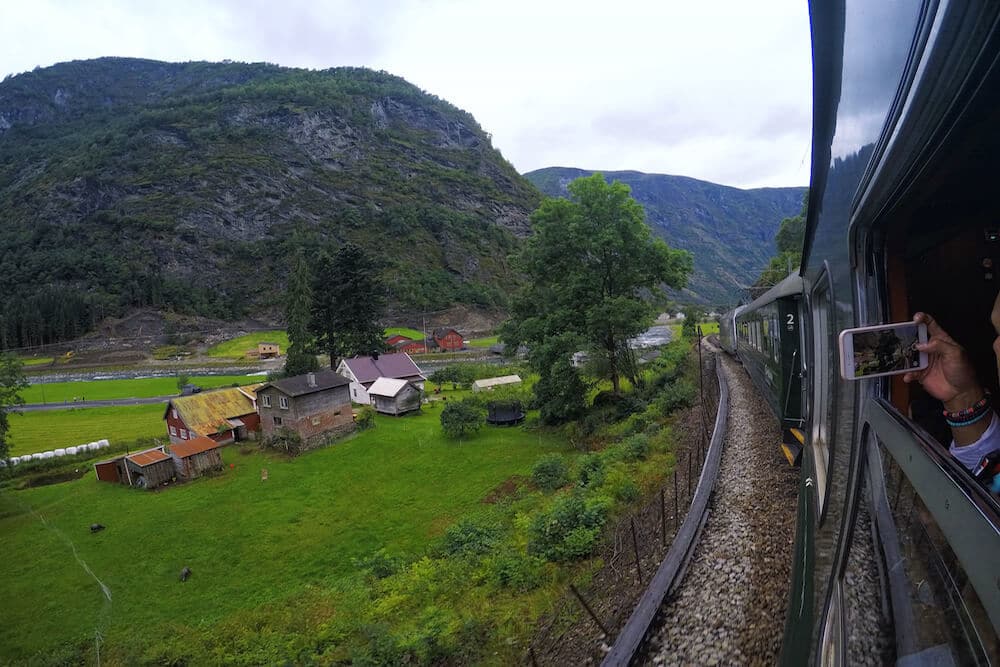 Beyond the proximity to things worth seeing and doing outside of Bergen, the city itself is worth visiting and exploring, even in a downpour. Bryggen, the colourful and historical old wharf area of the city, is touristy but still appealing. And the harbour front scene and market, which would be especially nice in the summer on a sunny day, is still interesting in the rain.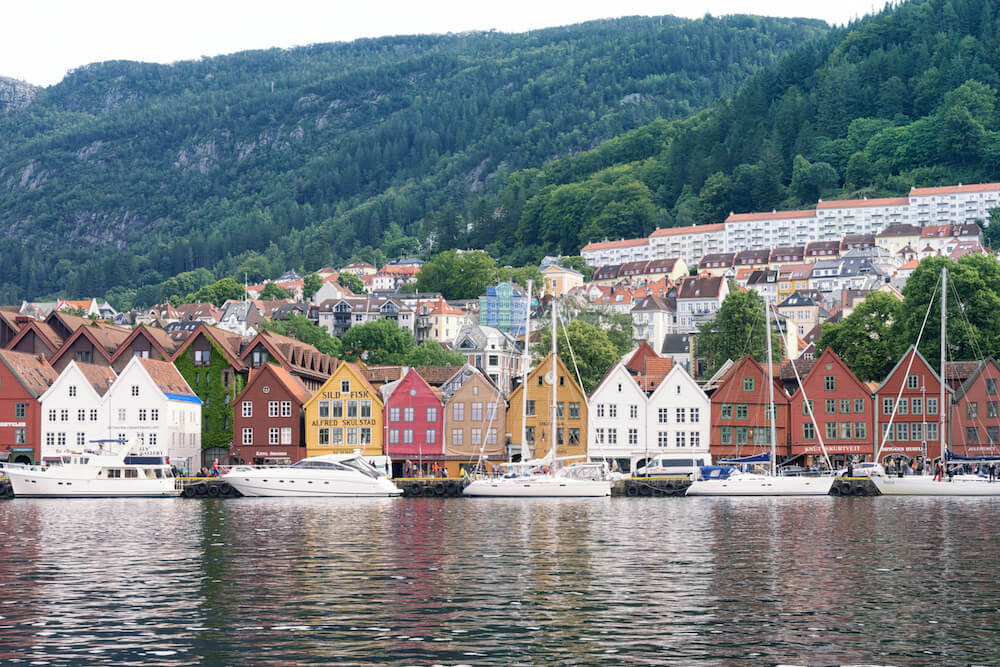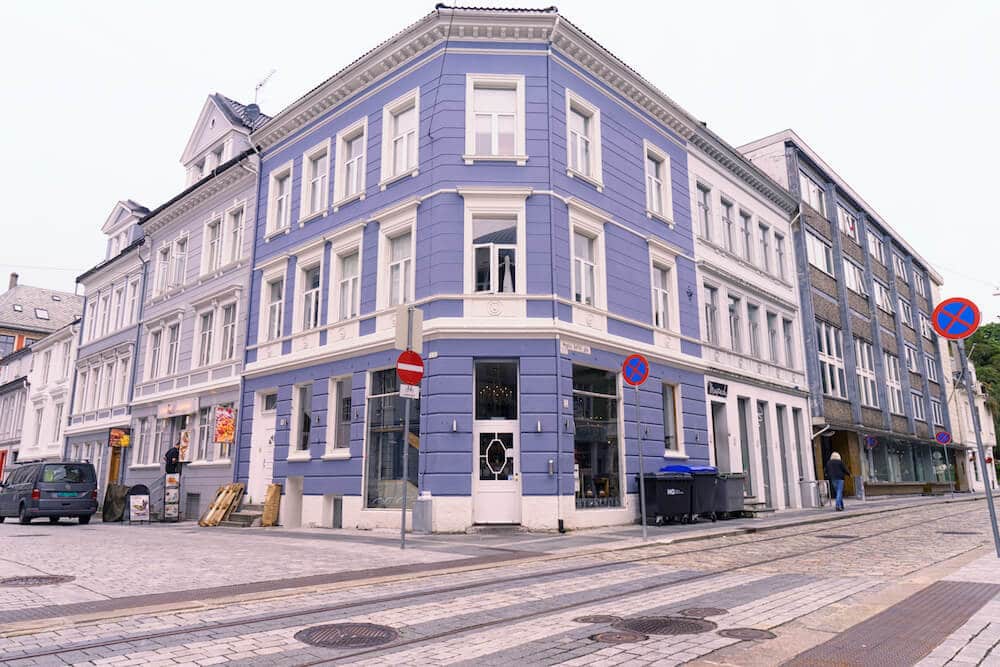 Indeed, Bergen is worth two nights, which gives you time to do a return trip along the Flåm Line for one of the days, and explore Bergen on the other.
We spent two nights in Bergen, and found the stylish Zander K boutique hotel to offer a bright spot under grey skies.
---
Where to Stay in Bergen: Zander K Hotel Review
We stayed at Zander K Hotel Bergen (rated 8.6/10 on Booking.com and 4/5 on TripAdvisor, at the time of writing), a mid-range boutique right near the train station. Our hotel choices during our trip through Norway were honestly pretty random, based on a mix of what was available (we were often booking last minute), and what we could afford. Norway lives up to its reputation for being expensive, but in general we found accomodation offered great value for the price, and generally included fairly good breakfasts.
For our last stop on the trip, we wanted to stay somewhere nice, and landed on Zander K after searching the options on a hotel booking aggregator (we tend to use Booking.com, especially in Europe where we've found they have the best inventory).
Whenever possible, we like to stay in boutique hotels that are modern, minimalist, and have a design aesthetic to them, and Zander K seemed to fit the bill on all accounts. While they don't have rates published on their website, I put in a few different date combinations on Booking.com, and found pricing to range between US $150 and $200 for a standard double, depending on time of year and the day of the week. That puts Zander K within the mid-range of hotels in Bergen, competing on price with brands like Thon, a mid-ranged Scandinavian chain similar to Courtyard Marriott or Holiday Inn, and some of the Scandic properties (another mid-range Scandinavian chain), and offering far better prices than some of the more familiar (to North Americans) brands, like the Radisson Blu. The Radisson Blu (rate 8.4/10 on Booking.com, compared to the 8.6 of Zander K) is about $100 more per night, or more, although it does have a killer location, right on the harbour in Bryggen.
At the time of research, Bergen doesn't have any 5-star properties, and many of the 4-star properties are chain hotels. This puts Zander K in a fairly unique niche for the city, offering an upscale boutique experience at a fairly affordable price point.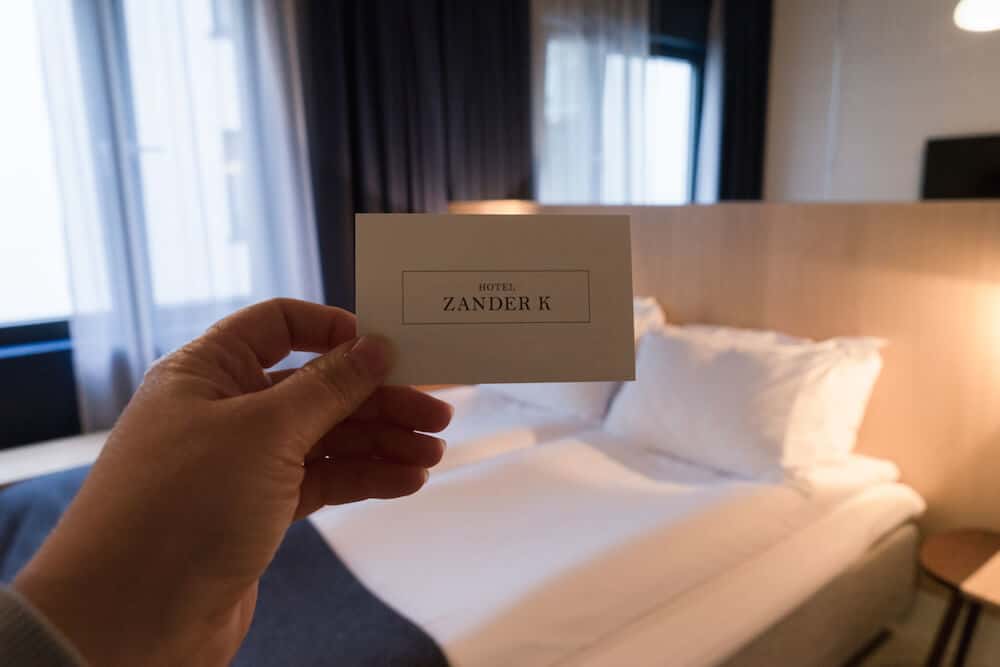 Zander K Review: What We Loved
There's a lot to love about the Zander K. We've tried to give a fair an accurate account of the parts of the hotel and characteristics that mattered most to us, and we thought were well done. Of course, nowhere is perfect, and we've outlined what we didn't love toward the end of this review.
---
Style & Design: Zander K is 100% Stylish
When it comes to the stylishness and design throughout the hotel, Zander K doesn't disappoint.
Remember that perverse pride Bergensers seem to have about how rainy their city is? At Zander K, the rain is carried throughout the décor of the hotel: our room had umbrella and raindrop postcards, larger versions of which are displayed in the lobby, and the colour scheme seems to reference the climate outside, with greys, stormy blues, and the dark greens of the North Sea. Despite how this all sounds — "rain themed" doesn't exactly scream chic — it works, and comes together as a nice, modern look that we quite liked.
The modern and minimalist aesthetic of Zander K worked for us, and our overall impression was of a stylish base in Bergen.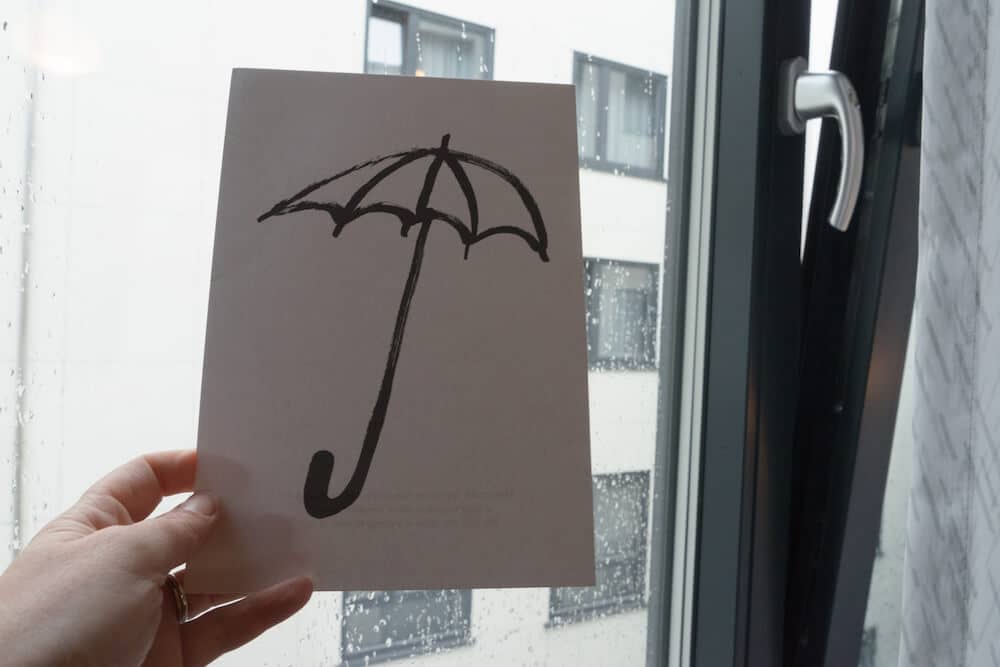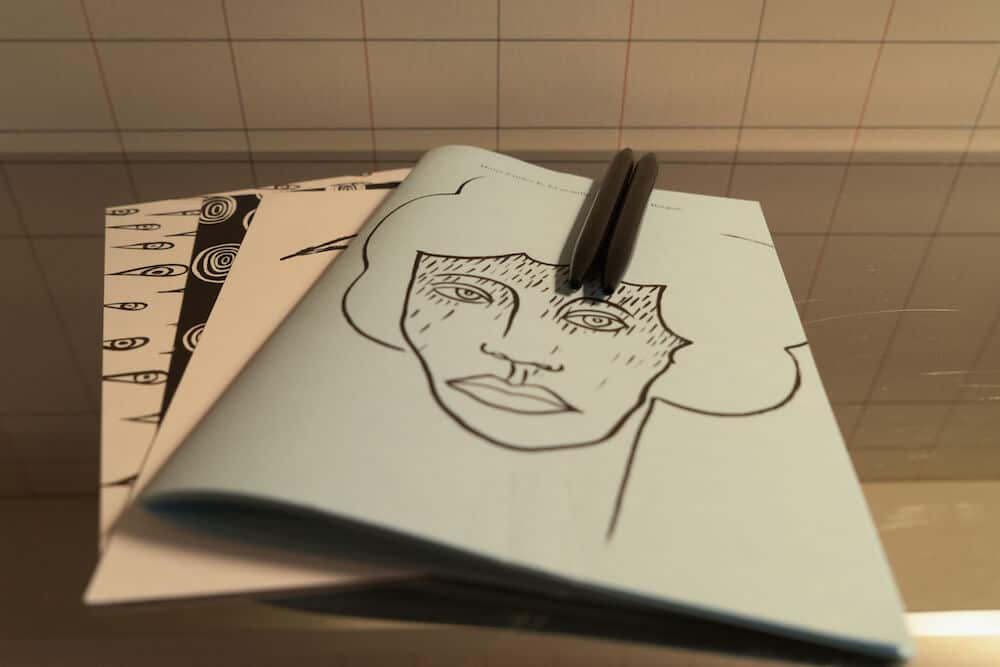 Location: Zander K is Well-Located in Bergen
Zander K is across the street from the Bergen train station, making it a central base for exploring the city. If you're planning on doing the Flåm Line, this is important, because the train books up very early, and you might not get to choose which time you take it. We booked last minute, and had to take the first train out of Bergen in the morning, around 6am. We were thankful our commute to the train station involved nothing more than crossing the street, and ditto at the end of the day, when we were tired from all the eye-candy and visual stimulation, and in need of a bit of a nap. Similarly, if you're traveling from Oslo-Bergen (or vice versa) on that beautiful train line, then the Zander K is very convenient for your arrival/departure.
In terms of exploring other parts of Bergen, we found the city to be highly walkable; it's an 8 to 10 minute walk to the general harbour area, and about 15 minutes to the bright and colourful row of houses (Bryggen). For transportation to and from the airport, it's only a 4-minute walk to the light rail line that takes you directly to and from Bergen airport.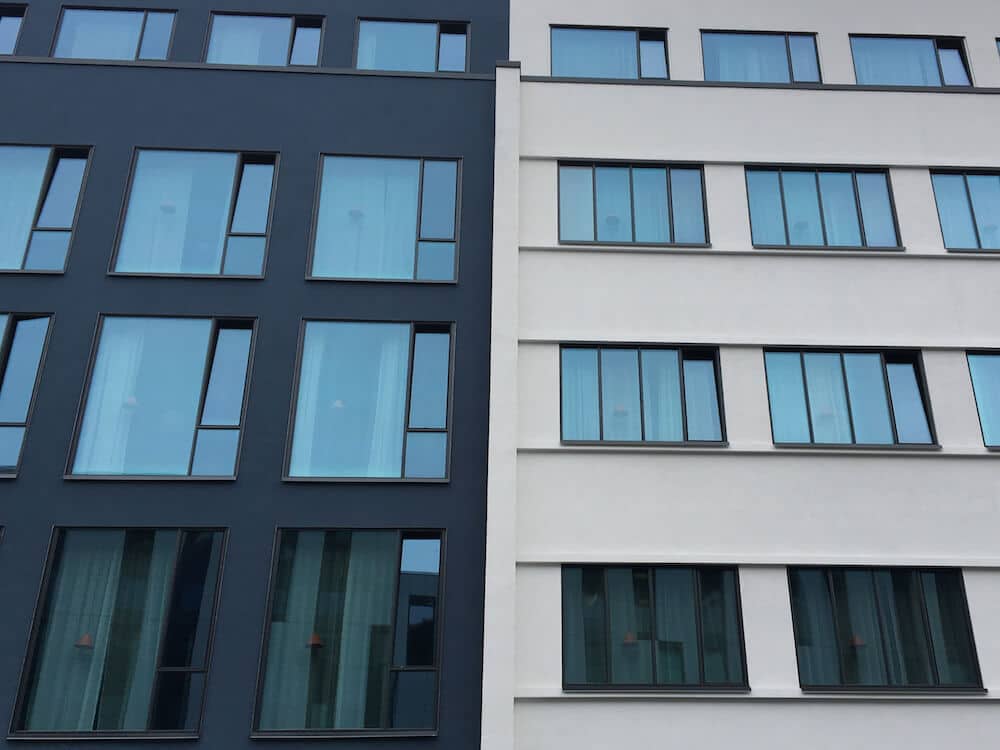 The Rooms: Zander K Rooms are Spacious, Comfortable and Minimalist
The rooms at Zander K are quite spacious in comparison to what we experienced at other hotels in Norway, and what we're used to in Europe, more generally.
The dark and cozy colour scheme of the hallway is replaced by monochrome white and grey in the rooms, giving them a calming, zen feeling. Within our room, there was a full/queen-sized bed that was exceptionally comfortable, with soft white linens. We also had a small desk that would be suitable for a small laptop; a narrow shelf which we used for random toiletries, hair brushes, loose change, and cords; a few hooks and hangers; a suitcase rack which became a catch all at the end of the day; and a bench running along the window, which we used to stack clothing. There was a TV, and while we didn't explore the channels in too much detail, we were able to watch the news in English.
Beyond the hooks and hangers, there wasn't a lot of room to hang clothing, and we didn't have an iron or ironing board in our room. We also didn't have tea or coffee facilities, but we didn't mind, due to the free coffee/tea/water station in the lobby.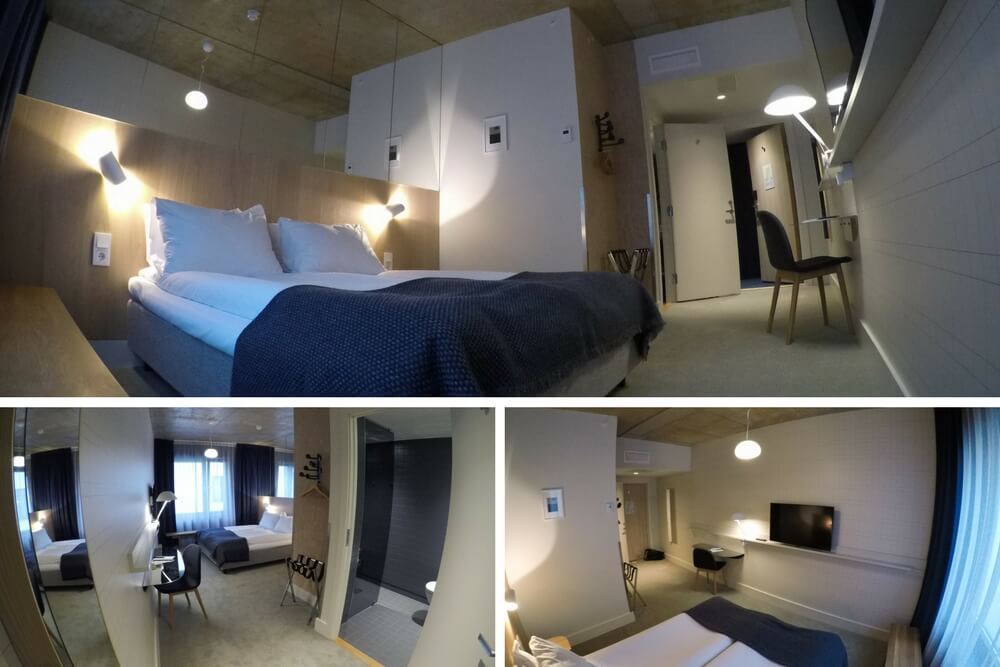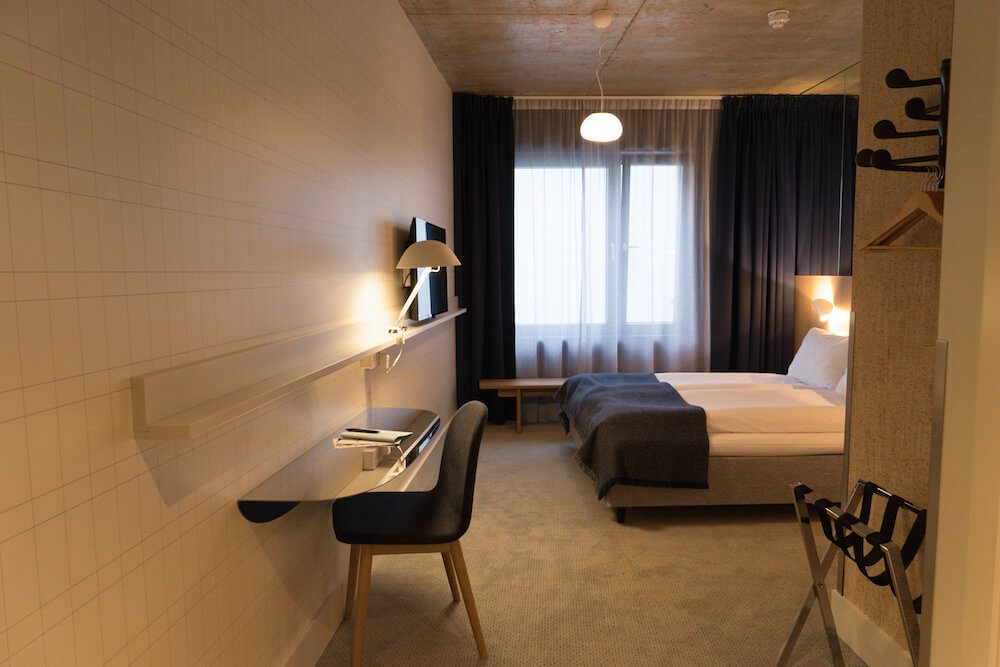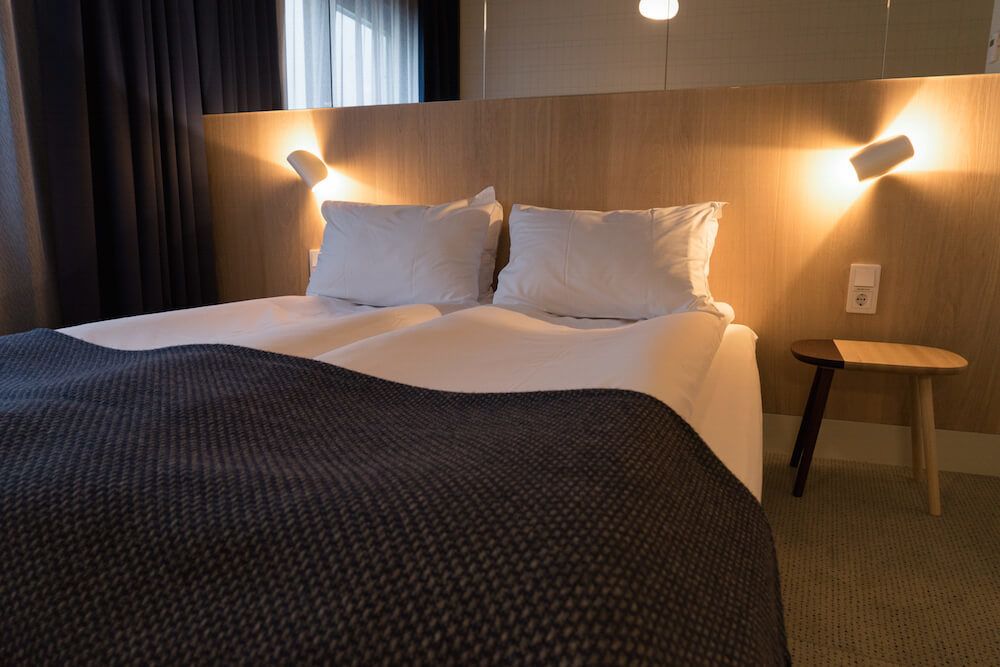 The bathroom is big enough, with a toilet, sink and shower area with rain shower. The towels were soft and fluffy, and a hair dryer is provide in the bathroom. My one complaint about the bathroom was the included toiletries, which was an all-in-one body soap/shampoo. I get the minimalism theme, and the product itself was nice (made by Fitjar Fjellheim, and with a fairly masculine scent), but I do love having conditioner as an option.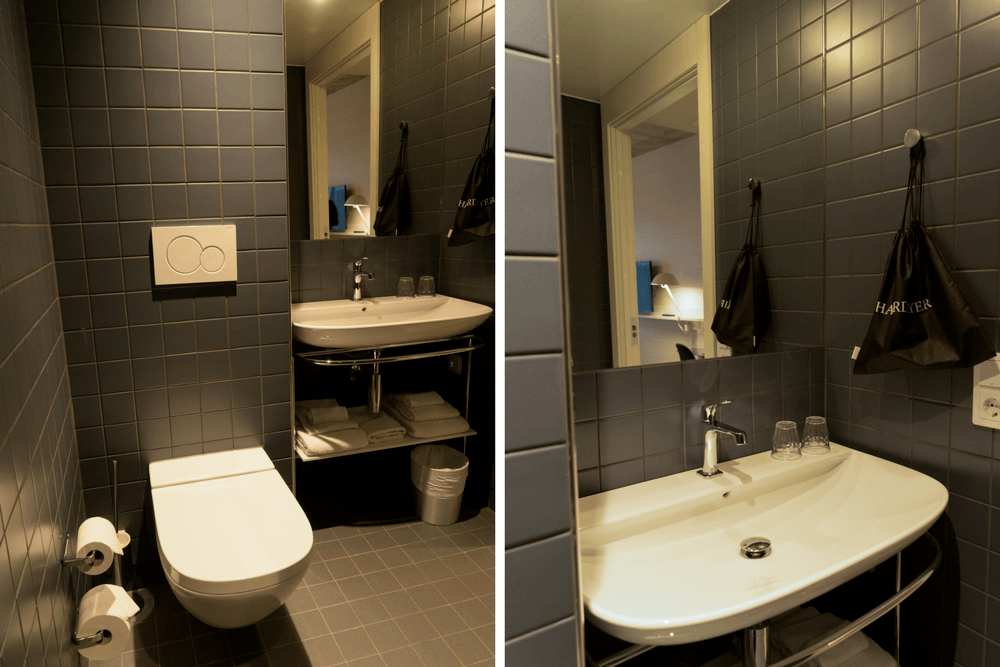 The Public Areas: Zander K is Inviting, with a Social Vibe
Zander K has done a great job with the common areas, with the lobby area winning our favorite spot in the hotel. It had the feeling of a café I wouldn't mind actually spending some time in, and on our final day in Bergen, we did just that: it was raining, and we felt like we'd seen and done all we wanted to in that weather, so we set ourselves up in one of the common seating areas in the Zander K lobby for a bit of work before heading to the airport. It was a comfortable way to spend a bit of time, and catch up on emails.
The lobby is open plan, but split up into zones. At one end, there's a restaurant which we didn't get a chance to eat in, but was consistently busy. In the centre area, it's split into a lobby bar (which serves as the breakfast area in the mornings), and also some seating areas for relaxing, waiting to meet people, etc. Then there's the actual reception area and elevators up to the guest floors.
There's also a tea/coffee/water bar in the lobby, which gives you access to free espresso, tea, and still AND sparkling water throughout your stay. Unfortunately, the espresso machine was broken on our first day, but the staff were more than happy to provide us with French press coffee in lieu.
Worth noting, the breakfast at Zander K was the best included hotel breakfast that we had during our entire trip in Norway. It was a full hot and cold buffet, offering what I consider to be basics (good quality egg dishes; pastries; bread and cereals; fruits) as well as luxuries like smoked salmon.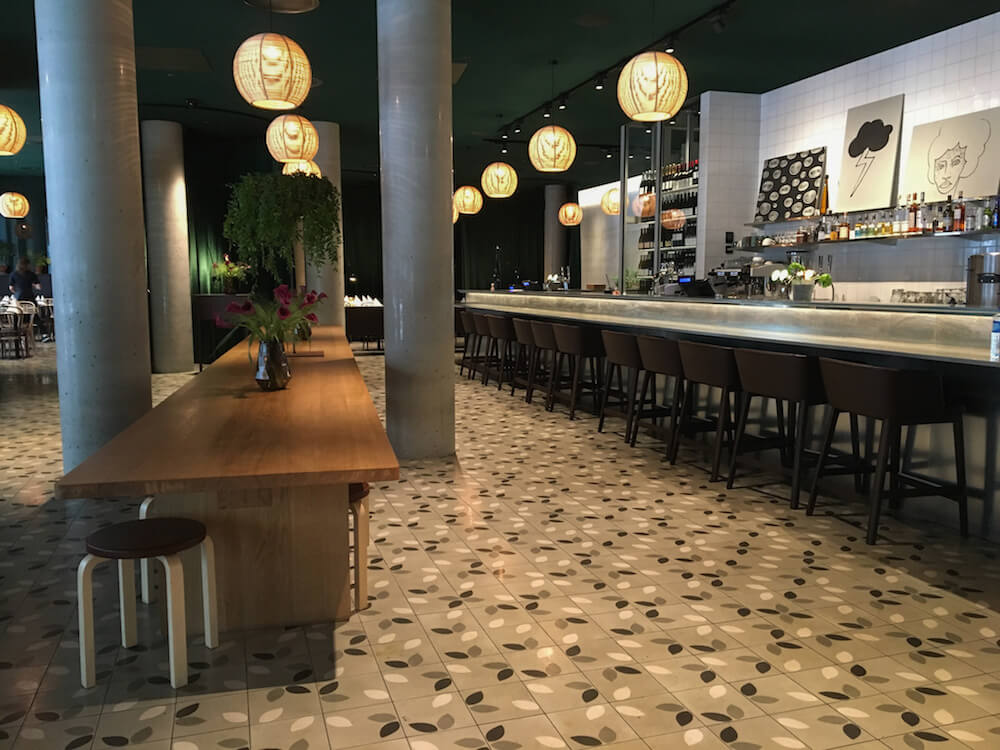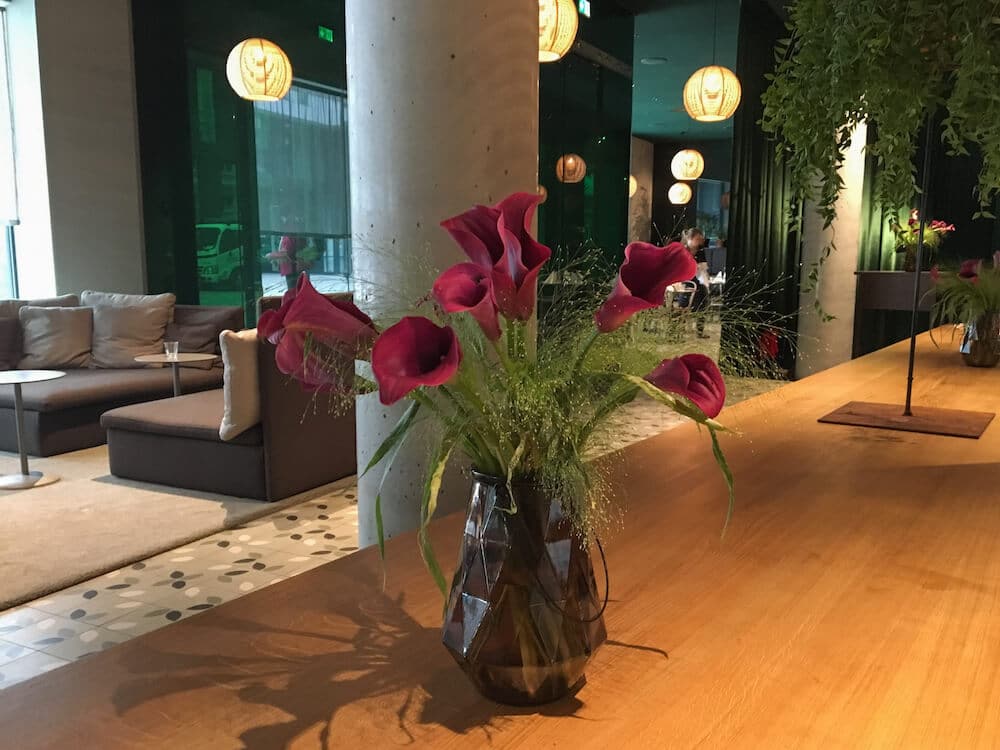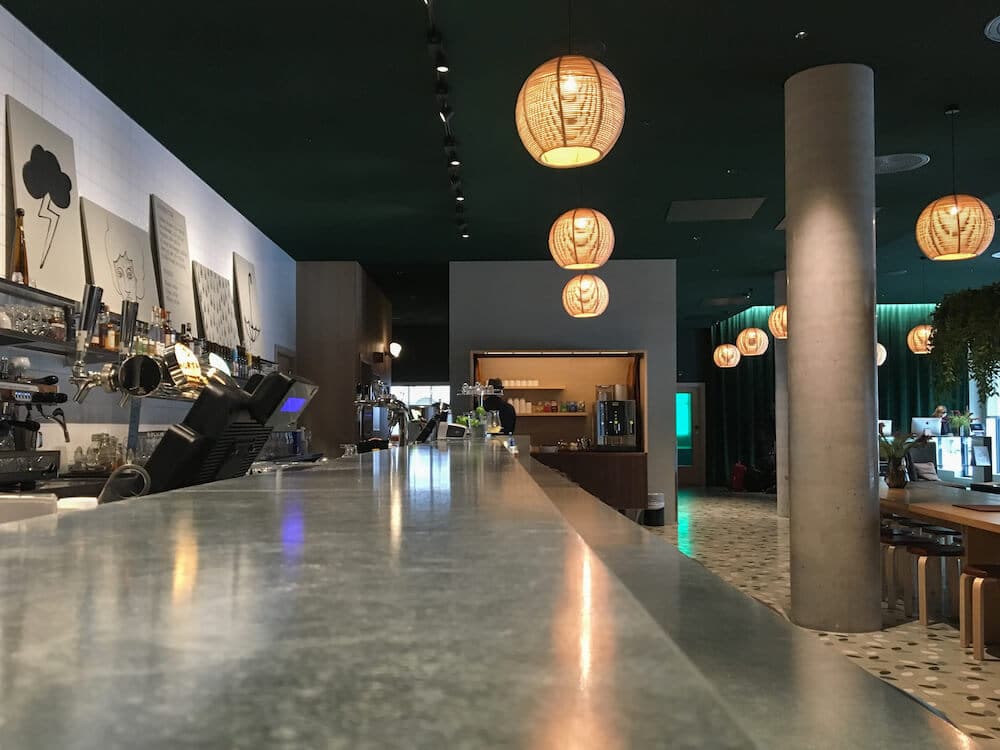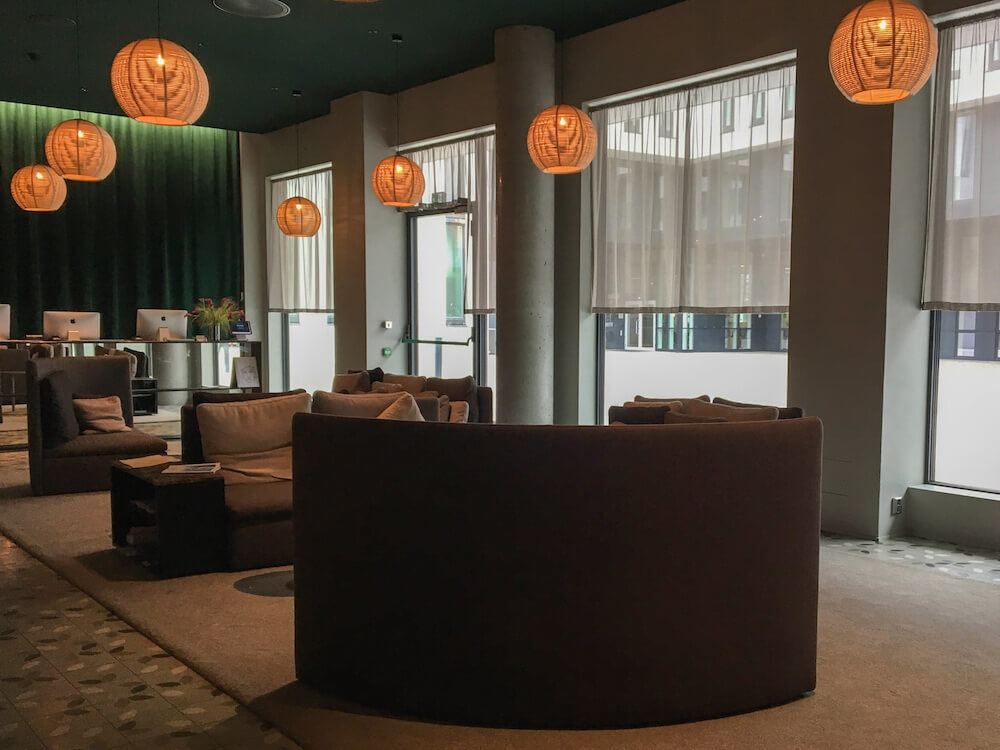 In addition to the lobby area, there's a great gym that has some extras, like medicine balls, kettle balls, and yoga mats, going beyond what you typically find in a hotel gym (treadmill, bike, and dumbells). We didn't get a chance to use the gym due to time restrictions, but I peeked my head in, and could have actually gotten in a full, proper workout in that space and with the equipment provided, which I appreciate.
---
Zander K Review: What We Didn't Love
Of course, no hotel is perfect, and there were a few things about Zander K we found to be less-than-ideal, especially for specific types of travellers.
Our main complaint about Zander K has to do with the lack of hanging space for clothing in the rooms. As I use packing cubes, I unzipped them, and placed them on the bench by the window. This worked for me on a casual trip, but wouldn't have worked for a business trip, when we have dressier and more professional clothing for meetings and events. Similarly, I prefer when an iron and ironing board are provided in-room, rather than having to request it from the front desk.
As mentioned above, I also didn't love the toiletries. The all-in-one liquid soap (a body wash/shampoo combo) felt a bit too utilitarian, and the scent was too masculine for my own liking.
Overall, however, those are pretty minor complaints in what was overall a great stay.
---
If you are looking for a hotel in the city, we can recommend the Zander K hotel Bergen, based on our own experience. Check prices for your dates using an aggregator like Booking.com, and compare reviews on sites like TripAdvisor.
---
Read More
Check Out These Related Posts Below, or Click Through to our Norway Home Page to Plan Your Trip!
---
Questions? Comments? Let Us Know By Leaving A Comment Below, or Joining Our Facebook Community!
---
Like This Post? Pin It for Later