Norway in One Week: A Short, Sweet & Insanely Beautiful Norway Itinerary for those who only have one week in Norway for travel. Personal experience of our Norway in one week itinerary. A Norway Itinerary For Those With Limited Time!


Disclosure: This website contains affiliate links. That means we earn a commission when you use the links on this site to book a hotel, buy your travel insurance, etc.. If you'd like to learn more about how this works, you can read more under our Disclaimer page. Please note, most of our travel through Norway was on our own dime, but we did receive a few complimentary products including complimentary rail passes from Rail Europe; complimentary Oslo Passes from Visit Oslo; and one night's stay at Zander K Hotel in Bergen.
If you're planning a trip to Norway, we invite you to join our Facebook group dedicated to travel in Scandinavia/the Nordics. It's a great place to ask questions and get help and advice from Scandinavia and Nordics travel experts!!
Norway in One Week: What You'll Find in this Post
Pin this Post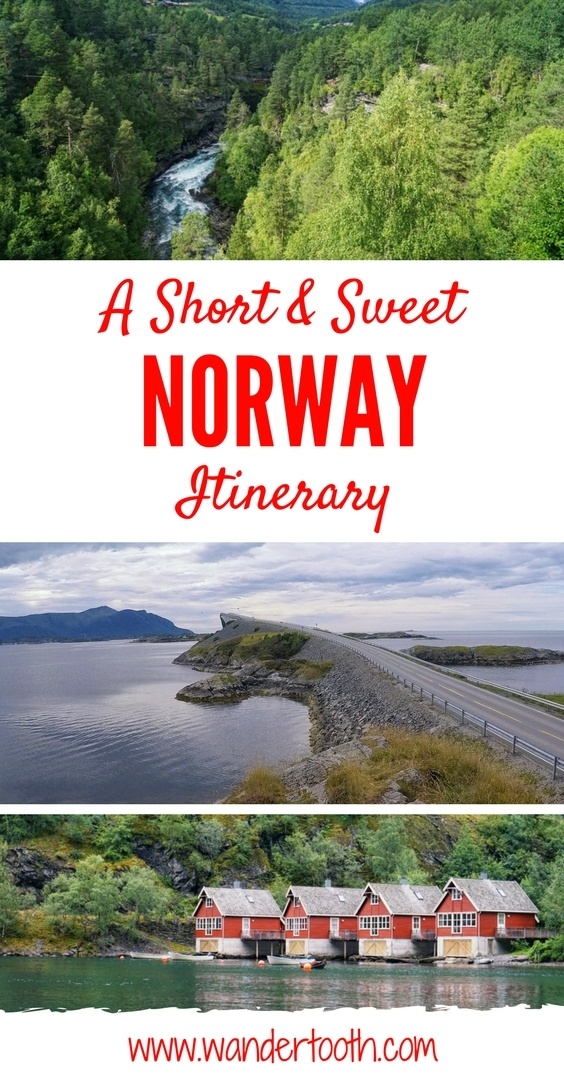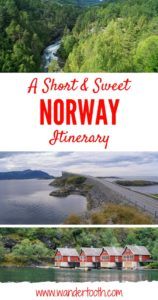 ---
When we first started planning our Norway itinerary, we wanted to pack in as much as we could, in a relatively short amount of time.
It's no shock that Norway is expensive, and we figured it made sense to see as much of Norway as we could, in as short a timeframe as we could, to minimize the cost. In the course of planning our Norway itinerary, however, we came to realize just how freaking big Norway really is.
Every piece of Norway travel advice we read basically said to focus your efforts on one area of Norway, or to use flights to cover large distances. But for us, it took seeing the actual travel times between places (way longer than we expected), and train/bus schedules (which can make connections a bit tricky, necessitating overnight stays and added costs) for this to sink in.
Norway is not a country that allows you to blitz through, using ground transport only, on a sightseeing whirlwind. It's just too damn big.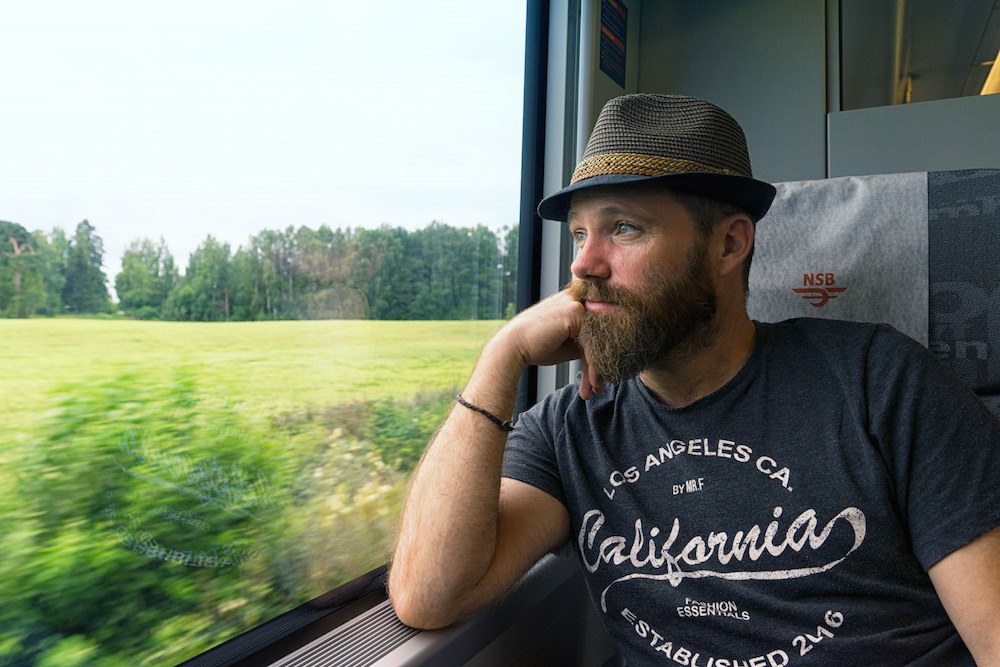 Our first idea was to blitz our way from Oslo up to Bodø, the northern-most point of Norway's train system, and then work our way south by train. I like the idea of having a theme to our travels, and Norway by train seemed like a good one; after all, the country is home to some of the world's most beautiful train rides, and the idea of covering the country's railroad network from tip to tale seemed the perfect combo of romantic and adventurous.
Then we actually started looking at the logistics of getting up to Bodø, and realized the sleeper compartments for the various dates we could actually travel on were already sold out. It would have meant 24 hours sitting upright just to get to Bodø, only to turn around and start heading south. As much as we wanted to get north, we realized that plan didn't really make a lot of sense without the availability of sleeper compartments.
(The lesson, of course, being to book your train tickets early, and ideally buy a train pass to save cash and maximize flexibility)
And so we refocused our trip around some highlights, still using the train as our main form of transportation, but also mixing in a one-day car rental, some public transport, and an overnight ferry.
Because that's the OTHER thing you need to know about Norway when you're planning a trip. The very things that make that long west coast gorgeous and intriguing for travellers, also make getting around a bit more complicated. Mountains and fjords do not, it turns out, mix very well with railway lines and super highways. Thankfully, the regional governments have made up for this with excellent public transit, which we made good use of. But it took some pairing back of our original plans to create a Norway itinerary that worked for us.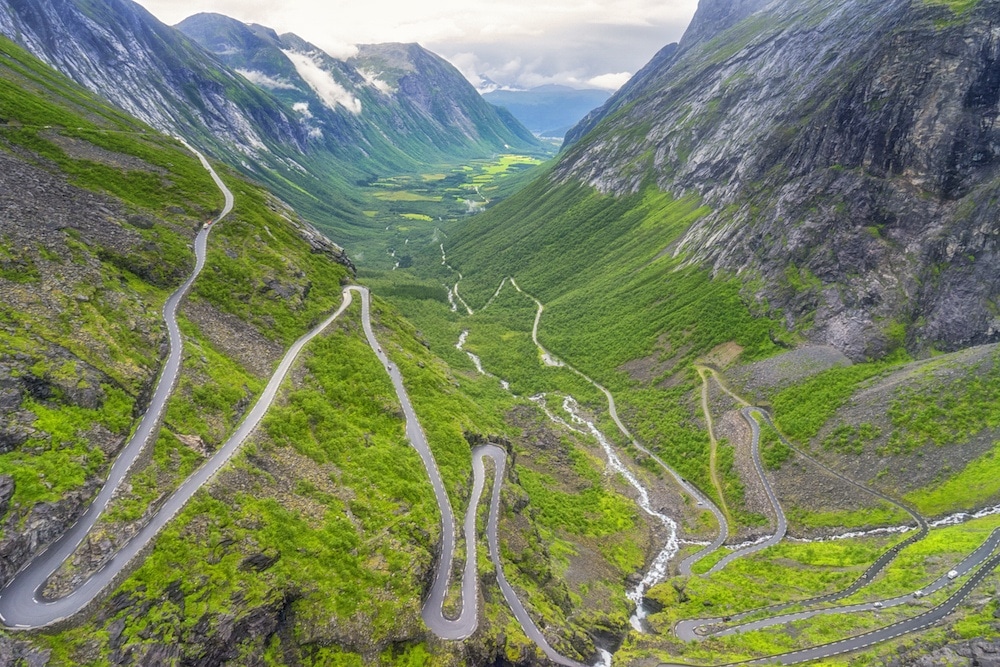 In the end, we put together an awesome Norway itinerary. We did it all in about a week, but you could easily stretch it out to 10 or 12 days to add a few other spots into the mix, and you could probably also blitz it in 5 to 6 days if you're really crunched for time (or money).
---
So what did we do in Norway, and how did it all work out? This post outlines our short and sweet Norway itinerary, and will hopefully be helpful if you're planning your own!
While You're Here…
Read More About Norway & Plan Your Trip with These Links
---
Norway in One Week: Days 1 & 2 — Oslo
We loved exploring Norway's sophisticated and super green capital, and came to realize this is one of Scandinavia's most underrated capitals! We recommend spending 2 days in Oslo, but if you only have one week in Norway, you may need to cut it down to 1 day.
We started our Norway itinerary in Oslo, and actually spent a good chunk of time there, as we were housesitting and taking care of a very cute cat. The nice thing about having loads of time in the capital is we didn't feel rushed at all, and actually got to see almost all of Oslo's most popular and interesting museums and galleries. We got 72-hour Oslo passes as well, and figure we saved more than $140 with the Oslo Pass, visiting some truly fantastic museums, and picking up some random facts about the city and country.
If you can, we recommend spending more than one day in Oslo. Two fairly full-on days should give you enough time to see the main highlights, and adding in a 3rd would let you see the highlights at a more relaxed pace, and get off the main tourist trail a bit to explore a neighborhood or two, as well. The Oslo Pass was a huge money saver for us; we saved at least $140, and it certainly could have ended up being even more, if we hadn't slowed down the pace of sightseeing on our third day.
We really liked Oslo, and would characterize it as 'underrated,' especially when it comes to the museums (the Kon-Tiki was our favorite!).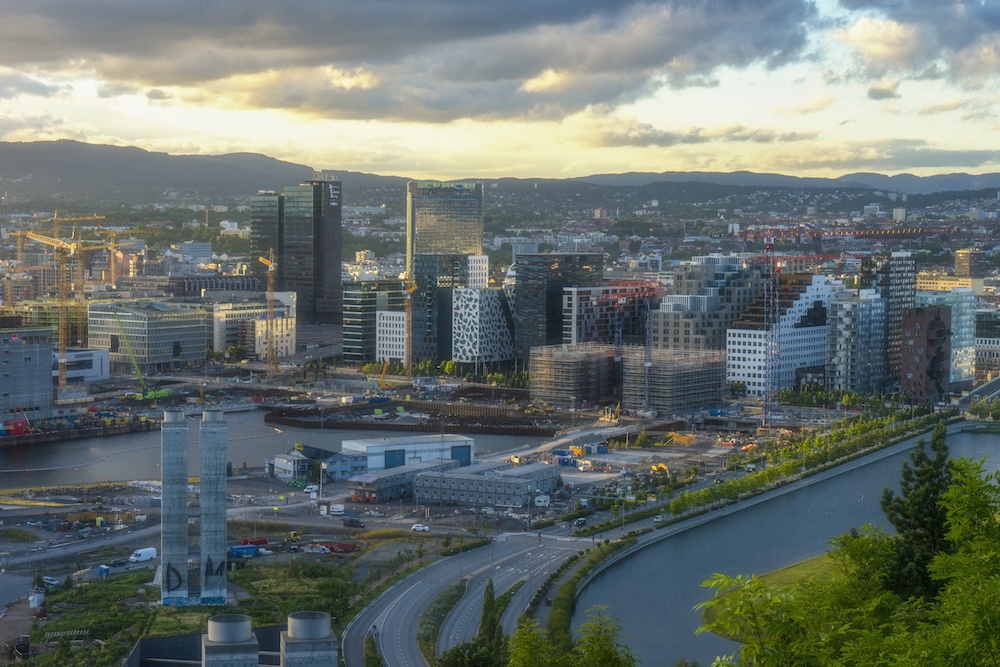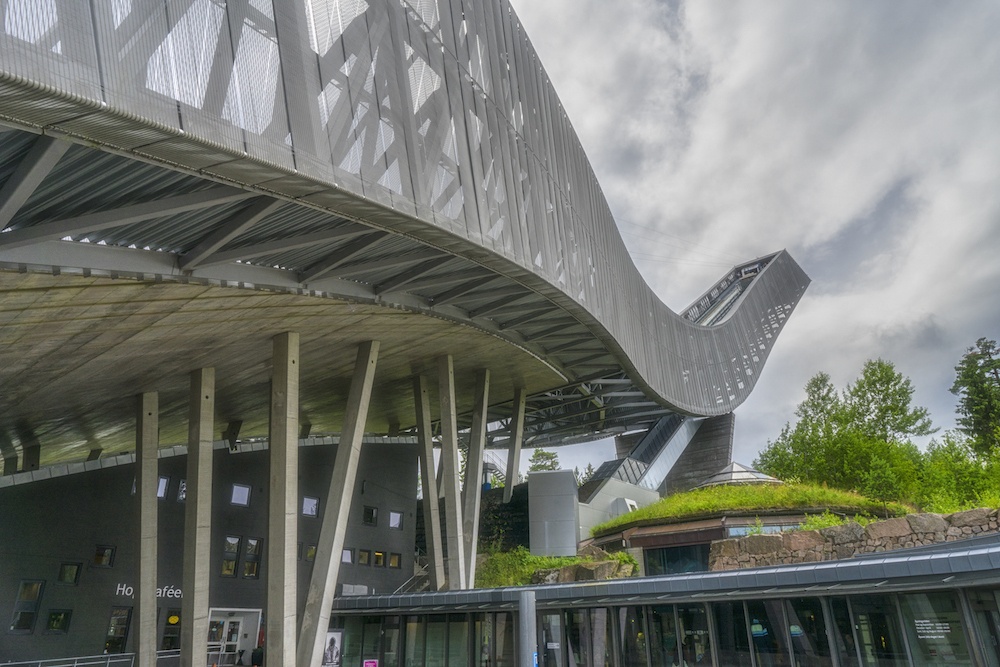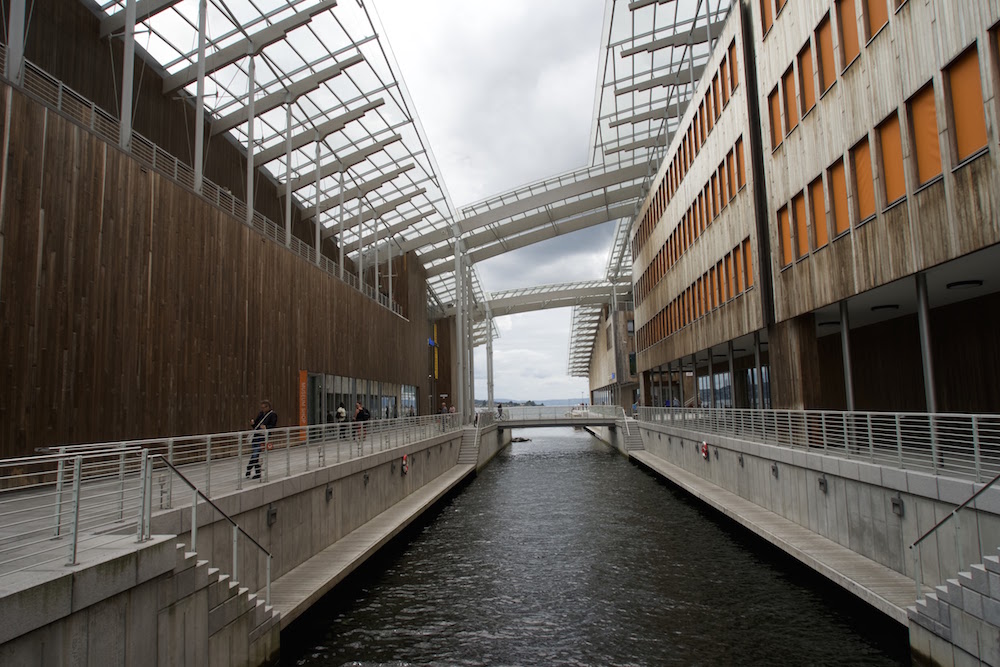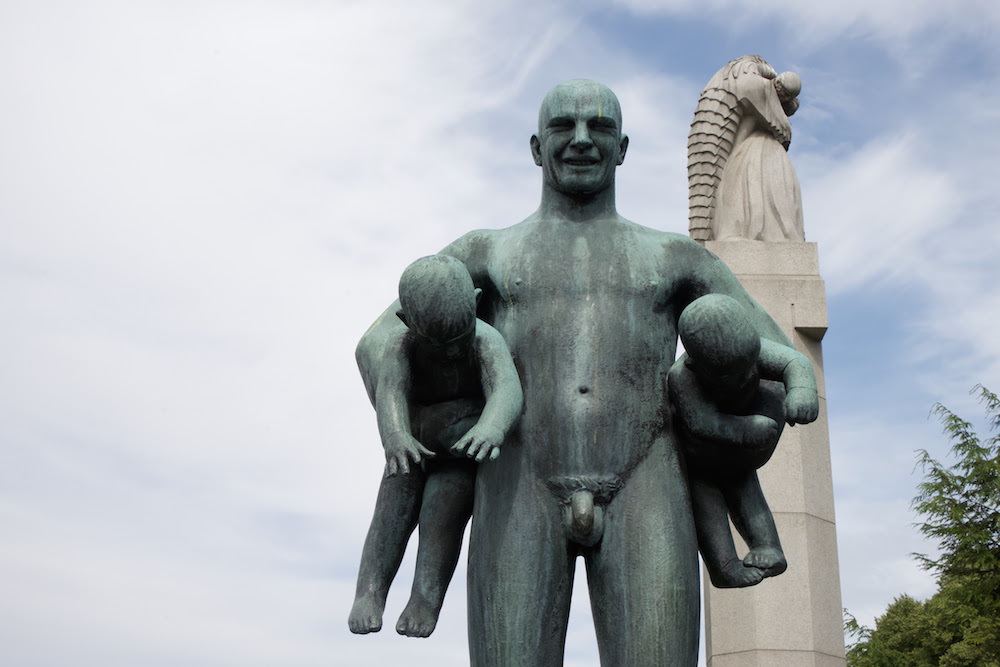 Norway in One Week: Day 3 — Rauma Railway, Trollstigen & Geirangerfjord
We travelled from Oslo to Geirangerfjord via train, bus and ferry, taking in the beautiful Rauma Line train trip and the Trollstigen along the way. This route takes an entire day, leaving Oslo around 9am, and arriving in Geirangerfjord around 8pm.
On our first day out of Oslo, we took the train all the way to Åndalsnes (via Dombås), and then switched to public transport to get to Geirangerfjord via the Trollstigen. This was basically an entire day of highlights…I just kept thinking how the phrase 'travel is a journey, not a destination' could have been created with this trip in mind.
From Oslo to Dombås, the train travels along the Dovre Railway line, passing Norway's largest lake (Mjøsa), and through the scenic Gudbrandsdalen valley, which is basically a picture of quaint Norwegian countryside.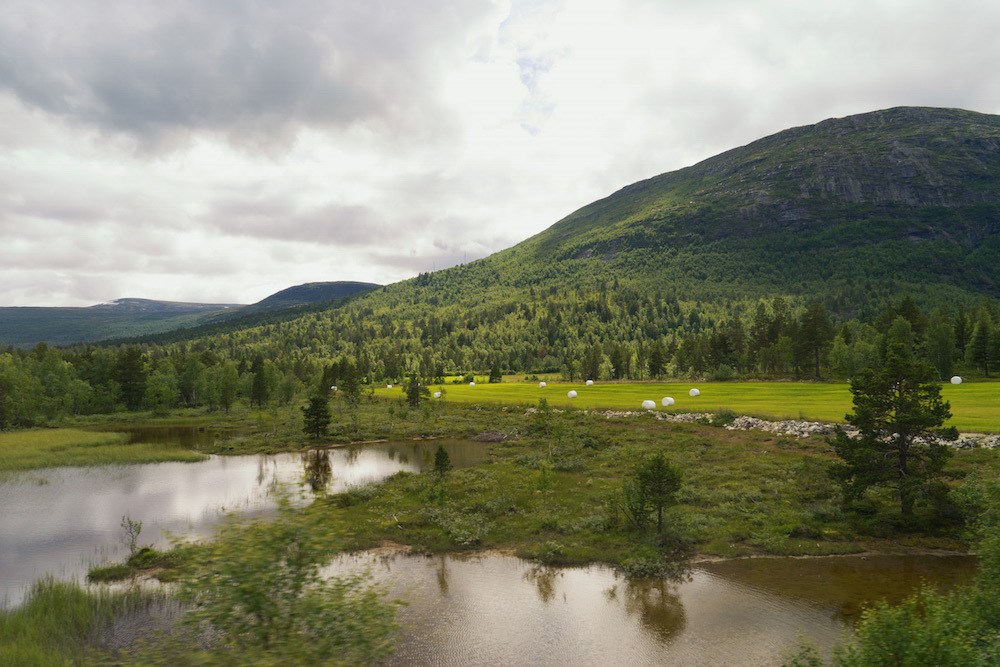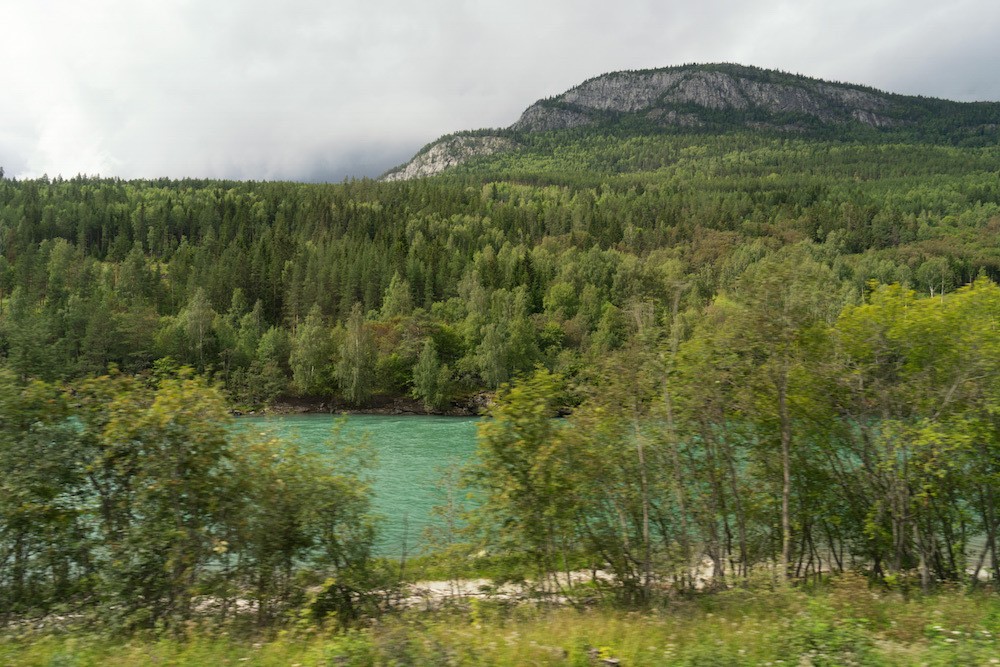 At Dombås, we switched to the Rauma Railway line, one of the most beautiful train journeys in the world. It's not long – less than 90 minutes travel time. But what it lacks in length it makes up in spectacular scenery: massive peaks, glacial blue rushing water, waterfalls tumbling down lush green slopes, and old arched bridges.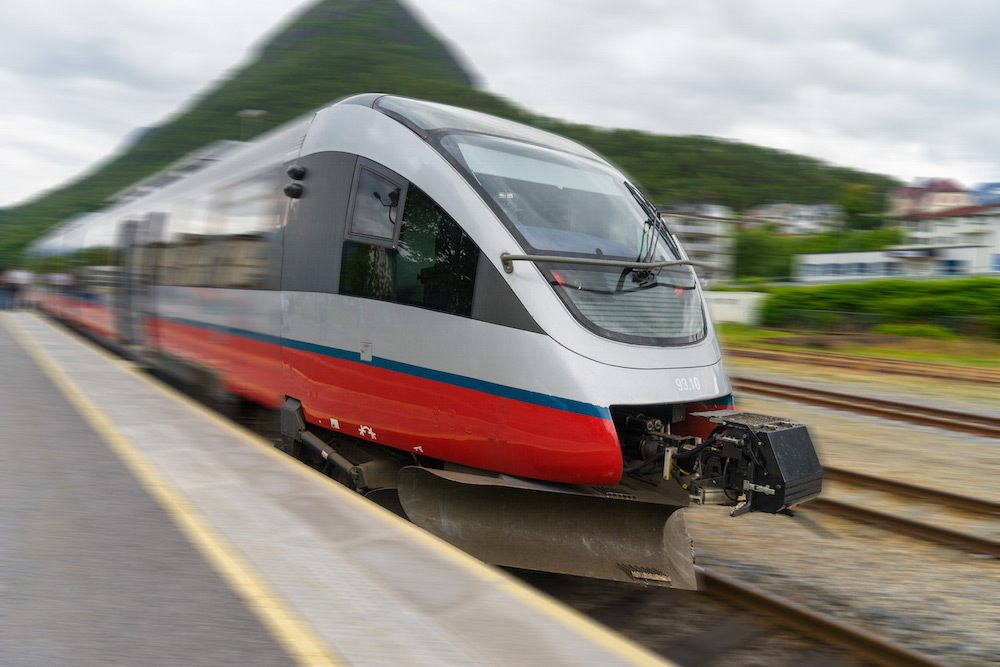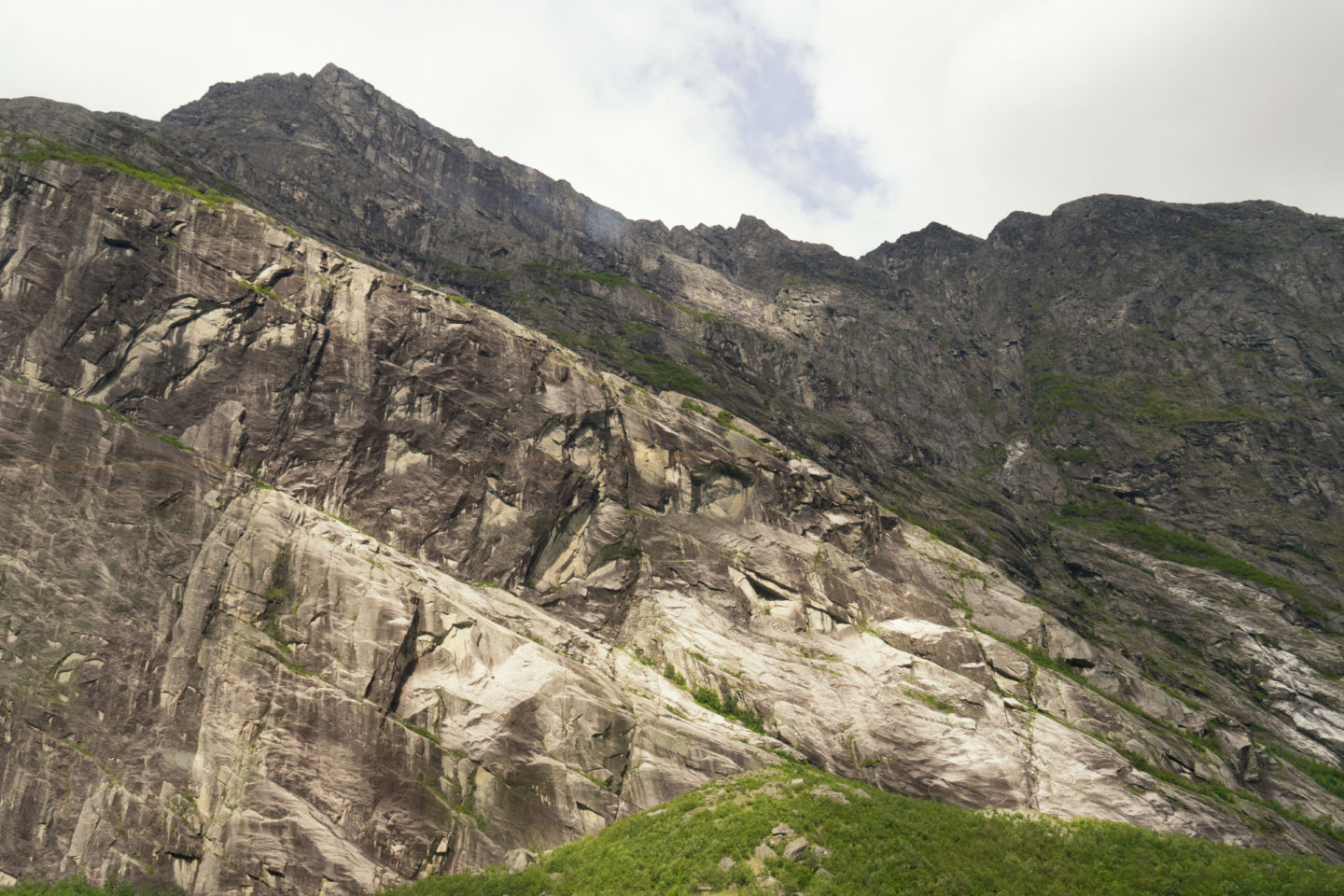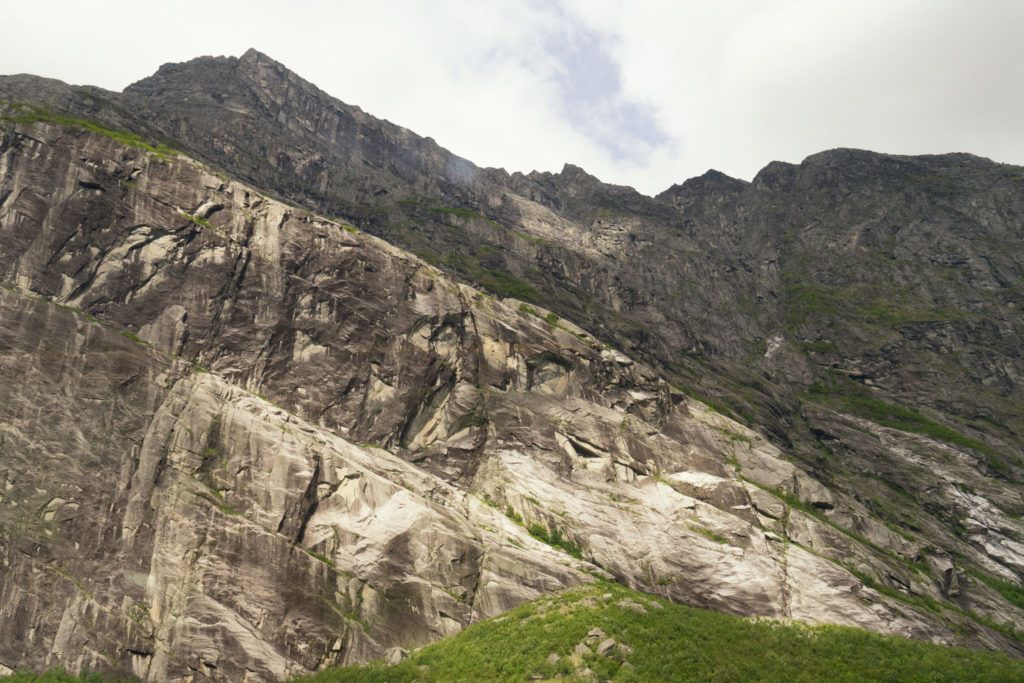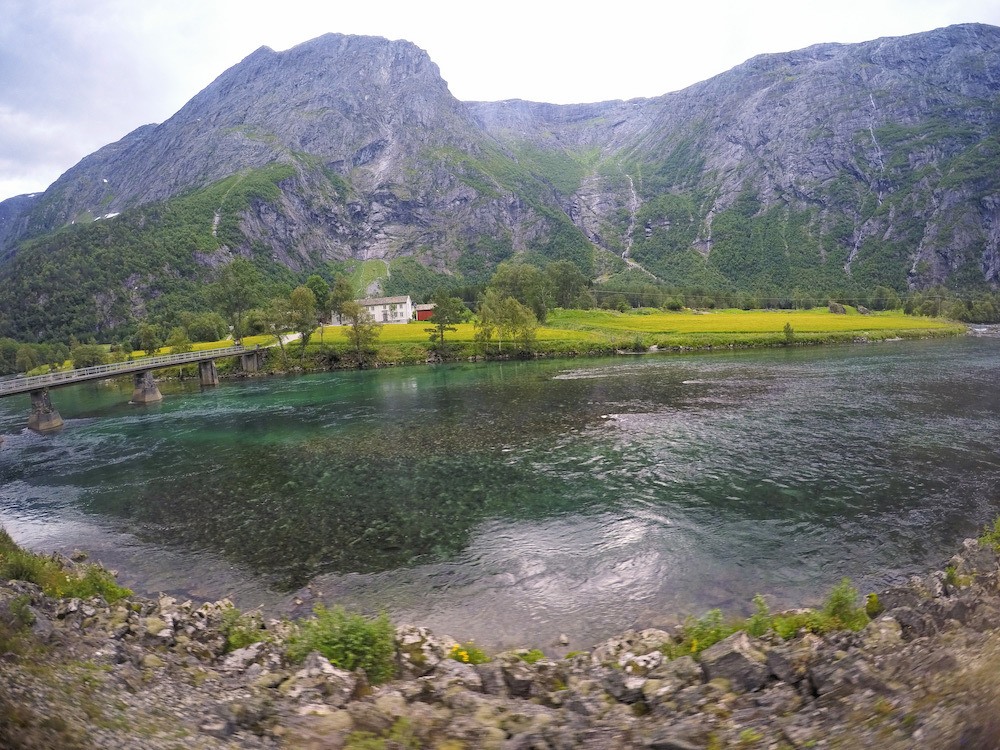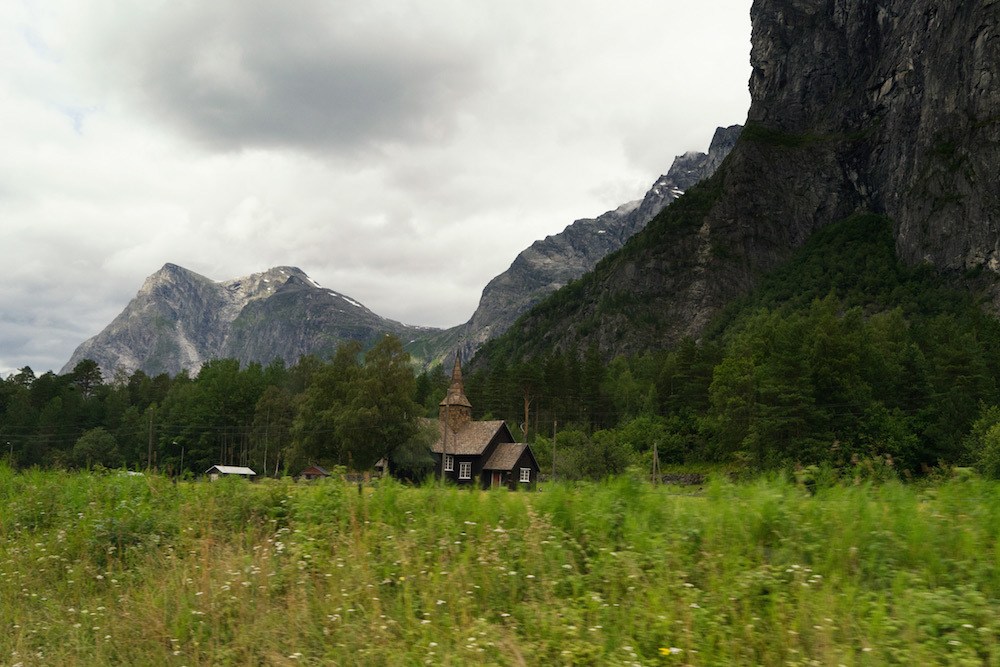 We arrived in Åndalsnes around 3pm, and had a few hours to wander around the town before continuing onto Geirangerfjord via the public sightseeing bus, which runs twice a day in the summers between June 26 and August 21. We caught the 6pm bus, which was fine, as there was enough daylight until 11pm or so, each night (we were there in early August). The bus takes you up the Trollstigen, which is probably Norway's most famous road, and with good reason: it's jaw-droppingly gorgeous. The road is a series of very sharp switchbacks up a mountain, with lush greenery and waterfalls everywhere you look. Describing it doesn't really do it justice. You need to see it for yourself….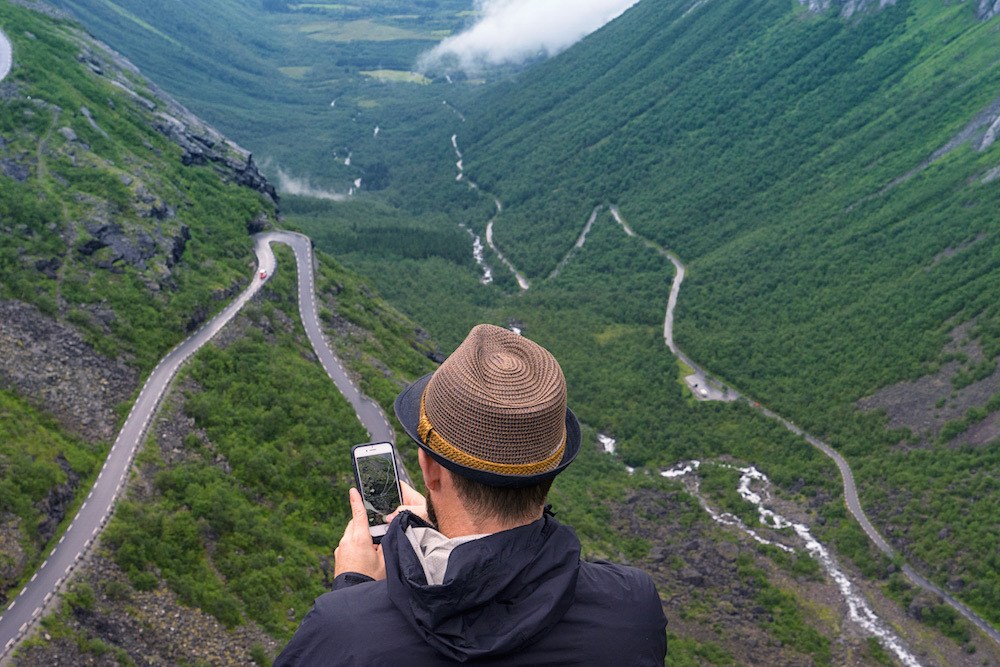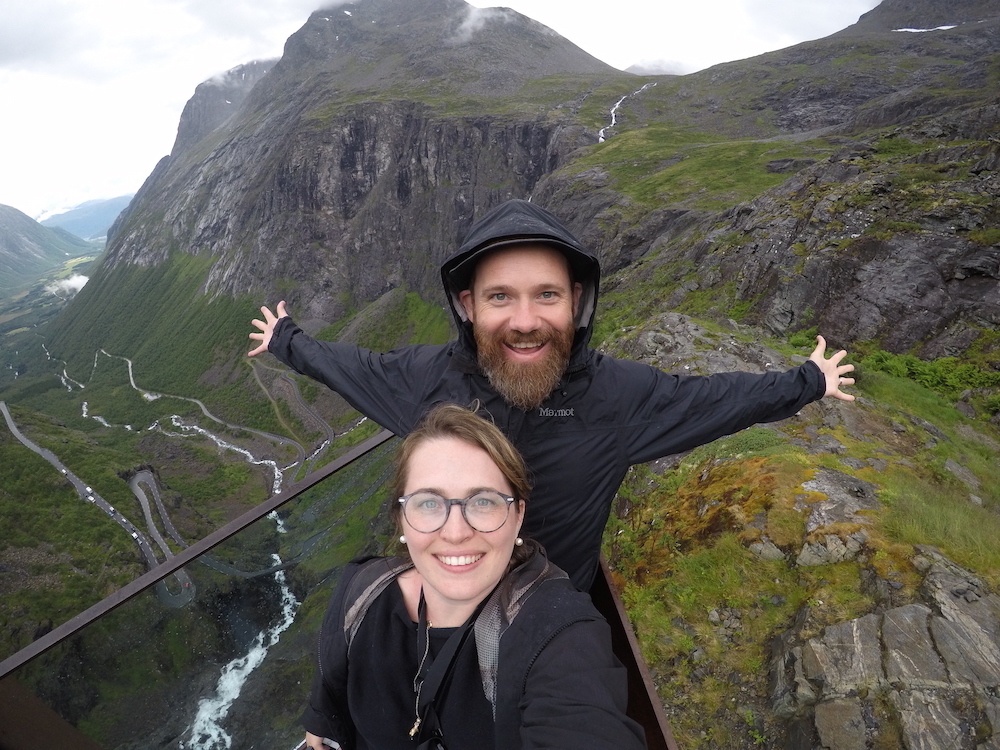 At the top of the Trollstigen, the public bus stops for 30 minutes for photos, which is enough time to walk out to the lookout, before continuing on to and to enjoy the lookout, and then continues on to Geiranger Town.
On the other side of the Trollstigen lookout, the bus dropped us at a ferry (included in our ticket), which took us across a fjord and to another bus, which took us the rest of the way to Geiranger Town.
Arriving in Geiranger, expect another gorgeous view as the bus descends into the fjord valley. On this part of the drive, you're fine to sit on either side of the bus, as the switchbacks mean you get a great view every second pass!
Where We Stayed
We spent the night at Hotel Geiranger. Geiranger is pretty limited in terms of accommodation options because it's so tiny, so we'd really recommend you book early here – Hotel Geiranger ended up being great (plus, we got a fjord view, which is a pretty nice sight to wake up to in the morning!), but we ended up staying here because everything else was sold out! You can also look for B&Bs in the area, although for us, we always like to be in the centre of town, so a hotel was the best option.
Check Availability & Prices on
Booking.com
---
Tips & Advice:
We used a Rail Europe pass for our train travel in Norway. With the pass, this entire train route was FREE, including our seat reservation made in Norway at the last minute (which we don't exactly recommend!).
We booked a one-way public transport ticket on the sightseeing bus from Åndalsnes to Geirangerfjord via the Visit Åndalsnes tourism board. We received the ticket via email a few hours after purchasing it, and then showed the PDFs to our drivers on our phones. We didn't print the tickets out, and it turned out to be fine.
I would recommend sitting on the left side of the bus after the Trollstigen lookout stop. We sat at the very front, which also gave us great views out the front window, and allowed us to be first off the bus to maximize our time during the stop.
---
Norway in One Week: Day 4 — Geirangerfjord & Ålesund
We explored Geirangerfjord in the morning, and then travelled to the coastal city of Ålesund by bus and ferry. If you have time, we'd recommend 2 nights in Geirangerfjord, so you can properly explore the area. However, arriving in the evening, and leaving at 3pm the next day, gave us a taste of the area!
We pre-bought a one-way bus/ferry ticket from the Visit Ålesund website for the Geiranger to Ålesund bus/ferry combo, which left at 3:40 from Geiranger's town centre.
That left us with the morning to explore Geiranger. Geiranger town is packed with things to do, if you're open to doing a sightseeing tour or laying down some cash. Operating on the no plan plan (a long-time favourite of ours!), we figured we would arrange something last minute in the morning, but when we actually got going, we found the tranquil town we'd arrived in the night before was full of passengers from the two cruise ships anchored in the fjord; this made things quite a bit more crowded, and a bit more challenging to get on tours.
With limited time, we figured we'd rather spend our morning exploring, rather than waiting in line at the tourism office to arrange a tour. As such, we opted for a waterfall hike above the town. They call it a hike, but it's essentially a walk through the town, and then up a big stairway to the top of the waterfall. This walk provided gorgeous views and some great photos.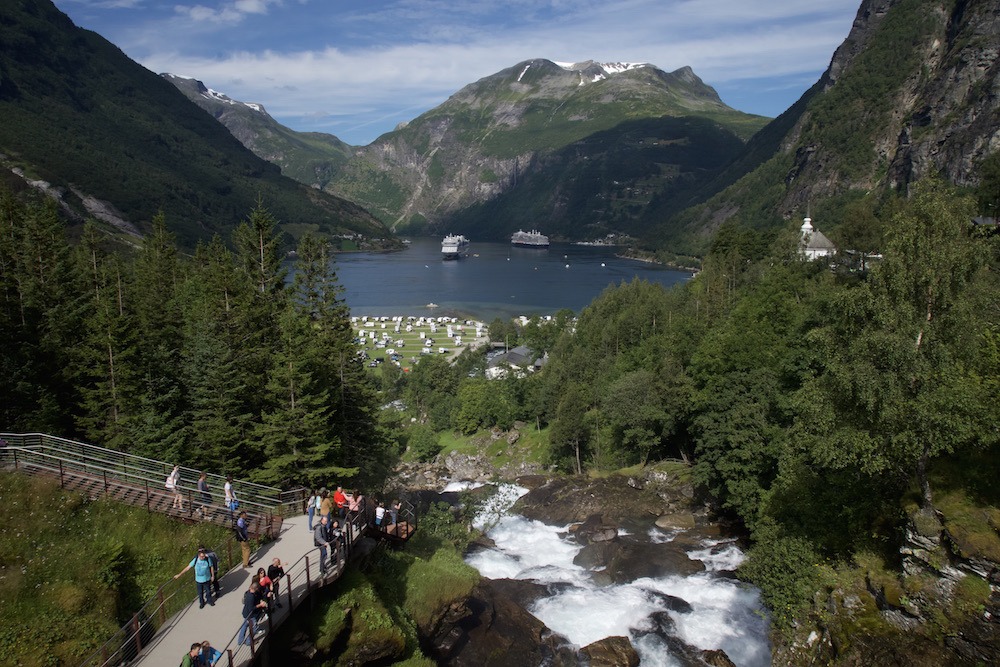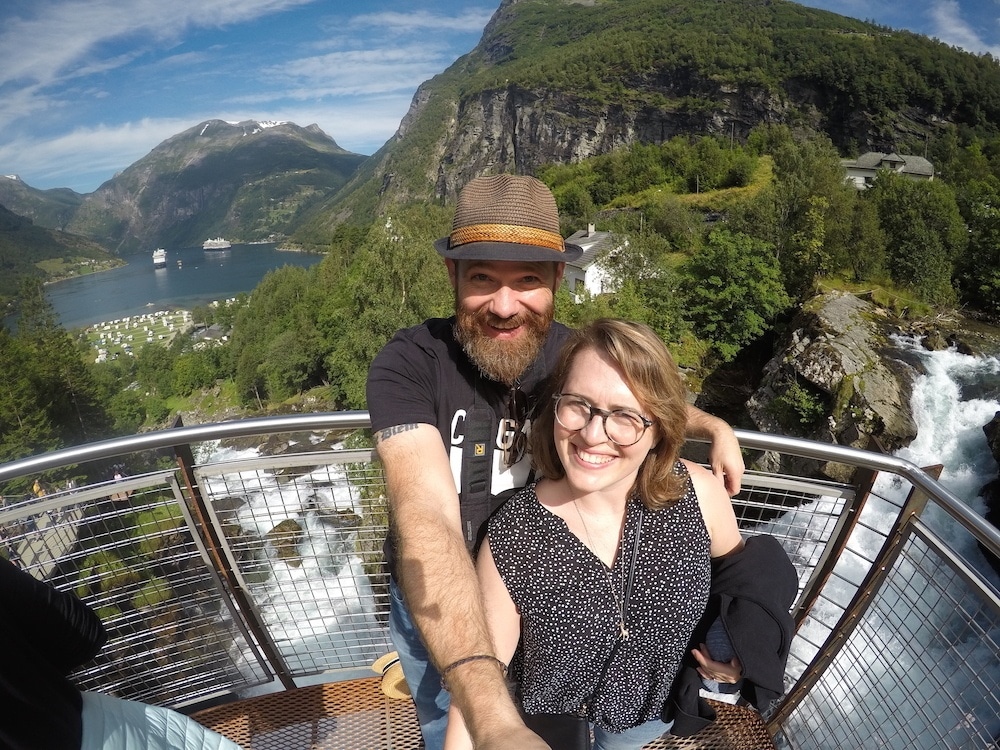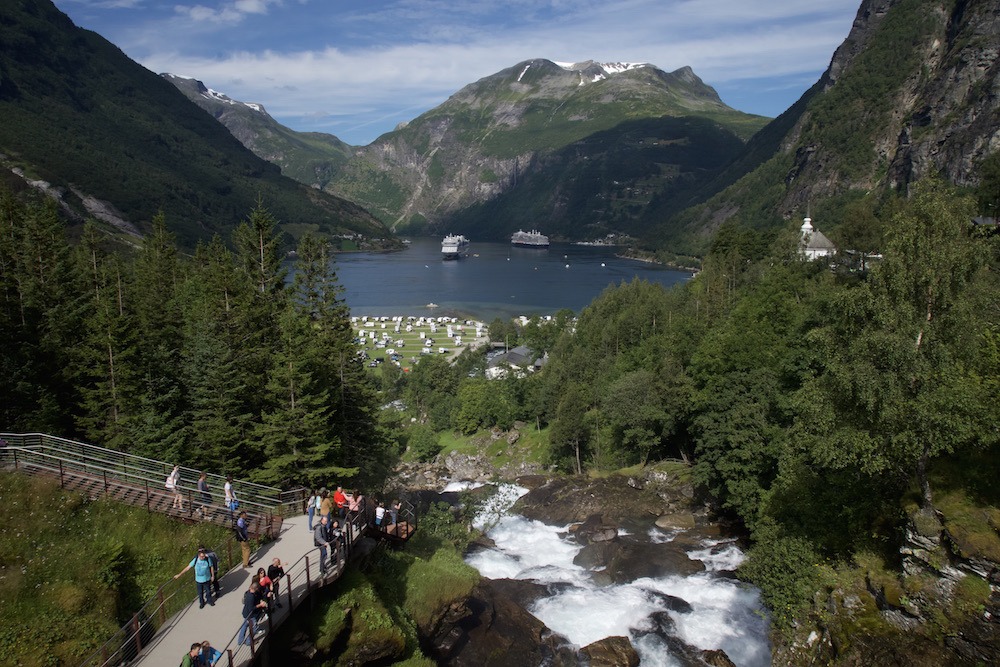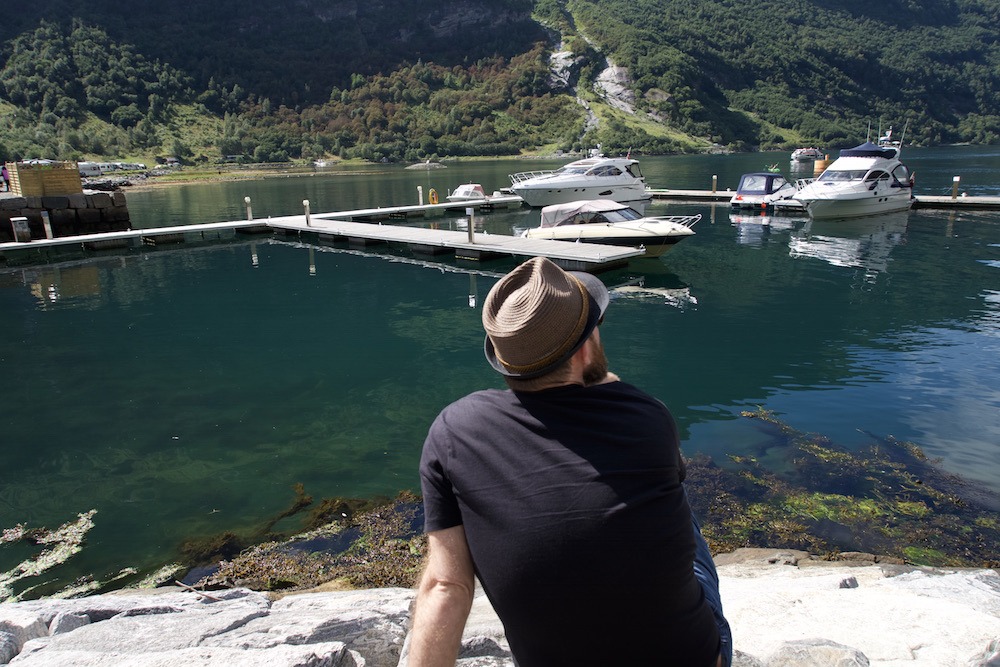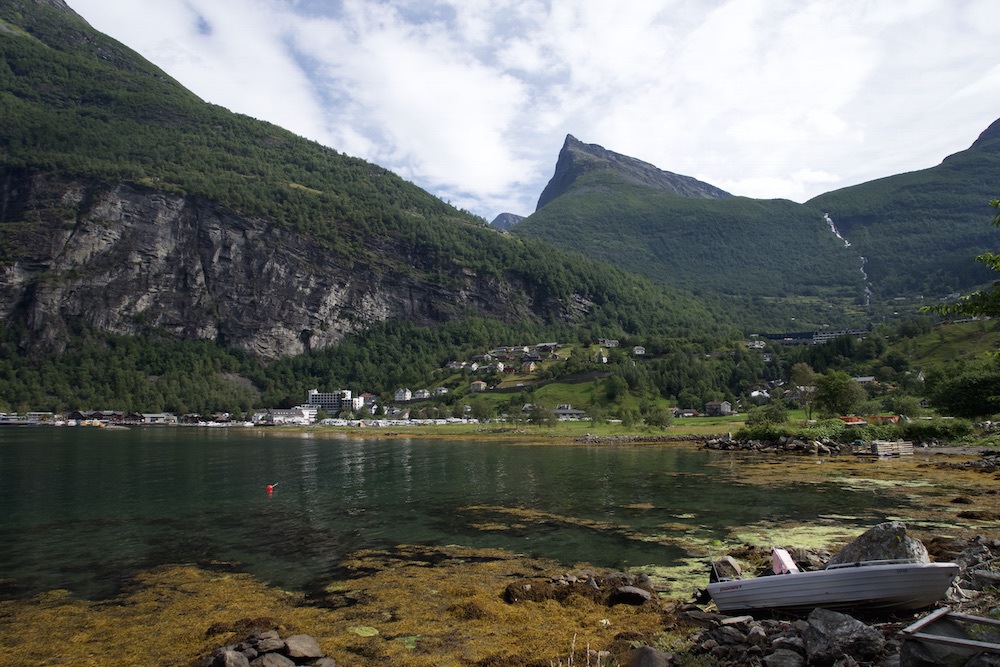 In the afternoon, we caught our bus to Ålesund. As long as traffic allows, the bus on this route stops at the Eagle Panoramic Lookout for about 5 minutes, which offered great views of the fjord from up above.
The trip from Geiranger to Ålesund involves some backtracking, and also combines a ferry with a few bus switches. It was all very self-explanatory and easy to do, and the drivers were all really helpful, including waiting for a late bus, so we didn't miss a transfer.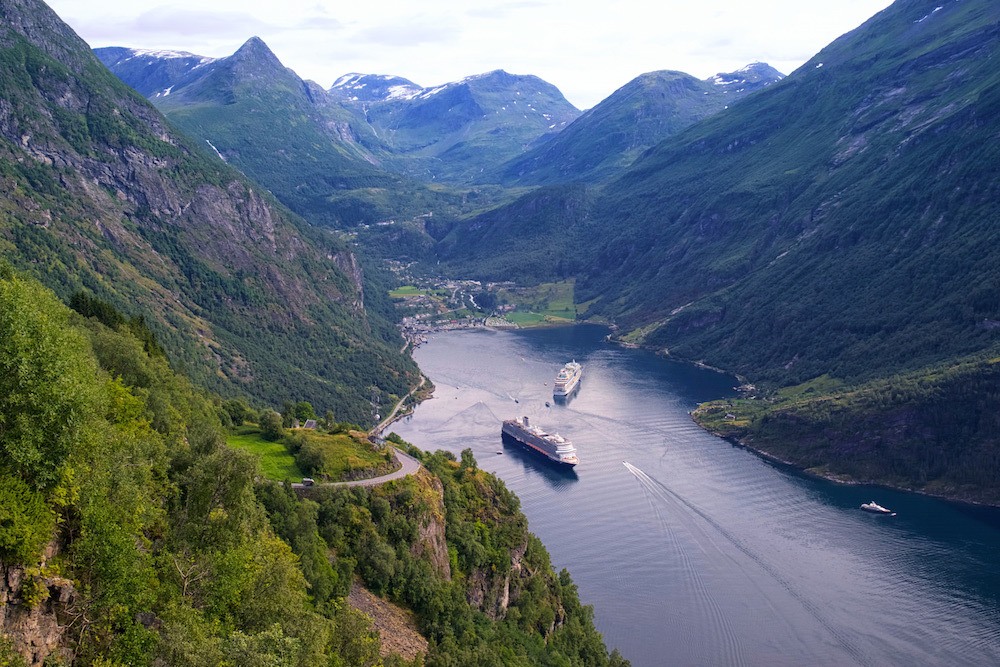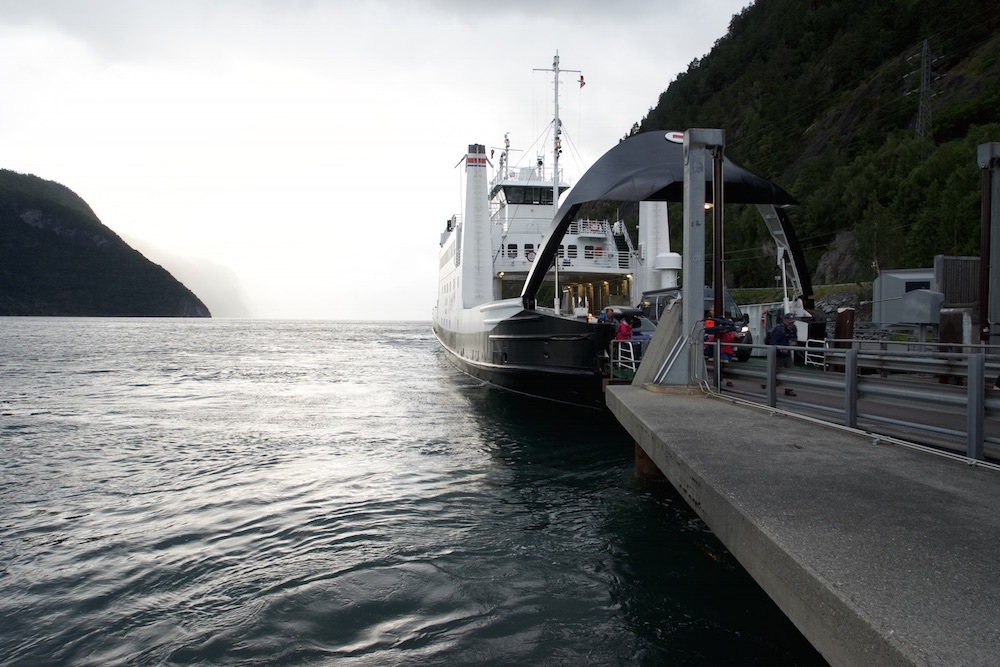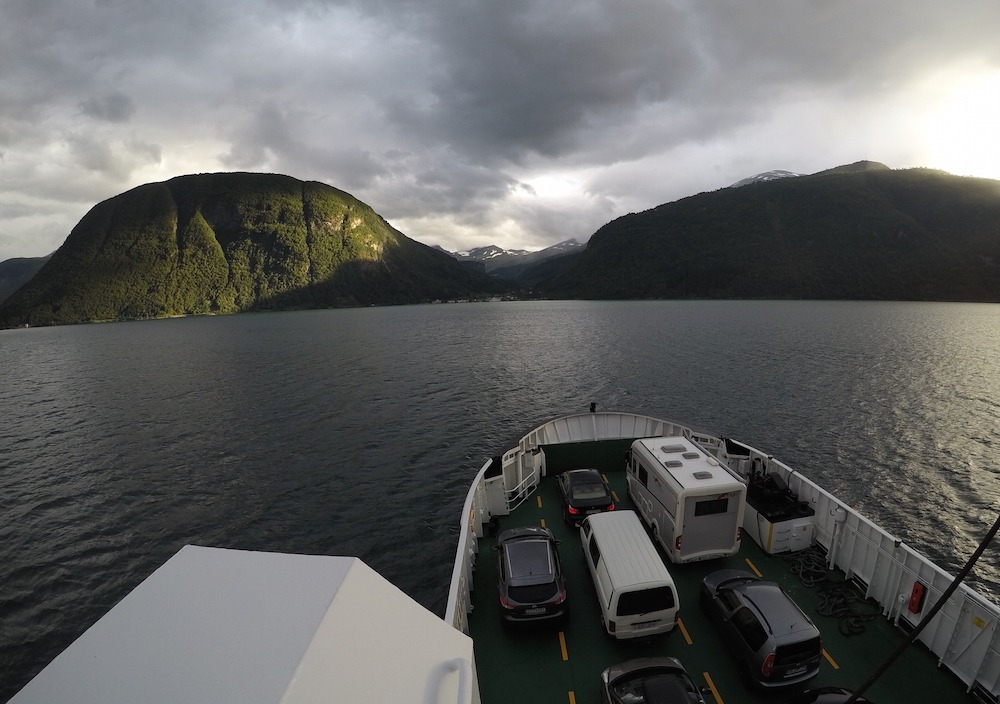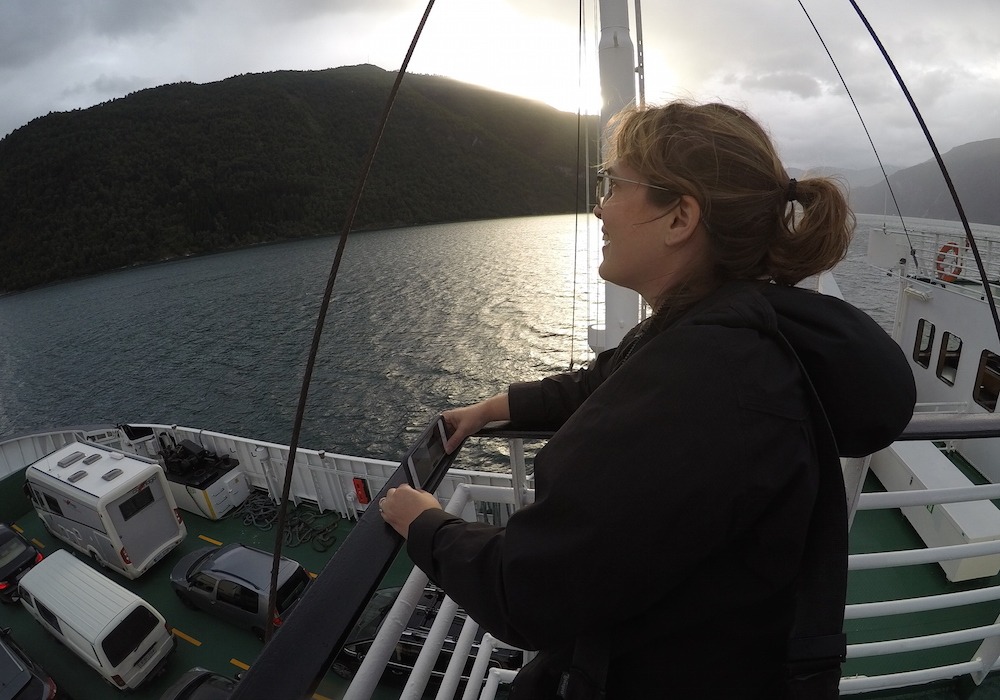 We arrived in Ålesund in early evening, and immediately went out to explore. Ålesund is one of those places where, as soon as we saw the city, we loved the city and wished we had more time to spend there.
Being there in early August, we had a lot of daylight, so we spent the evening hiking up to the view point (413 steps up), and wandering around the harbor. Around 9:30pm, we caught a gorgeous sunset over the Atlantic.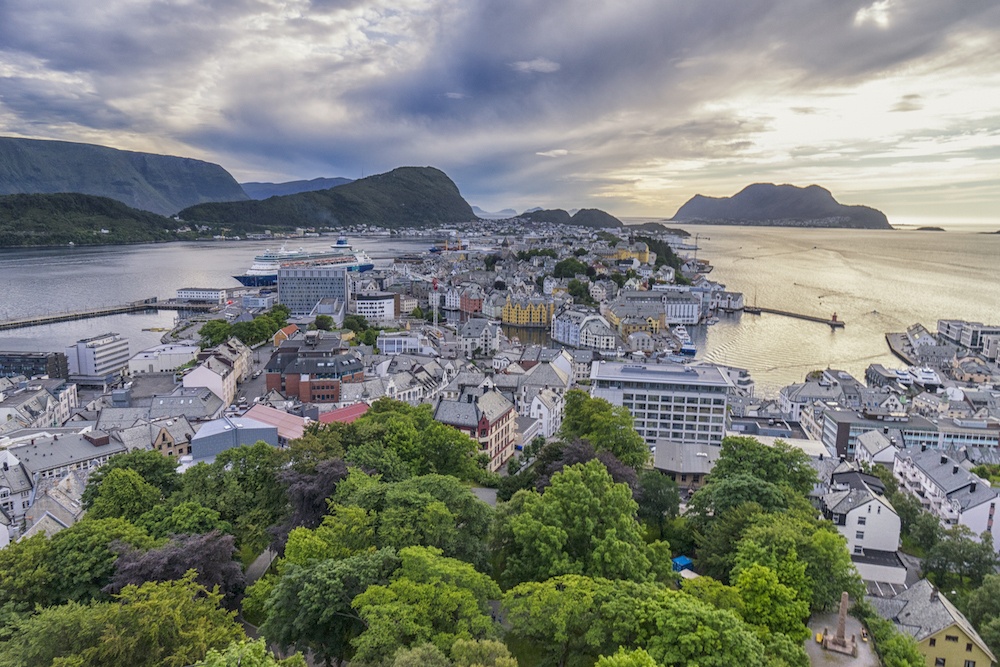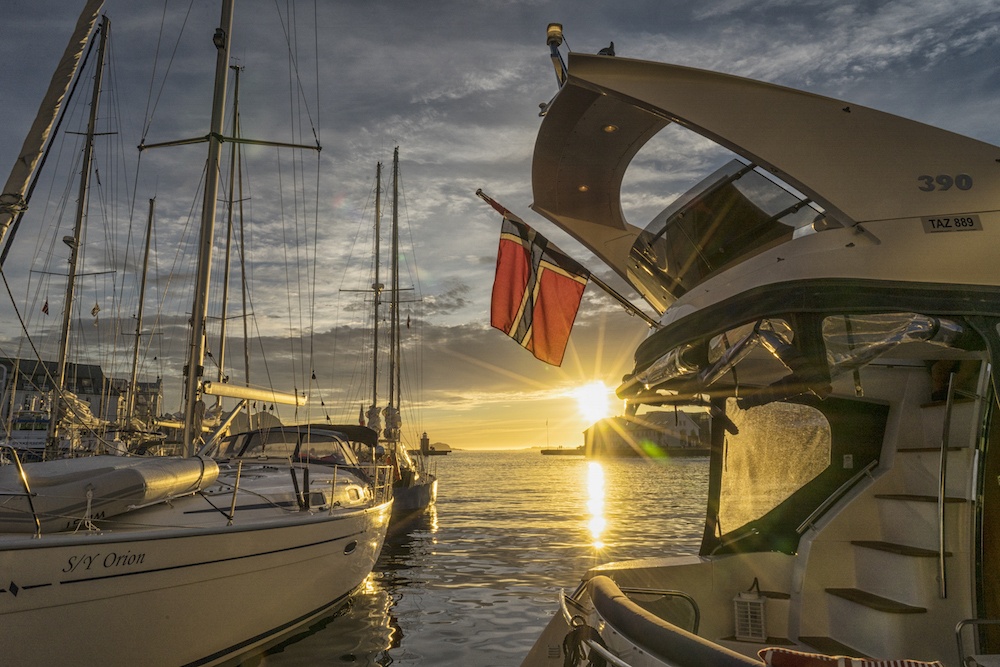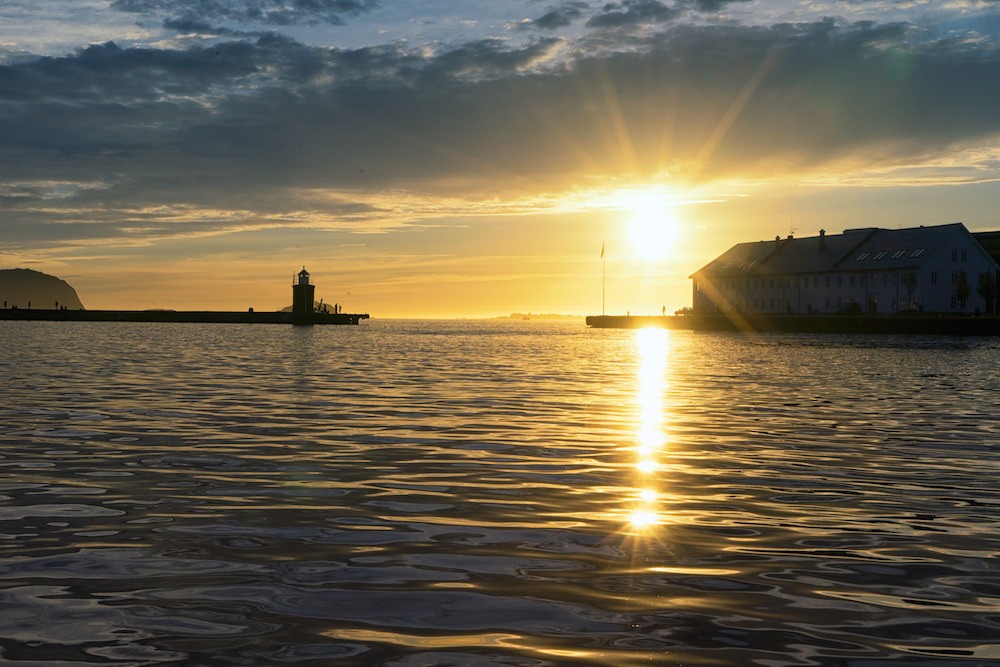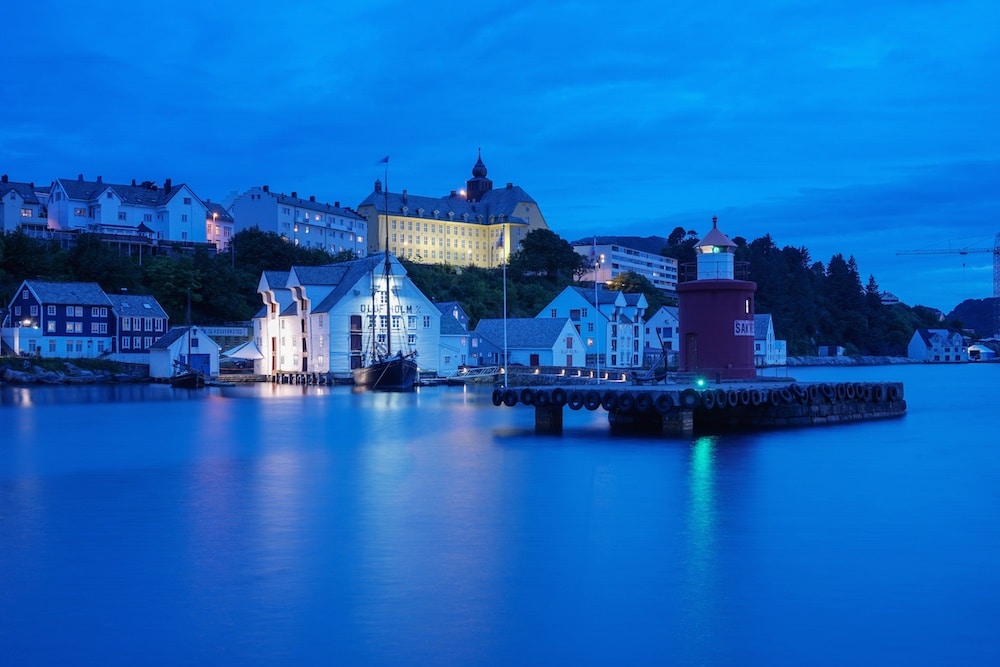 Where We Stayed
We spent the night at Thon Hotel, which we chose based on: 1) price, and 2) location near the Hurtigruten terminal (2 blocks away) for the next night. Thon is a chain of hotels in Norway, offering pretty good 3-star accommodations – comparable to a Holiday Inn or Comfort Inn. Staff were super friendly, and the rooms clean, although our room was pretty basic. Geoff mentioned our rooms kind of looked like a military barracks. But overall it was a good, 3-star experience.
Check Availability & Prices on
Booking.com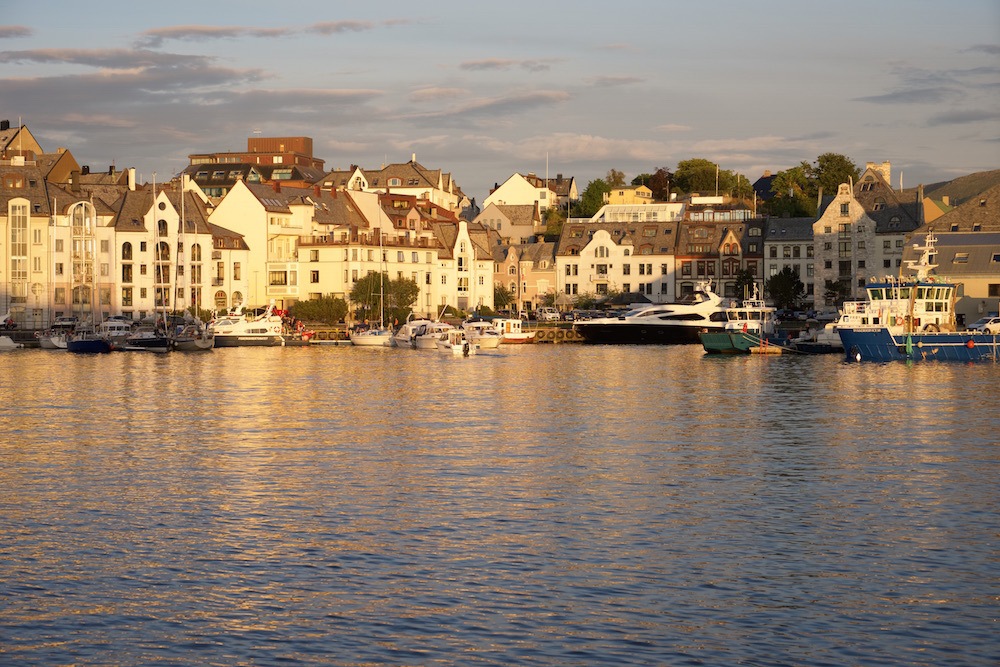 ---
Norway in One Week: Day 5 — Atlantic Ocean Road
We rented a car for one-day, and drove the Atlantic Ocean Road as a round-trip from Ålesund
When we decided to go to Norway, we each had different things we wanted to experience. I wanted to see a fjord (check) and Geoff wanted to drive the Atlantic Ocean Road, which we'd first learned over more than 5 years ago via a YouTube video. Ålesund is one fairly logical jumping-off point to drive the Atlantic Ocean Road as a full-day round-trip.
We rented a car at Hertz for about $90 US, plus insurance. The staff were excellent, and we set off for the Atlantic Ocean Road around 10am, driving north to Vestnes, where we caught the 10:45am ferry to Molde. We were worried we'd have to wait several ferries, as there was a line-up when we arrived, but they manage to pack a lot of cars on those boats, and we got on the first ferry that arrived after we got in the lineup. We stopped at a supermarket in Molde for some lunch foods, and arrived at the start of the Atlantic Ocean road around 1:15 pm.
As with the Trollstigen, words can't really do this place justice; you have to see it to believe it: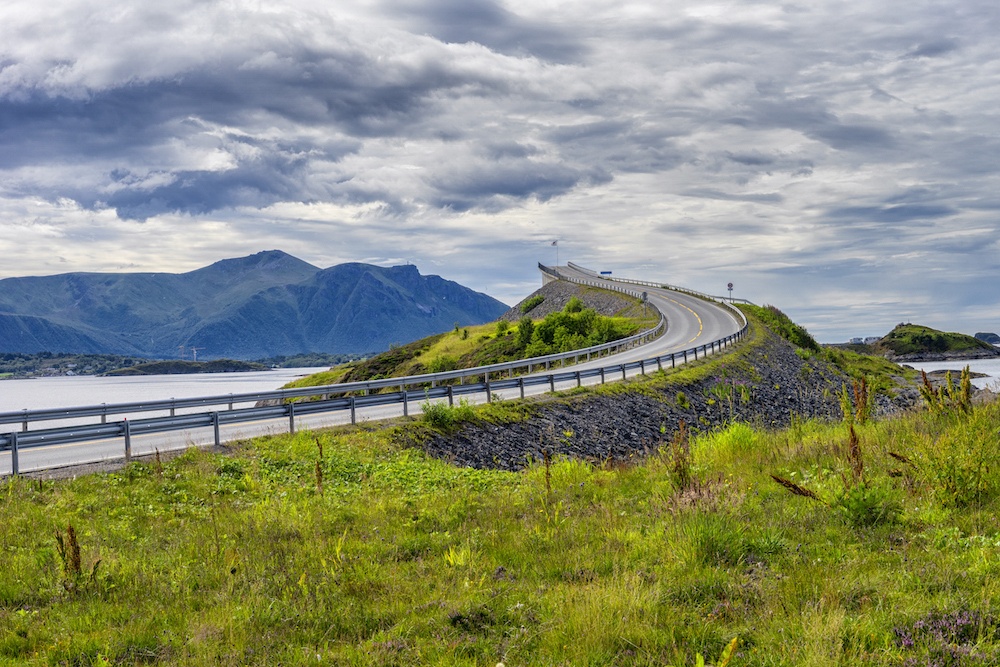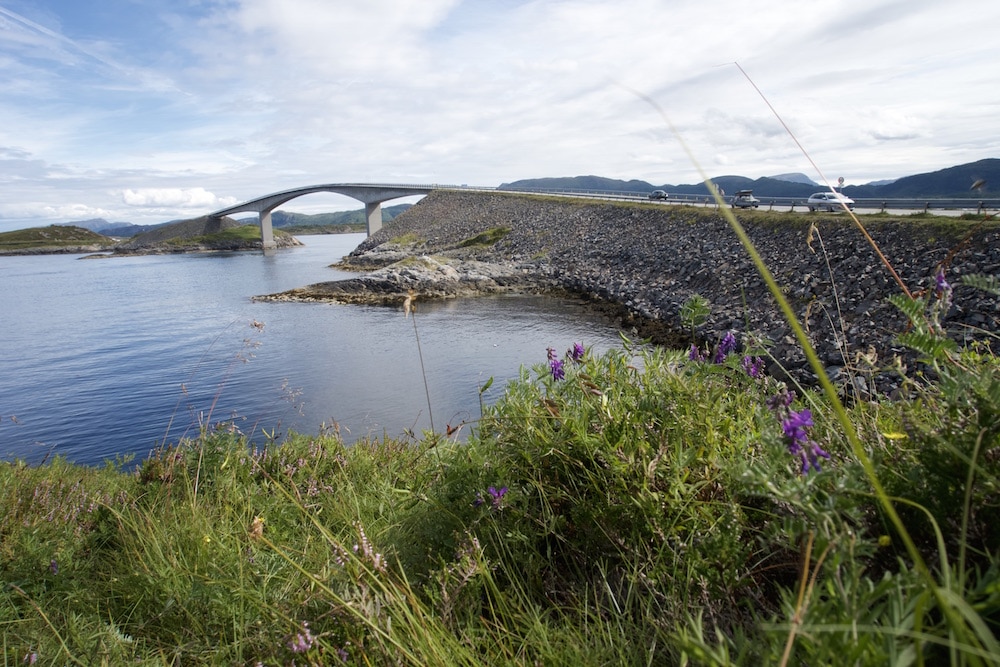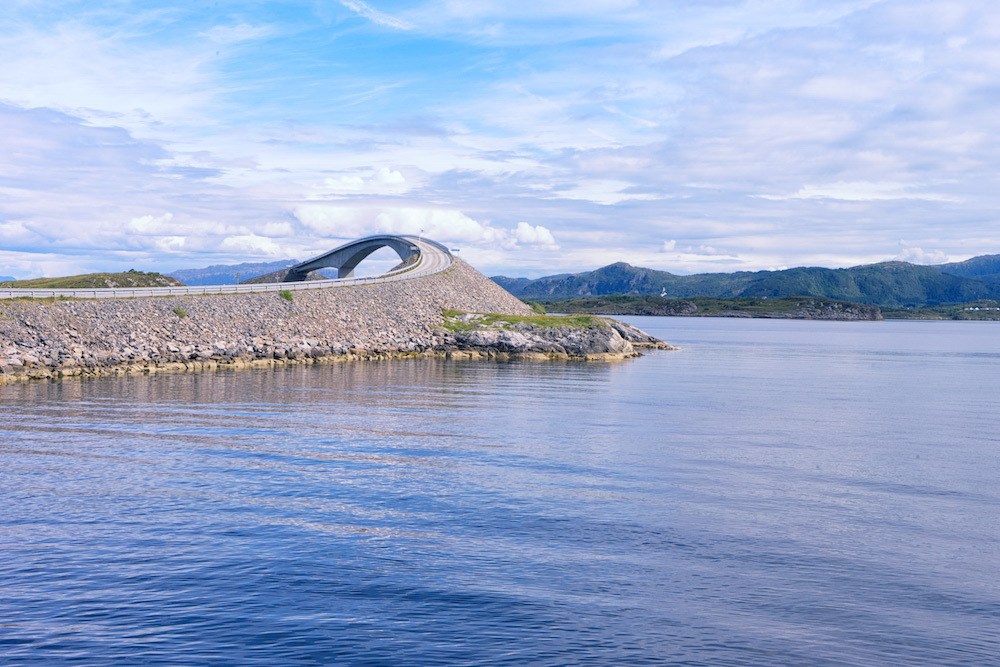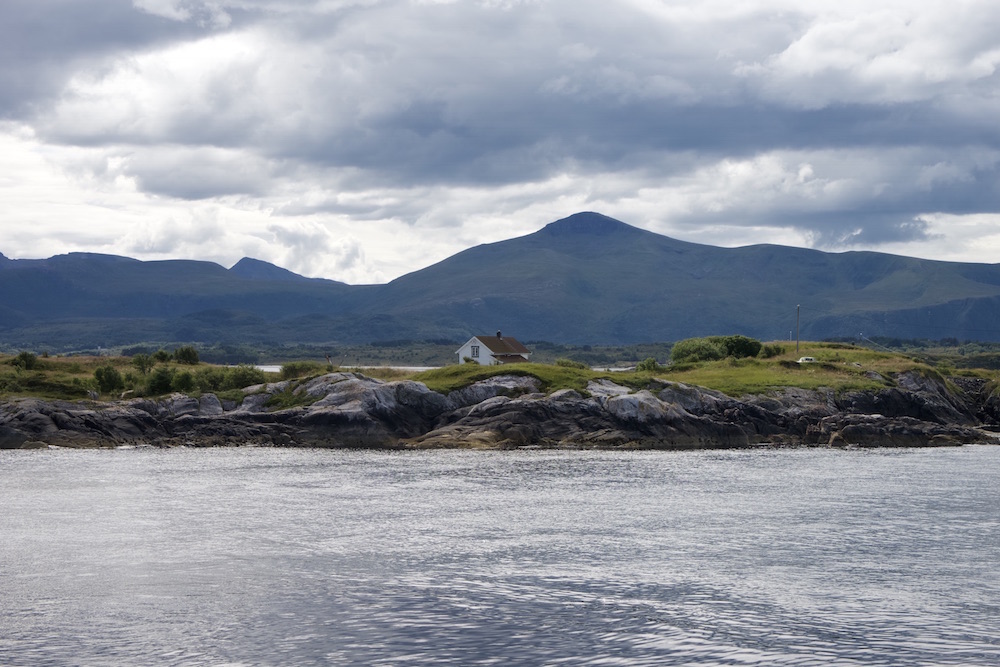 When we were planning our Altantic Ocean Road drive, we couldn't figure out whether there would be room to pull over to take photos. Turns out, there are loads of pull-outs, and we were able to park the car, go for walks, and generally enjoy the area.
On the drive back to Ålesund we took the tourist route to Bud, which mostly followed the coast and was dotted with cute little houses painted in bright reds, yellows, and whites, along with a few rebels who'd painted their homes a shade of blue.
Many of the houses in this area still use the old method of insulation, letting grass and bark grow on their roofs to insulate from both heat and cold. Overall, it's very scenic.
We arrived back in Ålesund around 7pm, and caught the 8pm bus near Hertz back to the city center. We had dinner, and then when back to the hotel relaxed in the lounge area while we waited for our Hurtigruten ferry to arrive. We boarded around midnight, and spent the night sailing towards Bergen.
---
HOW WE DID IT:
We rented our car through Hertz, which is easily reached from downtown Ålesund via a public bus. The rental cost about $90 US, plus insurance and fuel. For the entire drive, we used about 1/4 of a tank of gas of our VW Polo, which cost us 186 NOK to re-fill.
The ferry from Vestnes to Molde, including 2 adults and one car, cost 196 NOK return. We didn't make a reservation of any sort (not sure that it's even possible to do so) and were able to get on the first boat in both directions, with no more than a 20 minute wait.
The entire trip, returning from Ålesund, took us about 9 hours. We certainly could have squeezed it into about 8 hours if we'd rushed, and it could have been done in 5 or 6 hours return from Molde.
There are plenty of places along the Atlantic Ocean Road to pull over and take photos – so don't worry about capturing the perfect shots!
---
Norway in One Week: Days 5 & 6 — Hurtigruten & Bergen
We took the Hurtigruten ship overnight from Ålesund to Bergen
We woke up at sea on Day 6, cruising southbound along the Norwegian coast toward Bergen on a grey and rainy morning.
The Hurtigruten ships are a bit of a strange hybrid between a working cargo boat, a functional passenger ferry, and a cruise ship, and to be totally honest, we didn't love it.
If you book an overnight journey, you have to book a cabin to sleep in: there's no saving money by sleeping on chairs in the public seating areas. Thankfully, the rooms are very nice. We left it to the last minute to book our journey, and the only cabins left were the 'arctic superior' cabins which cost about €500 for 2 people. It was nice, but painfully expensive. The bed, however, was amazing.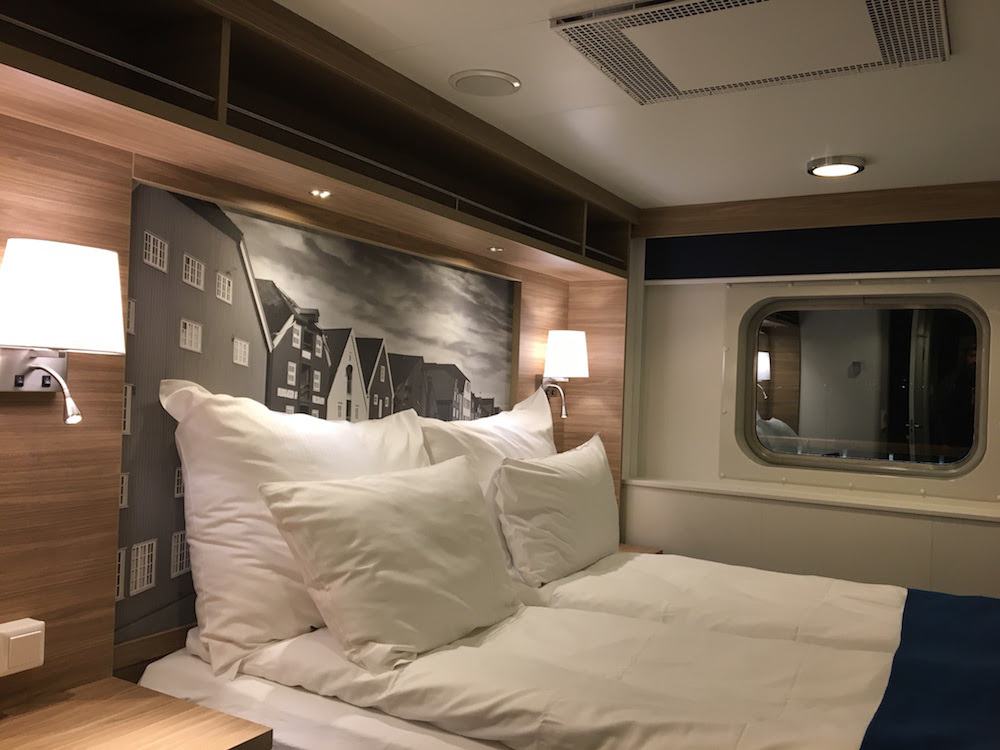 Check out from our cabin was at 10am, and the included breakfast also ends at 10am. So around 9am we hit up the breakfast spread, which included a full buffet of hot and cold items, and then checked out, putting our luggage into an on-board storage room.
Overall, we found our experience on the Hurtigruten to be fine, but not amazing. We found ourselves constantly lost on the ship, and there weren't many maps around to orient ourselves. Check-out procedures and luggage storage was confusing, and it took us a bit of running around to figure out what we were supposed to do. And seating on board was inadequate for the number of passengers, leaving people sitting on the floor or on random ledges. We ended up perched in a window well, before finding a proper seat a bit later on, but this aspect of the experience definitely felt more like a cheap passenger ferry than something we'd shelled out a fairly significant chunk of change for.
I would still love to try one of the Hurtigruten cruise packages that take you from Kirkenes in the north, all the way down the coast to Bergen, with the excursions included. But for independent travel in Norway, I think I might have preferred to backtrack down to Oslo via the train.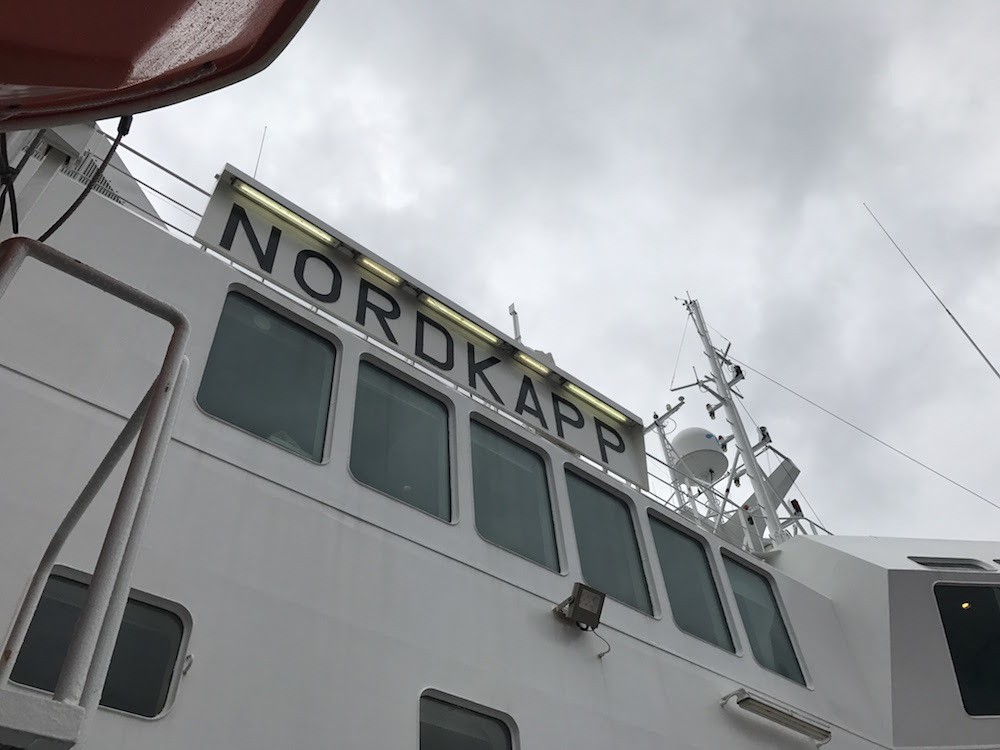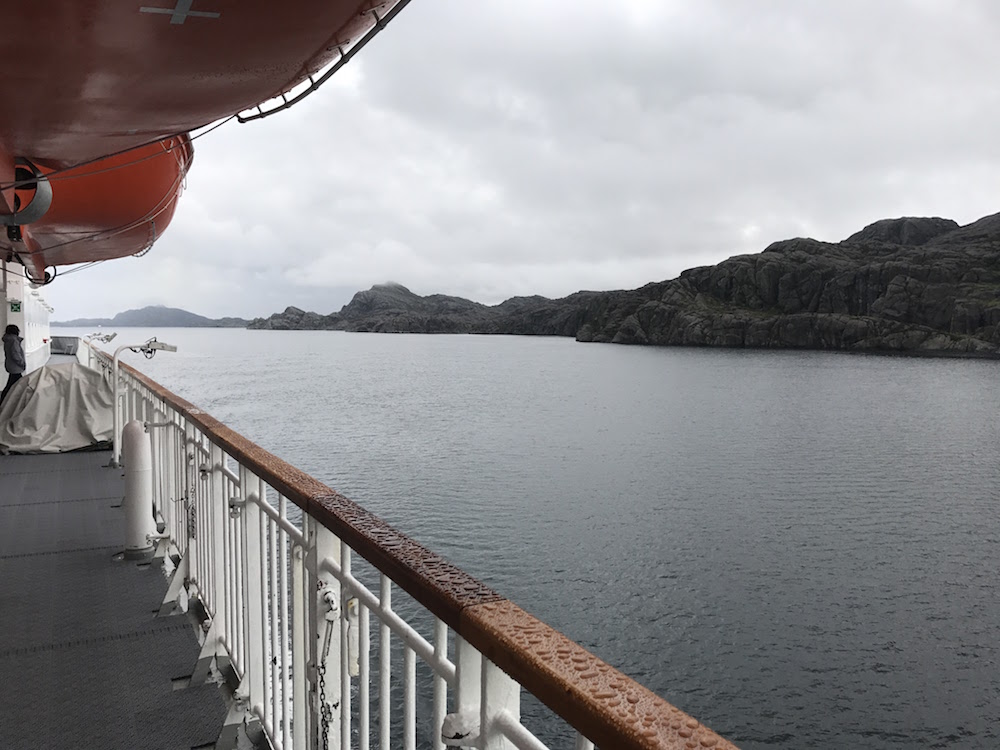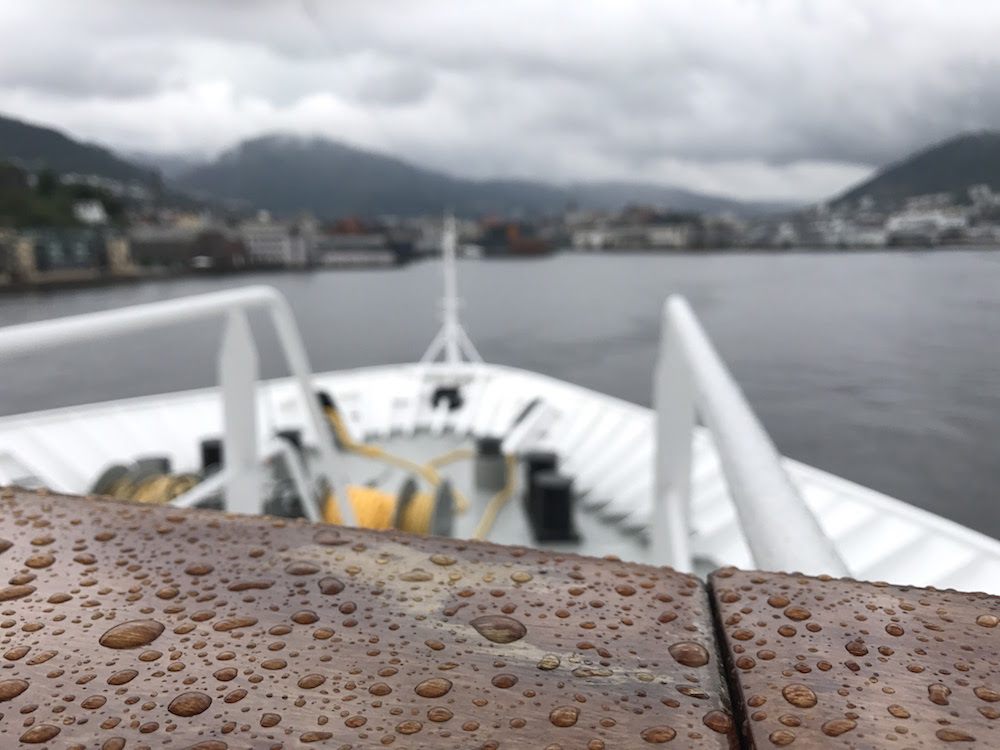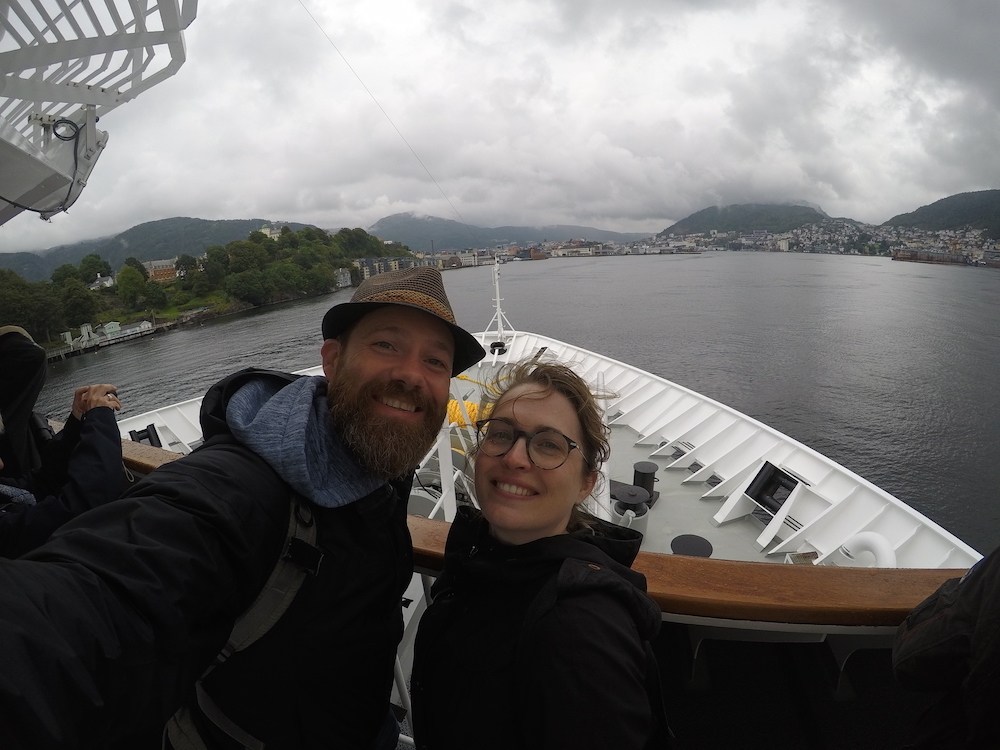 We arrived in Bergen on a very rainy afternoon, and did our best in between breaks in the deluge to see as much as possible, but it was tough. Not going to lie, the rain really put a damper on our time in Bergen. If you plan to spend time in Bergen, pack some good rain gear!
Where We Stayed
We spent our first night in Bergen at CityBox Bergen. It's a clean and basic three-star, with small but very comfortable rooms and a fairly stylish, modern feel to it. Pros include location (very close to train station, if you're doing an early morning trip to the Flåm Line); price, which was less than $100 US for the night; comfort, including a great bed and shower; and facilities (a self-serve laundry room, an ironing room, and basic shared kitchen facilities in the lobby. Cons of this place, is it's very modern: when you check-in, you do it entirely via a computer terminal, with no human interaction. It also has a bit of a hostel vibe to it with the shared kitchen (for coffee, tea, but not big meals) in the lobby. It was perfect for our purposes, and there were travellers of all ages there, but I can see how it would feel a bit too "budget" for some travellers.
Check Availability & Prices on
Booking.com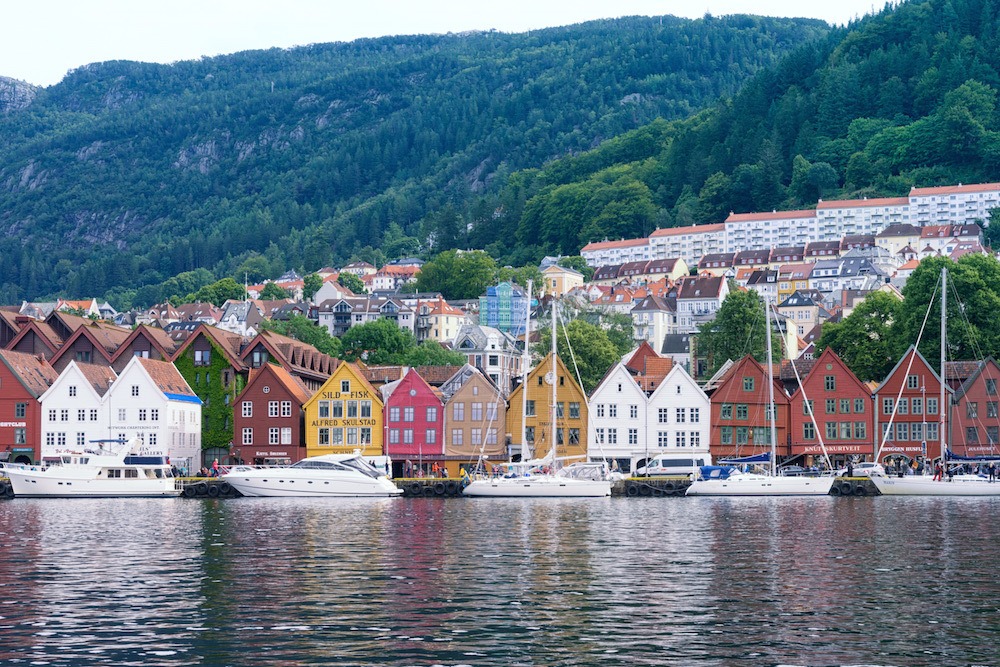 ---
HOW WE DID IT:
We booked our Hurtigruten ticket directly from their website, and they emailed us the ticket and a receipt almost immediately. We never printed the tickets out, and it ended up being fine to show the ticket PDF from our phones.
The Hurtigruten left Ålesund around 01:30 in the morning, but arrives in port around 12:30 (half-past midnight) for boarding. We checked into the ship quite quickly and were already asleep by the time the ship departed.
As noted above, we stayed at the Thon Hotel in Ålesund, which is convenient for sightseeing and is about a 4-minute walk from the Hurtigruten terminal. They also have a large lobby and space to wait in the evening for the ship. There were quite a few people who were also waiting, and one lady took a shower in the pool area before leaving for the Hurtigruten, so it seems hotel staff are quite used to people waiting for the ship, and also quite accommodating about the whole thing.
---
Norway in One Week: Day 7 — Flåm Line
We took Norway's most famous train trip, completing it as a round trip from Bergen in one day
The Flåm Line is probably Norway's most famous train ride; when combined with the Rauma Line earlier in our trip, these two trips gave the distinct impression that Norway is one of the world's most beautiful countries to explore by train.
As we booked fairly last minute, we had to take the first train of the day from Bergen to Myrdal, which is the starting point for the Flåm Line. The connections are timed quite well, and we were able to transfer almost immediately to the Flåm Line.
Like the Rauma Line, the Flåm Line isn't long; it's less than an hour one way (although, not by much), but is packed with scenery, tunnels, a stop at a waterfall….basically the most gorgeous Nordic scenery you can imagine.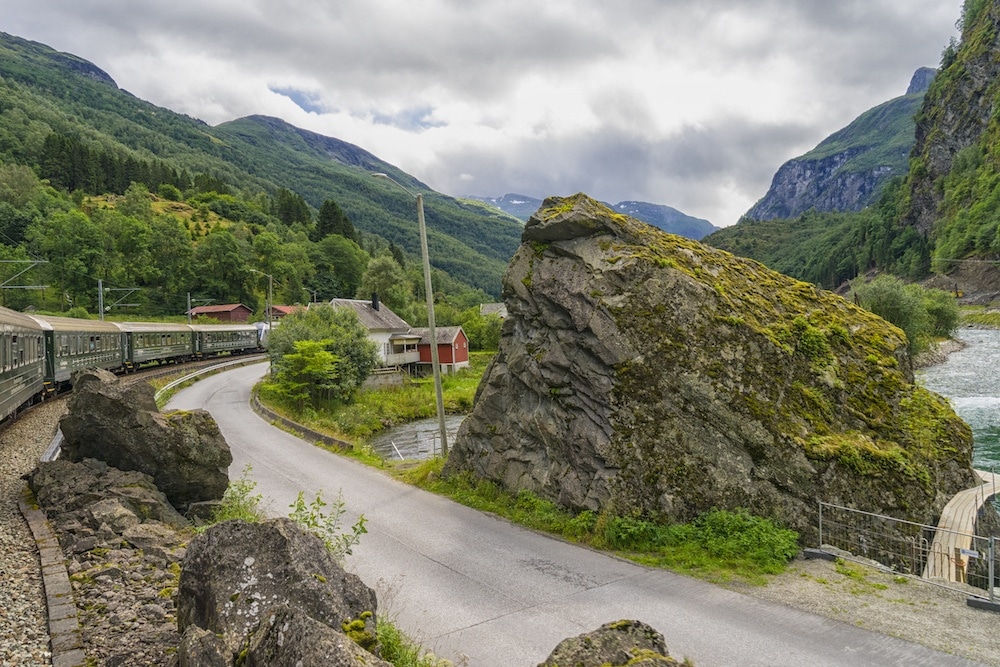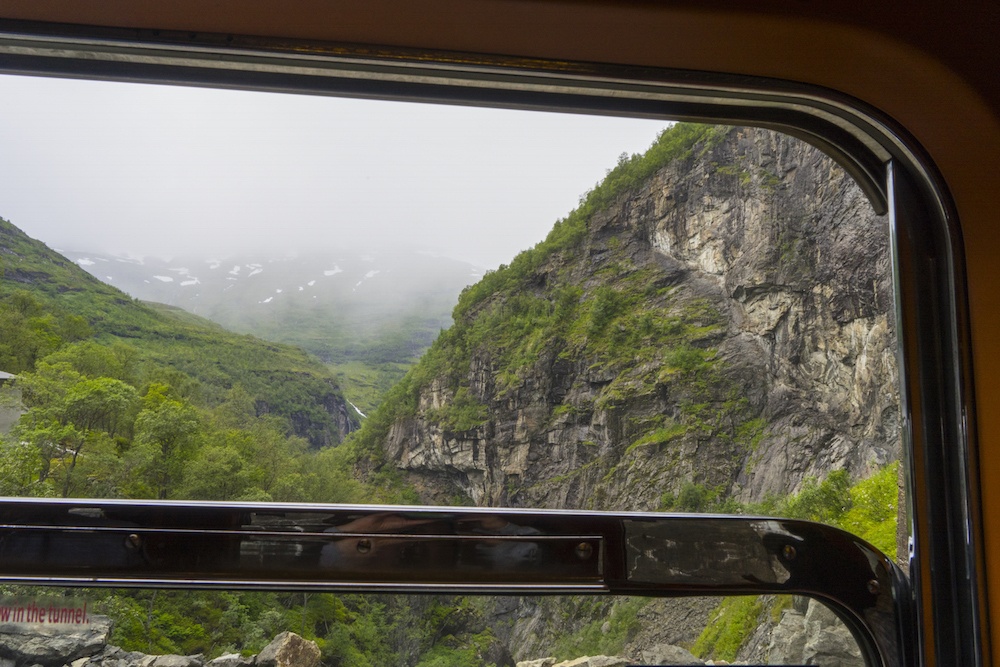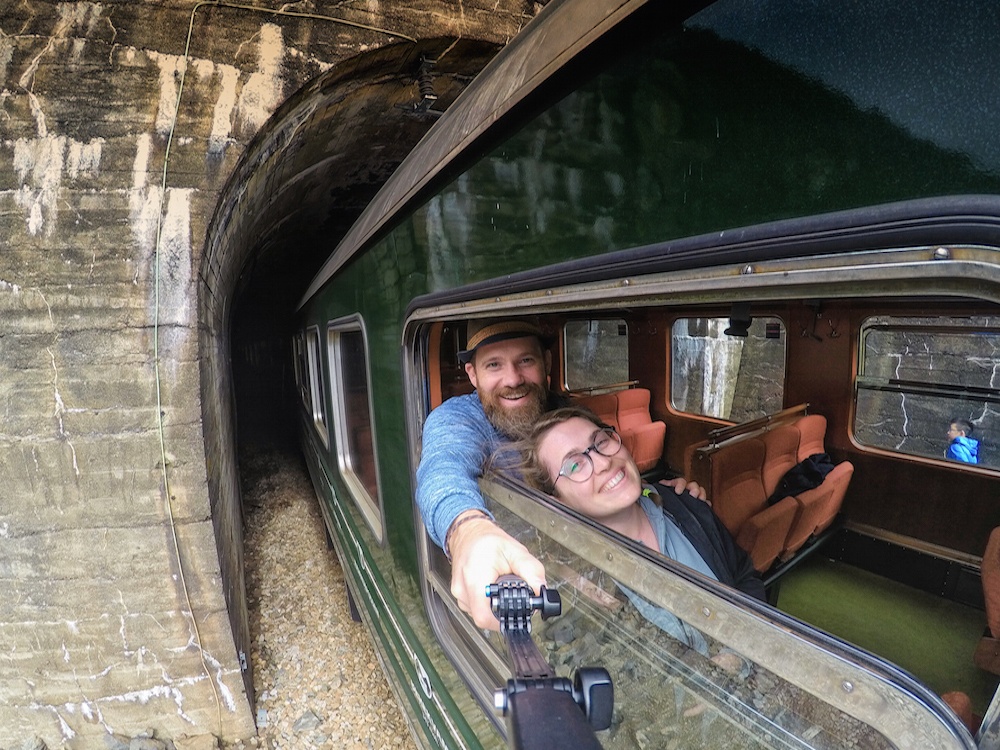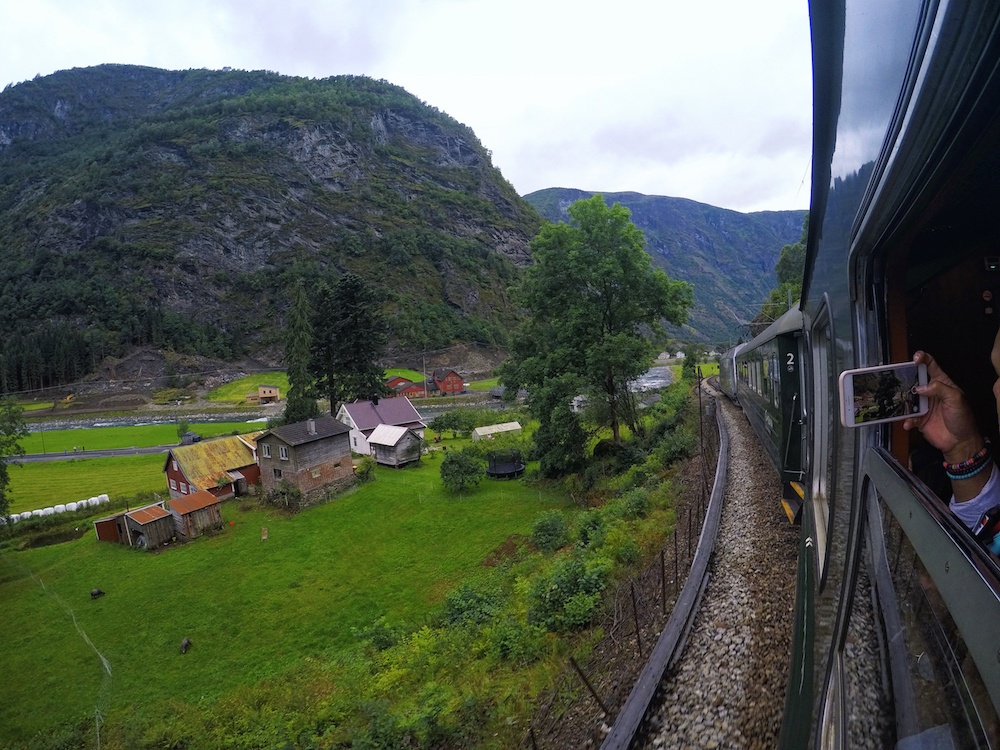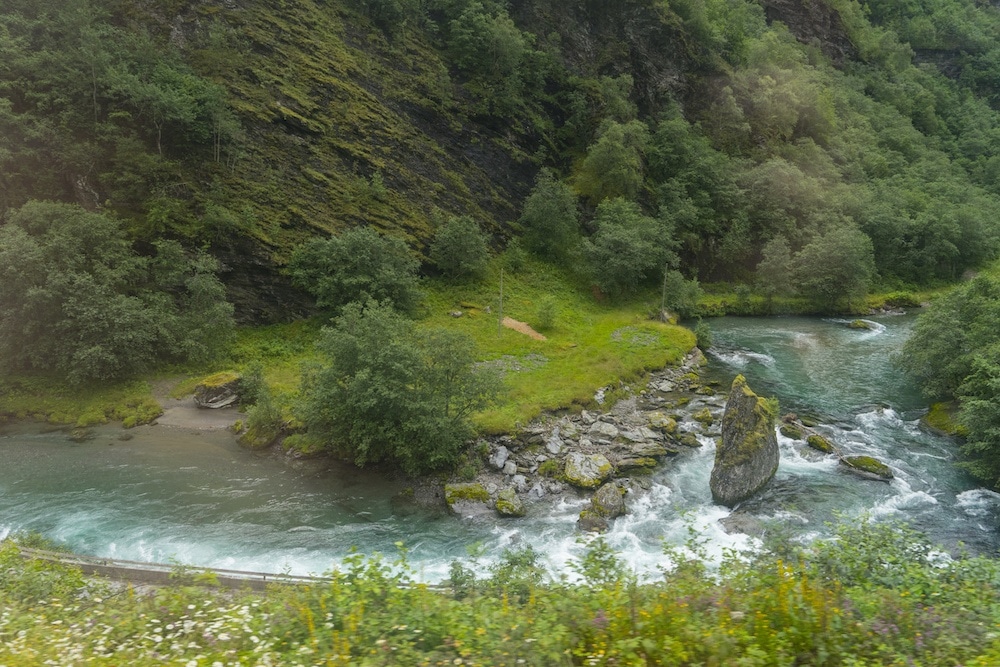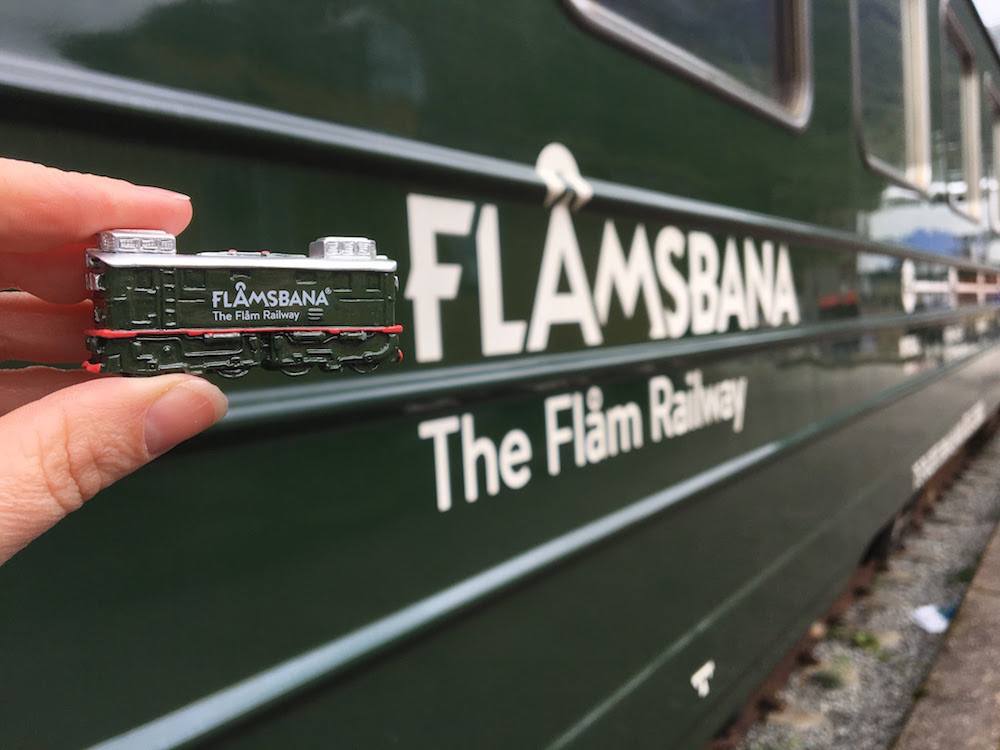 At the end of the line, you end up in teeny tiny Flåm, which sits at the mouth of Sognefjord. Flåm itself doesn't require a ton of time; we spent about 90 minutes there, before heading back to Myrdal and then to Bergen.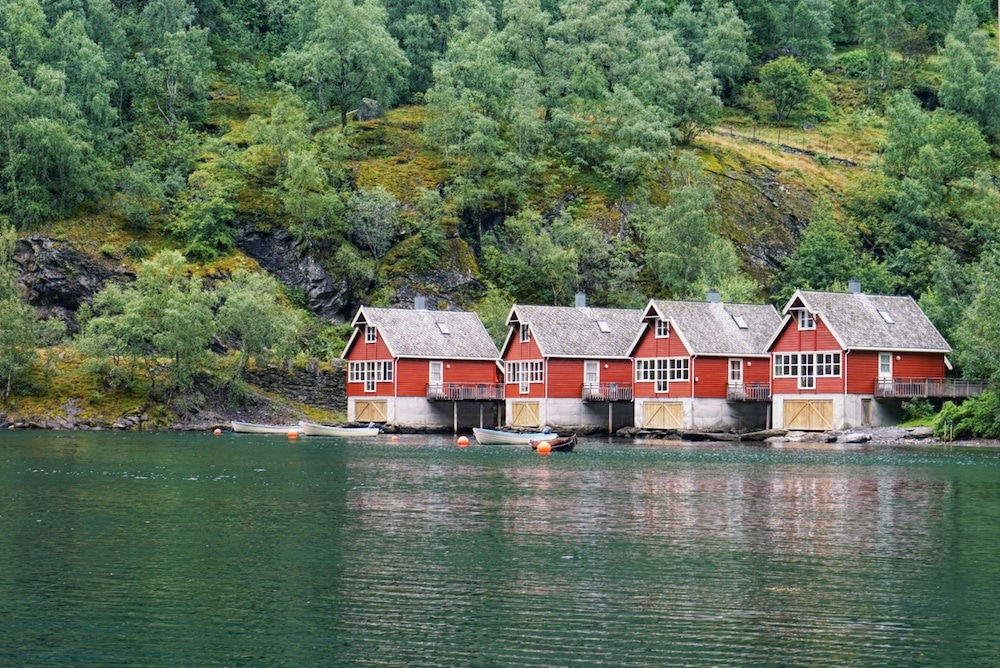 Where We Stayed
For our final night of the trip, we switched hotels for the night in order to end the trip in a bit more luxury! We stayed at the gorgeous Zander K Hotel, which thankfully had umbrellas to keep us dry on our final explorations around Bergen. Zander K is a boutique 4-star with loads of extras, like free coffee, a nice gym (that goes beyond your typical gym, providing things like medicine balls and kettle bells), and free bike rental (which we didn't get to use). Super comfortable beds and great showers, and convenient location just across from the train station, and on the tram line to the airport.
Check Availability & Prices on
Booking.com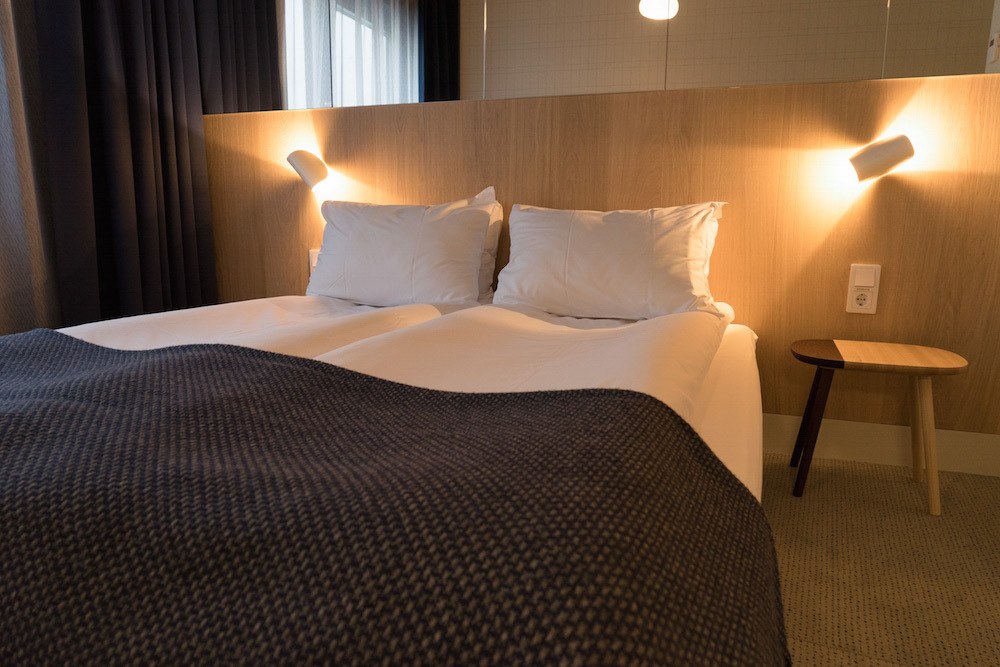 ---
HOW WE DID IT:
Our Rail Europe pass covered us for our train travel from Bergen to Myrdal and return (or onward to Oslo, should we have wanted to). While it did not cover us for the Flåm line (the Flåm train is run by a private company, separate from the national train company, NSB), it did get us a discount on the Flåm line of 30%.
Book the Flåm line early; we booked last minute and had to take the very first train of the day out of Bergen. It wasn't a huge deal for us, but we would have preferred to leave a little later.
If you don't plan to do any activities in Flåm, about 90 minutes is enough time to explore the town before returning on the train to Myrdal, which has connections to both Bergen and Oslo.
---
Norway in One Week: What We'd Do Different
A few quick thoughts on our trip, and what we might change for next time!
With any trip, it's impossible to do everything. With Norway, that feels doubly true, due to the sheer distances you have to cover, and the cost of travelling in Norway. That said, if we hadn't left our planning to the last minute, we probably would have adjusted our itinerary slightly to allow for a bit more sightseeing:
Trondheim: We would have liked to take the train from Oslo all the way up to Trondheim, and spent a day or two exploring that city and area. I think the most beautiful part of the train from Oslo to Trondheim comes after Dombås, which is where we switched to the Rauma line bound for Åndalsnes. Had we gone to Trondheim, we would have then backtracked on the train to Dombås,and continued the same route from there.
Puffins: I would have loved to go to the Runde Bird Island, which can be visited as a day trip from Ålesund, and simply would have meant spending a second night in Ålesund before heading south.
Bodø: The idea of going to the very north of the train system and working our way south still sounds super fun. Had we decided to do this, I think the best option would have been to fly from Oslo to Bodø, and then work our way south by train. We would have gone Bodø to Trondheim by train, Trondheim to Dombås to Åndalsnes, and then would have repeated the trip, except we would have backtracked (via another route) by train, rather than taking the Hurtigruten.
So Many More Things: Not to beat on a dead horse, but Norway is massive and filled with attractions. We would have loved to go to the Lofoten Islands, but high season there doesn't come cheap. We would have loved to do the entire Hurtigruten coastal route, but we really needed to plan that a bit further in advance. I'm really happy with the trip we did, and I think the key was that we didn't try to cover too much ground, and when we did (i.e. the Ålesund to Bergen overnight), we accepted that it came at a cost. And now we have a reason to go back to Norway!
---
Questions? Comments? Let Us Know By Leaving A Comment Below, or Joining Our Facebook Community!
---
Like This Post? Pin It for Later