2 Days in Athens Guide: Athens Travel Tips for First Time Visitors. If you're planning your first trip to Athens, this Athens city guide has all you need to know! Includes must see places in Athens, the best things to eat in Athens, and our best Athens tips for travelers if you want to see Athens in 2 days!
This is a guest post by Sam of Carry On Or Bust


Disclosure: This Athens holiday guide contains affiliate links. That means we earn a commission when you use the links on this site to book a hotel, buy your travel insurance, shop for travel essentials, etc.. You don't pay anything extra. If you'd like to learn more about how this works, you can read more under our Disclaimer page.
I'm guessing you're here because you're heading to Athens for the first time, and only have a short visit! Before we get into this Athens city break guide, I just have two things to say: congratulations on your excellent choice, and I am so envious of the experience you are about to have! Athens is one of my favourite places in the world, and you get to experience her for the first time.
After visiting Athens on multiple trips over the past seven years, I've gotten to know the city well and am happy to share some of my favorite things to eat and activities to do in Athens to help you plan your trip.
Think of this as a short and sweet Athens visitor guide packed with my best Athens tips. While it's meant to provide trip planning help for seeing Athens in two days, it can be compressed if you only have a day in Athens, or stretched out if you have 3 days in Athens.
---
2 Days in Athens: What to See in Athens in 2 Days
Pin Me ⇩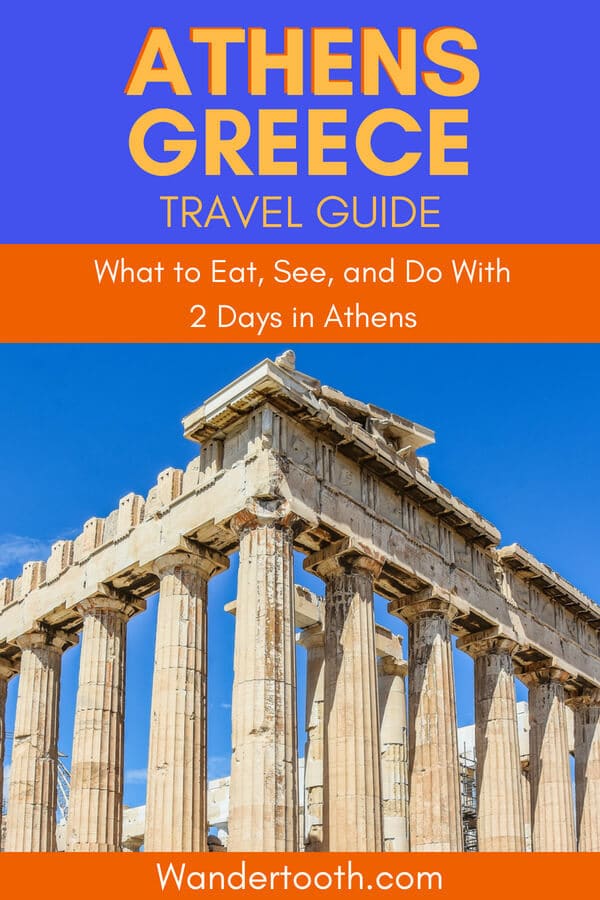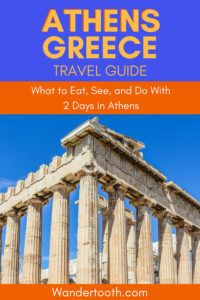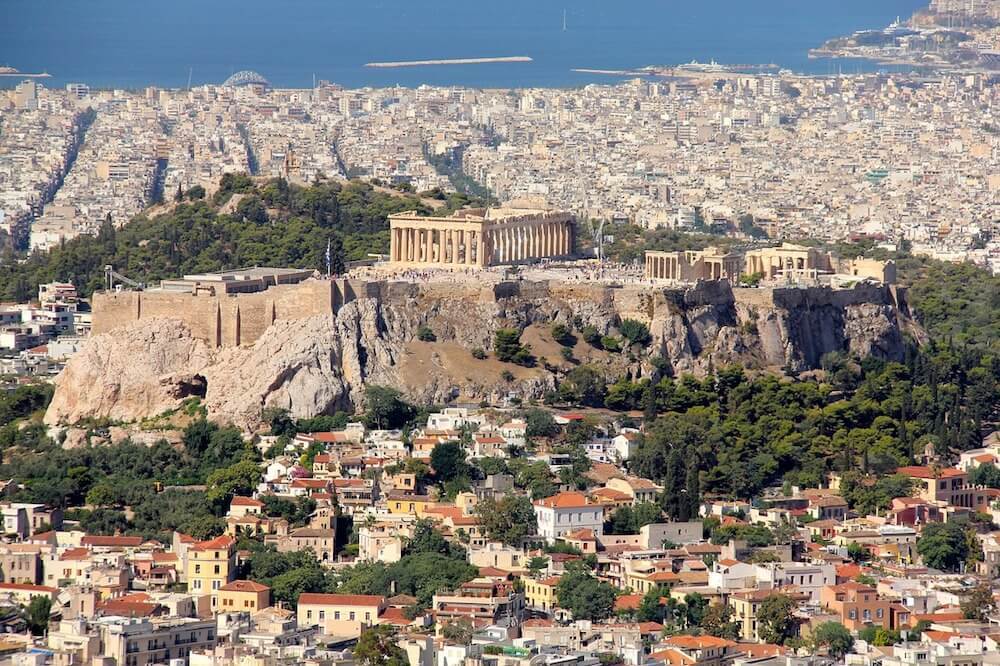 Eating in Athens: What to Eat in Athens Greece
You've dropped your bags at your hotel, and you're ready to head out to explore Athens. But first, you're hungry!
What kind of food do you want?? In Athens, there is so much on offer. Unless you've studied up beforehand and know your Greek food, there's a chance you won't know what anything means.
I've put together this list of some of my favorite Greek food in Athens to get you started.
Gyros: One of the Best Things to Eat in Athens for a Quick and Cheap Meal
Pronounced yih-rohs (like year-ross), not jai-roes (like jay-rows).
A meat eater's dream, gyros are made-up of seasoned pork or chicken, slow roasted on a spit, that's then shaved off with something that legitimately looks like an electric face shaver. Garnished with onions, tomato, lettuce, and tzatziki, all this is wrapped up in a delicious toasted pita bread and served with chips (fries). A perfect on the go meal for less than €3!
Vegetarians might have a more difficult time finding a gyros place that offers a non-meat option, but rumour has it that Souvlaki Bar on Adrianou Street will whip up one with grilled mushrooms instead.
Where to Find the Best Gyros in Athens: While Kalamaki Lamprinaki gets a 9.2/10 on FourSquare for being one of the best places to eat in Athens for gyros and souvlaki, it's a bit out-of-the-way from the main tourist area. For something more convenient, try Best Taste (Athinodorou 23), My Plate Persephonis (Persephonis 43 at Kerameikos metro station), or Αχιλλέας Σουβλάκια (Achilleas Souvlakia, located at Spintharou 18)
Souvlaki: This Classic Dish is Some of the Best Food to Eat in Greece
Pronounced soo-v-lah-kee.
Similar to gyros, but instead of meat shavings you get cubes of pork or chicken grilled on a skewer. Souvlaki is often served on a plate, so you can essentially build your own sandwich. Be aware, Souvlaki is sometimes be named something like "Souvlaki Plate," which is often HUGE and costs far more than a street snack (€20 or so), so be sure to indicate very clearly which Souvlaki you want!
Where to Find the Best Souvlaki in Athens: Elvis (Έλβις) at Plateon 29 is highly rated, and only a 7-minute walk from Kerameikos metro station.
Gemista
Pronounced yhem-is-ta.
Peppers and tomatoes, stuffed with seasoned rice. Some places will add feta cheese to this – I will always go back to those places!
Feta in Filo
A block of feta cheese wrapped up in filo pastry, baked in the oven, and then drizzled with honey. This is a life experience you won't regret.
My favourite place to get this, though it is a little pricey, is the New Acropolis Museum. You can sit with this delicious snack on their terrace and look up at the Parthenon. If it's too hot outside, the interior has air conditioning.
Meze Appetizers Makes a Great Family-Style Meal
Aka Greek Style, Meze Style, Best Style
Meze are Greek appetizers, but the best way to have dinner is treat them like tapas: order a whole bunch of these appetizers, and share. For this you will need at least one companion – though the more the better, because there is nothing better than being able to try everything you want!
I recommend ordering two to three appetizers per person. When I do this, our table usually contains some of the following:
Saganaki (sag-an-yaki) fried cheese. Eat this first as it's best hot, with a squeeze of lemon.
Dolmades (doll-mah-days) are vine leaves stuffed with rice and happiness!
Taramasalata (tah-rah-mah-sal-ata) are fish eggs made into a salty and delicious dip.
Tzatziki (zat-si-kee) is a yogurt, garlic, and cucumber dip.
Keftedes (kef-teh-days) are fritters. You're usually served kolokithika (zucchini) or domado (tomato) fritters to dip in a yogurt or cheese sauce, but I prefer them on their own.
Spanakopita (spah-nah-kop-ita) is a spinach pie (pie as in pasty or samosa, not a sweet American-style pie), whereby filo pastry is wrapped around feta and spinach mix. Although I am no Popeye (I hate spinach), I find spanakopita delicious.
If this isn't enough, we might also order a main to share between two people, but we usually just order more fried cheese! I love this style of eating because it means I get to try a little bit of everything for a great price: a meal like this will usually cost about €5 to €7 euros per person, plus drinks.
Frappe
A Greek frappe ain't your fancy-coffee-shop frappe with three kilos of whipped cream and a caramel drizzle.
This is the most perfect coffee drink in existence (and to me, even better than the freddo cappuccino*).
They take instant nescafe with a little water, and whizz it with a whizzing machine that probably used to be a milkshake maker until it becomes a thick foam, then add ice, and water. If you like, a little milk and sugar. This should last you at least an hour – a frappe rushed is a frappe wasted – because the foam meets the ice and melts into iced coffee. A true frappe expert can make a good frappe last all day.
*A freddo cappuccino is frappe's more expensive cousin. It's a shot of coffee poured over ice with whipped milk on top. Freddo cappuccinos are also delicious, I just love frappe!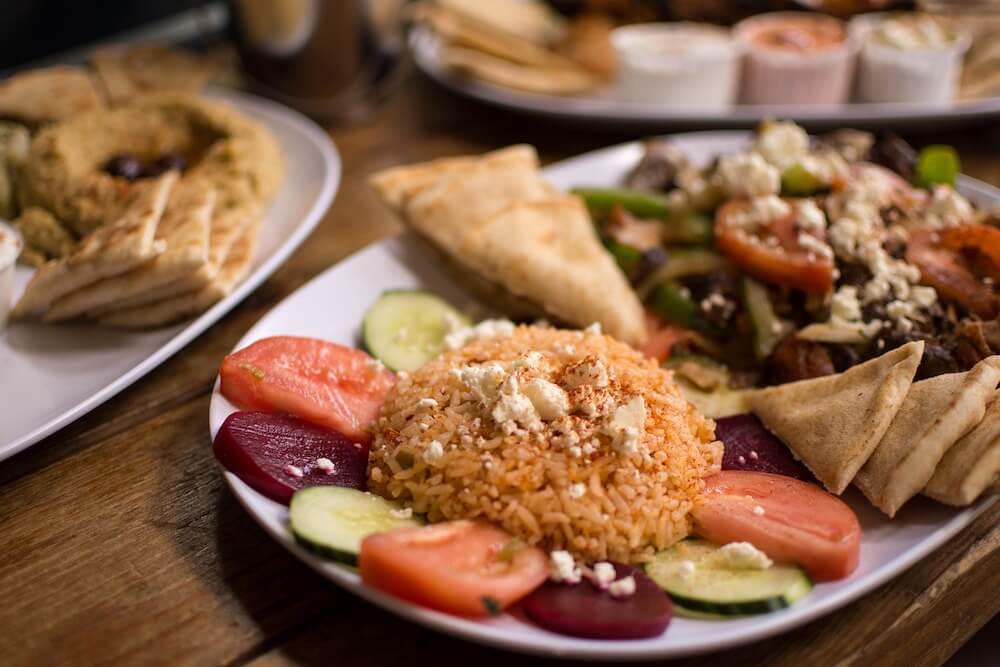 ---
Must See in Athens: The Best Things to See in Athens When You're Short on Time
There are entire books written about the best things to see and do in Athens, Greece. I know this, because I've read most of them. But the biggest lesson you have to understand about a trip to Athens is this: unless you're spending a couple of months in the city, you won't see anywhere close to everything. I have been visiting Athens off-and-on for seven years, and I still haven't seen all the sights to see in Athens!
Here's what to see in Athens Greece if it's your first time in the city, and you're short on time.
3 of the Best Museums in Athens
At my last count, Athens has 47 different museums of varying sizes and subjects. Everything from cultural history, to motor vehicles, to the postal system, there really is something for everything. If you're short on time, you'll need to choose wisely. The following are my picks for the best.
The New Acropolis Museum: My Pick for the Best Museum in Athens
In my opinion, the Athens Acropolis musem is a must see in Athens, and the number one museum to visit. Not only can you indulge in the previously-mentioned feta-in-filo deliciousness, but it houses all the amazing artifacts from the Acropolis. It is a beautifully laid-out museum, so you can take one hours or five, depending on how much time you have, and your interests.
Benaki Museum Athens: Even the Building is Historical
This museum houses a history of Greek art, from the ancient world to modern artists. It lives on today in the historical Benakis mansion, where it was first opened and endowed by Antonis Benakis in 1930. Because of the setting, just visiting is a historical and artistic experience in itself, and then there's all the art…
The Hellenic Children's Museum: Perfect For Kids Who Want to Be Interactive
I can't imagine taking kids to a museum where everything is priceless, because I know how much they want to touch the shiny things! This museum caters for that instinct, and children can grab, prod, interact, and generally have a bit of fun while learning something!
Athens Guide Book
Give your trip planning a boost and take along a trusty Athens guidebook! Filled with tips and recommendations for bars, restaurants, tours, self-drive trips and more. Plus you'll get suggested itineraries, maps, and even 3-D drawings of some of Athens' most important sites.
DK Eyewitness Travel: Greece, Athens, and the Mainland
---
3 Must-Visit Archaeological Sites in Athens
There are 13 major archaeological sites in Athens, excluding the little bits of history dug up in church yards, the dozens of historical churches, and mini excavations on show. Building anything in Athens is a complete pain, because if you dig below ground anywhere in the city, you are almost guaranteed to find something. The place has been constantly inhabited for thousands of years, after all!
To maximize the sites you can see and minimize the cost, my advice is to buy the multi-site ticket, priced at €30 and valid for three consecutive days. With this ticket, you get access to the Acropolis and the North and South Slopes, the Ancient Agora, Hadrian's Library, the Roman Agora, Kerameikos, Olympieion, and the Lykeion.
So long as you see the Acropolis and its slopes along with at least two other sites, the multi-site ticket will save you money. Almost more importantly, it will save you time, as the lineups to get tickets can be quite long.
For a first time visitor limited on time, I would personally suggest visiting the Acropolis and it's slopes, the Ancient Agora, and the Kerameikos.
The Acropolis of Athens: One of the Most Popular Things to See in Athens
The most famous of Athens' archaeological sites, I recommend working your way up the slopes, and actually having a look at what is around you: you'll see some amazing historical things as well as the beautiful Odeon of Herodes Atticus, Theatre to Dionysus, and sculptures!
Walking up doesn't need to be a race: just take your time, and the climb isn't all that difficult. There is also some disabled access via a lift installed for the Olympics.
Don't complain that the Parthenon is under scaffolding – it's come a long way over the years, after all. The temple has been burnt down, rebuilt, converted into a church, blown up, converted into a mosque, converted into an ammo dump, and then blown up again during WWII. All this is to say, there's a lot of work to do! Not only that, but the reconstruction itself is insanely detailed – every column drum is entirely unique, and must match perfectly or it won't sit together or look right.
Get Your Acropolis Entrance Tickets Here or, join one of these tours…
---
Not Your Average Athens Tourist Guide: Context Travel's Acropolis Tours Athens
A visit to the acropolis Athens is one of those once-in-a-lifetime experiences, right up there with the Colosseum and Roman Forum in Rome, the Great Wall of China, and Machu Picchu in Peru. For sights as significant as the Acropolis, we think it's worth finding a tour that will do the site justice, which we is we suggest Context Travel and their Acropolis tour.
Run by a practicing archaeologist, the tour includes a visit to both the Acropolis itself and the Acropolis Museum. The tours are always "small group," and the docent (aka: your archaeologist guide) will adapt the tour to meet your own interests, background and questions, rather than reciting a pre-rehearsed script. On every Context Tour we (Geoff and Katie) have personally taken, we've been blown away how Context docents are able to bring history to life for us, and have always coming away feeling like we got far more out of the experience than we ever could of touring the site on our own, or with a more traditional tour company.
Although they're not the cheapest around, we believe Context runs the best Acropolis tour, and highly recommend the company based on our personal experiences around Europe.
Other Popular Context Tours in Athens:
Athens Agora Tour / Athens Food Tour
---
The Ancient Agora: Home to Some of the Most Beautiful Places to See in Athens
An agora was a central part of life in ancient Greece, with the word translating as something like "gathering place" or "assembly." This was where laws were posted, political speeches were delivered, and philosophers taught their pupils. It was also where every Athenian citizen went when they needed the shops.
Contained within Athens' Ancient Agora are two of the most beautiful buildings in the city: the Temple to Hephaestus and the Stoa of Attalos.
The Temple to Hephaestus has been in constant use since it was built (it was completed in the 400s, BCE).
The Stoa of Attalos is a recreation (the original was destroyed in 261). It was built by the American School at Athens in the 1950s as part of a very well thought out plan to recreate what the stoa would have looked like in ancient times. Now it houses a miniature museum and is the loveliest place to go and sit; it also has air-conditioning!
And as an added bonus – there are turtles all around the Agora. Don't know why, there just are!
Find a Guided Tour of the Ancient Agora and Agora Museum
Kerameikos: Slightly Off the Beaten Path
The Kerameikos is an ancient cometary. I recommend visiting because it gives a great idea of how people lived and died. There are some beautiful sculptures here – some are left out in the open air, and others are held within the museum on site.
The Kerameikos is significantly less crowded than other sites, letting you enjoy a more calm experience while exploring an ancient site, which can be welcome if you've been jostling with crowds of people all day!
---
Archaeological Sites You Can Skip in Athens
If you aren't massively into ancient sites or only have limited time, the sites I've suggested above are the ones I would focus on, rather than rushing to do them all. There are so many things to do and see in Athens, you really have to pick and choose.
In my opinion, Hadrian's Library, the Olympieion, and the Roman Agora can all be peered into while walking by – there isn't a lot more to see unless you are a complete Athenian history nerd.
Similarly, the Lykeion, in my opinion, isn't one of the must see things in Athens, as it's less visually exciting for the non-nerd tourist.
---
Travel Tips for Athens Greece
Look both ways before you cross the street…and then look again, three more times. In Athens, just because a traffic light is red doesn't mean someone won't come through it.
Don't mind the graffiti. Graffiti in Athens is everywhere, like sand on a beach or impractical shoes in a nightclub. Consider it part of the city's charm, and get into it. Athens has some of the best street art I've ever seen!
If you're on a budget, don't stay in Athens' Plaka neighbourhood. Instead, get out to Psyrri and Monastiraki; some of the best bits are there, and you won't be pay an arm and a leg.
Don't look out the windscreen while riding in a taxi: the Greeks drive the way the Greeks drive, and you can't control it. I've driven in different parts of Greece and survived just fine, but I can tell you it's not for the faint of heart. During my last taxi from the port, my taxi driver treated me to speeds of 140 km/h (87 miles/hour), while turning a corner in a tunnel, while on the phone, while lighting a cigarette.
Enjoy! Don't rush around too much; Athens has been there for two thousand years, and it will be there after lunch or tomorrow. Have the coffee, enjoy the baklava, and soak up Athens!
---
Tips for Avoiding Pickpockets and Theft
Stay safe in Athens by checking out our anti-pickpocket guide to help travelers visiting Europe. The advice is just as applicable for those visiting Athens as any other city in Europe. If you're worried about keeping your belongings safe in Athens, be sure to read our article, 5 Cheap and Sneaky Ways to Stop Pickpockets.
---
About the Guest Author
Carry On Or Bust is run by Sam, a 26 year old, originally from Adelaide. Self-professed nerd of many things, she travels the world looking for archaeology, food, and books. Taking a dislike to heavy bags full of things she never wore and airport lines that refused to move, she decided that she would carry with her all she needed – if it doesn't fit in her carry on, then it is bust!