Alternative Things to Do in Amsterdam: 22 Ideas to Get Off the Beaten Path and Explore the Most Unique Things to Do in Amsterdam. Includes Recommendations for Tours, Bars, Day Trips, Attractions and Hotels that Most Tourists Never Make it To! If You're Planning a Trip to Amsterdam, this Alternative Guide to Amsterdam Will Get You Started with Your Trip Plan!


Disclosure: This Alternative Amsterdam Guide contains affiliate links. That means we earn a commission when you use the links on this site to book a hotel, book a tour, buy your travel insurance, and shop for travel essentials, etc.. You don't pay anything extra. If you'd like to learn more about how this works, you can read more under our Disclaimer page.
***
Planning a trip to Amsterdam is always a good idea, no matter the time of year or trip style you're after. Known for its beautiful canals, abundant tulips, fantastic food, world-class museums, and liberal social policies (and the resultant red light district and coffee shops (i.e. marijuana smoke shops), Amsterdam has something for all types of visitors. And while it's easy to get lost in the tourist center, spending your entire vacation shuttling between the 10 best sights in Amsterdam, there is plenty to do and enjoy for those looking to get a bit off the beaten path, and those in search of an alternative Amsterdam.
For this Alternative Guide to Amsterdam, we asked staff contributor Rutger – a Dutch local who spent a decade in Amsterdam as a student and working in hotels – to help us find the best alternative things to do in Amsterdam.
And while you might think you've seen Amsterdam, this guide will help you dig deeper to get off the paved tourist pathways and discover parts of Amsterdam's real culture, taste, pleasure and history; all the unique things to do in Amsterdam that many visitors never see!

Alternative Things to Do in Amsterdam: Table of Contents
22 Alternative Things to Do in Amsterdam for All Types of Travelers
5 Cool Things to Do in Amsterdam for Culture Lovers
While the Rijksmuseum and Van Gogh Museum get all the attention (and all the queues!), there are plenty of cool alternative museums in Amsterdam worth your time. Culture lovers shouldn't be afraid to get off the beaten museum path, and check out these 5 alternatives to the Big Two.
The Moco Museum shows the contemporary and inspiring works of some of our times' most visionary artists. If spending an afternoon taking in the works of notables like Banksy, Andy Warhol, and Roy Lichtenstein sounds right up your alley, a trip to the Moco is one of the most interesting things to do in Amsterdam. It has more than 90 original Banksy pieces, and is conveniently located near Museum Square in the in the beautiful Villa Alsberg. Because it's so centrally located in the Museum Quarter, it can get busy: we suggest purchasing tickets in advance.
Hours: Open 10 to 6 daily I Location: Honthorststraat 20
Check Prices & Availability on Skip the Line Tickets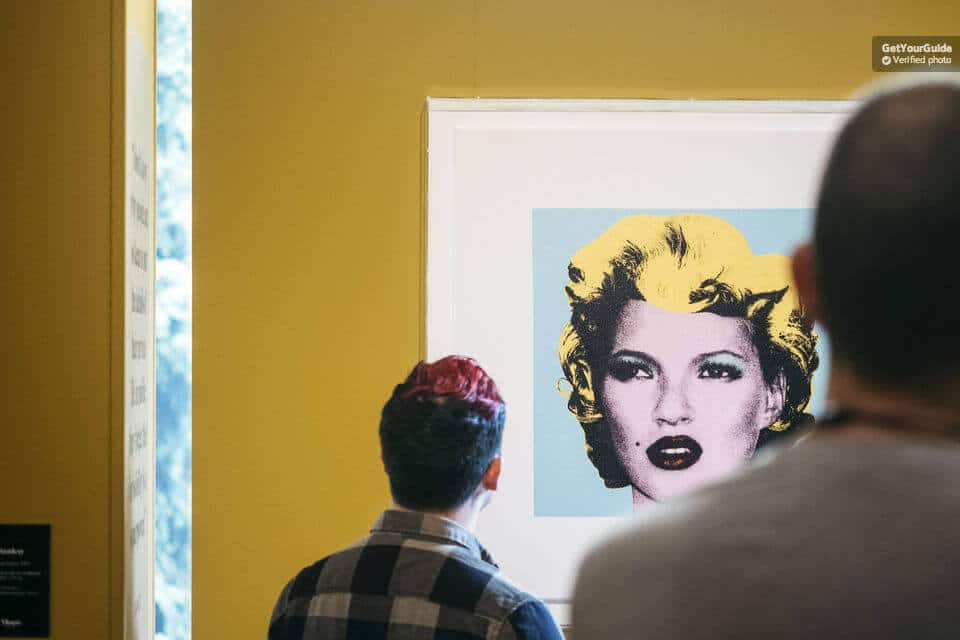 Another modern art museum, the Stedelijk Museum has a fantastic collection of names like Vincent van Gogh, Piet Mondriaan, Charley Toorop, Yves Klein, Gerrit Rietveld, and more. The museum shows historic art movements, social themes, and the pieces of influential, well-known modern artists from the 1880s until today. Also located a Museum Square, the Stedelijk is skipped over by most tourists in favour of the much busier Rijksmuseum and Van Gogh Museum. Find the museum by looking for the bathtub-shaped architecture in the corner of the square (or, you know, use your maps app).
Hours: Open 10 to 6 daily (10am to 10pm on Fridays) I Location: Museumplein 10
Check Prices & Availability on Skip the Line Tickets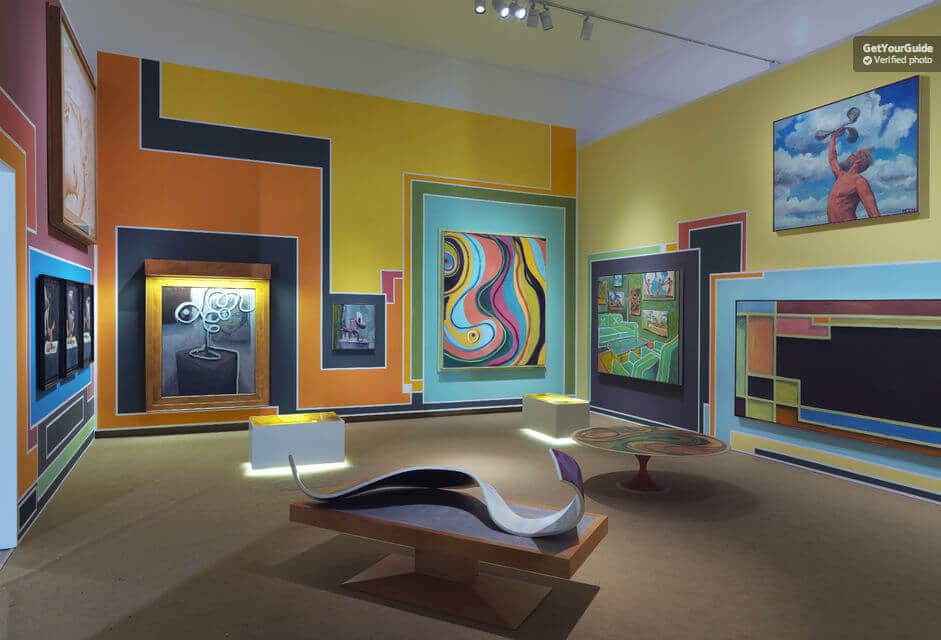 Museum van Loon
For cultural tourists, exploring the wealthy urban palaces hidden along the city's canals is one of the best non touristy things to do in Amsterdam. Built by wealthy tradesman during Amsterdam's Golden Age in the 17th century, the most expensive (and impressive) palaces are located in the Golden Bend (Gouden Bocht) between Leidsestraat and Vijzelstraat. If you're curious, you can visit one of the most spectacular palaces at Museum van Loon, housed in one of Amsterdam's most beautiful houses. The van Loon family offers visitors the chance to explore their beautiful house, collection and garden. Worth noting: because of stairs, the house is not wheelchair accessible.
Hours: Open 10 to 5 daily Location: Keizersgracht 672
Check their Website for Tickets and Tour Info
Museum Het Schip
If you're at all interested in urban planning and development or architecture, a trip to the city's 20th century ring is one of the more unusual things to do in Amsterdam. Looking at a map, you can easily spot the city's 17th century canal ring. In the 18th and 19th century, the city developed further around the canal ring, with additional rings moving outward. And in the 20th century, a new ring was developed a bit further out, one that is well known to architecture lovers for its particular urban planning and architectural style: the Amsterdam School of Architecture.
The architects of the Amsterdam School had progressive ideas about the provision of social housing for the urban poor, and Museum Het Schip tells this story of art, architecture and social housing. The museum is located in the most famous Amsterdam School buildings: Het Schip (Schip means ship in English, and refers to the shape of the building), there are daily tours in English.
Hours: Open 11 to 5, Tuesday to Sunday Location: Oostzaanstraat 45 (near Westerpark)
Check their Website for Tickets and Tour Info
For photography enthusiasts, FOAM photography museum showcases photography from international photographers, with changing exhibitions. The museum is relatively small, but centrally located at the Keizersgracht, and the museum always seems to have an impressive range of work on display. A great afternoon activity that's off the usual tourist track, and just one of many cool things to see in Amsterdam for photographers, artists, and those who appreciate both!
Hours: Open 10 to 6, Saturday to Wednesday and 10 to 9 on Thursdays (closed on Fridays) I Location: Keizersgracht 609
Check Prices & Availability on Tickets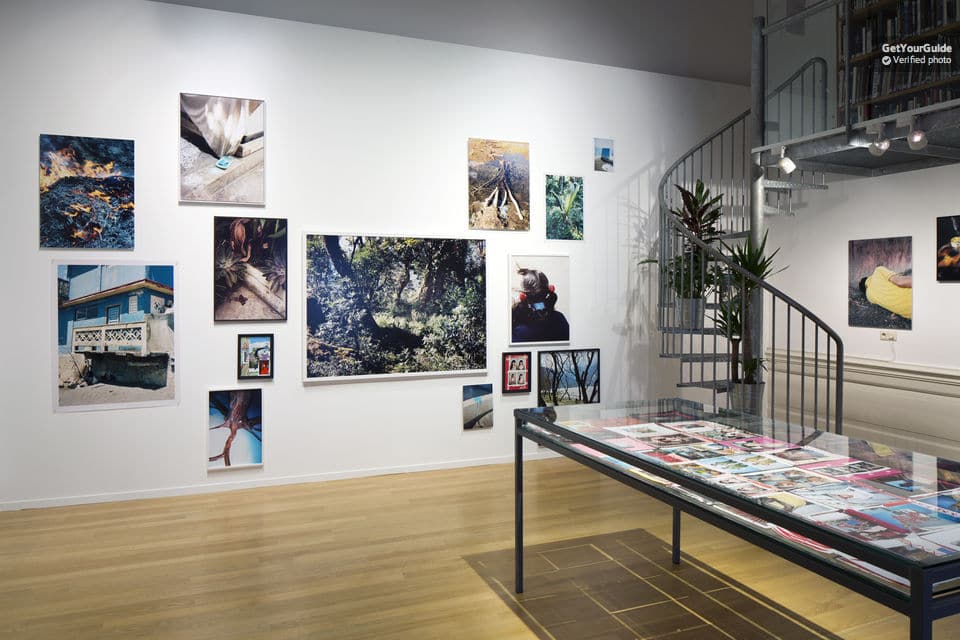 3 Quirky Things to Do in Amsterdam if You Want to Understand the City's Famously Liberal Culture
Beyond seeing sights, trying new delicacies, and meeting locals, traveling is partly about broadening your own perspective and seeing how other countries and cultures tackle modern issues. In Amsterdam, that means trying to understand the city's famously liberal culture and policies towards drugs and prostitution. While not for everyone, tours through Amsterdam's red light district and cannabis-focused "coffee shops" are a great way to understand the cultural and social rationale behind these Dutch policies and associated cultural uniqueness. And while a cannabis tour or prostitution tour may seem like one of the craziest things to do in Amsterdam, it could also give birth to a new perspective on some of the most difficult social issues of our time.
A ganja tour will take you into some of the tourist friendly coffee shops in Amsterdam, where patrons go for marijuana, not coffee! Covering the cultural background and history of soft drug usage and enforcement in the Netherlands, you'll visit 2 to 3 Amsterdam coffee shops, some sites along the way, and a pub. For those who are in it for the learning experience only, don't worry: you don't have to partake! And if you're a first-timer interested in trying it out for yourself, your guide will help you order and roll.
Click to Check Prices, Availability and Reviews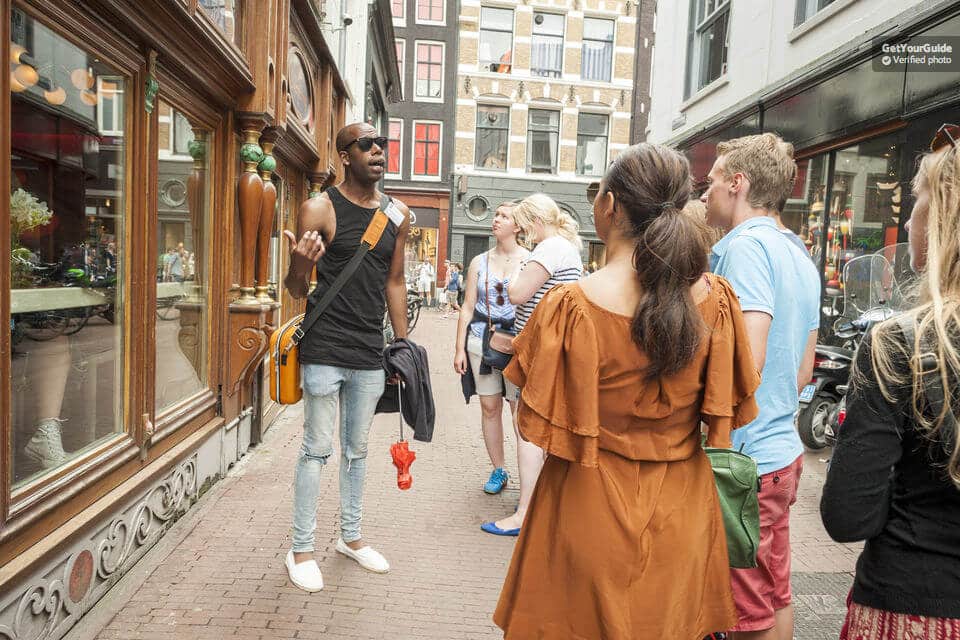 The first time we visited the Red Light District Amsterdam, we both found it a bit intimidating and a lot icky. Based on this first experience, we now recommend travellers visit the area with a guide who can provide some context about the area and the socio-cultural drivers behind its development. A Red Light District tour is a great way to learn about the history and policies of this liberal part of Amsterdam, get to know the Dutch people's open attitude towards sexuality, and discover Amsterdam's Red Light District, without worrying about turning the wrong corner or doing something that's against the rules (such as taking photos of the workers). Expect to tours to cover the main Amsterdam red light district experiences: red light prostitution windows, sex clubs, the "S&M street", the Condomerie and Prostitution Information Center, and maybe even a peep show. Certainly one of the most exciting things to do in Amsterdam…aren't you at least a little bit curious?
Click to Check Prices, Availability and Reviews
If you want to see all the most interesting things in Amsterdam, covering sex, drugs and liberalism in one shot – plus some street art, squat houses, and more – then consider taking an Alternative Walking Tour of Amsterdam. Experience the city that's famous for its tolerant, liberal attitude with a guide who can show you exactly how that tolerant attitude plays out in terms of everyday life: learn more about the sub-cultures, drug policies, sexual liberation, squats and street art that shaped this fantastic city. An alternative tour Amsterdam is a fun way to get to know a side of the city of the city that's vastly different from the Rembrandt paintings and canal houses!
Click to Check Prices, Availability and Reviews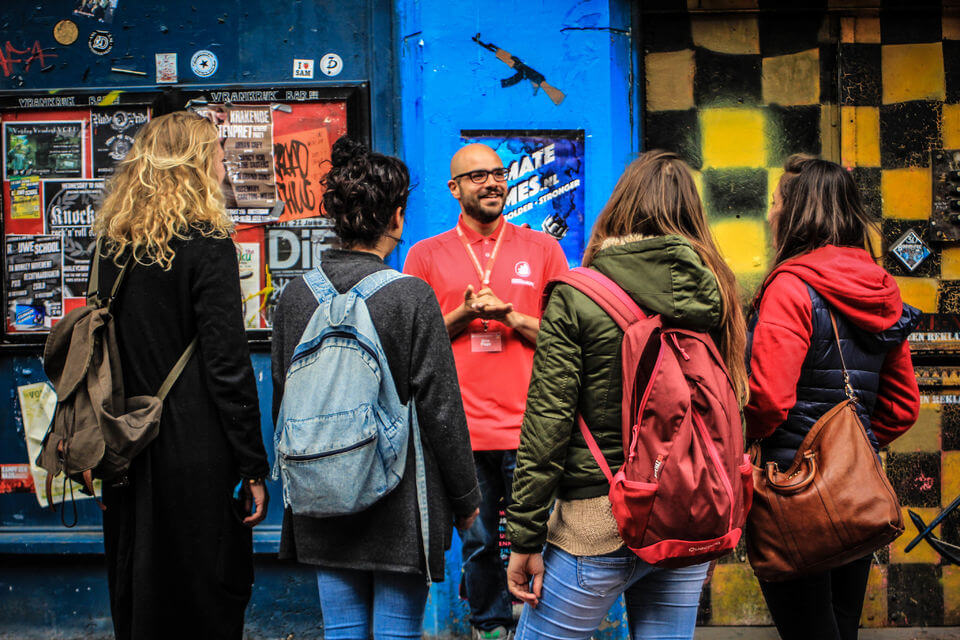 Rent a Bike and Visit 7 Historic Dike Villages in Amsterdam North
While everyone else is exploring the urban center of Amsterdam, we suggest venturing every-so-slightly into the Dutch countryside to explore the historic dike villages in Amsterdam North.
Only a few minutes from Central Station, the villages can be visited by bike: rent a bike in the centre and then take the ferry behind Central Station to the other side of the IJ-river; it's only a short ride from there to the villages of Buiksloot and Nieuwerdammerdijk. While these villages have become a bit swallowed up by Amsterdam North's urbanization, you can ride a bit further to Ransdorp, Durgerdam, Zunderdorp, Landsmeer and Kadoelen for even more character.
Although these villages are very close to the city center, you'll get the feeling of exploring the historic Dutch countryside. Plus, they're a great trip for photographers, as they are all very photogenic. A trip to the dike villages is right up there among the many cool things in Amsterdam…especially given the fact that almost no tourists know to visit!
Quench Your Thirst at These 4 Alternative Bars Amsterdam (& Grab a Beer at a Windmill!)
Skip the tourist traps, and quench your thirst where the locals do. These bars are perfect for enjoying a drink at a nice place, without being surrounded by tourists.
Hannekes Boom is located near Central Station and is surrounded by water. Some say it's the most beautiful spot for a drink in Amsterdam, and who are we to argue? During warm, sunny weather, this place is an especially popular spot to relax and have a drink waterside. Nice, alternative, and a bit of hipster. Find it hidden hidden behind NEMO at Dijksgracht 4.
Café Stevens is a typically, down-to-earth Amsterdam bar. The perfect spot to take a break from the insanity of the Red Light District, this is a great spot for a beer and some bitterballen (a typical Dutch bar snack that we highly recommend!). From the Red Light District, just cross the Newmarket (Nieuwmarkt) to Café Stevens: Geldersekade 123.
Wynand Fockink is a great place to start a night of fun and drinking. Known for producing and serves the best liquors in Amsterdam, customers can choose their own blend of liquors to create something unique and surprising! If you're not sure what you want, ask the bar ladies for a suggestions, but whatever you do, follow the bar's hard rule: you must bow in front of your liquor before drinking it (which really means you need to bend forward and sip so you don't spill – because spilling these speciality concoctions would be such a tragedy!). Although very centrally located, Wynand Fockink is hidden in an alley behind the NH Grand Krasnapolsky. Find it at Pijlsteeg 31.
Brouwerij 't IJ is a small but well-known local brewery located in…wait for it…an old windmill! They serve excellent beers, brewing what the Dutch call 'special beer'. These beers are generally a bit heavier in taste and contain a more alcohol than your average Heineken, so don't plan a busy night out after you've indulged at Brouwerij 't IJ. The brewery has a lovely bar and terrace, and is located in the popular east part of the city, near Artis Zoo. Find it at Funenkade 7.
Explore the Creative Side of Amsterdam at the Super Cool NDSM-Wharf Area
The creative side of Amsterdam can be found throughout the city, but one of the most offbeat things to do in Amsterdam, and best places to catch a glimpse of the city's creative pulse, is the NDSM Wharf area. A former shipyard, this area has been transformed into a thriving cultural and artistic hotspot home to artists' studios, creative companies, street art and history.
Going there is an experience in itself, as you take a 15-minute free public ferry from behind Central Station, which offers nice views of the city along the way. Festivals and events are regularly organized in this area, and we recommend grabbing a drink or lunch at Pllek (Neveritaweg 59), which offers spectacular city views from the waterfront.
Head to a Typical Local Market that Most Tourists Miss: Albert Cuyp Market Amsterdam
Enjoy a typical local market that most tourists don't get a chance to visit. The Albert Cuyp Markt is is one of the best markets in Amsterdam; it's a local, but very characteristic market the De Pijp neighborhood. The vendors have a fairly typical Amsterdam attitude, striking the balance between no-nonsense, funny, and laid-back, and making a walk through the market quite fun. Taking up one long street, a walk through Albert Cuyp Markt ensure you'll pass many interesting vendors, including those selling the best Dutch treats: freshly fried nuts, poffertjes, warm stroopwafels, and more. While you're there, take a small detour to explore the area. An old working class area that has been gentrified, De Pijp also has some great bars and restaurants.
If you'd prefer to visit the market with a local guide, and get to know other foodie hotspots in Amsterdam, consider signing up for this Private Food Tour with a Local. Lasting approximately 2.5 hours, this tour focuses on the De Pijp area, and will introduce you to cool cafés, the multicultural nature of Amsterdam's food scene, and traditional Dutch specialities, as well as visiting Albert Cuyp Market. Includes 5 food samples at the stops along the way, so be sure to arrive hungry!
Click to Check Prices, Availability and Reviews
Become a Dutch Cheese Expert on a Cheese Tour Amsterdam!
The Dutch are famous for their cheeses, and one of the first things we learned upon visiting the Netherlands is that we've been pronouncing gouda wrong our whole lives (the correct pronunciation is more like how-da, for the record).
Forget everything you know about cheese, and get to know this important part of Dutch culture with an organized cheese tasting, one of the most delicious cultural things to do in Amsterdam! Find out just how cheese crazed the Dutch are (they eat cheese everyday), learn about different kinds of Dutch cheeses, and taste a little bit of heaven when you try out goat cheese, young cheese, mature cheese, old cheese and herbed cheese varieties. The Reypenaer cheese tasting Amsterdam and the Henri Willig cheese tasting Amsterdam both offer a well-reviewed option to choose from.
Once you've gotten the basics down with a guided tasting and tour, be sure to visit one of the traditional cheese shops catering to local people, and buy some local cheeses to bring home (check customs regulations for your destination country first!). The best cheese stores are situated in areas outside the tourist zones, but every supermarket also has a great choice of fantastic Dutch cheeses.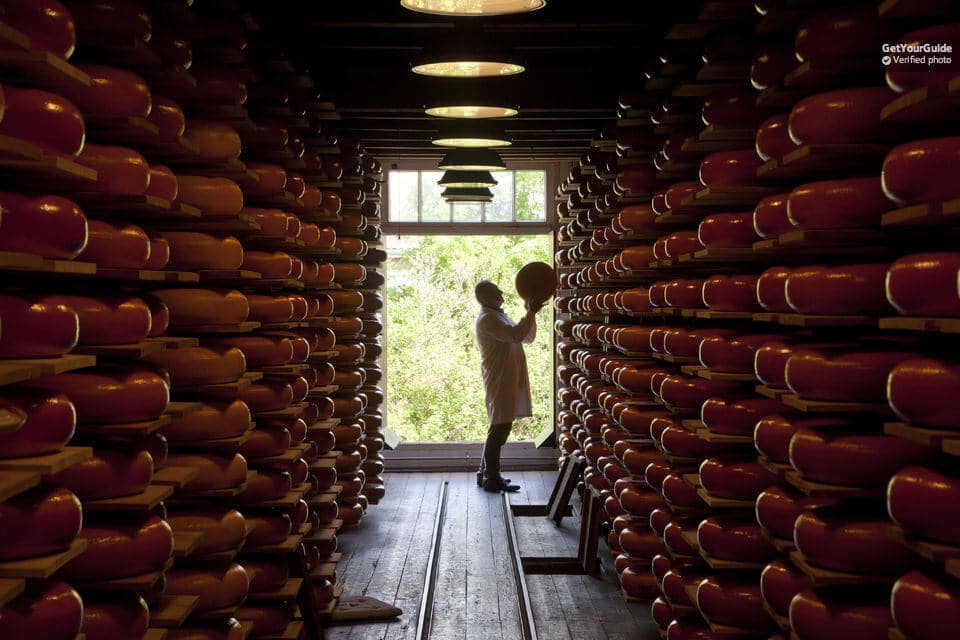 Test Your Bravery on the Over the Edge Swing, One of the Truly Crazy Things to Do in Amsterdam!
Most tourists never cross to this side of the River IJ, which is their loss! Easy to access by taking the free ferry from behind central station toward Buiksloterweg, A'DAM Lookout Amsterdam offers some of the very best views in the city. This is the perfect spot to start your Amsterdam explorations, as the 360º panoramic views are well-suited to getting your bearings. And for the truly brave, the Over the Edge swing from the A'DAM's sky deck is sure to get the adrenaline pumping! Europe's highest swing, it will swing you back and forth, up to 100 meters high, over the edge of the tower! This is definitely one of the more wild things to do in Amsterdam, and not for the weak of stomach or faint of heart!
Click to Check Ticket Prices & Packages
This 360 degree video does a pretty good job at showing you what the A'DAM tower is all about:
Take a Break from all the Culture and Sightseeing, and Do Something Totally Different
If you're sick of focusing on tourist attractions and must-sees, blow off some steam with some of these weird things to do in Amsterdam:

Attend the fascinating Bodyworlds Amsterdam, a worldwide exhibition that isn't unique to Amsterdam, is perfect for a rainy day or when you're craving something different. We've seen Body Worlds twice now, and find the exhibition – which shows the isolated systems and entire examples of preserved human bodies – fascinating. Tickets also include entrance to the Happiness Project exhibit, which explores how happiness impacts our bodies. This alternative museum is centrally located between Central Station and Dam square, at Damrak 66.
Click to Check Ticket Prices, Availability and Reviews
Have some silly fun at Glow-in-the-Dark Mini Golf, another activity that's perfect for escaping bad weather and for those in need of fun things to do in Amsterdam with kids (this activity is good for ages 10+). Glow-in-the-dark Mini Golf is a good option for kids 10+, groups of friends or stage and hen parties. Located at Powerzone at De Ruijterkade 153.
Click to Check Ticket Prices and Reviews
If you want a bit of a thrill that's equal parts funny and gruesome, learn about 500 years of Amsterdam's dark history at Amsterdam Dungeon. Expect to learn all about Amsterdam's horrible diseases and murders, prostitutes and witches, and smelly canals! Whether you laugh or scream, this is one of those strange things to do in Amsterdam that is sure to entertain. Amsterdam Dungeon, Rokin 78.
Click to Check Ticket Prices, Availability and Reviews
Rent a Private Boat to Explore the Canals
They say Amsterdam is most beautiful when seen from the water, which is absolutely true. If, however, you'd like to skip the big tourist boat tours and try your hand at being captain, it's possible to rent private boats with which you can explore the city's canals. Bring along some drinks, snacks and your traveling companions, and you've got all the ingredients of a perfect afternoon or evening.
(And if the idea of renting your own boat is too unnerving, there are a lot of Amsterdam canal tours to choose from, where they'll worry about the driving for you!)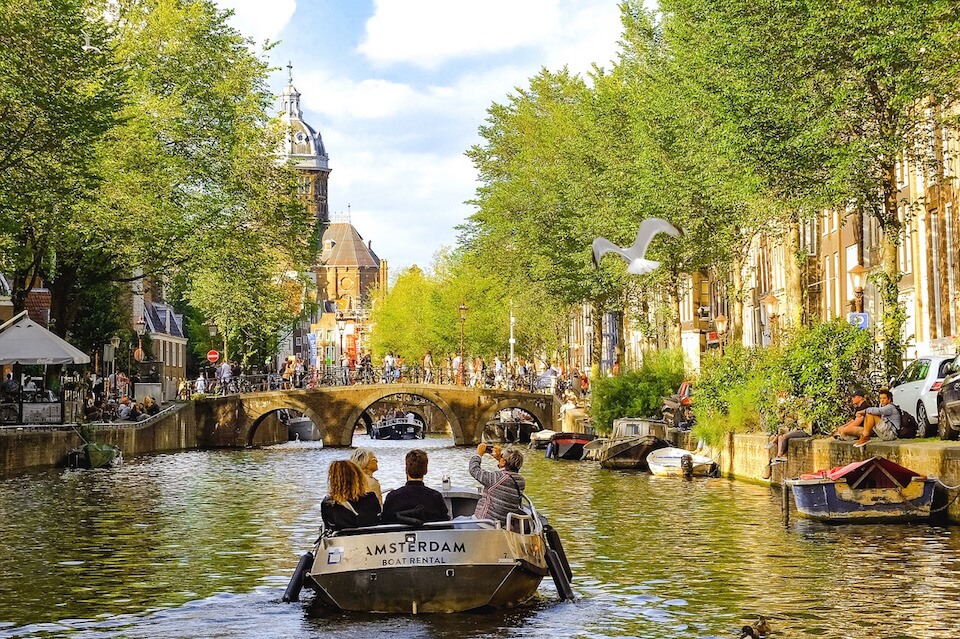 Take a Super Easy Day Trip from Amsterdam
Escape the tourist areas in Amsterdam by taking a very easy DIY trip to Utrecht. Utrecht is essentially a smaller version of Amsterdam, with no tourists. With a beautiful old city center filled with canals, churches and small alleys, Utrecht is great for shopping, museums and for exploring a beautiful and historic Dutch city outside of Amsterdam. It's only a 25-minute train ride from Amsterdam Central Station, making it easy to DIY.
Alternative Accommodation Amsterdam
For those of you who want your Alternative Amsterdam experience to extend to wherever your head hits the pillow each night, this list of cool hotels in Amsterdam should get you started!
Crane Hotel Faralda: If staying in a converted construction crane piques your interest, look no further. With only 3 5-star suites in the crane (after all, not much room up there!) and a spa pool on the top deck, this hotel self-describes the experience of staying there as the most insane and inspiring place to stay! Definitely a top contender for one of the more unique hotels in Amsterdam!
Click to Check Availability, Prices and Reviews
College Hotel: Starting out life as a school in 1895, this stylish 4-star boutique now incorporates the 19th century school building into its design and vibe. College doesn't just refer to the hotel's providence, however, as today the hotel is a training site for hoteliers! 40 stylishly decorated rooms, five halls, a lounge and bar, a sunny terrace, and a ballroom round out this offering for those looking for a one of the best funky hotels in Amsterdam!
Click to Check Availability, Prices and Reviews
Hotel Not Hotel: As the name suggests, Hotel Not Hotel is determined to not deliver your average boxy hotel treatment. In fact, this is one of the more playful and fun hotels in Amsterdam, with secret doors, antique tram cars (for sleeping), and more.
Click to Check Availability, Prices and Reviews
---
More Reading To Help Plan Your Trip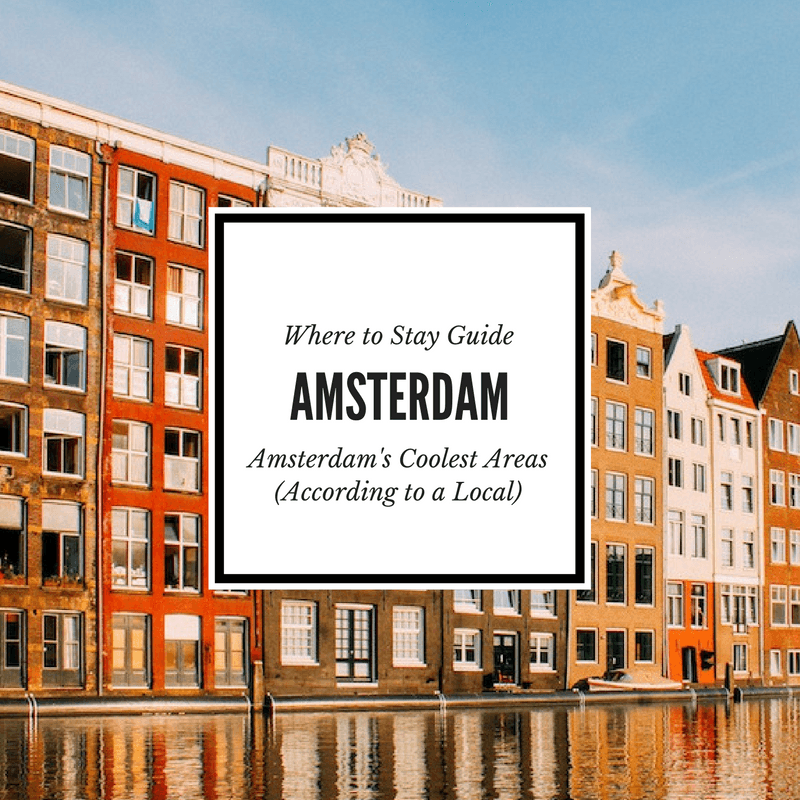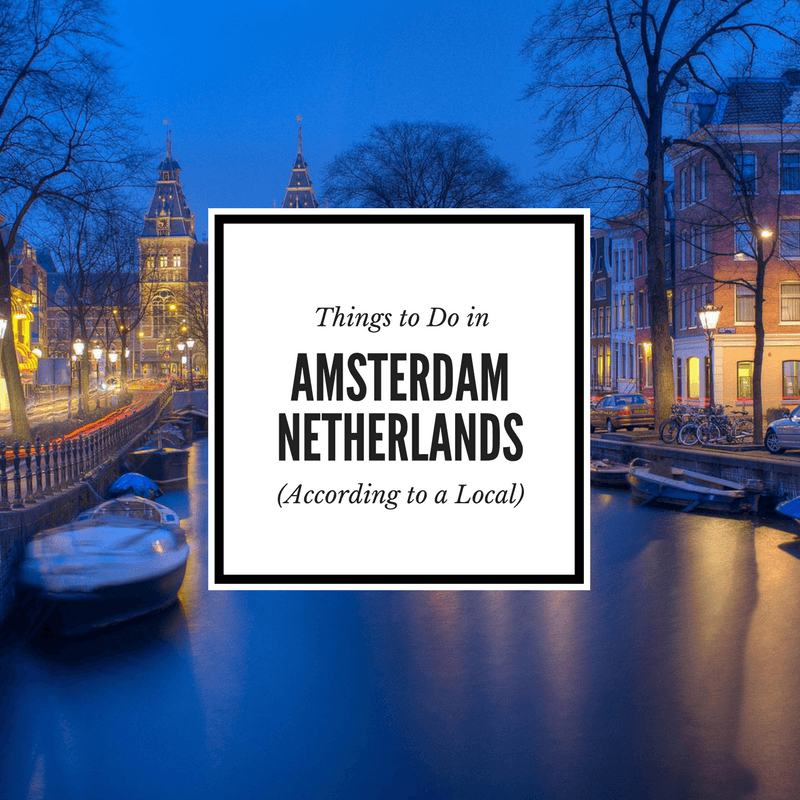 Click here to see all of our Free Guides!
Click here to see all of our Netherlands posts!
Like this Guide? Pin it for later!