Remember back in Finland, when I discovered that as North Americans we pretty much live like peasants, all what with our lack of champagne at every meal and also as a nutritious snack and what not? So when we decided to head back to Europe a few months later, I was excited to live for a few weeks like a not peasant, and figured five minutes after stepping onto the European continent was as good a time as ever to begin our not peasanting. And so after deplaning from our nine hour ride from Seatac to Schipole, and before we boarded the next flight to Milan, we searched for the perfect Amsterdam airport lounge.
We found it at Bubbles Seafood Wine Bar in Departure Lounge 4. Bubbles is kind of a big deal in the ultra posh world of airport dining: Esquire named it one of the ten best airport restaurants in the world (a list which also included the Hooters in Frankfurt Airport, so there's that), AND I remember seeing it in a magazine once, AND my mother-in-law once mentioned it to us. So it's pretty much famous.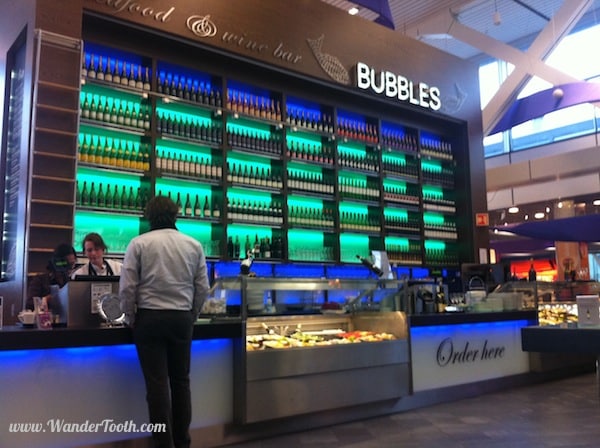 Bubbles is the perfect Amsterdam airport lounge. To start, it has just the right amount of not-fancy for an airport – we are not fancy people at the best of times, but after a nine-hour journey, we're pretty much disgusting, barely staying on the desired side of that fine line between slightly rumpled yet respectable human beings and sweaty, stinky, matted animals  — and Bubbles is set-up for that kind of clientele. For example, despite the fact that I ordered a glass of sparkles, I didn't feel out of place in fleece, and Geoff felt pretty okay in his cargo pants, too.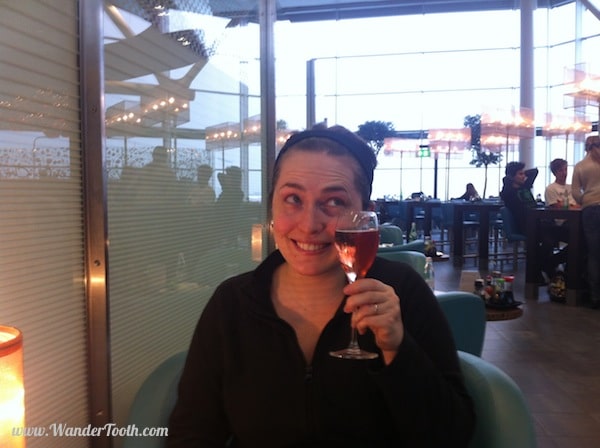 But although Bubbles is just the right amount of not-fancy for an airport lounge, it also has just enough fancy to make you feel better about being disgusting; Bubbles will make you sit up straighter in your chair and possibly (if you're lucky) take on an affected European accent for the duration of your drink.
Bubbles is a self-serve experience, which is really convenient if you feel intimidated by things like…oh, I don't know…€95.00 GLASSES of 2002 Chateau Moutoun Rothschild (seriously people: give us your money. We could think of way better ways to spend your €95.00 than on a glass of wine)! At Bubbles, you can just walk up to the bar, grunt loudly and stamp your feet a little, and they'll put two-and-two together: another peasant wants the cheapest glass of bubbles possible.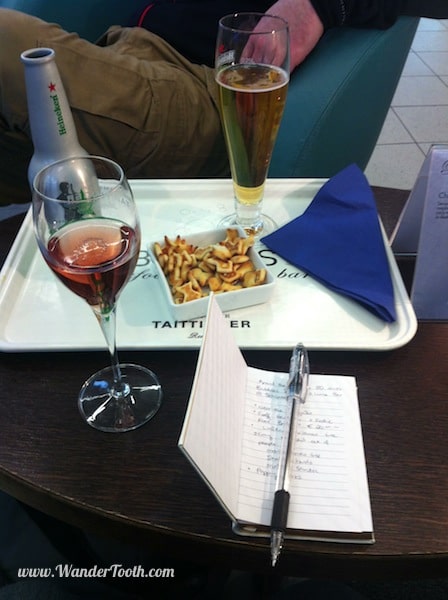 If you have a few hours to kill and need the perfect Amsterdam airport lounge, Bubbles is not a bad way to go. For about €20.00, you and your traveling companion can buy a little civility , served with a glass of sparkling rosé, a Heineken, and some delightful little snacks, before your onward journey.
I hope you enjoyed Around the World in 80 drinks, a series that takes us on a drunken whirlwind of adventure around our planet. Except it doesn't really take us on an adventure. Blogs can't do that: you need aeroplanes and autobuses and camels and all sorts of other types of transportation to actually go around the world. But we'll go on the adventure – a drunken whirlwind of adventure, if you will – and then we'll come back and tell you about it. And it won't always be drunken, because sometimes we'll talk about delicious non-alcoholic drinks. But also sometimes we'll talk about boozy goodness, like beer and vodka. Please let us know what you think in the comments, or say hello on Facebook and Twitter.