Things to do in Aix-en-Provence: Travel Tips from A Local Blogger. A Quick List of what to see and What to Do in Aix en Provence from a Local!
This post is part of our Tips from a Local interview series, where we interview locals for insiders travel tips about their city! Today, we're chatting to Alexandra, who blogs at Itinera Magica about the highlights, hidden spots, and best things to do in Provence and the whole world. If you're wondering what to do in Aix-en-Provence, read on for Alexandra's top tips!


Disclosure: This Aix en Provence travel guide contains affiliate links. That means we earn a commission when you use the links on this site to book a hotel, buy your travel insurance, shop for travel essentials, etc.. You don't pay anything extra. If you'd like to learn more about how this works, you can read more under our Disclaimer page.
Thanks for Taking the Time to Chat with Us, Alexandra! Can you Tell Us About Your Life as a Local in Aix-en-Provence, France?
I grew up in the northern part of Provence, and I have very vivid memories of my childhood fascination for Aix-en-Provence's iconic mountain, Sainte Victoire. Aix has always been a mythical city in my eyes.
Four years ago, my German soon-to-be-husband was offered a great job opportunity in Aix and it didn't take me two seconds to say "hell yeah, we're moving there!" I work as a freelance journalist and travel blogger, so I'm often on the move, but Provence is my true home. Aix-en-Provence is a city you always long to get back to!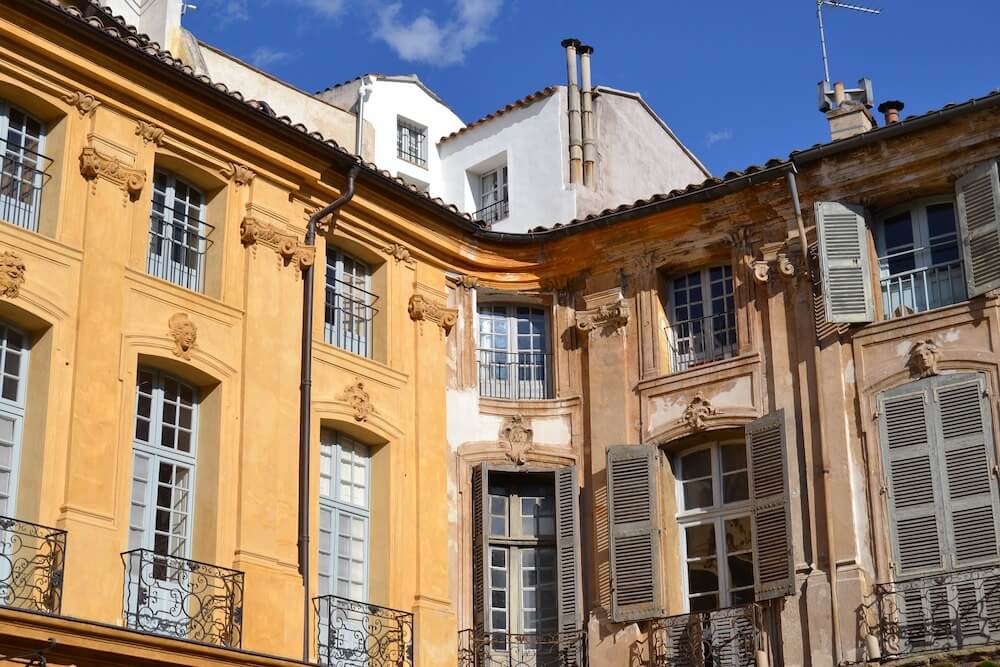 Image by hoeldino via Pixabay, CC0 licence
What Are Your Favorite Spots for a Beer or Cocktail in Aix-en-Provence?
The cocktail bar "La Chimère" (15 Rue Brueys) is the sexiest bar in town! For a beer, simply go to the street called "Rue d'Espariat". All the best pubs are located there, and it's a lovely and lively street.
Another popular spot for a night out if the "Place des Cardeurs", a beautiful place full of bars and restaurants. If you're looking for good French wine, go to the wine-tasting bar "Au P'tit Quart d'Heure" (21 Place Forum des Cardeurs).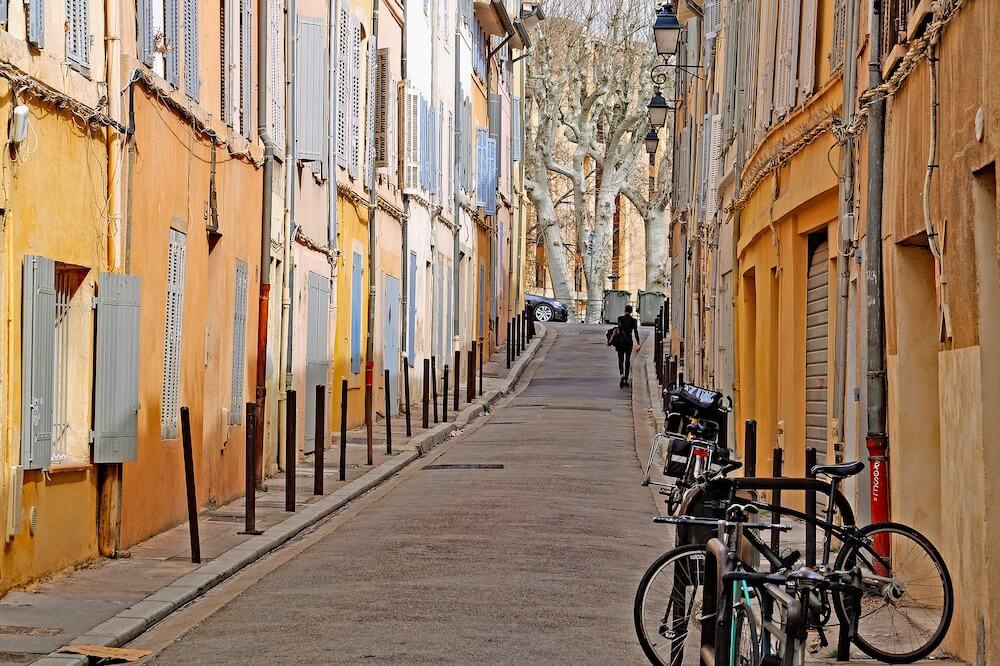 Image via Pixabay, CC0 licence
What Are Your Top Don't Miss Highlights In Aix-en-Provence?
Walk on the famous street "Cours Mirabeau" up to the beautiful fountain "La Rotonde", Aix's most iconic spot. Aix has been nicknamed "city with a thousand fountains". It's impossible to name them all, but my favorite fountains would be: Fontaine des Neuf Canons (also on "Cours Mirabeau"), fontaine de l'Hôtel de Ville (on the beautiful "Place de l'hôtel de ville", which is also famed for its Sunday market), the unnamed fountain on "Place des Cardeurs" (a lovely mossy fountain on a hip and lively place), and the fountain at the center of the grand baroque "Place d'Albertas". Going on a fountain hunt will allow you to see the old town, which is truly Aix's most beautiful feature: Provence's most elegant and perfect jewel!
* If you're into art, don't miss the beautiful "Hotel Caumont Centre d'Art". This 18th century castle hosts outstanding exhibitions, and the gardens are enchanting.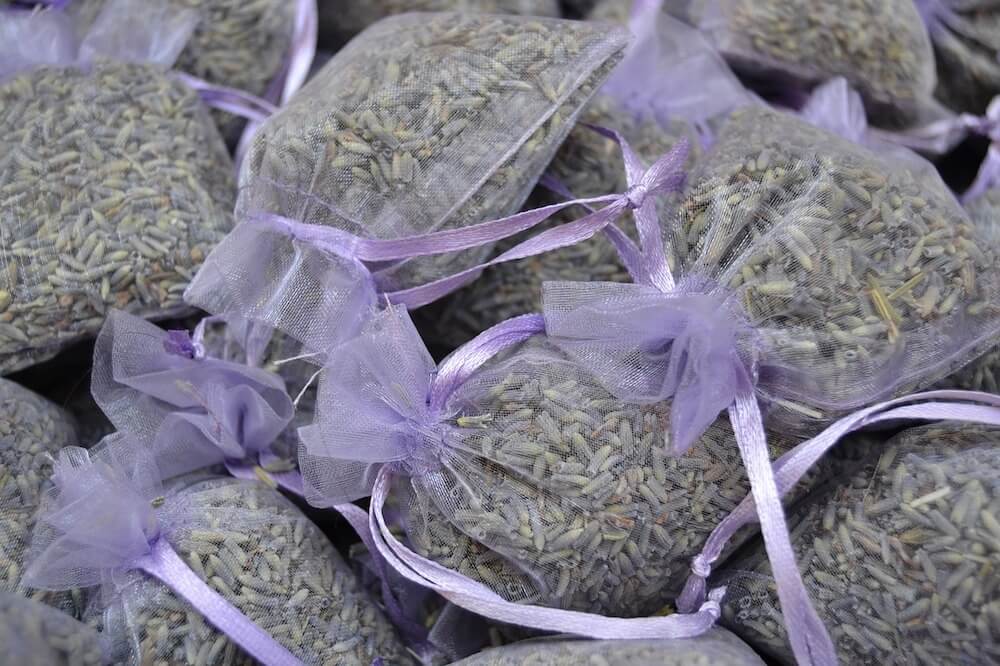 Image by hoeldino via Pixabay, CC0 licence
---
Where to Stay in Aix-en-Provence?
Check out these amazing hotels!
---
What Are Some Hidden Gems You Want Visitors to Know About In Aix-en-Provence?
The best pizzeria in town is called "Le Four sous le platane". It's a very special place, situated in a beautiful, hidden little street, with an amazing fountain (yeah, another one!), and hand-made traditional pizzas. My favorite restaurant is also the sexy cocktail bar I mentioned earlier, "La Chimère". I just love this beautifully decorated place, and the food is really original. Speaking of original food, but with a genuine Provence touch, check out "La Tomate verte".
Provence used to be a very religious country, and many people installed statues of the Virgin Mary in cute little niches in the wall. Try to spot them! I saw some Place des Cardeurs, Rue Jules Isaac, Rue Fabrot… but the list goes on and on.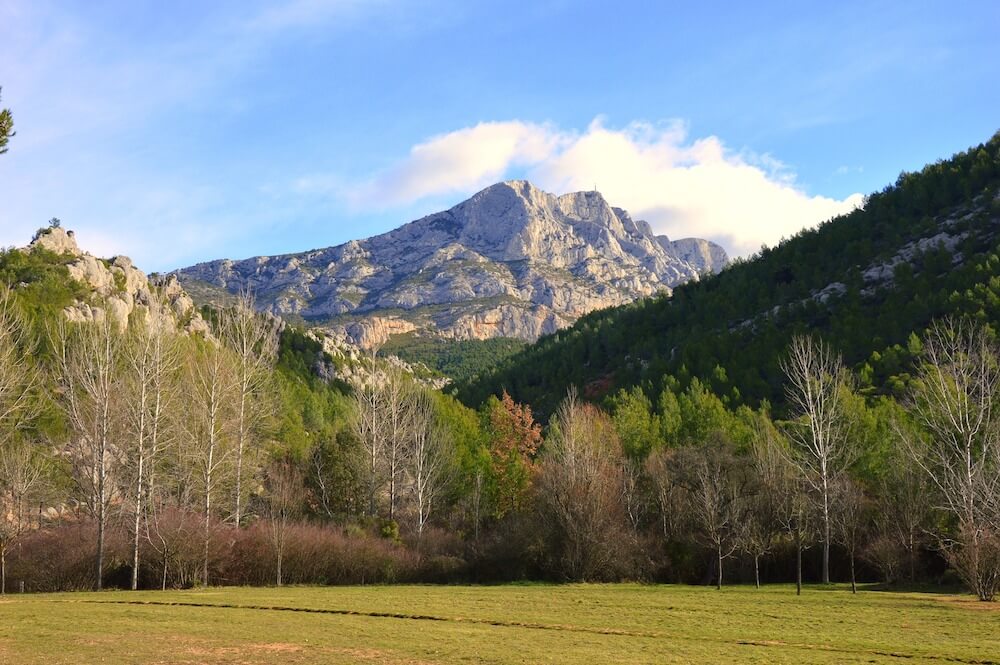 Image via Pixabay, CC0 licence
What Is the Coolest Neighborhood in Aix-en-Provence & What Should a Visitor Do There?
Definitely the Old town – all the places I mentioned above are there. It's big, vast and full of secret little streets. Take your time to stroll around, and be ready for some shopping…
But also: the mountain overlooking Aix, Sainte Victoire. There are buses taking you to the mountain. You can climb on it, or simply enjoy watching it from the bottom. It's majestic and one of the most famous sights in Provence.
---
Things To Do in Aix-en-Provence Map
If you're heading to Aix-en-Provence, be sure to save this map by hitting the star icon to the right of the map title. That way, you'll be able to view these locations in Google Maps on your smartphone.
---
What's the Best Place to Get a Great Instagram in Aix-en-Provence?
If you happen to have a car: for a great view of the Montagne Sainte Victoire, Provence's most famed mountain, go to the little village of Fuveau. The view is simply amazing. If you don't: I just love taking pictures of the fountains at night with a tripod. Aix is a long exposure's paradise.
Is There Anything Else You'd Like to Add? Anything We've Missed You Think Visitors Should Know About Aix-en-Provence?
One thing I really love about Aix: it's a very safe and friendly city. You can party all night long and go home alone as a woman, and you'll be safe. There are always people in the street, the old town never sleeps!
What's Your Website, and Where Can We Find You on Social Media?
My blog is Itinera Magica and you can find it at http://www.itinera-magica.com/en/. I write about my travels around the world, but also about my home country, the beautiful Provence. I am in love with nature and I love to give tips about secret beaches, great hikes and awesome landscapes in the sunny South of France.
On social media, the best place to find me is on Facebook or Instagram.
---
Big Thanks to Alexandra for Sharing Her Aix-en-Provence Travel Tips Today! Be Sure to Read More on Her Blog, and if You Like this Post, Share it to Pinterest!