What to See in Evora, Portugal, and how to spend 2 or 3 days in Evora. If you're planning a trip to Portugal's Alentejo region, check out our recommendations for the best things to do in Evora Portugal, including where to stay, what to eat and the best Evora things to do on your trip!
(This is a guest post by Faye Haines and David Angel, who blog at Delve Intro Europe)


Disclosure: This Best Things to do in Evora Portugal travel guide contains affiliate links. That means we earn a commission when you use the links on this site to book a hotel, buy your travel insurance, shop for travel essentials, etc.. You don't pay anything extra. If you'd like to learn more about how this works, you can read more under our Disclaimer page.
---
The Best Things to Do in Evora Portugal: Table of Contents
---
Pin This Post!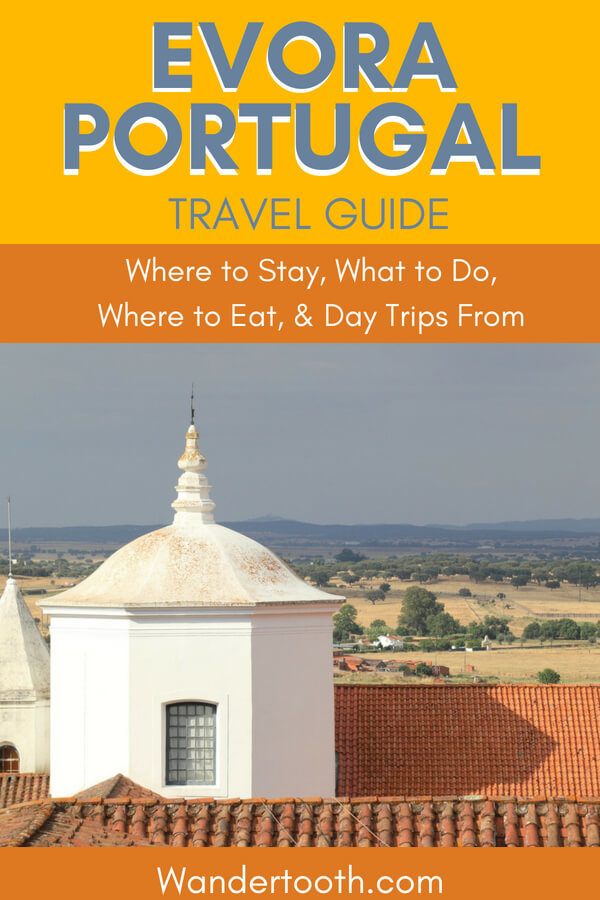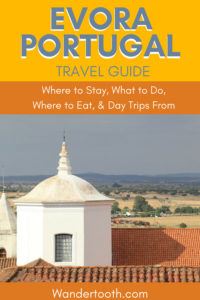 Introducing Evora, Portugal: A Hidden Gem of the Alentejo
Evora is one of the hidden gems of Portugal. It's the largest city in the Alentejo, the rural province to the south-east of Lisbon, but it has the feel of a small country town. Its history goes back over 7,000 years, and in more recent times it has been a Roman and Moorish city, not to mention a Portuguese royal residence.
While it can be seen in a day trip from Lisbon (which is around two hours away), it really deserves two days to savour the city, and see all the best things to do in Evora Portugal.
What to Do in Evora Portugal: How to Spend in 2 or 3 Days in Evora

The Evora Old Town is a UNESCO World Heritage Site, and one of my favourite things to do in Evora is wander the warren of steep, tightly-packed, and narrow cobbled streets of whitewashed houses, making chance discoveries along the way.

Evora Cathedral (Se), dominates the city skyline today as it has done for centuries. It's at the top of a hill, and its quirky mix of towers rise high above the city's terracotta rooftops. Construction started in 1186, and has been added to over subsequent centuries, with Gothic, Manueline (a unique Portuguese style) and Baroque layers built onto it. I was lucky to visit early one morning, and climbed the stairway from the cloisters to the roof walkway, from where I could see the city emerging from a morning mist.

One of Evora's best-known sights is the Roman Templo de Diana Evora, one of the best-preserved Roman buildings on the whole Iberian peninsula. It's a short walk to Templo de Diana from behind the cathedral, and it sits in the centre of a square with churches and palaces alongside.
Templo de Diana in Evora Portugal. Photo by Delve into Europe, and used with permission.
The Templo Diana Evora has a remarkable story, as it was hidden in plain sight for centuries, first within a fortress, and then, of all things, an abattoir. This may have contributed to its amazingly well-preserved state, protecting the intricate carvings from the elements for hundreds of years.

For a low-key evening, we spent a couple of evenings at the kiosk café in the park across the road from Templo de Diana – it turned out to be a wonderful place to watch the late sunlight glow gloriously, before fading away.

The whitewashed church across the street from Templo de Diana is Convento dos Loios, a private chapel for the Duques (Dukes) of Cadaval from the palace next door. All over Portugal, you come across wonderfully painted blue and white tiles, called azulejos, and here the whole interior is decorated with them; it's a stunning sight.

The interior décor of the chapel connected to the Church of Sao Francisco on the other side of the Old Town could not be more different, or leave a more contrasting impression. This is where you'll find the Capela dos Ossos, the Chapel of Bones, and every millimetre of the walls of this chapel are covered with human skulls and bones. Apparently, the chapel contains the bones of up to 5000 people, mainly monks. The inscription above the entrance translates as, our bones await your bones, and if the message doesn't quite sink in after reading that, two desiccated corpses hang from the ceiling, just for good measure.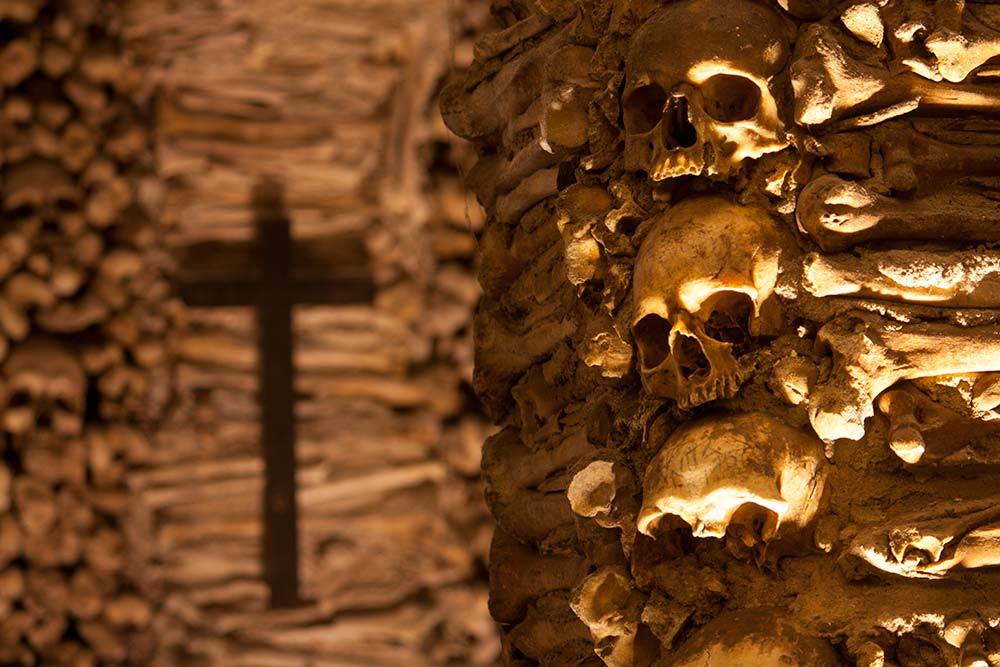 Inside the The Bone Chapel in Evora Portugal. Photo by Delve into Europe, and used with permission.
As I said to my wife on the way out, "I think I'll stick with the cremation, thank you!" I'm not sure I'd want people taking selfies with my skull three centuries after I had gone on my way.

After all this macabre mortality, we needed a pick-me-up, and the Jardim Publico park across the street was just the place to enjoy a strong coffee and a couple of pasteis de nata (Portuguese custard tarts). We also had a wander among what turned out to be fake historic ruins, which were built in the 19th century but look much older, in one corner of the park. They double as the preening parlour for the local peacock population, who seemed to be making a much stronger impression on the tourists than on the peahens they were really trying to impress!

The main place to people-watch in Evora is the main square, Praca do Giraldo, which is a few minutes' walk back up the hill from the Jardim Publico. It's the one place we visited in Evora that got anywhere near busy, which may have been because the university was out of session.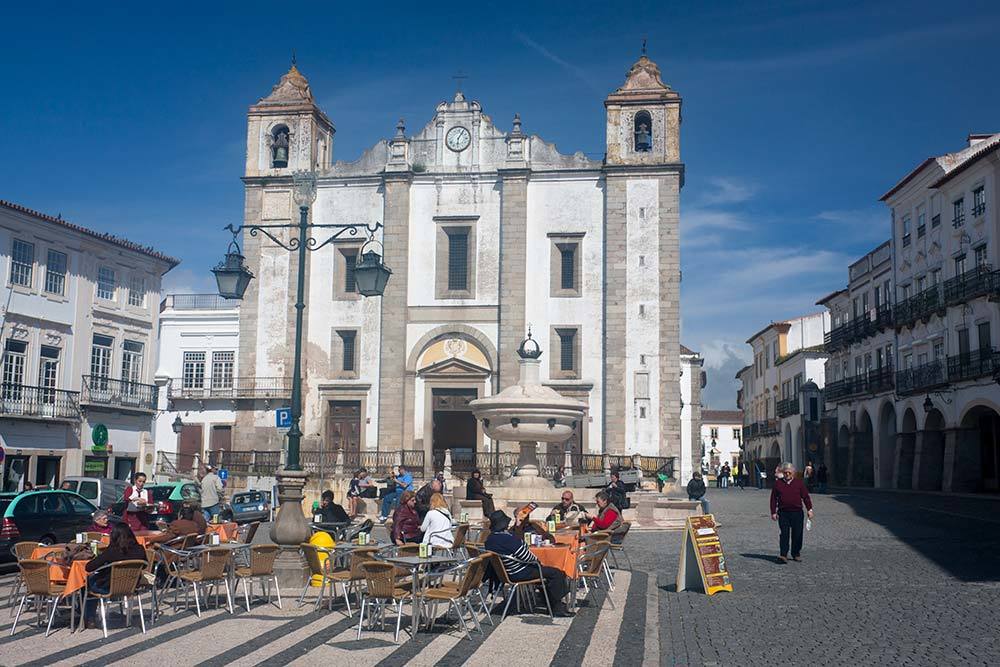 Praca do Giraldo in Evora Portugal. Photo by Delve into Europe, and used with permission.

Evora's nightlife seemed fairly quiet, but there's a great choice of restaurants in Evora, especially around Giraldo and the nearby Praca do 1 Maio. Evora is well-located for food, as it's close enough to the sea to enjoy fresh fish caught the same morning, but also full of Alentejan cheeses, sausages and hearty meat dishes from the nearby countryside and mountains. We ate at a few local restaurants, and can recommend Café Alentejo, just off Giraldo on Rua do Raimundo, and the Chouricaria da Praca, a short walk from the Capela dos Ossos.

The city is better suited to serving a base from which you can take day trips from Evora, rather than as a day trip destination from Lisbon. There are several great places within about 30 minutes' drive that are worth seeing, including the Cromleque dos Almendres, the biggest prehistoric stone circle in Portugal, and the nearby town of Estremoz, which has an amazing Saturday market in the main square, the Rossio.
---
Some Great Evora Tour Options
---
Where to Stay in Evora Portugal: Our Picks for the Best Hotels in Evora
M'AR De AR Aqueduto (9.1 on Booking.com) *5-star boutique, swimming pool, 9.4 location score
The Noble House (9.0 on Booking.com) *4-star, central old town, 9.4 location score
Vitoria Stone Hotel (8.9 on Booking.com) *4-star, 10 min walk to old town, pool, 8.4 location score
If you're travelling to Evora on a budget, there are many great hostels to choose from as well.
---
How to Get from Lisbon to Evora
Taking the Train from Lisbon to Evora: There are 3 to 4 direct intercity trains per day connecting Lisbon and Evora, all of which depart in the mornings before 9:30am, and in the evenings after 5pm (weekdays) from Oriente Train Station (the trains have a slightly different weekend timetable). Trains are comfortable and take about 1 hour 45 minutes, and rarely fill up, so you don't need to buy your ticket too far in advance.
Taking the Bus from Lisbon to Evora: Buses from Lisbon to Evora operated by Rede Expressos depart hourly, making the bus a more convenient option for those who want to travel in the middle of the day. Buses take about 90 minutes, and leave from the Sete Rios bus station.
Driving to Evora: Renting a car in Portugal is fairly straightforward and affordable. Portugal does use toll roads, which are much faster than the (free) secondary and tertiary highways, but the costs can add up quickly. We suggest getting an electronic toll transponder when you pick up your rental, as that will make paying any tolls you accrue easy (and automatic). Every car rental spot should offer this, so just ask when you arrive.
Evora is a 90-minute drive from Lisbon, depending on traffic. We (Geoff and Katie) have rented cars in Portugal on several occasions, and have always found it to be pretty easy driving and the best way to get around the country. One slight hassle to be aware of is the Portuguese are enthusiastic tailgaters; it's not you, it's them, but it does take some getting use to.
We typically use meta aggregators like RentalCars.com to find the best deal on car rentals when we're travelling.
---
More Portugal Trip Planning Resources
Pin This Post