23 beautiful places to visit in Portugal, including the best places to visit in the north, central and south part of Portugal!


Disclosure: This Portugal travel guide contains affiliate links. That means we earn a commission when you use the links on this site to book a hotel, buy your travel insurance, shop for travel essentials, etc.. You don't pay anything extra. If you'd like to learn more about how this works, you can read more under our Disclaimer page.
When I tally it up, I'm surprised how much time we've spent in Portugal. Over the past 3 years, we've spent a total of 123 days in the country, and seen some of the best places to visit in Portugal during 4 months of cumulative travel through almost every region in mainland Portugal.
On both of our trips to Portugal, we've been based in one region and used a car to explore other areas, bookending both trips with stays in Portugal's main cities and biggest tourist draws, Lisbon and Porto. While we adore both Lisbon and Porto, we've also come to love some of Portugal's smaller and lesser-known towns and cities: places like Braga in the north, Tavira in the Algarve, and Monsanto in the east. Once you've done all there is to do in Lisbon, consider venturing further afield to one of these other spots!
If you've never heard of any of those places, don't worry — we've got you covered. This post has a whack of places to visit in Portugal that most tourists have never heard of, and will hopefully encourage you to adventure beyond Lisbon and Porto to see some of the lesser-visited places in Portugal!
Note, as we've only traveled throughout Portugal's mainland (not the Azores or Madeira), I haven't covered the islands in this guide. Further note, this post doesn't cover the Lisbon area, but we can direct you to a few resources to get you started, such as some great Lisbon day trips and this Lisbon itinerary for a family, which is suited for those travelling with kids!
23 Places to Visit in Portugal: Table of Contents
Central Portugal
Alentejo
The North
Algarve
Places to Visit in Portugal: Portugal's Regions & Getting Around
Portugal's administrative regions are a bit confusing for outsiders (aka: me), in that there are many, and they are of course in Portuguese. I've broken this guide up more broadly, by super simple regions: the north (Porto and beyond), the centre (including the Alentejo) and the Algarve (the southern-most part of Portugal, which stretches across the width of the country at the very bottom).
It's also worth noting that I assume you have a car. Renting a car isn't entirely necessary to get to some of these places, but not having a car will make visiting some of the towns and villages near impossible. We've had a car both times we've come to Portugal, and have found it allowed us to explore so much more than had we not had one. Hiring a car really is a must to access the best places to visit in Portugal.
Finally, it's worth noting this isn't an all-encompassing guide, but rather a summary of the places we've visited in Portugal.
I've tried to give a pretty honest picture of the places, including a few places we didn't love. Hopefully, that doesn't result in a rush of angry emails…again, this is all just our opinion. So if I bad-mouthed your hometown…sorry! Invite us back, and maybe we'll love it with you as a tour guide :)
Planning a trip to Portugal? Yay! We have loads of articles – check out Portugal Home Page for more info. And if you're planning to stop by Lisbon, be sure to read our Where to Stay in Lisbon guide!
Central Portugal
Coimbra
Portugal's fourth-largest city, Coimbra lies somewhere between Lisbon and Porto. Despite being super convenient to visit (the train from Lisbon to Porto stops in Coimbra), it seems to get the short-end of the stick from most visitors to Portugal, who simply skip Coimbra without giving it another thought!
We think this is a mistake. While Coimbra certainly doesn't require a week to explore, it makes a nice overnight stop to break up the journey between Lisbon and Porto.
It's got a city feel to it, without being overwhelmed by crowds. The University is a World Heritage site, and one of the oldest universities in Europe (it was founded in the late 13th century). And Coimbra's old quarter is easily walkable, and is filled with cute alleys and cafés to explore.
Seriously…take a day and check out Coimbra!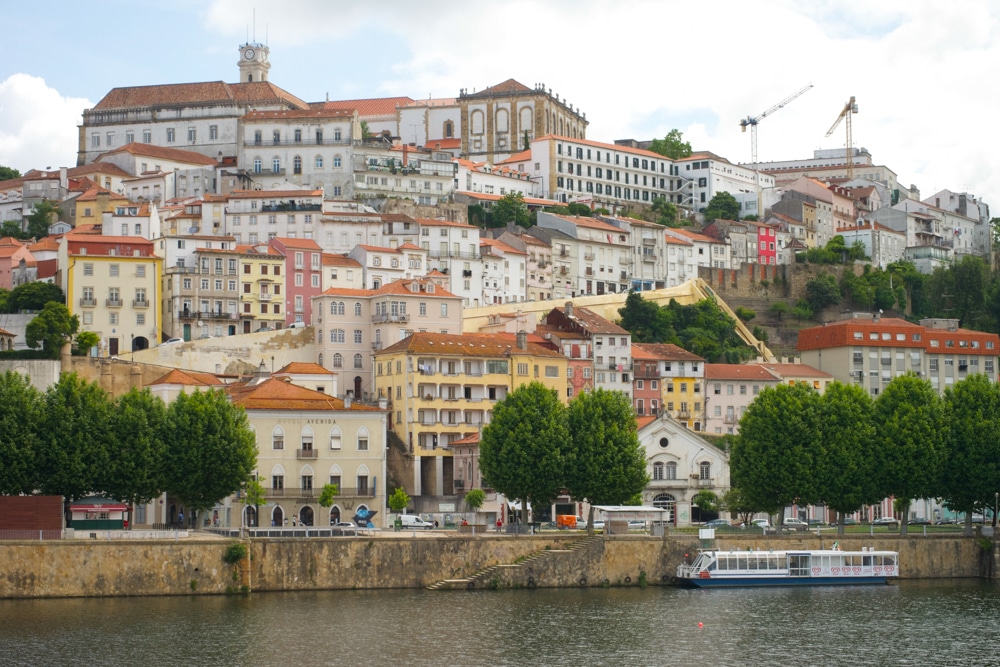 Find the Best Rate on Hotels, Apartments & Hostels in Coimbra
Monsanto
We spotted Monsanto before we knew we spotted Monsanto, that's how obviously it sticks out from the surrounding landscape. Like a Dalí-esque hand rising from a surrealist desert, so the Monsanto head — the rock hill upon which the village sits like a crown — rises from the central Portuguese prairie.
The other–worldliness magic of the place doesn't end when you finally reach the village of Monsanto itself. Every time we turned a corner, one of us would inevitably say, "Wow…this is so cool!" upon spotting the boulders which distinguish the town and make it one of the most unique places to visit in Portugal.
The more we travel, the more difficult it is to impress us. But Monsanto impressed. Truly. It's one of the cooler places we've seen on our travellers. Unique, spectacular, and photogenic as hell.
Once you're finished with the town itself, be sure to climb up to explore the 12th-century castle, built by the Knight's Templar. Like the town, it's strewn with boulders, and it has a crumbling, abandoned and wind-swept feeling to it that makes you feel like you're on an adventure.
Without sounding like a broken record…if you get a chance, go to Monsanto. It's about a 2-hour drive from Coimbra, so if you're a city person, you're best bet is to probably stay in Coimbra and rent a car (we typically use Holiday Autos for car rentals, if that helps). However, if you're feeling adventurous, there are some really charming-looking places to stay in Monsanto, too!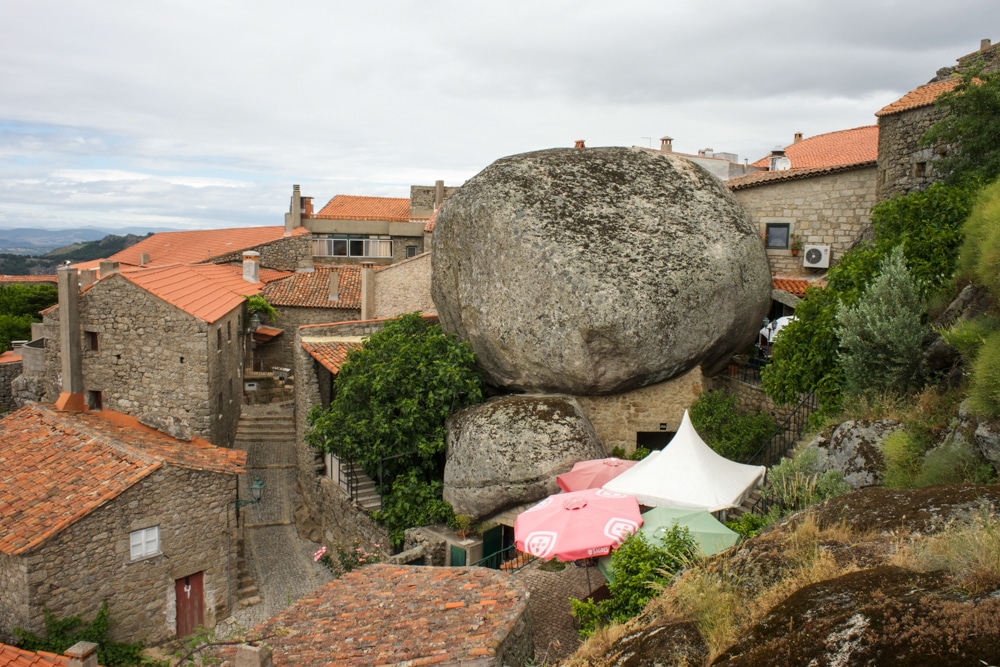 Castelo Branco
Despite the name, the small city of Castelo Branco doesn't have a white castle. What it does have is a lovely and little-visited old quarter, and a vibrant and modern centre that gives you a window into everyday life in Eastern Portugal.
We visited Castelo Branco, Idanha-a-Nova, and Monsanto as a single day-trip, driving from Arrouquelas. It was a long day, but manageable, and each stop was worth it.
In Castelo Branco, the main thing to do is simply wander through the old quarter, up the stairs and hills to the castle. The castle itself is a bit of a disappointment, but it's free to visit and gives a nice view of the city below.
In all honesty, I think Castelo Branco is more of a 'stop while passing through' kind of place, and not worth the overnight. Tomar is just over an hour away, and would make a much nicer place to spend the night. Plus, Tomar has a great selection of hotels across the budget range.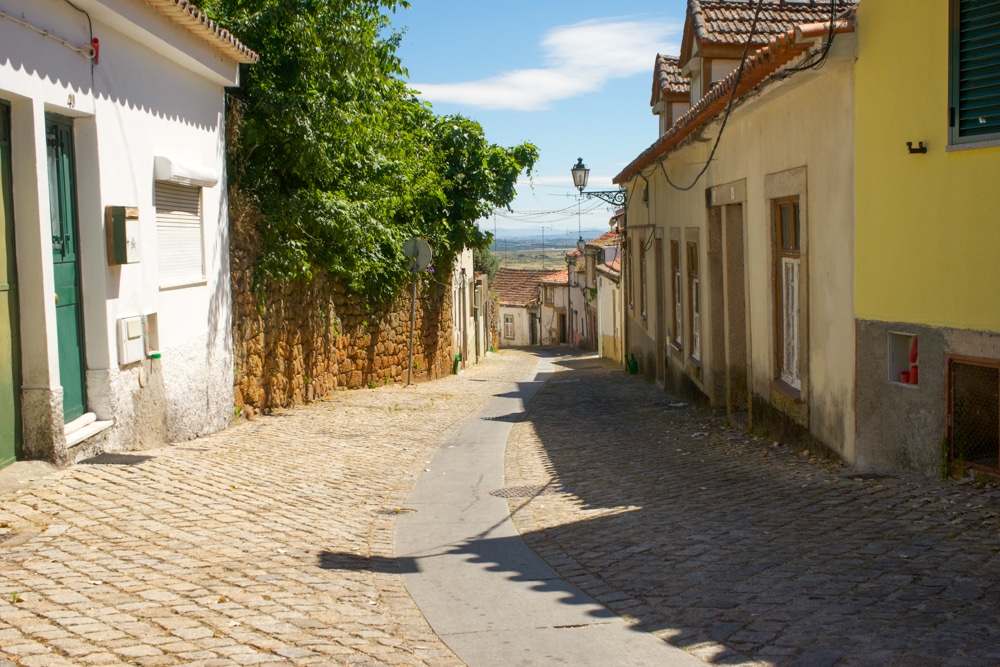 Idanha-a-Nova
For us, Idanha-a-Nova was a short but worthwhile stop on the drive between Castelo Branco and Monsanto. Pretty enough, the most interesting part was climbing up to where the old castle stood. Idanha-a-Nova sits on a massive continental fault (the Ponsul fault) within a geological national park (Naturtejo Geopark), and the site of the former castle is at the edge of the step, where the fault split the earth and created a sharp drop from the hill, down to the prairie below.
If you have any interest in geology it's worth the stop. It also offers some pretty views in all directions.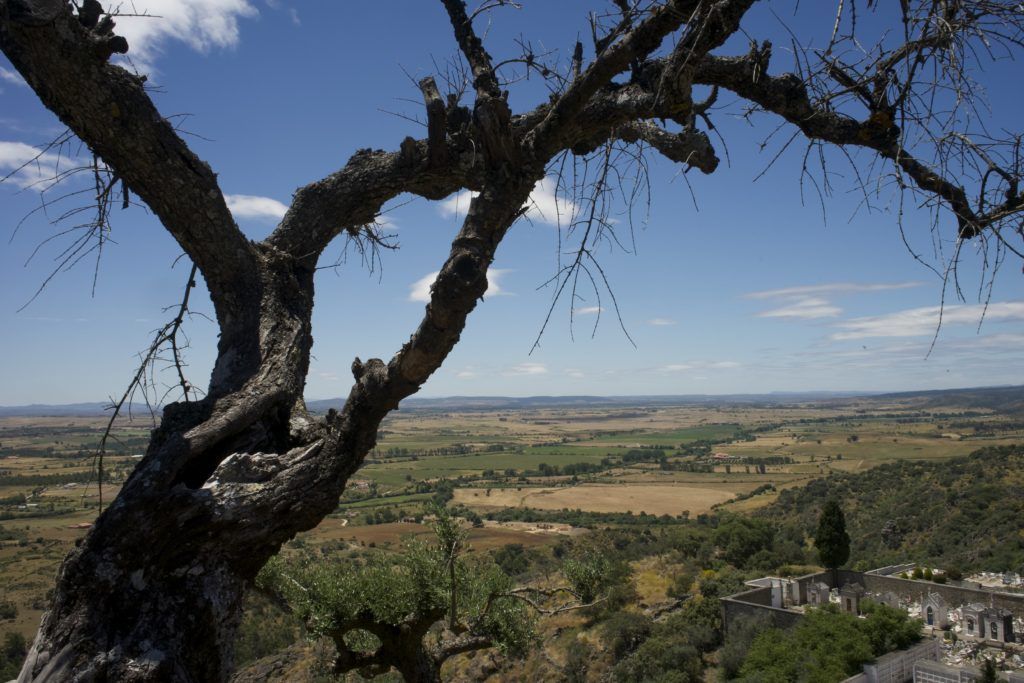 Marvão
Marvão is a delightful little town with a fantastic castle, quite close to Portugal's eastern border with Spain. We ended up spending the better part of the day here, because even though it's tiny, there's enough to explore. It's a place that feels inconsistent with rushing around.
The castle is the highlight of Marvão — beautiful castle walls and towers that you can climb, affording views of Spain to the east and Portugal to the west. One of the things I love about Portugal are the castles — they're everywhere, and in varying states of maintenance, but they're always quite cheap to explore. In Marvão, tickets were just over 1 Euro!
After spending an hour or so wandering around the castle walls (which have minimal safety additions – wear good shoes), we got lunch in the village and then wandered around for another hour or so taking photos.
Marvão was definitely one of our favorite villages in eastern Portugal, and — in our humble opinion — is up there with Monsanto as one of the best places to visit in Portugal!
We just visited as a day trip, but I would have absolutely stayed the night if we knew how cute it was going to be. The town has a nice selection of boutique hotels to choose from, and it feels like the perfect place to have a long dinner and then relax on a garden terrace, playing cards or chatting.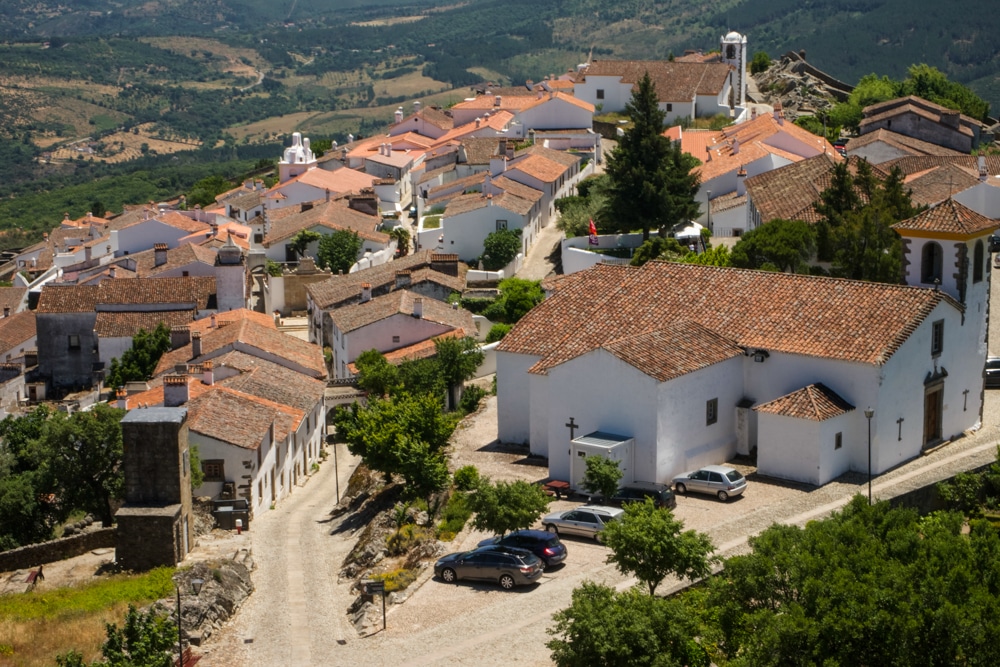 Castelo de Vide
We combined a trip to Castelo de Vide with one to Marvão. They're less than 20 minutes' drive from one another, making it an easy combo if you have a car.
At first, we were honestly a bit underwhelmed by the place…we'd be touring through Central Portugal a lot, and were a bit burnt out. Arriving in Castelo de Vide, it all just seemed the same as what we'd seen elsewhere, and because we went to the absolutely spectacular Marvão first, we had trouble seeing how Castelo de Vide was going to compete for our affections.
And then, we saw the view from the castle, and the old Jewish quarter, and we were convinced as to the merits of visiting Castelo de Vide!
Looking down at the town from the castle, Castelo de Vide looks a bit like a slice of pie, the whitewashed houses and red tile roofs moving to a narrow point at the furthest edge, up another hill.
Just outside the castle, the old Jewish quarter has its own charms: cobbled alleys marked by brightly-colored flowers and doors. Castelo de Vide is, in a word, lovely!
Personally, I'd recommend staying in Marvao and visiting Castelo de Vide, rather than the other way around. While Castelo de Vide is really quite lovely, Marvao has that extra dose of charm!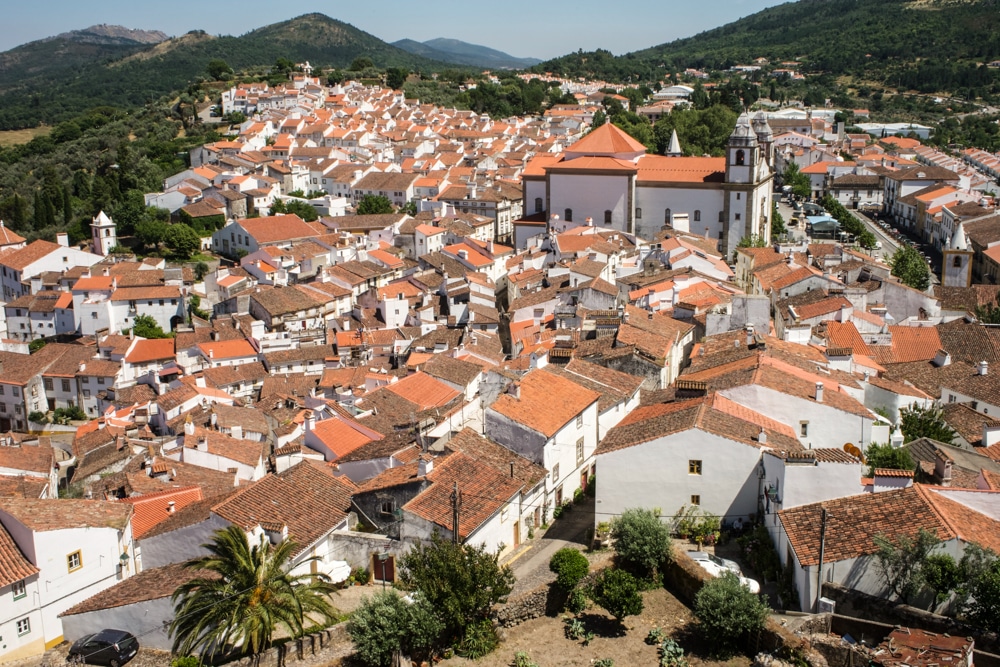 Piódão
The best part of Piódão is just how different it looks from the rest of Portugal. A tightly composed village of tiny stone houses surrounding by verdant green terraces, Piódão wouldn't look out of place in England or as the set of a Hobbit movie. Where it does look out of places, however, is Portugal — it's just completely different from the typical whitewashed houses and red tile roofs we've seen from top to bottom, west to east on our explorations through Portugal.
If it's looks are its upside, the difficulty of actually getting to Piódão is certainly the downside. It took us about 3.5 hours driving each way from Arrouquelas, the village we were staying in. When we actually got to Piódão, we realized there isn't actually much to do there, other than walk around and enjoy the beauty.
If you're a highly visual person, a photographer, or you're in the area for some reason, you'll probably love Piódão. If you're a casual tourist exploring the country…it might be a bit too much of a commitment to get there! Either way, we'd recommend staying in Coimbra, renting a car and driving there and back in a day (about 1.5 hours each way, but you'll probably want to stop to take photos!). Car rental in Portugal is unbelievably cheap, so don't let the car rental put you off!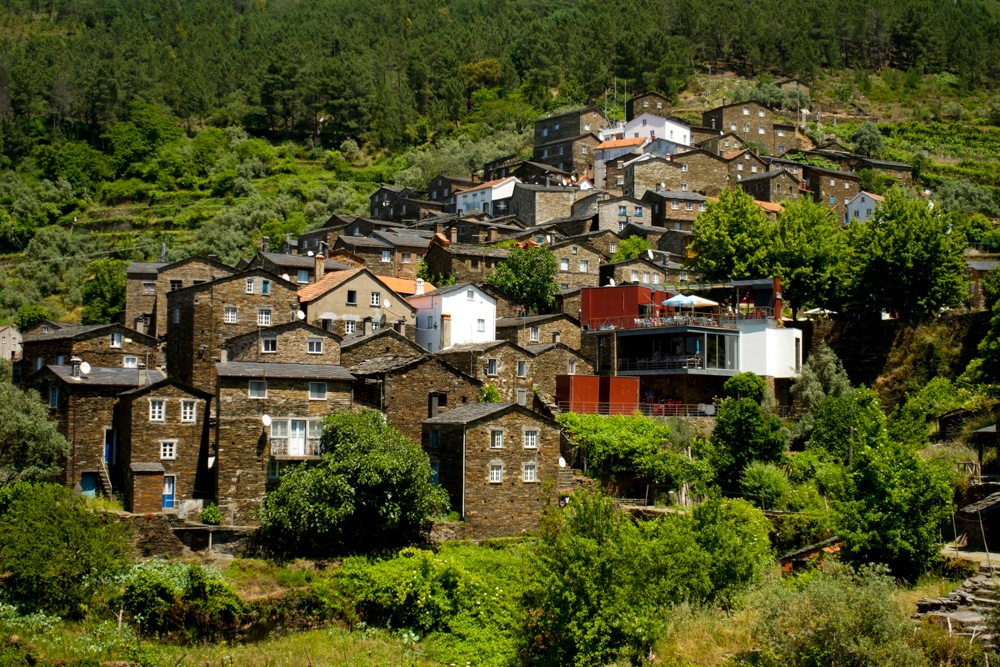 Leiria
Leiria has a nice castle, which was nearly abandoned when we were there. During the hour or so we spent exploring and climbing around, we saw a total of 4 other people. We only explored the castle – not the town below – so I can't speak to the city as a whole. However, the castle is really cool. It's not as well preserved as the castle in Marvao, for example, but the crumbling state kind of adds to the charm. It definitely had a "knights of the round table adventure" vibe to it!
For both Leiria and Batalha, I'd suggest staying in Coimbra.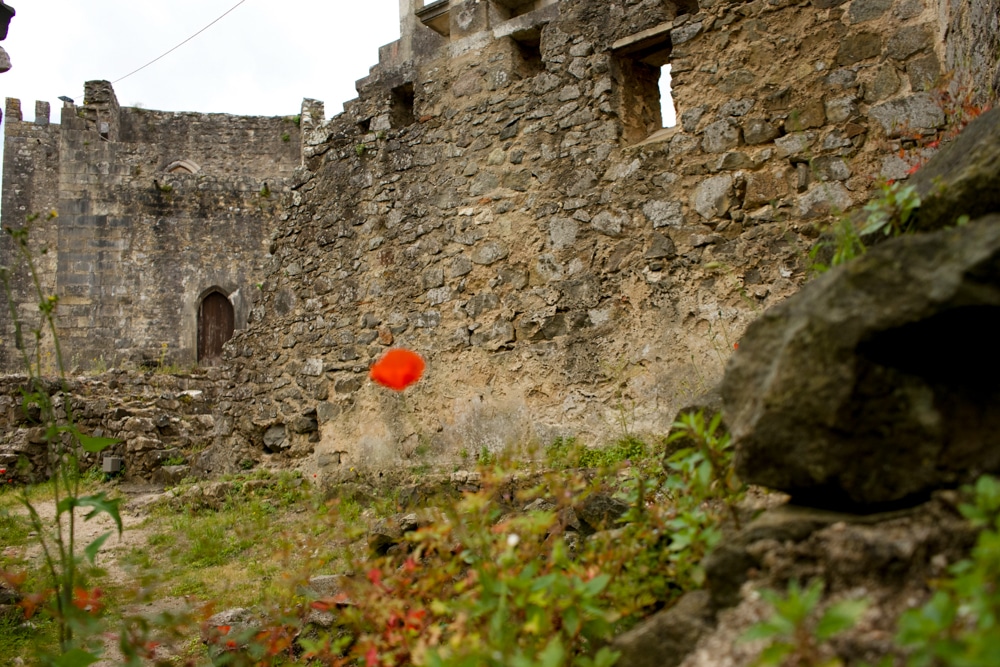 Batalha
We visited Batalha in conjunction with a trip to Fatima, and Batalha definitely won the day for us.
The word Batalha actually means "battle" in Portuguese, and the town is the site of an important battle in Portuguese history. You can visit the site of the battle and interpretation centre outside of town (we didn't), but for us the draw in going to Batalha was seeing the Batalha Monastery, a gothic masterpiece and — you guessed it — a UNESCO World Heritage building. Dating back to the late 14th Century.
It's pretty impressive…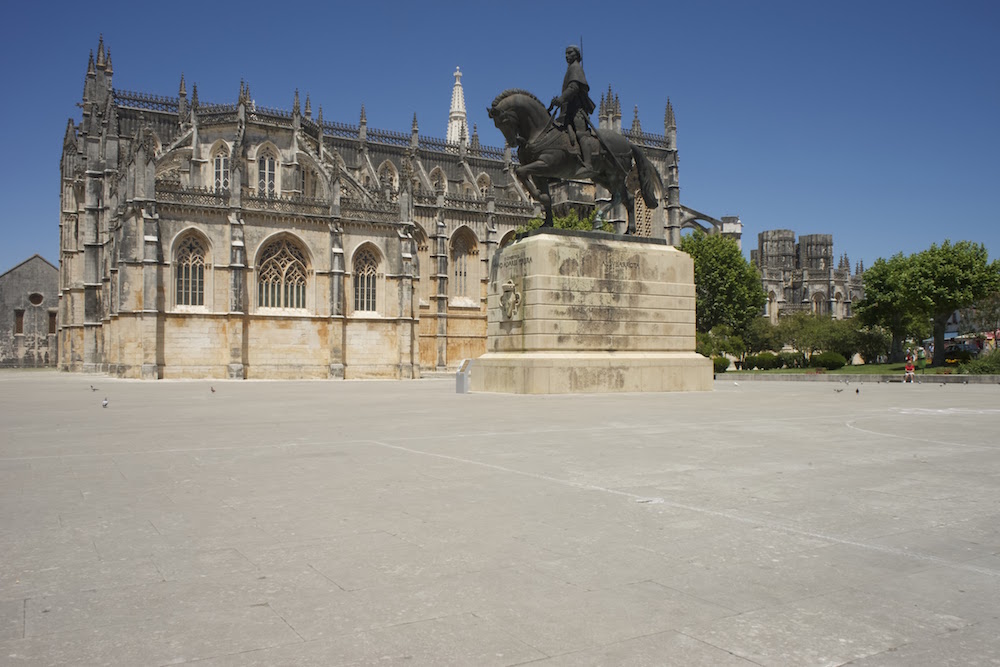 Aveiro
Aveiro bills itself as the "Venice of Portugal," which I have to say, feels like a bit of a stretch. I've never been to Venice, but if I went to Aveiro expecting a city filled with canals, boats, and canal-side cafés, I would have been disappointed.
That's not to say Aveiro itself is a disappointment or not worth visiting…it is! Just don't go expecting Venice.
We visited Aveiro as a day trip, and found there wasn't a lot to see or do, other than simply walk around and enjoy the vibe of the city. If I were to go again, I'd treat Aveiro as a place to spend a night or two when I really just want to chill out, relax, and enjoy some cafés and restaurants in a small city setting. It has a really relaxed feeling to it, and there are a few canals that add to the cuteness.
Aveiro isn't a must see place to see in Portugal, but it is worth a stopover if you have the time. If you decide to stay in Aveiro, definitely try to get somewhere on or very close to the canals. Outside of the canal area, the town is not as pretty or interesting, so it's worth finding a place that puts you right in the centre of the best part!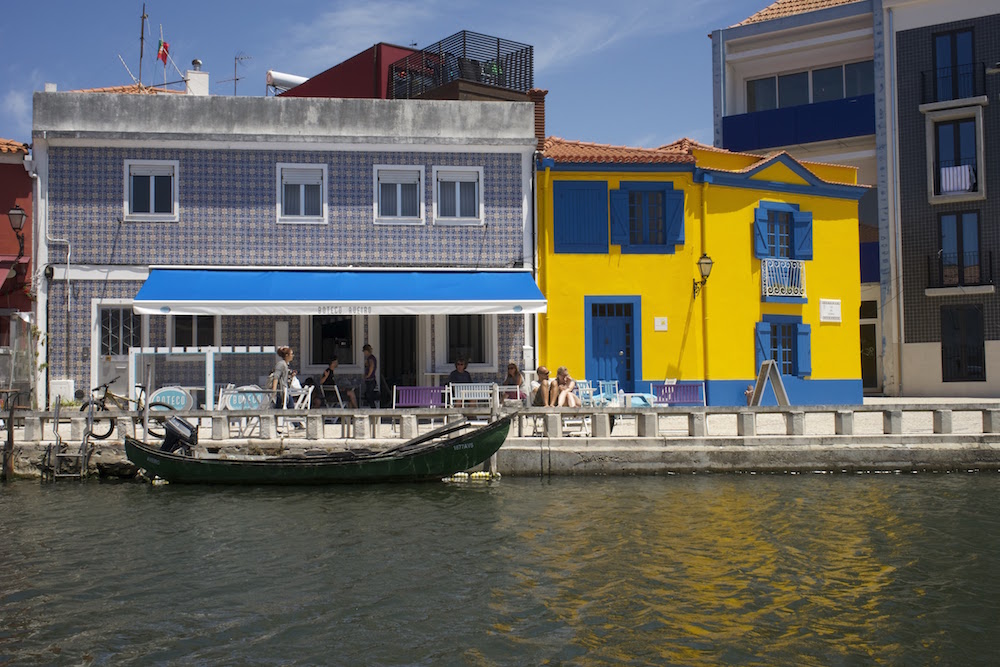 Obidos
Obidos was one of the first trips we took during our month in central Portugal, and it was a good one! Not only is it historical and adorable, it's close to Lisbon, making it possible to see it as a day trip. We'd recommend staying in Lisbon, rather than Obidos.
Related:Check out this post dedicated entirely to Obidos as one of the best places to visit in Portugal!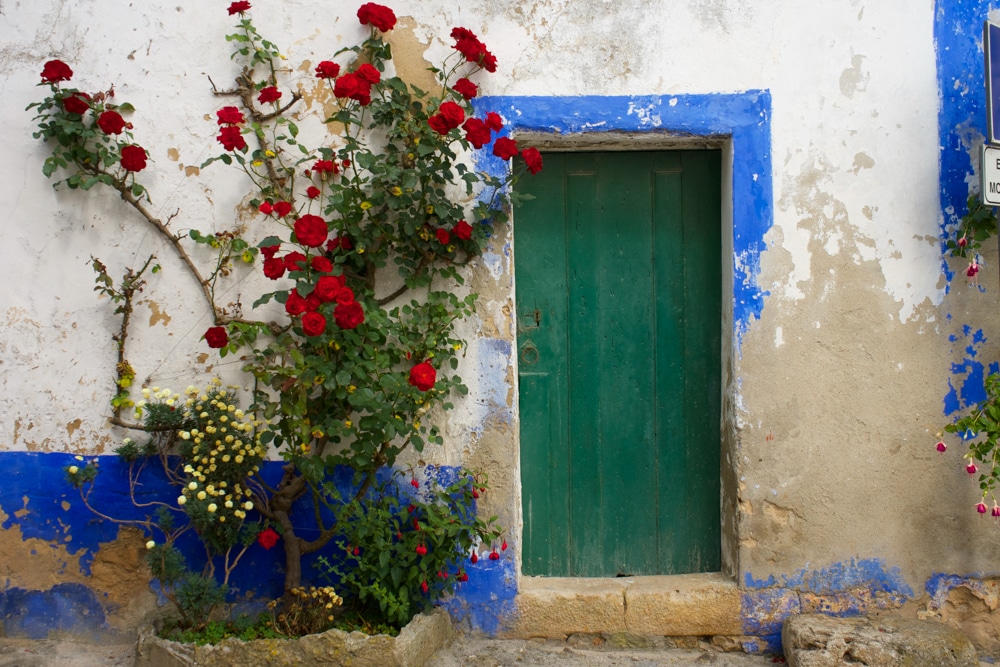 Fatima
In our opinion, Fatima was a miss. We really didn't like it, and honestly have little to say that's nice about the place.
The main draw in Fatima is religious tourism for Catholics. The site of an important miracle in Catholicism, Fatima has built an entire tourism industry out of it. It was packed with pilgrims and the devout when we visited, including some people who approached the hold areas on their knees. For the non-religious, like us, it felt bizarre to witness, and we wouldn't recommend it unless you're particularly interested in the religious angle.
The Alentejo
Beja
Beja sits in the Alentejo — central and southeastern Portugal — and is a place we visited on our first trip to Portugal back in 2013. Back then, we were disappointed by the town itself, and I'd imagine the same holds true today. The reason to go to Beja is not the town itself, which is rather run-down, but the castle. Built over the remains of a Roman and Moorish structure in the 13th Century, it has the tallest keep in Portugal, made of granite and marble. The castle is tiny, and it's really the keep that's the highlight…a perfect prison for a fairytale princess.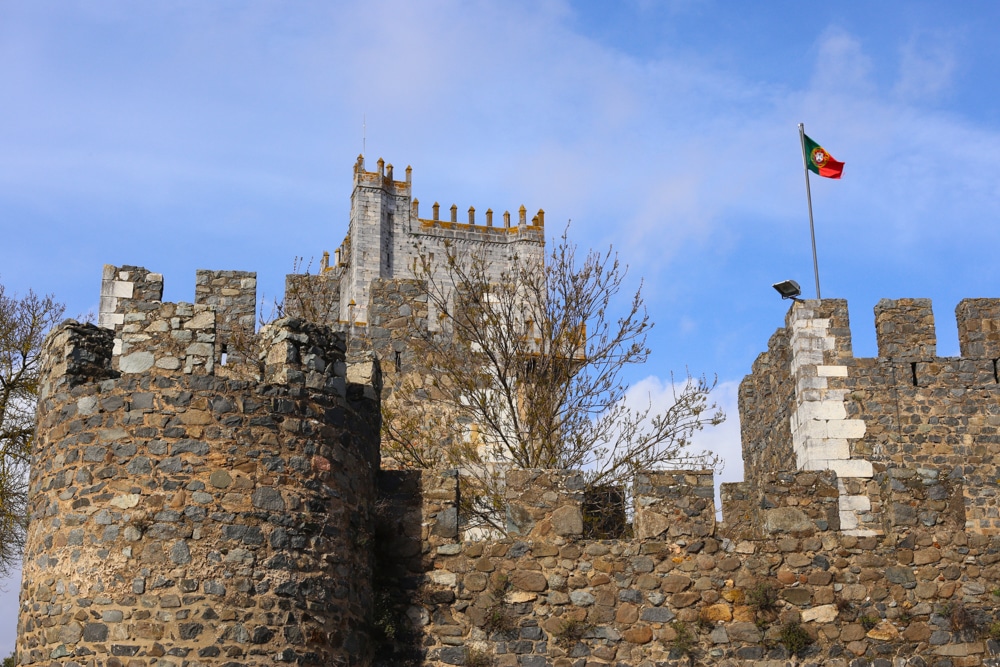 Mertola
Another throw-back to our first trip to Portugal, Mertola is yet another castle village in Portugal. Visiting these towns and villages, you truly get a picture of Portugal's violent history, falling at times to the Romans, the Moors, and the Christians. Today, the castles are decorative and cool to see, but back in the day they were necessary fortifications against invaders.
Sitting right on the Guadiana River, Mertola is in a pretty spot, and the castle offers tranquil views of the Alentejo. It's one of those places that doesn't have much to hold your attention for long, but it's hard not to want to visit: it's pretty, and the castle has a dungeon!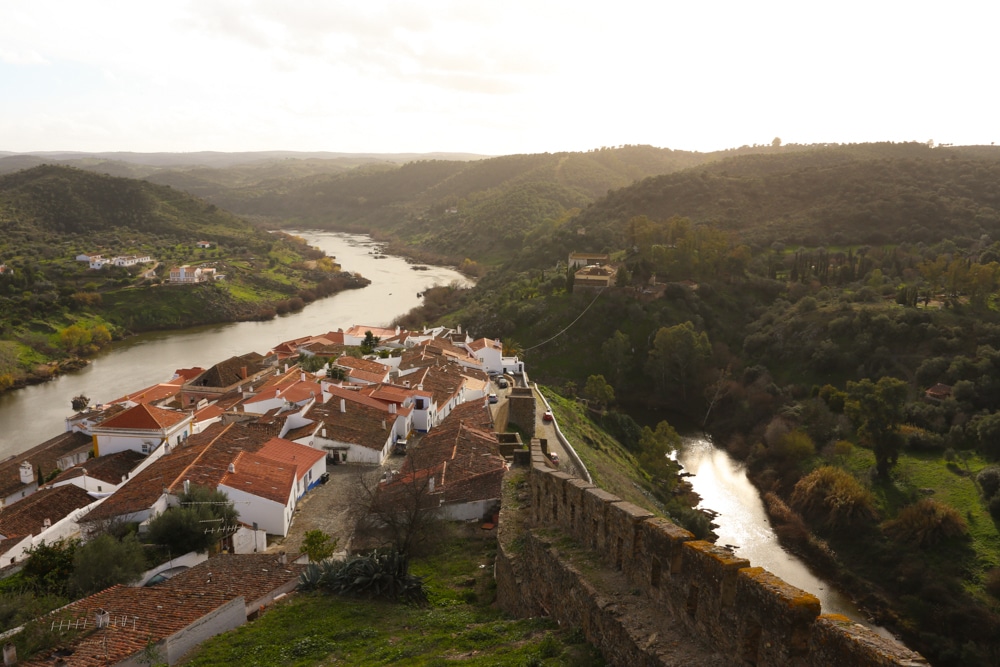 Évora
We're probably going to catch some flack for this, and we really don't want to offend, but in all honesty, we found Évora — described by Lonely Planet as one of Portugal's most beautifully preserved medieval towns — spectacularly boring. We nicknamed it Eh-Bore-Ah. Perhaps it's because we arrived in the dead of February, where the grey skies and lack of action hid the town's true, spectacular nature, but it truly felt much less interesting than some of the other places we've explored, and certainly less interesting than some of the other places on this list.
What we did like about Évora were the small reminders of ancient Rome scattered throughout the town — the aqueduct and the Templo Romano columns — and the ossuary. While not as impressive as the Kutna Hora Bone Church (ossuary) outside of Prague, they were still pretty cool. Évora is also a sensible stop if you're heading to see the Roman Theatre and city of Badajoz, just across the Spanish border. As Évora is a decent size, there are plenty of hotels to choose from if you decide to stay the night!
Related: Check out Things To Do in Evora, Portugal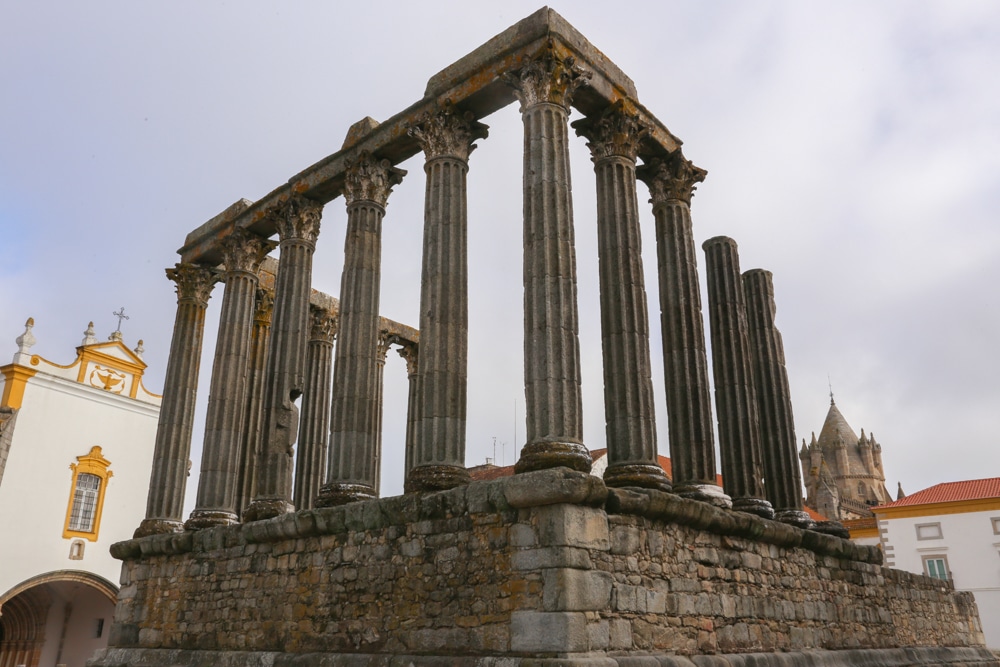 The North
Porto
Let me put it this way: I've never met a person that doesn't like Porto. Many people even like Porto MORE than Lisbon, and Lisbon is incredibly lovable.
It's a perfectly-sized city for visitors, and it's possible to walk pretty much everywhere. If you get tired, the public transportation is easy to use and efficient.
And it's downright gorgeous. Set on the Duoro river in one of the world's oldest wine regions, there are thousands of tiny spots to while the day away, or watch the sunset from a riverside café. A city of hills, there are great vantage points from which you can capture the city with your camera, and — like Lisbon, as well — the beauty is in the details: the doorknockers, the tiles, the mosaic tile floors.
We'd definitely recommend staying a couple of nights in Porto, if you can swing it!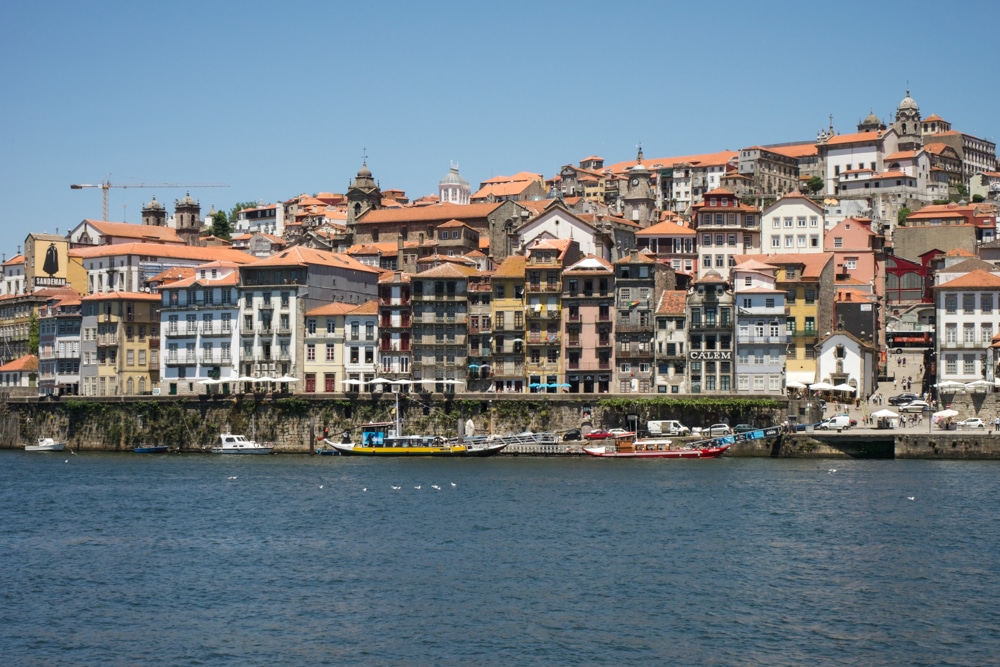 Braga
Braga is one of those little gems that completely surprised us. We arrived with no expectations and booked a few nights, and by the end, we'd wished we'd booked longer. It's just this wonderfully cute small city, and has a lot of history, serving as the provincial capital of Gallaecia during the Roman Empire. There are a tonne of cafés and bars, and great local food, and we found the people to be outwardly friendly and more chatty than in other parts of Portugal.
Part of our love affair with Braga no doubt has to do with the place we stayed — Collector's Hostel. More like a B&B than a hostel (at least in the private rooms, there are dorms, too), the owners Jo and Anna are massive champions for their city, and immediately got us excited about all the things to do and see. See our full review here.
If you go to Braga, do yourself a favour and stay for more than one night…2 or 3 should be good. And stay at Collector's if you can!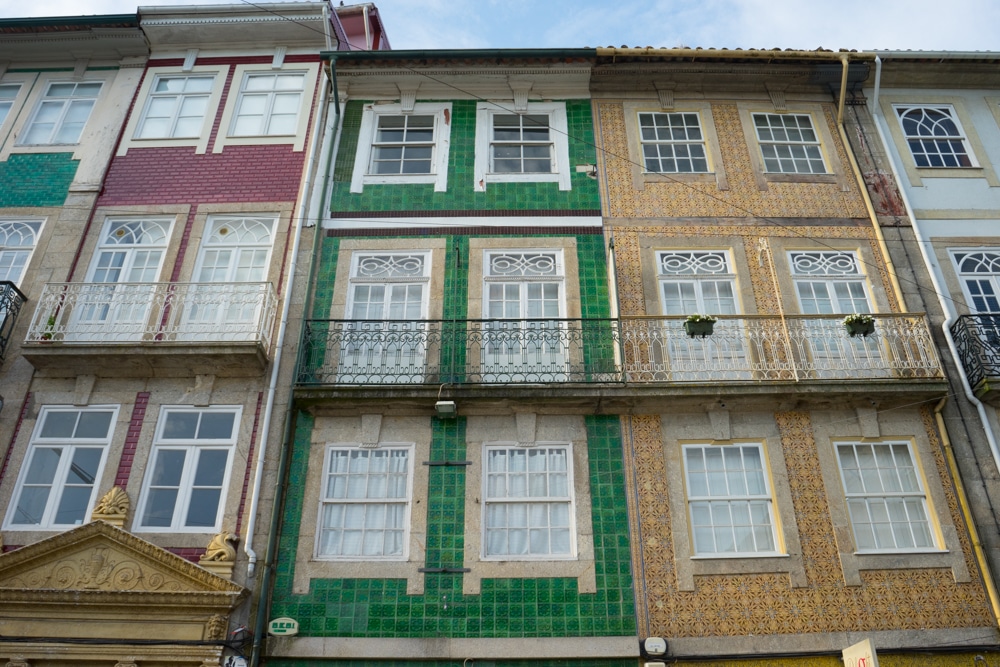 The Algarve
The Algarve is very small, and you can drive from the Atlantic coast to the Spanish border in about 2 hours, if you take the toll road! That means you can pretty much base yourself anywhere, and not worry too much about getting around. Faro is the largest city in the Algarve, but we'd recommend you stay at one of the beach towns instead of Faro, which doesn't have a tonne of character. Albufeira is probably the most popular place to stay in the Algarve, and is a good place to start your accomodation search!
Tavira
Tavira was our favorite town in the Algarve when we stayed in the region back in 2013. Back then, I wrote that it reminded me in a way of a mini Prague (if I stretched my imagination). Built on the banks of the Gilão river, there are seven or eight bridges spanning across it, connecting the two sides of the town. After having lived in Prague for 15 months, I can now say Tavira is definitely not on the same scale of awesomeness as Prague…but it is a wee little city that's cute and worth a day trip. And — because this is Portugal — there's a great old castle to explore!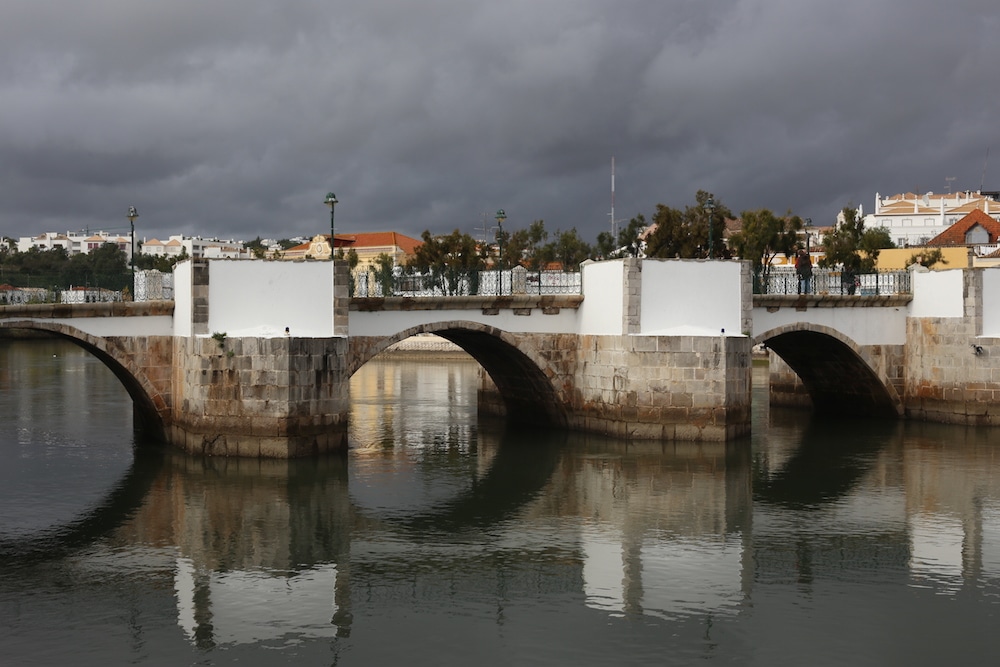 Sagres
Sagres is another really cool place to visit in Portugal. Set on the wild southwestern coast, it used to be known as the end of the known world. The ancients believed that beyond Cape St. Vincent, the sea was filled with serpents.
Today, you can totally see how they could have thought that way. It's rugged and wild, and standing at what was thought to be the edge of the ancient world back in the day, it actually still feels that way without much imagination required. If you have any interest in history, or in the Portuguese age of exploration, in particular, this is a fantastic place to visit in Portugal!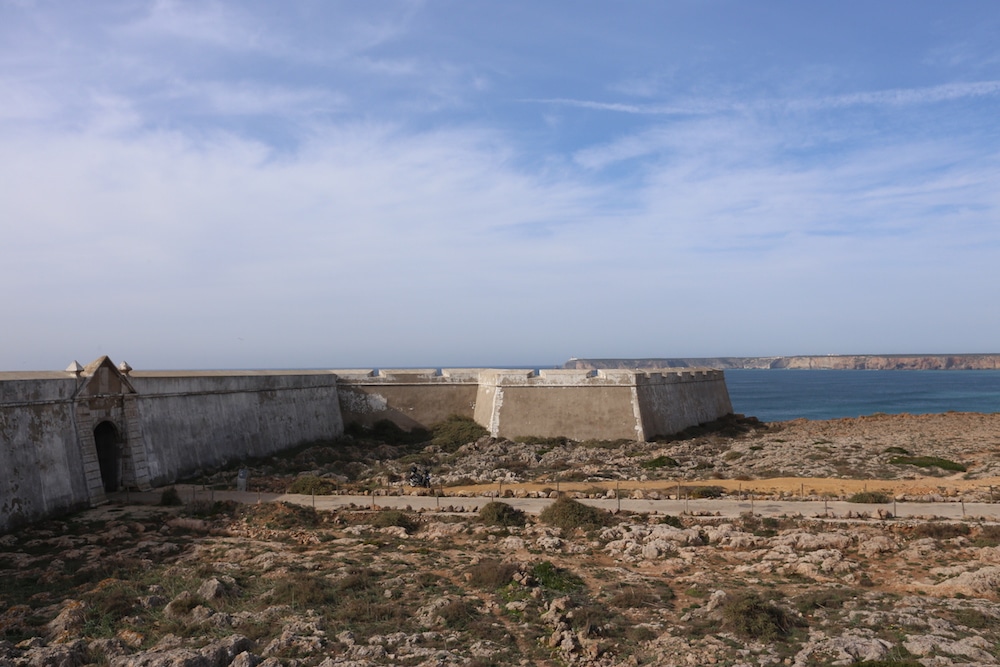 Silves
The reason to visit Silves is the fantastic castle, the best preserved in the Algarve, and with a proper castle look to it, surrounded by a saw-tooth castle wall. The Algarve went back and forth between being controlled by the Moors of North Africa and the Christians of Europe for centuries, and Silves saw a lot of that action. Today, it's one of the few places in the Algarve where we saw tour groups — most of the time, we just saw individual tourists — but it still wasn't overrun, and it's possible to wander and enjoy the castle on your own!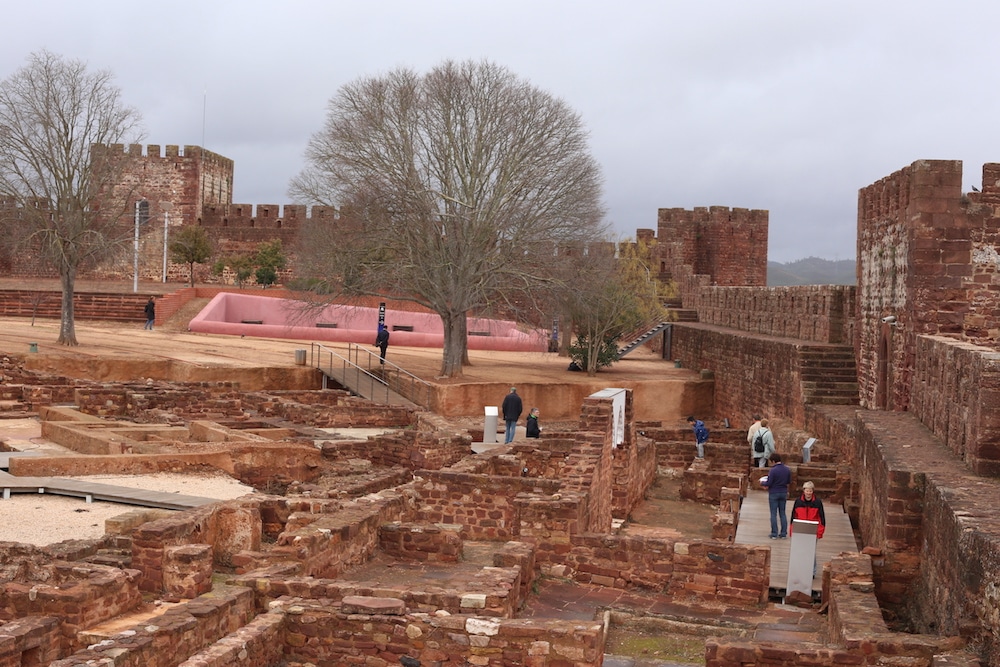 Alte
Alte is really cute, but it's also really small. We had high hopes for the town back when we visited in 2013/2014, and it's been described as the most typical Algarvian town in all of the Algarve. Every house, it seems, has an Algarvian chimney on it, and it's filled with whitewashed houses and red tile roofs, and beautiful flowers and vines climbing the walls.
Despite all that, we found it a bit boring. There really is nothing to do other than walk around and enjoy the quaintness, and that can get old quickly. Worth a stop if you're driving through, but that's about it.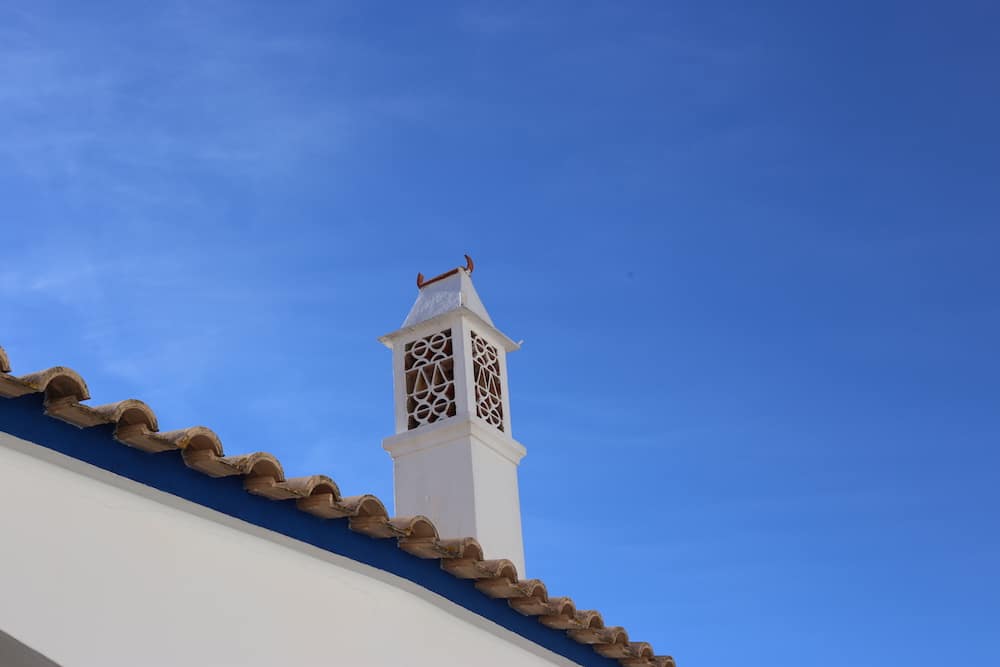 Vila Real de Santo Antonio and Castro Marim
Right on the Spanish border, these two spots are worth a day. Vila Real de Santo Antonio is interesting because of its grid system to urban planning, implemented after devastating earthquakes in the 1700s or so. The real attraction of the area, however, is nearby Castro Marim. Nestled in between two hills, the little town is quite lovely, and with a castle and defensive hill on the north and south hills, respectively.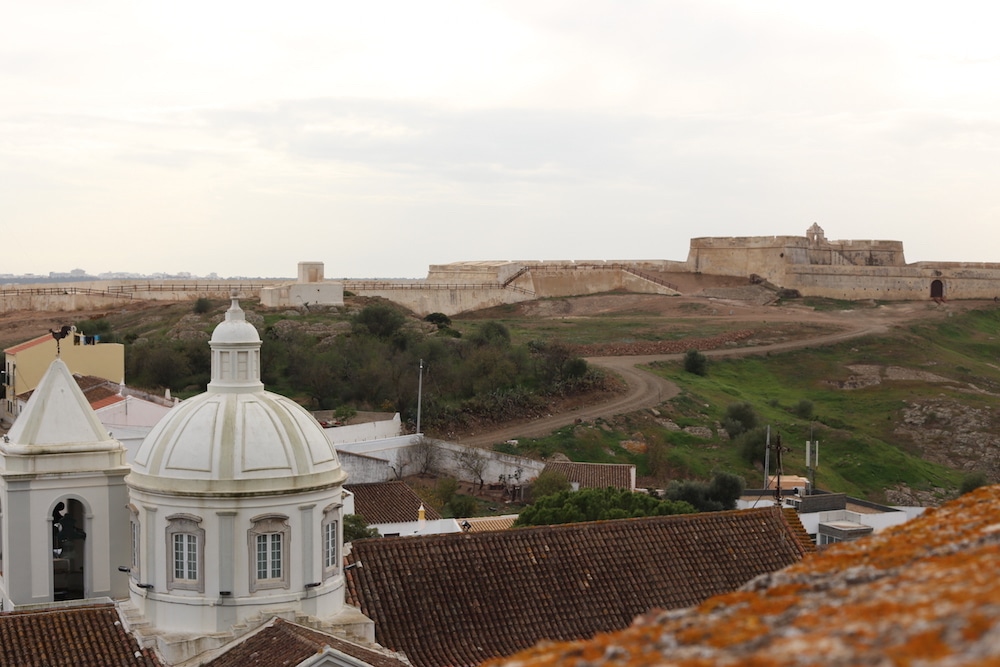 What do you think? What other places to visit in Portugal should be on the list? Leave us a comment to let us know!
Spread the Love by Pinning This Image!